Referee Mills Lane: Still Fighting At Age 78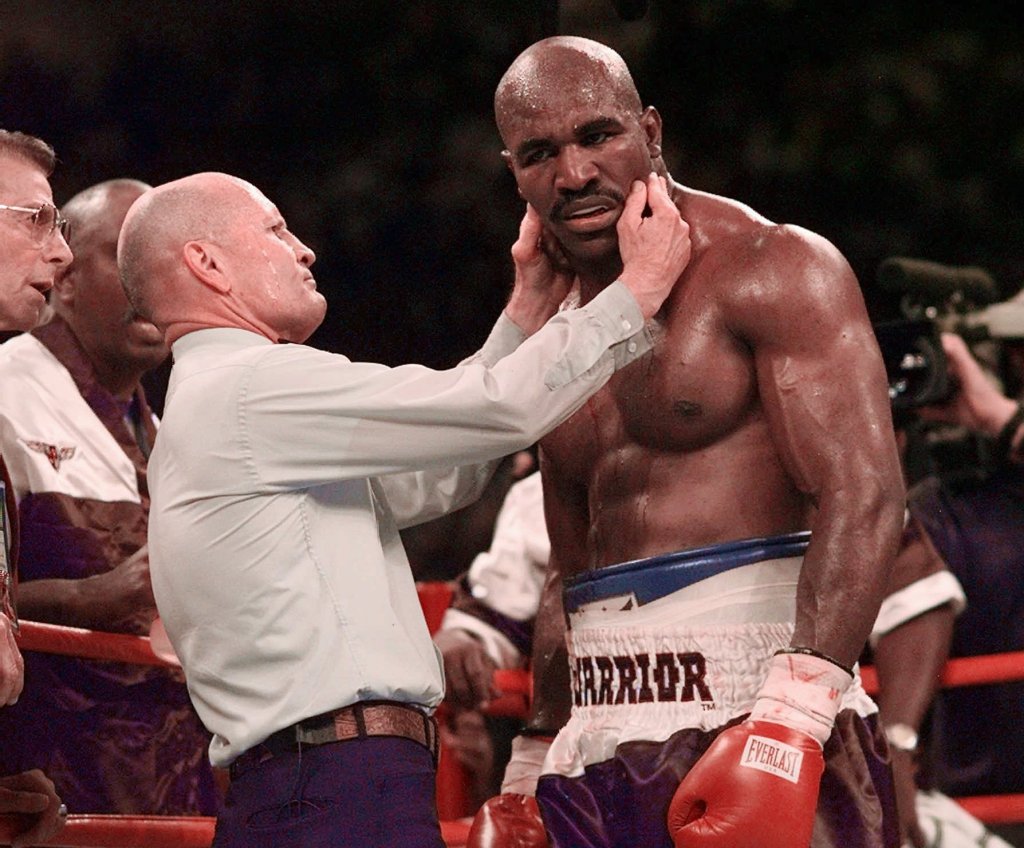 By BERNARD FERNANDEZ
✅ It is cruelly ironic, when you stop and think about it. Mills Lane, one of the best and most accomplished referees in boxing history, always saw himself as a protector of the individuals whose bouts he worked. Toward that end, he was an absolute stickler for enforcing the rules. If a fighter was taking too much punishment, the former Marine always knew the exact moment when he needed to step in and wrap his arms around him. In the ring, as was the case in his other duties as a district attorney and then a District Court judge in Washoe County, Nev., it was up to Lane to see that justice was served, and he never shirked his responsibility.
But there was no such protection for the protector when Mills Lane, then 64, collapsed from a stroke in his home in Reno on or about April 1, 2002. He was all alone, with no one to kneel over him or to call for the ring doctor. And so Mills Bee Lane III lay on the floor for an indeterminate length of time, any chance he might have had for an appreciable degree of recovery slipping away with each passing minute.
"When you have a stroke it's crucial you receive treatment quickly," said Terry Lane, the older of Lane's two sons. "If you do you can minimize the effects of even a bad stroke. But we really can't pinpoint when the stroke happened.
"A few months earlier, our family had become bicoastal. My brother (Tommy) had just begun high school in New York City after moving there from Reno. All of us were kind of going back and forth between Reno and New York. I had just started college in New York around that time. My mom (Kaye), my brother and I were all back East and my dad was in Reno, by himself. We really don't know how long it was before he was found. It might have been a day, possibly as long as two days. We don't know for sure.
"He finally was found by one of his former law partners because he missed a meeting, and Mills Lane never missed a meeting. So they knew something had to be wrong."
Mills Lane had already retired both as a referee and as a Washoe County judge, having taken in 1998 an even higher-profile position as a dispenser of instant justice on Judge Mills Lane, a syndicated television show in which he issued rulings in the raspy voice so familiar to fight fans. But since the stroke, that voice has been forever silenced. Although his mind is said to be as sharp as ever, Lane, now 78, no longer can verbalize his thoughts. His trim and taut former athlete's body – in addition to the remarkable fitness level he achieved in the Marine Corps, he was a former standout boxer at the University of Nevada-Reno and then as a pro, posting a 10-1 record – also has begun to fail him in a variety of ways, which stuns those who remember him as boxing's bow-tied Energizer Bunny.
"All through his life his weight never varied by more than four or five pounds," said a friend, New Jersey-based referee Steve Smoger. "He called himself `The welterweight.' Ever since I've known him, he was always somewhere between 145 and 150."
Added another friend, Marc Ratner, the former executive director of the Nevada State Athletic Commission: "Even now, it's difficult to imagine him as a prisoner in his own body. Mills was always in such tremendous shape."
Although Lane did attend the festivities when he was inducted into the International Boxing Hall of Fame in Canastota, N.Y., on June 9, 2013, it was done so only with considerable effort on his part. It might even be said that Lane literally willed himself to be there.
"He has visibly aged," Terry Lane acknowledged. "He broke his hip in 2012, the year before he was inducted in Canastota. Like any older person with physical limitations, he has lost a lot of energy. He can't move around very easily. Mostly, he watches TV and lets Mom take care of him. She makes him as comfortable as she can.
"It seems like every year he receives an award for something, and while he does want to be around certain things, it's difficult for him to physically get places. It causes him pain. For the most part, it's Tommy and I and Mom serving as his representatives. When I got the call (from IBHOF executive director) Ed Brophy, I just assumed it would be Tommy and me going to Canastota and making a quick thank-you like we've done dozens of times before. But Dad was really into it. I know he was very happy to be inducted into the Hall of Fame. He can't speak, but he still can emote and be expressive."
Lane's image as a no-nonsense banty rooster inside the ropes is well-deserved, but his path to Canastota and a measure of notoriety that no referee before or since has achieved began long before the boxing world came to know him as the guy who always seemed to land the kind of fights that stick in the public's memory. Over the course of his 34-year career, he was the third man in the ring for such major or out-of-the-ordinary bouts as Muhammad Ali-Bob Foster (1972), Larry Holmes-Gerry Cooney (1982), the Evander Holyfield-Riddick Bowe II "Fan Man" Fight (1993), Oliver McCall's bizarre crying jag against Lennox Lewis (1997) and, most notably, the Evander Holyfield-Mike Tyson II "Bite Fight" (1997).
"The visibility of the `Bite Fight' made Mills even more mainstream," Ratner recalled. "It almost seemed like he worked all the Super Bowls of crazy fights."
And the craziest of all was on June 28, 1997, when Tyson twice decided to gnaw off a one-inch chunk of Holyfield's right ear as if it were on the menu at one of the MGM Grand's fine restaurants. Lane had no alternative but to disqualify Tyson in the third round following the second toothy infraction.
"It's my understanding that the producers of the (eventual Judge Mills Lane) show were watching the `Bite Fight' and one of the TV commentators mentioned that my dad was a District Court judge in Washoe County, Nevada," Terry Lane said. "I don't know if that sparked the idea for him doing his own show or if they wanted a Judge (Joseph) Wapner (the first of the reality-show TV judges) thing, but it definitely put Dad on a different level of attention nationally and, I guess, even globally."
With his shaved head, distinctive growl and signature catch phrase ("Let's get it on!") that spawned a wave of imitators, Mills Lane now seems like the perfect candidate to have been selected for unscripted courtroom drama. But the mere fact he wound up doing any of what he's done, given his background, makes his accomplishments even more noteworthy.
The patrician scion of a Southern dynasty in Savannah, Ga., young Mills hailed from a banking family that also had extensive plantation holdings in that state and in South Carolina. How wealthy were the Lanes? Well, the Mills B. Lane House in historic downtown Savannah, completed in 1907, was hailed as a "jewel of the antebellum South" when it was placed on the market in 2007 with an asking price of $7.6 million. It seems a safe bet that no other future referee was raised in a mansion that boasted a marble entrance, Corinthian columns, parquet floors, 29 handcrafted canvas murals, nine fireplaces, five bedrooms, eight full baths, three half-baths and a large, in-ground pool.
Mills Lane's father went so far as to have already paid his son's tuition at a prestigious Midwestern university, where the young man was to study agriculture, the better to prepare him for instructing field hands on the proper way to eradicate those pesky boll weevils.
But being a banker and/or gentleman farmer didn't especially appeal to young Mills, who did not want to float through life sipping mint juleps and benefiting from a name that carried so much economic and social clouts. He apparently believed that rich kids could be rebels, too, and not just because their male ancestors once had worn plumed hats as Confederate officers.
So Mills B. Lane chucked it all in 1958 to enlist in the Marines. He took up boxing while in service to his country, becoming All-Far East welterweight champion. And when his hitch was up, he took off for Reno where, he had read in a magazine, the local university had a boxing team of some repute. After winning an NCAA boxing championship at UNR and then enjoying some success as a pro, Lane continued his journey of self-discovery, gaining his law degree and sliding seamlessly into multiple vocations in boxing and law enforcement as a referee, deputy sheriff, district attorney and judge, where his penchant for handing out stiff sentences to felonious offenders earned him the sobriquet of "Maximum Mills."
It should come to no surprise to anyone, given Mills Lane's determination to forge his own identity, that one of his favorite songs is the Paul Anka-written standard My Way, the most familiar versions being the ones sung by Frank Sinatra and Elvis Presley.
"Dad definitely did things his way," Terry Lane said. "When I hear that song, I always think of him. Not to take a morbid turn here, but he always said that he wanted that song played at a memorial service whenever his time comes."
At least Mills got the opportunity to convey that wish to Terry and Tommy, who were teenagers when their father was stricken with the stroke that has deprived them of so many of the father-son chats that never took place.
"If I could have even a one-hour conversation, an adult conversation, with him, it would mean so much to me," Terry said. "I'd want to hear why he made the choices he did, and his outlook on everything.
"Tommy and I have to piece together a lot of that in our adult lives. There's so many questions we'd like to go to him with, and he's sitting right there. It is frustrating. But safe to say, he's one in a billion."
Mercito Gesta Victorious Over Jojo Diaz at the Long Beach Pyramid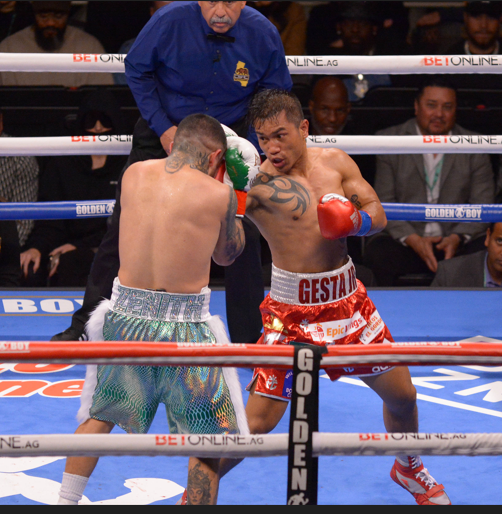 LONG BEACH, CA.-Those in the know knew Mercito Gesta and Jojo Diaz would be a fight to watch and they delivered.
Gesta emerged the winner in a super lightweight clash between southpaws that saw the judges favor his busier style over Diaz's body attack and bigger shots and win by split decision on Saturday.
Despite losing the main event because the star was overweight, Gesta (34-3-3, 17 KOs) used an outside method of tactic to edge past former world champion Diaz (32-4-1, 15 KOs) in front of more than 5,000 fans at the Pyramid.
The speedy Gesta opened up the fight with combination punching up and down against the peek-a-boo style of Diaz. For the first two rounds the San Diego fighter overwhelmed Diaz though none of the blows were impactful.
In the third round Diaz finally began unloading his own combinations and displaying the fast hands that helped him win world titles in two divisions. Gesta seemed stunned by the blows, but his chin held up. The counter right hook was Diaz's best weapon and snapped Gesta's head back several times.
Gesta regained control in the fifth round after absorbing big blows from Diaz. He seemed to get angry that he was hurt and opened up with even more blows to send Diaz backpedaling.
Diaz targeted his attack to Gesta's body and that seemed to slow down Gesta. But only for a round.
From the seventh until the 10th each fighter tried to impose their style with Gesta opening up with fast flurries and Diaz using right hooks to connect with solid shots. They continued their method of attack until the final bell. All that mattered was what the judges preferred.
After 10 rounds one judge saw Diaz the winner 97-93 but two others saw Gesta the winner 99-91, 98-92. It was a close and interesting fight.
"I was expecting nothing. I was the victor in this fight and we gave a good fight," said Gesta. "It's not an easy fight and Jojo gave his best."
Diaz was surprised by the outcome but accepted the verdict.
Everything was going good. I thought I was landing good body shots," said Diaz. "I was pretty comfortable."
Other Bouts
Mexico's Oscar Duarte (25-1-1, 20 KOs) knocked out Chicago's Alex Martin (18-5, 6 KOs) with a counter right hand after dropping him earlier in the fourth round. The super lightweight fight was stopped at 1:14 of the round.
A battle between undefeated super welterweights saw Florida's Eric Tudor (8-0, 6 KOs) emerge the winner by unanimous decision after eight rounds versus Oakland's Damoni Cato-Cain.
The taller Tudor showed polished skill and was not bothered by a large cut on his forehead caused by an accidental clash of heads. He used his jab and lead rights to defuse the attacks of the quick-fisted southpaw Cato-Cain. The judges scored the fight 80-72 and 78-74 twice for Tudor.
San Diego's Jorge Chavez (5-0, 4 KOs) needed less than one round to figure out Nicaragua's Bryan Perez (12-17-1, 11 KOs) and send him into dreamland with a three-punch combination. No need to count as referee Ray Corona waved the fight over. Perez shot a vicious right followed by another right and then a see-you-later left hook at 3.00 of the first round of the super featherweight match.
Photo credit: Al Applerose
Jojo Diaz's Slump Continues; Mercito Gesta Prevails on a Split Decision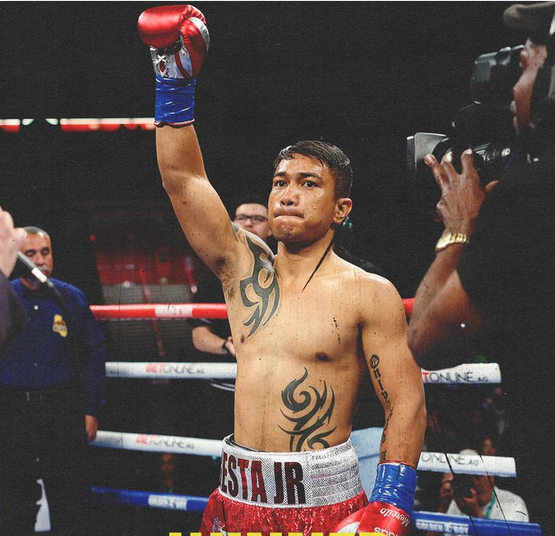 At age 30, Jojo Diaz's career is on the skids. The 2012 U.S. Olympian, a former world title holder at 126 and 130 pounds and an interim title holder at 135, Diaz suffered his third straight loss tonight, upset by Mercito Gesta who won a split decision at the Walter Pyramid in Long Beach, CA.. The scoring was strange with Gesta winning nine of the 10 rounds on one of the cards and only three rounds on another. The tie-breaker, as it were, was a 98-92 tally for Gesta and even that didn't capture the flavor of what was a closely-contested fight.
Originally listed as a 12-rounder, the match was reduced to 10 and that, it turned out, did Diaz no favors. However, it's hard to feel sorry for the former Olympian as he came in overweight once again, having lost his 130-pound title on the scales in February of 2021.
Diaz also has issues outside the ropes. Best elucidated by prominent boxing writer Jake Donovan, they include a cluster of legal problems stemming from an arrest for drunk driving on Feb. 27 in the LA suburb of Claremont.
With the defeat, Diaz's ledger declined to 32-4-1. His prior losses came at the hands of Gary Russell Jr, Devin Haney, and William Zepeda, boxers who are collectively 83-2. Mercito Gesta, a 35-year-old San Diego-based Filipino, improved to 34-3-3.
Co-Feature
Chihuahua, Mexico super lightweight Oscar Duarte has now won nine straight inside the distance after stopping 33-year-old Chicago southpaw Alex Martin in the eighth frame. Duarte, the busier fighter, had Martin on the deck twice in round eight before the fight was waived off.
Duarte improved to 25-1-1 (20). Martin, who reportedly won six national titles as an amateur and was once looked upon as a promising prospect, declined to 18-5.
Other Bouts of Note
New Golden Boy signee Eric Tudor, a 21-year-old super welterweight from Fort Lauderdale, overcame a bad laceration over his right eye, the result of an accidental clash of heads in round four, to stay unbeaten, advancing to 8-0 (6) with a hard-fought unanimous 8-round decision over Oakland's Damoni Cato-Cain. The judges had it 80-72 and 78-74 twice. It was the first pro loss for Cato-Cain (7-1-1) who had his first five fights in Tijuana.
In the DAZN opener, lanky Hawaian lightweight Dalis Kaleiopu went the distance for the first time in his young career, improving to 4-0 (3) with a unanimous decision over 36-year-old Colombian trial horse Jonathan Perez (40-35). The scores were 60-52 across the board. There were no knockdowns, but Perez, who gave up almost six inches in height, had a point deducted for a rabbit punch and another point for deducted for holding.
To comment on this story in the Fight Forum CLICK HERE
'Big Baby' Wins the Battle of Behemoths; TKOs 'Big Daddy' in 6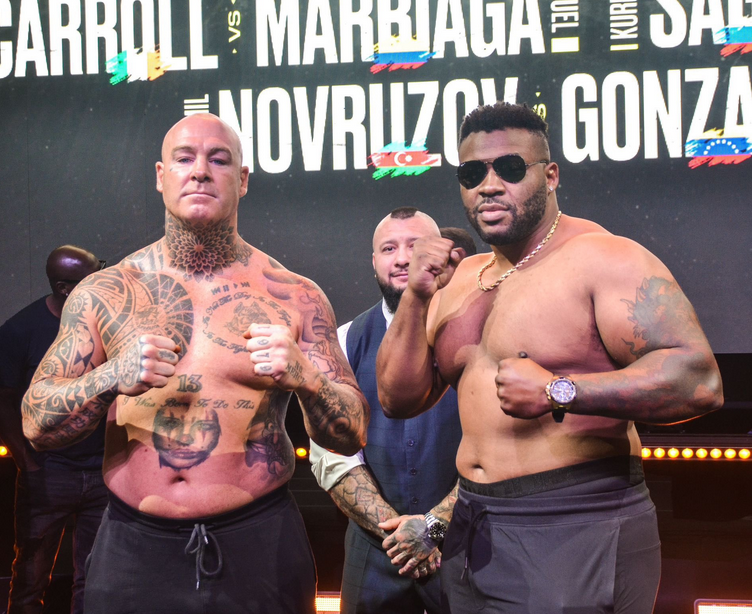 Lucas "Big Daddy" Browne weighed in at a career-high 277 pounds for today's battle in Dubai with Jarrell "Big Baby" Miller, but he was the lighter man by 56 pounds. It figured that one or both would gas out if the bout lasted more than a few stanzas.
It was a war of attrition with both men looking exhausted at times, and when the end came it was Miller, at age 34 the younger man by nine years, who had his hand raised.
Browne was the busier man, but Miller, whose physique invites comparison with a rhinoceros, hardly blinked as he was tattooed with an assortment of punches. He hurt 'Bid Daddy' in round four, but the Aussie held his own in the next frame, perhaps even forging ahead on the cards, but only postponing the inevitable.
In round six, a succession of right hands knocked Browne on the seat of his pants. He beat the count, but another barrage from Miller impelled the referee to intervene. The official time was 2:33. It was the 21st straight win for Miller (26-0-1, 22 KOs). Browne declined to 31-4 and, for his own sake, ought not fight again. All four of his losses have come inside the distance, some brutally.
The consensus of those that caught the livestream was that Floyd Mayweather Jr's commentary was an annoying distraction that marred what was otherwise an entertaining show.
As for what's next for "Big Baby" Miller, that's hard to decipher as he has burned his bridges with the sport's most powerful promoters. One possibility is Mahmoud Charr who, like Miller, has a big gap in his boxing timeline. Now 38 years old, Charr – who has a tenuous claim on a WBA world title (don't we all?) —  has reportedly taken up residence in Dubai.
Other Bouts of Note
In a 10-round cruiserweight affair, Suslan Asbarov, a 30-year-old Russian, advanced to 4-0 (1) with a hard-fought majority decision over Brandon Glanton. The judges had it 98-92, 97-93, and a more reasonable 95-95.
Asbarov was 12-9 in documented amateur fights and 1-0 in a sanctioned bare-knuckle fight, all in Moscow, entering this match. He bears watching, however, as Glanton (18-2) would be a tough out for almost anyone in his weight class. In his previous fight, at Plant City, Florida, Glanton lost a controversial decision to David Light, an undefeated Australian who challenges WBO world title-holder Lawrence Okolie at Manchester, England next week.
A 10-round super featherweight match between former world title challengers Jono Carroll and Miguel Marriaga preceded the semi-windup. Carroll, a 30-year-old Dublin southpaw, overcame a cut over his left eye suffered in the second round to win a wide unanimous decision in a fairly entertaining fight.
It was the sixth straight win for Carroll (24-2-1, 7 KOs) who elevated his game after serving as a sparring partner for Devin Haney. Marriaga, a 36-year-old Colombian, lost for the fourth time in his last five outings, declining to 30-7.
To comment on this story in the Fight Forum CLICK HERE