Honoring Cecilia Braekhus Isn't 'Politically Correct,' It's just the Right Thing
Cecilia Braekhus, receives the initial Christy Martin Award from the award's namesake this Friday night at the 93rd annual Boxing Writers Association of America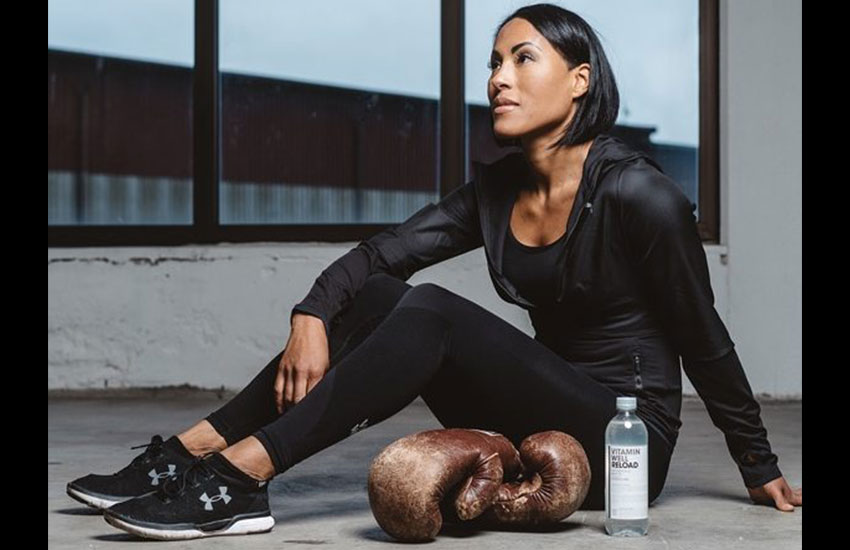 Until I decided to take a stand for women's boxing, or more precisely for the right of women to box if that is what they choose to do, no one had ever accused me of being "politically correct." I'm pretty sure that, on the whole, I am far from being a PC type of person. But you don't have to conveniently fit into someone else's stereotype to adhere to the principles by which we profess to live our lives. When the "First Lady," Cecilia Braekhus, receives the initial Christy Martin Award from the award's namesake this Friday night at the 93rd annual Boxing Writers Association of America Awards Dinner in New York City, I'd like to think far more people than not will also consider it to be the right thing.
History gets made in ways both great and small, and the BWAA's collective decision to break with tradition and create a Female Fighter of the Year award was not made hastily. It was proposed two years ago, with some members of the organization understandably cautious about taking what must have seemed a bold and possibly controversial step. As the former president of the BWAA and still its awards chairman, I championed that step being taken, as did current BWAA president Joseph Santoliquito and BWAA members David A. Avila, of The Sweet Science, and Tom Gerbasi, both of whom write extensively about women's boxing.
The blue-ribbon committee that was formed to select the first such honoree did its job well; the 36-year-old Braekhus, who was born in Colombia and adopted as a toddler by a Norwegian family, performed splendidly in 2017, winning three bouts against quality opponents. She made more history last weekend, becoming the first featured female boxer in HBO's 45-year involvement in the sport when she scored a 10-round unanimous decision over Kali Reis in Carson, Calif., to extend her record to 33-0 and retain her fully unified welterweight championship. Although the figurative glass ceiling for female boxers hasn't exactly been shattered, Braekhus and women such as Claressa Shields and Ireland's Katie Taylor have at least served to crack it a bit.
We all evolve as we grow and what we thought yesterday might not be exactly what we think today, or tomorrow. But being a son, husband and father of two daughters has served to convince me – and, really, this has little to do with politics and religion, although those hot-button topics touch all of us to some degree or another – that the women in our extraordinary country deserve no less consideration in virtually all aspects of their daily existence than is expected by their male counterparts. Equal pay for equal work, regardless of gender, would seem to be an indisputable concept in 21st century America. There is absolutely no justification for a woman receiving 77 cents for every dollar a man receives for doing the same job, and especially so if she has similar experience and qualifications.
There are exceptions to any rule, however, and the sports world is rife with them. Thanks to the crusading efforts of Billie Jean King and others, Serena Williams can now earn as much for winning major tournaments as the men do. Professional tennis, however, is an outlier. No matter how dominant Braekhus is in the ring, she can never hope to be paid as handsomely or receive the same level of global recognition as elite male fighters. It is a matter of supply and especially demand, driven by a marketplace that gives only so much credence to the concept of gender equity. It's the same thing in women's basketball, where the best of the best in the WNBA, players such as Candace Parker, Diana Taurasi, Maya Moore and Sylvia Fowles, earn tiny fractions of what comparable players in the NBA receive. The average wage for WNBA players is around $75,000, and Parker is one of only six women whose skill and popularity is such that during the 2017 season they received the max of $113,500. Compare that to the NBA's average salary of $6,517,428, or the Powerball Lottery payouts to megastars Steph Curry ($34.7 million) and LeBron James ($33.3 million). With endorsements, James augments his enormous NBA salary by an annual average of $52 million while Curry pulls down an additional $42 million. Even 55-year-old Michael Jordan, who hasn't played in the NBA since 2003, pocketed more endorsement money in 2014 than he made from the teams that employed him during the entirety of his 15-year playing career.
The yawning gap between the benefits that had long gone to male athletes, in comparison to women, began to close somewhat at the amateur level with the passage by Congress of Title IX in 1972, which prohibits sex discrimination in any educational program or activity receiving any type of federal financial aid. Just like that, colleges receiving such aid were required to provide equal opportunities for female athletes, which resulted in vastly increased funding, or even the creation programs for women's basketball, soccer, swimming, tennis, golf and volleyball.
Where I differed with Title IX's hard-line feminists was their unreasonable (to my way of thinking) resistance to allowing scholarship exceptions for college football. Since football at such schools as Alabama, Ohio State, Michigan, Texas and, yes, my college, LSU, were so profitable that the game basically funded all or most of the new or expanded women's sports benefiting from Title IX, I believed the mandate to provide equal numbers of athletic grants-in-aid for men and women should have excluded football. That argument was shot down, however, resulting in the unfortunate elimination of several men's sports such as wrestling, gymnastics and even baseball at some schools, a draconian measure instituted in order to make the numbers fit.
No one was ever going to confuse legendary Alabama football coach Paul "Bear" Bryant as a feminist, but he was first and foremost a realist. Prior to the passage of Title IX, Bryant was of the opinion that it really didn't matter if female cheerleaders for the Crimson Tide could do nifty tumbling routines or form human pyramids, but darn, they had better be drop-dead gorgeous. If that sounds sexist, well, it probably was. But when Title IX maneuvered him into a position he never wanted to be in, the Bear said in that growly, Chesterfield-tinged voice, and I'm paraphrasing here, "I don't much care for girls' sports, but if they're gonna have `Alabama' on the front of their uniforms they had better win.'"
Forty-six years after Title IX improved conditions for female student-athletes, some of the battles of the past are still being waged in the sordid era of Bill Cosby, Harvey Weinstein and Larry Nassar (the long-time doctor for the USA women's gymnastics team convicted of sexually abusing dozens of young girls). There is no quick fix for all of society's ills regarding the entrenched degradation of women, but with Mother's Day fast approaching each male among us should take a moment to consider what kind of gesture we can make to honor those who gave us life. If I took even a small step in that direction by acknowledging the hard work and sacrifices made by women who wanted nothing more than to test themselves in an area previously reserved only for the guys, I'm fine with that. I'd like to think my late mom, who always said she was the fastest girl at her school and might have excelled in track had she been encouraged to do so and had an avenue through which to demonstrate her talent, celestially approves of whatever minor role I had in the creation of the Christy Martin Award.
It isn't the first time that women's boxing and I have intersected in a manner I hardly could have anticipated. After Muhammad Ali's daughter, Laila Ali, made her pro debut with a perfunctory one-round blowout of a moonlighting Denny's waitress named April Fowler on Oct. 8, 1999, I called Joe Frazier's daughter, Philadelphia attorney Jacqui Frazier-Lyde, to get her opinion of the daughter of her father's fiercest rival taking up her celebrated pop's trade.
"If I trained to do it, I could kick her ass," Frazier-Lyde, a star basketball player at American University, responded. After a moment of hesitation, she added, "As a matter of fact, I think I will kick her ass." Shortly thereafter Frazier-Lyde began training at her dad's gym, and on June 8, 2001, she and Ali squared off Verona, N.Y., in what was optimistically hyped as "Ali-Frazier IV." Media from around the nation and the world showed up for the event, which Frazier-Lyde loudly and frequently proclaimed was happening because of the question I had posed to her nearly two years earlier. At least three of my male colleagues, who clearly weren't in attendance of their own volition, came over and essentially grumbled, "So you're the one responsible for this crap."
Ali defeated Frazier-Lyde on an eight-round majority decision in a competitive and entertaining bout, for which they were each paid more money than any women's boxer had ever made to that point. Of course, that largely owed to the kind of name recognition no female boxer before or since has enjoyed. While women's boxing slipped back into a fallow period after headliners like the celebrity daughters, Martin and Lucia Rijker retired, at least a seed had been planted. It bloomed into inclusion as an Olympic sport in 2012, helping make instant stars of Shields and Taylor.
The ladies have clawed and scratched for everything they've achieved during this latest revival. Having served in the Marine Corps, this curmudgeonly non-PC type still opposes the notion of women as combat troops, but there can be no denying that Braekhus is a national heroine in Norway and Shields is a two-time Olympic gold medalist for the USA who might soon be paired against Christina Hammer in a fight that might turn out to be bigger than Laila-Jacqui.
The train is still building momentum, but it's coming through and those who would defiantly oppose its even being on the track run the risk of being flattened. If you don't care to watch, then don't. But for any American to suggest that women shouldn't even have an opportunity to chase their boxing dreams seems antithetical in a country that from its inception has espoused the right to freedom of expression and the pursuit of happiness.
Check out more boxing news on video at The Boxing Channel
For more on female boxing, visit our sister site THE PRIZEFIGHTERS
Adrien Broner Returns to the Ring with an Attorney in the Opposite Corner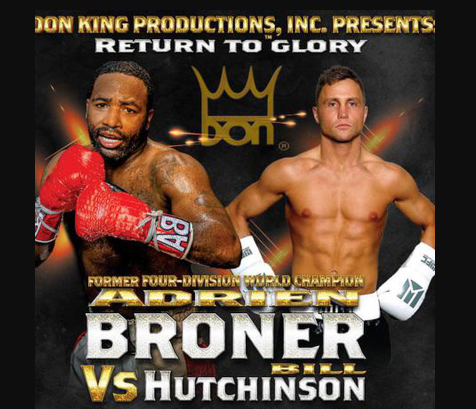 Adrien Broner returns to the ring tomorrow (Friday, June 9) after a 27-month absence. He meets Bill Hutchinson at Casino Miami Jai Alai in Miami, Florida, in a fight slated for "10." It's a Don King promotion for sale at $24.99 on FITE TV and several other pay-per-view platforms.
Hutchinson – his friends call him Hutch — is a practicing attorney with offices in his native Pittsburgh and in Naples, Florida. Reading about him reminded me of Leach Cross. A very good lightweight during the early years of the twentieth-century, Cross was a dentist. His disparate occupations, as one would imagine, gave rise to many jokes. It was said of Leach that he drummed up business for his dental practice by rearranging the bridgework of his opponents. He could knock out a man's tooth and replace it with a facsimile the next morning.
Adrien Broner, aptly nicknamed "The Problem," is frequently in need of a good attorney. The same goes for Don King, a litigious sort who has sued and been sued many times. Even if Hutchinson never fights again, it wouldn't be surprising if he crosses paths with Broner and/or King at some point again down the road. The principals made light of this in Tuesday's press conference. "Dealing with lawyers is Broner's forte," wisecracked Don King. "After I mess you up, I'm going to hire you," said Broner, looking sternly at Hutchinson.
On his web site, Hutchinson comes across as less of an attorney than a man who makes his living as a motivational speaker. "Currently," it reads, "Hutch is a partner and leader in multiple businesses across divergent market categories. These businesses range from the automobile industry to event promotions, high end construction to hospitality, real estate to medical marijuana, and biologics/pharmaceuticals…Hutch has earned a reputation in each industry as an innovative problem solver who discovers new opportunities for growth."
Okay, but can he fight?
Hutchinson's current record (20-2-4, 9 KOs) is decent, but only nine of his 20 wins have come against opponents with winning records. None of his previous fights were slated for more than eight rounds.
There are levels to this sport as Mike Lee can ruefully attest. A finance major at Notre Dame, Lee was a successful businessman with a 21-0 record (against limited opposition) when he wangled a match with IBF super-middleweight title-holder Caleb Plant. That bout turned ugly in a hurry. Plant put him on the deck in the opening round and scored three more knockdowns before the butchery was halted at the midway point of the third round.
The guess is that Broner-Hutchinson won't be quite as lopsided. Owing to legal problems, management issues, personal problems, and training injuries incurred by would-be opponents, Adrien Broner has been relatively inactive, missing all of 2020 and 2022. He's 1-2-1 in his last four fights going back to July of 2017 with the lone triumph coming against unheralded Jovanie Santiago who took the fight on short notice. Broner won a 12-round unanimous decision, but was actually out-landed. His post-fight interview was more exciting than the fight, said CBS reporter Brian Campbell.
In truth, Broner (34-4-1, 24 KOs) hasn't been the same fighter since his bout with Marcos Maidana in December of 2013. Broner was still standing at the final bell, but Maidana roughed him up en route to winning a lopsided decision. Entering that contest, Broner was 27-0 and had never been knocked down. After that bout, he became far less willing to initiate contact, relying more on his sublime defensive skills.
Broner vs. Maidana drew a reported 1.3 million pay-per-view buys, an impressive figure. Broner vs. Hutchinson won't come anywhere close to matching those numbers (75,000 may be a stretch) and no matter his showing, Broner won't repair his tattered image. A prizefighter cannot regain what he has lost against the Bill Hutchinson's of the world.
To comment on this story in the Fight Forum CLICK HERE
Light Heavyweights on Display as 'Sho Box' Returns to Turning Stone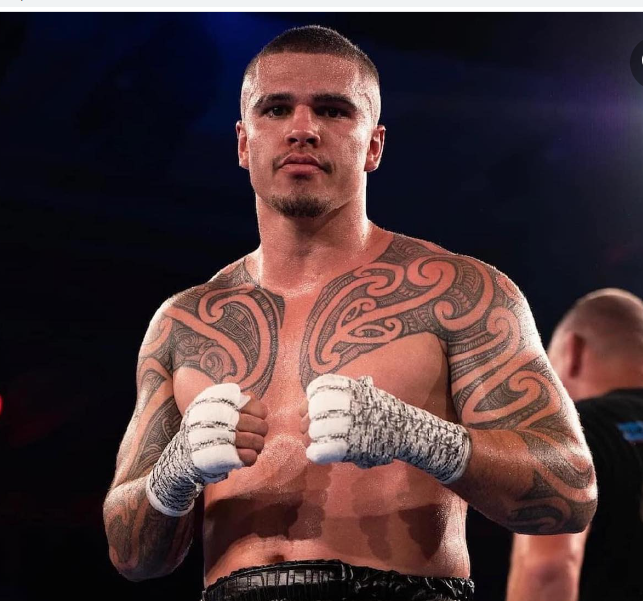 SHOWTIME's 'Sho Box; The New Generation' series, now in its twenty-first season, returns to Central New York on Friday, June 9. The venue is the Turning Stone Casino and Resort in the town of Verona, one freeway exit removed from Canastota, home to the International Boxing Hall of Fame and Museum which is holding its annual shebang this weekend, a four-day jamboree culminating in Sunday's Canastota parade and IBHOF Induction Ceremony.
The TV portion of Friday's card kicks off with an 8-rounder between Clay Waterman (pictured) and Kenmon Evans. It's the U.S. debut for Waterman (10-0, 8 KOs), a Queenslander from Down Under with a strong amateur background and an interesting ethnic pedigree: Maori, indigenous Australian, and European. (He is one of two fighters of Maori descent in action this weekend; Cherneka Johnson defends her IBF super bantamweight title against Ellie Scotney in London on Saturday.)
Waterman's opponent Kenmon Evans (10-0-1, 3 KOs), is seeking his eighth straight victory. A 31-year-old Floridian, Evans is promoted by 2020 IBHOF inductee Christy Martin.
Main Event
The featured bout is an intriguing 10-round contest between Ali Izmailov (10-0, 7 KOs) and Charles Foster (22-0, 12 KOs).
A 30-year-old Russian, Izmailov, ranked #11 by the WBO, is part of promoter Dmitry Salita's Motor City contingent, but has been training for this fight in Florida under the tutelage of John David Jackson. Foster, a 33-year-old southpaw from New Haven, Connecticut, appeared at Turning Stone last year, scoring a third-round stoppage of Bo Gibbs.
Co-Feature
This looks like another well-matched affair. And once again, as Michael Buffer would have said, someone's "0" has got to go.
Richard Vansiclen (13-0-1, 6 KOs) was held to a draw in his last fight with Mexico's Manuel Gallegos. It was a fan-friendly affair and those that saw the fight on FITE TV will likely tune in for this one.
A 29-year-old Seattle-based southpaw, Vansiclen did not have a conventional amateur background. A good all-around athlete in high school, he took up boxing after joining the club team at the University of Washington where he earned a degree in communications. Vansiclen's opponent, Juan Carrillo (10-0, 8 KOs), represented Colombia in the 2016 Rio Olympics. It's slated for "10."
To comment on this story in the Fight Forum CLICK HERE
The Sweet Science Rankings: Week of June 5th, 2023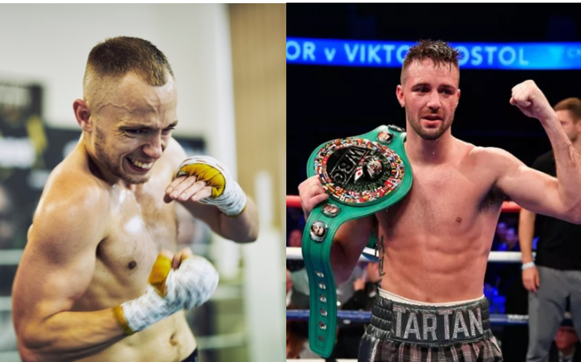 The Sweet Science Rankings: Week of June 5th, 2023
For the first time there are no changes in this week's TSS Rankings. Two fighters ranked #1 in their weight class are in action this Saturday. Sunny Edwards, the top dog at 112 pounds, defends his belt against Chile's Andres Campos at Wembley Arena in London. In a match with far more intrigue, Josh Taylor, the topmost fighter at 140, meets Teofimo Lopez at Madison Square Garden.
Pound-for-Pound
01 – Naoya Inoue
02 – Oleksandr Usyk
03 – Juan Francisco Estrada
04 – Dmitry Bivol
05 – Terence Crawford
06 – Errol Spence Jnr.
07 – Tyson Fury
08 – Saul Alvarez
09 – Artur Beterbiev
10 – Shakur Stevenson
105lbs
1            Knockout CP Freshmart (Thailand)
2            Petchmanee CP Freshmart (Thailand)
3            Oscar Collazo (USA)*
4            Ginjiro Shigeoka (Japan)
5            Wanheng Menayothin (Thailand)
6            Daniel Valladares (Mexico)
7            Yudai Shigeoka (Japan)
8            Melvin Jerusalem (Philippines)
9            Masataka Taniguchi (Japan)
10          Rene Mark Cuarto (Philippines)
108lbs
1            Kenshiro Teraji (Japan)
2            Jonathan Gonzalez (Puerto Rico)
3            Masamichi Yabuki (Japan)
4            Hekkie Budler (South Africa)
5            Sivenathi Nontshinga (South Africa)
6            Elwin Soto (Mexico)
7            Daniel Matellon (Cuba)
8            Reggie Suganob (Philippines)
9            Shokichi Iwata (Japan)
10          Esteban Bermudez (Mexico)
112lbs
1            Sunny Edwards (England)
2            Artem Dalakian (Ukraine)
3            Julio Cesar Martinez (Mexico)
4            Angel Ayala Lardizabal (Mexico)
5            David Jimenez (Costa Rica)
6            Jesse Rodriguez (USA)
7            Ricardo Sandoval (USA)
8            Felix Alvarado (Nicaragua)
9            Seigo Yuri Akui (Japan)
10          Cristofer Rosales (Nicaragua)
115lbs
1            Juan Francisco Estrada (Mexico)
2            Roman Gonzalez (Nicaragua)
3            Jesse Rodriguez (USA)
4            Kazuto Ioka (Japan)
5            Joshua Franco (USA)
6            Junto Nakatani (Japan)
7            Fernando Martinez (Argentina)
8            Srisaket Sor Rungvisai (Thailand)
9            Kosei Tanaka (Japan)
10          Andrew Moloney (Australia)
118lbs
1            Emmanuel Rodriguez (Puerto Rico)
2            Jason Moloney (Australia)
3            Nonito Donaire (Philippines)
4            Vincent Astrolabio (Philippines)
5            Gary Antonio Russell (USA)
6            Takuma Inoue (Japan)
7            Alexandro Santiago (Mexico)
8           Ryosuke Nishida (Japan)
9            Keita Kurihara (Japan)
10          Paul Butler (England)
122lbs
1            Stephen Fulton (USA)
2            Marlon Tapales (Philippines)
3            Luis Nery (Mexico)
4            Murodjon Akhmadaliev (Uzbekistan)
5            Ra'eese Aleem (USA)
6            Azat Hovhannisyan (Armenia)
7            Kevin Gonzalez (Mexico)
8            Takuma Inoue (Japan)
9            John Riel Casimero (Philippines)
10          Fillipus Nghitumbwa (Namibia)
 126lbs
1            Luis Alberto Lopez (Mexico)
2           Leigh Wood (England)
3            Brandon Figueroa (USA)
4            Rey Vargas (Mexico)
5            Mauricio Lara (Mexico)
6            Mark Magsayo (Philippines)
7            Josh Warrington (England)
8            Robeisy Ramirez (Cuba)
9            Reiya Abe (Japan)
10          Otabek Kholmatov (Uzbekistan)
 130lbs
1            Joe Cordina (Wales)
2            Oscar Valdez (Mexico)
3            Hector Garcia (Dominican Republic)
4            O'Shaquie Foster (USA)
5            Shavkatdzhon Rakhimov (Tajikistan)
6            Roger Gutierrez (Venezuela)
7            Lamont Roach (USA)
8            Eduardo Ramirez (Mexico)
9            Kenichi Ogawa (Japan)
10          Robson Conceicao (Brazil)
135lbs
1            Devin Haney (USA)
2            Gervonta Davis (USA)
3            Vasily Lomachenko (Ukraine)
4            Isaac Cruz (Mexico)
5            William Zepeda Segura (Mexico)
6            Frank Martin (USA)
7            George Kambosos Jnr (Australia)
8            Shakur Stevenson (USA)
9            Raymond Muratalla (USA)
10          Keyshawn Davis (USA)
140lbs
1            Josh Taylor (Scotland)
2            Regis Prograis (USA)
3            Jose Ramirez (USA)
4            Jose Zepeda (USA)
5            Jack Catterall (England)
6            Subriel Matias (Puerto Rico)
7            Arnold Barboza Jr. (USA)
8            Gary Antuanne Russell (USA)
9            Zhankosh Turarov (Kazakhstan)
10          Shohjahon Ergashev (Uzbekistan)
 147lbs
1            Errol Spence (USA)
2            Terence Crawford (USA)
3            Yordenis Ugas (Cuba)
4            Vergil Ortiz Jr. (USA)
5            Jaron Ennis (USA)
6            Eimantas Stanionis (Lithuania)
7            David Avanesyan (Russia)
8            Cody Crowley (Canada)
9            Roiman Villa (Columbia)
10          Alexis Rocha (USA)
 154lbs
1            Jermell Charlo (USA)
2           Tim Tszyu (Australia)
3            Brian Castano (Argentina)
4            Brian Mendoza (USA)
5            Liam Smith (England)
6            Jesus Alejandro Ramos (USA)
7            Sebastian Fundora (USA)
8            Michel Soro (Ivory Coast)
9            Erickson Lubin (USA)
10          Magomed Kurbanov (Russia)
 160lbs
1            Gennady Golovkin (Kazakhstan)
2            Jaime Munguia (Mexico)
3            Carlos Adames (Dominican Republic)
4            Janibek Alimkhanuly (Kazakhstan)
5            Liam Smith (England)
6            Erislandy Lara (USA)
7            Sergiy Derevyanchenko (Ukraine)
8            Felix Cash (England)
9            Esquiva Falcao (Brazil)
10          Chris Eubank Jnr. (Poland)
168lbs
1            Canelo Alvarez (Mexico)
2            David Benavidez (USA)
3            Caleb Plant (USA)
4            Christian Mbilli (France)
5            David Morrell (Cuba)
6            John Ryder (England)
7            Pavel Silyagin (Russia)
8            Vladimir Shishkin (Russia)
9            Carlos Gongora (Ecuador)
10          Demetrius Andrade (USA)
175lbs
1            Dmitry Bivol (Russia)
2            Artur Beterbiev (Canada)
3            Joshua Buatsi (England)
4            Callum Smith (England)
5            Joe Smith Jr. (USA)
6            Gilberto Ramirez (Mexico)
7            Anthony Yarde (England)
8           Dan Azeez (England)
9            Craig Richards (England)
10          Michael Eifert (Germany)
200lbs
1            Jai Opetaia (Australia)
2            Mairis Breidis (Latvia)
3            Chris Billam-Smith (England)
4            Richard Riakporhe (England)
5            Aleksei Papin (Russia)
6            Badou Jack (Sweden)
7            Arsen Goulamirian (France)
8            Lawrence Okolie (England)
9            Yuniel Dorticos (Cuba)
10          Mateusz Masternak (Poland)
Unlimited
1            Tyson Fury (England)
2            Oleksandr Usyk (Ukraine)
3            Zhilei Zhang (China)
4            Deontay Wilder (USA)
5            Anthony Joshua (England)
6            Andy Ruiz (USA)
7            Filip Hrgovic (Croatia)
8            Joe Joyce (England)
9            Dillian Whyte (England)
10          Frank Sanchez (Cuba)
To comment on this story in the Fight Forum CLICK HERE