The Official TSS GGG-Canelo II Prediction Page
We surveyed members of our writing community to get their thoughts on Saturday's mega-fight between Gennady Golovkin and Canelo Alvarez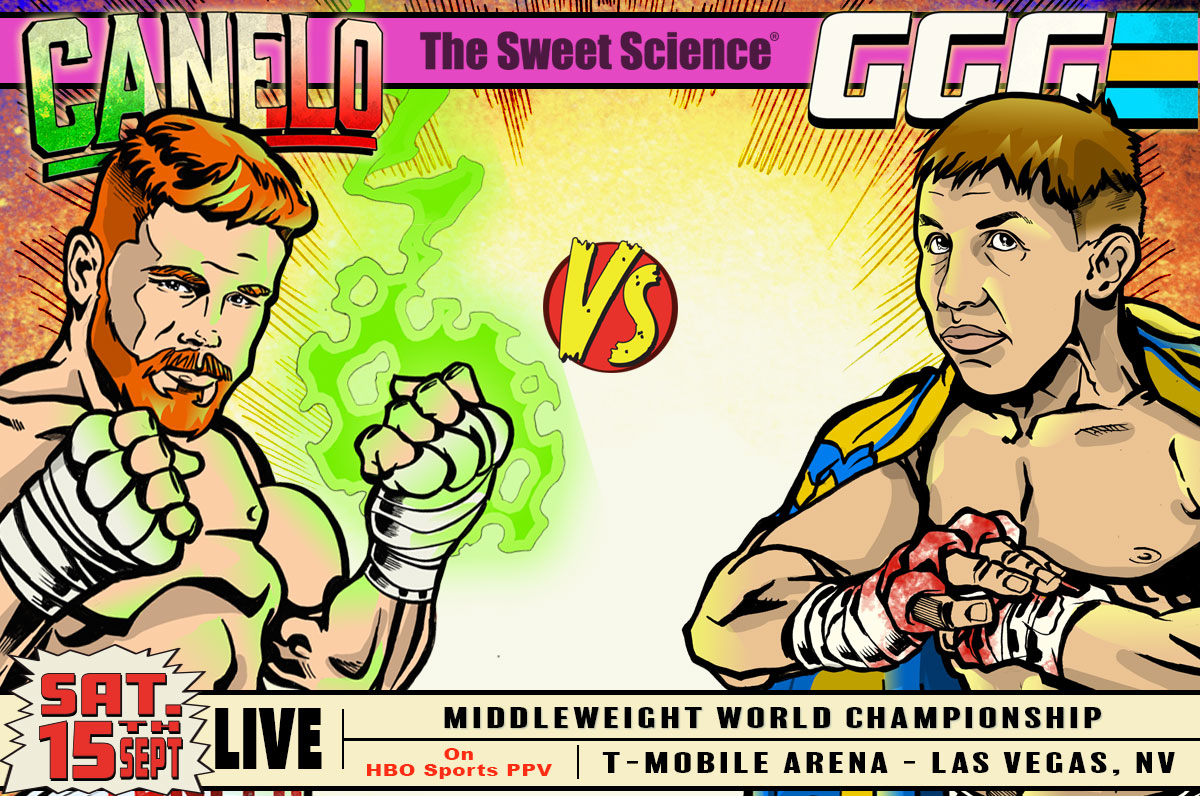 We surveyed members of our writing community to get their thoughts on Saturday's mega-fight between Gennady Golovkin and Canelo Alvarez. If this survey is any guide, the rematch is a true "pick-'em" fight. Opinion was split with compelling cases made for each side.
The respondents are listed alphabetically. Comic book cover artist ROB AYALA, whose specialty is combat sports, provided the graphic. Check out more of Ayala's illustrations at his web site, fight posium.
Matt Andrzejewski
The rematch will resemble the first fight with a few caveats. First, Golovkin will get off to a faster start. He knows what to expect from Canelo and will not be as bothered by his speed in the early going. Ring rust will also be a negative factor for Canelo in the early rounds. The fight will then resemble that of the first fight in the middle to late rounds with Golovkin's pressure and punching power taking control of the action. The second caveat is the judges will get this right. Golovkin wins by wide unanimous decision.
Rick Assad
On its face, the tussle should be a dandy. A pair of future Hall of Famers in their prime with everything on the line. It should be tight and despite being an underdog I'm picking Canelo to win a split decision based on hand speed, courage and revenge.
Bernard Fernandez
For a fighter with a yen for making boxing history, setting the record for title defenses in the middleweight division figures to be a powerful aphrodisiac. It also doesn't hurt to feel as if the opponent you hope to set the record against is a drug cheat who deserves a painful comeuppance. Toss those ingredients into the pot, along with Gennady Golovkin's always-formidable punching power, and the call here is for GGG to score an eighth-round stoppage in what figures to be a good fight with nasty overtures.
Jeffrey Freeman
Canelo Alvarez by decision. We've already seen this fight. What it proved is that both boxers are very evenly matched and that a knockout is exceedingly unlikely. The rematch will look a lot like their first twelve rounds. Canelo will counterpunch from range to avoid GGG's power. Golovkin will look to have done enough to retain his title. The judges say otherwise.
Kid Hersh
Canelo UD.  I believe that Canelo will pick up where he left off in the last fight and be able to hit Golovkin while staying elusive enough on defense to get the victory.  In addition, Golovkin is getting older and Canelo is coming into his prime.
Arne Lang
I keep flashing back to the two fights between Lennox Lewis and Evander Holyfield. The first match was ruled a draw. It caused a big stink. Most everyone thought that Lewis was robbed. The rematch was pretty much a carbon of the first, but the judges were predisposed toward giving Lennox the close rounds to rectify the wrong – the equivalent of a "make-up call" in football – and he won a unanimous decision. Ergo, I suspect that history will repeat. It's GGG by UD in a very close fight.
Frank Lotierzo
I don't think GGG can improve from what he showed in the last fight, unless Canelo was really aided by PEDS then and obviously won't be this time. I've always felt GGG was the stronger fighter and should win. The questions are whether he is too old now and whether he can he get the decision if he doesn't get the stoppage. A loss ends Canelo as a star fighter and that leads me to think Canelo wins and there's a third fight.
Kelsey McCarson
I was part of the minority of boxing fans who thought Alvarez did enough for the draw in the first fight. I thought Golovkin started off slow and Alvarez eked out the first three rounds, and I'm certain Alvarez took over the fight during the last three rounds, so to me whether you had it close for either fighter, I couldn't disagree. Since then, Golovkin has done nothing but grow older and get angrier. I guess technically he also trucked the hapless Vanes Martirosyan but I count that as nothing. I think Golovkin will press too much for the knockout in the rematch, and Alvarez will counterpunch him to death to win at least seven or eight of the rounds. My prediction is Alvarez via unanimous decision in one heck of a good scrap.
Matt McGrain
I don't think that Alvarez will be using performance enhancing drugs for this fight. Therefore, I think Alvarez will lose.
Sean Nam
The newfound enmity between Saul Alvarez and Gennady Golovkin suggests that their rematch will not be short of dramatic moments. But boxing more often disappoints than fulfills its oft-gaudy expectations, and the thinking here is that the fight will end in similar fashion as the first meeting, in the judges' hands. Stamina has never been Alvarez's best friend, but should he refrain from holstering his offense for six rounds as he did in the first fight, the rematch will be Alvarez's to win. He is quicker, craftier, and offensively more creative than the aging ironfisted Golovkin. But stamina is not something you can improve so simply through one camp and power is often the last thing to go away for a fighter. Golovkin by SD.
Tamas Pradarics
I believe the issue with Canelo's positive tests as well as his brief suspension has made the rematch much bigger, and not just from a financial standpoint. It is clearly personal now for each of these two. And I believe it is Canelo who is in a better position leading up to the biggest PPV event of 2018. The Mexican is younger, fresher, and has a strong motivation to clear his name after all that happened. Also, Alvarez only gets better with age at 28, while Golovkin turned 36 in April. Though I scored the first one 116-112 for GGG, this time I think Canelo can pull off the victory in a fierce battle. My pick is Alvarez by majority decision in a fun fight.
Ted Sares
I see strong similarities to the first fight except that GGG will press earlier this time doing a better job of cutting off the ring. Canelo will do better in the mid-rounds landing the more quality shots. The fight will be decided in the last three rounds as they engage more directly with a possible firefight ensuing. I predict another draw. Two judges split and the other calls it even.
Phil Woolever
Watching the TV broadcast (which to me carries far less scoring validity than seeing a fight live), I thought the initial encounter was much closer than everyone who screamed about Golovkin getting robbed and I had no problem with the draw verdict. If Canelo uses his movement to attack, instead of retreat, he has an even better shot at the upset this time. It really comes down to who absorbed Shawn Porter's philosophy more last weekend. To win a fight, you should actually fight. Golovkin likely received that message clearer, and it's more likely he'll try to prove he actually is the monster that so many people once considered him to be. He may even score a TKO, but he's going to eat some leather before he does. My main prediction, with nothing against this weekend's principals, is that whoever wins still isn't in the same middleweight league as Leonard, Hagler or Hearns.
Check out more boxing news on video at The Boxing Channel
Avila Perspective, Chap. 223: An Act of War Benavidez vs Plant Press Confab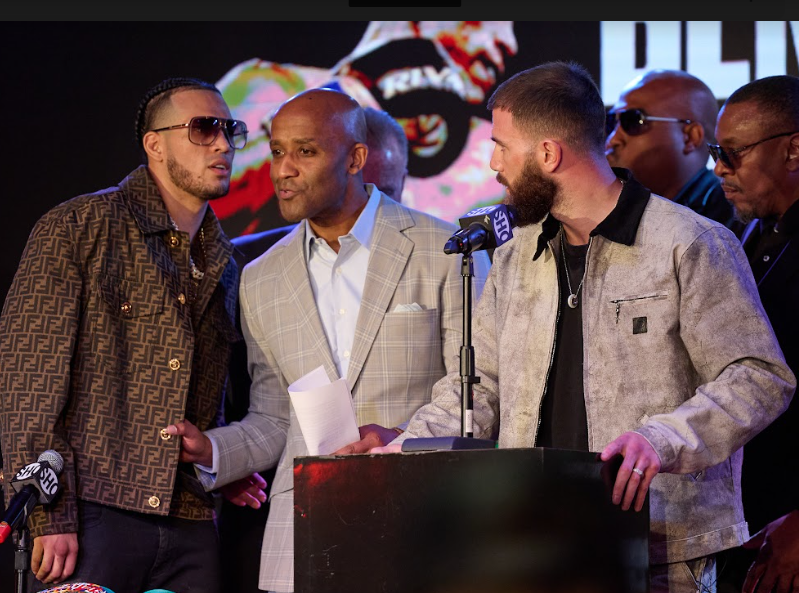 LOS ANGELES-Heated words straight out of a burning furnace filled the cool air in downtown L.A. at the press conference on Thursday for top super middleweight contenders David Benavidez and Caleb Plant.
"Every fighter has one of these grudge matches that brings the best out of them. I don't like Caleb at all, but I want to thank him for bringing the animal out of me. I'm more motivated than ever," said Benavidez. "On March 25, I finally get to put hands on Caleb Plant."
Plant was cool in his response.
"This rivalry only started because we agree to disagree on who's better. And that's fine, he should feel like that. That's how great fighters are supposed to feel. It's slowly built up over time," said Plant.
Both are former world champions and both are ready to engage.
A large media turnout arrived at the Conga Room in LA Live to witness the two opposite style fighters, much like fire and ice.
Fiery Benavidez (26-0, 23 KOs) seemed eager to fight on the stage as the mere presence of the cool demeanor of Plant (22-1, 13 KOs) seemed to ignite anger. They have both agreed to meet in the prize ring on March 25, at the MGM Grand in Las Vegas. Showtime pay-per-view will televise the TGB Promotions card.
"If you know anything about boxing, you know this is one of the very best fights that can be made in the sport. The consensus No. 1 and No. 2 contenders in this division," said Stephen Espinoza president of Showtime boxing. "This is a high-stakes matchup, personally and professionally. There's a personal rivalry here. There are bragging rights here. There is supremacy in the division at stake."
Both fighters have held world titles before and for years debates sprung up on who was better.
Benavidez was the youngest super middleweight champion at 20 when he first won the WBC version in 2017 defeating Ronald Gavril. He lost the title for testing positive for illegal substances the next year. In 2019 he faced Anthony Dirrell for the WBC title again and stopped him in nine rounds in Los Angeles. However, he failed to make weight in his next fight and lost the title again on the scales.
He is hungry to regain a world title but even more hungry to defeat Plant.
"I've been wanting to fight him for a long time and now the winner of this fight gets to be the mandatory for Canelo Alvarez. I'm super motivated," Benavidez said.
Plant agrees that their match up is motivating because the winner gets Saul "Canelo" Alvarez and a hefty payday.
"I knew I was next in line to fight the interim champ before that fight, and that meant David Benavidez. I'm in the fight that I want," said Plant who formerly held the IBF title.
Plant's last fight was voted WBA Knockout of the Year when he double-left-hooked Dirrell to unconsciousness last October in Brooklyn. It was a shocking ending. His fight before that saw him lose the world title to Canelo Alvarez by knockout.
No shame in losing to Canelo.
Now the title former world titlists are eager to regain their former status and grab a mega payday fighting Alvarez. It's perhaps the best fight in over a year for men's boxing.
"I believe that this fight between David Benavidez and Caleb Plant will be added to the list of epic brawls between two warriors taking it to the next level," said Tom Brown of TGB Promotions. "This fight will be one of, if not the winner of Fight of the Year this year. This is one you don't want to miss."
Top Rank
Mexico's Emanuel Navarrete (36-1, 30 KOs) challenges Australia's Liam Wilson (11-1, 7 KOs) for the vacant WBO super featherweight title today, Feb. 3, at the Desert Diamond Arena in Glendale, Arizona. ESPN+ will stream the Top Rank card.
Wilson, 26, has never fought outside of Australia but is known for his strength and power. He is also taller than Navarrete.
Navarrete is the former WBO featherweight champion and has not lost a fight in over a decade.
Also, Arnold Barboza (27-0) meets Jose Pedraza (29-4-1) in a super lightweight battle. And several others such as Lindolfo Delgado, Richard Torrez and Nico Ali Walsh will be performing.
Ontario Card
Southern California's hot super lightweight prospect Ernesto "Tito" Mercado (8-0, 8 Kos) fights Jose Angulo (14-4) at the LumColor Center in Ontario, California on Saturday, Feb. 4. RedBoxing Promotions is staging the event.
Doors open at 6 p.m.
Photo credits: Esther Lin / SHOWTIME; Mikey Williams / Top Rank via Getty Images
To comment on this story in the Fight Forum CLICK HERE
Bazinyan Improves to 29-0, but Gollaz and Gaumont Steal the Show in Montreal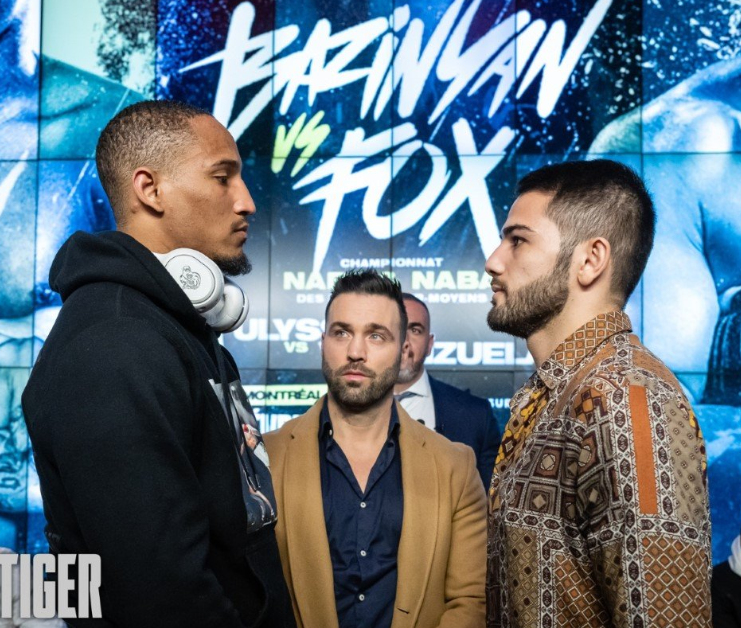 Super middleweight Erik Bazinyan, ranked #3 by the WBA and the WB0 and #4 by the WBC, advanced his record to 29-0 (21) on Thursday night at the Casino de Montreal with a hard-earned majority decision over Alantex Fox. The judges had it 95-95 and 98-92 twice.
A member of the National Team in Armenia before moving with his parents to Quebec at age 16, Bazinyan was moving up in class while making the first defense of two North American titles. In Fox, one of two fighting brothers from Upper Marlboro, Maryland, he was meeting a 12-year pro who brought a 28-3-1 record.
The fight was messy at times as was often the case with the six-foot-four Fox who tends to tie up his opponents when they happen to borrow inside his long arms. The fight was fairly even through the first six frames, but Bazinyan forged ahead as Fox's workrate declined.
There were two brutal upsets on the undercard, both of which ended in the opening round.
In a super lightweight match slated for 10, Guadalajara's Gabriel Gollaz, who was billed for this fight under his mother's maiden name, Valenzuela, solidified his reputation as a treacherous spoiler with a first round blast-out of Yves Ulysse Jr. The Mexican, who improved to 26-3-1 with his 16th knockout, caught Ulysses leaning in and crumpled him with a brutal uppercut. Ulysse, who hadn't previously been stopped, appeared to suffer a leg injury as he fell and was carried from the ring.
In 2021, Gollaz went to London and upset former British Commonwealth champion Robbie Davies Jr. More recently, he came within a shade of upsetting Matchroom signee Montana Love, losing a 12-round decision.
A 34-year-old Montreal native of Haitian ancestry, Ulysse (22-3) was considered a bright prospect after taking Cletus Seldin to school in 2017. After tonight's match, which lasted all of 52 seconds, he indicated that he would retire.
Another Mexican import, middleweight Carlos Gallego, wasn't as fortunate. Gallego, 8-4 heading in, was knocked out in the opening round by local fan favorite Alexandre Gaumont (7-0, 5 KOs).
Gaumont forced the stoppage with a barrage of punches after snapping Gallego's head back with a vicious uppercut. Gallego tried to rise and then fell back to his knees as the bout was being waived off. The official time was 2:26.
Gaumont, 27, knocked out 12 of his 21 opponents as an amateur. He bears watching.
Presented by Camille Estephan's Eye of the Tiger Promotions, tonight's card aired in the U.S. on ESPN+.
To comment on this story in the Fight Forum CLICK HERE
Alycia Baumgardner vs Elhem Mekhaled: Female Splendor at MSG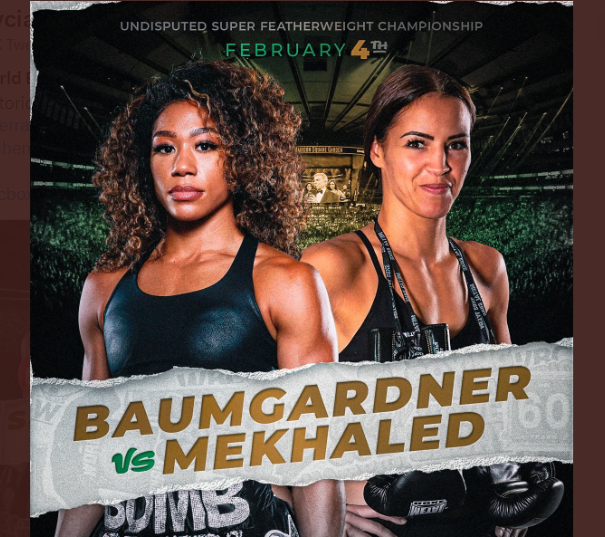 Alycia Baumgardner vs Elhem Mekhaled: Female Splendor at MSG
Two bouts between women, which will turn the winners into undisputed champions in the featherweight and super featherweight divisions, will create an electrifying atmosphere this Saturday, February 4th at Madison Square Garden.
In the duel between the two southpaws, Puerto Rican Amanda Serrano (43-2-1, 30 KOs), based in Brooklyn), will defend her 126-pound WBC, IBF and WBO titles, while Mexican Erika Cruz (15-1, 3 KOs) will defend her WBA title.
Also, of great interest will be the fight between American Baumgardner (13-1, 7 KOs), 130-pound WBC, IBF and WBO champion and her opponent, French challenger Elhem Mekhaled (15-1, 3 KOs), who will try to snatch Baumgardner's titles and get the vacant WBA title, which belonged to the undefeated Korean Choi Hyun-Mi (20-1, 5 KOs).
Choi, who was born in Pyongyang, North Korea but left the country with her family at the age of 14 and settled in Seoul, South Korea, was declared "Champion in Recess", as she suffers from a medical condition that prevents her from fighting. Once she fully recovers, she will have the possibility of facing, as a mandatory challenger, the winner between Baumgardner and Mekhaled.
For Baumgardner, who was born 28 years ago in Ohio, but now lives and trains in Michigan, the fight in New York will once again allow her to showcase her skills in the United States after three consecutive fights in the United Kingdom.
In her most recent bout, Baumgardner defeated her compatriot Mikaela Mayer (17-1, 5 KOs) in a difficult brawl, from whom she snatched the IBF and WBO belts, while retaining the WBC belt. The bout was October 15th of last year at the O2 Arena in London. Two of the officials, Steve Gray and John Latham, scored the fight 96-95 in favor of Baumgardner, but Terry O'Connor saw it 97-93 for Mayer.
Four days later, Choi unanimously defeated Canada's Vanessa Bradford (6-4-2, 0 KOs) in Seoul, earning the Asian her ninth successful defense of the WBA super featherweight crown, which she has held since May 2014, when she anesthetized the now retired Thai, Siriwan Thongmanit.
The following month, in November, the WBA ordered Choi to defend her belt in a mandatory duel against Baumgardner, making the winner the undisputed queen of 130 pounds.
ELHEM MEKHALED FILLS THE VACANCY OF SOUTH KOREAN CHOI
To fill the vacancy of the South Korean Choi, the IBF Committee awarded the position to Mekhaled who ranks third in the women's 130-pound rankings.
Former interim WBC titleholder, Mekhaled, 31 years old and born in Paris, has recently lost by unanimous decision to Belgian Delfine Persoon (47-3, 19 KOs) at the Etihad Arena in Abu Dhabi where they disputed the vacant WBC silver belt.
The duel against Baumgardner not only allows Mekhaled to debut in the United States, but also provides her the opportunity to become the undisputed champion at 130 pounds.
Mekhaled emphasized that the February 4th event has great significance for women fighters and that this is a sign that the discipline is growing, with more and more fight cards in which women exhibit the leading role.
The French boxer said that after winning the interim title in 2015, she waited a long time for the opportunity to fight for the regular belt, but unfortunately it never materialized.
Mekhaled explained that after a long period of focusing on her personal life and not really training, she accepted the duel with Delfine Persoon with only two weeks of preparation, which led to the setback against the Belgian boxer.
"Since my WBC interim 2019 title, I've been waiting for this moment," said Mekhaled. "Maybe fate has played well; instead of one belt, they're all on the line. I am super excited to fight on February 4th at the legendary MSG in New York. God knows how determined I am! It's my time to shine. Thank you to my advisor Sarah Fina."
Article submitted by Jorge Juan Álvarez in Spanish.
Please note any adjustments made were for clarification purposes and any errors in translation were unintentional.
To comment on this story in the Fight Forum CLICK HERE