Terence Crawford Has Conquered the World, and Now He's Won Over Nebraska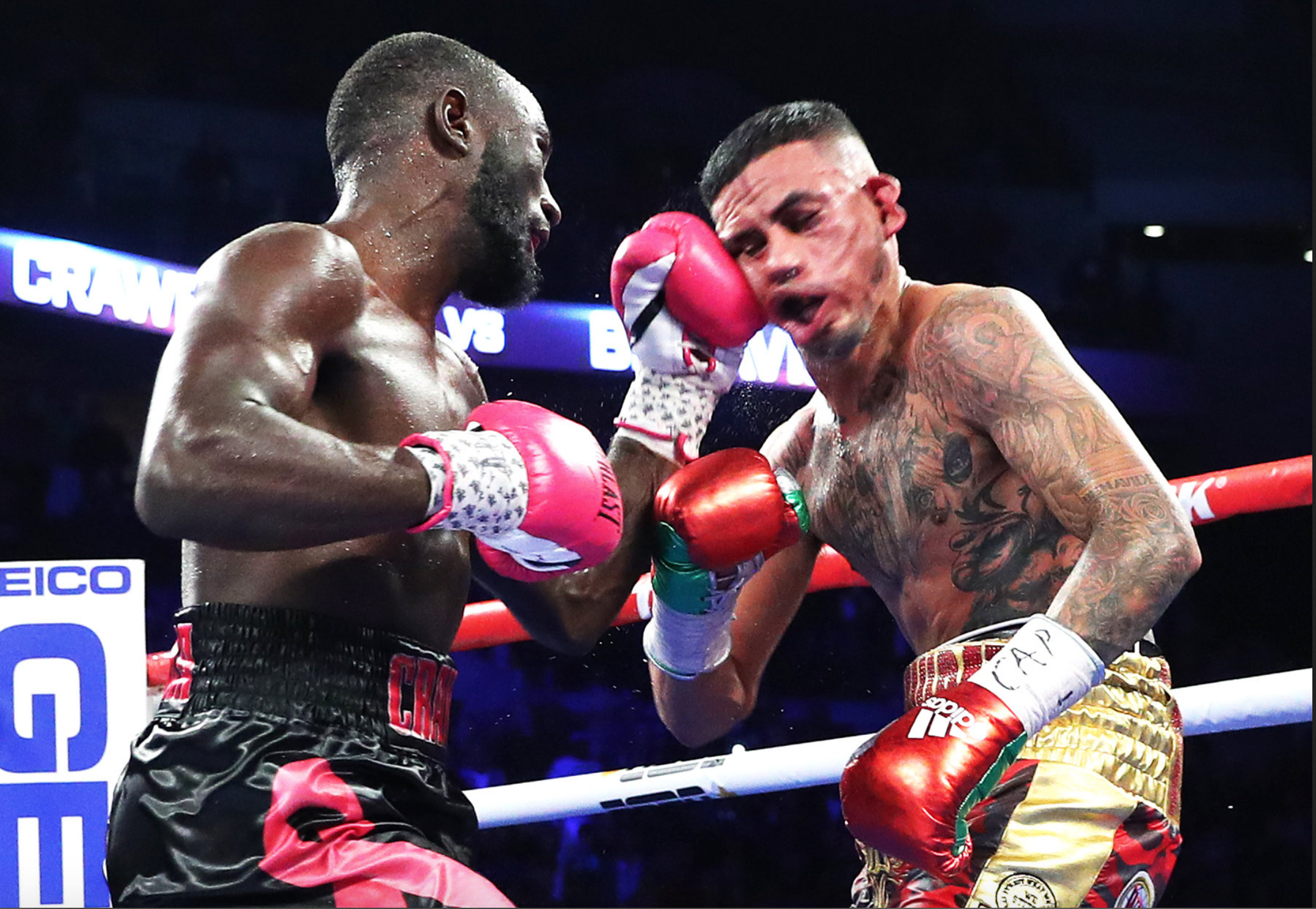 It was a day of even more anguish for Nebraskans, making for a night of even more exultation in a state where boxing – or, at least a particular boxer – is emerging as a hero and much-needed source of pride for citizens left wondering about the sorry state of the once-mighty Nebraska Cornhuskers.
Hours after those Cornhuskers snatched defeat from the jaws of victory, blowing a 10-point lead in the final 5 minutes, 21 seconds to fall 34-31 in overtime at Northwestern and begin a college football season 0-6 for the first time in program history, WBO welterweight champion Terence "Bud" Crawford defended his title with panache and power, stopping previously undefeated challenger Jose Benavidez, Jr. in the 12th round to buttress his argument that he is the best pound-for-pound fighter on the planet. There are still pockets of resistance to his claim to that designation, of course, but none coming from the ESPN broadcast crew of Joe Tessitore, Timothy Bradley Jr. and Mark Kriegel, all of whom intermittently offered their opinion that the switch-hitting Omaha resident has now firmly established himself as best of the best.
The 31-year-old Crawford's latest bravura performance was met with shouted hosannas of approval from the sellout crowd of 13,323 in Omaha's CHI Health Center, a record for a boxing event in Nebraska, and a stark contrast to the burgeoning sense of panic among Cornhusker partisans, who have to be wondering who these impostors in the red-and-white uniforms are.
Crawford grew up in a poor section of Omaha as an avid Nebraska fan, and after his latest demonstration of nimble footwork, fast, accurate hands and surprising power you could hardly blame his fellow home-state citizens from wondering if he might be persuaded to enroll at NU and play quarterback for his floundering favorite team. The ability to finish strong, taking the fight even harder to Benavidez in the final round when the more prudent move might have been to simply run out the clock, stamps Crawford as the pugilistic equivalent of Tommie Frazier, the option master who led the Huskers to back-to-back national championships in 1994 and '95. But even the legendary Frazier wasn't perfect; he was 43-3 as a starter during his four-year college career. Crawford, now 34-0 with 25 wins inside the distance, has a vision of someday retiring undefeated, a goal that at this stage seems entirely reasonable.
Top Rank founder and CEO Bob Arum, Crawford's promoter, cited the fighter's 12th-round mugging of Benavidez, the key blow being a ripping right uppercut that he had hidden up his figurative sleeve like a card sharp's ace, as proof that the three-division world champion is indeed separate and above the madding crowd.
"Most fighters today, in that position, having clearly won the fight, would back off in the 12th round, not take any chances and run out the clock," Arum said. "Not him. He's a performer. He wanted to close the show, and that's what he did. That's what makes him special. That is not the mindset most (other fighters) have. But Terence is a showman. He wants to make a statement."
He especially wanted to make it, and as loudly as possible, against the mouthy Benavidez (27-1, 18 KOs), who has been talking smack about Crawford for months and gave him a hard shove at Friday's weigh-in, which precipitated a retaliatory right hook from the champion. It missed, thankfully, but no matter. Crawford landed plenty of shots that did when it mattered, smoothly alternating, as always, from an orthodox stance to southpaw and back again.
"We just took our time today," Crawford said, referring to himself in the plural rather than the singular, a nod toward his support team, most notably manager-trainer Brian McIntyre. "Everything that went on this week, he was trying to get in my head, wanting me to have a firefight with him. I knew if we got in a rhythm we could do whatever we wanted, and that's what we did.
"He made me work in the early rounds. He was trying to counter me, working on my distance. I couldn't figure it out at first. But once I got my distance, it was a rout from there."
Maybe the rout evolved methodically and in a controlled fashion because that's what Crawford, who had vowed to "punish" Benavidez for his impertinence, had in mind all along. He is a man of his word, and, also as he had vowed, he declined to touch gloves with Benavidez or to offer even a halfhearted hug after the final bell. No surprise there; like fellow Omaha native Bob Gibson, the St. Louis Cardinals' Hall of Fame pitcher, he regards all opponents as the enemy and thus off-limits to fraternization of any kind.
What about that kept-in-reserve uppercut, which sent Benavidez tumbling awkwardly to the canvas and in obvious distress?
"I'd been seeing it rounds and rounds ahead of time," said Crawford, who is now 5-0 in Omaha and 6-0 in  Nebraska, counting a sole appearance in Lincoln. "I seen him pulling back,but then he stopped pulling back so I started leaning more and more because I was touching him to the body. Then I threw the shot, and it landed."
For those with a need to crunch numbers, official scorecards through 11 completed rounds all had the overwhelming wagering choice – Crawford went off at minus-3,000, or a 1-to-30 favorite – winning big on the scorecards tallied by judges Levi Martinez (110-99), Robert Hecko (108-101) and Glenn Feldman (107-102). Punch statistics furnished by CompuBox also were conclusive if not necessarily off-the-charts, with Crawford landing 186 of 579, a decent but not overly so 32.1 percent, to 92 of 501 (18.4 percent) for the outclassed but game Benavidez. But boxing is basically  an art form, not math, and like all artists Crawford is more about aesthetic impression than raw data.
For his part, Benavidez, who had promised to "shock the world" by "exposing" Crawford, figured he had done as well, if not better, than most of Bud's previous victims.
"I gave him a hell of a fight," Benavidez reasoned. "But I got tired. Boxing, you know. I was pretty impressive. I wanted to give the fans a fight that they paid to come watch. I know he didn't think I would be that good.
"I take nothing from him. He's the best of the best for a reason. He's a good fighter, you know? But I'm a good fighter, too. I had that fight close."
In the co-featured bout, 21-year-old featherweight Shakur Stevenson (9-0, 5 KOs), a silver medalist at the 2016 Rio de Janeiro Olympics, was much more dynamic than he had been in scoring a relatively pedestrian eight-round unanimous decision over Carlos Ruiz on Aug. 18 in Atlantic City, blasting out Romanian veteran Viorel Simion (21-3, 9 KOs) in one round. The southpaw Stevenson's weapon of choice was the right hook, which he used to telling effect to floor Simion three times, prompting referee Curtis Thrasher to wave the bout off after an elapsed time of three minutes.
Simion, a 36-year-old Romanian whose previous losses were to former world champions Lee Selby and Scott Quigg, was penciled last in as a replacement for the injured Duarn Vuc, had never been stopped in his 12-year pro career and he looked askance at Thrasher, as if disbelieving that he would not be given the opportunity to fight his way out of trouble in the scheduled  10-rounder.  But, his legs still wobbly, he was not pleading a winnable case.
"My power was here tonight, and my speed," said Stevenson, who claimed the vacant WBC Continental Americas 126-pound title. "Ain't too much more that I can work on, but I'm going to keep staying sharp and get right back in the gym."
Check out more boxing news on video at The Boxing Channel
Yoka vs. Hammer Kicks Off the Thanksgiving Weekend Slate on ESPN+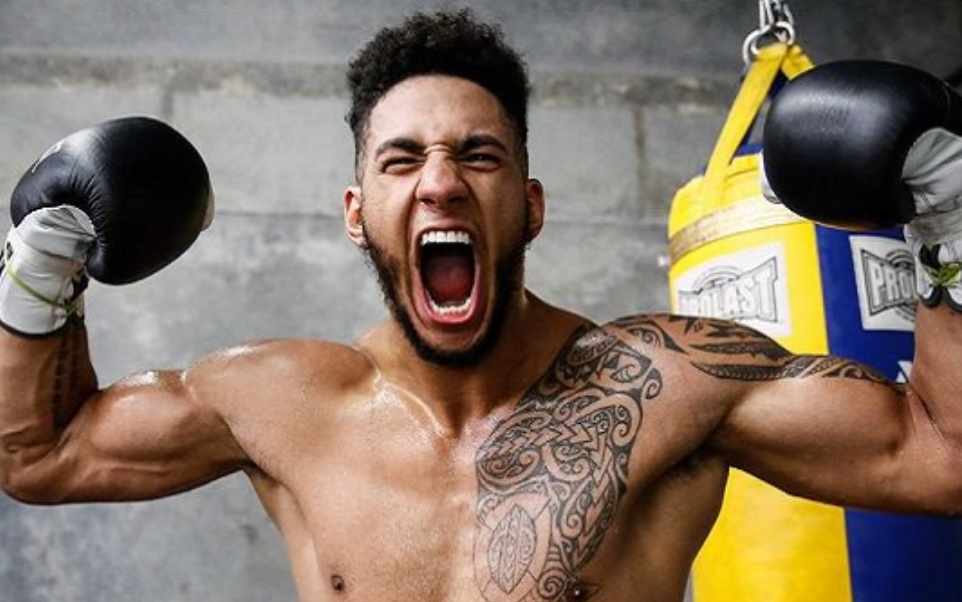 PRESS RELEASE— Tony Yoka, the dynamic heavyweight punching Parisian, aims to impress in his ESPN platform debut. Yoka, who won a super heavyweight gold medal for France at the 2016 Rio Olympics, will fight veteran Christian Hammer in a 10-rounder Friday at H Arena in Nantes, France.
Yoka-Hammer will stream live and exclusively this Friday, Nov. 27 in the United States on ESPN+ beginning at 2:55 p.m. ET/11:55 a.m. PT.
The ESPN+ stream will also include the return of unbeaten 2016 French Olympic gold medalist Estelle Yoka-Mossely against Pasa Malagic in an eight-round lightweight bout. Yoka and Yoka-Mossely, who have been married since 2018, welcomed their second child in May.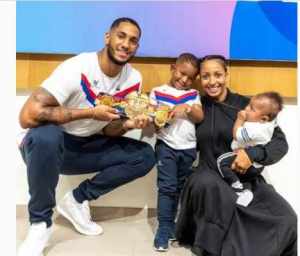 Earlier this year, Yoka inked a promotional agreement with Top Rank, which will co-promote him with Ringstar France.
"Tony Yoka's potential is limitless, and he is a grounded young man who is motivated to be a great professional fighter," said Top Rank chairman Bob Arum. "France has never had a world heavyweight champion, and I believe Tony is the one to bring the sport's biggest honor home."
The 28-year-old Yoka's stellar amateur run included a berth at the 2012 London Olympics and gold medals at the 2015 World Championships and 2010 Youth Olympic Games. Before his triumph in Rio, he'd already defeated the likes of former heavyweight world champion Joseph Parker and current undefeated prospects Joe Joyce and Ivan Dychko. At the Rio Olympics, he defeated Croatian standout Filip Hrgović in the semifinals and edged Joyce in the gold medal match.
As a professional, Yoka (8-0, 7 KOs) made his debut in June 2017 with a second-round stoppage over the previously undefeated Travis Clark. Apart from a decision win over Jonathan Rice in his second outing, Yoka has stopped every foe, including durable Englishman David "White Rhino" Allen and former European champion Alexander Dimitrenko. He made his 2020 debut Sept. 25 and stopped former world title challenger Johann Duhaupas in one round.
Hammer (25-6, 15 KOs) has fought many of the leading heavyweight names during his 12-year career, falling short against Tyson Fury, Luis Ortiz and Alexander Povetkin. He's notched myriad upset victories, including a highlight-reel knockout over David Price and a 2016 split decision over Erkan Teper for the WBO European belt. In March 2019, he went the 10-round distance against Ortiz and has not been stopped since Fury forced him to retire on his stool after eight rounds in their February 2015 clash.
To comment on this story in the Fight Forum CLICK HERE
Avila Perspective, Chap. 115: Macho, Freddie and More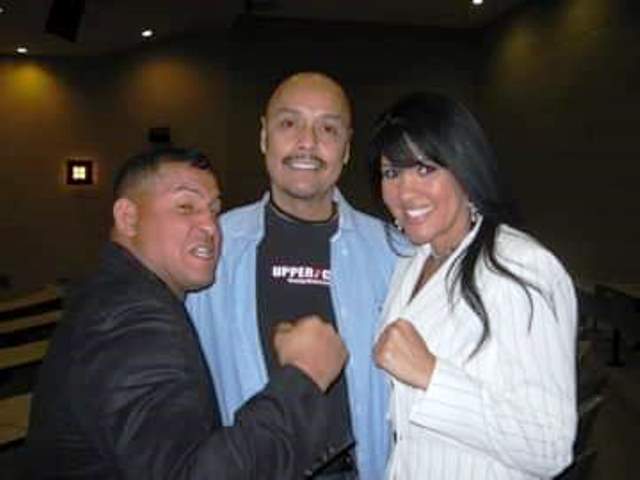 "Macho."
That single word is how Hector Camacho presented himself when introduced. It was the only word needed for the three-division world champion from Puerto Rico who was raised in Harlem, New York.
The first time I met Camacho was in a dark and packed Las Vegas nightclub in the MGM where he was a guest of Oscar De La Hoya back in March 2001. Though it was difficult to see, when Camacho was introduced, I could see the large gold medallion with the word "Macho" in letters six inches high.
Showtime network will be presenting a documentary called "Macho: The Hector Camacho Story" on Friday, December 4 at 9 p.m. on Showtime. It sparks memories of how a fighter in the lower weight classes grabbed the attention of the boxing world.
Camacho was more than flash or words, he was an electrifying boxer who stood out in the 1980s, an era dominated by the "Four Kings" Marvin Hagler, Tommy Hearns, Roberto Duran and Sugar Ray Leonard. Oh, and also a guy named Mike Tyson.
The fast-talking Camacho was a phenomenal fighter who swept aside opponents with his blinding speed and shocking power. It was against Los Angeles-based fighters like Refugio Rojas and Louie Loy that I first read about his exploits. Both were knocked out.
A third Southern California fighter John "Huero" Montes was thought to be the one to give Camacho a real challenge. The fight was televised to a national audience in February 1983. At the time I was watching it on a tiny black and white television and at 1:13 into the first round Camacho unleashed one of those lethal uppercuts and Montes was out-for-the-count.
Camacho arrived that day.
From that point on few could withstand the speedy southpaw's blinding charges. Six months later he stopped Mexico's "Bazooka" Limon to win the vacant super featherweight title.
One fighter who heard the final bell was Freddie Roach who could take a punch and knew a thing or two about fighting southpaws.
"I liked fighting southpaws," said Roach via telephone. "My dad taught me early to keep my foot on the outside and lead with right hands."
Roach had never lost to a southpaw. The winner that day between Camacho and Roach in Sacramento, on December 1985, was supposedly going to fight Puerto Rico's heavy-handed Edwin Rosario.
Using his surefire method of fighting southpaws, Roach managed a knockdown of Camacho with the help of his foot. But it was not enough.
"He was very difficult. Lot of people raved about how fast his speed was. You didn't really realize until you got into the ring with him," said Roach. "I wasn't the slowest, but wasn't the fastest. I just couldn't keep up."
Despite using roughhouse tactics against the lefty speedster, Roach said that Camacho invited him to dinner after the fight.
That pretty much explains Camacho, a talented and big-hearted guy.
Last Stages
The last time I ran into Camacho was at the Pechanga Resort and Casino when he and Mia St. John were about to fight on the same boxing card in 2009. He was much heavier but still able to defeat middleweights.
How good was Camacho?
He defeated two of the Four Kings when he beat Roberto Duran twice and stopped Sugar Ray Leonard by knockout when they fought in 1997. Yes, Leonard was 41 and had not fought in six years, but this was Sugar Ray Leonard.
"I didn't think he would ever beat Leonard," said Roach.
Neither did Leonard.
"I just felt that I was a bigger man. I was smarter, stronger, all those things, but the first time he threw a punch, it was like, Pow! And I said, 'Wow, that hurt,'" said Leonard about their encounter. "I tried the best I could to just go the distance. When he was at his best, he was a thing of beauty."
What I remember after Camacho beat Leonard was how sincerely apologetic he was after the victory. He could talk the talk and walk the walk but inside he remained the kid from Harlem who was given extraordinary talent. And he was humbled by it.
Roach remembers their dinner together after their fight.
"That night he took me out to dinner with his friends and said you fought a good fight," said Roach adding that Camacho was a very likeable guy. "I saw him along the way in his career."
Roach, who would later train another astoundingly fast southpaw named Manny Pacquiao, said he never fought anyone again as talented as Camacho.
"You hear rumors of drug problems and training problems. But when he fought me, he was in for 10 and I tried every trick in the book but it didn't work. He was in a higher class than I was," Roach said. "He was one of the best fighters in the world."
Don't miss this Showtime documentary next week.
Jacobs and Rosado
Speaking of Roach, the famous trainer will be working the corner of Gabe Rosado (25-12-1, 14 KOs) when he meets Daniel Jacobs (36-3, 30 KOs) on Friday, Nov. 27, at the Seminole Hard Rock Hotel and Casino in Florida. DAZN will stream the Matchroom Boxing card.
It's Philly versus Brooklyn.
Rosado has long proven to be a real professional who keeps adding elements to his fight game. Paired with Roach he has further developed under the guidance of the Southern California-based trainer. Plus, Rosado can plain fight.
Jacobs, a former world champion, has proven to be an elite middleweight and looks just as comfortable as a super middleweight.
Expect the kind of prize fight they used to show in the Golden Age of boxing in the 1950s when you had guys like Johnny Saxton fighting Denny Moyer. It should be that kind of battle of wits and skill. I'm looking forward to it.
Photo: Hector Camacho, David Avila, and Mia St. John. Photo credit: Al Applerose
Check out more boxing news on video at the Boxing Channel 
To comment on this story in the Fight Forum CLICK HERE
Muhammad Ali Biographer Jonathan Eig Talks About His Book and the Icon Who Inspired It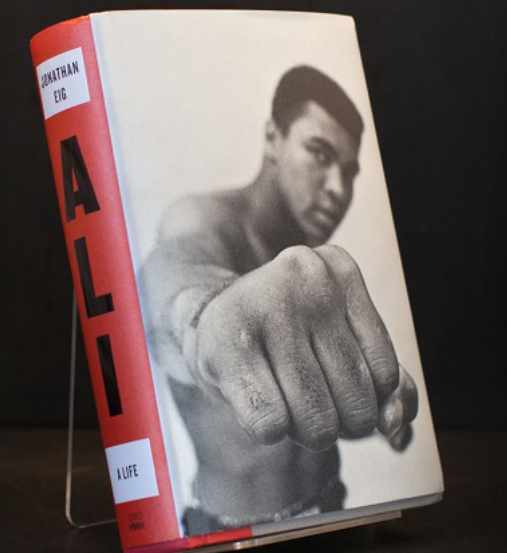 Given the breadth and depth of Muhammad Ali's 74 years, it isn't very easy to capture the complete essence of the man.
Dozens of books have been written about the three-time heavyweight champion including Jonathan Eig's 2017 biography, "Ali: A Life."
Born in Louisville, Kentucky on January 17, 1942 as Cassius Marcellus Clay, he would one day be known around the globe as a world-class boxer, civil rights advocate, philanthropist and cultural icon.
Like so many others, the Brooklyn, New York-born Eig became intrigued by Ali.
"I loved Ali as a child. He fascinated me. He was outspoken, radical, yet so very loveable," he said. "And, of course, he could fight! I was astonished to realize, around 2012, that there was no complete biography of Ali, even though he was probably the most famous man of the 20th century."
Eig, currently at work on a major offering about the life of Dr. Martin Luther King, Jr., added: "I had read lots of Ali books, including [David] Remnick's "King Of The World: Muhammad Ali And The Rise Of An American Hero," and [Thomas] Hauser's "Muhammad Ali: His Life And Times," and [Norman] Mailer's "The Fight" – but those were not complete biographies," he pointed out. "By 2012, enough time had gone by to put Ali in historical perspective. Also, there were plenty of people still alive to tell the story. I did more than 500 interviews, including all three of Ali's living wives. I wanted to write a book that would treat Ali as more than a boxer. I wanted to write a book that would show the good and the bad. I wanted to write a big book worthy of an epic life, a book that danced and jabbed half as beautifully as Ali."
Given Eig's exhaustive research, what previously unknown tidbits about Ali did he come across?
"I learned thousands of new things. I think even hardcore Ali fans will find new information on almost every page," said the former Wall Street Journal reporter and 1986 Northwestern University graduate. "I discovered things Ali himself didn't know. I discovered Ali's grandfather was a convicted murderer, for example. Ali didn't know that! I read Ali's FBI files, as well as those of Herbert Muhammad, Malcolm X and Elijah Muhammad. I interviewed Ali's childhood friends. I found MRIs of Ali's brain. I counted the punches from all of his fights. I measured how those punches affected his speaking rate. Ali's wives also confided in me things I never knew. I spent four years working on this book, and every day delivered revelations."
Over the years, Ali, who posted a 56-5 ring record with 37 knockouts, seemed to mellow with time which helped ingratiate him to an even wider audience. How was this possible?
"People change. They grow. It's hard to stay radical as you get older and richer," said Eig, who has written five books including three that deal with sports. "The late Stanley Crouch had a great line about Ali. He said young Ali was a grizzly bear. Ali in the '70s was a circus bear. Ali in his later years was a teddy bear. We all loved the teddy bear. We wanted to hug him and love him. But it was the grizzly bear who we should remember first. It was the grizzly bear who shook up the world."
Sports Illustrated writer Mark Kram covered nearly the entirety of Ali's career which spanned 1960 through 1981 and included a three-year period, 1967 until 1970 when he wasn't allowed to box after being convicted of draft evasion because he refused induction into the armed forces.
In Kram's book, "Ghosts Of Manila," the author asserts Ali was essentially a pawn of the Black Muslims.
What's Eig's take?
"I love Kram's book, but I think it's dangerous to question anyone's religious faith," he said. "Ali was a true believer. The Nation of Islam took advantage of him at times. But does that mean he was a pawn? I don't think so. He knew what he was doing. He made his own choices. One might argue that the NOI did more for Ali than Ali did for them."
Ali wasn't perfect and that included his fondness for women. As a Muslim, how did he hurdle this?
"He didn't reconcile it – except to acknowledge that humans are human, they are flawed," Eig said. "The thing I love about Ali is that he said he was the greatest, but he never said he was perfect. He talked to his wives about his weakness. He even talked to reporters about his flaws – his weakness for women, his disdain for training, his poor handling of money. He knew who he was and he never tried to be anything else."
Eig, who has also penned "Luckiest Man: The Life And Death Of Lou Gehrig," and "Opening Day: The Story Of Jackie Robinson's First Season," went on: "We're all complicated, right? Ali was no more complicated than you or me, but he let the whole world see his complications – his racial pride and his racist behavior toward [Joe] Frazier, his love of women and his cruelty to his wives, his generosity with his money and his stupidity with money," he said. "I don't think Ali was different, just more open, more willing to let us see everything."
Ali's battles with Frazier, George Foreman and Ken Norton are legendary, but his two fights against Sonny Liston are filled with question marks, such as were they fixed?
Ali claimed the title on February 25, 1964 in Miami Beach when Liston failed to answer the bell for the seventh round and then faced Liston 15 months later in Lewiston, Maine, where he knocked out the challenger in the opening frame.
In Eig's mind, were these two bouts on the level? "My hunch is that the first fight was legit. Liston quit when he knew he couldn't win," Eig said. "The second fight is more suspicious. Liston's flop was pathetic. Bad acting! But I don't think we'll ever know for sure. As an aside, Liston's wife said Sonny had diarrhea before the fight, which might have given him one more reason to throw it."
Still, Ali in his prime was a sight to behold. "Ali before the exile, in my opinion, was the most beautiful boxer of all time. His combination of speed and power and ferocity was thrilling, elegant, frightening and marvelous," Eig said. "Was he the greatest heavyweight of all time? Maybe, maybe not. Was he the most breathtaking? To me, yes."
Early in Ali's career his braggadocio was off-putting to many. But much of it was showmanship.
"One of the Greatest" doesn't sound as good, does it? If we're only discussing his action in the ring, Ali was one of the greatest," Eig said. "But that's like saying Louis Armstrong was one of the greatest trumpet players without considering his voice, his charm, his improvisational skills, his smile. In and out of the ring, Ali was the greatest in my book."
For so many, Ali was many things. What traits in the man does Eig admire? "I love his fearlessness, his honesty, his insatiable appetite for people," he said. "He was so very loving. But he could also be narcissistic. He wanted everyone to love him, but he wasn't always sensitive to the feelings of others – including his wives and children. He turned his back on friends like Malcolm X and Joe Frazier when it served his purposes."
While Ali could be polarizing, he had his legion of supporters including Howard Cosell, Jerry Izenberg, Robert Lipsyte, Larry Merchant and Jack Newfield.
"You could add Mailer, [George] Plimpton, and so many others to that list," Eig noted. "Those men were lucky enough to spend time with young Ali and to bask in the great warmth of his sun. He was great to reporters. He was the best story they ever covered. And unlike most celebrities, he really paid attention to them."
Eig continued: "I only met him once, six months before he died, and I envy those reporters who got to know him and got to see him at his best. I think those who knew and loved Ali became his disciples," he pointed out. "Ali's friend Gene Kilroy told me over and over that he thought Ali was like Jesus, that people would be studying his words and drawing inspiration from his life for centuries to come. That's the feeling he gave to those with whom he spent time."
Ali was a boxer, but so much more. How does Eig see him? "I think Ali will be remembered as one of America's great revolutionary heroes – one whose courage went far beyond sports. Like Jackie Robinson, like Martin Luther King, like the abolitionists and suffragettes, he loved America but refused to accept its shortfalls," he said. "He fought to make his country live up to the promises contained in the Declaration of Independence. He will also be remembered as an important world figure, one who united Africans, Americans and Asians, one who helped Americans better understand Islam and helped people of Islamic faith around the world better understand America."
In Ali's last quarter century, he was almost universally loved. This is a far cry from being labeled a draft dodger.
"Ali was always a spiritual man, but in his later years I believe he clarified and deepened his spirituality," Eig said. "He became more focused and more thoughtful."
When Eig turned in his manuscript, what was his immediate thought? "I wanted to take it back. I didn't want to be done," he said. "I had so much fun writing this book I wanted to work on it for the rest of my life. I knew I would never find anything more fun to work on."
Check out more boxing news on video at the Boxing Channel 
To comment on this story in the Fight Forum CLICK HERE