Who Wants to be a (Mere) Millionaire? Elite Fighters Now Dream of Billionaire Status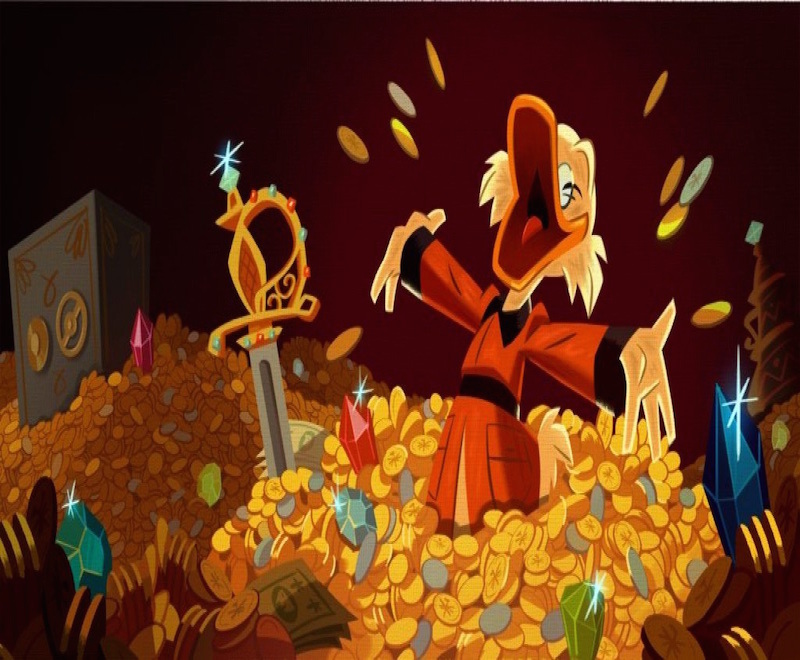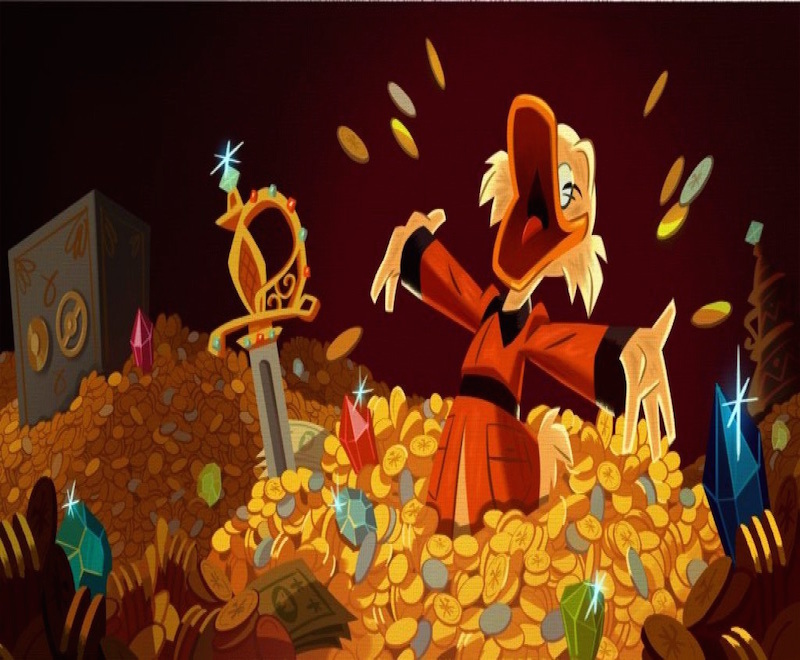 The late Ralph Kiner, who could hit the long ball but wasn't particularly adept at anything else on a baseball field, led the National League in home runs seven times in as many seasons from 1946 to 1952. That specialized skill was good enough for him to receive a $91,000 contract to play for the Pittsburgh Pirates in '52, which at the time of its signing made him the highest-paid player in the league. In reaction to criticism from those who felt the one-dimensional slugger wasn't worth his new deal, Kiner responded, "Singles hitters drive Fords; home run hitters drive Cadillacs."
Kiner, who was inducted into his sport's Hall of Fame in 1975, was 91 when he passed away on Feb. 6, 2014. As the radio voice of the New York Mets from the team's inaugural season in 1962 through 2013, he lived long enough to see just how puny $91,000 for a year's labor (worth $846,554.11 in 2018 dollars) would be today. The highest-paid players for the just-ended 2018 season were Los Angeles Dodgers pitcher Clayton Kershaw ($35.57 million) and Los Angeles Angels centerfielder Mike Trout ($34.08 million). It has been widely speculated that Washington Nationals outfielder Bryce Harper, an impending free agent who was paid a relatively piddling $21.625 million in 2018, will command a multiyear deal approaching or even in excess of $400 million, which doesn't seem that exorbitant in these inflated times and considering that he is only now entering what should be his prime, having just turned 26 on Oct. 16.
If Harper signs for something approximating the target figure being bandied about by his agent, Scott Boras, he will become the most highly compensated athlete over the life of an existing base contract, vaulting past boxing superstar Canelo Alvarez, the recently crowned WBC/WBA middleweight champion, who agreed to an exclusive deal with the streaming service DAZN (pronounced "Da Zone") in mid-October. The 11-fight agreement, the details of which were not disclosed, reportedly calls for the world's most currently marketable fighter to be paid somewhere between $350 million and $365 million. If he deigns to learn English, the red-haired Mexican sensation, who is only 28 years of age and shows no signs of slippage, could become a popular enough commercial spokesman to become a Madison Avenue heavyweight and possibly approach $1 billion in overall earnings. Breaking the 10-figure barrier might enable Canelo to eventually surpass the only man to have defeated him, the legendarily greedy Floyd Mayweather Jr., who currently reigns as the highest-grossing boxer of all time at $785 million, according to Forbes, a particularly impressive figure when you consider virtually none of it comes from pitching products.
Perhaps it is the possibility that his cherished position atop boxing's mounting cash pile could someday be challenged by Alvarez, or simply that his lavish spending habits are finally catching up with him, that the aptly nicknamed "Money" Mayweather, who turns 42 on Feb. 24, is publicly speculating about another low-risk cash grab for a rematch with past victim Manny Pacquiao or a schooling of another mixed martial artist who might want to try his hand at boxing, Khabib Nurmagomedov. A 30-year-old Russian, Nurmagomedov is coming off a victory over Conor McGregor, the previous MMA star who foolishly thought he might be able to beat Mayweather at his own game.
His conspicuous consumption notwithstanding, Mayweather ranks no better than ninth among all super-rich athletes. Retired NBA great Michael Jordan is No. 1 with total earnings of $1.85 billion, including endorsements, followed by golfers Tiger Woods ($1.7 billion), the late Arnold Palmer ($1.4 billion) and Jack Nicklaus ($1.3 billion). In addition to Mayweather, other boxers on Forbes' top 25 list include Mike Tyson (No. 14, $700 million; filed for bankruptcy in 2003), Oscar De La Hoya (No. 19, $520 million), Pacquiao (No. 20, $510 million) and Evander Holyfield (No. 24, $475 million).
Perhaps more than anyone within that highly exclusive, diamond-encrusted circle, Mayweather puts the lie to Kiner's long-ago assertion that Cadillacs are the preferred ride of athletes who don't have to concern themselves with showroom sticker shock. Shortly after he pulled down $250 million or so for his May 2, 2015, unanimous decision over Pacquiao, which set records with 4.6 million pay-per-view subscriptions and $600 million in gross revenues, Floyd treated himself to the world's most expensive car, the $4.8 million Koenigsegg CCXR Trevita. But that fabulous  new toy apparently wasn't enough to satisfy Mayweather, an insatiable collector of stratospherically priced land rockets; shortly thereafter he dropped another $3.2 million for a Ferrari Enzo, upping to 25 his collection of luxury vehicles that includes various models of Rolls-Royces, McLarens, Bentleys, Lamborghinis, Aston Martins and Bugattis.
Mayweather, of course, is free to spend his millions in any manner he so chooses,  but the skyrocketing level of money in professional sports, a seeming affirmation of Michael Douglas' Gordon Gekko character  pronouncing that "greed is good" in 1987's Wall Street, calls to mind another line from that movie, uttered by the character played by Charlie Sheen. "How many yachts," Gekko's young and increasingly disillusioned protégé asks, "can you water-ski behind? How much is enough?"
In announcing his massive, groundbreaking deal with Alvarez, Matchroom Boxing promoter Eddie Hearn, armed with $1 billion in rights fees over eight years from the Perform Group's DAZN, said the burgeoning financial pie for elite performers like Canelo would make for large-enough slices so the best of the best can financially compete with or even eclipse premier athletes in soccer, basketball, baseball, golf or whatever.
"I am so excited to shake up the world of boxing in America," Hearn said at a Madison Square Garden press conference to introduce DAZN to U.S. consumers, opening a fertile market which potentially could spell the demise of pay-per-view on this side of the pond, and maybe everywhere. "You've seen us do it in the UK … there were certain things I needed to be able to take boxing here to a new level, to build a stable that is unrivaled."
In addition to Alvarez, all reasonably established members of the Golden Boy coterie figure to benefit from the company's affiliation with DAZN, both in terms of available dates and the promise of increased purses. Other big-name fighters can expect to be recruited once they are free of their current contractual obligations. But it is Canelo, who will make his DAZN debut when he moves up to super middleweight to challenge WBA champion Rocky Fielding on Dec. 15 at the Garden, who will be the bell cow leading the way to what might soon become a new reality. That fight will be streamed free to entice fans to subscribe to DAZN, a preview of coming attractions as it were, and is not a part of Alvarez's contractual commitment to the streaming service, which officially begins in 2019.
If the $365 million figure is indeed correct, over the life of the five-year deal Alvarez not only will pull down a minimum of $35 million per fight, but an average of $191,675.79 per day, even if he is just hanging out at home. No wonder he reached for a pen when the DAZN contract was placed before him.
A word of caution, though, comes from former middleweight champion Marvin Hagler, who said it can be difficult for a fighter, or any successful pro athlete, to remain focused and hungry once they become too rich and comfortable. "It's tough to get out of bed to do roadwork at 5 a.m. when you've been sleeping in silk pajamas," the Marvelous one once observed.
Boxing has always been the sport of participants who sought to rise up from impoverished circumstances, who had to ply their trade for years and for low wages until, hopefully, their hard work and dedication, if melded with the requisite amount of talent, finally paid off. Celebrated former heavyweight champion Jack Dempsey fit that profile, fighting often and for scant recompense until the "Manassa Mauler" became one of the most compelling figures in the 1920s golden age of sports. He received an almost-incomprehensible $300,000 for his July 2, 1921, fight with Georges Carpentier, which generated boxing's first million-dollar live gate ($1,789,238). The payday for Dempsey, who knocked out the Frenchman in four rounds, would equate to $3,112,226.80 in 2018 dollars, a staggering amount in light of the fact that the average American worker's pay that year was $3,649.40.
When Muhammad Ali and Joe Frazier squared off in the first of their classic three bouts on March 8, 1971, each was guaranteed a king's ransom of $2.5 million ($15,485,175.88 in 2018 dollars). It was a huge sum at that time, especially when you consider that it wasn't until 1979 that Houston Astros pitcher Nolan Ryan became the first $1 million baseball player. Even more incredibly, future Hall of Famer Steve Carlton, a 27-year-old lefthander who was coming off a 20-7 season, was traded from the St. Louis Cardinals to the Philadelphia Phillies because Carlton had the audacity to ask Cardinals owner Gussie Busch, the beer baron, for a raise to $65,000. Carlton got that figure from the Phillies, and rewarded them by posting a 27-10 record with a 1.97 ERA and 310 strikeouts in 1972. Carlton's $65,000 salary in 1972 ($389,879.81 in today's dollars), even adjusted for inflation, would amount to a little more than one-90th of what Kershaw made this season.
The "silk pajamas" analogy offered by Marvin Hagler seems more appropriate now than ever. Are today's multimillionaire athletes as appreciative of what they had as those from other, less-well-compensated eras? A child of poverty growing up in Grand Rapids, Mich., Mayweather was offered a six-fight, $12.5 million contract extension by then-HBO boxing czar Lou DiBella in the autumn of 1999. Mayweather initially rejected the proposal, saying he could not fight for "slave wages," and insisted he wanted $3 million for his next fight, which would have given him virtual parity with more established, ratings-producing HBO mainstays Oscar De La Hoya and Roy Jones Jr. Mayweather grudgingly accepted the stipulated $750,000 for the last remaining bout on his HBO contract, and retained his WBC super featherweight title on a unanimous decision over mandatory contender Gregorio Vargas on March 18, 2000. Longtime HBO analyst Larry Merchant, however, was critical of his refusal to sign the extension, saying, "Mayweather's no $12 million fighter."
Time would prove that Mayweather's exceedingly high opinion of himself and his worth was more than justified, but not every athlete who plays contractual hardball wins similar stare-downs. Mexican-American heavyweight contender Alex Garcia, at his manager's urging, turned down a proposed $1 million payday to swap punches with comebacking George Foreman in 1993, the rationale being that he could get $5 million by holding off for a year or so, time in which he presumably could raise his recognizability factor. Garcia instead got knocked out, for a $15,000 purse, in a stay-busy bout with journeyman Mike Dixon on June 8, 1993. He bet on himself and lost, never again coming within whiffing distance of the kind of money he might have made for fighting Big George.
Another athlete who bet big on himself and lost is former Minnesota Timberwolves forward Latrell Sprewell, then 34 and on the downhill side of what had been a mostly productive career. After having been paid $14 million a year on his previous contract, he should have counted himself fortunate to be offered a three-year extension for $21 million, an annual average of $7 million. He instead publicly ripped team owner Glen Taylor, asking reporters how anyone could expect him to try to "feed his family" for such a paltry sum. Taylor withdrew the offer and Sprewell never played another game in the NBA, for anybody.
"His comment about `feeding my family' wasn't really the issue with me," Taylor said in an interview in October 2006. "That was just a bad thing. What was worse was that he said, `Well, then maybe I shouldn't play so hard,' or something like that. That, I took issue with."
It will be interesting to see if today's ultra-wealthy athletes can remain as driven and committed as their less-affluent forebears, who not only played or fought for pride and championships, but to pay the bills and actually feed their families. Where once sports fans marveled at the three-year, $400,000 (total!) contract the New York Jets lavished upon rookie quarterback Joe Namath on Jan. 2, 1966, the San Francisco 49ers signed newly acquired and largely unproven Jimmy Garoppolo, who previously had served as Tom Brady's backup with the New England Patriots, to a five-year, $137.5 million contract, with a salary-cap hit of $37 million for this season alone. Where Bob Pettit, a 10-time first-team All-NBA selection and two-time league NBA who was still playing at a high level, retired from the St. Louis Hawks after the 1964-65 season because he thought he could do better as a banker than his $65,000 basketball salary ($513,591.67 in 2018 dollars), LeBron James raked in $85 million in 2017, $52 million of which came from endorsements.
After he has a couple of hundred million dollars put away for a rainy day, will Canelo Alvarez still want to suffer the rigors of training camp and more trials by combat to further embellish his legacy? Or will he be satisfied to walk away, fat and happy, with still more to give because the incentive to do so had diminished in correlation with the expansion of his bank account?
Like the Charlie Sheen character asked in Wall Street, how much is enough? It is a question everyone who buys a Powerball or Mega Millions lottery ticket probably poses to himself or herself, even as we imagine what it must be like to find that life has supplied us with its elusive winning numbers.
Bernard Fernandez is the retired boxing writer for the Philadelphia Daily News. He is a five-term former president of the Boxing Writers Association of America, an inductee into the Pennsylvania, New Jersey and Atlantic City Boxing Halls of Fame and the recipient of the Nat Fleischer Award for Excellence in Boxing Journalism and the Barney Nagler Award for Long and Meritorious Service to Boxing.
Check out more boxing news on video at The Boxing Channel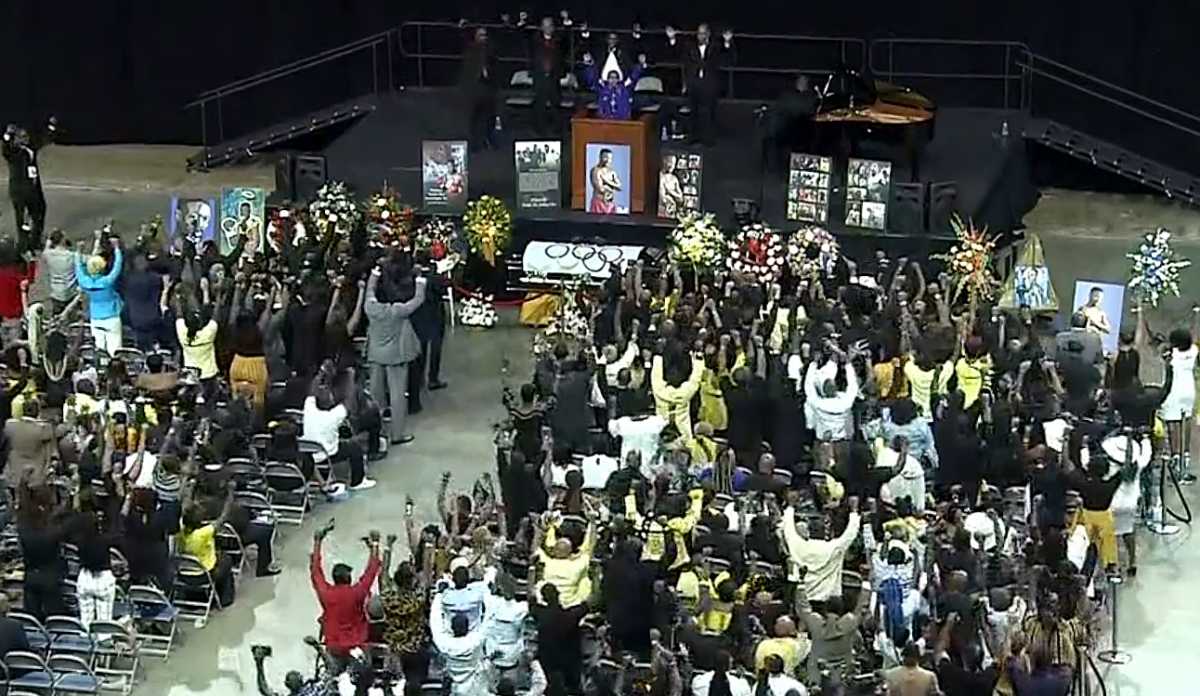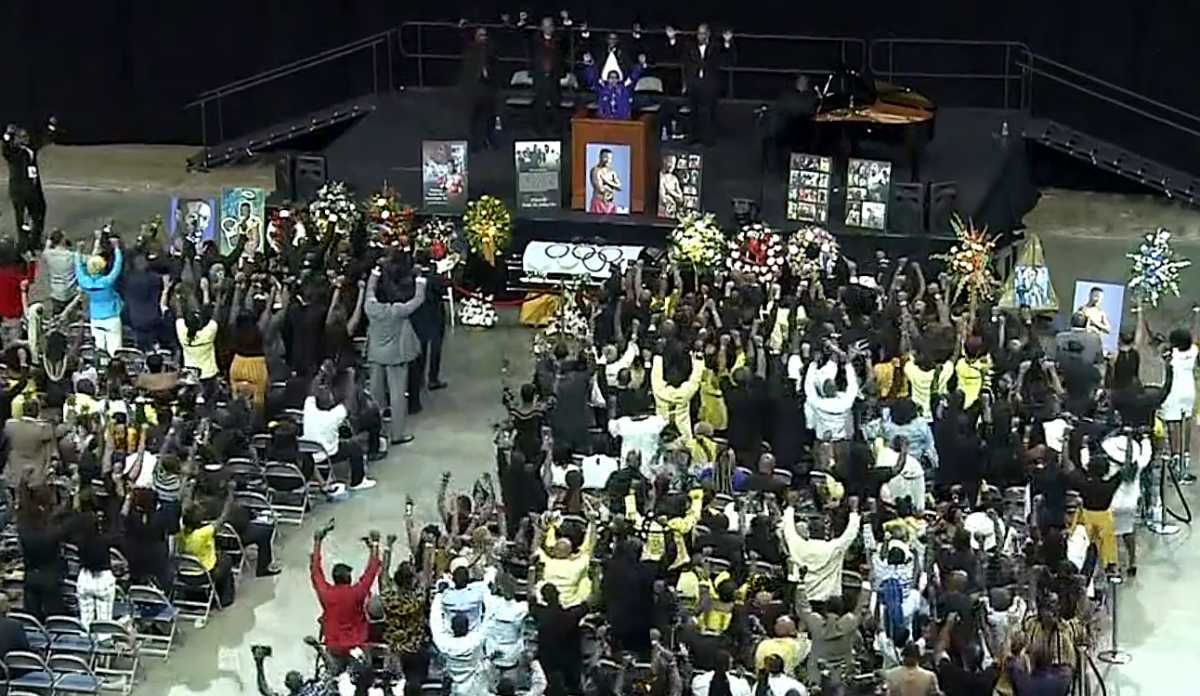 Good Night, Sweet Pea
Bishop James E. Jones Jr.'s booming baritone was rising up through the rafters at the Scope Arena in Norfolk, Virginia. He was preaching about hands—your neighbor's hands, the hand in yours now, the Father's hands into which Jesus commended his spirit from the cross. "Sweet Pea's HANDS," he shouted, "took him to places HIS EYES NEVER IMAGINED!"
Pernell "Sweet Pea" Whitaker, the greatest pure boxer since Willie Pep, lay in repose at the foot of the stage, his hands crossed at his belt. His coffin was black. An Olympic flag was draped over it and boxing gloves carefully arranged on top. The few thousand who attended his Saturday morning memorial service came to mourn and to celebrate a perfect fighter, an imperfect man, and a community that has long-since learned to look up no matter what.
Mark Breland was there. He came down from New York to honor the captain of an Olympic boxing team that won nine gold medals in 1984. Long gone is the fresh-faced amateur smiling under a laurel wreath, but Breland remains reed thin. He stood at the podium in a gray suit with a powder blue shirt and was too overwhelmed with grief to say much. "We knew him differently," he said.
Kathy Duva, now a promoter, then his publicist, was there too. "Pound-for-pound," she said. "That's how he signed his autographs." And that's exactly what he was: the pound-for-pound best boxer in the world from September 1993 through March 1996, despite performances that struck the unsophisticated as pusillanimous. "He simply chose not to engage in outright brutality," Duva said. "It was so much more fun to tease and toy with his opponents." Whitaker teased and toyed with everyone, including a young Floyd Mayweather Jr. who, she said, "could not lay a glove on him" even as he sparred with those hands of his behind his back in 1996. Whitaker brought laughter into the midst of danger because of his cosmic level of skill, and because it kept boredom at bay. Merely making world-class fighters miss wasn't enough; so he'd dart behind them and as they looked around to see where he went, he'd tap them on the rear end. When Roger Mayweather was known as "Black Mamba" and feared for his right hand, Whitaker—fighting here at the Norfolk Scope—yanked his trunks down in the middle of the sixth round.
"An imp with gold teeth," said one wit during his glory days, "floating around that blue canvas like a cloud," added Duva.
No one could outbox him. It isn't easy to settle firmly on a lightweight in history who could. But the product of Young Park, a housing project just east of the Scope, wasn't raised to shrink from violence. As a child, his father wouldn't tolerate tears when he was hurt by neighborhood bullies. He'd turn him around. "Go back," he'd say. "Give them everything you got." When he was eight, he and nine-year-old Mario Cuffee got into a street fight and Clyde Taylor, a mailman who moonlighted as the neighborhood's recreation director, hustled over and grabbed both by the scruff of the neck. "Do your fighting in the gym," he said, and with permission from the boys' parents, restaged the fight in the ring, with boxing gloves that looked like balloons. Whitaker lost that one, but found a mentor who began the process of transforming an undersized project kid into a giant of boxing and boxing history. Whitaker credited Cuffee almost as much. "Come to think of it," Cuffee told me Monday, "I beat him that first fight, though I gotta come clean, he got me back a few years later." When Whitaker fought Greg Haugen at the Coliseum in 1989, Cuffee bought a ticket and made his way across the Hampton Roads Beltway through a blizzard to see Haugen lose every round. At the post-fight press conference, Cuffee was standing in the back, "in cognito." Whitaker spotted him and told the story of their fateful childhood fight. "Thanks Mario," he said. Haugen, his face scuffed and swollen, looked up. "Yeah," he said. "Thanks Mario."
In Detroit, while still an amateur, he was invited to spar with Hector Camacho just as Floyd Mayweather was later invited to spar with him. Camacho couldn't land a glove on him either. "He got mad and started fighting dirty," Whitaker told the Newport News. "He grabbed me behind the head, pulled it down, and hit me with an uppercut. Then I grabbed him and threw him to the canvas and we started wrestling and fell out of the ring." Whitaker offered to take it outside. Camacho talked a lot but never went near him again.
In 1984, after the Duvas had convinced Whitaker to throw in with Main Events, they introduced him to trainer George Benton. Benton, who understood the science of belligerent invisibility like no one else, took what Taylor had begun and finished it. He taught him to stop running around the ring, to stand on a dime; to see the difference between wasting energy and ducking and slipping just enough to let punches graze your hair or flick your ear. Benton made sure he became, in his words, "harder to hit than the numbers," and a master at punching around, between, over, and under what's coming in. "When I talk he stands and listens like a private would a general," he said in 1986. "Sweet Pea's going to be one of the best fighters ever."
Seven years later, Whitaker swaggered into the ring against Julio Cesar Chavez, then 87-0 and rated by The Ring as the best pound-for-pound fighter in the world. Whitaker fought him on a dime—twisting, rolling, fast-stepping outside his lead foot, and punching around, between, over, and under whatever came in. He had a trick that kept working. He'd turn his right shoulder in to narrow himself and hide his left until the moment it clubbed Chavez on the side of the head. You could hear it land—"whump!"—and it landed all night. In the ninth round, he was outfighting Chavez on the inside—"whump, whump!"—which no one had ever done. Chavez was befuddled and —"whump!"—puffing up. And then, at the end, 59,000 witnessed one of boxing history's most egregious heists. Two of the three judges called the fight a draw. That's what we were told anyway. Josè Sulaimàn, WBC president, countryman of Chavez, and favorite stooge of Don King, was seen collecting the scorecards after every round that night.
It is a grandiose irony. Whitaker put an exclamation point on Benton's prediction in two fights he didn't win. The second one was nearly as bad as the first.
At 33, he faced a 24-year-old Oscar De La Hoya, then 23-0 and rated by The Ring as the second best pound-for-pound fighter behind Roy Jones Jr. Whitaker made him look like a golem and won that fight too despite an official loss that stinks to this day. "The world saw it," he said afterward, and smiled anyway, gold teeth gleaming. "The people saw it."
Bishop Jones saw it. He remembered him standing triumphantly on the ropes before the decision against him was announced. He remembered it well.
"What I loved most about Sweet Pea Whitaker," he told the mourners at the Norfolk Scope,
".…was when he KNEW he had won the fight he DIDN'T WAIT on the referee to hold up his hands. He didn't WAIT on the THE JUDGES to tell him whether or not he had won the fight, but if you look on the back of your programs, there's a SIGNATURE MOVE that the champ would always do when he knew he had WON THE FIGHT. Family! HE WOULD THROW UP BOTH HIS HANDS!"
With that, Jones stepped back from the podium and thrust both hands in the air. When the people saw that, they roared as one. But Jones was just getting started, the crescendo wasn't reached, not yet. He stopped them short. "EXODUS CHAPTER SEVENTEEN, VERSE ELEVEN! Whenever Moses held up…" and stepping back again, struck the same pose, "…HIS HANDS the people always had the victory…if the champ could hold up his hands in the middle of his fight, then SURELY you and I ought to HOLD UP OUR HANDS!"
Mario Cuffee jumped to his feet and thrust both hands in the air. Thousands, dressed in their best on the hottest day yet this year, rose as one and thrust both hands in the air. Whitaker's signature move, multiplied. It was a transcendent moment; the spirit of a man—a father, a brother, a friend, a neighbor—merging with the spirit of the city he loved.
Bishop Jones lowered his gaze to the black coffin at the center of it all. "SWEET PEA!" he thundered as if to wake him up, "That one is for you! You got the victory! CHAMP!"
I closed my eyes and somewhere, I know, Whitaker opened his.
"—YOU GOT THE VICTORY!"
___________________
Special thanks to Dr. James E. Jones Jr. senior pastor and founder of Greater Grace Church in Portsmouth, VA.
 Springs Toledo is the author of Smokestack Lightning: Harry Greb, 1919, now available in paperback.
Check out more boxing news on video at The Boxing Channel
To comment on this story in The Fight Forum CLICK HERE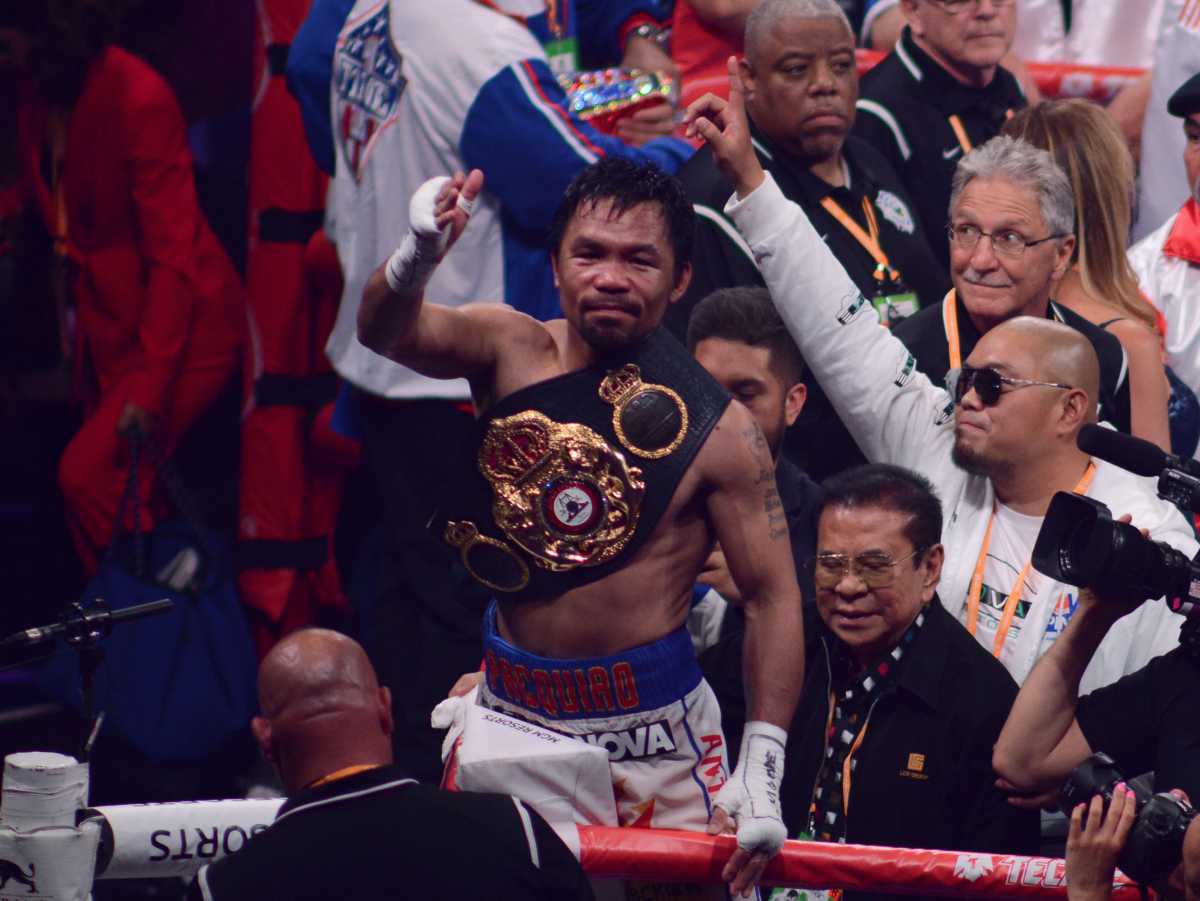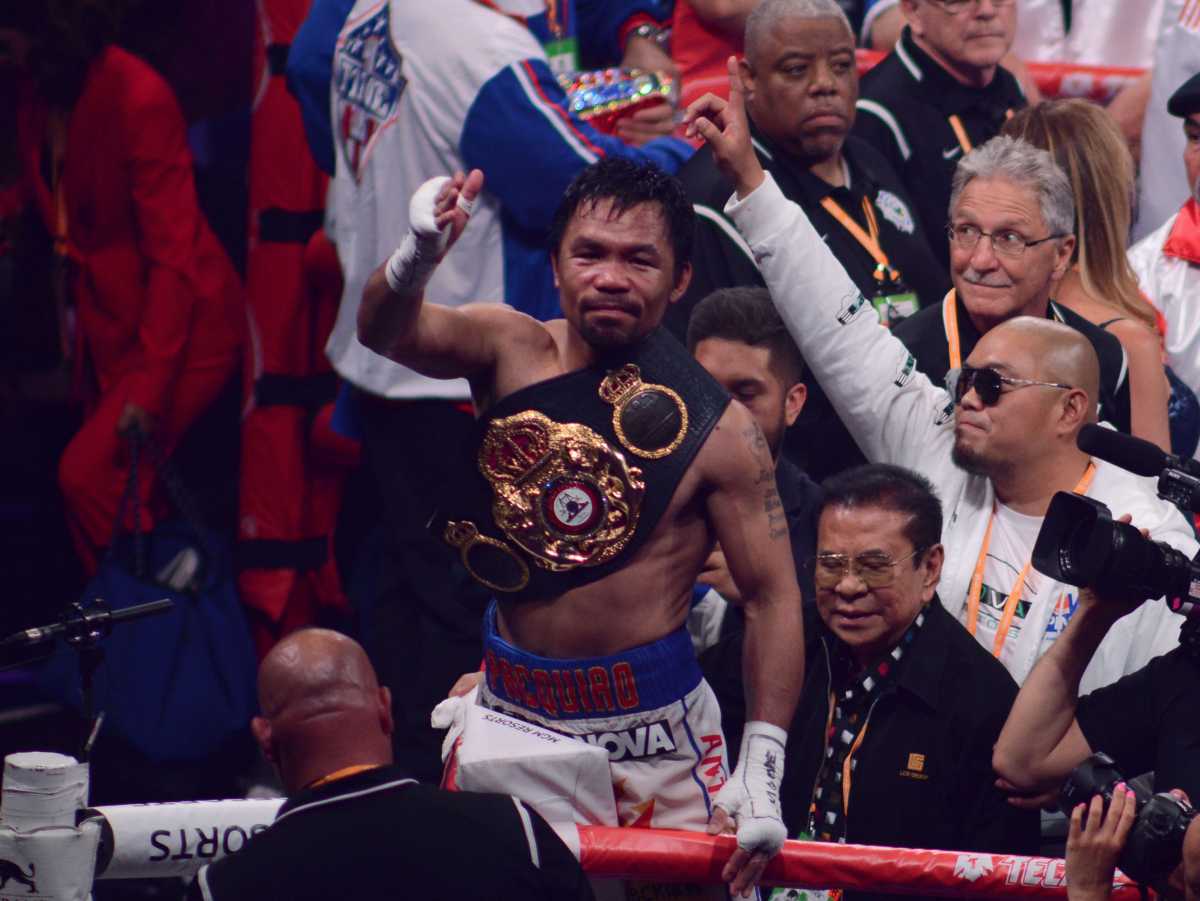 The crowd chants "Manny, Manny, Manny" at the weigh-in at the MGM Grand Garden Arena in Las Vegas and Pacquaio's beloved Pinoy fans are going wild. It's a BIG event, bigger even than many heavyweight title fights.
Max
Meanwhile, Maxim "Mad Max" Dadashev's wife Elizabeth is flying from her home in St. Petersburg, Russia, to be with her husband at a hospital in Maryland. Dadashev was critically injured on Friday night while suffering an upset loss to heavy-handed Puerto Rican bomber Subriel Matias at another MGM property, the MGM National Harbor in Oxon Hill, Maryland.
Dadashev, 28, was 281-20 as an amateur, undefeated in 13 professional fights, and the IBF's third-ranked junior welterweight, but Matias had his number and dominated throughout in a tough and grinding affair.
At the end of the 11th round, Buddy McGirt told his fighter, "I'm going to stop it, Max." Dadashev protested. Maybe Max's brain signaled no, maybe not. But his heart surely said "I'm not done."
McGirt overruled him, a sage move, but unbeknownst to anyone the damage had been done and it was severe.
"He had one hell of a fight," McGirt told the Washington Post. "Tough fight, tough fight; took a lot of tough body shots. I just think it was time to stop it. He was getting hit with too many shots. I said to him, 'I'm stopping it.' He said, 'No, don't.'"
The scores at the time of the stoppage were 109-100, 108-101 and 107-102 in favor of Matias. According to CompuBox, Matias out-landed Dadashev 319-157; 112 of Matias' punches were body shots.
Max was stretchered out of the arena and rushed to UM Prince George's Hospital where his skull was opened up to relieve the pressure caused by bleeding. The cavity reveals brain damage, and memories of Mago surface. The dreaded and familiar scenario then begins as he is put into an induced coma. Hopefully, the swelling goes down, the bleeding stops, and no blood clot appears as the later would make a terrible situation grave. In any event, Max will never box again. His well-publicized dream to win a world title will not be fulfilled.
In a post-fight interview, ESPN's ringside analyst Tim Bradley said, "That's a scary situation and every time you step foot in the ring you know that was always the talk that I would have with my wife. You know before I would step foot in the ring, I would sit her down, I would look at her and I would say, 'Look at me, honey. Take a good look at me, open your eyes wide open because I might not come out the ring, for one, and I know I'm not coming out of the ring the same way that I came in.'"
Manny
Back to the big fight the following evening:
The crowd chants "Manny, Manny, Manny" as he enters the ring to battle Keith Thurman for still another championship as his worshipers are now virtually in a state of mass hysteria and begin singing and cheering loudly. The scene borders on the surreal.
Across the Pond
Earlier on Saturday, across the pond in London, heavyweight David Allen took a bad beating from 6'9" David Price and required oxygen. He also was stretchered out and sent to a hospital, adding to the angst. But he will be okay. According to his promoter, Eddie Hearn, Allen had a broken orbital bone and a damaged tongue, but brain scans suggested he was okay.
David Allen — "Very happy and proud of David Price. I will be okay, but the last 12 months or so my health has been deteriorating and I'm glad I hung on, took the chance, and made money. [I'm] now probably done."
"Manny, Manny, Manny"
In Las Vegas, Manny has decked Thurman in the first round and the place is delirious. The crowd senses that this is his night although Thurman is not backing up. In the tenth, Pac almost puts "One Time" away after landing a devastating body punch.
Finally, the fight is over and Manny is declared the winner. The decibel count goes off the chart as the Pinoys sing "We Are The Champions." Viewers hit the mute button. These are not fans as much as they are cultists. One wonders if those who are chanting even know that this has been a week where boxing exposed its grim side.
Photo credit: Al Applerose
Ted Sares is a member of Ring 8, a lifetime member of Ring 10, and a member of Ring 4 and its Boxing Hall of Fame. He also is an Auxiliary Member of the Boxing Writers Association of America (BWAA). He is an active power lifter and Strongman competitor in the Master Class.
Check out more boxing news on video at The Boxing Channel
To comment on this story in The Fight Forum CLICK HERE
The Hauser Report: Caleb Plant is Making His Mark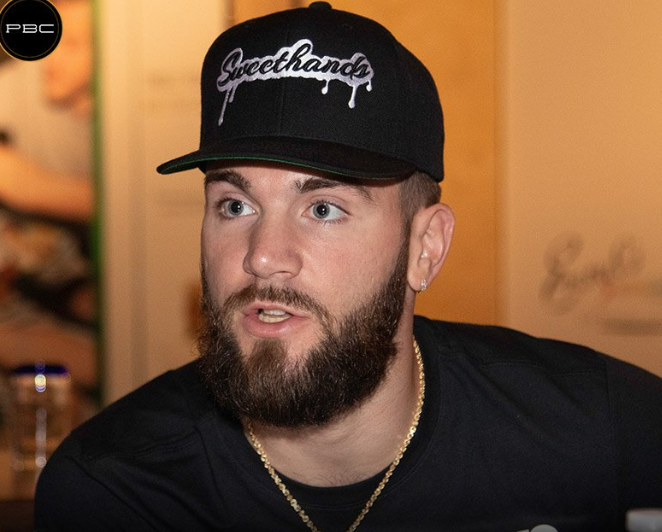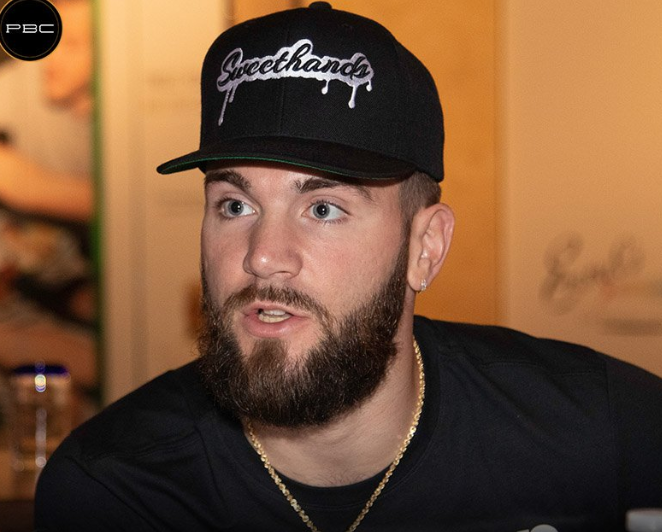 The July 20 IBF 168-pound title fight between Caleb Plant and Mike Lee wasn't expected to be competitive. But it was a coming out party for one of boxing's more compelling personalities.
Plant was born and raised in Tennessee. As his ring career progressed, he moved to Henderson on the outskirts of Las Vegas to hone his craft. On January 13 of this year, he scored an upset decision victory over Jose Uzcategui to claim the IBF belt and bring his record to 18-0 with 10 KOs. Prior to that, his hardscrabble origins had been scarred by tragedy.
Plant grew up in a home where alcohol and drug abuse were common. His own daughter, Alia, was born with severe brain damage.
"She had zero motor skills," Caleb recounted last year. "She couldn't sit up. She couldn't hold her head up. She couldn't lift her arm. She couldn't eat. She ate through a tube in her stomach. I didn't know if she was gonna know who I was. I didn't know if she knew that I loved her. She was never gonna stand and say 'I love you, dad' or 'Merry Christmas, dad.' She's not gonna know what it's like to have friends. But what if I could just give her a nice life, a life that I didn't have. What if I could work so hard that I can give her a life and things that I never had as a kid. We won't be able to have the relationship that I had with my dad. But I'll give her my all, my best, no matter what. This is what I can try to give her. A roof over her head; food in her stomach even if it's not through her mouth."
In 2015, at nineteen months of age, Alia was in the hospital on life support for the fifth and final time in her young life. Plant's words speak for themselves.
"The doctors were telling me, 'Mr. Plant, your daughter is gonna pass away. That's a tough conversation to have. She was slowly going down and down and down and down. I went to her. It was just me, and I said, 'You know, this has been a long nineteen months, and I know you have to be tired. And if you are over this, then I'm okay with that. I'm not gonna be mad at you. I'm not gonna be disappointed in you. I'm not gonna be upset with you. If you're tired of this and you're done and you don't want to do this anymore, then your daddy supports you. And I'm gonna be right here.' And right after that conversation – a conversation that I had never had with her before because, every time before, it was 'No, this is not gonna happen' – she started going down. I said, 'I want you guys to take this stuff off of her because I don't want her to pass with these tubes down her throat and an EEG machine on her head and sticky and all that stuff.' They took all that stuff out. They cleaned her off and washed her hair. They took everything out. I got to sit there with her. She took her last breath at 10:55. And I just sat with her there for a long while."
Adding to the tragedy in Plant's life, his mother was shot and killed by a police officer in March of this year. According to the Tennessee Bureau of investigation, Beth Plant was being taken to a hospital by ambulance when she became unruly and pulled a knife from her backpack. The driver pulled over to the side of the road and called for assistance from law enforcement. When a policeman arrived, Plant came toward him brandishing the knife and he shot her.
After Plant's mother died, Caleb posted a message on Facebook that read, "Love you forever and always momma. You always said 'work hard bubba' and I did. I know that we spent a lot of time wishing the relationship we had was different but you was still my momma. We both wished we could start from scratch so we could go back and you could have a fresh start with me and Maddie. Regardless you was one of the sweetest ladies I've ever come across. You had your demons but you'd give the shoes off your feet and your last dollar to someone who needed it less than you. I love you momma and I know you are up there with Alia now and her and grandma finally get to spend time together like we talked about way back. You are the first one out of all of us to see what Alia is really like so make the most of that and kiss her up and tell her that her daddy loves and misses her. I know in the end it's your demons we always talked about that got the best of you. Maybe you always told me because you knew I'd understand because we shared some of the same ones."
The saving grace in Plant's life has been boxing.
"I've been boxing since I was nine years old," Caleb says. "There ain't never been a Plan B. Not to go to college. Not to get a nine-to-five. Not to get a job. Not to be in the NFL. Not any of that. All I've ever had is boxing. I'm from the metho-heroin capital of the U.S. where a mother will sell her child's last toy for one Xanex. Where a mother will lock her son and her daughter in a room for hours, not taking care of them, just so she can be locked away in her room doing her own stuff. I'm from where the Bethesda Center gives out-of-date canned food to you because you ain't got no food. There ain't no Plan B."
Elaborating on that theme during a July 1 media conference call, Plant declared, "Boxing has always been like a sanctuary for me. It's been a place that I could go and be somebody. As a kid, I was somebody that nobody would want to be, living in a place where nobody would want to be in. When I got to go to the gym, then I got to be somebody that everybody wanted to be. Grown men looking up to me, oohing and ahhing. And once I got back out of those doors, I had to go back to being that kid that nobody wanted to be. So that became like an addiction for me, to want to be there, want to be in the gym."
"Through everything that came and left in my life," Plant continued. "Through all the things that I've lost, through all the things I've been deprived of or haven't had, boxing has always stood by my side. Boxing has always been there for me through thick and thin. Boxing is like a woman. If you treat her right and you do good by her, then she'll stand by you and she'll do right by you. But she's a jealous woman. And the difference between me and my opponent is, I haven't glanced off of her. I haven't endeavored into other things."
Mike Lee comes from a world that Caleb Plant is unfamiliar with.
Lee went to high school at the Benet Academy in Lisle, Illinois. Virtually all of Benet's students go on to college. Lee spent a year at the University of Missouri before transferring to Notre Dame, where he graduated with a degree in finance. "I relax by watching CNBC," he told writer Kieran Mulvaney several years ago. "And I like reading the Wall Street Journal."
For most of Lee's ring career, he was well marketed and well protected by Top Rank. At one point, he parlayed his Notre Dame pedigree into a much-commented-upon Subway commercial. Recently, he left Top Rank to campaign under the Premier Boxing Champions banner. Now 32 (five years older than Plant), he came into Saturday night's fight with a 21-0 (11 KOs) record and had fought his entire career at light-heavyweight or a shade higher.
Plant's opposition had been suspect prior to his victory over Uzcategui. Lee's opposition had been worse. "The typical Mike Lee opponent," one matchmaker observed, "has had ten fights and won all but nine of them."
Kick-off press conferences are usually characterized by the lack of anything eloquent being said. The May 21 press conference for Plant-Lee was different. Lee spoke first, voicing the usual platitudes.
"Every single fight is different. I don't really care what his other opponents have done in or out of the ring. It doesn't matter. On fight night, the bell rings, it's just me and him. The best man will win. I've been in so many press conferences where opponents either talk shit or they're dismissive or they're respectful. I've beat them all. This is an incredible opportunity and I will make the most of it. I'm going to shock a lot of people"
Then it was Plant's turn.
"I've been boxing my whole life," Caleb said. "No college degree for me. No high school sports. No acting gigs. No Subway commercials. Just boxing, day in and day out, rain, sleet, or snow. He may have a financial degree. But in boxing I have a Ph.D and that's something he don't know anything about. Something else I have a Ph.D in is being cold and being hungry and being deprived, coming from very rock bottom. That's something he don't know anything about. So if this guy ever thought for one second that I would let him mess this up for me and send me back there; unlike him, I have everything to lose. This is how I keep a roof over my head and food in my belly. That's something he don't know anything about. So if he thinks he's going to mess this up for me, he's not half as educated as I thought he was."
At times, the dialogue seemed to verge on class warfare. And it continued in that vein through fight week.
"There are zoo lions and there are jungle lions," Plant said at the final pre-fight press conference two days before the bout. "The zoo lion will look at the jungle lion and think they're the same thing. And from a distance they look the same. Until it's time to eat or be eaten."
"The trash talking goes back and forth," Lee responded. "That's as old as time. Nothing he's saying is new. It's all recycled stuff he's heard on TV or heard in movies. It's nothing new to me. It doesn't even bother me. I laugh at it."
Plant-Lee was broadcast live on Fox as a lead-in to the Pacquiao-Thurman pay-per-view card. Lee was a 15-to-1 underdog. The consensus was that he had as much chance of beating Plant in a boxing match as Yale would have of beating Notre Dame in football.
Nevada's choice of 76-year-old referee Robert Byrd as third man in the ring was a bit of a surprise. Byrd was once a capable referee, but his performance in recent years has been erratic. The most egregious example of this was his mishandling of the June 15 World Boxing Super Series cruiserweight semi-final bout between Mairis Briedis and Krzysztof Glowacki.
Byrd is past the point where he can move nimbly around the ring and was out of position for much of Briedis-Glowacki. His judgment was also faulty. In round two while the fighters were in a clinch, Glowacki hit Breidis in the back of the head with a rabbit punch. Briedis retaliated by flagrantly smashing an elbow into Glowacki's face, driving the Pole to the canvas. In a post-fight in-the-ring interview on DAZN, Briedis acknowledged the foul, saying, "I did a little bit dirty."
Glowacki, for his part, noted, "The elbow was really strong and clear to the chin. I did not know what happened. I do not remember a lot after that."
Byrd deducted a point from Briedis but didn't give Glowacki additional time to recover. Still hurt, Glowacki was knocked down fifteen seconds later by a two-punch combination that ended with a right hand to the back of the head. He rose. The bell rang to end the round. And Byrd didn't hear it.
"The bell's gone," DAZN blow-by-blow commentator Jim Rosenthal shouted. "They're carrying on. Come on, referee. I can hear it. Get in there."
But Byrd allowed the action to continue. With people at ringside waving their arms and screaming at him that the round had ended, he allowed Briedis to batter Glowacki for another eight seconds until Mairis scored another knockdown.
"He's gone down after the bell," Rosenthal proclaimed. "What is occurring in there? What is occurring? That bell was ringing for ages. It's farcical. He's saying he couldn't hear the bell. He must have been the only one in the arena."
A badly damaged Glowacki was allowed out of his corner for round three but the fight was stopped twenty seconds later. In the same post-fight interview on DAZN, Briedis conceded that he'd heard the bell ending round two but kept punching.
As for Plant-Lee, the fight lived down to expectations. Lee tried to fight aggressively but didn't have the tools to do it. Plant was the faster, stronger, tougher, better schooled fighter. He dropped Lee with a lead left hook late in round one, dug effectively to the body throughout, and put Lee on the canvas thrice more in the third stanza. After the final knockdown, Byrd stopped the mismatch. According to CompuBox, Lee landed just eight punches in the entire bout.
It will be interesting to see how Plant progresses from here, in and out of the ring. In that regard, it should be noted that writer Jeremy Herriges talked at length recently with Carman Jean Briscoe-Lee (Alia's mother, who was once Caleb's companion). Thereafter, Herriges wrote a thought-provoking article for NY Fights that calls portions of Plant's narrative into question.
Meanwhile, Caleb remains a work in progress.
"I'm not a grown man," he said during a July 1 media conference call. "I'm a growing man. So I'm going to continue to become better in the ring. I'm going to continue to become a better man outside the ring. Thus far, I think I've done a good job of handling that responsibility. If I just continue to follow what I've done, I think I'll be on the right path."
Let's see how the journey unfolds.
Thomas Hauser's new email address is thomashauserwriter@gmail.com. His next book – A Dangerous Journey: Another Year Inside Boxing  – will published this autumn by the University of Arkansas Press. In 2004, the Boxing Writers Association of America honored Hauser with the Nat Fleischer Award for career excellence in boxing journalism.
Check out more boxing news on video at The Boxing Channel
To comment on this story in The Fight Forum CLICK HERE