Who Wants to be a (Mere) Millionaire? Elite Fighters Now Dream of Billionaire Status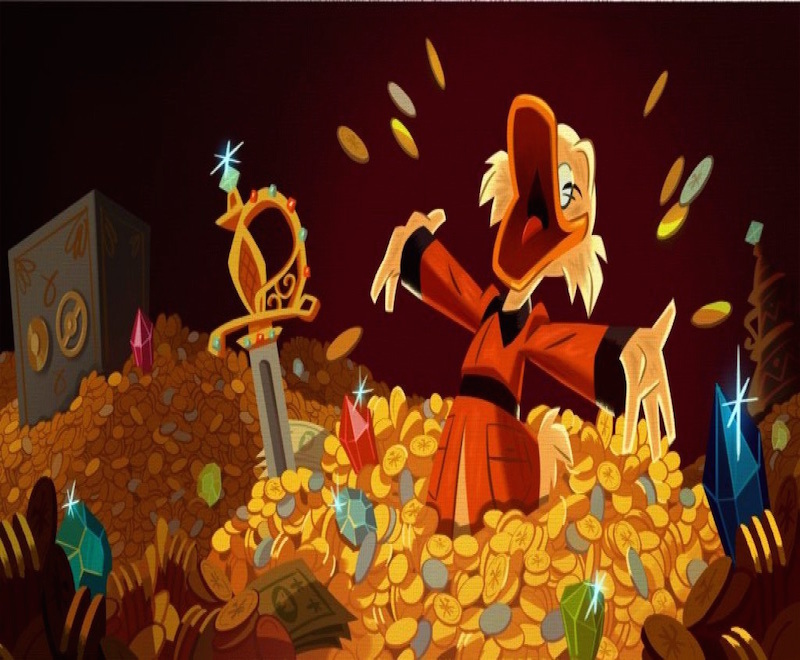 The late Ralph Kiner, who could hit the long ball but wasn't particularly adept at anything else on a baseball field, led the National League in home runs seven times in as many seasons from 1946 to 1952. That specialized skill was good enough for him to receive a $91,000 contract to play for the Pittsburgh Pirates in '52, which at the time of its signing made him the highest-paid player in the league. In reaction to criticism from those who felt the one-dimensional slugger wasn't worth his new deal, Kiner responded, "Singles hitters drive Fords; home run hitters drive Cadillacs."
Kiner, who was inducted into his sport's Hall of Fame in 1975, was 91 when he passed away on Feb. 6, 2014. As the radio voice of the New York Mets from the team's inaugural season in 1962 through 2013, he lived long enough to see just how puny $91,000 for a year's labor (worth $846,554.11 in 2018 dollars) would be today. The highest-paid players for the just-ended 2018 season were Los Angeles Dodgers pitcher Clayton Kershaw ($35.57 million) and Los Angeles Angels centerfielder Mike Trout ($34.08 million). It has been widely speculated that Washington Nationals outfielder Bryce Harper, an impending free agent who was paid a relatively piddling $21.625 million in 2018, will command a multiyear deal approaching or even in excess of $400 million, which doesn't seem that exorbitant in these inflated times and considering that he is only now entering what should be his prime, having just turned 26 on Oct. 16.
If Harper signs for something approximating the target figure being bandied about by his agent, Scott Boras, he will become the most highly compensated athlete over the life of an existing base contract, vaulting past boxing superstar Canelo Alvarez, the recently crowned WBC/WBA middleweight champion, who agreed to an exclusive deal with the streaming service DAZN (pronounced "Da Zone") in mid-October. The 11-fight agreement, the details of which were not disclosed, reportedly calls for the world's most currently marketable fighter to be paid somewhere between $350 million and $365 million. If he deigns to learn English, the red-haired Mexican sensation, who is only 28 years of age and shows no signs of slippage, could become a popular enough commercial spokesman to become a Madison Avenue heavyweight and possibly approach $1 billion in overall earnings. Breaking the 10-figure barrier might enable Canelo to eventually surpass the only man to have defeated him, the legendarily greedy Floyd Mayweather Jr., who currently reigns as the highest-grossing boxer of all time at $785 million, according to Forbes, a particularly impressive figure when you consider virtually none of it comes from pitching products.
Perhaps it is the possibility that his cherished position atop boxing's mounting cash pile could someday be challenged by Alvarez, or simply that his lavish spending habits are finally catching up with him, that the aptly nicknamed "Money" Mayweather, who turns 42 on Feb. 24, is publicly speculating about another low-risk cash grab for a rematch with past victim Manny Pacquiao or a schooling of another mixed martial artist who might want to try his hand at boxing, Khabib Nurmagomedov. A 30-year-old Russian, Nurmagomedov is coming off a victory over Conor McGregor, the previous MMA star who foolishly thought he might be able to beat Mayweather at his own game.
His conspicuous consumption notwithstanding, Mayweather ranks no better than ninth among all super-rich athletes. Retired NBA great Michael Jordan is No. 1 with total earnings of $1.85 billion, including endorsements, followed by golfers Tiger Woods ($1.7 billion), the late Arnold Palmer ($1.4 billion) and Jack Nicklaus ($1.3 billion). In addition to Mayweather, other boxers on Forbes' top 25 list include Mike Tyson (No. 14, $700 million; filed for bankruptcy in 2003), Oscar De La Hoya (No. 19, $520 million), Pacquiao (No. 20, $510 million) and Evander Holyfield (No. 24, $475 million).
Perhaps more than anyone within that highly exclusive, diamond-encrusted circle, Mayweather puts the lie to Kiner's long-ago assertion that Cadillacs are the preferred ride of athletes who don't have to concern themselves with showroom sticker shock. Shortly after he pulled down $250 million or so for his May 2, 2015, unanimous decision over Pacquiao, which set records with 4.6 million pay-per-view subscriptions and $600 million in gross revenues, Floyd treated himself to the world's most expensive car, the $4.8 million Koenigsegg CCXR Trevita. But that fabulous  new toy apparently wasn't enough to satisfy Mayweather, an insatiable collector of stratospherically priced land rockets; shortly thereafter he dropped another $3.2 million for a Ferrari Enzo, upping to 25 his collection of luxury vehicles that includes various models of Rolls-Royces, McLarens, Bentleys, Lamborghinis, Aston Martins and Bugattis.
Mayweather, of course, is free to spend his millions in any manner he so chooses,  but the skyrocketing level of money in professional sports, a seeming affirmation of Michael Douglas' Gordon Gekko character  pronouncing that "greed is good" in 1987's Wall Street, calls to mind another line from that movie, uttered by the character played by Charlie Sheen. "How many yachts," Gekko's young and increasingly disillusioned protégé asks, "can you water-ski behind? How much is enough?"
In announcing his massive, groundbreaking deal with Alvarez, Matchroom Boxing promoter Eddie Hearn, armed with $1 billion in rights fees over eight years from the Perform Group's DAZN, said the burgeoning financial pie for elite performers like Canelo would make for large-enough slices so the best of the best can financially compete with or even eclipse premier athletes in soccer, basketball, baseball, golf or whatever.
"I am so excited to shake up the world of boxing in America," Hearn said at a Madison Square Garden press conference to introduce DAZN to U.S. consumers, opening a fertile market which potentially could spell the demise of pay-per-view on this side of the pond, and maybe everywhere. "You've seen us do it in the UK … there were certain things I needed to be able to take boxing here to a new level, to build a stable that is unrivaled."
In addition to Alvarez, all reasonably established members of the Golden Boy coterie figure to benefit from the company's affiliation with DAZN, both in terms of available dates and the promise of increased purses. Other big-name fighters can expect to be recruited once they are free of their current contractual obligations. But it is Canelo, who will make his DAZN debut when he moves up to super middleweight to challenge WBA champion Rocky Fielding on Dec. 15 at the Garden, who will be the bell cow leading the way to what might soon become a new reality. That fight will be streamed free to entice fans to subscribe to DAZN, a preview of coming attractions as it were, and is not a part of Alvarez's contractual commitment to the streaming service, which officially begins in 2019.
If the $365 million figure is indeed correct, over the life of the five-year deal Alvarez not only will pull down a minimum of $35 million per fight, but an average of $191,675.79 per day, even if he is just hanging out at home. No wonder he reached for a pen when the DAZN contract was placed before him.
A word of caution, though, comes from former middleweight champion Marvin Hagler, who said it can be difficult for a fighter, or any successful pro athlete, to remain focused and hungry once they become too rich and comfortable. "It's tough to get out of bed to do roadwork at 5 a.m. when you've been sleeping in silk pajamas," the Marvelous one once observed.
Boxing has always been the sport of participants who sought to rise up from impoverished circumstances, who had to ply their trade for years and for low wages until, hopefully, their hard work and dedication, if melded with the requisite amount of talent, finally paid off. Celebrated former heavyweight champion Jack Dempsey fit that profile, fighting often and for scant recompense until the "Manassa Mauler" became one of the most compelling figures in the 1920s golden age of sports. He received an almost-incomprehensible $300,000 for his July 2, 1921, fight with Georges Carpentier, which generated boxing's first million-dollar live gate ($1,789,238). The payday for Dempsey, who knocked out the Frenchman in four rounds, would equate to $3,112,226.80 in 2018 dollars, a staggering amount in light of the fact that the average American worker's pay that year was $3,649.40.
When Muhammad Ali and Joe Frazier squared off in the first of their classic three bouts on March 8, 1971, each was guaranteed a king's ransom of $2.5 million ($15,485,175.88 in 2018 dollars). It was a huge sum at that time, especially when you consider that it wasn't until 1979 that Houston Astros pitcher Nolan Ryan became the first $1 million baseball player. Even more incredibly, future Hall of Famer Steve Carlton, a 27-year-old lefthander who was coming off a 20-7 season, was traded from the St. Louis Cardinals to the Philadelphia Phillies because Carlton had the audacity to ask Cardinals owner Gussie Busch, the beer baron, for a raise to $65,000. Carlton got that figure from the Phillies, and rewarded them by posting a 27-10 record with a 1.97 ERA and 310 strikeouts in 1972. Carlton's $65,000 salary in 1972 ($389,879.81 in today's dollars), even adjusted for inflation, would amount to a little more than one-90th of what Kershaw made this season.
The "silk pajamas" analogy offered by Marvin Hagler seems more appropriate now than ever. Are today's multimillionaire athletes as appreciative of what they had as those from other, less-well-compensated eras? A child of poverty growing up in Grand Rapids, Mich., Mayweather was offered a six-fight, $12.5 million contract extension by then-HBO boxing czar Lou DiBella in the autumn of 1999. Mayweather initially rejected the proposal, saying he could not fight for "slave wages," and insisted he wanted $3 million for his next fight, which would have given him virtual parity with more established, ratings-producing HBO mainstays Oscar De La Hoya and Roy Jones Jr. Mayweather grudgingly accepted the stipulated $750,000 for the last remaining bout on his HBO contract, and retained his WBC super featherweight title on a unanimous decision over mandatory contender Gregorio Vargas on March 18, 2000. Longtime HBO analyst Larry Merchant, however, was critical of his refusal to sign the extension, saying, "Mayweather's no $12 million fighter."
Time would prove that Mayweather's exceedingly high opinion of himself and his worth was more than justified, but not every athlete who plays contractual hardball wins similar stare-downs. Mexican-American heavyweight contender Alex Garcia, at his manager's urging, turned down a proposed $1 million payday to swap punches with comebacking George Foreman in 1993, the rationale being that he could get $5 million by holding off for a year or so, time in which he presumably could raise his recognizability factor. Garcia instead got knocked out, for a $15,000 purse, in a stay-busy bout with journeyman Mike Dixon on June 8, 1993. He bet on himself and lost, never again coming within whiffing distance of the kind of money he might have made for fighting Big George.
Another athlete who bet big on himself and lost is former Minnesota Timberwolves forward Latrell Sprewell, then 34 and on the downhill side of what had been a mostly productive career. After having been paid $14 million a year on his previous contract, he should have counted himself fortunate to be offered a three-year extension for $21 million, an annual average of $7 million. He instead publicly ripped team owner Glen Taylor, asking reporters how anyone could expect him to try to "feed his family" for such a paltry sum. Taylor withdrew the offer and Sprewell never played another game in the NBA, for anybody.
"His comment about `feeding my family' wasn't really the issue with me," Taylor said in an interview in October 2006. "That was just a bad thing. What was worse was that he said, `Well, then maybe I shouldn't play so hard,' or something like that. That, I took issue with."
It will be interesting to see if today's ultra-wealthy athletes can remain as driven and committed as their less-affluent forebears, who not only played or fought for pride and championships, but to pay the bills and actually feed their families. Where once sports fans marveled at the three-year, $400,000 (total!) contract the New York Jets lavished upon rookie quarterback Joe Namath on Jan. 2, 1966, the San Francisco 49ers signed newly acquired and largely unproven Jimmy Garoppolo, who previously had served as Tom Brady's backup with the New England Patriots, to a five-year, $137.5 million contract, with a salary-cap hit of $37 million for this season alone. Where Bob Pettit, a 10-time first-team All-NBA selection and two-time league NBA who was still playing at a high level, retired from the St. Louis Hawks after the 1964-65 season because he thought he could do better as a banker than his $65,000 basketball salary ($513,591.67 in 2018 dollars), LeBron James raked in $85 million in 2017, $52 million of which came from endorsements.
After he has a couple of hundred million dollars put away for a rainy day, will Canelo Alvarez still want to suffer the rigors of training camp and more trials by combat to further embellish his legacy? Or will he be satisfied to walk away, fat and happy, with still more to give because the incentive to do so had diminished in correlation with the expansion of his bank account?
Like the Charlie Sheen character asked in Wall Street, how much is enough? It is a question everyone who buys a Powerball or Mega Millions lottery ticket probably poses to himself or herself, even as we imagine what it must be like to find that life has supplied us with its elusive winning numbers.
Bernard Fernandez is the retired boxing writer for the Philadelphia Daily News. He is a five-term former president of the Boxing Writers Association of America, an inductee into the Pennsylvania, New Jersey and Atlantic City Boxing Halls of Fame and the recipient of the Nat Fleischer Award for Excellence in Boxing Journalism and the Barney Nagler Award for Long and Meritorious Service to Boxing.
Check out more boxing news on video at The Boxing Channel
Ringside in Verona: Alvarez Capsizes Seals Plus Undercard Results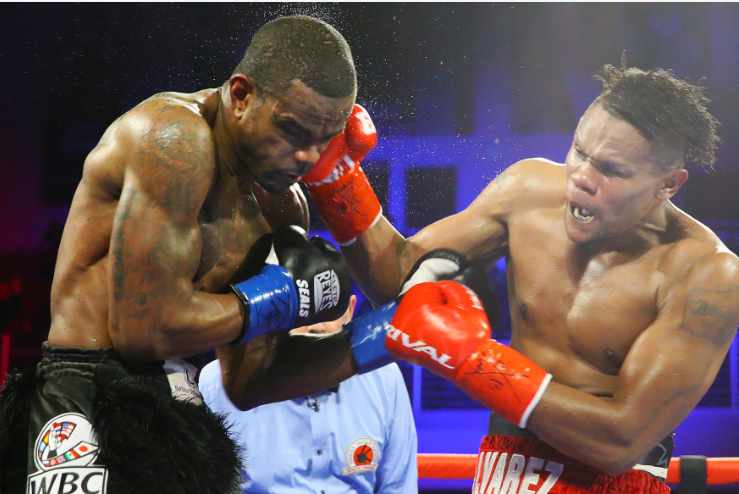 VERONA, NY — The main event of an ESPN televised card at the Turning Stone Resort Casino in Verona, NY between light heavyweight contenders Eleider Alvarez (25-1, 13 KO's) and Michael Seals (24-3, 18 KO's) started with a whimper but ended with a bang. After six-plus rounds of lackadaisical action, Alvarez scored a stunning sensational one punch knockout just before the end of the seventh round of their scheduled ten round fight.
The first three rounds saw more clinches than punches landed. Seals seemed to be looking to land one perfect punch and in doing so barely unleashed any punches. Alvarez, for his part, was not very active in these rounds but certainly moved his hands more and landed more than Seals.
In round four, Seals came out much more aggressive and had his best round of the fight. But in the fifth, Seals went back to looking for that one punch and Alvarez took back control of the action. Toward the end of the round, Alvarez staggered Seals with a right hand.
Alvarez continued to be in control of the fight in rounds six and seven by simply moving his hands more. And then towards the end of round seven, Alvarez connected with a picture perfect overhand right that sent Seals crashing to the canvas. Referee Danny Schiavone did not reach a full 10-count before waiving the fight off.
For Alvarez, this was a big bounce-back win after his loss to Sergey Kovalev in their light heavyweight title rematch last February. With the light heavyweight division flush with talent, it seems Alvarez is in prime position to get a big opportunity his next time out.
In the co-feature, lightweight contender Felix Verdejo (26-1, 16 KO's) put on a workmanlike effort in winning a wide ten round unanimous decision against Manuel Rey Rojas (18-4, 5 KO's). While Verdejo was in complete control of the contest from the opening bell, the performance certainly lacked sizzle and may raise even more questions on the potential of the once can't-miss prospect.
Verdejo utilized a very patient approach throughout the night working behind the left jab. While the jab was effective, Verdejo only occasionally looked to unleash power punches behind that jab. Reyes, for his part, played mostly defense keeping a very tight guard and looking to selectively counter Verdejo's jab.
Verdejo's defense, which had been criticized in the past, looked better but still showed some leaks. In the fifth round, Reyes landed a sharp right hand flush on the jaw of Verdejo that seemed to momentarily get Verdejo's attention. And in the ninth, Reyes landed a hard right that snapped Verdejo's head back. If Reyes could punch harder, either of those two rights may have altered the course of the fight.
But aside from those brief moments from Reyes, Verdejo dictated all the action. He easily out-worked and out-landed the mostly defensive minded Reyes. In the end it is a win for Verdejo and he can proceed forward towards what he hopes will be an eventual title shot in the lightweight division.
In a bizarre heavyweight fight between two former 2004 Olympians, Devin Vargas (22-6, 9 KO's) was awarded a disqualification victory in the eighth and final round against Victor Bisbal (23-5, 17 KO's). Bisbal scored a knockdown in round two with a left hook but was deducted two points in round four for various infractions.  Aside from the knockdown round, Vargas seemed to out-hustle and out-land Bisbal. Ahead on all three scorecards (67-63 twice and 66 -64) entering the final round, Vargas absorbed a low blow from Bisbal. At this point, referee Michael Ortega decided to disqualify Bisbal.
Abraham Nova (18-0, 14 KO's) scored a one-sided fourth-round TKO of tough veteran Pedro Navarette (30-25-3, 19 KO's) in a lightweight contest that was scheduled for eight rounds. Nova scored knockdowns in rounds two, three and four before the fight was waived off.
Knockout out artist Jonathan Guzman (24-1, 23 KO's) rose from the canvas to score a fourth-round knockout of Rodolfo Hernandez (30-10-1, 28 KO's) in a 122-pound slugfest. The heavily favored Guzman scored two knockdowns with body shots in the opening stanza and appeared on his way to an easy win. But Hernandez flipped the script in round three with a hard right hand just before the bell sounded that put Guzman on the canvas and nearly out. The two went toe to toe in the fourth when a vicious left hook to the body from Guzman put Hernandez down and this time out for good.
In a battle of former world title challengers, Freddie Roach trained Christopher Diaz (25-2, 16 KO's) scored a wide eight round unanimous against Adeilson Dos Santos (19-8, 15 KO's) in a featherweight contest. Diaz dominated the fight from the opening bell and hurt Dos Santos on a few occasions but ultimately had to settle for the decision victory.
The opening fight of the night saw heavyweight prospect Jared Anderson (3-0, 3 KO's) easily dispatch Andrew Satterfield (5-4, 3 KO's) in the first round of their scheduled four round fight. Anderson scored two knockdowns in what was a dominant performance.
Photo credit: Mikey Williams for Top Rank
Check out more boxing news on video at The Boxing Channel 
To comment on this story in The Fight Forum CLICK HERE
Fast Results from Philadelphia: Rosario TKOs 'J-Rock' in a Shocker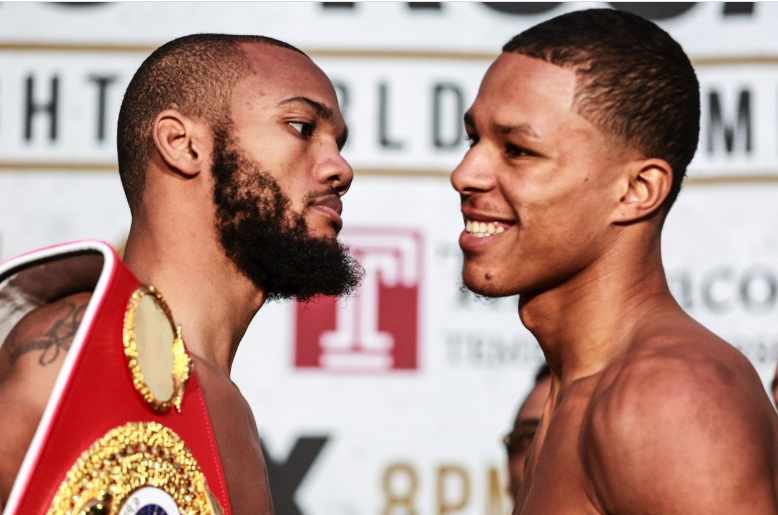 Born and bred in Philadelphia, Julian "J-Rock" Williams had fought only twice in his hometown prior to this evening, most recently back in 2011 when he was still a 6-round fighter. Tonight he topped the marquee, defending his WBA/IBF super welterweight titles at the 10,000-seat Liacouras Center on the campus of Temple University.
A successful homecoming for Williams, who was making the first defense of the titles he won last May with a hard but well-deserved unanimous decision over Jarrett Hurd, seemed like a foregone conclusion, but in a shocker Jeison Rosario of the Dominican Republic spoiled the soup, taking away Williams' titles with a fifth round stoppage.
It was a mammoth upset.
In round two, Rosario (20-1-1, 14 KOs) caught Williams with a punch that left a cut over his left eyelid. In the fifth, the challenger, ahead on the scorecards after a slow start, stunned "J-Rock" with a volley of punches starting with a hard right hand and then, after Williams lost his balance, followed up with several hard punches, notably a wicked uppercut that left Williams (27-2-1) all at sea. The stoppage by referee Benjy Estevez met with the disapproval of the pro-Williams crowd, but it was clearly the right call. The official time was 1:17 of round five.
After the fight, Williams indicated that there was a rematch clause in the contract that he intends to activate.
Co-Feature
In a fight billed for the WBA interim super featherweight title, Brooklyn's Chris Colbert (14-0, 5 KOs) stepped up in class and won a clear-cut 12-round decision over Panamanian southpaw Jezreel Corrales (23-4), a former WBA 130-pound title-holder. The cat-quick Colbert, 23, scored the bout's lone knockdown, sending Corrales to the canvas in the 10th round with a short overhand right. The scores were 116-111 and 117-110 twice.
Kiddie Corps
In a humdrum fight slated for six rounds, 19-year-old super welterweight Joey Spencer (who is rapidly out-growing the division), won every round against Erik Spring, a 35-year-old champion kickboxer from Reading, PA. Spencer, whose style and body type has drawn comparisons to a young Canelo Alvarez, didn't fight with his usual aggression, but advanced his record to 10-0. A southpaw, Spring (13-4-2) brought little to the table but maintained his distinction of having never been stopped.
In a four-round welterweight match, 17-year-old high school senior Vito "White Magic" Mielnicki Jr advanced to 4-0 but was extended the distance for the first time by overmatched but brave Preston Wilson (6-4-1), a boxer from Parkersburg, W. Va. In his first three pro fights, Mielnicki had answered the bell for only four rounds.
Also
In a super welterweight contest slated for 10 rounds, Mexican veteran Jorge Cota (30-4, 17 KOs) had too much firepower for Thomas "Cornflake" LaManna. There were no knockdowns, but LaManna ate a lot of leather before the referee intervened at 1:22 of the fifth. The crowd thought the stoppage was premature, but it met with the approval of LaManna's cornermen.
In an all-Philadelphia affair between super welterweights, Paul Kroll (7-0, 6 KOs) scored a fourth-round stoppage of Marcel Rivers. (7-3). Kroll knocked Rivers down in the third and twice more in the fourth, but Rivers was on his feet when the referee thought it prudent to call it off. Kroll, 25, made the 2016 U.S. Olympic team but was eliminated at an international qualifying tournament and the U.S. competed in Rio without a representative in his weight class.
Check out more boxing news on video at The Boxing Channel 
To comment on this story in The Fight Forum CLICK HERE
Photo credit: Stephanie Trapp / TGB Promotions
The Top Ten Heavyweights of the Decade 2010-2019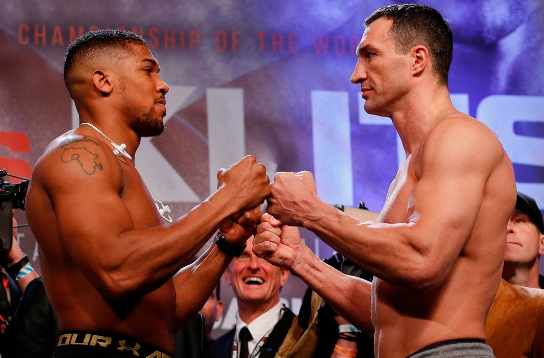 With the decade 2010-2019 now closed and a new one begun, a quick look at the chief champions and contenders of the sport's flagship division seems pertinent. A curious rather than a scintillating decade, it was dominated early by two brothers and late by three fighters as different and divisive and, in some cases, reluctant to meet each other, as can be imagined. Here though, we will look at who these men did fight rather than who they didn't, appraising accomplishments first and foremost as criteria for this Top Ten.
Rankings, a crucial tool for disassembling any period of history, are by The Ring magazine between 2000 and 2002 and by TBRB for all other years.
10 – Luis Ortiz
Peak Ranking: 3 Record for the Decade: 31-2 Ranked For: 40% of the Decade
Here is a complete list of the ranked fighters that Luis Ortiz defeated during the past decade:
Bryant Jennings.
This is horrifying, but it is sadly not that unusual. David Haye managed to defeat zero ranked contenders during the five years for which he was an active heavyweight in the decade, Kubrat Pulev managed just one in the shape of Tony Thompson. There is no more distressing statistic in all of boxing than this, I think: Luis Ortiz obtained a peak rank of #3 and yet he has never proven himself the equal of even a fighter ranked in the top five.
Such is modern boxing.
Three things stand in support of his #10 ranking here: first, both his devastating knockout losses to Deontay Wilder were stirring efforts. Their 2019 encounter, especially, was a performance that felt like dominance with only Wilder's power and, perhaps, Ortiz's ageing legs preventing what would have been a serious upset. Secondly, Ortiz looks the part, at least technically. Behind the 3-day balloon sag of his emotionless visage is a talented fighter. Choosing my words carefully I'll go so far as to say that his economy of movement is the best for any heavyweight from this century, and that covers footwork, defense and punching. The tiny head movements he chose to ditch many of Wilder's punches would bring a tear to the glass eye of any veteran boxing trainer.
Finally, there isn't really much competition for #10. Pulev and Tomasz Adamek were his closest competition for this slot and my preference for Ortiz's understated technical acumen got him over the line.
09 – Andy Ruiz
Peak Ranking: 1 Record for the decade: 31-2 Ranked for: 18% of the decade
Andy Ruiz nips in ahead of Ortiz based upon his achieving the indelible against Anthony Joshua. Briefly, it made Ruiz the planet's number one heavyweight and although his inclusion here was not certain, nor inarguable, it means that every heavyweight who held the number one spot between 2010 and 2019 makes the list.
The rest of his decade was something of a blank, although he came very close to changing that in his December 2016 crack at Joseph Parker. Writing at the time I said that Ruiz had blown a "golden chance" to become the first Mexican American heavyweight belt-holder in a fight that was close enough to have been judged a draw. As it was, Parker squeaked past his rotund opponent with a majority decision win, 115-113 twice and 114-114. Ruiz, who threatened to out-speed a speedster in that fight, bagged all three of the opening rounds for me and forced Parker to sit down hard on his boxing in order to snag the decision.
Had the desperately close twelfth gone for Ruiz and against Parker, Ruiz is facing Joshua in a unification fight instead of as a substitute throwing punches on a wing and prayer. How might history have been different? It's impossible to say although I will readily admit that when I wrote of Ruiz that he "has big fights in his future if he wants them" I didn't have something quite as astonishing as that victory over Joshua in mind. It's enough to squeak him into the ten.
08 – Joseph Parker
Peak Ranking: 3 Record for the decade: 26-2 Ranked for: 39% of the decade
Joseph Parker benefits from a retrospective look at a victory that, at the time, was widely ignored.   When the New Zealander defeated Ruiz it was seen, if it was seen at all, as an embarrassingly narrow victory over an out of shape gatekeeper type who didn't deserve the shot in the first place. Fast forward to Ruiz's destruction of Joshua and suddenly Parker has a rather special victory under his belt.  Notwithstanding his own failed effort at Joshua, it is rather difficult to rank Ruiz ahead of Parker given that Parker toughed it out to beat the American-Mexican over twelve.
So, while it's hard to argue that Parker unequivocally had the better decade overall, he has spent many more months than Ruiz as a ranked fighter and squared off more often against the best. Ruiz, Hughie Fury and Alexander Dimetrenko make for the cornerstone of a rather underwhelming resume though and after posting dual losses in 2018 he beat a hasty retreat for safer waters.
Parker isn't quite out of the game yet though. A 2019 fight with Dereck Chisora was called off after Parker was bitten by a spider and that fascinating contest that can hopefully be rescheduled.
Whether the nicest man in heavyweight boxing can be a force in the division over the course of the next ten years may hinge on the outcome.
07 – Dillian Whyte
Peak Ranking: 3 Record for the decade: 27-1 Ranked for: 19% of the decade
Numbers 7, 8 and 9 come off easy. Parker beats Ruiz and then Dillian Whyte beats Parker. We know which of these three is better and barring wild differences in matched men, who is more accomplished.  Whyte achieved a measure of fame in 2015 with a heart-fueled but failed crack at Joshua when both were making their divisional bones but by early 2017, Whyte had become a heavyweight of legitimate interest and by the end of that year he had legitimized himself as a threat to world level.
Whyte wrought a candidate for fight of the year that December against Dereck Chisora, but the closeness of this vicious contest raised questions of its own. Those questions were answered twice, first by Chisora cracking the rankings and pushing Whyte close again in a glorious rematch, then by further Dillian Whyte contests against the likes of Joseph Parker and Oscar Rivas. What they demonstrated is that the final incarnation of Dillian Whyte is always in good fights.
Even a turgid contest with a weary Mariusz Wach right at the end of 2019 had its moments, for all they were born of an undertrained, overweight Whyte struggling and failing to put away an inferior opponent but proving himself once more the division's deluxe brawler for the decade. Not that Whyte is not proficient, but he isn't using a box and move strategy to stay out of trouble like Parker nor using technical boxing to break down the opposition like Ortiz; rather he is out-thugging his opposition with a combination of persistence, heart and a withering punch.
06 – Vitali Klitschko
Peak Ranking: 2 Record for the decade: 6-0 Ranked for: 35% of the decade
I am something of a Vitali Klitschko fan. I never understood the criticism, during his prime, of his "robotic" style. To me he was a granite-chinned gunslinger, eschewing traditional defensive technique in favor of low-handed high-volume aggression. He came to fight and did so without fear.
He is also principled and intelligent which is why it was so disappointing to see the WBC lead him around by his nose. Vitali went 6-0 between January first, 2010 and December of 2013 when he retired but only one of these "title-fights" was staged against one of the ten best in his division. -Some of his opponents couldn't even be said to be ranked in the top thirty.
Zuri Lawrence victim Albert Sosnowski was likely the low point of this decade, while Cuban prospect Odlanier Solis or Polish veteran Adamek were the high points.
But whether he was thrashing a hapless Manuel Charr or battering Shannon Briggs in one of the ugliest beatings of the century, Vitali looked imperious. There is a very a reasoned argument that despite his limited competition and despite his advancing years he is the very best fighter on this list.
It is a shame he never really proved it.
#6, then, may be a little too high, but the difficulty in visualizing his defeat at the hands of many of the men ranked above or below him enhances his standing.
05 – Alexander Povetkin
Peak Ranking: 2 Record for the decade: 27-2-1 Ranked for: 100% of the decade
Were we ranking fighters here upon their entire careers rather than just on what they did in the last decade, Povetkin would have a strong case for #3. Even in the 2000s he was ranked the #1 heavyweight in the world not named Klitschko at one stage, but it would be 2015 before he found himself in the ring with the long-reigning champion Wladimir.
The beating he absorbed was terrible; he showed heart and rare determination in continuing to take the fight to the champion despite the onslaught that saw him repeatedly dropped to the canvas in the course of losing a wide decision. For many, it would have represented a career-altering thrashing.
But not for Povetkin. "Vityaz" was made of stronger stuff. In fact, he would outlast Wladimir – just like he outlasted Carlos Takam, a ranked and a formidable man one year after his butchery at the hands of Wladimir. In his very next fight he obliterated #10 contender Mike Perez in a devastating right-handed showcase that is one of the most under-watched knockouts on YouTube: click here to help set that right; if you do, keep in mind that Perez had never been stopped before and has never been stopped since.
Povetkin added ranked men Johann Duhaupas and Christian Hammer as he campaigned for a shot at the newest heavyweight star, Anthony Joshua; he got his wish but that attempt ended almost as painfully as his tilt at Wladimir. But Povetkin has come yet again. He was fortunate, perhaps, to escape with a draw against Michael Hunter (another excellent fight) in 2019 but it's a result that keeps him in the game and sees him embark on his third decade as a heavyweight contender.
Consider that Ruslan Chagaev, a former victim of Povetkin's and his chief rival for the title "best of the rest" from the Klitschko era retired five years ago and Povetkin's status as the decade's ultimate survivor is thrown into sharp relief.
04 – Deontay Wilder
Peak Ranking: 2 Record for the decade: 34-0-1 Ranked for: 53% of the decade
Being honest, Deontay Wilder ranking above Povetkin specifically for what they did in the last decade does not sit particularly well with me. I consider the early part of Deontay Wilder's WBC run nothing less than shameful and his being recently introduced at a press conference as having "equaled the run of Muhammad Ali" as a travesty.
It's not that Wilder hasn't done some good work, for he has, but if your number two scalp is that of Bermane Stiverne then it could be argued that you do not belong in the top five for any given decade.  Nevertheless, to my admitted disgruntlement, Wilder's paper record (the best on this list) and that incredible knockout of Ortiz in their recent rematch has slipped Wilder in at the #4 spot by the barest of margins. There is little doubt as to the attribute that has brought him this far.
"Wilder could knock out a bull if he hit it in the head," claims 2015 victim Eric Molina. "If he touches anybody with that right hand, on any part of the head, they're going to dance or go down and go to sleep. It is what it is."
It is. You never know upon who the moth of natural talent will alite and it seems that Wilder is the most blessed heavyweight of this era. It also seemed, for a while, that he might squander that gift, but in facing Tyson Fury, Ortiz, and now Fury again in a forthcoming rematch, Wilder has become the toughest matched heavyweight in the world. He was lucky to escape with a draw in that first Fury fight but make no mistake, he is one victory away from becoming the preeminent heavyweight for the new decade.
Fourth is the absolute highest he can rank for the old one.
03 – Tyson Fury
Peak Ranking: Champion Record for the decade: 20-0-1 Ranked for: 52% of the decade
To tell another truth, Tyson Fury can't be said to have done a great deal more than Wilder in securing the #3 spot for 2010-2019, but two things have him locked above his American rival: first, Fury was deserving of the decision in the first meeting between the two; second, he is the only man on this list to have defeated a lineal champion in that decade. While Fury's own status is confused by his retirement and comeback, there is no disputing the status of Wladimir Klitschko when Fury took his titles from him in his German stronghold. Wladimir was surely past prime when Fury visited him, but it is forgotten now that the notion of Fury's out-boxing him was hardly even considered possible. Fury's brilliance in taking a clear twelve round decision on hostile territory can hardly be overstated.
It has been forgotten, too, in the wake of Anthony Joshua's much more spectacular defeat of Wladimir that Fury beat him first, far less viciously but without the home advantage Joshua enjoyed. In summary, then: Fury is in possession of the single greatest victory from that decade of heavyweight boxing.
Since, he has defeated depression and addiction, or at least fought them to a standstill. No points for that here, but given that he, like Wilder, is undefeated, and that he, like Wilder, has wins in support of his very best that are rather underwhelming, #3 seems the fairest spot.
Probably the world's number one at decade's end, those mental health issues have sadly kept him from contention for the top two spots in an appraisal of all ten years.
02 – Anthony Joshua
Peak Ranking: 1 Record for the decade: 23-1 Ranked for: 48% of the decade
While Fury struggled desperately with his demons, Anthony Joshua rolled in and with consummate professionalism stole his thunder and many of his potential opponents. As a demonstration of excellence – of fistic ability, promotional acumen, media handling – nobody has approached equaling it in the past ten years.
Joshua's management team paid handsomely for their first alphabet strap, bribing Charles Martin to visit the UK allowing Joshua to force him to take the proverbial knee, which he quickly did under heavy fire. Martin had come by his belt after the IBF equally quickly stripped Tyson Fury after he defeated Wladimir Klitschko; Martin was named a challenger for the vacant belt but really that fight was meant to be a coronation for the anointed Vyacheslav Glazkov who damaged his knee so badly during the fight that he hasn't fought since. It was as tortured and ridiculous a path to an alphabet title as has occurred, which is saying something.
Since, and despite much unfair criticism, Joshua has conducted himself with genuine ambition. Dominic Breazeale was deemed underwhelming, but he was, at least, legitimately ranked at #9; Wladimir Klitschko was as dangerous an opponent as the under-seasoned Joshua could have faced and their combat was as thrilling as any from this period. The selection of Carlos Takam was criticized, but Takam was ranked number six and was a late replacement for Kubrat Pulev, who was ranked even higher.  Joseph Parker stood the #3 heavyweight in the world when Joshua clearly out-boxed him, and Alexander Povetkin, for all that he was derided as past-prime, was still ranked at #5.
Then disaster struck. The defeat of Joshua by Ruiz will perhaps become no more than a footnote to a hall of fame career, but it does rule Joshua out as a contender to the #1 spot here. Make no mistake, had he buried Ruiz the first time around rather than requiring a rematch to reclaim his trinkets, Joshua's record would have proven hard to resist. It is a fact that no heavyweight defeated more ranked contenders in the considered years.
01 – Wladimir Klitschko
Peak Ranking: Champion Record for the decade: 11-2 Ranked for: 64% of the decade
While no fighter defeated more ranked contenders than Joshua, only one fighter twice defeated the heavyweight ranked the best in the world excepting himself and that was the mighty Wladimir Klitschko.
He butchered Povetkin in a brutal shut-out in 2013. The following year he crushed the undefeated Kubrat Pulev in five savage rounds. He seemed, in that moment, unassailable.
Wladimir entered the decade the undisputed number one heavyweight in the world, even the return to action of his brother Vitali failing to muddy the waters to any real degree. In the absence of the older Vitali, Wladimir had developed an iron grip on his lofty status, contenders slipping from him like water over a river rock. Wladimir had a reputation for vulnerability, but by the opening of the decade he hadn't been beaten in six years. By the time Fury unseated him in 2015, Wladimir was more than ten years removed from defeat. Few fighters have entire careers as accomplished.
Wladimir did build his inimitable if sometimes frustrating style primarily around weaknesses, however.  He wanted to protect his chin, so he kept his opponents very far away, on the end of his all-time great jab, or very close, on the receiving end of a frustrating habit to clutch and hold. He wanted to protect a gas-tank that had failed him the decade before and so he became perhaps the most complete general the heavyweight division has ever seen. Risk management, control of the ring's real estate and control of the fight's tempo were everything to him.
This frustrated many fight fans but to dispute his dominance of the first half of the decade based upon aesthetics would be fruitless. The unlikely figure of Andy Ruiz ensured that Wladimir Klitschko would be shorn of competition for the #1 spot for heavyweight of the decade 2010-2019 – it is fitting that they nearly bookended the top ten.
Check out more boxing news on video at The Boxing Channel 
To comment on this story in The Fight Forum CLICK HERE