Who Wants to be a (Mere) Millionaire? Elite Fighters Now Dream of Billionaire Status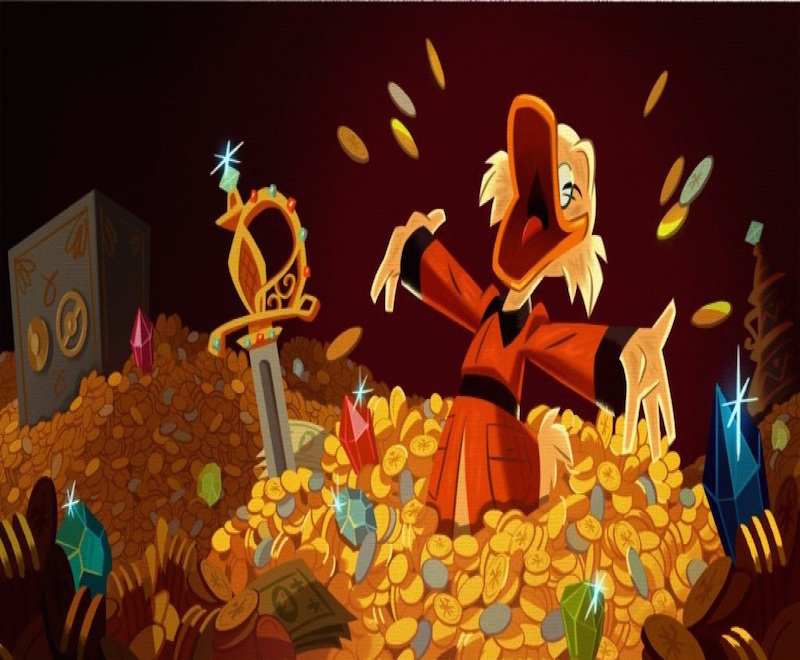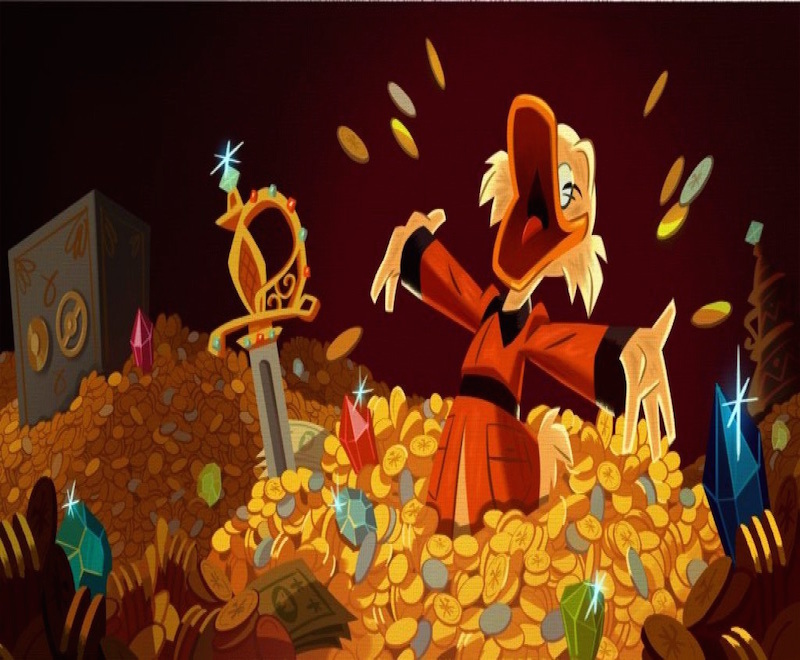 The late Ralph Kiner, who could hit the long ball but wasn't particularly adept at anything else on a baseball field, led the National League in home runs seven times in as many seasons from 1946 to 1952. That specialized skill was good enough for him to receive a $91,000 contract to play for the Pittsburgh Pirates in '52, which at the time of its signing made him the highest-paid player in the league. In reaction to criticism from those who felt the one-dimensional slugger wasn't worth his new deal, Kiner responded, "Singles hitters drive Fords; home run hitters drive Cadillacs."
Kiner, who was inducted into his sport's Hall of Fame in 1975, was 91 when he passed away on Feb. 6, 2014. As the radio voice of the New York Mets from the team's inaugural season in 1962 through 2013, he lived long enough to see just how puny $91,000 for a year's labor (worth $846,554.11 in 2018 dollars) would be today. The highest-paid players for the just-ended 2018 season were Los Angeles Dodgers pitcher Clayton Kershaw ($35.57 million) and Los Angeles Angels centerfielder Mike Trout ($34.08 million). It has been widely speculated that Washington Nationals outfielder Bryce Harper, an impending free agent who was paid a relatively piddling $21.625 million in 2018, will command a multiyear deal approaching or even in excess of $400 million, which doesn't seem that exorbitant in these inflated times and considering that he is only now entering what should be his prime, having just turned 26 on Oct. 16.
If Harper signs for something approximating the target figure being bandied about by his agent, Scott Boras, he will become the most highly compensated athlete over the life of an existing base contract, vaulting past boxing superstar Canelo Alvarez, the recently crowned WBC/WBA middleweight champion, who agreed to an exclusive deal with the streaming service DAZN (pronounced "Da Zone") in mid-October. The 11-fight agreement, the details of which were not disclosed, reportedly calls for the world's most currently marketable fighter to be paid somewhere between $350 million and $365 million. If he deigns to learn English, the red-haired Mexican sensation, who is only 28 years of age and shows no signs of slippage, could become a popular enough commercial spokesman to become a Madison Avenue heavyweight and possibly approach $1 billion in overall earnings. Breaking the 10-figure barrier might enable Canelo to eventually surpass the only man to have defeated him, the legendarily greedy Floyd Mayweather Jr., who currently reigns as the highest-grossing boxer of all time at $785 million, according to Forbes, a particularly impressive figure when you consider virtually none of it comes from pitching products.
Perhaps it is the possibility that his cherished position atop boxing's mounting cash pile could someday be challenged by Alvarez, or simply that his lavish spending habits are finally catching up with him, that the aptly nicknamed "Money" Mayweather, who turns 42 on Feb. 24, is publicly speculating about another low-risk cash grab for a rematch with past victim Manny Pacquiao or a schooling of another mixed martial artist who might want to try his hand at boxing, Khabib Nurmagomedov. A 30-year-old Russian, Nurmagomedov is coming off a victory over Conor McGregor, the previous MMA star who foolishly thought he might be able to beat Mayweather at his own game.
His conspicuous consumption notwithstanding, Mayweather ranks no better than ninth among all super-rich athletes. Retired NBA great Michael Jordan is No. 1 with total earnings of $1.85 billion, including endorsements, followed by golfers Tiger Woods ($1.7 billion), the late Arnold Palmer ($1.4 billion) and Jack Nicklaus ($1.3 billion). In addition to Mayweather, other boxers on Forbes' top 25 list include Mike Tyson (No. 14, $700 million; filed for bankruptcy in 2003), Oscar De La Hoya (No. 19, $520 million), Pacquiao (No. 20, $510 million) and Evander Holyfield (No. 24, $475 million).
Perhaps more than anyone within that highly exclusive, diamond-encrusted circle, Mayweather puts the lie to Kiner's long-ago assertion that Cadillacs are the preferred ride of athletes who don't have to concern themselves with showroom sticker shock. Shortly after he pulled down $250 million or so for his May 2, 2015, unanimous decision over Pacquiao, which set records with 4.6 million pay-per-view subscriptions and $600 million in gross revenues, Floyd treated himself to the world's most expensive car, the $4.8 million Koenigsegg CCXR Trevita. But that fabulous  new toy apparently wasn't enough to satisfy Mayweather, an insatiable collector of stratospherically priced land rockets; shortly thereafter he dropped another $3.2 million for a Ferrari Enzo, upping to 25 his collection of luxury vehicles that includes various models of Rolls-Royces, McLarens, Bentleys, Lamborghinis, Aston Martins and Bugattis.
Mayweather, of course, is free to spend his millions in any manner he so chooses,  but the skyrocketing level of money in professional sports, a seeming affirmation of Michael Douglas' Gordon Gekko character  pronouncing that "greed is good" in 1987's Wall Street, calls to mind another line from that movie, uttered by the character played by Charlie Sheen. "How many yachts," Gekko's young and increasingly disillusioned protégé asks, "can you water-ski behind? How much is enough?"
In announcing his massive, groundbreaking deal with Alvarez, Matchroom Boxing promoter Eddie Hearn, armed with $1 billion in rights fees over eight years from the Perform Group's DAZN, said the burgeoning financial pie for elite performers like Canelo would make for large-enough slices so the best of the best can financially compete with or even eclipse premier athletes in soccer, basketball, baseball, golf or whatever.
"I am so excited to shake up the world of boxing in America," Hearn said at a Madison Square Garden press conference to introduce DAZN to U.S. consumers, opening a fertile market which potentially could spell the demise of pay-per-view on this side of the pond, and maybe everywhere. "You've seen us do it in the UK … there were certain things I needed to be able to take boxing here to a new level, to build a stable that is unrivaled."
In addition to Alvarez, all reasonably established members of the Golden Boy coterie figure to benefit from the company's affiliation with DAZN, both in terms of available dates and the promise of increased purses. Other big-name fighters can expect to be recruited once they are free of their current contractual obligations. But it is Canelo, who will make his DAZN debut when he moves up to super middleweight to challenge WBA champion Rocky Fielding on Dec. 15 at the Garden, who will be the bell cow leading the way to what might soon become a new reality. That fight will be streamed free to entice fans to subscribe to DAZN, a preview of coming attractions as it were, and is not a part of Alvarez's contractual commitment to the streaming service, which officially begins in 2019.
If the $365 million figure is indeed correct, over the life of the five-year deal Alvarez not only will pull down a minimum of $35 million per fight, but an average of $191,675.79 per day, even if he is just hanging out at home. No wonder he reached for a pen when the DAZN contract was placed before him.
A word of caution, though, comes from former middleweight champion Marvin Hagler, who said it can be difficult for a fighter, or any successful pro athlete, to remain focused and hungry once they become too rich and comfortable. "It's tough to get out of bed to do roadwork at 5 a.m. when you've been sleeping in silk pajamas," the Marvelous one once observed.
Boxing has always been the sport of participants who sought to rise up from impoverished circumstances, who had to ply their trade for years and for low wages until, hopefully, their hard work and dedication, if melded with the requisite amount of talent, finally paid off. Celebrated former heavyweight champion Jack Dempsey fit that profile, fighting often and for scant recompense until the "Manassa Mauler" became one of the most compelling figures in the 1920s golden age of sports. He received an almost-incomprehensible $300,000 for his July 2, 1921, fight with Georges Carpentier, which generated boxing's first million-dollar live gate ($1,789,238). The payday for Dempsey, who knocked out the Frenchman in four rounds, would equate to $3,112,226.80 in 2018 dollars, a staggering amount in light of the fact that the average American worker's pay that year was $3,649.40.
When Muhammad Ali and Joe Frazier squared off in the first of their classic three bouts on March 8, 1971, each was guaranteed a king's ransom of $2.5 million ($15,485,175.88 in 2018 dollars). It was a huge sum at that time, especially when you consider that it wasn't until 1979 that Houston Astros pitcher Nolan Ryan became the first $1 million baseball player. Even more incredibly, future Hall of Famer Steve Carlton, a 27-year-old lefthander who was coming off a 20-7 season, was traded from the St. Louis Cardinals to the Philadelphia Phillies because Carlton had the audacity to ask Cardinals owner Gussie Busch, the beer baron, for a raise to $65,000. Carlton got that figure from the Phillies, and rewarded them by posting a 27-10 record with a 1.97 ERA and 310 strikeouts in 1972. Carlton's $65,000 salary in 1972 ($389,879.81 in today's dollars), even adjusted for inflation, would amount to a little more than one-90th of what Kershaw made this season.
The "silk pajamas" analogy offered by Marvin Hagler seems more appropriate now than ever. Are today's multimillionaire athletes as appreciative of what they had as those from other, less-well-compensated eras? A child of poverty growing up in Grand Rapids, Mich., Mayweather was offered a six-fight, $12.5 million contract extension by then-HBO boxing czar Lou DiBella in the autumn of 1999. Mayweather initially rejected the proposal, saying he could not fight for "slave wages," and insisted he wanted $3 million for his next fight, which would have given him virtual parity with more established, ratings-producing HBO mainstays Oscar De La Hoya and Roy Jones Jr. Mayweather grudgingly accepted the stipulated $750,000 for the last remaining bout on his HBO contract, and retained his WBC super featherweight title on a unanimous decision over mandatory contender Gregorio Vargas on March 18, 2000. Longtime HBO analyst Larry Merchant, however, was critical of his refusal to sign the extension, saying, "Mayweather's no $12 million fighter."
Time would prove that Mayweather's exceedingly high opinion of himself and his worth was more than justified, but not every athlete who plays contractual hardball wins similar stare-downs. Mexican-American heavyweight contender Alex Garcia, at his manager's urging, turned down a proposed $1 million payday to swap punches with comebacking George Foreman in 1993, the rationale being that he could get $5 million by holding off for a year or so, time in which he presumably could raise his recognizability factor. Garcia instead got knocked out, for a $15,000 purse, in a stay-busy bout with journeyman Mike Dixon on June 8, 1993. He bet on himself and lost, never again coming within whiffing distance of the kind of money he might have made for fighting Big George.
Another athlete who bet big on himself and lost is former Minnesota Timberwolves forward Latrell Sprewell, then 34 and on the downhill side of what had been a mostly productive career. After having been paid $14 million a year on his previous contract, he should have counted himself fortunate to be offered a three-year extension for $21 million, an annual average of $7 million. He instead publicly ripped team owner Glen Taylor, asking reporters how anyone could expect him to try to "feed his family" for such a paltry sum. Taylor withdrew the offer and Sprewell never played another game in the NBA, for anybody.
"His comment about `feeding my family' wasn't really the issue with me," Taylor said in an interview in October 2006. "That was just a bad thing. What was worse was that he said, `Well, then maybe I shouldn't play so hard,' or something like that. That, I took issue with."
It will be interesting to see if today's ultra-wealthy athletes can remain as driven and committed as their less-affluent forebears, who not only played or fought for pride and championships, but to pay the bills and actually feed their families. Where once sports fans marveled at the three-year, $400,000 (total!) contract the New York Jets lavished upon rookie quarterback Joe Namath on Jan. 2, 1966, the San Francisco 49ers signed newly acquired and largely unproven Jimmy Garoppolo, who previously had served as Tom Brady's backup with the New England Patriots, to a five-year, $137.5 million contract, with a salary-cap hit of $37 million for this season alone. Where Bob Pettit, a 10-time first-team All-NBA selection and two-time league NBA who was still playing at a high level, retired from the St. Louis Hawks after the 1964-65 season because he thought he could do better as a banker than his $65,000 basketball salary ($513,591.67 in 2018 dollars), LeBron James raked in $85 million in 2017, $52 million of which came from endorsements.
After he has a couple of hundred million dollars put away for a rainy day, will Canelo Alvarez still want to suffer the rigors of training camp and more trials by combat to further embellish his legacy? Or will he be satisfied to walk away, fat and happy, with still more to give because the incentive to do so had diminished in correlation with the expansion of his bank account?
Like the Charlie Sheen character asked in Wall Street, how much is enough? It is a question everyone who buys a Powerball or Mega Millions lottery ticket probably poses to himself or herself, even as we imagine what it must be like to find that life has supplied us with its elusive winning numbers.
Bernard Fernandez is the retired boxing writer for the Philadelphia Daily News. He is a five-term former president of the Boxing Writers Association of America, an inductee into the Pennsylvania, New Jersey and Atlantic City Boxing Halls of Fame and the recipient of the Nat Fleischer Award for Excellence in Boxing Journalism and the Barney Nagler Award for Long and Meritorious Service to Boxing.
Check out more boxing news on video at The Boxing Channel
Fast Results from Las Vegas: Tyson Fury Overcomes Doughty Otto Wallin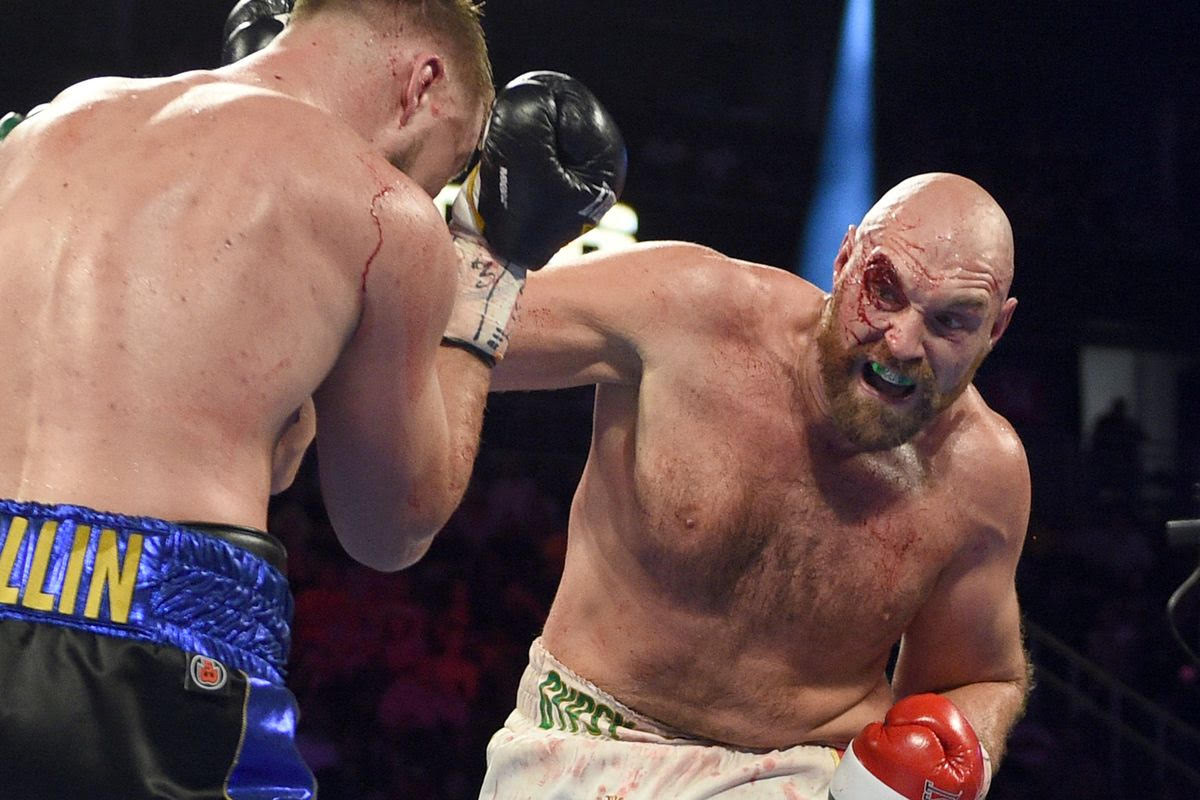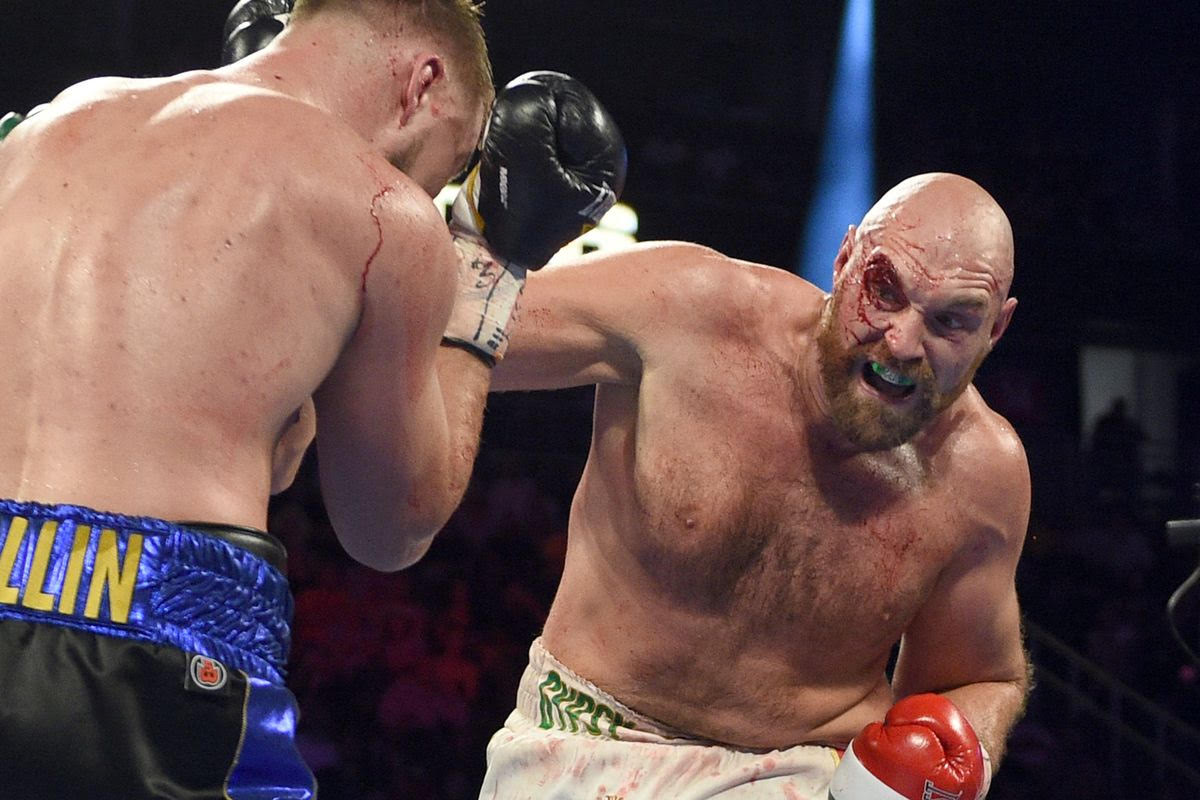 LAS VEGAS, NV — Otto Wallin proved to be a more formidable opponent than Tyson Fury's last victim, Tom Schwarz, by a long shot. One could sense that this wouldn't be a walkover for the Gypsy King when Wallin backed Fury into a neutral corner in round two and got off a good volley of punches.
Wallin opened what became a very nasty gash over Fury's right eye in round four. Fury pawed at it continually throughout the fight which went the full distance. Fury seemed to think that the cut resulted from a clash of heads, but the replay indicated otherwise. Near the end of round six, Wallin rubbed the cut with the laces of his gloves, earning a stern but silent rebuke from Fury and referee Tony Weeks who did not deduct a point.
Fury prefers to fight off the back foot until he has his opponent hurt, but with the cut he fought with more of a sense of urgency, pressing forward. The fight turned messy over the final third as the contest turned into somewhat of a hug-fest.
Wallin, who came in undefeated (20-0), landed some hard shots in the final round, but by then he needed a knockout to win. The final scores were 116-112, 117-111, and 118-110. The 118-110 tally was overly severe, distorting the fact that this was a hard fight for the Gypsy King  who improved his ledger to 29-0-1.
The promoters say the rematch with Deontay Wilder, the second bout of a planned trilogy, is set for February but Wallin may have wrecked those plans. It would seem that Fury will need more time to heal that cut.
Co-Feature
Based on raw numbers, it figured that the fight between defending WBO world 122-pound champion Emanuel Navarrete and Juan Miguel Elorde would be competitive. Both had identical records (28-1) and both were riding long winning streaks; 23 straight wins for Navarrete and 18 straight for Elorde. But the son of Filipino boxing legend Flash Elorde was out of his league. Navarette, who is a big featherweight, was too strong for him. Near the end of round three, Elorde received a standing 8-count when he landed against the ropes, which kept him upright. Twenty-six seconds into the next round it was all over, with referee Russell Mora halting the bout to protect Elorde from taking more punishment.
The victorious Navarette, from Mexican City, was making the third defense of the title he won from Isaac Dogboe. Las Vegas hasn't been good to Elorde whose lone prior defeat came at nearby Mandalay Bay in a 4-round contest.
Other Bouts
In a mild upset, Jose Zepeda, won a 10-round unanimous decision over Jose Pedraza. A 2008 Olympian for Puerto Rico and former two-division belt-holder, Pedraza declined to 26-3.
Zepeda (33-2), a native Californian who entered the ring draped in the Mexican flag, did his best work early and late. In the middle rounds it appeared that Pedraza was taking control with superior marksmanship but he couldn't sustain it. The seventh round was furious as were the waning moments of the 10th. All three judges had it 97-93.
In an 8-round featherweight bout, Isaac Lowe, a fellow Traveler and stablemate of Tyson Fury, remained undefeated with an 8-round unanimous decision over Mexico City's Ruben Hernandez. The scores were 78-74 and 77-75 twice.
Lowe, who showed good boxing skills but isn't a hard puncher, improved to 19-0-2 (6 KOs). Hernandez falls to 25-5-2.
In the first walk-out fight, Guido Vianello, a 6'4″, 240-pound heavyweight from Rome, Italy, improved to 5-0 (5 KOs) at the expense of Cassius Anderson,  a 35-year-old former Toledo U. linebacker, whose corner pulled him out after the fourth round. Vianello knocked Anderson down in the first few seconds of the fight, but Anderson wasn't of a mind to leave that quick.
Check out more boxing news on video at The Boxing Channel  
To comment on this story in The Fight Forum CLICK HERE
Fast Results from The Big Apple: Haney, Hunter, and Serrano Win Handily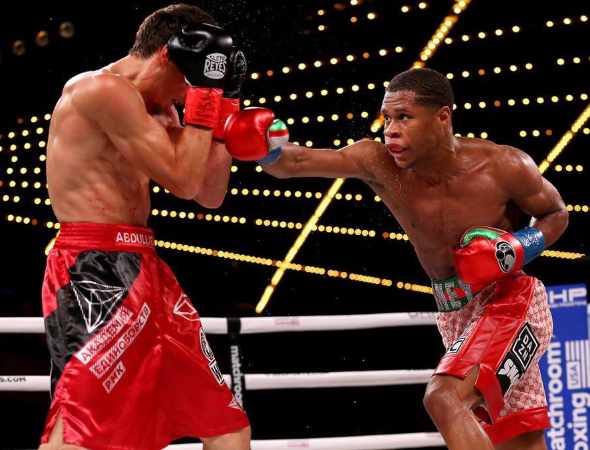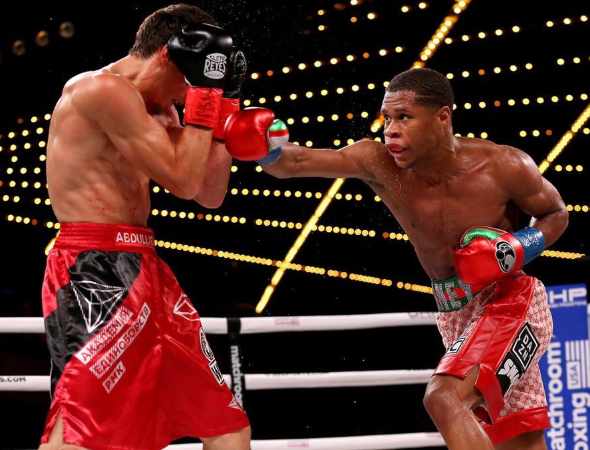 Eddie Hearn's Matchroom Promotions was at the Hulu Theater at Madison Square Garden tonight with a 10-bout card that produced no surprises. In the featured bout, 20-year-old lightweight Devin Haney stayed on course for a hoped-for showdown with Vassiliy Lomachenko with a dominant performance over Russia's little-known Zaur Abdullaev. The fight was stopped after four one-sided rounds with Abdullaev apparently suffering from a fractured cheekbone.
Haney (23-0, 15 KOs) was far more athletic. Abdullaev, who brought an 11-0 record into his U.S. debut, had trouble handling Haney's speed and was simply overwhelmed by Haney who was the far busier fighter.
Co-Features
Amanda Serrano, who has won more titles in more weight classes than Carter has pills, added the WBO world featherweight title to her dossier with a lopsided decision over fellow Brooklynite Heather Hardy. This fight appeared that it would end early; Serrano's punches were harder and cleaner. But Hardy, seven years older at age 37, refused to fold and actually did some good work in the middle rounds. The scores were 98-92 and 98-91 twice.
Serrano improved to 37-1-1. It was the first pro loss for Hardy who fell to 22-1.
In a 12-round heavyweight contest, Michael Hunter won his sixth straight, improving to 18-1, with a 12-round unanimous decision over previously unbeaten Sergey Kuzmin (15-1). Although Hunter is on a nice roll, this was not the sort of performance likely to win him any new fans. His best moment came in round five when he knocked Kuzmin flat on his back with a left hook, but from that point on, he seemed content to out-box his Russian adversary who had a 37-pound advantage but was conspicuously slower.
All three judges had it 117-110. After the bout, Hunter expressed a desire to fight Alexander Povetkin on the Joshua-Ruiz II card in Saudi Arabia on Dec. 7.
Other Bouts of Note
It was a mixed bag for 32-year-old Azerbaijan heavyweight Magomedrasul Majidov who won his pro debut with a fourth-round stoppage of Ed Fountain but didn't look all that impressive. More was expected of Majidov, a three-time world amateur champion who scored three wins over Anthony Joshua as an amateur. Fountain (12-7) lost his fifth straight.
Kazakh welterweight Daniyar Yeleussinov, a two-time Olympian and 2016 gold medalist, looked sensational while advancing his record to 8-0 (4) with a vicious first-round knockout of Reshard Hicks. Yeleussinov, who is trained by his father, knocked Hicks to the the canvas twice, the second of which left Hicks face down, forcing referee Ron Lipton to end the bout without the formality of a count. It was the first pro loss for Hicks (12-1-1), a 34-year-old ex-G.I. from Killeen, Texas.
Uzbekistan super bantamweight Murodjon Akhmadaliev improved to 7-0 (6 KOs) with a fourth-round stoppage of Columbia's Wilner Soto (22-7). This was a stay-busy fight for the 24-year-old former Olympian who was originally slated to challenge WBA/IBF title-holder Daniel Roman who had to withdraw because of a shoulder injury suffered in sparring. Akhmadaliev toyed with the overmatched Soto for the first three rounds before unleashing the heavy artillery.
Photo credit: Ed Mulholland / Matchroom Boxing USA
Check out more boxing news on video at The Boxing Channel  
To comment on this story in The Fight Forum CLICK HERE
The Avila Perspective, Chap. 64: New York, L.A. and Las Vegas Fights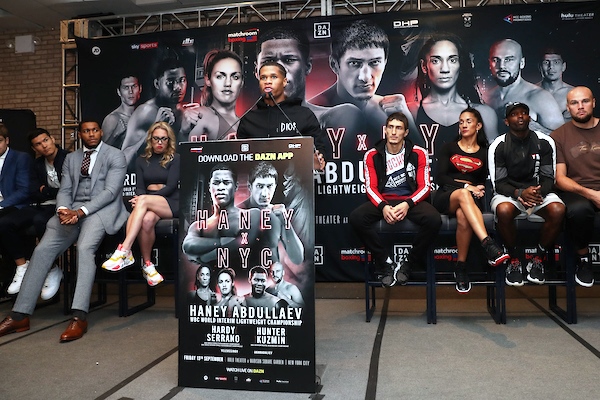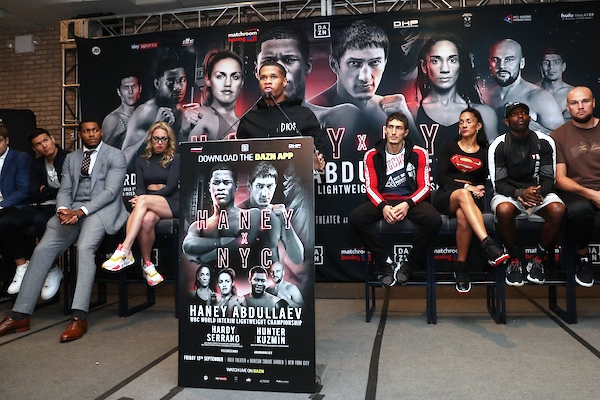 Three of the Big Four promoters in prizefighting are showcasing young and old talent in the next two days from New York City to Los Angeles.
Las Vegas speedster Devin Haney (22-0, 14 KOs) headlines a Matchroom Boxing card at Madison Square Theater in Manhattan when he fights Russia's Zaur Abdullaev (11-0, 7 KOs) on Friday Sept. 13. DAZN will stream the boxing card live.
Dripping with talent, Haney has passed all of the tests so far in his brief and meteoric career including rumbling with Mexican tough guys like Juan Carlos Burgos and obliterating Antonio Moran.
But like all prospects and young contenders, the big question always is can he take a punch?
Abdullaev only has 11 fights and though he has seven knockouts, he has yet to face quality opposition. But his backers say he can fight and that's all anyone can hope to see.
The fight native New Yorkers and followers of the female fight world want to see is the world title clash between Brooklyn's undefeated Heather Hardy (22-0, 4 KOs) defending the WBO featherweight strap against Brooklyn's Amanda Serrano (36-1-1, 27 KOs) in a 10 round semi-main event. It's going to be a dog fight.
The WBC Diamond belt will be another reward for the winner. Both girls will be tested for PEDs in accordance with WBC rules. For years female prizefighters were virtually untested.
Los Angeles – Munguia, Ryan Garcia and Franchon
WBO super welterweight titlist Jaime Munguia (33-0, 26 KOs) of Mexico meets Ghana's Patrick Alottey (40-3, 30 KOs) in a world title challenge on Saturday Sept. 14, at Dignity Health Sports Park in Carson, California. This Golden Boy Promotions card will be part of the Mexican Independence Day weekend celebration and also Munguia's last foray in the 154-pound weight class.
Munguia's lack of defense has made every fight a 50/50 proposition and even this fight against the shorter Alottey could test the Mexican's chin. The Ghanaian fighter has 30 knockouts on his resume with all wins taking place in Africa.
Ryan "The Flash" Garcia will bring his army of fans to the outdoor arena once again. The last time he fought at Dignity Health Sports Park it was called the StubHub Center and he slugged it out with the very tough Puerto Rican Jayson Velez in May 2018. That night the slender fighter won by decision.
For about a year Garcia has been working under the tutelage of Eddy Reynoso in San Diego and the change was immediately visible. The head trainer for Saul "Canelo" Alvarez has tweaked Garcia's defense and head movement. He has also polished the vast offensive weaponry the 21-year-old possesses. He's still learning.
Garcia (18-0, 15 KOs) faces Philadelphia's Avery Sparrow (10-1, 3 KOs) who walked into a press conference in the Golden Boy Building with singing artist Usher. The big question most are asking is if Usher will be present at the fight on Saturday. That's not Garcia's query.
"Avery can fight and he's got skills. He's no pushover," said Garcia, adding that the lightweight division is growing with young budding talent. "The new generation is here with Teofimo (Lopez), Devin (Haney), I'm excited and want to be in the best fights to show that I belong with these other fighters."
Also on the boxing card will be women's WBC super middleweight titlist Franchon Crews (5-1) who was scheduled to face WBC heavyweight world titlist Alejandra Jimenez who was dropping down in weight for the fight. But the Mexican fighter was allegedly unable to obtain a visa and could possibly be replaced by former foe Maricela Cornejo (13-3, 5 KOs).
Crews defeated the classy Cornejo for the world title a year ago in Las Vegas and the Mexican middleweight had sought a rematch. Cornejo was recently posting photos of herself in Israel on her social media accounts. If she does accept the fight it definitely shows Cornejo has confidence and that's a big plus. One of the remarkable things from their first fight was watching Cornejo clapping and congratulating Crews in earnest after their fight. It was a sincere gesture and made me appreciate Cornejo even more.
Las Vegas – Fury, Navarrete
England's Tyson Fury, the lineal heavyweight world champion, meets Sweden's Otto Wallin in a battle of undefeated heavyweights at T-Mobile Arena in Las Vegas, Nevada on Saturday Sept. 14. ESPN will show and stream the Top Rank fight card.
Fury (28-0-1, 20 KOs) who defeated Wladimir Klitschko for all of the titles back in November 2015, then dropped out of the boxing world for a few years. He has returned to activity and is changing the boxing landscape with both his charisma and fighting skills. His fight against Deontay Wilder last December was one of the more memorable heavyweight world title fights in the last 30 years.
Wallin (20-0, 13 KOs) is a southpaw who can crack as almost all heavyweights can. He's represented by Mark Taffet, the former HBO executive who leads the career of female star Claressa Shields. That should say a lot about the big Swede's talent.
Also on the card is Emanuel Navarrete (28-1, 24 KOs), the WBO super bantamweight titlist who fought just last month in Los Angeles against Francisco De Vaca and knocked him out in three rounds. He defeated Isaac Dogboe for the title last December and then stopped him in the rematch last May. He's an angular looking fighter with long arms, incredible stamina and knockout power. He will be meeting Juan Miguel Elorde (28-1, 15 KOs) of the Philippines in another world title fight.
Fights to Watch
Fri. 6 p.m. PT DAZN – Devin Haney (22-0) vs Zaur Abdullaev (11-0), Heather Hardy (22-0) vs Amanda Serrano (36-1-1).
Sat. 3:30 p.m. PT DAZN – Jaime Munguia (33-0) vs Patrick Alottey (40-3), Ryan Garcia (18-0) vs Avery Sparrow (10-1), Franchon Crews (5-1) vs Maricela Cornejo (13-3).
Sat. 4:30 p.m. PT ESPN+ – Tyson Fury (28-0-1) vs Otto Wallin (20-0), Emanuel Navarrete (28-1) vs Juan Miguel Elorde (28-1).
Photo credit: Ed Mulholland / Matchroom Boxing
Check out more boxing news on video at The Boxing Channel  
To comment on this story in The Fight Forum CLICK HERE