R.I.P. Iconic L.A. Boxing Figure Marty Denkin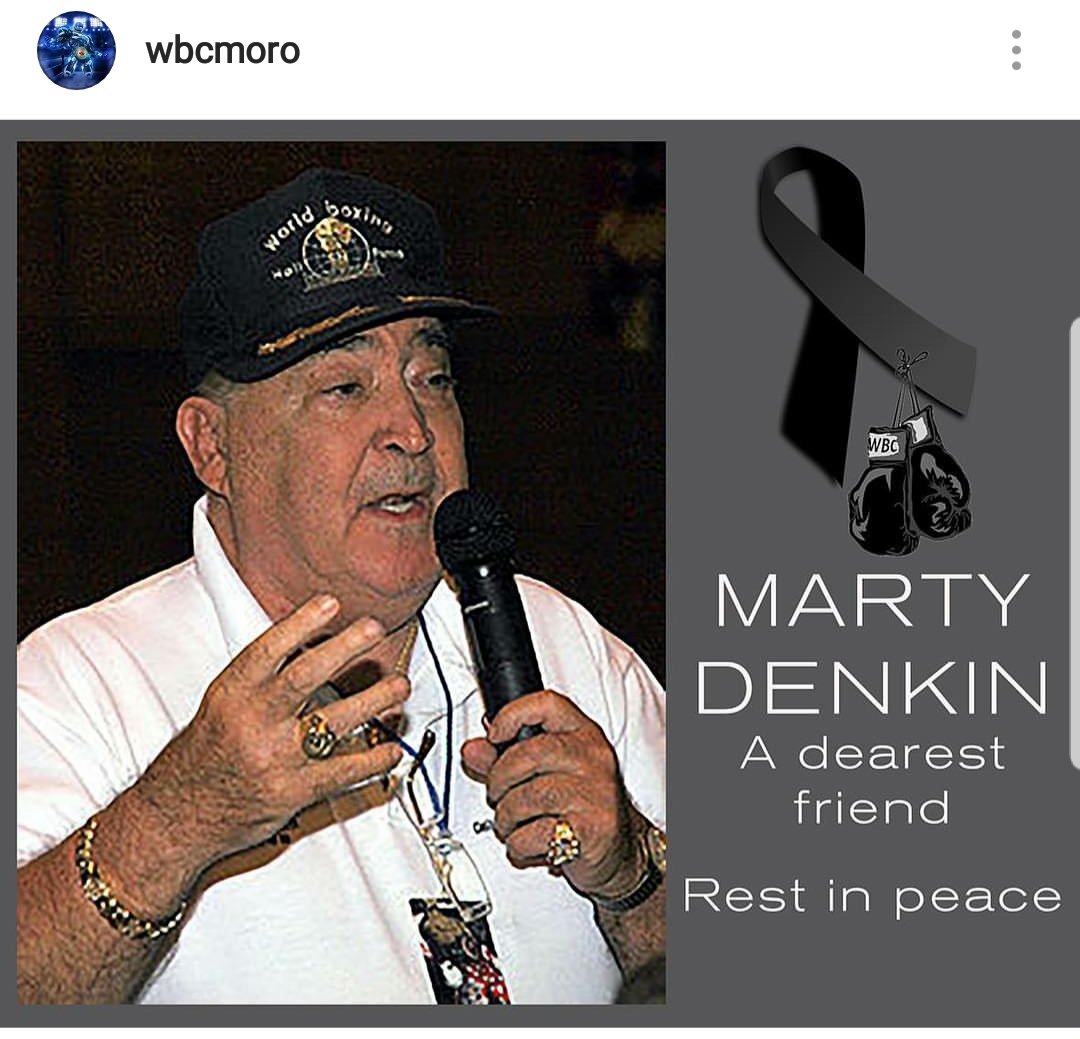 Marty Denkin passed away at his home in West Covina, California, on Thursday, Nov. 29, at age eighty-four. Denkin wore many hats during his 40-plus years on the SoCal boxing scene. He refereed hundreds of fights and judged thousands. During his terms as an assistant executive director of the California State Athletic Commission he ran the Los Angeles office. He also played himself in several movies and owns the distinction of being the only man to count out Rocky Balboa.
Denkin was born in New York City but moved with his family to Los Angeles at a very young age. By his count, he had 124 amateur fights but never turned pro.  Hard sparring sessions with professionals such as lightweight champion Lauro Salas convinced him that his future lay elsewhere.
During a period that started in the late 1980s, the CSAC was under such a severe budget crunch that the Los Angeles office had only one full-time staffer. That was Denkin. With the power to approve or disapprove matches, to fine or suspend licensees of any stripe – a power that he wasn't shy about wielding – Denkin made many enemies.
In June of 1989, Denkin was fired from his $40,000 a year post after he was accused of accepting cash and jewelry from assorted people – a promoter, three managers, and two matchmakers – in return for certain favors. Additionally, one of his assistants accused him of accepting money in return for rigging the scale when a fighter was certain to come in a few pounds overweight. By California law, a person in Denkin's position was required to report any gratuity of $50 or more.
Denkin vehemently denied the charges.
He appealed the ruling and was eventually vindicated.
In November of 1991, in a 14-page ruling, an administrative law judge ruled that the evidence was overwhelming that Denkin's accusers conspired to get him fired because they had an axe to grind. Denkin was reinstated.
But he wasn't free of controversy. Shortly before he was fired, Denkin approved the re-licensing of boxing manager Harold Rossfields Smith who had just been released from prison after serving six years for embezzling $25 million from the Wells Fargo bank. His license application was not placed before the commission, as was standard procedure, but acted upon privately. The late Los Angeles Times boxing writer Earl Gustkey broke the story. Also, Denkin's close relationship with WBC president Jose Sulaiman was looked upon in some quarters as a conflict of interest.
In May of 1995, Gustkey revealed that Denkin once put together a group to manage the affairs of hot prospect Oscar De La Hoya and that the "Golden Boy" had flown the coup without reimbursing them for training expenses, or so they claimed. This was a definite conflict of interest. Denkin refereed De La Hoya's first professional fight, a first round stoppage of Lamar Williams at the Great Western Forum. (The Denkin group wasn't alone. Shelly Finkel alleged that he subsidized De La Hoya when Oscar was an amateur and was left holding the bag when Oscar turned pro. Steve Nelson and Bob Mittleman, Oscar's original managers, had a similar tale of woe when Bob Arum entered the picture.)
In May of 2015, Denkin announced that he would retire after working as a judge for the WBC world flyweight title fight at the Forum between Roman "Chocolatito" Gonzalez and challenger Edgar Sosa. But in common with so many of the boxers with whom he rubbed elbows, his pronouncement was premature. He continued to work as a judge at small California shows, including a few MMA fights, right through this year.
Denkin and his wife Rachel were married for 52 years. He is survived by three children, seven grandchildren, and two great grandchildren. We here at The Sweet Science send our condolences. May he rest in peace.
Photo from the twitter page of Frank Espinoza of the Espinoza Boxing Club
Check out more boxing news on video at The Boxing Channel
To comment on this article at The Fight Forum, CLICK HERE
A Toast to Busy Bee Emanuel Navarrete, a Fighter from the Old School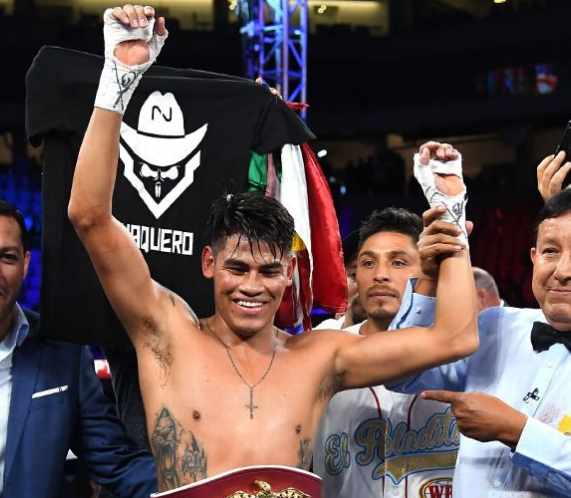 In the last 12 months, super bantamweight Emanuel "Vaquero" Navarrete has fought five times. That's close to Old School-type activity.
No one in Mexico gave Navarette much notice until he stopped Luis Bedolla Orozco (18-2) in Guadalajara in 2017. He turned more heads when he KOed Filipino veteran Glenn Porras in January 2018 and fans outside Mexico began to take serious note of this no-nonsense youngster (now just 24) when he stopped Columbia's "El General" Jose Sanmartin (26-4-1) five months later.
That win, his eighth straight by stoppage, earned him an interim belt and opened the door to a world title shot. It came on Dec. 8, 2018 at Madison Square Garden against undefeated (20-0) WBO world super bantamweight champion Isaac "Royal Storm" Dogboe.
Navarrete, five inches taller at 5'7", shocked the hard-punching Brit (by way of Ghana) to win a decision and become the new champion. The scores were 115-113, 116-112, and 116-112, but more to the point, Dogboe's post-fight face looked like it had gone through the proverbial meat grinder. The tall Mexican had fought tall and picked the much smaller Dogboe apart with precise and pinpoint punching.
The rematch proved that Emanuel's first win was no fluke as he showed late round power in stopping Dogboe in the 12th. He again used his height advantage, showed great stamina and strength, was accurate with his punches, and once again the too-short Dogboe's face looked like he was on the wrong end of a big city mugging.
His first title defense came against Francisco De Vaca (20-0) who is a fixture at the Celebrity Theater in Phoenix, Arizona. This one lasted three rounds as Vaquero ("cowboy" in English) used a neat uppercut to stun De Vaca in the second and then rendered a terrible beating in the third to end the fight—one that should have been halted earlier by referee Raul Caiz Sr. who seemed far more "brave" than the fighters.
On September 14, 2019, Navarrete used his signature wide left hooks and uppercuts to end matters in the middle of the third round against Juan Miguel Elorde (28-1). Juan Miguel, the grandson of Filipino boxing legend Gabriel "Flash" Elorde, made the mistake of engaging Navarrete in a firefight and lost. This one took place at the T Mobile Arena in Las Vegas and boxing fans now knew who this tall super bantamweight was.
In his most recent fight — this one in Mexico — Navarrete put on another display of accurate power punching to stop Francisco Horta (20-3-1) at 2.09 of round 4. After a somewhat typical slow start, Navarrete found his groove and began serious stalking, using looping combinations at strange angles inside and outside, finally catching Horta on the ropes in the fourth, ending matters with stunning closure. It was his 25th straight win dating back to 2012 when he was defeated by one Daniel Argueta by 4-round decision.
Navarrete, one of seven current Mexican world title-holders, is now looking to unify at 122. He also might be interested in fighting Naoya Inoue if "Monster" moves up in weight, and given Inoue's recent fight with Nonito Donaire in which he showed that he is human after all, this one could be a sizzler.
As to his chances for "Fighter of the Year," they are probably slim, but that has nothing to do with whether he deserves it and everything to do with poor public relations. Yes, a solid case can be made for Josh Warrington, but enough with the Canelo, Loma, Usyk types who fight twice a year.
Emanuel Navarrete is more active than any other title-holder or top contender and has a KO percentage of 84% despite the fact that his last five opponents had a combined record of 108-5-1 coming in. And he has a fan-friendly style, stalking, stunning, and closing his opponents with controlled violence. In many respects, he fights like a pre-scandal and prime Antonio Margarito, except he is more technically sound. The fact is, Vaquero, the pride of San Juan Zitlaltepec, is super exciting and doesn't seem to have any noticeable weaknesses.
Ted Sares can be reached at tedsares@roadrunner.com
Check out more boxing news on video at The Boxing Channel 
To comment on this story in The Fight Forum CLICK HERE
NEWS FLASH: Leon Spinks Hospitalized; Reportedly Fighting for His Life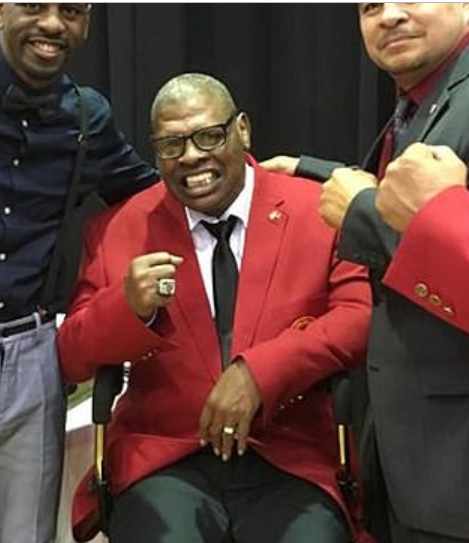 The gossip site TMZ is reporting that Leon Spinks is hospitalized in Las Vegas and is fighting for his life. TMZ acquired this information from Spinks' wife Brenda Glur Spinks after spying her social media post. "It's been a tough year for us," she wrote. "Leon has endured a lot of medical problems. I'm reaching to ask that you pray for my Beautiful Husband Leon. So that he may overcome the obstacles that crossed his path."
Her sentiment was echoed by Leon's son Leon Spinks III who posted this message on his facebook page: "My Dad isn't doing so good now and his wife Brenda Glur Spinks and I ask that u pray that he weather's this storm. My dad is all I have left and I really appreciate it if yall let God know that he is not in this battle alone."
A gold medal winner at the 1976 Olympics, Spinks, 66, is best remembered for upsetting Muhammad Ali in 1978 to win the world heavyweight title. He lost the title back to Ali in his next fight.
This is a developing story. As new details emerge, we will share them with you.
To comment on this story in The Fight Forum CLICK HERE
Crawford-Kavaliauskas is the Main Go, but 'The Takeover' is the Stronger Allurement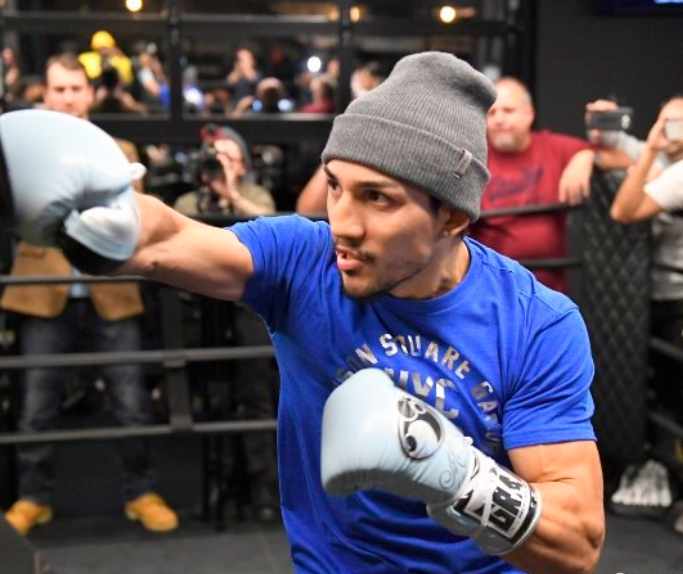 Crawford-Kavaliauskas is the Main Go, but 'The Takeover' is the Stronger Allurement
Terence Crawford puts his undefeated record and his WBO welterweight title on the line Saturday when he opposes Egidijus Kavaliauskas at Madison Square Garden on ESPN. Kavaliauskas is no slouch. The two-time Olympian for Lithuania is also undefeated (21-0-1, 17 KOs), but Crawford is so highly regarded that he is a massive favorite.
If one were arranging the bouts according to the degree of intrigue, using the odds as the barometer, Crawford vs Kavaliauskas wouldn't sit atop the marquee. That honor would go the IBF lightweight title fight between Richard Commey and Teofimo Lopez. Moreover, it's a fair guess that if this fight were to fall out (perish the thought) it would result in more refunds than if Crawford were a late scratch.
The challenger, Lopez, is favored, currently in the vicinity of 9/4, but this is a price that usually translates into a very competitive fight and the stakes are high. The winner will almost assuredly advance to a rich engagement with Vasiliy Lomachenko who holds the other three meaningful 135-pound title belts
Commey (29-2, 26 KOs) won the IBF lightweight title – it was conveniently vacant – with a second-round stoppage of Russia's Isa Chaniev and stopped Raymundo Beltran in eight rounds in his first title defense. Commey dominated both fights, scoring seven knockdowns in all, but the Russian was a sad excuse for a world title challenger and Beltran, although a solid pro, was past his prime at age 38.
Commey's two losses came in back-to-back fights in 2016 and both were by split decision. He lost to Robert Easter Jr in Reading, Pennsylvania, and then, eight weeks later, was upended by Denis Shafikov before a tiny crowd at an actual boxing gym in Moscow.
There was nothing controversial about those losses, but in both instances Commey was in hostile territory. Toledo's Easter brought a large delegation of fans to Reading and Shafikov was fighting on his home turf. The crowd on Saturday will almost assuredly be skewed against Commey again, but it won't be as pronounced. Commey, born and raised in Ghana, has a home in the Bronx. Lopez was born in Brooklyn, a bond that his Brooklyn-born promoter Bob Arum likes to emphasize, but grew up in Davie, Florida.
Teofimo
At age 22, Teofimo Lopez (14-0, 11 KOs) is almost 10 years younger than Richard Commey. A year ago, at this very venue, he scored his most memorable triumph, a highlight-reel, 44-second, one-punch knockout of Mason Menard that was named the TSS Knockout of the Year. He has won three fights in the interim, most recently a 12-round decision over Masayoshi Nakatani.
Teofimo won comfortably on the scorecards, but his performance left much to be desired. The Japanese was a tall, rangy fighter. In Richard Commey, he is meeting a man of similar height. Both are listed at five-foot-eight.
Lopez has developed a large following in a short time and his in-ring heroics are only part of the story. He's quite the showman. After each win he adds an exclamation point with a celebratory back-flip and outside the ring his brash persona has enhanced his notoriety.
When a fighter has a common surname, it helps to have a unique first name. The reality is that Lopez would not have built his brand as fast if his first name had been, say, Miguel, or Carlos, or Juan. And he had the foresight to supplement his unique first name with a unique nickname: The Takeover.
The nickname, says Lopez, doesn't just refer to taking over a specific weight division (he'll move up to 140 before the year 2020 is over) but, rather, taking over the whole sport in the sense of becoming boxing's biggest pay-per-view attraction. Early into his pro career, he began calling out Lomachenko.
Teofimo's biggest cheerleader is his Honduras-born father and trainer of the same name and the elder Lopez has even more hubris than his son. "My son is too strong for Lomachenko….he would walk through anything that Lomechenko throws at him," Teofimo Sr. told veteran boxing writer Bill Tibbs prior to his son's match with Mason Menard. "Liston, he has God-given gifts and he's simply the best out there. (My son) has the best parts of Tyson, Sugar Ray Leonard, GGG, Floyd, Andre Ward, all the best of them in him."
The Lopez that defeated Nakatani would not have defeated Vasiliy Lomachenko. And there are those that think he won't beat Richard Commey unless he brings his "A' game. It's an interesting fight.
—–
The main fights on Saturday's Top Rank boxing card will air on ESPN's flagship station. The boxing card, which opens with the rematch between Michael Conlan and Vladimir Nikitin, follows the show in which the Heisman Trophy is presented to LSU quarterback Joe Burrow. The Heisman telecast will begin at 8 pm EST.
The same situation prevailed last year when Top Rank's Madison Square Garden card was headlined by the fight between Vasiliy Lomachenko and Jose Pedraza. To the consternation of diehard boxing fans, the Heisman presentation show ran late. Don't be surprised if it happens again.
Photo credit: Stacy Verbeek
Check out more boxing news on video at The Boxing Channel 
To comment on this story in The Fight Forum CLICK HERE