Super Featherweight Champ Tevin Farmer is Proof it's Never Too Late to be Great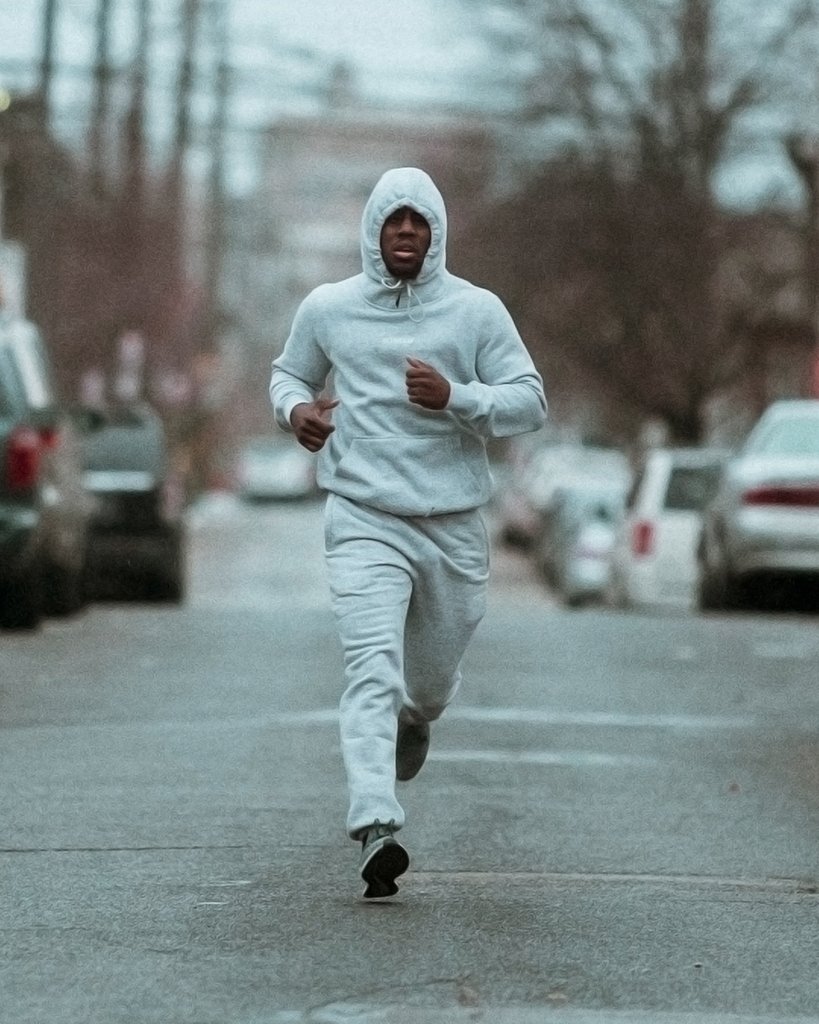 The story of Tevin Farmer's career – his whole life, really – is printed in black letters on the front of his white T-shirt. The three-word message of hope it conveys, Never Too Late, applies to the late-blooming IBF super featherweight champion, of course, but it could apply to anyone who's ever been rejected, disrespected, kicked when they're down or told they're not good enough to ever amount to anything.
Farmer (28-4-1, 6 KOs), who defends his 130-pound title against Ireland's Jono Carroll (16-0-1, 3 KOs) in the DAZN-streamed main event Friday night at Philadelphia's Liacouras Center, now knows what it's like to be on top and it's clear he enjoys the view. But his memories of the bad old days, which weren't so very long ago, are still fresh enough to keep him from ever making the mistake of believing that the good times will last forever.
"I'm Never Too Late," Farmer, from the hardscrabble North Philly neighborhood that has spawned so many great and might-have-been great fighters, said after a brief workout session at the Everybody Fights Gym on Tuesday afternoon that mostly served as a meet-and-greet with the media. "That's what I stand for. That's my slogan."
Farmer's slogan of choice is on the front, his autograph printed on the back of T-shirts that will be available to the public beginning on March 15, the day before he swaps punches with fellow southpaw Carroll, the IBF's No. 4 super featherweight contender. Sales of the shirts in Farmer's hometown and its surrounding areas aren't apt to result in the same sort of mad rush by Phillies fans to purchase No. 3 jerseys that marked the team's signing of high-priced free agent Bryce Harper, but he figures if somebody wants something bad enough and long enough, anything is possible.
"What I stand for is not only boxing," the 28-year-old Farmer continued. "It could be for anything or anybody. You been in jail, or had a bad start in your career or life? You're older, you're 40, you ain't where you want to be? Well, it's never too late to make things right.
"I got my opportunity and I took advantage. That's what can happen in life. It's all about opportunity and timing. When your time comes, you got to take advantage because you never know if or when it's gonna come again. Where I'm from, we face a lot of obstacles. That was nothing I wasn't used to. I had a horrible start to my career. But I knew if I could get over that hump, I could get over anything. And you know what? I'm happy I went through that. It just made me better. Everything happens for a reason.
"I can't complain or cry about it because what's done is done. You got to move forward. That's it. I'm blessed to have that mentality. I'm saying that like it's really easy; I know it's not easy. You got to build yourself up mentally to make it easy."
Farmer's tale of multiple travails faced and overcome would be fairly standard if all that it involved was the halting start of a pro career that saw him go 4-3-1 and be regarded, if he was regarded at all, as an "opponent." He had a certain amount of natural talent, that much was obvious, but Farmer – who didn't start boxing until he was 19 — was being paired with more experienced fighters for short money, a dead-end street from which there often is no escape to something better. Worse, Farmer was beginning to think of himself as a perpetual victim of circumstance, which caused him to do something he would never do today: take shortcuts in training because, hey, once you're designated for the scrap heap, why dare to believe you can rise above all the negative perceptions?
But early defeats were not the worst of it. In March 2017 he nearly drowned while vacationing in Puerto Rico. A month later, he tore his right biceps, which required surgery, taking much of the luster off the 10-round unanimous decision he scored over Arturo Santos while basically fighting with one good arm. And if all that weren't enough, in July he was shot through his right hand and was told by a doctor that it was inadvisable that he ever fight again.
The tsunami of misfortune in and out of the ring was compounded when a refocused and fully committed Farmer, who had begun to live the slogan he would turn into a personal mantra, took on Japan's Kenichi Ogawa for the vacant IBF super featherweight title in Las Vegas on Dec. 9, 2017. The split decision awarded Ogawa was roundly criticized as a great injustice, still another slap to Farmer's face and an outcome that might have crushed the spirit of a less resilient sort. It hardly seems to matter that the disputed victory for Ogawa was changed to a no-contest after he failed a drug test.
Promoter Lou DiBella, who by that time had taken a flier on Farmer in much the same way that a racetrack bettor plunks money down on a longshot he has a good feeling about, marvels at the way the recent addition to his stable of fighters stared down more disappointment with the same positive attitude that suggested he would again bear down and find a way to overcome.
"I love this kid," DiBella said of Farmer. "He's one of the best kids I've ever worked with. He has an incredible never-say-die attitude. I would never have believed in Tevin if he hadn't believed so much in himself."
Farmer didn't have to wait long for a chance to make amends for the Ogawa debacle. He journeyed to Sydney, Australia, to take on popular Aussie Billy Dib for the IBF title Ogawa had been obliged to vacate. This time there would be no controversy as Farmer won a one-sided unanimous decision, by scores of 120-107, 119-108 and 118-109. Beaten in his home country from Sydney to Melbourne, Dib promptly announced his retirement.
After successful defenses against James Tennyson (KO5) and Francisco Fonseca (UD12), Farmer again will attempt to hold onto the world title he so cherishes against fellow lefthander Carroll, who claims he will have greater crowd support than the Philly fighter on a St. Patrick's Day weekend card that is liberally dotted with Irish fighters, most notably 2012 Olympic gold medalist Katie Taylor (12-0, 5 KOs), the women's WBA and IBF  lightweight champion who takes on WBO titlist Rose Volante (14-0, 8 KOs) of Brazil in a unification matchup.
Carroll, whose black beard extends nearly down to his chest and might require a trim before he is allowed into the ring, claims to be unimpressed by Farmer's inspirational back story or his overwhelming favoritism.
"I feel very confident about this fight," Carroll said. "Tevin Farmer is a great champion but I'm ready to take that belt off him and be a great champion myself. I want to be Ireland's next superstar. Winning this fight is what I need to do, and it's exactly what I will do."
Farmer smiles at Carroll's brashness and expressions of confidence. He knows what it's like to be the underdog, going into another fighter's backyard to do what a lot of people say can't be done. But now that he's reversed that role, he has no intention of switching back again.
"Everybody's gunning for him," DiBella said of Farmer-the-target. "He represents their Super Bowl. They're where he was a year and a half ago, and he knows it."
So, does Farmer worry that Carroll will go all Never Too Late himself and pull off the upset?
"He can't beat me, no way, shape or form," Farmer said. "He's no competition. I'm just hoping he comes in the best shape possible and gives me a good fight 'cause I'm beating guys too easy and I'm able to get back in the ring two months later. I want to be tested. I called all the champs (other titleholders at 130 are the WBC's Miguel Berchelt, WBA's Gervonta Davis and WBO's Masayuki Ito) and I can't get a fight with them, so I got to fight the people that's next."
Asked what it's like to now be swimming with the sharks, a brimming-with-confidence Farmer said, "I am the shark."
What he is, without question, is the busiest world champion in some time, the Carroll bout being his third title contest in four months. Nor is that hectic schedule apt to subside any time soon; Farmer says he hopes to fight six times in 2019, and DiBella and co-promoter Eddie Hearn of Matchroom Sport hope to provide him with a steady stream of challengers.
Interestingly, Farmer has never heard of another Philly guy, Freddie Pendleton, who traveled a similarly bumpy road from non-relevance to a world title. "Fearless" Freddie was a piddling 12-12-1 through the first 25 fights of his pro career, but he drew the attention of millionaire manager Edward Gersh and he continued to persevere until he won the vacant IBF lightweight title by outpointing Tracy Spann on Jan. 10, 1993.
"I should think there's a lot of fighters like that," Hearn said of Pendleton and the more accomplished Farmer, gifted fighters who needed to catch the kind of break that doesn't always come along. "When Tevin started out, he wasn't quite the fighter that he turned out to be, but he learned from those early losses and was clever enough to adapt. He obviously had natural ability. It's really about mindset. His mindset now is phenomenal. A lot of fighters, if they went through what he went through, would have just packed it in or settled for being a journeyman.  But Tevin knew he had more to give, and the turnaround has been massive."
Another fact of the Tevin Farmer story is that, well, it's such a great story. As is the case with Matchroom America stablemate Daniel "Miracle Man" Jacobs (35-2, 29 KOs), the IBF middleweight champion who  overcame cancer and takes on WBA/WBC titlist Canelo Alvarez (51-1-2, 35 KOs) on May 4 in Las Vegas' T-Mobile Arena, Farmer is a survivor who fans find it easy to root for.
"He has a brilliant story and it's going to get better," Hearn said. "He's just scratching the surface right now, as far as where he can be and where he's going to be. I'm very excited about him. I think he's an outstanding fighter."
Bernard Fernandez is the retired boxing writer for the Philadelphia Daily News. He is a five-term former president of the Boxing Writers Association of America, an inductee into the Pennsylvania, New Jersey and Atlantic City Boxing Halls of Fame and the recipient of the Nat Fleischer Award for Excellence in Boxing Journalism and the Barney Nagler Award for Long and Meritorious Service to Boxing.
Check out more boxing news on video at The Boxing Channel
To comment on this story in The Fight Forum CLICK HERE
Mercito Gesta Victorious Over Jojo Diaz at the Long Beach Pyramid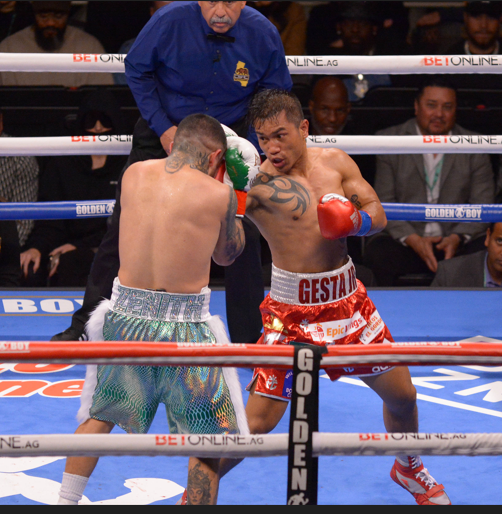 LONG BEACH, CA.-Those in the know knew Mercito Gesta and Jojo Diaz would be a fight to watch and they delivered.
Gesta emerged the winner in a super lightweight clash between southpaws that saw the judges favor his busier style over Diaz's body attack and bigger shots and win by split decision on Saturday.
Despite losing the main event because the star was overweight, Gesta (34-3-3, 17 KOs) used an outside method of tactic to edge past former world champion Diaz (32-4-1, 15 KOs) in front of more than 5,000 fans at the Pyramid.
The speedy Gesta opened up the fight with combination punching up and down against the peek-a-boo style of Diaz. For the first two rounds the San Diego fighter overwhelmed Diaz though none of the blows were impactful.
In the third round Diaz finally began unloading his own combinations and displaying the fast hands that helped him win world titles in two divisions. Gesta seemed stunned by the blows, but his chin held up. The counter right hook was Diaz's best weapon and snapped Gesta's head back several times.
Gesta regained control in the fifth round after absorbing big blows from Diaz. He seemed to get angry that he was hurt and opened up with even more blows to send Diaz backpedaling.
Diaz targeted his attack to Gesta's body and that seemed to slow down Gesta. But only for a round.
From the seventh until the 10th each fighter tried to impose their style with Gesta opening up with fast flurries and Diaz using right hooks to connect with solid shots. They continued their method of attack until the final bell. All that mattered was what the judges preferred.
After 10 rounds one judge saw Diaz the winner 97-93 but two others saw Gesta the winner 99-91, 98-92. It was a close and interesting fight.
"I was expecting nothing. I was the victor in this fight and we gave a good fight," said Gesta. "It's not an easy fight and Jojo gave his best."
Diaz was surprised by the outcome but accepted the verdict.
Everything was going good. I thought I was landing good body shots," said Diaz. "I was pretty comfortable."
Other Bouts
Mexico's Oscar Duarte (25-1-1, 20 KOs) knocked out Chicago's Alex Martin (18-5, 6 KOs) with a counter right hand after dropping him earlier in the fourth round. The super lightweight fight was stopped at 1:14 of the round.
A battle between undefeated super welterweights saw Florida's Eric Tudor (8-0, 6 KOs) emerge the winner by unanimous decision after eight rounds versus Oakland's Damoni Cato-Cain.
The taller Tudor showed polished skill and was not bothered by a large cut on his forehead caused by an accidental clash of heads. He used his jab and lead rights to defuse the attacks of the quick-fisted southpaw Cato-Cain. The judges scored the fight 80-72 and 78-74 twice for Tudor.
San Diego's Jorge Chavez (5-0, 4 KOs) needed less than one round to figure out Nicaragua's Bryan Perez (12-17-1, 11 KOs) and send him into dreamland with a three-punch combination. No need to count as referee Ray Corona waved the fight over. Perez shot a vicious right followed by another right and then a see-you-later left hook at 3.00 of the first round of the super featherweight match.
Photo credit: Al Applerose
Jojo Diaz's Slump Continues; Mercito Gesta Prevails on a Split Decision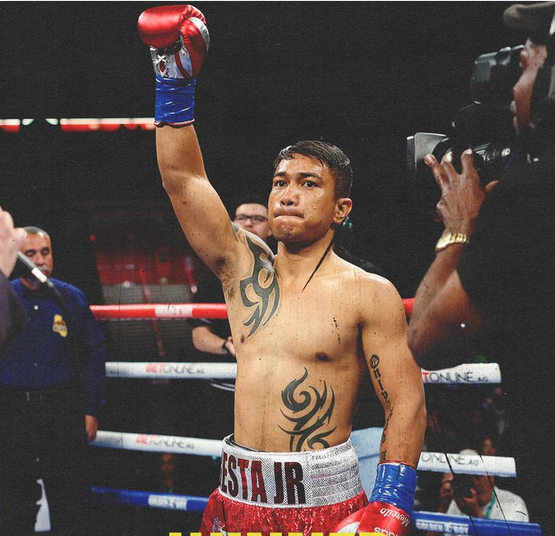 At age 30, Jojo Diaz's career is on the skids. The 2012 U.S. Olympian, a former world title holder at 126 and 130 pounds and an interim title holder at 135, Diaz suffered his third straight loss tonight, upset by Mercito Gesta who won a split decision at the Walter Pyramid in Long Beach, CA.. The scoring was strange with Gesta winning nine of the 10 rounds on one of the cards and only three rounds on another. The tie-breaker, as it were, was a 98-92 tally for Gesta and even that didn't capture the flavor of what was a closely-contested fight.
Originally listed as a 12-rounder, the match was reduced to 10 and that, it turned out, did Diaz no favors. However, it's hard to feel sorry for the former Olympian as he came in overweight once again, having lost his 130-pound title on the scales in February of 2021.
Diaz also has issues outside the ropes. Best elucidated by prominent boxing writer Jake Donovan, they include a cluster of legal problems stemming from an arrest for drunk driving on Feb. 27 in the LA suburb of Claremont.
With the defeat, Diaz's ledger declined to 32-4-1. His prior losses came at the hands of Gary Russell Jr, Devin Haney, and William Zepeda, boxers who are collectively 83-2. Mercito Gesta, a 35-year-old San Diego-based Filipino, improved to 34-3-3.
Co-Feature
Chihuahua, Mexico super lightweight Oscar Duarte has now won nine straight inside the distance after stopping 33-year-old Chicago southpaw Alex Martin in the eighth frame. Duarte, the busier fighter, had Martin on the deck twice in round eight before the fight was waived off.
Duarte improved to 25-1-1 (20). Martin, who reportedly won six national titles as an amateur and was once looked upon as a promising prospect, declined to 18-5.
Other Bouts of Note
New Golden Boy signee Eric Tudor, a 21-year-old super welterweight from Fort Lauderdale, overcame a bad laceration over his right eye, the result of an accidental clash of heads in round four, to stay unbeaten, advancing to 8-0 (6) with a hard-fought unanimous 8-round decision over Oakland's Damoni Cato-Cain. The judges had it 80-72 and 78-74 twice. It was the first pro loss for Cato-Cain (7-1-1) who had his first five fights in Tijuana.
In the DAZN opener, lanky Hawaian lightweight Dalis Kaleiopu went the distance for the first time in his young career, improving to 4-0 (3) with a unanimous decision over 36-year-old Colombian trial horse Jonathan Perez (40-35). The scores were 60-52 across the board. There were no knockdowns, but Perez, who gave up almost six inches in height, had a point deducted for a rabbit punch and another point for deducted for holding.
To comment on this story in the Fight Forum CLICK HERE
'Big Baby' Wins the Battle of Behemoths; TKOs 'Big Daddy' in 6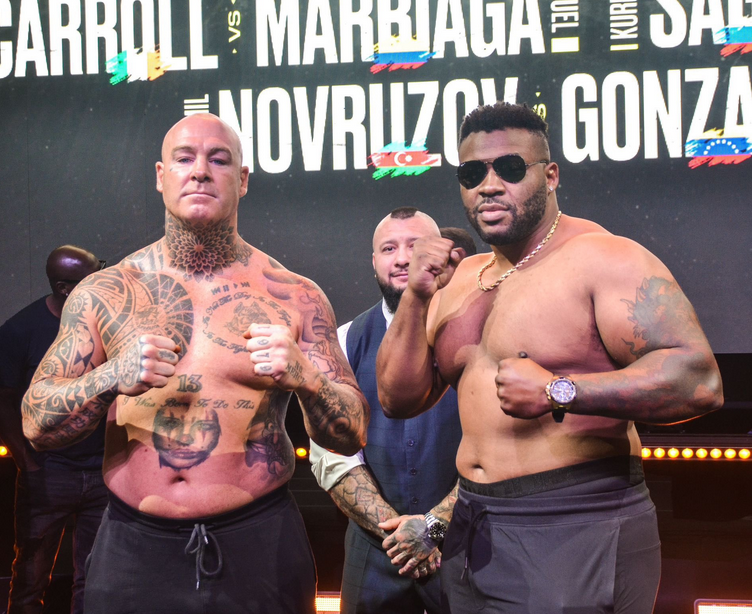 Lucas "Big Daddy" Browne weighed in at a career-high 277 pounds for today's battle in Dubai with Jarrell "Big Baby" Miller, but he was the lighter man by 56 pounds. It figured that one or both would gas out if the bout lasted more than a few stanzas.
It was a war of attrition with both men looking exhausted at times, and when the end came it was Miller, at age 34 the younger man by nine years, who had his hand raised.
Browne was the busier man, but Miller, whose physique invites comparison with a rhinoceros, hardly blinked as he was tattooed with an assortment of punches. He hurt 'Bid Daddy' in round four, but the Aussie held his own in the next frame, perhaps even forging ahead on the cards, but only postponing the inevitable.
In round six, a succession of right hands knocked Browne on the seat of his pants. He beat the count, but another barrage from Miller impelled the referee to intervene. The official time was 2:33. It was the 21st straight win for Miller (26-0-1, 22 KOs). Browne declined to 31-4 and, for his own sake, ought not fight again. All four of his losses have come inside the distance, some brutally.
The consensus of those that caught the livestream was that Floyd Mayweather Jr's commentary was an annoying distraction that marred what was otherwise an entertaining show.
As for what's next for "Big Baby" Miller, that's hard to decipher as he has burned his bridges with the sport's most powerful promoters. One possibility is Mahmoud Charr who, like Miller, has a big gap in his boxing timeline. Now 38 years old, Charr – who has a tenuous claim on a WBA world title (don't we all?) —  has reportedly taken up residence in Dubai.
Other Bouts of Note
In a 10-round cruiserweight affair, Suslan Asbarov, a 30-year-old Russian, advanced to 4-0 (1) with a hard-fought majority decision over Brandon Glanton. The judges had it 98-92, 97-93, and a more reasonable 95-95.
Asbarov was 12-9 in documented amateur fights and 1-0 in a sanctioned bare-knuckle fight, all in Moscow, entering this match. He bears watching, however, as Glanton (18-2) would be a tough out for almost anyone in his weight class. In his previous fight, at Plant City, Florida, Glanton lost a controversial decision to David Light, an undefeated Australian who challenges WBO world title-holder Lawrence Okolie at Manchester, England next week.
A 10-round super featherweight match between former world title challengers Jono Carroll and Miguel Marriaga preceded the semi-windup. Carroll, a 30-year-old Dublin southpaw, overcame a cut over his left eye suffered in the second round to win a wide unanimous decision in a fairly entertaining fight.
It was the sixth straight win for Carroll (24-2-1, 7 KOs) who elevated his game after serving as a sparring partner for Devin Haney. Marriaga, a 36-year-old Colombian, lost for the fourth time in his last five outings, declining to 30-7.
To comment on this story in the Fight Forum CLICK HERE