Oleksandr Gvozdyk's Opponent Didn't Have a Leg to Stand On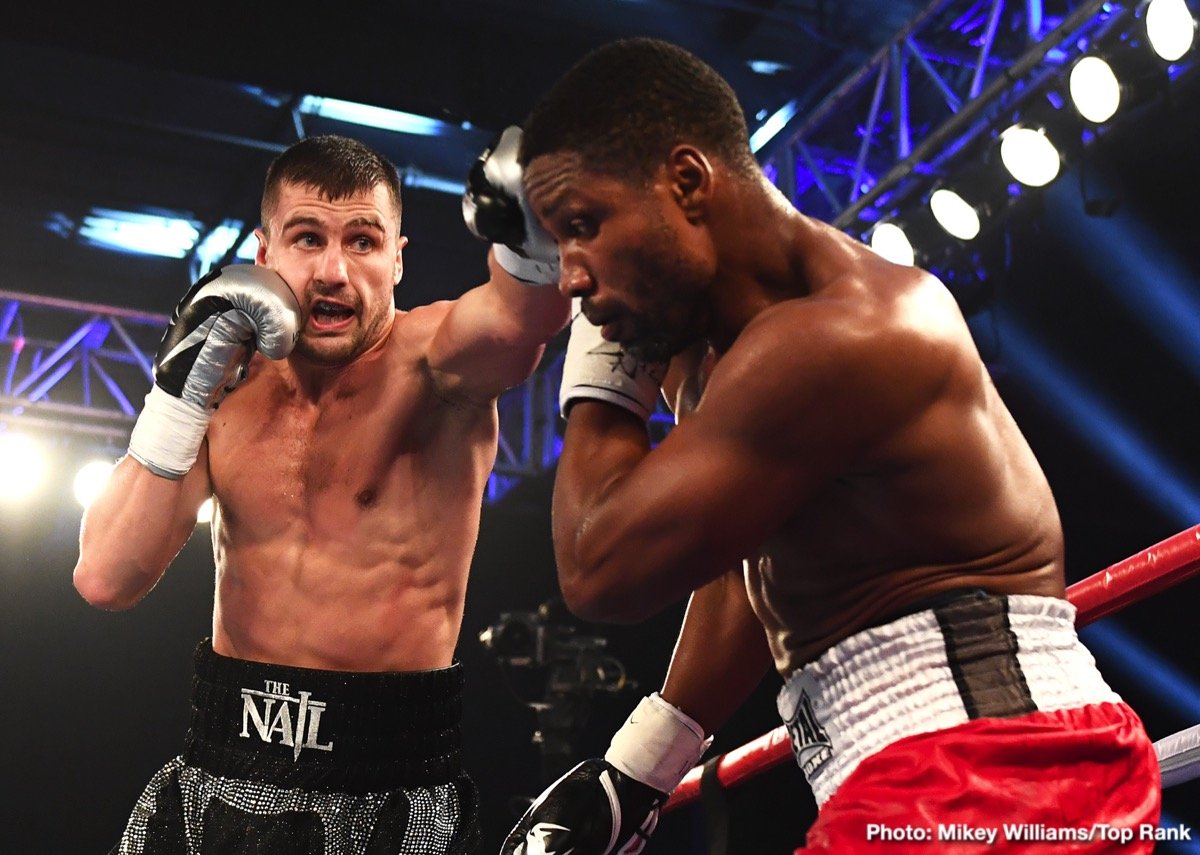 PHILADELPHIA – It is a fairly common practice in boxing for a newly minted world champion to make his first title defense against an opponent who might be considered a bit of a soft touch, particularly if he rose to the top of his alphabet fiefdom by dethroning an especially dangerous predecessor.
If one oddsmaker is to be believed, WBC light heavyweight champ Oleksandr Gvozdyk's first defense of the belt he lifted last Dec. 1, on an 11th-round knockout of the long-reigning and favored Adonis Stevenson  – arguably the hardest-hitting 175-pound ruler since Michael Moorer, or maybe even all the way back to Bob Foster – was easier than most such ritualistic demonstrations of superiority. So dismissive was one sports book linemaker of Doudou Ngumbu's chances against Gvozdyk that the champion opened as an -8000 wagering choice, meaning a bettor would have to put up $8,000 on the 31-year-old Ukrainian in order to win $100. The message sent by such an absurdly wide line was clear: as an aspirant to displace Gvozdyk, Doudou, a native of the Democratic Republic of Congo now living in France, was, well, more like doo-doo.
It would be unfair to Ngumbu (38-9, 14 KOs), who at 37 was getting his first, and undoubtedly last, shot at a bejeweled belt, to point out that his official fifth-round technical-knockout loss, at the sold-out 2300 Arena here, came about without a punch being landed by Gvozdyk (17-0, 14 KOs), whose victory was all but assured from the moment contracts were signed. To his credit, Ngumbu was trying his darndest to cash that lottery ticket, although his darndest  never was going to be good enough to pull off an upset twice as unlikely as Buster Douglas over Mike Tyson. But when Ngumbu, his face contorted in pain, began hopping around on his left (good) leg, what was already a long and weird night became stranger still.
Referee Eric Dali appeared to be momentarily flummoxed by Ngumbu's impersonation of a one-legged Easter bunny. Dali first called time to allow the challenger time to recover, ruling an accidental foul had occurred, even though Ngumbu's distress had not been caused by a punch from Gvozdyk, legal or otherwise. What followed was a scene straight out of the fight game's theater of the absurd, with Dali, Pennsylvania State Athletic Commission executive director Greg Sirb, the ring physician and members of Ngumbu's corner team, none of whom apparently spoke English, bunching up on the ring apron to decide what determination needed to be made.
It finally was decided that Ngumbu had suffered a torn Achilles tendon, an injury more serious than a cramp or pulled calf muscle, which would have been bad enough. Gvozdyk, a bronze medalist at the 2012 London Olympics, was awarded a less-than-satisfying win by stoppage, after an elapsed time of 58 seconds.
"(Gvozdyk) didn't even hit him," Sirb noted. "That's a cheap KO. There was no foul. (Ngumbu) was trying to avoid a punch, and he obviously hurt himself trying to twist away. He wound up tearing his Achilles tendon. That's nasty. You could see it. He couldn't put any pressure on his right leg."
For Gvozdyk, whose celebration of the take-down of Stevenson was muted when the stricken champion had to be rushed to a nearby hospital where he underwent surgery for two brain bleeds and was placed in an induced coma (Stevenson is, thankfully, recovering, but his boxing career is over), another ending to a winning fight ended in an unexpected manner.
"I'm satisfied I won. I keep my title," he said in his dressing room, apparently unaware of the extent or legitimacy of Ngumbu's injury. "How it happened, I'm definitely not satisfied with. Probably the people who came are not happy. It's important to make your fans happy. I tried to do my best in this fight. What happened was not my fault. I guess the guy just came to get a paycheck. I don't know. I don't want to insult him.
"Maybe something happened. I don't know. I don't feel I hurt him. For a second time something screwed up my celebration. I really thought the fight would go longer and be more exciting. I was just starting to accelerate."
For numbers-crunchers interested in such things, Gvozdyk landed 47 of 204 punches (23 percent) to just 18 of 108 (17 percent) for Ngumbu, who went in as the WBC's eighth-rated light heavyweight contender. But while winning and losing is always of paramount consideration, how either outcome is achieved also matters, and Gvozdyk did not win with the flourish he and his many supporters in the standing-room-only crowd of 1,350 or so had anticipated. That opened the door for a couple of snide remarks from at least one interested onlooker.
Philadelphia's Jesse Hart, a two-time world title challenger as a super middleweight who is planning to move up to light heavyweight, is a member of the Top Rank promotional stable, as is Gvozdyk, and he said he could and would eventually capitalize on the openings he saw against the champion that the limited Ngumbu was unable to.
"(Gvozdyk) fought down to the kid's level," Hart said, although, at 37, few would characterize Ngumbu as a kid at this late stage of his career. "He should have gotten him out of there within the first four rounds."
Nor was the ESPN-televised lead-in to the main event — Philly welterweight "The New" Ray Robinson (24-3-1, 12 KOs) vs. Egidijus Kavaliauskas (21-0-1, 17 KOs), a Ukrainian now fighting out of Oxnard, Calif. — particularly compelling, although it did provide a symposium for debate on the vicissitudes of how to score a boxing match. One judge's scorecard had Robinson winning by 97-93, while the other two saw the fight as a 95-95 standoff – a majority draw.
For those who place a high value on slick boxing technique, the mobile, jab-flicking Robinson deserved a clear-cut victory. One ringside writer had him winning nine of the 10 rounds. ESPN boxing writer Dan Rafael went way over to the other side, giving nine rounds to the continually stalking Kavaliauskas, a -1800 favorite.
Despite the fact that seven of the 11 bouts on the card ended inside the distance, three of which were one-round quickies, fans who came early and stayed late must have felt like they had attended a double-feature at their local movie theater, with Dr. Zhivago followed by Lawrence of Arabia, with a half-hour intermission in between. With the first bout getting underway at 5:30 p.m. EDT, and Gvozdyk-Ngumbu wrapping up near midnight, the 6½-hour  marathon tested the endurance, and possibly the bladder capacities of fans who helped pass the time with multiple trips to the beer concession stand.
The audience, reflecting the global lineup of fighters, was a blend of many nationalities and cultures. Including those representatives who pledged allegiance to two flags – like Ngumbu, who was born in the Congo and became a naturalized French citizen – countries represented were Ukraine, Mexico, Malaysia, Uzbekistan, Japan, Canada, Cameroon, Ghana, Kazakhstan, Lithuania, France, Congo, Guatemala and Puerto Rico, although the last is technically an unincorporated territory of the United States. The loudest contingent appeared to be Ukrainians and Ukrainian-Americans, not surprising in that 20,000 or so such residents of the U.S. can be found in the Eastern seaboard corridor from metropolitan New York to Philadelphia and many are rabid boxing buffs. From the first round on, Gvozdyk backers shouted "Gvozdyk! Gvozdyk!," which for the phonetically challenged sounds very much like Vod-zik. By decibel level, the Ukrainians seemed more plentiful and louder than Philly patrons, who made themselves known with their off-key renditions of "Fly, Eagles, Fly," the local NFL team's fight song.
In other action:
*Kudratillo Abdukakhorov (16-0, 9 KOs) of Malaysia by way of his native Uzbekistan scored a unanimous, 12-round decision over Japan's Keita Obara (20-4-1, 18 KOs) in an IBF welterweight elimination bout.
*Super middleweight Christian Mbilli (14-0, 13 KOs), from Montreal by way of his native Cameroon, saw his knockout streak ended as he settled for an eight-round, unanimous decision over Mexico's Humberto Gutierrez (33-8-2, 18 KOs).
*Juan Ruiz (22-4, 14 KOs) of Mexico came away with a fourth-round TKO victory over Ghana's Fredrick Lawson (27-2, 21 KOs) in their scheduled eight-round super welterweight bout.
*Super featherweight Joshafat Ortiz (6-0, 4 KOs), a Puerto Rican based in Reading, Pa., needed just one of the six scheduled rounds to put away James Thomas (6-5, 6 KOs), of Grand Rapids, Mich.
*Popular Philadelphia heavyweight Sonny Conto (2-0, 2 KOs), a recent addition to the Top Rank lineup, bombed out Omar Acosta (1-6, 1 KO) of Hereford, Texas, in one round and will next be seen on June 15 in Las Vegas on the  undercard of a show headlined by Tyson Fury against Tom Schwarz.
*Jeremy Adorno, a lanky super bantamweight from Allentown, Pa., by way of Puerto Rico, made his pro debut by pitching a four-round shutout at Sebastian Baltazar (1-4), from Tacoma, Wash., by way of his native Guatemala.
*Super featherweight Donald Smith (9-0, 6 KO), a southpaw from Philly, seemed headed to a four-round unanimous decision over Jose Antonio Martinez (11-18, 6 KOs) when he turned out the lights on the Mexican, now residing in Albequerque, N.M., with an overhand left late in the final round.
Bernard Fernandez is the retired boxing writer for the Philadelphia Daily News. He is a five-term former president of the Boxing Writers Association of America, an inductee into the Pennsylvania, New Jersey and Atlantic City Boxing Halls of Fame and the recipient of the Nat Fleischer Award for Excellence in Boxing Journalism and the Barney Nagler Award for Long and Meritorious Service to Boxing.
Check out more boxing news on video at The Boxing Channel
To comment on this story in The Fight Forum CLICK HERE
Mercito Gesta Victorious Over Jojo Diaz at the Long Beach Pyramid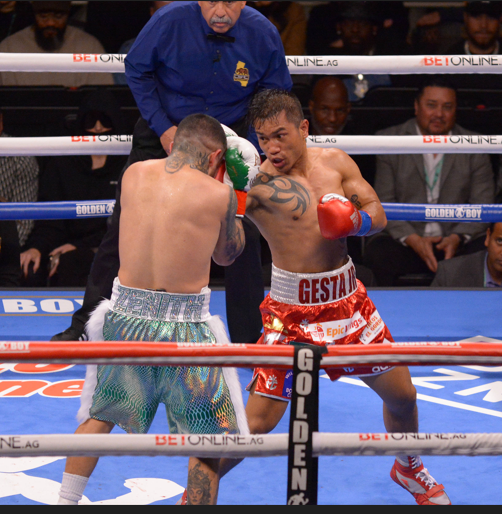 LONG BEACH, CA.-Those in the know knew Mercito Gesta and Jojo Diaz would be a fight to watch and they delivered.
Gesta emerged the winner in a super lightweight clash between southpaws that saw the judges favor his busier style over Diaz's body attack and bigger shots and win by split decision on Saturday.
Despite losing the main event because the star was overweight, Gesta (34-3-3, 17 KOs) used an outside method of tactic to edge past former world champion Diaz (32-4-1, 15 KOs) in front of more than 5,000 fans at the Pyramid.
The speedy Gesta opened up the fight with combination punching up and down against the peek-a-boo style of Diaz. For the first two rounds the San Diego fighter overwhelmed Diaz though none of the blows were impactful.
In the third round Diaz finally began unloading his own combinations and displaying the fast hands that helped him win world titles in two divisions. Gesta seemed stunned by the blows, but his chin held up. The counter right hook was Diaz's best weapon and snapped Gesta's head back several times.
Gesta regained control in the fifth round after absorbing big blows from Diaz. He seemed to get angry that he was hurt and opened up with even more blows to send Diaz backpedaling.
Diaz targeted his attack to Gesta's body and that seemed to slow down Gesta. But only for a round.
From the seventh until the 10th each fighter tried to impose their style with Gesta opening up with fast flurries and Diaz using right hooks to connect with solid shots. They continued their method of attack until the final bell. All that mattered was what the judges preferred.
After 10 rounds one judge saw Diaz the winner 97-93 but two others saw Gesta the winner 99-91, 98-92. It was a close and interesting fight.
"I was expecting nothing. I was the victor in this fight and we gave a good fight," said Gesta. "It's not an easy fight and Jojo gave his best."
Diaz was surprised by the outcome but accepted the verdict.
Everything was going good. I thought I was landing good body shots," said Diaz. "I was pretty comfortable."
Other Bouts
Mexico's Oscar Duarte (25-1-1, 20 KOs) knocked out Chicago's Alex Martin (18-5, 6 KOs) with a counter right hand after dropping him earlier in the fourth round. The super lightweight fight was stopped at 1:14 of the round.
A battle between undefeated super welterweights saw Florida's Eric Tudor (8-0, 6 KOs) emerge the winner by unanimous decision after eight rounds versus Oakland's Damoni Cato-Cain.
The taller Tudor showed polished skill and was not bothered by a large cut on his forehead caused by an accidental clash of heads. He used his jab and lead rights to defuse the attacks of the quick-fisted southpaw Cato-Cain. The judges scored the fight 80-72 and 78-74 twice for Tudor.
San Diego's Jorge Chavez (5-0, 4 KOs) needed less than one round to figure out Nicaragua's Bryan Perez (12-17-1, 11 KOs) and send him into dreamland with a three-punch combination. No need to count as referee Ray Corona waved the fight over. Perez shot a vicious right followed by another right and then a see-you-later left hook at 3.00 of the first round of the super featherweight match.
Photo credit: Al Applerose
Jojo Diaz's Slump Continues; Mercito Gesta Prevails on a Split Decision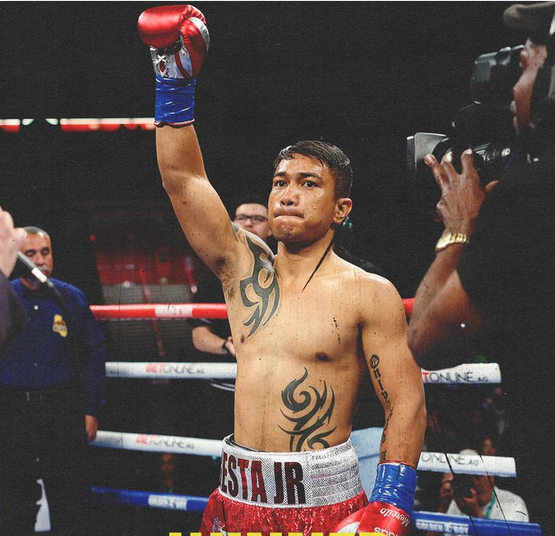 At age 30, Jojo Diaz's career is on the skids. The 2012 U.S. Olympian, a former world title holder at 126 and 130 pounds and an interim title holder at 135, Diaz suffered his third straight loss tonight, upset by Mercito Gesta who won a split decision at the Walter Pyramid in Long Beach, CA.. The scoring was strange with Gesta winning nine of the 10 rounds on one of the cards and only three rounds on another. The tie-breaker, as it were, was a 98-92 tally for Gesta and even that didn't capture the flavor of what was a closely-contested fight.
Originally listed as a 12-rounder, the match was reduced to 10 and that, it turned out, did Diaz no favors. However, it's hard to feel sorry for the former Olympian as he came in overweight once again, having lost his 130-pound title on the scales in February of 2021.
Diaz also has issues outside the ropes. Best elucidated by prominent boxing writer Jake Donovan, they include a cluster of legal problems stemming from an arrest for drunk driving on Feb. 27 in the LA suburb of Claremont.
With the defeat, Diaz's ledger declined to 32-4-1. His prior losses came at the hands of Gary Russell Jr, Devin Haney, and William Zepeda, boxers who are collectively 83-2. Mercito Gesta, a 35-year-old San Diego-based Filipino, improved to 34-3-3.
Co-Feature
Chihuahua, Mexico super lightweight Oscar Duarte has now won nine straight inside the distance after stopping 33-year-old Chicago southpaw Alex Martin in the eighth frame. Duarte, the busier fighter, had Martin on the deck twice in round eight before the fight was waived off.
Duarte improved to 25-1-1 (20). Martin, who reportedly won six national titles as an amateur and was once looked upon as a promising prospect, declined to 18-5.
Other Bouts of Note
New Golden Boy signee Eric Tudor, a 21-year-old super welterweight from Fort Lauderdale, overcame a bad laceration over his right eye, the result of an accidental clash of heads in round four, to stay unbeaten, advancing to 8-0 (6) with a hard-fought unanimous 8-round decision over Oakland's Damoni Cato-Cain. The judges had it 80-72 and 78-74 twice. It was the first pro loss for Cato-Cain (7-1-1) who had his first five fights in Tijuana.
In the DAZN opener, lanky Hawaian lightweight Dalis Kaleiopu went the distance for the first time in his young career, improving to 4-0 (3) with a unanimous decision over 36-year-old Colombian trial horse Jonathan Perez (40-35). The scores were 60-52 across the board. There were no knockdowns, but Perez, who gave up almost six inches in height, had a point deducted for a rabbit punch and another point for deducted for holding.
To comment on this story in the Fight Forum CLICK HERE
'Big Baby' Wins the Battle of Behemoths; TKOs 'Big Daddy' in 6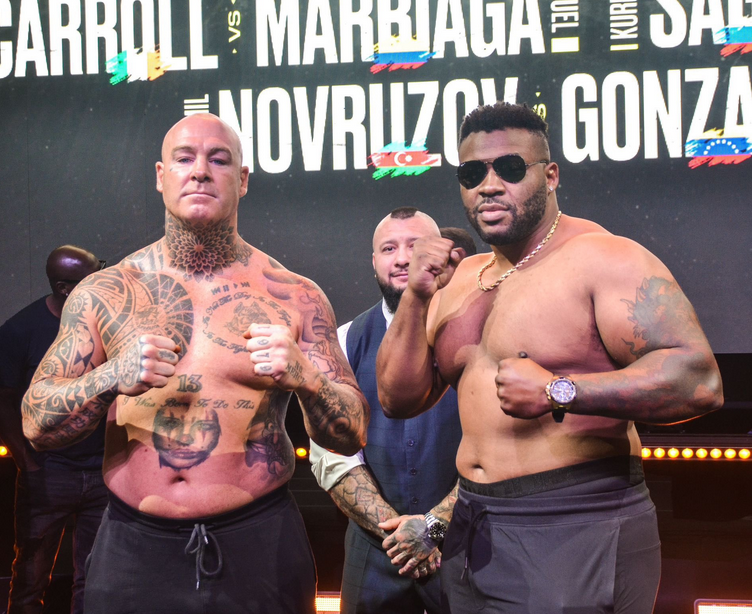 Lucas "Big Daddy" Browne weighed in at a career-high 277 pounds for today's battle in Dubai with Jarrell "Big Baby" Miller, but he was the lighter man by 56 pounds. It figured that one or both would gas out if the bout lasted more than a few stanzas.
It was a war of attrition with both men looking exhausted at times, and when the end came it was Miller, at age 34 the younger man by nine years, who had his hand raised.
Browne was the busier man, but Miller, whose physique invites comparison with a rhinoceros, hardly blinked as he was tattooed with an assortment of punches. He hurt 'Bid Daddy' in round four, but the Aussie held his own in the next frame, perhaps even forging ahead on the cards, but only postponing the inevitable.
In round six, a succession of right hands knocked Browne on the seat of his pants. He beat the count, but another barrage from Miller impelled the referee to intervene. The official time was 2:33. It was the 21st straight win for Miller (26-0-1, 22 KOs). Browne declined to 31-4 and, for his own sake, ought not fight again. All four of his losses have come inside the distance, some brutally.
The consensus of those that caught the livestream was that Floyd Mayweather Jr's commentary was an annoying distraction that marred what was otherwise an entertaining show.
As for what's next for "Big Baby" Miller, that's hard to decipher as he has burned his bridges with the sport's most powerful promoters. One possibility is Mahmoud Charr who, like Miller, has a big gap in his boxing timeline. Now 38 years old, Charr – who has a tenuous claim on a WBA world title (don't we all?) —  has reportedly taken up residence in Dubai.
Other Bouts of Note
In a 10-round cruiserweight affair, Suslan Asbarov, a 30-year-old Russian, advanced to 4-0 (1) with a hard-fought majority decision over Brandon Glanton. The judges had it 98-92, 97-93, and a more reasonable 95-95.
Asbarov was 12-9 in documented amateur fights and 1-0 in a sanctioned bare-knuckle fight, all in Moscow, entering this match. He bears watching, however, as Glanton (18-2) would be a tough out for almost anyone in his weight class. In his previous fight, at Plant City, Florida, Glanton lost a controversial decision to David Light, an undefeated Australian who challenges WBO world title-holder Lawrence Okolie at Manchester, England next week.
A 10-round super featherweight match between former world title challengers Jono Carroll and Miguel Marriaga preceded the semi-windup. Carroll, a 30-year-old Dublin southpaw, overcame a cut over his left eye suffered in the second round to win a wide unanimous decision in a fairly entertaining fight.
It was the sixth straight win for Carroll (24-2-1, 7 KOs) who elevated his game after serving as a sparring partner for Devin Haney. Marriaga, a 36-year-old Colombian, lost for the fourth time in his last five outings, declining to 30-7.
To comment on this story in the Fight Forum CLICK HERE