Three Punch Combo: An Elite Prospect in Martinez, Potential April Upsets and More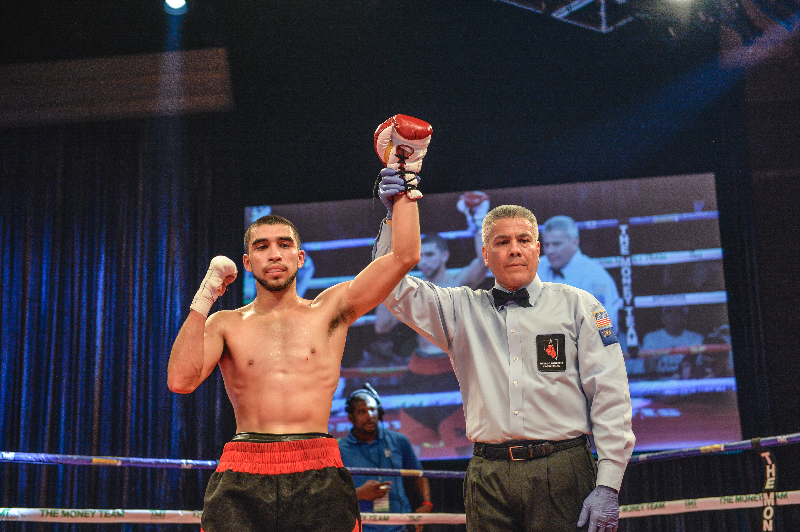 THREE PUNCH COMBO — ShoBox returns on Friday from Las Vegas with an excellent tripleheader headlined by 122-pound prospect Angelo Leo (16-0, 8 KO's) who takes on Neil Tabanao (17-4, 11 KO's). While I like the main event and am interested to see the continued development of Leo, it is one of the undercard fights that particularly piques my interest.
Xavier Martinez (13-0, 9 KO's), a 21-year-old 130-pound prospect, takes a big step up in class when he takes on veteran John Vincent Moralde (21-2, 11 KO's) in the co-feature.
In my estimation, Martinez (pictured) is an elite prospect. There is a lot to like about him and he passes the eye test.
By nature, Martinez is an aggressive boxer-puncher. He likes to work behind a powerful stiff  left jab. The way he commits to throwing the jab is impressive for a fighter his age and this is a punch he lands with a high degree of accuracy.
Behind that jab, Martinez will work heavy handed combinations to the head and body. What impresses me most when watching him is the fluidity with how he throws his combinations. And much like the work he does with his jab, Martinez is very accurate when delivering his power shots.
Defensively, Martinez moves his head well but does have a flaw in which he sometimes comes forward with his left hand low. This has led to him being clipped on occasion.
Make no mistake, Moralde is no pushover and could provide the first test for the young Martinez. Last May, Moralde sprung a mild upset against then undefeated Ismail Muwendo and will look to repeat that feat against Martinez.
Moralde likes to counterpunch. He is often content to sit back and wait for his openings. He has quick hands as well as quick reflexes, so when openings do appear, he is quick to jump on them. In particular, Moralde possesses a very good left hook that when landed clean can do damage.
Moralde is the type of veteran that can expose any and all mistakes of less seasoned fighters. As such, he makes for an intriguing test for the up-and-coming Martinez. This is a classic ShoBox fight and I am very interested in seeing just how it plays out.
 April Upsets
 We saw plenty of upsets in the sport in the first quarter of the year. April is loaded with several big fights and I suspect we see a few more upsets this month. With that in mind, here are two spots for potential upsets.
Danny Garcia vs. Adrian Granados
 On April 20th, welterweight Danny Garcia (34-2, 20 KO's) looks to bounce back from his defeat to Shawn Porter last September when he faces veteran Adrian Granados (20-6-2, 14 KO's). While many are overlooking Granados in this spot, he certainly has the ability to spring the upset.
As we all know, styles make fights. And simply put, the style of Granados could be problematic for Garcia.
Garcia is a classic boxer-puncher. He is also a very good counterpuncher. But he is not a volume puncher. Rather, he selectively picks his spots. Yes he is accurate when he lets his hands go but he can be out-hustled which is why he has been involved in so many close decisions throughout his career.
Granados is an aggressive pressure fighter. He may not be a big puncher but he will throw a high volume of punches. Granados can get hit but has shown to have a world class chin. His style, chin and relentless determination have given many top fighters fits.
Granados can out-hustle Garcia. This fight could resemble the Mauricio Herrera fight for Garcia back in 2014. Many boxing experts thought Garcia got out-hustled that night by a fighter with a somewhat similar style to Granados and was given a nice gift on the scorecards. Will Danny Garcia be so fortunate this time around?
Srisakat Sor Rungvisai vs. Juan Francisco Estrada
 In a highly anticipated rematch of their 2018 slugfest that ended in a draw, Srisaket Sor Rungvisai (47-4-1, 41 KO's) takes on Juan Francisco Estrada (38-3, 26 KO's) for Sor Rungvisai's 115-pound title.
I like Estrada in this spot. First off, I thought Estrada edged out the first fight. But the main reason I see him winning the rematch is that I think he is the more well-rounded fighter who can make the necessary adjustments to perform better.
Sor Rungvisai, who possesses thudding power in both hands, knows only one way to fight; he comes forward applying pressure and looking to brawl. But defensively he is very limited.
Estrada can box as well as slug. I think in the first fight he was baited into slugging more than boxing. In the rematch, he can make the adjustment to box from the outside, using his jab more, and expose Sor Rungvisai's defensive liabilities.
The rematch between Sergey Kovalev and Eleider Alvarez showed what can happen when the necessary adjustments are made. For Estrada, making a committed effort to box the one-dimensional Sor Rungvisai should result in a wide decision victory.
It's Too Soon for Lomachenko-Lopez
 Teofimo Lopez (12-0, 10 KO's) continues to make overtures about fighting unified lightweight champion Vasyl Lomachenko (12-1, 9 KO's). But that does not seem to be a wise idea at this time.
With a combination of natural speed, athleticism and power that is rarely seen in this sport, the 21-year-old Lopez seems destined for superstardom. And with so much talent there is little doubt he could beat Lomachenko right now. But taking that fight now would be a huge risk for him as can be seen in the example of David Reid.
Reid was once talked about in much the same way that Lopez is talked about today. Shortly after winning a world title, a still relatively green Reid took a massive step up in competition to take on Felix Trinidad.
Trinidad was in the prime of a Hall of Fame career. It was a big risk for Reid, but those involved in his career had so much confidence in his talent that they believed he was ready for the big fight.
Reid ended up giving a valiant effort. Reid even put Trinidad on the canvas in the third round. But as the fight progressed, the more seasoned Trinidad began unleashing a ferocious beating on Reid whose natural talent against less seasoned and much less skilled fighters had masked his shortcomings.
In the end, Reid took such a vicious beating that the fight essentially ended his career. Yes there were other issues, notably a recurring eye injury, but the beating from Trinidad played a big factor in Reid's quick downfall.
Lopez and his team should take note of what happened to David Reid. Teofimo still needs more seasoning before he is ready for Lomachenko. While it is certainly possible that Lopez could defeat Lomachenko right now, if things don't go well his blossoming career could come crashing to an end.
Check out more boxing news on video at The Boxing Channel
To comment on this story in The Fight Forum CLICK HERE
The Top Ten Featherweights of the Decade 2010-2019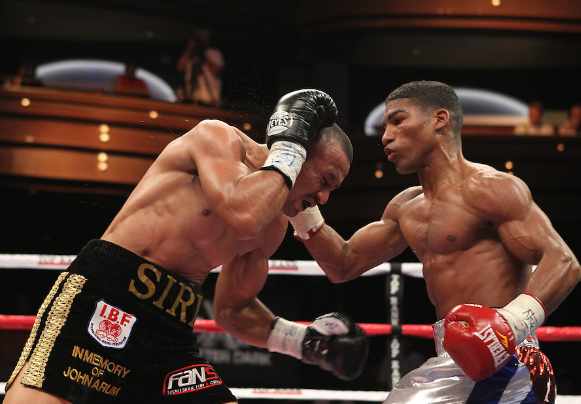 The featherweight division of the last decade lacked focus, personified in its failure to produce a single legitimate champion. There are beltholders aplenty but no lineal kings; there are also numerous number one contenders as the torch passed from beast to beast on what was a dangerous fistic landscape.
So, several of these men crossed paths and it is well that they did. There is so little to separate the top five from one another that those meetings are woven gold in organising a very tight pack.
Rankings, as always, are by Ring Magazine from January 2010 to October 2012 and thereafter by TBRB.
10 – Nonito Donaire
Peak Ranking: 2 Record for the Decade: 18-5 Ranked For: 10% of the decade
Filipino legend Nonito Donaire's featherweight decade is sheer ranking confusion.
He was chased from the super-bantamweight division by a deadly Guillermo Rigondeaux and rolled straight into a rematch with Vic Darchinyan who was slipping but still ranked. A tense, cagey squabble ensued, shaded by Darchinyan's two-handed punch-picking pressure, most especially his left hand; Donaire was neatly bailed out by his power, a degree of which he had carried with him to 126lbs. A divisional warning had been sung.
Donaire, never shy of a meaningful challenge, next matched featherweight number one Simpiwe Vetyeka, the conqueror of Chris John who had in turn outpointed Juan Manuel Marquez. This fight was a terrific mess, including low blows, head-clashes, one of which caused a serious cut on Donaire's left eyelid. Donaire went on to dominate despite this cut, arguably losing the second but clearly winning the third, and dropping Vetyeka in the fourth with a gorgeous counter-left.
But referee Luis Pabon repeatedly visited with the ringside physician and began the fifth round hanging over the top rope deep in conversation with the WBA (just who you want on hand in times of difficulty). The fight was called at two seconds of the fifth and Donaire was awarded a technical decision.
Donaire was then firmly out-monstered by Nicholas Walters after which he dropped back down the divisions, returning in 2017 for a pair of featherweight fights culminating in a spirited loss to Carl Frampton. All this adds up to a very mixed bag and it could be argued that Donaire should be excluded in favour of Abner Mares or Jhonny Gonzalez; but Donaire did defeat a divisional number one in the shape of Vetyeka, and despite the strangeness surrounding that fight, it's enough to see me favour him here.
09 – Gary Russell
Peak Ranking: 3 Record for the Decade: 24-1 Ranked For: 40% of the decade
Gary Russell remains most famous for his 2014 defeat at the hands of Vasyl Lomachenko but his recovery and fistic retribution has been impressive. When Russell met Jhonny Gonzalez in 2015 it was in pursuit of the strap that Lomachenko had denied him. Gonzalez, as perennial as any featherweight contender has been, was ranked two at the time of their confrontation, but Russell dominated from the first and with ease. It may be that Russell lost in Lomachenko to the only featherweight able to outspeed him in phases. Gonzalez did not have the pressure to keep Russell from stepping into his punches nor the power to dissuade him; Russell found him with his southpaw left in the third and the fight was effectively over from that point, though it was the right hook that did the real damage. Gonzales was cracked in four.
After two softer engagements, both of which he won by knockout, Russell met with the baby-faced Joe Diaz. Diaz brought pitiless pressure in the first half of the fight, carving up rounds with Russell as an equal, neutralising his speed with brave pressure and a vintage southpaw hook to the body. Again and again he forced Russell to give ground but Russell adjusted like a veteran. Rather than boxing an endless retreat he favoured exacting the maximum toll as Diaz bored inside. Diaz rallied beautifully ten through twelve to make this fight a borderline classic, but Russell's adjustment made him tentative in the middle rounds, and it was by bagging those that Russell made himself a clear winner.  It was the best performance of his career.
There is no shame in his single defeat and his rebuild is one of the best stories of the featherweight decade. I am glad he slips in at nine.
08 – Vasyl Lomachenko
Peak Ranking: 2 Record for the Decade: 14-1 Ranked For: 20% of the decade
Vasyl Lomachenko is 0-1 versus ranked featherweights where he fought the infancy of his professional career. The circumstances of that loss are well known and understood – Orlando Salido came to the ring well overweight and proceeded to foul a green Lomachenko out of his rhythm, all of which was inexplicably ignored by boxing's worst referee. This loss, then, alights upon rather than crushes Lomachenko's legacy.
As for wins he has a handful but nothing desperately impressive. His featherweight legacy is essentially comprised of the brilliance with which he conducted himself within the ring during that early part of his career and his victory over Gary Russell.
Gary Russell was at a strange point in his career when he ran into Lomachenko having met fighters with decent paper records but having also expressly avoided sharing the ring with anyone who might conceivably beat him, all, according to the man himself, a part of the plan. But Russell was excellent against Lomachenko, matching his speed to the blinding quick combination punching genius of Lomachenko and emerging with his pride intact. As we have seen, he emerged as a person of interest for the decade.
And Lomachenko bossed him. He boxed with the surety of an eight year veteran not the uncertainty of the two-fight novice, already moving up and down with as much fluidity as any featherweight that decade; anyone doubting the decision of trainer Lomachenko Senior to place the young Vasyl in dance lessons should look no further than his reaction to Russell's attempt to bring volume in the eighth and ninth.
Lomachenko was a special fighter, and although on paper he has no special featherweight win, Russell probably qualifies in this context. That, and his brilliance, is enough to get him in one slot ahead of that fighter.
07 – Mikey Garcia
Peak Ranking: 1 Record for the Decade: 20-1 Ranked For: 17% of the decade
Mikey Garcia had an enormously impressive 2010 to 2019 and nothing illustrates it more than the number of times we have run into him on these lists. From 126lbs through to 140lbs, Garcia has made the cut.
He has never cracked the top of any divisional list though, his fleeting relationship with each a limiting factor. 126lbs is where he made his bones although he departed almost immediately, usually by design but in this case out of necessity – Garcia found making 126lbs a difficult experience as we shall see.
Before he became a victim of one of boxing's oldest problems though, he turned in what remains my favourite Mikey Garcia performance, his January 2013 domination of Orlando Salido. Salido was then the general of the featherweight division but Garcia laid him bare, moving in and out with varied commitment, compromising Salido's pressure and balance both while his superior footspeed made him defensively safe if not always sound. Salido, frustrated by his lack of success, repeatedly over-extended himself in search of his tormentor and Garcia repeatedly punished him, flashing him four times and breaking his eye socket. Even dominating Salido has its dangers though, and in the eighth an apparently accidental clash of heads saw Garcia emerge with a broken nose. An eight round technical decision in his favour was the result.
It was a beautiful performance and one that should be argued as the bedrock of a much higher ranking. Unfortunately, the only other relevant fight Garcia made at 126lbs was against Juan Manuel Lopez in a fight for which Garcia missed the weight. It was an impressive victory but over-the-weight matches for me only provide a sliver of the credit with which they would normally be bequeathed. Garcia could not make the 126lb limit (and he tried) so it is difficult to see the fight as a major enhancement of his 126lb standing. Garcia left his strap behind him on the scales and disembarked for super-featherweight.
06 – Carl Frampton
Peak Ranking: 1 Record for the Decade: 24-2 Ranked For: 31% of the decade
There is little to separate the man ranked seven from the man ranked two; small matters become pertinent. Carl Frampton's number two victory at the poundage was over Nonito Donaire, whose career vagaries we have already explored. When he met with Frampton, Donaire was not ranked at featherweight and had not been ranked at featherweight for several years. Donaire remains a valid opponent, however, and Frampton's clear victory over him seems even more impressive considering Donaire's near run at Naoya Inoue last year; but the fact that the Filipino was unranked at the time of his meeting with Frampton probably makes the difference between his ranking fifth and sixth.
For obvious reasons Frampton is neck and neck with the fighter ranked one slot above him.
Frampton traveled from his native Northern Ireland to Brooklyn in July 2016 to meet that man, the Mexican Leo Santa Cruz. This, their first fight, was something rather special as Frampton shuffled into range, looked, threw if he felt it was safe to do so before moving out, sometimes in a straight line. It worked like a charm; Santa Cruz repeatedly over-extended himself allowing Frampton to do his best work – hard, consistent punching often ending in a bodyshot.
Frampton throws a single punch as beautiful as anyone on this list. The gorgeous counter left he sent Santa Cruz crashing back into the ropes with in the early going; the peachy uppercut he used to steal the third.
Frampton did not have a problem placing Santa Cruz where he wanted him for his blows for stretches of the fight and although it was close, the majority decision in Frampton's favour felt right as a description of what occurred.
The rematch would be different.
05 – Leo Santa Cruz
Peak Ranking: 1 Record for the Decade: 24-1-1 Ranked For: 40% of the decade
The rematch was different in that Leo Santa Cruz absolutely refused to become overextended physically or strategically. He consistently boxed within a more natural scope of influence, forcing Frampton to work harder for the range and when they exchanged he relied upon his quickness to allow him to dominate and to smother Frampton's work with volume. In this, he was successful often enough that his revenge victory over Frampton felt more complete than Frampton's victory over him. Reason enough to rank Santa Cruz ahead of Frampton perhaps but Santa Cruz has more, being ranked as a featherweight for a longer stretch of the decade and having twice overcome the ranked Abner Mares.
Mares, himself a contender for the number ten spot, first ran across a fresh-faced Santa Cruz in 2015 and Santa Cruz delivered a fine advertisement for superior footwork as key in placing a swarming opponent under control. Mares had an early plan that looked menacing, placing his head not just on Santa Cruz's shoulder but behind it while working away to body and head against a smothered opponent. It worked in the first round; Santa Cruz turned him beautifully in the second and outfought him in the pocket, seemingly discouraging Mares. The rest of the fight was a canter home for a fighter clearly in the mood, entering a prime that stretches to this day. In the rematch he was almost as dominant, Mares finding an extra round on my scorecard but at no point threatening a win. Santa Cruz essentially excluded Mares from the divisional decadal top ten that night and did much to propel himself into the top five.
04 – Josh Warrington
Peak Ranking: 1 Record for the Decade: 28-0 Ranked For: 20% of the decade
Josh Warrington, it is said, gets by on workrate and fitness; he would have to overpower the "slick" Lee Selby to beat him for his big 2018 step up. That was not what happened. Rather, Warrington overcame the beltholder and favourite as much by giving ground and bringing Selby onto his counter-rushes and by out-jabbing "The White Mayweather" for key spells of the fight. Selby, who finished the fight dripping in blood and gore, was soundly thrashed down the straight by the much vaunted Warrington workrate but it was the intelligence with which he boxed early that kept the fight close and made that rush decisive.
Still, against the more storied Carl Frampton a similar story was told. Warrington's best chance was to weather the storm early because Frampton was sure to place him under control with his superior jab and then use his superior boxing to make use of his superior power. Instead, Warrington rocketed out of the blocks, hurt Frampton repeatedly during the early rounds, before romping home to a clear unanimous decision.
These were Warrington's marquee wins and they lock him into the top five, but he fell short with his last significant performance of the decade, his June 2019 split decision victory over Kid Galahad. In a close fight that I scored a draw, Warrington was seen by many as lucky to get the nod as Galahad pivoted, held and potshotted his way to a near shock. Ranked number nine in the world it was he rather than the more accomplished Selby or Frampton who made him look like the limited fighter some still name him.
Either way, Warrington got the nod and it was no robbery. These wins combined with his unbeaten status puts him on the shortlist for the number one spot; that his half of the decade was less dramatic and danger-filled explains his ranking behind the standouts from the first.
03 – Juan Manuel Lopez
Peak Ranking: 1 Record for the Decade: 10-6-1 Ranked For: 27% of the decade
Seen retrospectively, the destruction of wrecking machine Juan Manuel Lopez by Orlando Salido makes sense, but in real time it was almost impossible to understand. All but brand new to featherweight at the dawn of the decade, Lopez spent 2010 ravaging the 126lb ranks before running into his nemesis and certainly did enough in that time to be included in the top five.
First up was the capable number two contender Steve Luevano. Luevana was stopped just once and it was on the night of January twenty-third, 2010 when he took on Lopez. Limber on his feet, Lopez boxed with a low chin and an exploratory southpaw jab that was deceptively heavy. His other punches booked no deceit and were clearly killing blows. Long on the outside, compact on the inside, Lopez was technically sure at all ranges; swift; powerful and as he proved in a minor disaster at 122lbs against Rogers Mtagwa, tough, Lopez was grinding down Luevana in big chunks from at least the third and probably before. Unearthed by hooks in the seventh, Luevana was stopped on his feet.
Next up was the number six contender Bernabe Concepcion. Concepcion was basically finished as an elite fighter against Lopez, but their first round was perhaps the best featherweight round of the decade, both men hitting the deck during a three minute war Lopez dominated but seemed never fully in control of; Lopez emerged in the second the cooler man and stopped Concepcion, the first man to do so, the only man to do so this quickly.
That fight was a graduation night for Lopez's straight right having previously relied primarily upon the hook. He was absolutely primed then for Rafael Marquez, emerging from his epic four-fight series with Israel Vazquez and vulnerable to a fighter of Lopez's machinations. Marquez fought bravely, and had his moments, but was broken in eight rounds.
Enter Orlando Salido, stage left.
02 – Orlando Salido
Peak Ranking: 1 Record for the Decade: 10-4-2 Ranked For: 44% of the decade
A mugger, a bandit, Orlando Salido waited in the wings throughout the decade ready to spoil in a manner utterly unlike a spoiler, the rise of the Next Big Thing. Twice between 2010 and the end of 2019 he brutally sabotaged what seemed an inevitable crowning. His first victim was Juan Manuel Lopez and it is his two-time destruction of Lopez that locks him into the top five.
Lopez, 30-0 and a marked favourite as well as a crowd favourite in their first contest fought in early in 2011 in Lopez's Puerto Rico stronghold, started well, boxing within himself, seemingly aware of Salido's danger punch, the overhand right. But Salido is Salido. He deploys himself and turns the screw; he waits, he takes his lumps and patiently sets out to see if he can find his man along whatever strategic line has been identified. A lost first round matters no more to him than a mine to a mountain. As early as the second he was closer; Lopez reigned down punishment, worked to maintain the distance. The gift of the pressure fighter is his momentum and his control of the real estate. He can, at the very least, choose when and where he will be hit. Even if he is losing badly, if he can persist, the fight, suddenly, can be changed; this was the case in the fourth, which was the first round Salido won and the first in which the controlled retreat of Lopez began to look disorganised.
Drawn into a firefight he was dropped and hurt in the fifth, dominated by a merciless Salido in the sixth, rallied in the seventh and was changed forever as a fighter by Salido's ceaseless attack in the eighth.
Lopez was subject to divorce proceedings at the time and stopped prematurely while standing, so received a rematch. Salido, who knew and understood how Lopez moved now, dominated him even more completely though Lopez managed to last until the tenth.
In 2014 Salido performed a similar mugging against Vasyl Lomachenko although it was comprised of a cooperative referee and numerous low blows; more than that, a weight advantage in that he did not appear to try that hard to make the 126lb limit and missed it by distance; the credit bequeathed here for such a victory is very limited – but those two glorious nights on which he mastered Lopez and longevity at the weight qualify him for the spot.
01 – Yuriorkis Gamboa
Peak Ranking: 1 Record for the Decade: 14-3 Ranked For: 18% of the decade
It is possible that the memory is fading now, but there was a short spell in the early part of the decade where Cuban Yuriorkis Gamboa was rated the next big thing. Watching him now, it isn't hard to see why. His offence was gorgeous. A stocky, muscular fighter, he nevertheless moved beautifully; capable of brutal yet compact hooks from a deep stance he was also delightfully mobile; a gunslinger, hands low, often eschewing the jab for leading power punches which sometimes qualified as monstrous.
But he was flawed. Questionable temperament and a propensity for being hit even while winning were always going to prevent him reaching the Pacquiao-like heights some predicted for him. Little of this manifested itself at featherweight, however, and it is featherweight that interests us here.  Between 2008 and his leaving the division in 2012, Gamboa was at his glittering best.
This included his very best years, 2010 and 2011, during which he began to meet ranked men. In his first and in what remains for me his most sparkling performance, he clearly out-pointed the world's number one featherweight Orlando Salido. Gamboa was never more explosive in punching, favouring a lead left-hook/short-right combination and for a while, Salido seemed outclassed and in imminent danger of being stopped, but being Salido he refused to go away and even flashed an overeager Gamboa with a right in the eighth; but that and the ninth were the only rounds I could find for Siri. Gamboa dominated Salido and dropped him in the twelfth, not once but twice, was docked two points for hitting his man when he was down, flashing that temper even as he seemed imperious. A typical Gamboa Saturday night.
He was nearly as good months later against the number five contender, the puncher Daniel Ponce de Leon. Again, Gamboa hardly dropped a round against highly ranked opposition.
Supplementary wins over a slipping Jorge Solis and Jonathan Victor Barros bolster his standing but I am not overjoyed with Gamboa as a number one. He barely passes in terms of the time he spent in the rankings, and although his resume is good it is not special. He is the least qualified decadal divisional number one we have seen, I think, but Gamboa was unbeaten and really the only other contender for the #1 spot is Warrington. His domination over Salido and Salido's domination of Juan Manuel Lopez all but ties these three in this order, and Warrington, for all his excellence, hasn't met with the same level of fighter and nor was he ranked in the featherweight division much longer (just 2% more).
So, it's Gamboa – a thrilling but flawed king for a thrilling but flawed featherweight decade.
The other lists:
Photo credit: Ed Mulholland
Check out more boxing news on video at The Boxing Channel 
To comment on this story in the Fight Forum: CLICK HERE
Charlo Brothers in World Title Defenses in Unique PPV Twin Bill in September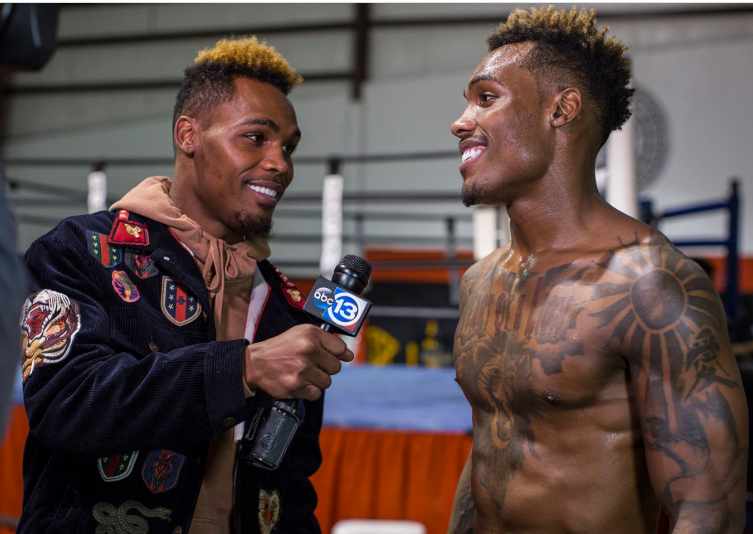 PRESS RELEASE: New York – July 22, 2020 – SHOWTIME Sports and Premier Boxing Champions announced today a lineup of nine live boxing events featuring 18 undefeated fighters, nine world champions, and eight world championship fights including one world title unification bout. The schedule comprises 22 critical matchups from bantamweight to heavyweight and features some of the biggest stars in the sport today – Gervonta Davis, Leo Santa Cruz, Jermall Charlo, Jermell Charlo, David Benavidez and more. It is the largest collection of world championship boxing announced since the COVID-19 pandemic forced a stoppage of the sport.
The SHOWTIME boxing schedule begins on Saturday, August 1 and runs through the end of 2020. Initially, each live telecast will be presented without fans in attendance from Mohegan Sun Arena in Uncasville, Conn. Included in the schedule are four world title eliminators, three interim title fights and 13 bouts in all pitting top-10 ranked fighters.
There are two SHOWTIME PPV® events in the lineup presented by Premier Boxing Champions. The first in late September is a pay-per-view doubleheader featuring four world title bouts in back-to-back three-fight events on the same night all for one price. Doubleheaders are common in the NFL, NBA and MLB. There hasn't ever been a boxing PPV doubleheader – until now. The second blockbuster PPV event in October is a unique clash with the winner earning world titles in two weight classes.
"We are proud to announce the strongest and most comprehensive schedule of fights in all of boxing," said Stephen Espinoza, President, Sports and Event Programming, Showtime Networks Inc. "….this lineup delivers on our promise to provide boxing fans with the best talent, the most exciting fights and the highest quality presentation in the sport. We are thrilled to return to live boxing with this star-studded schedule of exciting, meaningful fights."
Philadelphia's 122-pound rising star Stephen Fulton Jr. will headline SHOWTIME CHAMPIONSHIP BOXING® on August 1 (9 p.m. ET/6 p.m. PT) against talented, fellow undefeated contender Angelo Leo of the Mayweather stable in a marquee 12-round matchup for the vacant WBO junior featherweight world title. This will mark the first live boxing event on SHOWTIME since ShoBox: The New Generation on March 13 when the network presented what was to be the last nationally televised professional sporting event in the U.S. for several weeks.
The fight-by-fight schedule follows:
August 1
Main Event: Stephen Fulton Jr. (18-0, 8 KOs) vs. Angelo Leo (19-0, 9 KOs) – Vacant WBO Junior Featherweight World Championship
Co-Feature: Tramaine Williams (19-0, 6 KOs) vs. Ra'eese Aleem (16-0, 10 KOs) – Super Bantamweight Title Eliminator
Co-Feature: Joe George (10-0, 6 KOs) vs. Marcos Escudero (10-1, 9 KOs) II – Light Heavyweight Bout
About: Fellow Americans and undefeated fighters Fulton and Leo are legitimate top-10 junior featherweight contenders who will meet for the vacant WBO 122-pound world title. A southpaw from New Haven, Conn., Williams will clash with Las Vegas-based Aleem in an intriguing, 50-50 matchup between talented, undefeated prospects. Managed by All-Pro lineman Trent Williams, Houston's George upset Escudero in an exciting ShoBox affair last November.
August 15
Main Event: David Benavidez (22-0, 19 KOs) vs. Roamer Alexis Angulo (26-1, 22 KOs) – WBC Super Middleweight World Championship
Co-Feature: Rolando Romero (11-0, 10 KOs) vs. Jackson Marinez (19-0, 7 KOs) – WBA Lightweight Interim Title
Co-Feature: Otto Wallin (20-1, 13 KOs) vs. Travis Kauffman (32-3, 23 KOs) – Heavyweight Bout
About: Undefeated Benavidez, 23, kicks off his second reign as WBC Super Middleweight Champion. In 2017, he became the youngest 168-pound champion in boxing history by defeating Ronald Gavril on SHOWTIME at just 20 years old. Angulo is coming off an upset win over heavily hyped and then unbeaten prospect Anthony Sims Jr. The power-punching "Rolly" Romero of the Mayweather stable, who has scored five first- or second-round stoppages in his last six fights, is an undefeated ShoBox alum ranked No. 10 by the WBA while Marinez is ranked No. 6. Wallin vs. Kauffman is an intriguing heavyweight matchup between the Swedish southpaw and the veteran Kauffman. Both fighters have survived bouts with the COVID-19 virus, made full recoveries and are anxious to get back in the ring.
September 19
Main Event: Erickson Lubin (22-1, 16 KOs) vs. Terrell Gausha (21-1-1, 10 KOs) – WBC Super Welterweight Title Eliminator Bout
Co-Feature: Tugstsogt Nyambayar (11-1, 9 KOs) vs. Eduardo Ramirez (23-2-3, 10 KOs) – WBC Featherweight Title Eliminator Bout
Co-Feature: Jaron Ennis (25-0, 23 KOs) vs. TBA – Welterweight Bout
About: Lubin, already a veteran at just 24 years old, has excelled since his shocking first-round loss to Jermell Charlo three years ago. Gausha is a former U.S. Olympian with just one loss. Both men are poised and hungry for a signature win and the opportunity to fight for a unified 154-pound title, which will be on the line the following week. Nyambayar and Ramirez are legitimate top-10 contenders. Nyambayar faced Gary Russell Jr. in February on SHOWTIME in the last SHOWTIME CHAMPIONSHIP BOXING telecast before the COVID-19 shutdown. Ramirez, of Mexico, is coming off a stoppage of previously unbeaten Leduan Barthelemy. A graduate of the popular ShoBox: The New Generation series, Philadelphia native Ennis has fought twice on ShoBox and twice on SHOWTIME BOXING: Special Edition cards. Ennis is a former National Golden Gloves Champion ranked No. 12 by the WBO and No. 14 by the IBF.
September 26 – SHOWTIME/Premier Boxing Champions PPV Doubleheader
In One of the Main Events: Jermall Charlo (30-0, 22 KOs) vs. Sergiy Derevyanchenko (13-2, 10 KOs) – WBC Middleweight World Championship
Co-Feature: Brandon Figueroa (20-0-1, 15 KOs) vs. Damien Vasquez (15-1-1, 7 KOs) – WBA Super Bantamweight World Championship
Co-Feature: Diego Magdaleno (32-3, 13 KOs) vs. Isaac Cruz (19-1-1, 14 KOs) – IBF Lightweight Title Eliminator Bout
About: Houston's Charlo will defend his title against WBC No.-1 ranked Ukrainian Derevyanchenko in one of the main events of this pay-per-view twin bill that boasts four world title fights. Charlo has held the WBC middleweight title since 2019 and reigned as the IBF junior middleweight champion from 2015 to '17. Charlo holds wins at 154 pounds against championship-level fighters including Cornelius Bundrage, Austin Trout and Julian Williams. Derevyanchenko has twice challenged for the IBF middleweight title in 2018 and '19, losing only to top-level opponents Daniel Jacobs and Gennadiy Golovkin. The 23-year-old Figueroa claimed the interim WBA 122-pound title with an eighth-round stoppage of Yonfrez Parejo last April, before successfully defending the title with a homecoming KO of Javier Chacon in Edinburg, Texas. After being upgraded to the "regular" titlist, Figueroa retained his belt after a 12-round draw against Julio Ceja last November. The southpaw Vasquez is coming off a stoppage win over Alejandro Moreno in February of 2020. Magdaleno vs. Cruz is an IBF title eliminator matchup of ShoBox alums currently ranked 10th and sixth, respectively.
The Other Main Event: Jermell Charlo (33-1, 17 KOs) vs. Jeison Rosario (20-1-1, 14 KOs) – WBC, WBA and IBF 154-Pound Unification Bout
Co-Feature: Mario Barrios (25-0, 16 KOs) vs. Ryan Karl (18-2, 11 KOs) – WBA Super Lightweight World Championship
Co-Feature: Daniel Roman (26-3-1, 10 KOs) vs. TBA – Super Bantamweight Bout
About: In the other main event of this two-part, six-fight pay-per-view telecast, Jermell Charlo will take on Rosario in just the eighth world title unification fight in the 154-pound division's history. It is also just the second fight with three super welterweight world title belts up for grabs. In January, Rosario upset Julian Williams to win the WBA and IBF titles. Last December, Charlo regained the title by stopping Tony Harrison. At stake is supremacy in a talent-rich division. The 25-year-old Barrios from San Antonio has held the WBA (regular) super lightweight title since September of 2019. His opponent Karl hails from Houston and is ranked No. 9 by the WBA. A regular sparring partner of Erislandy Lara and Jermell Charlo, Karl is trained by Ronnie Shields. Roman is a former unified super bantamweight champion, having held the WBA (Super) and IBF titles from 2019 to January 2020. Roman's 19-bout winning streak was snapped in January in a split-decision loss to Murodjon Akhmadaliev. Ranked in the top five by all four sanctioning bodies, Roman previously held the WBA title from 2017 to 2019.
October 10
Main Event: Sergey Lipinets (16-1, 12 KOs) vs. Kudratillo Abdukakhorov (15-0, 8 KOs) – IBF Welterweight Interim Title
Co-Feature: Xavier Martinez (15-0, 11 KOs) vs. Claudio Marrero (24-4, 17 KOs) – Super Featherweight Bout
Co-Feature: Malik Hawkins (18-0, 11 KOs) vs. Subriel Matias (15-1, 15 KOs) – Super Lightweight Bout
About: The 31-year-old Lipinets has won three significant fights in a row since his lone loss to Mikey Garcia, including a dominant stoppage that sent former word titlist Lamont Peterson into retirement. Uzbekistan's Abdukakhorov is coming off his biggest win to date over former world titlist Luis Collazo and is yet to taste defeat since turning professional in 2015. With Abdukakhorov ranked No. 1 by the IBF and Lipinets ranked No. 3, the winner will be in prime position to challenge the unified 147-pound world champion Errol Spence Jr. Sacramento's Martinez of the Mayweather stable is an exciting prospect who thrilled ShoBox viewers when he scored one of the quickest knockouts in the history of the series last November, while Marrero is a grizzled veteran who held the WBA interim featherweight title in 2017. Hawkins of the Mayweather stable is trained by Calvin Ford and a teammate of two-division world champion Gervonta Davis. Every one of Matias' 15 career victories as a pro has come by way of knockout, with his only setback a unanimous-decision loss to Petros Ananyan back in February.
October 24 – SHOWTIME/Premier Boxing Champions PPV
Main Event: Gervonta Davis (23-0, 22 KOs) vs. Leo Santa Cruz (37-1-1, 19 KOs) – WBA Super Featherweight World Championship/WBA Lightweight World Championship
About: This blockbuster main event will be contested at the super featherweight limit of 130 pounds. The winner of the match, however, will be in the unique position to earn world championships at 130 and 135 pounds on the same night. Two crowd favorites with massive followings will meet with Santa Cruz's newly won WBA (Super) 130-pound world title on the line. The unbeaten "Tank" Davis is a two-division world champion and reigning WBA lightweight titlist at the age of 25. He emerged as a bona fide star in 2019 with sold-out main event bouts in Baltimore and Atlanta. "El Terremoto" Santa Cruz is a four-division world champion who avenged his only professional loss to Carl Frampton. The stage is set for one of the best matchups that can be made in all of boxing. Both men are all-action fighters. Davis boasts a knockout percentage of .957 while Santa Cruz is one of the busiest punchers in the sport. The winner of this fight will rightfully earn a top-10 spot on the coveted pound-for-pound list.
November 28
Main Event: Chris Colbert (14-0, 5 KOs) vs. Jaime Arboleda (16-1, 13 KOs) – WBA Super Featherweight Interim Title
Co-Feature: Richardson Hitchins (11-0, 5 KOs) vs. Argenis Mendez (25-5-3, 12 KOs) – Super Lightweight Bout
Co-Feature: TBA
About: The WBA interim super featherweight champion Colbert has fought five times in the past 20 months. Arboleda of Panama earned a split-decision win over veteran Jayson Velez in a WBA junior lightweight eliminator in February. New York City's Hitchins of the Mayweather stable represented his parents' home country of Haiti in the 2016 Rio Olympic Games and Mendez is a former IBF Super Featherweight champion from the Dominican Republic.
December 12
Main Event: Nordine Oubaali (17-0, 12 KOs) vs. Nonito Donaire (40-6, 26 KOs) – WBC Bantamweight World Championship
Co-Feature: TBA
Co-Feature: TBA
About: France's Oubaali will be defending the WBC bantamweight world title for the third time. Donaire is the No. 1-ranked contender and fighting for his eighth world championship. A four-division titlist and former pound-for-pound mainstay, Donaire fought brilliantly in what many picked as 2019's Fight of the Year, a decision loss to Naoya Inoue. At age 37, Donaire is attempting to defy the belief that the smaller the fighter, the earlier the prime.
Check out more boxing news on video at The Boxing Channel 
To comment on this story in the Fight Forum CLICK HERE
Fireworks at the Bubble: Valdez TKOs Velez; KO Machine Berlanga Keeps on Rolling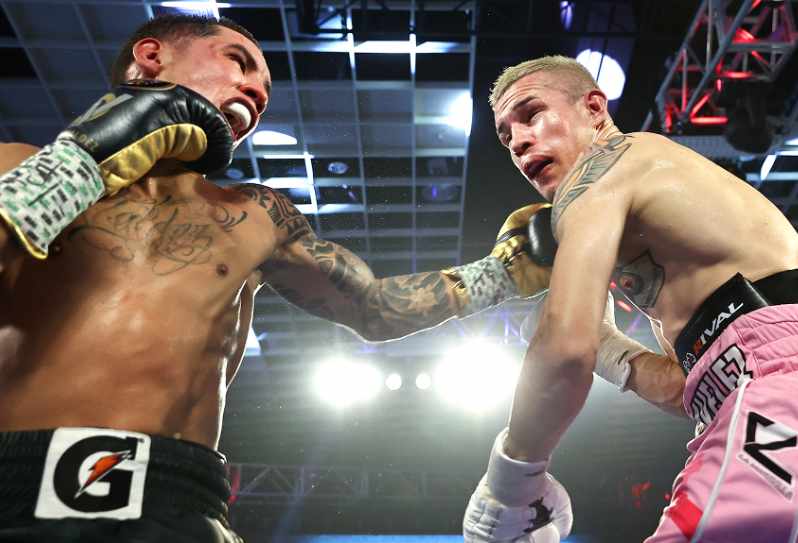 There were fireworks galore on Tuesday Night in the last installment of Top Rank's semi-weekly Summer Series on ESPN. Two devastating knockouts preceded the main event, a 10-round clash between former world featherweight champion Oscar Valdez and Jayson Velez.
In his second outing at 130, Valdez saved the best for last, stopping former world title challenger Velez at the 2:23 mark of round 10. Velez, who hadn't previously been stopped, having lasted 10 rounds with the likes of Golden Boy phenom Ryan Garcia, had good success early, but the tone of the fight changed in round five when Valdez put him on the canvas with a sweeping left hook.
In the final round, Valdez decked him again with a short left hook. When Velez rose on unsteady legs, Valdez bull-rushed him, knocking him through the ropes which prompted referee Tony Weeks to waive it off. Valdez, from Nogales, improved to 28-0 (22 knockouts) while setting up an all-Mexico showdown with WBC 130-pound world champion Miguel Berchelt. Velez fell to 29-7-1.
Other Bouts
Brooklyn super middleweight Edgar Berlanga did it again, moving to 14-0 with his 14th knockout, all in the first round! His opponent Eric Moon (11-3), came out fast but within seconds retreated to his back foot. The knockout punch, a chopping right hand, left Moon seriously discombobulated. The official time was 1:02.
Although he isn't a heavyweight, Berlanga is inevitably drawing comparisons to the young Mike Tyson. Tonight, he showed why he was the 2019 TSS Prospect of the Year.
In an 8-round contest, French-Canadian light flyweight Kim Clavell made a good showing in her U.S. debut. The undefeated Clavell (12-0, 2 KOs) won every round on all three scorecards against capable Natalie Gonzalez (6-1), a single mother of two from New Rochelle, New York. Clavel attracted notice earlier this year when she was named the Pat Tillman Award for Service winner at the 2020 Espy Awards for her work as a night shift nurse working with COVID-19 patients.
Junior welterweight Elvis Rodriguez, a 24-year-old southpaw from the Dominican Republic, forged his second straight one-punch knockout, knocking Dennis Okoth into dreamland with a straight left hand that penetrated Okoth's guard. Referee Tony Weeks didn't bother to count.
Rodriguez, who trains at Freddie Roach's Wild Card Gym, improved to 8-0-1 with his eighth knockout. Okoth, who had his first pro fight in his native Ghana, declined to 4-4-1.
In the opener, former WBO 122-pound world champion Isaac Dogboe improved to 21-2 (15 KOs) with an eighth-round stoppage of Chris Avalos (27-8). There were no knockdowns, but Dogboe had a point deducted in round five for a low blow, a curious call by referee Russell Mora.
Dogboe, born in Ghana and raised in London, was appearing in his first fight with trainer Barry Hunter in his corner. His only defeats have come at the hands of double-tough Emanuel Navarette. Avalos, a former two-time world title challenger, has lost five of his last six.
—-
There were originally seven bouts scheduled. An 8-round super middleweight rematch between Raphael Igbokwe and Genc Pilana was pulled from the card today when Houston's Igbokwe tested positive for the coronavirus.
Late Sunday evening, the heavyweight match between Guido Vianello and Kingsley Ibeh was scratched when Ibeh tested positive. Ibeh would have been making his third appearance in the Bubble.
—
Top Rank Boxing is taking a short break but will return in August. The August docket includes a very appealing light heavyweight contest between Eleider Alvarez and Joe Smith Jr. They are penciled in for Saturday, Aug. 22.
Photo credit: Mikey Williams for Top Rank
Check out more boxing news on video at The Boxing Channel 
To comment on this story in the Fight Forum CLICK HERE