The Avila Perspective, Chapter 41: Andrew Cancio, Welterweight Wars and More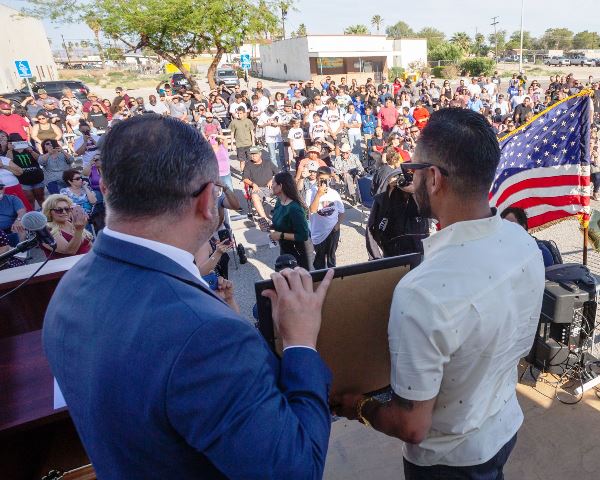 It was hail the conquering hero.
WBA featherweight titlist Andrew Cancio returned to his roots at Blythe, California, a small desert town located near the Colorado River; the same river that serves as the Arizona border and also supplies most of the drinking water for Southern California.
Now you can add Cancio to its list of significant contributions.
Before a crowd of more than 1,000 Blythians, the ceremonial key to the city was presented to Cancio on Tuesday. He's the first of many prizefighting predecessors to finally win a world title. Despite being a town of 20,000 inhabitants including seasonal workers, its denizens are pretty ambitious.
"It was very exciting to return home to Blythe to be honored by Mayor Reynolds and have my promoter Oscar De La Hoya present my world championship belt," said Cancio, who now lives in Ventura but still considers Blythe his home. "It was great to be among my family, friends and supporters to share this special occasion with them."
Blythe is a small town filled with ambitious citizens.
When I was at UCLA I met a few students from Blythe. Pound for pound they were anybody's equal and packed with ambition, drive and smarts. It was one of the reasons that I made the 200-mile trek to Blythe back in the early 2000s to meet Cancio, who at the time was an amateur standout.
Cancio wasn't the only boxer to venture out of the desert into the urban arena battles. Others had preceded like David Vasquez a hard-nosed fighter who sparred with champions such as Naseem Hamed, Acelino Freitas and anybody needing a guy with a rock chin. And then there's Blythe's Ysaias Zamudio who went to Japan and fought Yuri Arbachakov for the world flyweight title and then challenged Diego Morales for the world title at super flyweight.
One thing that distinguished Cancio from others is his popularity. If he fought anywhere in Southern California a caravan of fans would follow. In his last fight many of those in attendance were repeat ardent followers and when he knocked out Puerto Rico's Alberto Machado, an explosion of euphoria followed. It was like all 20,000 residents had suddenly performed the unthinkable and despite the odds captured the world title. Their celebration was spontaneous and infectious. Fantasy Springs Casino that night was filled with smiling faces.
Blythe will never forget the moment.
If they had been closer to their home town I could easily imagine them carrying Cancio around on their shoulders and holding parades as seen in the 1944 film "Hail the Conquering Hero" by Preston Sturges about a small town soldier returning from World War II to cheers and speeches.
Life imitates art and in this case life imitates prizefighting.
"I've always been a fighter, but now I'm a world champion. It feels cool to be able to bring this back home. This was my old stomping grounds, where I used to train. I'm so grateful for the fans I had before, and I'm so grateful for the fans I have now. I'm grateful for all of this," said Cancio.
No matter what happens tomorrow he remains Blythe's conquering hero.
Ryan's Song
Another desert town hero Ryan "The Flash" Garcia sold out Fantasy Springs Casino last Saturday and proceeded to win by knockout. It might be contagious.
Raised in the high desert town of Victorville, population about 120,000, Garcia has quickly become the idol of thousands if not millions if you go by his social media accounts.
Behind eye-popping speed and venomous punches Garcia has blasted through nearly everyone put in front of him. Now that he trains with Team Canelo he seems to have hit a learning curve and is more conscious of defensive tactics and patience.
Against Puerto Rico's Jose Lopez, a fighter with similar height, Garcia carefully spotted and developed an attack to dispatch the Boricua in less than three rounds. It's on to the next level for Garcia who wants a world title shot now.
But the matchmakers for Golden Boy Promotions know he needs time to fully grasp the defensive tactics taught by Eddy Reynoso and Jose Reynoso, the masterminds behind Saul "Canelo" Alvarez's success. But it's reasonable to assume he will get a world title shot if he continues his current success. His fandom is growing.
Pico Rivera
A boxing card at the Pico Rivera Sports Arena takes place this Saturday April 6. Red Boxing Promotions presents a lengthy string of bouts beginning at 6 p.m. One of the prospects included is Ireland's Stephen McKenna the 22-year-old brother of Aaron "The Silencer" McKenna. The older brother will be making his professional debut in a super lightweight match with Trey Branch.
The Southern California boxing promotion company has had a few boxing cards and drew raves for their production. This event will be outdoors so be prepared for a little cool night air.
For more information call (562) 695-0747.
Loma's coming
Vasyl "High Tech" Lomachenko defends the WBO and WBA lightweight titles against England's Anthony Crolla next week on Friday April 12 at the Staples Center in downtown Los Angeles.
It's an unusual time to put a marquee fighter like Lomachenko on a Friday night, but in the past, Los Angeles had big fights on Thursdays at the old Olympic Auditorium on many occasions.
Buy your tickets now. Lomachenko is one of the best fighters pound for pound in the world and it's a good opportunity to see him in action against a pretty good fighter in Crolla, a former champion who lost to Jorge Linares by decision.
It's an ingenious idea by Top Rank to put the boxing card on a Friday in the heart of Los Angeles.
Photo credit: Brandon Magpantay / Hogan Photos / Golden Boy Promotions
Check out more boxing news on video at The Boxing Channel
To comment on this story in The Fight Forum CLICK HERE
Juan Francisco Estrada KOs Carlos Cuadras; Chocolatito Wins Too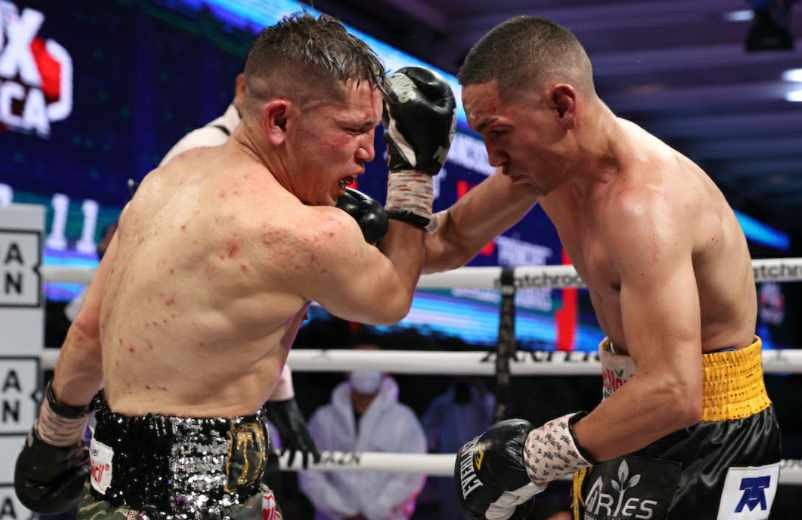 WBC super flyweight world titlist Juan Francisco Estrada led a triumvirate of world title fights with a sizzling knockout victory over Mexican rival Carlos Cuadras to retain the world title and set up a future clash with former foe Roman "Chocolatito" Gonzalez who won his bout in the co-feature.
In front of a small Mexico City crowd Estrada (41-3, 28 KOs) proved he could defeat Cuadras (39-4-1, 27 KOs) again and did it emphatically to retain his title by knockout. There was no squabbling about scorecards in this clash like their first encounter in 2017 that ended with Estrada by decision.
It did not begin well for Estrada who endured Cuadras imposing his strength and speed behind a very strong left jab in the first three rounds. And then a sneaky right uppercut followed by a left hook sent Estrada down for the count in the third round.
But that only proved to be a spark for the fighter known as "El Gallo."
Estrada realized he was falling behind, especially after the knockdown. Instead of counter-punching, the boxer from Sonora, Mexico began moving forward and became an aggressor. The dynamics of the fight changed suddenly.
Cuadras was hurt by a body shot in the sixth round and spent most of his time looking to avoid more contact. Estrada was in full control.
Despite the change in momentum no round was easy for either Mexican pugilist. Both exchanged freely always looking to end the fight with a big blow. Though each were hurt at times, neither showed signs of relenting.
From the eighth through the 10th round Cuadras seemed to find a second wind, or maybe it was desperation. The Mexico City native known as "Principe" fought possessed and managed to swing the momentum back toward his way for maybe two of those rounds.
In the 11th round both exchanged blows and Estrada connected with a left and right and down went Cuadras. The former world champion got up and was then floored with a counter right cross. He got up again a little shaky and Estrada attacked with a four-punch combination that forced referee Lupe Garcia to stop the fight for a technical knockout at 2:22 of the round.
Estrada retained the WBC super flyweight world title and will now meet Chocolatito.
Chocolatito
Nicaragua's Roman "Chocolatito" Gonzalez (50-2, 41 KOs) proved that an opponent like Mexico's Israel Gonzalez (25-3) can be faster, taller, longer and younger but the Nicaraguan will find a way to beat you. He did that with a convincing unanimous decision win after 12 rounds to retain the WBA super flyweight world title.
Chocolatito will now probably meet Juan Francisco Estrada for a long-expected rematch. In their first encounter back in 2012, the Nicaraguan won by decision in Los Angeles.
Chocolatito looked dominant in his ability to deflect the speedy combinations by the young Mexican fighter Gonzalez. Nothing worked against the Nicaraguan who skillfully manipulated his way through barrage after barrage and connected inside with body shots and uppercuts.
It was a masterful performance.
JC Martinez
Mexico City's Julio Cesar Martinez (17-1, 13 KOs) was defending his WBC flyweight world title against Moises Calleros (33-10-1) a virtual bantamweight weighing more than 7 pounds over the 112-pound flyweight limit. Even the extra weight could not help him.
In the first round, Martinez exploded with a blistering three-punch combination the sent Calleros to the floor dazed and confused. He beat the count and survived the round.
The second round wasn't too kind for Calleros who became the punching bag for the quick-fisted Martinez who opened up with a nine-punch salvo that forced the referee Cesar Castanon to end the slaughter at 2:42 of the second round.
Other Bouts
Diego Pacheco (10-0, 8 KOs) used his height and reach to score a knockout with a snapping right uppercut to the chin of Mexico's Juan Mendez (12-3-2) in a super middleweight fight. The end came at 2:02 of the second round with Mexican referee Rafael Saldana stopping the fight at the perfect moment.
Austin "Ammo" Williams (6-0, 5 KOs) powered through Esau Herrera (19-12-1) with body shots and combination punches to win by knockout in a middleweight battle. The end came at 1:36 of the fifth round.
Otha Jones III (5-0-1, 2 KOs) and Mexico City fighter Kevin Montiel (6-0-1) fought to a split draw after six rounds in a super featherweight clash. Both fighters started quickly with Jones having good rounds in the middle portion of the six-round fight, but he tired and allowed Montiel to rally from behind. The scores were split with 58-56 for Jones, 58-56 for Montiel and 57-57.
Photo credit: Ed Mulholland / Matchroom
Check out more boxing news on video at the Boxing Channel 
To comment on this story in the Fight Forum CLICK HERE
Boxing Odds and Ends: Fury's Next Opponent, Lomachenko Redux and More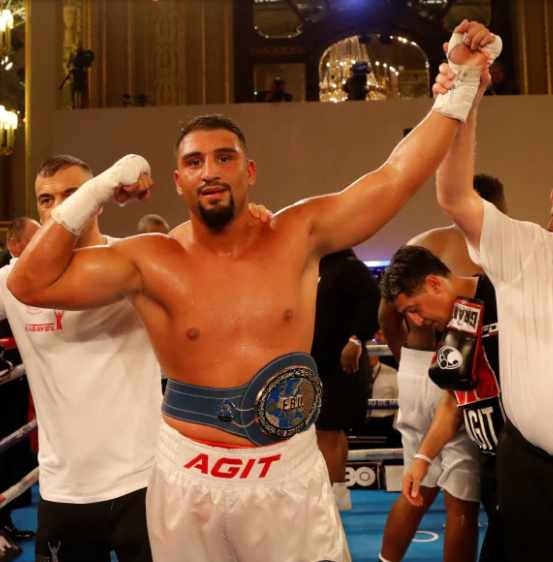 Boxing Odds and Ends: Fury's Next Opponent, Lomachenko Redux and More
It wasn't long ago that Bob Arum was talking about potting Fury-Wilder III at Las Vegas' new Allegiant Stadium in December. But Arum and his business partner Frank Warren have switched gears. Fury-Wilder III is on hold indefinitely.
According to Team Fury, Wilder invalidated the rematch clause in the Articles of Agreement for Wilder-Fury II by failing to activate it within the required time frame. That opened the door for Fury to choose a different opponent for his next fight. The frontrunners are reportedly Agit Kabayel and Carlos Takam. The fight is expected to come off in December in London.
Agit Kabayel, a 28-year-old German of Kurdish descent, is 20-0 (13 KOs). He came to the fore in November of 2017 when he upset dangerous but erratic Dereck Chisora, winning a 12-round decision at the Casino in Monte Carlo. In his most recent fight, in July of this year, he won a lopsided 10-round decision over an obscure opponent before a small gathering (per COVID policy) at a public park in Magdeburg.
Carlos Takam (39-5-1, 28 KOs) is best known for taking Anthony Joshua into the 10th frame before succumbing when they met three years ago this month at Principality Stadium in Wales. Takam was called in from the bullpen when Kubrat Pulev was forced to pull out with a shoulder injury.
In his most recent fight, the 39-year-old French-Cameroonian won a 10-round decision over unheralded Jerry Forrest at the MGM Bubble. As had been true when he was matched up against Joshua, Takam got the call when his opponent's original opponent fell out. Takam replaced Jarrell "Big Baby" Miller who failed his pre-fight drug test, as was his custom.
In the words of fight writer Kenneth Friedman, regardless of whether it's Kabayel (pictured) or Takam, "this will be a stay busy fight for Fury, and not one meant to be serious entertainment for the boxing public."
We appreciate boxing writers who refuse to sugarcoat, but this strikes us as a bit harsh. Kabayel can fight more than a little, and should he get the call he may prove to be as pesky as Otto Wallin.
Lomachenko
It has come out that Vasiliy Lomachenko was damaged goods heading into his bout with Teofimo Lopez. He had a shoulder ailment that forced him to miss a week of training in the gym. This past Monday, Oct. 20, the noted orthopedic surgeon Dr. Neal S. ElAttrache – the head team physician for the LA Dodgers and LA Rams – put Lomachenko under the knife.
Dr. ElAttrache told Yahoo! boxing writer Kevin Iole that Loma had a bruised rotator cuff and a chipped piece of cartilage and that the injury was in the same area in his right shoulder where Vasiliy suffered a torn labrum in his bout with Jorge Linares in May of 2018.
Lomachenko's promoter Bob Arum said he had no knowledge that the Ukrainian was less than 100 percent. Neither did the bettors. Had the word got out, the wiseguys would have "steamed" the underdog.
We're reminded of the 1995 fight at the Caesars Palace outdoor arena between Oscar De La Hoya and the late Genaro "Chicanito" Hernandez. It leaked out that Hernandez had suffered a broken nose in his final sparring session and the odds favoring De La Hoya zoomed from 4/1 to 17/2.
In the sixth round, a punch from Oscar broke Hernandez's fragile nose. The blood came down in torrents, Hernandez quit at the conclusion at the round, and the bookies took a bath.
From a betting standpoint, injuries are far more relevant in an individual sport such as boxing than in a team sport. A heavy sports gambler of our acquaintance, now deceased, invariably bet on an NFL team missing one or more key players. "The back-ups were All-Americans too," he said by way of explanation.
The contract for Lomachenko-Lopez did not include a rematch clause. Teofimo has no interest in a rematch and has earned the right to move on. However, we would bet that most fight fans would love to see them go at it again. Lomachenko is expected to be fit to resume his regular training regimen in January.
Davis vs. Santa Cruz
"In what is being billed as a 50/50 fight…." reads a SHOWTIME press release heralding the forthcoming match between Gervonta "Tank" Davis and Leo Santa Cruz.
What an interesting choice of words. Who exactly is it that is billing this as a 50/50 fight? Certainly not the bookies. As of Friday, Oct. 23, Davis was anywhere from a minus-460 to minus-680 favorite at prominent betting establishments offshore. (For the sake of convenience, let's just say that Gervonta is a 5/1 favorite.)
No, this is hardly a 50/50 fight, at least not in the view of the bet-takers who have no choice but to be transparent. But in defense of SHOWTIME, this is an intriguing contest between a brash upstart who has yet to taste defeat and a 32-year-old veteran who has suffered only one defeat in 39 starts, a defeat that he avenged.
Gervonta Davis (23-0, 22 KOs) will walk right through Leo Santa Cruz if he fights as well as he did against Jose Pedraza in 2017. But if "Tank" fights as he did later that year against Francisco Fonseca, Santa Cruz (37-1-1, 19 KOs) will make it warm for him.
Davis vs. Santa Cruz will play out on Halloween before a live audience in the San Antonio Alamodome. It is the main attraction of a PPV event with a suggested list price of $74.99. It will be interesting to see what numbers it draws since the show goes head-to-head against an ESPN+ card featuring the U.S. debut of Naoya "Monster" Inoue.
Leonard Ellerbe, the CEO of Mayweather Promotions, which handles Tank Davis, has predicted that Davis will someday command "Mayweather money." He bases this not merely on Davis's talent, but on his large social media following. The 25-year-old Baltimorean has a big presence among the hip-hop crowd.
At stake in the Davis vs. Santa Cruz fight are a pair of WBA titles hitched to different weight classes. One of the belts at stake is the WBA lightweight title.
Hey, wait a second, didn't Teofimo Lopez just win this very same title?
In Deadwood, South Dakota, one can visit the saloon where Wild Bill Hickock was shot dead while playing poker. Or one can walk down the street and visit a different saloon that claims to be the place where Hickock was shot dead while playing poker.
WBA president Gilberto Mendoza doesn't own those two saloons, but he could have.
Check out more boxing news on video at the Boxing Channel 
To comment on this story in the Fight Forum CLICK HERE
Avila Perspective, Chap. 110: Chocolatito, Lipinets and More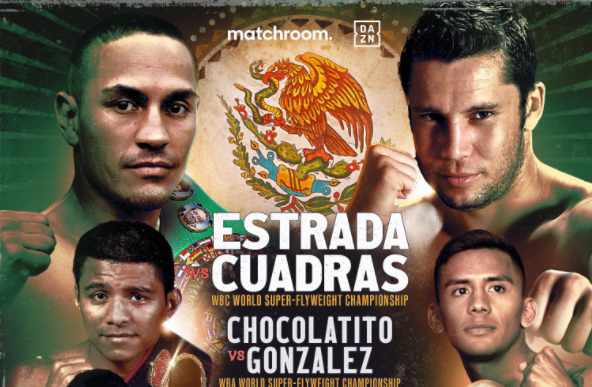 Avila Perspective, Chap. 110: Chocolatito, Lipinets and More
In the middle of the former Aztec Empire, now called Mexico City, a series of super flyweight world championships will be staged for the entire world to see on Friday.
If this were the 1500s there would be blood. This is 2000, there will be knockouts.
Leading the charge WBC super flyweight titlist Juan Francisco Estrada (40-3, 27 KOs) defends against former champion Carlos Cuadras (39-3-1, 27 KOs) at Gimnasio TV Azteca in Mexico City. Also joining will be Nicaragua's Roman "Chocolatito" Gonzalez, the WBA super flyweight world champ. DAZN will stream the card live.
Both Estrada and Cuadras want another crack at Chocolatito.
This is the second time around for the Mexican fighters. Estrada won their first encounter when they met at the StubHub Center in Carson, California. Cuadras just could not pull the trigger. Blame it on Estrada.
Cuadras, 33, has more to lose than just consciousness. The fighter known as "Principe" will be fighting in his hometown. That's bad for business to lose in from of your home boys especially if you talk as much smack as Cuadras.
Northern Mexico's Estrada, now 30, handily defeated Cuadras three years ago but views the Mexico City native as a stepping stone to his true target Chocolatito. The fighter known as "Gallo" wants revenge.
Back in 2012, in the city of Angels, "Chocolatito" Gonzalez and Estrada met at the old Los Angeles Memorial Sports Arena. That arena no longer exists but the memories of their encounter blazed its way to most fight fans brain cells. Although under-publicized, it was one of the best fights of that decade.
Nobody knew much about Estrada at that time, but Gonzalez was in the middle of a triumphant run toward becoming the best recognized fighter "pound for pound" in the world. He would reach it against Cuadras of all fighters. But against Estrada the Nicaraguan master fighter nearly was toppled.
The several thousand fans in attendance knew they had witnessed a classic. Many wanted to see a rematch. If both win on Friday, it's likely that rematch will take place early next year.
Chocolatito
Gonzalez (49-2, 41 KOs) meets Israel Gonzalez (25-3, 11 KOs) of Los Cabos, Mexico. Many fans thought Chocolatito was done when he lost twice to Thailand's Sor Rungvisai. It was the knockout loss that seemed to be the clincher. But he found a solution training in the desert sands of Coachella, California and now he's back stronger than ever.
Chocolatito ripped the WBA world title away from Khalid Yafai last February and that left fans speechless. But at 33 how much is left for this 115-pound warrior?
What better place than Mexico City to discover who emerges from the smoke?
It was here in Mexico City, formerly known as Tenochtitlan, that the Aztec empire ruled over much of North and Central America. Battles were held constantly just for practice. True story. The Aztecs would have practice wars to keep up their killing skills and lives would be lost. It still remains one of the world's greatest fight capitals.
Another bout features WBC flyweight world titlist Julio Cesar Martinez (16-1, 12 KOs) the fiery Mexican City fighter defending his throne against Moises Callero (33-9-1, 17 KOs).
The card on Friday night will be a strong one. Don't miss it. It all begins at 4 p.m. PT on DAZN.
Showtime
Former super lightweight titlist Sergey Lipinets (16-1, 12 KOs) moves up a weight division and battles Canada's Custio Clayton (18-0, 12 KOs) for the interim IBF welterweight title at the Mohegan Sun Casino in Uncasville, Conn. Showtime will televise.
Lipinets, who trains in Los Angeles, has long sought another title shot at super lightweight and now heads into the welterweight realm and finds himself facing a Canadian fighter. You never know how good these guys are until they step in the boxing ring.
Also, on the same card, undefeated Xavier Martinez (15-0, 11 KOs) meets former world champion Claudio Marrero (24-4, 17 KOs) in a 12-round super featherweight match. Martinez, 22, may not be ready for the super slick Marrero but the Californian hasn't had much trouble so far.
Fights to Watch
Thursday Oct. 22, UFC Fight Pass 7 p.m. Luis Torres (8-0) vs Orlando Zepeda (9-1).
Fri. Oct. 23, DAZN, 4 p.m. Roman Gonzalez (49-2) vs Israel Gonzalez (25-3); Juan Francisco Estrada (40-3) vs Carlos Cuadras (39-3-1); and Julio Cesar Martinez (16-1) vs Moises Calleros (33-9-1).
Fri. Oct. 23, Telemundo, 11:30 p.m. Belmar Preciado (20-3-1) vs Rodolfo Hernandez (30-9-1).
Sat. Oct. 24, Showtime 7 p.m. Sergey Lipinets (16-1) vs Custio Clayton (18-0).
Check out more boxing news on video at the Boxing Channel 
To comment on this story in the Fight Forum CLICK HERE