Josh Taylor is the Real Deal But Will Have His Hands Full Against Baranchyk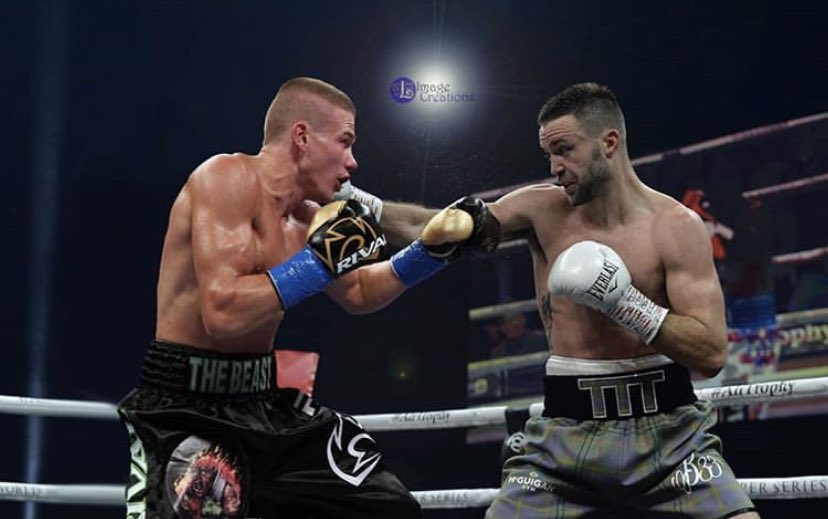 To properly understand the mindset of the British boxing promoter, one could do worse than to heed the recent words of legendary fight-maker Frank Warren.
"The fighters made the fight," he remarked off-handily of the forthcoming clash between British heavyweight prospects Daniel Dubois and Nathan Gorman. "Neither one of them would pull out."
While it might be the logical thinking of anyone holding only a passing familiarity with the boxing industry that it is the job of fight promoters to make the fights that the public want to see, in the United Kingdom, oftentimes nothing is further from the truth. The job of the British fight promoter is essentially to identify talent and enrich it and in the course of enriching it, enrich himself.
The approach taken by Josh Taylor and his embattled promoter Barry McGuigan can be seen to be refreshing, then. In entering the WBSS 140lb tournament Taylor knew that before he had amassed fifteen fights he would, at some point, be called upon to put it all on the line. That time has come as the Edinburgh born Scotsman (pictured on the right in this simulation) prepares to match Belarusian Ivan Baranchyk (19-0) in the semi-final of that tournament this coming Saturday at the SSE Hydro in Glasgow. At stake is an alphabet strap, but more pertinently, a chance to fight and emerge victorious and then win the final of the tournament, a feat which would see a new 140lb king legitimized and promised a seat at the pound-for-pound table.
For now, the significant matter of Taylor-Baranchyk, a clash between the second and seventh best light-welterweights in the business according to TBRB.
Baranchyk's nickname, "The Beast" seemed promotionally optimistic until last March when he stepped out of the shadowy world of eight-rounders staged in Oklahoma (he had long since departed his short-lived Minsk stronghold) and stepped in with the legitimately dangerous and formerly ranked Petr Petrov. Baranchyk swept Petrov before him, dropping him three times and brutalizing him along the ropes, forcing the referee's intervention.
He was even more impressive in dispatching unbeaten southpaw Anthony Yigit later that year in the quarter finals of the 140lbs WBSS. This tournament excelled in shining a light on unfashionable but talented fighters and the meeting between Baranchyk and Yigit was a superb example. Yigit is a talented, quick-handed fighter who had every reason to believe his own talent could carry him to the semi-finals and beyond, but in Baranchyk he was presented with a difficult foil.
Aggressive and rough, Baranchyk dominated his undefeated opponent with two-handed bursts, and the expert roughhousing of a much more storied professional. But he is no thug. Defense-splitting lead-uppercuts are punctuated by his own impressive dipping defense; Baranchyk, big at the weight, broad and strong in appearance, does not seem to love these evasive maneuvers though. His heart is in firing back and his legs, for all that he can use them for mobility, are in pressure. Hit him, he hits you. Look for him, you will find him.
Whether by way of skillful punch-picking, swarming aggression, or dark-arts, Barnchyk had already marked up Yigit's left eye by the end of the second. In the third he deployed a merciless body attack.  Baranchyk strayed low; Yigit waved him in but after seven torrid rounds, he was pulled by the ringside doctor, his left eye by then grotesquely swollen shut. He had not won a round on my card.
I was left with the impression that Yigit, the recipient of forearms to the back of the head, rabbit-punches to the back of the head, a low blow, as well as numerous well-executed punches to head and body, was physically incapable of coping with the ceaseless offense that Baranchyk has at his disposal.
Josh Taylor then, has his hands full.
I have described Taylor on these pages as "absolutely real." Readers will hopefully forgive the sweeping yet indistinct nature of the statement in light of the fact that Scotland has never had such a fighter during my adult lifetime and that, as a Scotsman, this is an exciting truth. Ricky Burns was better than he is now generally given credit for and carried a heart as big as any modern pugilist, Scott Harrison carried a belt but was ravaged by the hardly unique yet all too commonly Scottish failing of savage indiscipline; Taylor shows none of these proclivities. He is a boxer that impresses other fighters with his ceaseless energy; he is addicted to shadow-boxing rather than alcohol and has a rare and unbridled sporting ambition which has brought him to the edge of stardom.
He also has technical ability far in excess of any seen on these shores since the heyday of the great lightweight Ken Buchanan, a comparison which is being made less and less quietly.
While he was being torn to pieces, Yigit proved that Baranchyk could be hit. He has too much width on his swarming – though timed – attacks for it to be otherwise. Taylor, on the other hand, is packed as tight as a drum. Sweeping shots, including a picture-perfect left hook, are not eschewed during his smooth, angled attacks, but he goes straight-down the middle as suddenly and as well as any fighter not named Lomachenko. This is a huge boon against a fighter like Baranchyk, and although he will not walk into the Scotsman's shots, he is available for excellent punches. Taylor will likely look to move, to keep the Belarusian off him early, before, if necessary, descending into the dangers of the pocket in an attempt to repel Baranchyk's mauling pressure with cleaner punches.
Furthermore, although Baranchyk thrived upon the deepening chaos that surrounded Yigit, he looked fatigued by the end of the seventh round. Taylor's engine is proven; the accompanying and inevitable gut-check at high-octane pace is perhaps the final test before Taylor, should he be victorious, meets the legitimately world-class Regis Prograis in the final. That is a Fight of the Year contender in the making.
"I have seen a lot that I can exploit," he told Boxing Social of Baranchyk earlier this week. "He's very tough, he applies the pressure and he lets his hand go with venom in every shot. I'm expecting a tough fight, especially early on…but it'll take a very special fighter to beat me."
Taylor has properly appraised his opponent and has also predicted a stoppage. It would be foolish, not to mention unpatriotic of me to disagree with him.
Chief support is provided by a fighter who has already reached the heights Taylor hopes to reach: The Monster, Naoya Inoue, boxes in his own WBSS semi-final against Emmanuel Rodriguez, the world's number six bantamweight. Taylor-Barnachyk promises a grueling, excellent fight, but it is possible the main-event will be blown away by the penultimate contest.
Whatever the detail, and it is not often I get to say this, the fight world's capital this coming Saturday is Glasgow.
Check out more boxing news on video at The Boxing Channel
To comment on this story in The Fight Forum CLICK HERE
Three Punch Combo: The Fight That Could Steal the Show This Weekend and More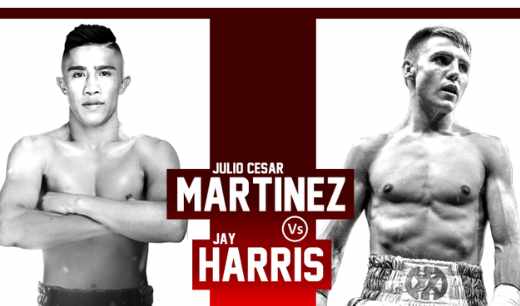 THREE PUNCH COMBO — Boxing returns to DAZN on Saturday with a massive card from The Ford Center at the Star in Frisco, TX. This venue, which serves as the indoor practice facility for the Dallas Cowboys, will play host to a significant welterweight bout when Mikey Garcia (39-1, 30 KO's) returns to the ring to face Jessie Vargas (29-2-2, 11 KO's). Also on the docket is a much anticipated 115-pound title fight between champion Khalid Yafai (26-0, 15 KO's) and former pound for pound king Roman "Chocolatito" Gonzalez (48-2, 40 KO's). While I love both of these contests, it is another title fight on this card that I think may steal the show.
Fresh off his destruction in December of Cristofer Rosales to capture the WBC flyweight crown, Julio Cesar Martinez (15-1, 12 KO's) returns to the ring to make his first title defense against the undefeated Jay Harris (17-0, 9 KO's).  Given their respective styles, we are all but guaranteed to see non-stop action from the opening bell to whenever the contest concludes.
As I have previously noted in these pages, Martinez is an absolute non-stop pressure fighter who rarely takes his foot off the gas. Possessing above average hand speed and heavy-handed power, he simply looks to break his opposition down with his combination of pressure and power. And thus far it has worked to the tune of him becoming a world champion in just 16 fights.
One difference between Martinez and other pressure fighters is the way that Martinez uses angles to find ways to land precision power shots. He will often switch fluidly between the orthodox and southpaw stances to create these angles.
Like many other pressure fighters, Martinez has a tendency to abandon defense for his own offense. He actually takes it to the extreme, often coming forward with his hands down along with no head movement. At some point, he is going to pay for this lack of attention to defense. Could it come against Harris?
After a short but solid amateur career, Harris turned pro at 23 in 2013 and has moved along steadily. He is coming off his two best wins against former world title challenger Angel Moreno and former amateur standout Paddy Barnes. In each of those fights, Harris showed steady progression and seems well poised for that next big step-up in competition.
Harris is a traditional boxer-puncher by trade but has shown tendencies to get into firefights. He is technically sound and likes to work behind a solid left jab to set up his power punching combinations. Harris possesses decent hand speed and, like Martinez, can be a solid accurate puncher.
In the aforementioned fight against Barnes, Harris showed some solid power in his left hook. He knocked Barnes down twice with the left hooks to the body, the second of which finished him off in the fourth round.
Martinez is going to bring the fight to Harris. But I think Harris is skilled enough to provide resistance and give back as good as he gets. If I am right, this is going to be one fan-friendly fight that could ultimately compete for fight of the year.
Some Thoughts on the Judging of McKenna-Mimoune
For those not familiar, MTK Global is running eight-man single elimination tournaments across several different weight classes in the UK with the winner in each weight class being awarded a lucrative management contract. This past Friday in London saw the semi-finals in both the featherweight and 140- pound divisions. And as so often happens in boxing, one of the contests, a 140-pound bout between Tyrone McKenna (21-1-1, 6 KO's) and Mohamed Mimoune (22-4, 3 KO's), ended in a controversial decision. McKenna was the beneficiary, winning the ten-round fight on all three cards.
My card sided with Mimoune. I had the fight 96-94 in his favor. However, unlike the commentators and many on social media, I was far from outraged that McKenna was given the nod.
This may sound overly simplistic, but we need to keep in mind that fights are scored on a round by round basis. Each round is its own separate entity. And sometimes a round is won big by a fighter but scored just 10-9 in their favor without knockdowns. This would be the same score if that same fighter had just edged out that round.
In the case of McKenna-Mimoune, we saw Mimoune take control of the fight late and win many of those later rounds by a substantial margin. To be honest he completely dominated those rounds.
But in the early going, there were many close rounds that were hard to score. McKenna seemed to edge a couple and some were frankly a coin flip. If the judges sided with McKenna for those close rounds, and it appears they did just that, then there is a clear path to him getting the decision.
For me, this was somewhat reminiscent of Foreman-Briggs which I also thought was not a robbery. Maybe the scoring system in boxing needs to be changed but that is a topic for another day. I don't think given the scoring system in place for this sport that the McKenna-Mimoune decision was all that outrageous.
What's Next For Emanuel Navarrete?
This past Saturday, on the undercard of Wilder-Fury II, 122-pound champion Emanuel Navarrete (31-1, 27 KO's) stopped tough Jeo Santisima (19-3, 16 KO's) in the eleventh round. It was Navarrete's fifth title defense in less than a year. So, what is next for the popular and busy Navarrete?
First off, I think we have seen the last of Navarrete at 122. It was well documented during the PPV broadcast that Navarrete was struggling to make the weight. In addition, there are political boundaries that need to be crossed in order to make any big fights for Navarrete at 122. So, a move north to featherweight is seemingly inevitable.
Top Rank, which co-promotes Navarrete, does have a champion at featherweight in Shakur Stevenson. But Stevenson is a prized young fighter and there is no way Top Rank puts him anywhere near Navarrete. Not in a few months or even a few years. And as with the 122-pound division, there are political boundaries standing in the way of putting Navarrete in with the other featherweight champions at this time.
So, with no immediate title fight realistically available for Navarrete at featherweight, I think Top Rank looks to put him in with a ranked contender. And I think the most logical option is Christopher Diaz (25-2, 16 KO's) who is also tied in with Top Rank.
Diaz himself was once a highly-thought-of young fighter but an upset loss to Masayuki Ito for a 130-pound title belt in 2018 sent Diaz's career sideways. He dropped down to featherweight after that loss where he has two wins sandwiched around a one-sided loss on points in a ten-round contest with the aforementioned Stevenson.
Diaz needs a jolt to his career and, frankly, Top Rank is probably nearing the end of the road with him. So, this can be viewed as a final opportunity for Diaz and a fight I think he jumps at if offered. And it's an easy sell to the fans as Diaz on paper would certainly represent the best opponent for Navarrete since his two fights with Isaac Dogboe.
I think it's very likely that we see this fight on a Top Rank platform sometime this spring or summer.
Check out more boxing news on video at The Boxing Channel 
To comment on this story in The Fight Forum CLICK HERE
The Gypsy King Destroys Wilder; Wins on a TKO in 7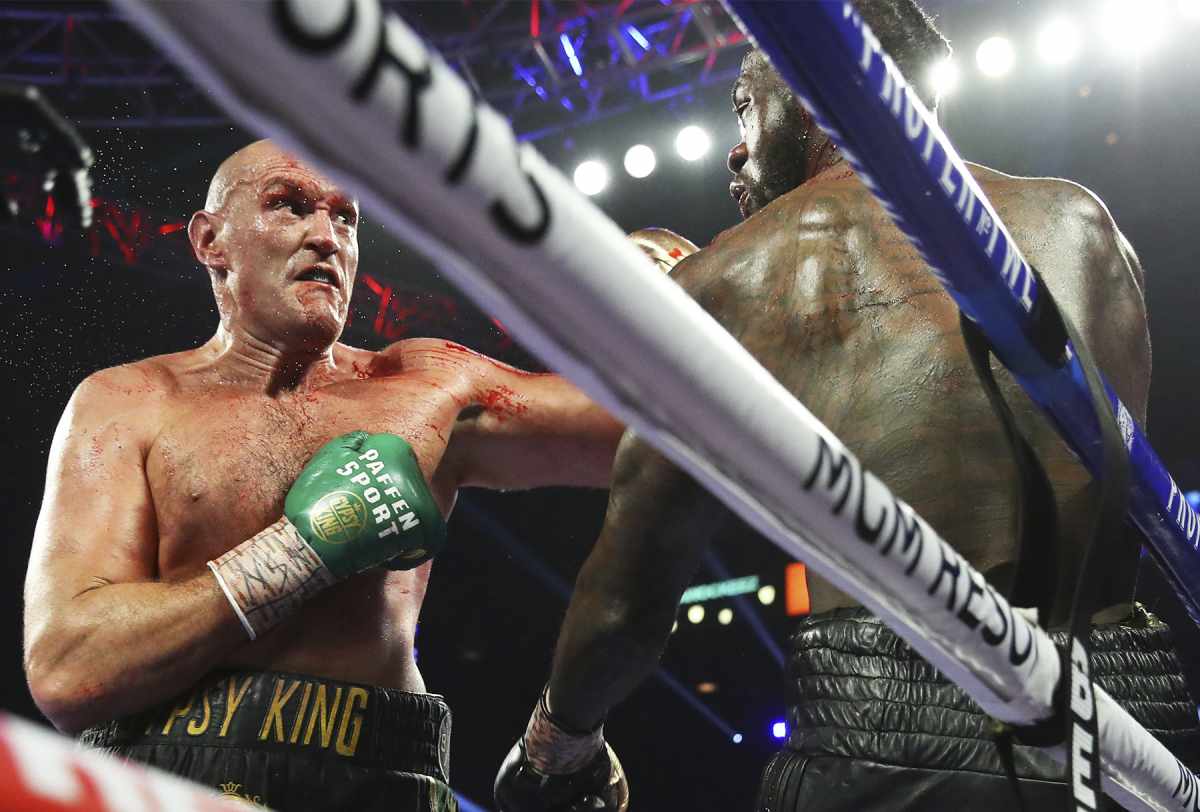 Fury Destroys Wilder; Wins on a TKO in 7
Las Vegas, NV — The late New York sportswriter Dick Young once wrote that there is no greater drama than in the moments preceding the opening bell of a world heavyweight title fight. In Young's day, there weren't four world sanctioning bodies, let alone three, and a world heavyweight title fight was front page news in all the tabloids.
Tonight, there was only one title belt at stake (okay, two if one counts the lineal diadem), but the tension was thick inside the MGM Grand Garden arena as Deontay Wilder and Tyson Fury, recognized in many quarters as the two best heavyweights in the world, made their ring entrances.
Fury entered the ring on a throne to the tune of Patsy Cline's "Crazy," an odd choice but somehow appropriate. It was an entrance that set a new bar for flamboyance. He looked supremely confident and with his namesake "Iron" Mike Tyson looking on, he delivered the goods with a smashing performance that ended at the 1:37 mark of round seven when the white towel of surrender was thrown in from Wilder's corner.
At the opening bell, Fury came out of his corner with a rush and had Wilder fighting off his back foot. In round three, the Gypsy King decked Wilder with a punch that seemed to land behind his ear and may have resulted in Wilder suffering a busted eardrum.
Fury scored another knockdown in round five with a left to the body. Later in the round, referee Kenny Bayless docked Fury a point for what was apparently hitting on the break.
Fury dominated the sixth and it was more of the same in the seventh until Wilder's corner saved him from suffering more punishment. Fury improved to 30-0-1 with his 21st knockout. Wilder suffered his first defeat in 44 pro starts.
The crowd was pro-Fury and typical of any boxing crowd with a large body of Brits, very boisterous. At the conclusion, many sang along as the Gypsy King serenaded the crowd with a version of Don McLean's "American Pie." It was an event that will linger long in memory.
Photo credit: Mikey Williams for Top Rank
Check out more boxing news on video at The Boxing Channel 
To comment on this story in The Fight Forum CLICK HERE
Full Undercard Results from the Wilder – Fury Card at the MGM Grand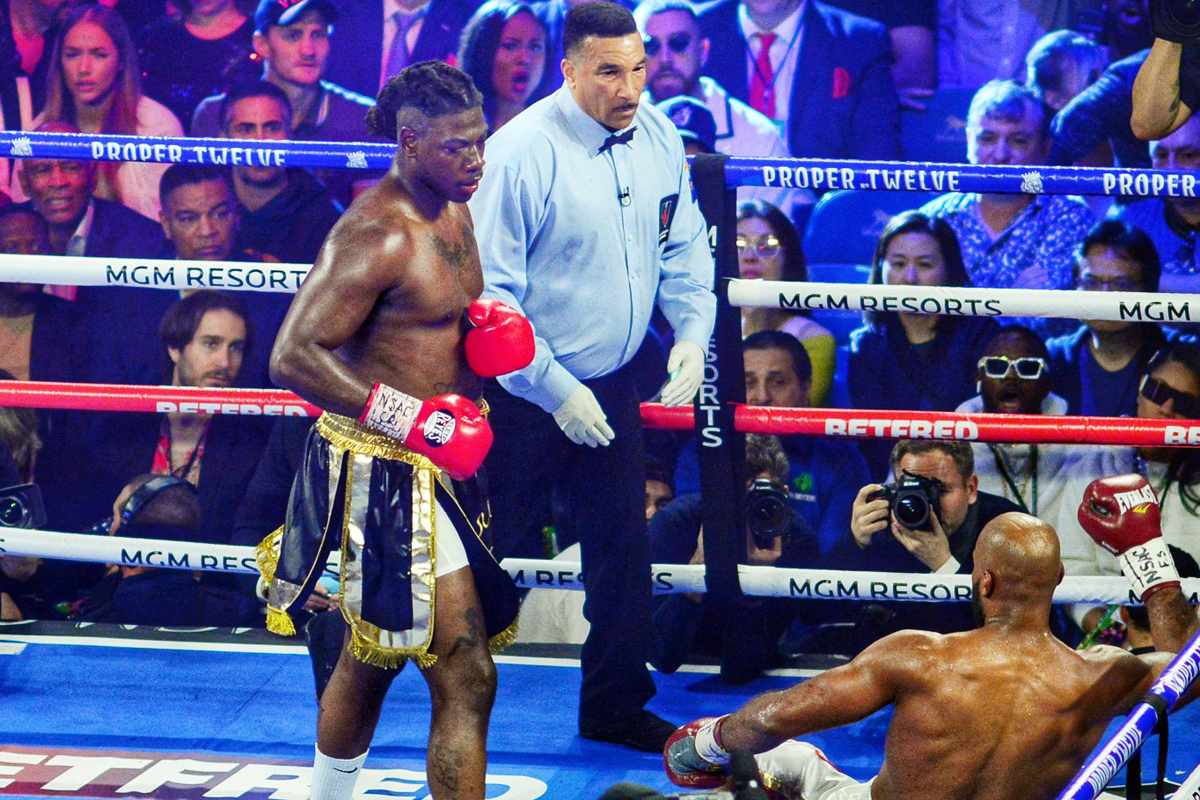 Full Undercard Results from the Wilder – Fury Card at the MGM Grand
Las Vegas, NV — Tonight's mega-fight between undefeated heavyweights Deontay Wilder and Tyson Fury was buttressed by a nine-fight undercard. The prelim accorded the status of the semi-main was a heavyweight contest between Californians Charles Martin and Gerald Washington billed as an IBF title eliminator.
Martin formerly held the IBF belt. Anthony Joshua sheared it from him, ending Martin's title reign after only 85 days, the shortest in history. Martin, a southpaw, appears to have improved since then. Tonight he scored a one-punch knockout, knocking Washington on the seat of his pants in the second minute of the sixth round with a straight left hand, bringing a sudden conclusion to what had been a rather drab affair. Washington beat the count but was in no condition to continue and referee Tony Weeks waived it off. Martin advanced to 28-2-1 with his 25th knockout. Washington, a 37-year-old Navy veteran and former USC defensive end, fell to 20-4-1. All four of his losses have come by stoppage.
WBO world 122-pound title-holder Emanuel Navarrete, 31-1 (27 KOs) extended his winning streak to 26 with an 11th-round stoppage of Jeo Santisima (19-3). Navarrete, a busy bee who is big for his weight class, was making the fifth defense of the title he won in December of 2018. In the 11th, Navarrete took a breather, lying with his back against the ropes, and then rushed after Santisima with a storm of punches that forced referee Russell Mora to intervene. Santisima, making his first start outside his native Philippines, had won 17 straight coming in since starting his career 2-2. Mora, in the estimation of many, should have stopped the fight a few punches sooner.
Junior middleweight Sabastian Fundora, a 22-year-old southpaw nicknamed The Towering Inferno, improved to 14-0-1 with a 10-round unanimous decision over Australia's Daniel Lewis (6-1). Lewis is listed at 5'10", but at the weigh-in, the 6'6" beanpole Fundora appeared to be at least a foot taller. Lewis, a 2016 Olympian had his moments getting inside Fundora's long reach, but ate too much leather as he pressed the action. The scores were 99-91, 98-92, and 97-93.
In a junior welterweight contest shortened from 10 to eight rounds, former U.S. Olympian Javier Molina scored a mild upset over former world title challenger Amir Imam, winning a unanimous decision. The scores were 79-73 and 78-74 twice. The 30-year-old Molina improved to 22-2. Imam, who lost for the third time in 24 starts, was making his second start under the Top Rank banner since shaking loose of Don King.
In a great action fight in the welterweight class, Petros Ananyan, a 31-year-old Brooklyn-based Russian, came on strong in the late rounds to score a 10-round upset over previously undefeated Subriel Matias. Ananyan (15-2-2) rocked Matias with four chopping rights followed by a left hook in round seven. The ropes kept Matias from falling and referee Robert Byrd properly called it a knockdown. Puerto Rico's Matias had won all 15 of his previous pro fights inside the distance.
Gabriel Flores Jr, a 19-year-old lightweight from Stockton, CA, remained unbeaten with a wide 8-round decision over Matt Conway of Pittsburgh, PA. Flores, 17-0 (6 KOs) knocked Conway (17-2) to the canvas in the opening round, but the Pennsylvania lad hung tough and had his moments in a contest that was more competitive than the final scores (79-72, 80-71 twice) indicated.
Featherweight Isaac Lowe, a neighbor and training partner of Tyson Fury in Morecambe, UK, improved to 20-0 (6 KOs) with a lopsided 10-round unanimous decision over Mexico's Alberto Guevara (27-6). It was an ugly scrum in which both fighters had three points deducted for a variety of infractions. Lowe effectively sealed the win when he knocked Guevara down with a short left in the eighth frame. The scores were 95-88 and 96-87 twice.
Las Vegas native Rolando Romero improved to 11-0 (10) with an impressive second round stoppage of Arturs Ahmetovs in a junior welterweight contest slated for eight rounds. Romero knocked Ahmetovs down twice, first with a straight right and then with a left hook before the bout was stopped at the 1:22 mark.  It was the first pro loss for Akhmetovs (5-1), a 30-year-old Latvian now based in Delray Beach, FL.
In a 4-round welterweight contest, Vito Mielnicki Jr, a 17-year-old phenom from Roseland, NJ, improved to 5-0 with a unanimous decision over Corey Champion (1-3). Mielnicki knocked Champion to his knees in a neutral corner in the waning seconds of round one, but Champion made it the final bell. The scores were 40-35 across the board.
Photo credit: Al Applerose
Be sure to check back in for a full review of the Wilder vs Fury II Main Event.
To comment on this story in The Fight Forum CLICK HERE