Manny Pacquiao Defies Father Time, Whips Thurman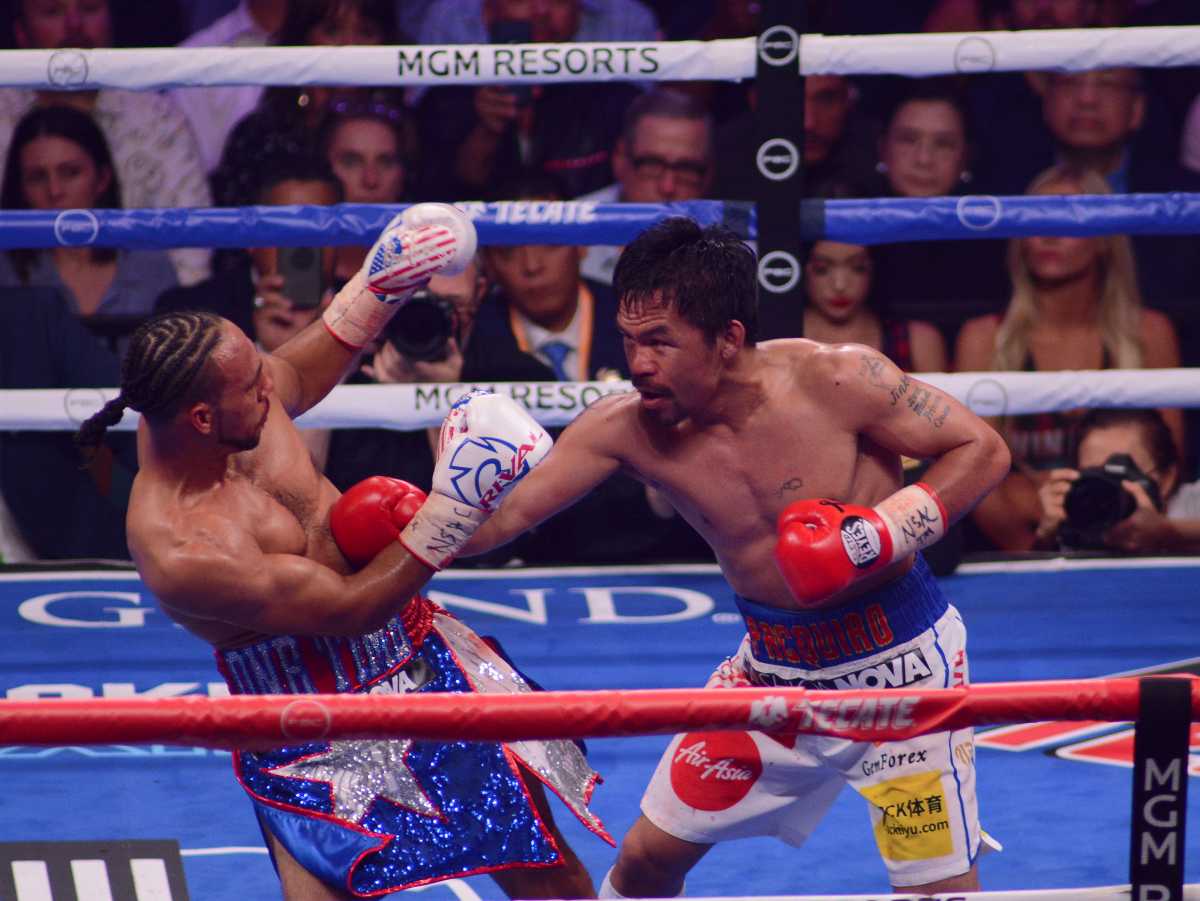 Manny Pacquiao Defies Father Time, Whips Thurman
LAS VEGAS-Father time, hold on.
Manny Pacquiao knocked down Keith Thurman with his electrifying speed in the first round then managed to keep the lead and defeat Keith Thurman by split decision and retain the WBA welterweight world title Saturday. It was one exciting firefight.
Pacquiao showed the young guns he still has bullets left in the chamber.
The pride of the Philippines, Pacquiao (62-7-2, 39 KOs) also showed he still has star attraction and startling speed in front of the crowd of 14,356 at the MGM Grand. And he still has enough in the gas tank to defeat a young powerhouse like 30-year-old Thurman.
But it was razor close.
Pacman jumped to the lead in the first round with a sizzling combination capped by a lightning right hook that floored a surprised Thurman. The Florida fighter smiled while getting up.
"He caught me when I was moving back," said Thurman. "After that knockdown it was just a numbers game."
For the first five rounds Pacquiao bedazzled Thurman and the fans with his jitterbug style that has confused dozens of opponents in more than 20 years as a professional. But once he slowed down, Thurman began connecting and connecting.
Thurman had never tasted defeat and used a body attack to slow down the rushes by Pacquiao. It proved effective and from rounds six through nine the taller Thurman was connecting on a slower moving Pacquiao.
Just when it looked like Thurman was about to take over with body shots and rights in the 10th round, Pacquiao stopped the onslaught and unleashed a multiple-punch rally including a powerful left to the body that buckled Thurman who was visibly pained by the body blow. Somehow he hung on as Pacquiao unfurled a barrage of blows in search of the killing blow he once knew so well. Thurman survived.
"I felt like I was grabbing some momentum back. I felt like I needed to possibly get a knockdown," Thurman said. "But definitely I was obviously hurt in that round.  I tried to push him to his limit and he came up on top."
Pacquiao was able to carry over the momentum to the 11th round by targeting Thurman's weakened body. But at 30 years old the Floridians recovery time was quick and he was able to stave off Pacquiao's attacks with well-placed right counters.
In the final round Thurman kept pressure on the shorter Pacquiao who seemed a little tired and careful about getting caught with Thurman's sharp right counters. The fight ended without serious further altercations.
Judge Glenn Feldman scored it 114-113 for Thurman while judges Dave Moretti and Tim Cheatham tabbed it 115-112 for Pacquiao who retains the WBA welterweight title by split decision.
Once again the record-making eight-division world champion Pacquiao defied the ageing process with a victory over another younger world champion. If naysayers felt retirement was overdue he proved once again that he is one of the wonders of prizefighting.
"He's a good fighter, he's strong," said Pacquiao. "We did it for the fans. I'm sure they were happy tonight. Even though it was close he's not an easy opponent, he's strong."
Thurman was gracious in defeat.
"I knew it was close," said Thurman. "This is a beautiful night for boxing. Manny Pacquiao is a great, great champion. I wish I had a little bit more as he was getting tired, but it was a great night for boxing."
"This guy is a fighter," said Pacquiao. "I think I can rank this like a (Antonio) Margarito fight, an Oscar De La Hoya fight, a Juan Manuel Marquez fight and Marco Antonio Barrera fight. You saw what we did in the ring, it's the first time I encountered an opponent like Keith Thurman. Keith hits like Margarito. I think because he was too big for me and heavy handed."
Caleb Plant
IBF super middleweight titlist Caleb Plant had predicted Mike Lee was not a true challenge and then proved it with three rounds of domination to win by technical knockout in the third round.
Plant floored a hyper Lee in the first round with a left hook but the Chicago fighter shook it off. The second round was better for Lee who managed to land some blows against the speedy Plant but still lost the round. Worse things were in store for Lee.
Las Vegas-based Plant opened the third round with two quick jabs and rifled a right cross missile that dropped Lee with a thud. The former Notre Dame football player got up enthusiastically ready for more and Plant obliged with a check left hook and down went Lee again. Luckily for Lee, referee Robert Byrd missed the knockdown and called it a slip. Lee couldn't get up right away but managed to gather himself. When the fight resumed Plant zipped a right cross and down went Lee hard. Referee Byrd stopped the fight without a count though Lee angrily disagreed with the stoppage.
Plant was deemed the winner by technical knockout at 1:29 of the third round to retain the IBF super middleweight world title. It was his first title defense since winning it earlier this year in Los Angeles against Jose Uzcategui.
"I've been telling you it's not going 12," said Plant. "I take my hat off to Mike, it takes a true man to go in the ring."
The Tennessee native said he's ready for anyone whether it's a super middleweight or light heavyweight.
"I ain't hard to get ahold of, just come to Las Vegas," said Plant.
Nery KOs Payano
In a tough battle between southpaw sluggers for the WBC Silver bantamweight title Mexico's Luis Nery (30-0, 24 KOs) finally solved Dominican's Jose Carlos Payano (21-3, 9 KOs) by directing his big blows to the body to win by knockout in the ninth round. It was Nery's 11th consecutive knockout win.
"He had a complicated style but I adapted by the sixth round and went to the body and focused on that," said Nery who lives and trains in Tijuana, Mexico.
After back and forth blows for nine rounds Nery caught Payano with a crackling left to the body and down went Payano for more than five minutes. The Dominican was counted out by referee Vic Drakulich at 1:43 of the ninth round.
Ugas wins Ugly
If not for a point deducted Cuba's Yordenis Ugas (24-4, 11 KOs) would have won every round over Texas fighter Omar Figueroa (28-1-1, 19 KOs) but he had to settle for winning by unanimous decision in winning the eliminator for the WBC welterweight title.
It was an ugly fight.
The first round looked good for Ugas who nailed Figueroa with a wicked overhand right. Figueroa was saved from hitting the floor by the ropes and the referee wisely called it a knockdown. But after that, darkness and frustration set in as Figueroa hugged his way inside and Ugas showed he did not how to fight at close distance. Instead of fighting he held and held until referee Russell Mora took a point away in the fifth round.
Figueroa's charges inside were ineffective for 11 rounds as both were unable to allow a fight to break out. After 12 rounds all three judges scored it the same 119-107 for Ugas. It was Figueroa's first loss as a pro.
Lipinets
Former super lightweight world titlist Sergey Lipinets faced last-minute replacement Javar Inson, a southpaw, and knocked out the Filipino fighter with a counter left hook in the second round. It was advice that his new trainer Joe Goossen had directed him to do.
"(Joe Goossen) is an exceptional trainer. He just wanted me to make sure I block his punches with my elbows and just counter," said Lipinets.
During a exchange of blows Lipinets countered with a left hook that Inson did not see and was dropped for a knockdown. Referee Jay Nady looked at his eyes and stopped the fight at 57 seconds of the second round for a technical knockout win for Lipinets.
"You never know what to expect because you train for one style and get another. He was looking for it. A great fighter executes what he expects," said Goossen.
Other Bouts
Nigeria's Efe Ajagba (11-0, 9 KOs) out-punched Turkey's Ali Eren Demirezen (11-1,10 KOs) over 10 rounds to surprisingly win by unanimous decision instead of by knockout. Both heavyweights entered the ring with prodigious knockout records but neither was able to knock the other down. Two judges scored it 99-91 and a third 97-93 for Ajagba.
Photo credit: Al Applerose
Check out more boxing news on video at The Boxing Channel
To comment on this story in The Fight Forum CLICK HERE
Canelo Alvarez Returns to Form; Proves Too Strong for Jermell Charlo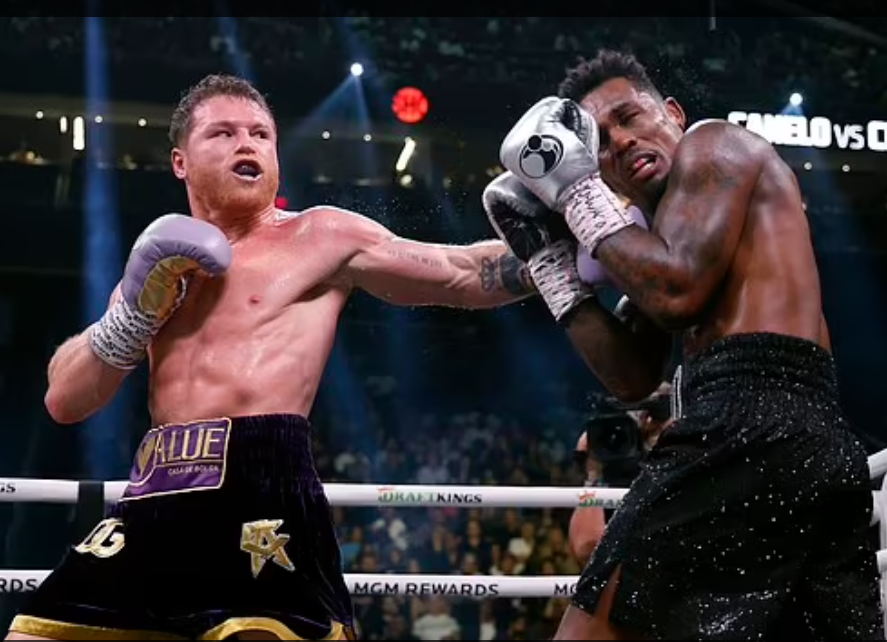 Canelo Alvarez Returns to Form; Proves Too Strong for Jermell Charlo
Daring to be great does not guarantee success.
Mexico's Saul "Canelo" Alvarez powered his way past fellow undisputed but lighter world champion Jermell Charlo for a unanimous decision in front of a pro-Mexican crowd who cheered every attack by their champion on Saturday.
The difference in weight proved daunting.
A seemingly refreshed Alvarez (60-2-2, 39 KOs) returned to form in soundly defeating Houston's Charlo (35-2-1, 19 KOs) who fired back like the champion he is at the T-Mobile Arena. More than 60 percent of the crowd seemed overwhelmingly pro-Canelo.
It was Canelo's night and he was not going to disappoint.
Though his recent performances had been subpar, the real Canelo showed up looking sharp from the opening bell. He was not underestimating Charlo, a fellow pound-for-pound fighter according to many boxing publications.
After a tenuous opening round the fight slipped into its real rhythm in the second round as the taller and more slippery moving fighter decided to engage. While inside the range of fire, Charlo opened up with jabs and a crisp left hook. Canelo stalked the taller fighter and connected twice with combinations to the head and body. Neither fighter was hurt. Charlo showcased a fast triple jab. But when he tried to clinch, he was tossed away like a dangling tree branch by the stronger Alvarez.
It was a telling moment.
"I'm a strong fighter all the time. Nobody can beat Canelo," said Alvarez.
In the third round Alvarez fired three rapid jabs and a right to the body that left the crowd in a collective exasperation. A right uppercut by Charlo connected and he was met by Canelo attacking the body viciously. Charlo held on twice.
It became apparent that Charlo could not handle Alvarez's power and strength inside the pocket. And whenever he clinched he was met by powerful left hook shots to the body and a right to the head.
Charlo showed a very good chin and resilience despite getting pounded occasionally by the Mexican redhead's body attack. It's why he was undisputed super welterweight champion.
The fighter from Houston was gambling that he could match wits against boxing's biggest draw. He was gambling that Alvarez's recent performances were proof that he was ready to be toppled. And Charlo was not going to shy away from the fire.
The lanky Texas fighter showed brilliant speed and solid defense to go along with his championship heart. In the seventh round. Canelo pressured Charlo against the ropes with three jabs and a quick right to the forehead, followed by a right uppercut to Charlo's chin. After a few seconds Charlo dropped to a knee for the count. He survived.
"We worked on that. He's a great fighter and knows how to work in the ring," said Alvarez.
For the remainder of the match, Alvarez remained in stalking mode and Charlo looking to counter with left hooks and an occasional right uppercut. Nothing seemed to work for Charlo who was hoping the rise from 154-pounds to 168-pounds would not prove a problem. It was.
After 12 rounds all three judges scored in favor of Alvarez 119-108, 118-109 twice. He retains the undisputed super middleweight world championship. Charlo will go back down to super welterweight where he reigned supreme.
"I wasn't me tonight. This is boxing. Sometimes you win, sometimes you lose," said Charlo who was knocked down for only the second time in his career. "Truthfully, you can tell the difference in the weight."
Alvarez hugged Charlo after the fight and told him he respected the gamble Charlo accepted in moving up.
"I love boxing so f——g much. Boxing is my life," said Alvarez.
Other Bouts
In a battle between reluctant contenders, Erickson Lubin captured the win by unanimous decision over Arizona's Jesus Ramos to maintain his place in line for a world title match.
"I stuck to the game plan. We came back with the victory tonight," said Lubin.
"I was in control of the fight. I'm one of the top dogs in the division."
Both super welterweights seemed hesitant to open up with any semblance of combinations. Lubin countered while Ramos worked the body with jabs. After 12 low-key rounds Lubin was declared the winner by scores of 115-113, 116-112, 117-111.
Ramos was surprised but never really formed an all-out attack.
"I was trying to show different dimensions to my game," Ramos said. "Maybe a little bit more pressure."
Mario Barrios (28-2, 18 Ks) put it all together and defeated Yordenis Ugas (27-6, 12 KOs) in a battle between ex-world champions. That left jab and left hook did all the work in picking apart Cuba's excellent fighter Ugas.
"I just concentrated on my jab," Barrios said.
Knockdowns by Barrios in the second and twelfth round proved emphatically the difference between the two former champions.
"All the work I put in paid off. Early on he hurt me with a right liver shot," said Barrios who trained in Las Vegas with Bob Santos. "I knew he was coming with it. I was prepared."
A counter left hook dropped Ugas twice.
Arizona's Elijah Garcia (16-0, 13 KOs) out-slugged Mexico's Armando Resendiz (14-2, 10 KOs) in a spirited middleweight battle and stopped the fighter in the eighth round. The 20-year-old southpaw from Phoenix connected with a powerful right hook that Resendiz did not see and that ended the regional title fight at 1:23 of the eighth round.
"He was 100 percent my toughest opponent," said Garcia.
To comment on this story in the Fight Forum CLICK HERE
Undercard Results from the Canelo-Charlo Card in Las Vegas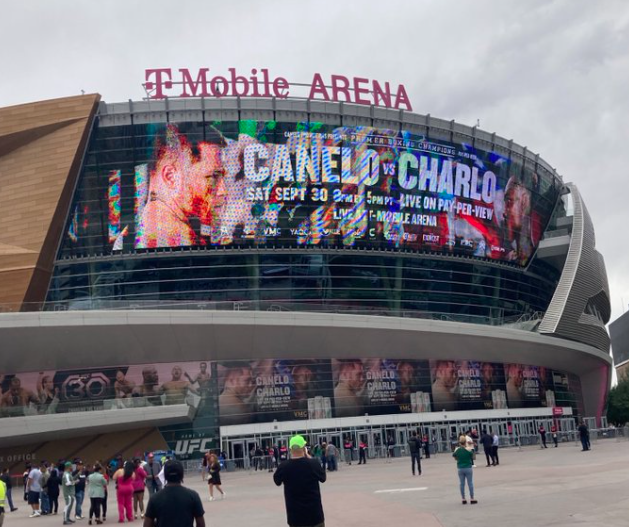 Undercard Results from the Canelo-Charlo Card in Las Vegas
In a heavyweight battle slated for 10, Frank Sanchez (23-0, 16 KOs) stopped LA trial horse Scott Alexander (17-6-2) after four frames. Alexander's corner attempted to stop it in the waning seconds of the fourth, but the referee did not see it and the bell rang before the fight was waived off.
Alexander had one big moment. In the opening round, he rocked Sanchez with a short right hand. But from there, it was all Sanchez in a rather messy fight.
A Miami-based Cuban defector, Frank Sanchez came in ranked #3 by the WBO, #4 by the WBC, and #5 by the IBF. His best win came in this building, a comfortable decision over Efe Ajagba in October of 2021. Alexander also fought here. In his previous visit to the T-Mobile, he was knocked out in the opening round by Zhilei Zhang.
Former WBO light heavyweight champion Oleksandr Gvozdyk, in his third fight back since ending his retirement, improved to 20-0 (16) with a second-round stoppage of 38-year-old Brazilian Isaac Rodrigues (28-5). Gvozdyk, 36, left the sport after getting beat up by Artur Beterbiev, but got the itch and is pursuing a fight with Dmitry Bivol.
In an 8-round middleweight fight, 2012 U.S. Olympian Terrell Gausha (24-3-1) won a majority decision over Keandre Leatherwood (23-9-1). The judges had it 76-76 and 78-74 twice. Once a highly regarded prospect, Gausha is spinning his wheels. Leatherwood, from Tuscaloosa, Alabama, had been stopped four times.
Guadalajara super lightweight Gabriel Gollaz Valenzuela advanced to 28-3-1 (17 KOs) with a sixth-round stoppage of overmatched Colombia import Yves Gabriel Solano (15-3).  This was redemption of sorts for Valenzuela who lost an unpopular 12-round decision to Montana Love in his last outing inside these walls.
Kazakh super middleweight Bek Nuramaganbat (11-0) continued his fast ascent of the 168-pound ladder with a third-round stoppage of Bola Osundairo. A 30-year-old Chicago-based Nigerian, Osundairo was a 2021 USA National Champion at 178 pounds.
A four-round middleweight contest between Abilikhan Amankul (4-0-1, 4 KOs) and Joeshon James (7-0-2, 4 KOs) ended in a draw. Although he didn't win, Sacramento's James continued to exceed expectations. In previous contests he KOed previously undefeated Richard Brewart and fought to a draw with Top Rank signee Javier Martinez. Amankul, a 26-year-old Kazakh, lost a split decision to eventual gold medal winner Hebert Conceicao in the Tokyo Olympics.
To comment on this story in the Fight Forum CLICK HERE
—
David Avila is ringside. Check back later for his report of the Canelo-Charlo fight and the main supporting bouts.
Opetaia Demolishes Thompson in London; Wallin Upsets Gassiev in Turkey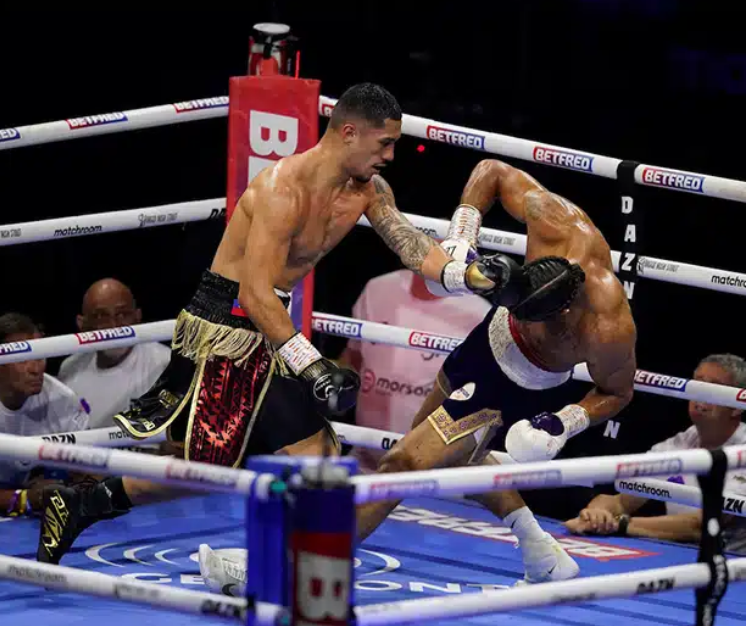 In his first defense of his IBF cruiserweight title, Australian southpaw Jai Opetaia demolished overmatched Jordan Thompson in the featured bout of a Matchroom card at London's Wembley Arena. Opetaia (23-0, 18 KOs) overwhelmed Thompson (15-1) from the opening gun and had the six-foot-six Mancunian on the canvas twice before the match was waived off at the 20-second mark of round four.
An Olympian at the age of 16, Opetaia won the title 15 months ago with a unanimous decision over longtime title-holder Mairis Briedis. Noting that Opetaia broke his jaw in two places early in that contest, prominent Australian sporting journalist Simon Smale called it "one of the bravest, gutsiest, victories in Australian boxing history."
Following that fight, Opetaia had to eat through a straw for several months. Hence, there were questions about whether his jaw would hold up and whether he would show ring rust in his first title defense. But the towering Thompson, whose nickname is Troublesome, although game, proved to be no trouble whatsoever for Opetaia who would be favored to beat any cruiserweight in the world, no matter the locale.
Opetaia may return to England for his next fight which would be a unification match with Bournemouth's 18-1 Chris Billam-Smith who captured the WBO version of the 200-pound title in May with a surprisingly one-sided decision over favored Lawrence Okolie. The other cruiserweight title-holders are the well-traveled Badou Jack (WBC) and the French-Armenian boxer Arsen Goulamirian (WBA).
Four female fights were on the undercard including two 10-rounders, both of which were won by the "A side" Englishwomen.
In her first title defense, Ellie Scotney, a 25-year-old Londoner, retained her IBF world super bantamweight title and improved to 8-0 at the expense of 37-year-old Argentine veteran Laura Soledad Griffa (20-9). In a rather monotonous fight, Scotney won every round on two of the scorecards and nine rounds on the other.
Rhiannon Dixon, a 29-year-old southpaw, had a surprisingly easy time with Norwegian veteran Katharina Thanderz, a former world title challenger. Dixon (9-0) won every round on all three cards. Thanderz, who trains in Spain, declined to 16-2.
Wallin-Gassiev
In a 12-round heavyweight fight in Antalya, Turkey, Swedish southpaw Otto Wallin (26-1, 14 KOs) won a split decision over Murat Gassiev (30-2). This was a dull fight. Owing to various issues, Gassiev had answered the bell for only eight rounds in the previous seven years and his vaunted power had deserted him. True, he landed the harder punches, but Wallin, who kept pecking away with his jab, was far busier and won the fight on volume alone. Two of the judges had it 115-113 for the Swede who is 6-0 since going 12 rounds with Tyson Fury. The other judge scored it for Gassiev by a bizarre 117-111.
Opetaia-Thompson photo credit: Mark Robinson / Matchroom
To comment on this story in the Fight Forum CLICK HERE