Holmes-Spinks I: The Grassy Knoll for Boxing's Conspiracy Theorists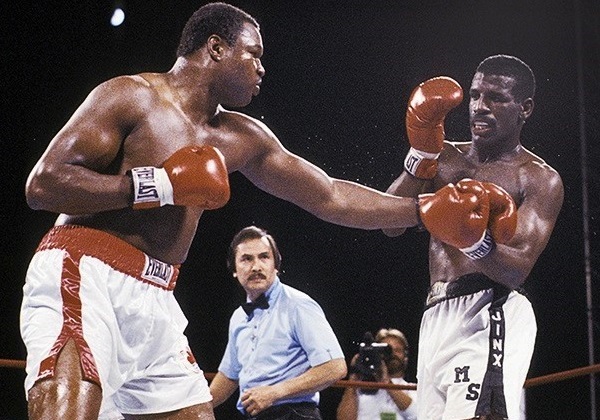 The most enduring of American conspiracy theories involves a gunman who may or may not have existed and may or may not have been on a grassy knoll in Dallas' Dealey Plaza the afternoon of Nov. 22, 1963. The assassination of President John F. Kennedy, the subject of numerous speculative books and movies, all of which involve some individual's ironclad take on what happened, why it happened and who was involved in making it happen, will always be grist for the mill for those still dissecting that national tragedy. More than a few of those arguments dispute the Warren Commission's official conclusion that presumed killer Lee Harvey Oswald acted on his own and not in concert with unidentified, shadowy figures.
On a more recent and lesser scale, a raft of conspiracy theories arose in the wake of the alleged Aug. 10 jailhouse suicide of multimillionaire sex offender Jeffrey Epstein, whose list of celebrity acquaintances includes two presidents of the United States and even a member of the British royal family. As was the case when nightclub owner Jack Ruby fatally shot Oswald before he could go on trial, conspiracy theorists on all sides have conjectured whether Epstein's suspicious death was actually a hit and, if so, ordered by whom?
Boxing, with its blemished past dotted by nefarious power brokers and decisions that sometimes defy logic, also has provided conspiracy junkies with ample material to analyze and debate. Olympic boxing, often characterized as a cesspool of corruption, immediately comes to mind. So does the Sept. 10, 1993, majority draw in which WBC welterweight champion Pernell Whitaker, whom almost everyone without an official scorecard saw as the clear victor, was obliged to settle for a dissatisfying standoff with crowd favorite and Mexican national hero Julio Cesar Chavez in a bout that drew a live crowd of 60,000 or so in the Alamodome in San Antonio, Texas. Although Whitaker retained his title on the draw, he and his outraged supporters were convinced the outcome was predicated more on the WBC, headquartered in Mexico City, exerting behind-the-scenes influence to ensure that Chavez came away with his undefeated record still intact. Irrefutable truth is often difficult to pin down in such matters, but the 55-year-old "Sweet Pea," who died after being struck by a car on July 14, went to his grave believing he had been cheated out of a deserved triumph that would have further embellished his Hall of Fame legacy.
Given its historical implications, what is arguably the grassy knoll of boxing remains the Sept. 21, 1985, pairing of long-reigning heavyweight champion Larry Holmes and undisputed light heavyweight titlist Michael Spinks, who was attempting to become the first (or maybe not) 175-pound champ to move up in weight and capture his sport's most prestigious and lucrative prize.
Spinks – who came away with a razor-thin and controversial 15-round unanimous decision — was bidding to do something no other light heavyweight had ever done, although there are those who cite Tommy Burns, who outpointed heavyweight champ Marvin Hart over 20 rounds on Feb. 23, 2006, as the first 175-pound titlist to accomplish the feat. In any case, since Burns, 13 light heavyweight champs had tried and failed in their bids to become king of the heavyweights, a list that included such ring legends as Billy Conn, Archie Moore and Bob Foster.
Given the fact that the 35-year-old Holmes was making his 20th title defense and was widely considered as one of the best heavyweight champions of all time, he was installed as a prohibitive favorite over Spinks, who was not only bucking tradition but the perceived limits of his own body. Even respected Los Angeles Times sports columnist Jim Murray, noting that Spinks had weighed in at 199¾ pounds – heavier than such legendary heavyweight champions as and Jack Dempsey and Rocky Marciano ever did for title bouts – went a bit overboard in writing that the challenger looked "like a blowfish" and that his weight gain was accelerated by a 4,500-calorie-a-day diet that might be "all right for a guy getting ready to play Henry the Eighth."
But Spinks' bulking-up process was not the result of having scarfed down a bunch of French fries, chocolate milkshakes and doughnuts, but rather the calculated machinations of New Orleans-based fitness coach and nutritionist Mackie Shilstone, whose then-unorthodox methods would soon gain wider acceptance but then were seen by the boxing establishment as, well, somewhat bizarre.
"We have a scientific, unique program that is secret – a program that was developed specifically for Michael, using techniques that would be revolutionary for boxing," Shilstone said to the bemusement of hidebound traditionalists.
Spinks, whose walking-around weight between light heavyweight matches was usually 10 pounds or so above the division limit, said he was already familiar working with Shilstone – to shed unwanted pounds.
"Mackie had already helped me lose weight to get down to light heavyweight," Spinks said when contacted for this story. "He told me that if I wanted to fight Larry Holmes for the heavyweight championship, he could help me put the weight on the right way. And that's what he did. He also said he wouldn't take anything from what I already had, in terms of what I did well as a light heavyweight, that I still would be able to do all that as a heavyweight. He was right, too. I was as fast as a heavyweight as I was as a light heavyweight."
Unlike Conn, Moore, Foster and other light heavyweight champs who made no secret of their ambition to storm and conquer the heavyweight division, Michael admits to initially lacking the burning desire to replicate the feat of his older brother and fellow 1976 Olympic gold medalist Leon Spinks, who dethroned WBC/WBA heavyweight champion Muhammad Ali via 15-round split decision in a monumental upset on Feb. 15, 1978. Leon had always been naturally larger than Michael, never weighing less than 194 pounds for any of his first 23 outings as a pro. The mere notion of moving up to heavyweight seemed unlikely and more than a bit risky to Michael, who figured he would continue to do what he'd already been doing, which was to dominate all comers at light heavy.
It was Butch Lewis, who promoted both Spinks brothers, who determined that Michael going to heavyweight was not only doable, but highly advisable financially.
"Butch told me I could fight Larry Holmes for the heavyweight championship," the younger Spinks recalled. "I was, like, `What?' He said, 'Yeah, and you can beat him.' I said, `You really think so?' And he said, `Absolutely.'
"Butch (who was 65 when he died of a heart attack on July 23, 2011) had faith in me, so I took that and ran with it."
Maybe what bottom-line Butch had was absolute faith in the economic realities of boxing, which always hold that heavyweight champions are vastly better-compensated than their light heavyweight counterparts. Consider these numbers: Michael Spinks' purse for his final light heavyweight defense, an eighth-round stoppage of Jim MacDonald on June 6, 1985, was a relatively paltry $100,000, a pittance compared to the $1.1 million contract he signed to challenge Holmes.
Say what you will about the flamboyant Lewis, who was noted for wearing a tuxedo and bow tie but no shirt on fight night, but his steering of Michael Spinks' career was a case study on how to milk the system for every available dollar. It was Lewis who made the bold call, after Spinks had followed up his stunner over Holmes by outpointing the "Easton Assassin" on another close and controversial call, a 15-round split decision in the rematch seven months later, to hold Spinks out of the heavyweight unification tournament being put together by HBO Sports president Seth Abraham and promoter Don King. In doing so Spinks passed on a potential $5 million payday against eventual tourney winner Mike Tyson, but he was paid about the same amount to defeat the formidable Gerry Cooney, putting into motion a series of events that led to his June 27, 1988, megafight with Tyson in Atlantic City. OK, so Spinks didn't make it through the first round, but he received a career-high $13.2 million for what proved to be his final fight and only professional loss, a pretty nice parting gift when you get right down to it.
Holmes had his own potential date with destiny in that first clash with Michael Spinks. Were he to win, it would be his 49th consecutive victory without a loss, matching the record set by Marciano – ironically, against Archie Moore and, even more ironically, 30 years to the day after The Rock knocked out the Ol' Mongoose in the ninth round in what turned out to be his final fight.
In the lead-up to the fight at The Riviera in Las Vegas, for which members of the Marciano family were invited guests, Holmes seemed to chafe at constantly being compared to a beloved fighter who had died in a crash of a small private plane on Aug. 31, 1969. "I'm not fighting Marciano," Holmes complained. "He's dead. I never knew him. I'm fighting for Larry Holmes, for me, for what I can do for my family."
To Holmes, who was no stranger to the seven-figure club and who was down for a $3 million purse, there was a racial component to the constant comparisons to Marciano, who was white, much in the same manner that black baseball great Hank Aaron was the target of unfair and sometimes cruel criticism as he neared the sacrosanct record of 714 career home runs set by Babe Ruth. When Aaron passed Ruth by homering for the 715th time on April 8, 1974, the feat was celebrated by many Americans and baseball fans in general, but not by everyone.
Members of the Marciano family, who ostensibly had been summoned to congratulate Holmes in the event of his making it to 49-0, celebrated when the close decision for Spinks – by margins of 143-142 (twice) and 145-142 – was announced. That did not set well with Holmes, who felt such a display was disrespectful to him and, additionally, was the wrong call historically as long-reigning champions such as himself usually got the benefit of the doubt in close fights.
"I was robbed," Holmes, in announcing one of his several retirements from boxing that didn't stick, said at the postfight press conference, suggesting that alleged conspirators in influential places who finally had brought him down can "kiss me where the sun never shines," which meant "my big black behind."
Nor was Holmes any more disposed to be gracious to Peter Marciano, Rocky's younger brother and the foremost keeper of the "Brockton Blockbuster's" eternal flame. "You are freeloading off your dead brother," Holmes told Peter, tossing in the zinger that "Rocky couldn't carry my jockstrap."
Months later, after the heat of the moment had long since cooled down, Holmes, in most instances a respectful and thoroughly decent man, offered a public apology to anyone he might have offended with his earlier intemperate remarks.
"I'm sorry for what I said, for the way things came out," Holmes told a Boston reporter. "I don't want to take anything away from Peter or the Marciano family. I haven't slept for two months thinking about this.
"I've reached out to Peter Marciano. I'd like to get together with him, either in his town or mine (Easton, Pa.). There must be something that can be done to make this right.
"I have no hard feelings against Rocky Marciano. He was one of the greatest fighters of all time. His 49-0 record speaks for itself. If I hurt Marciano's family, I regret it."
What Holmes did not back away from, not then and not now, is his belief that he deserved to win both of his fights with Michael Spinks, with the first loss a thinly veiled and successful attempt to keep him from sidling up alongside the sainted Marciano.
"There was no doubt about it," he said of a decision he still regards as a cold slap in the face. "I knew what they were going to do to me. I knew if I didn't knock him out, I wasn't going to get the decision." Nor is he alone in that contention, just as there are Spinks partisans who are just as insistent that the judges got it right.
Asked if he thought then, or does now, that he did not receive all the credit he was due from Holmes and his other persistent proponents of the conspiracy theory that refuses to die, Spinks said it shouldn't matter at this point. The record book indicates he won, so that should be that.
"It was a close fight, but I did think I won," he reiterated. "There's no animosity between me and Larry. We get along. He's not really sore about it anymore. At one of his golf tournaments that I attended, he took the microphone and said something about how he'd lost to me, but that wasn't all bad because he made so much money for losing."
What Holmes wants to make clear more than anything is that he wants to forever bury any hint that race is or should still be a part of the discussion. He said there was too much of that in the past, and still too much now. He pointed out that Gerry Cooney, the white guy against whom his high-visibility fight was neatly divided into opposing racial camps, as well as Spinks have been regular participants in his charity golf tournament.
"Half of my family is white," Holmes pointed out. "I'm not a racist. I don't have anything against white folks or anybody else. My son is getting ready to be married in a couple of weeks to a white girl. My daughter is married to a white guy.
"I didn't really care about racial s— then, and to this day I don't care about it. Gerry Cooney is my friend. Now, I didn't like the decisions in my fights with Michael Spinks, but you can't dwell on that. You got to move past that."
Which might be one man's way of saying that any lingering ghosts on that figurative grassy knoll overlooking a boxing ring where a fight took place 34 years ago should finally be allowed to just fade away.
Check out more boxing news on video at The Boxing Channel 
To comment on this story in The Fight Forum CLICK HERE
Vergil Ortiz Jr KOs Brad Solomon at Fantasy Springs (plus Undercard Results)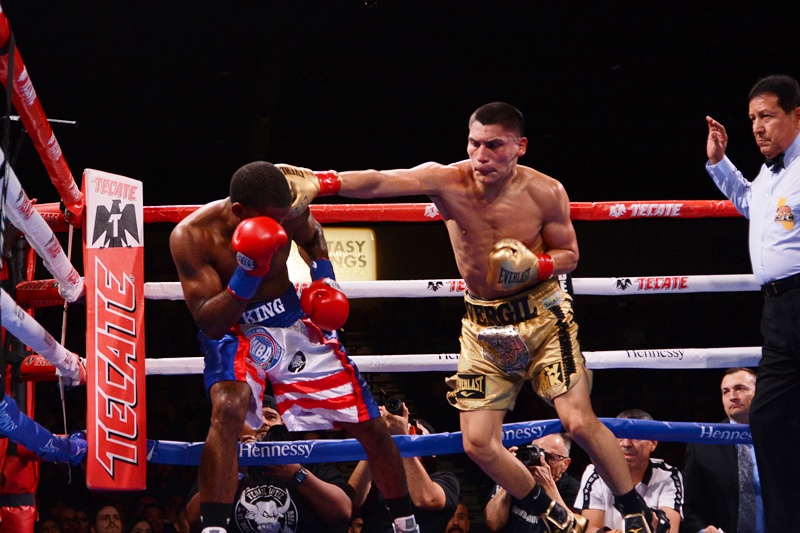 INDIO, Calif.-Vergil Ortiz Jr hunted and pursued the elusive Brad Solomon for several rounds before lowering the boom with three knockdowns and ultimately stopping the formerly unstoppable fighter for a knockout victory on Friday.
It's on to bigger and better things.
Ortiz (15-0, 15 KOs) proved that styles didn't matter and Solomon's (28-2, 9 KOs) slippery moves couldn't prevent the brutal outcome before several hundred fans and two Boxing Hall of Famers at Fantasy Springs Casino. It was Solomon's first ever loss by knockout.
Despite winning all of his previous fights by stoppage, the lean Texan who trains in Riverside, Calif. had never fought a boxer with the pedigree of Solomon. It was the main question remaining for Ortiz. Could he figure out the winning equation to defeat a pure boxer?
He had the answer in his pocket all of the time.
Solomon moved smoothly around the ring from the opening bell. Ortiz followed with his tight guard and snap quick punches to the body and head. The first round revealed that Ortiz's quick hands were just as quick as Solomon's and much more powerful.
"I had to utilize my jab, figure out the right time to throw a punch," said Ortiz. "He came to fight."
After three rounds of chase and pursue, both fighters exchanged briefly and a body shot by Ortiz convinced the fleet opponent to go back on his toes. While trying to move away Ortiz fired a stiff left jab and down went Solomon. Body shots followed and Solomon was visibly affected by them. On one occasion he feigned a low blow but referee Raul Caiz ruled it was a clean blow.
"I can't lie. I don't think he was hurt right there," said Ortiz of the jab knockdown. "
The subsequent blows would prove otherwise in the next round.
Ortiz opened up the fifth round at a rapid pace and though Solomon tried evasive maneuvering, it all proved in vain especially after a six-punch volley by Ortiz. Down went Solomon in the corner but he was able to beat the count. Solomon got up and tried to use his quickness to avoid Ortiz's charge but a double left hook to the head sent him down once again. Referee Caiz waved the fight over at 2:22 of the fifth round to give Ortiz the knockout win and retain the WBA Gold welterweight title.
"I just took my time," said Ortiz. "He's difficult to figure out and made me use my brain."
Ortiz, 21, continued his domination of the welterweight division though many felt Solomon could stall his rapid ascent to the top.
El Flaco
Serhii "Flaco" Bohachuk (17-0, 17 KOs) continued his knockout streak but needed a little time to figure out the switching tactics of Colombia's Carlos Galvan (17-10-1, 16 KOs). But after five rounds he discovered that the body attack was the key. Bohachuk floored Galvan three times in the fifth round, two by body shots and the end came at 1:40 of the fifth round.
Other Bouts
Puerto Rico's Alberto "El Explosivo" Machado (22-2, 18 KOs) snapped a two-fight losing streak by moving up to the lightweight division and knocking out Dominican Republic's Luis Porozo (14-2, 7 KOs) with body shots in the second round. Machado had problems making the 130-pound super featherweight limit and showed a move up in weight was beneficial as he dropped Porozo three times until referee Tom Taylor ended the fight at 2:59 of the second round for a win by knockout.
Machado is co-promoted by Miguel Cotto Promotions and Golden Boy Promotions.
Alexis Rocha (15-0, 10 KOs) withstood an all-out assault from Mexico's Robert Valenzuela Jr. (17-2, 16 KOs) early in the welterweight title fight and used a withering body attack to break down the taller fighter. After that it was all downhill sledding for the Santa Ana fighter who broke the will of Valenzuela with bludgeoning blows to the left and right side of the body.
"I was being lazy to be honest, so it's my fault," said Rocha on being bloodied by a counter uppercut while punching. "It's very important, I came to fight and throw body punches to wear my opponent down. I think that's very key in boxing in general."
At the end of the fifth round the Mexican fighter was holding on. The fight was stopped at the end of the fifth round giving Rocha the win by knockout and he retains the WBC Continental Americas title in the welterweight division.
"I knew the body shots were taking a toll on him," Rocha said. "Today was a good learning experience."
Bektemir Melikuziev (4-0, 3 KOs) boxed his way to a unanimous decision victory over Vaughn Alexander (15-4, 9 KOs) in a 10-round fight for the WBA Continental Americas title. But it was sort of strange to see a guy nicknamed "the Bully" dance around the ring avoiding contact. Still, he won every round but disenchanted fans with his unwillingness to exchange with the muscular Alexander. No knockdowns were scored in the fight. All three judges saw it 100-90 for Melikuziev.
Luis Feliciano (14-0, 8 KOs) knocked down Herbert Acevedo (16-3-1, 6 KOs) early in the 10 round NABF super lightweight title fight and then cruised to victory by unanimous decision. The Puerto Rican who trains in Southern California pummeled Acevedo's body before delivering a two-punch combination that sent the challenger to the deck. It was Feliciano's first defense of the title he captured by decision over talented Genaro Gamez.
"I give props to Herbert Acevedo. He's a tough and rugged fighter. I thought he was out when I dropped him in the third round. I tried to get the finish, but he weathered the storm," said Feliciano. "I'm happy to finish the year with a win, and we are on to the next."
A super welterweight fight saw Ferdinand Kerobyan (13-1) destroy Fernando Carcamo (23-11) with two knockdowns in the first round and the fight was stopped at 1:46 of the first round.
A super middleweight match ended in the third round by knockout win for Erik Bazinyan (24-0) over Saul Roman (46-14),
Hall of Fame
Also present at the Golden Boy Promotions boxing card were Oscar De La Hoya and Bernard Hopkins who was recently voted into the International Boxing Hall of Fame by the boxing writers. He will join De La Hoya who was inducted several years ago.
Hopkins was selected last week along with Sugar Shane Mosley and Juan Manuel Marquez. Their induction takes place next June in Canastota, New York. It's quite an honor and well deserved for one of the greatest middleweights in the history of the sport. He also captured the light heavyweight world title. We will have more on this great Philadelphia prizefighter in the coming months.
Photo credit: Al Applerose
Check out more boxing news on video at The Boxing Channel 
To comment on this story in The Fight Forum CLICK HERE
Frank Erne Enters the Boxing Hall of Fame, a Well-Deserved Honor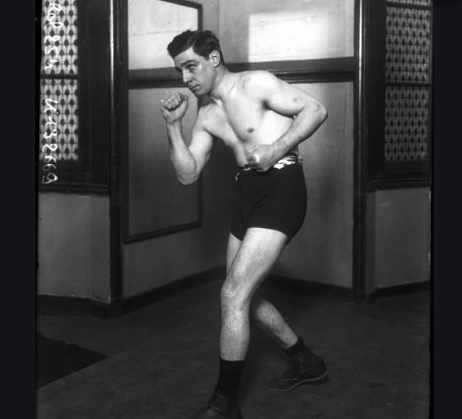 Former featherweight and lightweight champion Frank Erne was back in the news last week with the announcement that he is entering the International Boxing Hall of Fame. Erne and the other members of the newest class will be formally enshrined on Sunday, June 14, 2020.
Mr. Erne won't be able to attend the induction ceremony. He's been dead since 1954. However, were he alive, he would have the satisfaction of knowing that this honor is well-deserved.
Frank Erne competed from 1892 to 1908. Of his 53 documented fights, 21 were slated for 20 rounds or more. His opponents included George Dixon, Terry McGovern, and Joe Gans, all of whom went into the Hall of Fame with the inaugural class of 1990. Dixon, a bantamweight, McGovern, a featherweight, and Gans, a lightweight, are widely considered the best of all time in their respective weight classes. Erne defeated Dixon and Gans although both turned the table in rematches.
Frank Erne becomes the first fighter born in Switzerland to enter the IBHOF. When he was six or seven years old (reports vary) his parents moved to Buffalo, New York. In his early teens, he found work as a pinsetter in a bowling alley that was part of a larger complex that included a boxing gym. An instructor there, a boxing professor as they were called back then, took Erne under his wing.
Erne had his early fights in Buffalo. In 1895, he went to New York and attracted national notice with back-to-back knockouts of Jack Skelly. A Brooklyn man, Skelly was such an outstanding amateur that there was little backlash when he was sent in against featherweight champion George Dixon in his very first pro fight (the opening match in the Carnival of Champions at New Orleans, an event climaxed by the historic fight between John L. Sullivan and James J. Corbett).
Skelly was no match for Dixon and ultimately no match for Frank Erne. Two months after their second meeting, Erne had his first of three encounters with Dixon. Their initial go was a 10-rounder that was fairly ruled a draw. The rematch was set for 20 rounds with Dixon's title on the line.
Here's Nat Fleischer's post factum: "Erne proved to be in every respect a superior boxer on this occasion for he outpointed Dixon at long range, beat him decisively at in-fighting, had it all over Dixon in ring generalship, besides possessing courage and fearlessness." The ringside correspondent for the Brooklyn Daily Eagle, more measured in his assessment, called it "one of the fiercest and cleanest fights, as well as one of the most scientific, that has ever been seen."
Dixon had lost only twice previously, the first by disqualification and the other in a 4-round contest, and would win back his title in the rubber match, clearly out-pointing Erne in a match that went 25 rounds.
Making weight was always a problem for Frank Erne. After surrendering his title to Dixon, he moved up to lightweight and challenged George "Kid" Lavigne. They fought twice.
In their first meeting, Lavigne, the fabled "Saginaw Kid," retained his title thanks to a generous referee who scored the fight a draw, but justice was served in the rematch which was staged at an outdoor arena on the outskirts of Buffalo on the day preceding the Fourth of July,1899. Despite injuring his hand in the seventh frame, Erne gave Lavigne a good drubbing and had his hand raised at the conclusion of the 20-round match. He now had the distinction of winning world titles in two separate weight classes.
Erne first met Joe Gans in March of 1900 when Gans was still in his prime. The match, slated for 25 rounds, ended in the 12th when Gans suffered a terrible injury to his left eye – some reports say the eye was knocked out of its socket – from an accidental clash of heads. The referee ruled that Gans was at fault and awarded the contest to Erne. Based on newspaper reports, that was a fair adjudication as Erne, the defending champion, had all the best of it, leaving Gans in great distress at the end of the previous round.
Gans avenged the defeat 26 months later, knocking out Erne in the opening round at Fort Erie, Ontario, Canada, across the Niagara River from Buffalo. Erne's unrelenting battle with the scales had finally caught up with him.
Erne retired the following year, but returned five years later and had one more fight, winning a 10-round decision in Paris over British veteran Curly Watson in a fight billed for the welterweight championship of France. He remained in the French capitol for some time thereafter, working as a boxing instructor and promoting a few fights before returning to the United States and taking up residence in New York City.
Unlike most of his contemporaries, Frank Erne was no fool with his money, but the stock market crash of 1929 dealt him a severe blow and he was forced to seek regular employment. He became a salesman for a fuel company.
Erne won't be around for his formal IBHOF induction, but he wasn't completely forgotten in his dotage. On Jan. 9, 1951, the day after his 76th birthday, he received a special award at the silver anniversary dinner of the Boxing Writers Association, a gala affair held in the posh Starlight Room of the Waldorf-Astoria with entertainment provided by Jimmy Durante and other nightclub headliners.
Erne wasn't honored only for his in-ring exploits, but for his good character. During World War II and again during the Korean War, it was common for famous boxers of yesteryear to visit wounded soldiers in VA hospitals and regale them with stories from their fighting days to boost their spirits. Frank Erne, although he had some infirmities, was especially active in this regard, "indefatigable" said New York Times sports editor Arthur Daley.
Frank Erne, it says here, is a worthy addition to the International Boxing Hall of Fame. Kudos to the electors who placed him on their ballot.
Check out more boxing news on video at The Boxing Channel 
To comment on this story in The Fight Forum CLICK HERE
Avila Perspective, Chap. 76: Welterweights Vergil, Terence and More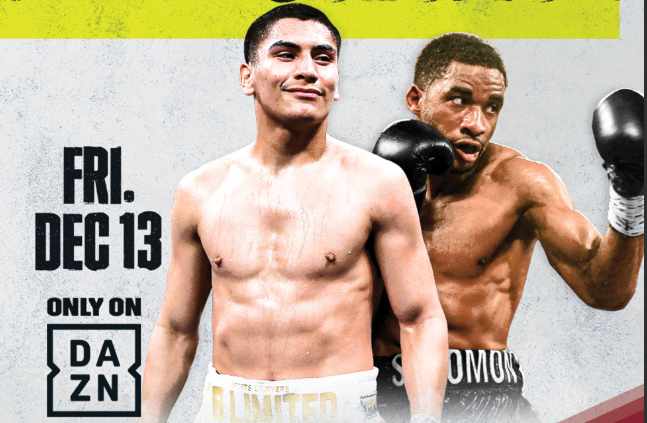 In the words of many boxing journalists, fighters, trainers and promoters "styles make fights," and those differences can lead to unpredictable outcomes. The weekend brings a few stylish welterweights on display from California to New York.
Welterweight ingénue Vergil Ortiz Jr. (14-0, 14 KOs) enters the world of unpredictability when he meets Brad Solomon (28-1, 9 KOs) a swift-moving veteran on Friday, Dec. 13, at Fantasy Springs Casino in Indio, Calif. DAZN will show the loaded Golden Boy Promotions fight card.
It's Ortiz's third year as a professional and fifth time performing at the Indio casino. It's also where he made his pro debut back in July 2016 when he began his remarkable string of 14 consecutive knockout wins.
Solomon, 36, has made a career of fighting pressure fighters and making them miss or defusing their power. Only Russia's Konstantin Ponomarev, who was trained at the time by Abel Sanchez, was able to hang a loss on the Georgia fighter's ledger.
Can Ortiz handle the style difference?
"Vergil can do more than people think," said Vergil Ortiz Sr., father of the lanky welterweight slugger. "He can box any style."
As a professional, Ortiz has yet to fight someone like Solomon with his juke and move style of fighting. As an amateur he did face speedsters like Ryan Garcia. As a pro, this will mark his first in the prize ring. It should be interesting.
Power Packed Support
Knockout artist Ortiz leads a power packed-boxing card that includes a number of Golden Boy's best knockout punchers like Bektemir Melikuziev, Alberto Machado and Luis Feliciano. All of these guys can punch and are looking to put the cap on 2019.
That's a lot of firepower.
But also on the card is someone fighting for 360 Promotions named Serhii Bohachuk, otherwise known as "El Flaco." Just like Ortiz, Bohachuk has never allowed the final bell to be rung against 16 foes so far. He is going for 17 when he fights Carlos Galvan (17-9-1) in a super welterweight fight set for eight rounds. Don't expect to hear the final bell whenever the Ukrainian trained by Mexican style coach Abel Sanchez gets in the ring.
Bohachuk could be following in the footsteps of another guy formerly trained by Abel Sanchez named Gennady Golovkin. It's still too early, but he looks pretty good so far.
New York City
Top welterweight Terence Crawford (35-0, 26 KOs) defends the WBO welterweight title against Lithuania's Egidijus "Mean Machine" Kavaliauskas (21-0-1, 17 KOs) on Saturday, Dec. 14, at Madison Square Garden in Manhattan. ESPN will televise the Top Rank card.
In the crowded and talented world of the welterweights, Crawford could very well be the best of them all. If only he could prove it. The Omaha-Nebraska prizefighter has tried every enticement possible to lure Errol Spence Jr., Danny "Swift" Garcia, Shawn Porter and Manny Pacquiao. Nothing works.
What does work for Crawford has been a reputation as one of the best prizefighters in the world pound for pound. Some tab him as the very best especially when it comes to speed, agility and the ability to innovate on the spot. He has few peers.
Facing Crawford will be Kavaliauskas who trains in Oxnard with a number of Eastern Europeans including Vasyl Lomachenko. They share the same management. He's never faced anyone close in talent to Crawford. Except, maybe inside of his own gym.
"I'm not focused on no other opponent besides the opponent that's in front of me. My goal is to make sure I get the victory come this weekend, and that's the only person I'm focused on now," said Crawford. "Anyone else is talk. It goes in one ear and out the other. He's young, hungry and I'm not taking him lightly."
Crawford has been chasing stardom for a number of years. What better place than New York City's Madison Square Garden to showcase his skills to the public. At age 32, Crawford is running out of sand.
Lightweight Title Fight
The co-main event on Saturday at Madison Square Garden features IBF lightweight titlist Richard Commey (29-2, 26 KOs) defending against wunderkind Teofimo Lopez (14-0, 11 KOs).
But this weekend truly belongs to the welterweights.
Next Week
Southern California will be packed with boxing. It's a last gasp before the end of 2019.
Ontario, California will be hosting a very large Premier Boxing Champions fight card at the Toyota Center on Saturday Dec. 21.
WBC super welterweight titlist Tony Harrison finally defends against Jermall Charlo in a rematch and it won't be friendly. These guys hate each other.
"He's fake," said Harrison when they last met in Los Angeles for a press conference.
It won't be pretty when they meet next week.
Tickets are on sale. Go to this link for more information: https://www.toyota-arena.com/events/detail/premier-boxing-champions
Fights to Watch
Fri. DAZN 4:30 p.m. Vergil Ortiz (14-0) vs Brad Solomon (28-1); Serhii Bohachuk (16-0) vs Carlos Galvan (17-9-1).
Sat. Facebook 5 p.m. Diego De La Hoya (21-1) vs Renson Robles (16-6).
Sat. ESPN 6 p.m. Terence Crawford (35-0) vs Egidijus Kaviliauskas (21-0-1); Teofimo Lopez (14-0) vs Richard Commey (29-2).
Check out more boxing news on video at The Boxing Channel 
To comment on this story in The Fight Forum CLICK HERE