Holmes-Spinks I: The Grassy Knoll for Boxing's Conspiracy Theorists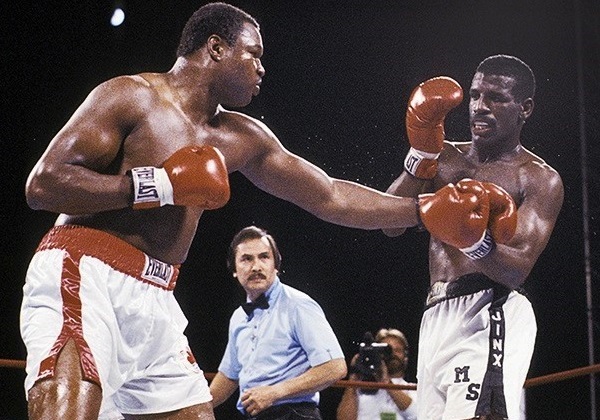 The most enduring of American conspiracy theories involves a gunman who may or may not have existed and may or may not have been on a grassy knoll in Dallas' Dealey Plaza the afternoon of Nov. 22, 1963. The assassination of President John F. Kennedy, the subject of numerous speculative books and movies, all of which involve some individual's ironclad take on what happened, why it happened and who was involved in making it happen, will always be grist for the mill for those still dissecting that national tragedy. More than a few of those arguments dispute the Warren Commission's official conclusion that presumed killer Lee Harvey Oswald acted on his own and not in concert with unidentified, shadowy figures.
On a more recent and lesser scale, a raft of conspiracy theories arose in the wake of the alleged Aug. 10 jailhouse suicide of multimillionaire sex offender Jeffrey Epstein, whose list of celebrity acquaintances includes two presidents of the United States and even a member of the British royal family. As was the case when nightclub owner Jack Ruby fatally shot Oswald before he could go on trial, conspiracy theorists on all sides have conjectured whether Epstein's suspicious death was actually a hit and, if so, ordered by whom?
Boxing, with its blemished past dotted by nefarious power brokers and decisions that sometimes defy logic, also has provided conspiracy junkies with ample material to analyze and debate. Olympic boxing, often characterized as a cesspool of corruption, immediately comes to mind. So does the Sept. 10, 1993, majority draw in which WBC welterweight champion Pernell Whitaker, whom almost everyone without an official scorecard saw as the clear victor, was obliged to settle for a dissatisfying standoff with crowd favorite and Mexican national hero Julio Cesar Chavez in a bout that drew a live crowd of 60,000 or so in the Alamodome in San Antonio, Texas. Although Whitaker retained his title on the draw, he and his outraged supporters were convinced the outcome was predicated more on the WBC, headquartered in Mexico City, exerting behind-the-scenes influence to ensure that Chavez came away with his undefeated record still intact. Irrefutable truth is often difficult to pin down in such matters, but the 55-year-old "Sweet Pea," who died after being struck by a car on July 14, went to his grave believing he had been cheated out of a deserved triumph that would have further embellished his Hall of Fame legacy.
Given its historical implications, what is arguably the grassy knoll of boxing remains the Sept. 21, 1985, pairing of long-reigning heavyweight champion Larry Holmes and undisputed light heavyweight titlist Michael Spinks, who was attempting to become the first (or maybe not) 175-pound champ to move up in weight and capture his sport's most prestigious and lucrative prize.
Spinks – who came away with a razor-thin and controversial 15-round unanimous decision — was bidding to do something no other light heavyweight had ever done, although there are those who cite Tommy Burns, who outpointed heavyweight champ Marvin Hart over 20 rounds on Feb. 23, 2006, as the first 175-pound titlist to accomplish the feat. In any case, since Burns, 13 light heavyweight champs had tried and failed in their bids to become king of the heavyweights, a list that included such ring legends as Billy Conn, Archie Moore and Bob Foster.
Given the fact that the 35-year-old Holmes was making his 20th title defense and was widely considered as one of the best heavyweight champions of all time, he was installed as a prohibitive favorite over Spinks, who was not only bucking tradition but the perceived limits of his own body. Even respected Los Angeles Times sports columnist Jim Murray, noting that Spinks had weighed in at 199¾ pounds – heavier than such legendary heavyweight champions as and Jack Dempsey and Rocky Marciano ever did for title bouts – went a bit overboard in writing that the challenger looked "like a blowfish" and that his weight gain was accelerated by a 4,500-calorie-a-day diet that might be "all right for a guy getting ready to play Henry the Eighth."
But Spinks' bulking-up process was not the result of having scarfed down a bunch of French fries, chocolate milkshakes and doughnuts, but rather the calculated machinations of New Orleans-based fitness coach and nutritionist Mackie Shilstone, whose then-unorthodox methods would soon gain wider acceptance but then were seen by the boxing establishment as, well, somewhat bizarre.
"We have a scientific, unique program that is secret – a program that was developed specifically for Michael, using techniques that would be revolutionary for boxing," Shilstone said to the bemusement of hidebound traditionalists.
Spinks, whose walking-around weight between light heavyweight matches was usually 10 pounds or so above the division limit, said he was already familiar working with Shilstone – to shed unwanted pounds.
"Mackie had already helped me lose weight to get down to light heavyweight," Spinks said when contacted for this story. "He told me that if I wanted to fight Larry Holmes for the heavyweight championship, he could help me put the weight on the right way. And that's what he did. He also said he wouldn't take anything from what I already had, in terms of what I did well as a light heavyweight, that I still would be able to do all that as a heavyweight. He was right, too. I was as fast as a heavyweight as I was as a light heavyweight."
Unlike Conn, Moore, Foster and other light heavyweight champs who made no secret of their ambition to storm and conquer the heavyweight division, Michael admits to initially lacking the burning desire to replicate the feat of his older brother and fellow 1976 Olympic gold medalist Leon Spinks, who dethroned WBC/WBA heavyweight champion Muhammad Ali via 15-round split decision in a monumental upset on Feb. 15, 1978. Leon had always been naturally larger than Michael, never weighing less than 194 pounds for any of his first 23 outings as a pro. The mere notion of moving up to heavyweight seemed unlikely and more than a bit risky to Michael, who figured he would continue to do what he'd already been doing, which was to dominate all comers at light heavy.
It was Butch Lewis, who promoted both Spinks brothers, who determined that Michael going to heavyweight was not only doable, but highly advisable financially.
"Butch told me I could fight Larry Holmes for the heavyweight championship," the younger Spinks recalled. "I was, like, `What?' He said, 'Yeah, and you can beat him.' I said, `You really think so?' And he said, `Absolutely.'
"Butch (who was 65 when he died of a heart attack on July 23, 2011) had faith in me, so I took that and ran with it."
Maybe what bottom-line Butch had was absolute faith in the economic realities of boxing, which always hold that heavyweight champions are vastly better-compensated than their light heavyweight counterparts. Consider these numbers: Michael Spinks' purse for his final light heavyweight defense, an eighth-round stoppage of Jim MacDonald on June 6, 1985, was a relatively paltry $100,000, a pittance compared to the $1.1 million contract he signed to challenge Holmes.
Say what you will about the flamboyant Lewis, who was noted for wearing a tuxedo and bow tie but no shirt on fight night, but his steering of Michael Spinks' career was a case study on how to milk the system for every available dollar. It was Lewis who made the bold call, after Spinks had followed up his stunner over Holmes by outpointing the "Easton Assassin" on another close and controversial call, a 15-round split decision in the rematch seven months later, to hold Spinks out of the heavyweight unification tournament being put together by HBO Sports president Seth Abraham and promoter Don King. In doing so Spinks passed on a potential $5 million payday against eventual tourney winner Mike Tyson, but he was paid about the same amount to defeat the formidable Gerry Cooney, putting into motion a series of events that led to his June 27, 1988, megafight with Tyson in Atlantic City. OK, so Spinks didn't make it through the first round, but he received a career-high $13.2 million for what proved to be his final fight and only professional loss, a pretty nice parting gift when you get right down to it.
Holmes had his own potential date with destiny in that first clash with Michael Spinks. Were he to win, it would be his 49th consecutive victory without a loss, matching the record set by Marciano – ironically, against Archie Moore and, even more ironically, 30 years to the day after The Rock knocked out the Ol' Mongoose in the ninth round in what turned out to be his final fight.
In the lead-up to the fight at The Riviera in Las Vegas, for which members of the Marciano family were invited guests, Holmes seemed to chafe at constantly being compared to a beloved fighter who had died in a crash of a small private plane on Aug. 31, 1969. "I'm not fighting Marciano," Holmes complained. "He's dead. I never knew him. I'm fighting for Larry Holmes, for me, for what I can do for my family."
To Holmes, who was no stranger to the seven-figure club and who was down for a $3 million purse, there was a racial component to the constant comparisons to Marciano, who was white, much in the same manner that black baseball great Hank Aaron was the target of unfair and sometimes cruel criticism as he neared the sacrosanct record of 714 career home runs set by Babe Ruth. When Aaron passed Ruth by homering for the 715th time on April 8, 1974, the feat was celebrated by many Americans and baseball fans in general, but not by everyone.
Members of the Marciano family, who ostensibly had been summoned to congratulate Holmes in the event of his making it to 49-0, celebrated when the close decision for Spinks – by margins of 143-142 (twice) and 145-142 – was announced. That did not set well with Holmes, who felt such a display was disrespectful to him and, additionally, was the wrong call historically as long-reigning champions such as himself usually got the benefit of the doubt in close fights.
"I was robbed," Holmes, in announcing one of his several retirements from boxing that didn't stick, said at the postfight press conference, suggesting that alleged conspirators in influential places who finally had brought him down can "kiss me where the sun never shines," which meant "my big black behind."
Nor was Holmes any more disposed to be gracious to Peter Marciano, Rocky's younger brother and the foremost keeper of the "Brockton Blockbuster's" eternal flame. "You are freeloading off your dead brother," Holmes told Peter, tossing in the zinger that "Rocky couldn't carry my jockstrap."
Months later, after the heat of the moment had long since cooled down, Holmes, in most instances a respectful and thoroughly decent man, offered a public apology to anyone he might have offended with his earlier intemperate remarks.
"I'm sorry for what I said, for the way things came out," Holmes told a Boston reporter. "I don't want to take anything away from Peter or the Marciano family. I haven't slept for two months thinking about this.
"I've reached out to Peter Marciano. I'd like to get together with him, either in his town or mine (Easton, Pa.). There must be something that can be done to make this right.
"I have no hard feelings against Rocky Marciano. He was one of the greatest fighters of all time. His 49-0 record speaks for itself. If I hurt Marciano's family, I regret it."
What Holmes did not back away from, not then and not now, is his belief that he deserved to win both of his fights with Michael Spinks, with the first loss a thinly veiled and successful attempt to keep him from sidling up alongside the sainted Marciano.
"There was no doubt about it," he said of a decision he still regards as a cold slap in the face. "I knew what they were going to do to me. I knew if I didn't knock him out, I wasn't going to get the decision." Nor is he alone in that contention, just as there are Spinks partisans who are just as insistent that the judges got it right.
Asked if he thought then, or does now, that he did not receive all the credit he was due from Holmes and his other persistent proponents of the conspiracy theory that refuses to die, Spinks said it shouldn't matter at this point. The record book indicates he won, so that should be that.
"It was a close fight, but I did think I won," he reiterated. "There's no animosity between me and Larry. We get along. He's not really sore about it anymore. At one of his golf tournaments that I attended, he took the microphone and said something about how he'd lost to me, but that wasn't all bad because he made so much money for losing."
What Holmes wants to make clear more than anything is that he wants to forever bury any hint that race is or should still be a part of the discussion. He said there was too much of that in the past, and still too much now. He pointed out that Gerry Cooney, the white guy against whom his high-visibility fight was neatly divided into opposing racial camps, as well as Spinks have been regular participants in his charity golf tournament.
"Half of my family is white," Holmes pointed out. "I'm not a racist. I don't have anything against white folks or anybody else. My son is getting ready to be married in a couple of weeks to a white girl. My daughter is married to a white guy.
"I didn't really care about racial s— then, and to this day I don't care about it. Gerry Cooney is my friend. Now, I didn't like the decisions in my fights with Michael Spinks, but you can't dwell on that. You got to move past that."
Which might be one man's way of saying that any lingering ghosts on that figurative grassy knoll overlooking a boxing ring where a fight took place 34 years ago should finally be allowed to just fade away.
Check out more boxing news on video at The Boxing Channel 
To comment on this story in The Fight Forum CLICK HERE
Avila Perspective, Chap. 81: Robert Garcia's Boxing Academy, 'J-Rock' and More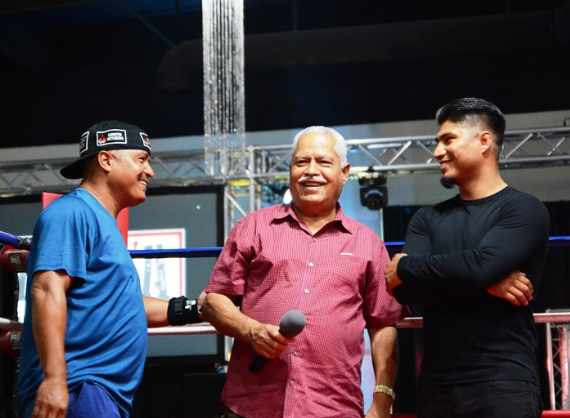 Stacked cars block the long entrance to Robert Garcia Boxing Academy where many of the best prizefighters in the Southwest prepare.
It's Wednesday afternoon and the first shift has arrived.
Just last weekend two RGBA-trained fighters Hector Tanajara Jr. and Joshua Franco returned to their native area San Antonio, Texas and showed off their fighting skills polished in the hills of Riverside, California. It's a human factory of prizefighters of all sizes and ethnicities.
Trainer Robert Garcia, with help from his sons, runs the sizeable gym that includes three boxing rings like a choreographer. He doesn't need charts or tablets, he simply directs the fighters to the ring and tells them the number of rounds they will be trading punches.
Gabriel Flores Jr. of Stockton is chosen to open up the sparring. He's a 19-year-old speedy lightweight from Stockton, Calif. and so far has remained undefeated after 16 pro bouts.
First to spar with the Stockton fighter was Saul "Neno" Rodriguez, the slim power-punching super featherweight from Riverside. Early in his career he was trained by Garcia, first in Oxnard, then, when the Riverside operation was opened, he made the transition too. For more than two years Rodriguez had trained elsewhere but has returned to the Garcia machine. It's hard to get better training.
Flores and Rodriguez sparred for multiple rounds of action that featured what each fighter does best. One is a counter-puncher and the other stalks and punishes. One utilizes speed and agility to offset attacks and the other pressures and pursues while looking for openings and mistakes.
It's a perfect mesh of styles.
Next up was Luis Coria another lightweight with speed and aggressiveness like a wound-up top.
Coria was scheduled to fight Adam Lopez last November in Las Vegas, but when the main event featuring former WBO featherweight titlist Oscar Valdez fell out due to the opponent weighing 10 pounds over the limit, Lopez was asked to step in. That left Coria without an opponent.
"He was well paid to step aside," said Robert Garcia trainer and manager for Coria.
That night Lopez impressed the boxing world by flooring Valdez although eventually losing by stoppage. That could have been Coria. No problem, he will be fighting soon enough.
Coria sparred several rounds with Flores and both showed speed and a contrast in styles.
The gym always operates at crank level and somebody is always preparing for the next big fight. Coming up soon will be WBC and WBO super lightweight titlist Jose Carlos Ramirez who will be traveling to China to defend against Viktor Postol on Feb. 2.
Later in February, Mikey Garcia returns to the ring for the first time since last March. The former featherweight, super featherweight, lightweight, and super lightweight titlist is set to meet former super lightweight and welterweight titlist Jessie Vargas on Feb. 29, at Frisco, Texas.
Pick any season in the year and RGBA is always humming.
J-Rock
WBA, IBF and IBO super welterweight titlist Julian "J-Rock" Williams (27-1-1, 16 KOs) finally returns to the ring and makes his first defense against Jeison Rosario (19-1-1, 13 KOs) on Saturday Jan. 18, in Philadelphia. FOX will televise.
It's homecoming for Williams who grabbed the title with a riveting win over former champion Jarrett Hurd in what I felt was the Fight of the Year in 2019. Both engaged in trench warfare and exhibited the beautiful art of inside fighting rarely seen or allowed by trigger-happy referees anxious to create space. Close-quarter fighting takes talent.
Fighting in front of friends and family can be pretty stressful. Philadelphia is a true fight town and it could be an added distraction for Philly boxer J Rock.
"I try to just block myself from the world. Especially with a hometown fight, people are pulling you 50 different ways, tickets, asking me stupid questions. It's crazy, so I just try to block myself from the world," said Williams about the upcoming fight with Rosario. "Rosario brings ambition to the table. I think he's an ambitious kid. I don't think it's a difficult fight (for me), to be quite honest. I just think it's a matter of being focused and on top of my game, and I think I'll take care of him. I don't think it's difficult, though. He's a decent fighter. We're not going to make him out to be Ray Robinson."
Top Rank in NY
If you are one of the many who wondered whatever happened to Puerto Rico's Felix Verdejo here's your chance to watch the former phenom in action as he meets Manuel Rey Rojas (18-3, 5 KOs) at Turning Stone Resort and Casino in Verona, NY. ESPN+ will stream the Top Rank card.
Verdejo (25-1, 16 KOs) fought once in 2019 and defeated cagey veteran Bryan Vasquez by decision last April in New York City. He remains a big draw but since turning pro nearly 10 years ago has failed to live up to expectations as the next Felix Trinidad. There's only one "Tito" Trinidad.
Rumors abound when it comes to Verdejo who was supposedly involved in a motorcycle accident and other escapades. Life can get in the way. Here he is now 26 years old and looking to conjure up some of that old fervor he had as a teen.
Fights to Watch
Fri. Showtime 7 p.m. Shojahon Ergashev (17-0) vs Adrian Estrella (29-4).
Sat. ESPN 4 p.m. Eleider Alvarez (24-1) vs Michael Seals (24-2); Felix Verdejo (25-1) vs Manuel Rey Rojas (18-3).
Sat. FOX, 5 p.m. Julian Williams (27-1-1) vs Jeison Rosario (19-1-1); Chris Colbert (13-0) vs Jezzrel Corrales (23-3).
Photo: Eduardo Garcia, the Garcia family patriarch, is flanked by sons Robert and Mikey. Photo by Al Applerose.
Check out more boxing news on video at The Boxing Channel 
To comment on this story in The Fight Forum CLICK HERE
Julian "J-Rock" Williams: From a Homeless Teenager to a World Boxing Champ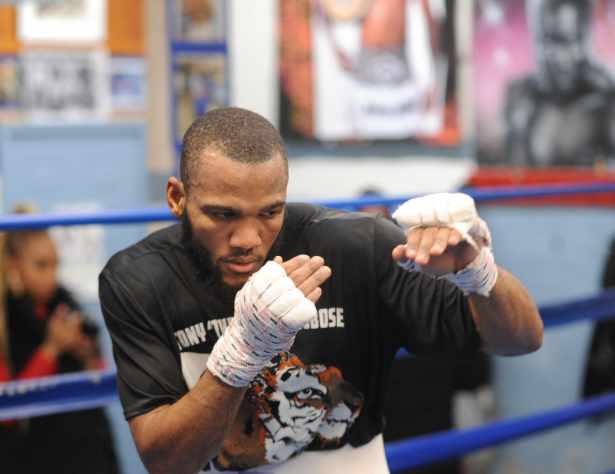 Last weekend was a mixed bag for Philadelphia fighters. Undefeated welterweight Jaron "Boots" Ennis looked sensational on Friday while scoring a fourth-round stoppage of Bakhtiyar Eyubov. The next night, a raggedy performance by Jesse Hart in a super middleweight contest with Joe Smith Jr scraped away some of the city's prestige as an incubator of great fistic talent. (Thirteen fighters identified with Philadelphia are in the International Boxing Hall of Fame; bet you can't name seven.)
On Saturday at Philadelphia's Liacouras Center, WBA/IBF 154-pound world title-holder Julian "J-Rock" Williams (27-1-1, 1 NC, 16 KOs) seeks to right the ship, so to speak, when he opposes Jeison Rosario (19-1-1, 13 KOs) in the first defense of the titles he won from Jarrett Hurd last May in one of the most entertaining fights of 2019. It's a homecoming for Williams, 29, who trains at the James Shuler Memorial Gym, named for the former middleweight contender who died at age 26 in a 1986 motorcycle accident. "J-Rock" last fought in Philly in 2011 at a small show at a National Guard armory when he was still a 6-round fighter.
Williams, like so many professional boxers, had a rough upbringing. According to an article by Frank Fitzpatrick in the Philadelphia Inquirer, during his school days Williams lived in an old motel that had been converted into a homeless shelter. His mother battled substance abuse and his father was in prison.
The shelter was located a long distance from his high school, Overbrook, in gritty West Philadelphia. Getting there required a trip on two buses sandwiched around a ride on the "el" train.
The faculty at Overbrook High School, who work in a 95-year-old building, face all the challenges that are endemic to inner-city schools populated by students from economically disadvantaged homes. But the school is famous because of the achievements of certain alumni. The great NBA player Wilt Chamberlain went to Overbrook High, as did the actor Will Smith and Guion S. Bluford Jr, America's first African-American astronaut. If "J-Rock" can keep winning, he may etch his name on that roster.
Williams will go to post a big favorite over Rosario, a 24-year-old Miami-based fighter from the Dominican Republic. They have a common opponent in Nathaniel Gallimore who was out-pointed by Williams after previously saddling Rosario with his lone defeat (TKO by 6). Rosario got this coming assignment when Jarrett Hurd changed his mind, declining a rematch with Williams after initially activating his rematch clause. (Hurd has a stay-busy fight later this month on the undercard of the Danny Garcia vs. Ivan Redkach bout at Brooklyn's Barclays Center.)
Williams vs. Rosario will air on FOX and FOX Deportes as part of a triple-header. In the co-feature, 23-year-old Brooklyn super featherweight Chris Colbert (13-0, 5 KOs) is matched against Panamanian southpaw Jezzrel Corrales (23-3, 9 KOs) in a match billed for an interim WBA title. The flashy Colbert, reportedly 103-3 as an amateur, has a big upside if he can improve his punching power.
As for Julian Williams, down the road he figures to meet up with Jermell Charlo who recently recaptured his WBC 154-pound title while avenging a controversial loss to Tony Harrison. Williams' lone defeat was inflicted by Jermell's twin brother Jermall Charlo who now competes a weight class up at 160. If that fight materializes, "J-Rock" would be the second person to lock horns with both Charlo twins at the pro level following Austin Trout.
That may be putting the cart before the horse, but Williams, who is a good interview because of his forthrightness, is supremely confident. "I don't think it's a difficult fight for me, to be quite honest," he says. "We're not going to make (Rosario) out to be (Sugar) Ray Robinson. But he has the ambition to win, so you can't underestimate him."
Considering the obstacles that "J-Rock" has already overcome, it would seemingly be foolish to bet against him.
– – –
Philadelphia fighters in the International Boxing Hall of Fame listed in order of their year of induction: Joe Frazier (1990), Tommy Loughran (1991), Philadelphia Jack O'Brien (1991), Joey Giardello (1993), Harold Johnson (1993), Bob Montgomery (1995), Matthew Saad Muhammad (1998), Lew Tendler (1999), Battling Levinsky (2000), Jeff Chandler (2000), Benny Bass (2002), Harry Lewis (2008), Bernard Hopkins (2020).
Photo credit: Darryl Cobb / TGB Promotions
Check out more boxing news on video at The Boxing Channel 
To comment on this story in The Fight Forum CLICK HERE
Tyson Fury's Daffy Training Regimen has Nat Fleischer Spinning in his Grave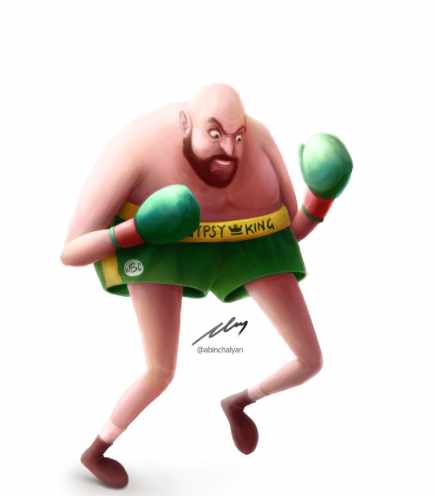 The late Nat Fleischer, the co-founder and publisher of The Ring magazine, the self-proclaimed Bible of Boxing, was regarded in his day as the world's foremost authority on all things fistic.
In addition to looking after his monthly magazine, Fleischer wrote many books. Most were small biographies of famous fighters but there were also instructional manuals for boys and young men interested in learning the science of pugilism. In fact, Fleischer's first book was a training manual. First published in 1929, "Training for Boxers" (with a foreword by Jack Dempsey) sold more than one million copies at $1 each according to Fleischer's 1972 obit in the New York Times.
Fleischer's three "how to" books for aspiring boxers were heavy on the importance of leading a virtuous life outside the ring. Don't masturbate, he commanded his readers. Masturbation, in Fleischer's view, was the scourge of civilization.
The same admonition against "self-abuse" was found in the Boy Scouts Handbook. British military officer Lord Robert Baden-Powell, credited with founding the world-wide Boy Scouts movement, also railed against this temptation. The son of a clergyman, Baden-Powell didn't invent the popular saying "idle hands are the devil's workshop," but, among other things, His Lordship believed that excessive masturbation led to idiocy.
If that were true, that doesn't bode well for Tyson Fury (insert your own joke here). At Monday's press conference in Los Angeles, Fury said that as part of his preparation for his rematch with Deontay Wilder, he would be masturbating seven times a day. "I have to keep my testosterone pumping," said Fury by way of explanation.
Fury's impulsion flouts conventional wisdom. Old-time trainers believed that masturbation and sex in general were to be avoided in the days preceding a fight. Celibacy was useful for keeping a fighter focused on the task at hand and the retention of semen was thought to be useful for keeping a boxer on edge so that when the battle commenced, he had a reservoir of pent-up energy ready to be unleashed.
It was written that Primo Carnera's trainers tied a string around his penis when he went to bed at night to keep him from having a wet dream. Like so much that was written about the Ambling Alp, this was assuredly nonsense. However, fanciful yarns like this exposed the mindset of many old trainers whose philosophies, however quaint, were passed on to future generations of boxers and trainers including some who are active today.
Muhammad Ali said that he stopped having sex six weeks before a fight. Freddie Roach has been quoted as saying that he exhorts his fighters to "practice discipline" for 10 days before a bout. This was never an issue with Manny Pacquiao who reportedly adhered to a higher standard, eschewing sex for 21 days.
David Haye, who held world titles at cruiserweight and heavyweight before retiring in 2018, remains active in the sport as a manager and promoter. When it comes to his views on getting ready for a fight, the "Hayemaker" is a throwback.
I don't ejaculate for six weeks before the fight. No sex, no masturbation, no nothing. It releases too much tension. It releases a lot of minerals and nutrients that your body needs, and it releases them cheaply. – David Haye
 For the record, although the evidence is slim, Haye's beliefs lack scientific support. In fact, a 1999 Italian study found that testosterone levels actually increase as sexual activity increases.
That finding suggests, egads, that the Gypsy King may actually be on to something. However, the view from here is that whether Tyson Fury masturbates 70 times a day, if that were humanly possible, or masturbates not at all, it won't matter a bit if Deontay Wilder lands his Sunday punch flush on his jaw. He's going down and the ghost of Nat Fleischer will then hover over the ring and bellow, "I told you so, you big lug, now go home and be a good role model and from now on keep your hands away from that appendage in your quiet hours."
Check out more boxing news on video at The Boxing Channel 
To comment on this story in The Fight Forum CLICK HERE