Holmes-Spinks I: The Grassy Knoll for Boxing's Conspiracy Theorists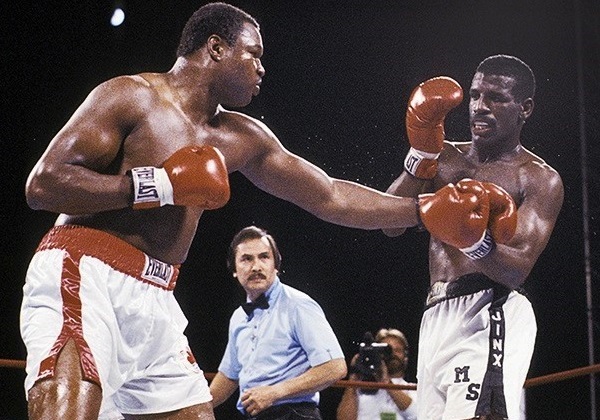 The most enduring of American conspiracy theories involves a gunman who may or may not have existed and may or may not have been on a grassy knoll in Dallas' Dealey Plaza the afternoon of Nov. 22, 1963. The assassination of President John F. Kennedy, the subject of numerous speculative books and movies, all of which involve some individual's ironclad take on what happened, why it happened and who was involved in making it happen, will always be grist for the mill for those still dissecting that national tragedy. More than a few of those arguments dispute the Warren Commission's official conclusion that presumed killer Lee Harvey Oswald acted on his own and not in concert with unidentified, shadowy figures.
On a more recent and lesser scale, a raft of conspiracy theories arose in the wake of the alleged Aug. 10 jailhouse suicide of multimillionaire sex offender Jeffrey Epstein, whose list of celebrity acquaintances includes two presidents of the United States and even a member of the British royal family. As was the case when nightclub owner Jack Ruby fatally shot Oswald before he could go on trial, conspiracy theorists on all sides have conjectured whether Epstein's suspicious death was actually a hit and, if so, ordered by whom?
Boxing, with its blemished past dotted by nefarious power brokers and decisions that sometimes defy logic, also has provided conspiracy junkies with ample material to analyze and debate. Olympic boxing, often characterized as a cesspool of corruption, immediately comes to mind. So does the Sept. 10, 1993, majority draw in which WBC welterweight champion Pernell Whitaker, whom almost everyone without an official scorecard saw as the clear victor, was obliged to settle for a dissatisfying standoff with crowd favorite and Mexican national hero Julio Cesar Chavez in a bout that drew a live crowd of 60,000 or so in the Alamodome in San Antonio, Texas. Although Whitaker retained his title on the draw, he and his outraged supporters were convinced the outcome was predicated more on the WBC, headquartered in Mexico City, exerting behind-the-scenes influence to ensure that Chavez came away with his undefeated record still intact. Irrefutable truth is often difficult to pin down in such matters, but the 55-year-old "Sweet Pea," who died after being struck by a car on July 14, went to his grave believing he had been cheated out of a deserved triumph that would have further embellished his Hall of Fame legacy.
Given its historical implications, what is arguably the grassy knoll of boxing remains the Sept. 21, 1985, pairing of long-reigning heavyweight champion Larry Holmes and undisputed light heavyweight titlist Michael Spinks, who was attempting to become the first (or maybe not) 175-pound champ to move up in weight and capture his sport's most prestigious and lucrative prize.
Spinks – who came away with a razor-thin and controversial 15-round unanimous decision — was bidding to do something no other light heavyweight had ever done, although there are those who cite Tommy Burns, who outpointed heavyweight champ Marvin Hart over 20 rounds on Feb. 23, 2006, as the first 175-pound titlist to accomplish the feat. In any case, since Burns, 13 light heavyweight champs had tried and failed in their bids to become king of the heavyweights, a list that included such ring legends as Billy Conn, Archie Moore and Bob Foster.
Given the fact that the 35-year-old Holmes was making his 20th title defense and was widely considered as one of the best heavyweight champions of all time, he was installed as a prohibitive favorite over Spinks, who was not only bucking tradition but the perceived limits of his own body. Even respected Los Angeles Times sports columnist Jim Murray, noting that Spinks had weighed in at 199¾ pounds – heavier than such legendary heavyweight champions as and Jack Dempsey and Rocky Marciano ever did for title bouts – went a bit overboard in writing that the challenger looked "like a blowfish" and that his weight gain was accelerated by a 4,500-calorie-a-day diet that might be "all right for a guy getting ready to play Henry the Eighth."
But Spinks' bulking-up process was not the result of having scarfed down a bunch of French fries, chocolate milkshakes and doughnuts, but rather the calculated machinations of New Orleans-based fitness coach and nutritionist Mackie Shilstone, whose then-unorthodox methods would soon gain wider acceptance but then were seen by the boxing establishment as, well, somewhat bizarre.
"We have a scientific, unique program that is secret – a program that was developed specifically for Michael, using techniques that would be revolutionary for boxing," Shilstone said to the bemusement of hidebound traditionalists.
Spinks, whose walking-around weight between light heavyweight matches was usually 10 pounds or so above the division limit, said he was already familiar working with Shilstone – to shed unwanted pounds.
"Mackie had already helped me lose weight to get down to light heavyweight," Spinks said when contacted for this story. "He told me that if I wanted to fight Larry Holmes for the heavyweight championship, he could help me put the weight on the right way. And that's what he did. He also said he wouldn't take anything from what I already had, in terms of what I did well as a light heavyweight, that I still would be able to do all that as a heavyweight. He was right, too. I was as fast as a heavyweight as I was as a light heavyweight."
Unlike Conn, Moore, Foster and other light heavyweight champs who made no secret of their ambition to storm and conquer the heavyweight division, Michael admits to initially lacking the burning desire to replicate the feat of his older brother and fellow 1976 Olympic gold medalist Leon Spinks, who dethroned WBC/WBA heavyweight champion Muhammad Ali via 15-round split decision in a monumental upset on Feb. 15, 1978. Leon had always been naturally larger than Michael, never weighing less than 194 pounds for any of his first 23 outings as a pro. The mere notion of moving up to heavyweight seemed unlikely and more than a bit risky to Michael, who figured he would continue to do what he'd already been doing, which was to dominate all comers at light heavy.
It was Butch Lewis, who promoted both Spinks brothers, who determined that Michael going to heavyweight was not only doable, but highly advisable financially.
"Butch told me I could fight Larry Holmes for the heavyweight championship," the younger Spinks recalled. "I was, like, `What?' He said, 'Yeah, and you can beat him.' I said, `You really think so?' And he said, `Absolutely.'
"Butch (who was 65 when he died of a heart attack on July 23, 2011) had faith in me, so I took that and ran with it."
Maybe what bottom-line Butch had was absolute faith in the economic realities of boxing, which always hold that heavyweight champions are vastly better-compensated than their light heavyweight counterparts. Consider these numbers: Michael Spinks' purse for his final light heavyweight defense, an eighth-round stoppage of Jim MacDonald on June 6, 1985, was a relatively paltry $100,000, a pittance compared to the $1.1 million contract he signed to challenge Holmes.
Say what you will about the flamboyant Lewis, who was noted for wearing a tuxedo and bow tie but no shirt on fight night, but his steering of Michael Spinks' career was a case study on how to milk the system for every available dollar. It was Lewis who made the bold call, after Spinks had followed up his stunner over Holmes by outpointing the "Easton Assassin" on another close and controversial call, a 15-round split decision in the rematch seven months later, to hold Spinks out of the heavyweight unification tournament being put together by HBO Sports president Seth Abraham and promoter Don King. In doing so Spinks passed on a potential $5 million payday against eventual tourney winner Mike Tyson, but he was paid about the same amount to defeat the formidable Gerry Cooney, putting into motion a series of events that led to his June 27, 1988, megafight with Tyson in Atlantic City. OK, so Spinks didn't make it through the first round, but he received a career-high $13.2 million for what proved to be his final fight and only professional loss, a pretty nice parting gift when you get right down to it.
Holmes had his own potential date with destiny in that first clash with Michael Spinks. Were he to win, it would be his 49th consecutive victory without a loss, matching the record set by Marciano – ironically, against Archie Moore and, even more ironically, 30 years to the day after The Rock knocked out the Ol' Mongoose in the ninth round in what turned out to be his final fight.
In the lead-up to the fight at The Riviera in Las Vegas, for which members of the Marciano family were invited guests, Holmes seemed to chafe at constantly being compared to a beloved fighter who had died in a crash of a small private plane on Aug. 31, 1969. "I'm not fighting Marciano," Holmes complained. "He's dead. I never knew him. I'm fighting for Larry Holmes, for me, for what I can do for my family."
To Holmes, who was no stranger to the seven-figure club and who was down for a $3 million purse, there was a racial component to the constant comparisons to Marciano, who was white, much in the same manner that black baseball great Hank Aaron was the target of unfair and sometimes cruel criticism as he neared the sacrosanct record of 714 career home runs set by Babe Ruth. When Aaron passed Ruth by homering for the 715th time on April 8, 1974, the feat was celebrated by many Americans and baseball fans in general, but not by everyone.
Members of the Marciano family, who ostensibly had been summoned to congratulate Holmes in the event of his making it to 49-0, celebrated when the close decision for Spinks – by margins of 143-142 (twice) and 145-142 – was announced. That did not set well with Holmes, who felt such a display was disrespectful to him and, additionally, was the wrong call historically as long-reigning champions such as himself usually got the benefit of the doubt in close fights.
"I was robbed," Holmes, in announcing one of his several retirements from boxing that didn't stick, said at the postfight press conference, suggesting that alleged conspirators in influential places who finally had brought him down can "kiss me where the sun never shines," which meant "my big black behind."
Nor was Holmes any more disposed to be gracious to Peter Marciano, Rocky's younger brother and the foremost keeper of the "Brockton Blockbuster's" eternal flame. "You are freeloading off your dead brother," Holmes told Peter, tossing in the zinger that "Rocky couldn't carry my jockstrap."
Months later, after the heat of the moment had long since cooled down, Holmes, in most instances a respectful and thoroughly decent man, offered a public apology to anyone he might have offended with his earlier intemperate remarks.
"I'm sorry for what I said, for the way things came out," Holmes told a Boston reporter. "I don't want to take anything away from Peter or the Marciano family. I haven't slept for two months thinking about this.
"I've reached out to Peter Marciano. I'd like to get together with him, either in his town or mine (Easton, Pa.). There must be something that can be done to make this right.
"I have no hard feelings against Rocky Marciano. He was one of the greatest fighters of all time. His 49-0 record speaks for itself. If I hurt Marciano's family, I regret it."
What Holmes did not back away from, not then and not now, is his belief that he deserved to win both of his fights with Michael Spinks, with the first loss a thinly veiled and successful attempt to keep him from sidling up alongside the sainted Marciano.
"There was no doubt about it," he said of a decision he still regards as a cold slap in the face. "I knew what they were going to do to me. I knew if I didn't knock him out, I wasn't going to get the decision." Nor is he alone in that contention, just as there are Spinks partisans who are just as insistent that the judges got it right.
Asked if he thought then, or does now, that he did not receive all the credit he was due from Holmes and his other persistent proponents of the conspiracy theory that refuses to die, Spinks said it shouldn't matter at this point. The record book indicates he won, so that should be that.
"It was a close fight, but I did think I won," he reiterated. "There's no animosity between me and Larry. We get along. He's not really sore about it anymore. At one of his golf tournaments that I attended, he took the microphone and said something about how he'd lost to me, but that wasn't all bad because he made so much money for losing."
What Holmes wants to make clear more than anything is that he wants to forever bury any hint that race is or should still be a part of the discussion. He said there was too much of that in the past, and still too much now. He pointed out that Gerry Cooney, the white guy against whom his high-visibility fight was neatly divided into opposing racial camps, as well as Spinks have been regular participants in his charity golf tournament.
"Half of my family is white," Holmes pointed out. "I'm not a racist. I don't have anything against white folks or anybody else. My son is getting ready to be married in a couple of weeks to a white girl. My daughter is married to a white guy.
"I didn't really care about racial s— then, and to this day I don't care about it. Gerry Cooney is my friend. Now, I didn't like the decisions in my fights with Michael Spinks, but you can't dwell on that. You got to move past that."
Which might be one man's way of saying that any lingering ghosts on that figurative grassy knoll overlooking a boxing ring where a fight took place 34 years ago should finally be allowed to just fade away.
Check out more boxing news on video at The Boxing Channel  
To comment on this story in The Fight Forum CLICK HERE
Weekend Boxing Recap: The Mikey Garcia Stunner and More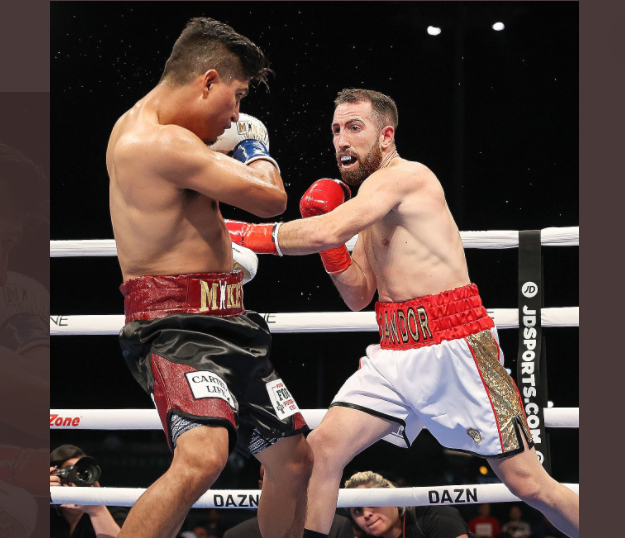 Weekend Boxing Recap: The Mikey Garcia Stunner and More
Boxing was all over the map on the third Saturday of October with many of the shows pulled together on short notice as promoters took advantage of relaxed COVID constraints to return to business as usual. When the smoke cleared, a monster upset in Fresno overshadowed the other events.
Mikey Garcia, a shoo-in to make the Hall of Fame, was on the wrong side of it. Spain's Sandor Martin, in his USA debut, won a well-deserved decision over Garcia at a Triple-A baseball park in Fresno.
Garcia, a former four-division belt-holder, was 40-1 coming in with his only loss coming at the hands of Errol Spence. Martin, a 28-year-old southpaw, brought a nice record with him from Europe (38-2) but with only 13 wins coming by way of stoppage it was plain that he wasn't a heavy hitter. His only chance was to out-box Garcia and that seemed far-fetched.
But Martin did exactly that, counter-punching effectively to win a 10-round majority decision. Two judges had it 97-93 with the third turning in a 95-95 tally.
Neither Garcia nor Martin were natural welterweights. The bout was fought at a catch-weight of 145 pounds. After the bout, the Spaniard indicated a preference for dropping back to 140 where enticing opportunities await.
There was another upset, albeit a much milder one, in the co-feature where Puerto Rico's Jonathan Gonzalez improved to 25-3-1 (14) while shearing the WBO world flyweight title from the shoulders of Mexicali's Elwin Soto (19-2).
Soto was making his fourth defense of the title and rode into the match with a 17-fight winning streak. Gonzalez, a southpaw, had formerly fought for the WBO world flyweight title, getting stopped in seven rounds by Kosei Tanaka in Nagoya, Japan.
One of the judges favored Soto 116-112, but he was properly out-voted by his colleagues who had it 116-112 the other way.
Riga, Latvia
The first major fight on Saturday took place in Riga, Latvia, where hometown hero Mairis Briedis successfully defended his IBF cruiserweight title with a third-round stoppage of Germany's Artur Mann who was on the deck three times before the match was halted at the 1:54 mark.
Briedis (28-1, 20 KOs) was making his first start since dismantling KO artist Yuniel Dorticos in the finals of season two of the World Boxing Super Series cruiserweight tournament. He scored the first of his three knockdowns in the waning seconds of round two when he deposited Mann (17-2) on the canvas with a straight right hand.
Although boosters of fast-rising WBO champ Lawrence Okolie would disagree, the Latvian is widely regarded as the best cruiserweight in the world. His only setback came when he lost a narrow decision to current WBA/IBF/WBO heavyweight champ Oleksandr Usyk in this ring in January of 2018. Now 36 years old, Briedis has yet to appear in a main event outside Europe. That's undoubtedly about to change and a rematch with Usyk is well within the realm of possibility.
Newcastle, England
Chris Eubank Jr, whose fight two weeks ago in London with late sub Anati Muratov was cancelled at the 11th hour when Muratov failed his medical exam, was added to this Matchroom card and his bout with Wanik Awdijan became the de facto main event. A 26-year-old German, born in Armenia, Awdijan was 28-1 and had won 21 straight (against very limited opposition), but he was no match for Eubank Jr who broke him down with body shots, likely breaking his ribs and forcing him to quit on his stool after five frames.
Eubank Jr, 32, improved to 31-2 (23) His only defeats came at the hands of former world title-holder George Groves and BJ Saunders. He dedicated this fight to his late brother Sebastian Eubank who died in July while swimming in the Persian Gulf.
In other bouts, Hughie Fury, the cousin of Tyson Fury, stayed relevant in the heavyweight division with a stoppage of well-traveled German Christian Hammer and Savannah Marshall successfully defended her WBO world middleweight title with a second-round TKO of Lolita Muzeya.
Akin to Eubank-Awdijan, the Fury-Hammer fight also ended with the loser bowing out after five frames. A biceps injury allegedly caused Hammer to say "no mas," but Fury, in what was arguably his career-best performance, was well ahead on the cards.
The Marshall-Muzeya fight was a battle of unbeatens, but Muzeya's 16-0 record was suspicious as the Zambian had never fought outside the continent of Africa. She came out blazing, but Marshall, who improved to 11-0 (9) had her number and retained her title.
Brooklyn
In the featured bout of a TrillerVerz show at Barclays Center, Long Island's Cletus Seldin, the Hebrew Hammer, knocked out William Silva in the seventh round. It was the fifth-straight win for the 35-year-old Seldin, a junior welterweight who was making his first start in 20 months.
Silva, a 34-year-old Brazilian who fights out of Florida, brought a 28-3 record. His previous losses had come at the hands of Felix Verdejo, Teofimo Lopez, and Arnold Barboza Jr. Seldin improved to 26-1 (22 KOs).
In other bouts, junior welterweight Petros Ananyan, a Brooklyn-based Armenian, improved to 16-2-2 (7) with a 10-round majority decision over local fighter Daniel Gonzalez (20-3-1) and Will Madera of Albany, NY, scored a mild upset when he stopped Jamshidbek Najmitdinov who was pulled out after five rounds with an apparent shoulder injury.
Najmitdinov, from Uzbekistan, was making his U.S. debut but he brought a 17-1 record blemished only by former world title-holder Viktor Postol. Madera improved to 17-1-3.
Photo credit: Ed Mulholand / Matchroom
Check out more boxing news on video at the Boxing Channel
To comment on this story in the Fight Forum CLICK HERE
Emanuel Navarrete Retains WBO Featherweight Title in a San Diego Firefight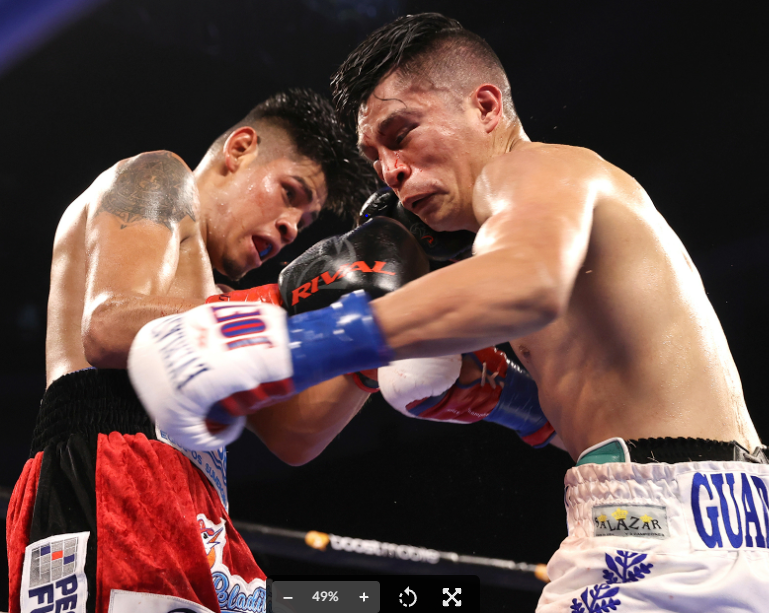 SAN DIEGO-WBO featherweight titlist Emanuel Navarrete won by unanimous decision over Joet Gonzalez in a slugfest that had fans cheering nonstop on Friday night. Fans were mesmerized by the savagery.
More than 2,000 fans saw Mexico City's Navarrete (35-1, 29 KOs) and Southern California's Gonzalez (24-2, 14 KOs) bounce brutal shots off each other for 12 successive rounds at Pechanga Sports Arena.
Both Navarrete and Gonzalez were about equal in height with the champion maybe a slight taller, but not by much. As soon as the first bell rang the two featherweights opened up in furious fashion.
Gonzalez was making his second attempt to grab a world title. His first attempt fell short a year ago. He was eager to atone for the defeat by clobbering Navarrete. Body shots were the weapon of choice.
The Mexican fighter Navarrete was accustomed to battling shorter fighters, this time the two were equal in size and in fury. Blows were flying in bunches and by the third round Gonzalez suffered a cut on his right cheek.
At several points Navarrete would connect with a solid blow and eagerly seek to finish the fight. Each time it happened Gonzalez would fight back even more furiously and beat back the champions attacks.
Gonzalez also connected with big shots and moved in for the kill only find Navarrete take a stand and fire back. Neither was able to truly gain a significant edge. After 12 rounds of nonstop action the decision was given to the judges. One scored it 118-110, two others saw it 116-112 all for Navarrete.
Fans were pleased by the decision and even more pleased by the breath-taking action they had witnessed.
Welterweights
Local fighter Giovani Santillan (28-0, 15 KOs) remained undefeated by unanimous decision after 10 rounds versus Tijuana's Angel Ruiz (17-2, 12 KOs). The two southpaws were evenly matched.
San Diego's Santillan was able to outwork Ruiz in almost every round. Though Ruiz has heavy hands he was not able to hurt Santillan even with uppercuts. It was clear very early in the fight that Santillan was the more technical and busier of the two. No knockdowns were scored.
After 10 rounds two judges scored it 100-90 for Santillan and a third saw it 99-91.
Other Results
Lindolfo Delgado (14-0, 12 KOs) battered and knocked down fellow Mexican Juan Garcia Mendez (21-5-2) in the last round of an 8-round super lightweight bout, but could not score the knockout win.
Delgado, a Mexican Olympian, was the quicker and stronger fighter yet discovered Garcia Mendez has a solid chin. All three judges scored it 80-71 for Delgado.
Puerto Rico's Henry Lebron (14-0, 9 KOs) defeated Manuel Rey Rojas (21-6) by decision after eight rounds in a lightweight match.
Javier Martinez (5-0, 2 KOs) soundly defeated Darryl Jones (4-3-1) by decision after six rounds in a middleweight clash. Jones was tough.
Las Vegas bantamweight Floyd Diaz (3-0) knocked down Tucson's Jose Ramirez (1-1) in the first round but was unable to end the fight early. Diaz won by decision.
Heavyweight Antonio Mireles (1-0) knocked out Demonte Randle (2-2) at 2:07 of the first round.
Photo credit: Mikey Williams / Top Rank for Getty Images
Check out more boxing news on video at the Boxing Channel
To comment on this story in the Fight Forum CLICK HERE
Russell Peltz's "Thirty Dollars and a Cut Eye": Book Review by Thomas Hauser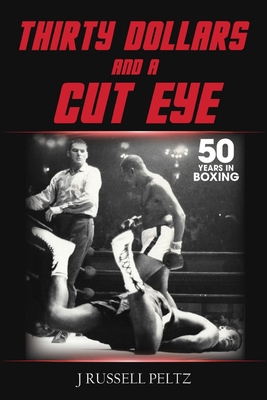 Russell Peltz's "Thirty Dollars and a Cut Eye": Book Review by Thomas Hauser
Russell Peltz has been promoting fights for fifty years and is as much a part of the fabric of Philadelphia boxing as Philly gym wars and Philly fighters. He was inducted into the International Boxing Hall of Fame in 2004 and deservedly so. Now Peltz has written a memoir entitled Thirty Dollars and a Cut Eye that chronicles his many years in the sweet science.
Peltz started in boxing before it was, in his words, "bastardized by the alphabet groups" and at a time when "world titles still meant something."
"I fell in love with boxing when I was twelve," he writes, "saw my first live fight at fourteen, decided to make it my life, and never looked back." He promoted his first fight card in 1969 at age 22.
Peltz came of age in boxing at a time when promoters – particularly small promoters – survived or died based on the live gate. Peltz Boxing Promotions had long runs at the Blue Horizon in Philadelphia and both Harrah's Marina and the Sands  in Atlantic City. His journey through the sweet science included a seven-year stint as director of boxing for The Spectrum in Philadelphia. At the turn of the century, he was a matchmaker for ESPN.
Along the way, Peltz's office in Philadelphia was fire-bombed. He was robbed at gunpoint while selling tickets in his office for a fight card at the Blue Horizon and threatened in creative ways more times than one might imagine. He once had a fight fall out when one of the fighters was arrested on the day of the weigh-in. No wonder he quotes promoter Marty Kramer, who declared, "The only thing I wish on my worst enemy is that he becomes a small-club boxing promoter."
Now Peltz has put pen to paper – or finger to keyboard. "The internet is often a misinformation highway," he writes. "I want to set the record straight as to what actually went on in boxing in the Philadelphia area since the late-1960s. I'm tired of reading tweets or Facebook posts or Instagram accounts from people who were not around and have no idea what went on but write like they do."
Thirty Dollars and a Cut Eye is filled with characters (inside and outside the ring) who give boxing its texture. As Peltz acknowledges, his own judgment was sometimes faulty. Russell once turned down the opportunity to promote Marvin Hagler on a long-term basis. There are countless anecdotes about shady referees, bad judging, and other injustices. Middleweight Bennie Briscoe figures prominently in the story, as do other Philadelphia fighters like Willie "The Worm" Monroe, Bobby "Boogaloo" Watts, Eugene "Cyclone" Hart, Stanley "Kitten" Hayward, and Matthew Franklin (later Matthew Saad Muhammad). Perhaps the best fight Peltz ever promoted  was the 1977 classic when Franklin knocked out Marvin Johnson in the twelfth round.
There's humor. After Larry Holmes pitched a shutout against Randall "Tex" Cobb in 1982, Cobb proclaimed, "Larry never beat me. He just won the first fifteen rounds."
And there are poignant notes. Writing about Tanzanian-born Rogers Mtagwa (who boxed out of Philadelphia), Peltz recalls, "He couldn't pass an eye exam because he didn't understand the alphabet."
Remembering the Blue Horizon, Peltz fondly recounts, ""The Blue Horizon was a fight fan's nirvana. The ring was 15-feet-9-inches squared inside the ropes. No fighter came to the Blue Horizon to pad his record. Fans wanted good fights, not slaughters of second-raters."
That ethos was personified by future bantamweight champion Jeff Chandler who, after knocking out an obviously inept opponent, told Peltz, "Don't ever embarrass me like that again in front of my fans."
Thereafter, whenever a manager asked Peltz to put his fighter in soft to "get me six wins in a row," Russell thought of Chandler. "I enjoyed promoting fights more than promoting fighters," he writes. "If I was interested in promoting fighters, I would have been a manager."
That brings us to Peltz the writer.
The first thing to be said here is that this is a book for boxing junkies, not the casual fan. Peltz is detail-oriented. But do readers really need to know what tickets prices were for the April 6, 1976, fight between Bennie Briscoe and Eugene Hart? The book tends to get bogged down in details. And after a while, the fights and fighters blur together in the telling.
It brings to mind the relationship between Gene Tunney and George Bernard Shaw. The noted playwright and heavyweight great developed a genuine friendship. But Shaw's fondness for Tunney stopped short of uncritical admiration. In 1932, the former champion authored his autobiography (A Man Must Fight) and proudly presented a copy to his intellectual mentor. Shaw read the book and responded with a letter that read in part, "Just as one prayer meeting is very like another, one fight is very like another. At a certain point, I wanted to skip to Dempsey."
Reading Thirty Dollars and a Cut Eye, at a certain point I wanted to skip to Hagler.
There's also one jarring note. Peltz recounts how, when Mike Jones fought Randall Bailey for the vacant IBF welterweight title in Las Vegas in 2012, Peltz bet five hundred dollars against Jones (his own fighter) at the MGM Sports Book and collected two thousand dollars when Bailey (trailing badly on the judges' scorecards) knocked Jones out in the eleventh round.
"It was a tradition from my days with Bennie Briscoe," Russell explains. "I'd bet against my fighter, hoping to lose the bet and win the fight."
I think Russell Peltz is honest. I mean that sincerely. And I think he was rooting for Mike Jones to beat Randall Bailey. But I don't think that promoters should bet on fights involving their own fighters. And it's worse if they bet against their own fighters. Regardless of the motivation, it looks bad. Or phrased differently: Suppose Don King had bet on Buster Douglas to beat Mike Tyson in Tokyo?
Philadelphia was once a great fight town. in 1926, the first fight between Jack Dempsey and Gene Tunney drew 120,000 fans to Sesquicentennial Stadium. Twenty-six years later, Rocky Marciano knocked out Jersey Joe Walcott at same site (renamed Municipal Stadium) to claim the heavyweight throne.
Peltz takes pride in saying, "I was part of Philadelphia's last golden age of boxing."
An important part.
Thomas Hauser's email address is thomashauserwriter@gmail.com. His most recent book – Broken Dreams: Another Year Inside Boxing – was published by the University of Arkansas Press this autumn. In 2004, the Boxing Writers Association of America honored Hauser with the Nat Fleischer Award for career excellence in boxing journalism. In 2019, he was selected for boxing's highest honor – induction into the International Boxing Hall of Fame.
Check out more boxing news on video at the Boxing Channel
To comment on this story in the Fight Forum CLICK HERE