Groundswell Builds to Send the Late Dan Goossen Into the Boxing Hall of Fame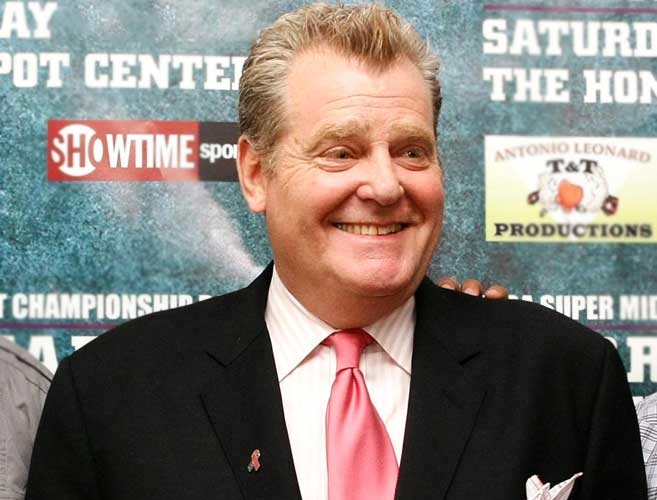 Groundswell Builds to Send the Late Dan Goossen Into the Boxing Hall of Fame
In New Orleans, some funerals are never a cause for tearful mourning. The life of the recently departed is celebrated with something called a Second Line, with smiling friends and relatives dancing toward the cemetery to the beat of a jazzy brass band at the front of the festive procession.
The late Dan Goossen wasn't a New Orleanian, but you'd have to figure boxing's most cheerful promoter and fun-lovingest guy would have appreciated just such a sendoff. Dan the Man was, in the words of younger brother and noted trainer Joe Goossen, "a gregarious guy, a pleasant guy with a lot of swag. He was larger-than-life even to me, and I'm his brother."
Dan Goossen was four days shy of his 65th birthday when he died of complications from liver cancer in the early morning hours of Sept. 29, 2014. Now, with the five-year anniversary of his passing fast approaching, Goossen's ardent supporters, with legendarily upbeat publicist Fred Sternburg as the chief drum-beater, are mounting a grassroots campaign to gain the fight game's most happy fella enshrinement in the International Boxing Hall of Fame's Class of 2020. Sternburg worked closely with Goossen when both were with now-defunct America Presents from 1998 to 2002, a professional pairing of jokesters to rival Abbott and Costello.
If Team Dan is successful, and there is mounting evidence that it might be, it would be almost appropriate for the IBHOF organizers to bring the Olympia Brass Band up from the Big Easy to sashay along the parade route in Canastota, N.Y., just prior to the June 14 induction ceremony. If there was anything that Dan Goossen enjoyed as much as promoting world championship fights and fighters, it was making sure that a good time was had by all, including media members for whom he organized low-intensity, high-frolic softball and basketball games a couple of days before his events.
"It (induction into the IBHOF) should have happened when he was alive and able to experience and enjoy it," said Tom Brown, one of Dan's brothers-in-law and the president of TGB Promotions, an obvious outgrowth of Ten Goose Boxing, the California-based, family-stocked promotional company that Dan began as a vague notion in 1979 before it became a reality in 1982. "To me, he's been a Hall of Famer for a long time. He definitely left his mark on the boxing business. Name some of the top fighters of his time and Dan was involved with many of them. He promoted Ray Mancini's last fight, against Greg Haugen. Roy Jones was on the undercard that night. You can go on and on. And the job he did with James Toney, late in Toney's career, was phenomenal. James was thought to be mostly done when Dan signed him. Same thing with Glen Johnson. Both became Fighters of the Year after everyone had pretty much written them off."
Not that every Goossen relationship with fighters ended on a cheery note. There was the unfortunate breakup with Ten Goose's first superstar, middleweight champion Michael Nunn, which came as close as anything to wiping the near-constant smile from Dan's face. Goossen had moved on to the presidency of America Presents when he became embroiled in a dispute with Bernard Hopkins, and it was more of the same at Goossen Tutor Promotions when Andre Ward, one of Dan's two Olympic gold medalists (the other being David Reid), left after a similar falling-out.
In a Dec. 10, 1999, story I authored for the Philadelphia Daily News, Dan admitted to frustration at his occasional inability to satisfy the demands of fighters who, after achieving stardom, were insistent on squeezing out every last perk that went with that status.
"One of the biggest disappoints in my 20 years in boxing is Bernard Hopkins," he said. "He's right up there with Michael Nunn. I always felt Michael Nunn had the ability to be one of the greatest fighters ever, and I had that same feeling about Bernard. But Nunn never achieved greatness, based upon his own decisions, and it's too late for him now. With Hopkins, I wanted to have a good relationship with the guy and to enjoy it, but, well, Bernard is Bernard. I'm not going to get in a war of words with Bernard Hopkins. He isn't happy with what we did; we are."
Joe Goossen correctly notes that virtually every promoter with a plaque hanging in Canastota has had a history of tension in dealing with fighters, but that the spats involving his brother stung more because they were never just about business. From the outset, those affiliations were uniformly personal, to the point of being almost familial.
"The reasons why those situations hit Dan so hard was because he really liked having relationships with guys that went a step beyond," Joe said. "He always wanted his fighters to feel as if they were a part of our family, and vice versa. He put his heart and soul into it, every time.
"Look, we were raised by a father who was a homicide detective. My dad always said that loyalty and trust were so important. I think he imbued that into all of us kids. So, obviously, it hurts more when you do everything with the best intentions and somebody still turns on you. But Dan was not one to wallow in any sort of misery. He always maintained a positive attitude and if a relationship with a fighter did go south, he took satisfaction in the knowledge that he had done everything he could to keep that from happening. Dan was not one to get down on life because somebody else wasn't holding up their end of the bargain."
The group entry into boxing by the Goossen siblings – 10 in all, eight brothers and two sisters of feisty Irish heritage, hence the Ten Goose moniker – would make for an interesting story in any case, but even more so if you peer behind the curtain to get additional particulars. All of the Goossen kids were athletes of varying degrees of accomplishment, the most notable being Greg, now deceased, who was a good enough baseball player to make the major leagues as a catcher. Dan was almost there with him, skilled enough at hoops to allegedly wangle a training camp invitation from the Dallas Chaparrals of the old American Basketball Association.
"We had a huge living room that had to be 40 feet long," Joe said of a space that was part sporting goods store, part recreational area and perpetual beehive of activity. "We did a little bit of everything in that room, including boxing. Our lives revolved around sports."
Or at least they did until adulthood forced the Goossen siblings, with the exception of Greg, to stow most of their athletic dreams. Unable to make an ABA roster despite his nice jump shot and sharp elbows in the paint, Dan spent a decade as a clothing salesman, which explained his affinity for high fashion and deal-closing. Deep down inside, however, he retained a competitive itch that peddling pants and shirts could never satisfactorily scratch.
No wonder the Goossen kids – most of whom were then in their 20s, with a couple in their early 30s – found refuge in weekend barbecues and take-no-prisoners Wiffle ball games on a nice-sized piece of property owned by one of the brothers, Tom, in North Hollywood.
"We'd have Wiffle ball tournaments, on a regulation field we had laid out, and it was great," Joe recalled. "Other people would come over and they loved it."
One of the frequent visitors to those gatherings was an ex-fighter named L.C. Morgan, who lived in downtown Los Angeles. He asked Dan if it would be all right if he brought some inner-city kids over. Dan said sure, the more the merrier, and the following weekend Morgan pulled up in a van and "six or seven" preteens and teens spilled out. Morgan had brought some pads with him, which the kids and some of the Goossens took turns whacking with gloved fists. As Morgan readied to leave, he remarked to Dan that "wouldn't it be great?" if the property also included a boxing ring. Dan could have dismissed it as idle conversation, but it got him to thinking.
When next Morgan and his crew showed up they were stunned to find a quickly erected and structurally sound outdoor ring, a surprise so stirring to Morgan that he broke down in tears of joy. Some sparring sessions ensued and, well, things would never be quite the same for the Goossen clan.
"We strung up lights in the branches of a tree that hung over the ring so we could train guys at night," Joe said, and the seed that was to blossom into Ten Goose Boxing was planted and began to take root. It was something straight out of an old Our Gang episode from the 1930s where Spanky, Alfalfa, Darla and the crew get together and proclaim "Let's put on a show!," except that a few years later that backyard show was getting rave reviews on a much grander scale.
"In 1981 we had a gardener from the neighborhood whose name was Nacho something-or-other," Joe continued. "He was kind of a rough-looking guy and Dan convinced him to try boxing. He was our first `fighter,' although he didn't last long. We were recruiting anyone we could. A used-car salesman, Harry Kazanjian, was one of the first guys we actually got a fight for. Harry probably had eight fights for us. I still see him around sometimes."
In relatively short order, Dan had graduated to staging cards at a country club in Reseda, Calif., which featured such legit fighters as Frankie Duarte and Randy Shields. The young Ruelas brothers, Gabriel and Rafael, were in the pipeline and in time would go on to become world champions.
But the real breakthrough was when Dan showed up at the 1984 Olympics in LA, where he met Bob Surkien, who had Nunn, an Olympic alternate with vast potential. "Dan somehow got Nunn, who was being recruited by Manny Steward, to come to our gym in September and, as they say, the rest is history," Joe said.
"We weren't one of the big players in boxing then, not at all. But we had Dan, who was the ultimate go-getter. When Nunn won the (IBF middleweight) title in 1988 – four years after we signed him – by knocking out Frank Tate, the guy that beat him out of the Olympic berth, Dan said, `Tate might have won the gold medal, but I got the gold nugget.' And he was right. We turned that gold nugget into something really big."
It also helped to buff and polish the Dan Goossen brand when, during a fight card in Chicago, Top Rank executive Akbar Muhammad was having difficulty striking a deal with a recalcitrant manager of a fighter TR founder Bob Arum hoped to sign. Muhammad asked Goossen inside the office where the negotiations had hit a snag, and less than five minutes later the two emerged, wearing wide grins. That magic touch led to a long and productive run with Top Rank for Dan, whose reputation as a closer was gathering momentum.
By the time he took ill, Dan Goossen had worked with, in addition to bell cows Nunn, Reid and Toney, such notables as Hall of Famers Mike Tyson and Terry Norris, David Tua, Paul Williams, Joel Casamayor and Lance Whitaker. He also promoted two of Floyd Mayweather Jr.'s bouts after "Money's" split with Top Rank.
As promotional resumes go, Goossen's would seem to pass any eye test for entry into the exclusive IBHOF club. If his name appears on my ballot, I'd give it a check mark. And I'm pretty sure I wouldn't be the only voter to do so.
It does make you wonder, though. What if L.C. Morgan hadn't happened along, opened his mouth and got an intrigued Dan to construct that ring? What if all that open space had just continued to be used for neighborhood Wiffle ball games?
There's no way of knowing for sure, but my guess is that Dan Goossen would have gone on to become the first commissioner of a pro Wiffle ball league and first inductee into the Wiffle Ball Hall of Fame that didn't exist then and still doesn't.
So much pulsating energy had to be channeled into something, right?
Check out more boxing news on video at The Boxing Channel  
To comment on this story in The Fight Forum CLICK HERE
In Defense of Julie Lederman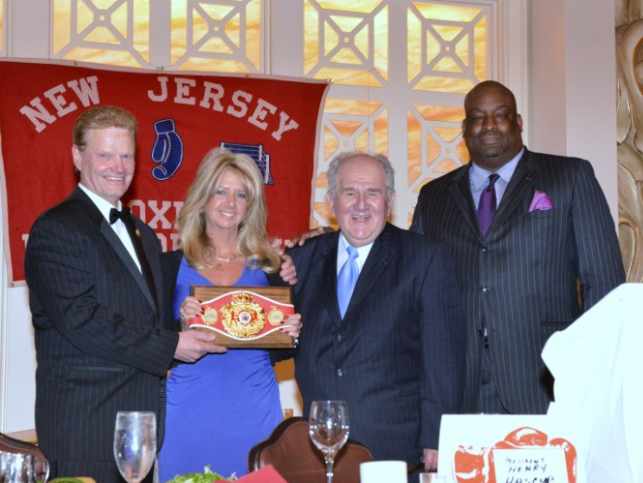 Some years ago, Matt Podgorski (a former boxing official) came up with a formula for evaluating the performance of boxing judges worldwide by determining the percentage of instances his or her scores were consistent with the other two judges working the same fights. He called it the Pod Index. It was a rare effort to quasi-quantify the work of boxing judges. "Boxing and MMA judges are often evaluated based on whether or not they have had a controversial decision. This is a poor way to assign and regard professional judges," said Podgorski in an interview with former RingTV editor Michael Rosenthal.
Matt's Disclaimer: "We are not claiming that judges with low Pod Index scores are bad judges. The Pod Index is simply a measurement of round by round variation compared to other judges."
Julie Lederman placed very high in Podgorski's study. In fact, only one  veteran judge — Canada's Benoit Roussel — had a better score.
For more information about the Pod Index, see http://theboxingtribune.com/2014/12/19/the-pod-index-a-step-in-the-right-direction/
Confirmation Bias
Some of this writer's favorite judges, in addition to Lederman, are Steve Weisfeld, Glen Feldman, Dave Moretti, Glenn Trowbridge, Joe Pasquale, Max DeLuca, Hubert Earle, Benoit Roussel, Burt Clements, Rocky Young, Joel Scobie, Tom Shreck, Don Trella, William Lerch, Pinit Prayadsab, and Raúl Caiz, Jr. All of them have been maligned at one time or another.
Being a judge is a thankless endeavor and attention is mostly received when something controversial happens. Once a judgment is made about a bad job, that judgment influences future perceptions. This is known as "confirmation bias."
Thus, Julie Lederman's highly questionable scoring in the Loma-Lopez fight, though it didn't change the result, will most certainly label her a bad judge, tarnishing her reputation despite all of the fine work she has done in the past. Moreover, it's now fashionable to "pile on" and castigate her with a nasty Bob Arum leading the charge.
"…what kind of fight was she watching,…these judges are the craziest…I would advise any fighter I would have to ask the commission not to appoint her…" — Arum
This wasn't the first time that Arum criticized Julie. Back in 2014, Tim Bradley and Diego Gabriel Chaves fought to a draw. Lederman scored the fight 116-112 in favor of Chaves. Arum had this to say: "She should never be allowed to work in Nevada again….Her scorecard for Chaves is an absolute disgrace …[She was appointed] because they let these [expletive] Showtime guys put a fight on the same night that we did it. They don't have enough judges. They don't have enough referees. They want to accommodate both parties. Why? Because they'll do anything the [expletive] MGM asks them to do."
"It's easy to criticize boxing judges. But it's not that easy to have a sound basis for the criticism. One needs to see the fight the judge saw to be in the position to rightly criticize. Critics should temper criticisms in light of the situations boxing judges are in when judging fights. And judges should likewise understand criticisms from the boxing public, however baseless these may seem."  — Epifanio M. Almeda
Lederman, 52, is in her 24th year as a professional boxing judge. Her assignments have taken her to eight foreign countries and Puerto Rico. And she has been a fixture this year at the MGM Bubble, working 18 fights across seven shows without incident prior to this past Saturday night.
This, of course, does not excuse Julie's scoring on Saturday (119-109 for Teofimo Lopez), but it needs to be kept in mind that she has been ranked high over the years and does not have in her past work a pattern of poor judging such as seemed to exist, for example, in Texas and which drew the ire of Paulie Malignaggi.
When she first hit the scene, cries of nepotism and politics accompanied her, but those complaints quickly evaporated. Whether she can bounce back from this controversy remains to be seen. This writer hopes she can.
Photo: Julie Lederman and her father are flanked by Henry Hascup, President of the New Jersey Boxing Hall of Fame and Aaron Davis, former President of the New Jersey State Athletic Control Board
Ted Sares can be reached on Facebook or at tedsares@roadrunner.com
Check out more boxing news on video at the Boxing Channel 
To comment on this story in the Fight Forum CLICK HERE
"—C'mon!" (from the pen of Springs Toledo)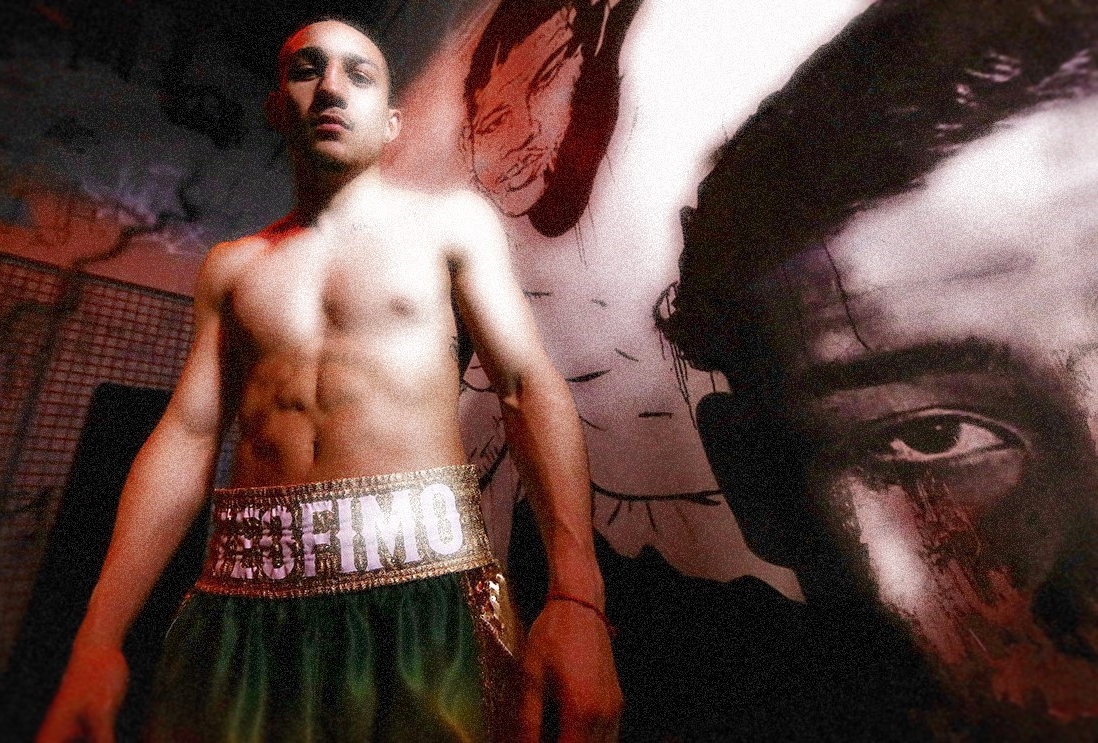 "—C'mon!" said Teofimo Lopez with two seconds left in the 12th round. It was a Brooklyn thing to say on a Brooklyn-type Saturday night, and Lopez timed it well. He'd just crashed two hooks at either side of Vasiliy Lomachenko's head and ended their saga as it began—with sharp words.
"My son will destroy Lomachenko," Lopez's father told EsNews in August 2017. Three months later Lopez was in the gym mimicking his style. "Same side always," he said as he tapped the bag and dipped to his right. "Nuthin' different." "Lomachenko is a diva," he said last week. "I don't like him … I'm the type of person, I say something I mean it. If you have a problem with it, come see me." Lomachenko came to see him all right, and both brought their fathers as if the whole thing was a schoolyard scrap.
Lomachenko's father is a silent sage. His modern training techniques are part of the "performance revolution" that has transformed every sport, including the sport that's barely a sport, and not necessarily for the better. Papa Chenko's futurama theories seem at once scientific and idiosyncratic. Pundits who never heard of Freddie Brown think they're next-level stuff. There's Lomachenko holding his breath under water to build lung strength; there he is touching that board with blinking lights to improve hand-eye coordination. When Lomachenko was 9, his father went so far as to enroll him in a Ukrainian folk dance school to expose him to hobak, hutsulka, and the kolomiyka, and you can see it in all the hopping and side-stepping he does around the ring at 32.
Papa Lopez is anything but silent, though he too is a sage—a naysaying sage with street instincts picked up during a few round trips through hell. He takes no one's word for anything and if he takes a break from a tirade and asks a question, it has about as much tact as a shiv. When Lomachenko is holding his breath in the pool is someone else there too, denting his rib cage with hooks? Those lights blinking on the screen, do they feint? And dancing school? Dancing school? Brooklyn itself rolls its collective eyes.
Papa Lopez laughs without mirth at the consensus opinion, at the so-called experts. But he couldn't laugh off the indisputable fact that Lomachenko has been knocking off a parade of world-class fighters. So he plopped down in front of YouTube to see for himself what was happening.
And what did he see?
He saw that the so-called Matrix style is a series of tricks; that Lomachenko is pulling fast ones on the gullible in the opposite corner and in press row. He saw opponents cooperating with him as he gauged their strengths and weaknesses in the first round or two and measured the distance between his glove and their chin. He saw them mesmerized by nothing-shots—"pitty pats," he called them, "patty-cakes," and wondered if it would have been easier or harder, given the language barrier, if Lomachenko just came out and asked them to throw something so he can find the best route around it to sock them in the chops.
Papa Lopez also saw that Lomachenko is preoccupied with not getting hurt; that he habitually slips, dips, and veers off to his right against the conventional stance. Teofimo, 23, saw the same thing. They both know why he prefers that direction: it's the safest route.
His offense, which has two prongs and lots of frills, doesn't contradict his preoccupation. Lomachenko wants to draw out his opponents to counter them. He stands a half-step off the perimeter where they can't quite reach him and he can't reach them. Then he baits them. If they take the bait, he hops in with a jab and then hops back out of reach. He's making calculations, looking for patterns, and once he finds them he exploits them with minimal risk to himself because, like Floyd Mayweather, he already has a pretty good idea of what they're going to throw. When is he most aggressive? When his opponent is least aggressive—out of position or covering up. He isn't comfortable with uncalculated risks. Like Floyd, he wants control; and that only happens with an opponent's cooperation.
Stanley Crouch, the late cultural critic and Brooklynite who was at least as contentious as Papa Lopez, understood the set-up. "What a boxer ideally wants to do is turn the opponent into an assistant in his own ass-whipping," he said. "That's really what you want the other guy to do—to assist you in whipping his ass."
Lomachenko built a reputation on willing assistants.
And defeating him was easier than anyone anticipated. The fighter of the future bowed to all-American unruliness and old-fashioned fundamentals.
Old School's comeback Saturday night was long, long overdue. Lopez used his strength and length to draw an invisible border with a warning that said "this far and no farther." Then he enforced it. Instead of letting Lomachenko freely angle around him like he's some stiff at the prom, he angled with him and threw punches. When Lomachenko slipped and sallied past his invisible border, he adjusted his distance and sent the dogs out. He stopped his momentum. He never let him take control. He never cooperated.
By the 8th round, Lomachenko realized that he had no chance to win unless he let go of his preoccupation with defense. He had to "sell out," as Andre Ward said, by getting closer and sallying in when it wasn't safe. Lomachenko won the 8th round—the first of only three that two judges scored his way—but it didn't matter. His mouth had dropped open as if he was getting ready to admit futurama's failure. "I heard him huffing and puffing and I knew I had him," said Lopez.
The 12th round reminds us that Old School remains the gold standard in the sport that's barely a sport. When Papa Lopez had a nervous moment in the corner and urged caution, Lopez refused. "I'm a fighter, I can't give him that," he said, as if to remind us that Old School is more than dust, that it's a disposition.
Teofimo Lopez now stands in a succession of lightweight kings whose dispositions were the impetus behind achievements that make this succession very possibly the most majestic of them all: Joe Gans. Benny Leonard. Tony Canzoneri. Barney Ross. Henry Armstrong. Ike Williams. Carlos Ortiz. Roberto Duran. Julio Cesar Chavez. Pernell Whitaker.
Floyd Mayweather is in that succession too, but the business model that guided his career was rebuked Saturday night. Lopez pointed to the past, polished it up, and declared its superiority. "We're bringing back what the Old School was. You fight the best and push on it. I'm not here to pick and choose who I want to fight because I want to defend my title and keep that 0," he said and shook his head. "No. Nah!"
The lightweight king now beckons chief rivals Devin Haney, Ryan Garcia, and Gervonta Davis to disavow the business model and take up the red flag. He looks north to Josh Taylor and Jose Carlos Ramirez's battle for the jr. welterweight crown and beckons either of them—or both.
 "—C'mon!"
Photo credit: Mikey Williams / Top Rank
Check out more boxing news on video at the Boxing Channel 
To comment on this story in the Fight Forum CLICK HERE
Kelsey McCarson's HITS and MISSES: Takeover Edition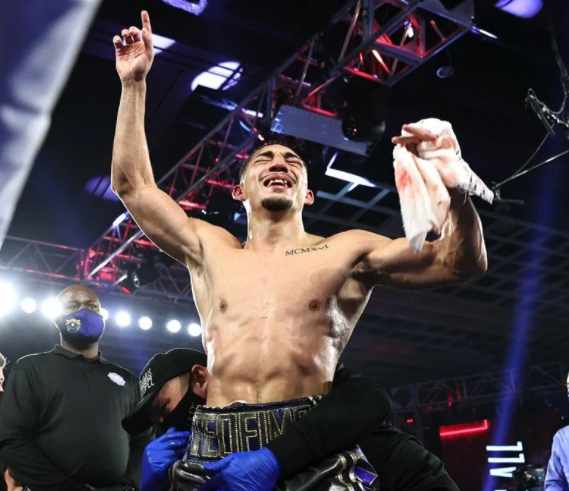 Boxing is back!
Okay, boxing had technically been back for a few months now. But didn't it seem to be more fully back to normal with the weekend's lightweight unification battle between Teofimo Lopez and Vasiliy Lomachenko on ESPN?
Make that double the case now that another edition of HITS and MISSES follows the latest big weekend in boxing, the first installment since the global pandemic began. 
HIT: Teofimo Lopez's Undisputed Takeover
It's one thing to parade something like "Takeover" around as your nickname while promising to be the next great fighter in the sport. It's quite another to actually pull that takeover off, and do it at the tender age of 23 against a three-division world champion that's a massive betting favorite. 
But that's what Lopez did on Saturday night in Las Vegas, and he accomplished it in a way that almost nobody expected. 
Lopez dominated Lomachenko from the start of the fight. He outboxed the clever southpaw savant in a way few people dreamed possible and took home the unanimous decision win. Even among the few who thought the young lion might somehow usurp the old guard, most of that crew thought it would probably be one big punch that sent Loma down for the count.
By the end of the night, Lopez had solidified his status as boxing's newest superstar. He also became the first undisputed lightweight champion since Pernell Whitaker. 
But even if the whole WBC Franchise fiasco leaves you in a place that questions that specific designation, Lopez used his post-fight celebration time to call the other WBC belt holder Devin Haney about a possible future showdown. 
So, Lopez is the undisputed best thing to happen to boxing in a long time. 
MISS: Vasiliy Lomachenko's Slow Start
I like to think Lomachenko is still somewhere out there right now feinting and shuffling his feet around like a dancer. Seriously, though, what was Lomachenko doing for most of Saturday night? He certainly wasn't attempting to win the fight. 
Much was made by the ESPN announcers about how Lomachenko would start slow in fights because he liked to download his opponents' movements before settling on his attacks. But Lomachenko didn't seem all that interested in attacking Lopez until somewhere around the eighth-round. By that time, the 32-year-old was way too far down on the scorecards for anything to matter all that much.
Sure, the last third of the fight was fun to watch. Lomachenko did end up having his moments including a strong 11th round, but it would have been a better fight if Lomachenko had started sooner. 
Instead, the fighter ESPN has long argued deserved to be ranked above everyone else regardless of weight class dispassionately saw his titles ripped away from him with relative ease. 
HIT: Edgar Berlanga's KO Streak
Last year, I noted that Berlanga's incredible streak was probably a case of matchmaking gone awry and that Berlanga would likely suffer later in his career because he wasn't getting any rounds under his belt that mattered. 
My reasoning? Even terrifying power punchers like Deontay Wilder and Gennadiy Golovkin didn't dispatch their early opponents in such decisively one-sided ways. 
Maybe it was just the lack of boxing around due to the global pandemic, but now I've flipped on Berlanga's knockout streak. The 23-year-old scored his 15th first-round stoppage in a row against Lanell Bellows on Saturday's Top Rank on ESPN card. 
It's become one of the most interesting and noteworthy streaks in the sport, and this time Berlanga stopped an opponent who had never suffered that fate before in any round, much less the first. 
Berlanga's 15 KOs in 15 fights is good television. 
MISS: Boxing Judge's Viral 'Social Dilemma'
Lewis Ritson was awarded a split-decision victory over former lightweight titleholder Miguel Vazquez on Saturday in England in a junior welterweight bout dubbed by the Sporting News as the "worst decision of 2020."
According to CompuBox, Ritson's "constant forward movement and snappier punches" earned him the nod on two of the judges' scorecards even though Vazquez had out-landed him in all the important punch stat categories (193-141 overall, 80-75 jabs, 113-66 power).
But the biggest controversy was the viral picture of judge Terry O'Connor apparently looking at his phone during the fight that he scored 117-111 for Ritson. 
That didn't sit well with anyone who believes judges should be watching the fights they're tasked with scoring.
But in the wake of Netflix's documentary film "The Social Dilemma," that shows just how ingenious today's artificial intelligence is at boosting user engagement so companies can sell advertising time to the unwitting people on the other end who don't know why they can't put their phones down. Maybe O'Connor and others should be mandated to place their phones in a place they can't be accessed during fights. 
That would keep the social media outrage that's going on right now over the few seconds O'Connor spent looking away from the action and point it more toward what appears to be boxing's bigger problem: phones or no phones, too many boxing judges don't know how to score fights. 
HIT: The Wonder of Complementary Programming 
Boxing counterprograms itself so much these days through the different promotional companies and networks out there that it's nice to enjoy at least one day in recent history where a big fight happened and there weren't any other big fights attempting to grab our attention. 
Not only did that happen, but ESPN wisely chose not to split programming between it's MMA and boxing audiences on Saturday. 
ESPN is the home to Top Rank on ESPN boxing as well as the world's leading MMA promotional company, UFC.
Like Top Rank, the UFC had a massive fight card on its schedule on Saturday, and the boxing/UFC audiences are fractured enough that both cards could have somewhat reasonably ran against each other. 
Instead, the UFC's Fight Night card in Abu Dhabi ran early in the evening, and it meant UFC fans who might be somewhat interested in the big fight in boxing could be funneled to the main card featuring Lopez vs. Lomachenko. 
That's great for both sports, the promoters and ESPN, too. Top Rank's Bob Arum and UFC's Dana White might hate each other for personal and political reasons, but the rising tide of complementary programming on ESPN will ultimately have all ships rising. 
Check out more boxing news on video at the Boxing Channel 
To comment on this story in the Fight Forum CLICK HERE
Photo credit: Mikey Williams / Top Rank