The Fifty Greatest Flyweights of All Time: Part Three 30-21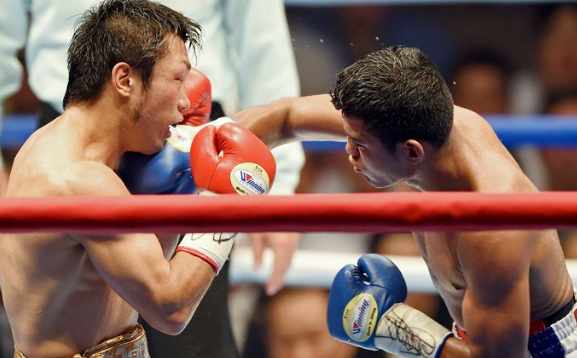 The Fifty Greatest Flyweights of All Time: Part Three 30-21
In Part Three we meet fighters who approach true greatness, but who, for whatever reasons, failed to grasp the nettle. We also take in the full vista of the flyweight division traveling back to the First World War and sweeping right up to the present day with a selection of fighters as different as they were excellent.
Running into Fighting Harada in Part Two means that we have already let the head-to-head monster out of the genie's lamp but there are one or two named below who could have lived with him.
Despite this, and an array of all-time great scalps and some astonishing facts and figures these men do come up just short of the top twenty, however.
This cannot be explained in its entirety here – in large part it is due more to the wonderful talent we will discuss in Parts Four and Five.
#30 – Terry Allen (1942-1954)
Londoner Terry Allen was difficult to rank. He had one of those careers where he seemed at times capable of anything and at others, limited. Nothing is more demonstrative of this than his bizarre trilogy with the superb Northern Irishman, Rinty Monaghan.
The two first met in 1947, both men already well established as flyweights of class, Monaghan then the #1 contender to the flyweight crown. Their all British affair would see the winner advance to a shot at the champion, Jackie Paterson, in another lucrative domestic contest. Much was at stake.  Focus was paramount.
Allen was blasted out in a single round.
He got his chance at revenge in 1949. Monaghan, by then the champion, gave his storied old foe a chance at redemption in an eight-round non-title fight at the Harringay Arena in London and Allen grabbed at it with both hands, climbing from the canvas to dominate a torrid sixth round and receive a deserved decision over the short distance. A championship fight was his reward.
Allen got everything right early, dropping his nemesis heavily in the second round, but seems perhaps to have been disorganized in following up his advantage. Monaghan survived. The Coventry Evening Telegraph described the fight as "the biggest fright of [Monaghan's] life" and it is suggested, perhaps, that the Northern Irishman was given the benefit of the doubt on home soil in escaping with a draw; whatever the detail, Monaghan promptly retired and the title passed into vacancy.
Allen would lift that title in 1950, outpointing Honore Pratesi to begin a new lineage; that lineage passed to Dado Marino just four months later as Allen in turn dropped a decision out in Hawaii.
Another crackling series with Dickie O'Sullivan and a victory over contender Norman Tennant enhances his standing and his legacy; stories, perhaps, for another day.
#29 – Muangchai Kittikasem (1988-1999)
Muangchai Kittikasem is a perennially underrated fighter who reigned undisputed as the best flyweight in the world in 1991 and 1992. He then made way for the extraordinary Yuri Arbachakov but he ended the reign of a fighter just as extraordinary, that of Sot Chitalada, the great Thai.
The first time they met was in February 1991, a vicious contest that left Chitalada repeatedly tangled in or draped over the ring ropes. It was his first ever stoppage loss. His second was just around in the corner in the rematch, staged almost exactly one year later.
Chitalada survived two heavy knockdowns in the second round, but only to be savagely dispatched in the ninth. Kittikasem, then, mastered Chitalada but he could never supplant him and achieve his superstar status. In between his two battles with Chitalada, Kittikasem staged a fight of the year contender with the highly ranked Jung Koo Chang, surviving three knockdowns himself to dispatch his Korean opponent in the twelfth and final round with the fight in the balance. He also sneaked past Alberto Jimenez in a narrow majority decision, another excellent fight.
When Arbachakov came in along, Kittikasem was far from "ready to be taken" and it must have hurt to have to step aside for the better man. An underappreciated legacy underpinned by that victory over Chitalada should see him more fondly remembered than he generally is.
#28 – Percy Jones (1911-1916)
Percy Jones was the other top Welsh flyweight from the World War One era who sadly never met the great Jimmy Wilde in the ring. It seems odd that their paths never crossed but Jones had a relatively short career, although he packed in plenty.
He first made his mark early in 1914 beating Londoner Bill Ladbury in a desperate scrap that saw him a points winner. A weird hybrid of styles, Jones seems to have fought out of the American crouch but kept the British propensity to stress the jab above all else, a frustrated stylist. Quick, powerful and famous in his own time for the accuracy and sharpness of his left hand, Jones took the British and European titles from Ladbury as well as an uneasily burgeoning version of the world title, leading many to name him the first Welsh world champion.
Whatever the validity of this claim, Jones became the pre-eminent flyweight for a spell while Wilde was emerging. His chief dance partners were Joe Symonds, who we ran across in Part One, Jones winning three of their four matches, and Eugene Criqui, with whom he split a series 1-1. The most meaningful of these contests, with Percy's titles on the line, took place in March of 1914 and was perhaps the finest performance of the Welshman's career.
It would also be his last at the flyweight limit. Jones always made war with his body to cut to the requisite poundage and he had taken the flyweight adventure as far as it could go.
The valleys of Wales rarely fail to astonish with the huge assortment of brilliant talent they've gifted to boxing over the years, but the Jones/Wilde domination of the blooming flyweight division's early years is perhaps the most spectacular.
#27 – Santos Laciar (1976-1990)
Santos Laciar was a sawed-off 5'1" Argentine who sported the heart of a much larger man, reflected in the fact that he was never stopped in 100 boxing contests. He was a true centurion, rarer and more beautiful for the fact that he became one in 1990 in the third decade of his career and the year of his final contest.
For all that, he was never the lineal title-holder, but rather a belt-holder (Atonio Avelar, Freddy Castillo and Ele Mercedes the true champions who evaded his grasp) Laciar gathered a splendid resume, besting Peter Mathebula and Juan Herrera, who were both among the most admired flyweights of the early eighties. Defeats of former lineal champion Prudencio Cardona, the past prime Betulio Gonzalez and Hilario Zapata all speak for him.
The best of Laciar can be readily seen online in the form of his 1981 destruction of Mathebula.  Much rangier than Laciar, Mathebula was then the #3 contender to the flyweight crown and favored to beat his smaller opponent on his native South African soil; 5,000 miles from home, Laciar tucked up, narrowed himself, and put on a glory of slippage, nullifying Mathebula's excellent jab. A delicious and short left-hook ate up the real estate Mathebula deployed between them and the transmuted left uppercut that accompanied it slowly opened up the right hand. This spelled the end for the South African and made Laciar one of the world's pre-eminent flyweights, a position he did not relinquish until 1985.
#26 – Efren Torres (1959-1972)
Efren Torres, "The Scorpion", interrupted the championship reign of the great Chartchai Chionoi in the late 1960s to rule briefly as the lineal flyweight champion of the world. As signature wins go, this is very much one for a fighter to hang his hat on.
But Torres has so much more than a gatecrash grab of Chionoi's title going for him. Not least was the impression he made in his 1968 losing effort versus Chionoi, running the great Thai right to the wire with the judges split down the middle as referee Arthur Mercante stopped the fight after thirteen savage rounds of vicious fighting that saw the ring mired in gore. Chionoi, who called Torres "the second best flyweight in the world" in the wake of this war, opened up a grotesque cut and rendered the Mexican's face a crimson visage; a rematch of this first fight, which remains one of the most celebrated title-fights in flyweight history, was inevitable.
The second fight did not deliver. Torres, without suffering the urgency that terrible cut forced upon him in 1968, totally outclassed Chionoi in 1969. In the broiling El Toreo de Cuatro Camino, he slid, slipped, and counter-punched his way to total dominance, stopping the champion in eight one-sided rounds, even returning the brutal favor in crisply battering his opponent's face into an unrecognizable lump with volleys of punches crowned by a deadly straight right hand.
Alas, Efren's time at the top was not to last. A single successful title defence against Susumu Hagata, then among the five best flyweights in the world, was followed by a third clash with Chionoi.  Perhaps not many fighters could have prospered in sharing an era with the great Thai and Efren came up short, dropping a wide decision in the Orient. He would never return to the title.
His wider resume was impressive, including victories over an ancient Pascual Perez, a young Octavio Gomez and Raton Mojica, who would one day best Chionoi himself.
But it is for his evergreen trilogy with the wonderful Chionoi that he will rightly and always be remembered.
#25- Jackie Paterson (1938-1951)
Jackie Paterson is one of the longest-reigning champions in flyweight history and despite this fact remains perennially underrated. His claim is generally recognized from 1943 when he destroyed former champion Peter Kane, brilliantly, surreally, in a single round.
So why is he ranked no higher?
Well, Paterson was a fighting champion, he was very busy in the years in which he held the title, but he rarely placed it on the line. He fought a meager number of defenses, explained, in part, by his endless battle to make the 112lb weight limit. He fought as high as featherweight, battling (the right word) back down the flyweight limit to re-match old foe Joe Curran in 1946, coming out ahead over fifteen but likely delivering less than his best.
Another, more pertinent question then: how to justify such a high ranking?
Despite his shyness with the title, as a contender, Paterson operated with regularity in the upper echelons of his division. A good, if not a great bunch, he matched as many ranked contenders as anyone ranked below him on this list. He fulfilled the time-honored tradition of breaking out by battering a contender on the wane in the shape of Curran in June of 1939; he stopped Paddy Ryan later that same year and in doing so claimed the British and Commonwealth title. He was barely into his twenties.
Two years later, stretching the definition of what a flyweight could be, Paterson embarked on that lengthy title reign. He is not credited for it fully for the purposes of this list; he simply couldn't be given the infrequency of his defenses.
A quick word on Paterson's final paper record, which stands at 65-25-3. Paterson endured a long and depressing wind-down to his career, but this took place up at bantamweight. He never made the flyweight limit again after dropping his title to Rinty Monaghan in 1948 and went 3-9 during his run in. Even as champion he was seen more frequently at bantamweight and above than at flyweight, and these were the weight divisions in which he suffered most of his losses.
#24 – Roman Gonzalez (2005-Active)
Roman Gonzalez was an awesome flyweight who somehow managed to encompass the spirit of a runaway moon and a precision-engineered instrument concurrently. He was a terrible death for boxers and box-punchers and a rending ending, usually by knockout, for those who tried to stand with him. Had he been born in 1930 he likely would have been ranked among the ten greatest flyweights of all time. As it is, he lost precious years dismantling contenders below 112lbs before landing in earnest at flyweight around 2012. Hardly a wasted career but one that sees him ranked lower than feels right on this list.
The Gonzalez resume at flyweight boils down to four fighters: McWilliams Arroyo, Brian Viloria, Edgar Sosa and Akira Yaegashi. The Yaegashi performance, his first meaningful combat at the weight, was a glorious one and one that saw him lift the legitimate flyweight world-title.
Reigning champion Yaegashi, the very personification of bravery in a boxing ring that night, seemed at no time to have any chances of winning. Picking his moments to fight as he was driven round the ring, Yaegashi lost almost every exchange to a fighter who, at the time, was throwing punches with an eerie fluidity that few of history's top stalkers could match.
With the championship in tow, Gonzalez collapsed top contender Edgar Sosa three times on the way to an early knockout, crucified Viloria, himself named in this Top Fifty and posted a shutout against Arroyo.
He then departed for 115lbs, a step too far even for him; in his flyweight prime he was a match for anyone on this list.
#23 – Yoshio Shirai (1943-1955)
Yoshio Shirai turned professional during World War Two and after being drafted into the Japanese navy suffered injuries grave enough that they threatened his burgeoning boxing career. That career was resurrected by his own innate toughness and by his close association with a member of the American occupied forces, Alvin Cahn, who helped him refine his raw aggressive style into that of a technically minded pressure fighter.
There was money, too; it bought him two non-title shots at the reigning champion Dado Marino. The first, in Japan, saw him drop a split decision but made firm the notion that Shirai was for real. The rematch was staged in Marino's native Hawaii, and once again was a non-title match-up; this time Shirai had the measure of his man, stepped into the pocket and clinically out-fought him. This forced Marino's hand and he returned to Japan where the title changed hands in a baseball stadium before 40,000 fans.
Shirai made four successful defenses of his championship, no mean feat and more than most of the champions to have preceded him. He re-matched Dado Marino (winning a unanimous decision in the fourth in their epic series) then defeated Filipino Tarry Campo, who was among the finest flyweights in the world. A minor setback unfolded when he was stopped on a cut by top contender Leo Espinosa in seven in a non-title fight, but the rematch went Shirai's way, for all that Espinosa ran him desperately close. In between those matches, Shirai found time to outfight former champion and fellow Top Fifty flyweight Terry Allen. It was a hot, hot streak.
The man who ended it was the all-time great Pascual Perez. The deadly Argentine genius was made to work for it though and in fact in the first of their three contests he had to make do with a draw.  When Perez took his title in a rematch and turned him away by stoppage in a third contest, the first of the Japanese champions hung up his gloves, 46-8-4 and the former flyweight champion of the world.
#22 – Tancy Lee (1906-1926)
Having composed similar lists on all seven of the other classic weight-classes I'm familiar with the stage we have reached in this flyweight Odyssey: the stage where good resumes are elevated to something greater by an exceptional win. Torres has Chionoi. Allen has Monaghan. And Tancy Lee has Jimmy Wilde.
As far as apex victories come there are few, if any, that impress more. Sure, Lee was considerably heavier than the sub-100lbs Wilde, but it is also a fact that the Welshman was on an astonishing unbeaten streak approaching one-hundred fights and that at the end of the previous year of 1914, he had defeated the excellent Sid Smith and Joe Symonds back to back. Tancy Lee ended all of that, and on a stoppage.
A familiar claim emanates from the ashes of their January 1915 meeting, one that is stumbled upon frequently when a great fighter is vanquished: claims that Jimmy Wilde had the flu. It was a brave man who voiced these opinions around ageing Scotsman Tancy Lee in later years. This is understandable – proof that Wilde had the flu is basically non-existent. It should be remembered, after all, that an epidemic of flu killed as many as 100 million people between 1918 and 1920.  Boxing was not something you did when you had flu in 1915, it was something you saw your priest about.
More likely, Wilde suffered a cold and suffered even more from the vicious attentions of a flyweight who carried a huge upper body for the era. A miniature Bob Fitzsimmons in aspects of his physical appearance, Lee harassed, harried, and battered Jimmy Wilde until his corner tossed the towel in the seventeenth. Lee had his marquee win.
He defeated another superb Welsh flyweight in Percy Jones and numerous other excellent British flyweights at a time when the UK dominated the smallest division. Accountancy purely of the lower weights in his own era would see him rank very respectably indeed, but his October 1915 loss to Joe Symonds costs him a couple of spots here. Lee did avenge this loss, but above the flyweight limit where he enjoyed a second career of no small matter.
#21 – Pongsaklek Wonjongkam (1994-2018)
What do you do with a problem like Pongsaklek Wonjongkam?
On the one hand the Thai staged more than twenty successful title defences in two spells as champion between 2001 and 2012. This measure of success denies almost all possible criticism.
That said, many of these defenses were little more than stay-busy fights staged for walking-around money, both for the fighter and for his sponsor, the WBC. A list of the worst ever lineal title challengers would draw heavily from Wonjongkam's opposition.
Malcolm Tunacao, who was in possession of the flyweight championship of the world when Wonjongkam got his shot, was absolutely legitimate, however. Wonjongkam stopped him in a round with a direct, fast-handed attack of glorious naivety that began at bell and ended with Tunacao dropped for a third time, unbroken but a victim of the three-knockdown rule.
Thus began a series of bum-of-the-month defenses interrupted in April 2002 by the Japanese Daisuke Naito. Naito, it must be noted would emerge as one of the best flyweights of his generation and as a fitting foil for Wonjongkam over a four-fight series contested over much of the coming decade. Their first fight, however, was a wash. Naito was the first serious opponent for the champion since he'd destroyed Tunacao, and as it was so it would be as the Thai king knocked Naito unconscious with a blistering reverse-one-two in just seconds.
Naito, however, came again. He put together an eight-fight winning streak and indeed he would never lose a fight to any man other than Wonjongkam. Their rematch staged in in 2005 was unsatisfying, Wonjongkam winning an exciting technical decision after seven when an accidental clash of heads caused a cut to be opened above Naito's right eye.
Their third and fourth fights, both contested in Japan, were ramshackle, turgid affairs which could have been won by either man. Wonjongkam lost the first of these and drew the second, probably deserving of a narrow win. This represented the end of his rivalry with Naito who dropped his title to Koki Kameda in 2009. Wonjongkam defeated Kameda in turn to become a two-time lineal flyweight champion.
Aside from this, the Thai bested several fringe contenders and nobodies to build his astonishing title-fight figures. He leaves a curious legacy. Few fighters to have spent so long at the pinnacle can leave me feeling so uncertain as to their quality. On the other hand, there is no arguing with the numbers.
That's because numbers hold power over us. They matter. The difference between twenty-one and twenty is no wider than a hair but for some reason, it matters. Next week, we meet the fighters who cross that crucial hair's breadth.
To read Part One of The Fifty Greatest Flyweights of All Time, please CLICK HERE.
Check out more boxing news on video at The Boxing Channel  
To comment on this story in The Fight Forum CLICK HERE
Late-Bloomer Jersey Joe Walcott Goes the Distance Again With Statue in Camden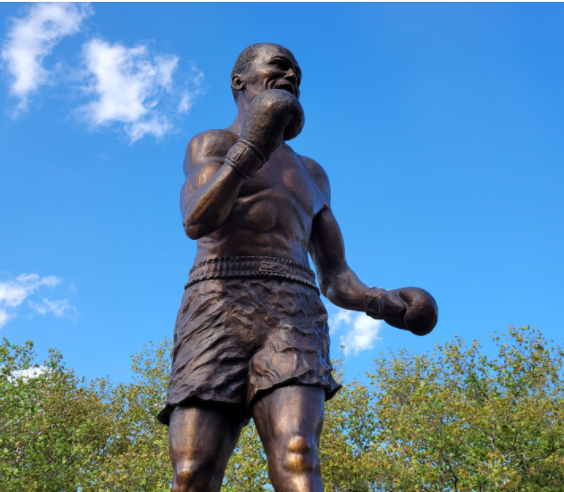 It may not always be apparent to those with untrained eyes, but there is genuine art in boxing for those who understand the beauty and majesty of a perfectly timed left hook. Just such a masterful moment of the sweet science was authored by Jersey Joe Walcott on July 18, 1951, in the seventh round of his fifth and likely final shot at the heavyweight championship he had been clawing and scratching his way toward since he turned pro at 16 in 1930.
Again a longshot against the great Ezzard Charles, against whom he already was 0-2 in title bouts, a frozen moment in time that fateful night at Pittsburgh's Forbes Field transformed Walcott from a symbol of his sport's relentless but mostly unrewarded grinders to instant-legend status. At 37, he not only had become the oldest man to that point ever to win boxing's most prestigious prize (a distinction he would hold for 43 years, until 45-year-old George Foreman dethroned WBA/IBF champ Michael Moorer on another incredible, bolt-from-the-blue knockout, on Nov. 5, 1994, in Las Vegas), but the patron saint of fighters with iron wills and vision quests they would see through to completion or die trying.
In a story that appeared on this site on July 16, 2018, I ranked Walcott's blasting of Charles No. 1 on my personal list of all-time one-punch knockouts, which I described thusly:
Entering the seventh round, Walcott led the scoring, in rounds, by 5-1, 4-1-1 and 3-3. Moving forward while rocking side to side, the 9-1 underdog dipped to his left and exploded upward with a thunderous left hook that caught Charles flush on the jaw. The semi-conscious champion pitched forward onto his face.
It is difficult to encapsulate the full scope of such a historically significant and aesthetically flawless a punch into any inanimate object, like a statue, but sculptor Carl LeVotch perhaps came as close as is humanly possible with his eight-foot bronze of Walcott, which was unveiled this past Saturday during a celebratory day of festivities in Camden, N.J., the hometown of the beloved fighter whose real name was Arnold Cream. The unveiling took place along the Camden waterfront, at the Wiggins Park Promenade, following a 3½-mile parade that featured marching bands and other attractions.
For medical reasons I was unable to attend an event I had very much been looking forward to, but the spirit of the occasion – and the 20-year march from concept to completion for those who wanted the Walcott/Cream statue to be more than just another item on someone's wish list – closely mirrored the ring career of an inspirational figure who fueled the imaginations of so many attendees. Chief among those is Vincent Cream, 61, the grandson of Jersey Joe who spearheaded the drawn-out efforts to raise the $185,000 required to fund the project, which is still not entirely paid for.
"It was an overwhelming moment," Vincent Cream told Boxing Writers Association of America president Joseph Santoliquito, who covered the event for another media outlet. "Everyone who never met my grandfather met him today.
"No one ever dies. He's here with us. When I look at his statue, and you see who's gathered here – white, black, old, young, everyone coming together – his timelessness has come. To persevere for 23 years, it represents who my grandfather was as a man and his fortitude as a person. When you have a dream, it's important to set goals between the dream and the achievement. Every time I brought up the idea of a statue, people would tell me, `Good luck with that.' That was 10 years ago. We achieved it, a little at a time – like my grandfather."
LeVotch, with whom I have long been acquainted, has nearly as long a track record in his boxing-related field as did Walcott, who took his ring nom de guerre in tribute to Joe "The Barbados Demon" Walcott, a welterweight champion whose career ended in 1911. The original fighting Walcott was a hero to young Arnold Cream's father, Joseph Cream, who came to New Jersey from the British Virgin Islands. I first met LeVotch for a story I did on him that appeared in the Philadelphia Daily News editions of July 2, 2003, when he took me through the process of his creation of a 17-inch cold-cast bronze statuette he called The Spirit of Boxing, reproductions of which are owned by any number of boxing notables. His goal, he told me, was to create something more meaningful than the statue of the fictional heavyweight champion Rocky Balboa that was used as a movie prop for 1982's Rocky III.
"It doesn't move me," LeVotch said. "A true piece of art is capable of moving the man on the street. It is an instrument to inspire. It's been that way since antiquity. I have a great affinity for Rodin (that would be Auguste Rodin, the French sculptor, not Rodan, the Japanese movie monster). His The Thinker is a sacrament, if you will, of an inner grace.
"I'm one of those guys who believe boxing is a metaphor for life. I also think of it as an art form. Those who do it well are, in their own way, artists."
In addition to his sculpted improvements of several awards the BWAA presents as its annual dinner, LeVotch's other life-sized commemoration of a boxing life, that of former middleweight champion Joey Giardello (real name: Carmine Tilelli), was unveiled on May 21, 2011, in Giardelli's old South Philadelphia neighborhood. Like Walcott, Giardelli – father of four sons, one of whom was born with Down Syndrome – was more than just a fighter, something LeVotch sought to convey through his art.
"I saw Joey not only as a terrific fighter, but as a father who cared deeply for his disabled son," Carl told me a decade ago. "How do you convey all these different sides of a man in coagulated metal? My challenge was to capture the essence of the man as well as a physical likeness."
Brought to tears by LeVotch's artistic interpretation of who her husband was and what he represented in meaningful ways that extended beyond the ring, Rosalie Tilelli said, "I'm overwhelmed. I call Carl LeVotch my Michelangelo."
Jersey Joe Walcott was demonstrably statue-worthy even if he hadn't moved on from boxing to a full and rich later phase of his life in which he served as the first African-American elected sheriff of Camden County, serving from 1971 to '74, and chairman of the New Jersey State Athletic Control Board until 1984. His wife, Riletta Cream, also was committed to public service as a city educator and county freeholder from 1994 to 2011.
But it is Walcott the boxer who set records inside the ropes that almost certainly will never be matched, much less surpassed. Fighting in an era when there was just one heavyweight champion, not a bunch of alphabet title-holders, he fought eight times for boxing's grandest prize, going 2-6 with two losses apiece to Joe Louis and Charles before he broke through against Charles with that museum-quality left hook in Pittsburgh. Five of those title bouts, incredibly, were in succession. There are more than a few historians who believe Jersey Joe should have won on points in his first go at Louis, in which he floored the "Brown Bomber" in the first and fourth rounds. No wonder Walcott's most ardent fans, even those in his own family, were hesitant to risk seeing him come up short again when he again squared off against Charles in the home stadium of baseball's Pittsburgh Pirates.
"I was 12 when my dad won the heavyweight title and there he is, so real," Ruth Cream, now 82, told Santoliquito at the unveiling. "I remember that night like it happened clearly. I was the only one downstairs at our house with reporters in our living room watching the fight on TV. Everyone else was upstairs in bed because they didn't want to watch it.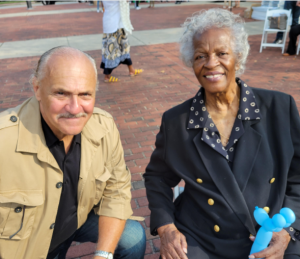 "After my father won, I remember running up the stairs to tell my family, `Daddy won!'"
After a successful defense on points against familiar foe Charles, Walcott, well ahead on points through 12 of the scheduled 15 rounds, was dethroned by Rocky Marciano on a 13th-round knockout on Sept. 23, 1952, in Philadelphia. He fought just once more, this time being stopped in one round by Marciano, before hanging up his gloves with a 51-18-2 (32) record. He was part of the 1990 charter class of inductees into the International Boxing Hall of Fame.
Camden officials are hoping their hometown hero's statue becomes something of a tourist attraction, as is the case with the Rocky statue at the base of the steps of the Philadelphia Art Museum and the 12-foot Joe Frazier statue, created by sculptor Stephen Layne and located outside the Xfinity Live! bar/restaurant in the South Philly sports complex. As splendid as it is, the Giardello statue draws fewer eyes given its location in a less-bustling and attraction-loaded neighborhood.
But in a metropolitan area where bronze tributes to sports stars of the four local professional franchises (Eagles, Phillies, 76ers and Flyers) are fairly commonplace, the statues of Frazier, Giardello, Walcott and, yes, Stallone are at least a signal that boxing, for so long Philadelphia's fifth pro sport and a veritable cradle of champions, is recognizing a part of its past that is worthy of being preserved and treasured.
Editor's Note: Bernard Fernandez, named to the International Boxing Hall of Fame in the Observer category with the class of 2020, was the recipient of numerous awards for writing excellence during his 28-year career as a sportswriter for the Philadelphia Daily News. Fernandez's first book, "Championship Rounds," a compendium of previously published material, was released in May of last year. The sequel, "Championship Rounds, Vol. 2," with a foreword by Jim Lampley, arrives this fall. The book can be ordered through Amazon.com, in hard or soft cover, and other book-selling websites and outlets.
Check out more boxing news on video at the Boxing Channel
To comment on this story in the Fight Forum CLICK HERE
Weekend Boxing Recap: The Mikey Garcia Stunner and More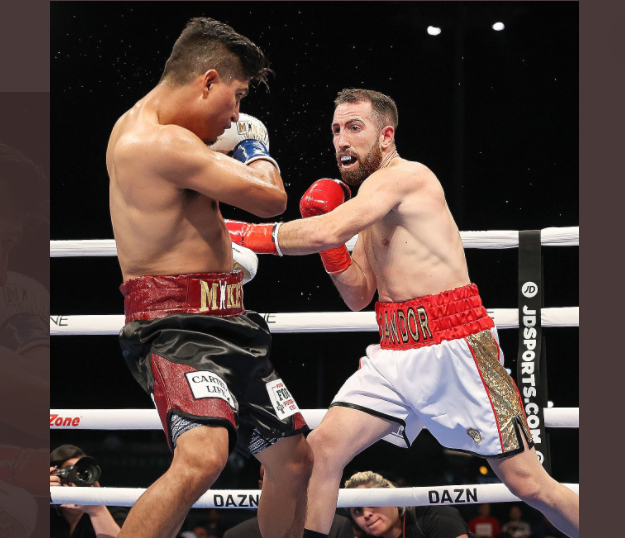 Weekend Boxing Recap: The Mikey Garcia Stunner and More
Boxing was all over the map on the third Saturday of October with many of the shows pulled together on short notice as promoters took advantage of relaxed COVID constraints to return to business as usual. When the smoke cleared, a monster upset in Fresno overshadowed the other events.
Mikey Garcia, a shoo-in to make the Hall of Fame, was on the wrong side of it. Spain's Sandor Martin, in his USA debut, won a well-deserved decision over Garcia at a Triple-A baseball park in Fresno.
Garcia, a former four-division belt-holder, was 40-1 coming in with his only loss coming at the hands of Errol Spence. Martin, a 28-year-old southpaw, brought a nice record with him from Europe (38-2) but with only 13 wins coming by way of stoppage it was plain that he wasn't a heavy hitter. His only chance was to out-box Garcia and that seemed far-fetched.
But Martin did exactly that, counter-punching effectively to win a 10-round majority decision. Two judges had it 97-93 with the third turning in a 95-95 tally.
Neither Garcia nor Martin were natural welterweights. The bout was fought at a catch-weight of 145 pounds. After the bout, the Spaniard indicated a preference for dropping back to 140 where enticing opportunities await.
There was another upset, albeit a much milder one, in the co-feature where Puerto Rico's Jonathan Gonzalez improved to 25-3-1 (14) while shearing the WBO world flyweight title from the shoulders of Mexicali's Elwin Soto (19-2).
Soto was making his fourth defense of the title and rode into the match with a 17-fight winning streak. Gonzalez, a southpaw, had formerly fought for the WBO world flyweight title, getting stopped in seven rounds by Kosei Tanaka in Nagoya, Japan.
One of the judges favored Soto 116-112, but he was properly out-voted by his colleagues who had it 116-112 the other way.
Riga, Latvia
The first major fight on Saturday took place in Riga, Latvia, where hometown hero Mairis Briedis successfully defended his IBF cruiserweight title with a third-round stoppage of Germany's Artur Mann who was on the deck three times before the match was halted at the 1:54 mark.
Briedis (28-1, 20 KOs) was making his first start since dismantling KO artist Yuniel Dorticos in the finals of season two of the World Boxing Super Series cruiserweight tournament. He scored the first of his three knockdowns in the waning seconds of round two when he deposited Mann (17-2) on the canvas with a straight right hand.
Although boosters of fast-rising WBO champ Lawrence Okolie would disagree, the Latvian is widely regarded as the best cruiserweight in the world. His only setback came when he lost a narrow decision to current WBA/IBF/WBO heavyweight champ Oleksandr Usyk in this ring in January of 2018. Now 36 years old, Briedis has yet to appear in a main event outside Europe. That's undoubtedly about to change and a rematch with Usyk is well within the realm of possibility.
Newcastle, England
Chris Eubank Jr, whose fight two weeks ago in London with late sub Anati Muratov was cancelled at the 11th hour when Muratov failed his medical exam, was added to this Matchroom card and his bout with Wanik Awdijan became the de facto main event. A 26-year-old German, born in Armenia, Awdijan was 28-1 and had won 21 straight (against very limited opposition), but he was no match for Eubank Jr who broke him down with body shots, likely breaking his ribs and forcing him to quit on his stool after five frames.
Eubank Jr, 32, improved to 31-2 (23) His only defeats came at the hands of former world title-holder George Groves and BJ Saunders. He dedicated this fight to his late brother Sebastian Eubank who died in July while swimming in the Persian Gulf.
In other bouts, Hughie Fury, the cousin of Tyson Fury, stayed relevant in the heavyweight division with a stoppage of well-traveled German Christian Hammer and Savannah Marshall successfully defended her WBO world middleweight title with a second-round TKO of Lolita Muzeya.
Akin to Eubank-Awdijan, the Fury-Hammer fight also ended with the loser bowing out after five frames. A biceps injury allegedly caused Hammer to say "no mas," but Fury, in what was arguably his career-best performance, was well ahead on the cards.
The Marshall-Muzeya fight was a battle of unbeatens, but Muzeya's 16-0 record was suspicious as the Zambian had never fought outside the continent of Africa. She came out blazing, but Marshall, who improved to 11-0 (9) had her number and retained her title.
Brooklyn
In the featured bout of a TrillerVerz show at Barclays Center, Long Island's Cletus Seldin, the Hebrew Hammer, knocked out William Silva in the seventh round. It was the fifth-straight win for the 35-year-old Seldin, a junior welterweight who was making his first start in 20 months.
Silva, a 34-year-old Brazilian who fights out of Florida, brought a 28-3 record. His previous losses had come at the hands of Felix Verdejo, Teofimo Lopez, and Arnold Barboza Jr. Seldin improved to 26-1 (22 KOs).
In other bouts, junior welterweight Petros Ananyan, a Brooklyn-based Armenian, improved to 16-2-2 (7) with a 10-round majority decision over local fighter Daniel Gonzalez (20-3-1) and Will Madera of Albany, NY, scored a mild upset when he stopped Jamshidbek Najmitdinov who was pulled out after five rounds with an apparent shoulder injury.
Najmitdinov, from Uzbekistan, was making his U.S. debut but he brought a 17-1 record blemished only by former world title-holder Viktor Postol. Madera improved to 17-1-3.
Photo credit: Ed Mulholand / Matchroom
Check out more boxing news on video at the Boxing Channel
To comment on this story in the Fight Forum CLICK HERE
Emanuel Navarrete Retains WBO Featherweight Title in a San Diego Firefight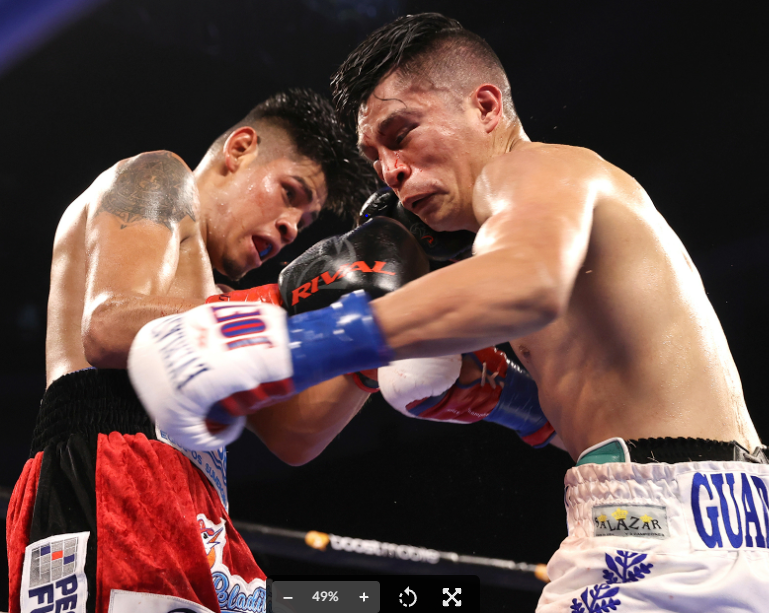 SAN DIEGO-WBO featherweight titlist Emanuel Navarrete won by unanimous decision over Joet Gonzalez in a slugfest that had fans cheering nonstop on Friday night. Fans were mesmerized by the savagery.
More than 2,000 fans saw Mexico City's Navarrete (35-1, 29 KOs) and Southern California's Gonzalez (24-2, 14 KOs) bounce brutal shots off each other for 12 successive rounds at Pechanga Sports Arena.
Both Navarrete and Gonzalez were about equal in height with the champion maybe a slight taller, but not by much. As soon as the first bell rang the two featherweights opened up in furious fashion.
Gonzalez was making his second attempt to grab a world title. His first attempt fell short a year ago. He was eager to atone for the defeat by clobbering Navarrete. Body shots were the weapon of choice.
The Mexican fighter Navarrete was accustomed to battling shorter fighters, this time the two were equal in size and in fury. Blows were flying in bunches and by the third round Gonzalez suffered a cut on his right cheek.
At several points Navarrete would connect with a solid blow and eagerly seek to finish the fight. Each time it happened Gonzalez would fight back even more furiously and beat back the champions attacks.
Gonzalez also connected with big shots and moved in for the kill only find Navarrete take a stand and fire back. Neither was able to truly gain a significant edge. After 12 rounds of nonstop action the decision was given to the judges. One scored it 118-110, two others saw it 116-112 all for Navarrete.
Fans were pleased by the decision and even more pleased by the breath-taking action they had witnessed.
Welterweights
Local fighter Giovani Santillan (28-0, 15 KOs) remained undefeated by unanimous decision after 10 rounds versus Tijuana's Angel Ruiz (17-2, 12 KOs). The two southpaws were evenly matched.
San Diego's Santillan was able to outwork Ruiz in almost every round. Though Ruiz has heavy hands he was not able to hurt Santillan even with uppercuts. It was clear very early in the fight that Santillan was the more technical and busier of the two. No knockdowns were scored.
After 10 rounds two judges scored it 100-90 for Santillan and a third saw it 99-91.
Other Results
Lindolfo Delgado (14-0, 12 KOs) battered and knocked down fellow Mexican Juan Garcia Mendez (21-5-2) in the last round of an 8-round super lightweight bout, but could not score the knockout win.
Delgado, a Mexican Olympian, was the quicker and stronger fighter yet discovered Garcia Mendez has a solid chin. All three judges scored it 80-71 for Delgado.
Puerto Rico's Henry Lebron (14-0, 9 KOs) defeated Manuel Rey Rojas (21-6) by decision after eight rounds in a lightweight match.
Javier Martinez (5-0, 2 KOs) soundly defeated Darryl Jones (4-3-1) by decision after six rounds in a middleweight clash. Jones was tough.
Las Vegas bantamweight Floyd Diaz (3-0) knocked down Tucson's Jose Ramirez (1-1) in the first round but was unable to end the fight early. Diaz won by decision.
Heavyweight Antonio Mireles (1-0) knocked out Demonte Randle (2-2) at 2:07 of the first round.
Photo credit: Mikey Williams / Top Rank for Getty Images
Check out more boxing news on video at the Boxing Channel
To comment on this story in the Fight Forum CLICK HERE