The Fifty Greatest Flyweights of All Time: Part Three 30-21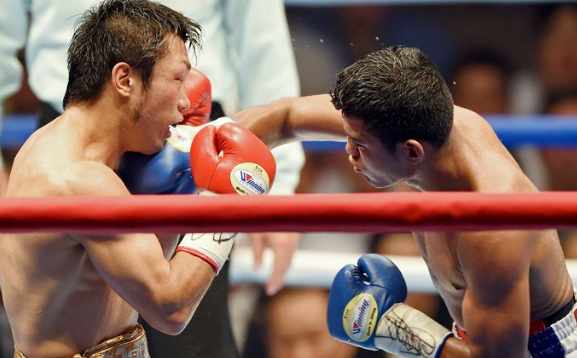 The Fifty Greatest Flyweights of All Time: Part Three 30-21
In Part Three we meet fighters who approach true greatness, but who, for whatever reasons, failed to grasp the nettle. We also take in the full vista of the flyweight division traveling back to the First World War and sweeping right up to the present day with a selection of fighters as different as they were excellent.
Running into Fighting Harada in Part Two means that we have already let the head-to-head monster out of the genie's lamp but there are one or two named below who could have lived with him.
Despite this, and an array of all-time great scalps and some astonishing facts and figures these men do come up just short of the top twenty, however.
This cannot be explained in its entirety here – in large part it is due more to the wonderful talent we will discuss in Parts Four and Five.
#30 – Terry Allen (1942-1954)
Londoner Terry Allen was difficult to rank. He had one of those careers where he seemed at times capable of anything and at others, limited. Nothing is more demonstrative of this than his bizarre trilogy with the superb Northern Irishman, Rinty Monaghan.
The two first met in 1947, both men already well established as flyweights of class, Monaghan then the #1 contender to the flyweight crown. Their all British affair would see the winner advance to a shot at the champion, Jackie Paterson, in another lucrative domestic contest. Much was at stake.  Focus was paramount.
Allen was blasted out in a single round.
He got his chance at revenge in 1949. Monaghan, by then the champion, gave his storied old foe a chance at redemption in an eight-round non-title fight at the Harringay Arena in London and Allen grabbed at it with both hands, climbing from the canvas to dominate a torrid sixth round and receive a deserved decision over the short distance. A championship fight was his reward.
Allen got everything right early, dropping his nemesis heavily in the second round, but seems perhaps to have been disorganized in following up his advantage. Monaghan survived. The Coventry Evening Telegraph described the fight as "the biggest fright of [Monaghan's] life" and it is suggested, perhaps, that the Northern Irishman was given the benefit of the doubt on home soil in escaping with a draw; whatever the detail, Monaghan promptly retired and the title passed into vacancy.
Allen would lift that title in 1950, outpointing Honore Pratesi to begin a new lineage; that lineage passed to Dado Marino just four months later as Allen in turn dropped a decision out in Hawaii.
Another crackling series with Dickie O'Sullivan and a victory over contender Norman Tennant enhances his standing and his legacy; stories, perhaps, for another day.
#29 – Muangchai Kittikasem (1988-1999)
Muangchai Kittikasem is a perennially underrated fighter who reigned undisputed as the best flyweight in the world in 1991 and 1992. He then made way for the extraordinary Yuri Arbachakov but he ended the reign of a fighter just as extraordinary, that of Sot Chitalada, the great Thai.
The first time they met was in February 1991, a vicious contest that left Chitalada repeatedly tangled in or draped over the ring ropes. It was his first ever stoppage loss. His second was just around in the corner in the rematch, staged almost exactly one year later.
Chitalada survived two heavy knockdowns in the second round, but only to be savagely dispatched in the ninth. Kittikasem, then, mastered Chitalada but he could never supplant him and achieve his superstar status. In between his two battles with Chitalada, Kittikasem staged a fight of the year contender with the highly ranked Jung Koo Chang, surviving three knockdowns himself to dispatch his Korean opponent in the twelfth and final round with the fight in the balance. He also sneaked past Alberto Jimenez in a narrow majority decision, another excellent fight.
When Arbachakov came in along, Kittikasem was far from "ready to be taken" and it must have hurt to have to step aside for the better man. An underappreciated legacy underpinned by that victory over Chitalada should see him more fondly remembered than he generally is.
#28 – Percy Jones (1911-1916)
Percy Jones was the other top Welsh flyweight from the World War One era who sadly never met the great Jimmy Wilde in the ring. It seems odd that their paths never crossed but Jones had a relatively short career, although he packed in plenty.
He first made his mark early in 1914 beating Londoner Bill Ladbury in a desperate scrap that saw him a points winner. A weird hybrid of styles, Jones seems to have fought out of the American crouch but kept the British propensity to stress the jab above all else, a frustrated stylist. Quick, powerful and famous in his own time for the accuracy and sharpness of his left hand, Jones took the British and European titles from Ladbury as well as an uneasily burgeoning version of the world title, leading many to name him the first Welsh world champion.
Whatever the validity of this claim, Jones became the pre-eminent flyweight for a spell while Wilde was emerging. His chief dance partners were Joe Symonds, who we ran across in Part One, Jones winning three of their four matches, and Eugene Criqui, with whom he split a series 1-1. The most meaningful of these contests, with Percy's titles on the line, took place in March of 1914 and was perhaps the finest performance of the Welshman's career.
It would also be his last at the flyweight limit. Jones always made war with his body to cut to the requisite poundage and he had taken the flyweight adventure as far as it could go.
The valleys of Wales rarely fail to astonish with the huge assortment of brilliant talent they've gifted to boxing over the years, but the Jones/Wilde domination of the blooming flyweight division's early years is perhaps the most spectacular.
#27 – Santos Laciar (1976-1990)
Santos Laciar was a sawed-off 5'1" Argentine who sported the heart of a much larger man, reflected in the fact that he was never stopped in 100 boxing contests. He was a true centurion, rarer and more beautiful for the fact that he became one in 1990 in the third decade of his career and the year of his final contest.
For all that, he was never the lineal title-holder, but rather a belt-holder (Atonio Avelar, Freddy Castillo and Ele Mercedes the true champions who evaded his grasp) Laciar gathered a splendid resume, besting Peter Mathebula and Juan Herrera, who were both among the most admired flyweights of the early eighties. Defeats of former lineal champion Prudencio Cardona, the past prime Betulio Gonzalez and Hilario Zapata all speak for him.
The best of Laciar can be readily seen online in the form of his 1981 destruction of Mathebula.  Much rangier than Laciar, Mathebula was then the #3 contender to the flyweight crown and favored to beat his smaller opponent on his native South African soil; 5,000 miles from home, Laciar tucked up, narrowed himself, and put on a glory of slippage, nullifying Mathebula's excellent jab. A delicious and short left-hook ate up the real estate Mathebula deployed between them and the transmuted left uppercut that accompanied it slowly opened up the right hand. This spelled the end for the South African and made Laciar one of the world's pre-eminent flyweights, a position he did not relinquish until 1985.
#26 – Efren Torres (1959-1972)
Efren Torres, "The Scorpion", interrupted the championship reign of the great Chartchai Chionoi in the late 1960s to rule briefly as the lineal flyweight champion of the world. As signature wins go, this is very much one for a fighter to hang his hat on.
But Torres has so much more than a gatecrash grab of Chionoi's title going for him. Not least was the impression he made in his 1968 losing effort versus Chionoi, running the great Thai right to the wire with the judges split down the middle as referee Arthur Mercante stopped the fight after thirteen savage rounds of vicious fighting that saw the ring mired in gore. Chionoi, who called Torres "the second best flyweight in the world" in the wake of this war, opened up a grotesque cut and rendered the Mexican's face a crimson visage; a rematch of this first fight, which remains one of the most celebrated title-fights in flyweight history, was inevitable.
The second fight did not deliver. Torres, without suffering the urgency that terrible cut forced upon him in 1968, totally outclassed Chionoi in 1969. In the broiling El Toreo de Cuatro Camino, he slid, slipped, and counter-punched his way to total dominance, stopping the champion in eight one-sided rounds, even returning the brutal favor in crisply battering his opponent's face into an unrecognizable lump with volleys of punches crowned by a deadly straight right hand.
Alas, Efren's time at the top was not to last. A single successful title defence against Susumu Hagata, then among the five best flyweights in the world, was followed by a third clash with Chionoi.  Perhaps not many fighters could have prospered in sharing an era with the great Thai and Efren came up short, dropping a wide decision in the Orient. He would never return to the title.
His wider resume was impressive, including victories over an ancient Pascual Perez, a young Octavio Gomez and Raton Mojica, who would one day best Chionoi himself.
But it is for his evergreen trilogy with the wonderful Chionoi that he will rightly and always be remembered.
#25- Jackie Paterson (1938-1951)
Jackie Paterson is one of the longest-reigning champions in flyweight history and despite this fact remains perennially underrated. His claim is generally recognized from 1943 when he destroyed former champion Peter Kane, brilliantly, surreally, in a single round.
So why is he ranked no higher?
Well, Paterson was a fighting champion, he was very busy in the years in which he held the title, but he rarely placed it on the line. He fought a meager number of defenses, explained, in part, by his endless battle to make the 112lb weight limit. He fought as high as featherweight, battling (the right word) back down the flyweight limit to re-match old foe Joe Curran in 1946, coming out ahead over fifteen but likely delivering less than his best.
Another, more pertinent question then: how to justify such a high ranking?
Despite his shyness with the title, as a contender, Paterson operated with regularity in the upper echelons of his division. A good, if not a great bunch, he matched as many ranked contenders as anyone ranked below him on this list. He fulfilled the time-honored tradition of breaking out by battering a contender on the wane in the shape of Curran in June of 1939; he stopped Paddy Ryan later that same year and in doing so claimed the British and Commonwealth title. He was barely into his twenties.
Two years later, stretching the definition of what a flyweight could be, Paterson embarked on that lengthy title reign. He is not credited for it fully for the purposes of this list; he simply couldn't be given the infrequency of his defenses.
A quick word on Paterson's final paper record, which stands at 65-25-3. Paterson endured a long and depressing wind-down to his career, but this took place up at bantamweight. He never made the flyweight limit again after dropping his title to Rinty Monaghan in 1948 and went 3-9 during his run in. Even as champion he was seen more frequently at bantamweight and above than at flyweight, and these were the weight divisions in which he suffered most of his losses.
#24 – Roman Gonzalez (2005-Active)
Roman Gonzalez was an awesome flyweight who somehow managed to encompass the spirit of a runaway moon and a precision-engineered instrument concurrently. He was a terrible death for boxers and box-punchers and a rending ending, usually by knockout, for those who tried to stand with him. Had he been born in 1930 he likely would have been ranked among the ten greatest flyweights of all time. As it is, he lost precious years dismantling contenders below 112lbs before landing in earnest at flyweight around 2012. Hardly a wasted career but one that sees him ranked lower than feels right on this list.
The Gonzalez resume at flyweight boils down to four fighters: McWilliams Arroyo, Brian Viloria, Edgar Sosa and Akira Yaegashi. The Yaegashi performance, his first meaningful combat at the weight, was a glorious one and one that saw him lift the legitimate flyweight world-title.
Reigning champion Yaegashi, the very personification of bravery in a boxing ring that night, seemed at no time to have any chances of winning. Picking his moments to fight as he was driven round the ring, Yaegashi lost almost every exchange to a fighter who, at the time, was throwing punches with an eerie fluidity that few of history's top stalkers could match.
With the championship in tow, Gonzalez collapsed top contender Edgar Sosa three times on the way to an early knockout, crucified Viloria, himself named in this Top Fifty and posted a shutout against Arroyo.
He then departed for 115lbs, a step too far even for him; in his flyweight prime he was a match for anyone on this list.
#23 – Yoshio Shirai (1943-1955)
Yoshio Shirai turned professional during World War Two and after being drafted into the Japanese navy suffered injuries grave enough that they threatened his burgeoning boxing career. That career was resurrected by his own innate toughness and by his close association with a member of the American occupied forces, Alvin Cahn, who helped him refine his raw aggressive style into that of a technically minded pressure fighter.
There was money, too; it bought him two non-title shots at the reigning champion Dado Marino. The first, in Japan, saw him drop a split decision but made firm the notion that Shirai was for real. The rematch was staged in Marino's native Hawaii, and once again was a non-title match-up; this time Shirai had the measure of his man, stepped into the pocket and clinically out-fought him. This forced Marino's hand and he returned to Japan where the title changed hands in a baseball stadium before 40,000 fans.
Shirai made four successful defenses of his championship, no mean feat and more than most of the champions to have preceded him. He re-matched Dado Marino (winning a unanimous decision in the fourth in their epic series) then defeated Filipino Tarry Campo, who was among the finest flyweights in the world. A minor setback unfolded when he was stopped on a cut by top contender Leo Espinosa in seven in a non-title fight, but the rematch went Shirai's way, for all that Espinosa ran him desperately close. In between those matches, Shirai found time to outfight former champion and fellow Top Fifty flyweight Terry Allen. It was a hot, hot streak.
The man who ended it was the all-time great Pascual Perez. The deadly Argentine genius was made to work for it though and in fact in the first of their three contests he had to make do with a draw.  When Perez took his title in a rematch and turned him away by stoppage in a third contest, the first of the Japanese champions hung up his gloves, 46-8-4 and the former flyweight champion of the world.
#22 – Tancy Lee (1906-1926)
Having composed similar lists on all seven of the other classic weight-classes I'm familiar with the stage we have reached in this flyweight Odyssey: the stage where good resumes are elevated to something greater by an exceptional win. Torres has Chionoi. Allen has Monaghan. And Tancy Lee has Jimmy Wilde.
As far as apex victories come there are few, if any, that impress more. Sure, Lee was considerably heavier than the sub-100lbs Wilde, but it is also a fact that the Welshman was on an astonishing unbeaten streak approaching one-hundred fights and that at the end of the previous year of 1914, he had defeated the excellent Sid Smith and Joe Symonds back to back. Tancy Lee ended all of that, and on a stoppage.
A familiar claim emanates from the ashes of their January 1915 meeting, one that is stumbled upon frequently when a great fighter is vanquished: claims that Jimmy Wilde had the flu. It was a brave man who voiced these opinions around ageing Scotsman Tancy Lee in later years. This is understandable – proof that Wilde had the flu is basically non-existent. It should be remembered, after all, that an epidemic of flu killed as many as 100 million people between 1918 and 1920.  Boxing was not something you did when you had flu in 1915, it was something you saw your priest about.
More likely, Wilde suffered a cold and suffered even more from the vicious attentions of a flyweight who carried a huge upper body for the era. A miniature Bob Fitzsimmons in aspects of his physical appearance, Lee harassed, harried, and battered Jimmy Wilde until his corner tossed the towel in the seventeenth. Lee had his marquee win.
He defeated another superb Welsh flyweight in Percy Jones and numerous other excellent British flyweights at a time when the UK dominated the smallest division. Accountancy purely of the lower weights in his own era would see him rank very respectably indeed, but his October 1915 loss to Joe Symonds costs him a couple of spots here. Lee did avenge this loss, but above the flyweight limit where he enjoyed a second career of no small matter.
#21 – Pongsaklek Wonjongkam (1994-2018)
What do you do with a problem like Pongsaklek Wonjongkam?
On the one hand the Thai staged more than twenty successful title defences in two spells as champion between 2001 and 2012. This measure of success denies almost all possible criticism.
That said, many of these defenses were little more than stay-busy fights staged for walking-around money, both for the fighter and for his sponsor, the WBC. A list of the worst ever lineal title challengers would draw heavily from Wonjongkam's opposition.
Malcolm Tunacao, who was in possession of the flyweight championship of the world when Wonjongkam got his shot, was absolutely legitimate, however. Wonjongkam stopped him in a round with a direct, fast-handed attack of glorious naivety that began at bell and ended with Tunacao dropped for a third time, unbroken but a victim of the three-knockdown rule.
Thus began a series of bum-of-the-month defenses interrupted in April 2002 by the Japanese Daisuke Naito. Naito, it must be noted would emerge as one of the best flyweights of his generation and as a fitting foil for Wonjongkam over a four-fight series contested over much of the coming decade. Their first fight, however, was a wash. Naito was the first serious opponent for the champion since he'd destroyed Tunacao, and as it was so it would be as the Thai king knocked Naito unconscious with a blistering reverse-one-two in just seconds.
Naito, however, came again. He put together an eight-fight winning streak and indeed he would never lose a fight to any man other than Wonjongkam. Their rematch staged in in 2005 was unsatisfying, Wonjongkam winning an exciting technical decision after seven when an accidental clash of heads caused a cut to be opened above Naito's right eye.
Their third and fourth fights, both contested in Japan, were ramshackle, turgid affairs which could have been won by either man. Wonjongkam lost the first of these and drew the second, probably deserving of a narrow win. This represented the end of his rivalry with Naito who dropped his title to Koki Kameda in 2009. Wonjongkam defeated Kameda in turn to become a two-time lineal flyweight champion.
Aside from this, the Thai bested several fringe contenders and nobodies to build his astonishing title-fight figures. He leaves a curious legacy. Few fighters to have spent so long at the pinnacle can leave me feeling so uncertain as to their quality. On the other hand, there is no arguing with the numbers.
That's because numbers hold power over us. They matter. The difference between twenty-one and twenty is no wider than a hair but for some reason, it matters. Next week, we meet the fighters who cross that crucial hair's breadth.
To read Part One of The Fifty Greatest Flyweights of All Time, please CLICK HERE.
Check out more boxing news on video at The Boxing Channel  
To comment on this story in The Fight Forum CLICK HERE
The Sweet Science Rankings: Week of May 29th, 2023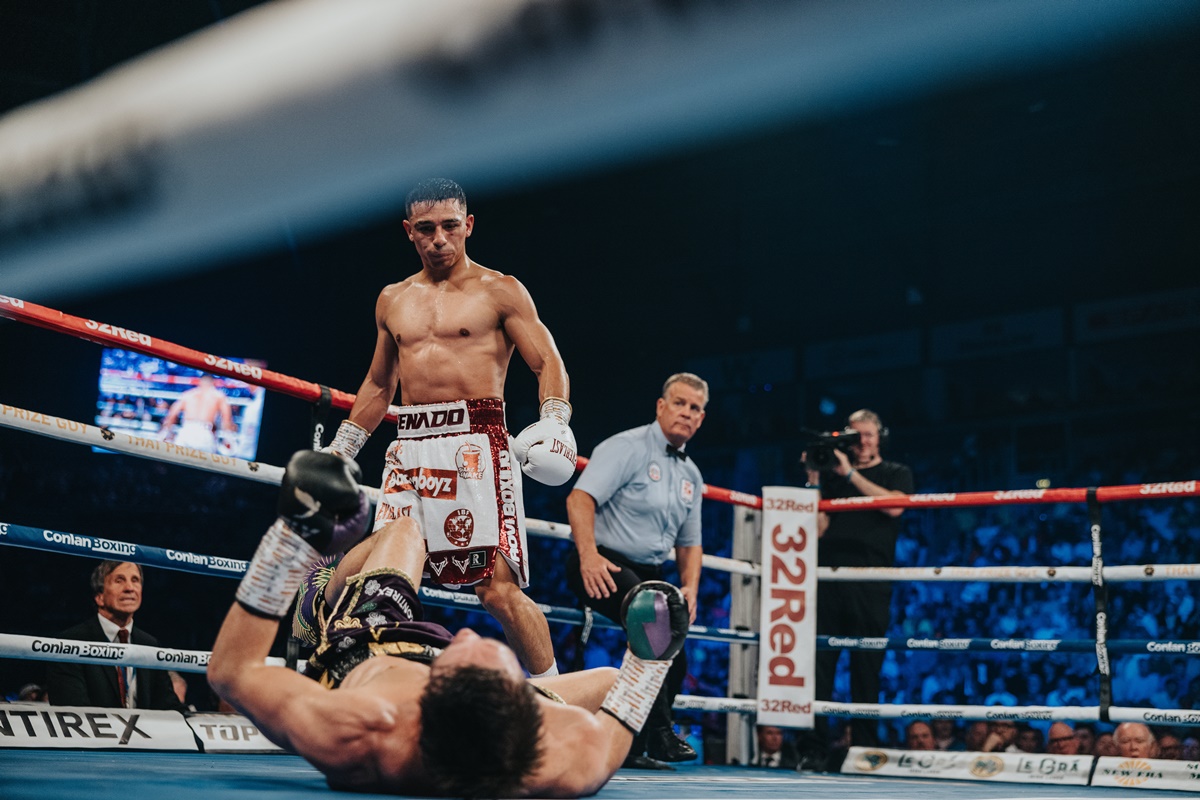 The Sweet Science Rankings: Week of May 29th, 2023
In this week's TSS Rankings, it's all change at the top of the 126lbs division with Luis Alberto Lopez rocketing to the #1 spot after a brutal dispatch of Michael Conlan; Leigh Wood is right behind him after making it 1-1 with a miserable Mauricio Lara (Mexico) who is likely about to depart for 130lbs after failing to make weight by 4lbs.  For the moment he languishes at #5.  Chris Billam-Smith makes #3 at 200lbs after ripping victory from fellow Englishman Lawrence Okolie.  The hapless Okolie drops to #8.  The best performance this weekend though was turned in by New Yorker Oscar Collazo who brutalised the favoured Melvin Jerusalem (Philippines).  Collazo rises to three, Jerusalem drops to #8.
Pound-for-Pound
01 – Naoya Inoue
02 – Oleksandr Usyk
03 – Juan Francisco Estrada
04 – Dmitry Bivol
05 – Terence Crawford
06 – Errol Spence Jnr.
07 – Tyson Fury
08 – Saul Alvarez
09 – Artur Beterbiev
10 – Shakur Stevenson
105lbs
1            Knockout CP Freshmart (Thailand)
2            Petchmanee CP Freshmart (Thailand)
3            Oscar Collazo (USA)*
4            Ginjiro Shigeoka (Japan)
5            Wanheng Menayothin (Thailand)
6            Daniel Valladares (Mexico)
7            Yudai Shigeoka (Japan)
8            Melvin Jerusalem (Philippines)
9            Masataka Taniguchi (Japan)
10          Rene Mark Cuarto (Philippines)
108lbs
1            Kenshiro Teraji (Japan)
2            Jonathan Gonzalez (Puerto Rico)
3            Masamichi Yabuki (Japan)
4            Hekkie Budler (South Africa)
5            Sivenathi Nontshinga (South Africa)
6            Elwin Soto (Mexico)
7            Daniel Matellon (Cuba)
8            Reggie Suganob (Philippines)
9            Shokichi Iwata (Japan)
10          Esteban Bermudez (Mexico)
112lbs
1            Sunny Edwards (England)
2            Artem Dalakian (Ukraine)
3            Julio Cesar Martinez (Mexico)
4            Angel Ayala Lardizabal (Mexico)
5            David Jimenez (Costa Rica)
6            Jesse Rodriguez (USA)
7            Ricardo Sandoval (USA)
8            Felix Alvarado (Nicaragua)
9            Seigo Yuri Akui (Japan)
10          Cristofer Rosales (Nicaragua)
115lbs
1            Juan Francisco Estrada (Mexico)
2            Roman Gonzalez (Nicaragua)
3            Jesse Rodriguez (USA)
4            Kazuto Ioka (Japan)
5            Joshua Franco (USA)
6            Junto Nakatani (Japan)
7            Fernando Martinez (Argentina)
8            Srisaket Sor Rungvisai (Thailand)
9            Kosei Tanaka (Japan)
10          Andrew Moloney (Australia)
118lbs
1            Emmanuel Rodriguez (Puerto Rico)
2            Jason Moloney (Australia)
3            Nonito Donaire (Philippines)
4            Vincent Astrolabio (Philippines)
5            Gary Antonio Russell (USA)
6            Takuma Inoue (Japan)
7            Alexandro Santiago (Mexico)
8           Ryosuke Nishida (Japan)
9            Keita Kurihara (Japan)
10          Paul Butler (England)
122lbs
1            Stephen Fulton (USA)
2            Marlo Tapales (Philippines)
3            Luis Nery (Mexico)
4            Murodjon Akhmadaliev (Uzbekistan)
5            Ra'eese Aleem (USA)
6            Azat Hovhannisyan (Armenia)
7            Kevin Gonzalez (Mexico)
8            Takuma Inoue (Japan)
9            John Riel Casimero (Philippines)
10          Fillipus Nghitumbwa (Namibia)
126lbs
1            Luis Alberto Lopez (Mexico)*
2           Leigh Wood (England)*
3            Brandon Figueroa (USA)
4            Rey Vargas (Mexico)
5            Mauricio Lara (Mexico)
6            Mark Magsayo (Philippines)
7            Josh Warrington (England)
8            Robeisy Ramirez (Cuba)
9            Reiya Abe (Japan)
10          Otabek Kholmatov (Uzbekistan)
130lbs
1            Joe Cordina (Wales)
2            Oscar Valdez (Mexico)
3            Hector Garcia (Dominican Republic)
4            O'Shaquie Foster (USA)
5            Shavkatdzhon Rakhimov (Tajikistan)
6            Roger Gutierrez (Venezuela)
7            Lamont Roach (USA)
8            Eduardo Ramirez (Mexico)
9            Kenichi Ogawa (Japan)
10          Robson Conceicao (Brazil)
135lbs
1            Devin Haney (USA)
2            Gervonta Davis (USA)
3            Vasily Lomachenko (Ukraine)
4            Isaac Cruz (Mexico)
5            William Zepeda Segura (Mexico)
6            Frank Martin (USA)
7            George Kambosos Jnr (Australia)
8            Shakur Stevenson (USA)
9            Raymond Muratalla (USA)
10          Keyshawn Davis (USA)
140lbs
1            Josh Taylor (Scotland)
2            Regis Prograis (USA)
3            Jose Ramirez (USA)
4            Jose Zepeda (USA)
5            Jack Catterall (England)
6            Subriel Matias (Puerto Rico)
7            Arnold Barboza Jr. (USA)
8            Gary Antuanne Russell (USA)
9            Zhankosh Turarov (Kazakhstan)
10          Shohjahon Ergashev (Uzbekistan)
147lbs
1            Errol Spence (USA)
2            Terence Crawford (USA)
3            Yordenis Ugas (Cuba)
4            Vergil Ortiz Jr. (USA)
5            Jaron Ennis (USA)
6            Eimantas Stanionis (Lithuania)
7            David Avanesyan (Russia)
8            Cody Crowley (Canada)
9            Roiman Villa (Columbia)
10          Alexis Rocha (USA)
154lbs
1            Jermell Charlo (USA)
2           Tim Tszyu (Australia)
3            Brian Castano (Argentina)
4            Brian Mendoza (USA)
5            Liam Smith (England)
6            Jesus Alejandro Ramos (USA)
7            Sebastian Fundora (USA)
8            Michel Soro (Ivory Coast)
9            Erickson Lubin (USA)
10          Magomed Kurbanov (Russia)
160lbs
1            Gennady Golovkin (Kazakhstan)
2            Jaime Munguia (Mexico)
3            Carlos Adames (Dominican Republic)
4            Janibek Alimkhanuly (Kazakhstan)
5            Liam Smith (England)
6            Erislandy Lara (USA)
7            Sergiy Derevyanchenko (Ukraine)
8            Felix Cash (England)
9            Esquiva Falcao (Brazil)
10          Chris Eubank Jnr. (Poland)
168lbs
1            Canelo Alvarez (Mexico)
2            David Benavidez (USA)
3            Caleb Plant (USA)
4            Christian Mbilli (France)
5            David Morrell (Cuba)
6            John Ryder (England)
7            Pavel Silyagin (Russia)
8            Vladimir Shishkin (Russia)
9            Carlos Gongora (Ecuador)
10          Demetrius Andrade (USA)
175lbs
1            Dmitry Bivol (Russia)
2            Artur Beterbiev (Canada)
3            Joshua Buatsi (England)
4            Callum Smith (England)
5            Joe Smith Jr. (USA)
6            Gilberto Ramirez (Mexico)
7            Anthony Yarde (England)
8           Dan Azeez (England)
9            Craig Richards (England)
10          Michael Eifert (Germany)
200lbs
1            Jai Opetaia (Australia)
2            Mairis Breidis (Latvia)
3            Chris Billam-Smith (England)*
4            Richard Riakporhe (England)
5            Aleksei Papin (Russia)
6            Badou Jack (Sweden)
7            Arsen Goulamirian (France)
8            Lawrence Okolie (England)
9            Yuniel Dorticos (Cuba)
10          Mateusz Masternak (Poland)
Unlimited
1            Tyson Fury (England)
2            Oleksandr Usyk (Ukraine)
3            Zhilei Zhang (China)
4            Deontay Wilder (USA)
5            Anthony Joshua (England)
6            Andy Ruiz (USA)
7            Filip Hrgovic (Croatia)
8            Joe Joyce (England)
9            Dillian Whyte (England)
10          Frank Sanchez (Cuba)
To comment on this story in the Fight Forum CLICK HERE
U.K. Boxing Montage: Conlan KOed; Wood Regains Title; Billam-Smith Upsets Okolie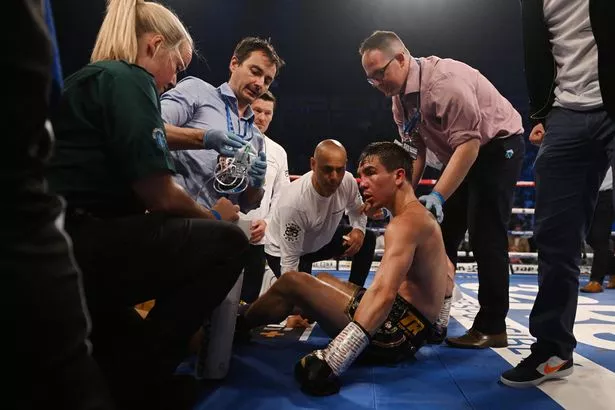 British fight fabs had plenty of options last night. Important events were staged in Manchester, in Bournemouth, and in Belfast, Northern Ireland. The locals were delighted in Manchester and Bournemouth, but fans in Belfast were left crestfallen when their hometown hero Michael Conlan, the former two-time Olympian, was on the wrong end of a vicious KO.
Conlan, who was 18-1 heading in, had a four-inch height advantage and three-inch reach advantage over Mexican spoiler Luis Alberto Lopez. The Irishman attracted late money and went to post a small favorite. But Lopez (28-2, 16 KOs) emerged victorious, successfully defending his IBF world featherweight title which he won in British soil over Josh Warrington.
Although Conlan had a rough patch in the second round, he was seemingly in a good position heading into round five when the Mexican invader brought a swift conclusion to the contest, discombobulating Conlan (pictured) with a right uppercut that prompted his trainer Adam Booth to throw in the towel. It was the second time that Conlan came up short in a bid for a world title. He challenged for the WBA version of this belt in March of last year, losing on a spectacular last round knockout to Leigh Wood in a fight that he was winning until the final 90 seconds.
Also…
In a scheduled 12-rounder for a WBC featherweight trinket, five-foot-three Liverpool buzzsaw Nick "Wrecking" Ball advanced to 18-0, (11 KOs) with a 12th-round stoppage of South Africa's previously undefeated Ludumo Lamati (21-1-1, 11 KOs). Lamati's corner tossed in the towel after Ball landed a series of hard punches in the final frame.
Lamati was on his feet when the bout was stopped but was in dire straits and was removed from the ring on a stretcher. There was no update on his condition as this story was going to press.
In a companion 12-rounder, Belfast's Anthony "Apache" Cacace (21-1, 7 KOs) successfully defended his fringe 130-pound title with a wide decision over Damian Wrzesinski (26-3-2). The judges had 118-111, 117-111, and 116-112.
Wrzesinski, a 38-year-old Pole, fought with a brace on his right knee. This was the first fight for "Apache" in his hometown in eight years. The win may have set him up for a match with Welshman Joe Cordina, the IBF junior lightweight title-holder, or Shavkat Rakhimov who lost a close decision to Cordina in a bruising tiff last month.
Manchester
Mauricio Lara didn't bring his "A" game to England. That became apparent at the weigh-in when he failed to make weight, losing his WBA world featherweight title on the scales. By rule, only Leigh Wood could win it or it would become vacant.
This was a rematch. Fourteen weeks ago, Lara went into Wood's backyard in Nottingham and stopped him in the seventh round. Lara was behind on the cards when he felled Wood with a crunching left hook. Wood beat the count but his trainer Ben Davison tossed in the towel which struck many, especially Wood, as premature as less than 10 seconds remained in the round.
In a previous trip to England, Lara had broken hearts in Leeds, stopping native son Josh Warrington. The Mexican invader, younger than Leigh Wood by 10 years, was expected to win again, but Wood, 34, simply out-worked him. He knocked Lara down in the second round with an uppercut and methodically kept him at bay, winning by scores of 116-111 and 118-109 twice.
Co-Feature
In his first appearance since his controversial defeat to Josh Taylor in Glasgow in February of last year, Jack Catterall improved to 27-1 (15) with a wide decision over Irish-Australian southpaw Darragh Foley (22-5-1).
The Sportsman called the Catterall-Taylor fight, a split decision win for Taylor, the most controversial fight in British boxing history and Catterall became a more sympathetic figure when Taylor, after several postponements, reneged on his promise to give Catterall a rematch, opting instead for a date with Teofimo Lopez.
Although Foley was in action 10 weeks ago, scoring his signature win with a third-round stoppage of favored Robbie Davies Jr., and Catterall was making his first start in 15 months, this was a one-sided fray in Catterall's favor. He had Foley on the canvas twice en route to winning by scores of 99-88, 98-89, and 97-90.
Eddie Hearn has expressed an interest in matching Catterall with Regis Prograis assuming that Prograis gets past Arnold Barboza on June 17.
Also
England's Terri Harper (14-1-1), who jumped up three weight classes last year, successfully defended her WBA 154-pound diadem with a unanimous but unimpressive 10-round decision over perennial title challenger Ivana Habazin. The judges had it 98-92 and 99-93 twice.
Harper was slated to fight former pound-for-pound queen Cecilia Braekhus last Saturday in the co-feature to Taylor vs. Cameron in Dublin, but hat match fell out when Braekhus came down with a bad cold following the weight-in.
Harper is seeking a unification fight with countrywoman Natasha Jonas. Habazin, a 33-year-old Croat, fell to 21-5.
Bournemouth
In his fourth defense of his WBO world cruiserweight title, previously undefeated Lawrence Okolie was soundly defeated by former sparring partner Chris Billam.-Smith The match was contested in Billam-Smith's  hometown before a raucous crowd at sold-out Vitality Stadium.
A 3/1 underdog, Billam-Smith, who was 17-1 heading in, proved clearly superior He knocked Okolie down in the fourth round and again in rounds 10 and 11 en route to winning by scores of 116-107, 115-108, and 112-112.
About that curious 112-112 card. It was turned in by U.S. judge  Benjamin Rodriguez who had been working the Illinois-Wisconsin circuit. On social media, his tally is being called the worst scorecard of all time.
Did Billam-Smith's fans leave happy? The correspondent for British Boxing News called the event "a night of breathtaking boxing action that will never be forgotten."
The six-foot-five Okolie may have made his last start as a cruiserweight. He aspires to fight Oleksandr Usyk.
The Sweet Science Rankings: Week of May 22nd, 2023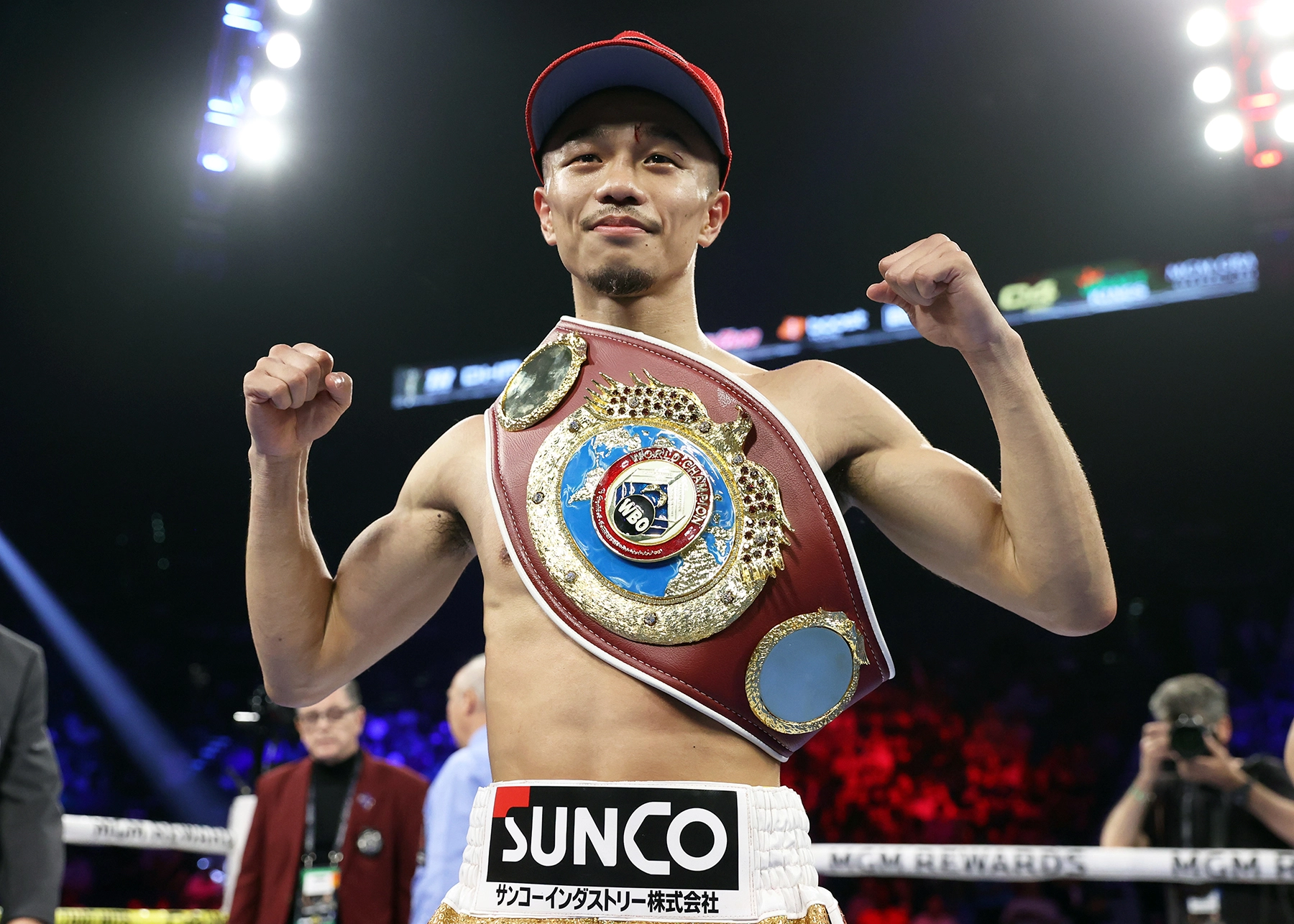 The Sweet Science Rankings: Week of May 22nd, 2023
Hiroto Kyoguchi departs 108lbs for 112lbs so there's a reorganisation at the bottom of the 108lbs division.  Fellow Japanese Junto Nakatani's breathtaking destruction of Andrew Maloney sees him rise to #6 at 115lbs with Maloney dropping to #10; Kosei Tanaki who was also out at the weekend climbs to #9.  Raymond Muratalla is the last mover this week, eliminating Jamaine Ortiz and debuting at #9 at 135lbs.  There are no further changes at lightweight where Lomachenko maintains his ranking at #3.
*Please note that when the fighter's name appears with an asterisk it represents a movement in ranking from the previous week.
Pound-for-Pound
01 – Naoya Inoue
02 – Oleksandr Usyk
03 – Juan Francisco Estrada
04 – Dmitry Bivol
05 – Terence Crawford
06 – Errol Spence Jnr.
07 – Tyson Fury
08 – Saul Alvarez
09 – Artur Beterbiev
10 – Shakur Stevenson
105lbs
1            Knockout CP Freshmart (Thailand)
2            Petchmanee CP Freshmart (Thailand)
3            Melvin Jerusalem (Philippines)
4            Ginjiro Shigeoka (Japan)
5            Wanheng Menayothin (Thailand)
6            Daniel Valladares (Mexico)
7            Yudai Shigeoka (Japan)
8            Oscar Collazo (USA)
9            Masataka Taniguchi (Japan)
10          Rene Mark Cuarto (Philippines)
108lbs
1            Kenshiro Teraji (Japan)
2            Jonathan Gonzalez (Puerto Rico)
3            Masamichi Yabuki (Japan)
4            Hekkie Budler (South Africa)
5            Sivenathi Nontshinga (South Africa)
6            Elwin Soto (Mexico)
7            Daniel Matellon (Cuba)
8            Reggie Suganob (Philippines)
9            Shokichi Iwata (Japan)*
10          Esteban Bermudez (Mexico)*
112lbs
1            Sunny Edwards (England)
2            Artem Dalakian (Ukraine)
3            Julio Cesar Martinez (Mexico)
4            Angel Ayala Lardizabal (Mexico)
5            David Jimenez (Costa Rica)
6            Jesse Rodriguez (USA)
7            Ricardo Sandoval (USA)
8            Felix Alvarado (Nicaragua)
9            Seigo Yuri Akui (Japan)
10          Cristofer Rosales (Nicaragua)
115lbs
1            Juan Francisco Estrada (Mexico)
2            Roman Gonzalez (Nicaragua)
3            Jesse Rodriguez (USA)
4            Kazuto Ioka (Japan)
5            Joshua Franco (USA)
6            Junto Nakatani (Japan)*
7            Fernando Martinez (Argentina)
8            Srisaket Sor Rungvisai (Thailand)
9            Kosei Tanaka (Japan)*
10          Andrew Moloney (Australia)
118lbs
1            Emmanuel Rodriguez (Puerto Rico)
2            Jason Moloney (Australia)
3            Nonito Donaire (Philippines)
4            Vincent Astrolabio (Philippines)
5            Gary Antonio Russell (USA)
6            Takuma Inoue (Japan)
7            Alexandro Santiago (Mexico)
8           Ryosuke Nishida (Japan)
9            Keita Kurihara (Japan)
10          Paul Butler (England)
122lbs
1            Stephen Fulton (USA)
2            Marlo Tapales (Philippines)
3            Luis Nery (Mexico)
4            Murodjon Akhmadaliev (Uzbekistan)
5            Ra'eese Aleem (USA)
6            Azat Hovhannisyan (Armenia)
7            Kevin Gonzalez (Mexico)
8            Takuma Inoue (Japan)
9            John Riel Casimero (Philippines)
10          Fillipus Nghitumbwa (Namibia)
126lbs
1            Mauricio Lara (Mexico)
2           Brandon Figueroa (USA)
3            Rey Vargas (Mexico)
4            Luis Alberto Lopez (Mexico)
5            Mark Magsayo (Philippines)
6            Leigh Wood (England)
7            Josh Warrington (England)
8            Robeisy Ramirez (Cuba)
9            Reiya Abe (Japan)
10          Otabek Kholmatov (Uzbekistan)
130lbs
1            Joe Cordina (Wales)
2            Oscar Valdez (Mexico)
3            Hector Garcia (Dominican Republic)
4            O'Shaquie Foster (USA)
5            Shavkatdzhon Rakhimov (Tajikistan)
6            Roger Gutierrez (Venezuela)
7            Lamont Roach (USA)
8            Eduardo Ramirez (Mexico)
9            Kenichi Ogawa (Japan)
10          Robson Conceicao (Brazil)
135lbs
1            Devin Haney (USA)
2            Gervonta Davis (USA)
3            Vasily Lomachenko (Ukraine)
4            Isaac Cruz (Mexico)
5            William Zepeda Segura (Mexico)
6            Frank Martin (USA)
7            George Kambosos Jnr (Australia)
8            Shakur Stevenson (USA)
9            Raymond Muratalla (USA)*
10          Keyshawn Davis (USA)
140lbs
1            Josh Taylor (Scotland)
2            Regis Prograis (USA)
3            Jose Ramirez (USA)
4            Jose Zepeda (USA)
5            Jack Catterall (England)
6            Subriel Matias (Puerto Rico)
7            Arnold Barboza Jr. (USA)
8            Gary Antuanne Russell (USA)
9            Zhankosh Turarov (Kazakhstan)
10          Shohjahon Ergashev (Uzbekistan)
147lbs
1            Errol Spence (USA)
2            Terence Crawford (USA)
3            Yordenis Ugas (Cuba)
4            Vergil Ortiz Jr. (USA)
5            Jaron Ennis (USA)
6            Eimantas Stanionis (Lithuania)
7            David Avanesyan (Russia)
8            Cody Crowley (Canada)
9            Roiman Villa (Columbia)
10          Alexis Rocha (USA)
154lbs
1            Jermell Charlo (USA)
2           Tim Tszyu (Australia)
3            Brian Castano (Argentina)
4            Brian Mendoza (USA)
5            Liam Smith (England)
6            Jesus Alejandro Ramos (USA)
7            Sebastian Fundora (USA)
8            Michel Soro (Ivory Coast)
9            Erickson Lubin (USA)
10          Magomed Kurbanov (Russia)
160lbs
1            Gennady Golovkin (Kazakhstan)
2            Jaime Munguia (Mexico)
3            Carlos Adames (Dominican Republic)
4            Janibek Alimkhanuly (Kazakhstan)
5            Liam Smith (England)
6            Erislandy Lara (USA)
7            Sergiy Derevyanchenko (Ukraine)
8            Felix Cash (England)
9            Esquiva Falcao (Brazil)
10          Chris Eubank Jnr. (Poland)
168lbs
1            Canelo Alvarez (Mexico)
2            David Benavidez (USA)
3            Caleb Plant (USA)
4            Christian Mbilli (France)
5            David Morrell (Cuba)
6            John Ryder (England)
7            Pavel Silyagin (Russia)
8            Vladimir Shishkin (Russia)
9            Carlos Gongora (Ecuador)
10          Demetrius Andrade (USA)
175lbs
1            Dmitry Bivol (Russia)
2            Artur Beterbiev (Canada)
3            Joshua Buatsi (England)
4            Callum Smith (England)
5            Joe Smith Jr. (USA)
6            Gilberto Ramirez (Mexico)
7            Anthony Yarde (England)
8           Dan Azeez (England)
9            Craig Richards (England)
10          Michael Eifert (Germany)
200lbs
1            Jai Opetaia (Australia)
2            Mairis Breidis (Latvia)
3            Lawrence Okolie (England)
4            Richard Riakporhe (England)
5            Aleksei Papin (Russia)
6            Badou Jack (Sweden)
7            Chris Billam-Smith (England)
8            Arsen Goulamirian (France)
9            Yuniel Dorticos (Cuba)
10          Mateusz Masternak (Poland)
Unlimited
1            Tyson Fury (England)
2            Oleksandr Usyk (Ukraine)
3            Zhilei Zhang (China)
4            Deontay Wilder (USA)
5            Anthony Joshua (England)
6            Andy Ruiz (USA)
7            Filip Hrgovic (Croatia)
8            Joe Joyce (England)
9            Dillian Whyte (England)
10          Frank Sanchez (Cuba)
To comment on this story in the Fight Forum CLICK HERE