Three Punch Combo: A Wish List of Easily Makeable Fights for 2020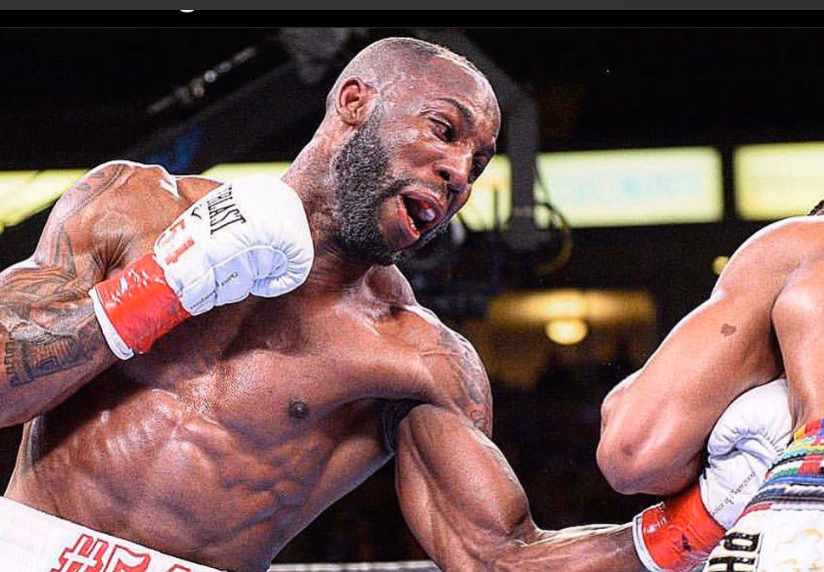 Three Punch Combo: A Wish List of Easily Makeable Fights for 2020
As the calendar turns to 2020 there has been a lot of focus among those who cover the sport on the big fights that are already sealed or could soon appear on the horizon. While we all look forward to those big events, there are plenty of other terrific under-the-radar-type fights that can be easily made in 2020.
Three of my top choices are listed below. (In putting this together, I wanted to make sure that each of these fights was as makeable as possible which means that both contestants in each match are aligned with the same promotional group or are network free agents. And to be fair, I wanted to list just one potential fight from each political entity.)
Jamal James (26-1, 12 KO's) vs. Yordenis Ugas (24-4, 11 KO's) II
In August of 2016, welterweight Jamal James was considered one of boxing's top up and coming young fighters. He was matched in a nationally televised contest against Yordenis Ugas who was coming off back to back defeats and had not been in the ring in two-plus years. To the surprise of many, Ugas (pictured) shook off the ring rust and out-boxed James to win a clear-cut ten round unanimous decision.
James, who is now 31, has rattled off six straight wins since that loss. It is not only that James has been winning but he has been doing so in impressive fashion. As a matter of fact, probably too impressive as the bigger name welterweights do not seem all that eager to get in the ring with him.
As for Ugas, he rattled off seven straight wins following the James victory, earning a crack at Shawn Porter's welterweight title last year. In a tightly contested fight, Porter held on to his belt by split decision. Many felt Ugas deserved the nod.
Ugas has since defeated welterweight contender Omar Figueroa Jr. and has a date scheduled with Mike Dallas Jr. on February 1. But like James, Ugas would desire a crack at the division's elite.
Assuming Ugas defeats Dallas (and Ugas will be a substantial favorite), running it back with James next makes a lot of sense for both men.
Both Ugas and James are aligned with PBC. Welterweight is a loaded division with many big names and the majority of those names outside of Terence Crawford are also aligned with PBC.  To get one of those big names in the ring, Ugas and James need to create more demand and the best way to do so would be to face off against each other once again in a nationally televised bout. PBC of course has an outlet deal with Fox.
The first fight was a solid professional fight. Ugas dominated but James had his moments and, as stated, James is a much better fighter today than he was three-plus years ago. The same can also be said of Ugas. With both at the top of their game and each arguably in the top ten in the division, a rematch would be very compelling as it should be more competitive than the first go-around. The stakes couldn't be higher either with the winner all but assured of getting one of those bigger name welterweights in the ring soon after.
Alex Saucedo (29-1, 19 KO's) vs. Raymundo Beltran (36-9-1, 22 KO's)
As a fan, I have been salivating about this potential matchup for some time. And with both coming off recent losses in big fights, 2020 may be the year for their promoter Top Rank to put together this hardcore fan's dream fight.
Saucedo was once considered a blue-chip prospect. However, his budding career took a major hit when he was stopped in November of 2018 by Maurice Hooker in a 140-pound world title fight. Saucedo, still only 25, is coming off a bounce-back first round knockout win against journeyman Rod Salka this past November. The time seems right for Saucedo to take a step up in competition in order to get back into title contention at 140.
Beltran, 38, is a longtime fan favorite and former lightweight champion. He is coming off a knockout loss last June to then lightweight belt holder Richard Commey. In that fight, Beltran missed weight and could not have won the belt even if he were victorious. So, if Beltran continues on in his career, a move to 140 seems logical.
There is some question as to whether or not Beltran will continue fighting, but my guess is given the right opportunity, he would jump at a chance to get back in the ring. And Saucedo may represent that opportunity.
This fight would be 100 percent guaranteed to produce fireworks. Both Saucedo and Beltran are pressure fighters by nature who like to press forward looking to unload their power shots. Defense is not a strong suit of either man and each is more than willing to eat a few shots for the opportunity to get in his own. This could resemble something like Gatti-Ward if it ever happens and I am hoping that it does in 2020.
Israil Madrimov (4-0, 4 KO's) vs. Jack Culcay (27-4, 13 KO's)
In my eyes, Madrimov, 24, is a unique talent in a similar mode to Vasiliy Lomachenko. While Madrimov has had only a few pro fights, his amateur experience makes him more advanced than his record indicates and puts him on the fast track in the 154-pound division.
Madrimov needs to face one battle-tested veteran who is highly ranked before he can enter world title contention. And this brings me to Jack Culcay.
Culcay, 34, once held an interim title at 154. In 2017, Culcay gave current middleweight belt holder Demetrius Andrade all he could handle in dropping a twelve round split decision. Last year, Culcay gave Sergiy Derevyanchenko a stern test in dropping a twelve round unanimous decision.
Culcay has proven he can fight at the highest of levels in this sport. He is also durable, having never been stopped in his professional career. It would be very interesting to see how Madrimov, who has openly campaigned for bigger names and a world title shot sooner rather than later, handles such a solid pro.
Putting this fight together should not be very difficult. Madrimov has fought his last three bouts on DAZN and Culcay is more or less available to fight on any platform.
Madrimov-Culcay would be an excellent crossroads fight that could vault Madrimov closer to reaching his superstar potential. DAZN certainly has the resources to make it happen and is a fight I hope we see sometime in 2020.
Check out more boxing news on video at The Boxing Channel 
To comment on this story in The Fight Forum CLICK HERE
The Inevitable Triple Crown of Emanuel Navarrete: Demystifying Alphabet Titles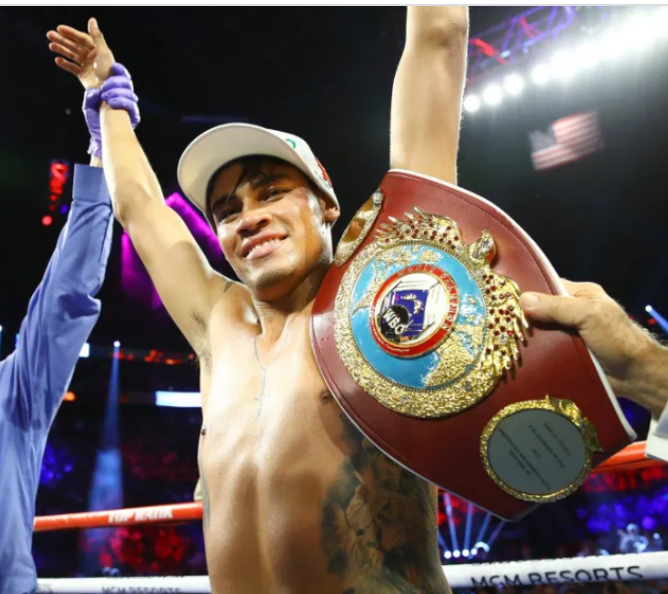 The thing which most needs to be understood concerning alphabet sanctioning bodies and the fighters who wear their belts is that the relationship is primarily one of customer and supplier.  Fighters pay to wear the alphabet belts that so profligate in the sport of boxing and they are in receipt of a service.  The service is twofold. Firstly, they are supplied with hardware. Belts for the "WBO Asia Pacific" middleweight title holder. Belts for the "World Boxing Council Silver flyweight title holder. Belts for the "World Boxing Association International" cruiserweight title holder. Belts for everyone.
Depending upon who you feel like recognising there can be around a thousand title belts floating around the world of boxing at any given time and the great percentage of these are not "world titles" but regional titles, pre-title titles (you read that right) and completely made-up titles for special occasions. Whenever you see a title, someone is paying a portion of their fight fee to the relevant sanctioning body. This is why fringe companies like the WBF and IBO spring into existence – where there is a belt there is cash.
This brings us to the second function served by the thousand belts sucking money out of boxing: they do make financial sense for the fighters and are directly profitable in the case of "world" titles.  Take the case of Padraig McCrory (16-0) out of Belfast.  He is a fine 175lb prospect with good power he has not yet quite harnessed into a fulsome skillset fighting just below national title level often on Michael Conlan undercards.  He's also the light-heavyweight champion of the world according to the IBO, who crowned him for defeating Lean Bunn, a German who had never contested a fight longer than eight rounds before. He folded to McCrory in six.
Now McCrory can put "world light-heavyweight champion" on his fight-posters. For those that consider the IBO a body of minor reputation, that is fair, but boxing should not kid itself that IBO means more to most members of the paying public than WBA does – and nor should it, in this writer's opinion. They are all in the same business and if it seems the fighter makes the title, keep in mind that Oleksandr Usyk wears an IBO heavyweight crown and Gennady Golovkin an IBO middleweight strap.
I was interested to see then that Emanuel Navarrete was set to step up to his third weight class and box for a "title" in the shape of the WBO 130lb world championship. The reigning 126lb WBO title holder, Navarrete is a fine example of a modern-day boxing customer to the bodies who are meant to police them. He has been paying the WBO for years.
I have to say here that there is no implication that Navarrete has done anything illegal nor even anything morally wrong within the culture of the industry he inhabits. Everyone pays sanctioning fees. Anthony Joshua, who is boxing's second biggest earner since Floyd Mayweather's retirement, is rumoured to have sunk well over a million dollars into sanctioning fees. Generally, champions and challengers will pay 2-3% of their fight purse to a roof of around $250,000 depending upon which ABC they are working with; some alphabets charge a registration fee to promoters, also. This means that for the likes of Joshua, Canelo Alvarez, and Floyd Mayweather the sanctioning fees can become quite prohibitive. Mayweather himself dropped belts to avoid paying these monies. The wonderful Erik Morales at one point completely ceased co-operating with his suppliers.
But generally, fighters do as Navarrete does and they pay for the gold. The proliferation of minor regional titles I describe in paragraph one was something that Navarrete neatly sidestepped. That is because he was very much the opponent for his 2018 fight with Isaac Dogboe, who had paid for regional title belts since 2015 at one point somehow being named both the WBO "African Featherweight" champion and the WBO "Oriental Featherweight" champion. Dogboe is British but was born in Ghana. Paying for these titles got him onto the WBO on-ramp, establishing him as a customer of this organisation and allowing relationships to be built between the WBO and Dogboe's promotional organisation – again, if this sounds like a form of corruption, it should be noted that this is normal, no accusations of legal wrongdoing are being made.
When Dogboe surprisingly dropped his 122lb title to Navarrete, the WBO had a new customer – and a good one. Navarrete boxes in America and on American television, which is still the best way to enhance a purse without a pay-per-view audience. His most recent paydays are estimated at around a million dollars. This meant that when Navarrete decided that he could no longer make 122lbs, the WBO had a problem, namely that it was losing money on Navarrete's purses as he no longer held a WBO strap. Navarrete also had a problem – he couldn't leverage television or the paying public with a "world championship." So, after boxing a fighter named Uriel Lopez Juarez who had lost his last three fights, Navarrete was deemed for a title shot at 126lbs, against another WBO customer, Ruben Villa, who had been paying to wield a regional WBO strap for the past year.
Villa was in no way qualified to face Navarrete. There is absolutely no question of the WBO fixing fights, but there they mandated a contest that would have genuinely shocked had it produced a Navarrete loss. This type of match-making is as old as the sport, where lesser fighters are sacrificed at the alters of the sport's cash cows to fatten their records and progress their careers: but it is not, until recently, that this became normal for sanctioned "world title" fights.
Villa had never boxed over twelve rounds before in his career. Although he was clearly able to defend himself, Villa was dumped twice by Navarrete who won a clear points decision win. What we saw this Friday night in Glendale was a repeat of this exercise as Navarrete, once more struggling with the weight limit in his new division, departed for pastures new and 130lbs. The soft opponent this time would be Liam Wilson, an Australian, like Villa before him a loyal WBO customer having wielded both their "WBO Asia Pacific" 130lb title and their "WBO International" 130lb title in his short career (now 11-2). This is the first piece of the alphabet puzzle when trying to decipher who the most valued customers of an alphabet organisation are: is the championship match against a soft opponent who is expected to lose?
Look closer though, and you can sometimes see more.
Liam Wilson was astonished at the weigh-in when he was announced at just over 126lbs, nearly four pounds below the divisional weight-limit.
"Something happened with the scales," he told Australian media.  "I'm sure they've been tampered with. I weighed in 20 minutes prior to the weigh in. I was just under weight. I went on the official scales for the official weigh-in and I was four pounds under, magically. So, in twenty minutes I lost four pounds, two kilos in Australian weight."
Fighters sometimes sit in saunas forgoing water and sweating the best part of themselves into a tightly wrapped arrangement of plastic to lose this sort of weight. It is an enormous difference for Wilson, a man who has not weighed in close to 126lbs since the Oceanian Youth & Junior Championship – in 2012.
"I think he's come in overweight and they tampered with the scales to make it seem like he made it."
This is a significant accusation, and one that has not been proven. From the WBO's own regulations:
The President of the Organization shall attend or designate a WBO Supervisor to attend every World Championship contest sanctioned by the WBO. The duties of said Supervisor shall be to represent the WBO at the Championship Match and prefight events including the weigh in…if a World Champion fails to make the prescribed weight for his category, the Champion shall lose the title at the scales, and the Championship shall then and there be declared vacant, whether or not the challenger makes weight.
The WBO then, is responsible for making sure the weigh in is conducted fairly to both parties.  Currently, there is no evidence that this was not the case.
Happily, the fight itself was a good one and a competitive affair before Navarrete lifted the vacant strap by technical knockout in the ninth. Navarrete, with limited experience of the 130lb punch was caught with a flush left hook in the fourth which Wilson followed up with good pressure and punching to ditch his man. Navarrete had the experience to spit the gumshield out while receiving a standing eight, clearly in trouble; Wilson did not have the experience to follow up against a hurt Navarrete who had bought himself some extra time.
That is why good customers tend to get inexperienced opponents when fighting for a favoured organisation's strap. Imagine Shavkatdzhon Rakhimov or Roger Gutierrez chasing a hurt Navarrete across the ring in what, after all, is supposed to be a world-title fight. That is the key. There was nothing wrong with making Navarrete-Wilson; it was a good fight conducted in what were difficult circumstances for the Australian and one he nearly won, but for a world-title to be perpetrated upon the boxing public at the end of it is unreasonable.
It is also inevitable. As soon as the people who are policing the fighters become a service industry for those fighters, the type of easy night we repeatedly see for WBO favourites becomes nothing less than a part of the fabric of the sport. Even so, a fighter becoming a triple-crown champion by defeating not one but two fighters who have never boxed the championship distance seems shocking, even for this sport.
To comment on this story in the Fight Forum CLICK HERE
Rey Vargas: "The featherweight title is absolutely still mine"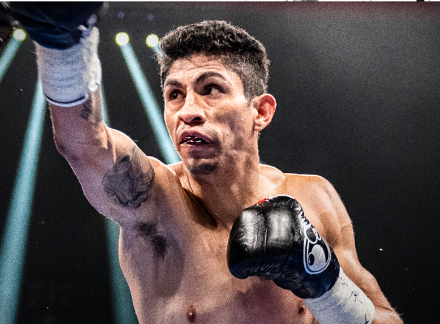 Although there have been many speculations and comments about his boxing future, Mexican Rey Vargas affirms with total conviction that he will only decide after his fight against American O'Shaquie Foster on February 11th at the Alamodome in Texas.
Undefeated and current WBC featherweight champion, Vargas (36-0, 22 KOs) will seek to add the vacant WBC super featherweight belt that American southpaw Shakur Stevenson (19-0, 9 KOs) lost on the scale last September when he beat Brazilian Robson Conceicao (17-2, 8 KOs) by unanimous decision.
Referring to his 126-pound title, Vargas expressed via a translator, "The featherweight title is absolutely still mine, so no worries about that. As far as 130, this is definitely an interesting challenge, an interesting place to be. We haven't really decided what we're gonna do afterwards, but we're focused on the moment right now. Let's focus on this fight, on this great crowd that we're gonna be in front of, and then whatever happens, it will come after this fight."
Born 32 years ago in the Federal District and residing in Otumba, Mexico, Vargas captured the world featherweight belt in February 2017, defeating Gavin McDonnell (22-2-3, 6 KOs) by majority decision at the Ice Arena in McDonnell's hometown of Hull, England.
During the following two years, he made five successful defenses and in November 2021 he was victorious in a 10-round bout against his compatriot Leonardo Báez (21-5, 12 KOs) at the MGM Grand, Las Vegas.
Eight months later, in his second appearance at 126 pounds, Vargas defeated then-undefeated Philippine champion Mark Magsayo (24-1, 16 KOs) by split decision. Magsayo was defending his WBC belt for the first time that night at the Alamodome in San Antonio, Texas.
After beating Magsayo, Vargas's representatives made arrangements to collide with Mexican Leo Santa Cruz (38-2-1, 19 KOs), who at that time was the WBA featherweight super champion.
However, the agreement with Santa Cruz did not materialize and Vargas directed his attention towards the 130-pound belt, which Stevenson lost at the weigh-in in September. Considering his status as champion, the WBC agreed to Vargas' request and ordered him to compete with O'Foster, who is ranked at the top of the category.
In a statement on its website, the WBC specified that the winner between Vargas and Foster has the obligation to make two defenses, according to the rules and regulations of that sanctioning body.
"The Leo Santa Cruz fight is definitely something that we have been meaning to do for years now," Vargas said. "But as the process got more complicated and other stuff just kept getting in our way, this door opened for us where it was definitely an interesting challenge, something that can be as good as the Leo Santa Cruz fight."
"(I'm) in a new division, the super featherweight division, where I can test myself," said Vargas. Yes, it's not my division per se, but I'm always up to new and exciting challenges, and this is definitely one of them. So, even though this isn't the Leo Santa Cruz fight, it can definitely live up to the hype just as that one would."
Foster (19-2, 11 KOs) has nine successive wins, the most recent against Tajikistan southpaw Muhammadkhuja Yakubon on March 18 of last year in Dubai, where they fought for the WBC silver belt.
Born 29 years ago in Orange, Texas, Foster said in an interview that this opportunity to face Vargas for the 130-pound crown "is a dream come true. And I'm so happy I can't even hide it."
Foster continued, "It's something that I've been working for since I was eight years old. I never had a dream to be an Olympian, it was always to be a world champion so I'm feeling great and I'm ready to put on a show for the world.
"I feel like everything is happening at the right time and it's my time to take over. I would love to unify once I get the title and then go undisputed if I can.  I've got big, big, big aspirations coming up.  We're going to make it happen."
Article submitted by Jorge Juan Álvarez in Spanish.
Please note any adjustments made were for clarification purposes and any errors in translation were unintentional.
To comment on this story in the Fight Forum CLICK HERE
Navarrete Overcomes Adversity to TKO Wilson in a Corker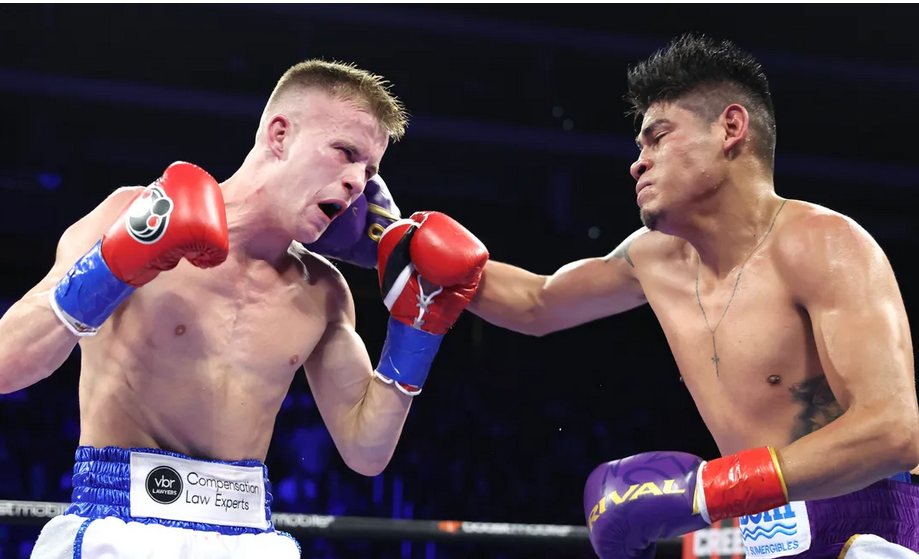 Mexico's Emanuel Navarrete won his 31st straight fight, pushing his record to 37-1 (31) and captured a title in a third weight class tonight at the Desert Diamond Arena in Phoenix, Arizona, but nearly came a cropper himself in a match in which both he and his opponent Liam Wilson were on the deck and hurt on multiple occasions. At stake was the WBO 130-pound belt vacated by Shakur Stevenson.
The obscure 26-year-old Wilson, subbing for Oscar Valdez who had to pull out with a rib injury, was making his U.S. debut and appearing in his first scheduled 12-rounder. The skinny on him was that he had a puncher's chance because of a powerful left hook, but with only 12 pro fights on his ledger he was a massive underdog.
Navarrete got a taste of that left hook in the fourth round which Wilson landed after landing a hard overhand right, and suddenly it appeared that the Queenslander was poised to score the biggest upset in Australian boxing history since Jeff Horn upended Manny Pacquiao. Navarrete hit the deck, lost his mouthpiece and was clearly hurt, but managed to survive the round after precious seconds elapsed as he was getting his mouthpiece re-fitted.
Navarrete fought his way back into the fight and was having a strong sixth round until the final 30 seconds when Wilson hurt him again, this time with a right hook. But the Mexican weathered the storm, winning the next two rounds decisively and closed the show in round nine when he put the intrepid Aussie on the deck with an overhand right, the prelude to an assault that forced the referee to waive it off.
Semi-windup
In a tactical junior welterweight fight that heated up in the final round, LA's Arnold Barboza continued his steady ascent toward a title fight with a narrow but unanimous decision over Puerto Rican veteran Jose Pedraza, a former Olympian and world title-holder in two weight divisions.
Barboza, who fights well off his back foot but isn't a hard puncher, won by scores of 97-93 and 96-94 twice to push his record to 28-0. The 33-year-old Barboza fell to 29-5-1.
Also
In the opening bout on ESPN's main platform, Tulare, California's Richard Torrez Jr, a silver medalist at the Tokyo Summer Games, scored his fifth fast knockout in as many opportunities at the expense late sub James Bryant
Torrez came out like gangbusters, as is his custom, and sent Bryant stumbling back into the ropes with a harsh left uppercut followed by a straight hand in the waning seconds of the opening round. A highly decorated high school football player in Pennsylvania who had a cup of coffee with two NFL teams, Bryant, 37, was saved by the bell but elected not to come out for round two.
Torrez has mentioned that he would welcome a fight with British up-and-comer Frazer Clarke. Both were defeated in the Tokyo Olympics by fearsome Uzbek southpaw Bakhodir Jalolov, the heavy favorite.
ESPN+
Las Vegas super featherweight Andres Cortes (19-0) overcame a deep cut on his left eyelid to keep his undefeated record intact with a lopsided decision over Luis Melendez. The cut was caused by an accidental clash of heads in round six. Cut man deluxe "Stitch" Duran used his magic potion to stem the bleeding and the match continued on its established course. Cortes, the busier fighter, won all 10 rounds on all three cards. Melendez, a Puerto Rican from Hialeah, Florida, declined to 17-3.
Nico Ali Walsh, Muhammad Ali's grandson, advanced to 8-0 (5) with a unanimous decision over a local fighter, Eduardo Ayala (9-3-1), in a six-round middleweight affair. The scores were 60-53 and 59-54 twice.
Walsh, who sparred with Caleb Plant in preparation for this fight, had Ayala on the canvas in round two, compliments of a short right hand, but his durable opponent managed to last the distance.
In an 8-round junior welterweight match, Mexico's Lindolfo Delgado, a 2016 Rio Olympian, advanced to 17-0 (13) with a unanimous decision over Clarence Booth (21-7), a 35-year-old Floridian. The scores were 80-71 and 79-72 twice.
The heavy-handed Delgado, who had Robert Garcia in his corner, scored the fight's lone knockdown, knocking Booth off his pins in the final stanza with a chopping right hand to the ear.
In the ESPN+ opener, 18-year-old Emiliano Vargas (3-0, 2 KOs) won a 4-round unanimous decision over 19-year-old Tex-Mex southpaw Francisco Duque (1-2). Vargas won all four rounds, but Duque had several good moments.
Emiliano Vargas is the youngest and most well-touted of three fighting sons of Fernando Vargas, the former U.S. Olympian and two-time world super welterweight champion.
A 10-round super featherweight fight between Zavier Martinez (18-1) and Yohan Vasquez (25-3) was cancelled when it became obvious that Martinez would not make the contracted weight.
Photo credit: Mikey Williams / Top Rank via Getty Images
To comment on this story in the Fight Forum CLICK HERE