The Biggest HITS and MISSES from Boxing's Latest Weekend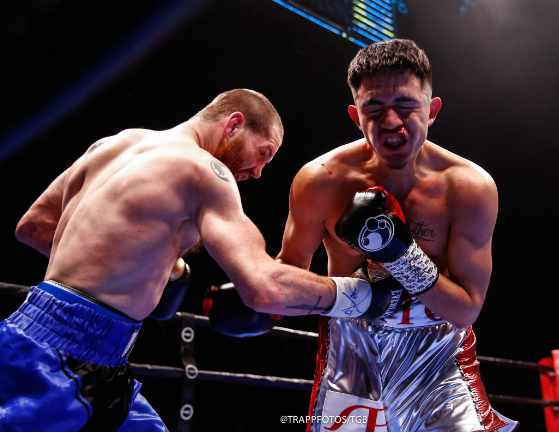 The Biggest HITS and MISSES from Boxing's Latest Weekend
It was another slow weekend in boxing, from an American-centric perspective anyway. All eyes were pointed to the upcoming Super Bowl between the two best teams in the NFL, the Kansas City Chiefs and the San Francisco 49ers. But there was still enough boxing to watch over the weekend around the world so long as one committed to doing it.
Here were the biggest HITS and MISSES boxing's latest weekend.
HIT – Clay Collard's Huge Upset of Previously Unbeaten Prospect 
Nobody expected middleweight Clay Collard (pictured on the left) to defeat Raymond Guajardo on Saturday night during the PBC on FS1 preliminary card at Beau Rivage Resort & Casino in Biloxi, Miss. Heck, I'm not even sure Collard expected to win since he was so adamant beforehand that it would be his last boxing match before trying his hand at the Professional Fighters League MMA tournament later this year. But Collard, who formerly appeared in the UFC, dominated and stopped Guajardo in the second round in a terrific slugfest. It was an amazing and unexpected performance. Now Collard has way more opportunities than he would have before, and Guajardo has a ton of stuff to work on before moving on to his next fight. Boxing is the theater of the unexpected, and Collard-Guajardo was exactly the type of fight that makes the sport such a joy to behold each and every weekend.
MISS – Celebrity Pro Boxers Who Don't Know How To Box
Technically, YouTuber Anesongib's first-round knockout loss to fellow internet celebrity Jake Paul happened on Thursday evening at Meridian at Island Gardens in Miami, Fl., but since the card was so long and drawn out by DAZN for some reason, it lasted into the wee hours of Friday morning in some time zones. That makes it fair game for comment here. DAZN and promoter Eddie Hearn have a huge stake in celebrity boxing matches right now because it means they can sell more DAZN subscriptions to the masses. It's not a bad grift (as grifts go), especially since everyone involved in it seems to know what it is and why they're doing it. But it's one thing to let the likes of Jake Paul, older brother Logan Paul and rival YouTube phenom KSI throw hands without headgear. It's quite another thing to include Anesongib, who is one of the worst boxers I've ever seen in my entire life. It's clear he didn't do any serious training or even learn how to hit a heavy bag before his encounter with Paul. Subscriptions or not, there's no good reason to ever let anyone with that kind of poor skillset into a professional boxing ring.
HIT – Fox's Super Bowl Commercials for Deontay Wilder vs. Tyson Fury 2 PPV
There they were, two undefeated heavyweight boxers, basking in the glory of their very own Super Bowl commercial. That was quite the sight to behold, especially in 2020 which most people would admit is far removed from boxing's glory days. Look, the first fight only sold 325,000 PPVs last year, and historically most rematches, no matter how good they are, don't outperform the original. But this one has the chance to certainly do that. With the might of both Fox Sports and ESPN behind it and the intriguing storyline of the split draw last year, Wilder vs. Fury 2 should turn out to be the biggest heavyweight fight in recent history. Will the buy rate reach 2 million like promoter Bob Arum claims? Not even close. But it's nice to see the promoters and TV networks involved in the massively important heavyweight bout doing every single thing they can to sell it to the general public.
MISS – Rumble in the Jungle 2?  
It looks like famed boxing promoter Don King decided to celebrate the 45th anniversary of the Rumble in the Jungle in the least celebratory way possible: by leveraging its namesake for a vacant cruiserweight title bout between Ilunga Makabu and Michel Cieslak. This isn't to discredit either fighter involved in what turned out to be a solid fight for one of the legitimate world titles in boxing. But Muhammad Ali's eighth-round knockout over previously undefeated heavyweight menace George Foreman in 1974 was one of the most celebrated and important fights in boxing history. There was certainly a way to promote the Makabu-Cieslak event on its own without dragging such a pristine piece of boxing lore into the mix. Still, Makabu scored the important win and now adds another interesting storyline to the oft-overlooked cruiserweight division. It's not nearly the most popular weight class in boxing, but it typically produces high-quality fights.
HIT – Crafty Cuban Welterweight Yordenis Ugas Getting Semi-Huge Spotlight 
Maybe it wasn't strange in the grand scheme of things for boxing's Saturday night to be so light on action. It was Super Bowl weekend, after all, and all eyes were pointed toward the NFL. But Cuban welterweight Yordenis Ugas walked down Mike Dallas to score a seventh-round stoppage in an important bout for the 33-year-old welterweight, and it was nice to see him positioned in a place where all eyes in boxing would have to be pointed toward him. Ugas scored the win in the main event of the PBC on FS1 in Mississippi.
Ugas seems like the odd man out in the PBC's cadre of welterweight stars, but he probably shouldn't be. Shawn Porter barely got past Ugas via split decision last year in a fight some people believe Ugas deserved to win, and the crafty boxer is likely to play spoiler someday soon against the PBC's bigger celebrities at 147. Ugas has won 10 of his last 11 fights. Someday he'll be pitted against the likes of Porter, Keith Thurman, Danny Garcia or Errol Spence, if anything since the PBC seems so against letting them fight each other enough times by now to tell the complete story. But Ugas is legit. When he gets those fights, don't be surprised to see him play the role of spoiler.
Photo credit: Stephanie Trapp / TGB Promotions
Check out more boxing news on video at The Boxing Channel 
To comment on this story in The Fight Forum CLICK HERE
Fast Results from Tulsa: Joe Smith Jr Nips Vlasov, Wins WBO Title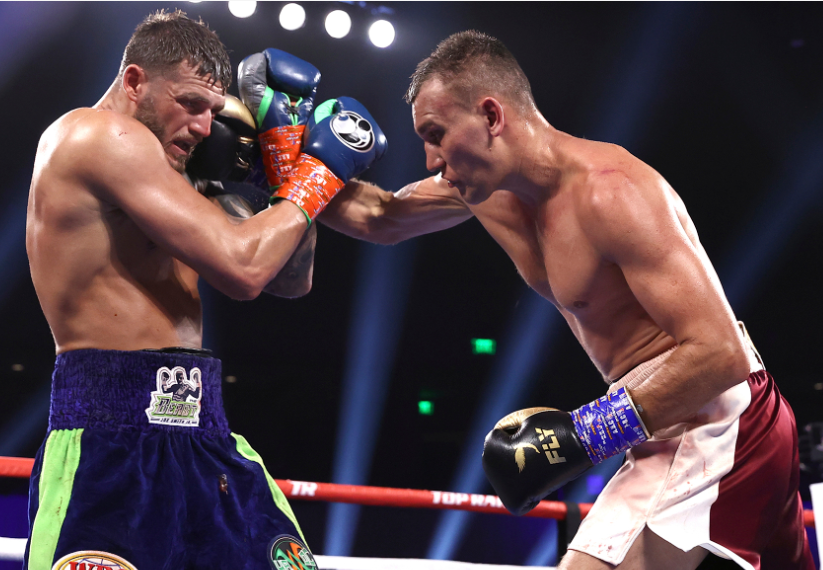 Joe Smith Jr had to dig down deep to upend Russian veteran Maxim Vlasov, but pulled the fight out of the fire with a late rally to capture the vacant WBO light heavyweight title before a sold-out crowd of 500 masked-up fight fans at Tulsa's Osage Casino. Smith prevailed by a majority decision. One of the judges had it a draw (114-114), but he was overruled by his cohorts who each turned in tallies of 115-113.
Smith, the quintessential blue-collar fighter, suffered a cut above his left eye in the first round and it troubled him throughout. Vlasov fought a smart fight, out-working the more one-dimensional Smith in most of the rounds, but a cut inside his mouth and Smith's body punches eventually took their toll. Smith had a strong seventh round but Vlasov recaptured the lead only to let it slip away in a good action fight. There were no knockdowns, but Vlasov went down in the 11th from a punch that landed behind his head, an illegal punch, hence no knockdown.
Smith Jr improved to 27-3 and earned a date with WBC/IBF champion Artur Beterbiev. Vlasov, whose effort commanded a rematch that won't happen — at least not any time soon — falls to 45-4. All four of the Russian's losses have come on U.S. soil, two right here in Tulsa where Vlasov was out-pointed by future world title challenger Isaac Chilemba way back in 2011.
—
The were nine bouts in all the card, the majority of which were intended to showcase up-and-coming heavyweights. The result was a predictable slew of quick stoppages, resulting in plenty of dead time between bouts.
The match between Efe Ajagba and Brian Howard was packaged as the co-feature. Ajagba had been less than impressive in some of his recent starts, but tonight the 6-foot-6 former Olympian for Nigeria scored a devastating one-punch knockout to restore whatever luster he may have lost. The lightning bolt came at the 1:29 mark of round three. Howard was unconscious before he hit the canvas. Ajagba advanced to 15-0 with his 12th knockout. Howard declined to 15-5.
Other Bouts
In the last of the seven preliminary fights on ESPN's subscription channel, Jared Anderson improved to 9-0 (9) with a second-round stoppage of West Virginia southpaw Jeremiah Karpency. The gifted 21-year-old Anderson, from Toledo, Ohio, scored two knockdowns with hard body shots before the bout was halted after only 38 seconds of the second round. The grossly overmatched Karpency was 16-2-1 heading in.
Local fan favorite Trey Lippe Morrison advanced his record to 17-0 with his 17th knockout, stopping 36-year-old Alabama journeyman Jason Bergman (27-20-2) in the third frame. Bergman came to fight and actually scored a knockdown in the opening round that the ref erroneously called a push. Fighting with his back against the ropes, Bergman landed a left that knocked Morrison off his pins.
It was a quirky knockout, coming at the 1:27 mark of round three when Bergman rolled his ankle while throwing an errant punch. He fell to the canvas in obvious pain and the bout was stopped. Bergman had lost seven of his last nine coming in, but was meeting an undefeated opponent for the fifth straight time.
Tulsa native Jeremiah Milton (3-0, 3 KOs) had a successful homecoming, bombing out Mississippi's Jayvone Dafney in the first round. An overhand right by Milton left Dafney out on his feet with his back pinned against the ropes. Milton, realizing that his opponent was seriously hurt, held back, waiting for the referee to intervene. The time was 1:19.
In the ESPN+ opener, Philadelphia's Sonny Conto (7-0, 6 KOs) returned after a 15-month absence and dismissed paunchy Waldo Cortes in the opening round. Conto put Cortes (6-4) down for the 10-count with a perfectly placed right hand. The official time was 1:41.
Photo credit: Mikey Williams / Top Rank via Getty Images
Check out more boxing news on video at the Boxing Channel
To comment on this story in the Fight Forum CLICK HERE
Conor Benn Embarrasses His Detractors, Demolishes Vargas in 80 Seconds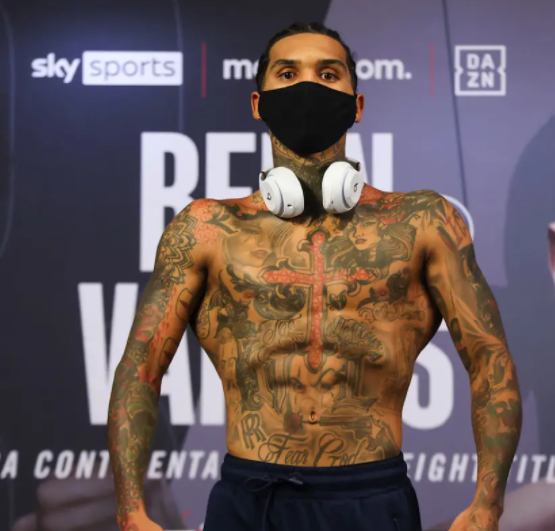 Conor Benn fought Samuel Vargas in London today (Saturday, April 10). Although Benn was a solid favorite, he was stepping up in class. Vargas, a 31-year-old Canadian via Columbia, brought a 31-6-2 record. He had been in with the likes of Errol Spence Jr and Danny Garcia and had extended Amir Khan 12 rounds on Khan's turf in Manchester.
Vargas's best days were behind him , but the prevailing sentiment was that he would make it interesting, likely taking the fight into the late rounds and perhaps lasting the distance. So much for prevailing sentiment. Benn walked right through him. Vargas couldn't cope with Benn's superior speed. He was being battered against the ropes and offering nothing in return when referee Michael Alexander stepped in and waived it off. It was all over in 80 seconds. Benn improved to 18-0 with his 12th win inside the distance.
Benn, 24, is the son of Nigel Benn, a former two-division world champion who was one of England's most celebrated fighters. Conor had a brief amateur career in Australia before turning pro at age 19 in London, the city of his birth. While his record is unblemished, it would be incorrect to say that he passed every test as he was climbing the ladder. His first fight with Cedric Peynaud, a marginally skilled Frenchman, has haunted him.
Benn was knocked down twice in the opening round, but scored two knockdowns of his own late in the 6-round fight and was awarded the decision. Peynaud brought a 5-4-3 record and to say that Conor's performance was underwhelming would be an understatement. At the finish, his right eye was badly swollen.
Scott Gilfoid offered up the most damning criticism: "To say that Benn looked poor tonight is being kind. He was absolutely horrible….The flaws that I saw in Benn's game tonight are ones that likely won't go away anytime soon….His performance has to be viewed as a warning sign that he's not destined to go far in the sport like his famous father."
Benn and Peynaud fought on Dec. 13, 2017. This was Benn's 12th pro fight. He had one more bout under his belt before he and the Frenchman had another go at it. The rematch, scheduled for 10 rounds, took place on July 28, 2018, on a show headlined by the heavyweight match between Dillian Whyte and Joseph Parker.
Benn knocked Peynaud down three times but couldn't finish him. However, the outcome was never in doubt. He won by scores of 98-90 and 98-91 twice.
Trevor McIntyre, a stablemate of the aforementioned Scott Gilfoid (rumor has it that Gilfoid and McIntyre are the same person, and that both are aliases of the owner of the web site where their bylines appear) conceded that Benn showed improvement, but was otherwise unimpressed: "(He) still looked like someone that would be blown away by a halfway decent journeyman fighter….Benn's defense was leaky, his hand speed slow, and his movements looked uncoordinated throughout."
Benn's most recent fight before tonight came against Sebastian Formella, a sturdy but feather-fisted German who was coming off a 12-round defeat to Shawn Porter, a bout in which he showed great heart but won nary a round. Benn won lopsidedly. The scorecards read 100-91, 99-91, and 98-92.
The mysterious Barry Holbrook, whose byline appears at the same web site as Gilfoid and McIntyre, acknowledged that Benn proved some of his doubters wrong, but wrote that "a top welterweight like Errol Spence, Keith Thurman, Danny Garcia, Terence Crawford, or Vergil Ortiz Jr would have knocked him out. If they didn't score a knockout, they would have battered him to the point where the referee would have needed to stop it."
The respected British scribe Ron Lewis offered a different take: "(Conor) looked a completely changed fighter from the wild youngster of his early professional career, switching well from head to body, being patient, and picking his spots well." Lewis did not speculate how Benn would have fared against some of the division's top guns, but certainly hinted that Nigel's son could become a factor in what is currently a very strong welterweight division.
As today's showing proved, Mr. Lewis is a more perceptive observer than his counterpart(s) at the web site where Benn has been repeatedly 'dissed. Nigel's son has made enormous strides in the last few years. He's also an interesting character. Having spent much of his formative years living on the Spanish island of Majorca, he's fluent in Spanish which is always a useful attribute from a marketing standpoint. But as for how good he is, let's not jump to conclusions, mindful that Samuel Vargas was on the wrong side of the curve, having lost three of his last five heading in.
The question doesn't yet have a definitive answer, but tonight in London, Conor Benn was very good, very very good.
Check out more boxing news on video at the Boxing Channel
To comment on this story in the Fight Forum CLICK HERE
Avila Perspective, Chap 130: Jaron 'Boots' Ennis, Super Fly and More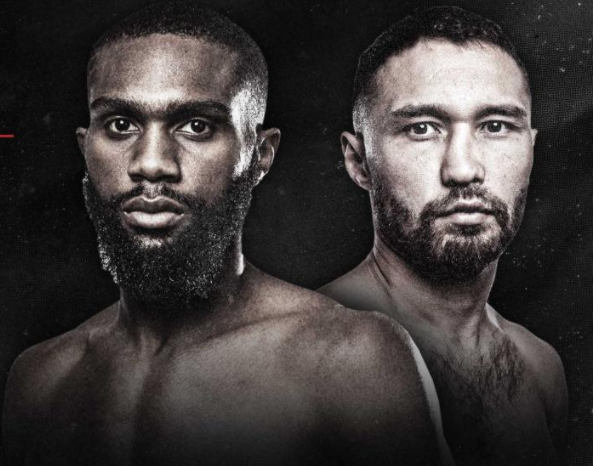 A stacked weekend of marquee fights is led by top American welterweight prospect Jaron "Boots" Ennis tasked with meeting the challenge of Russia's Sergey Lipinets in Connecticut.
The undefeated Ennis (26-0, 24 KOs) faces former super lightweight world titlist Lipinets (16-1-1, 12 KOs) on Saturday April 10, at the Mohegan Sun Casino in Uncasville. Showtime will televise the loaded PBC card.
Philadelphia's Ennis walks into the boxing ring with all of the physical advantages including height, reach, speed and even more pro fights. But Lipinets does indeed know what it's like to fight against a world champion.
"I think the opposition that I've faced is definitely better than what Ennis has faced. I went 12 rounds with Mikey Garcia and I faced a two-time champion in Lamont Peterson," said Lipinets. "Those guys have pushed me to the edge before. Ennis has more pro fights than I do, he just hasn't been pushed in the same way in his fights."
This will be an opportunity for the athletically gifted Ennis to discover if he cracks the elite level.
"I've been trying to get these types of guys in the ring for about two-and-a-half years. I've been trying to get former world champions and top ten guys. It just didn't happen. I finally got my chance and you guys are going to see a whole different animal. A whole different beast. It's time for me to do my thing," said Ennis, 23.
Lipinets, 32, realizes that time is running out and needs a win against an avoided prospect like Ennis to re-introduce himself to the fickle boxing world.
"Ennis is a young and up-and-coming fighter. All we want is a shot at the title and everything that comes with it. A win in this fight will give us all of that. I want to get my crack at the big dogs in the division," said Lipinets who trains in Southern California.
Both fighters are explosive types with extreme confidence in their abilities.
Superfly
Also on the same fight card, long-reigning IBF super flyweight world titlist Jerwin Ancajas (32-1-2, 22 KOs) yearns to be part of the super flyweight wars that have emerged with fighters Juan Francisco Estrada, Roman "Chocolatito" Gonzalez, Kazuto Ioka and Srisaket Sor Rungvisai.
The super flyweight division has become one of the hottest in boxing.
"I want to fight whoever is left after the four-man tournament between Rungvisai, Chocolatito, Estrada and (Carlos) Cuadras. I'm always calling the name of any titleholder in my division, so I would fight Ioka too," said Ancajas, a Filipino southpaw who has held the IBF super fly title since September 2016. "I want a signature fight because I'm tired of people criticizing me for not fighting anybody."
Ancajas, 29, meets Mexico's Jonathan Rodriguez (22-1, 16 KOs) another one of those little-known Mexican sluggers that can upset any fighter looking too far ahead.
"Ancajas is a great champion, but he's never faced someone like me. I'm going to put the pressure on him from the very beginning Saturday night and show him that he has a great Mexican fighter standing in his way," said Rodriguez.
Early Fights
A welterweight battle between Conor Benn (17-0) and Samuel Vargas (31-6-2) takes place on Saturday April 10, from London. The Matchroom Boxing card will be streamed on DAZN at 11 a.m. Pacific Time.
British-born Benn is the son of the great Nigel Benn and was slated for a showdown with another British prospect Josh Kelly. But that fighter was upended by David Avanesyan this past February who knocked out Kelly. Matchroom Boxing had to re-arrange somethings and now it's Benn versus Vargas.
Vargas is tough.
The last time we saw Vargas he was getting clobbered by knockout artist Vergil Ortiz Jr. but never touched the floor. Whoever fights Vargas learns quickly that he's a dangerous fighter with a head made of steel.
Does Benn have enough boxing skills to switch to plan B when a knockout win isn't possible?
We shall see.
On the same card two female world title fights take place with the vacant WBA bantamweight title up for grabs between England's Shannon Courtenay and Australia's Ebanie Bridges. Also, WBO middleweight titlist Savannah Marshall defends against Maria Lindberg.
Light Heavyweight Title
A fight for the vacant WBO light heavyweight title will try and take place again when Joe Smith Jr. (26-3, 21 KOs) the hard-hitting blue-collar worker from Long Island takes his hammer fists to Tulsa, Oklahoma to face Max Vlasov (45-3, 26 KOs) on Saturday April 10. ESPN will show the Top Rank fight card.
They tried fighting each other before but the coronavirus epidemic knocked the first attempt out of the water. Here they go again.
Smith, 31, has tried before and been defeated before. But every time someone thinks its all over for the construction worker, he knocks somebody out to regain a footing. He knocked out former champion Eleider Alvarez and defeated Jesse Hart to get to this spot.
Vlasov, 34, has been around for many years and displays an aptitude for doing what's necessary to survive. Can he find that same ingredient to fend off Smith?
It should be a worthy world title fight.
Check out more boxing news on video at the Boxing Channel
To comment on this story in the Fight Forum CLICK HERE