The Hauser Report: Wilder – Fury II in Perspective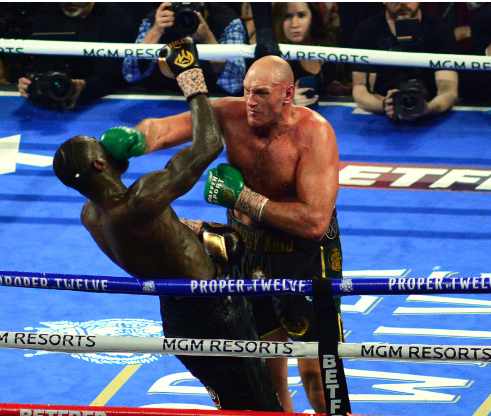 On Saturday night, February 22, at the MGM Grand in Las Vegas, Tyson Fury knocked out Deontay Wilder in round seven of a rematch of their December 1, 2018, draw. With Anthony Joshua having faltered as a fighter since his comeback victory over Wladimir Klitschko three years ago, the consensus is that Fury is now the #1 heavyweight in the world.
Wilder-Fury II shaped up from the start as an intriguing drama. Fury has a fighter's name (first and last). "Deontay" sounds like a fashion designer's moniker. But don't be misled. Wilder has an aura of menace about him. In the ring, he evokes images of a deadly raptor ripping its prey to shreds with a single strike.
Fury has an erratic persona. By his own admission, he has struggled with severe depression for most of his life. On November 28, 2015, he decisioned Wladimir Klitschko to claim the WBA, IBF, and WBO belts. Then he began spouting homophobic, misogynist, anti-Semitic dogma before abandoning boxing to deal with his emotional problems.
"Part of the attraction with Fury," British journalist Ron Lewis writes, "has always been, you genuinely don't know what he is going to say. Sometimes he will just make stuff up. In the modern boxing media where video journalists generally outnumber writers, the soundbite is king. Soundbites are rolled out and the outlandish remarks are gobbled up as good material. And Fury gives good soundbites. Whether they are true or not doesn't really matter. What counts is that people click."
Fury returned to the ring in 2018 after a thirty-month absence and notched lackluster victories over Sefer Seferi and Francesco Pianeta. On December 1, 2018, he survived ninth and twelfth-round knockdowns en route to a draw against Wilder. Less-than-impressive triumphs over Tom Schwarz and Otto Wallin followed.
In his most recent ring appearance, Tyson journeyed to Saudi Arabia for an October 31, 2019, staged wrestling spectacle that pitted him against WWE strongman Braun Strowman.
Fury has good boxing skills for a man his size. He stands close to 6-feet-9-inches tall and fights in the neighborhood of a non-svelt 260 pounds. There's a lot of jiggling when he moves around the canvas. At age 31, he entered the ring for Wilder-Fury II as an undefeated professional boxer with 29 wins, 20 knockouts, and a draw in 30 fights.
Wilder captured a bronze medal at the 2008 Olympics as a raw 23-year-old. Seven years later, he annexed the WBC heavyweight title by decision over Bermane Stiverne. Since then, he has successfully defended his belt ten times against mostly pedestrian opposition. His most credible opponents were Luis Ortiz (twice) and Fury.
Deontay has made some good life choices and also some bad ones. There have been incidents of violence outside the ring and public utterances that made him look and sound like a bully. There's a nagging feeling that he unwisely left a lot of money on table and lost an opportunity to consolidate all four heavyweight championship belts when he blew off a three-fight $100 million offer from DAZN last year.
That said; Wilder can punch. Bigtime. Entering the ring on February 22, he had 40 knockout victories in 42 fights, with only Fury and Stiverne having gone the distance against him. And Stiverne was obliterated on a first-round knockout when they met in the ring for the second time.
As writer Carlos Acevedo noted, "There is no softening-up process necessary for Wilder to demolish an opponent. Cumulative damage is not a prerequisite. He picks his high-spots (moments when he fully commits to his bludgeonous right hand) with care, and few can withstand its direct impact."
Fighters are associated with certain phrases . . . Joe Louis: "He can run but he can't hide" . . . Mike Tyson: "They all have a plan until they get hit" . . .
Wilder sums up nicely when he says of each opponent, "He has to be perfect for twelve rounds. I have to be perfect for two seconds."
Let's say it again. Wilder can punch. His right hand is devastating. And not only isn't he afraid to throw it; his entire fight plan (at the risk of losing round after round on the judges' scorecards) is about trying to land it. His conventional boxing skills are limited. His chin is suspect, but he has learned to use his height and reach to protect it. Give him time to set up and proceed at his leisure, and he will destroy you.
Moreover, Wilder carries his power late. As Fury found out in round twelve of their first encounter, Deontay is dangerous until the final bell.
"This is a gladiator sport," Wilder says. "It ain't no room for weakness in this sport, especially when you're a champion because you'll always be a target. You're always gonna have a bullseye on your back. So you've gotta have a mentality like that. It's good to be nice and kind and shit like that. But when it comes to boxing, you can't show no weakness. You've gotta show that you're a savage, that you ain't nothing to be messed with, and that's what I show. Put fear in these guys' hearts and really mean it. When you fight Deontay Wilder, I take something from you. I take years from your life."
As for Fury's psychiatric issues, Wilder acknowledged, "We all have mental problems. Ain't nobody one hundred percent. I'm crazy at times. I go do things at times. I been had a gun in my hand before thinking about committing suicide. I mean, shit. It ain't no different. I can be a role model, but you have to accept me and embrace me for who I am. I may say some crazy stuff. I may make up my own words at times. I'm human. I don't walk a straight path and a lot of things may go wrong in my life and it's going to be up to me to correct them. I just tell people to accept me for who I am. I am who I am. I'm not perfect."
For a while, Wilder was skeptical that the rematch would take place.
"Fury doesn't want to fight me again," Deontay said. "He's satisfied with the draw and he wants to run with a moral victory." That was followed by reference to Fury rising from the canvas after what initially seemed to be a fight-ending knockout: "I knocked some marbles out his head. When a man doesn't know how he got knocked onto the ground or how he got up, that ain't no good sign. His family don't even want him to fight me again. He don't want to either, but he's got to."
In due course, the rematch was signed with the two sides agreeing to a 50-50 revenue split.
It would be Wilder (backed by Premier Boxing Champions and FOX) versus Fury (in league with Top Rank and ESPN). Thereafter, Top Rank CEO Bob Arum predicted that Wilder-Fury II would engender two million pay-per-view buys. That left a lot of observers willing to bet the "under," since Wilder-Fury I was generously estimated to have generated 325,000.
In truth, neither Fury or Wilder had sold well to the public in the past.
Wilder had headlined two previous fight cards in Las Vegas. According to numbers released by the Nevada State Athletic Commission, 4,074 tickets resulting in a live gate of $755,200 were sold for his 2015 outing against Bermane Stiverne. Deontay's 2019 rematch against Luis Ortiz generated a live gate of $4,063,141 on 7,403 tickets sold. Depending on whom one believes, Wilder-Ortiz II (which was distributed on pay-per-view by Fox) engendered between 225,000 and 275,000 buys. Since FOX is reported to have guaranteed 500,000 buys for Wilder-Ortiz II, that translated into a lot of red ink.
Meanwhile, the live gate for Fury-Schwarz at the MGM Grand was $882,145 with 5,489 tickets sold. The live gate for Fury-Wallin at T-Mobile Arena was $999,723 with 3,577 tickets purchased. There were more comps (3,898) for Fury-Wallin than tickets sold.
To state the obvious, these are not good numbers. But ESPN and FOX (which jointly handled the pay-per-view for Wilder-Fury II) went all-in on promotion of the rematch.
FOX is available in 120 million American homes. ESPN has 83 million domestic subscribers. ESPN put the promotion into high gear on December 28 when Fury appeared on its College Gameday program prior to the Bowl Championship Series semi-final football game between LSU and Oklahoma. Then, on February 2, FOX broadcast two Wilder-Fury II commercials during Super Bowl LIV. According to Nielsen Media Research, the first Super Bowl promo (which ran at 8:02 PM eastern time) was seen by 103.5 million viewers. The second (which aired 35 minutes later) drew 101.1 million. There were also seven pre-game promotional spots that averaged 18 million viewers each.
Given the fact that in-game Super Bowl commercials normally cost advertisers as much as $10 million a minute, this marked a significant investment by FOX in the promotion.
The lead-up to Wilder-Fury II was marked (and sometimes marred) by back-and-forth utterances between the fighters.
Fury did his part to debase the public dialogue during a media scrum immediately after the January 13 kick-off press conference in Los Angeles. Discussing his preparation for the rematch, he declared, "I'm masturbating seven times a day to keep my testosterone pumping. Pump it, pump it, pump it, pump it up! Don'tcha know! I gotta to keep active and the testosterone flowing for the fight."
Later, Tyson declared, "I look at Wilder and I don't see a tough fight. I see a long-legged pussy that I'm going to break in. A big 6-foot-7-inch virgin that ain't been rodded before. I'm going to bend him over and scuttle him backwards nice and slowly."
Fury further pledged, "After this fight, I'm going to binge on cocaine and hookers. Is there anything better than cocaine and hookers? I go to the cheap thirty-dollar ones. Always give yourself a shot of penicillin before shagging 'em. If you haven't got the penicillin, always double-bag up."
Wilder responded more simply, saying, "This is unfinished business that I will finish. Come February 22, I'm going to rip his head off his body. The first fight was a very controversial fight. We left people confused about who won. This is where we come and settle everything. This is judgment day."
When fight week arrived, the hype machine went into overdrive, proclaiming that Wilder-Fury II was one of the most anticipated heavyweight championship matches of all time. There was a massive amount of network shoulder programming including extensive on-site coverage from February 18 until fight night.
ESPN and FOX, which talk breathlessly about "unified titles" when match-ups like Vasyl Lomachenko vs. Jose Pedraza occur, suddenly forgot that the WBA, WBO, and IBF (each of which recognizes Anthony Joshua as its heavyweight champion) exist. Also forgotten was the fact that, in Wilder-Fury I, the fighters had landed a total of only 155 punches between them. That's six punches per fighter per round.
No matter. The twelfth-round knockdown and Fury getting up from it had elevated Wilder-Fury II as a commercial attraction. The fight sparked high interest in the boxing community. Whether or not this interest was spilling over to general sports fans and beyond was a separate issue. Tickets were available at list price until three days before the fight.
Fury predicted that he'd knock Wilder out in the second round. That earned a scornful rejoinder from Deontay, who proclaimed, "Fury has got pillows as fists. We all know he don't have no power. He's just a tall big man that can move around a ring and that's about it. As far as him knocking me out, he don't believe that himself. He can't even see that in his dreams."
There was the usual idiotic (and dangerous) shoving and shouting at the final pre-fight press conference on Wednesday, all of which was gleefully distributed as a marketing tool by the promotion (except for the part where Wilder and Fury trashed each other as being unmarketable).
Among other things, Wilder berated Fury, saying, "When I found you, you was strung out on coke. When I found you, you was big as a house, contemplating about killing yourself. So don't you ever forget who brought you to bigtime boxing. I brought you back. I put food on your table for your family to eat. Don't you ever forget that."
On Thursday, to its credit, the Nevada State Athletic Commission ruled that, for security reasons, the fighters would not be allowed to engage in the ritual staredown at the close of Friday's weigh-in. Arum complained about the ruling, but all was not lost. After the weigh-in, as Fury and Wilder stood on opposite sides of the stage with six commission inspectors between them, Fury gave Wilder the finger and Deontay responded by grabbing his crotch.
For their first encounter, Wilder had weighed in at 212-1/2 pounds. This time, he tipped the scales at 231 (his heaviest ever). Fury had weighed 256-1/2 pounds the first time around. Now it was 273 (three pounds less than his all-time high). The general feeling was that the extra weight would help Wilder and hurt Fury.
It was a pick 'em fight with a slight edge in the odds, if any, toward Wilder. Looking at the two bouts that each man had engaged in subsequent to their first encounter, Deontay had seemed to be improving (against Dominic Breazeale and Luis Ortiz). Fury, on the other hand, had appeared to be stagnating (against Tom Schwarz and Otto Wallin).
"Deontay does not get the credit that he deserves for the improvement," Jay Deas (Wilder's co-trainer and adviser) said in a February 12 media conference call. "I don't think people totally get what they're seeing, and sometimes they don't understand the nuances of the sport. We do what we call a six-month test. Every six months, we ask ourselves, 'Would you right now beat you from six months ago?' And I can answer one hundred percent honestly that, since the beginning of the first day that he came in the gym, that answer has been yes. He keeps getting better and better and better and smarter and refined with the technique. The things that people don't really get is the timing, the distance, the spacing, the positioning, all those things that allow you to land those big punches. That's skill. And he wants to learn. He's the kind of guy that is still hungry to get better and better."
ESPN commentator Teddy Atlas was in accord, saying, "I feel like Wilder has added something. He's added a delivery system where he mesmerizes you with the jab and then BOP, the right hand is right behind it, George Foreman did it, Teofilo Stevenson did it. They lie to you. They make you think you're safe because they're only throwing the jab three-quarters so you think that's the end of the line for danger. But it's not. It's about three inches further because they didn't extend the jab. And Wilder has learned how to do that by making you think you're safe. You cooperate a little, and then BOOM!"
In December, Fury announced that he was replacing trainer Ben Davison with Sugar Hill and that Stitch Duran (not Jorge Capetillo) would be his cutman for the February 22 rematch. Fury and Hill soon began talking about tapping into a new reserve of power. But as Don Turner (who trained Evander Holyfield and Larry Holmes late in their respective ring careers) observed, "You don't take a fighter in his thirties, change his style, and teach him to punch with more power in an eight-week training camp. The fighter makes the fighter. The trainer only helps."
Those who picked Wilder to win the rematch noted that, as Wilder-Fury I progressed, Deontay seemed to figure Tyson out. He'd knocked Fury down in both the ninth and twelfth rounds and was likely to set up his punches more effectively the second time around.
Also, there was the matter of "the cut." Fury had suffered a gruesome gash along his right eyebrow courtesy of a left hook from Wallin in round three of their September 14 bout. The cut bled profusely throughout the fight and required 47 stitches to close.
The scar tissue from that cut would be an attractive target for Wilder. "No matter what he does," Deontay said, "when he fights me, it's going to open right back up. I'm going to pop it right back open. He can get plastic surgery, duct tape or staples, super glue or hot glue, cement glue. Shit, he can go get some of that flex glue. It ain't gonna to matter. I definitely look forward to re-cutting open that eye."
And finally, there was the biggest factor of all – Wilder's power.
"I've never seen anything like it," Bob Arum (who co-promotes Fury with Frank Warren) said. "It's actually accentuated by the fact he doesn't know how to box. He's a horrible boxer. He puts on a clinic of how not to box, but he has that right hand."
"For one punch," Teddy Atlas added, "just one punch, I think Wilder is the hardest puncher in the history of the sport."
Yes, Wilder was a one-trick pony. But it was quite a trick.
Meanwhile, the case for a Fury victory began with Wilder's limited repertoire. Bart Barry spoke for many when he wrote, "Wilder only took what he did best and committed to doing it better. If the holes in his style aren't any larger now than when he started, they are, surprisingly, no smaller."
Fury's partisans also reasoned that their man would be in better shape for the rematch than for the first fight and wouldn't tire down the stretch as he had before. Also, they were confident that, this time, in addition to making Wilder miss, he'd make Deontay pay when he missed.
Asked what he'd learned from Wilder-Fury I, Tyson responded, "He's got a big right hand and that's it. He's a one-dimensional fighter. The biggest mistake I made last time was not making him pay when he was hurt. I didn't know what I had in the tank last time. This time, I know I can go the distance. I'll throw everything but the kitchen sink at him, and he won't know what hit him."
As for the knockdown in round twelve of their first encounter, Fury explained, "I backed up in a straight line and got clipped with a right hand and it was good night, Vienna. That was all she wrote. But then I rose from the canvas like a phoenix from the ashes to get back into it, take him up, and finish the fight the stronger man."
There were a host of battles between ESPN and FOX behind the scenes with regard to a whole range of issues. Finally, it was agreed as to on-air talent that Joe Tessitore (ESPN) would call the blow by blow with expert commentary from Lennox Lewis (FOX) and Andre Ward (ESPN). Host Brian Kenny (FOX) would be joined at the fight-night desk by Max Kellerman (ESPN), Shawn Porter (FOX), and Timothy Bradley (ESPN). In addition, Mark Kriegel (ESPN), Kate Abdo (FOX), and Bernardo Osuna (ESPN) would serve as ringside reporters while Larry Hazzard (FOX) would be the unofficial scorer and rules expert.
There was a lot of chatter during the televised portion of the pay-per-view undercard about how this would be Wilder's eleventh consecutive heavyweight title defense, breaking a tie that he'd held with Muhammad Ali. This ignored the fact that Ali was the undisputed heavyweight champion of the world during his reign while Deontay was one of many. Max Kellerman then analogized Fury's boxing skills and elusiveness in the ring to that of Wilfred Benitez and Willie Pep.
Viewers were also told that the live gate for Wilder-Fury II had surpassed $17 million which made it the largest live gate in the history of heavyweight boxing in Nevada. Lewis-Holyfield II in 1999 had grossed $16.86 million. Of course, accounting for inflation, $16.86 million in 1999 would be worth $26.28 million today.
Fury, wearing a red velour robe and sitting on a throne, was wheeled to the ring by four buxom women while a recording of Crazy sung by Patsy Cline played over the public address system. Wilder's opted for glitzy black body armor accessorized by a black mask during his ring walk with rapper D Smoke providing the soundtrack.
Then came the moment of reckoning.
Fury dominated the action from beginning to end. He came out aggressively in the first two rounds, stalking and outjabbing Wilder, who hardly jabbed at all. As is usually the case, Deontay did little to set up his punches and looked simply to land the big one. His deficiencies as a boxer showed.
Boxing Fury is a bit like boxing a mountain. Wilder was having trouble coping with a bigger man who chose this time to come right at him, throwing punches.
With 38 seconds left in round three, Fury dropped Wilder with a clubbing overhand right that landed on Deontay's left ear. If Wilder had looked bad before, from that point on, he looked awful. His legs were weak. His balance was unsteady. He bled profusely from his left ear and seemed confused if not dazed. He wasn't just losing rounds. For the first time in his career, he was getting beaten up.
Referee Kenny Bayless helped Wilder a bit by breaking the fighters at times when Fury was working effectively inside. Then, not long after Tyson dropped Deontay with a hook to the body in round five, Bayless (without previous warning) took a point away from Fury for hitting on the break.
By round six, Wilder was fighting like he was out on his feet. And more significantly, his power had deserted him. It no longer looked as though he had the ability to change the course of the fight with one punch. It was then that Fury had the poor taste to lick Deontay's neck during a clinch to taste the blood that was flowing from his ear.
The mauling continued. One minute 37 seconds into round seven, with Wilder trapped in a neutral corner and Fury pounding away, Mark Breland (Deontay's chief second) threw in the towel.
"Things like this happen," Wilder said in a post-fight interview with Bernardo Osuna. "The best man won tonight. I just wish my corner would have let me go out on my shield."
He's fortunate that they didn't.
Fury's story is a remarkable tale of redemption given the mental health issues that forced his hiatus from the ring four years ago. As for what comes next; Wilder has thirty days to exercise a rematch clause for a third fight that would be contested with a 60-40 revenue split in favor of Team Fury.
Meanwhile, in the weeks ahead, there will be a lot of talk about "greatness." Thus, it's worth considering the thoughts of Carlos Acevedo who wrote, "Of all the concepts, phrases, and words that have devolved in boxing over the years, none has slipped so drastically as the notion of greatness. Writers and reporters take many of their cues directly from press releases, publicists, promoters, and network puffers. This is like taking advice from a three-card monte dealer on where the queen of hearts may be."
In his most recent fight preceding Wilder-Fury II, Fury struggled against Otto Wallin. Against Wilder on Saturday night, at times he looked sloppy. Two victories – against Wladimir Klitschko and now Wilder – don't qualify a fighter for greatness.
Fury himself seems to understand that notion. During a media conference call to promote Wilder-Fury II, he declared, "The only thing that means anything to me is winning these fights. That's it, period. I'm a purebred fighting man through and through. And when it's over, it's over. I'm not really concerned about the legacy. I'm not overly concerned about what happens when I'm done. We can only take one chapter of our lives at a time, and I'm just enjoying living in the moment right now. I'm living my dream, my childhood dream, my young adult dream, and my midlife dream. I really don't care about legacy because what somebody thinks of me when I'm finished is unimportant. It's all sticks and stones. Whether it's good or bad, everyone is entitled to their opinion. And there will be somebody else to replace me just like every other champion."
Photo credit: Al Applerose
Thomas Hauser's email address is thomashauserwriter@gmail.com. His most recent book – A Dangerous Journey: Another Year Inside Boxing– was published by the University of Arkansas Press. In 2004, the Boxing Writers Association of America honored Hauser with the Nat Fleischer Award for career excellence in boxing journalism. On June 14, 2020, he will be inducted into the International Boxing Hall of Fame.
To comment on this story in The Fight Forum CLICK HERE
Teddy Atlas: Trainer, Ringside Analyst, and now a Podcaster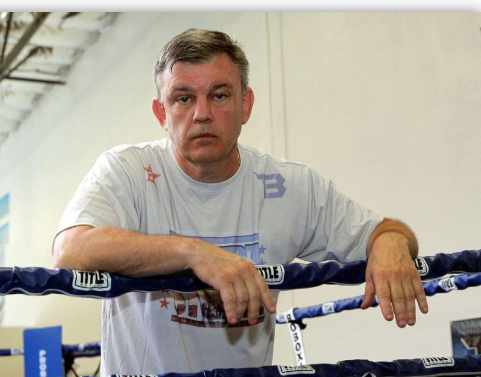 As a teenager, Teddy Atlas was a troublemaker. One could have predicted that he would grow into a man who would get thrown out of places. And that has proved true. He's been thrown out of London and thrown out of Australia.
Ah, but we are getting ahead of ourselves.
Atlas needs no introduction. During a 21-year-career as a ringside analyst with ESPN, his face and distinctive voice became synonymous with boxing. Since leaving that role with the network – not of his own volition – he has transitioned into a podcaster while continuing to bob up now and then as the trainer of an important boxer seeking to elevate his game.
Atlas didn't quite know what a podcast was when he was approached to do the audio program. Anything "high tech" was never his bag. He still doesn't e-mail.
Rob Mohr, the founder and partner of a public relations firm called Hit Hard Media, pitched the idea to Teddy. "He said to me, 'Listen Teddy, I think you have a voice that should be heard and I think there's an audience out there,'" recalled Atlas. But Teddy would not have come on board if his daughter Nicole, an attorney, hadn't pushed him to give it a try. (Atlas also has a son, Teddy III, who is the assistant director of college scouting for the Las Vegas Raiders with aspirations of someday becoming an NFL GM).
Mohr serves as the producer of the podcast which is done in a studio in New York. Mohr's friend Ken Rideout is Teddy's sidekick on the podcast which is called "THE FIGHT with Teddy Atlas." Mohr and Rideout, who reside on opposite coasts, New York and California, have a Massachusetts tie and a shared passion for long-distance running. Mohr is one of the world's top amateur triathletes.
Rideout is a financial advisor. He had no previous connection to boxing, unless one were to count the time that he was a prison guard working alongside Micky Ward. But he has always been a big fan of the sport. "Commenting on boxing is like my dream job," he says. On the air, Atlas, who has a tendency to ramble, does most of the talking.
Mohr's assumption was prophetic; there is indeed an audience out there. The podcast has been running a little over a year. As of last week, the episodes had attracted over 10 million views, one million downloads, and 800,000 subscriptions. Atlas's unfiltered take on all things pugilistic is a welcome respite in a sport saturated with hyperbole and chicanery. Teddy doesn't care if some of his opinions rile the fat cats at the top of the boxing food chain. We suspect he rather enjoys it.
Before he started talking into a microphone, Teddy Atlas attracted notice as a trainer. A disciple of the late Cus D'Amato, who molded Floyd Patterson and Mike Tyson into world heavyweight champions, Atlas has been associated with 18 world title-holders. He gave up training several years ago, but teaching is in his blood and he would be lured back on several occasions. Most recently, he handled Oleksandr Gvozdyk for three fights beginning with Gvozdyk's upset of Adonis Stevenson, an 11th round stoppage that earned the Ukrainian the lineal light heavyweight title.
Atlas didn't reach out to Gvozdyk. Egis Klimas, Gvozdyk's promoter, reached out to him. But Atlas wouldn't give his consent until he got to know the fighter a little better.
"My only qualification was that he had to be a decent person; a person I would like to be around," says Atlas who had previously applied the same yardstick to Tim Bradley. Before taking on Bradley, who reached out to him, Teddy spent three days with Bradley in Bradley's hometown of Palm Springs.
Teddy Atlas is a no-nonsense trainer, a hard taskmaster. He concedes that his style isn't for everyone. But a trainer of Atlas's stripe would seem to be an especially good fit for a boxer with a reputation for being a slacker. It was inevitable that his name would be linked with former heavyweight champion Andy Ruiz who weighed an ungainly 283 ½ pounds for his rematch with Anthony Joshua.
We broached the subject of him possibly training Ruiz during a long telephone conversation with Atlas on Sunday. He told us what he then told his listeners the next day. Yes, Ruiz's people had reached out to him and there was one follow-up call, but that was it; they never called back. And he told them that if they wished to explore it further, then Ruiz would have to come to New York so that they could get further acquainted, "so I could see how comfortable I am with the fighter and if he and his team would be comfortable with me."
Atlas did not reveal that he had these conversations until someone at the other end let the cat out of the bag. However, on Monday's podcast, he came with a meticulous list of things that Andy Ruiz could do to improve, both inside and outside the ropes. The list had the scent of a job application.
In addition to being a noted trainer and broadcaster, Teddy Atlas is also known as a great philanthropist.
He started the Dr. Theodore A. Atlas Foundation, named for his late father who practiced medicine in Staten Island for 55 years, doing house calls until he was 80 years old, and built two hospitals, the first a 22-bed unit that was eventually purchased by the city and torn down to make way for the Verrazano Bridge and the second a unit roughly three times as large that lasted for 35 years. At these facilities, Dr. Atlas administered to the poor, performing tonsillectomies and delivering babies and such, for free. (There were no HMOs in those days, notes Atlas.)
The Dr. Atlas Foundation, in a nutshell, helps people in need, covering the cost of hospital care, building ramps for the handicapped, and whatnot. Thanksgiving means free turkeys for the poor and Christmas means free toys for the kids. The foundation, notes the well-known New York sportswriter Wallace Matthews, "raises money and puts it directly into the hands of the people who need it, without being funneled through the hands of highly paid fundraisers and publicists."
The foundation holds an annual dinner. The most recent edition was the twenty-third. At the dinner, sportscaster Bob Ley, the longest tenured employee at ESPN when he retired last June, was presented an award named for the late investigative reporter Jack Newfield. "He was my friend, a gutsy writer who didn't care about the repercussions," says Atlas of the man who wrote "Only in America: The Life and Crimes of Don King." The foundation also honors Newfield by helping to subsidize a scholarship for a journalism student at Hunter College, Jack Newfield's alma mater.
The annual Dr. Theodore A. Atlas Foundation dinner is held on the Thursday before Thanksgiving. "For whatever reason," says Atlas, "my dad always took off on Thursdays. In my mind, it was the only day of the week that he could join us (in spirit)."
The foundation also supports youth programs which until recently included three boxing gyms, two on Staten Island and one in Brooklyn. The gyms were formerly run by the Police Athletic League which backed out under pressure from "reformers" who thought that the instructors were teaching kids how to fight rather than how to box.
Teddy balked at keeping the gyms afloat, but reconsidered. "I came to see them as havens," he says, "as shelters." But he insisted that certain rules had to be followed.  Among them, a boy had to bring his report card to stay enrolled and he had to pull up his pants.
By one measure, these gyms — The Dr. Atlas Cops & Kids Gyms — were enormously successful. Atlas guesses that they produced 100 Golden Gloves champions. Alumni include U.S. Olympian and future light heavyweight champion Marcus Browne, Chris Colbert, currently ranked #1 at 130 pounds by the WBA, and two hot young prospects who were lured out of the amateur ranks by Eddie Hearn: middleweight Nikita "White Chocolate" Abibay and welterweight Reshat Mati.
As these gyms were becoming powerhouses, they lost track of their mission, says Atlas, with the result that Dr. Atlas's name is no longer attached to them. Asked if he was particularly proud of one of the former attendees, Atlas cited a girl from Brooklyn who was living in a car with her mother when she started attending the Flatbush gym. She is now serving in the U.S. Navy.
Okay, about those instances when Teddy Atlas was 86ed, kicked out the door as if he were toxic:
The first occurred in London at the 2012 Olympics, his fourth for NBC. Some of the scores turned in by the judges were head-scratchers which was nothing new for Olympic boxing. "Corruption was happening right before my eyes," says Atlas. Referencing a bus that brought Olympic officials to London, he said on the air "they should turn that into a Department of Corrections bus and get them out of here."
Dr. Ching-Kuo Wu, the Taiwanese architect who was the president of AIBA, the international governing body of amateur boxing, had Atlas and his broadcast partner Bob Papa physically removed from the arena.
The second incident occurred in July of 2017 in Brisbane, Australia, where Atlas worked the welterweight title fight between Manny Pacquiao and Brisbane-native Jeff Horn. The title changed hands when Horn, a massive underdog, won a unanimous decision. The decision didn't sit well with Atlas whose commentary during the fight was deemed by the locals and others to be very biased toward Horn.
After the fight, there was talk of a rematch with speculation that the fight would go back to Australia. Dean Lonergan, Jeff Horn's promoter, said that if that were to be the case, then he would demand that ESPN remove Atlas from the broadcasting team. And barring that, he told reporters, "I will lobby the Immigration Minister to not allow Teddy Atlas through our border."
Ever the cynic, Atlas still believes that the decision favoring Jeff Horn was a "business decision." And as for being persona non grata in Australia, Atlas quips, "I don't know if I have been thrown out of better places, but I have never been thrown out of a bigger place."
"Telling it like it is" was the self-styled catchphrase of the abrasive sportscaster Howard Cosell, a catchphrase that invited a lot of derision. Teddy Atlas tells it like it is and that catchphrase fits him a lot better than it fitted Cosell. You may not always agree with him, but you know the man is genuine.
P.S. – A new podcast normally goes up on Mondays. Check it out.
Check out more boxing news on video at The Boxing Channel 
To comment on this story in The Fight Forum CLICK HERE
Art of Boxing Series – Tim "Desert Storm" Bradley (Part Two)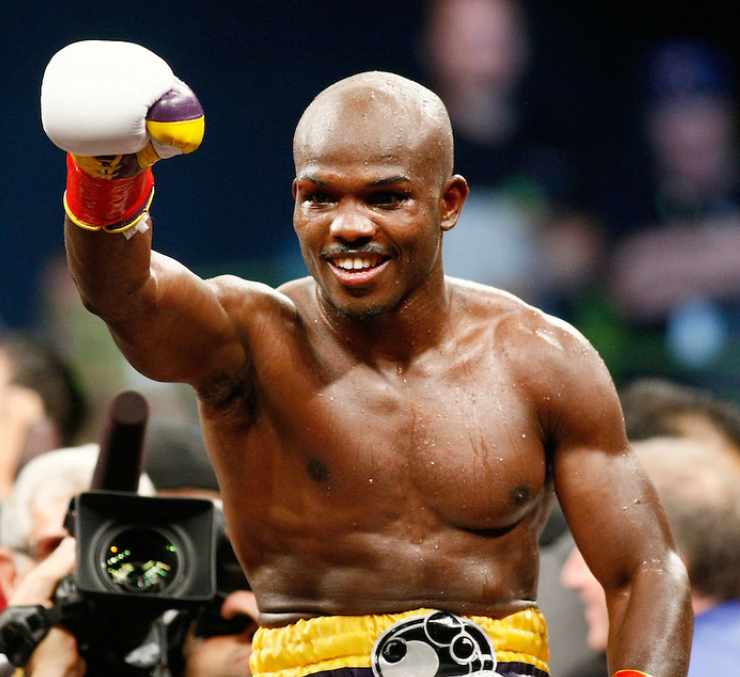 Tim Bradley appeared on the professional boxing circuit like an unpinned grenade and exploded on the Southern California scene.
When Bradley began fighting regularly under the Thompson Boxing banner and defeating veterans and fellow prospects with ease, the biggest questions were how far can he go and where did he come from?
Thompson Boxing Promotions was barely in its fourth year of existence and suddenly and surprisingly had a fighter with amazing fighting skills and an aptitude to match. The matchmaker and head of operations Alex Camponovo was handed the duty of guiding the early career of Bradley.
It was quite an experience to see Bradley perform on club shows in Ontario and see him electrify audiences with his abundance of talent. It was simply no-contest as he buzz-sawed through the competition with his speed and quick reflexes.
I remember wondering how the bigger boxing promotion companies missed signing Bradley. At the time, Top Rank and Don King Productions were at the top of the heap and Main Events had some pretty good fighters too. Golden Boy Promotions had started a few years earlier but was in its infant stage.
So how did every one of these companies miss Bradley?
One thing that did seem apparent was his size. He was small at 140 pounds and too muscular to drop down to 135-pound lightweight. Though he showed outstanding speed, his power was not what other fighters at the super lightweight class were able to do and that's to deliver eye-popping knockouts.
But Bradley could out-box almost anyone's socks off and not by running.
Thompson Boxing's matchmaker Camponovo, who was also brand new to the boxing world, realized he needed to move Bradley quickly. Both Camponovo and Bradley were relatively unknown to the boxing powers and that was an advantage early.
Conversely, being new to the game caused unexpected problems.
The first time Thompson Boxing staged a Bradley fight outside of his power base in the Inland Empire, problems arose. A fight card was held at the L.A. Athletic Club in downtown Los Angeles and Bradley was set to face a Brazilian fighter named Marcos Andre Rocha Costa.
According to his record he had one fight and one loss. But no way to verify if that was indeed Rocha Costa. When he appeared in the boxing ring, the Brazilian was about seven inches taller and a southpaw.
Bradley walked into the ring on July 21, 2005 eager to please the crowded venue that had people hanging over the side of an elevated running track that surrounded the ring. Everyone was excited.
Immediately both fighters engaged in high volume punching and it was apparent that the taller Brazilian was extremely talented. Around the third or fourth round, Rocha Costa connected solidly and buzzed Bradley who teetered a bit. It could have been the end. Instead, Bradley erupted in the next round and slipped into another gear that Rocha Costa could not match. Referee Pat Russell stopped the fight as Bradley had battered his way to victory by knockout.
It was an impressive turnaround.
After the fight, the Brazilian fighter surprisingly said he had seven wins and one loss. Both Bradley and Camponovo had dodged a tremendous bullet.
Bradley returned to the Inland Empire and racked up more wins at the Doubletree Hotel and Omega Products International, including a victory that handed him the WBC Youth title that ranked him in the top 20. Those wins also led to a co-promotional deal with Gary Shaw Productions who had a television deal with Showtime.
But first, he needed to beat Africa's Nasser Athumani who had 24 pro fights and 17 wins by knockout when they met on April 13, 2007.
"I fought a guy named Athumani, an African guy, and he hit hard like a son-of-a-gun. That guy could punch," said Bradley about the southpaw slugger from Kenya. "He had more knockouts than I had fights and he hit me with an uppercut in the first round. I ended up stopping him but I don't remember anything about the fight. I was out man."
Another big moment arrived a few months later on July 27, 2007 when he met Mexico's rising star Miguel "El Titere" Vazquez who had only one loss. That single Vazquez loss was on his pro debut against a youngster named Saul "Canelo" Alvarez. He had not lost another fight since when he stepped in the outdoor boxing ring at Omega Products International in Corona, California.
"He broke my rib, man. I fought from the second round on with a broken rib," said Bradley of his confrontation with Vazquez who would later become a world champion in the lightweight division.
Bradley was promised a world title shot if he could defeat Vazquez. When he suffered the broken rib early in the fight, his trainer Joel Diaz asked him if he wanted to stop the fight and lose his place in line for the world title
"I had to bite the bullet or the title and everything we worked for was down the drain if I quit. I had to fight. I had to bite down and go through the pain and it hurt every time I threw a punch. Vazquez had no clue he hurt my ribs. I didn't show it. We were taught that. He was extremely tough," said Bradley of that fight against the future lightweight world champion.
Bradley won the fight by unanimous decision using primarily a jab.
World Titles or Bust
Junior Witter was a clever switch-hitting speedster in the mold of Prince Naseem Hamed and grabbed the WBC super lightweight title with a unanimous decision over DeMarcus "Chop, Chop" Corley. He was coming off back-to-back knockout wins over Arturo Morua and Vivian Harris when he met Bradley in Nottingham, England on May 10, 2008.
Bradley and his team arrived early and immediately discovered that being the challenger was indeed a challenge.
First, his corner man Samuel Jackson was denied entry into the country because of his name. The actor Samuel Jackson had been banned from returning to the United Kingdom for an earlier incident. So, when Bradley's corner man of the same name arrived, he was blocked at the airport for a long while until the mix-up was cleared. Then, when they arrived for their room, they discovered it was too small for everyone to fit.
No problem, they just found more rooms.
Bradley confessed to being totally prepared for Witter. He also knew that he was unknown to the champion and the crowds expecting to see Witter blow out the American called "Desert Storm."
"It was one of those things. They didn't know me. When you fight guys from other countries you don't know what they have," said Bradley who had prepared diligently for Witter for more than a year studying film.
As an amateur Bradley was taught by Hall of Fame trainer Al Mitchell to study film of prospective opponents. He had sat with the trainer many times as an amateur in Marquette, Wisconsin looking at tapes of other fighters and breaking down their strengths and assets.
Bradley retained the habit of studying opponents and used it as a weapon. When he faced Witter he was more than prepared for battle despite the crowd.
"I would study him every night for at least an hour and a half. I would just try to come up with a game plan," said Bradley. "He was so awkward there wasn't one thing I could do. But he made mistakes pulling back. I had to set things up. I knew I had a bigger gas tank. He would fade in the second half and I had to come out stronger in the second half."
Witter was also open for an overhand right and Bradley connected in the sixth round to change the momentum drastically and push the fight in his own favor. After 12 rounds Bradley was declared the winner by split decision.
"I caught him by surprise," said Bradley. "He didn't know anything about me."
Neither did American fans at the moment, when Bradley returned to his own country with the WBC title wrapped around his waist. But that would change quickly as he faced a murderer's row in the super lightweight division.
Beginning in September 2008, Bradley faced Edner Cherry, WBO titlist Kendall Holt, Nate Campbell, undefeated Lamont Peterson, undefeated Luis Abregu, undefeated Devon Alexander and then Joel Casamayor in succession and emerged without a defeat.
In two of the fights against Peterson and Alexander, the Palm Springs area fighter was the underdog and passed each foe with dominating performances.
It was hefty stuff but, after Casamayor, his next fight would be the test of all tests when he met Manny Pacquiao at the MGM Grand in Las Vegas on June 9, 2012.
Pacman and Marquez
Pacquiao had just defeated Mexico's masterful counter-puncher Juan Manuel Marquez by majority decision in yet another close fight in their third meeting. The speedy southpaw was looking for someone other than Marquez and signed to fight Bradley on June 2012.
In a match that featured two speedy and under-sized welterweights, Bradley seemed more energetic throughout the 12-round fight while Pacquiao seemed to take his foot off the pedal for two minutes each round. Then the Filipino superstar would increase the intensity in the last minute or so and attempt to basically steal the round.
It worked with one judge, but two others saw Bradley the more dominant fighter and he won the WBO welterweight title by split decision. Pacquiao and his fans were incensed and to this day Bradley gets attacked through social media by the keyboard minions whenever the subject arises.
"The first fight was the biggest disappointment and that changed me. It was actually a blessing and a curse at the same time. I got my opportunity to fight Manny Pacquiao and be able to make big time money," said Bradley about the after-effects. "But after the fight I was ridiculed and demonized. But now there is nothing that can faze me. It's turned me into a man that can accept any kind of criticism. It doesn't matter what anybody says to me. The curse is I would never have that victory. It would never be fulfilling to me."
But it's in the record books. Forever.
That fight changed Bradley and also might have changed Pacquiao too. Right after the Bradley loss, he signed to fight Marquez a fourth time six months later. Pacquiao exchanged knockdowns with the Mexican fighter and then ran into a Marquez right cross that knocked him out. It was the most decisive win between the two.
Pacquiao would fight Bradley again in two rematches but not before the Palm Springs fighter defeated Marquez by split decision on October 2013. It remains Bradley's most satisfying win of his career.
"I beat Marquez after he knocked Manny out," said Bradley of his fight with Marquez that took place at the Thomas & Mack Center in Las Vegas on October 2013. "That was my most fun fight."
Bradley said he had always studied Marquez, especially in his fights against Pacquiao; and he picked up a few clues about the Mexican counter-puncher that he calls "the perfect fighter" and one of the best in boxing.
"I countered the counter. Fighters at the top level, every time your hand leaves your face you got to expect something to come back. They have a high IQ and are quick on the trigger," said Bradley about fighting top opposition. "Marquez is probably the second- best counter puncher. Floyd (Mayweather) is the best. I knew something was going to come back. I knew I had to finish and I had to be first and I had to be last."
The plan worked smoothly and Bradley won by split decision.
"I fought the game plan I wanted to fight. I had fun. It was the easiest $4 and half million I ever made in a fight. It was so easy," said Bradley.
After Marquez came Pacquiao in the rematch. In fact, he would fight Pacquiao a third time too and lose both by decision.
"He beat me fair and square," said Bradley about the two losses to Pacquiao.
Bradley lost only two fights in his entire pro career and both were to Pacquiao. That's a pretty incredible career feat and proves his mastery of the art of boxing. He was never known as a knockout puncher nor did he have size or long arms. He simply used tools he was born with to the umpteenth degree.
Still Studying
Today, Bradley is part of ESPN's team of boxing commentators alongside Joe Tessitore, Bernardo Osuna, Mark Kriegel, and fellow boxer Andre Ward.
Just as he did as a fighter, Bradley prepares like a demon when it comes to analyzing upcoming fights. He finds it strange that many active prizefighters do not study their opponents.
"You have to be a student of the game. I don't understand how you don't do that. None of these guys study opponents or study boxing. I don't understand how you don't watch your sport. I don't get it," said Bradley of those who don't study film of old fights or prospective foes.
Studying upcoming match ups is what he still does when at home.
"I still watch boxing today. I just love the craft of it. I love the sweet science of it. I love where the underdog learns to beat the favorite," said Bradley on the preparation through film study.
As part of the ESPN television commentating team he's developed a reputation for being straight up.
"They call me the Charles Barkley of boxing," jibes Bradley of former basketball's star Barkley's reputation doing basketball analysis for TNT. "I make my opinion based on my knowledge of the sport. I'm not one of those guys that say all the Top Rank guys are going to win. I thought Deontay Wilder was going to win. I'm not one of those biased types."
Like fans, fighters and everyone who loves the sport of professional boxing, he looks forward to the return of prizefighting when this worldwide epidemic ends.
"I love my job. I love being around the guys and the game. Being around Andre Ward, Bernardo Osuna, Tessitore and Mark Kriegel, honestly, I think we are the best," said Bradley, 36. "I'm the crazy one."
Crazy about boxing.
Check out more boxing news on video at The Boxing Channel 
To comment on this story in The Fight Forum CLICK HERE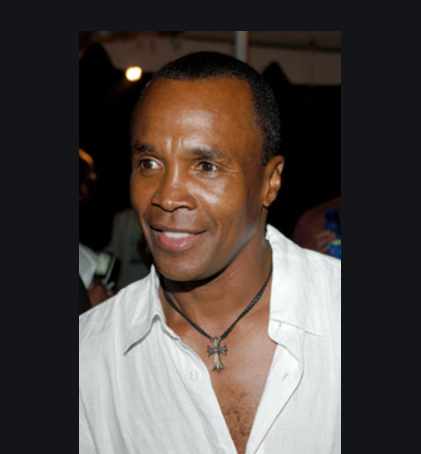 Monday, April 6, marks the 33rd anniversary of the storied fight between Sugar Ray Leonard and Marvin Hagler. In 2007, in conjunction with the 20th anniversary, Philadelphia Daily News boxing writer Bernard Fernandez looked back at that event through the eyes of Sugar Ray Leonard with whom he had arranged an exclusive interview. Fernandez's feature-length story ran under the title "A Ray to Remember."
With Bernard's permission, we are re-printing that story in its entirety. A 2020 International Boxing Hall of Fame inductee, the multi-decorated Fernandez is the author of "Championship Rounds," a soon-to-be-published anthology.
A Ray to Remember
The image is one of eternal youth, the impossibly gifted and charismatic young father smiling and cutting up with his giggling tyke of a son.
But the popular soft-drink commercial in which Ray Leonard Sr. and Ray Jr. appeared together aired in 1980, when certain boxers, if not boxing itself, were still seen as having broad enough appeal to sell products to America.
The 2007 vintage Ray Leonard Sr., better known to his many fans as Sugar Ray, remains handsome and charismatic. But, at 50, his working attire now runs more toward tailored suits and tasseled, Italian-made loafers than to satin trunks and tasseled boxing shoes. It has been more than 10 years since he attempted to summon the old magic in a final, futile comeback bid.
But during a luminescent prime in which he transcended his sport as few have, the quick-handed, steel-willed kid from suburban Washington, D.C., gave the public more than a few moments that are indelibly burned into the pages of boxing history. There was the gold medal he won at the 1976 Montreal Olympics; his stirring, late-round comeback in his first showdown with Thomas Hearns; the night he so dominated the great Roberto Duran in their first rematch that the "Hands of Stone" up and quit in the eighth round.
For all those peaks in a Himalayan career, however, perhaps the most towering accomplishment occurred on April 6, 1987, in a temporary outdoor stadium erected on the tennis courts at Caesars Palace in Las Vegas. That's when Leonard emerged from one of several retirements to shock undisputed middleweight champion Marvelous Marvin Hagler, who was widely regarded as near-invincible. In the Vegas sports books, the odds against Leonard were incredibly long for someone of his stature. More than a few members of the media even expressed concern for his immediate and long-term health.
Today is the 20th anniversary of Hagler-Leonard, a prizefight that seized the attention of the entire world, but the years always melt away in the mind of the man who manufactured one of boxing's most unforgettable upsets. All Leonard has to do is close his eyes for the memories to come flooding back, as warm and vivid as ever.
"I swear, I look at my kids and wonder where the time went," Leonard said in an exclusive interview with the Daily News recently. "Can it really have been 20 years? One day, you look at your son and he's a little boy. Before you know it, he's sprouting facial hair and is three or four inches taller than you. You're, like, `Wow.' Ray Jr. is 33 now.
"It's funny how the good memories stick with you longer. Human nature, I suppose. I could always tell in the dressing room, when I was warming up, if it was going to be a good night or a long night. If you don't feel like you have it that night, it is the most frightening thing for a fighter. I felt that way against Hector (Camacho, who stopped Leonard in five rounds on March 3, 1997, in Atlantic City Boardwalk Hall, his final bout). I felt the same thing before the first Duran fight, before the second Hearns fight, before the fight with Terry Norris.
"Fighters know when they have it. They know. When I was younger and I had those little moments of doubt, which were rare, I was usually able to overcome them. After Camacho, I knew I never wanted to experience a moment like that again. It's like you have a vision you're about to die and you can't do anything about it.
"But against Hagler, I just felt like I was as ready as I possibly could be."
Hagler-Leonard, like the first matchup of Mike Tyson and Evander Holyfield that was delayed for years, was a long time coming. Leonard had spent a sizable chunk of his career at welterweight, moving up to junior middleweight at around the same time Hagler was establishing himself as one of the finest 160-pound champions of all time. Everyone assumed that Leonard would move up to middleweight and challenge Hagler, probably sooner rather than later.
In the spring of 1982, however, Leonard was inadvertently poked in the left eye by the gloved thumb of a sparring partner The eye immediately reddened and his vision became blurred. The blurring cleared up after a short time, but the spots in his line of vision did not.
A detached retina was diagnosed, and Dr. Ron Michels operated on Leonard's eye to repair the damage. Although advances in laser technology have made the reattachment of retinas a common surgical procedure, back then the injury was serious enough to end careers.
Although Michels assured him that his left eye was fully healed, Leonard, who had impulsively retired and unretired twice, wrestled with the fear that continuation of his career might leave him sightless. That, and the urging of his first wife, Juanita, edged him toward a momentous decision.
Ever the showman, Leonard rented the Baltimore Civic Center on November 9, 1982, for a black-tie gala attended by 10,000 fans and special guests. Among those on hand was Hagler, who also wore a tuxedo for what he presumed would be the announcement that the fight everyone wanted to see finally was going to be made.
In a ring that had been set up for the occasion, Leonard looked at Hagler and addressed the crowd. "A fight with this great man, with this great champion, would be one of the greatest fights in history," Leonard said. "Unfortunately, it'll never happen."
There was a gasp, followed by stunned silence. Hagler felt, with some justification, he had been sandbagged. This is not what he came to hear.
But even as he was saying the words, Leonard had doubts about their validity in the long term.
"Yeah," I said, `This is it. I'm done,' but I'm not sure in my heart I believed it," Leonard said. "I think I realized I might change my mind later, but I felt pressured to do the logical thing, which was to retire.
"I was, what, 26 years old then? I was a young guy still at the top of my game. But I guess I just wanted to put an end to the questions. My mind told me what to say, but in my heart my competitive fire was still burning."
The flame might have been set on low, but it never went out. Leonard accepted a position as a boxing analyst for HBO, which allowed him to be at ringside for a number of Hagler's title defenses.
"Marvin became my friend," Leonard said. "We'd talk. There was no barrier between us because I was out of it; he didn't consider me a threat to him. So he told me things that I mentally stored away.
"When he came for the grand opening of a restaurant in Bethesda, Maryland, I had a little piece of, we were drinking champagne. He said, `Yeah, man, I'm not motivated. I'm starting to get cut easily.' It didn't seem like he was into boxing that much anymore.
"I don't know how significant that conversation was, but it was one of a lot of factors in my decision to come back."
Perhaps the most crucial of those factors was Hagler's performance in a tougher-than-expected, 11th-round knockout of John "The Beast" Mugabi on March 10, 1986.
"It was a cold night in Vegas," Leonard recalled. "I saw Mugabi outjabbing and outboxing Hagler. It was a bad, bad night for Marvin, even though he won. It took a toll on him physically. It also seemed to me that he wasn't focused."
Leonard – who had had only one bout since February 1982, a ninth-round stoppage of Philadelphia journeyman Kevin Howard on May 11, 1984, in which Leonard was floored himself – made another announcement. He was back, and he was going after Hagler.
"When I said I was coming out of retirement, the reporters wanted to know who my tuneup fight was going to be against," Leonard said. "I said, `No tuneup. I'm going straight to Marvin.' Even my brother Roger thought I had lost it. There was no one, besides my father, who believed I had a prayer.
"Well, there was my father and Mike Trainer (Leonard's longtime attorney/adviser). I talked to Mike after I came back from watching Hagler-Mugabi. I said, `Michael, me and Hagler, who wins?' He looked me right in the eye and said, `Ray Leonard can't beat Hagler. But Sugar Ray Leonard can.'
"When he said that, I didn't understand at first. Looking back at it now, it made sense. He was saying Ray Leonard – the civilian, the businessman, the media personality – couldn't win a fight like that. But if I could get back to being Sugar Ray, I could win."
The buildup to the fight was of Super Bowl proportions. Hundreds of media from around the world converged on Las Vegas, not so much to cover a competitive event as to chronicle Leonard's seemingly doomed quest.
But Leonard soaked up the skepticism and fed off it, all the while employing every psychological ploy he could think of.
"I worked Hagler from Day 1, even before I had the slightest imagination of fighting him," Leonard said. "I studied this man day in and day out. I guess I did it subconsciously, when I was commentating for HBO. I'd study his mannerisms.
"Then, when Mike Trainer and I were negotiating (with Hagler's manager-trainers, Goody and Pat Petronelli), we played angles. We'd give them this, take back that. To Hagler and his people,  none of it was relevant. All they saw was the dollar signs. They never even considered the possibility that Hagler might lose.
"Look, Hagler made a ton of money. I made a ton, too. Both parties were satisfied. It wasn't until after the fact that they were dissatisfied. They complained that we got to pick the brand of gloves that were used, the number of rounds the fight was scheduled for."
As was the case with Muhammad Ali's "Rope-a-Dope" strategy against George Foreman,  Leonard concocted a plan to steal rounds with flurries in the last half-minute of close ones. It proved a stroke of genius.
"I told (cornerman) Ollie Dunlap in the dressing room, `30 seconds before the end of the round, yell. Let me know," Leonard said. "He did that, and I'd flurry. It won rounds for me, no question."
It also helped that Hagler, a southpaw, came out in an orthodox posture for the first two rounds.
"When the bell rang for the first round, I was all nervous energy," Leonard said. "I might have talked the trash, but now it was time to put up or shut up. I really didn't know if I still had it. I hoped it was there. But when Hagler came out fighting righthanded, it gave me an opportunity to get settled."
Hagler, who maintains to this day that he deserved to win, was so enraged by the split decision against him – judges JoJo Guerra and Dave Moretti scored it 118-110 and 115-113 for Leonard, while Lou Fillippo had Hagler ahead, 115-113 – that he never fought again. The Brockton, Massachusetts, native lives in Milan, Italy, where he is a part-time actor.
"Hagler didn't want to be around me for a while, which I can understand," Leonard said. "But when we see each other now we're cordial. I was in Vegas for Oscar (De La Hoya) and Felix (Trinidad). Marvin was there. He asked to see me. We shook hands and spoke.
"After the fight, which Oscar lost, I saw Marvin the next morning before I went to the airport. I said, `Can you believe that decision? No way Oscar lost.' He said, `Yeah, I believe it. It happened to me.'"
Leonard was 2-2-1 in his five fights after Hagler, retiring at the age of 40. These days he enjoys the company of his second wife, Bernadette, and the youngest of his four children, Camille, 10, and Daniel, 6. He plays some golf, skis and has a prominent role with The Contender reality boxing series on ESPN.
"There's no void that needs to be filled," Leonard insisted. "There's a fullness, a direction, to what I do. I am not in a hurry to go anywhere or do anything. I just want to stay creative and stimulated. I'm reconnecting with my older kids (including son Jerrell, 23). I feel good about where I've been, who I am now and where I'm going.
"Hagler and I had great, illustrious careers. We're living our lives. You can't hold onto the past forever. You have to move on."
Check out more boxing news on video at The Boxing Channel 
To comment on this story in The Fight Forum CLICK HERE