Close Encounters of the Trump Kind: Reviewing 'Scoop' Malinowski's Latest Book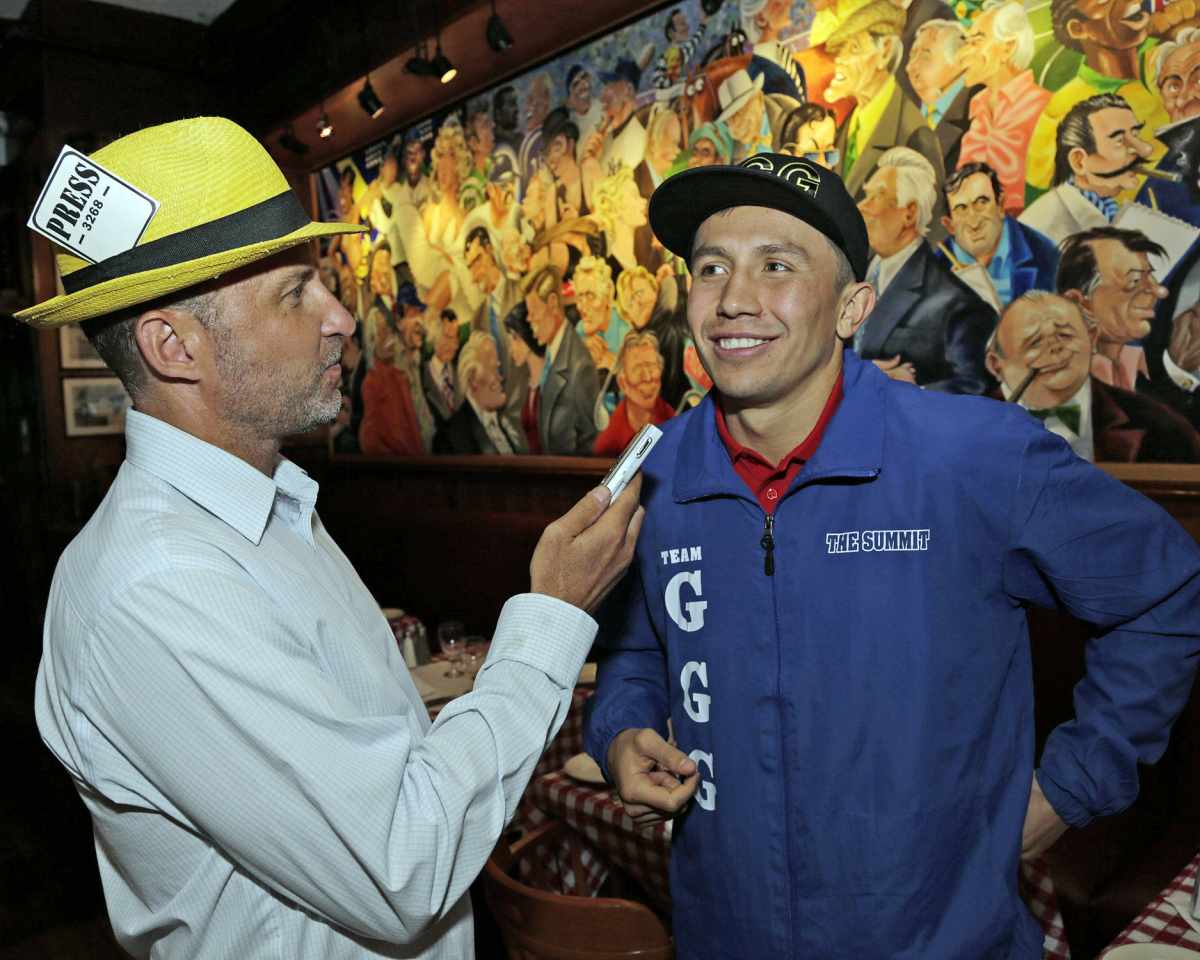 If you happen to follow boxing or tennis closely, you might know who reporter Mark "Scoop" Malinowski is. Author and editor of fourteen books, Malinowski made his name (and earned his media moniker) by writing informative Biofile write-ups about sports and entertainment stars.
Over time, Scoop's lost track of how many he's done. Or who his rookie subject was. His first ever published Biofile (in the Morris County Daily Record) was the NJ Nets' Derrick Coleman.
His Biofile of Boxing Hall of Famer James Toney was published in a 1992 issue of The Ring. Malinowski remembers Toney had an affinity for the stylish suits of sharp-dressed men like Ray Robinson and Thomas Hearns. "He loved their class. How they conducted themselves."
For most folks familiar with Malinowski, it is these popular Biofiles that readers fondly remember. According to TSS editor-in-chief Arne K. Lang, Scoop's Biofiles also ran in Boxing Update and Flash, a pair of well circulated pre-internet newsletters he once subscribed to.
Malinowski gained infamy in 2002 when a close encounter with Mike Tyson resulted in a scary press conference brouhaha where the maddest man on the planet threatened bodily harm to Malinowski and his mother. That's right, it was Scoop who yelled, "Get him a straightjacket!"
Don't worry, they're good buds now.
And Scoop's next book, Facing Guillermo Vilas, will be for sale on Amazon next week. It's a tennis book but Scoop tells me that Vilas is a "huge boxing fan" and was friends with the late great Carlos Monzon. "Vilas," says Malinowski, "shares some fascinating Monzon stories."
But before we get to my review of Malinowski's new self-published book, "Close Encounters With Donald Trump," a boxing-centric collection of Trump recollections told by more than 50 contributors (available on Amazon in paperback and kindle editions), I thought I'd have the colorful writer give TSS readers his first ever Biofile—done on himself.
Biofile "Scoop" Malinowski
Born: Philadelphia, PA Status: Reporter, author. Resides: Teaneck, NJ, Bradenton Beach, FL
Childhood Dream: I just wanted to get involved in professional sports somehow, to be a part of the scene. To contribute my own unique original work and make a positive impact. My visions became clearer later. To write books, do Biofile interviews for newspapers and magazines.
First Journalism Memory: Creating homemade boxing programs and a magazine for our neighborhood boxing cards in junior high school.
Why You Love Boxing: It's man at his best. A great fight is inspiring on many levels.
Favorite Boxing Movies: "Rocky" and "Gentleman Jim." When Apollo Creed decks Balboa and he somehow gets up and wants to continue. The look Creed gives him, of pity, respect and awe. I get chills and a tear every time. In "Gentleman Jim," the scene where Sullivan goes to meet Corbett after their fight at the hotel. The class and respect they show each other.
Favorite Artist: Raoul Dufy, LeRoy Neiman.
Childhood Heroes: Roberto Duran, Carl Kolchak.
First Famous Person You Met or Encountered: Alex Ramos drove by us on the Garden State Parkway, me and my friend Mike Pinto were going with his parents to the Jersey Shore for the weekend in junior high in the 80s. Ramos was driving a white Buick with Yankee pinstripes. He waved to us too! He told me two decades later when we met that the Yankees gifted it to him.
First Car: 1979 Toyota Corolla.
Funniest Boxer: Andrew Golota – great sense of humor, but you have to know him. I've been to his house, got him tickets for a week at the 2017 US Open. He drove all night from Chicago to watch the US Open the next day. Huge tennis fan. Also, Lennox – subtle. Very smart, sharp. Maybe the greatest of all time. Joel Casamayor told me he eats rocks and nails for breakfast.
Favorite TV Show: Columbo, Honeymooners.
Embarrassing Career Memory: Misspelling Ross Greenburg's name for his Biofile in the Boxing Update newsletter. I spelled it Greenberg. He was totally cool about it.
Funny Boxing Memory: I had lunch with Jack Dempsey's wife Deanna and we did a Biofile in NYC. She told me how she first met Jack. She had a little boutique in a hotel in Manhattan and Jack used to visit her there. That was how the courtship started and evolved. She said when he first told her his name, he didn't say he was Jack Dempsey. He told her he was John L. Sullivan.
Favorite Movies: Citizen Kane, Three Days of the Condor, Dial M For Murder, Camille.
Greatest Career Moments: Doing hundreds of Biofiles with great boxers like Holmes, Lewis, Klitschkos, Pacquiao, Duran, Hearns, Archie Moore, Jake LaMotta, Holyfield, Bowe, Toney. Meeting artist Leroy Neiman at the Toney-Tiberi fight in 1992 at the Trump Taj Mahal in Atlantic City, NJ. We became close friends. The friendship lasted until his death at age 91 in 2012.
Musical Tastes: 70s and 80s. Steely Dan, Wham, Olivia Newton John, Abba, Bee Gees.
Most Painful Moment: My Muhammad Ali Biofile was aborted after one question. It was at an NBA All-Star function in NYC in the mid-90s. I asked him the first question, his childhood hero. He answered Willie Pastrano. But he motioned with his hand to turn off the tape recorder.
Ali didn't want to be recorded as his speaking was not strong. So, I ran over to my table to get a pen and paper. But the bodyguard blocked me and wouldn't let me continue the interview. I should have just done it with no pen or paper, I would have remembered everything!
Favorite Sport Outside Boxing: Tennis. Tracy Austin said it's "a fistfight without the fists."
Favorite Fights: I like masterpieces. Duran vs Leonard in Montreal. That fight took over my life. Hopkins vs Trinidad. Lennox Lewis vs Tyson, Rahman 2, Ruddock. The revenge of Vitali vs Corrie Sanders. Tarver KO Jones in two. Klitschko vs Joshua was incredible. Duran's redemption vs Davey Moore. Pacquiao vs Cotto was magic. Toney vs Jirov was incredible. They embraced each other three different times after that fight in the ring! Major respect. Nunn vs Kalambay. Leonard vs Hearns. Dempsey vs Willard. Ali vs Foreman. Holmes vs Norton. Tyson vs Spinks and Berbick. Tyson could have beaten any man in history on those nights.
***
Fortunately for Scoop, Tyson didn't beat him for his senseless outburst. The pair now share a friendship that could only have been brokered in boxing. Both are also admirers of President Trump and Tyson's quotes about Trump are prominent in Close Encounters With Donald Trump.
The book also contains contributions from George Foreman, Larry Holmes, Chuck Wepner, Jackie Kallen, Randy Gordon, Andrew Golota, Michael Marley, Iran Barkley, Randy Neumann, Vinny Pazienza, Bobby Czyz, Montell Griffin, Steve Lott, John Scully, and Paul Vaden.
Oh, and yours truly.
Yes, that's right, I had my own close encounter with Donald Trump to share in Malinowski's new book. You'll have to read it for the whole story but what I can tell you is that it's published with a photo I snapped of then boxing promoter Trump backstage at Holyfield-Stewart II in 1993.
Almost to a man, the many boxing personalities polled had nothing but respectful and insightful things to say about the human lightning rod who today runs America. Malinowski begins by making it clear his 156-page Trump book has nothing whatsoever to do with a political agenda.
Explains Malinowski: "It is simply a collection of memories and anecdotes from a wide range of people who have had close encounters with the current President of the United States of America, Donald Trump. That is all this book is about, nothing more, nothing less."
The truth is that Malinowski loves Trump and Close Encounters With Donald Trump reflects that. After his obligatory political disclaimer, Malinowski recalls his own close encounters with Trump in 1988 (at an Azumah Nelson fight he was covering live from press row at Trump Plaza) and again at the 1998 US Open being held at the Louis Armstrong Stadium in New York City.
LITERAL REVIEW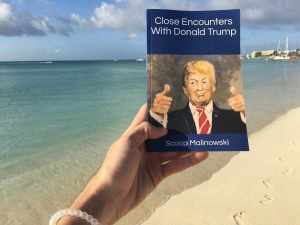 The opening quote presented in the book doesn't come from one of the fifty-two contributors but from former two-term President Ronald Reagan. "For the life of me, and I'll never know how to explain it, but when I met that man, I felt like I was the one shaking hands with the President."
How novel in the age of coronavirus.
California born super-welterweight Paul Vaden recalls that Trump was seated at ringside in 1999 the night he fought Stephan Johnson at the Trump Taj Mahal in Atlantic City. Tragically, Johnson passed away from injuries suffered in the bout. Vaden's memories are foggy but he states: "In the hallway of my dressing room after the Stephan fight is where we talked. Trump complimented me on my boxing skills and hand speed. That individual was a huge boxing fan."
Rocky Balboa inspiration and current Trump supporter Chuck Wepner recalls that Trump really enjoyed the company of fighters and that he once invited him to Mar-A-Lago in Florida. "He was interested in promoting a cage fight, me with Tex Cobb. But it never happened." Known as the "Bayonne Bleeder" in boxing circles, Wepner laments that Bayonne is a "Democrat town."
New York City boxing icon Randy "The Commish" Gordon tells for the first time how in 1984 he came to be pushed out of his post at The Ring. "As editor-in-chief, I was interviewing Trump for the cover story in the following month's Ring. I had intended to put Trump on the cover."
But the publishers were clearing house.
And editorial heads would roll.
"Doing a great job of saving his job," Gordon matter-of-factly recalls, "Nigel Collins said it should be me who should be fired, as I was going out of town nearly every week for TV assignments. He didn't tell them I was interviewing Donald Trump for the next month's cover and they bought his story. My days at The Ring ended that day with Collins going on to run the magazine."
Gordon's Trump feature never ran.
BIG George Foreman isn't shy about his respect and appreciation for Trump. "'I will always be grateful to entrepreneur Donald Trump. And now President Donald Trump. A lot of people don't like him but evidently more do, because he was elected President of the United States."
Because I'm seven feet tall, I enjoyed heavyweight Randy Neumann's input. "I met Trump in Atlantic City. He's pretty tall. I remember being in the elevator with him. He's bigger than me."
Donald Trump is 6-foot-3.
One-time welterweight title challenger Larry Barnes keeps it simple: "I never had a problem with Mr. Trump. He always gave me what I needed. I met him at a press conference in Atlantic City. He was a very nice gentleman. I wish him the best because I care about Donald Trump."
A bitter Larry Holmes veered into "Rocky couldn't carry my jockstrap" territory in his description of trying to meet Trump at one of his hotels. "I walked up to him (and said), 'Hey Donald. How are you?' He looked at me like I was a piece of shit. So I don't care for Donald Trump. That's Donald Trump. He's the man. It's all about him. If it's not about him, it isn't about nothing."
Blaming Trump for Mike Tyson's breakup with manager Bill Cayton, trainer Steve Lott alleges that Trump basically conspired with Robin Givens to steal Mike's money before Don King could get to it. "Trump is a great con man," he says. "He quickly realized Robin was a con artist too."
Judicious boxing manager Jackie Kallen has many memories of Trump. She first met him in 1988 at the Tyson-Spinks fight. Kallen was impressed by his ability to throw a party. "The room was packed with A-listers including Jesse Jackson, Oprah Winfrey, Jack Nicholson, Warren Beatty, Billy Crystal, Herschel Walker, and so many others that you didn't know where to look."
Kallen also remembers the day in 1992 that her fighter, James Toney, received a gift decision at the Trump Taj Mahal against underdog Dave Tiberi. "Trump thought it was an outrage and went straight to Tiberi's locker room to console him," says Kallen. "I remember him looking at me in the ring as the referee held Toney's hand in the air. He shook his head in disgust. Even though I had nothing to do with the decision, I could tell he was upset with me, and I did not know why."
Manager Mario Costa shared a poignant story about the night Matthew Hilton was upset by Robert Hines in 1988. Hilton was hurtin at the Hilton. But guess who else was there in Vegas?
You guessed it. The future American President. Costa remembers that Hilton was in a dressing room trailer in the back lot of the hotel. Hilton was rightly devastated. Then somebody knocked on the door. "Trump came to the trailer and wanted to talk to Matthew," explains Costa. "Matthew said, 'Okay, let him in.' He came in. Trump kneeled down on one knee to talk with Matthew."
John Scully still has a memento of Trump he gained in the dressing room with Derrick "Smoke" Gainer in 1995 at Convention Hall in Atlantic City. "Trump came in after the fight to congratulate Smoke. I saw that and I took a picture of it as it was happening. I thought it was pretty cool at that moment that he came back to the dressing room to congratulate an undercard fighter."
The photo is in the book.
Andrew Golota is sure that Trump came to his dressing room before his brawl with Michael Grant in 1999 at the Trump Taj Mahal. But not surprisingly, Golota can't recall what was said during the meeting. Golota also couldn't remember to keep his punches up. He lost two points for low blows against Grant and then told the referee he couldn't continue after a knockdown.
Sports writer Michael Marley (incorrectly spelled Micheal in the book) recalls meeting 'The Donald' several times in the 80s during his years of covering boxing for the New York Post. Marley says that Trump and then wife Ivana always told him the same thing, "Enjoy yourself."
Bobby Czyz reveals he almost retired in 1989 to work for Donald Trump as a representative in one of his casinos but it never happened because Czyz kept on fighting until 1998. His love for the President is clear. "I didn't think he had a chance to win the Presidency because of the Clinton conspiracy. Look, I know they're all crooked. So many people died under the Clinton regime that it doesn't make sense. But Donald beat her. I love the guy. I think he's incredible."
Rhode Island's "Pazmanian Devil" Vinny Pazienza hilariously insists that Trump loves HIM for the millions of dollars he made for Trump. "I fought a lot of fights with Trump. Hector Camacho, Greg Haugen, Roberto Duran, Roy Jones, so many fights. I fought in Atlantic City a lot."
***
For readers looking for less than positive recollections of Trump, there are some in the book, they're just not told, with the exception of Larry Holmes and Steve Lott, by the boxing people.
A lawyer named Pat English contends that Trump gleefully defaulted on his casino contracts and killed every mom and pop shop from there to Washington DC. Attorney Benjamin Clarke prosecutes Trump for his hair, saying he's only sure of one thing—that it's not of this Earth.
For nearly everyone else heard from, from tennis players to golf pros to hockey legends, the general themes expressed in Close Encounters With Donald Trump are those of special memories with a special person. I enjoyed my copy last month on the beach in Aruba.
I'll never forget my close encounter with Trump.
Boxing Writer Jeffrey Freeman grew up in the City of Champions, Brockton, Massachusetts from 1973 to 1987, during the Marvelous career of Marvin Hagler. JFree then lived in Lowell, Mass during the best years of Irish Micky Ward's illustrious career. A new member of the Boxing Writers Association of America and a Bernie Award Winner in the Category of Feature Under 1500 Words, Freeman covers boxing for The Sweet Science in New England.
Check out more boxing news on video at The Boxing Channel 
To comment on this story in The Fight Forum CLICK HERE
Goodbye To All Of That: A Review of Mike Silver's 'The Night the Referee Hit Back'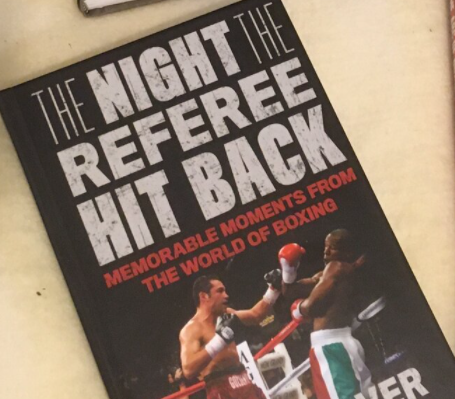 Goodbye To All Of That: A Review of Mike Silver's 'The Night the Referee Hit Back'
Mike Silver has been writing about boxing since the 1970s, which would make him, in the parlance of the youth of today, an "old head," an appellation that carries wildly contradictory meanings depending on its usage. His 2008 book, The Arc of Boxing: The Rise and Decline of the Sweet Science, was a caustic close reading of how boxing, once a mainstream sport that spoke to the masses, became a small, hemmed-in, navel-gazing affair guided by small men and their equally small thinking.
In this provocative book, Silver excoriated some of the most indubitable pillars in the sport, those whose talents and achievements most fans regard as transcendental, beyond reproach. The reader was hit with one long either/or proposition. Either Silver was "clickbaiting," engaging in the worst instincts of hot take culture or he was providing a long-overdue corrective, and depending on your frame of mind or allegiances, the answer was stark clear. Here are a couple of snippets from that book:
"Floyd [Mayweather Jr.] continues to win fights without strategizing because his mostly third-rate opponents haven't a clue as to how to counter his whippet speed. The faux experts praise his 'technical skill' because they cannot differentiate between extreme speed and sophisticated boxing technique."
Of Bernard Hopkins, he writes, "Reviewing tapes of his fights reveals to the knowing eye that Hopkins is an intelligent yet unremarkable boxer possessing decent defensive skills, a professional attitude and a solid punch. While these qualities are more than enough to make him a dominant world champion today, fifty years ago such skills would have been considered commonplace."
There are those, no doubt, who feel that any criticism leveled at Mayweather or Hopkins, as well as Pernell Whitaker or Roy Jones Jr., are grounds for immediate excommunication. But discount Silver at your own peril. You may not agree with everything that he says, but his observations are a net win for a boxing culture that seems to run more and more on a perpetual feed-back loop of self-regarding hype.
In his new collection of essays, The Night the Referee Hit Back, culled from 40 years of material, Silver has somewhat tempered his venom, eschewing the combative stance of Arc for a more celebratory one. But his opinions have not changed. "My observations are based on my particular frame of reference and perspective," Silver writes. "To me, the glory and romance of boxing resides in its past history and I'm content to leave it at that." As Joe Pesci said in The Irishman, "It's what it is."
The Night opens up, appropriately, to a bygone vision of New York City when booze still flowed liberally through Toots Shor's, Jack Dempsey held court at his eponymous watering hole, and boxing "was still an important part of American popular culture." The nerve center of the city's prizefighting ecosystem was on 8th Avenue, not at Madison Square Garden, but at nearby Stillman's Gym, the sweat-caked fighting coop that A.J. Liebling affectionately immortalized as the University on 8th Avenue. The gym, seemingly one of the last connections to Damon Runyon's New York, shuttered in the early 1960s and has left behind virtually zero trace; no distinguishing vestige, no commemorative plaque. In its place today, within the hellscape of an increasingly corporatized Manhattan, stands a sad pocket of residential real estate surrounded by fast-food chains and a TD Bank.
A young, 14-year-old Silver had the good fortune of being introduced to this private world before it was all razed down two years later. Back then, Silver reminds the reader, "Even an ordinary preliminary boxer could make more money in one four-round bout than a sweatshop laborer made for an entire week." His reminiscences are offered with a light touch, without falling into a maudlin trap. As Silver describes what it was like walking up the wooden staircase and passing through the turnstile and chatting it up with Kid Norfolk, the reader can almost smell the thick waft of cigar smoke that hung over the gym in those days.
"Dick Tiger, Gaspar Ortega, Emile Griffith, Jorge Fernandez, Joey Archer, Rory Calhoun, Alex Miteff, Ike Chestnut, and others," Silver recalled, rattling off the fighters he brushed shoulders with on a daily basis. "Is there any other professional sport where a fan can get so close to its star? This was the magic and allure of Stillman's, and I thank my lucky stars I was able to experience it."
But the nostalgic anecdotes are kept to a minimum. Most of The Night features pieces that reflect Silver' analytical nature. "Don't Blame Ruby," one of his most insightful pieces, hones in on the infamous 1962 Benny Paret-Emile Griffith welterweight bout in which Griffith ended up sending a comatose Paret to the hospital – and 10 days later, to the grave. Here Silver takes issue with the long-parroted line of thinking that blames the referee of that bout, Ruby Goldstein, for taking too long to wave off the bout. Actually, Silver argues, the truth was much more complicated. Citing Paret's hellacious fighting schedule – which included an engagement with the deadly Gene Fullmer before his star-crossed meeting with Griffith — Silver points the finger at Paret's handlers and the bureaucrats who were presumably in charge of overseeing the fighter's safety. If any blame can be ascribed to an individual or entity, it is them.
In another piece, Silver deconstructs, step-by-step, round-by-round, the mythology behind the snazzily dubbed "The Thrilla in Manila," the third and final fight between Muhammad Ali and Joe Frazier that is often cited as one of the greatest fights in boxing history. Balderdash, says Silver. Anyone who has seen the fight can attest to Silver's common sense, but that has not stopped the bout from being breathlessly heralded routinely by magazines like The Ring and cable networks like ESPN, which proves the point about boxing being one vast echo chamber. These two pieces alone should quiet those who think Silver has an agenda against contemporary boxing. It turns out his only bias is against uncritical thinking.
But on the topic of modern-day boxing, he has much to say. In "A World of Professional Amateurs," Silver takes his scalpel to what he views as a growing pattern of prizefighters who find no reason to break out of their juvenile shells. In one passage he praises the skill-set of Dmitry Bivol, the current WBA titleholder who amassed more than 300 bouts in the amateur ranks, but laments his professional instincts.
"Forty years ago, Dmitry Bivol would have been labeled a hot prospect and maybe in line for a semifinal in Madison Square Garden," Silver writes. "But as good as he is, Dmitry would not be ready to challenge a prime Victor Galindez, the reigning world light heavyweight champion."
He notes later, in a sharp observation, that "Dmitry won't be required to improve much beyond his current skill level because the line that once separated top amateur boxers from top professional boxers has become blurred."
He also takes to task Sergey Kovalev, regarded as the top light heavyweight of the 2010s but who, in his more recent bouts, has revealed the cavernous limitations in his craft. His rematch against Andre Ward, in which he was stopped controversially by a low blow, and his title defense against Eleider Alvarez, in which he was knocked out, were the major tells.
"A seasoned pro who is knocked down or hurt would have known how to tie up his opponent in a clinch or bob and weave his way out of trouble, or at least make the attempt," writes Silver. "Kovalev, used to knocking out inferior opposition, didn't know what to do when the situation was reversed and it was he who was in trouble."
And then there are the interviews. Archie Moore, Emile Griffith, Carlos Ortiz, Ted Lowry, and Curtis Cokes round out a section of illuminating conversations toward the end of the book. They are like the equivalent of Paris Review interviews, primary documents that preserve the wit and inflection of voices too seldom heard. For example, in his talk with heavyweight Lowry, Silver asks him to describe the punching power of Rocky Marciano, whom he came close to defeating, were it not for the judges' decision. Lowry responds with an illuminating metaphor.
"He hit hard but a smart fighter had no business getting hit by Rocky because he would send you a letter when he's gonna punch," Lowry said.
Speaking of letters, The Night the Referee Hit Back is an eminently fine one.
The Night the Referee Hit Back
by Mike Silver
Rowman & Littlefield, 249 pp., $34.00
Check out more boxing news on video at the Boxing Channel 
To comment on this story in the Fight Forum CLICK HERE
Did The Hoodlum Element Rule Boxing in the 1950s? A Dissenting Opinion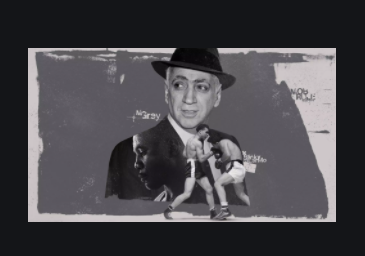 The decade of the 1950s has held a particular fascination for boxing historians. This was the decade in which the sport's dominant player was the International Boxing Club, an organization reportedly in the grip of mobsters who dictated who would get to fight who and who sometimes predetermined the outcomes. The baddest of the bad guys, by acclamation, was Frankie Carbo. A New York mobster with a long rap sheet, Carbo (pictured) reputedly ruled the sport with an iron fist.
The seminal book on the IOC and its dirty laundry is Barney Nagler's "James Norris and the Decline of Boxing," published in 1964. Recent books that explore the same turf are Jeffrey Sussman's "Boxing and the Mob: The Notorious History of the Sweet Science" (Rowman & Littlefield) and Kevin Mitchell's "The Mob, The Garden, and the Golden Age of Boxing" (Hamilcar). Both were published in 2019. The Hamilcar book, authored by a veteran British sports journalist, is a revision of the book published in 2010 under a slightly different title.
I recently stumbled upon a book that contradicts the conventional wisdom that the mob had a stranglehold on boxing in the 1950s. "(Frankie) Carbo was no more than a pimple on a gnat's ass when it came to boxing," says the author, the late Truman K. Gibson.
A little background: The International Boxing Club was born from the ashes of Mike Jacobs' empire. Jacobs, who made the bulk of his fortune as a Broadway ticket scalper, was the most powerful promoter during the era of Joe Louis. He suffered a stroke in 1946 and that set the wheels in motion for a takeover by the International Boxing Club. Formed in 1949, the IOC assumed Jacobs' arrangement with Madison Square Garden where the firm was headquartered.
The major stockholders in the IBC were James D. Norris and Arthur Wirtz. Norris, who took on the title of IOC President, was the son of James E. Norris. A fabulously wealthy Canadian-American businessman with interests in grain mills, cattle ranching, shipping, and real estate, the elder Norris would become best known for popularizing the sport of professional hockey. Arthur Wirtz was a business partner of both Norris's, father and son. The Norris-Wirtz combine established a controlling interest in Madison Square Garden and in the largest indoor sports stadiums in Chicago, Detroit, and St. Louis.
It didn't take long for the IBC to arouse the ire of reformers. When hotel executive Robert Christenberry was named chairman of the New York Athletic Commission in September of 1951, his mandate from Governor Thomas E. Dewey was to purge the hoodlum element from boxing. An expose that ran under Christenberry's byline in the May 26, 1952 issue of Life, America's top-selling weekly magazine, included mug shots of five alleged mobsters who had their hooks into the upper reaches of the sport. The quintet included Frankie Carbo and Philadelphia numbers baron Frank "Blinky" Palermo, said to be Carbo's chief lieutenant.
Several fearless newspapermen fueled the effort to clean up boxing. Chicago Daily News columnist Jack Mabley was the first to finger Carbo as the "czar" of boxing. Mabley's counterpart in the East was Dan Parker of the New York Daily Mirror.
A year after Christenberry's story appeared, the feds got involved. The IBC was charged with operating a monopoly in violation of the Sherman Antitrust Act. Five years later, after numerous appeals, the charge was upheld and the IBC was dissolved. In the interim and for a time thereafter, it was business as usual.
Flash forward to 1961. Five men are found guilty in a federal court of muscling in on the contract of newly-crowned welterweight champion Don Jordan. The miscreants are Carbo, Palermo, Joe Sica, Louis Dragna, and Truman K. Gibson.
Gibson was something more than an alleged IBC influencer; he was a key component of the organization, there from the very beginning, first as the IBC legal counsel with the title of Executive Secretary and then Executive Vice President when Norris resigned in 1957 following a heart attack. And after the IBC was dissolved, Gibson kept the wheels turning by folding the IBC into a new company, National Boxing Enterprises.
Truman K. Gibson
I knew nothing about Truman Gibson outside the context of boxing until I stumbled upon his memoir. Written in collaboration with Chicago Sun Times columnist Steve Huntley, the book, published by Northwestern University Press, was released in 2005 several months before Gibson died at age 93.
Born in Atlanta, Gibson grew up in an upper-middle-class home in Columbus, Ohio, where his father founded a life insurance company that would merge with two other firms to become one of America's largest black-owned businesses. Gibson was light-skinned and could have easily passed for white, but he stayed true to his heritage – his paternal grandfather was born into slavery – and embraced the role of a so-called "race man," working to uplift his fellow African-Americans until the boxing business took over, consuming most of his waking moments.
After earning a law degree from the University of Chicago, Gibson helped organize Chicago's American Negro Exposition of 1940, timed to celebrate the 75th anniversary of Emancipation. His work caught the eye of President Franklin D. Roosevelt to whom he became a consultant as a member of Roosevelt's so-called Black Cabinet.
Foremost on Gibson's to-do list was the desegregation of the United States Armed Forces. He had a role in the making of "The Negro Soldier," the great World War II propaganda film directed by the brilliant Frank Capra and continued in his role as an advisor to the man in the oval office when Harry Truman succeeded Roosevelt as Commander-in-Chief. It would be Truman who signed the executive order ending the practice of racial segregation in the military.
Truman Gibson stumbled into boxing. His law firm did some work for rising heavyweight contender Joe Louis. The Brown Bomber was 12 fights into his pro career when Gibson first met him. Later on, Gibson formed a corporation that distributed highlight reels of Joe's two fights with Jersey Joe Walcott.
When Norris and Wirtz formed the International Boxing Club, they thought it important that Joe Louis be involved. It was no coincidence that the IOC was formed on the very day that Louis announced his (short-lived) retirement. The Brown Bomber was named Director of Boxing, a hollow title, and Truman Gibson hopped on board with him.
—
In a previous article, this reporter called Robert K. DeArment's "Gunfighter in Gotham," one of the best books ever written on prizefighting in New York at the turn of the 20th Century. This book fell through the cracks – who would have ever suspected that a book about Bat Masterson would be so rich in boxing information? – and Truman Gibson's memoir, titled "Knocking Down Barriers, My Fight for Black America," is likewise a hidden gem.
It's not a book that a boxing history buff would find in the usual places (a librarian would be more likely to shelve it with books on Military History) and, as one can surmise from the title, boxing gets short shrift. But this is a meaty book, 344 pages in hardback, and there's plenty for a boxing historian to dig his teeth into. Whether writing about the genesis of Joe Louis's impossibly convoluted tax problems, or on the uneasy marriage between boxing and television, Gibson has something fresh to say.
There's some juicy stuff in here too. In Gibson's view (a view advanced by others), no man profited more handsomely from Prohibition than Joseph Kennedy, the patriarch of America's most prominent political family. Kennedy's relationship with Samuel Bronfman, the owner of Canadian powerhouse Seagram's, insured that he would be first in line when the good stuff was smuggled in bulk across the lake. Compared with Kennedy, bootleggers of the Al Capone stripe were minnows.
Jim Norris was quite a character. Like his father, Norris was involved in sports. When he wasn't tending to IBC business, he was out golfing or racing his string of thoroughbreds and quarter horses. Norris and Wirtz, according to Gibson, were partners in a lucrative gambling casino in the Bahamas and the hidden owners of America's largest layoff bookmaking operation, the nerve center of which was in a vessel anchored near their Bahamian casino. A big bettor who bet tens of thousands of dollars on sports every day, Norris was his bookmaking firm's best customer.
Jim Norris was a rapscallion who was attracted to the same sort of nocturnal people that fascinated Damon Runyon. Did he occasionally break bread with Frankie Carbo and men of Carbo's ilk? Absolutely. However, it's one thing to say that Norris consorted with such people and quite another to say that he was coerced into doing their bidding. Remember, Norris, born into wealth, had more money than all of them combined.
"The IBC earned millions from fixed fights," writes author Jeffrey Sussman.
If Truman Gibson were alive today, his response would be "bull****".
If we had run fixed fights, Gibson would say, the networks would have kicked us out the door in a heartbeat. As for Frankie Carbo, says Gibson, "he was no more than a messenger boy who operated on the fringes," a man who stuck to boxing like velcro because he was an ugly pimple too stupid to keep a low profile.
The feds disagreed. When Frankie Carbo and his confederates came up for sentencing, Carbo drew the harshest penalty: 25 years in a federal correctional institution. By comparison, Truman Gibson got a slap on the wrist: a five-year suspended sentence and a $10,000 fine. The judge was lenient because Gibson didn't bring mobsters into boxing, but inherited them. They were there before the torch was passed from Mike Jacobs to the IOC.
Gibson had more legal problems when he returned to his law practice in Chicago. According to an article in the Chicago Tribune, he got caught up in a bank fraud and a vacation timeshare swindle and eventually had his law license suspended for two years. These incidents did not find their way into his memoir.
So, who are we to believe, Truman Gibson or the hordes of writers who have described boxing in the 1950s as a cesspool of mob activity?
I will let the readers decide, but as I was reading this book, I was reminded of an old saying, something to the effect that if a man lies down with dogs, he will get fleas. Truman Gibson had a rich life and accomplished many good things, but during his tenure with the International Boxing Club he associated with some very mangy dogs.
Check out more boxing news on video at the Boxing Channel 
To comment on this story in the Fight Forum CLICK HERE
Book Review: Bernard Fernandez's "Championship Rounds"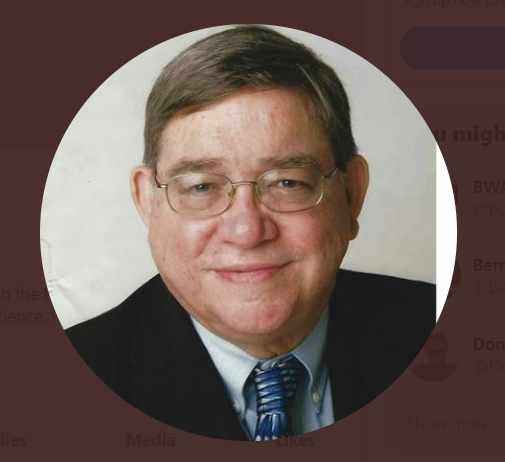 When a man retires after a lengthy career in an interesting occupation, he feels a tug to write his memoir. If he happened to be a journalist, the memoir can take the form of an anthology. Bernard Fernandez's "Championship Rounds," released this month, is an anthology – a compendium of previously published material – but it also veers off at times into a memoir, which is a very good thing. It could not be otherwise as Fernandez had a front row seat at the circus and the permit to poke around behind the scenes.
For the uninitiated, Bernard Fernandez spent 43 years as a sportswriter, the last 28 with the Philadelphia Daily News before retiring in 2012. Although he was occasionally assigned to other beats, he was foremost the paper's boxing guy. When he started with the Daily News, many established papers had a full-time boxing writer. Today they are as scarce as professional typewriter repairmen.
Various honors came Fernandez's way during his newspaper career, the most recent of which, for a boxing writer, is the ultimate, enshrinement in the International Boxing Hall of Fame. Fernandez was voted into the Hall in the Observer category last year.
There are 35 stories in "Championship Rounds" sorted into six sections. Eighteen of these stories appeared at The Sweet Science. Among the boxers profiled are Ali and Frazier, Jake LaMotta (who Fernandez interviewed for the second time when Jake was 94 years old), Archie Moore, Tex Cobb, Arturo Gatti ("the boxing franchise in Atlantic City"), and the Spinks brothers – Michael, who "wrung every ounce from his considerable boxing gifts," and Leon, his mirror opposite, "perpetually distracted."
Many of the giants of the modern era turn up in "Championship Rounds," but also some cult figures and even Jack Obermayer, somewhat less than a cult figure save among his peers who were awed by his stamina and cherished his friendship. A familiar face at diners up and down the east coast, Obermayer likely attended more boxing shows than any man ever born, 3,514 in total scattered across 400-plus cities in 49 states, all but Alaska. He devoted himself, says Fernandez, "to the proposition that every fight card, no matter how unimportant or seemingly insignificant, required his presence at ringside to be fully validated."
The best boxing writers understand that boxing is an ecosystem and that some of the best stories are found outside the ropes.
Fernandez was writing about women's boxing before it was fashionable to write about women's boxing. It's doubtful the name Jackie Tonawanda rings a bell, but she was a trailblazer in women's boxing and Fernandez brings her to life in a story that appeared in these pages back in 2009. I had no clue that the fight between Laila Ali and Jackie Frazier-Lyde created such a stir until I read "Ali-Frazier IV." Held at the Turning Stone Casino and Resort in Verona, a little town in upstate New York, the event attracted a media throng of 300-plus from around the world.
Bernard Fernandez is a big movie buff. "I've frequently imagined that, were I not covering boxing matches and football and basketball games for my weekly recompense, I'd be a movie reviewer," he writes.
The big screen and the lowbrow amusement of celebrity boxing intersect in "I Tanya…," a 2019 story inspired by the Tonya Harding biopic starring Margot Robbie and Alison Janney. The movie transported Fernandez back to Portland, Oregon, and the maddeningly unfruitful scrums that bespattered "the worst week of my newspaper career."
Being a newspaper reporter who racks up frequent flyer miles isn't all that glamorous as Fernandez showed in that story, but even the most unpleasant episodes can be fun in the re-telling. And sometimes the hassle of getting somewhere is redeemed by a surprising turn of events at the destination. Fernandez's trip to Tokyo in 1990 was grueling at both ends of the continuum — from the Eastern seaboard, one crosses 14 time zones – but he would be one of the few American scribes to witness live and in color, as they say, the most famous upset in the annals of boxing.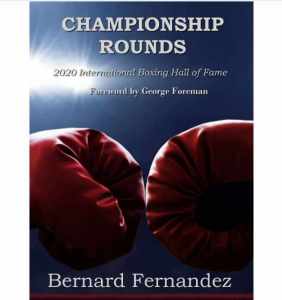 Mike Tyson's 2002 match with Lennox Lewis wasn't nearly as momentous – at least not after the bell rang – but Fernandez's excursion to Memphis, the host city, yielded a story too good to be left on the cutting room floor. The highlight for me was his interview with a tourist from Switzerland as they watched the city's oddest must-see attraction, the march of the ducks in the ornate lobby of the Peabody Hotel.
Of the 35 entries in the book, my personal favorites are the two that are the most poignant. Bernard Hopkins' truth-is-stranger-than-fiction life story has been well-documented, but one acquires a greater appreciation of B-Hop while reading about the special bond that he forged with a terminally ill teenage fan. In the book's final entry, Fernandez pays homage to his late father who instilled within him his love of boxing. Bernard Fernandez Sr., who had a brief pro career under the name Jack Fernandez, was a much-decorated New Orleans police captain who passed away in 1994 at age 75. "It is said that an honest man's pillow is his peace of mind," writes Fernandez, "and my father never spent a conflicted night."
Bernard Fernandez is a friend of mine, something I probably should have acknowledged earlier. Moreover, for the past several years, I have been his editor here at The Sweet Science.
Editors, many of whom exemplify the Peter Principle, are faultfinders by temperament and tutelage, and I would be remiss if I didn't find something to quibble about.
When writing a feature story about a boxer or boxing personality, Fernandez will sometimes open with a parallelism. For example, a certain boxer may summon up the name of a historical figure with whom he shares characteristics in common. The parallel in a piece about Wladimir Klitschko is Al Davis, the former owner of the Oakland Raiders whose mantra, "Just win, baby," became the enduring catchphrase of Raider Nation.
I thought the comparison was labored and that Fernandez exhausted too many words about Davis and his team before getting to the gist of his story.
With that nitpicking yammer, I likely just got on the wrong side of George Foreman which is never a smart thing to do. "Writers come and go," says Foreman in the foreword to the book, "but the special ones (like Bernard Fernandez) stand the test of time."
On this matter, Big George and me are in perfect accord.
Bravo, Bernard, it was a most enjoyable read and if there is a sequel in the hopper, please don't let it languish.
For more information about "Championship Rounds" including where to purchase the book CLICK HERE.
Check out more boxing news on video at The Boxing Channel 
To comment on this story in The Fight Forum CLICK HERE