Close Encounters of the Trump Kind: Reviewing 'Scoop' Malinowski's Latest Book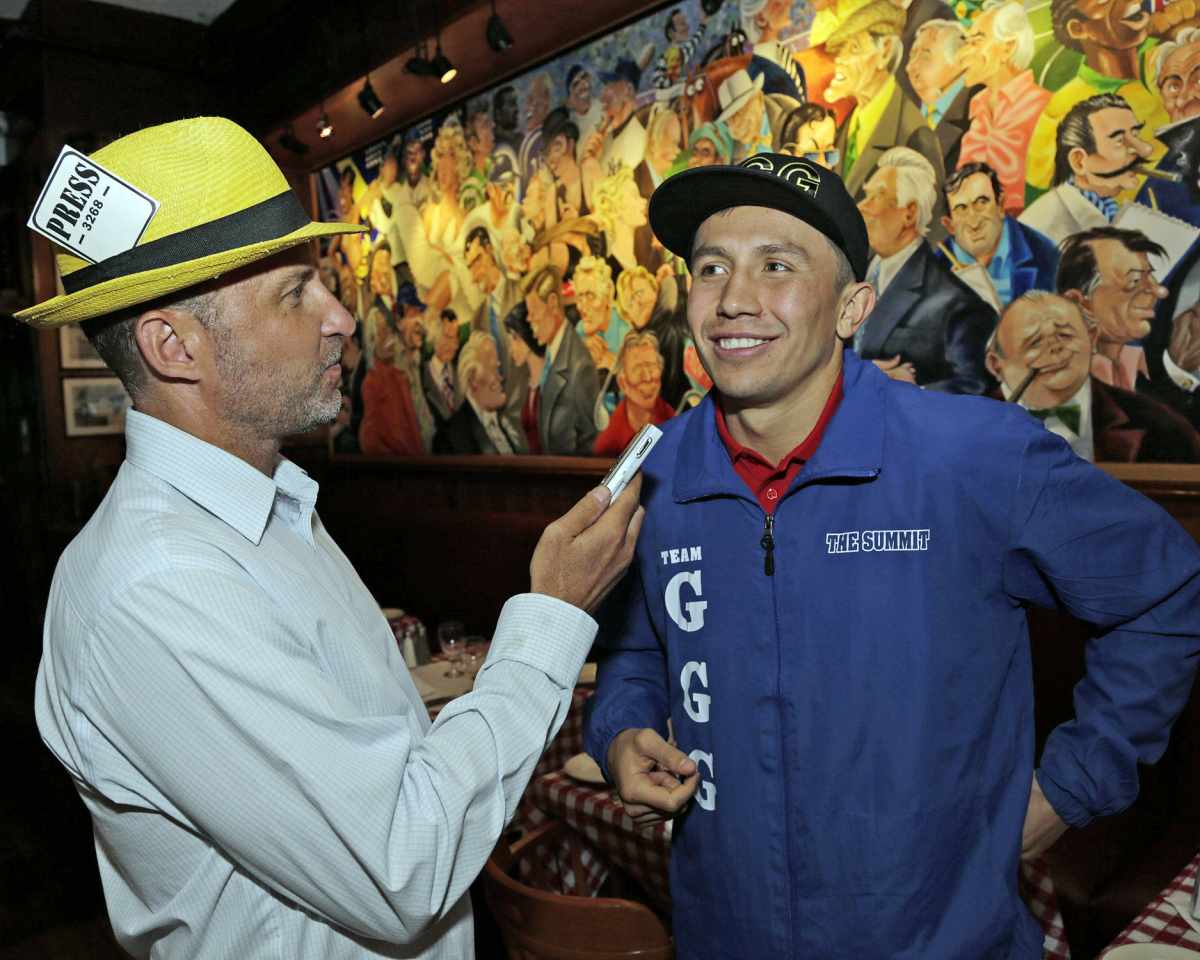 If you happen to follow boxing or tennis closely, you might know who reporter Mark "Scoop" Malinowski is. Author and editor of fourteen books, Malinowski made his name (and earned his media moniker) by writing informative Biofile write-ups about sports and entertainment stars.
Over time, Scoop's lost track of how many he's done. Or who his rookie subject was. His first ever published Biofile (in the Morris County Daily Record) was the NJ Nets' Derrick Coleman.
His Biofile of Boxing Hall of Famer James Toney was published in a 1992 issue of The Ring. Malinowski remembers Toney had an affinity for the stylish suits of sharp-dressed men like Ray Robinson and Thomas Hearns. "He loved their class. How they conducted themselves."
For most folks familiar with Malinowski, it is these popular Biofiles that readers fondly remember. According to TSS editor-in-chief Arne K. Lang, Scoop's Biofiles also ran in Boxing Update and Flash, a pair of well circulated pre-internet newsletters he once subscribed to.
Malinowski gained infamy in 2002 when a close encounter with Mike Tyson resulted in a scary press conference brouhaha where the maddest man on the planet threatened bodily harm to Malinowski and his mother. That's right, it was Scoop who yelled, "Get him a straightjacket!"
Don't worry, they're good buds now.
And Scoop's next book, Facing Guillermo Vilas, will be for sale on Amazon next week. It's a tennis book but Scoop tells me that Vilas is a "huge boxing fan" and was friends with the late great Carlos Monzon. "Vilas," says Malinowski, "shares some fascinating Monzon stories."
But before we get to my review of Malinowski's new self-published book, "Close Encounters With Donald Trump," a boxing-centric collection of Trump recollections told by more than 50 contributors (available on Amazon in paperback and kindle editions), I thought I'd have the colorful writer give TSS readers his first ever Biofile—done on himself.
Biofile "Scoop" Malinowski
Born: Philadelphia, PA Status: Reporter, author. Resides: Teaneck, NJ, Bradenton Beach, FL
Childhood Dream: I just wanted to get involved in professional sports somehow, to be a part of the scene. To contribute my own unique original work and make a positive impact. My visions became clearer later. To write books, do Biofile interviews for newspapers and magazines.
First Journalism Memory: Creating homemade boxing programs and a magazine for our neighborhood boxing cards in junior high school.
Why You Love Boxing: It's man at his best. A great fight is inspiring on many levels.
Favorite Boxing Movies: "Rocky" and "Gentleman Jim." When Apollo Creed decks Balboa and he somehow gets up and wants to continue. The look Creed gives him, of pity, respect and awe. I get chills and a tear every time. In "Gentleman Jim," the scene where Sullivan goes to meet Corbett after their fight at the hotel. The class and respect they show each other.
Favorite Artist: Raoul Dufy, LeRoy Neiman.
Childhood Heroes: Roberto Duran, Carl Kolchak.
First Famous Person You Met or Encountered: Alex Ramos drove by us on the Garden State Parkway, me and my friend Mike Pinto were going with his parents to the Jersey Shore for the weekend in junior high in the 80s. Ramos was driving a white Buick with Yankee pinstripes. He waved to us too! He told me two decades later when we met that the Yankees gifted it to him.
First Car: 1979 Toyota Corolla.
Funniest Boxer: Andrew Golota – great sense of humor, but you have to know him. I've been to his house, got him tickets for a week at the 2017 US Open. He drove all night from Chicago to watch the US Open the next day. Huge tennis fan. Also, Lennox – subtle. Very smart, sharp. Maybe the greatest of all time. Joel Casamayor told me he eats rocks and nails for breakfast.
Favorite TV Show: Columbo, Honeymooners.
Embarrassing Career Memory: Misspelling Ross Greenburg's name for his Biofile in the Boxing Update newsletter. I spelled it Greenberg. He was totally cool about it.
Funny Boxing Memory: I had lunch with Jack Dempsey's wife Deanna and we did a Biofile in NYC. She told me how she first met Jack. She had a little boutique in a hotel in Manhattan and Jack used to visit her there. That was how the courtship started and evolved. She said when he first told her his name, he didn't say he was Jack Dempsey. He told her he was John L. Sullivan.
Favorite Movies: Citizen Kane, Three Days of the Condor, Dial M For Murder, Camille.
Greatest Career Moments: Doing hundreds of Biofiles with great boxers like Holmes, Lewis, Klitschkos, Pacquiao, Duran, Hearns, Archie Moore, Jake LaMotta, Holyfield, Bowe, Toney. Meeting artist Leroy Neiman at the Toney-Tiberi fight in 1992 at the Trump Taj Mahal in Atlantic City, NJ. We became close friends. The friendship lasted until his death at age 91 in 2012.
Musical Tastes: 70s and 80s. Steely Dan, Wham, Olivia Newton John, Abba, Bee Gees.
Most Painful Moment: My Muhammad Ali Biofile was aborted after one question. It was at an NBA All-Star function in NYC in the mid-90s. I asked him the first question, his childhood hero. He answered Willie Pastrano. But he motioned with his hand to turn off the tape recorder.
Ali didn't want to be recorded as his speaking was not strong. So, I ran over to my table to get a pen and paper. But the bodyguard blocked me and wouldn't let me continue the interview. I should have just done it with no pen or paper, I would have remembered everything!
Favorite Sport Outside Boxing: Tennis. Tracy Austin said it's "a fistfight without the fists."
Favorite Fights: I like masterpieces. Duran vs Leonard in Montreal. That fight took over my life. Hopkins vs Trinidad. Lennox Lewis vs Tyson, Rahman 2, Ruddock. The revenge of Vitali vs Corrie Sanders. Tarver KO Jones in two. Klitschko vs Joshua was incredible. Duran's redemption vs Davey Moore. Pacquiao vs Cotto was magic. Toney vs Jirov was incredible. They embraced each other three different times after that fight in the ring! Major respect. Nunn vs Kalambay. Leonard vs Hearns. Dempsey vs Willard. Ali vs Foreman. Holmes vs Norton. Tyson vs Spinks and Berbick. Tyson could have beaten any man in history on those nights.
***
Fortunately for Scoop, Tyson didn't beat him for his senseless outburst. The pair now share a friendship that could only have been brokered in boxing. Both are also admirers of President Trump and Tyson's quotes about Trump are prominent in Close Encounters With Donald Trump.
The book also contains contributions from George Foreman, Larry Holmes, Chuck Wepner, Jackie Kallen, Randy Gordon, Andrew Golota, Michael Marley, Iran Barkley, Randy Neumann, Vinny Pazienza, Bobby Czyz, Montell Griffin, Steve Lott, John Scully, and Paul Vaden.
Oh, and yours truly.
Yes, that's right, I had my own close encounter with Donald Trump to share in Malinowski's new book. You'll have to read it for the whole story but what I can tell you is that it's published with a photo I snapped of then boxing promoter Trump backstage at Holyfield-Stewart II in 1993.
Almost to a man, the many boxing personalities polled had nothing but respectful and insightful things to say about the human lightning rod who today runs America. Malinowski begins by making it clear his 156-page Trump book has nothing whatsoever to do with a political agenda.
Explains Malinowski: "It is simply a collection of memories and anecdotes from a wide range of people who have had close encounters with the current President of the United States of America, Donald Trump. That is all this book is about, nothing more, nothing less."
The truth is that Malinowski loves Trump and Close Encounters With Donald Trump reflects that. After his obligatory political disclaimer, Malinowski recalls his own close encounters with Trump in 1988 (at an Azumah Nelson fight he was covering live from press row at Trump Plaza) and again at the 1998 US Open being held at the Louis Armstrong Stadium in New York City.
LITERAL REVIEW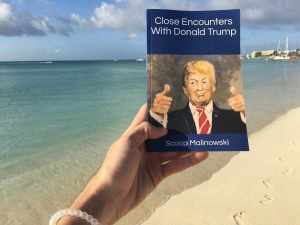 The opening quote presented in the book doesn't come from one of the fifty-two contributors but from former two-term President Ronald Reagan. "For the life of me, and I'll never know how to explain it, but when I met that man, I felt like I was the one shaking hands with the President."
How novel in the age of coronavirus.
California born super-welterweight Paul Vaden recalls that Trump was seated at ringside in 1999 the night he fought Stephan Johnson at the Trump Taj Mahal in Atlantic City. Tragically, Johnson passed away from injuries suffered in the bout. Vaden's memories are foggy but he states: "In the hallway of my dressing room after the Stephan fight is where we talked. Trump complimented me on my boxing skills and hand speed. That individual was a huge boxing fan."
Rocky Balboa inspiration and current Trump supporter Chuck Wepner recalls that Trump really enjoyed the company of fighters and that he once invited him to Mar-A-Lago in Florida. "He was interested in promoting a cage fight, me with Tex Cobb. But it never happened." Known as the "Bayonne Bleeder" in boxing circles, Wepner laments that Bayonne is a "Democrat town."
New York City boxing icon Randy "The Commish" Gordon tells for the first time how in 1984 he came to be pushed out of his post at The Ring. "As editor-in-chief, I was interviewing Trump for the cover story in the following month's Ring. I had intended to put Trump on the cover."
But the publishers were clearing house.
And editorial heads would roll.
"Doing a great job of saving his job," Gordon matter-of-factly recalls, "Nigel Collins said it should be me who should be fired, as I was going out of town nearly every week for TV assignments. He didn't tell them I was interviewing Donald Trump for the next month's cover and they bought his story. My days at The Ring ended that day with Collins going on to run the magazine."
Gordon's Trump feature never ran.
BIG George Foreman isn't shy about his respect and appreciation for Trump. "'I will always be grateful to entrepreneur Donald Trump. And now President Donald Trump. A lot of people don't like him but evidently more do, because he was elected President of the United States."
Because I'm seven feet tall, I enjoyed heavyweight Randy Neumann's input. "I met Trump in Atlantic City. He's pretty tall. I remember being in the elevator with him. He's bigger than me."
Donald Trump is 6-foot-3.
One-time welterweight title challenger Larry Barnes keeps it simple: "I never had a problem with Mr. Trump. He always gave me what I needed. I met him at a press conference in Atlantic City. He was a very nice gentleman. I wish him the best because I care about Donald Trump."
A bitter Larry Holmes veered into "Rocky couldn't carry my jockstrap" territory in his description of trying to meet Trump at one of his hotels. "I walked up to him (and said), 'Hey Donald. How are you?' He looked at me like I was a piece of shit. So I don't care for Donald Trump. That's Donald Trump. He's the man. It's all about him. If it's not about him, it isn't about nothing."
Blaming Trump for Mike Tyson's breakup with manager Bill Cayton, trainer Steve Lott alleges that Trump basically conspired with Robin Givens to steal Mike's money before Don King could get to it. "Trump is a great con man," he says. "He quickly realized Robin was a con artist too."
Judicious boxing manager Jackie Kallen has many memories of Trump. She first met him in 1988 at the Tyson-Spinks fight. Kallen was impressed by his ability to throw a party. "The room was packed with A-listers including Jesse Jackson, Oprah Winfrey, Jack Nicholson, Warren Beatty, Billy Crystal, Herschel Walker, and so many others that you didn't know where to look."
Kallen also remembers the day in 1992 that her fighter, James Toney, received a gift decision at the Trump Taj Mahal against underdog Dave Tiberi. "Trump thought it was an outrage and went straight to Tiberi's locker room to console him," says Kallen. "I remember him looking at me in the ring as the referee held Toney's hand in the air. He shook his head in disgust. Even though I had nothing to do with the decision, I could tell he was upset with me, and I did not know why."
Manager Mario Costa shared a poignant story about the night Matthew Hilton was upset by Robert Hines in 1988. Hilton was hurtin at the Hilton. But guess who else was there in Vegas?
You guessed it. The future American President. Costa remembers that Hilton was in a dressing room trailer in the back lot of the hotel. Hilton was rightly devastated. Then somebody knocked on the door. "Trump came to the trailer and wanted to talk to Matthew," explains Costa. "Matthew said, 'Okay, let him in.' He came in. Trump kneeled down on one knee to talk with Matthew."
John Scully still has a memento of Trump he gained in the dressing room with Derrick "Smoke" Gainer in 1995 at Convention Hall in Atlantic City. "Trump came in after the fight to congratulate Smoke. I saw that and I took a picture of it as it was happening. I thought it was pretty cool at that moment that he came back to the dressing room to congratulate an undercard fighter."
The photo is in the book.
Andrew Golota is sure that Trump came to his dressing room before his brawl with Michael Grant in 1999 at the Trump Taj Mahal. But not surprisingly, Golota can't recall what was said during the meeting. Golota also couldn't remember to keep his punches up. He lost two points for low blows against Grant and then told the referee he couldn't continue after a knockdown.
Sports writer Michael Marley (incorrectly spelled Micheal in the book) recalls meeting 'The Donald' several times in the 80s during his years of covering boxing for the New York Post. Marley says that Trump and then wife Ivana always told him the same thing, "Enjoy yourself."
Bobby Czyz reveals he almost retired in 1989 to work for Donald Trump as a representative in one of his casinos but it never happened because Czyz kept on fighting until 1998. His love for the President is clear. "I didn't think he had a chance to win the Presidency because of the Clinton conspiracy. Look, I know they're all crooked. So many people died under the Clinton regime that it doesn't make sense. But Donald beat her. I love the guy. I think he's incredible."
Rhode Island's "Pazmanian Devil" Vinny Pazienza hilariously insists that Trump loves HIM for the millions of dollars he made for Trump. "I fought a lot of fights with Trump. Hector Camacho, Greg Haugen, Roberto Duran, Roy Jones, so many fights. I fought in Atlantic City a lot."
***
For readers looking for less than positive recollections of Trump, there are some in the book, they're just not told, with the exception of Larry Holmes and Steve Lott, by the boxing people.
A lawyer named Pat English contends that Trump gleefully defaulted on his casino contracts and killed every mom and pop shop from there to Washington DC. Attorney Benjamin Clarke prosecutes Trump for his hair, saying he's only sure of one thing—that it's not of this Earth.
For nearly everyone else heard from, from tennis players to golf pros to hockey legends, the general themes expressed in Close Encounters With Donald Trump are those of special memories with a special person. I enjoyed my copy last month on the beach in Aruba.
I'll never forget my close encounter with Trump.
Boxing Writer Jeffrey Freeman grew up in the City of Champions, Brockton, Massachusetts from 1973 to 1987, during the Marvelous career of Marvin Hagler. JFree then lived in Lowell, Mass during the best years of Irish Micky Ward's illustrious career. A new member of the Boxing Writers Association of America and a Bernie Award Winner in the Category of Feature Under 1500 Words, Freeman covers boxing for The Sweet Science in New England.
Check out more boxing news on video at The Boxing Channel 
To comment on this story in The Fight Forum CLICK HERE
"Sparring with Smokin' Joe" is a Great Look into a Great, Complicated Man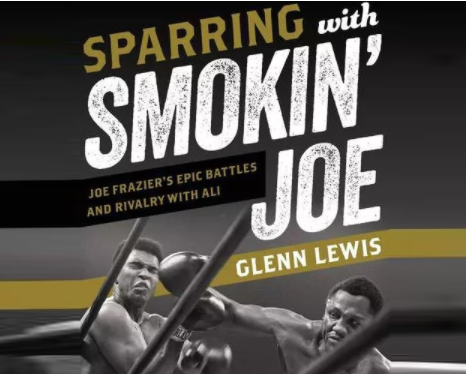 BOOK REVIEW – Some rare moments arrive, as either a blessing or a curse, to cast definitive impressions of how someone might be remembered. As anyone reading this should well know, such a moment occurred 50 years ago today (March 8, 1971) at Madison Square Garden for Joe Frazier and Muhammad Ali.
For Frazier, a punishing 15-round victory became the foundation to his legacy. That leads us to Sparring with Smokin' Joe by Glenn Lewis, the latest biographical volume to focus on Frazier, with a timely release date close to the "Fight of the Century" anniversary that should provide plenty of solid promotional material for the book.
As a piece of literature the book, published by Rowman & Littlefield, stands up quite well on its own, and as a piece of boxing literature it stands out, through previously unpublished situational information on Frazier.
I found it to be a must-read for Frazier fans and a solid plus for most boxing libraries.
Author Lewis is a graduate school professor at the City University of New York (CUNY) and director of journalism at the affiliated York College with decades of expertise on his resume. This project is expertly constructed and reads very smoothly throughout. Beside the many insightful instances regarding Frazier himself, a very thoughtful portrait of his son Marvis Frazier runs through the narrative, which also conjures a vivid depiction of Frazier's Broad Street Gym in North Philadelphia.
The book's unique highlight is the ongoing tale of traveling with Frazier and his all-white band (with multiple Berklee school members) during a tour of southern states.
The first 140 pages or so (out of a listed 256), make up a fascinating memoir of getting to know Frazier and his circle during 1980, around four years after his second crushing defeat to George Foreman. At that point in his life, Frazier was trying to settle into retirement, guide Marvis's culminating amateur career, and transition from boxing superstar to fledgling vocal attraction.
I devoured the opening sections of the book with reader's glee, far more than enough to highly recommend Lewis' book, but toward the end it seemed maybe he should have quit while and where he was ahead.
The last third gets substantially less engaging. The author grew distanced from his subject's proximity and it shows, as the tale becomes far more familiar in relating already well-documented fight data.
There is still some fine perspective from Lewis like Joe's hugely destructive obsession with rushing Marvis into disaster versus Larry Holmes, but for many of the closing segments you could cut and paste the same period of Frazier's career out of Mark Kram Jr's recent book Smokin' Joe (2019) and gain a bit more personal touch.
That's not at all to imply that the boxing writing is weak. Lewis makes an excellent case that Frazier won the rematch with Ali, not only the first fight; which leads to justified speculation on what could have occurred had Frazier gotten the second nod. Back then I shared Lewis' opinion on the scoring, and his detailed analysis inspires taking another look at the replay.
Some minor gym characters or business associates become animated as if they're standing in front of you, but I was disappointed in how a charming, complicated guy like Jimmy Young was overlooked and how larger-than-life characters like Gil Clancy and especially George Benton (a living example of where playwright August Wilson drew inspiration) came across rather subdued compared to the boisterous conversationalists I spoke with many times not long after the year Lewis's story begins.
There are also a couple of minor omissions that, though based on very brief listings, still stick out when considering Lewis's scholarly, journalistic credentials.
James Shuler is mentioned, but there's nothing about his tragic death in a motorcycle accident a week after losing to Tommy Hearns in a minor title fight, nor the touching story about Hearns at the funeral, offering to put the belt in Shuler's coffin. Frazier's restaurant, Smokin' Joe's Corner, is also listed a couple times but there is no mention of the horrible murders that took place there during an inside job robbery and how that tragedy probably put the final nail into Frazier's aspirations in the food industry.
I also hoped for some tidbits from Frazier's thoughtful and wise older brother Tommy who provided me with some rare insights (and had an offbeat sense of humor about his name), a stoic trickster who seemed to lovingly enjoy putting his famous sibling on the spot.
Still, the overall impression I got was fantastic. A memoir should share time, location, emotion, and reflection. Lewis achieves all those things many times over.
Which leads to my primary, personal takeaway of this very worthwhile book. Based on a few of the lengthy encounters I was lucky enough to share with Joe Frazier (boxing and non-boxing related), it's difficult for me to imagine that a canny observer like Lewis didn't emerge from the amazing and enviable access he got with more wild tales, especially from nights on the road.
So, I'd have to guess, and bet, that Lewis let some of the more sensational situations or quotes remain aloft in the mist of the past, which to me is admirable, even more so in these social media dominated days.
Here's a non-controversial quote that is included, which provides a sample of the many fine nuggets to be found:
"I don't think you're less of a man for crying," said Joe, taking me by surprise. "It's healthy for you. I cry if something goes wrong- I'll cry right out. But if I cry out of anger, look out! Somebody's in trouble. Crying shows a man has heart and helps him out of his pressures. Just don't cry for nothing."
I could almost hear Frazier's voice when I read that, and descriptions of places I've been like Frazier's gym read true enough to give the entire book an aura of accuracy.
A dozen excellent photographs serve as a first-class coda.
Fifty years after his biggest triumph, Joe Frazier remains a compelling topic in the discourse of sociological significance. This well written tribute does him plenty of justice.
Check out more boxing news on video at the Boxing Channel
To comment on this story in the Fight Forum CLICK HERE
Ed Odeven's New Book Pays Homage to Sports Journalist Jerry Izenberg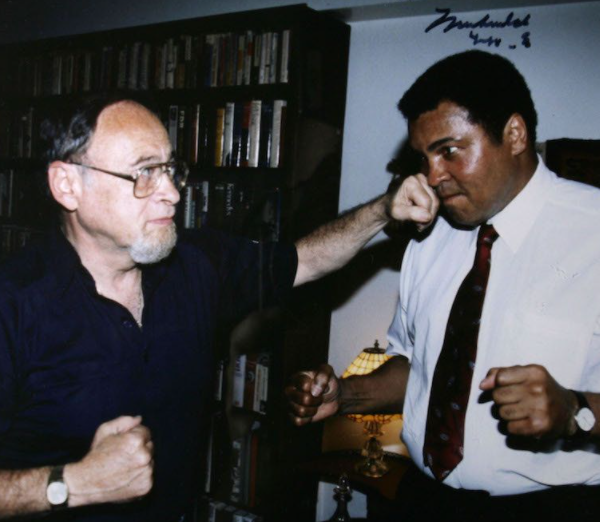 It's one thing to get to the top, but it's something else entirely to remain there for more than half a century. Jerry Izenberg, longtime sports columnist for the Newark Star-Ledger, now semi-retired and living in Henderson, Nevada, has done just that.
Izenberg is the subject of Ed Odeven's book, "Going 15 Rounds With Jerry Izenberg," which was released New Year's Eve and is available at amazon.com.
"By all accounts, he should be recognized as one of the greatest American sports columnists," said Odeven, a 1999 graduate of Arizona State University who has lived in Japan since July 2006 and is the sports editor for the website Japan Forward. "A versatile professional, he was equally skilled at writing books and magazine articles and producing sports documentaries and crafting essays for the groundbreaking 'Sports Extra' television program on Channel 5 in New York in the 1970s."
Odeven went on: "Jerry has seen everything and been seemingly everywhere. He brought gravitas to the newspaper sports section with decades of sustained excellence."
During a seven-decade career in sports journalism, the 90-year-old Izenberg, found time to write 15 non-fiction books and one novel. His affinity for the manly sport is reflected in his 2017 book, "Once There Were Giants: The Golden Age Of Heavyweight Boxing."
"From the 1950s to the present day [including recent years' coverage of Tyson Fury and Manny Pacquiao, for instance, Izenberg has shined in his boxing coverage," Odeven said. "You can't ignore his remembrance pieces on fighters and boxing personalities across the decades [such as a terrific column on the late Leon Spinks in which he weaved a tapestry of the fighter's life and his family's struggles into a powerful piece], either."
One of Izenberg's favorite topics is Muhammad Ali.
"Izenberg first observed the great fighter's infectious personality, popularity and boxing talent on display at the 1960 Rome Olympics," Odeven said. "Cassius Clay was unlike any other famous pugilist in those days and for the rest of his life."
Odeven spoke about the support Ali received from Izenberg: "When very few were publicly taking a stand to support Ali, Izenberg wrote columns that defended his right to fight. He took the boxing establishment to task for stripping Ali of his titles even while Ali's case was making its way through the courts – and ultimately the United States Supreme Court."
Izenberg, a graduate of Rutgers University who covered the first 53 Super Bowls, and Ali were close. "As friends, they were around each other in all corners of the earth," Odeven said. "They shared highs and lows during periods of personal and professional success and disappointment."
Here's Jerry Izenberg talking about Ali's humanity: "I was a single father and when my children came to live with me, they were very nervous. I took them to Deer Lake [Pennsylvania] for a television show I was filming as an advance to the Foreman-Ali fight. After the filming, knowing my situation, (Ali) took my son aside and put his arm around him and said, "Robert, you have come to live with a great man. Listen to him and you will grow to be a great man just like him.
"On the way up my daughter, who was seven, had said, 'I hope Foreman beats him up because he brags too much and you always told me to not brag.' "I told her, 'you are seven and you have nothing to brag about. Both of these men are my friends. When you get there, keep your mouth shut.' When we were packing up the equipment, he saw her in the back of the room and hollered, 'come up here little girl. You with the braids.' She was convinced I had ratted her out about what she said and tried her best to melt into the wall because she was frightened. As she walked toward him, she lost the power of speech and mumbled. He was 6-3 and she was 4-5. He grabbed her and held her over his head. 'Is that man your daddy?' All she could do was nod. 'Don't you lie to me little girl, look at him,' and he pointed at me. 'That man is ugly…ugly. You are beautiful, now gimme a kiss.' On the way home she said, 'I hope Muhammad can win,' and I said, 'you are just like the rest of them. The only difference is your age.' He was one of my five best friends. When he died, I cried."
Odeven offered his slant on why Izenberg was at home at major boxing events: "It was clear that Jerry was in a comfort zone on the week of a big fight, writing the stories that set the stage for the mano a mano encounter and the follow-up commentary that defined what happened and what it meant."
Izenberg, noted Odeven, had worked under the legendary Stanley Woodward, as had Red Smith and Roger Kahn, among others, the latter most well-known for having penned the baseball classic, "The Boys Of Summer." Many insist that Woodward, who read the classics, was the greatest sports editor.
Woodward, Odenven believes, helped shape Izenberg's world outlook. "Izenberg became keenly aware of this human drama at its rawest form that existed in boxing," he said, noting that in decades past the public was captivated by the big fights. "Examples, of course, include the first and third Ali-Frazier bouts and The Rumble In The Jungle [against Foreman]. Let's not forget they were cultural touchstones."
Referencing the third installment of Ali-Frazier in Manila, Izenberg said, "I've probably seen thousands of fights, but I never saw one when both fighters were exhausted and just wouldn't quit…My scorecard had Ali ahead by one which meant if Joe knocked him down in the 15th, he would have won on my card. But there was no 15th because Joe's trainer, Eddie Futch, ordered the gloves cut off after the 14th.
"At the finish, Ali collapsed. Later as Ali walked slowly up the aisle supported by his seconds, he leaned over toward the New York Times' Dave Anderson and me and said through puffy lips, 'Fellas. That's the closest you will ever see to death.'"
Izenberg remembered his lead: "Muhammad Ali and Joe Frazier did not fight for the WBC heavyweight title last night," he wrote. "They did not fight for the heavyweight championship of the planet. They could have fought in a telephone booth on a melting ice flow. They were fighting for the championship of each other and for me that still isn't settled."
What makes Izenberg relevant even today? "His canvas was the global sports landscape and he explored the human condition in each of his columns in some way," Odeven stated. "He recognized what made a good story and sought out individuals and topics that fit that description – and he still does.
"You could read a random stack of columns about any number of topics from the 1960s or '90s and be enlightened and entertained at the same time…He has always had a razor- sharp eye for details that illuminate a column and a source's words to give it added verve." Moreover, added Odeven, Izenberg had a never-wavering commitment to championing a just cause: "Speaking out against racism and religious bigotry, he gave a voice to the voiceless or those often ignored."
Note: Jerry Izenberg was inducted into the International Boxing Hall of Fame in the Observer category in 2015.
To comment on this story in the Fight Forum CLICK HERE
A Boxing Match is at the Heart of David Albertyn's Widely Praised Debut Novel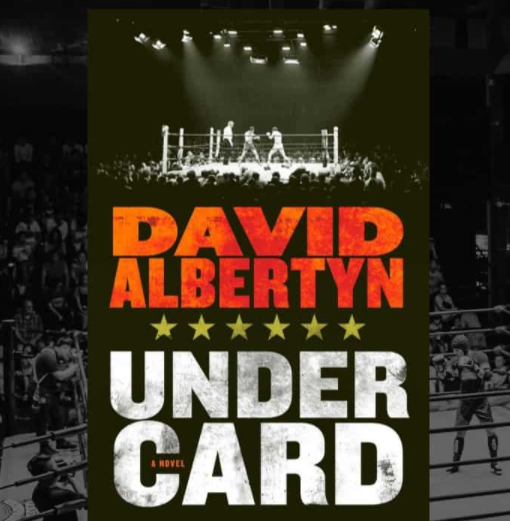 David Albertyn's debut novel, "Undercard," has earned lavish reviews. Released in Canada in 2019 and in the United States last year, the book has already been translated into French and German for HarperCollins, one of the world's leading publishing houses, and the film rights have been sold to Shaftesbury – heady stuff for a first-time author.
"Undercard" is a fast-paced crime thriller with more twists and turns than the Grand Prix of Monaco. There are four central characters, childhood friends unexpectedly united in Las Vegas. The plot, which unfolds over a 24-hour span, revolves around a bout on the undercard of a casino mega-fight.
"It's been hugely rewarding having 'Undercard' out there in the world, and especially with the reception it's been given," said Albertyn, a native of South Africa and a resident of Toronto. "It was a dream come true to finally publish a novel, and it's obviously given me a lot more confidence in my writing, but also confidence in myself…But probably the best part of all is when readers tell me that the book was meaningful to them."
A high-level tennis player and a coach of the sport, Albertyn has always enjoyed sports, including boxing. Why did he choose the sweet science as the backdrop for his novel?
"I knew I wanted to feature sports in "Undercard," as I have an extensive background in sports as an athlete, fan, and coach, and incorporating fields that one is familiar with brings an element of authenticity and uniqueness to one's writing," he pointed out. "I wanted each of my four main characters to be an athlete in a different sport (one of whom, Antoine, is a boxer) and once I chose Las Vegas, home to so many major fights, as the setting, I knew that boxing would be the featured sport."
Albertyn continued: "Having been a fan of boxing since I was a child, and having trained in it at various points in my life, I had familiarity with it to begin with, but I did as much research as I could. I attended amateur and professional fights; I watched a ton of fights on television and online, both contemporary and classic bouts, trying to pick up as many details as I could. I watched documentaries, shows and narrative films about boxing; and I read a number of non-fiction books and articles about the sport and its competitors. I will say that I also drew on my own experiences of competing, even though they came in other sports, as I feel that some aspects of competition are universal to all sports."
Of the three male characters in the book, is there one Albertyn identifies with?
"If I had to choose one, I'd pick Antoine, who is my favorite character in the novel, and the one I wanted to build the story around. I wanted to explore an utterly goal-oriented character, whose entire life is constructed around a single purpose, who can achieve their objectives no matter how much the circumstances are stacked against them," he stated.
In truth, Albertyn had two other novels that were not published, and while this was disappointing, important lessons were garnered.
"I learned an incredible amount from my first two attempts at publishing a novel. Probably the greatest lesson I learned was to write something that was meaningful to me and that would appeal to the publishing industry," he said. "My previous work tended to focus on one or the other. This time I very much tried to do justice to both. So 'Undercard'' engages with various topics that I find interesting and important, and at the same time it's set in Las Vegas, this sexy, exciting setting that is immediately eye-catching for publishers and readers. I also realized that I needed to enlist outside help, as I knew I had been close with my first two tries. So, I took a creative writing correspondence course [with Humber College in Toronto], where an advisor helped me revise my manuscript."
How did Albertyn, who said if he wasn't a writer and tennis player/instructor, he would have chosen to be an actor, come up with the idea for the story?
"The storyline came about gradually. It was really an amalgamation of a lot of ideas that I was ecstatic to find all fit together in one narrative – for instance having the story take place over 24 hours, something I'd always wanted to do; having revenge a key theme, being a fan of revenge stories; having an action scene in the background of a major sports event, an idea that had been with me for years," he pointed out.
While doing background work, what did Albertyn learn?
"My research taught me about the Iraq War, boxing obviously, the WNBA, the history of Las Vegas, the casino industry and casino moguls, how private and state security forces are used in urban spaces, the Black Lives Matter movement (my research largely taking place from 2016 to 2018, so before last summer's protests) and I'm sure other areas that I cannot recall now," he said.
"There were fascinating things I learned on all these subjects, but I'll mention the role of these casino hotel resorts in world politics and business was very interesting. A lot of meetings and deals of all kinds between powerful groups and people take place in these casino resorts, making them play a significant role in world events."
Albertyn wants to continue writing novels, but is certainly open to other genres.
"I might try to write for magazines one day, but I would definitely like to write for film and television," he said. "I majored in Film Studies in university and always hoped that I would do screenwriting. I have several ideas already, but I plan to stick with books for a little bit until I'm more established as an author before I make that push."
"Undercard" isn't as boxing-centric as other novels such as Leonard Gardner's celebrated "Fat City," but boxing fans in particular are bound to find it an enjoyable read.
Check out more boxing news on video at the Boxing Channel 
To comment on this story in the Fight Forum CLICK HERE