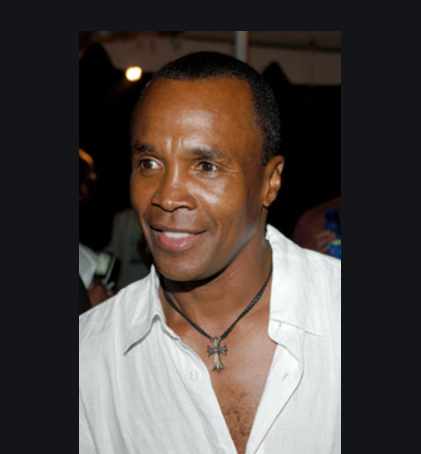 Monday, April 6, marks the 33rd anniversary of the storied fight between Sugar Ray Leonard and Marvin Hagler. In 2007, in conjunction with the 20th anniversary, Philadelphia Daily News boxing writer Bernard Fernandez looked back at that event through the eyes of Sugar Ray Leonard with whom he had arranged an exclusive interview. Fernandez's feature-length story ran under the title "A Ray to Remember."
With Bernard's permission, we are re-printing that story in its entirety. A 2020 International Boxing Hall of Fame inductee, the multi-decorated Fernandez is the author of "Championship Rounds," a soon-to-be-published anthology.
A Ray to Remember
The image is one of eternal youth, the impossibly gifted and charismatic young father smiling and cutting up with his giggling tyke of a son.
But the popular soft-drink commercial in which Ray Leonard Sr. and Ray Jr. appeared together aired in 1980, when certain boxers, if not boxing itself, were still seen as having broad enough appeal to sell products to America.
The 2007 vintage Ray Leonard Sr., better known to his many fans as Sugar Ray, remains handsome and charismatic. But, at 50, his working attire now runs more toward tailored suits and tasseled, Italian-made loafers than to satin trunks and tasseled boxing shoes. It has been more than 10 years since he attempted to summon the old magic in a final, futile comeback bid.
But during a luminescent prime in which he transcended his sport as few have, the quick-handed, steel-willed kid from suburban Washington, D.C., gave the public more than a few moments that are indelibly burned into the pages of boxing history. There was the gold medal he won at the 1976 Montreal Olympics; his stirring, late-round comeback in his first showdown with Thomas Hearns; the night he so dominated the great Roberto Duran in their first rematch that the "Hands of Stone" up and quit in the eighth round.
For all those peaks in a Himalayan career, however, perhaps the most towering accomplishment occurred on April 6, 1987, in a temporary outdoor stadium erected on the tennis courts at Caesars Palace in Las Vegas. That's when Leonard emerged from one of several retirements to shock undisputed middleweight champion Marvelous Marvin Hagler, who was widely regarded as near-invincible. In the Vegas sports books, the odds against Leonard were incredibly long for someone of his stature. More than a few members of the media even expressed concern for his immediate and long-term health.
Today is the 20th anniversary of Hagler-Leonard, a prizefight that seized the attention of the entire world, but the years always melt away in the mind of the man who manufactured one of boxing's most unforgettable upsets. All Leonard has to do is close his eyes for the memories to come flooding back, as warm and vivid as ever.
"I swear, I look at my kids and wonder where the time went," Leonard said in an exclusive interview with the Daily News recently. "Can it really have been 20 years? One day, you look at your son and he's a little boy. Before you know it, he's sprouting facial hair and is three or four inches taller than you. You're, like, `Wow.' Ray Jr. is 33 now.
"It's funny how the good memories stick with you longer. Human nature, I suppose. I could always tell in the dressing room, when I was warming up, if it was going to be a good night or a long night. If you don't feel like you have it that night, it is the most frightening thing for a fighter. I felt that way against Hector (Camacho, who stopped Leonard in five rounds on March 3, 1997, in Atlantic City Boardwalk Hall, his final bout). I felt the same thing before the first Duran fight, before the second Hearns fight, before the fight with Terry Norris.
"Fighters know when they have it. They know. When I was younger and I had those little moments of doubt, which were rare, I was usually able to overcome them. After Camacho, I knew I never wanted to experience a moment like that again. It's like you have a vision you're about to die and you can't do anything about it.
"But against Hagler, I just felt like I was as ready as I possibly could be."
Hagler-Leonard, like the first matchup of Mike Tyson and Evander Holyfield that was delayed for years, was a long time coming. Leonard had spent a sizable chunk of his career at welterweight, moving up to junior middleweight at around the same time Hagler was establishing himself as one of the finest 160-pound champions of all time. Everyone assumed that Leonard would move up to middleweight and challenge Hagler, probably sooner rather than later.
In the spring of 1982, however, Leonard was inadvertently poked in the left eye by the gloved thumb of a sparring partner The eye immediately reddened and his vision became blurred. The blurring cleared up after a short time, but the spots in his line of vision did not.
A detached retina was diagnosed, and Dr. Ron Michels operated on Leonard's eye to repair the damage. Although advances in laser technology have made the reattachment of retinas a common surgical procedure, back then the injury was serious enough to end careers.
Although Michels assured him that his left eye was fully healed, Leonard, who had impulsively retired and unretired twice, wrestled with the fear that continuation of his career might leave him sightless. That, and the urging of his first wife, Juanita, edged him toward a momentous decision.
Ever the showman, Leonard rented the Baltimore Civic Center on November 9, 1982, for a black-tie gala attended by 10,000 fans and special guests. Among those on hand was Hagler, who also wore a tuxedo for what he presumed would be the announcement that the fight everyone wanted to see finally was going to be made.
In a ring that had been set up for the occasion, Leonard looked at Hagler and addressed the crowd. "A fight with this great man, with this great champion, would be one of the greatest fights in history," Leonard said. "Unfortunately, it'll never happen."
There was a gasp, followed by stunned silence. Hagler felt, with some justification, he had been sandbagged. This is not what he came to hear.
But even as he was saying the words, Leonard had doubts about their validity in the long term.
"Yeah," I said, `This is it. I'm done,' but I'm not sure in my heart I believed it," Leonard said. "I think I realized I might change my mind later, but I felt pressured to do the logical thing, which was to retire.
"I was, what, 26 years old then? I was a young guy still at the top of my game. But I guess I just wanted to put an end to the questions. My mind told me what to say, but in my heart my competitive fire was still burning."
The flame might have been set on low, but it never went out. Leonard accepted a position as a boxing analyst for HBO, which allowed him to be at ringside for a number of Hagler's title defenses.
"Marvin became my friend," Leonard said. "We'd talk. There was no barrier between us because I was out of it; he didn't consider me a threat to him. So he told me things that I mentally stored away.
"When he came for the grand opening of a restaurant in Bethesda, Maryland, I had a little piece of, we were drinking champagne. He said, `Yeah, man, I'm not motivated. I'm starting to get cut easily.' It didn't seem like he was into boxing that much anymore.
"I don't know how significant that conversation was, but it was one of a lot of factors in my decision to come back."
Perhaps the most crucial of those factors was Hagler's performance in a tougher-than-expected, 11th-round knockout of John "The Beast" Mugabi on March 10, 1986.
"It was a cold night in Vegas," Leonard recalled. "I saw Mugabi outjabbing and outboxing Hagler. It was a bad, bad night for Marvin, even though he won. It took a toll on him physically. It also seemed to me that he wasn't focused."
Leonard – who had had only one bout since February 1982, a ninth-round stoppage of Philadelphia journeyman Kevin Howard on May 11, 1984, in which Leonard was floored himself – made another announcement. He was back, and he was going after Hagler.
"When I said I was coming out of retirement, the reporters wanted to know who my tuneup fight was going to be against," Leonard said. "I said, `No tuneup. I'm going straight to Marvin.' Even my brother Roger thought I had lost it. There was no one, besides my father, who believed I had a prayer.
"Well, there was my father and Mike Trainer (Leonard's longtime attorney/adviser). I talked to Mike after I came back from watching Hagler-Mugabi. I said, `Michael, me and Hagler, who wins?' He looked me right in the eye and said, `Ray Leonard can't beat Hagler. But Sugar Ray Leonard can.'
"When he said that, I didn't understand at first. Looking back at it now, it made sense. He was saying Ray Leonard – the civilian, the businessman, the media personality – couldn't win a fight like that. But if I could get back to being Sugar Ray, I could win."
The buildup to the fight was of Super Bowl proportions. Hundreds of media from around the world converged on Las Vegas, not so much to cover a competitive event as to chronicle Leonard's seemingly doomed quest.
But Leonard soaked up the skepticism and fed off it, all the while employing every psychological ploy he could think of.
"I worked Hagler from Day 1, even before I had the slightest imagination of fighting him," Leonard said. "I studied this man day in and day out. I guess I did it subconsciously, when I was commentating for HBO. I'd study his mannerisms.
"Then, when Mike Trainer and I were negotiating (with Hagler's manager-trainers, Goody and Pat Petronelli), we played angles. We'd give them this, take back that. To Hagler and his people,  none of it was relevant. All they saw was the dollar signs. They never even considered the possibility that Hagler might lose.
"Look, Hagler made a ton of money. I made a ton, too. Both parties were satisfied. It wasn't until after the fact that they were dissatisfied. They complained that we got to pick the brand of gloves that were used, the number of rounds the fight was scheduled for."
As was the case with Muhammad Ali's "Rope-a-Dope" strategy against George Foreman,  Leonard concocted a plan to steal rounds with flurries in the last half-minute of close ones. It proved a stroke of genius.
"I told (cornerman) Ollie Dunlap in the dressing room, `30 seconds before the end of the round, yell. Let me know," Leonard said. "He did that, and I'd flurry. It won rounds for me, no question."
It also helped that Hagler, a southpaw, came out in an orthodox posture for the first two rounds.
"When the bell rang for the first round, I was all nervous energy," Leonard said. "I might have talked the trash, but now it was time to put up or shut up. I really didn't know if I still had it. I hoped it was there. But when Hagler came out fighting righthanded, it gave me an opportunity to get settled."
Hagler, who maintains to this day that he deserved to win, was so enraged by the split decision against him – judges JoJo Guerra and Dave Moretti scored it 118-110 and 115-113 for Leonard, while Lou Fillippo had Hagler ahead, 115-113 – that he never fought again. The Brockton, Massachusetts, native lives in Milan, Italy, where he is a part-time actor.
"Hagler didn't want to be around me for a while, which I can understand," Leonard said. "But when we see each other now we're cordial. I was in Vegas for Oscar (De La Hoya) and Felix (Trinidad). Marvin was there. He asked to see me. We shook hands and spoke.
"After the fight, which Oscar lost, I saw Marvin the next morning before I went to the airport. I said, `Can you believe that decision? No way Oscar lost.' He said, `Yeah, I believe it. It happened to me.'"
Leonard was 2-2-1 in his five fights after Hagler, retiring at the age of 40. These days he enjoys the company of his second wife, Bernadette, and the youngest of his four children, Camille, 10, and Daniel, 6. He plays some golf, skis and has a prominent role with The Contender reality boxing series on ESPN.
"There's no void that needs to be filled," Leonard insisted. "There's a fullness, a direction, to what I do. I am not in a hurry to go anywhere or do anything. I just want to stay creative and stimulated. I'm reconnecting with my older kids (including son Jerrell, 23). I feel good about where I've been, who I am now and where I'm going.
"Hagler and I had great, illustrious careers. We're living our lives. You can't hold onto the past forever. You have to move on."
Check out more boxing news on video at The Boxing Channel 
To comment on this story in The Fight Forum CLICK HERE
Tyson Fury Roared and Deontay Wilder Remained Silent at their L.A. Presser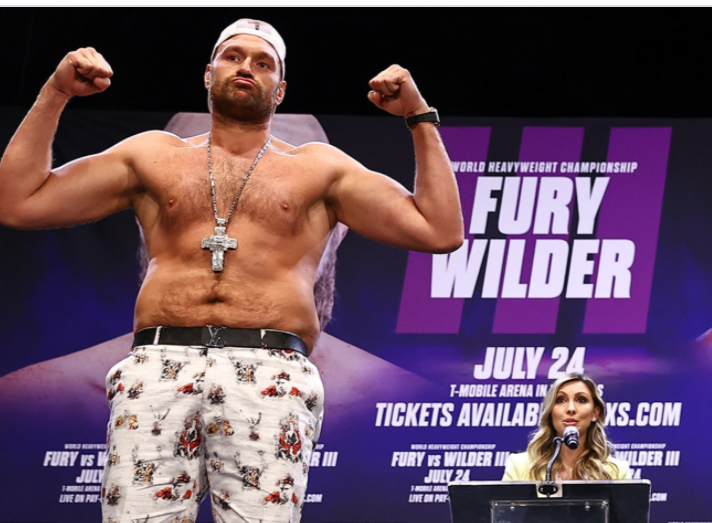 TSS special correspondent LAUREN RODRIGUEZ was on the scene for the Top Rank Promotions press conference in downtown Los Angeles on June 15 at which the third meeting between Tyson Fury and Deontay Wilder was formally announced. Here is her report.
The third fight between Tyson "Gypsy King" Fury (30-1, 21 KOs.) and Deontay "The Bronze Bomber" Wilder (42-1-1, 41 KOs) will go down July 24th in Las Vegas at the T-Mobile Arena. This continued mash-up between the two comes 16 months since their last bout. The first fight, in December 2018, ended in a draw and their second in February 2020, ended in a victory for Fury in the 7th round.
Fury carried the press conference while Wilder remained largely muted.
The WBC champion Fury remains undefeated, a status he is adamant in maintaining. The heavyweight boasted a white suit patterned with images of himself in a crown and wearing the belt he won off Wilder.
"This is a reminder of what happened to him last time, this is a remembrance suit of Deontay Wilder's ass-kicking."
The "Gypsy King," an entertainer, left little words unsaid as he berated his silent opponent.
"It shows how weak a mental person is, it shows the emotional effect the last fight had on his life… I was worried about him after the defeat I gave him," said Fury.
An Alabama native, Wilder has a 93% knockout rate, the highest rate for any heavyweight.
Wilder wanted no part in other questions from Q/A moderator Christina Poncher, or the media, as he remained silent with headphones and sunglasses to shield him from questions.
Wilder's trainer, longtime friend and former heavyweight contender Malik Scott answered very few questions for the fighter as tensions rose.
"He's very stubborn, like most legends and gifted people they have their things with them. As long as he gives me what I want in the gym, I don't care about the stubbornness cause we're going to get this done," said Scott.
If it's one thing Fury and team all agree on, it's that history will repeat itself in this third fight come July.
When it comes to what we can expect this time, Fury's trainer SugarHill Steward stated, "All I have to say is, over time, he [Fury] now has power to knock a man out with one punch. His boxing IQ is one-punch knockout power."
In Gypsy King fashion, we will have an entertaining show come next month. Fury intends on moving his weight all the way to 300, so he can give Wilder a bigger knockout in the ring and fans a bigger show.
"This time I'm hoping to take him out early, one, two, three rounds max."
Check out more boxing news on video at the Boxing Channel
Tokyo-Bound Aussie Heavyweight Justis Huni Stops Rugged Paul Gallen in the 10th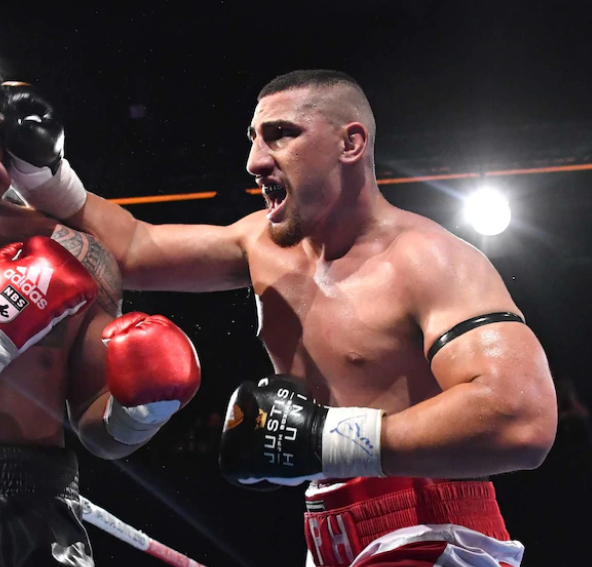 Had Justis Huni fought Paul Gallen two months ago, the match would have been trashed as little more than exhibition. During his record-tying 19 years in rugby, Gallen evolved into one of Australia's most well-known sporting personalities. When Gallen took up boxing in 2014, it was thought that he did it as a lark; as a way of cashing in on his name recognition. And his first 11 opponents were a motley bunch of former rugby players, MMA fighters, 40-somethings, and boxing novices.
Then came the night of April 21, 2021. In a shocker, Gallen demolished former WBA heavyweight titlist Lucas "Big Daddy" Browne in less than two minutes. "Gallen transformed from a rugby league player to a bona fide prize fighter before our very eyes," said prominent Australian sports journalist Andrew McMurtry.
That knocked Lucas Browne out of a lucrative match with Justis Huni and vaulted Paul Gallen, who turns 40 in August, to the head of the queue. They met Wednesday night (Australia time) at a convention center in Sydney and Huni, five-and-a-half inches taller, 15 pounds heavier, and the younger man by nearly 18 years, saddled Gallen (11-1-1) with his first defeat.
Heading into the fight, Gallen conceded that the heavily favored Huni was faster. However, he thought that he could wear the bigger man down. "If I get through those first four to five rounds, I'll be in his face the whole time and I think I can knock him out late," he said.
It proved to be the other way around. Huni dominated the fight and when he knocked Gallen down in the 10th with a big right hook, the referee stepped in and stopped it. But Gallen, who had a bum shoulder from his rugby days and thought that he fought most of the fight with a broken rib, showed tremendous heart.
It was the fifth professional fight for Huni (5-0, 4 KOs) who won the Australian heavyweight title in his pro debut. Of Dutch, Swedish, Samoan, and Tongan heritage, he quit school at age 15 to give boxing his full attention and will represent Australia in the Tokyo Olympics which start next month.
Brisbane-born Huni is already being talked-about as the best-ever Australian-born heavyweight. The rap against him is a lack of one-punch knockout power which won't be a detriment in Tokyo.
—
In undercard bouts of note, Brisbane middleweight Isaac Hardman (11-0, 9 KOs) scored a 4th-round stoppage of Emmanuel Carlos (12-2) and middleweight Andrei Mikhailovich, a Russian residing in Auckland, New Zealand, advanced to 16-0 (9) with a second-round stoppage of previously undefeated Alex Hanan (13-1).
Check out more boxing news on video at the Boxing Channel
To comment on this story in the Fight Forum CLICK HERE
Three Pros are Joining the U.S. Olympic Boxing Team, Ruffling Some Feathers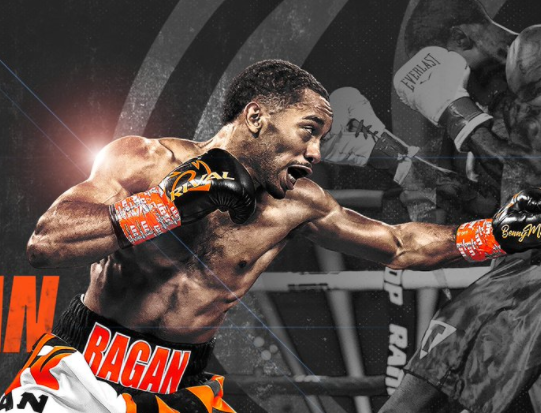 USA Boxing, the agency that controls amateur boxing in the United States, has a rule that prohibits professional boxers from competing in their tournaments. That rule remains in effect, but yet three pro boxers – middleweight Troy Isley, lightweight Keyshawn Davis, and featherweight Duke Ragan – will suit up for the United States in the forthcoming Tokyo Games. The announcement, which fell largely under the radar, came on June 7.
USA Boxing is subservient to AIBA, the sport's international governing body, and to the International Olympic Committee. The Boxing Task Force of the IOC changed the rules to allow Isley, Davis and Ragan to compete and the honchos at USA Boxing are none too happy about it.
Blame the Covid-19 pandemic which forced the postponement and ultimately the cancellation of several qualifying tournaments including the "Americas" tournament in Buenos Aires at which boxers from 42 national federations – including the United States — would be competing for the Olympic slots allocated to this region. A total of 286 boxers from around the world will compete in Tokyo in the eight men's and five women's weight divisions with the coveted slots dispersed among four Continental Regional Divisions.
With no tournament, the Task Force redesigned the quota allocation process using world rankings to determine the national squads. The rankings were formulated using a point system from events held between January 2017 and October 2019.
The re-jiggering opened the door for Isley, Davis, and Ragan to rejoin the team. Isley and Davis had their first pro fight in February of this year. Ragan turned pro in August of 2020.
Team USA protested that the BTF allocation was unfair to the boxers that finished first in the final domestic qualifying tournament (December 2019 in Lake Charles, Louisiana), but their claim was denied. Isley and Ragan were knocked out of that tournament before reaching the finals; Davis finished first when his opponent in the finals took ill and had to pull out, but he was subsequently booted off the team, reputedly for missing too many practices which he attributed to a family health emergency. That unfrocking has been rescinded.
Before he left the team, Keyshawn Davis was considered the U.S. boxer with the best chance of winning a gold medal in Tokyo. A southpaw, he earned his spurs at the Alexandria Boxing Club in North Alexandria, Virginia, which was also the home gym of Troy Isley who lived right down the street.
The common thread between all three of the returnees is Kay Koroma who coached Davis and Isley at the Alexandria club where he was the top lieutenant to the club's patriarch Dennis Porter and at the Olympic & Paralympic Training Center in Colorado Springs where he served as an assistant to Billy Walsh. Duke Ragan, who hails from Cincinnati, is Koroma's nephew.
Koroma came to the fore in 2016 when he earned raves for his work with Olympians Claressa Shields. Shakur Stevenson, Charles Conwell and others. But Koroma, one of the hottest young trainers in the sport, won't be available to work with the 2020/21 team before it heads off to Tokyo. "My plate is too full," he told The Sweet Science.
Koroma, like many of his former pupils, turned pro himself. He continues to work with Shakur Stevenson, whom he has known since Shakur was 13 years old, he assists veteran coach Al Mitchell with Mikaela Mayer and he recently replaced Ronnie Shields as the head trainer of rising heavyweight contender Efe Ajagba.
Isley, Davis, and Ragan comprise three-fifths of the men's Olympic team. Super heavyweight Richard Torrez Jr and welterweight Delante "Tiger" Johnson flesh out the quintet.
USA Boxing released a letter to its membership expressing frustration over the decision of the IOC Task Force which killed the dreams of seven boxers who hoped to snare an Olympic berth at the Buenos Aires tournament or, barring that, the Last Chance tournament in Paris which was also a casualty of the pandemic. The letter can be read at the USA Boxing web site.
The seven boxers who were fenced out are:
Darius Fulgham (heavyweight, Houston, TX)
Rahim Gonzalez (light heavyweight, Las Vegas, NV)
Joseph Hicks (middleweight, Lansing, MI)
Charlie Sheehy (lightweight, Brisbane, CA)
Bruce Carrington (featherweight, Brooklyn, NY)
Anthony Herrera (flyweight, East Los Angeles, CA)
and
women's flyweight Andrea Medina (San Diego, CA).
USA Boxing insists there are no plans to allow professionals to compete for the United States in the 2024 Olympiad and beyond. This is a one-shot exception forced by a unique circumstance. But, needless to say, when it comes to amateur boxing, nothing is etched in stone.
To comment on this story in the Fight Forum CLICK HERE