The Friends of Tony Veranis, Part Two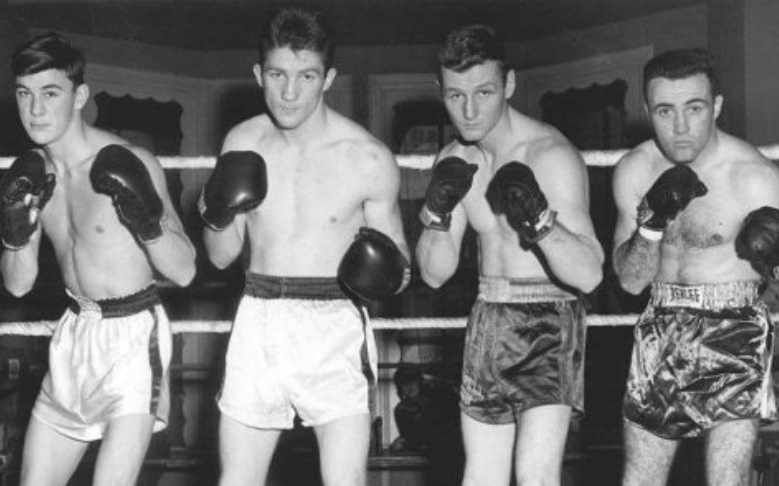 The Friends of Tony Veranis, Part Two
During the period between 1966 and 1976, New England's criminal underworld included many ex-boxers from the Boston area, many of whom were destined to die a violent death. Their intertwined histories would match those of George Higgins's "The Friends of Eddie Coyle" except that here the common denominator is boxing.
Part One introduced many of the main characters including the notorious Joe "The Animal" Barboza. Next up is journeyman heavyweight George Holden who would meet his end along the banks of the Mystic River.
George Holden (1948-1973)
George, known as the "Medford Irisher," fought mostly out of Portland, Maine as a heavyweight and chalked up a less-than-glorious record of 15-26-3. He went 9-3-3 in his first 15, but then the losses came in bunches and he would lose nine of his last 10. In his last bout against Jimmy McDermott (52-16-3), Holden disgraced himself by showing up drunk for which he was indefinitely suspended. He never fought again.
Like Rocco DiSiglio (introduced in Part One), little is known about Holden's personal life except that he was a low-level operative in organized crime. Holden trained with the usual suspects and met a similar fate. On August 23, 1973, his body was found washed up along the mucky shoreline of the Mystic River in Charlestown, Mass. He had been executed gangland style with a gunshot to the head. George was 25 years old. His killers were never found. Holden's murder was the 82nd homicide in the city of Boston in 1973.
Eddie Connors (1933-1975)
As a youth, Connors was a regular at the L Street Curley Gym and Bathhouse located in South Boston (i.e. Southie) where future gang leaders Stephen "The Rifleman" Flemmi, James "Whitey" Bulger, and Frank "Cadillac Frank" Salemme hung out.
Eddie, nicknamed "Bulldog," was a respected heavy-handed middleweight who fought like a bulldog during the '50s and ran up a slate of 22-7-1 with 18 KOs against tough opposition. His last three fights — all losses by decision — were against Willie Green (27-4), Joe DeNucci (20-2 coming in), and former world champion Tony DeMarco (55-11-1). He also held the very capable George Monroe (37-13-3) to a draw. His brother James Connors (not to be confused with Jimmy Connors who fought out of New Bedford from 1957 to 1963 and who was trained by Clem Crowley) fought between 1959 and 1961 and retired with a 13-0-1 record.
Eddie would later use his boxing experience to handle drunk and disorderly customers in his notorious Bulldog Tavern in the edgy Savin Hill area of Dorchester –sometimes referred to as "Stab and Kill"— where he acted as both bartender and bouncer, and which he also used as his criminal headquarters for illegal gambling, drug dealing, loan sharking, and for planning armed robberies with his associates.
Later, because Connors was bragging too much about a murder he had helped orchestrate (of one James "Spike" O'Toole), the Bulldog had become a dangerous loose end. As such, he was set up for an ambush in The Dot. When Eddie arrived at a service station on Morrissey Blvd. on June 12, 1975, to make a pre-arranged phone call, a young Whitey Bulger, John "The Basin Street Butcher" Martorano, and Stephen Flemmi were waiting armed to the teeth. Connors was nearly cut in half in the phone booth by the hail of heavy artillery and the loose end was tied. Curiously, the deadly Martorano was the one who had machine gunned O'Toole in 1973.
Americo Sacramone (1937-1976)
When he finished his brief boxing career with a 5-1 record, Rico, from Everett, entered the rackets as member of Boston's Winter Hill Gang. After being wounded in the hit on Buddy McLean in 1965, Rico went back to prison on a parole violation. In 1976, he was gunned down — this time for good — by parties unknown.
During his boxing days, Sacramone would often spar with the great Joe DeNucci (54-15-4), who later became the longstanding State Auditor of the Commonwealth of Massachusetts.
Tommy Tibbs (1934-1975)
While probably not a friend of Tony Veranis, Tommy (60-77-4) did fight George Monroe three times in 1953  — and just about everyone else including Willie Pep whom he beat in 1958 — and since Monroe fought to a draw against Eddie Connors in 1955, at least the possibility of a dotted line connection exists. Monroe was from Worcester and Tibbs made his residence in Boston. However, where Tommy warrants an honorable mention is the fact that he was shot and killed in a dispute in a Roxbury bar in 1975, one of the bloodiest years of living dangerously in Boston.
Back to Tony (1938-1966)
Meanwhile, after beating Al Pepin in his pro debut, Veranis continued his attention-grabbing run as a professional. He was described as "one tough SOB; a Wildman who was courageous in the ring." Others said he was well-trained and "a great prospect and that his boxing style was that of a slugger."
In 1957, Tony fought an astonishing 26 times (the majority at the Rollway Arena in Revere). Tony's best win may have been on December 3, 1957, when he stopped — and retired — the talented Bobby Murphy (19-3-1). Bobby, a former USA New England welterweight titleholder, had impressive wins over Vic Cardell (65-25-7), Fitzie Pruden (50-21), Rocky Sullivan (66-43-12) and Jackie O'Brien (65-17-8), as well as a draw with top contender Chico Vejar (63-5-1). A win over Murphy meant something.
Tony's last fight in 1957 was against rugged Barry Allison on December 17 against whom he fought to an admirable draw. Allison (40-19-2) was at the center of New England boxing during the 1950s but was never able to reach world championship level though many think he should have gotten the nod against Johnny Saxton in 1958. As for Tony, he slaughtered Silby Ford in a bloody encounter in February 1958, one that had blood-splattered ringsiders aghast as Silby's teeth and mouthpiece were knocked out. This moved Tony's record to 25-0-2 before dropping back-to-back fights to Allison in a rematch for Allison's USA New England middleweight title and to undefeated Joe Devlin at the Boston Garden.
Tony's loss to Allison was one in which he took a terrible beating and one that undoubtedly rendered him damaged goods going into the Devlin bout — not taking anything away from the crafty Joe who would retire undefeated. These two fights occurred within a 16-day span in March 1958. After his brutal knockout defeat to Devlin in which he was decked in every round, he was taken to Boston City Hospital in bad shape and remained in a coma before recovering some three month later. But his boxing days were over.
After boxing, Tony reportedly suffered from severe migraine headaches, nausea, temporary mood swings, and blackouts — maladies that apparently were not treated and pointed to brain damage. When combined with heavy drinking and depression, this lethal mix could only spell major trouble for an ex-boxer. Tony was arrested for an unidentified crime on December 23, 1963, and sent to prison in Norfolk, Massachusetts.
While incarcerated he supposedly became an altar boy to serve at prison mass, prompting the prison chaplain Father John Fitzgerald to say, "He wanted to get straightened out, and I think he did. He was a wonderful boy who'd run with a bad crowd. He frequently stopped in to see me… after he got out, and everything seemed to be all right. He took me to the fights, and he was with respectable fellows." Some portrayed him as a friendly and quiet guy who was the victim of circumstances beyond his control, but other saw him as a small-time hoodlum and mean drinker with a bad personality change who was more brawn than brain. Street lore and my own in-depth research clearly support the latter depiction.
Tony soon found himself in debt to South Boston loan sharks and being overdue to such types was hardly conducive to one's well-being. Tommy DePrisco, a Barboza associate, attempted to collect from Tony in a South Boston bar but was embarrassed, maybe even punched, and forced to leave as this was Tony's hangout. The following night, hitman John Martorano was at Billy O's tavern in Dorchester when Veranis braced him and reportedly slurred, "I'm Tony Veranis, you know who I am. I just had a beef with your friend [DePrisco]. I kicked him outta Southie with his tail between his legs, f*** him and f*** you, too."
As Tony allegedly reached for his gun, the taller "Butcher" beat him to the punch and fired down into Tony's skull twice, blowing what was left of his already damaged brains all over the place. His body was dumped in the Blue Hills wooded area off Route 28 near where Milton and Dedham meet. He had $2.83 in his pocket. This was the end result when two former altar boys met up at the wrong time in the wrong place. One was 27, the other 26. Tony may have been tougher with his fists, but the Basin Street Butcher was faster with his gun.
John Martorano: Last Man Standing
"You Just Kill Them Before They Kill You" John Martorano
Many claimed credit for the hit on Tony Veranis and a few even suggested that Barboza was involved, but the most reliable accounting is that Martorano (known as "The Executioner," among other aliases) was responsible. Early on, Martorano, who also was an altar boy, a good athlete, and well-educated in private schools, showed a marked proclivity for conflict resolution. He eventually became the chief enforcer for the Whitey Bulger gang, running up an astounding tally of 20 confirmed hits (all carried out in a cold, detached, so-called "professional" manner).
One of John's familial Old World core values was that of loyalty, and when he later learned that Bulger and Flemmi were FBI informants who leaked useful information, some of it even accusatory against John, he became enraged. The fact is, he flipped out and then proceeded to flip on the flippers, becoming a key government witness and in the process exposing the links between the Bulger gang and the FBI's Boston office. In return for his "cooperation" and confession to 20 murders, he served only 12 years and received $20,000 gate money upon his release. Said U.S. Attorney Donald Stern, "The only thing worse than this deal was not doing this deal."
Regarding his hits, Martorano incredibly and calmly said, "I always felt like I was doing the right thing. Even if it was wrong, I always tried to do the right thing."
Strictly business? Hardly. These sociopaths were close to being serial killers and they loved it.
Today, while the mother of all rats, Whitey Bulger, was recently beaten to death in prison, John Martorano and Kevin Weeks (another deadly Bulger enforcer and righteous snitch who wrote the compelling "Brutal: The Untold Story of My Life Inside Whitey Bulger's Irish Mob," are free to walk the streets of Quincy, Dorchester, and South Boston having done their time and having made their deals. Maybe they take strolls on Carson Beach.
Unlike Barboza, they don't need any witness protection because there is no one left from whom to be protected. Moreover, there IS something to be said for ratting out a rat.
John "Red" Shea (standup guy)
You don't tell on anybody, you accept your responsibility, even if the other person can't. You're to be a man and keep your mouth shut. Period. There's no gray area." –Red Shea
There was another ex-boxer, but he chose another, more difficult path. His name was John "Red" Shea and he traded an exceptionally promising boxing career for a more lucrative life as an important operative and enforcer for the Bulger gang. But the thing about Red was that when he was finally caught, he didn't flip, but held fast to the Irish code of silence. The 47-year-old Red served out his 12 years in prison without ratting out and is now considered a rare man of honor in the Boston area. He went on to write the hot selling "Rat Bastards: The Life and Times of South Boston's Most Honorable Irish Mobster." Red is now enjoying his freedom and the secrets of his life of crime most likely will be taken to the grave with him. His second book, "A Kid from Southie" was published to solid reviews.
Famous defense attorney Anthony Cardinale, a close friend of Red, once said, "He's not big, but was very violent and very tough, and people are, to this day, scared to death of him…If, God forbid, I ever needed somebody next to me and I needed backup he'd be one of the first guys that I would ever go to."
Joe DeNucci and Clem Crowley went on to live honorable and even celebrated lives before they passed, as did Joe Devlin, New Bedford's Jimmy Connors, and Barry Allison. However, Eddie Connors, Rocky DiSiglio, Rico Sacramone, Joe Barboza, George Holden, and Tommy Sullivan — all fighters in the Boston area who were connected to one another in one way or another — were each murdered at a young age. I still meet with Jimmy Connors on a monthly basis in Dorchester and never tire of his stories from the past.
As an aside, I interviewed Joe Devlin about his fight with Tony at a lunch meeting at the Florian Hall in Dorchester. Among other things, Joe said that Tony's brains were like "scrambled eggs." Sadly, the affable Joe died of a heart attack on the very next day.
"Boxing got me out of a lot of trouble. It does that for a lot of kids." – Tony Veranis
Pictured: Tony Veranis and Bob Murphy. The full photo has Pat MCarthy on the far left and Jimmy Connors on the far right.
 Ted Sares can be reached at tedsares@roadrunner.com
Check out more boxing news on video at The Boxing Channel 
To comment on this story in The Sweet Science CLICK HERE
Yoka vs. Hammer Kicks Off the Thanksgiving Weekend Slate on ESPN+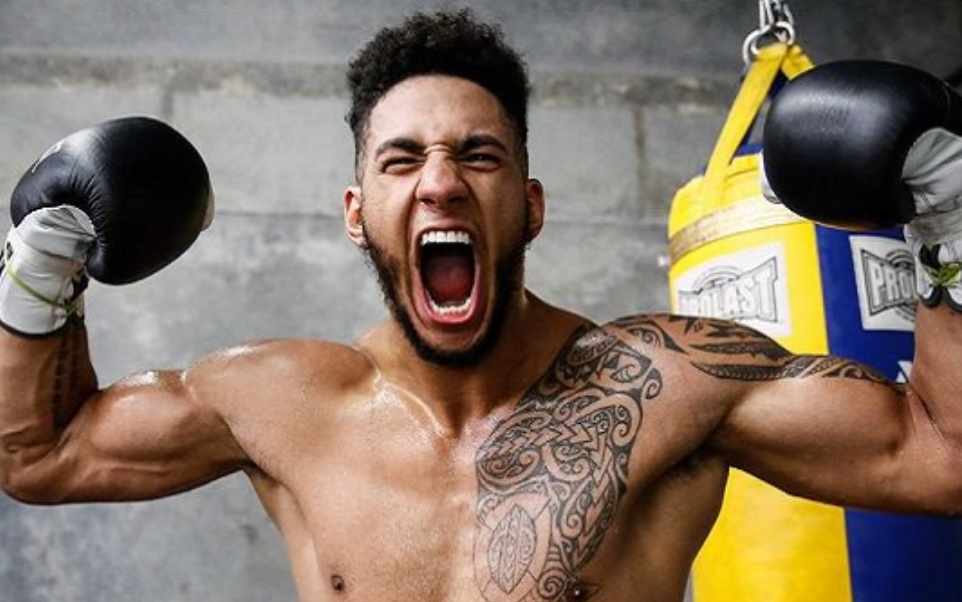 PRESS RELEASE— Tony Yoka, the dynamic heavyweight punching Parisian, aims to impress in his ESPN platform debut. Yoka, who won a super heavyweight gold medal for France at the 2016 Rio Olympics, will fight veteran Christian Hammer in a 10-rounder Friday at H Arena in Nantes, France.
Yoka-Hammer will stream live and exclusively this Friday, Nov. 27 in the United States on ESPN+ beginning at 2:55 p.m. ET/11:55 a.m. PT.
The ESPN+ stream will also include the return of unbeaten 2016 French Olympic gold medalist Estelle Yoka-Mossely against Pasa Malagic in an eight-round lightweight bout. Yoka and Yoka-Mossely, who have been married since 2018, welcomed their second child in May.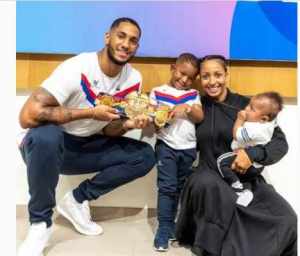 Earlier this year, Yoka inked a promotional agreement with Top Rank, which will co-promote him with Ringstar France.
"Tony Yoka's potential is limitless, and he is a grounded young man who is motivated to be a great professional fighter," said Top Rank chairman Bob Arum. "France has never had a world heavyweight champion, and I believe Tony is the one to bring the sport's biggest honor home."
The 28-year-old Yoka's stellar amateur run included a berth at the 2012 London Olympics and gold medals at the 2015 World Championships and 2010 Youth Olympic Games. Before his triumph in Rio, he'd already defeated the likes of former heavyweight world champion Joseph Parker and current undefeated prospects Joe Joyce and Ivan Dychko. At the Rio Olympics, he defeated Croatian standout Filip Hrgović in the semifinals and edged Joyce in the gold medal match.
As a professional, Yoka (8-0, 7 KOs) made his debut in June 2017 with a second-round stoppage over the previously undefeated Travis Clark. Apart from a decision win over Jonathan Rice in his second outing, Yoka has stopped every foe, including durable Englishman David "White Rhino" Allen and former European champion Alexander Dimitrenko. He made his 2020 debut Sept. 25 and stopped former world title challenger Johann Duhaupas in one round.
Hammer (25-6, 15 KOs) has fought many of the leading heavyweight names during his 12-year career, falling short against Tyson Fury, Luis Ortiz and Alexander Povetkin. He's notched myriad upset victories, including a highlight-reel knockout over David Price and a 2016 split decision over Erkan Teper for the WBO European belt. In March 2019, he went the 10-round distance against Ortiz and has not been stopped since Fury forced him to retire on his stool after eight rounds in their February 2015 clash.
To comment on this story in the Fight Forum CLICK HERE
Avila Perspective, Chap. 115: Macho, Freddie and More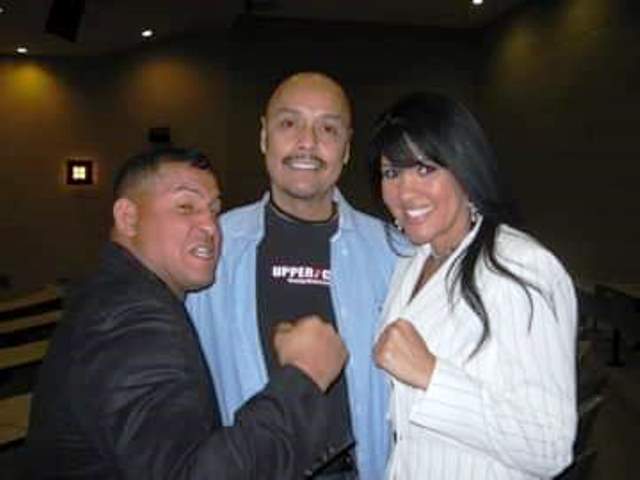 "Macho."
That single word is how Hector Camacho presented himself when introduced. It was the only word needed for the three-division world champion from Puerto Rico who was raised in Harlem, New York.
The first time I met Camacho was in a dark and packed Las Vegas nightclub in the MGM where he was a guest of Oscar De La Hoya back in March 2001. Though it was difficult to see, when Camacho was introduced, I could see the large gold medallion with the word "Macho" in letters six inches high.
Showtime network will be presenting a documentary called "Macho: The Hector Camacho Story" on Friday, December 4 at 9 p.m. on Showtime. It sparks memories of how a fighter in the lower weight classes grabbed the attention of the boxing world.
Camacho was more than flash or words, he was an electrifying boxer who stood out in the 1980s, an era dominated by the "Four Kings" Marvin Hagler, Tommy Hearns, Roberto Duran and Sugar Ray Leonard. Oh, and also a guy named Mike Tyson.
The fast-talking Camacho was a phenomenal fighter who swept aside opponents with his blinding speed and shocking power. It was against Los Angeles-based fighters like Refugio Rojas and Louie Loy that I first read about his exploits. Both were knocked out.
A third Southern California fighter John "Huero" Montes was thought to be the one to give Camacho a real challenge. The fight was televised to a national audience in February 1983. At the time I was watching it on a tiny black and white television and at 1:13 into the first round Camacho unleashed one of those lethal uppercuts and Montes was out-for-the-count.
Camacho arrived that day.
From that point on few could withstand the speedy southpaw's blinding charges. Six months later he stopped Mexico's "Bazooka" Limon to win the vacant super featherweight title.
One fighter who heard the final bell was Freddie Roach who could take a punch and knew a thing or two about fighting southpaws.
"I liked fighting southpaws," said Roach via telephone. "My dad taught me early to keep my foot on the outside and lead with right hands."
Roach had never lost to a southpaw. The winner that day between Camacho and Roach in Sacramento, on December 1985, was supposedly going to fight Puerto Rico's heavy-handed Edwin Rosario.
Using his surefire method of fighting southpaws, Roach managed a knockdown of Camacho with the help of his foot. But it was not enough.
"He was very difficult. Lot of people raved about how fast his speed was. You didn't really realize until you got into the ring with him," said Roach. "I wasn't the slowest, but wasn't the fastest. I just couldn't keep up."
Despite using roughhouse tactics against the lefty speedster, Roach said that Camacho invited him to dinner after the fight.
That pretty much explains Camacho, a talented and big-hearted guy.
Last Stages
The last time I ran into Camacho was at the Pechanga Resort and Casino when he and Mia St. John were about to fight on the same boxing card in 2009. He was much heavier but still able to defeat middleweights.
How good was Camacho?
He defeated two of the Four Kings when he beat Roberto Duran twice and stopped Sugar Ray Leonard by knockout when they fought in 1997. Yes, Leonard was 41 and had not fought in six years, but this was Sugar Ray Leonard.
"I didn't think he would ever beat Leonard," said Roach.
Neither did Leonard.
"I just felt that I was a bigger man. I was smarter, stronger, all those things, but the first time he threw a punch, it was like, Pow! And I said, 'Wow, that hurt,'" said Leonard about their encounter. "I tried the best I could to just go the distance. When he was at his best, he was a thing of beauty."
What I remember after Camacho beat Leonard was how sincerely apologetic he was after the victory. He could talk the talk and walk the walk but inside he remained the kid from Harlem who was given extraordinary talent. And he was humbled by it.
Roach remembers their dinner together after their fight.
"That night he took me out to dinner with his friends and said you fought a good fight," said Roach adding that Camacho was a very likeable guy. "I saw him along the way in his career."
Roach, who would later train another astoundingly fast southpaw named Manny Pacquiao, said he never fought anyone again as talented as Camacho.
"You hear rumors of drug problems and training problems. But when he fought me, he was in for 10 and I tried every trick in the book but it didn't work. He was in a higher class than I was," Roach said. "He was one of the best fighters in the world."
Don't miss this Showtime documentary next week.
Jacobs and Rosado
Speaking of Roach, the famous trainer will be working the corner of Gabe Rosado (25-12-1, 14 KOs) when he meets Daniel Jacobs (36-3, 30 KOs) on Friday, Nov. 27, at the Seminole Hard Rock Hotel and Casino in Florida. DAZN will stream the Matchroom Boxing card.
It's Philly versus Brooklyn.
Rosado has long proven to be a real professional who keeps adding elements to his fight game. Paired with Roach he has further developed under the guidance of the Southern California-based trainer. Plus, Rosado can plain fight.
Jacobs, a former world champion, has proven to be an elite middleweight and looks just as comfortable as a super middleweight.
Expect the kind of prize fight they used to show in the Golden Age of boxing in the 1950s when you had guys like Johnny Saxton fighting Denny Moyer. It should be that kind of battle of wits and skill. I'm looking forward to it.
Photo: Hector Camacho, David Avila, and Mia St. John. Photo credit: Al Applerose
Check out more boxing news on video at the Boxing Channel 
To comment on this story in the Fight Forum CLICK HERE
Muhammad Ali Biographer Jonathan Eig Talks About His Book and the Icon Who Inspired It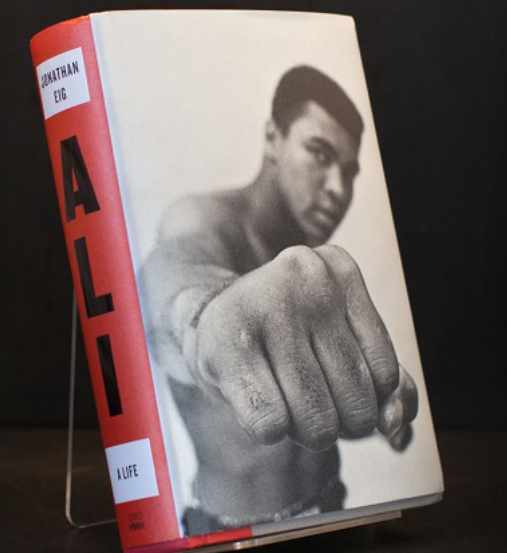 Given the breadth and depth of Muhammad Ali's 74 years, it isn't very easy to capture the complete essence of the man.
Dozens of books have been written about the three-time heavyweight champion including Jonathan Eig's 2017 biography, "Ali: A Life."
Born in Louisville, Kentucky on January 17, 1942 as Cassius Marcellus Clay, he would one day be known around the globe as a world-class boxer, civil rights advocate, philanthropist and cultural icon.
Like so many others, the Brooklyn, New York-born Eig became intrigued by Ali.
"I loved Ali as a child. He fascinated me. He was outspoken, radical, yet so very loveable," he said. "And, of course, he could fight! I was astonished to realize, around 2012, that there was no complete biography of Ali, even though he was probably the most famous man of the 20th century."
Eig, currently at work on a major offering about the life of Dr. Martin Luther King, Jr., added: "I had read lots of Ali books, including [David] Remnick's "King Of The World: Muhammad Ali And The Rise Of An American Hero," and [Thomas] Hauser's "Muhammad Ali: His Life And Times," and [Norman] Mailer's "The Fight" – but those were not complete biographies," he pointed out. "By 2012, enough time had gone by to put Ali in historical perspective. Also, there were plenty of people still alive to tell the story. I did more than 500 interviews, including all three of Ali's living wives. I wanted to write a book that would treat Ali as more than a boxer. I wanted to write a book that would show the good and the bad. I wanted to write a big book worthy of an epic life, a book that danced and jabbed half as beautifully as Ali."
Given Eig's exhaustive research, what previously unknown tidbits about Ali did he come across?
"I learned thousands of new things. I think even hardcore Ali fans will find new information on almost every page," said the former Wall Street Journal reporter and 1986 Northwestern University graduate. "I discovered things Ali himself didn't know. I discovered Ali's grandfather was a convicted murderer, for example. Ali didn't know that! I read Ali's FBI files, as well as those of Herbert Muhammad, Malcolm X and Elijah Muhammad. I interviewed Ali's childhood friends. I found MRIs of Ali's brain. I counted the punches from all of his fights. I measured how those punches affected his speaking rate. Ali's wives also confided in me things I never knew. I spent four years working on this book, and every day delivered revelations."
Over the years, Ali, who posted a 56-5 ring record with 37 knockouts, seemed to mellow with time which helped ingratiate him to an even wider audience. How was this possible?
"People change. They grow. It's hard to stay radical as you get older and richer," said Eig, who has written five books including three that deal with sports. "The late Stanley Crouch had a great line about Ali. He said young Ali was a grizzly bear. Ali in the '70s was a circus bear. Ali in his later years was a teddy bear. We all loved the teddy bear. We wanted to hug him and love him. But it was the grizzly bear who we should remember first. It was the grizzly bear who shook up the world."
Sports Illustrated writer Mark Kram covered nearly the entirety of Ali's career which spanned 1960 through 1981 and included a three-year period, 1967 until 1970 when he wasn't allowed to box after being convicted of draft evasion because he refused induction into the armed forces.
In Kram's book, "Ghosts Of Manila," the author asserts Ali was essentially a pawn of the Black Muslims.
What's Eig's take?
"I love Kram's book, but I think it's dangerous to question anyone's religious faith," he said. "Ali was a true believer. The Nation of Islam took advantage of him at times. But does that mean he was a pawn? I don't think so. He knew what he was doing. He made his own choices. One might argue that the NOI did more for Ali than Ali did for them."
Ali wasn't perfect and that included his fondness for women. As a Muslim, how did he hurdle this?
"He didn't reconcile it – except to acknowledge that humans are human, they are flawed," Eig said. "The thing I love about Ali is that he said he was the greatest, but he never said he was perfect. He talked to his wives about his weakness. He even talked to reporters about his flaws – his weakness for women, his disdain for training, his poor handling of money. He knew who he was and he never tried to be anything else."
Eig, who has also penned "Luckiest Man: The Life And Death Of Lou Gehrig," and "Opening Day: The Story Of Jackie Robinson's First Season," went on: "We're all complicated, right? Ali was no more complicated than you or me, but he let the whole world see his complications – his racial pride and his racist behavior toward [Joe] Frazier, his love of women and his cruelty to his wives, his generosity with his money and his stupidity with money," he said. "I don't think Ali was different, just more open, more willing to let us see everything."
Ali's battles with Frazier, George Foreman and Ken Norton are legendary, but his two fights against Sonny Liston are filled with question marks, such as were they fixed?
Ali claimed the title on February 25, 1964 in Miami Beach when Liston failed to answer the bell for the seventh round and then faced Liston 15 months later in Lewiston, Maine, where he knocked out the challenger in the opening frame.
In Eig's mind, were these two bouts on the level? "My hunch is that the first fight was legit. Liston quit when he knew he couldn't win," Eig said. "The second fight is more suspicious. Liston's flop was pathetic. Bad acting! But I don't think we'll ever know for sure. As an aside, Liston's wife said Sonny had diarrhea before the fight, which might have given him one more reason to throw it."
Still, Ali in his prime was a sight to behold. "Ali before the exile, in my opinion, was the most beautiful boxer of all time. His combination of speed and power and ferocity was thrilling, elegant, frightening and marvelous," Eig said. "Was he the greatest heavyweight of all time? Maybe, maybe not. Was he the most breathtaking? To me, yes."
Early in Ali's career his braggadocio was off-putting to many. But much of it was showmanship.
"One of the Greatest" doesn't sound as good, does it? If we're only discussing his action in the ring, Ali was one of the greatest," Eig said. "But that's like saying Louis Armstrong was one of the greatest trumpet players without considering his voice, his charm, his improvisational skills, his smile. In and out of the ring, Ali was the greatest in my book."
For so many, Ali was many things. What traits in the man does Eig admire? "I love his fearlessness, his honesty, his insatiable appetite for people," he said. "He was so very loving. But he could also be narcissistic. He wanted everyone to love him, but he wasn't always sensitive to the feelings of others – including his wives and children. He turned his back on friends like Malcolm X and Joe Frazier when it served his purposes."
While Ali could be polarizing, he had his legion of supporters including Howard Cosell, Jerry Izenberg, Robert Lipsyte, Larry Merchant and Jack Newfield.
"You could add Mailer, [George] Plimpton, and so many others to that list," Eig noted. "Those men were lucky enough to spend time with young Ali and to bask in the great warmth of his sun. He was great to reporters. He was the best story they ever covered. And unlike most celebrities, he really paid attention to them."
Eig continued: "I only met him once, six months before he died, and I envy those reporters who got to know him and got to see him at his best. I think those who knew and loved Ali became his disciples," he pointed out. "Ali's friend Gene Kilroy told me over and over that he thought Ali was like Jesus, that people would be studying his words and drawing inspiration from his life for centuries to come. That's the feeling he gave to those with whom he spent time."
Ali was a boxer, but so much more. How does Eig see him? "I think Ali will be remembered as one of America's great revolutionary heroes – one whose courage went far beyond sports. Like Jackie Robinson, like Martin Luther King, like the abolitionists and suffragettes, he loved America but refused to accept its shortfalls," he said. "He fought to make his country live up to the promises contained in the Declaration of Independence. He will also be remembered as an important world figure, one who united Africans, Americans and Asians, one who helped Americans better understand Islam and helped people of Islamic faith around the world better understand America."
In Ali's last quarter century, he was almost universally loved. This is a far cry from being labeled a draft dodger.
"Ali was always a spiritual man, but in his later years I believe he clarified and deepened his spirituality," Eig said. "He became more focused and more thoughtful."
When Eig turned in his manuscript, what was his immediate thought? "I wanted to take it back. I didn't want to be done," he said. "I had so much fun writing this book I wanted to work on it for the rest of my life. I knew I would never find anything more fun to work on."
Check out more boxing news on video at the Boxing Channel 
To comment on this story in the Fight Forum CLICK HERE