Remembering Dr. Ferdie Pacheco as he Remembered Muhammad Ali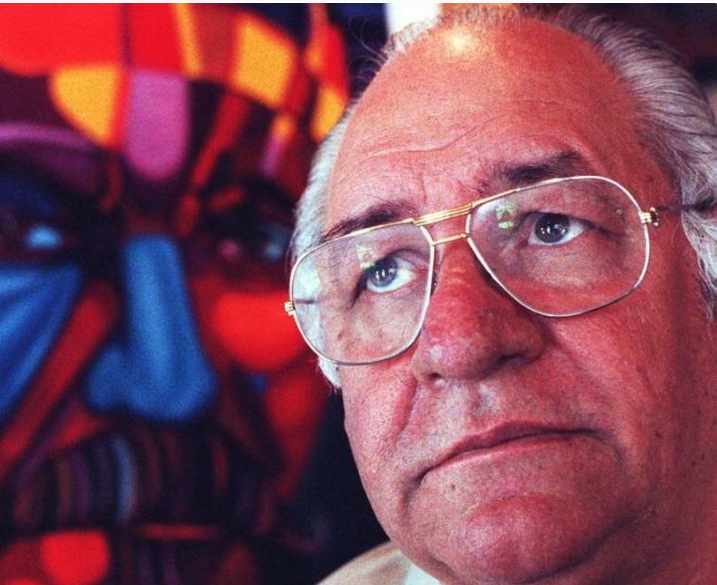 A TSS CLASSIC FROM THE THOMAS HAUSER ARCHIVE (2017) — Ferdie Pacheco, who died on November 16, was a doctor, author, artist, and television commentator. He's best known for having been Muhammad Ali's personal physician and cornerman from 1960 through 1977.
My own relationship with Pacheco began in 1989. I was researching the book that would eventually become Muhammad Ali: His Life and Times and had compiled a list of two hundred people I wanted to interview. Ferdie was among them.
During the course of my research, I encountered many people who had written or were contemplating writing about Ali. Some of them refused to talk with me about Ali, saying that we were competitors and they didn't want me to steal their thunder. Others were extraordinarily generous with their time and knowledge. Ferdie fit into the latter category. Even though he'd written one Ali book and was planning another, he sat with me for hours.
In the years that followed, Ferdie remained one of my "go-to" guys when I wrote about Ali. Rather than interpret what he told me, I'll let him speak for himself.
ON CASSIUS CLAY'S FORMATIVE YEARS IN MIAMI:
"Cassius was something in those days. He began training in Miami with Angelo Dundee. And Angelo put him in a den of iniquity called the Mary Elizabeth Hotel because Angelo is one of the most innocent men in the world and it was a cheap hotel. This place was full of pimps, thieves, and drug dealers. And here's Cassius, who comes from a good home, and all of a sudden he's involved with this circus of street people. At first, the hustlers thought he was just another guy to take to the cleaners, another guy to steal from, another guy to sell dope to, another guy to fix up with a girl. He had this incredible innocence about him, and usually that kind of person gets eaten alive in the ghetto. But then the hustlers all fell in love with him, like everybody does, and they started to feel protective of him. If someone tried to sell him a girl, the others would say, 'Leave him alone; he's not into that.' If a guy came around, saying, 'Have a drink,' it was, 'Shut up; he's in training.' But that's the story of Ali's life. He's always been like a little kid, climbing out onto tree limbs, sawing them off behind him, and coming out okay."
"When Ali was young, he was the best physical specimen I've ever seen. If God sat down to create the perfect body for a fighter, anatomically and physiologically, he'd have created Ali. Every test I did on him was a fine line of perfect. His blood pressure and pulse were like a snake. His speed and reflexes were unbelievable. His face was rounded, with no sharp edges to cut. And on top of that, his skin was tough. He could summon up enormous spurts of energy and recover quickly without the exhaustion that most fighters feel afterward. His peripheral vision was incredible. Up until the layoff, it was like a fraudulent representation to say I was Ali's doctor. I was his doctor in case something happened, but it never did. Being Ali's doctor meant I showed up at the gym once in a while and came to the fights."
ON CLAY-LISTON I:
"Things in the dressing room got pretty bizarre. The only people who were supposed to be there were Cassius, Angelo, Rahaman (Clay's brother), Bundini, myself, and Luis Sarria (Clay's masseur). A few more came and went, but basically we were alone. Then Cassius assigned Rahaman to watch his water bottle. The bottle was taped shut. No one went near it. But every time Rahaman took his eyes off it, Cassius would take the tape off, empty it out, refill it, and tape it closed again. He did that three or four times because he was worried that someone would try to drug him. And he was particularly suspicious of Angelo, because Angelo was Italian. In his mind, he'd begun to associate Angelo with the gangsters around Liston. Remember, the Muslims—and it was clear by then that Cassius was a Muslim—had never been in boxing before. All they had to go by were Hollywood movies where the mob fixed everything, and Liston was with the mob. It was crazy, but that's what Cassius thought."
"All those bullshit boxing stories people write; pretty soon, everyone starts believing them. Angelo cut the gloves in the first Cooper fight. Bullshit. Sit him down, and he'll tell you that the gloves were already split. He just helped them along a little. Angelo loosened the ropes for the Foreman fight in Zaire. Bullshit again. Angelo and Bobby Goodman tried to tighten the ropes right until the opening bell. Most of it's nonsense. But one thing that truly belongs in the legend category was what went on between the fourth and fifth rounds of the Liston fight. Cassius couldn't see. He was ready to quit. And it had nothing to do with lack of courage, because this was a kid who'd been fighting since he was twelve years old. He'd been poked and banged and busted and clobbered many times. He'd made his accommodation by then with the normal pains and blows of boxing. But this was something beyond what he'd experienced. I could see it. His eyes were aflame. And Angelo was spectacular. What he did between rounds was the best example I can give you of a cornerman seizing a situation and making it right. That moment belonged to Angelo. If Cassius had been with a corner of amateurs, there would never have been any Muhammad Ali."
"Just going out for the fifth round was an incredibly brave thing to do. Liston was considered as destructive as Mike Tyson before Tyson got beat. And Cassius was absolutely brilliant then. The things he did, staying out of range, reaching out with his left hand, touching Liston when he got close to break Sonny's concentration. It was an amazing, astonishing, breathtaking performance. Here's a fighter who's supposed to be Godzilla, who will reign for maybe a thousand years. Nobody can stand up to him in the ring. Cassius can't see, and still Liston couldn't do anything with him. What can I say? Beethoven wrote some of his greatest symphonies when he was deaf. Why couldn't Cassius Clay fight when he was blind?"
ON ALI'S RETURN FROM EXILE:
"In the early days, he fought as though he had a glass jaw and was afraid to get hit. He had the hyper reflexes of a frightened man. He was so fast that you had the feeling, 'This guy is scared to death; he can't be that fast normally.' Well, he wasn't scared. He was fast beyond belief and smart. Then he went into exile. And when he came back, he couldn't move like lightning anymore. Everyone wondered, 'What happens now when he gets hit?' That's when we learned something else about him. That sissy-looking, soft-looking, beautiful-looking child-man was one of the toughest guys who ever lived."
"The legs are the first thing to go in a fighter. And when Ali went into exile, he lost his legs. Before that, he'd been so fast, you couldn't catch him so he'd never taken punches. He'd been knocked down by Henry Cooper and Sonny Banks. But the truth is, he rarely got hit and he'd never taken a beating. Then, after the layoff, his legs weren't like they'd been before. And when he lost his legs, he lost his first line of defense. That was when he discovered something which was both very good and very bad. Very bad in that it led to the physical damage he suffered later in his career; very good in that it eventually got him back the championship. He discovered he could take a punch. Before the layoff, he wouldn't let anyone touch him in the gym. Workouts consisted of Ali running and saying, 'This guy can't hit me.' But afterward, when he couldn't run that way anymore, he found he could dog it. He could run for a round and rest for a round, and let himself get punched against the ropes while he thought he was toughening his body. I can't tell you how many times I told him and anyone else who'd listen, 'Hey, when you let guys pound on your kidneys, it's not doing the kidneys any good.' The kidneys aren't the best fighter in the world. They're just kidneys. After a while, they'll fall apart.' And of course, taking shots to the head didn't do much good either."
ON ALI-FRAZIER I:
"In round fifteen, Ali was tired. He was hurt, just trying to get through the last round. And Frazier hit him flush on the jaw with the hardest left hook he'd ever thrown. Ali went down, and it looked like he was out cold. I didn't think he could possibly get up. And not only did he get up; he was up almost as fast as he went down. It was incredible. Not only could he take a punch; that night, he was the most courageous fighter I've ever seen. He was going to get up if he was dead. If Frazier had killed him, he'd have gotten up."
"Some fighters can't handle defeat. They fly so high when they're on top that a loss brings them irrevocably crashing down. What was interesting to me after the loss to Frazier was we'd seen this undefeatable guy. Now how was he going to handle defeat? Was he going to be a cry-baby? Was he going to be crushed? Well, what we found out was, this guy takes defeat like he takes victory. All he said was, 'I'll beat him next time.'"
ON ALI-NORTON I:
"The jaw was broken in the second round. Ali could move the bone with his tongue and I felt the separation with my fingertips at the end of the second round. That's when winning took priority over proper medical care. It's sick. All of us – and I have to include myself in this – were consumed by the idea of winning that fight. When the bell rang, I was no longer a doctor; I was a second. My whole thing was to keep Ali fighting. As a doctor, I should have said, 'Stop the fight.' There's no disgrace in having a broken jaw. It goes down as a TKO; in six months you have a rematch and life goes on. But at that point in Ali's career, he couldn't afford a loss. And with Ali, there was always politics involved. We didn't fight in a sterile atmosphere. We didn't fight in a room closed off from the rest of the world. Everything had to do with Muslims and Vietnam and civil rights. If Ali lost, it was more than a fight. So you didn't just have a white guy say, 'Stop the fight.' Especially if Ali didn't want it stopped. And when we told Ali his jaw was probably broken, he said, 'I don't want it stopped.' He's an incredibly gritty son-of-a-bitch. The pain must have been awful. He couldn't fight his fight because he had to protect his jaw. And still, he fought the whole twelve rounds. God Almighty, was that guy tough. Sometimes people didn't realize it because of his soft generous ways. But underneath all that beauty, there was an ugly Teamsters Union trucker at work."
ON ZAIRE:
"What Ali did in the ring that night was truly inspired. The layoff had taken away his first set of gifts, so in Zaire he developed another. The man had the greatest chin in the history of the heavyweight division. He could think creatively and clearly with bombs flying around him. And he showed it all when it mattered most that night with the most amazing performance I've ever seen. Somehow, early in the fight, Ali figured out that the way to beat George Foreman was to let Foreman hit him. Now that's some game plan. Watching that fight, seeing Ali take punch after punch and knowing that, with his strength and courage, he wouldn't go down, a person could have been forgiven for thinking that sooner or later the referee would be forced to step in to save his life. But Ali took everything Foreman could offer. And at that most crucial moment in his career, instead of losing, which was what most people thought would happen, he knocked George out and embarked on another long wondrous championship ride."
ON ALI-FRAZIER III:
"You have to understand the premise behind that fight. The first fight was life and death, and Frazier won. Second fight; Ali figures him out, no problem, relatively easy victory for Ali. Then Ali beats Foreman and Frazier's sun sets. And I don't care what anyone says now; all of us thought that Joe Frazier was shot. We all thought that this was going to be an easy fight. Ali comes out, dances around, and knocks him out in eight or nine rounds. That's what we figured. And you know what happened in that fight. Ali took a beating like you'd never believe anyone could take. When he said afterward that it was the closest thing he'd ever known to death – let me tell you something; if dying is that hard, I'd hate to see it coming. But Frazier took the same beating. And in the fourteenth round, Ali just about took his head off. I was cringing. The heat was awesome. Both men were dehydrated. The place was like a time-bomb. I thought we were close to a fatality. It was a terrible moment. And then Joe Frazier's corner stopped it."
"It all progresses in a fighter's life. The legs go; his reflexes aren't what they used to be; he cuts more easily; the injuries accelerate. Ali at age twenty-three could have absorbed Frazier in Manila and shaken it off. But age thirty-three was another story. If I had to pick a spot to tell him, 'You've got all your marbles but don't go on anymore,' no question, it would have been after Manila. That's when it really started to fall apart. He began to take beatings, not just in fights but in the gym. Even sparring, he'd do the rope-a-dope because he couldn't avoid punches the way he did when he was young. And I don't care how good you are at rope-a-doping. If you block ninety-five punches out of a hundred, the other five are getting in."
ON ALI-SHAVERS:
"The Shavers fight was the final straw for me. After that fight, Dr. Nardiello, who was with the New York State Athletic Commission, gave me a laboratory report that showed Ali's kidneys were falling apart. Instead of filtering out blood and turning it to urine, pure blood was going through. That was bad news for the kidneys. And since everything in the body is interconnected, we were talking about the disintegration of Ali's health. So I went back to my office in Miami, sat down, and wrote Ali a letter saying his kidneys were falling apart. I attached a copy of Nardiello's report and mailed three extra copies, return receipt requested. One to Herbert, one to Angelo, and one to Veronica, who at the time was Ali's wife. I didn't get an answer from any of them; not one response. That's when I decided enough was enough. Whether or not they wanted me, I didn't want to be part of what was going on anymore. By then, they were talking about 'only easy fights.' But there was no such thing as an easy fight anymore."
ON ALI-HOLMES
"Just because a man can pass a physical examination doesn't mean he should be fighting in a prize ring. That shouldn't be a hard concept to grasp. Most trainers can tell you better than any neurologist in the world when a fighter is shot. You watch your fighter's career from the time he's a young man. You watch him develop into a champion. You watch him get great. Then all of a sudden, he doesn't have it anymore. Give him a neurological examination at that point and you'll find nothing wrong. Sugar Ray Robinson could pass every exam in the world at age forty-four, but he wasn't Sugar Ray Robinson anymore. It doesn't change, whether it's Ali, Joe Louis. Anybody in the gym can see it before the doctors can because the doctors, good doctors, are judging these fighters by the standards of ordinary people and the demands of ordinary jobs. And you can't do that because these are professional fighters.
AND IN SUMMARY:
"I look back at it all and consider myself a very lucky guy."
Thomas Hauser's email address is thomashauserwriter@gmail.com. His most recent book – A Dangerous Journey: Another Year Inside Boxing – was published by the University of Arkansas Press. In 2004, the Boxing Writers Association of America honored Hauser with the Nat Fleischer Award for career excellence in boxing journalism. He will be inducted into the International Boxing Hall of Fame with the Class of 2020.
Editor's Note: This article first appeared on these pages on Nov. 16, 2017, under the title "Dr. Ferdie Pacheco: December 8, 1927 – November 16, 2017." Reprinted with permission.
Check out more boxing news on video at The Boxing Channel 
To comment on this story in The Fight Forum CLICK HERE
Fast Results from London: Massive Heavyweight Joe Joyce Keeps on Rolling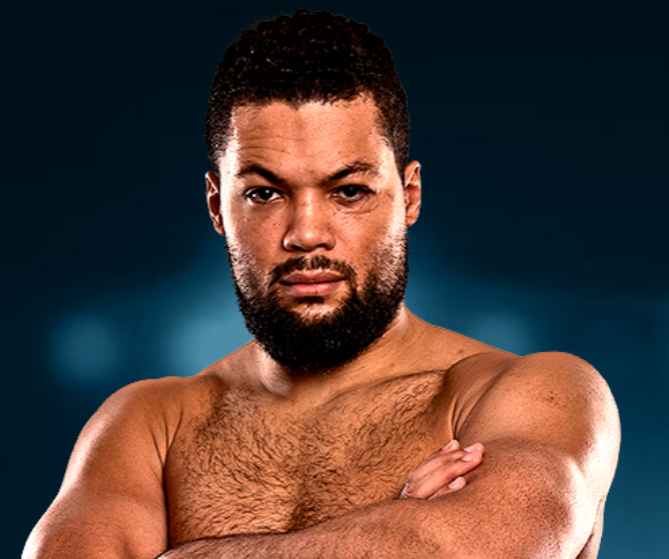 Ponderous but formidable Joe Joyce moved one step closer to a title fight tonight at the Wembley Arena with a sixth-round stoppage of Carlos Takam. Carrying 264 pounds on a six-foot-six frame, the 2014 Olympic silver medalist was simply too big for his 40-year-old French-Cameroonian adversary.
In his previous bout, Joyce methodically dismantled favored Daniel Dubois with a steady dose of his thudding right jab. Dubois quit in the 10th round with a busted eye socket. Tonight's fight followed a somewhat similar pattern.
Takam landed some good shots in the first two rounds as Joyce was slow to find his rhythm, but Joyce stuck to his game plan which was to wear him down and Takam's punches gradually lost steam in the face of Joyce's constant pressure.
Early in round six, Joyce rocked Takam with a big right hand and didn't let him off the hook. Takam protested when the referee indicated that he had seen enough and the stoppage did strike many as premature, but the handwriting was on the wall for the veteran who declined to 39-6-1. The official time was 0:49.
Joyce is of Scotch-Irish and Nigerian descent. College educated with a degree in fine arts, he acknowledges that he has no great passion for the sport of boxing and is in it for the financial rewards, not the glory. At age 35, he isn't going to get any better, but he appears to have a rock-solid chin and his nickname, Juggernaut, is quite fitting.
Joyce entered the bout ranked #2 by the WBO, a notch below Oleksandr Usyk who challenges title-holder Anthony Joshua on Sept. 25.
Other Bouts of Note
Ekow Essuman, a 32-year-old Nottingham man, born in Botswana, unseated British and Commonwealth welterweight champion Chris Jenkins, winning on an eighth-round stoppage. A hard right hook followed by a flurry of punches forced the referee to waive it off. The official time was 0:53.
Essuman, who was favored in the 3/1 range, improved to 15-0 with his sixth win inside the distance. A Welshman, Jenkins (22-4-3) was making the fourth defense of his domestic title.
London super welterweight Hamzah Sheeraz, who has been training at the Ten Goose Gym in Van Nuys, California, improved to 13-0 (9 KOs) with a fifth-round stoppage of Spain's Ezequiel Gurria (15-2). Gurria was down twice in the fifth round before the bout was halted at the 2:23 mark.
Check out more boxing news on video at the Boxing Channel
To comment on this story in the Fight Forum CLICK HERE
Steen, Bocachica, and Martino Jules Stay Unbeaten in Cornhuskerland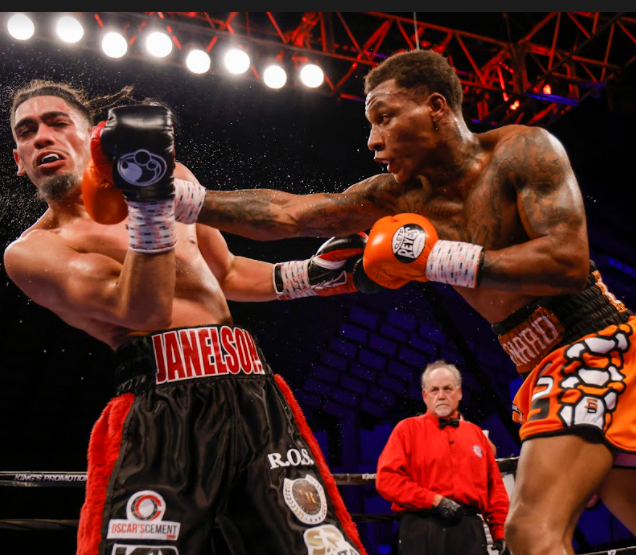 The long-running Showtime series ShoBox:The New Generation was at the Heartland Events Center in Grand Island, Nebraska last night. Super middleweight Isaiah Steen and welterweight Janelson Figueroa Bocachica, both of whom are managed by 2020 BWAA Manager of the Year David McWater, were featured in the main bouts.
Cleveland's Steen, the half-brother of 2016 U.S. Olympian Charles Conwell, improved to 16-0 (12) with a 10-round unanimous decision over previously undefeated Kalvin Henderson (14-1-1). Steen started slow and slowed down again in the final two rounds, but dominated the middle rounds and won by scores of 96-94 and 97-93 twice. Henderson, a part-time schoolteacher in Fayetteville, Arkansas who earned a degree in music from the University of Arkansas, was hampered by a pulled muscle in his right shoulder which he believes happened in the fourth round.
Steen hopes to land a spot on the big show coming up in Cleveland in five weeks. Charles Conwell is already booked. He will oppose Massachusetts veteran Mark DeLuca in a supporting bout to the freak fight between Jake Paul and Tyrone Woodley.
Janelson Figueroa Bocachica, a Detroit native of Puerto Rican ancestry, kept his undefeated record intact, but just barely. He was held to a draw by Shinard Bunch who appeared to have done enough to edge it.
Bunch, whose middle name is Showtime (no fooling) fights out of Trenton, New Jersey and is trained by Chino Reyes who guided Jason Sosa and Tevin Farmer to world titles. He entered the bout with a 15-1 (13) record but was moving up in class in his first scheduled 10-rounder. Only six of his wins had come against opponents with winning records.
Bocachica (17-0-1) performed below expectations for the second straight fight, having been hard-pressed to turn away Mark Reyes Jr. in his previous go. One of the judges scored it for him (96-94) but the others had it 97-93 Bunch and 95-95.
The TV opener was an 8-round featherweight contest between Martino Jules, a 24-year-old southpaw from Allentown, Pennsylvania, and Aram Avagyan, a 30-year-old Armenian who began his pro career in Russia and is currently domiciled in California.
Although neither were big punchers, the Armenian had the odds in his favor. A 2016 Olympian, he had fought the tougher schedule and was the bigger man, coming in two pounds over the featherweight limit (which reportedly cost him $2000). But his performance was sloppy – he was repeatedly warned for leading with his head – and the decision was a foregone conclusion when Jules was credited with scoring a knockdown late in the final round.
In his biggest win to date, Martino Jules improved to 11-0. It was the first pro loss for the 30-year-old Avagyan who declined to 10-1-2.
Photo credit: Esther Lin / SHOWTIME
Check out more boxing news on video at the Boxing Channel
To comment on this story in the Fight Forum CLICK HERE
Les Bonano, Mr. Boxing in New Orleans, Enters the NOLA Sports Hall of Fame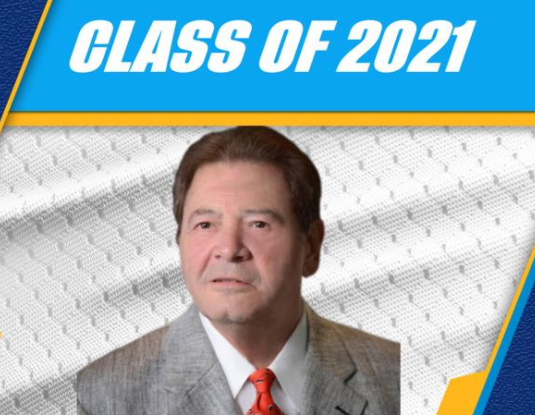 He is perhaps the final ruler of what remains of a fraying and depleted boxing kingdom in the formerly great fight town of New Orleans. For 50-plus years Les Bonano has fought the good fight, both when things were going well or not so much in a unique American city familiar with pronounced pendulum swings not necessarily linked to his favorite sport.
Now, at 78, the boxing lifer who accepted the baton in a relay race of sorts whose previous carriers included such similarly distinctive local legends as Whitey Esneault, Allen "Black Cat" Lacombe and "Leapin'" Louie Messina, all of whom have taken their earthly 10-count, gets the championship turn none of his fighters were quite able to present him when he is inducted Saturday night into the Greater New Orleans Sports Hall of Fame at the Hilton Riverside.
Bonano thus will become the 13th person affiliated with boxing to be enshrined in the GNOSHOF – hey, 13 is a number "Black Cat" Lacombe (who, like Messina, is not an inductee) would surely love, were he still around – but it might be a long time before No. 14, if there ever is one, gets the next call to the hall. All 12 of the previous pugilistic honorees are deceased, and those potential candidates who might have a case for being recognized have to date drawn scant support from a selection committee whose members are not seemingly disposed to acknowledge their places in the city's once-rich boxing history. Before it was the "Big Easy," New Orleans was known as "the city that care forgot."  In terms of boxing in the here and now, 21st century NOLA might be more aptly described as "the city that forgot to care."
But any woulda, coulda, shoulda arguments that have been waged or will continue to be on that front can't detract from Les Bonano's five-decade march to a level of recognition in his hometown that few boxing figures have attained. In boxing parlance, he will have gone the distance, arguably a longer trek and arguably a more improbable one than any of his predecessors.
"There is such a tremendous honor. I've won some awards, but this will be the greatest in my life," he said when informed that he had finally gained entry into the exclusive boxing wing of the GNOSHOF. "It means so much to me, it's hard for me to explain. I can't put it into words."
It is the fickle finger of fate that touches boxing's peripheral presences – promoters, trainers, cut men, etc. – to either bask in the glow of their involvement with elite fighters, or be shrouded in the shadows along with their charges who never quite make it all the way to the top of the mountain. Angelo Dundee is a global legend, an inductee into the International Boxing Hall of Fame, in no small part because he trained, among others, Muhammad Ali, Sugar Ray Leonard and Carmen Basilio. The same can be said of Emanuel Steward, Eddie Futch, Freddie Roach and any number of other chief seconds who were fortunate to bring their knowledge and expertise to the corners of fighters who were world-class talents and commanded the spotlight. Instantly identifiable promoters such as Don King, Bob Arum, Tex Rickard and others have plaques hanging in Canastota, N.Y., because they handled the big acts.
Bonano began his boxing journey, as so many do, as a jack of all trades. He is primarily known as a promoter of fight cards in New Orleans and its environs these days, but he also has served as a trainer, cut man and doer of all things that are necessary in a trade where general handiness can be rewarding.
"I've had the opportunity to work with a lot of good people in boxing," he recalled. "And I was a sponge. I wanted to know everything. I learned from everyone that I could. Vincent Arnona (also not a GNOSHOF inductee) was a great New Orleans trainer and a legendary cut man who taught me everything he knew. I think I had success because I incorporated methods from all the different people that I met and worked with."
Among Bonano's guides along the way were Lacombe, a boxing and thoroughbred racing handicapper whose N'Awlins accent was as thick as Bonano's, and Messina, a promoter who staged shows involving world-rated welterweights Percy Pugh and Jerry Pellegrini. Home-grown main-eventers, Pugh (black) and Pellegrini (white) regularly drew full houses before loud, enthusiastic audiences in Municipal Auditorium in the 1960s and early '70s. And when they squared off for the Southern 147-pound championship on March 3, 1968, the joint was filled to overflowing. The slick-boxing Pugh won a 15-round unanimous decision over the harder-hitting Pellegrini, a virtual replay of the 10-round UD Pugh scored in their first meeting on Sept. 21, 1967.
"So many people were there, or wanted to be there and couldn't get in," Bonano, who later employed Pugh as a trainer of some of his fighters, said of those standing-room-only turnouts promoted by Messina in the 5,000-seat arena. "It's something I'll never forget. The place was packed, man."
Neither Pugh nor Pellegrini ever got the chance to fight for a world title, however, which is a distinction several of the more prominent members of Bonano's promotional stable were able to accomplish. Light heavyweight Jerry Celestine, an ex-con who came out of the Orleans Parish Prison boxing program instituted by Bonano when Les served in the OPP sheriff's department, upset third-ranked Vonzell Johnson and later challenged WBA champ Michael Spinks, losing on an eighth-round stoppage. Melvin Paul floored Charlie "Choo Choo" Brown in the 15th round when they squared off for the vacant IBF lightweight title, but Brown beat the count and won a close and controversial (in Bonano's opinion) split decision. And John "Super D" Duplessis got a shot at WBC/IBF super lightweight kingpin Julio Cesar Chavez, but, predictably, he had no chance against an all-time great and was whacked out in four rounds.
It is Paul's narrow loss on points to Brown, a Philadelphian fighting in nearby Atlantic City, N.J., that has been most irksome to Bonano, who referred to the outcome as a "hometown" decision.
"Melvin thought he had the fight won," Bonano said. "He ran to the side of the ring and was calling out to his wife and celebrating on the ropes. The (pro-Brown) crowd was going crazy, but Brown somehow was standing up. I was screaming at Melvin to knock him out, but he couldn't hear me. Brown wobbled on his feet for about 30 seconds and was saved by the bell. Melvin was robbed."
Although denied his own world titlist, Bonano had ample opportunity to be involved with indisputably great fighters – Oscar De La Hoya, Roy Jones Jr., Roberto Duran and Larry Holmes, among others — when he worked in conjunction with bigger-name promoters Bob Arum and Lou DiBella to bring fights to Casino Magic in Bay St. Louis, Miss., within easy driving distance of New Orleans.
When Esneault, the legendary New Orleans trainer whose own list of fighters included world champions Willie Pastrano, Ralph Dupas and Freddie Little, as well as title challengers Bernard Docusen and Tony Licata, was inducted into the International Boxing Hall of Fame in 2016 (I served as his presenter), it reminded me of what New Orleans fight writer Waddell Summers wrote about "Mr. Whitey" when he passed away on Jan. 20, 1968, at the age of 76.
"When Whitey Esneault died, the Golden Age of boxing in New Orleans was laid to rest in St. Rich No. 2 cemetery," Summers predicted. But that gloomy pronouncement might not have been absolutely accurate, even if Esneault was a World War I veteran whose life experiences dated back to the 19th century. New Orleans was once one of boxing's hottest of hotbeds, the site of the Sept. 7, 1892, megafight, fought under the still-new Marquess of Queensberry Rules, in which "Gentleman" Jim Corbett dethroned John L. Sullivan, the "Boston Strongboy," on a 21st-round knockout. The city's deep roots in boxing date back further than that, to the 1870 pairing of Jem Mace and Tom Allen in what was considered the first legitimate heavyweight prizefight.
In later and more flush times, the Louisiana Superdome was the site of Muhammad Ali's reclaiming of the heavyweight championship (for a record third time) on a 15-round UD over Leon Spinks on Sept. 15, 1978, a Mardi Gras-level event witnessed by an announced crowd of 63,350, and Roberto Duran's "No Mas" surrender to Sugar Ray Leonard on Nov. 25, 1980, which drew a turnout of about 30,000. On a somewhat smaller scale, Roy Jones Jr. defended his WBA, WBC and The Ring light heavyweight belts on a 10th-round RTD over 30-1 underdog Eric Harding on Sept. 9, 2000, in the New Orleans Arena (now Smoothie King Center), now the home of the NBA's New Orleans Pelicans.
Bonano doesn't want to be New Orleans' last inclusion in the Greater New Orleans Sports Hall of Fame; he is a staunch proponent of Pugh getting the recognition he believes is long overdue, and he also figures the committee that approved him might want to take a look at Licata and Messina. But of perhaps greater importance is the need to rebuild upon traditions that are on the verge of going permanently fallow, unless a new face in an old place steps forward to accept the baton from Bonano.
Can New Orleans boxing be revived to a reasonable facsimile of what it once was?
"First of all, you gotta have somebody local that can develop into a world-class fighter, to draw attention to the game," Bonano said. "Once that happens, you'd see a lot of young guys get involved in boxing, a lot of spectators coming back to see fights. But there has to be a lead person to draw that attention."
And is there a possible successor to himself that might be ready to embark onto his own long journey toward the GNOSHOF?
"I got a good friend of mind named Toby Wattigney, who loves boxing," Bonano offered. "He's a trainer. I think that Toby will wind up taking over as a promoter. He's great and I really believe he will carry on the tradition I'm leaving behind."
Here's hoping Wattigney can fill the large footsteps of New Orleans' last (for now) link to what was. But, hey, miracles can and sometimes do happen. After all, the New Orleans Saints did win Super Bowl XLIV on Feb. 7, 2010.
In addition to Bonano, other inductees into the GNOSHOF (*for those now deceased, **for those also enshrined in the International Boxing Hall of Fame), listed alphabetically with the year in which they are enshrined, are:
*Referee Elmo Adolph (2000)
**Former lightweight champion Joe "Old Bones" Brown (1970)
*Fighter and promoter Marty Burke (1978)
**Three-division former world champion Tony Canzoneri (1984)
*Former welterweight contender Bernard Docusen (1976)
*Former WBA/WBC super welterweight champion Ralph Dupas (1978)
**Trainer Ernest "Whitey" Esneault (2016)
*Dr. Eddie Flynn, a gold medalist at the 1932 Los Angeles Olympics (1981)
*Harry Gamble, a multiple-sport athlete, including boxing, at Tulane University (1983)
**Former bantamweight champion Pete Herman (1971)
**Former unified light heavyweight champion Willie Pastrano (1973)
*Former world-rated featherweight Jimmy Perrin (1979)
Check out more boxing news on video at the Boxing Channel
To comment on this story in the Fight Forum CLICK HERE