Remembering Dr. Ferdie Pacheco as he Remembered Muhammad Ali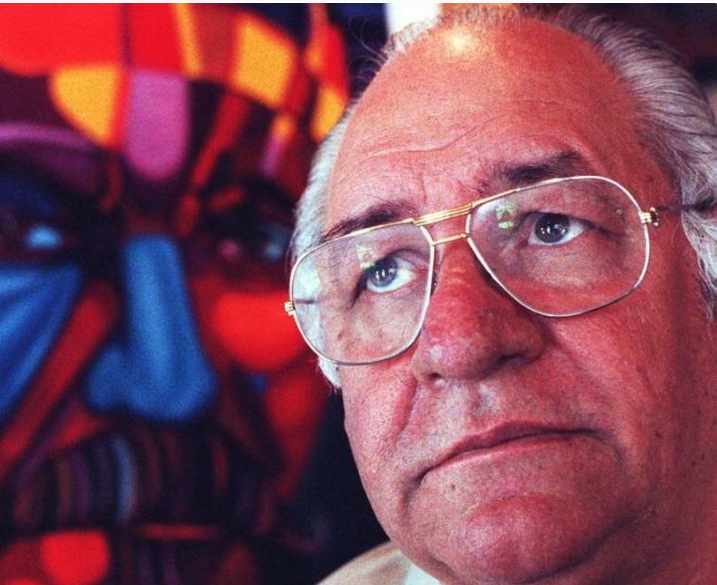 A TSS CLASSIC FROM THE THOMAS HAUSER ARCHIVE (2017) — Ferdie Pacheco, who died on November 16, was a doctor, author, artist, and television commentator. He's best known for having been Muhammad Ali's personal physician and cornerman from 1960 through 1977.
My own relationship with Pacheco began in 1989. I was researching the book that would eventually become Muhammad Ali: His Life and Times and had compiled a list of two hundred people I wanted to interview. Ferdie was among them.
During the course of my research, I encountered many people who had written or were contemplating writing about Ali. Some of them refused to talk with me about Ali, saying that we were competitors and they didn't want me to steal their thunder. Others were extraordinarily generous with their time and knowledge. Ferdie fit into the latter category. Even though he'd written one Ali book and was planning another, he sat with me for hours.
In the years that followed, Ferdie remained one of my "go-to" guys when I wrote about Ali. Rather than interpret what he told me, I'll let him speak for himself.
ON CASSIUS CLAY'S FORMATIVE YEARS IN MIAMI:
"Cassius was something in those days. He began training in Miami with Angelo Dundee. And Angelo put him in a den of iniquity called the Mary Elizabeth Hotel because Angelo is one of the most innocent men in the world and it was a cheap hotel. This place was full of pimps, thieves, and drug dealers. And here's Cassius, who comes from a good home, and all of a sudden he's involved with this circus of street people. At first, the hustlers thought he was just another guy to take to the cleaners, another guy to steal from, another guy to sell dope to, another guy to fix up with a girl. He had this incredible innocence about him, and usually that kind of person gets eaten alive in the ghetto. But then the hustlers all fell in love with him, like everybody does, and they started to feel protective of him. If someone tried to sell him a girl, the others would say, 'Leave him alone; he's not into that.' If a guy came around, saying, 'Have a drink,' it was, 'Shut up; he's in training.' But that's the story of Ali's life. He's always been like a little kid, climbing out onto tree limbs, sawing them off behind him, and coming out okay."
"When Ali was young, he was the best physical specimen I've ever seen. If God sat down to create the perfect body for a fighter, anatomically and physiologically, he'd have created Ali. Every test I did on him was a fine line of perfect. His blood pressure and pulse were like a snake. His speed and reflexes were unbelievable. His face was rounded, with no sharp edges to cut. And on top of that, his skin was tough. He could summon up enormous spurts of energy and recover quickly without the exhaustion that most fighters feel afterward. His peripheral vision was incredible. Up until the layoff, it was like a fraudulent representation to say I was Ali's doctor. I was his doctor in case something happened, but it never did. Being Ali's doctor meant I showed up at the gym once in a while and came to the fights."
ON CLAY-LISTON I:
"Things in the dressing room got pretty bizarre. The only people who were supposed to be there were Cassius, Angelo, Rahaman (Clay's brother), Bundini, myself, and Luis Sarria (Clay's masseur). A few more came and went, but basically we were alone. Then Cassius assigned Rahaman to watch his water bottle. The bottle was taped shut. No one went near it. But every time Rahaman took his eyes off it, Cassius would take the tape off, empty it out, refill it, and tape it closed again. He did that three or four times because he was worried that someone would try to drug him. And he was particularly suspicious of Angelo, because Angelo was Italian. In his mind, he'd begun to associate Angelo with the gangsters around Liston. Remember, the Muslims—and it was clear by then that Cassius was a Muslim—had never been in boxing before. All they had to go by were Hollywood movies where the mob fixed everything, and Liston was with the mob. It was crazy, but that's what Cassius thought."
"All those bullshit boxing stories people write; pretty soon, everyone starts believing them. Angelo cut the gloves in the first Cooper fight. Bullshit. Sit him down, and he'll tell you that the gloves were already split. He just helped them along a little. Angelo loosened the ropes for the Foreman fight in Zaire. Bullshit again. Angelo and Bobby Goodman tried to tighten the ropes right until the opening bell. Most of it's nonsense. But one thing that truly belongs in the legend category was what went on between the fourth and fifth rounds of the Liston fight. Cassius couldn't see. He was ready to quit. And it had nothing to do with lack of courage, because this was a kid who'd been fighting since he was twelve years old. He'd been poked and banged and busted and clobbered many times. He'd made his accommodation by then with the normal pains and blows of boxing. But this was something beyond what he'd experienced. I could see it. His eyes were aflame. And Angelo was spectacular. What he did between rounds was the best example I can give you of a cornerman seizing a situation and making it right. That moment belonged to Angelo. If Cassius had been with a corner of amateurs, there would never have been any Muhammad Ali."
"Just going out for the fifth round was an incredibly brave thing to do. Liston was considered as destructive as Mike Tyson before Tyson got beat. And Cassius was absolutely brilliant then. The things he did, staying out of range, reaching out with his left hand, touching Liston when he got close to break Sonny's concentration. It was an amazing, astonishing, breathtaking performance. Here's a fighter who's supposed to be Godzilla, who will reign for maybe a thousand years. Nobody can stand up to him in the ring. Cassius can't see, and still Liston couldn't do anything with him. What can I say? Beethoven wrote some of his greatest symphonies when he was deaf. Why couldn't Cassius Clay fight when he was blind?"
ON ALI'S RETURN FROM EXILE:
"In the early days, he fought as though he had a glass jaw and was afraid to get hit. He had the hyper reflexes of a frightened man. He was so fast that you had the feeling, 'This guy is scared to death; he can't be that fast normally.' Well, he wasn't scared. He was fast beyond belief and smart. Then he went into exile. And when he came back, he couldn't move like lightning anymore. Everyone wondered, 'What happens now when he gets hit?' That's when we learned something else about him. That sissy-looking, soft-looking, beautiful-looking child-man was one of the toughest guys who ever lived."
"The legs are the first thing to go in a fighter. And when Ali went into exile, he lost his legs. Before that, he'd been so fast, you couldn't catch him so he'd never taken punches. He'd been knocked down by Henry Cooper and Sonny Banks. But the truth is, he rarely got hit and he'd never taken a beating. Then, after the layoff, his legs weren't like they'd been before. And when he lost his legs, he lost his first line of defense. That was when he discovered something which was both very good and very bad. Very bad in that it led to the physical damage he suffered later in his career; very good in that it eventually got him back the championship. He discovered he could take a punch. Before the layoff, he wouldn't let anyone touch him in the gym. Workouts consisted of Ali running and saying, 'This guy can't hit me.' But afterward, when he couldn't run that way anymore, he found he could dog it. He could run for a round and rest for a round, and let himself get punched against the ropes while he thought he was toughening his body. I can't tell you how many times I told him and anyone else who'd listen, 'Hey, when you let guys pound on your kidneys, it's not doing the kidneys any good.' The kidneys aren't the best fighter in the world. They're just kidneys. After a while, they'll fall apart.' And of course, taking shots to the head didn't do much good either."
ON ALI-FRAZIER I:
"In round fifteen, Ali was tired. He was hurt, just trying to get through the last round. And Frazier hit him flush on the jaw with the hardest left hook he'd ever thrown. Ali went down, and it looked like he was out cold. I didn't think he could possibly get up. And not only did he get up; he was up almost as fast as he went down. It was incredible. Not only could he take a punch; that night, he was the most courageous fighter I've ever seen. He was going to get up if he was dead. If Frazier had killed him, he'd have gotten up."
"Some fighters can't handle defeat. They fly so high when they're on top that a loss brings them irrevocably crashing down. What was interesting to me after the loss to Frazier was we'd seen this undefeatable guy. Now how was he going to handle defeat? Was he going to be a cry-baby? Was he going to be crushed? Well, what we found out was, this guy takes defeat like he takes victory. All he said was, 'I'll beat him next time.'"
ON ALI-NORTON I:
"The jaw was broken in the second round. Ali could move the bone with his tongue and I felt the separation with my fingertips at the end of the second round. That's when winning took priority over proper medical care. It's sick. All of us – and I have to include myself in this – were consumed by the idea of winning that fight. When the bell rang, I was no longer a doctor; I was a second. My whole thing was to keep Ali fighting. As a doctor, I should have said, 'Stop the fight.' There's no disgrace in having a broken jaw. It goes down as a TKO; in six months you have a rematch and life goes on. But at that point in Ali's career, he couldn't afford a loss. And with Ali, there was always politics involved. We didn't fight in a sterile atmosphere. We didn't fight in a room closed off from the rest of the world. Everything had to do with Muslims and Vietnam and civil rights. If Ali lost, it was more than a fight. So you didn't just have a white guy say, 'Stop the fight.' Especially if Ali didn't want it stopped. And when we told Ali his jaw was probably broken, he said, 'I don't want it stopped.' He's an incredibly gritty son-of-a-bitch. The pain must have been awful. He couldn't fight his fight because he had to protect his jaw. And still, he fought the whole twelve rounds. God Almighty, was that guy tough. Sometimes people didn't realize it because of his soft generous ways. But underneath all that beauty, there was an ugly Teamsters Union trucker at work."
ON ZAIRE:
"What Ali did in the ring that night was truly inspired. The layoff had taken away his first set of gifts, so in Zaire he developed another. The man had the greatest chin in the history of the heavyweight division. He could think creatively and clearly with bombs flying around him. And he showed it all when it mattered most that night with the most amazing performance I've ever seen. Somehow, early in the fight, Ali figured out that the way to beat George Foreman was to let Foreman hit him. Now that's some game plan. Watching that fight, seeing Ali take punch after punch and knowing that, with his strength and courage, he wouldn't go down, a person could have been forgiven for thinking that sooner or later the referee would be forced to step in to save his life. But Ali took everything Foreman could offer. And at that most crucial moment in his career, instead of losing, which was what most people thought would happen, he knocked George out and embarked on another long wondrous championship ride."
ON ALI-FRAZIER III:
"You have to understand the premise behind that fight. The first fight was life and death, and Frazier won. Second fight; Ali figures him out, no problem, relatively easy victory for Ali. Then Ali beats Foreman and Frazier's sun sets. And I don't care what anyone says now; all of us thought that Joe Frazier was shot. We all thought that this was going to be an easy fight. Ali comes out, dances around, and knocks him out in eight or nine rounds. That's what we figured. And you know what happened in that fight. Ali took a beating like you'd never believe anyone could take. When he said afterward that it was the closest thing he'd ever known to death – let me tell you something; if dying is that hard, I'd hate to see it coming. But Frazier took the same beating. And in the fourteenth round, Ali just about took his head off. I was cringing. The heat was awesome. Both men were dehydrated. The place was like a time-bomb. I thought we were close to a fatality. It was a terrible moment. And then Joe Frazier's corner stopped it."
"It all progresses in a fighter's life. The legs go; his reflexes aren't what they used to be; he cuts more easily; the injuries accelerate. Ali at age twenty-three could have absorbed Frazier in Manila and shaken it off. But age thirty-three was another story. If I had to pick a spot to tell him, 'You've got all your marbles but don't go on anymore,' no question, it would have been after Manila. That's when it really started to fall apart. He began to take beatings, not just in fights but in the gym. Even sparring, he'd do the rope-a-dope because he couldn't avoid punches the way he did when he was young. And I don't care how good you are at rope-a-doping. If you block ninety-five punches out of a hundred, the other five are getting in."
ON ALI-SHAVERS:
"The Shavers fight was the final straw for me. After that fight, Dr. Nardiello, who was with the New York State Athletic Commission, gave me a laboratory report that showed Ali's kidneys were falling apart. Instead of filtering out blood and turning it to urine, pure blood was going through. That was bad news for the kidneys. And since everything in the body is interconnected, we were talking about the disintegration of Ali's health. So I went back to my office in Miami, sat down, and wrote Ali a letter saying his kidneys were falling apart. I attached a copy of Nardiello's report and mailed three extra copies, return receipt requested. One to Herbert, one to Angelo, and one to Veronica, who at the time was Ali's wife. I didn't get an answer from any of them; not one response. That's when I decided enough was enough. Whether or not they wanted me, I didn't want to be part of what was going on anymore. By then, they were talking about 'only easy fights.' But there was no such thing as an easy fight anymore."
ON ALI-HOLMES
"Just because a man can pass a physical examination doesn't mean he should be fighting in a prize ring. That shouldn't be a hard concept to grasp. Most trainers can tell you better than any neurologist in the world when a fighter is shot. You watch your fighter's career from the time he's a young man. You watch him develop into a champion. You watch him get great. Then all of a sudden, he doesn't have it anymore. Give him a neurological examination at that point and you'll find nothing wrong. Sugar Ray Robinson could pass every exam in the world at age forty-four, but he wasn't Sugar Ray Robinson anymore. It doesn't change, whether it's Ali, Joe Louis. Anybody in the gym can see it before the doctors can because the doctors, good doctors, are judging these fighters by the standards of ordinary people and the demands of ordinary jobs. And you can't do that because these are professional fighters.
AND IN SUMMARY:
"I look back at it all and consider myself a very lucky guy."
Thomas Hauser's email address is thomashauserwriter@gmail.com. His most recent book – A Dangerous Journey: Another Year Inside Boxing – was published by the University of Arkansas Press. In 2004, the Boxing Writers Association of America honored Hauser with the Nat Fleischer Award for career excellence in boxing journalism. He will be inducted into the International Boxing Hall of Fame with the Class of 2020.
Editor's Note: This article first appeared on these pages on Nov. 16, 2017, under the title "Dr. Ferdie Pacheco: December 8, 1927 – November 16, 2017." Reprinted with permission.
Check out more boxing news on video at The Boxing Channel 
To comment on this story in The Fight Forum CLICK HERE
Juan Francisco Estrada Holds Off 'Chocolatito' Again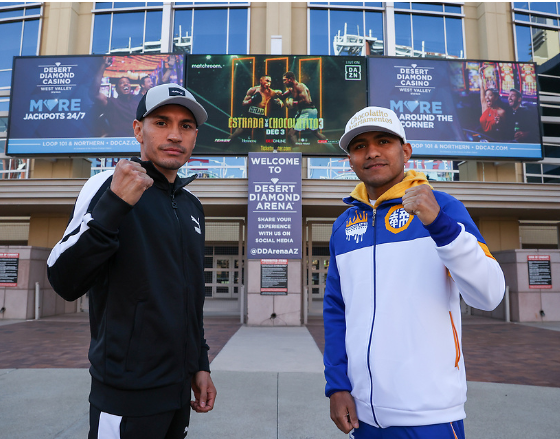 Once again Juan Francisco Estrada jumped out in front early and Roman "Chocolatito" Gonzalez needed time to crank up the engine, but fell too far behind as the Mexican fighter won the vacant WBC flyweight world title on Saturday.
Estrada wins the trilogy 10 years in the making.
Once again Estrada (44-3, 28 KOs) surged ahead early in the fight against Nicaragua's Gonzalez (51-4, 41 KOs) and then navigated toward another win, this time at the Gila River Arena in Glendale, Arizona on the Matchroom Boxing card.
"We had excellent preparation at high altitude and I think we left the fight clear on who won the fight this time," said Estrada about the third encounter.
Ten years ago, the trilogy began in Los Angeles as "Chocolatito" confronted an unknown fighter at the time in Estrada. The two surprised the crowd who expected Gonzalez to destroy yet another Mexican fighter. But it did not happen that night though Chocolatito proved too experienced and battered his way to victory in a light flyweight world title clash.
Then, in March 2021, Estrada finally fought Gonzalez in a rematch and the two engaged in a closely-fought super flyweight world title match. This time Estrada proved slightly better according to the judges and won by split decision in Dallas, Texas.
Few knew what to expect in a third encounter.
At first the coronavirus stalled plans for the trifecta so Chocolatito fought a replacement and dominated. Meanwhile Estrada fought another Mexican and did not look good.
On Saturday, a decade after their first encounter, Estrada looked fluid and accurate in dominating the first six rounds of the fight. Though he did not hurt Gonzalez, he was repeatedly scoring at will.
Gonzalez woke up around the seventh round.
Suddenly the Nicaraguan who was once considered the best fighter Pound for Pound showed up and fired rapid combinations. The spring in his legs suddenly appeared and the energy level was cranked up high after nearly being on idle.
Estrada suddenly found himself against the ropes forced to slip and slide away from Gonzalez's powerful combination punches. A real fight suddenly erupted during the final six rounds.
"All fights are different and all fights are difficult and this was the most difficult one," said Gonzalez, a four-division world champion.
Though neither fighter was ever visibly hurt, Gonzalez's pressure kept Estrada expending too much energy trying to evade the Nicaraguan's traps during the final six rounds.
"He always goes 100 miles an hour," said Estrada of his nemesis.
Estrada used uppercuts and slide steps to maneuver against Gonzalez's hard charges. It seemed to work and allowed the Mexican fighter more room and time to apply counter-measures.
In the final round, those maneuvers allowed Estrada to connect with a hard punch to the body that forced Chocolatito to cover up. It also allowed Estrada to unravel a combination that gave him the last round if needed. After 12 rounds one judge scored it 114-114, while two others saw it 116-112, 115-113 for Estrada who becomes the new WBC super flyweight world titlist.
"We did an excellent fight and I got the victory," said Estrada. "I've always said Chocolatito is a future Hall of Famer."
Gonzalez was gracious in defeat.
"What is important is we gave that good fight to the fans and we came out in good health," Gonzalez said.
There is even talk of a fourth fight.
"As long as they pay well, of course," said Gonzalez.
Other Fights
Julio Cesar Martinez (19-2, 14 KOs) retained the WBC flyweight world title by majority decision over Spain's Samuel Carmona (8-1) in a rather dull affair. Mexico's Martinez chased Carmon all 12 rounds in a fight that saw Carmona slap and run, then hold.
No knockdowns were scored and Martinez won 114-114, 117-111, 116-112.
Diego Pacheco (17-0, 14 KOs) ran over Mexico's Adrian Luna (24-9-2) with three knockdowns in winning by stoppage in the second round of the super middleweight fight. It was no surprise.
The 21-year-old from South Central L.A. once again showed that despite his youth his power seems to be continually increasing as evident in the knockout win.
Now training with Team David Benavidez, the young super middleweight looked sharp, especially with the lead overhand right that floored Luna in the second round. Luna was floored two more times and the fight was wisely stopped by his own corner.
"You put in the hard work then you come in here and shine," said Pacheco. "I joined team Benavidez this year."
Nicaragua's former world titlist Cristofer Rosales (35-6, 21 KOs) won a dog fight over Mexico's Joselito Velasquez (15-1-1, 10 KOs) by unanimous decision after 10 rounds in a flyweight clash.
It was a back-and-forth struggle that saw the taller Rosales take over in the second half of the fight and win by simply out-punching Velasquez and handing the Mexican his first loss as a professional by scores 97-93 three times.
Photo credit: Milena Pizano
To comment on this story in the Fight Forum CLICK HERE
Tyson Fury TKOs Derek Chisora in Round 10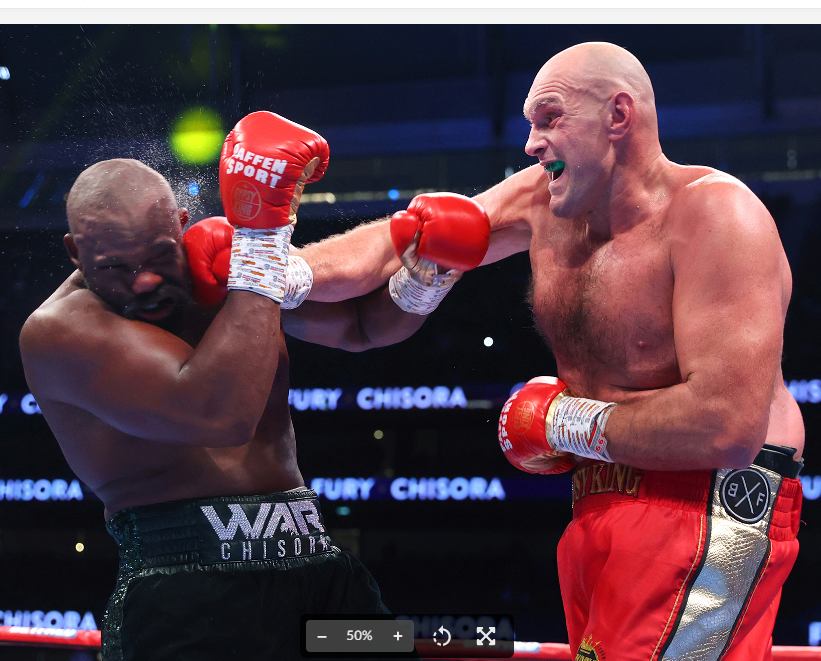 It was a chilly night in London but that didn't deter a near-capacity crowd from turning out at Tottenham Hotspur Stadium to witness the third rumble between Tyson Fury and Derek Chisora. The Gypsy King was heavily favored to retain his WBC and lineal heavyweight title and performed as expected. Indeed, this fight closely resembled their second encounter back in 2014.
In that bout, Chisora absorbed a terrific amount of punishment before his corner pulled him out at the conclusion of the 10th round. Tonight's fight ended nine seconds earlier at the 2:51 mark of round 10 and it was the referee who terminated the match.
When is a heavyweight not a heavyweight? When the man in the opposite corner is substantially bigger. With an 8-inch height advantage and a 15-inch reach advantage, the six-foot-nine Fury was simply too big a mountain to climb for the brave Derek Chisora, a fighter who changed his nickname in mid-career, transitioning from "Dell Boy" to "War."
Fury dominated round two, especially the last minute, a round in which he was credited with landing 18 power punches. The writing was on the wall for Chisora who ate a lot of thudding uppercuts in the ensuing rounds and ended the contest with a badly swollen right eye and a bloody mouth. With the victory, Fury improved his ledger to 32-0-1 with his 24th win inside the distance. The Zimbabwe-born Chisora falls to 33-13.
Oleksandr Usyk and Joe Joyce were in attendance and the Gypsy King addressed both before he left the ring. Calling Usyk "The Rabbit," he indicated that he would fight Usyk next in a true unification fight, but said if there were a snag in negotiations he wouldn't mind trading blows with the Juggernaut, Joe Joyce, who wore down and stopped former heavyweight title-holder Joseph Parker, a former Fury sparring partner, in his most recent engagement. However, Fury also revealed that he had an issue with his right elbow that may require surgery.
Co-Feature
In a heavyweight match that lasted only three rounds but was chock-full of action, Daniel Dubois overcame three knockdowns to retain his secondary WBA heavyweight title he won at the expense Trevor Bryan with a third-round stoppage of upset-minded Kevin Lerena.
In the opening stanza, Johannesburg's Lerena, landed an overhand left on the top of Dubois's head that put the Englishman on the canvas and left him all at sea. He went down twice more before the round was over, the first time of his own volition when he took a knee (reminiscent of his match with Joe Joyce) and the second from a glancing blow.
Dubois, whose legs are spindly for a man of his poundage, had trouble regaining his equilibrium in round two, but Lerena didn't press his advantage. In the next frame, a short right from Dubois penetrated Lerena's guard and down went the South African. Smelling blood, Dubois knocked him down again and was pummeling him against the ropes when the referee interceded just as it appeared that Lerena would be saved by the bell.
It was the fourth straight win for Dubois (19-1, 18 KOs) since his mishap versus Joyce. Lerena, who entered the bout on a 17-fight winning streak, lost for the second time in 30 fights.
Also
In a ho-hum affair, Denis Berinchyk, a 24-year-old Ukrainian, captured the European lightweight title and remained undefeated with a unanimous decision over French-Senagalese warhorse Ivan Mendy. Berinchyk (17-0, 9 KOs) was making his first appearance in London since winning a silver medal at the 2012 Olympics where he was a teammate of Oleksandr Usyk and Vasiliy Lomachenko.
The judges had it 117-112 and 116-112 twice for the Ukrainian. The 37-year-old Mendy, who has answered the bell for 380 rounds, falls to 47-6-1.
Photo credit: Mikey Williams / Top Rank via Getty Images
To comment on this story in the Fight Forum CLICK HERE
Light Nips Glanton in Florida; across the pond, Kelly UD 12 Williamson in Newcastle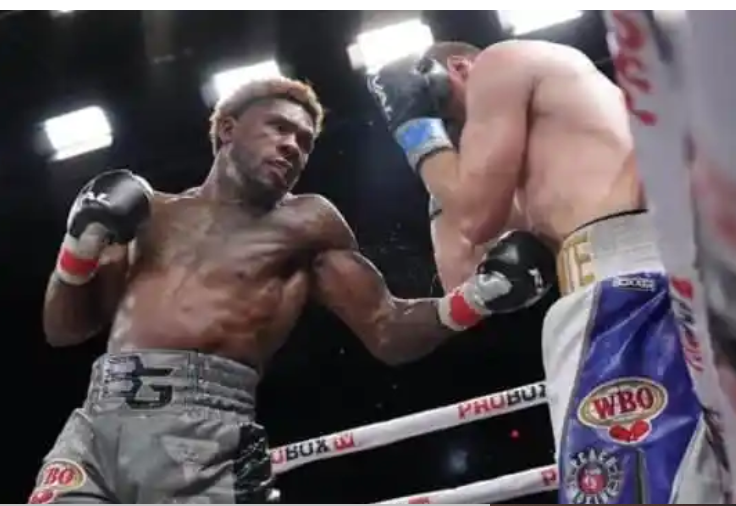 ProBox TV, a fledgling promotional group co-founded by former world champions Roy Jones Jr, Juan Manuel Marquez, and Paulie Malignaggi, has found a home for their bi-monthly shows at an events center in Plant City, Florida, near Tampa. The main event of last night's show (Friday, Dec. 2) was a well-matched 10-rounder between world ranked cruiserweights Brandon Glanton (pictured on the left) and David Light, both undefeated.
Light, a 31-year-old New Zealander who was 19-0 (12 KOs) heading in, had a strong amateur background that included a silver medal at the 2014 Commonwealth Games, but was virtually unknown outside the Antipodes, having fought almost exclusively on small shows in Auckland. Glanton, a 30-year-old Atlanta native who had trimmed down considerably since his days as a defensive lineman at HBCU Albany State, had caught the eye of hardcore fight fans with a thrilling split decision over previously unbeaten Efetobor Apochi on a TBS show in Minneapolis.
The oddsmakers made Glanton (17-0, 14 KOs heading in) a small favorite and after 10 hard rounds there were many who thought he deserved the nod. He turned the fight into a "phone booth" affair, pressing the action while working the body effectively, and scored the bout's lone knockdown, knocking Light off his pins (he wasn't badly hurt) in the final frame with what appeared to be a glancing blow. But two of the judges were more impressed by Light's counter-punching, scoring the bout 97-92 and 95-94 for the kiwi, overruling the dissenter who had it 95-94 for Blanton.
It was the sort of fight that cries out for a rematch, but David Light will undoubtedly go in a different direction. Both he and Glanton were pointing toward a match with WBO title-holder Lawrence Okolie.
Newcastle
Earlier on Friday, across the pond in Newcastle, England, former Olympian Josh Kelly got the signature win that had eluded him with a lopsided 12-round decision over defending British 154-pound title-holder and former amateur teammate Troy Williamson.
This was Kelly's third fight since David Avanesyan burst his bubble in a welterweight affair, stopping Kelly in the sixth stanza. The local fighter, who boosted his record to 13-1-1 (7) blamed his poor performance on his struggle to make weight.
The previously undefeated Williamson, 19-0-1 heading in, was making the second defense of the title he won in a barnburner with Ted Cheeseman. He went to post a small favorite, but was outclassed by Kelly who won by scores of 119-109, 119-111, and 118-110.
In the co-feature, Manchester's Lyndon Arthur (21-1, 15 KOs) stayed relevant in the light heavyweight division with a second-round stoppage of overmatched Joel McIntyre (20-5). In his lone defeat, Arthur was TKOed by revenge-minded Anthony Yarde.
To comment on this story in the Fight Forum CLICK HERE