Pete Hamill Was Much More Than a Boxing Writer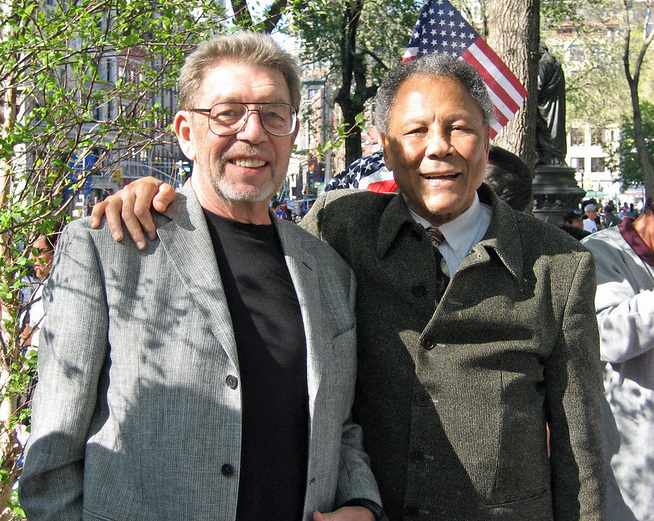 Pete Hamill was one of my heroes. It pains me to write that the legendary journalist died today, Aug. 5, at age 85.
Hamill grew up in the Park Slope section of Brooklyn, the oldest of seven children of an immigrant from Belfast who lost a leg to an injury suffered in a semi-pro soccer game. Like much of gentrified Brooklyn, Park Slope is a trendy neighborhood, but that certainly wasn't true during Hamill's boyhood when the air was ripe with the scent of the heavily polluted Gowanus Canal.
In one of his early non-fiction books, Hamill recollected the time during his adolescence when he called an acquaintance a kike while the Hamill family was gathered around the dinner table. This angered his father who reached over and slapped him. "Benny Leonard was a kike," snarled the elder Hamill, referencing the esteemed 1920s-era lightweight champion. Awkward language aside, the old man was teaching his son something about the importance of respecting people of all backgrounds – and indirectly something about the nobility of prizefighters.
Hamill would write that in his blue-collar Brooklyn neighborhood in the years after World War II, there were only two sports that mattered: baseball and boxing. The institutions in his community, he wrote, were the factory, the church, the police station, the saloon, and the boxing gym. "There were fights in old dance halls, in bankrupt skating rinks, in National Guard armories, all of them serving as farm clubs for the big arena: Madison Square Garden."
In his teens, Hamill took to hanging around boxing gyms. He befriended Jose Torres (pictured with Hamill in their later years) before Torres turned pro. Once he became established as a journalist, Hamill encouraged Jose's literary ambitions and Torres, who won the world light heavyweight title under the tutelage of Cus D'Amato, went on to become a writer of considerable repute, "Boxing's Renaissance Man."
In a 1996 piece for Esquire, Hamill wrote, "I came to believe that fighters themselves were among the best human beings I knew. They were mercifully free of the macho bull**** that stains so many professional athletes. They were gentle in a manly way." But by then Hamill had become disillusioned with boxing, viewing it as a remnant of a less advanced age. The tipping point was a dinner he attended where everybody tried to avoid looking directly at the guest of honor, Muhammad Ali, whose tremors were so bad that he was unable to lift a piece of chicken to his mouth. But Hamill continued to turn up at some of the big fights.
A high school dropout, Hamill briefly occupied the top editor's chair at New York's two major dailies, the Post and the Daily News. His published works include ten novels, more than a hundred magazine stories, two memoirs (one of which, "Downtown: My Manhattan," serves as an excellent travel guide for anyone visiting New York), and several teleplays including the boxing-themed "Flesh and Blood" which was adapted by CBS into a two-part, four-hour telecast with a young Denzell Washington in a supporting role.
I once had the privilege of having lunch with Pete Hamill. The invitation came from my friend Harvey Rothman, rest his soul. Harvey had been the entertainment director at Caesars Palace when the Miami mob ran the joint and was unceremoniously dumped and left to his own wiles when the mob was kicked out. Hamill was in town to research "The Neon Empire," a crime drama about Las Vegas commissioned by Showtime. The three of us had lunch at Caesars Palace and, if memory serves, Pete and I covered the tab as Harvey's comping privileges had been revoked.
At the time, I didn't know much about Hamill. My only recollection of him was seeing him on the David Susskind Show, a TV talk show in New York that dealt with current affairs. I don't remember much of what was said at our luncheon other than we reminisced about New Orleans where we had both hung our hat for a spell. He was disappointed to learn that Sidney's News Stand on Decatur Street was gone and the property had morphed into a seedy liquor store.
I would later learn that we had much in common other than the fact we were both born in Brooklyn (I grew up on Long Island so I wasn't an authentic Brooklynite). During our early teen years, we both discovered the world of books through the novels of James T. Farrell, the great Chicago writer (long out of vogue) whose masterwork was the "Studs Lonigan Trilogy."
Pete and I met up again when I hosted a late-night sports talk radio show in the Sportsbook of the old Stardust Hotel. My guest that night was the fabled boxing press agent Harold Conrad (purportedly the inspiration for the Humphrey Bogart character in the movie "The Harder They Fall"), who was then working for Don King. To my great surprise, Conrad arrived with Pete Hamill. Harold was then in his seventies and his memory was starting to fail him. Hamill could foresee that there would be some pregnant moments during the show if I didn't have someone else to bounce questions off.
When someone dies at a ripe old age, it's normal to say that he led a full life. But it's hard to imagine anyone leading a life as full as the life that Pete Hamill led.
He was there marching along and taking notes as Dr. Martin Luther King led a march from Memphis to Jackson. He was there in Belfast at the height of "the troubles." He was there when Bobby Kennedy was assassinated and helped subdue the attacker. He was on assignment in lower Manhattan when terrorists took down the World Trade Center and then spent the next 11 days documenting the recovery efforts. He dated Shirley MacLaine and Jackie Onassis. And, of course, he was ringside for the Fight of the Century, the first meeting between Muhammad Ali and Joe Frazier. Writing for Harper's Bazaar, he called it the most spectacular event in sports history and no one who was there that night would disagree.
Pete Hamill was Forrest Gump. At the moments that define the timeline of my generation, he was seemingly always there.
Pete Hamill is survived by his second wife, journalist Fukiko Aoki, two daughters and a grandson. His eldest daughter Deirdre, a travel photojournalist based in Arizona, worked for a brief time at the Las Vegas Sun where she honed her craft covering the club fights. Pete's brother Denis Hamill, younger than Pete by 17 years, is also a noted journalist.
Hamill, who was suffering from diabetes and using a walker, died in his bed at New York Presbyterian / Brooklyn Methodist hospital where he had gone after breaking his hip in a fall. The hospital is located in Park Slope. The well-traveled Pete Hamill had come full circle.
To comment on this story in The Fight Forum CLICK HERE
Yoka TKO 12 Djeko in France: Claressa Pitches a Shutout on Ladies Day in Flint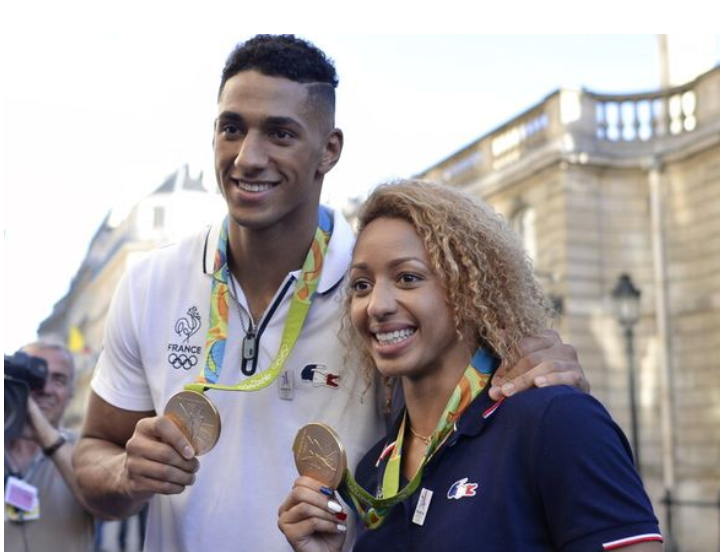 March 8 is International Women's Day which is actually a formal holiday in many parts of the globe. It was somehow fitting that female boxers were on display on the Friday feeding into it, a weekend without a must-see attraction on the men's side.
Today's activity began in the French port city of Nantes where 2016 Olympic gold medal winners Tony Yoka and Estelle Mossely, husband and wife, kept their undefeated records intact, both advancing to 10-0, against European opponents. Yoka (10-0, 8 KOs) was matched against Joel "Big Joe" Djeko (17-3-1), a 31-year-old Brussels native of Congolese and Cuban extraction who had fought most of his career as a cruiserweight. Mossely, a lightweight who now goes by Yoka-Mossely, drew Germany's Verena Kaiser (14-2).
At the Rio Olympiad, Yoka got by Filip Hrgovic in the semis and Joe Joyce in the finals to win the gold, winning both bouts by split decision. Both would be favored over the Frenchman in a rematch fought under professional rules.
Against the six-foot-six Djeko, Yoka controlled the fight with his jab, repeatedly backing his foe against the ropes. Very few of Djeko's punches got through Yoka's high guard. Had the fight gone to the scorecards, it would have been a rout for Yoka, but it didn't quite get there as Djeko turned his back on the proceedings midway through the 12th round after absorbing a sharp jab and it went into the books as a TKO for Yoka. At stake was some kind of European title or a derivation thereof.
Mossely's fight with Kaiser, slated for 10 two-minute rounds, followed a somewhat similar tack, save that it went the full distance. With only one knockout to her credit at the pro level, Mosseley, typical of female boxers, lacks a knockout punch. But she's a good technician and had too much class for the German.
Flint
A Covid-19 limited crowd of perhaps 300 was on hand to watch hometown heroine Claressa Shields oppose IBF 154-pound title-holder Marie Eve Dicaire at a 4,400-seat arena in Flint. There were five bouts on the undercard, three of which were women's bouts.
Shields, a two-time Olympic gold medalist, was seeking to become a four-belt title-holder in a second weight class, having previously turned the trick at 160. Dicaire, a 34-year-old southpaw, brought a 17-0 record but she had never won a fight inside the distance and all of her previous bouts took place in French-speaking Canada.
The self-proclaimed GWOAT, Shields has no peer between 154 and 168 pounds. Heading into this contest, she had hardly lost a round since meeting Hanna Gabriels and tonight was another total whitewash, her fourth overall in 10-round fights.
Claressa Shields, now 11-0 (2) may be too good for her own good. Her fights are so one-sided that they are monotonous. Her TV ratings have actually been falling. Today's show was a $29.99 pay-per-view on FITE when the established networks refused to meet her purse demands. It will be interesting to see how many tuned in.
In another fight of note, 2012 Olympic bronze medalist Marlen Esparza, in her first fight as a bantamweight, dominated Toronto's Shelly Barnett en route to winning a 6-round unanimous decision. There were no knockdowns, but the scorecards (60-54, 60-53 twice) were indicative of Esparza's dominance.
Esparza, who pushed her record to 9-1 (1), came in ranked #1 by the WBC in the flyweight class. Her lone defeat came at the hands of rugged Seniesa Estrada. Barnett declined to 4-4-3.
Check out more boxing news on video at the Boxing Channel
To comment on this story in the Fight Forum CLICK HERE
Brandon Adams Bursts Bohachuk's Bubble in Puerto Rico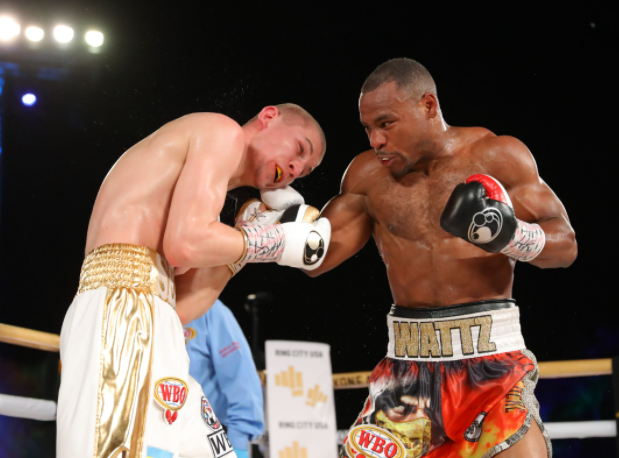 Brandon Adams Bursts Bohachuk's Bubble in Puerto Rico
Ring City USA, a new promotional entity, debuted on Nov. 19, 2020 with a show staged in the parking lot of Freddie Roach's Wild Card Boxing Club in Hollywood, CA. Ring City stayed outdoors for their first offering of 2021, but the company was a long ways from California. Tonight's card was staged on a roundabout near a municipal gym in Guaynabo, Puerto Rico.
The headline attraction was an attractive match between junior middleweights Serhii Bohachuk and Brandon Adams. The bout was originally set for Dec. 3, but had to be pushed back when Bohachuk tested positive for the coronavirus.
Bohachuk, a 25-year-old California-based Ukrainian, had stopped all 18 of his previous opponents. He had never gone past six rounds. Brandon Adams, a former world title challenger, represented a step up in class.
Bohachuk was well on his way to winning a unanimous decision when the tide turned dramatically in round eight. Fighting on a slick canvas, Adams suddenly found a new gear, unloading a series of punches climaxed by a thunderous left hook as Bohachuk retreated. The Ukrainian beat the count, but was teetering on unsteady legs and the referee properly called a halt.
Adams was without his regular trainer, 80-year-old Dub Huntley, who remained back in LA as a health precaution. In winning, he elevated his records to 23-3 (15). It was his best performance since defeating Shane Mosley Jr in the finals of Season 5 of the "Contender" series.
—
In the co-feature, an 8-round featherweight contest, Puerto Rico's Bryan Chevalier improved to 15-1-1 (12) with a third-round stoppage of Peru's Carlos Zambrano (26-2). Chevalier scored two knockdowns, the first a sweeping left hook that appeared to land behind Zambrano's head, and the second a punch to the liver that left Zambrano in severe distress. The referee waived the fight off in mid-count.
The official time was 2:21. Chevalier, a tall featherweight (5'11") made a very impressive showing; he bears watching. This was Zambrano's first fight since April of 2017 when he was knocked out in the opening round by Claudio Marrero in a bout for the WBA interim featherweight title.
—
The TV opener was an entertaining fight between contrasting styles that produced a weird conclusion when Danielito Zorrilla was awarded a technical decision over Ruslan Madiyev. The bout was stopped at the 1:16 mark of round eight after Zorrilla sank to his knees after absorbing a punch to the back of the head. The ringside physician examined him for evidence of a concussion, but ultimately it was Zorrilla's choice as to whether the bout would continue. He declined and was reportedly taken to a hospital for observation.
Madiyev, a California-based Kazahk, was the aggressor. He fought the fight in Zorilla's grill, often bullying him against the ropes. In round five, he had a point deducted for hitting behind the head, squandering what was arguably his best round.
The fight went to the scorecards with Zorrilla winning a split decision (77-74, 77-75, 73-76), thereby remaining undefeated: 15-0 (12). Ironically, Madiyev (13-2, 5 KOs), suffered his previous loss in a similar fashion.
Madiyev's new trainer Joel Diaz reportedly discouraged his charge from taking this fight for fear that he wouldn't get a fair shake in Puerto Rico. Diaz's apprehensions were well-founded.
Photo credit: Tom Hogan / Ring City USA
To comment on this story in the Fight Forum CLICK HERE
Ed Odeven's New Book Pays Homage to Sports Journalist Jerry Izenberg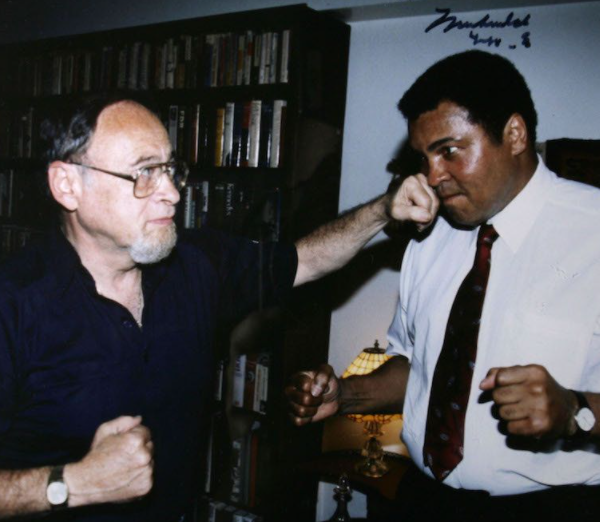 It's one thing to get to the top, but it's something else entirely to remain there for more than half a century. Jerry Izenberg, longtime sports columnist for the Newark Star-Ledger, now semi-retired and living in Henderson, Nevada, has done just that.
Izenberg is the subject of Ed Odeven's book, "Going 15 Rounds With Jerry Izenberg," which was released New Year's Eve and is available at amazon.com.
"By all accounts, he should be recognized as one of the greatest American sports columnists," said Odeven, a 1999 graduate of Arizona State University who has lived in Japan since July 2006 and is the sports editor for the website Japan Forward. "A versatile professional, he was equally skilled at writing books and magazine articles and producing sports documentaries and crafting essays for the groundbreaking 'Sports Extra' television program on Channel 5 in New York in the 1970s."
Odeven went on: "Jerry has seen everything and been seemingly everywhere. He brought gravitas to the newspaper sports section with decades of sustained excellence."
During a seven-decade career in sports journalism, the 90-year-old Izenberg, found time to write 15 non-fiction books and one novel. His affinity for the manly sport is reflected in his 2017 book, "Once There Were Giants: The Golden Age Of Heavyweight Boxing."
"From the 1950s to the present day [including recent years' coverage of Tyson Fury and Manny Pacquiao, for instance, Izenberg has shined in his boxing coverage," Odeven said. "You can't ignore his remembrance pieces on fighters and boxing personalities across the decades [such as a terrific column on the late Leon Spinks in which he weaved a tapestry of the fighter's life and his family's struggles into a powerful piece], either."
One of Izenberg's favorite topics is Muhammad Ali.
"Izenberg first observed the great fighter's infectious personality, popularity and boxing talent on display at the 1960 Rome Olympics," Odeven said. "Cassius Clay was unlike any other famous pugilist in those days and for the rest of his life."
Odeven spoke about the support Ali received from Izenberg: "When very few were publicly taking a stand to support Ali, Izenberg wrote columns that defended his right to fight. He took the boxing establishment to task for stripping Ali of his titles even while Ali's case was making its way through the courts – and ultimately the United States Supreme Court."
Izenberg, a graduate of Rutgers University who covered the first 53 Super Bowls, and Ali were close. "As friends, they were around each other in all corners of the earth," Odeven said. "They shared highs and lows during periods of personal and professional success and disappointment."
Here's Jerry Izenberg talking about Ali's humanity: "I was a single father and when my children came to live with me, they were very nervous. I took them to Deer Lake [Pennsylvania] for a television show I was filming as an advance to the Foreman-Ali fight. After the filming, knowing my situation, (Ali) took my son aside and put his arm around him and said, "Robert, you have come to live with a great man. Listen to him and you will grow to be a great man just like him.
"On the way up my daughter, who was seven, had said, 'I hope Foreman beats him up because he brags too much and you always told me to not brag.' "I told her, 'you are seven and you have nothing to brag about. Both of these men are my friends. When you get there, keep your mouth shut.' When we were packing up the equipment, he saw her in the back of the room and hollered, 'come up here little girl. You with the braids.' She was convinced I had ratted her out about what she said and tried her best to melt into the wall because she was frightened. As she walked toward him, she lost the power of speech and mumbled. He was 6-3 and she was 4-5. He grabbed her and held her over his head. 'Is that man your daddy?' All she could do was nod. 'Don't you lie to me little girl, look at him,' and he pointed at me. 'That man is ugly…ugly. You are beautiful, now gimme a kiss.' On the way home she said, 'I hope Muhammad can win,' and I said, 'you are just like the rest of them. The only difference is your age.' He was one of my five best friends. When he died, I cried."
Odeven offered his slant on why Izenberg was at home at major boxing events: "It was clear that Jerry was in a comfort zone on the week of a big fight, writing the stories that set the stage for the mano a mano encounter and the follow-up commentary that defined what happened and what it meant."
Izenberg, noted Odeven, had worked under the legendary Stanley Woodward, as had Red Smith and Roger Kahn, among others, the latter most well-known for having penned the baseball classic, "The Boys Of Summer." Many insist that Woodward, who read the classics, was the greatest sports editor.
Woodward, Odenven believes, helped shape Izenberg's world outlook. "Izenberg became keenly aware of this human drama at its rawest form that existed in boxing," he said, noting that in decades past the public was captivated by the big fights. "Examples, of course, include the first and third Ali-Frazier bouts and The Rumble In The Jungle [against Foreman]. Let's not forget they were cultural touchstones."
Referencing the third installment of Ali-Frazier in Manila, Izenberg said, "I've probably seen thousands of fights, but I never saw one when both fighters were exhausted and just wouldn't quit…My scorecard had Ali ahead by one which meant if Joe knocked him down in the 15th, he would have won on my card. But there was no 15th because Joe's trainer, Eddie Futch, ordered the gloves cut off after the 14th.
"At the finish, Ali collapsed. Later as Ali walked slowly up the aisle supported by his seconds, he leaned over toward the New York Times' Dave Anderson and me and said through puffy lips, 'Fellas. That's the closest you will ever see to death.'"
Izenberg remembered his lead: "Muhammad Ali and Joe Frazier did not fight for the WBC heavyweight title last night," he wrote. "They did not fight for the heavyweight championship of the planet. They could have fought in a telephone booth on a melting ice flow. They were fighting for the championship of each other and for me that still isn't settled."
What makes Izenberg relevant even today? "His canvas was the global sports landscape and he explored the human condition in each of his columns in some way," Odeven stated. "He recognized what made a good story and sought out individuals and topics that fit that description – and he still does.
"You could read a random stack of columns about any number of topics from the 1960s or '90s and be enlightened and entertained at the same time…He has always had a razor- sharp eye for details that illuminate a column and a source's words to give it added verve." Moreover, added Odeven, Izenberg had a never-wavering commitment to championing a just cause: "Speaking out against racism and religious bigotry, he gave a voice to the voiceless or those often ignored."
Note: Jerry Izenberg was inducted into the International Boxing Hall of Fame in the Observer category in 2015.
To comment on this story in the Fight Forum CLICK HERE