Avila Perspective, Chap. 109: Lopez vs. Loma and More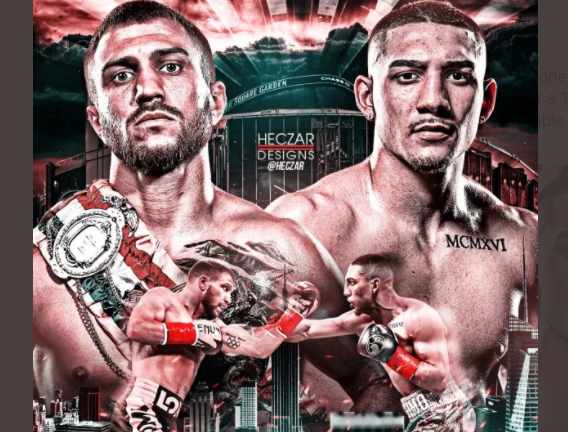 Avila Perspective, Chap. 109: Lopez vs. Loma and More
Its LatinX versus "High Tech," it's Brooklyn versus Oxnard and its' a clash between brash and cool.
So, who is going to win?
Twenty-three year old Teofimo Lopez (15-0, 12 KOs) and 32-year-old Vasyl Lomachenko (14-1, 10 KOs) meet for the WBA, IBF and WBO lightweight titles on Saturday Oct. 17, at the MGM Grand Bubble in Las Vegas. ESPN will televise.
Fans will not be allowed.
Since 2013, Lomachenko, the amateur superstar turned professional star, has needed a signature win that will elevate him to a box office attraction. It's the one accomplishment remaining for the southpaw Ukrainian with dazzling footwork.
Few have ever dominated the amateur international boxing scene like Lomachenko but that's not always a good thing. Fox example, when he fought Mexico's Orlando Salido and his unorthodox approach to prizefighting it was quickly apparent there was a problem adapting.
After that slip, Lomachenko began sparring everyone with different styles and soon was comfortable against any style in the pro boxing ring. With his own superior footwork, speed, power and athleticism he was able to defeat several world champions along the way. He also learned how to please American audiences with a more attack-style and less fancy out-pointing.
"I have never been out of the ring for one full year like this. Ever. I don't know how it will be," said Lomachenko.
Is it too late?
Lopez has yet to face the upper tier but displays extraordinary athleticism that rivals Lomachenko. The Brooklyn-based fighter has athleticism similar to Robert "The Ghost" Guerrero or Floyd Mayweather, two extraordinary athletes who could have succeeded in other sports aside from boxing.
"Get your popcorn ready and just enjoy the show. It's 'The Takeover," said Lopez.
So far Lopez has beaten solid fighters and highly-ranked opposition but nothing to compare to Lomachenko. But when Lopez fights and you see his athleticism it's apparent that he has the upper hand.
At the moment both Lopez and Lomachenko are at the same apex where the winner moves into superstardom and the loser loses status depending on the outcome. A knockout win by either fighter would be shocking. Both have shown solid chins but have never really opposed a top-tier big hitter.
"A true champion can adapt to everything. It goes for both of us. He fought in arenas sold out. I fought in arenas sold out. My job and my thing are having all of these belts wrapped around me," Lopez said.
It all depends on their chin. Who can take the other's blow?
"For me, I think it will be a chess match," said Lomachenko.
Checkmate.
ESPN coverage begins at 7:30 p.m. Pacific Time.
Saturday Afternoon
A super lightweight match features Lewis Ritson (20-1, 12 KOs) against former lightweight world titlist Miguel Vazquez (42-9, 16 KOs) in the main event on Saturday Oct. 17, in England. DAZN will stream the event live around 11 a.m. Pacific Time.
Ritson has only fought in the United Kingdom and faces the clever moving Vazquez otherwise known as "El Titere," the Puppet, for the way he moves. It's a good measuring stick for Ritson. Mexico's Vazquez is long past his prime but knows how to fight.
The companion main event was supposed to showcase Savannah Marshall against Hannah Rankin for the vacant WBO middleweight world title but Marshall's trainer showed positive for the Covid-19 virus. That female world title fight was scrapped.
Future Fight Cards
After months of trying to out-wait the coronavirus epidemic, promoters have been forced to go forward with their best. The line of elite fighters waiting to get their turn has stacked up and now all will be stepping into the prize ring mostly minus fans. Here are the big fights coming up:
Friday October 23, in Mexico City – Roman "Chocolatito" Gonzalez defends his WBA super flyweight title against Israel Gonzalez. Juan Francisco Estrada defends his WBC super flyweight title against Carlos Cuadras; and Julio Cesar Martinez defends WBC flyweight title against Max Flores. DAZN will stream the fight card.
Saturday October 24, in Uncasville, Conn. – Sergey Lipinets fights Custio Clayton for the interim IBF welterweight title. Showtime will televise.
Saturday October 24, in Las Vegas, Nevada – Carlos Castro fights Christopher Diaz for a regional title. ESPN will televise.
Friday October 30, in Indio, California – Jaime Munguia fights Tureano Johnson in a middleweight fight; Alexis Rocha fights Rashidi Ellis in a welterweight match; and Marlen Esparza battles Sulem Urbina in a flyweight clash. DAZN will stream the card.
Saturday October 31, in Cancun, Mexico – Mariana Juarez defends WBC bantamweight world title against former IBF bantamweight titlist Yuliana Luna Avila. Televisa will televise.
Saturday October 31, in Russia – Daniela Bermudez fights Tatyana Zrazhevskaya in a super bantamweight fight. Bermudez is one of the top female fighters pound-for-pound.
Saturday October 31, in Las Vegas Nevada – Naoya Inoue defends WBA and IBF bantamweight world titles against Jason Moloney. Also, Mikaela Mayer fights Ewa Brodnicka for the WBO super featherweight world title. ESPN will televise.
Saturday October 31, in San Antonio, Texas – Gervonta Davis defends WBA lightweight title against Leo Santa Cruz who defends his WBA super featherweight world title. Also, Mario Barrios defends his WBA super lightweight title against Ryan Karl. And, Regis Prograis fights Juan Heraldez in a super lightweight match. The boxing card can be seen on Showtime pay-per-view.
Saturday November 7, in Florida – Devin Haney defends the WBC lightweight title against former champion Yuri Gamboa. DAZN will stream the card.
Check out more boxing news on video at the Boxing Channel 
To comment on this story in the Fight Forum CLICK HERE
A Fistful of Murder: The Fights and Crimes of Carlos Monzon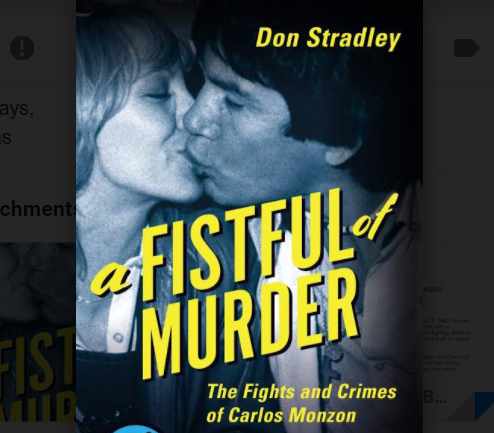 Book Review by Thomas Hauser — Carlos Monzon was born into extreme poverty in Argentina on August 7, 1942. He was mean, violent, surly, brutal, arrogant, occasionally charming, handsome with a smoldering sensuality, and remorseless. His life was marked by street fighting, drunken behavior, domestic violence, and more than forty arrests. In the midst of it all, he found boxing.
Monzon's story is told by Don Stradley in A Fistful of Murder: The Fights and Crimes of Carlos Monzon. It's the latest in a series of short books from Hamilcar Publications published under the imprint Hamilcar Noir that deal with boxers whose lives were marked and often terminated by violent crime. Told in 128 pages, the story moves at a brisk pace.
Monzon had one hundred professional fights in a career that began in 1962. He reigned as middleweight champion from 1970 until his retirement in 1977 and was honored as the 1972 "Fighter of the Year" by the Boxing Writers Association of America. All told, he compiled an 87-3-9 (59 KOs) record with 1 no contest. The three losses came during the first two years of his career when he was a novice.
Monzon was a big, strong, tough fighter with a good chin and a basic skill set: stand tall, throw a sharp jab, and follow with a hard right behind it. Mark Kram described him as "a perfectly shaped middleweight, tall with long arms and with style running through every sinew up to his dramatic Belmondo face."
By contrast, British boxing commentator Reg Gutteridge described Monzon as having "little ring grace" and added "he clubs as if wearing a Roman cestus on his fist."
Those who question Monzon's greatness point to the fact that the best of the fighters he beat were past their prime (e.g. Nino Benvenuti) or past their prime and naturally smaller men (e.g. Emile Griffith and Jose Napoles). Monzon was also held to a draw by Benny Briscoe before besting Briscoe on a close decision in a rematch. And he only narrowly defeated Rodrigo Valdez in the last two fights of his ring career.
But as Stradley writes, "A strange thing happened to Monzon in retirement. He became a better fighter. The boxer who had often been dismissed as a classless thug was now revered as an all-time great. During the next decade when lists were made of the top middleweights or of great championship reigns, Monzon's name would always be near the top."
How good was Monzon?
Hall of Fame matchmaker Bruce Trampler says that he would have been competitive with any middleweight in any era. More significantly, in 2007, I had a conversation with Bernard Hopkins in which I asked Bernard to speculate as to how he would have fared in the ring against Sugar Ray Robinson, Marvin Hagler, and Monzon. Hopkins' answer is instructive:
"Sugar Ray Robinson at 147 pounds was close to perfect," Bernard said. "But at middleweight, he was beatable. I would have fought Ray Robinson in close and not given him room to do his thing. He'd make me pay a physical price. But at middleweight, I think I'd wear him down and win. Me and Marvin Hagler would have been a war. We'd both be in the hospital afterward with straws in our mouth. We'd destroy each other. My game-plan would be, rough him up, box, rough him up, box. You wouldn't use judges for that fight. You'd go by the doctors' reports. Carlos Monzon? I could lose that fight. Monzon was tall, rangy, did everything right. I see myself losing that fight more than winning it."
Stradley's recounting of Monzon's ring career is largely pro forma. The more compelling portions of the book lie in the portrait he paints of Monzon's personal life.
Monzon had virtually no formal education and was close to illiterate. At age 19, he married 15-year-old Mercedes Beatriz Garcia. The newly-wed couple lived with her family in a two-room shack where they slept on a mattress on the floor.
"In many ways," Stradley writes, "Monzon was the typical wife abuser. He was obsessed with control; he had an evil temper; he drank too much." In 1973, Mercedes shot her husband in the arm and shoulder after a quarrel between them.
Monzon's pattern of physically abusing women, assaulting people in public, reckless driving, and other anti-social acts was a constant in his life before, during, and after his championship reign. But as his fame grew, so did his following.
"Monzon," Stradley notes, "didn't look like other fighters of the day. He was photographed to look like a stylish Latin pop star, usually in a long leather coat, with plenty of gold jewelry. Argentina's El Grafico [a popular magazine] treated Monzon like a model, featuring him in regular photo spreads."
In 1974, while married to Mercedes, Monzon met Susana Gimenez (a popular actress and talk show host). Soon, they were involved in a torrid affair that lasted for four years. At one point, Mercedes complained to her husband about Susana and he punched her in the face, breaking the superciliary arch above her eye. Monzon was arrested and avoided a prison term by pleading temporary insanity. A divorce followed.
Susana's film credits included adult-oriented comedies. In Stradley's words, "Monzon had abandoned the mother of his children for a slutty clown. It didn't help that her sartorial sense ran towards pink denim."
Even so, Stradley recounts, "Monzon and Susana were now the most photographed twosome in Argentina. Journalist Alfredo Serra estimated they appeared on more than three hundred magazine covers, describing the pair as combining 'the strength, beauty, fame and glamour of the world in a single couple.'"
During his championship reign, Monzon parleyed his fame as a fighter into several film roles. Then he retired; his relationship with Susana ended; and he met Alicia Muniz Calatayud.
Alicia had worked as a model and belly dancer in addition to once managing a hair salon. She and Monzon married in Miami because his divorce from Mercedes wasn't recognized under Argentine law. They lived together from May 1979 through August 1986 and again during a brief reconciliation in 1987. On several occasions, Alicia filed complaints with the police alleging that Monzon had beaten her.
By 1988, Stradley writes, "Monzon was still famous but no longer important. Most of the time he was drunk."
On February 14, 1988, during a weekend they were spending together, Monzon murdered his estranged wife.
"Here's what probably happened," Stradley posits. "When Alicia came for the weekend, she reminded him that he was late with his monthly payments [for child support]. They returned from their night out, a night where they'd been unfriendly to each other and a witness had seen Monzon hitting Alicia. At some point before 6 a.m., she said something that made the dynamite in his head go off."
Monzon told conflicting stories after Alicia's death, all of which centered on the claim that she'd accidentally fallen over a balcony railing during an argument between them. Then an autopsy report revealed that Alicia had been strangled to death.
"Medical examiners," Stradley recounts, "estimated thirty-five pounds of pressure or more had been applied to Alicia's throat. Strangling only requires eleven pounds. They estimated it had been done with a two-fingered grip, probably thumb and forefinger in a kind of one-handed death clamp. It takes only twenty seconds or so to strangle someone into unconsciousness. The damage to Alicia's throat would take much longer. It wasn't done by accident or in the heat of the moment. It took a few minutes of full-on rage. Alicia had been strangled long after she had passed out. It's also rare that a strangling victim has visible marks on the neck or throat. The imprints on Alicia were clear and deep, as if someone had tried to squeeze her head off at the neck. He dumped her body over the balcony to make it look like she'd fallen."
Monzon was charged with murder. The trial was broadcast live on radio throughout Argentina. Monzon testified that he and Alicia had argued about money and admitted that he had slapped her. "I have hit women on other occasions and nothing happened to any of them," he told the court. "I hit all of my women except one. My mother."
A three-judge panel found Monzon guilty of murder. He was sentenced to eleven years in prison with the possibility of time off for good behavior.
By 1993, Monzon was allowed to spend daytime hours and weekends outside of prison. On Sunday, January 8, 1995, after attending a barbeque, he was behind the wheel of a car, probably drunk and definitely speeding.
"By the rules of his furlough agreement," Stradley writes, "he had to be back at the Las Flores prison by 8 p.m. He didn't want to risk being late. He only had a short time left to serve on his sentence and didn't want any infractions on his record. So he drove fast. He'd always been a terrible driver. Being in prison hadn't made him any better at it."
While speeding back to the prison, Monzon lost control of the vehicle which turned over multiple times, killing him instantly. Two other passengers also died in the accident. He was 52 years old.
After Monzon's death, his body lay in state at City Hall in his hometown of Santa Fe. An estimated ten thousand people filed past it. Twenty thousand more lined the route to the Municipal Cemetery while six thousand mourners waited at the cemetery entrance.
Argentine president Carlos Menem told the nation. "Remember Carlos Monzon as a champion, not as a man jailed for murder." But Argentinian journalist and political commentator Bernardo Neustadt took a contrary view, declaring, "We are a macho society that idolizes a man who beats or violates a woman; a macho society that taught Monzon to dress up, to speak a bit better, but didn't teach him to think; a macho society that wasn't horrified when Monzon said he beat all his women."
Thomas Hauser's email address is thomashauserwriter@gmail.com. His next book – Staredown: Another Year Inside Boxing – will be published by the University of Arkansas Press this autumn. In 2004, the Boxing Writers Association of America honored Hauser with the Nat Fleischer Award for career excellence in boxing journalism. He will be inducted into the International Boxing Hall of Fame with the Class of 2020.
Check out more boxing news on video at the Boxing Channel 
To comment on this story in the Fight Forum CLICK HERE
Lipinets and Clayton Battle to a Draw at the Mohegan Sun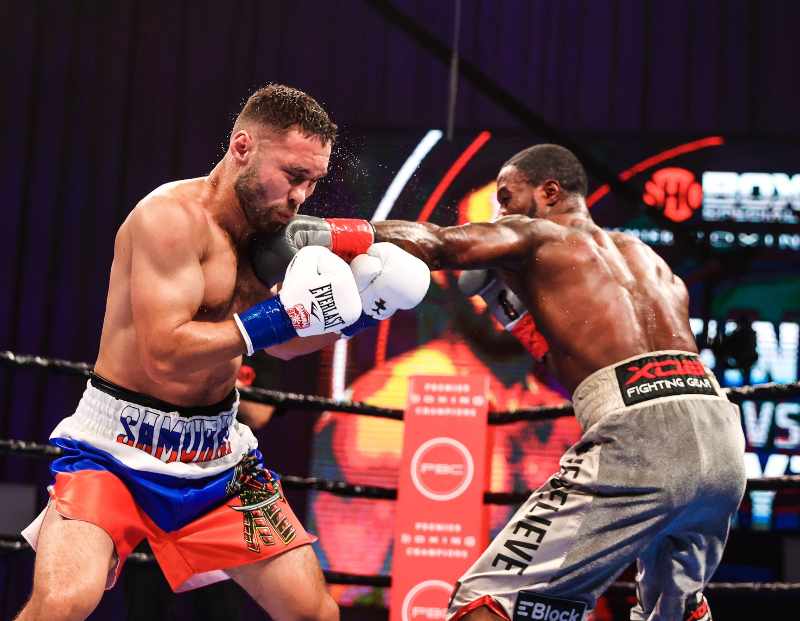 Tonight's PBC show at Connecticut's Mohegan Sun Casino, billed as a "Showtime Special Edition," was to feature Sergey Lipinets against Kudratillo Abdukakhorov in the main event. That match-up would have pit fighters born in neighboring countries in Central Asia, the first major fight of its kind on American soil, but Uzbekistan's Abdukakhorov had visa problems and a Canadian filled the breach.
Custio Clayton, whose 18-0 record was suspect because he had done all his fighting in Eastern Canada, proved to be more than just a worthy opponent. The 33-year-old ex-Olympian from Dartmouth, Nova Scotia held Lipinets (now 16-1-1) to a draw and the general feeling was that he had done just enough to edge it out. Don Trella scored the 12-round welterweight bout for him (115-113), but Trella's counterparts Glen Feldman and Tom Schreck both had it even at 114 apiece.
Conspicuously bigger than Lipinets – to the eyes if not on the scale – Clayton did his best work in the late rounds. Lipinets, briefly the IBF world 140-pound title-holder (he lost the belt to Mikey Garcia; no shame there) is something of a one-dimensional fighter and as the rounds wore on he connected with fewer punches on the more multi-dimensional Canadian.
In theory, the winner would have been in line for a match with Errol Spence.
Martinez-Marrero
Prior to tonight, Sacramento junior lightweight Xavier Martinez had never fought beyond the eighth round and tonight it appeared that he wouldn't see the ninth. He was on the deck twice in round eight and nearly didn't make it to the bell. But he lasted the full 12 to win a well-earned unanimous decision over Claudio Marrero
Marrero, a 31-year-old southpaw from Santo Domingo, DR, was well behind on the scorecards when he caught Martinez with a big right hook shortly after the start of the eighth round. He pressed his advantage and knocked him down again with a flurry of punches. But Martinez recuperated and prevailed on scores of 115-111, 114-112, and 114-112 to keep his undefeated record intact, advancing to 16-0.
This was quite a departure from Martinez's previous bout when he knocked out his opponent in 21 seconds. Marrero (24-5) lost for the fourth time in his last five outings. The match was billed as a WBA 130-pound title eliminator.
Matias-Hawkins
The TV opener was a 10-round junior lightweight contest between Malik Hawkins and Subriel Matias. Hawkins, a former National Golden Gloves champion from the same Baltimore gym that produced Gervonta Davis, came in undefeated (18-0). Puerto Rico's Matias, who opened his career with 15 straight knockouts, was looking to rebound from his first defeat, having lost a 10-round decision to Petros Ananyan on the Wilder-Fury II undercard.
Matias's bout with Ananyan was his first start since his match will ill-fated Maxim Dadashev. The Dadashev tragedy may have preyed on his mind, but according to his promoter Juan Orengo, he was lax in his training for Ananyan. Whatever the case, Matias rebounded from that defeat tonight, saddling Hawkins with his first pro loss.
Matias forged ahead in the sixth, knocking Hawkins to his knees and then pursuing him around the ring to apply the finisher. Hawkins survived the onslaught but had no argument when he was pulled out by the ring physician before the next frame.
Photo credit: Amanda Westcott / SHOWTIME
Check out more boxing news on video at the Boxing Channel 
To comment on this story in the Fight Forum CLICK HERE
Juan Francisco Estrada KOs Carlos Cuadras; Chocolatito Wins Too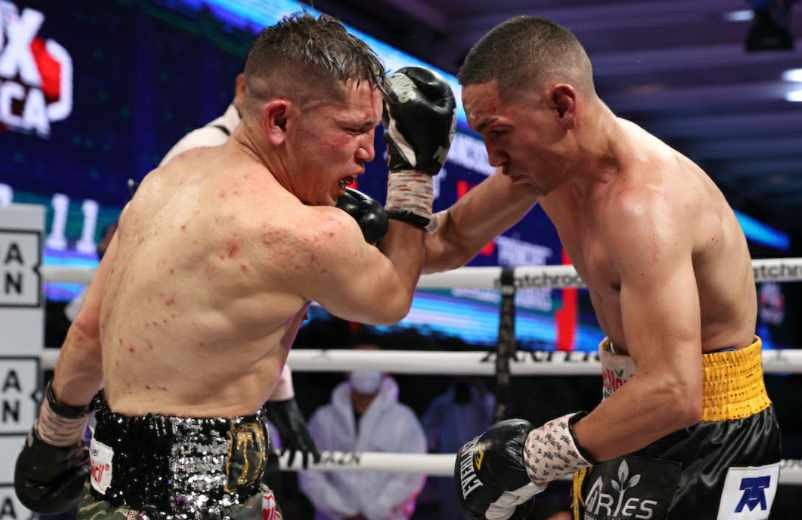 WBC super flyweight world titlist Juan Francisco Estrada led a triumvirate of world title fights with a sizzling knockout victory over Mexican rival Carlos Cuadras to retain the world title and set up a future clash with former foe Roman "Chocolatito" Gonzalez who won his bout in the co-feature.
In front of a small Mexico City crowd Estrada (41-3, 28 KOs) proved he could defeat Cuadras (39-4-1, 27 KOs) again and did it emphatically to retain his title by knockout. There was no squabbling about scorecards in this clash like their first encounter in 2017 that ended with Estrada by decision.
It did not begin well for Estrada who endured Cuadras imposing his strength and speed behind a very strong left jab in the first three rounds. And then a sneaky right uppercut followed by a left hook sent Estrada down for the count in the third round.
But that only proved to be a spark for the fighter known as "El Gallo."
Estrada realized he was falling behind, especially after the knockdown. Instead of counter-punching, the boxer from Sonora, Mexico began moving forward and became an aggressor. The dynamics of the fight changed suddenly.
Cuadras was hurt by a body shot in the sixth round and spent most of his time looking to avoid more contact. Estrada was in full control.
Despite the change in momentum no round was easy for either Mexican pugilist. Both exchanged freely always looking to end the fight with a big blow. Though each were hurt at times, neither showed signs of relenting.
From the eighth through the 10th round Cuadras seemed to find a second wind, or maybe it was desperation. The Mexico City native known as "Principe" fought possessed and managed to swing the momentum back toward his way for maybe two of those rounds.
In the 11th round both exchanged blows and Estrada connected with a left and right and down went Cuadras. The former world champion got up and was then floored with a counter right cross. He got up again a little shaky and Estrada attacked with a four-punch combination that forced referee Lupe Garcia to stop the fight for a technical knockout at 2:22 of the round.
Estrada retained the WBC super flyweight world title and will now meet Chocolatito.
Chocolatito
Nicaragua's Roman "Chocolatito" Gonzalez (50-2, 41 KOs) proved that an opponent like Mexico's Israel Gonzalez (25-3) can be faster, taller, longer and younger but the Nicaraguan will find a way to beat you. He did that with a convincing unanimous decision win after 12 rounds to retain the WBA super flyweight world title.
Chocolatito will now probably meet Juan Francisco Estrada for a long-expected rematch. In their first encounter back in 2012, the Nicaraguan won by decision in Los Angeles.
Chocolatito looked dominant in his ability to deflect the speedy combinations by the young Mexican fighter Gonzalez. Nothing worked against the Nicaraguan who skillfully manipulated his way through barrage after barrage and connected inside with body shots and uppercuts.
It was a masterful performance.
JC Martinez
Mexico City's Julio Cesar Martinez (17-1, 13 KOs) was defending his WBC flyweight world title against Moises Calleros (33-10-1) a virtual bantamweight weighing more than 7 pounds over the 112-pound flyweight limit. Even the extra weight could not help him.
In the first round, Martinez exploded with a blistering three-punch combination the sent Calleros to the floor dazed and confused. He beat the count and survived the round.
The second round wasn't too kind for Calleros who became the punching bag for the quick-fisted Martinez who opened up with a nine-punch salvo that forced the referee Cesar Castanon to end the slaughter at 2:42 of the second round.
Other Bouts
Diego Pacheco (10-0, 8 KOs) used his height and reach to score a knockout with a snapping right uppercut to the chin of Mexico's Juan Mendez (12-3-2) in a super middleweight fight. The end came at 2:02 of the second round with Mexican referee Rafael Saldana stopping the fight at the perfect moment.
Austin "Ammo" Williams (6-0, 5 KOs) powered through Esau Herrera (19-12-1) with body shots and combination punches to win by knockout in a middleweight battle. The end came at 1:36 of the fifth round.
Otha Jones III (5-0-1, 2 KOs) and Mexico City fighter Kevin Montiel (6-0-1) fought to a split draw after six rounds in a super featherweight clash. Both fighters started quickly with Jones having good rounds in the middle portion of the six-round fight, but he tired and allowed Montiel to rally from behind. The scores were split with 58-56 for Jones, 58-56 for Montiel and 57-57.
Photo credit: Ed Mulholland / Matchroom
Check out more boxing news on video at the Boxing Channel 
To comment on this story in the Fight Forum CLICK HERE