"—C'mon!" (from the pen of Springs Toledo)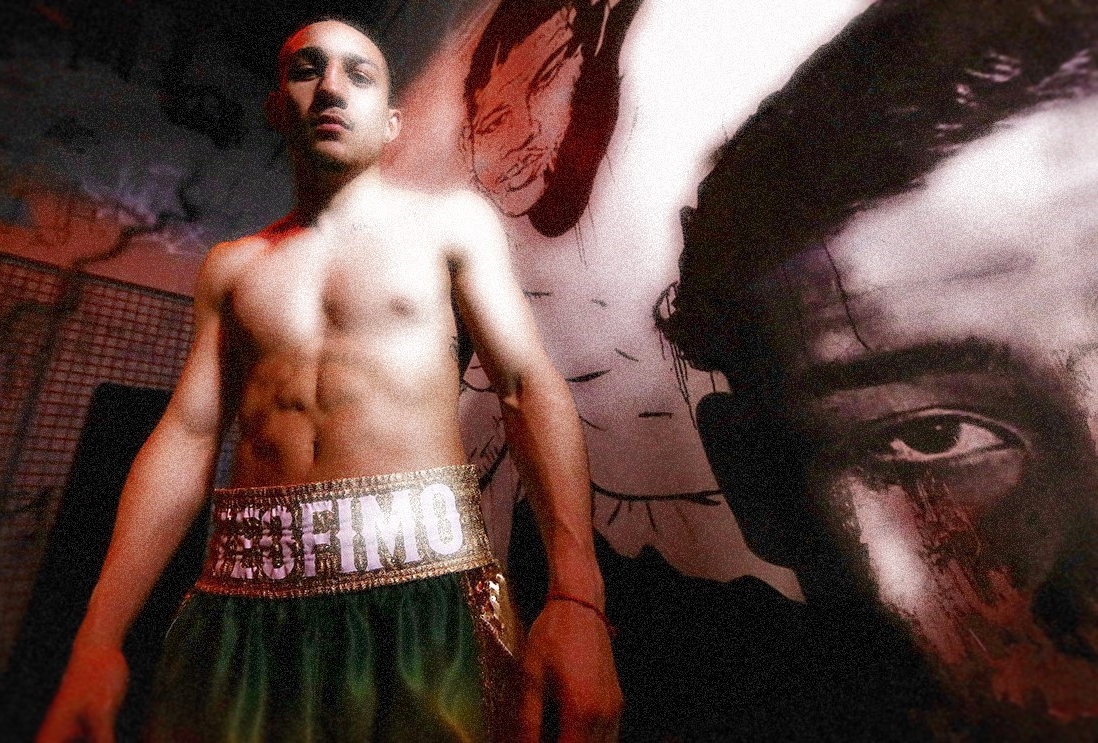 "—C'mon!" said Teofimo Lopez with two seconds left in the 12th round. It was a Brooklyn thing to say on a Brooklyn-type Saturday night, and Lopez timed it well. He'd just crashed two hooks at either side of Vasiliy Lomachenko's head and ended their saga as it began—with sharp words.
"My son will destroy Lomachenko," Lopez's father told EsNews in August 2017. Three months later Lopez was in the gym mimicking his style. "Same side always," he said as he tapped the bag and dipped to his right. "Nuthin' different." "Lomachenko is a diva," he said last week. "I don't like him … I'm the type of person, I say something I mean it. If you have a problem with it, come see me." Lomachenko came to see him all right, and both brought their fathers as if the whole thing was a schoolyard scrap.
Lomachenko's father is a silent sage. His modern training techniques are part of the "performance revolution" that has transformed every sport, including the sport that's barely a sport, and not necessarily for the better. Papa Chenko's futurama theories seem at once scientific and idiosyncratic. Pundits who never heard of Freddie Brown think they're next-level stuff. There's Lomachenko holding his breath under water to build lung strength; there he is touching that board with blinking lights to improve hand-eye coordination. When Lomachenko was 9, his father went so far as to enroll him in a Ukrainian folk dance school to expose him to hobak, hutsulka, and the kolomiyka, and you can see it in all the hopping and side-stepping he does around the ring at 32.
Papa Lopez is anything but silent, though he too is a sage—a naysaying sage with street instincts picked up during a few round trips through hell. He takes no one's word for anything and if he takes a break from a tirade and asks a question, it has about as much tact as a shiv. When Lomachenko is holding his breath in the pool is someone else there too, denting his rib cage with hooks? Those lights blinking on the screen, do they feint? And dancing school? Dancing school? Brooklyn itself rolls its collective eyes.
Papa Lopez laughs without mirth at the consensus opinion, at the so-called experts. But he couldn't laugh off the indisputable fact that Lomachenko has been knocking off a parade of world-class fighters. So he plopped down in front of YouTube to see for himself what was happening.
And what did he see?
He saw that the so-called Matrix style is a series of tricks; that Lomachenko is pulling fast ones on the gullible in the opposite corner and in press row. He saw opponents cooperating with him as he gauged their strengths and weaknesses in the first round or two and measured the distance between his glove and their chin. He saw them mesmerized by nothing-shots—"pitty pats," he called them, "patty-cakes," and wondered if it would have been easier or harder, given the language barrier, if Lomachenko just came out and asked them to throw something so he can find the best route around it to sock them in the chops.
Papa Lopez also saw that Lomachenko is preoccupied with not getting hurt; that he habitually slips, dips, and veers off to his right against the conventional stance. Teofimo, 23, saw the same thing. They both know why he prefers that direction: it's the safest route.
His offense, which has two prongs and lots of frills, doesn't contradict his preoccupation. Lomachenko wants to draw out his opponents to counter them. He stands a half-step off the perimeter where they can't quite reach him and he can't reach them. Then he baits them. If they take the bait, he hops in with a jab and then hops back out of reach. He's making calculations, looking for patterns, and once he finds them he exploits them with minimal risk to himself because, like Floyd Mayweather, he already has a pretty good idea of what they're going to throw. When is he most aggressive? When his opponent is least aggressive—out of position or covering up. He isn't comfortable with uncalculated risks. Like Floyd, he wants control; and that only happens with an opponent's cooperation.
Stanley Crouch, the late cultural critic and Brooklynite who was at least as contentious as Papa Lopez, understood the set-up. "What a boxer ideally wants to do is turn the opponent into an assistant in his own ass-whipping," he said. "That's really what you want the other guy to do—to assist you in whipping his ass."
Lomachenko built a reputation on willing assistants.
And defeating him was easier than anyone anticipated. The fighter of the future bowed to all-American unruliness and old-fashioned fundamentals.
Old School's comeback Saturday night was long, long overdue. Lopez used his strength and length to draw an invisible border with a warning that said "this far and no farther." Then he enforced it. Instead of letting Lomachenko freely angle around him like he's some stiff at the prom, he angled with him and threw punches. When Lomachenko slipped and sallied past his invisible border, he adjusted his distance and sent the dogs out. He stopped his momentum. He never let him take control. He never cooperated.
By the 8th round, Lomachenko realized that he had no chance to win unless he let go of his preoccupation with defense. He had to "sell out," as Andre Ward said, by getting closer and sallying in when it wasn't safe. Lomachenko won the 8th round—the first of only three that two judges scored his way—but it didn't matter. His mouth had dropped open as if he was getting ready to admit futurama's failure. "I heard him huffing and puffing and I knew I had him," said Lopez.
The 12th round reminds us that Old School remains the gold standard in the sport that's barely a sport. When Papa Lopez had a nervous moment in the corner and urged caution, Lopez refused. "I'm a fighter, I can't give him that," he said, as if to remind us that Old School is more than dust, that it's a disposition.
Teofimo Lopez now stands in a succession of lightweight kings whose dispositions were the impetus behind achievements that make this succession very possibly the most majestic of them all: Joe Gans. Benny Leonard. Tony Canzoneri. Barney Ross. Henry Armstrong. Ike Williams. Carlos Ortiz. Roberto Duran. Julio Cesar Chavez. Pernell Whitaker.
Floyd Mayweather is in that succession too, but the business model that guided his career was rebuked Saturday night. Lopez pointed to the past, polished it up, and declared its superiority. "We're bringing back what the Old School was. You fight the best and push on it. I'm not here to pick and choose who I want to fight because I want to defend my title and keep that 0," he said and shook his head. "No. Nah!"
The lightweight king now beckons chief rivals Devin Haney, Ryan Garcia, and Gervonta Davis to disavow the business model and take up the red flag. He looks north to Josh Taylor and Jose Carlos Ramirez's battle for the jr. welterweight crown and beckons either of them—or both.
 "—C'mon!"
Photo credit: Mikey Williams / Top Rank
Check out more boxing news on video at the Boxing Channel 
To comment on this story in the Fight Forum CLICK HERE
Juan Francisco Estrada Holds Off 'Chocolatito' Again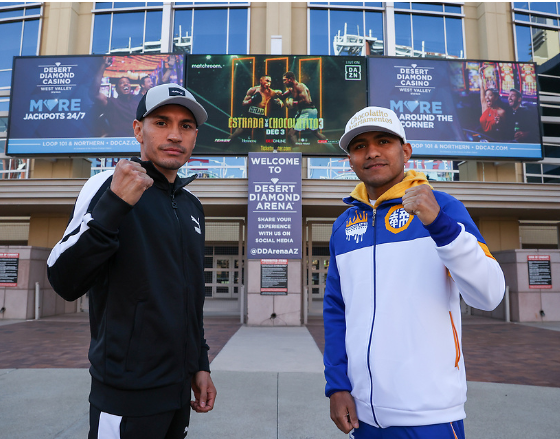 Once again Juan Francisco Estrada jumped out in front early and Roman "Chocolatito" Gonzalez needed time to crank up the engine, but fell too far behind as the Mexican fighter won the vacant WBC flyweight world title on Saturday.
Estrada wins the trilogy 10 years in the making.
Once again Estrada (44-3, 28 KOs) surged ahead early in the fight against Nicaragua's Gonzalez (51-4, 41 KOs) and then navigated toward another win, this time at the Gila River Arena in Glendale, Arizona on the Matchroom Boxing card.
"We had excellent preparation at high altitude and I think we left the fight clear on who won the fight this time," said Estrada about the third encounter.
Ten years ago, the trilogy began in Los Angeles as "Chocolatito" confronted an unknown fighter at the time in Estrada. The two surprised the crowd who expected Gonzalez to destroy yet another Mexican fighter. But it did not happen that night though Chocolatito proved too experienced and battered his way to victory in a light flyweight world title clash.
Then, in March 2021, Estrada finally fought Gonzalez in a rematch and the two engaged in a closely-fought super flyweight world title match. This time Estrada proved slightly better according to the judges and won by split decision in Dallas, Texas.
Few knew what to expect in a third encounter.
At first the coronavirus stalled plans for the trifecta so Chocolatito fought a replacement and dominated. Meanwhile Estrada fought another Mexican and did not look good.
On Saturday, a decade after their first encounter, Estrada looked fluid and accurate in dominating the first six rounds of the fight. Though he did not hurt Gonzalez, he was repeatedly scoring at will.
Gonzalez woke up around the seventh round.
Suddenly the Nicaraguan who was once considered the best fighter Pound for Pound showed up and fired rapid combinations. The spring in his legs suddenly appeared and the energy level was cranked up high after nearly being on idle.
Estrada suddenly found himself against the ropes forced to slip and slide away from Gonzalez's powerful combination punches. A real fight suddenly erupted during the final six rounds.
"All fights are different and all fights are difficult and this was the most difficult one," said Gonzalez, a four-division world champion.
Though neither fighter was ever visibly hurt, Gonzalez's pressure kept Estrada expending too much energy trying to evade the Nicaraguan's traps during the final six rounds.
"He always goes 100 miles an hour," said Estrada of his nemesis.
Estrada used uppercuts and slide steps to maneuver against Gonzalez's hard charges. It seemed to work and allowed the Mexican fighter more room and time to apply counter-measures.
In the final round, those maneuvers allowed Estrada to connect with a hard punch to the body that forced Chocolatito to cover up. It also allowed Estrada to unravel a combination that gave him the last round if needed. After 12 rounds one judge scored it 114-114, while two others saw it 116-112, 115-113 for Estrada who becomes the new WBC super flyweight world titlist.
"We did an excellent fight and I got the victory," said Estrada. "I've always said Chocolatito is a future Hall of Famer."
Gonzalez was gracious in defeat.
"What is important is we gave that good fight to the fans and we came out in good health," Gonzalez said.
There is even talk of a fourth fight.
"As long as they pay well, of course," said Gonzalez.
Other Fights
Julio Cesar Martinez (19-2, 14 KOs) retained the WBC flyweight world title by majority decision over Spain's Samuel Carmona (8-1) in a rather dull affair. Mexico's Martinez chased Carmon all 12 rounds in a fight that saw Carmona slap and run, then hold.
No knockdowns were scored and Martinez won 114-114, 117-111, 116-112.
Diego Pacheco (17-0, 14 KOs) ran over Mexico's Adrian Luna (24-9-2) with three knockdowns in winning by stoppage in the second round of the super middleweight fight. It was no surprise.
The 21-year-old from South Central L.A. once again showed that despite his youth his power seems to be continually increasing as evident in the knockout win.
Now training with Team David Benavidez, the young super middleweight looked sharp, especially with the lead overhand right that floored Luna in the second round. Luna was floored two more times and the fight was wisely stopped by his own corner.
"You put in the hard work then you come in here and shine," said Pacheco. "I joined team Benavidez this year."
Nicaragua's former world titlist Cristofer Rosales (35-6, 21 KOs) won a dog fight over Mexico's Joselito Velasquez (15-1-1, 10 KOs) by unanimous decision after 10 rounds in a flyweight clash.
It was a back-and-forth struggle that saw the taller Rosales take over in the second half of the fight and win by simply out-punching Velasquez and handing the Mexican his first loss as a professional by scores 97-93 three times.
Photo credit: Milena Pizano
To comment on this story in the Fight Forum CLICK HERE
Tyson Fury TKOs Derek Chisora in Round 10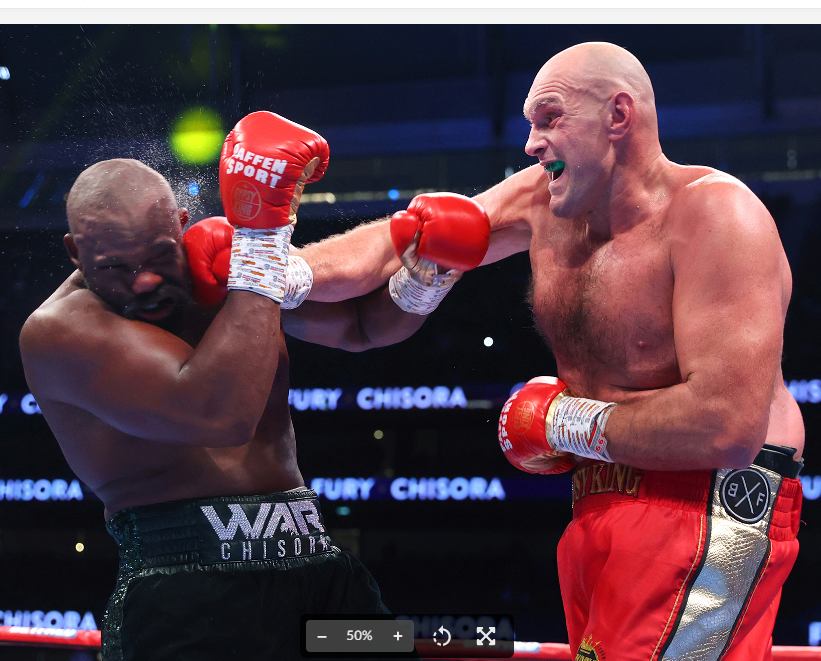 It was a chilly night in London but that didn't deter a near-capacity crowd from turning out at Tottenham Hotspur Stadium to witness the third rumble between Tyson Fury and Derek Chisora. The Gypsy King was heavily favored to retain his WBC and lineal heavyweight title and performed as expected. Indeed, this fight closely resembled their second encounter back in 2014.
In that bout, Chisora absorbed a terrific amount of punishment before his corner pulled him out at the conclusion of the 10th round. Tonight's fight ended nine seconds earlier at the 2:51 mark of round 10 and it was the referee who terminated the match.
When is a heavyweight not a heavyweight? When the man in the opposite corner is substantially bigger. With an 8-inch height advantage and a 15-inch reach advantage, the six-foot-nine Fury was simply too big a mountain to climb for the brave Derek Chisora, a fighter who changed his nickname in mid-career, transitioning from "Dell Boy" to "War."
Fury dominated round two, especially the last minute, a round in which he was credited with landing 18 power punches. The writing was on the wall for Chisora who ate a lot of thudding uppercuts in the ensuing rounds and ended the contest with a badly swollen right eye and a bloody mouth. With the victory, Fury improved his ledger to 32-0-1 with his 24th win inside the distance. The Zimbabwe-born Chisora falls to 33-13.
Oleksandr Usyk and Joe Joyce were in attendance and the Gypsy King addressed both before he left the ring. Calling Usyk "The Rabbit," he indicated that he would fight Usyk next in a true unification fight, but said if there were a snag in negotiations he wouldn't mind trading blows with the Juggernaut, Joe Joyce, who wore down and stopped former heavyweight title-holder Joseph Parker, a former Fury sparring partner, in his most recent engagement. However, Fury also revealed that he had an issue with his right elbow that may require surgery.
Co-Feature
In a heavyweight match that lasted only three rounds but was chock-full of action, Daniel Dubois overcame three knockdowns to retain his secondary WBA heavyweight title he won at the expense Trevor Bryan with a third-round stoppage of upset-minded Kevin Lerena.
In the opening stanza, Johannesburg's Lerena, landed an overhand left on the top of Dubois's head that put the Englishman on the canvas and left him all at sea. He went down twice more before the round was over, the first time of his own volition when he took a knee (reminiscent of his match with Joe Joyce) and the second from a glancing blow.
Dubois, whose legs are spindly for a man of his poundage, had trouble regaining his equilibrium in round two, but Lerena didn't press his advantage. In the next frame, a short right from Dubois penetrated Lerena's guard and down went the South African. Smelling blood, Dubois knocked him down again and was pummeling him against the ropes when the referee interceded just as it appeared that Lerena would be saved by the bell.
It was the fourth straight win for Dubois (19-1, 18 KOs) since his mishap versus Joyce. Lerena, who entered the bout on a 17-fight winning streak, lost for the second time in 30 fights.
Also
In a ho-hum affair, Denis Berinchyk, a 24-year-old Ukrainian, captured the European lightweight title and remained undefeated with a unanimous decision over French-Senagalese warhorse Ivan Mendy. Berinchyk (17-0, 9 KOs) was making his first appearance in London since winning a silver medal at the 2012 Olympics where he was a teammate of Oleksandr Usyk and Vasiliy Lomachenko.
The judges had it 117-112 and 116-112 twice for the Ukrainian. The 37-year-old Mendy, who has answered the bell for 380 rounds, falls to 47-6-1.
Photo credit: Mikey Williams / Top Rank via Getty Images
To comment on this story in the Fight Forum CLICK HERE
Light Nips Glanton in Florida; across the pond, Kelly UD 12 Williamson in Newcastle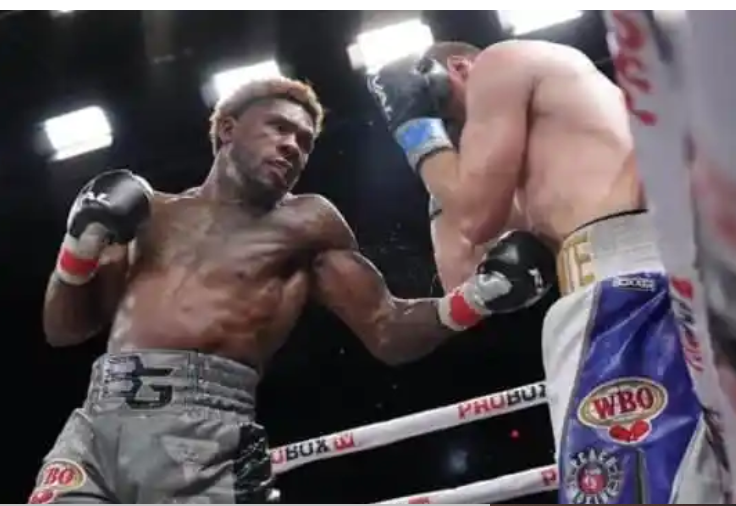 ProBox TV, a fledgling promotional group co-founded by former world champions Roy Jones Jr, Juan Manuel Marquez, and Paulie Malignaggi, has found a home for their bi-monthly shows at an events center in Plant City, Florida, near Tampa. The main event of last night's show (Friday, Dec. 2) was a well-matched 10-rounder between world ranked cruiserweights Brandon Glanton (pictured on the left) and David Light, both undefeated.
Light, a 31-year-old New Zealander who was 19-0 (12 KOs) heading in, had a strong amateur background that included a silver medal at the 2014 Commonwealth Games, but was virtually unknown outside the Antipodes, having fought almost exclusively on small shows in Auckland. Glanton, a 30-year-old Atlanta native who had trimmed down considerably since his days as a defensive lineman at HBCU Albany State, had caught the eye of hardcore fight fans with a thrilling split decision over previously unbeaten Efetobor Apochi on a TBS show in Minneapolis.
The oddsmakers made Glanton (17-0, 14 KOs heading in) a small favorite and after 10 hard rounds there were many who thought he deserved the nod. He turned the fight into a "phone booth" affair, pressing the action while working the body effectively, and scored the bout's lone knockdown, knocking Light off his pins (he wasn't badly hurt) in the final frame with what appeared to be a glancing blow. But two of the judges were more impressed by Light's counter-punching, scoring the bout 97-92 and 95-94 for the kiwi, overruling the dissenter who had it 95-94 for Blanton.
It was the sort of fight that cries out for a rematch, but David Light will undoubtedly go in a different direction. Both he and Glanton were pointing toward a match with WBO title-holder Lawrence Okolie.
Newcastle
Earlier on Friday, across the pond in Newcastle, England, former Olympian Josh Kelly got the signature win that had eluded him with a lopsided 12-round decision over defending British 154-pound title-holder and former amateur teammate Troy Williamson.
This was Kelly's third fight since David Avanesyan burst his bubble in a welterweight affair, stopping Kelly in the sixth stanza. The local fighter, who boosted his record to 13-1-1 (7) blamed his poor performance on his struggle to make weight.
The previously undefeated Williamson, 19-0-1 heading in, was making the second defense of the title he won in a barnburner with Ted Cheeseman. He went to post a small favorite, but was outclassed by Kelly who won by scores of 119-109, 119-111, and 118-110.
In the co-feature, Manchester's Lyndon Arthur (21-1, 15 KOs) stayed relevant in the light heavyweight division with a second-round stoppage of overmatched Joel McIntyre (20-5). In his lone defeat, Arthur was TKOed by revenge-minded Anthony Yarde.
To comment on this story in the Fight Forum CLICK HERE