Boxing's Chaotic Weight Divisions: A Short History of How We Got to Where We Are
The World Boxing Council recently created a new weight division. It's called Bridgerweight and it's for boxers weighing not less than 201 or more than 224 pounds.
The news fomented a firestorm of criticism. There are already too many weight classes yelped the belligerents. Adding yet another compounded the insult.
WBC president Mauricio Sulaiman could have forestalled the backlash — nay, he could have actually inverted it – if he had simultaneously done away with a couple of the weight classes near the bottom end of the spectrum. That's what the National Boxing Association did in 1921. Ah, but we are getting ahead of ourselves.
In the bare-knuckle days, there were basically only three weight classes: heavyweight, middleweight, and lightweight. However, the ceilings for the two lower weight classes were not standardized, opening the door to multiple title claimants.
This situation persisted as the sport entered the modern era. Before World War I, the weight limit for featherweights in the United States was generally conceded to be 122 whereas the norm in Great Britain was 126. Likewise, the Brits defined a lightweight as 135 pounds whereas the Yanks held tight to 133. Eventually, the British nomenclature prevailed.
The original three weight classes eventually increased to seven and then to eight with the introduction of the light heavyweight division in 1903. The architect was Lou Houseman, the sporting editor of the Chicago Inter Ocean newspaper. Houseman managed Jack Root who had outgrown the middleweight class. When he matched Root against Kid McCoy, he billed it for the light heavyweight title. Fight writers were receptive and Root, who dominated McCoy en route to winning a 10-round decision, would enter the history books as the first light heavyweight champion.
An important development in the standardization of weight classes was the 1920 Antwerp Summer Olympics. Twelve nations sent boxers to these games, eight more than in 1908 when 32 of the 42 entrants — and all but one of the medal winners – were British. (There was no boxing at the 1912 games in Stockholm as the sport was outlawed in Sweden and the 1916 Olympiad was cancelled because of the war in Europe, so the 1920 games marked the return of boxing after a 12-year absence.)
The bouts at the 1920 Games were contested in eight weight divisions, up from five weight classes in 1908.
Flyweight (112)
Bantamweight (118)
Featherweight (126)
Lightweight (135)
Welterweight (147)
Middleweight (160)
Light heavyweight (175)
Heavyweight (176+)
These became the eight standard divisions, but it didn't take long for a regulatory body to add new categories. The Walker Law of 1920, which had the effect of making New York the center of the boxing universe, included a provision for five additional weight classes: junior flyweight (109 pounds), junior bantamweight (118), junior featherweight (122), junior lightweight (130), and junior welterweight (140).
The first of these "junior" classes to make an appearance was the junior lightweight class. On Nov. 18, 1921, Tex Rickard presented a diamond-studded belt to Johnny Dundee after Dundee, the so-called Scotch Wop, defeated George "KO" Chaney at Madison Square Garden. (Chaney was disqualified in the fifth round for repeated low blows.)
On January 19, 1922, at the inaugural National Boxing Association convention in New Orleans, the junior lightweight and junior welterweight divisions were retained, but New York's three other junior divisions were scrapped.
The sport already had a junior lightweight champion, Johnny Dundee, but New York hadn't yet authorized a fight for the junior welterweight title so the NBA (the forerunner of the World Boxing Association, the first of the international governing bodies) got to go first. They bestowed the 140-pound title on Pinkey Mitchell, the less prominent of two fighting brothers from Milwaukee.
Strange but true. Mitchell was accorded this honor by winning an election, out-polling 19 other candidates in a survey conducted by the Boxing Blade, a Minneapolis boxing weekly. The magazine claimed that its readers returned more than 700,000 ballots. (Balderdash; boxing was big in those days, but it wasn't quite that big.)
In due time, the junior welterweight title passed into the hands of Tod Morgan, a slick southpaw from Seattle. On Dec. 20, 1929, Morgan defended his belt against Benny Bass at Madison Square Garden. Bass knocked him out in the second round.
Benny Bass was nicknamed the "Little Fish" and this fight had the distinct aroma of rotten fish.
In the lobby of the Garden as the preliminaries were going on, bookies were quoting 6/1 odds on the challenger, a price that made no sense considering the reputations of the two fighters. The New York State Athletic Commission, which was then chaired by future U.S. Postmaster General James A. Farley, reacted by abolishing the junior welterweight division and for good measure, expunging all the other "junior" divisions as well.
The ruling did not impact any of the NYSAC-certified title-holders other than Bass as the commission hadn't yet authorized any title fights in the three lowest junior classes and the junior lightweight title was vacant, having been abandoned by Johnny Dundee who went to win the more prestigious featherweight belt.
So, now we were back to only "8' weight classes in New York whose boxing commission exerted considerable sway on the national scene when Massachusetts and Pennsylvania became aligned with it.
The junior lightweight class became dormant during the early years of the Depression and wasn't revived until 1949 when the NBA sanctioned a match between Sandy Saddler and Orlando Zulueta for the vacant belt. Saddler, who had lost the featherweight title in his second meeting with Willie Pep, outpointed Zulueta in a dull 10-round fight at Cleveland to claim the vacant title.
The NBA junior welterweight class went dormant in 1946 when Tippy Larkin abandoned the belt because he could no longer make the weight. It was revived in 1959. Carlos Ortiz began a new line of junior welterweight title-holders when he stopped Kenny Lane on cuts. By then the NBA had morphed into the World Boxing Association.
The New York commission refused to sanction the Ortiz-Lane match as a world title fight although the bout was held at Madison Square Garden, but eventually relented. It mattered greatly that Carlos Ortiz was a New Yorker. A Puerto Rican by birth, he resided in the Bronx. But by then it really made no difference whether New York recognized the junior welterweight division or not. In terms of national influence, the Empire State no longer had much clout.
Over the years, there has been pressure to raise the weight limits of the standard weight classes. This was considered preferable to cluttering up the landscape with more divisions.
In 1946, the NBA, at their annual convention, considered a motion to raise the limit of each weight class from 3-5 pounds. The flyweight division, for example, would go from 112 to 115; the middleweight division from 160 to 165. The motion was prodded by a Harvard study that showed that the school's freshmen, on average, weighed 10 pounds more than their counterparts in 1892.
The motion never advanced to the voting stage, and this would be true again in 1953 after a government study revealed that the average American man of draft age was 10 pounds heavier than the average American soldier in World War I.
Prior to this, there was talk of raising the light heavyweight limit from 175 to 185 pounds. The impetus was Billy Conn's feeble effort in his highly-anticipated rematch with Joe Louis. Conn came in at 182, twenty-five pounds less than the Brown Bomber. In theory, the match would not have been approved if the ceiling for light heavyweights had been set at 185 pounds.
Needless to say, none of these campaigns to raise the limits of the various weight classes succeeded. The weights of the eight classic divisions haven't been disturbed in well over 100 years, notwithstanding the fact that people in most parts of the world and particularly in the Westernized world have, on average, become bigger, both taller and heavier.
Amateur boxing hasn't been as hidebound. That's a story for another day.
To be continued…….
Check out more boxing news on video at the Boxing Channel 
To comment on this story in the Fight Forum CLICK HERE
Fast Results from Las Vegas: Shakur Wins a Snoozer; Pedraza Stops Rodriguez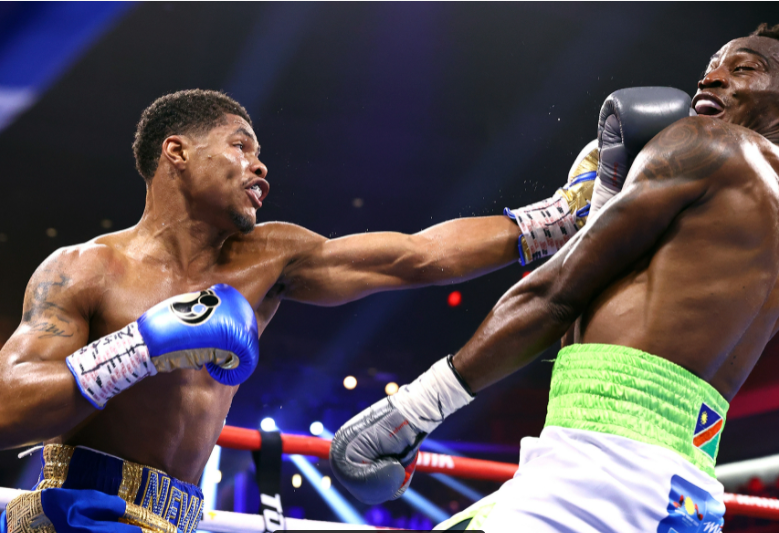 Shakur Stevenson, the 23-year-old Newark native and 2016 Olympic silver medalist, had the distinction of headlining the first of Top Rank's two dozen MGM "Bubble" shows, an event that marked the return of boxing to Las Vegas after a 101-day absence. Tonight, he headlined the first true post-pandemic boxing show in Nevada, the first show that allowed full capacity.
Stevenson was matched against Jeremiah Nakathila at the Virgin Hotels (an awkward plural). A 31-year-old policeman, Nakathila hailed from the same town in Namibia that produced Julius Indongo, fodder for Terence Crawford in 2017.
Indongo lasted into the third round vs Crawford; Nakathila went the distance vs Shakur and lost every round on all three scorecards.
In common with virtually all of Stevenson's former opponents, Nakathila found Shakur almost impossible to hit. But Stevenson respected Nakathila's big right hand and kept the fight at a distance, pot-shotting the Namibian rather than throwing combinations. He knocked Nakathila down in the final seconds of the fourth round with a right hook that landed high on the head, but Nakathila wasn't badly hurt.
Stevenson (16-0, 8 KOs) pitched a shutout but yet lost luster in a monotonous fight. This was the U.S. debut for Nakathila (21-2) who had won 10 straight, all inside the distance, since traveling to Ekaterinburg, Russia, and losing a majority decision in a 12-round fight with a local man.
Shakur is expected to fight WBO 130-pound champion Jamel Herring next but also has his eye on Oscar Valdez. A match against Herring wouldn't get the juices flowing, but Valdez may bring out the best in him.
Co-Feature
Junior welterweight Julian Rodriguez stepped up in class and suffered his first pro defeat at the hands of Puerto Rican veteran Jose "Sniper" Pedraza. Rodriguez's corner stopped the fight after nine rounds owing to severe swelling over both of Rodriguez's eyes.
Pedraza switched from southpaw to orthodox effectively while repeatedly peppering his opponent with an effective jab. New Jersey's Rodriguez entered the contest 21-0. Pedraza, a 2008 Olympian and former 130-pound world title-holder, improved to 29-3 with his 14th knockout.
Other Bouts
In a mild upset, Dallas junior lightweight Manuel Rey Rojas (21-5, 6 KOs) won a unanimous 8-round decision over Toledo's Tyler McCreary (16-2-1). McCreary, who had a strong amateur background, was making his first appearance since being widely outpointed by Carl Frampton in November of 2019. The judges had it 79-73 and 80-72 twice.
Welterweight John Bauza, in his first outing since joining David McWater's stable, had a laugher vs. Houston's Christon Edwards who left his corner without his mouthpiece and likely would have been easy meat without this oversight. Bauza knocked him down three times before the bout was halted at the 0:40 mark of round two. From North Bergen, New Jersey via Puerto Rico, Bauza (15-0, 6 KOs) was purportedly 178-8 as an amateur. Edwards (12-3) entered the contest riding a 6-fight winning streak.
Welterweight Xander Zayas, an 18-year-old rising star from Sunrise, Florida, via San Juan, improved to 9-0 (7) with a third-round stoppage of Larry Fryers (11-4). As a pro, Zayas has answered the bell for only 21 rounds. It was the third straight loss for Fryers, originally from Clones, Ireland, who was making his first start with new trainer Wayne McCullough.
In his final fight before the Tokyo Summer Olympics, middleweight Troy Isley (2-0, 2 KOs) scored a fourth-round stoppage of Philadelphia's LaQuan Evans (4-2). Evans was losing but didn't appear hurt when referee Russell Mora waived it off with 34 seconds to go in the fourth and final round.
Photo credit: Miket Williams / Top Rank via Getty Images
Check out more boxing news on video at the Boxing Channel
To comment on this story in the Fight Forum CLICK HERE
Marco Antonio Barrera and More at the First SoCal Club Show in More Than a Year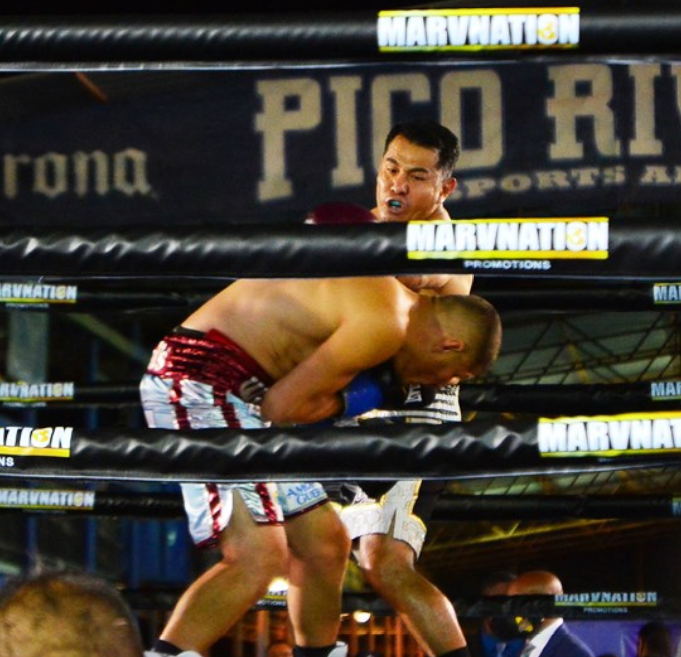 RINGSIDE REPORT by special correspondent Tarrah Zael — MarvNation Promotions hosted "Return of the Legends" on Friday, June 11, at the Pico Rivera Sports Arena in Whittier, CA. Along with a pro card, there was an exhibition featuring the legendary Mexican warrior Marco Antonio Barrera.
It was the first club show in more than a year in Southern California. Local celebrities eager to watch live boxing were everywhere.
In what seems to be a trend of former boxers entering the ring after their retirement, the "Baby-faced Assassin" Marco Antonio Barrera (67-7, 44 KOs) boxed with retired brawler Jesus Soto Karass (29-13-4, 18 KOs) in a six-round bout with two-minute rounds. It was Barrera's first fight in a decade. He last fought in 2011 when he TKOed Jose Arias in the second round. This win came not too long after a bloody defeat from the heavy puncher Amir Khan, leaving Barrera fans worried that he may have lost his fire.
Soto Karass's last fight saw him win a majority decision over undefeated Neeco Macias in a 10-round super welterweight contest in 2018. The win would be his first in five years and last of his professional career. But he was competitive in virtually all of his defeats.
Barrera and Soto Karass battled with big 16-ounce gloves in an exhibition with no judges. The 47-year-old, former three-division world champion Barrera landed multiple hooks upon the former title challenger 38-year-old Soto Karass. The living legend had fun and the two hugged at the finish of what looked like a sparring session.
The exhibition was the main event. When it was over, boxing legends Antonio Margarito and Erik Morales entered the ring for pictures and conversation. Marco Antonio Barrera and Morales had a well-known trilogy and hope to continue their rivalry next month with an exhibition in Dallas.
Pro Bouts
In the co-main event, upcoming Pico Rivera boxing star Angel "El Moreno" Rodriguez (9-0, 6 KO) returned to the ring after a long pause from the 2020 pandemic in a six-round lightweight bout against southpaw Bergman Aguilar (15-8-1, 5 KOs).
In the early rounds, Rodriguez unloaded a flurry of body shots upon Aguilar, a Costa Rica native, causing him to take a knee. There wasn't much coming back from Aguilar and when Rodriguez connected with a power shot in the second round, Aguilar took a knee again and stayed down for a count of "7."
In the third round, Rodriguez invited his opponent to come into his range and Aguilar took the bait. Once there, Rodriguez unloaded hard power shots upon the body of Aguilar and down to his knee he went once again. Referee Ray Corona counted to seven and allowed the Costa Rican to continue as he did not look badly hurt. But when it happened yet again, Corona did not fall for his antics and called the fight off. It ended at the 1:40 mark of round three, a KO win for Rodriguez who retained his undefeated record.
Undercard
Two heavy hitting super welterweights fought to a bloody majority draw in the fight before the co-main event. Diego Padilla (1-2-1) of South-Central Los Angeles and Oleg Zumenko (3-1-1) representing the country of Ukraine laid into each other all four rounds.
In the first round, Padilla going forward delivered wide punches and uppercuts while Zumenko chose to study his opponent. But after being dropped by an uppercut, studying by the Ukraine fighter was over. A hard right cross by Zumenko slowed down the Los Angeles fighter and we saw an almost even amount of power shots from both brawlers that continued until the end of the fight. Padilla switched his stance multiple times to offset his opponent but that did not stop the Ukrainian from moving into his line of fire. Judge Ron Stevens scored the bout 40-36, but Max DeLuca and Damian Walton both had it 38-38.
Long Beach native Tyrell "Dirty Left" Washington (3-0, 3 KO) knocked down Nebraska's Ginno Montoya (0-4) with a three-punch combination in the opening round of a scheduled four-round welterweight bout and referee Raul Caiz Jr. halted it at only 1:19 of the first.
Houston featherweight Adrian Leyva (2-2) won a four-round decision over Pablo "Bam Bam" Meglar (4-1-1, 3 KO) of South-Central Los Angeles. Although Meglar landed some good combinations and showed a lot of heart, the Texan was the sharper, more technical fighter. One judge scored the bout 39-37 and the others had it 40-36 for Leyva.
Other Fights
 Michael Land (1-2-1) of Houston, Texas and South-Central Los Angeles' Oliver Galicia (3-0-1, 3 KO) fought to a draw in a four-round super featherweight fight. All three judges had it 37-37.
The opening fight of the show, a scheduled 4-round lightweight clash between Mexico native Braulio Avila (3-9, 1 KO) and Honduras resident Cris Reyes (10-0, 9 KO), ended after two rounds. Reyes stayed calm, cool and calculated against the wild-swinging Avila and sent him to the canvas for an 8-count in the second round with a left hook to the chin. Avila didn't come out for the third.
Celebrity Watch
Besides Erik Morales and Antonio Margarito, others in attendance included Tattoo, Big Boy, LA County Sheriff Alex Villanueva, Tom Loeffler, Roberto Diaz, and DJ Ray.
Photo credit: Al Applerose
Check out more boxing news on video at the Boxing Channel
To comment on this story in the Fight Forum CLICK HERE
Boxing Odds and Ends: Fury-Wilder III Particulars, Kirkland Laing and More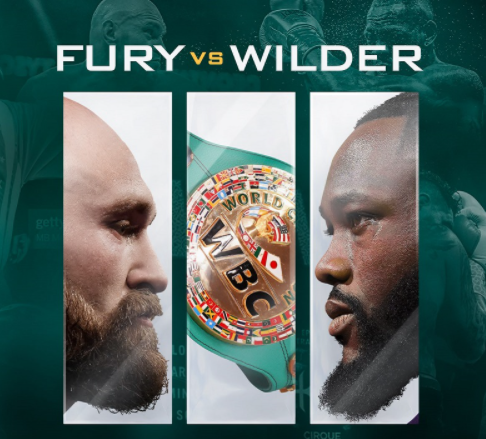 The third fight between Tyson Fury and Deontay Wilder will be staged at the T-Mobile Arena in Las Vegas on July 24. The pre-fight hoopla kicks off on Tuesday at a press conference in Los Angeles.
The date was no secret. Co-promoter Bob Arum had circled it even before an arbitrator ruled that a unification fight between Fury and Anthony Joshua could not jump the queue. It was Team Fury's Plan B. But speculation about the venue had centered around two other properties in Las Vegas: Allegiant Stadium and the MGM Grand Garden Arena.
It will be the eighth boxing card in the five-year history of the T-Mobile. The benchmark, attendance-wise, was set on Sept. 16, 2017, when Canelo Alvarez opposed Gennady Golovkin in the first of their two encounters. The event attracted an announced crowd of 22,358 (17,318 paid).
Top Rank promoter Bob Arum notes that the T-Mobile is superior to the MGM Grand in that the operators of rival casinos are more willing to purchase tickets for their best customers. The T-Mobile sits on MGM property behind New York-New York and is half-owned by the MGM (the other half is owned by the Anschutz Entertainment Group which owns arenas around the world including LA's Staples Center and the O2 Arena in London) but yet is considered neutral territory in that it isn't attached to a casino. Casino operators have always been skittish about sending their best customers to an event at a rival property for fear they will be wooed away.
There are no plans to hold press conferences in other cities before the final press conference in Las Vegas. London is out because of Covid restrictions and Arum believes that a conference in New York would be superfluous as that would be redundant.
Arum orchestrated the most dappled (and most frenetic) press tour in boxing. Marvin Hagler and Thomas Hearns, traveling in separate Gulfstream jets, covered 21 cities in 12 days to hype their April 15, 1985 clash at Caesars Palace.
"There was no internet in those days," says Arum. He did not need to elaborate. Press conferences nowadays are live-streamed and people around the world can tune in. Reporters for traditional newspapers, whose ranks have been thinned, are no longer an indispensable conduit for selling a fight.
Kirkland Laing
The late Harry Mullan, who served 19 years as the editor of British Boxing News, had a grand opinion of Kirkland Laing. "He is the most technically gifted boxer I've ever seen, a genius in an odd sort of way," wrote Mullan of Laing who defeated Roberto Duran and was a three-time British welterweight champion, but would be best remembered for squandering his talent. Born in Jamaica and raised in Nottingham, Laing died on Wednesday, June 9, at age 66.
Laing, who often wore dreadlocks, was quite a character. Lore has it that he once adamantly denied using weed to an interviewer while forgetting that he had a joint tucked behind his ear. He purportedly fought most of his fights while stoned.
Laing brought a 23-3-1 record into his date with Duran on Sept. 4, 1982 at Detroit's Cobo Hall. The first two losses were incurred in domestic title fights with Colin Jones who stopped him in the ninth round on both occasions.
Laing won a split decision but there was no controversy. The consensus among ringside scribes was that Laing won seven of the 10 rounds. He was too quick for the Panamanian tough guy. The Ring magazine named it the Upset of the Year.
This was Duran's third loss in his last five fights. Reporters, by and large, wrote him off as finished. Needless to say, that appraisal was premature as Pipino Cuevas, Davey Moore, and Iran Barkley would attest.
A year would elapse before Kirkland Laing entered the ring again. For a long stretch during this lacuna, his whereabouts were unknown. His manager Mickey Duff could not find him.
Laing returned on Sept. 10, 1983 in Atlantic City. In the opposite corner was Fred Hutchings, a fighter from Stockton, California with a 22-1 record. Hutchings blasted him out in the 10th round. The last punch landed with such force, said the correspondent for a New Jersey paper, that Laing "fell over backward, his head crashing to the canvas with a loud thud." Referee Frank Cappuccino started his count but waived the fight off when he reached "6."
Laing went on to recapture the British welterweight title, but he never fought in the U.S. again. He left the sport with a record of 43-12-1. He scored 24 knockouts and was stopped eight times.
Within months after his final fight in 1994, Laing and his partner Paula Chen who was carrying his child, were reportedly living on the dole. In December of 2001, he was arrested during a massive sweep of East London crack dens. In 2013, he almost died after he fell or was pushed from a fourth-floor balcony. He was then living in a flat in a council estate (i.e., government subsidized housing) in the London borough of Hackney. At the time of his death, he was said to be residing in a nursing home in Yorkshire.
Kirkland Laing was always eccentric, but some of his aberrant behavior may have been a residue of his bout with Fred Hutchings. He was taken to the hospital with a concussion and remained there for four days. His cause of death has not been disclosed.
Sky
Ever the opportunist, Bob Arum was quick to reach out to the honchos at Sky Sport which was left in the lurch when Matchroom's Eddie Hearn jumped ship, giving DAZN an exclusive. Great Britain's premier sports channel, Sky needed a new content provider.
Josh Taylor, the fighting pride of Scotland, recently took Sky to task for failing to pick up his recent fight with Jose Ramirez. That was an egregious oversight on the part of Sky – the network missed out on a whizbang fight that produced a result that will live long in British boxing lore – and Arum allows that Sky executives may have been somewhat embarrassed, making them more receptive to his proposal.
The Sky/Top Rank partnership begins immediately with Saturday's card in Las Vegas headlined by the match between Shakur Stevenson and Namibia's obscure Jeremiah Nakathila.
Check out more boxing news on video at the Boxing Channel
To comment on this story in the Fight Forum CLICK HERE