Boxing's Chaotic Weight Divisions: Part Two of a Two-Part Story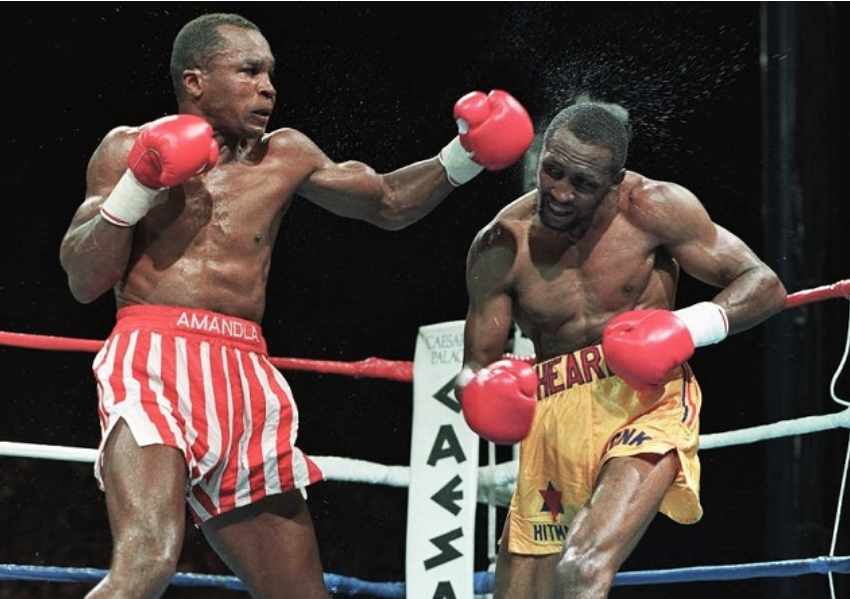 In May of 1987, The Ring magazine, boxing's premier publication, announced that it would be turning back the clock. In the future, the monthly top-10 ratings would be limited to the eight classic weight divisions. The champions of the "junior" divisions would be rolled into the next highest weight class.
"Our goal," said The Ring editor Nigel Collins, "is to restore boxing to the way it used to be, when the champ really meant something. The thing is so watered down now that it has become a farce."
The last straw for the self-styled Bible of boxing was the introduction of the 105-pound weight class earlier that year. The fledgling International Boxing Federation got the ball rolling and the two other relevant organizations, the WBC and WBA, were quick to embrace it. This latest addition to boxing's taxonomy created a second weight division below the standard flyweight class. Only three measly pounds separated the 105-pound class from the class directly above it.
Making matters more confusing, the three organizations could not agree on what to call the new weight division. The IBF named it mini-flyweight, the WBC called it the strawweight, and the WBA named it the minimumweight division.
The addition of this new weight class was seen as a cash grab, a move to extract more money in sanctioning fees from the sport's promoters. It was certainly that, but there was more to it. The honchos of the three organizations could see that the Orient was "under-served." The best fighters in this region of the world, with few exceptions, were "mighty-mites." When the IBF released its first mini-flyweight top-10 list, only four countries were represented: Thailand, the Philippines, Indonesia, and South Korea.
Cruisers
The cruiserweight division was born before the bottom end of the weight spectrum was cluttered with sub-flyweight divisions. The WBC led the way, setting the limit at 190 pounds.
Marvin Camel, who was born on the Flathead Indian Reservation in Montana, had the distinction of being the world's first cruiserweight champion, but it took him two tries. In December of 1979, Camel's 15-round fight with Mate Parlov in Yugoslavia ended in a draw. The do-over was held three months later in Las Vegas and Camel copped the vacant belt, winning a unanimous decision.
Camel became a two-time cruiserweight champion when he scored a 5th-round stoppage over Roddy McDonald on McDonald's turf in Halifax, Nova Scotia, on Dec. 13, 1983, in the first world cruiserweight title fight sanctioned by the infant IBF.
Prior to this, in February of the previous year, the first WBA cruiserweight title fight was held in South Africa. Ossie Ocasio claimed the vacant belt with a 15-round split decision over Robbie Williams. In point of fact, Ocasio actually won the WBA's junior heavyweight title, but the name never caught on and the WBA eventually fell in line with its rivals and accepted the handle "cruiserweight."
Super Middles
The idea for a 168-pound weight class had been kicking around for some time before the International Boxing Federation gave it the stamp of approval, taking it out of the hands of fly-by-night organizations.
The IBF, headquartered in New Jersey, was pressured to create the new weight class by the management of Garden State native Bobby Czyz who had outgrown the middleweight division, but the popular Czyz was a spectator when the IBF held its first super middleweight title fight, a match between Murray Sutherland and Ernie Singletary at Atlantic City on March 28, 1984. Sutherland, who was born in Scotland but fought out of Bay City, Michigan, won the vacant belt with a lopsided decision in a dull 15-round fight.
South Korea's Chong Pal-Park, who dethroned Sutherland but left the IBF, won the first WBA super middleweight title fight with a second-round stoppage of Tijuana's Jesus Gallardo on Dec. 6, 1987. In November of the following year, the first-ever WBO and WBC super middleweight title fights were staged three days apart in Las Vegas.
On the 4th, at the Hilton, Thomas Hearns became the first WBO 168-pound title-holder when he got off the deck to win a 12-round majority decision over James Kinchen. On the 7th, at Caesars Palace, Sugar Ray Leonard got off the deck to stop Donny Lalonde in the ninth frame. Leonard won two titles that night as Lalonde entered the ring sporting the WBC light heavyweight title, but Sugar Ray never had any intention of defending this belt.
That set up a unification fight between Hearns and Leonard, a rematch of their scintillating welterweight battle, but almost eight years had passed since that famous fight and Leonard-Hearns II, contested at Caesars Palace on June 12, 1989, was a pale imitation of the original even though it was a very close fight that ended in a draw.
All four governing bodies would eventually bump the cruiserweight class up to 200 pounds. The changeover was made in rapid succession, one of the few instances in which the rival organizations operated more or less in concert.
Olympic Boxing
The lords of professional boxing were too smart to tamper with the traditional eight weight classes. The weights have remained unchanged for more than 100 years. At the amateur level, however, there have been frequent shake-ups.
As noted in PART ONE, the 1920 Summer Games were an important development in putting the seal of approval on the eight traditional classes and standardizing the weight attached to each class. This template remained in place until 1948 when there were changes across the board resulting from the decision to express the weights in kilograms rather than pounds. Every weight class was impacted to some degree. To take just one example, the lightweight division went from 135 pounds to 62 kilograms, the rough equivalent of 136.7 pounds.
Four years later, at the 1952 Olympics, two new weight classes were introduced, boosting the number of divisions from "8" to "10." The new divisions were called light welterweight and light middleweight and the divisions adjacent to them were adjusted so that they wouldn't rub too close against them.
Another new weight class was introduced in 1968, the light flyweight class with a ceiling of 105.8 pounds (48 kilograms) and in 1984 the number of Olympic weight classes went from "11" to "12" with a super heavyweight class for boxers weighing more than 91 kilograms (200.6 pounds).
The light middleweight division was eliminated in 2004 and the featherweight division was expunged in 2012, bringing the number of Olympic weight classes back to "10." As was true when a new weight class was added, the elimination of a weight class brought about some adjustments. And it now became necessary to qualify the number by noting that these were men's classes. The women had crashed the party.
At the 2012 Games, the first for female boxing, and once again in 2016, the ladies were sorted into three divisions: flyweight, lightweight, and middleweight.
At the forthcoming Tokyo Olympiad — pushed back from 2020 by the pandemic — there will be five weight classes for women. A featherweight (125) and a welterweight (152) class has been added. Concordantly, the lightweight division has been redefined, going from 132 to 138 pounds.
As has happened in the realm of sports at America's colleges and universities, as more opportunities have been provided for women, there's been some contraction for men. To accommodate the ladies, AIBA, the international governing body of amateur boxing, is doing away with two men's classes. The light flyweight and bantamweight divisions are biting the dust.
—
It seems odd that as amateur boxing is returning to eight weight classes (for males), the pro game is heading in the other direction. The addition of a bridgerweight class will swell the number to 18.
And by the way, The Ring magazine now rates boxers in 12 weight categories. The well-intentioned rollback to the original eight never did take hold.
Check out more boxing news on video at the Boxing Channel 
To comment on this story in the Fight Forum CLICK HERE
Tyson and Jones Box to an Unofficial Draw in a Predictable Stinker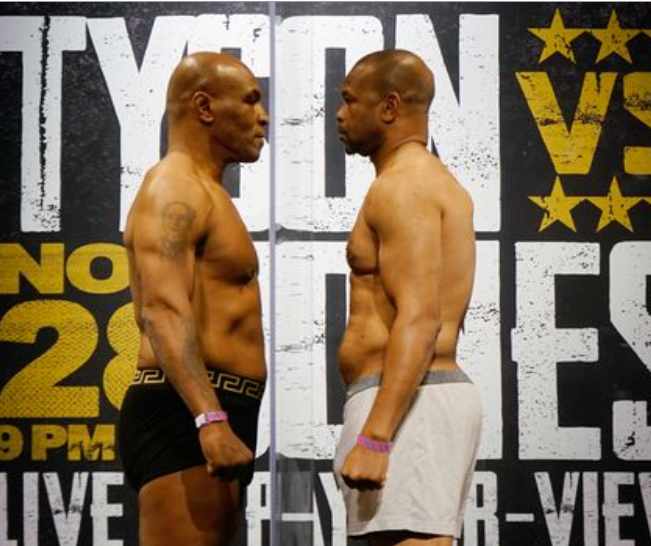 The Ringling Bros. and Barnum & Bailey Circus, an American institution, went belly-up in 2017, but a different kind of circus played to an empty house at the Staples Center in Los Angeles tonight. The main attraction wasn't Jumbo the elephant but Iron Mike Tyson in his first ring appearance in 15 years. In the opposite corner was Roy Jones Jr, who at age 51 was the younger man by three years.
Tyson vs. Jones was the main piece of a 4-hour boxing and music festival live-streamed in the U.S. on the TysononTriller.com app at a list price of $49.95. This was the first live event on "Triller" which allows people to create their own music videos and was designed as a rival to China-owned TikTok, one of the biggest recent success stories in the internet world.
The California State Athletic Commission, which sanctioned the match, insisted that Tyson vs. Jones would be an exhibition. They would fight 8 two-minute rounds with 12-ounce gloves and if there were a knockdown, the referee would not give a count and the bout would or would not continue at his discretion. The rounds would not be scored and no winner would be named.
Of course, the promoter chafed at these restraints and did his best to create the impression that this was a legitimate prizefight. Retired boxers Vinny Pazienza, Chad Dawson, and Christy Martin were lassoed to serve as judges, scoring the fight from a remote location, and the WBC commissioned an honorary belt to present to the winner.
The advance hype was enormous. A clickbait-obsessed media lapped it up including photoshop-enhanced images of Mike Tyson's physique.
In the second round, Tyson landed a double left hook and that was the only indelible moment in the match. By the third round, both looked and sounded tired and by the sixth round Jones was thoroughly gassed out and took to clinching to make it to the final bell.
For the record, the scores were 79-73 for Tyson (Martin), 80-76 for Jones (Pazienza), and 76-76 (Dawson). On the internet, the clear consensus was that Tyson had the best of it.
Mike Tyson, 50-6, 2 NC (44 KOs) last fought in June of 2005 when he was stopped by third-rater Kevin McBride. Roy Jones (66-9, 47 KOs) was active as recently as 2018 and won his last four, but against hand-picked opponents including a boxer making his pro debut. His last fight of significance came in 2011 when he was brutally KOed by Dennis Lebedev in Moscow.
Jones, who weighed 210 ½ tonight, weighed 157 when he made his pro debut in 1989. In his prime, he was pound-for-pound the best fighter in the world, but that was back in the previous century.
Both fighters were reportedly guaranteed $1 million with Tyson's take potentially reaching $10 million if certain financial targets were met.
Other Bouts
YouTube sensation Jake Paul, who we reluctantly concede has more than a modicum of talent in the fisticuffing department, knocked out Nate Robinson in the second round and it was a clean knockout with Robinson knocked out cold. The 36-year-old Robinson, the former NBA point guard who was a three-time slam dunk champion during his 11-year NBA career, is a well-rounded athlete, good enough to start as a cornerback in football during his freshman year at the University of Washington, but his athleticism didn't translate to the squared circle as he looked like a common bar brawler.
Former two-division belt-holder Badou Jack (22-3-4), who said he appeared on the card as a favor to his friend Mike Tyson, was a clear-cut winner over hard-trying but out-classed Blake McKernan in an 8-round cruiserweight match.
At age 37, Jack's career is winding down. He tipped the scales at 188 ¾, 14 pounds more than in his previous engagement vs. Jean Pascal. McKernan, a natural cruiserweight from Sacramento, was undefeated coming in (13-0), but was over his in over his head against Jack, a former Olympian and veteran of seven world title fights.
In a good action fight, Worcester, Massachusetts lightweight Jamaine Ortiz, a carpenter by trade, improved to 14-0 (8) with a seventh-round stoppage of Sulaiman Segawa (13-3-1), a Maryland-based Ugandan.
In the first bout on the program, Fort Worth featherweight Edward Vazquez improved to 9-0 (1) with an 8-round split decision over Jamaine Ortiz stablemate Irvin Gonzalez (14-3).
Heavyweight Juiseppe "Joe" Cusumano improved to 19-3 (17) with a sixth-round stoppage of late sub Gregory Corbin (15-4). It was the fourth straight loss for the 40-year-old Corbin who came in at a beefy 291 ¾ pounds.
Check out more boxing news on video at the Boxing Channel 
To comment on this story in the Fight Forum CLICK HERE
Fast Results from London: Joe Joyce Stops Daniel Dubois in the 10th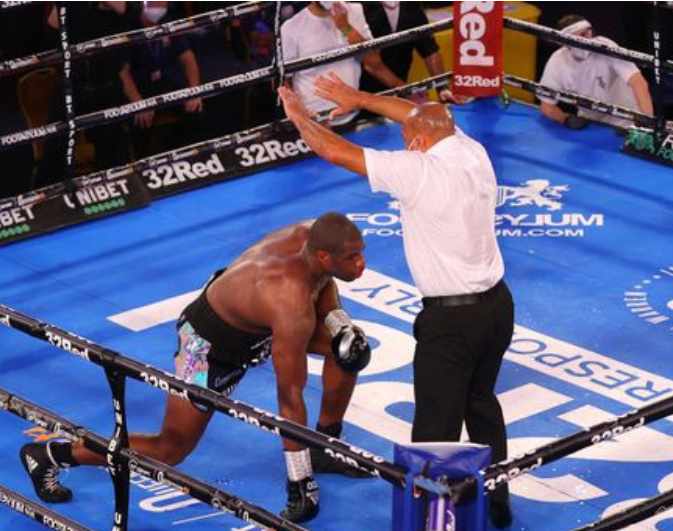 The historic Church House which sits in the shadow of Westminster Abbey was the site of tonight's clash in London between unbeaten heavyweights Daniel Dubois and Joe Joyce. The bout lacked the gloss of a world title fight, but didn't need it. The oft-postponed match, originally slated for the 02 Arena in London on April 11 with promoter Frank Warren anticipating a sellout, was fairly hyped as the most anticipated fight since Fury-Wilder II which was the last big fight before the coronavirus clampdown.
Dubois, 15-0 with 14 KOs heading in, was a consensus 7/2 favorite in man-to-man betting, He was younger, faster and punched harder, but ultimately it would be his "O" that had to go. Joe Joyce, an inch taller at six-foot-six and 15 pounds heavier at 259, emerged victorious with a 10th-round stoppage in what was a good back-and-forth fight with a divided opinion as to who had the edge through the completed rounds.
Joyce really didn't do much but throw a jab, but he landed that jab consistently and it was a hard, thudding jab that caused Dubois's left eye to start swelling during the mid-rounds of the fight. The damaged eye eventually shut and when Joyce reached it with another hard jab in the 10th, Dubois surrendered by taking a knee. The presumption was that he had suffered a broken orbital bone.
The 35-year-old Joyce, nicknamed Juggernaut, is of Scotch-Irish and Nigerian descent. He lost by split decision to Tony Yoka in the semifinals of the 2016 Olympics and had to settle for a silver medal. Prior to turning pro, he was 12-1 in the semi-pro World Series of Boxing with his lone defeat coming at the hands of Oleksandr Usyk. With today's career-defining win, he upped his pro ledger to 12-0 (11).
Other Bouts
Top-rated WBC super lightweight contender Jack Catterall (26-0) won a predictably one-sided 10-round triumph over 33-year-old Tunisian Abderrazak Houya (14-3). Catterall scored two knockdowns en route to winning by a 99-90 score. This was a stay-busy fight for the Lancashire man who was the mandatory challenger for title-holder Jose Carlos Ramirez and accepted step-aside money with the promise that he would meet the winner of the unification fight between Ramirez and Josh Taylor which is expected to come off in February.
The lead-in fight was a 10-round contest in the super welterweight division between 21-year-old Hamzah Sheeraz and 33-year-old Guido Nicolas Pitto. The fight was monotonous until Sheeraz (12-0, 8 KOs) kicked it into a higher career in the final stanza and brought about the stoppage. Pitto, from Spain by way of Argentina, declined to 26-8-2. The official time was 1:11 of round 10.
In an 8-round cruiserweight bout, Jack Massey improved to 17-1 (8) with a 79-74 referee's decision over Mohammad Ali Farid (16-2-1). Massey was making his first start since losing a close 12-round decision to Richard Raikporhe in December of 2019 for the vacant BBBofC title. The well-traveled, one-dimensional Farid had scored 16 knockouts in his previous 18 fights while answering the bell for only 33 rounds.
Check out more boxing news on video at the Boxing Channel 
To comment on this story in the Fight Forum CLICK HERE
Daniel Jacobs Edges Past Gabe Rosado on a Matchroom card in Florida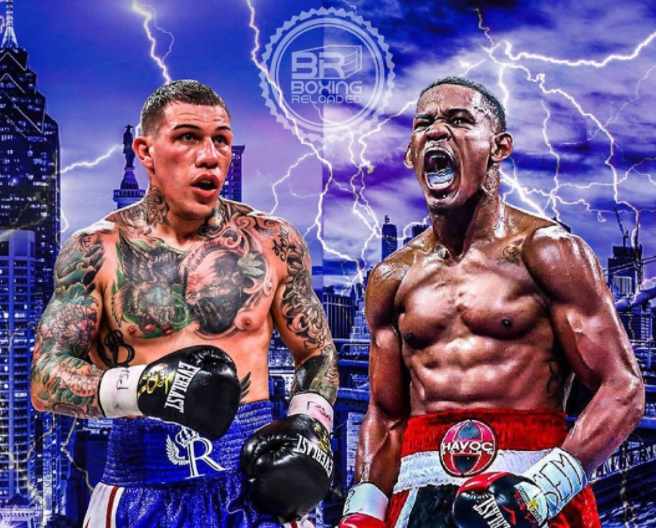 Former world champion Daniel Jacobs needed the last round to win by split decision against upset-minded Gabe Rosado and keep his place in line on Friday for lucrative super middleweight matchups.
But when the ring announcer erroneously announced the winner was from Philadelphia, confusion reigned for a moment until Jacobs was correctly called the winner.
Brooklyn's Jacobs (37-3, 30 KOs) jumped out ahead against Philly fighter Rosado (25-13-1, 14 KOs) and held on for the win in front of no fans at the Seminole Hard Rock Hotel and Casino in Hollywood, Florida. For a second, many thought Rosado had won.
Both were careful during the first three rounds measuring each other's distance and looking for openings to counter. There were very few.
It was the kind of fight expected by those who know boxing: two veterans with immense experience against top-flight world champions. Mistakes were few.
Jacobs, a former middleweight world champion, had fought Saul "Canelo" Alvarez and Gennady "GGG" Golovkin in close but losing efforts.
Rosado had battled Golovkin too, six years ago in a bloody affair that ended in a loss. He had also lost to other champions like Peter Quillin and Jermell Charlo. But none were able to knock him out.
Both were aware of each other's reputation. Bitter words had been exchanged for years and now they finally got their chance to prove their mettle and they did.
Though Jacobs was recognized as a knockout puncher, Rosado's resilience was just as well known. Both neutralized each other for most of the fight with their feints and jabs to the body. Neither was willing to leave openings for each other.
Jacobs scored big with a left uppercut at the end of the seventh round. While Rosado wowed viewers with a sizzling right cross in the 11th round.
It was 1950s style, boxing with intelligence. Each found it difficult to land combinations, let alone find openings to score knockout blows. Instead, they had to be satisfied with scoring enough to convince three judges the actual winner.
Neither was able to pull out ahead with any conviction.
After 12 rounds one judge saw Rosado the winner 115-113 while two others saw Jacobs the winner 115-113 to give him the win by split decision.
"It felt just a little weird. It felt like a sparring match," said Jacobs about fighting without fans in the audience. "This wasn't a valiant effort."
Rosado was certain he was the true winner.
"I thought I won the fight. I surprised him," said Rosado who trained with Freddie Roach for this fight. "I'm a veteran, I know how to fight."
Indeed, he does.
Jacobs now stands poised to fight one of many super middleweight champions in need of a marquee name.
"I live to see another day," he said honestly.
Other Bouts
Kazakhstan's Daniyar Yeleussinov (10-0, 6 KOs) proved he was not an easy touch and knocked out former world champion Julius Indongo (23-3, 12 KOs) to march forward in the welterweight division while grabbing the vacant IBF Inter-Continental title.
In a fight featuring southpaw versus southpaw Yeleussinov caught Indongo with a roundhouse left the first time they exchanged and down went the former super lightweight world champion. Indongo beat the count and survived the round.
Indongo wasn't as lucky in the second round as Yeleussinov again connected with a left and down went the fighter from Namibia again. He would not get up at 1:24 of round two giving the knockout win for Yeleussinov.
A battle between undefeated heavyweights saw Azerbaijan's Mahammadrasul Majidov (3-0, 3 KOs) use roundhouse rights to stagger the heavier Sahret Delgado (8-1) to win by knockout in the third round. Majidov actually helped Delgado get to his stool after knocking him out on his feet at 47 seconds of the third round.
Emmanuel Tagoe (32-1) defeated Mason Menard (36-5) by majority decision after a 10- round lightweight fight that saw a lot of clinching and leaning.
Nikita "White Chocolate" Ababiy (10-0) out-fought Detroit's Brandon Maddox (7-4-1) to win by unanimous decision after six rounds in a middleweight clash. Ababiy hurt Maddox with body shots but found Maddox more resilient than expected.
Check out more boxing news on video at the Boxing Channel 
To comment on this story in the Fight Forum CLICK HERE.