Odds and Ends: Boxing's 'Ordinary Joe', the late Stan Hoffman and More
Odds and Ends: Boxing's 'Ordinary Joe', the late Stan Hoffman and More
After two fallow weekends, boxing returns with a blast of fresh air on Saturday. Two world title-holders – IBF 130-pound champ Joseph "Jojo" Diaz and WBO 154-pound champ Patrick Teixeira – defend their belts on a strong Golden Boy Card in Indio, CA. Over in London, undefeated IBF featherweight title-holder Josh Warrington meets Mexico's Mauricio Lara, in a risky, albeit non-title, affair, and the vacant WBO light heavyweight strap will be on the line when Joe Smith Jr squares off with Maxim Vlasov at the MGM "Bubble" in Las Vegas.
The Smith-Vlasov fight, which will air on ESPN's main platform, will likely attract the most eyeballs because Smith (26-3, 21 KOs) has become a cult favorite. It's hard not to root for this "Ordinary Joe" who only recently quit his job as a construction worker, exchanging a jackhammer for a power saw. He now operates a tree-trimming business with his father.
This will be Smith's second shot at the title. He came up short against Dmitry Bivol, losing a unanimous decision, but rebounded with impressive wins over Jesse Hart and Eleider Alvarez. In both of those fights he was never flustered, sticking tight to his game plan. He knocked Alvarez clear out of the ring, reprising, in a fashion, his signature triumph over Bernard Hopkins.
Smith (pictured) is an over-achiever, yes, but not in the classic sense as he always had good boxing skills and has now honed them to a brighter hue.
Vlasov has a nice record (45-3, 26 KOs), but the lanky, 34-year-old Russian was inactive all of 2020 and hasn't defeated anyone of note. As a pro, he's competed from middleweight to cruiserweight. To his credit, he's never been stopped and avenged the first of his three setbacks when he out-pointed Isaac Chilemba across 12 rounds in July of 2019.
Top Rank notes that if Smith wins on Saturday, he will become the fourth Long Island native to win a world title, joining Buddy McGirt, Chris Algieri, and Jamel Herring. Not so. Since the reference is to people born on Long Island, not those who grew up there, Errol Spence Jr also belongs on the list.
R.I.P.
Stan Hoffman, who died this week at age 89, was one of boxing's foremost wheeler-dealers. Hoffman, who grew up in Brooklyn and the Bronx, "managed, advised and/or promoted 38 world champions during his nearly 50 years in the boxing industry," according to a blurb released by the Atlantic City Boxing Hall of Fame in conjunction with Hoffman's induction with the class of 2019.
A fitting inscription for Hoffman's tombstone would be "upset-maker." He was involved with Michael Bentt who knocked out defending WBO heavyweight champion Tommy Morrison in the opening round on Morrison's turf in Tulsa in 1993, with Iran "The Blade" Barkley, who forged upsets of Michael Olajide and Tommy Hearns twice, and, most notably, with Hasim Rahman, who scored one of the biggest upsets in heavyweight title history when he knocked out Lennox Lewis in the fifth round in South Africa in 2001.
Hoffman, who came to boxing from the record industry where he worked with such artists as Chuck Berry and Fats Domino, first attracted national notice while working as the matchmaker for Josephine Abercrombie's Houston Boxing Association. During the mid-1980s, the HBA, fueled by Abercrombie's deep pockets (she was a Texas oil heiress) was one of the most important promotional groups in boxing. Hoffman later established a boxing camp in Kerhonkson, New York.
Kerhonkson, a quiet hamlet in the Catskill Region of the Empire State, was an odd fit for Hoffman, a street kid from the bustling Big Apple. At an Atlantic City weigh-in in 1989, a North Carolina reporter described the pony-tailed Hoffman as a person "who wears enough jewelry to fence in your average backyard."
Evander
Brian Custer's recent interview with Evander Holyfield on Custer's Last Stand podcast was distressing. Evander was never a good talker, but now the words that come out of his mouth don't flow as easily. It's a condition that affects virtually all of us if we live long enough, but boxers who fight many rounds invariably get there faster.
Holyfield, as we know, has been angling for a third fight with Mike Tyson. If it happens, shame on whoever promotes it.
Check out more boxing news on video at the Boxing Channel 
To comment on this story in the Fight Forum CLICK HERE
From the Desert, Jack Dempsey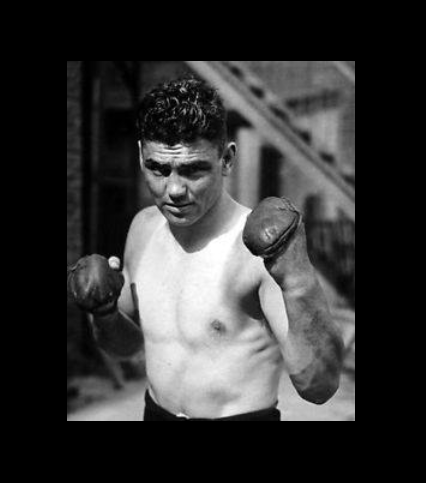 Jack Dempsey, who has been matched by Jack Goodfriend to fight at the Hippodrome Monday, May 31 is expected to arrive from Reno within a day or two.  The match will be a ten round contest and preceded by a couple of good preliminaries. (The Goldfield News, May 22nd, 1915.)
In May of 1915 Jack Dempsey found himself trapped in Nevada and between purses. Fifty miles from his payday with no rail to ride, he walked out of the desert and into Goldfield, stuck the bewildered promoter for an advance and hired a sparring partner, knocked the sparring partner out and hired another.
Walking in ninety-five-degree weather can be dangerous for even an experienced athlete, but it seemed to agree with Jack. He had marched into Goldfield to meet a light-heavyweight named Johnny Sudenberg, a game but limited battler who had for the first time strung a decent run of wins together, all of them fought in the desert Dempsey travailed on foot. Dempsey had scored a series of knockout wins in Salt Lake City, enough that his name was known and interest in his proposed match with the local man stoked.
"Jack Dempsey, the husky Pueblo middleweight, who will meet Johnny Sudenberg at the Hippodrome next Monday night in a ten round bout arrived in camp this morning," reported regional press. "Several local men have seen Dempsey in action…and all [are] united in the prediction that Johnny had better be 'right' when he crawls through the ropes."
It speaks of boxing's burgeoning's status in the United States that there were two gymnasiums in Goldfield capable of staging training. Dempsey worked out at the Unity Club, little more than a middleweight, perhaps not least because of his fifty-mile travail through the desert earlier that week. He boxed a local footnote named Dick Trounce and he may also have boxed some rounds with the world class bantamweight Roy Moore.
Sudenberg, stung by assertions that it was Dempsey, not he, who was the puncher in the fight, bristled and demanded of himself a knockout while training down the street in the Northern Gymnasium.
There is a divergence now between Dempsey's recollection of the fight and the newspaper reporting of the day. Before the fight, although he may have shared a ring with Jack Dempsey, not known for his tender attentions of even much smaller sparring partners, Roy Moore advised his sparring partner to steer clear. "Don't slug with Sudenberg.  He's awful strong. Stay away from him."
Dempsey claims to have dismissed this advice, telling Roger Kahn, author of A Flame of Pure Fire, that the match was a brutal slugfest from the first. Local press though reported on a fight that was marked by cautious sparring early, and that after "feeling each other out" for two rounds that Dempsey dominated, it was Sudenberg who changed the pattern and "owing to the greater height and reach" Dempsey possessed, brought the fight to the inside. A fine battle resulted and one that saw Dempsey descend into total chaos for the first time, a feeling that would become as familiar to him as slipping on a pair of old shoes.
"I just kept swinging. Sometimes I think I saw a face in front of me, sometimes I didn't. I kept swinging."
Dempsey claimed he could remember nothing after the fifth.
A rematch was not immediately slated, but the failure of a potential Sudenberg opponent to deliver on a sidebet let Dempsey back in just days later. Dempsey moved a bit further north with the purses, his second battle with Sudenberg staged in Tonopah. Still years from the three-ringed circus his career would become, there was interest surrounding the young scrapper who trained for the fight in the town's casino. Tonopah was a young but bustling setting, festooned with banks and lawyers and saloons as money poured in from Nevada's second largest silver strike. By 1920 they had pulled $121m out of the ground and Dempsey was there to pull out his own piece.
"A great many were dissatisfied with the decision last Monday," wrote the Tonopah Daily upon the fight's announcement. "Dempsey gave Sudenberg the best fight he has had in this part of the country."
Sudenberg, who seems to have been a prickly character, held the power in his relationship with Dempsey and so clearly backed himself to win a rematch. A fascinating aspect of the fight is their respective sizes. Dempsey was referred to as a middleweight in the earliest dispatches surrounding the fight, but in the ring made an impression upon ringsiders as the bigger man. Taller, rangier, it is possible he was already the heavier of the two or it may be that his trek through the surrounding desert left an early impression of litheness which slipped away as Dempsey, holding cash, boxed and ate his way to a size advantage during the build-up. The Goldfield News described him upon entering the ring for the rematch as looking "more like an overgrown schoolboy than a fighter" as he stepped on the canvas before noting wryly that he "proved otherwise."
The fight quite literally drew from miles around, with "Goldfield well represented at ringside" and "eight to ten auto loads" appearing from nearby mines. Dempsey grabbed their attention early, a man you will recognise, coming out of his corner like a rocket and deploying what the Tonopah Daily Bonanza named "Dempsey's mass attack," presumably an early incarnation of the terrible beating he would inflict upon Jess Willard in Toledo with the world's title at stake. Indeed, Sudenberg does appear to have visited the canvas in that first round, but Dempsey, over-eager, under-seasoned, missed with key punches following up his advantage and the canny Sudenberg survived a round of murderous intent.
Papers also report the use of straight punches by Dempsey, that he preferred range and looked to that superior range to dominate. Early Dempsey contests fascinate me in that they repeatedly throw up this story, of a fighter who at just 6'1 was able to dominate most of the desert's pugs with height and reach. Here he plays the role that would later be played by Willard, Carl Morris and Fred Fulton, longer men trying to control the range while Dempsey tormented them with slips and punches.  Here it was Sudenberg who in the third and fourth seemed to do something of a job, getting inside and hitting to the belly while the two accused each other of low blows.
Dempsey is a victim of some criticism over his own use of low blows, alleged or otherwise, in huge fights with Tommy Gibbons and Jack Sharkey. It should be remembered always that he learned his trade in spots like Tonopah and Goldfield where local referees were not sympathetic to pleas for justice to be dispensed. Dempsey fought like a fistic savage because he was raised as one.
After just four rounds in Tonopah, he was tired, feeling the effects of a difficult month and a fast fight. "Dempsey takes punishment well and ducks cleverly," noted The Bonanza, while The News saw Dempsey holding on a good deal more in the second half of the fight.
By round eight, Sudenberg began to show the effects of Dempsey's right hand which he worked "like a sledgehammer" while Sudenberg "lands heavily on Dempsey's digestive apparatus." At the final bell the two worked one another mercilessly in search of the decision, but they were greeted by a draw.
Under a more modern ruleset I suspect that Dempsey would have received the nod. He crushed Sudenberg in the early part of the fight and more than matched him late, but with the referee acting as a single judge, draws in fights where a winner was not inarguably apparent were common.  Fighters expected it and pressmen expected it, which is perhaps why some of those in attendance saw the result as eminently reasonable. Dempsey clearly landed the better shots, but Sudenberg was rewarded for his gameness in "carrying the fight" a tenet of the era.
Dempsey had impressed though. "In Dempsey, who gives the promise of developing into a heavyweight," stated The News, "there is room for a world of improvement, and with the experience he will gain during the next few years he should make a formidable opponent for any scrapper."
Portentous words.
When Dempsey left Tonopah – history does not record whether he walked out – he was mere days from his twentieth birthday, an overgrown schoolboy appearing on the good end of draws against older, more experienced men, already determined to become heavyweight champion, already of the belief he would become one. History tells of a third fight between he and Sudenberg the following February, a more mature Dempsey thrashing a cowed Sudenberg in two rounds.
I spoke to Dempsey scholar and author of the outstanding In The Ring series, Adam Pollack. "Didn't happen," was his verdict.  "I am certain it didn't take place."
It is nice to have this one cleared up. Dempsey did not need to defeat Sudenberg to leave him behind. Dempsey, like any heavyweight champion has his obsessed fans – among them the men who developed a single thin thread concerning a third Sudenberg match and turned it into a truth that was reported in A Flame of Pure Fire and elsewhere – and obsessed haters, but there is no denying what he did. Irresistible and eternal, people will generate and propagate myths about Jack Dempsey for as long as there is fighting.
This story is about his beginnings – see the single-minded determination that saw him walk fifty miles through a desert? See the legendary fast start in the second fight? The mid-round sag that would lead Jack Johnson to label him a three-round fighter? His bending of the rules? Then again, what of his seeming determination to box against a smaller opponent? This was something he abandoned in time to avoid disaster against geniuses like Tommy Gibbons although it would not be enough to save his weary legs from Gene Tunney's escape.
Dempsey's matches with Sudenberg were his emergence from the desert in more ways than one.  They were where his pursuit in earnest of the world's heavyweight title began. These were his first major steps outside of Salt Lake City where his ambitions were as penned as Sudenberg's were in the desert; the defining series of an emergent Jack Dempsey.
Check out more boxing news on video at the Boxing Channel
To comment on this story in the Fight Forum CLICK HERE
Jerry Forrest: When Heart Counts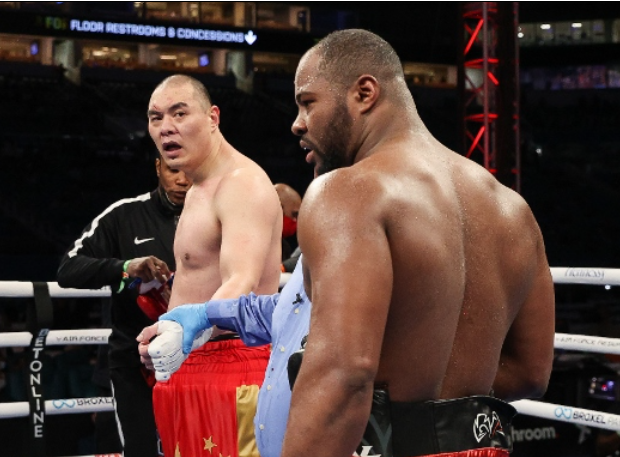 While many Canelo fights end up in some fan's memory bank, that probably won't be the case given what occurred this past Saturday night in Miami. However, the show was salvaged by the entertaining heavyweight draw between China's Zhilei "Big Bang" Zhang (22-0-1) and Jerry "Slugger" Forrest (26-4-1) on the undercard. This one had the fans up and roaring but for different reasons.
The 6'6" Zhang (with excellent amateur credentials) floored the American once in each of the first three rounds and the crowd sensed a stunning KO was on the way. But lo and behold, it didn't come.
Then things began to change, subtle at first, as a determined Forrest survived the onslaught and began to fight back working well inside and landing shots both upstairs and to the body.
A Shift in Momentum
The momentum clearly changed in the fifth as Zhang used his body to lean on "Slugger" to tire him out, but in the process he didn't mix and thereby lost rounds. Soon this strategy (albeit illegal) backfired and served to tire "Big Bang" more than Forrest and making matters worse for Zhang, he was deducted a point in the ninth by referee Frank Gentile for holding. (Given that he had been holding since the fifth round, the deduction was spot-on and could well have come earlier.)
Going into the last round, the fight seemed to be up for grabs and the fresher Forrest obliged as he landed crunching shots that had the fickle fans (are there any others?) now in is corner. He was actually chasing the gassed Chinese monster at the end and had the fight gone another minute, "Slugger" likely would have lived up to his moniker.
"For Jerry Forrest, this is a momentous result after a terrible start, and keeps him in the mix as a high-level gatekeeper, someone who will take on basically anyone and give it the effort. He's a danger to prospects and mid-tier veterans alike," wrote prominent boxing writer Scott Christ.
The scores were 95-93 Forrest and 93-93 twice for a majority draw. Zhang was lucky to keep his undefeated record intact.
Jerry Forrest showed a tremendous amount of heart. Hopefully, when folks look back at this card, Canelo's blowout of Avni Yildirim won't completely overshadow this entertaining heavyweight match.
(Note: Zhang was taken to a hospital for observation when his handlers noticed some concerning symptoms in the locker room after the fight. According to a published statement from Terry Lane of Lane Brothers Management, Zhang was found to be "suffering from anemia, high enzyme levels, and low-level renal failure, which may have been caused by severe dehydration. The good news is that all of his neurological signs are clear…Credit and respect to a game Jerry Forrest who battled back for a ten-round draw…Zhilei will be back.")
Photo credit: Ed Mulholland / Matchroom
Ted Sares can be reached at tedsares@roadrunner.com
Check out more boxing news on video at the Boxing Channel
To comment on this story in the Fight Forum CLICK HERE
The Canelo-Yildirim Travesty was Another Smudge on 'Mandatory' Title Defenses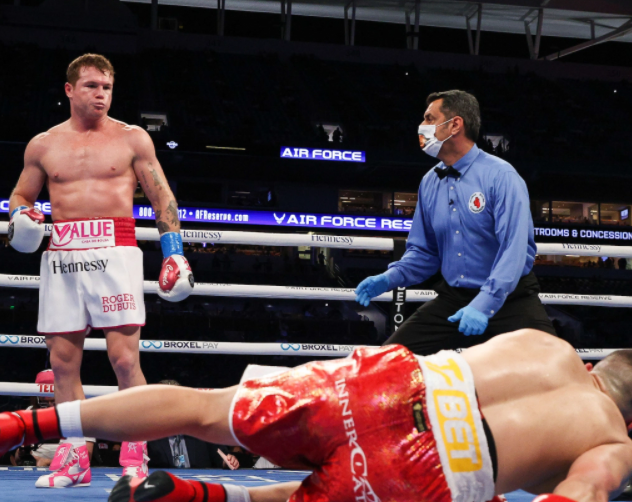 Canelo Alvarez's rout of grossly overmatched Avni Yildirim has once again cast a harsh light on the "mandatory challenger" gambit employed by the sport's world sanctioning bodies. Canelo successfully defended his WBC 168-pound belt this past Saturday in Miami when Yildirim's corner pulled him out after only three rounds.
During the nine minutes of actual fighting, Yildirim was credited with landing only 11 punches, none of which appeared to have been launched with bad intentions. A person posting on a rival web site likened Yildirim's woeful performance to that of Nate Robinson's showing against Jake Paul. Another snarky poster said that faint-hearted Adrien Broner, by comparison, had the heart of a lion. True, the 29-year-old Turk was sent in against a beast, but one yet has a right to expect more from a contest packaged as a world title fight.
Yildirim was coming off a loss. In his previous fight, he lost a split decision to Anthony Dirrell in a bout that was stopped in the 10th round by the ringside physician because of a bad cut over Dirrell's left eye that resulted from an accidental head butt. He hadn't won a fight in three-and-a-half years, not since out-pointing 46-year-old Lolenga Mock who predictably faded late in the 12-round fight, enabling Yildirim to win a narrow decision. Earlier in his career, he was stopped in the third round by Chris Eubank Jr in a fight that was one-sided from the get-go.
So, how exactly did Avni Yildirim build himself into position to become the mandatory opponent for the sport's top pound-for-pound fighter? Did he "earn" this opportunity and the rich payday that came with it by submitting the winning bid in an auction? Is that a rhetorical question?
In an ESPN Q & A, the award-winning writer Mark Kriegel said that Canelo-Yildirim was payback for certain favors that were granted to Canelo by the WBC, citing the organization's new "Franchise Champion" category and to their decision to countenance Canelo's fight with Callum Smith for their vacant 168-pound title. But this doesn't answer the question as to how Yildirim ascended to the role of a mandatory challenger; it merely informs us why Canelo agreed to take the fight.
This was the second great mismatch in 10 weeks involving a mandatory challenger. On Dec. 18, Gennadiy Golovkin opposed Poland's Kamil Szeremeta in the first defense of the IBF middleweight title that he won with a hard-earned decision over Sergiy Derevyanchenko. The feather-fisted Szeremeta was undefeated (21-0, 5 KOs) but hadn't defeated an opponent with a recognizable name.
This was a stroll in the park for GGG. Szeremeta was a glutton for punishment – he lasted into the seventh round — but at no point in the fight did he pose a threat to the 38-year-old Kazakh. Golovkin knocked him down four times before the plug was pulled.
In theory, the "mandatory challenger" ruling forestalls the very abuses with which it has become identified. It prevents a champion from fighting a series of hapless opponents while a more worthy challenger is left out in the cold. One could say that it stands as an example of the law of unforeseen consequences, save that it would be naïve to think that the heads of the sanctioning bodies didn't foresee this versatility and venally embrace it.
Historians will likely lump Avni Yildirim with such fighters of the past as Patrick Charpentier and Morrade Hakker who were accorded mandatory contender status by the WBC so that they could be fodder for a title-holder in a stay-busy fight. Charpentier was rucked into retirement by Oscar De La Hoya who dismissed the overmatched Frenchman in three one-sided rounds at El Paso in 1998. Hakker was thrown in against Bernard Hopkins at Philadelphia in 2003. He brought his bicycle with him, so to speak, and thus lasted into the eighth.
In common with Yildirim and a slew of other mandatory challengers (Vaughn Bean comes quickly to mind), Charpentier and Hakker had misleading records. Steve Kim, in an article for this publication, said that Hakker's record was more inflated than the Goodyear blimp.
A mandatory title defense isn't always a rip-off. One wonders where Tyson Fury would be career-wise today if the WBO hadn't established the Gypsy King as the mandatory challenger to Wladimir Klitschko, setting the wheels in motion for a changing of the guard. That worked out well for the good of the sport as Fury, after some disconcerting speed bumps, would prove to be a breath of fresh air.
But a mandatory title defense between evenly-matched opponents remains a rarity and there's no end in sight to the charade.
Photo credit: Ed Mulholland / Matchroom
Check out more boxing news on video at the Boxing Channel
To comment on this story in the Fight Forum CLICK HERE