A Philosophy Professor and a Boxing Coach, Gordon Marino Wears Dissimilar Hats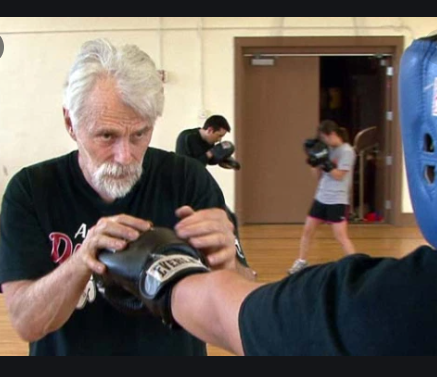 A Philosophy Professor and a Boxing Coach, Gordon Marino Wears Dissimilar Hats
Academia and scholarship are prim and proper and generally take place in ivy-covered brick buildings.
The art and science of boxing are rough and rugged and usually situated in dank and musty gyms.
On the surface, at least, they couldn't be more diametrically opposed.
Gordon Marino, a longtime philosophy professor and current Professor Emeritus and Director of the Hong Soren Kierkegaard Library at St. Olaf College in Northfield, Minnesota, has a different twist on the matter and actually sees an intersection between the two. In addition to teaching philosophy, Marino trains amateur boxers.
"Many would say they are antithetical. Even me sometimes. My wife [Susan] is a neuroscientist and was on the Cleveland Clinics Fighters' Brain Health study," said Marino, a leading scholar on Kierkegaard, the Danish existentialist philosopher, who lived from 1813 to 1855. "I know what kind of damage those hurricane blows can deliver and I get sick when I see a boxer taking a beating in a contest that should be stopped. Yes, I am ambivalent about building minds up and then putting them in danger."
The sweet science and philosophy do seem to make for strange bedfellows.
"Philosophy is about acquiring wisdom and developing the virtues," Marino said. "Again, with proper instruction, boxing can be fertile ground for those two endeavors."
Marino, an amateur boxer who came close to turning professional, played wide receiver at Bowling Green State University in Ohio before transferring to Columbia. He went on to earn graduate degrees from the University of Pennsylvania and the University of Chicago. In addition to St. Olaf, he has taught at Yale, where he was an assistant football coach, at Harvard, at the University of Florida, and at Virginia Military Institute where he was the head boxing coach.
Marino explained being a college professor is in some ways like stepping into the ring.
"This might strike some readers as puzzling, but I should also mention that philosophy is a rather violent game. Scholars work for months or years to construct a theory and then others strive to find something wrong with the theory and take it down with an intellectual uppercut," he said. "I can tell you from experience, being on the end of one of these uppercuts can make you feel pretty stupid and for my part I would much prefer a punch in the nose to one that knocks out my intellectual confidence."
Having gone through the rigors and challenges of being a professor has also enabled Marino, who has written about boxing for a number of periodicals including The Wall Street Journal, to fully appreciate what boxers endure.
"I would like to think being a teacher has helped me be a better boxing coach. It has made me more adept at offering clear explanations and helped me to understand that students of both philosophy and the sweet science want to learn something new all the time," he noted. "On the other side of the coin, my experience as a trainer has improved my work in the classroom. It has strengthened my ability to take better reads on my students and to know when and how to push them."
Marino said growing up in a volatile household in New Jersey, he was looking for an escape hatch.
"I grew up in the 1960s and 1970s in what would then have been considered a fairly violent environment," he acknowledged. "I was smacked around at home on a daily basis, so in addition to the desire to learn how to defend myself, I suppose I wanted to kick some butt."
"I was originally drawn to the violence and opportunity to express my anger," he said of boxing's appeal. "Let's face it, everyone wants to be a tough guy and to receive their red badge of courage for overcoming five alarm fears."
"In my late sixties and having calmed down a mite, I am more fascinated today by the courage, technique, resilience and resolve of fighters," he said. "I also feel that in order to be a good, caring human being, we need to be able to deal with internal obstacles such as anxiety and anger."
Marino continued: "There are very few places today where we can do some sparring with those challenging moods and emotions. With the right supervision, boxing provides a workshop for dealing with these feelings. For instance, following in the teaching of (the late trainer) Cus D'Amato, one of the lessons I pass onto my sub-novice competitive boxers is not to panic about feeling panicked. And that in order to be successful in the gloved game you are going to need to use, but control your aggression."
Lessons are learned every single day and Marino used the manly sport to his advantage.
"I am better at taking life's punches for having been in boxing," he said. "And if you will excuse my moralizing, it seems to me that if you can't take a punch, you won't be able to do the right thing in life."
Marino used an example from today's headlines. "Consider the people and the cops who passively watched George Floyd have the life choked out of him. For the cops other than (Derek) Chauvin, intervening might have meant losing their job, i.e., taking a punch," he said.
Marino wasn't done. "Know thyself is one of the first philosophical commandments and if you have some muscle for self-reflection, you can certainly learn a lot about yourself in the ring," he added. "Of course, the bruising game has also stamped in the importance of preparation and cultivated a little more control over my emotions than I would have had if I had spent my time on the links."
One thing that Marino admires about pugilists is they go about their business essentially solo. Boxers walk figuratively naked into the ring.
"It is a truism to say that in boxing you are out there all alone. Boxers certainly reveal something about their will," he explained. "When the leather starts flying you will be forced to ask yourself in public, just how far you are or aren't willing to go to win."
"For example, it could be that in learning to box and perhaps in sparring, you recognize you are too afraid to stay in the pocket. However, having grasped that, you push yourself and develop the courage to get inside and let your hands go."
The second step is to remain in control of yourself despite what's happening that may scare you.
In addition to cultivating control over emotions, said Marino, "(sports like boxing) nurture affiliations – strong and intimate bonds between people."
On the other hand, there are negatives. "Just the same, make no mistake about it, sports can also poison character, especially when your guides to boxing or whatever are blind or indifferent to the issue of character," Marino said.
It's been said a wise man knows his limits and seeks out others as a way to enrich oneself. For Marino, that man was legendary trainer Angelo Dundee.
"About 15 years ago, I was assigned to write an online story on Ang for Men's Health. I went to Florida to meet with him at the South Florida Boxing Gym, where he was still training fighters. He must have been in his late seventies, but he was a ball of positive energy."
Marino could sense the experience was going to elicit a wealth of information from a man who trained 16 world champions.
"Like Muhammad Ali, Ang had a heavyweight love for people, as well as a sparkling sense of humor. Maya Angelou once remarked, 'that you might not remember what a person says, but you'll surely remember how they made you feel.' Ang made so many of us, his friends, feel special. I loved the man," he said.
It's something that Dundee said that still resonates with Marino. "Of course, as a coach, I pumped him for his knowledge of strategy and technique," he recalled. "Now and again, he would give me a piece of advice to which I would have to protest. 'Ang, I can't use that with amateurs.' A [Sigmund] Freud of sorts, he taught me that when you have a boxer who won't listen, as Ali often wouldn't, praise him for doing what you want him to do, even though he or she might not be doing it."
Having covered boxing for 15 years for The Wall Street Journal, Marino said the stint helped him immensely as a coach.
"Every time I met an elite fighter, I would ask him or her to teach me one of their signature moves," he said. "Sometimes they were a little guarded about this – for example, Oscar De La Hoya just told me – 'exhale on your big punches.' But most of them came right back with something I could bring home."
Manny Pacquiao was extremely helpful. "Tell them to always throw six punch combos on the bag or shadow boxing, because they will turn into two punches in the ring," explained the eight-division world champion.
Roy Jones Jr. was equally insightful, according to Marino, who asked Roy about throwing a right hand.
"Lean right, lean left, lean back right, but this time as you are leaning right, throw your right," he said.
The late Hall of Fame trainer Emanuel Steward rendered this advice to Marino: "Don't put too much weight on the front foot and when you throw your hook, turn your arm into a steel bar," he said.
Mike Tyson, the youngest-ever heavyweight champion, gave Marino this tidbit: "Dip down a few times and jab to the solar plexus. The counter is, of course, a right hand," he said. "Now, dip, load up your legs, feint the jab and fire your right. If you are lucky, the other guy will be coming in with his right and blam, good night."
Sugar Ray Leonard forked over this gem just before Leonard's wife kicked Marino out of the house: "When you are fighting a southpaw, feint the left hook and fire a wide right to the head," he said.
Pacquiao, a left-hander, should have remembered this lesson before he faced Juan Manuel Marquez on December 8, 2012, at the MGM Grand Garden Arena, when he was knocked out by a thunderous overhand right in the sixth round, Marino suggested.
For Gordon Marino, the path to knowledge and wisdom can be found almost anywhere, whether they're in books, lecture halls or the squared circle.
Check out more boxing news on video at the Boxing Channel
To comment on this story in the Fight Forum CLICK HERE
Top 12 New England Boxing Ratings as of July 2021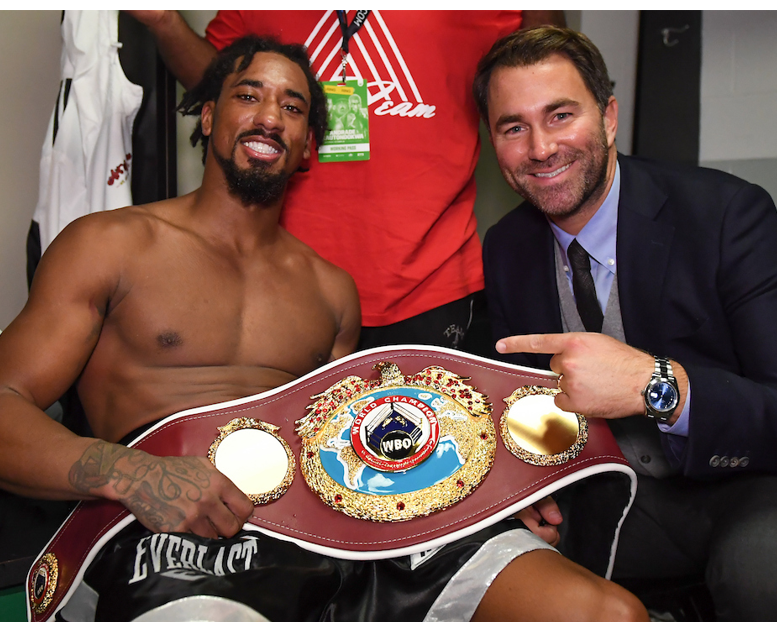 For the sake of these regionalized rankings, the New England region officially consists of Maine, Vermont, Massachusetts, Rhode Island and Connecticut. And I know I don't have to remind TSS readers that the glory days of Willie Pep and world title fights at the old Boston Garden are over.
It's now 2021.
New England boxing boasts only one current world champion to crow about and no top contenders to get too excited about. The championship run of New Haven's Chad Dawson and the championship aspirations of Worcester's Edwin Rodriquez are presently a thing of the past.
What we have here now are mostly youngish prospects and a few potential contenders with a mix of would-be Micky Ward types scattered throughout. What follows are the twelve best and most accomplished New England boxers in all weight classes from the above mentioned states.
Top 12 New England Ratings:
1. Demetrius "Boo Boo" Andrade, Providence, Rhode Island: The current WBO middleweight champion was recently made to look like a fool after crashing a Canelo Alvarez post-fight presser to declare his fandom and be accused of fighting "no body man" by a smirking Alvarez.
The 33-year-old Andrade is 30-0 (18) and desperate for a payday! Since winning the vacant WBO 160- pound strap in 2018 at the Boston Garden with a boring decision over Walter Kautondokwa, Andrade has beaten four B-level boxers, stopping only one of them with some help from the referee. Eddie Hearn is a good promoter but even he can't make us like Boo-Boo.
2. Rashidi Ellis, Lynn Massachusetts: The speedy younger brother of Akeem, "Speedy" Rashidi is 23-0 (14) at welterweight and is rated #23 at 147 by BoxRec. Ellis, 28, went pro in Boston in 2013 and fought there three more times before taking his act on the road, fighting frequently in Puerto Rico and the Dominican Republic. Ellis has not fought since a 12-round unanimous decision over undefeated Alexis Rocha in 2020. The win earned Speedy Rashidi a minor title.
Promoted by Oscar De La Hoya's Golden Boy, Ellis' win over Rocha came as a surprise as Rocha was an undefeated GBP prospect beaten by Ellis in his own California backyard.
3. Mark DeLuca, Whitman, Massachusetts: At 33, the "Bazooka" is the most battle-hardened fighter on this list at 27-2 with 15 knockouts. DeLuca avenged the first loss of his career, decisioning Walter Wright at the Boston Garden in 2018. In 2020, he travelled to Sheffield, U.K. for a Matchroom match-up with Kell Brook. DeLuca was knocked out in 7 one-sided rounds.
Despite the setback, DeLuca stayed active in 2020 with two wins late in the year. DeLuca went to Tijuana last February to pick up a win and he's scheduled to face Charles Conwell in Cleveland next month. Conwell, 15-0 with 11 knockouts, fatally defeated Patrick Day in 2019.
4. Ronald Ellis, Lynn, Massachusetts: AKA Akeem, this 31-year-old super middleweight has been a professional since 2011. In that ten year period, Ellis battled his way up to big fight opportunities, winning some, losing some—and drawing in others. Ellis dropped a Showtime televised decision to DeAndre Ware in 2019 before rebounding that same year to decision Immanuwel Aleem in Brooklyn, NY. Ellis will fight anywhere and he always comes to win.
In 2020, Ellis got a win over veteran Matt Korobov when the Russian broke his ankle and was unable to continue in the bout at Mohegan Sun Casino in CT. Ellis was then stopped last March in 11 rounds by David Benavidez at the same venue. Ellis is now 18-2-2 with 12 knockouts.
The Ellis brothers' younger sister Rashida is boxing in the 2020 Tokyo Olympics for Team USA at 60 kg. With a 45-16 record in 61 bouts, the 26-year-old is determined to win a Gold medal.
5. "Marvelous" Mykquan Williams, Hartford, Connecticut: This 23-year-old welterweight is signed to DiBella Entertainment and is managed by Jackie Kallen. At 16-0-1 with 7 knockouts, Williams broke his pandemic-induced inactivity last January at Mohegan Sun in Connecticut with a 10-round unanimous decision over undefeated (15-0) Yeis Gabriel Solano on Showtime.
In his final bout of 2019, before missing all of 2020, Williams was held to an 8-round draw in Brooklyn by a southpaw spoiler named Tre'Sean Wiggins. A recent automobile accident resulted in a broken wrist, thus "Marvelous" Mykquan will be sidelined for the foreseeable future.
6. Toka Kahn Clary, Providence, Rhode Island: Once a highly touted local prospect, the professional reality of Toka Khan, 29, is clear. At 28-3, this southpaw featherweight has been knocked out by a nobody and beaten by decision twice when he stepped up to world level.
In 2020, Khan was beaten by Shakur Stevenson in Las Vegas, losing every round on all cards. In 2018, he was outclassed at the Boston Garden by British world title challenger Kid Galahad.
7. Kendrick Ball Jr., Worcester, Massachusetts: The now 28-year-old super middleweight mostly flew under the radar while fighting for Jimmy Burchfield's Classic Entertainment and Sports (CES) on Mr. B's Twin River, Rhode Island undercards. After a win here, a draw there, and a loss there later, the tall Ball (6' 2") won twice in 2020 (and in 2019) before decisioning veteran Bryan Vera last April in Derry, New Hampshire on a Granite Chin promoted show.
Ball, 16-1-2 (11) is scheduled to main event the CES card scheduled for August 7 in Springfield, Massachusetts at the recently reopened MGM casino venue in the western part of the state.
8. Greg Vendetti, Stoneham, Massachusetts: The Murphys Boxing promoted "Villain" Vendetti (now 31) is a come-forward fighter who earned his chops on the local scene before stepping up and into the international fray with mixed results. A 2018 win over Yoshihiro Kamegai in California was followed by a devastating second-round knockout loss to Michel Soro in France.
Vendetti regrouped with a pair of local decision wins in 2019 before going back to California for a 2020 shot at Erislandy Lara's two junior middleweight titles. Vendetti, now 22-4-1 (12), dropped a wide 12-round unanimous decision to the very defensively oriented Cuban freedom fighter.
9. Cassius Chaney, New London, Connecticut: This 34-year-old super-sized heavyweight got a late start in boxing in 2015 after relocating from Baltimore to Connecticut and switching sports. At six foot six, Chaney played basketball in college. In boxing, Chaney is undefeated at 20-0 with 14 KOs and he is Greg Page huge! His afro is even bigger. According to his bio on the Main Events website, Chaney boasts an 85-inch reach and was named after Cassius Clay. With a degree in sports management, he's a stinker and a thinker! Still, despite being named after the GOAT, this Cassius is still in 8-rounders and hasn't fought anyone expected to challenge him.
Chaney won four times in 2019, twice in 2020 and he is scheduled to fight on the Rivera Promotions show (New England's Future VII) on August 14 at the Worcester Palladium.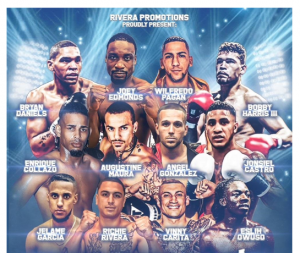 10. Richard "Popeye" Rivera, Hartford, Connecticut: The most charismatic fighter on this list, Rivera is a free-swinging cruiserweight who gladly plays the part of Popeye The Sailor Man, bringing a pipe to the ring and singing the trademarked "Toot Toot" jingle. After blasting out "Vermont Bully" Kevin Cobbs in 2018, Rivera has been extremely active, winning four more times that year, seven more times in 2019 and twice in 2020. Rivera won another stay-busy fight last February in Orlando, Florida, a first-round knockout of some Mexican punching bag.
At 19-0 with 14 knockouts, Rivera is back in action on next month's (August 14) RPE promoted show in Worcester, Massachusetts at the Palladium where he made his pro debut back in 2017.
11. Jamaine Ortiz, Worcester, Massachusetts: This Jimmy Burchfield promoted lightweight is 14-0-1 (8). Last April, he showed great promise on a Top Rank promoted show in Florida, drawing in 8 with undefeated (14-0-2) TR prospect Joseph Adorno. Many ringsiders felt that Ortiz, 25, deserved to get the win and that Adorno was fortunate to keep his unbeaten record.
12. Irvin Gonzalez, Worcester, Massachusetts: Now 14-3 with 11 knockouts, the losses are starting to pile up for this once highly regarded featherweight prospect. Before losing his "0" by knockout in 2019 to journeyman Elijah Pierce at Foxwoods Casino, there was talk of Gonzalez being signed by Evander Holyfield's upstart promotional company. Three months later, Gonzalez lost again at Foxwoods, this time a wide 10-round decision loss to Toka Khan.
Gonzalez also lost his most recent fight, an 8-round split decision loss to Texas tough-guy Edward Vazquez in Los Angeles on a Jimmy Burchfield promoted show in November of 2020.
Irvin is still only 25, he can build back better.
KO's Honorable Mentions: Chris Traietti (cruiserweight, Quincy, MA), Ryan Kielczweski (lightweight, Quincy, MA) and Brandon "The Cannon" Berry (welterweight, West Forks, Maine).
The 35-year-old Traietti is more promoter than active fighter these days but he still laces up the gloves on his own Granite Chin Promotions shows and he sports a 30-4 (24) record. He was beaten by Lowell's Joey McCreedy, Worcester's Edwin Rodriguez and by Mike Lee in Chicago.
Known as the "Polish Prince" in the ring, Kielczweski turned pro in 2008 and racked up a 22-0 record before his first decision loss in 2015 to Danny Aquino. Momentum killing decision losses to Miquel Flores, Frank De Alba, Tommy Coyle, and Gabriel Flores have stalled his career at 35.
All of which brings us to Maine's Brandon Berry. A short little welterweight with no reach and little in the way of technique, Berry gets by on pure heart. The 33-year-old is now 22-5-2 (15) and has both fought and promoted himself to 9 straight victories since a pair of losses in 2018.
Berry now fights for the memory of best friend Joel Bishop, a fellow boxer who died on Berry's wedding night in 2017. Berry has overcome personal tragedy, humiliating losses in the ring and a shoulder injury requiring surgery to carve out a respectable professional boxing career.
*** As noted above there are a few New England shows scheduled that local live fans should know about. Next Saturday night on July 31, Vertex Promotions has a club show scheduled in Dedham, MA featuring several novice local pros in action. Then on August 7 in Springfield, MA, CES is putting on a show at the MGM Springfield with Kendrick Ball Jr. in the main event.
Promoter Jose Antonio Rivera (the former WBA junior middleweight champion) is then back at the Palladium in Worcester, MA on August 14 with "New England's Future VII" featuring the return of the popular "Popeye" Rivera. And on August 28 in Derry, NH, Chris Traietti's Granite Chin promotions returns for what Chris calls an "invitational elite class boxing tournament."
Boxing Writer Jeffrey Freeman grew up in the City of Champions, Brockton, Massachusetts from 1973 to 1987, during the Marvelous career of Marvin Hagler. JFree then lived in Lowell, Mass during the best years of Irish Micky Ward's illustrious career. A former member of the Boxing Writers Association of America and a Bernie Award Winner in the Category of Feature Story Under 1500 Words. Freeman covers boxing for The Sweet Science in New England.
Check out more boxing news on video at the Boxing Channel
To comment on this story in the Fight Forum CLICK HERE
Boxing Odds and Ends: The WBA's 50-Year-Old Cruiserweight Contender and More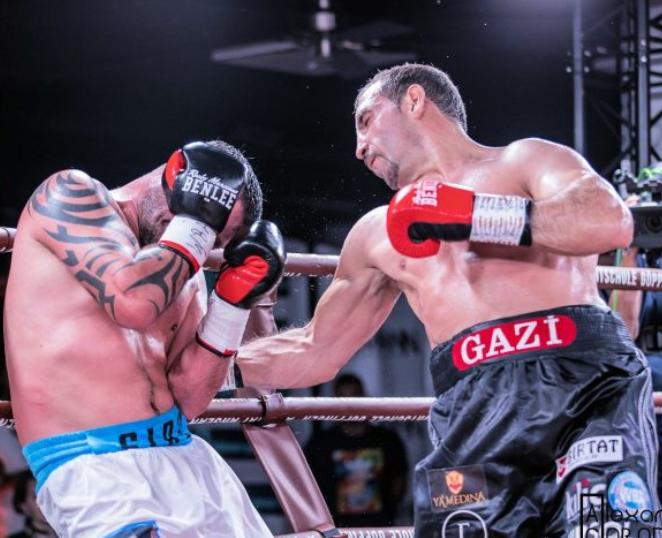 Boxing Odds and Ends: The WBA's 50-Year-Old Cruiserweight Contender and More
Boxing's seniors tour continues on Sept. 11 when Oscar De La Hoya returns to the ring after an absence of almost 13 years to fight former MMA star Vitor Belfort. The bout is scheduled for eight two-minute rounds and will count against De La Hoya's professional boxing record which currently stands at 39-6 (30). More details will be revealed tomorrow at a Los Angeles press conference.
De La Hoya turned 48 in February. If he is looking for inspiration, he need look no further back than this past Saturday where cruiserweight Firat Arslan continued his ascent toward yet another world title shot with a fourth-round stoppage of Argentina's Ruben Eduardo Acosta. Arslan is older than Oscar, he's 50!
The match took place in Goeppingen, Germany, before a small gathering in Firat Arslan's gym. It was sanctioned by the WBA for an "international" belt. A southpaw of Turkish descent, Arslan (pictured on the right) entered the contest ranked #5 by the repugnant organization and will presumably move up a notch.
Arslan is in his 24th year as a pro. His signature win was a 12-round decision over Virgil Hill in 2007. Hill was then 43 years old. Coincidentally, the man that Arslan just defeated was also 43.
The victory over Hill, a future Hall of Famer, earned Arslan a world cruiserweight title. He lost it to Guillermo Jones after one successful defense and would come up short in three other stabs at a world cruiserweight title, losing to Marco Huck twice and to Yoan Pablo Hernandez.
One doesn't know if Ruben Eduardo Acosta turned up in Germany intent on rendering an honest effort. He went down three times from body shots and was counted out on his last trip to the mat. But the Argentine sported a decent record (38-17-5) and had gone seven years without being stopped, a pocket of 17 fights.
There's an obvious difference between Arslan and De La Hoya. Arslan was out of the ring for 21 months after losing his title to Jones, but has otherwise maintained a steady schedule. His weight has never ballooned between fights and he has the physique of a man twenty years younger. De La Hoya has led a sedentary life since leaving the ring and is effectively starting over. He figures to weigh about 170 for Vitor Belfort which would be 25 pounds more than he carried for his last fight against Manny Pacquiao.
—
De La Hoya vs. Belfort is being promoted by Triller and will air on FITE. Triller and FITE are also collaborating on the Aug. 3 event at the Hulu Theater in Madison Square Garden. The headline attraction of what will supposedly be a 10-fight card finds heavyweight contender Michael "The Bounty" Hunter taking on former amateur rival Mike "White Delight" Wilson.
Those attending the event who are over the age of 15 must provide proof of full vaccination or a negative test result within the previous 72 hours. Despite this potential deal-breaker, tickets purportedly disappeared fast, portending a complete sell-out.
Of course, there's more to the event than boxing. Local rap groups DIPSET and THE LOX will battle it out in a competition ballyhooed as iconic in the promotional literature.
—-
A more compelling fight takes place in North London on Sept. 25 when IBF/WBO/WBA heavyweight champion Anthony Joshua defends his belts against former unified cruiserweight champion Oleksandr Usyk. It will be the first boxing event at Tottenham Hotspur Stadium which opened in April of 2019. Built for the Tottenham Hotspurs, a Premier League soccer club, the stadium was also conceptualized with an eye toward housing an NFL team.
The soccer pitch is retractable. Underneath is an artificial turf for American football. Having the football field at a lower level than the soccer pitch will allow spectators in the first row to see over the heads of football players and coaches standing on the sideline. In soccer, the front row can be closer to the playing field because soccer players sit on chairs when they are not in the game. Moreover, the stadium has a separate entrance dedicated to NFL events and the press sections for American football and for soccer are configured differently.
Pro football fans in the U.S. tuning in on television will be get a bird's eye view of the new stadium on Oct. 10 and again Oct. 17 when the NFL plays games in London, renewing a tradition that was interrupted last year by Covid-19. The NFL recently signed a 10-year deal with the landlord of Tottenham Hotspur Stadium.
For the record, the Oct. 10 game features the Falcons against the Jets. On Oct. 17, it's the Jaguars against the Dolphins. Both games will start at 9:30 am ET, 6:30 am PT. Football fans on the West Coast are advised to set their alarm clocks.
Check out more boxing news on video at the Boxing Channel
To comment on this story in the Fight Forum CLICK HERE
Fast Results from London: Massive Heavyweight Joe Joyce Keeps on Rolling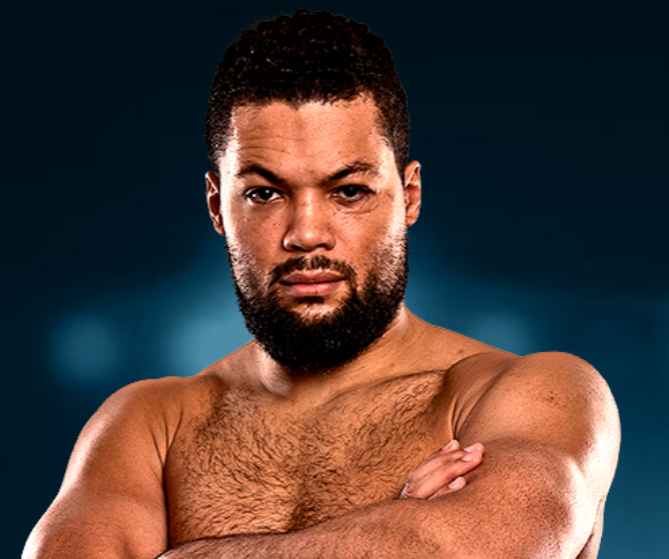 Ponderous but formidable Joe Joyce moved one step closer to a title fight tonight at the Wembley Arena with a sixth-round stoppage of Carlos Takam. Carrying 264 pounds on a six-foot-six frame, the 2014 Olympic silver medalist was simply too big for his 40-year-old French-Cameroonian adversary.
In his previous bout, Joyce methodically dismantled favored Daniel Dubois with a steady dose of his thudding right jab. Dubois quit in the 10th round with a busted eye socket. Tonight's fight followed a somewhat similar pattern.
Takam landed some good shots in the first two rounds as Joyce was slow to find his rhythm, but Joyce stuck to his game plan which was to wear him down and Takam's punches gradually lost steam in the face of Joyce's constant pressure.
Early in round six, Joyce rocked Takam with a big right hand and didn't let him off the hook. Takam protested when the referee indicated that he had seen enough and the stoppage did strike many as premature, but the handwriting was on the wall for the veteran who declined to 39-6-1. The official time was 0:49.
Joyce is of Scotch-Irish and Nigerian descent. College educated with a degree in fine arts, he acknowledges that he has no great passion for the sport of boxing and is in it for the financial rewards, not the glory. At age 35, he isn't going to get any better, but he appears to have a rock-solid chin and his nickname, Juggernaut, is quite fitting.
Joyce entered the bout ranked #2 by the WBO, a notch below Oleksandr Usyk who challenges title-holder Anthony Joshua on Sept. 25.
Other Bouts of Note
Ekow Essuman, a 32-year-old Nottingham man, born in Botswana, unseated British and Commonwealth welterweight champion Chris Jenkins, winning on an eighth-round stoppage. A hard right hook followed by a flurry of punches forced the referee to waive it off. The official time was 0:53.
Essuman, who was favored in the 3/1 range, improved to 15-0 with his sixth win inside the distance. A Welshman, Jenkins (22-4-3) was making the fourth defense of his domestic title.
London super welterweight Hamzah Sheeraz, who has been training at the Ten Goose Gym in Van Nuys, California, improved to 13-0 (9 KOs) with a fifth-round stoppage of Spain's Ezequiel Gurria (15-2). Gurria was down twice in the fifth round before the bout was halted at the 2:23 mark.
Check out more boxing news on video at the Boxing Channel
To comment on this story in the Fight Forum CLICK HERE