The Tartan Tornado Invades Las Vegas, Harkening Back to Sugar Ray Robinson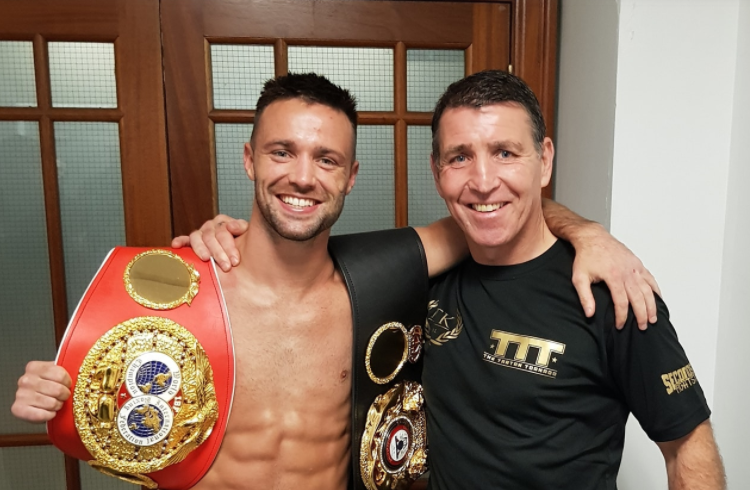 On Sunday, Feb. 26, 1961, Sugar Ray Robinson arrived in Las Vegas for his match six days later with Gene Fullmer at the two-year-old Las Vegas Convention Center. Reporters on hand to greet Robinson at the airport were taken aback by his large entourage. With him were his manager George Gainford, his trainer and his trainer's assistant, his mother, his traveling secretary, his personal physician, his dietician, his bodyguard, his personal barber and a sparring partner – eleven bodies in all including Robinson.
Flash forward 60 years. When WBA/IBF world super lightweight champion Josh Taylor arrived in Las Vegas on April 24, his party also numbered eleven. Arriving with him from Edinburgh were his trainer Ben Davison, his former amateur coach Terry McCormack (pictured on the right) and assorted others including a videoanalyst, a physiotherapist, and several longtime friends and gym mates including undefeated (10-0) European bantamweight title-holder Lee McGregor and sparring partner Chris Kongo.
Once he was settled in, Sugar Ray had less than a full week to finish off his preparation for his title fight with arch-rival Fullmer. By contrast, Josh Taylor and his team arrived in Las Vegas a full month before Taylor was set to square off against WBC/WBO counterpart Jose Ramirez in the biggest fight in Las Vegas since Fury-Wilder II, a lapse of 14 months.
There are other differences between Team Robinson and Team Taylor which touch on the way that boxing has changed from a promotional standpoint. Sugar Ray and his party stayed at the Dunes Casino Resort on the Strip where Robinson picked up some loose change holding afternoon pre-fight workouts in the hotel's showroom at $1 a head. Team Taylor is staying as a group in a large, luxury home in the "burbs" where there are fewer distractions and when he is ready to spar at the Top Rank Gym, "foreigners" are shooed away. Which isn't to say that Josh Taylor isn't friendly. Quite the opposite; the Tartan Tornado has been very approachable and unstinting of his time with the few local reporters that have been hep to his whereabouts.
Taylor hails from Prestonpans, a town eight miles east of Edinburgh, Scotland's second-largest city. His dad works as a landscape gardener and his mother as a receptionist. He has one sibling, a younger sister. This past December he became engaged to hairdresser Danielle Murphy, his longtime girlfriend. They have known each other for 10 years.
On Wikipedia, Prestonpans is portrayed as a small fishing village, but that is highly misleading. For a better reference, think of towns in the American rust belt that have been bruised by the loss of manufacturing jobs. Taylor and his neighbors will tell you that the policies of Margaret Thatcher, British PM from 1979 to 1990, compounded the damage.
At age 17, Taylor, now 30, found his way to McCormack's Lochend Boxing Club in Edinburgh. At this humble gym — a little shack situated smack against a public housing project — he honed the skills that made him an elite amateur, a globetrotter who culminated his tenure with a gold medal at the 2014 Commonwealth Games.
Taylor turned pro for Barry McGuigan's Cyclone Promotions. McGuigan entrusts his fighters to his trainer/son Shane McGuigan. The McGuigans already had Carl Frampton in the fold. Under the McGuigans stewardship, Frampton became a champion in two weight classes.
Taylor's fight with Jose Ramirez will be his fourth in the United States. Josh made his pro debut in El Paso and also fought at Barclays Center in Brooklyn and at the MGM Grand in Las Vegas. The common thread in all three fights is Frampton who also appeared on those cards, the last two as the headliner with Leo Santa Cruz in the opposite corner.
As a pro, Taylor is undefeated (17-0, 13 KOs). Ramirez, the pride of Central California's vast San Joaquin Valley, home to more than 4 million people, is also undefeated (26-0, 17 KOs), but the Scotsman is considered to have fought the stronger schedule. Taylor's last five opponents were collectively 110-1 at the time that he fought them with the lone blemish inflicted by Terence Crawford.
Taylor's signature win was his Oct. 26, 2019 conquest of Regis Prograis at London's O2 Arena. Both came in undefeated, both owned a share of the world super lightweight title, and the match had the added allure of being the final round of a World Boxing Super Series tournament with the coveted Muhammad Ali Trophy, an impressive piece of hardware, bestowed on the winner.
The fight was expected to be highly entertaining and it overachieved. The noted historian Matt McGrain called it "the inarguable 140lb fight of the decade." At the end both fighters were marked-up, especially the victorious Taylor who sported a beauty of a shiner over his right eye. "I have never been prouder of an injury," Taylor told this reporter.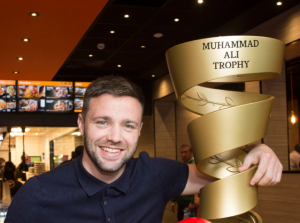 His relationship with the McGuigans unraveled after this fight. Shane McGuigan took it hard. "I've invested four-and-a-half years of my time and energy in someone who just doesn't deserve it," he said. "If you want loyalty in boxing, buy a dog (a saying previously credited to the late British boxing promoter Mickey Duff)."
"Don't buy a dog and then put it in the kennel," replied Taylor, noting that he had been left alone for long periods by Shane McGuigan when training in England and that he wasn't provided a key to the gym when his trainer was out of town.
Veteran British boxing scribe Colin Hart took the McGuigans' side in a story that ran in the Sun, faulting Josh for his disloyalty. What Hart failed to note is that in every deal that Taylor has signed, he has insisted that his amateur coach be included. McCormack assisted McGuigan in the corner and continues in that role under Davison, the young trainer who reinvigorated Tyson Fury before their amicable split.
"I have never been so happy as I am now," says Taylor. "I am content and relaxed." And he insists that he harbors no hard feelings toward the McGuigans. "I'm grateful for what they did for me."
This olive branch, of sorts, stands in stark contrast to his pal Carl Frampton whose break from the McGuigans was scarred with unbending acrimony. (Shane McGuigan's latest protégé is Lawrence Okolie who turned in a sensational performance while blasting out Krzyzstof Glowacki to win the WBO world cruiserweight title on March 20. There's no question that Shane is one of the sharpest young trainers in the sport, but if he were a physician, one might say that he needs to work on improving his bedside manner.)
The Taylor-Ramirez fight will be held at the Virgin Hotel (formerly the Hard Rock which was closed for 13 months while the new owners of the property, in their words, "reimagined" it). The winner will be the undisputed 140-pound champion, holding all four meaningful belts. If that be Taylor, who is a small favorite, that would put him on the same pedestal as Ken Buchanan who became a national hero when he won the world lightweight title from Ismael Laguna in 1970, a diadem he lost on a controversial punch to Roberto Duran who refused to give him a rematch.
Now 75 years old and residing in an assisted living facility in Edinburgh, the city of his birth, Buchanan was among the first to predict that Taylor would become a world champion. The two are well-acquainted. Buchanan pops in occasionally at McCormack's gym. He has visited Taylor at his family home where, Josh notes, his mother welcomed him as she would any honored guest, meaning she put on a spot of tea.
Taylor vs Ramirez is a sellout. The bout will be televised free in the United States on ESPN. It's a very compelling attraction.
Check out more boxing news on video at the Boxing Channel
To comment on this story in the Fight Forum CLICK HERE
The Hauser Report: Oleksandr Usyk Upsets the Applecart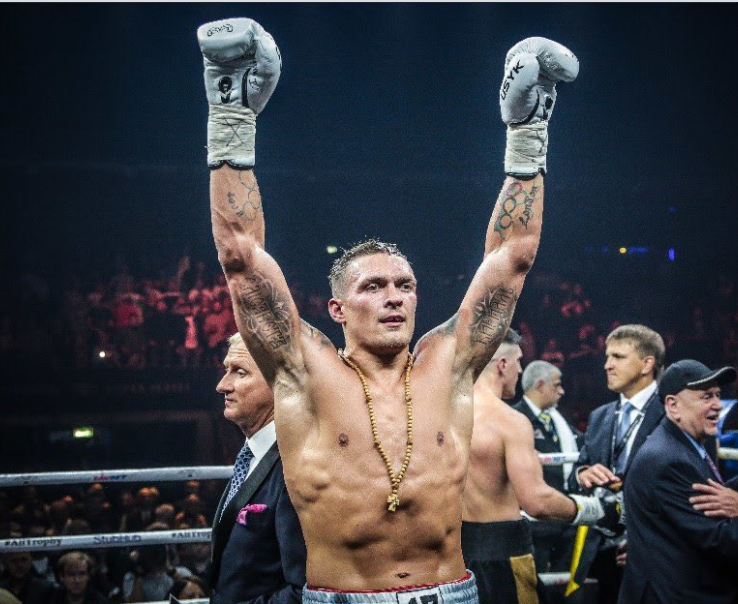 On Saturday night, Oleksandr Usyk won a unanimous decision over Anthony Joshua at Tottenham Hotspur Stadium in London to claim the WBA, IBF, and WBO heavyweight titles. With that victory, Usyk follows in the footsteps of Vitali and Wladimir Klitschko to become the third heavyweight beltholder from Ukraine.
Joshua has an elegance about him. Unlike some heavyweights at the top of today's class, he seems rational and sincere when he speaks. "The world is cruel," he told Sky Sports a year ago. "You've got to have a thick skin. One minute you're on top of the world, and the next minute you're not. That's the name of the game we're in."
"AJ" has accomplished a lot in the past ten years. He won a gold medal in the super-heavyweight division at the 2012 London Olympics, became enormously popular in his homeland, and has earned tens of millions of dollars fighting. What he hasn't done is prove himself to be a great fighter. The promise that seemed to be there after he climbed off the canvas to beat Wladimir Klitschko in an enthralling spectacle before 90,000 screaming fans at Wembley Stadium in 2017 never fully blossomed.
The Klitschko fight changed Joshua. Instead of gaining confidence from walking through fire and prevailing, he seemed to be a more tentative and vulnerable fighter afterward. Less-than-scintillating victories over Carlos Takam, Joseph Parker, and Alexander Povetkin followed. Then promoter Eddie Hearn brought Joshua to America to showcase him at Madison Square Garden against the corpulent Andy Ruiz. Shockingly, Ruiz knocked AJ down four times and stopped him in seven rounds.
Six months later in Saudi Arabia, Joshua gained a measure of revenge when he outboxed a grossly-out-of-shape Ruiz to reclaim his belts. But AJ hardly looked like a conqueror. A good jab doesn't just score points and keep an opponent at bay. It cuts; it hurts; it shakes up the opponent. Against Ruiz the second time around, Joshua threw a stay-away-from-me jab all night. As Jimmy Tobin wrote, it was as though he'd been transformed "from wild boar to truffle pig."
A cautiously-fought victory over Kubrat Pulev followed. "It's easy to watch on YouTube and be confident," Joshua said afterward. "Easy to watch from the outside. But when you're in front of someone, actually in the ring, it's a completely different ballgame."
Usyk, like Joshua, won a gold medal at the 2012 Olympics (Oleksandr's was in the heavyweight division). He'd distinguished himself in the professional ranks by unifying the cruiserweight titles and had become the mandatory challenger for AJ's IBF belt by virtue of lackluster victories over Chazz Witherspoon and Dereck Chisora.
Joshua was a 5-to-2 betting favorite. Usyk is a tricky southpaw with a 18-0 (13 KOs) professional record. But AJ has heavy hands and a devastating uppercut. Twenty-two of his 24 victories had come by knockout. His chin is suspect but Oleksandr was deemed ill-equipped to exploit that vulnerability. All one had to do was watch Usyk struggle against Witherspoon and Chisora to conclude that AJ was too big a mountain for him to climb. There's a reason that there are weight classes in boxing.
At the weigh-in, Joshua was twenty pounds heavier than Usyk. It was, one observer opined, "a fight between a heavyweight and a wanna-be heavyweight." The greatest threat to Joshua seemed to be Joshua.
One day before the bout, AJ was asked what would be next on his schedule after fighting Usyk. The assumption was that his next opponent would be the winner of Tyson Fury vs. Deontay Wilder (who are scheduled to fight on October 9).
"I've got a rematch clause if the worst happens," Joshua answered. "So, if I lose, I'm fighting Usyk again; the undisputed gets put on hold. If I win, I'll fight either one of them. If Fury wins, I'll fight Fury. If Wilder wins, I'll fight Wilder."
That answer was remarkable. Fighters often hype their opponent to build a promotion. But the phrase "if I lose" rarely escapes their lips.
On fight night, the atmosphere was electric. The 65,000-seat Tottenham Hotspur Stadium had been sold out within twenty-four hours of tickets going on sale.
On DAZN's televised undercard, Florian Marku won a split decision over Maxim Prodan. Then Callum Smith scored a scary one-punch knockout of Lenin Castillo. Next up, Sonni Martinez (a 2-and-4 fighter whose victories had come against fighters with 4 wins in 20 fights) exposed Campbell Hatton's deficiencies as a fighter and also Marcus McDonnell's deficiencies as a referee and judge. McDonnell's 58-57 scorecard (he was the sole arbiter) in Hatton's favor was disgusting. After that, Lawrence Okolie predictably knocked out an overmatched Dilan Prasovic in three rounds.
Joshua seemed to enjoy the fireworks and blaring music that accompanied his ring walk. It had been a long time since he'd fought before a large roaring crowd in England. The stage was set. Then the fight started.
For Joshua loyalists, the contest was akin to opening a beautifully-wrapped present on Christmas morning and finding bath towels inside instead of a much-desired stylish coat.
Usyk began cautiously, moving around the ring, throwing jabs like a pesky fly. AJ looked clumsy and a bit befuddled. Oleksandr's southpaw style was giving him trouble. The proceedings brought to mind the advice that trainer Emanuel Steward gave to Lennox Lewis on the night that Lewis fought Ray Mercer. The plan that night had been for Lennox to outbox Mercer. Except the plan wasn't working. In the middle rounds, sensing that the fight was slipping away, Steward told Lewis, "Just f***ing fight him." Lennox did as instructed and won a narrow decision.
Rob McCracken (Joshua's trainer) should have given AJ the same advice. When AJ went to Usyk's body (which was hittable), he seemed to hurt him. But he didn't do it often enough. Instead of trading with Usyk, for most of the night Joshua seemed reluctant to let his hands go and looked less interested in hitting than concerned about getting hit.
Joshua came on a bit in the middle rounds but then relinquished control again. He needed to impose his size and strength on Usyk but didn't. He didn't fight like a heavyweight champion is supposed to fight.
As the bout progressed, Usyk suffered cuts above and below his right eye. AJ's nose was bloodied and there was a pronounced swelling beneath his right eye.
Usyk fought the final two rounds as though he needed them to win. Joshua fought the final two rounds like a beaten fighter and was in trouble at the final bell.
Give the judges credit for honest scoring. Their 117-112, 116-112, 115-113 scorecards were on the mark.
"This was the biggest fight in my career, but it wasn't the hardest," Usyk said afterward. "There were a couple of moments where Anthony pushed me hard but nothing special."
So much for the megafight between Joshua and the winner of Tyson Fury vs. Deontay Wilder. If the scenario that unfolded in Tottenham Hotspur Stadium on Saturday night seemed similar to Joshua-Ruiz I upending the planned megafight between Joshua and Wilder two years ago, that's because it was.
The loss to Ruiz raised questions about Joshua. Joshua-Usyk answered them. AJ is a good heavyweight, not a great one.
Photo credit: Mark Robinson / Matchroom
Thomas Hauser's email address is thomashauserwriter@gmail.com. His next book – Broken Dreams: Another Year Inside Boxing – will be published in October by the University of Arkansas Press. In 2004, the Boxing Writers Association of America honored Hauser with the Nat Fleischer Award for career excellence in boxing journalism. In 2019, Hauser was selected for boxing's highest honor – induction into the International Boxing Hall of Fame.
Check out more boxing news on video at the Boxing Channel
To comment on this story in the Fight Forum CLICK HERE
Adelaida Ruiz Grabs WBC Silver Title in Pico Rivera and More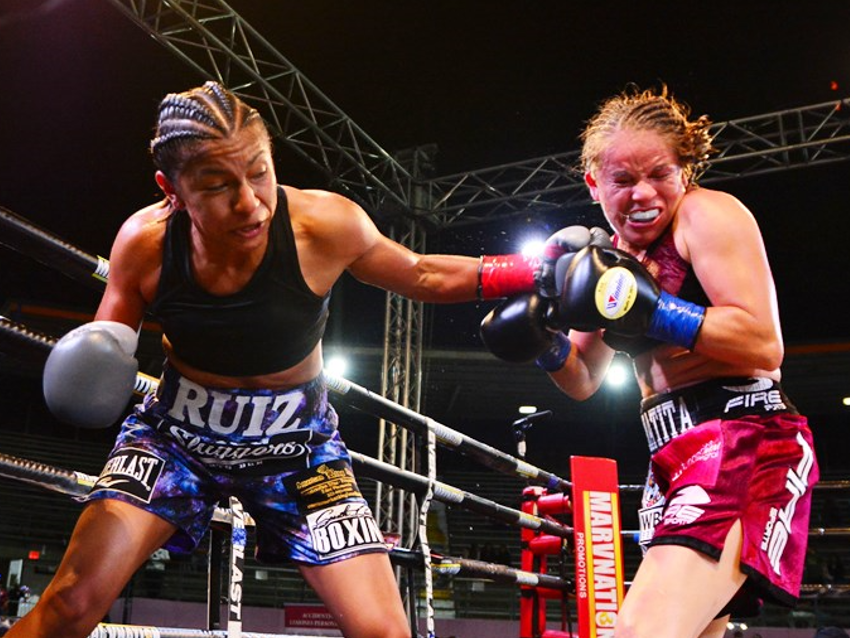 Adelaida Ruiz Grabs WBC Silver Title in Pico Rivera and More
Finally.
Adelaida "La Cobra" Ruiz grabbed the WBC Silver super flyweight title with an emphatic beating of veteran Mexican fighter Nancy Franco by late stoppage on Saturday night.
After waiting for most of her adult life to win a title, Ruiz (10-0-1, 5 KOs) showed off her superiority with a nonstop barrage of blows to power pass Franco (19-15-2) in front of more than 1,400 fans at the Pico Rivera Sports Arena in Pico Rivera.
Six months ago, Ruiz thought she had an opportunity to win a title against Sonia Osorio, but a clash of heads early in the fight forced a stoppage due to an ugly cut. That fight ended in the second round in a technical draw according to WBC rules.
No cuts this time.
Ruiz flashed those quick three-punch combinations and whenever Franco returned fire it was never enough. Round after round the Los Angeles fighter who could not fight for 10 years due to parenting duties caring for three children, would batter Franco to show off the ability to slip or move just out of range.
In the eighth round Ruiz did not stop after her regular three-punch combinations and delivered an intense six-punch blast of fire that had Franco reeling. It looked like the end was coming soon but the Mexican fighter survived.
Franco was not so lucky in the ninth round. Ruiz continued the assault with a nonstop barrage and Franco tried to reciprocate, but it was not an even exchange. The pure savagery of the attack by the L.A. fighter forced referee Raul Caiz Jr. to inch closer and when a blow connected flush the experienced referee stepped in and stopped the assault at 1:20 of the ninth round.
Ruiz finally could claim a title.
It was a good stoppage especially after the boxing world lost a young fighter several weeks ago named Jeanette Zacarias Zarate. She was only 18 and was unable to succumb to injuries in the prize ring. During intermission a moment of silence was given in honor of the Mexican fighter.
Maricela Wins
Maricela Cornejo (14-5, 5 KOs) returned to action with a six-round decision win over Florida's gritty Miranda Barber (2-3) who recently fought and won by first round knockout in New York three weeks ago. Not this time.
Cornejo continues to add new elements to her game. In front of a supportive audience the Mexican-American fighter was rarely in trouble against Barber who never slowed down her attack. Though Cornejo connected often, Barber only increased her attack whenever hit with a big blow. But it was never enough against the seasoned Cornejo.
The middleweight contender looked calm and professional throughout the six round fight that pleased the loud audience that included boxing great Claressa Shields sitting a few rows away from the ring. A match between the two has been talked about ever since Shields entered the professional scene in 2016 after her second Olympic gold medal win. This could be a future battle soon. Cornejo has shown that she can drop down to 154 where Shields currently dominates.
Other Bouts
Rudy Garcia (12-0) had little trouble against Mexico's Ronaldo Solis (4-2-1) in a winning a decision after six one-sided rounds of a featherweight clash.
Ernesto Mercado (2-0) won by stoppage in the first round after Osmel Mayorga (2-2) was floored and unable to continue after the first round of a super lightweight fight.
Tenichtitlan Nava (8-2-1) and Adrian Leyva (2-2-1) were evenly matched featherweights and it ended in a split draw.
Tyrell Washington (4-0) continued his undefeated streak with a win by unanimous decision over Rodrigo Solis (4-8-1) after six rounds in a welterweight bout.
Japhethlee Llamido (5-0) defeated Victor Saravia (1-2) by unanimous decision in a fight that was competitive in each round. Llamido was a former sparring partner for Japan's Naoya "Monster" Inoue.
Other winners were Carlos Rodriguez (1-0) and Alejandro Reyes (4-0).
Photo credit: Al Applerose
Check out more boxing news on video at the Boxing Channel
To comment on this story in the Fight Forum CLICK HERE
A Big Upset in London as Oleksandr Usyk Outclasses Anthony Joshua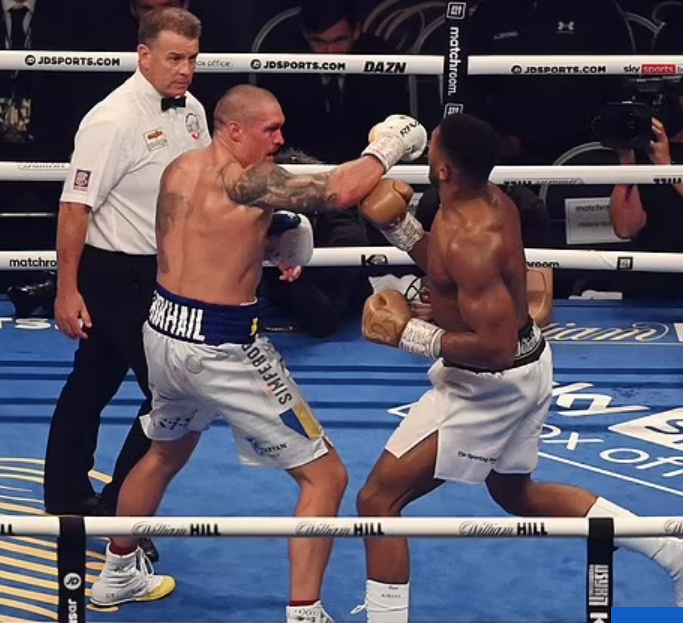 Oleksandr Usyk gathered up all four meaningful cruiserweight belts before leaving the division. Tonight, on a special night at London's Tottenham Hotspur Stadium, he acquired three of the four meaningful heavyweight belts to add to his rich collection. In a battle between former Olympic gold medalists, the 34-year-old Ukrainian cashed his ticket to the Hall of Fame (and on the first ballot) with a unanimous decision over Anthony Joshua. There were some strange scorecards turned in earlier in the evening so it was no sure thing that the judges would get it right, but they did. Usyk won by tallies of 117-112, 116-112, and 115-113.
There were no knockdowns but this was an entertaining fight with momentum shifts and the goosebumps that come whenever an underdog is acquitting himself well against a bigger man more capable of turning the tide with one punch.
Usyk, who improved to 19-0 (13) started strong. With his superior hand and foot speed, he actually looked a level above Joshua. But Usyk's pace slowed in the fifth and Joshua started closing the gap. Usyk had a strong seventh round, but Joshua came back strong in the next stanza and it seemed as if he had more fuel in his tank and was capable of a Garrison finish. But no, Usyk closed strong and ended the match with a flourish.
Joshua, whose ledger declined to 24-2 (22), was expected to land the more damaging punches but it was Usyk, who suffered a cut around his right eye, whose punches were more damaging. At the end, Joshua's right eye was swollen nearly shut.
Joshua's defeat spoiled a lucrative match with his countryman Tyson Fury (assuming Fury gets past Deontay Wilder). That match will likely come to fruition someday, but it won't be quite the mega-fight that it would have been under "normal" circumstances.
Co-Main
Lawrence Okolie drew a softie for the first defense of his WBO world cruiserweight title that he won with a smashing performance over Krzysztof Glowacki. In the opposite corner was Montenegro's Dilan Prasovic who came in undefeated (15-0) but against suspect opposition and was out of his element. Okolie stopped him in the third round, improving his ledger to 17-0 (14 KOs).
A former McDonald's burger-flipper who is co-managed by Anthony Joshua and trained by Shane McGuigan, Okolie decked Prasovic with a right hand in the second round and terminated the fight in the next frame with a body punch that didn't appear to land especially hard. The official time was 1:57.
Standing 6'5 ½" with an 82 ½-inch reach, the ever-improving Okolie hopes to unify the division before moving up to heavyweight. He may out-grow the cruiserweight class before a unification fight presents itself.
Other Bouts
Liverpool's Callum Smith, in his first fight as a light heavyweight and his first fight with Buddy McGirt in his corner, rolled back the clock to the days when he was running up a string of fast knockouts and sent Lenin Castillo to dreamland with a booming right hand in the second round. This was a scary knockout. Castillo's leg twitched as he lay on the canvas. He was removed from the ring on a stretcher and taken to a hospital where, according to promoter Eddie Hearn, he was fully responsive.
Smith (28-1, 20 KOs) was making his first start since losing to Canelo Alvarez in a match in which he was reluctant to let his hands go. Castillo, from the Dominican Republic, had previously taken Dmitry Bivol the distance (albeit while losing virtually every round) in a bid for Bivol's WBA 175-pound crown. He was 21-3-1 heading in and hadn't previously been stopped.
Chicago middleweight Christopher Ousley (13-0, 9 KOs) stepped up in class and won a 10-round majority decision over former world title challenger Khasan Baysangurov (21-2). Baysangurov, a Ukrainian, did well in the late rounds but it was too little, too late. The judges had it 95-95 and 97-94 twice.
While Ousley, 30, didn't look especially sharp, this was good win for him. He had been working with trainer Manny Robles and Anthony Joshua is one of his sponsors. Baysangurov had won four straight since suffering an 11th-round stoppage at the hands of Rob Brant.
Check out more boxing news on video at the Boxing Channel
To comment on this story in the Fight Forum CLICK HERE