The Top Ten Light-Welterweights of the Decade: 2010-2019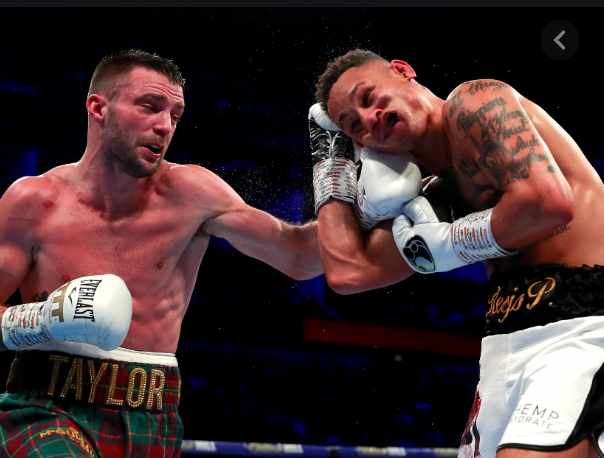 140lbs is far and away the most difficult decadal divisional ranking I have put together. The problem was losses and how to weigh them – is it better for a fighter to meet six top men with a 50-50 return or to fight just two ranked contenders and return a 100% win ratio? I have done my best with such questions and I think it's led to an interesting and varied list and one that is excitingly weighed towards active fighters currently in or around their primes.
Rankings are by Ring for 2010-2012 and TBRB for 2013 to 2019.
10 – Zab Judah
Peak Ranking: 3 Record for the Decade: 6-4 Ranked For: 34% of the decade
Zab Judah was the old man of the division in 2010 when he returned from 147lbs to once more ply his trade at the poundage that made him famous – and he was the old man of the division still when someone named Cletus Seldin stopped him in eleven rounds last July.
Zab was tempted back up to 147lbs in spots through the decade but it seems that at 140lbs he had a rule, and the rule was top talent. Nearly every fighter Judah met at light-welterweight during the decade was a ranked man, and usually they were favoured to beat him. 27-0 puncher Lucas Martin Matthysse was certainly an interesting choice for his first major opponent back in his home territory of 140lbs and it made for an interesting fight. Seen as somewhat controversial in some corners of the boxing world, the fight was indeed close, Judah outboxing a stubbornly shy Matthysse early, Matthysse cornering Judah and tattooing him with right hands late; any close scorecard is reasonable and certainly no robbery was perpetrated against Matthysse that night. The one-time bad boy of the division was back.
He looked great in dispatching Kaizer Mabuza (ranked seven) in early 2011 and if you have any doubts about his finding God between his light-welterweight runs, listen to his post-fight interview for this fight; still an underdog, he crushed Vernon Paris (ranked ten), winning all but the eighth before closing the blinds on him in the ninth, his speed dazzling.
Judah lost too. He was stopped by Amir Khan and despite a thrilling championship-rounds rally, was out-pointed by Danny Garcia. Despite this, and his ageing legs, the veteran Judah is good for the spot.
09 – Amir Khan
Peak Ranking: 2 Record for the Decade: 12-4 Ranked For: 40% of the decade
The most important fight of Amir Khan's career was his 2010 clash with Marcos Maidana. His disastrous 2008 first round knockout loss to Breidis Prescott had loomed over every contest he had fought since, but not after this; Khan absorbed brutal shots from Maidana as he was pasted all over the ring in a dramatic tenth round but he proved himself tough enough to drag himself home for a close points victory. It was redemption and a thing of beauty, arguably the fight of the year, certainly one of the fights of the decade at 140lbs.
It was also Amir Khan painted in microcosm as all his strengths and weakness were laid glaringly bare. Fast hands and excellent punch selection were compromised by poor concentration; overall quickness was compromised by lazy footwork – poor punch resistance and some balance issues dented what should have been a glittering package. Khan made peace with these shortfalls on this night and embraced what he was, a gifted but flawed fighter.
It is hard to imagine then a more fitting passing of the torch than his 2011 fight against Zab Judah, the original brilliant but flawed light-welterweight for this timeframe. Khan's superiority was near total but his knockout of Judah was not without controversy, a borderline low-blow bodyshot the final punch. That said, the four completed rounds were without wrinkles; Khan's superiority was near total.
Losses followed but there were circumstances. His 2012 knockout loss to Danny Garcia was clean and there can be no complaints but his 2011 loss to Lamont Peterson was beset with controversy.  You can take your pick from Khan's allegations of poor refereeing, incompetent judging, out-and-out corruption as film emerged of a man apparently connected with the Peterson camp interacting with one of the judges, and finally the discovery post-fight that Peterson was using synthetic testosterone, a banned substance or at the very least one that needs to be declared. The fight, which I scored 112-112, was a disaster for boxing and it is hard to hold it against Khan in the normal sense.
It also should be noted that the strangeness surrounding that fight sees Peterson falls short of the list. Unconvincing as it is, it remains by far Peterson's best win, his second being over Dierry Jean, not a combination that sees him named as one of the ten best from this decade.
Khan makes it, balanced neatly between being the last debatable entry and the first top ten lock.
08 – Lucas Matthysse
Peak Ranking: 1 Record for the Decade: 14-5 Ranked For: 52% of the decade
There is little to separate Lucas Matthysse and Amir Khan but in keeping with the theme of the list, the difference was losses: more of Matthysse's were close and debatable. Viktor Postol beat him clean in 2015, his last fight at 140lbs, as did Danny Garcia in 2013 but in earlier fights with Zab Judah and Devon Alexander, he was very unlucky. I saw him winning both fights by a single point, a point earned in each case by a knockdown and although these were certainly no robberies, that Matthysse received the nod in neither split decision loss can certainly be considered a misfortune.
At the very least, neither proved themselves a definite superior to Matthysse.
For key wins, Matthysse holds impressive stoppage victories over Ajose Olusegun and Lamont Peterson, and he was the first man to lay both low, his destruction of Peterson, who he dropped three times in three rounds, brutal.
In 2015 he ran into fellow puncher Ruslan Provodnikov and the two put on the expected fight of the year candidate.  This fight is key in Matthysse's 140lb legacy, not for proving what he was, but for what he was not; he was not a one-dimensional pressure slugger.  He deployed boxing to edge this fight and most especially in the first and second rounds, it was superb.  More, he controlled the range almost absolutely in the first half of the fight, deploying uppercuts and a left hook to devastating effect as Provodnikov plodded into his kill-zone.
Matthysse lost a little too often to menace the top five, but it is difficult to imagine the top ten without him.
07 – Devon Alexander
Peak Ranking: 3 Record for the Decade: 24-1 Ranked For: 25% of the decade
Devon Alexander is tough to rank for the poundage and decade to hand. Never ranked higher than number three, he was also a prospective pound-for-pound number one according to HBO's Max Kellerman. This is the kind of division of opinion Alexander prompted. On the one hand, he seemed, in the wake of his 2010 knockout of the iron-jawed Juan Urango, to have every single attribute a fighter might need for the very top, but there was an underwhelming stiffness in his work that never quite satisfied.
Some dissatisfaction began to manifest itself as regarded the scorecards rendered in his favour, too. In his very next contest against Andriy Kotelnik, Alexander made both his own corner and the HBO commentary team very nervous, but he deserved his victory, for all that it was closer than most expected – I myself had it to Alexander by a single round, with a swing round in his favour.
His next fight, with Lucas Matthysse was legitimately debateable, and I wasn't alone in seeing that as a win for Matthysse, although it was close, and because it was close the result is respected for the purposes of this list.
Before the Matthysse fight, Alexander posted his single loss at the weight, to Timothy Bradley.  Bradley misses out on this list because that was his single 140lbs win of note for the decade.  Alexander, meanwhile, is included, but a little lower than he might have been if not for his meeting with Bradley. Alexander was pulled late in the fight by the doctor but looked quite a lot like a man who didn't want to be there for more than the reported reasons, specifically that his eyes were "burning" after the latest in the long line of headclashes. He dropped a technical decision.
After that it was 147lbs for Alexander and some less rewarding years; the timing of his departure limits his standing here.
06 – Mikey Garcia
Peak Ranking: Ch. Record for the Decade: 20-1 Ranked For: 13% of the decade
Mikey Garcia sitting at six does not sit particularly well with me. Garcia fought a tiny handful of contests at the weight but in those few contests he out-performed Devon Alexander, who fought a similar number of contests, so ranks above him.
For all that it feels a little awkward it can be stated with surety that reviewing footage of 140lbs Mikey Garcia was a pleasure. There are better fighters ranked above but there are none with more technical acumen than he. Watching him box was a pleasure.
Mikey emerged as a legitimate 140lb fighter in 2017 in crushing Adrien Broner with generalship and bodywork, outwaiting him after taking an early lead. Mikey did no more than he needed to, but he consistently did enough, seizing control and only relinquishing it for spells late in the fight when it had essentially been decided.
This was also his strategy against Sergey Lipinets, the former kickboxing champion, in what was his definitive performance at the 140lb limit. Lipinets, unlike Broner, refused to go away strategically- speaking but Mikey battered him with straight punches early before out-jabbing him in the middle rounds and out-fighting him late.
Mikey was never stretched in his brief visit to light-welterweight, was unbeaten, crowned champion against Lipinets and consistently outclassed the opposition. His departure to 147lbs was a shame for his 140lb legacy but he made himself one of the key fighters of the divisional decade.
05 – Jose Carlos Ramirez
Peak Ranking: 2 Record for the Decade: 25-0 Ranked For: 20% of the decade
Jose Carlos Ramirez slides in ahead of Mikey Garcia based upon his divisional longevity, an entire career contested at the poundage and in the decade to hand.
Ramirez, young, American, a puncher, an action fighter, has generated heat for some time but his graduation night fight against Antonio Orozco in 2018 turned heads. Orozco, who was tough and brave and aggressive and all the things we want our prize-fighters to be, has never really recovered from the beating Ramirez put upon him. Unbeaten going in he is 1-1 since and looks a changed man.  Ramirez, who fights a little shorter than his 5'10, is an aggressive pressure boxer with little guile to his punching game but who is clever about space and time. He also has a well-made jab and although the punches he throws behind that jab sometimes look a little wild and can leave him  vulnerable to punches up the middle, they are hard and consistent.
Orozco, ranked four no less, twice climbed from the canvas, first from a right hand to the head after Ramirez swarmed him out of position and connected big, then from a left hook to the body that hurt just to look at. Ramirez won no fewer than eleven of the twelve rounds on the scorecards of all three judges. It was a massacre.
In early 2019 more was made than should have been of the trouble current number nine contender Jose Zepeda caused Ramirez in a worthy losing effort, but he did, perhaps, expose certain weaknesses in Ramirez, who it should be noted hasn't yet reached thirty fights. Zepeda wore his right guard low to neutralise the left hook and pivoted and flicked his own jab to neutralise that of Ramirez – but he also lost eight rounds on my card, and that of one of the judges.
Ramirez summited, at least as far as the decade at hand is concerned, in his July 2019 contest with Maurice Hooker. This was always to be a defining fight for the winner, an American remaining unbeaten in a clash of beltholders.  Ramirez emerged the man in charge, dragging Hooker into a dogfight from the very first round, dropping him, hurting him, before retiring him on the ropes in the sixth.
It will be interesting to see what it takes to lay Ramirez low in the 2020s.
04 – Regis Prograis
Peak Ranking: 1 Record for the Decade: 24-1 Ranked For: 25% of the decade
Regis Prograis shades Ramirez by the narrowest of margins and based upon a loss. At the decade's end he dropped a majority decision to Josh Taylor in a meeting of the division's two top contenders; the decision was based upon geography. In America, Prograis would likely have been given the nod by the narrowest of margins, in the UK, Taylor took it. In reality the two were so evenly matched they might fight consecutive draws at a neutral venue.
As to the wins that helped him into the top five the definitive one is over Julios Indongo, who was coming off a defeat to pound-for-pounder Bud Crawford. Prograis got the job done more quickly than Crawford, dispatching Indongo in just two rounds. Hard jabs to the body and chest, fast, cornering feet and gorgeous slipping of the Indongo jab forced the taller man to let Prograis inside.  Here, he did his best work and although his performance was reckless, it was deeply impressive.  Stiffening power in the southpaw jab and obliterating power in the overhand left saw Indongo broken. The speed of the Prograis pressure was, and remains, unequalled in the division.
A year later, Prograis met with strapholder and number four contender Kiryl Relikh, the all action Belarusian who bounced back from a tough 2016 to win a rematch with Rances Barthelemy (having been very unlucky to drop the decision in their first fight) and defeat Eduard Troyanovsky in impressive back-to-back performances. Relikh, who had never been stopped, was dropped by a bodyshot in the very first round by Prograis who then set out to torture him with power-boxing two classes above anything Relikh had ever seen, prompting his corner to pull him midway through the sixth. Prograis dispatches top class opposition with ease.
A special fighter then, just one who ran into another one in the shape of Josh Taylor. That fight was close enough that Prograis deserves a rematch; if he gets one, it will be in the next decade.
03 – Josh Taylor
Peak Ranking: 1 Record for the Decade: 16-0 Ranked For: 23% of the decade
Josh Taylor's career trajectory has been sensational. He has arguably been the story of the 140lb decade, and he could be found duking it out with number three contender Viktor Postol in just his thirteenth fight.
Taylor looked to have got past that challenge by the barest of margins that 2018 night in Glasgow despite the ludicrously wide official scorecards, but he was enormously impressive none-the-less.  Counter-surging throughout he never let Postol get away from him and take control of the ring and the glorious knockdown he scored in the tenth made him a winner as I saw it.
A year later Taylor, now 14-0, found himself in the ring with Ivan Baranchyk, the number seven contender and a legitimate strongman puncher, a serious challenge for the young Taylor. Taylor dropped Baranchyk twice in the seventh to take a clear unanimous decision win.
This led, in October of 2019, to the already legendary night in London when Taylor met Prograis in the unarguable 140lb fight of the decade. This is a fight of which it might be said that neither competitor deserved to lose but it felt more than that: both competitors deserved to win. This was reflected in the draw I scored, and one of the judges scored, the other two officials seeing it for Taylor.
What was most impressive on the night was seeing Taylor adjust to the early running, using the learning from his more recent fights to show Prograis different looks, moving, countering, and most of all butting up on the inside for exchanges. Taylor never dominated the fight but he outfought Prograis for stretches enough that he was the likeliest winner. That superb result has made him the #3 for the old decade and the de facto number one going into the new.
02 – Danny Garcia
Peak Ranking: Ch. Record for the Decade: 21-2 Ranked For: 34% of the decade
I suspect there will be some who respond to Danny Garcia ranking at number two with surprise and even horror. I sympathise.
There was something underwhelming about Danny when he broke onto the world scene in 2012 against an ancient Erik Morales and his performance, too, in that fight was underwhelming. But that didn't mean he wasn't winning, that he did win, and by my eye quite comfortably. What I did not know about Danny then was that these were typical operations. He missed, yes, but he deployed controlled boxing nonetheless and with technical surety. Combined with his natural size and swiftness, this made him a formidable fighting machine at the poundage, and one that could afford to wait.
So, he did wait, boxing at a single sure pace until it was time to go through the gears, like he did late in that first Morales fight.
Danny redrew the way he was viewed by boxing in his very next fight against number one contender Amir Khan. An underdog who did not excite as an opponent, Danny was expected to be out-sped and outhit and probably stopped. He turned those tables after two tough rounds but in truth, he made no magic; he just bet on himself as better, then calmly, economically deployed himself and waited. A huge counter left hook had Khan down and in serious trouble; he never recovered and was brutally dispatched in the fourth much to the chagrin of the HBO commentary team. It was an easy night's work.
Whispers had somehow emerged that Danny had been a little lucky against Morales, so Danny rematched him and blasted him out, then he matched Zab Judah, the number four contender, dropped and decisioned him and then he matched a second number one contender in Lucas Matthysse, who he outpointed in a thriller.
He had exclusively matched and beaten ranked opposition for five consecutive fights, outpointing veterans Kendall Holt and Nate Campbell before he had even begun that run. There is no more impressive sequence in the light-welterweight decade.
The bottom line then: Danny went 5-0 against top ten opposition, which is better than our number three, Josh Taylor; he beat up two #1 contenders whereas Taylor has defeated just one, in a life and death struggle; and he spent longer ranked in the decadal divisional top ten. As a Scotsman I would love to rank Taylor above Danny, but how can it possibly be justified?
01 – Terence Crawford
Peak Ranking: Ch. Record for the Decade: 26-0 Ranked For: 24% of the decade
There was never even a question of some another fighter claiming the number one spot. Terence Crawford is as locked in as almost any number one has been in this series.
Although 140lbs was just a stopover on the way to 147lbs and from 135lbs where he reigned as champion, Crawford made maximum impact during a relatively short stay. He avoided alphabet ordained soft-touches in favour of legitimately excellent fighters with whom he could make legitimately excellent fights.
This, at least, was the theory. In reality Crawford knocked out every man he met at the weight with but a single exception in Viktor Postol. Postol was the first number one contender Crawford out-classed at 140lbs, but wouldn't be the last. Crawford took his time in that fight and in others, boxing what tends to be labeled a "slow start" by television commentary teams but is in fact him taking a long hard look at his opponent.  After three rounds, Postol was 2-1 up but who could doubt after watching Crawford land his dialed in southpaw left in the fourth and drop Postol twice in the fifth that he had been measuring Postol? He did not lose another round and Postol, a world class fighter, looked a novice next to him.
This is the affect giants have on their opponents.
Still, Postol did better than Thomas Dulorme, measured through five then ruthlessly dispatched in six; John Molina, battered out in three; Felix Diaz, the ranked welterweight who dropped down to take an awful beating at the hands of Crawford – Diaz has never been the same; others. This brought him to his second number one contender at the weight, Julius Indongo.
Lithe and long, Indongo, out of Namibia, had previously stopped number four contender Eduard Troyanovsky, and was the first man to do so. Indongo looks too relaxed to be really explosive but he has torque on his trailing left hand, especially on his uppercut. Himself a contender for this list, he met Crawford in his last fight at 140lbs in August of 2018. Their fight was not competitive. Crawford dispatched him in three rounds, brutalising him to the body.
Sometimes when a dominant fighter moves up in weight, there is a sense of disappointment but not when Crawford left for 147lbs. There was no point in his remaining at 140lbs. There was nobody there to test him.
The other lists:
Check out more boxing news on video at The Boxing Channel 
To comment on this story in The Fight Forum CLICK HERE
Fast Results from Las Vegas: Inoue Demolishes Dasmarinas; Mayer UD Farias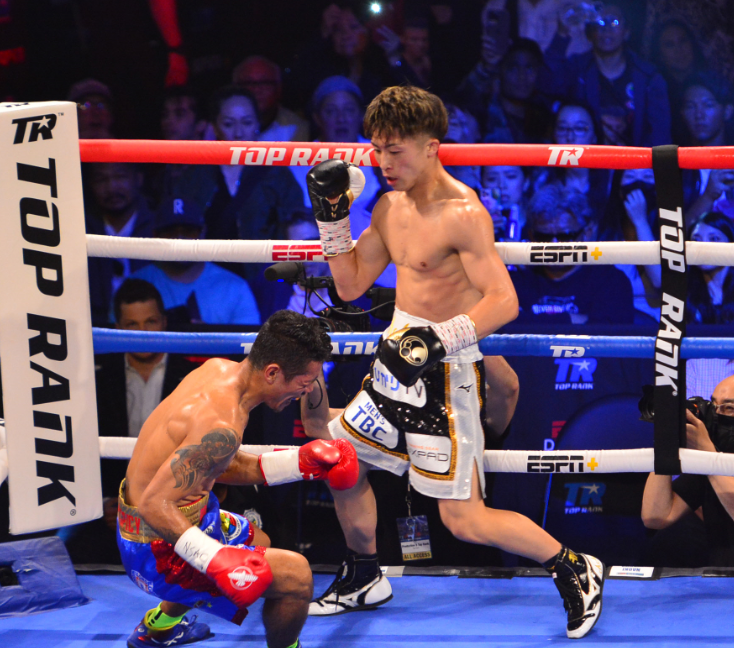 Fast Results from Las Vegas: Inoue Demolishes Dasmarinas; Mayer UD  Farias
LAS VEGAS — Top Rank was at the Virgin Hotels in Las Vegas on Saturday, June 19, for the second of their three June shows. In the headliner, WBA/IBF world bantamweight champion Naoya "Monster" Inoue lived up to his nickname with a vicious third round stoppage of Filipino import Michael Dasmarinas.
Inoue (21-0, 18 KOs) had his opponent fighting off his back foot from the opening bell. He knocked down Dasmarinas in the second with a left hook to the liver and twice more in the third round before referee Russell Mora waived it off. The official time was 2:45.
Dasmarinas brought a 30-2-1 record and hadn't lost since 2014. But he was no match for the "Monster" who looks younger than his 28 years. Those body shots landed with a thud that could be heard in the far reaches of the arena. This kid is really good.
Mikaela Mayer continues to improve as she showed tonight in the first defense of her WBO world super featherweight title. Mayer 15-0 (5) turned away Argentina's Erica Farias (26-5) with a 10-round unanimous decision in a fight that was frankly rather monotonous.
Mayer won by scores of 97-93 and 98-92 twice. Farias, who landed the best punch of the fight, didn't have the taller Mayer's physical equipment but yet landed the best punch of the fight. Her only setbacks have come on the road against elite opponents—Cecilia Braekhus, Delfine Person, Jessica McCaskill (twice) and now Mikaela Mayer.
The opener on the ESPN portion of the show was a lusty 10-round welterweight affair between Ghana native Isaac Dogboe and Glendale, California's Adam Lopez. Dogboe, whose only losses came at the hands of Emanuel Navarette in world title fights, improved to 22-2 by dint of a majority decision that could have easily gone the other way. Dave Moretti had it a draw but was overruled (97-93 and 96-94).
Lopez, one of two fighting sons of the late Hector Lopez, an Olympic silver medalist, did his best work late, particularly in the eighth round. With the loss, his record declines to 15-3.
Other Bouts
Monterrey, Mexico super lightweight Lindolfo Delgado, a 2016 Olympian, was extended the distance for the first time in his career but won a wide 8-round decision over Guadalajara's Salvador Briceno
Delgado won by scores of 80-72 and 79-73 twice while advancing his record to 12-0. Delgado's best round was the eighth, but Briceno (17-7) weathered the storm. Briceno is 5-6 in his last 11, but has been matched tough. The six fighters to beat him, including Delgado, were a combined 78-3 at the time that he fought them.
Vista, California lightweight Eric Puente has yet to score a KO but he is undefeated in six starts after winning a unanimous decision over Mexico's Antonio Meza (7-6). Puente, who is trained by Robert Garcia, knocked Meza down early into the fight with a sweeping left and was the aggressor throughout. The judges had it 57-56 and 58-55 twice.
Puerto Rican super lightweight Omar Rosario improved to 4-0 (2) with a fourth-round stoppage of Reno, Nevada's Wilfred "JJ" Moreno (3-1) The official time was 0:47.
Photo credit: Al Applerose
To comment on this story in the Fight Forum CLICK HERE
Munguia and Rosado Win by Stoppage in El Paso; Rosado in a Spectacular Fashion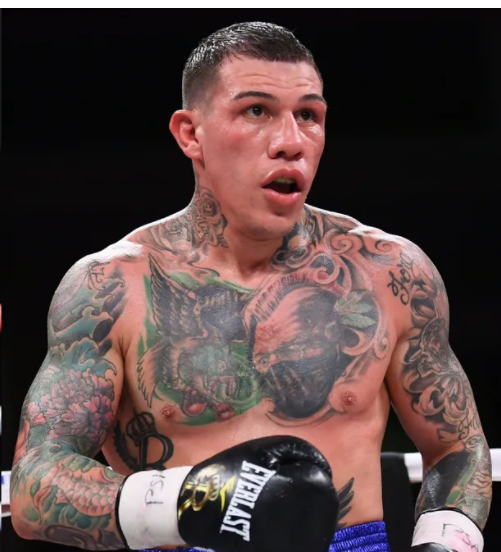 Munguia and Rosado Win by Stoppage in El Paso, Rosado in a Spectacular Fashion
Golden Boy Promotions and their broadcasting partner DAZN were at the Don Haskins Center on the campus of the University of Texas at El Paso today for a rare afternoon card. The honchos at GBP didn't want to go head-to-head with competing shows on ESPN, Showtime, and Triller, the latter of which fell out when headliner Teofimo Lopez tested positive for Covid-19.
There were 10 fights scheduled with the four main fights going first and the undercard bouts bundled into the posterior.
The main event was a 12-round middleweight contest between Tijuana's Jaime Munguia (37-0, 30 KOs), the former WBO 154-pound title-holder, and Poland's Kamil Szeremeta (21-2) who was stepping in for countryman Maciej Sulecki who pulled out of this fight twice. The Pole was making his first start since getting bushwacked by Gennadiy Golovkin in a bout on which he was on the deck four times before his corner pulled him out.
His corner stopped this fight as well, the end coming at the conclusion of the sixth frame. After a feeling-out round, Munguia, who is trained by his Tijuana homey Erik Morales, stepped it up. Knowing that Szeremeta was a light puncher, he had no worry about anything coming back at him. There were no knockdowns, but the fight turned progressively more one-sided and the stoppage was warranted.
Co-Feature
In the co-feature, slated for 12 in the 168-pound class, 35-year-old Philadelphia warhorse Gabe Rosado (pictured) stole the show with a spectacular one-punch knockout over previously undefeated Bektemir "Bec The Bully" Melikuziev.
A 2012 Olympic silver medalist for Uzbekistan, Melikuziev dominated the first two rounds, knocking down Rosado in the first with a combination of punches. He worked the body effectively for the first two rounds and it appeared that he was too strong for the Philadelphian. But Rosado (26-13, 15 KOs), blasted him out in the third, beating him to the punch with a right hook that landed flush on the Uzbek's jaw.
The referee didn't bother to count. Melikuziev was 7-0 (6) heading in. Jaime Munguia may be next for Rosado.
Other Bouts
In a good-action fight that was marred by questionable scoring, native Texan Marlen Esparza, a bronze medalist at the 2012 London Olympics, wrested the WBO world flyweight title from Mexico's Ibeth Zamora. Esparza (10-1, 1 KO) sprinted out of her corner at the opening bell only to suffer a knockdown before the fight was 90 seconds old. She fought her way back into the fight, winning the match in the eyes of the judges (97-92, 96-93, 95-94) but not in the eyes of the few fans in attendance who booed when the scores were announced.
It was a hard pill to swallow for the 32-year-old Zamora, now 32-7, who had won 17 of her last 18 heading in.
In his best showing to date, 31-year-old welterweight "prospect" Blair "The Flair" Cobbs scored a fifth-round stoppage over 38-year-old Georgia campaigner Brad Solomon. This was a fairly even fight through four rounds, but Solomon was showing signs of fatigue when Cobbs dropped him to his knees with a big left hand, leading the referee to call it off.
Blair the Flair, who has been training with Freddie Roach, improved to 15-0-1 (10). Solomon, who learned to fight in prison, declined to 29-4.
Check out more boxing news on video at the Boxing Channel
To comment on this story in the Fight Forum CLICK HERE
Forged by Longtime Coach Al Mitchell, Mikaela Mayer Seems Destined for Stardom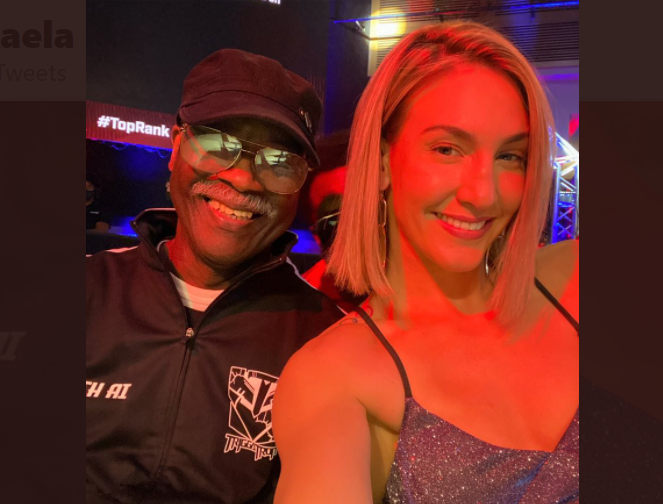 Mikaela Mayer makes the first defense of her WBO 130-pound world title on Saturday at the Virgin Hotels in Las Vegas against her toughest opponent yet in Argentine veteran Erica Anabella Farias. A win by Mayer would be another feather in the cap of her 77-year-old trainer Al Mitchell who is one of boxing's most interesting personalities.
One of the bedrocks of amateur boxing in America, Al Mitchell grew up in Philadelphia in one of the city's toughest neighborhoods. "Most of the kids on my block would eventually go to prison," says Mitchell.
Some of them spent time in prison with Mitchell who got caught up in the street life as a teenager and was remanded to the city's Holmesburg Prison whose alumni would come to include Bernard Hopkins. When he got out, he went back to the recreation center where he had learned to box but rather than resuming his amateur career, he found coaching more to his liking.
In 1988, Mitchell took a team of boxers to a Junior Olympics tournament at the Olympic Education Center in Marquette, Michigan. Founded in 1985, the center was designed for the purpose of allowing elite athletes to continue their education while providing them with the resources to maximize their athletic potential. Athletes of college age attend classes tuition-free at Northern Michigan University and reside with their younger cohorts in the school's dorms. For many years, NMU was home to the National Junior Olympics Tournament.
In an oft-told story, when Mitchell was returning with his team to Philadelphia, he came across a 15-year-old boxer from Georgia who was stranded at the airport. Mitchell called the kid's mother and promised her that he would see that her son got home safely and let his Philadelphia team go on ahead without him.
The 15-year-old boxer was Vernon Forrest who would turn pro under Mitchell's tutelage and go on to win world titles in two weight classes.
The honchos at the training center were impressed with Mitchell's compassion and with the tools displayed by the young boxers he brought there. The coaching position was vacant and they induced Mitchell to take the job. He arrived in Marquette in the summer of 1989. He reckoned that he would only be there for a few months.
From a 'hood in Philadelphia to a sleepy college town in Michigan's Northern Peninsula is quite a transition. Marquette is white; not predominantly white, just white. And then there's the weather. Arriving in the summer, Mitchell didn't appreciate how cold it would get when winter set in. In December, January, and February, the average daily HIGH temperature in Marquette is below freezing.
Mitchell acknowledges that he almost left several times. His boxers, notably Vernon Forrest and Ricky Ray Taylor, a Golden Gloves champion from the Mississippi Gulf Coast who never turned pro and currently trains boxers in New York, talked him out of it. In time, however, Mitchell settled in. When the weather is nice, he says, Marquette is the most beautiful town in the world. And the locals were more than welcoming.
After three years in the NIU dorm where he lived on the same floor as his boxers, Mitchell, who is divorced, purchased a home. It's four blocks from the shoreline of Lake Superior and one-and-a-half blocks from the college. When he is gone for any length of time, he can count on his neighbors to mow his lawn.
"My neighbors all have the keys to my house," he says. "In Philadelphia that would never happen. Around here, if I hear bang, bang, bang, I know that it's just a car backfiring."
Mitchell was never shot, but he was brutally attacked by robbers during the time that he owned a North Philadelphia bodega, a place where most walk-ins came to turn in their numbers, i.e., their selections in the daily lottery-type game that was once a staple of community life in America's ghettos.
The assailants got him when he was closing up for the day and left him in such bad shape that he spent five days in a coma during a lengthy hospital stay. He bears a souvenir of the incident, a plate in his head.
Mitchell was named the head coach of the 1996 U.S. Olympic team that included Floyd Mayweather, David Reid, Fernando Vargas, and Antonio Tarver, and was a consultant to the 2004 and 2012 squads, the latter of which was the first to include women.
The greatest U.S. Olympic team was the 1976 edition that won seven medals (five gold) in Montreal. They set the benchmark against which future squads would be unfairly compared.
There were 11 weight divisions in 1976, a number that would grow to 12 and currently sits at eight for boxers with male chromosomes. A boxer faces more hurdles today as there are more boxing federations which has given rise to more international qualification tournaments. Back in the days of Sugar Ray Leonard and the Spinks brothers, notes Mitchell, a U.S. Olympic boxer who made it all the way to the finals wouldn't have faced more than one Russian. "Today he may face three."
By that he means that in the old days, fighters from such countries as Uzbekistan and Kazakhstan would have been classified as Russians. Following the break-up of the Soviet Union, those countries became separate entities. And they have mirrored the Russians and Cubans by investing heavily in their amateur athletes with stipends and other perks that encourage their boxers to delay or forego their entrance into the professional ranks.
Mitchell has proposed moving the Olympic boxing competition from the summer to the winter. With a less cluttered cast of athletes, dispersed over fewer sports, there would theoretically be room for the International Olympic Committee to reinstate the discarded weight divisions. In the United States, this would inevitably translate into more ink for the boxing team, raising the profile of a sport that many no longer consider mainstream.
Mitchell's proposal fell on deaf ears.
As for the U.S. delegation in Tokyo — five male and four female – Mitchell says it's a solid team with the women likely to out-perform the men because they have stayed in the program longer. Two of the four women – Ginny Fuchs and Naomi Graham – are in their thirties. On the men's side, Duke Ragan is the granddaddy at age 24.
The last American to win a gold medal was Andre Ward who accomplished the feat at the 2004 Games in Athens. Ward has morphed into a color commentator for ESPN Boxing where he has impressed knowledgeable fans with his insightfulness.
Al Mitchell, who worked extensively with Ward before he turned pro, isn't surprised. "Ward and Floyd Mayweather, who was on my 1976 team, had the highest ring IQs of all the boxers that I have coached. When I first worked with Andre, I thought this kid doesn't punch hard enough to go very far. But he had great anticipation and no one was better at processing what his opponent had and making the right adjustments. I had no doubt that he would perform better against Kovalev in their second meeting than he did in their first."
Mitchell notes that Andre Ward's sidekick Tim Bradley is also one of his former students. "He also does a great job and I couldn't be happier for him."
Mitchell's style of coaching has been likened to that of a drill sergeant. He would roust his boxers out of bed at 5 am to go running and it made no difference what the weather was like outside. His gruff demeanor when putting his boxers through their paces may have been inherited from his father, a staff sergeant during the Korean War who returned home with PTSD symptoms and died when Al was 16.
Needless to say, many of the boxers who come to Marquette don't have the fortitude to stay there very long and who can blame them? It's no picnic, to put it mildly. When Mikaela Mayer first turned up, Mitchell assumed that she would hang around for a few weeks, at most. She fooled him. Asked to identify her chief asset, Mitchell cited her work ethic. The two have been together now for 11 years.
Mitchell had no interest in teaching women how to be better boxers – "My father would turn over in his grave," he told ESPN's Mark Kriegel – but with women now eligible to fight in the Olympics, he felt he had little choice. And Mayer owes her success to more than just a good work ethic. Mitchell and his top assistant Kay Koroma have crafted her into a very formidable fighter who, at age 30, perhaps has yet to reach her peak. (And by the way, she's a lot more attractive than the photo of her that appears in boxrec, whoever that may be; it certainly doesn't look like her.)
Back in Philadelphia before boxing became all-consuming, Mitchell concedes that he was a hustler. In addition to having his fingers in the illegal numbers game, he ran a speakeasy. He must have been a hard-boiled guy in those days but one wouldn't know it if meeting him for the first time today. He comes across as a gentle soul although one suspects it wouldn't be a smart idea to give him any lip.
For her fight with Erica Farias, Mikaela Mayer spent four weeks at Mitchell's gym in Marquette (which is no longer formally attached to the university which currently supports athletes in only two Olympic summer sports; Greco-Roman wrestling and weightlifting), then three weeks at the Olympic and Paralympic Training Center in Colorado Springs, finishing up with a week at the Top Rank Gym in Las Vegas.
Her bout with Farias will be the co-feature of a show headlined by the WBA/IBF bantamweight title fight between Japan's baby-faced assassin Naoya Inoue and Filipino challenger Michael Dasmarinas. The bouts, and a third fight between Adam Lopez and Isaac Dogboe, air free on ESPN with a start time of 7 pm ET. Undercard action commences at 5 pm ET on ESPN+.
Check out more boxing news on video at the Boxing Channel
To comment on this story in the Fight Forum CLICK HERE