The Top Ten Welterweights of the Decade: 2010-2019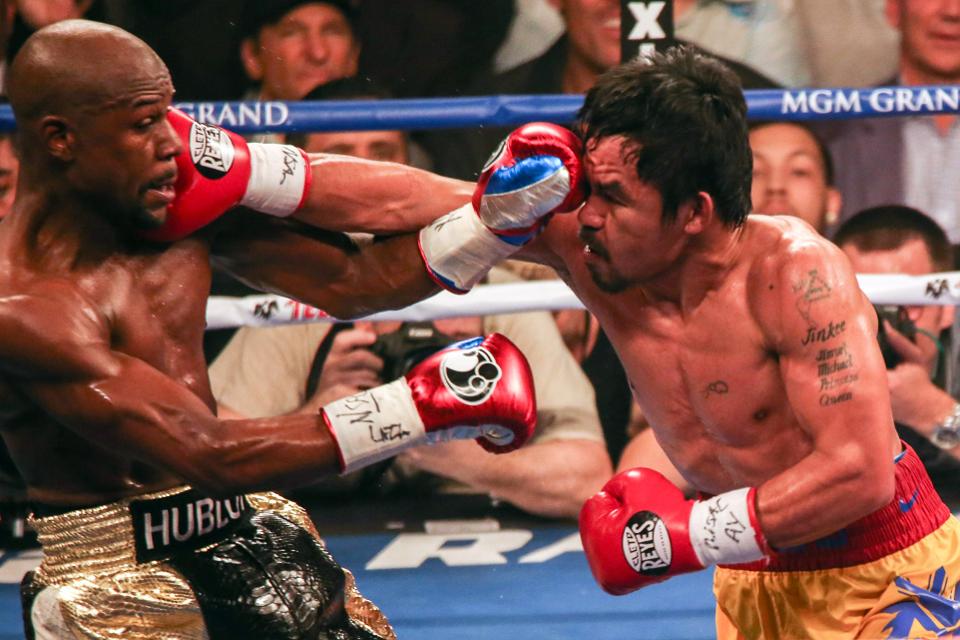 The Top Ten Welterweights of the Decade: 2010-2019
147lbs has proven as fascinating as ever. We open with a series of fighters who have visited, rather than made a home in the division but who have made serious marks in small windows; drop in on some divisional homeboys who made indelible marks upon welterweight with prolonged stays; before separating the two divisional dons at the poundage, the indisputable top two who also happen to be two of the greatest fighters ever to have drawn breath.
154lbs remains my favourite divisional review in terms of footage, but 147lbs ran it close.
Rankings are by Ring for 2010 to 2012 and TBRB thereafter.
10 – Danny Garcia
Peak Ranking: 5 Record for the Decade: 20-2 Ranked For: 41% of the decade
Picking out a number ten was as difficult as ever and here's what it boiled down to: Danny Garcia beat Robert Guerrero and Robert Guerrero beat Andre Berto and Andre Berto beat Victor Ortiz thus bring Danny out on top of the string of matches between the four guys considered at one time or another for the number ten spot (the single brief evening I considered Amir Khan shall remain between me and my priest).
So while Garcia pulled the ancient trick of putting together a decent resume at the poundage by bringing up smaller men to the target division (Lamont Peterson in a catchweight) and formerly ranked contenders past their prime (Paul Malignaggi, Brandon Rios) and performed admirably, it's his 2016 victory over Guerrero that really cements the spot for him here. Strange but true.
In fairness, Garcia was on wonderful form that night, drilling the #9 contender with single punches that sounded like pain, leading with rights to the body, that devilish hook to the head, straight right hands over the top. Guerrero helped him by holstering his jab and following him, waiting for his size to somehow count but Garcia's pivoting footwork whenever Guerrero finally cornered him was almost balletic in its beauty. Not that Garcia ran. Rather he staged a fighting retreat of no small note. Garcia is borderline but he has a performance as good as almost any of the fighters above him in the shape of the Guerrero dissection.
09 – Terence Crawford
Peak Ranking: 2 Record for the Decade: 26-0 Ranked For: 14% of the decade
It was a delight to watch Terence Crawford find his way into the welterweight division in his 2018 confrontation with Jeff Horn, the Australian who had taken a decision from Manny Pacquiao the year before. Crawford, who is not averse to an early start comprised of a watching brief, could be seen to ease his way into the bigger divisional waters: in the third, he was clear that it had become his territory, and he proceeded to dismantle Horn accordingly. Crawford treated Horn as he found him: a good fighter who had got lucky against Pacquiao while he, Crawford, was a great fighter.
That, Crawford is, but that is an appraisal based mainly upon successes he has had in the lower weights. Up at 147lbs, his big win is that victory over Horn and second is probably his similarly dominant performance against ranked contender Egidijus Kavaliauskas. Crawford's nine round brutalisation of Kavaliauskas (check out the devastating seventh round if you haven't) was one of the last important fights of 2019 and it is probable Crawford wouldn't have ranked without it. Interestingly, one of the men with an argument to replace him would have been Jeff Horn, who, after all, defeated Manny Pacquiao. Briefly: I struggle to find a card for Horn and cannot really add him to the list and then write about the four rounds he may have won against Manny and try to make an argument for divisional legacy based upon it.
So Horn misses out altogether and Crawford slips in at nine, a gorgeous fighter who spreads his weight across a beautifully marshalled base to allowing retreating counters as slick as any thrown by any active fighter other than Lomachenko: he'll likely rank a lot higher on the corresponding 2020-2029 list. During these troubled times as we come to terms with the Covid-19 outbreak, let me take a moment to share my hope that you are able to join me for those top tens as you are for these.
08 – Juan Manuel Marquez
Peak Ranking: 2 Record for the Decade: 6-2 Ranked For: 14% of the decade
It dawned on me that Juan Manuel Marquez would rank among the decade's best welterweights slowly, but when I realised, I was delighted. Marquez is among my favourite fighters.
His case as a decadal top ten is all but airtight based, like Garcia, overwhelmingly upon a single performance: his devastating sixth round knockout of Manny Pacquiao. This was the fourth fight between the two and the second in the welterweight division. The third, the second at welterweight, was a controversial decision in favour of Pacquiao (I had Marquez winning close but clear) and it storied Juan Manuel's approach for their fourth fight. Having won zero of their three previous wars, even though all were excruciatingly close, Marquez set out to knock his nemesis out. The result was the most spectacular stoppage of the century in this or any other division.
Marquez, in the far reaches of his beginnings, was a counter-punching box-mover, a safety first fighter who was nothing like as beloved as his blood and guts compatriots Erik Morales and Marco Antonio Barrera. Here, in the twilight of his career, he completed his transmutation into a face-first pressure fighter, albeit one who is baiting for counters. Marquez stayed in range and allowed himself to be hit by the most terrifying combination puncher of his era while remaining defensively responsible.
Truthfully, Marquez's pathology was far more savage. He would later confirm that the right hand was the punch they had trained for and the punch they were looking for. One has to be careful examining a fight retrospectively, but it does feel an awful lot like the Marquez left-hook works as a shepherding punch in this fight. Drilled repeatedly by power punches in the second round, Marquez was also finding the range for his own right. The trap was sprung in the third; for the first time in thirty-nine rounds, Marquez had dumped Pacquiao on his backside. The danger in this strategy was illustrated beautifully when Pacquiao returned the favour in the fifth before, bloodied and behind on the cards, Marquez landed the punch of the century to render Pacquiao unconscious.
Marquez only had a handful of other fights at the poundage and was unlucky; I think he should have received the nod in the first welterweight contest with Pacquiao and I scored his loss to Timothy Bradley a draw that clearly could have gone in the Mexican's favour after an astonishing, brilliant rally in the second half of that fight. So a higher ranking was not out of the question; eight is where he lands.
07 – Kell Brook
Peak Ranking: 1 Record for the Decade: 18-2 Ranked For: 82% of the decade
It does not sit particularly well with me, ranking Kell Brook above great fighters like Juan Manuel Marquez and Terence Crawford but this is a timely reminder that this is a decadal divisional ranking; check the "Ranked For" entries for each of these three and note the vast difference.
Brook first appears in the Ring rankings in 2011; he slipped out of the TBRB rankings in the last month of 2019. He was doing fine work, too, before 2011 in the shape of British title fights and fights for some of the more ludicrous, regional alphabet titles against solid competition like Philip Kotey and Lovemore Ndou.
But like so many British fighters before him, Brook had to travel to the USA to put the real feather in his cap. His 2014 confrontation with Shawn Porter in Carson was a difficult fight that was difficult to score and that revealed both Brook's great strengths and great weaknesses. Outworked, outhustled, broken from his rhythm early, Brook rallied busted back with skill, heart, and poise and took six rounds on my card for the draw; the judges gave it to him by majority decision.
As shall be seen, I consider Porter the most underrated welterweight of the decade and Brook's victory over him is special, however close it may have been. It was a marquee win for a fighter bereft of world class opposition who likely could have done good work with the best in the division.
Keeping in mind, also, that the only loss of his welterweight career came against Errol Spence; nobody else beat him.
06 – Shawn Porter
Peak Ranking: 2 Record for the Decade: 18-3-1 Ranked For: 65% of the decade
For each of these divisional decadal top tens I have run across a fighter I was previously guilty of underrating and at welterweight that fighter is Shawn Porter. Porter will probably surprise with his sixth placed ranking, especially a slot above the man who beat him, Kell Brook, but as you have read, I do not consider that their combat settled the issue of who was the better fighter over twelve; Brook got the nod and that is honoured, but what rests upon the other side of the scale?
Simply put, Porter beat more ranked fighters in the decade gone by than any fighter ranked outside the top two. It is not quite the number three resume, as we shall see, but it's a fine one and honestly built.
Porter first caused ripples with his ugly, relentless style against Devon Alexander in 2013, out-and-out bulldozing the boxer out of the fight with relentless hooking pressure. Alexander just wasn't equal to the Porter conundrum physically, and he dropped a competitive decision to a fighter who had marked himself on the up. Still more impressive in his next fight, Porter jabbed with Paulie Malignaggi and married what is an underrated weapon to his arsenal against a sliding fighter who remained ranked; Porter got him out of there in four rounds, more quickly than anyone before or since.
His finest victory was over number five contender and fellow top-ten alumni Danny Garcia. Garcia was favoured, slightly, to win that fight, and looked like he might as Porter, clearly spooked, told his trainer and father after the first round that he could "feel" Garcia ready to punch and it cost him early. Porter tucked a swathe of the middle rounds under his belt when he finally got his pressure rolling though to take a narrow decision in a fine fight. Porter makes boxers suffer.
After creeping past Cuban contender Yordenis Ugas, he dropped a close one to Errol Spence. Close fights are Porter's bane; a good chin and a great work rate are undermined by an engine merely good and a technically sure jab is undermined by untidy swarming work with many of his other punches. He could never be dominant and dropped three close decisions during this run; but he squeezed every single bit of value out of 2010-2019 and that puts him, deservedly, just outside the top five.
05 – Keith Thurman
Peak Ranking: 2 Record for the Decade: 17-1 Ranked For: 58% of the decade
The joke is that Keith "One Time" Thurman carries his nickname based upon the frequency with which he likes to fight in any given year. While that is a little harsh, it is a fact that inactivity has probably hurt the Floridian more than his points loss to the immortal Manny Pacquiao in July of 2019.
Before that, Thurman stood unbeaten although the margins were often narrow. While his arrival in top tier boxing against Jan Zaveck back in 2013 was a cakewalk, Thurman's two signature wins, both coming against men on this list, were desperately close affairs that could easily have gone against him.
Despite that, he appeared the superior fighter. He seemed both faster and sharper than Shawn Porter in their 2016 contest, landing a gorgeous array of single shots, but consistently allowed himself to be kicked out of rhythm and outworked by Porter's less attractive surges. He took a narrow unanimous decision. Closer still was his 2017 split decision victory over Danny Garcia, who he out-popped early to take a commanding lead only to let Garcia smuggle his way back into the contest with counter-lefts to the body while trying to deploy his own jab, an underwhelming one.
But it is a fact that Thurman outlanded Garcia and did by far the cleaner, more attractive work against Porter. If he re-emerges from the Pacquiao defeat a better, busier fighter, the top five for a second consecutive decade is far from beyond him.
04 – Timothy Bradley
Peak Ranking: 2 Record for the Decade: 8-2-1 Ranked For: 50% of the decade
To get it out of the way, I consider Timothy Bradley's June 2012 victory over Manny Pacquiao an out-and-out robbery and do not acknowledge the victory here for ranking purposes. Still, Bradley's achievements up at 147lbs were significant, and it should be noted that although Pacquiao defeated him three times, no other fighter was able to do so.
Juan Manuel Marquez came the closest when the two met in October of 2013 a fight which could have been scored any one of three ways but was in no way outrageous in being scored for Bradley. It underlined the strengths to Bradley's game, high energy boxing, some volume punching, a fine jab, not to mention heart, chin and guts. It was the key win in Bradley's welterweight resume, although in Ruslan Provodnikov, Jessie Vargas and Brandon Rios he has victories to be proud of.
Despite all of this I personally never found Bradley's style of boxing particularly appealing and as a UK fight fan I found it more and more difficult to sit up until four or five in the morning to watch him. It may be that I held the Pacquiao I judging against him which is grossly unfair: the winner of a badly judged fight is every bit as much the victim as the loser.
For all that, Bradley is probably unassailable in the top four and there is a certainty surrounding his placement that perhaps Keith Thurman does not enjoy.
03 – Errol Spence
Peak Ranking: 1 Record for the Decade: 26-0 Ranked For: 37% of the decade
Unbeaten in the decade, his entire career so far boxed at welterweight, Errol Spence also carries with him two outstanding victories over other men to rank in this decadal top ten in the shape of Kell Brook and Shawn Porter.
The Brook fight, held in 2017, was the Spence coming of age and to be fair to Brook, he was right there with the American until the seventh round, when Spence hurt him and assumed generalship. Excellent footwork and near supernatural balance left him in punching position throughout but it was the maturity of Spence's performance that surprised. He brought serious pressure behind a high guard, using faster feet to force the British fighter to hit gloves; when he opened up his speed was superior, his timing was superior, his jab, bodywork and straight punches were superior. During Brook's best rounds Spence took his punches and went straight back to work. His first real test, it was a tough one and he passed it by way of stoppage, the second man after Gennadiy Golovkin to turn that trick.
After mercilessly beating Lamont Peterson (ranked 8) into submission early in 2018, he completely outclassed the 140lb champion Mikey Garcia before matching Shawn Porter. This is the key fight in Spence's career, and it comes right at the end of the decade and it proved key matters: Spence could stand in fire and punch back – he proved it over and again but especially in the third, finding precision shots under mounting pressure. He also proved he had the power to bail him out late, should he need it, scoring with a superb left-hook from square in the pocket to add the cherry on the cake in the form of a knockdown. He earned the split decision he received, 115-112 on my card.
Then Spence did something stupid: he crashed his car and was later charged with DUI. The division awaits his full recovery with bated breath – Spence seemed destined to be the next king.
02 – Manny Pacquiao
Peak Ranking: Ch. Record for the Decade: 12-4 Ranked For: 100% of the decade
It is second place for Manny Pacquiao and I'm afraid it's not really arguable, though it is close.
Early in 2010 Manny Pacquiao beat Joshua Clottey, then ranked among the ten best welterweights in the world, with such ease that he was able to add the occasional comedy styling for the frustrated and enormous crowd crammed into the Dallas Cowboys American football stadium. He did not lose a round. Over nine years later, some twenty years after he won his first title, Manny Pacquiao faced up to Keith Thurman, a man, as we have seen, who is appraised one of the most significant welterweights of the decade. Manny, out-reached, shorter and almost forty-one years of age, scraped a win by a single point, bookending the divisional decade with significant wins over made men. This is an astonishing achievement and it is almost unthinkable that this can occur and we do not get to refer to it as "a decade of dominance".
The reason, of course, is Floyd Mayweather – we will get to that. In the meantime let's look at the rundown of the men Manny out-manned, out-fought, out-hit and out-sped during a decade where he cemented an all-time pound-for-pound legacy that will echo into the next century and beyond.
After winning every round against Joshua Clottey, he repeated that trick against Shane Mosley before being run close by his great rival Juan Manuel Marquez. After being robbed on the cards against Timothy Bradley, the most brutal knockout of the century so far was perpetrated against him by Marquez at which point it seemed possible that Manny was finished at the highest level. Instead he added legitimate welterweight scalps like Brandon Rios, Jessie Vargas, Timothy Bradley twice, before that dust up with Thurman, who we will allow the last word on the welterweight legacy of Manny Pacquiao.
"Manny Pacquiao is a truly great, legendary champion."
01 – Floyd Mayweather
Peak Ranking: Ch. Record for the Decade: 10-0 Ranked For: 55% of the decade
When Manny Pacquiao was knocked unconscious by Juan Manuel Marquez, a man Floyd Mayweather had toyed with, the number one welterweight for the era was probably decided, but remained arguable – Pacquiao, after all, barely edges out Mayweather in terms of major welterweight scalps taken.
When the two met in the middle of the decade and Mayweather triumphed at a canter, the matter was incontrovertibly settled. It is true that Manny carried an injury with him that night, and it is true that Mayweather had adapted even better than him to the ravages of pugilistic old age, but it is also true that Mayweather took control of ring centre and countered and controlled his power-punching foe with ease for long stretches. Re-watching the fight this week I was struck both by how much more exciting and how much closer it was than I remembered, but there is no question of which of these two men is the superior pugilist. What "might have happened" four years earlier is always eclipsed by what did happen in the harsh glow of the ring lights.
Mayweather's next best welterweight win is likely Miguel Cotto, who troubled him a little and even bloodied him up but who he also consistently out-popped throughout. It is a mark of Mayweather's excellence that he works so well at ranges where the opposition is supposed to be superior; that where the key for other fighters of his type has been not to allow them to make the range, for him, that is not the case. He can allow them to make the range, control a portion of their time there before firmly and consistently out-hitting them at range. This generalship, or ring IQ in the parlance of today, is more than generational. Mayweather is one of the great ring generals in history. What this means is that when Mayweather's legs began to betray him, it didn't matter. He just ramped up on pivoting, countering the counters, slipping, moving but always, always outlanding.
A savage when called upon, he happily knocked out Victor Ortiz in controversial circumstances after suffering a headbutt in close, completely out-boxed Shane Mosley after being stunned by the hardest punch he swallowed that decade, enjoyed a narrow then a wide decision over Macros Maidana, thrashed Robert Guerrero.
All of these men appeared in the divisional top five when he met them. Some of them were on the pound-for- pound list. It all adds up to his holding the number one spot unassailably, more firmly even than his grip up the number one spot at 154lbs.
The other lists:
To comment on this story in The Boxing Forum CLICK HERE
Johnny Famechon was a Hero in Australia Where Willie Pep Had a Bad Night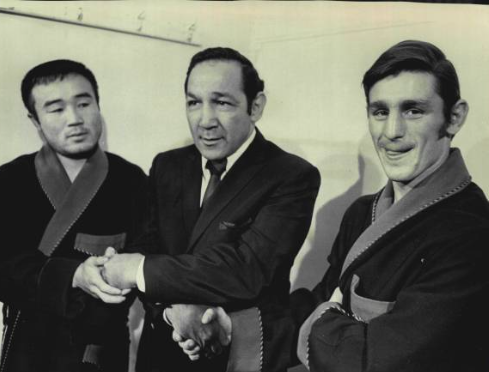 Willie Pep was good at boxing. He wasn't so good at math. Ah, but hold the phone; we are getting ahead of ourselves. This isn't a story about Willie Pep, but about former world featherweight champion Johnny Famechon who passed away last Thursday, Aug. 4, in Melbourne, Australia, at age 77.
Famechon was five years old when his parents left his birthplace in Paris and settled in Melbourne. He came to the fore in an era when boxing was still a mainstream sport and home-grown champions were national idols. The locals turned out in droves for the parade in Johnny's honor when he returned to Melbourne after taking the featherweight crown from the Cuban-born Spaniard Jose Legra in a big upset at London's Prince Albert Hall.
Famechon's first title defense came against Japan's Fighting Harada. They met in Sydney, Australia, on July 28, 1969.
At age 26, Harada was a battle-tested veteran. He previously held world titles at flyweight and bantamweight and would be remembered as the only man to defeat the great Brazilian boxer Eder Jofre, a feat he accomplished not once, but twice.
Only two boxers in history – Bob Fitzsimmons and Henry Armstrong – had won world titles in three of the eight classic weight divisions. Harada, who entered the International Boxing Hall of Fame in 1995, was bidding to become the third.
Team Harada insisted on a neutral referee. The British promoters chose Willie Pep. A legend in the sport, Pep had previously shared a ring with another Famechon, having out-pointed Johnny's uncle Ray Famechon in a featherweight title defense at Madison Square Garden in 1950.
Some thought that Pep would favor Fighting Harada. American referees put a higher premium on aggression than did their foreign counterparts and Harada was a little buzzsaw who rarely took a backward step. But others thought that Pep's selection favored Famechon, an elusive counterpuncher with whom the Connecticut "Will-'o-Wisp" could identify; their styles were similar.
Pep had been the third man in the ring for four previous title fights, three in Jamaica and one in Brazil. But this fight would be different. He would be the sole arbiter. If the fight went the full 15 rounds, Willie Pep would be the judge and jury.
During the bout, Famechon scored one knockdown, sending Harada to the canvas in round five, but Harada scored three, knocking Famechon down in rounds two, 11, and 14. The last of the three knockdowns was the harshest, but Famechon made it to the final bell.
The fight ended in a clinch. Immediately upon separating the fighters, Pep raised both of their hands, a signal that the fight was a draw.
Fighting Harada's handlers were outraged and demanded to see the scorecard. A policeman at ringside was empowered to give it a look-over (Australia had no boxing commission). What the policeman found was that there was indeed a discrepancy. However, it was the opposite of what Team Harada anticipated!
The fight was scored on the antiquated system whereby the winner of a round was awarded five points and the loser four points or less. In the case of an even round, both fighters got five points.
After 13 rounds, Fighting Harada had amassed 59 points on Pep's card. He won the 14th round, giving him an aggregate total of 64 points. But when Pep added up the numbers "59" and "5" in the column where he kept the aggregate total, he came up with "65."
Oops.
When Pep signaled that the fight was a draw, people stormed the ring from all sides. Newspaper reports said the belligerents were about evenly divided. Famechon, the Aussie, was the crowd favorite, but Fighting Harada was well-backed in the betting markets, a very big industry in Australia. Many were even angrier when Famechon was summoned back to the ring to have his hand raised.
The Famechon-Harada fight aired live on Japanese television. In Japan, there was a great outpouring of outrage. Pep had been instructed to score a round 5-4 if the round was narrow and 5-3 if there was a clear-cut winner. Despite the knockdowns, Pep scored every round 5-4 or 5-5. In the revised tally, he had Famechon winning 6-5-4 in rounds.
"Harada loses to referee" was the headline in Japan's leading sports daily. Willie Pep made no friends in Australia either. There were shouts of "Yankee go home" as he left the ring.
Famechon and Harada met again five months later in Tokyo. One would assume that Fighting Harada proved superior and got a fair shake, winning the third title denied him in Sydney. But don't assume.
Harada was well ahead after ten rounds but faded. On the deck in round 10, Famachon returned the favor three rounds later, knocking Harada down hard with a perfectly placed left hook. Harada was in dire straights when he came out for round 14 and Famechon put him away.
Harada never fought again and Famechon left the sport six months later after losing his crown to Vicente Saldivar. Johnny was only 25 years old, but had crammed 67 fights into a nine-year pro career and said enough is enough.
Famechon's post-boxing life took a tragic turn in 1991 when he was hit by a car while out jogging on a Sydney highway. He spent several weeks in a coma and several years in a wheelchair but eventually recovered most of his motor skills and regained his speech to the point where he could serve as a boxing color commentator on television. In 2018, a larger-than- life statue of Famechon was unveiled at a public park in the Melbourne suburb of Frankston where he was a longtime resident.
For the record, Johnny Famechon finished his career with a record of 56-5-6 with 20 KOs. We here at The Sweet Science send our condolences to his loved ones.
Arne K. Lang's latest book, titled "George Dixon, Terry McGovern and the Culture of Boxing in America, 1890-1910," will shortly roll off the press. The book, published by McFarland, can be pre-ordered directly from the publisher (https://mcfarlandbooks.com/product/clashof-the-little-giants) or via Amazon.
To comment on this story in the Fight Forum CLICK HERE
Fast Results from Fort Worth Where Vergil Ortiz Jr Won His 19th Straight by KO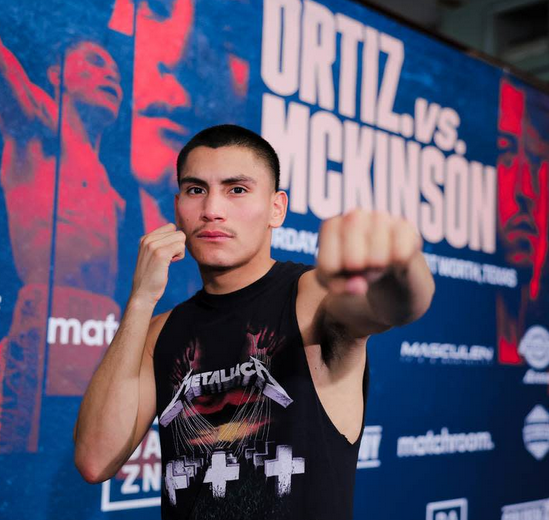 In a match pushed back from March 19, Vergil Ortiz Jr moved one step closer to a mega-fight with Terence "Bud" Crawford or Errol Spence Jr or Boots Ennis with a ninth-round stoppage of England's feather-fisted Michael McKinson. The end came 20 seconds into round nine when McKinson appeared to injure his knee as he fell to the canvas, an apparent residue of the body punch that put him on the deck late in the previous stanza. To that point, Ortiz had seemingly won every round.
It was the 19th win inside the distance in as many opportunities for Ortiz who resides in nearby Grand Prairie and was making his first start with new trainer Manny Robles. McKinson was undefeated heading in, but had scored only two knockouts while building his record to 22-0.
Ortiz, ranked #1 at welterweight by the WBA and the WBO, pulled out of the March 19 bout after being diagnosed with rhabdomyolysis, a muscle disorder associated with over-training.
Ortiz's promoter, Oscar De La Hoya, says that Ortiz will fight the winner of Errol Spence vs Terence Crawford next assuming that the fight gets made, and if doesn't get made, Ortiz's next fight will be with one or the other. The WBA, which stamped tonight's fight an eliminator, may push to have Ortiz fight their secondary title-holder, Eimantas Stanionis.
Co-Feature
Houston's Marlen Esparza (13-1, 1 KO) successfully defended her WBA/WBC world flyweight title with a unanimous decision over plucky 4'11 ½" Venezuelan southpaw Eva Guzman who had won 14 straight coming in, albeit against soft opposition. The judges had it 98-92 and 99-91 twice.
Guzman (19-2-1) was game, but just didn't have the physical tools to overcome Esparza whose lone defeat came at the hands of talented Seneisa Estrada.
Other Fights of Note
In a 10-round match contested at the catchweight of 150 pounds, Blair "The Flair" Cobbs rebounded from his first defeat with a career-best performance, a wide decision over former WBO 140-pound world titlist Maurice Hooker. It was the second straight loss for Hooker who returned to the ring after a 17-month hiatus and came out flat. Cobbs put him on the canvas in the opening frame with a combination and decked him twice more with straight lefts in round two.
Things got somewhat dicey for Cobbs in round five when he suffered a bad gash on his forehead from an accidental head butt, but Hooker, who had stablemate Bud Crawford in his corner, hesitated to let his hands go and couldn't reverse the tide. The judges had it 96-91 and 97-90 twice for the flamboyant Cobbs who improved to 16-1-1 (10). Hooker, a consensus 5/2 favorite, lost for the third time in his last five starts and slumped to 27-3-3.
In the opener to the main portion of the DAZN card, Uzbekistan's Bektimir Melikuziev (10-1, 8 KOs), a super middleweight growing into a light heavyweight, dominated and stopped overmatched Sladan Janjanin. Melikuziev put Janjanin down with a body punch in the opening minute of the fight and scored two more knockdowns before the bout was halted at the 2:18 mark of round three.
This was Melikuziev's third fight back after his shocking one-punch annihilation by Gabriel Rosado. Janjanin, a well-traveled Bosnian who fought three weeks ago in Massachusetts, declined to 32-12 and was stopped for the eighth time.
Also
Chicago welterweight Alex Martin (18-4, 6 KOs) overcame a first-round knockdown to win a unanimous decision over 38-year-old Philadelphia journeyman Henry Lundy. The judges had it an unexpectedly wide 98-91, 97-92, 97-92.
Martin was coming off a points loss to McKinson and this bout was his reward for taking that fight on short notice. Lundy (31-11-1) has lost five of his last seven.
Floyd "Austin Kid" Schofield, a lightweight who appears to have a big upside, advanced to 11-0 (9 KOs) at the expense of Mexican trial horse Rodrigo Guerrero whose corner wisely pulled him out after five one-sided rounds. It was the ninth straight loss for Guerrero (26-15).
To comment on this story in the Fight Forum CLICK HERE
Conlan Wins His Belfast Homecoming; Breezes Past Lackadaisical Marriaga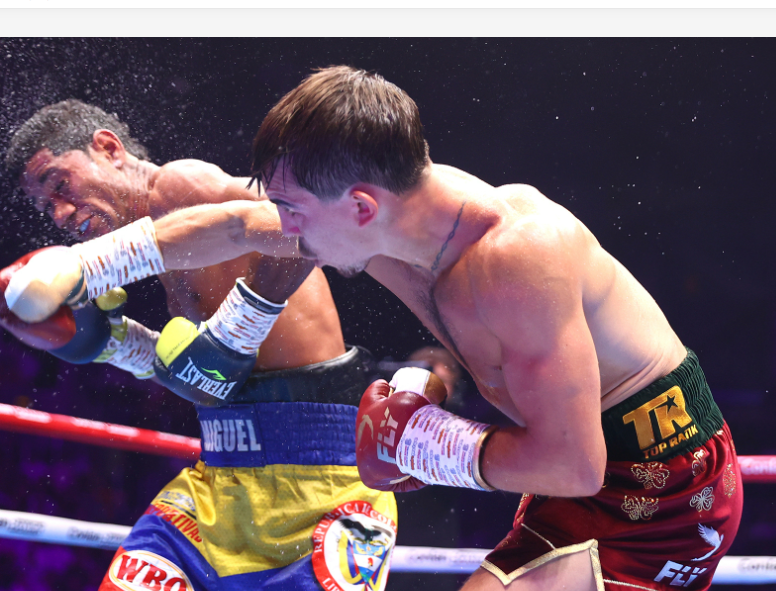 "The Return of the Mick" was the label attached to tonight's show at the SSE Arena in Belfast, Northern Ireland. The reference was to local fan favorite Michael "Mick" Conlan who returned to his hometown in hopes of jump-starting his career after suffering his first pro loss in a brutal encounter with Leigh Wood.
In that bout, a strong "Fight of the Year contender, Conlan was narrowly ahead on all three cards heading into the 12th and final round when the roof fell in. Wood, who was making the first defense of his WBA world featherweight title on his home turf in Nottingham, knocked the favored Conlan unconscious and clear out of the ring.
This was the sort of fight that can shorten a man's career. Hence the intrigue in Conlan's homecoming fight tonight against Miguel Marriaga. On paper, the Colombian, a three-time world title challenger, was a stern test considering the circumstances.
To the contrary, Marriaga had no fire in his belly until the final round when he hit Conlan with a shot that buckled his knees. But, by then Conlan was so far ahead without overly exerting himself that there was virtually no chance of another meltdown.
While Conlan won lopsidedly, the scores – 99-89 and 99-88 twice – were somewhat misleading. True, "Mick" had Marriaga on the deck in rounds 7, 8, and 9, but the punches that put him there did not look particularly hard.
Conlan, 30, improved to 17-1 (8). Marriaga, 35, declined to 30-6.
After the fight, Conlan expressed the hope that Leigh Wood would give him a rematch.
Other Bouts of Note
In an entertaining 10-round welterweight scrap that could have gone either way, Belfast's Tyrone McKenna (23-3-1, 6 KOs) rebounded from his defeat in Dubai to Regis Prograis (TKO by 6) with a hard-fought unanimous decision over 33-year-old Welshman Chris Jenkins (23-6-3). The judges favored the local fighter by scores of 97-94 and 96-95 twice.
Jenkins, a former British and Commonwealth title-holder, had the best of the early going, working the body effectively while frequently finding a home for his uppercut, but he could not sustain his advantage.
Thirty-four-year-old Belfast super middleweight Padraig McCrory who got a late start in boxing, scored the most important win of his career with a fifth-round stoppage of Marco Antonio Periban, a former world title challenger. McCrory had Periban on the deck three times – once in the second and twice in the fifth – before the bout was halted at the 2:14 mark of round five.
It was the fourth straight win inside the distance for McCrory who improved to 14-0 (8 KOs). Mexico's Periban, who returned to the sport in April after missing all of 2020 and 2021, fell to 26-6-1.
Highly-touted welterweight Paddy Donovan improved to 9-0 (6) with an 8-round unanimous decision over Yorkshireman Tom Hall (10-3). The referee scored every round for Donovan, an Irish Traveler trained by Tyson Fury's bosom buddy Andy Lee, the former world middleweight title-holder.
Photo credit: Mikey Williams / Top Rank via Getty Images
To comment on this story in the Fight Forum CLICK HERE