The Top Ten Welterweights of the Decade: 2010-2019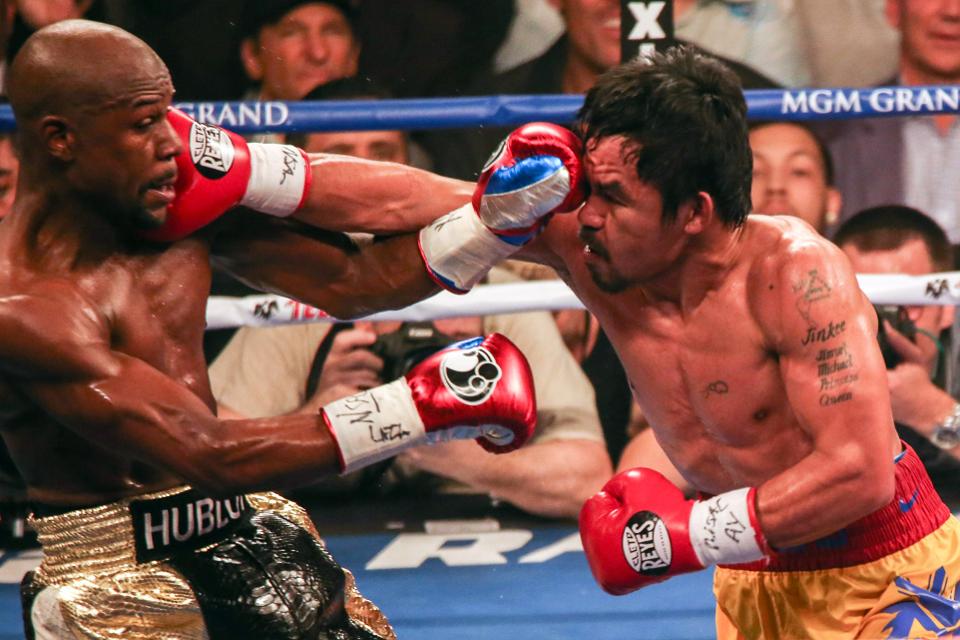 The Top Ten Welterweights of the Decade: 2010-2019
147lbs has proven as fascinating as ever. We open with a series of fighters who have visited, rather than made a home in the division but who have made serious marks in small windows; drop in on some divisional homeboys who made indelible marks upon welterweight with prolonged stays; before separating the two divisional dons at the poundage, the indisputable top two who also happen to be two of the greatest fighters ever to have drawn breath.
154lbs remains my favourite divisional review in terms of footage, but 147lbs ran it close.
Rankings are by Ring for 2010 to 2012 and TBRB thereafter.
10 – Danny Garcia
Peak Ranking: 5 Record for the Decade: 20-2 Ranked For: 41% of the decade
Picking out a number ten was as difficult as ever and here's what it boiled down to: Danny Garcia beat Robert Guerrero and Robert Guerrero beat Andre Berto and Andre Berto beat Victor Ortiz thus bring Danny out on top of the string of matches between the four guys considered at one time or another for the number ten spot (the single brief evening I considered Amir Khan shall remain between me and my priest).
So while Garcia pulled the ancient trick of putting together a decent resume at the poundage by bringing up smaller men to the target division (Lamont Peterson in a catchweight) and formerly ranked contenders past their prime (Paul Malignaggi, Brandon Rios) and performed admirably, it's his 2016 victory over Guerrero that really cements the spot for him here. Strange but true.
In fairness, Garcia was on wonderful form that night, drilling the #9 contender with single punches that sounded like pain, leading with rights to the body, that devilish hook to the head, straight right hands over the top. Guerrero helped him by holstering his jab and following him, waiting for his size to somehow count but Garcia's pivoting footwork whenever Guerrero finally cornered him was almost balletic in its beauty. Not that Garcia ran. Rather he staged a fighting retreat of no small note. Garcia is borderline but he has a performance as good as almost any of the fighters above him in the shape of the Guerrero dissection.
09 – Terence Crawford
Peak Ranking: 2 Record for the Decade: 26-0 Ranked For: 14% of the decade
It was a delight to watch Terence Crawford find his way into the welterweight division in his 2018 confrontation with Jeff Horn, the Australian who had taken a decision from Manny Pacquiao the year before. Crawford, who is not averse to an early start comprised of a watching brief, could be seen to ease his way into the bigger divisional waters: in the third, he was clear that it had become his territory, and he proceeded to dismantle Horn accordingly. Crawford treated Horn as he found him: a good fighter who had got lucky against Pacquiao while he, Crawford, was a great fighter.
That, Crawford is, but that is an appraisal based mainly upon successes he has had in the lower weights. Up at 147lbs, his big win is that victory over Horn and second is probably his similarly dominant performance against ranked contender Egidijus Kavaliauskas. Crawford's nine round brutalisation of Kavaliauskas (check out the devastating seventh round if you haven't) was one of the last important fights of 2019 and it is probable Crawford wouldn't have ranked without it. Interestingly, one of the men with an argument to replace him would have been Jeff Horn, who, after all, defeated Manny Pacquiao. Briefly: I struggle to find a card for Horn and cannot really add him to the list and then write about the four rounds he may have won against Manny and try to make an argument for divisional legacy based upon it.
So Horn misses out altogether and Crawford slips in at nine, a gorgeous fighter who spreads his weight across a beautifully marshalled base to allowing retreating counters as slick as any thrown by any active fighter other than Lomachenko: he'll likely rank a lot higher on the corresponding 2020-2029 list. During these troubled times as we come to terms with the Covid-19 outbreak, let me take a moment to share my hope that you are able to join me for those top tens as you are for these.
08 – Juan Manuel Marquez
Peak Ranking: 2 Record for the Decade: 6-2 Ranked For: 14% of the decade
It dawned on me that Juan Manuel Marquez would rank among the decade's best welterweights slowly, but when I realised, I was delighted. Marquez is among my favourite fighters.
His case as a decadal top ten is all but airtight based, like Garcia, overwhelmingly upon a single performance: his devastating sixth round knockout of Manny Pacquiao. This was the fourth fight between the two and the second in the welterweight division. The third, the second at welterweight, was a controversial decision in favour of Pacquiao (I had Marquez winning close but clear) and it storied Juan Manuel's approach for their fourth fight. Having won zero of their three previous wars, even though all were excruciatingly close, Marquez set out to knock his nemesis out. The result was the most spectacular stoppage of the century in this or any other division.
Marquez, in the far reaches of his beginnings, was a counter-punching box-mover, a safety first fighter who was nothing like as beloved as his blood and guts compatriots Erik Morales and Marco Antonio Barrera. Here, in the twilight of his career, he completed his transmutation into a face-first pressure fighter, albeit one who is baiting for counters. Marquez stayed in range and allowed himself to be hit by the most terrifying combination puncher of his era while remaining defensively responsible.
Truthfully, Marquez's pathology was far more savage. He would later confirm that the right hand was the punch they had trained for and the punch they were looking for. One has to be careful examining a fight retrospectively, but it does feel an awful lot like the Marquez left-hook works as a shepherding punch in this fight. Drilled repeatedly by power punches in the second round, Marquez was also finding the range for his own right. The trap was sprung in the third; for the first time in thirty-nine rounds, Marquez had dumped Pacquiao on his backside. The danger in this strategy was illustrated beautifully when Pacquiao returned the favour in the fifth before, bloodied and behind on the cards, Marquez landed the punch of the century to render Pacquiao unconscious.
Marquez only had a handful of other fights at the poundage and was unlucky; I think he should have received the nod in the first welterweight contest with Pacquiao and I scored his loss to Timothy Bradley a draw that clearly could have gone in the Mexican's favour after an astonishing, brilliant rally in the second half of that fight. So a higher ranking was not out of the question; eight is where he lands.
07 – Kell Brook
Peak Ranking: 1 Record for the Decade: 18-2 Ranked For: 82% of the decade
It does not sit particularly well with me, ranking Kell Brook above great fighters like Juan Manuel Marquez and Terence Crawford but this is a timely reminder that this is a decadal divisional ranking; check the "Ranked For" entries for each of these three and note the vast difference.
Brook first appears in the Ring rankings in 2011; he slipped out of the TBRB rankings in the last month of 2019. He was doing fine work, too, before 2011 in the shape of British title fights and fights for some of the more ludicrous, regional alphabet titles against solid competition like Philip Kotey and Lovemore Ndou.
But like so many British fighters before him, Brook had to travel to the USA to put the real feather in his cap. His 2014 confrontation with Shawn Porter in Carson was a difficult fight that was difficult to score and that revealed both Brook's great strengths and great weaknesses. Outworked, outhustled, broken from his rhythm early, Brook rallied busted back with skill, heart, and poise and took six rounds on my card for the draw; the judges gave it to him by majority decision.
As shall be seen, I consider Porter the most underrated welterweight of the decade and Brook's victory over him is special, however close it may have been. It was a marquee win for a fighter bereft of world class opposition who likely could have done good work with the best in the division.
Keeping in mind, also, that the only loss of his welterweight career came against Errol Spence; nobody else beat him.
06 – Shawn Porter
Peak Ranking: 2 Record for the Decade: 18-3-1 Ranked For: 65% of the decade
For each of these divisional decadal top tens I have run across a fighter I was previously guilty of underrating and at welterweight that fighter is Shawn Porter. Porter will probably surprise with his sixth placed ranking, especially a slot above the man who beat him, Kell Brook, but as you have read, I do not consider that their combat settled the issue of who was the better fighter over twelve; Brook got the nod and that is honoured, but what rests upon the other side of the scale?
Simply put, Porter beat more ranked fighters in the decade gone by than any fighter ranked outside the top two. It is not quite the number three resume, as we shall see, but it's a fine one and honestly built.
Porter first caused ripples with his ugly, relentless style against Devon Alexander in 2013, out-and-out bulldozing the boxer out of the fight with relentless hooking pressure. Alexander just wasn't equal to the Porter conundrum physically, and he dropped a competitive decision to a fighter who had marked himself on the up. Still more impressive in his next fight, Porter jabbed with Paulie Malignaggi and married what is an underrated weapon to his arsenal against a sliding fighter who remained ranked; Porter got him out of there in four rounds, more quickly than anyone before or since.
His finest victory was over number five contender and fellow top-ten alumni Danny Garcia. Garcia was favoured, slightly, to win that fight, and looked like he might as Porter, clearly spooked, told his trainer and father after the first round that he could "feel" Garcia ready to punch and it cost him early. Porter tucked a swathe of the middle rounds under his belt when he finally got his pressure rolling though to take a narrow decision in a fine fight. Porter makes boxers suffer.
After creeping past Cuban contender Yordenis Ugas, he dropped a close one to Errol Spence. Close fights are Porter's bane; a good chin and a great work rate are undermined by an engine merely good and a technically sure jab is undermined by untidy swarming work with many of his other punches. He could never be dominant and dropped three close decisions during this run; but he squeezed every single bit of value out of 2010-2019 and that puts him, deservedly, just outside the top five.
05 – Keith Thurman
Peak Ranking: 2 Record for the Decade: 17-1 Ranked For: 58% of the decade
The joke is that Keith "One Time" Thurman carries his nickname based upon the frequency with which he likes to fight in any given year. While that is a little harsh, it is a fact that inactivity has probably hurt the Floridian more than his points loss to the immortal Manny Pacquiao in July of 2019.
Before that, Thurman stood unbeaten although the margins were often narrow. While his arrival in top tier boxing against Jan Zaveck back in 2013 was a cakewalk, Thurman's two signature wins, both coming against men on this list, were desperately close affairs that could easily have gone against him.
Despite that, he appeared the superior fighter. He seemed both faster and sharper than Shawn Porter in their 2016 contest, landing a gorgeous array of single shots, but consistently allowed himself to be kicked out of rhythm and outworked by Porter's less attractive surges. He took a narrow unanimous decision. Closer still was his 2017 split decision victory over Danny Garcia, who he out-popped early to take a commanding lead only to let Garcia smuggle his way back into the contest with counter-lefts to the body while trying to deploy his own jab, an underwhelming one.
But it is a fact that Thurman outlanded Garcia and did by far the cleaner, more attractive work against Porter. If he re-emerges from the Pacquiao defeat a better, busier fighter, the top five for a second consecutive decade is far from beyond him.
04 – Timothy Bradley
Peak Ranking: 2 Record for the Decade: 8-2-1 Ranked For: 50% of the decade
To get it out of the way, I consider Timothy Bradley's June 2012 victory over Manny Pacquiao an out-and-out robbery and do not acknowledge the victory here for ranking purposes. Still, Bradley's achievements up at 147lbs were significant, and it should be noted that although Pacquiao defeated him three times, no other fighter was able to do so.
Juan Manuel Marquez came the closest when the two met in October of 2013 a fight which could have been scored any one of three ways but was in no way outrageous in being scored for Bradley. It underlined the strengths to Bradley's game, high energy boxing, some volume punching, a fine jab, not to mention heart, chin and guts. It was the key win in Bradley's welterweight resume, although in Ruslan Provodnikov, Jessie Vargas and Brandon Rios he has victories to be proud of.
Despite all of this I personally never found Bradley's style of boxing particularly appealing and as a UK fight fan I found it more and more difficult to sit up until four or five in the morning to watch him. It may be that I held the Pacquiao I judging against him which is grossly unfair: the winner of a badly judged fight is every bit as much the victim as the loser.
For all that, Bradley is probably unassailable in the top four and there is a certainty surrounding his placement that perhaps Keith Thurman does not enjoy.
03 – Errol Spence
Peak Ranking: 1 Record for the Decade: 26-0 Ranked For: 37% of the decade
Unbeaten in the decade, his entire career so far boxed at welterweight, Errol Spence also carries with him two outstanding victories over other men to rank in this decadal top ten in the shape of Kell Brook and Shawn Porter.
The Brook fight, held in 2017, was the Spence coming of age and to be fair to Brook, he was right there with the American until the seventh round, when Spence hurt him and assumed generalship. Excellent footwork and near supernatural balance left him in punching position throughout but it was the maturity of Spence's performance that surprised. He brought serious pressure behind a high guard, using faster feet to force the British fighter to hit gloves; when he opened up his speed was superior, his timing was superior, his jab, bodywork and straight punches were superior. During Brook's best rounds Spence took his punches and went straight back to work. His first real test, it was a tough one and he passed it by way of stoppage, the second man after Gennadiy Golovkin to turn that trick.
After mercilessly beating Lamont Peterson (ranked 8) into submission early in 2018, he completely outclassed the 140lb champion Mikey Garcia before matching Shawn Porter. This is the key fight in Spence's career, and it comes right at the end of the decade and it proved key matters: Spence could stand in fire and punch back – he proved it over and again but especially in the third, finding precision shots under mounting pressure. He also proved he had the power to bail him out late, should he need it, scoring with a superb left-hook from square in the pocket to add the cherry on the cake in the form of a knockdown. He earned the split decision he received, 115-112 on my card.
Then Spence did something stupid: he crashed his car and was later charged with DUI. The division awaits his full recovery with bated breath – Spence seemed destined to be the next king.
02 – Manny Pacquiao
Peak Ranking: Ch. Record for the Decade: 12-4 Ranked For: 100% of the decade
It is second place for Manny Pacquiao and I'm afraid it's not really arguable, though it is close.
Early in 2010 Manny Pacquiao beat Joshua Clottey, then ranked among the ten best welterweights in the world, with such ease that he was able to add the occasional comedy styling for the frustrated and enormous crowd crammed into the Dallas Cowboys American football stadium. He did not lose a round. Over nine years later, some twenty years after he won his first title, Manny Pacquiao faced up to Keith Thurman, a man, as we have seen, who is appraised one of the most significant welterweights of the decade. Manny, out-reached, shorter and almost forty-one years of age, scraped a win by a single point, bookending the divisional decade with significant wins over made men. This is an astonishing achievement and it is almost unthinkable that this can occur and we do not get to refer to it as "a decade of dominance".
The reason, of course, is Floyd Mayweather – we will get to that. In the meantime let's look at the rundown of the men Manny out-manned, out-fought, out-hit and out-sped during a decade where he cemented an all-time pound-for-pound legacy that will echo into the next century and beyond.
After winning every round against Joshua Clottey, he repeated that trick against Shane Mosley before being run close by his great rival Juan Manuel Marquez. After being robbed on the cards against Timothy Bradley, the most brutal knockout of the century so far was perpetrated against him by Marquez at which point it seemed possible that Manny was finished at the highest level. Instead he added legitimate welterweight scalps like Brandon Rios, Jessie Vargas, Timothy Bradley twice, before that dust up with Thurman, who we will allow the last word on the welterweight legacy of Manny Pacquiao.
"Manny Pacquiao is a truly great, legendary champion."
01 – Floyd Mayweather
Peak Ranking: Ch. Record for the Decade: 10-0 Ranked For: 55% of the decade
When Manny Pacquiao was knocked unconscious by Juan Manuel Marquez, a man Floyd Mayweather had toyed with, the number one welterweight for the era was probably decided, but remained arguable – Pacquiao, after all, barely edges out Mayweather in terms of major welterweight scalps taken.
When the two met in the middle of the decade and Mayweather triumphed at a canter, the matter was incontrovertibly settled. It is true that Manny carried an injury with him that night, and it is true that Mayweather had adapted even better than him to the ravages of pugilistic old age, but it is also true that Mayweather took control of ring centre and countered and controlled his power-punching foe with ease for long stretches. Re-watching the fight this week I was struck both by how much more exciting and how much closer it was than I remembered, but there is no question of which of these two men is the superior pugilist. What "might have happened" four years earlier is always eclipsed by what did happen in the harsh glow of the ring lights.
Mayweather's next best welterweight win is likely Miguel Cotto, who troubled him a little and even bloodied him up but who he also consistently out-popped throughout. It is a mark of Mayweather's excellence that he works so well at ranges where the opposition is supposed to be superior; that where the key for other fighters of his type has been not to allow them to make the range, for him, that is not the case. He can allow them to make the range, control a portion of their time there before firmly and consistently out-hitting them at range. This generalship, or ring IQ in the parlance of today, is more than generational. Mayweather is one of the great ring generals in history. What this means is that when Mayweather's legs began to betray him, it didn't matter. He just ramped up on pivoting, countering the counters, slipping, moving but always, always outlanding.
A savage when called upon, he happily knocked out Victor Ortiz in controversial circumstances after suffering a headbutt in close, completely out-boxed Shane Mosley after being stunned by the hardest punch he swallowed that decade, enjoyed a narrow then a wide decision over Macros Maidana, thrashed Robert Guerrero.
All of these men appeared in the divisional top five when he met them. Some of them were on the pound-for- pound list. It all adds up to his holding the number one spot unassailably, more firmly even than his grip up the number one spot at 154lbs.
The other lists:
To comment on this story in The Boxing Forum CLICK HERE
Late Sub Jonnie Rice Bursts Michael Coffie's Bubble on a PBC Card in Newark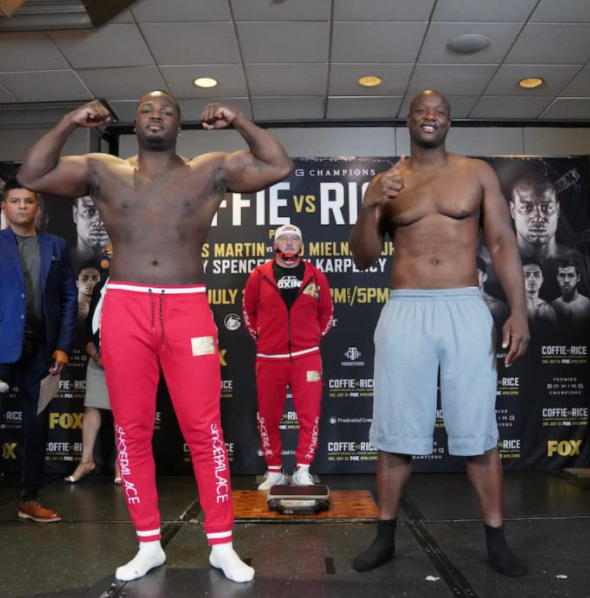 Every thing that could go wrong went wrong as promoter Al Haymon and his associates were patching together tonight's card at the Prudential Center in Newark, New Jersey. But it couldn't have worked out better for journeyman heavyweight Jonnie Rice who turned his career around with a smashing TKO of heavily favored and previously undefeated Michael Coffie.
Positive Covid tests scuttled two 10-round fights on the undercard. The main event had already been disheveled when Coffie's original opponent Gerald Washington flunked his Covid test. Enter Rice (pictured on the right) who was on standby and seized the moment.
Rice, a Columbia, South Carolina native who has been living and training in Las Vegas, came in sporting a 13-6-1 record but five of his wins had come against no-hopers in Tijuana and he had yet to defeat an opponent in a match where he was the "B" side. But these facts were misleading as five of his six losses had come against hot prospects with undefeated records and he had honed his craft sparring against the likes of Tyson Fury, Filip Hrgovic, and Michael Hunter.
Based on "strength of schedule," Rice, 34, had the edge over Coffie, the 35-year-old ex-Marine who brought a 12-0 record but was relatively untested. And Rice, who started fast, took the fight to Coffie and out-landed him. Coffie's left eye was swelling and he wasn't firing back when the referee waived it off in the fifth round.
Dirrell-Brooker
Tonight's PBC fare came in two helpings with appetizers and the main event on FOX preceding a club-level show on FOX's affiliate FS1. The main event of the nightcap was a 10-round light heavyweight bout between Andre Dirrell and Christopher Brooker.
Dirrell, who previously held an interim version of the IBF 168-pound world title, looked very sharp coming off a 19-month layoff, scoring three knockdowns before the fight was waived off in the third round. The Flint, Michigan native improved to 28-3 (18). Philadelphia's Brooker fell to 16-8.
More
Junior middleweight Joey Spencer (13-0, 9 KOs) scored an 8-round unanimous decision over James Martin (7-3). Spencer won comfortably on the scorecards – 80-72 and 79-73 twice – but was unimpressive.
Local fan favorite Vito "White Magic" Mielnicki Jr (9-1, 5 KOs) rebounded from his first pro loss with an impressive second-round stoppage of Noah Kidd (6-4-2).
Philadelphia welterweight Karl Dargan (20-1, 9 KOs), a former two-time national amateur champion, returned to the ring after a long absence and  stopped LA's Ivan Delgado (13-4-2) in the third round.
New Jersey heavyweight Norman Neely advanced to 9-0 (7) with a unanimous decision over rugged Texas brawler Juan Torres (6-4-1). Neely won all six rounds on all three cards.
Check out more boxing news on video at the Boxing Channel
To comment on this story in the Fight Forum CLICK HERE
Leigh Wood's Big Upset Spangles the Rebirth of Eddie Hearn's Garden Party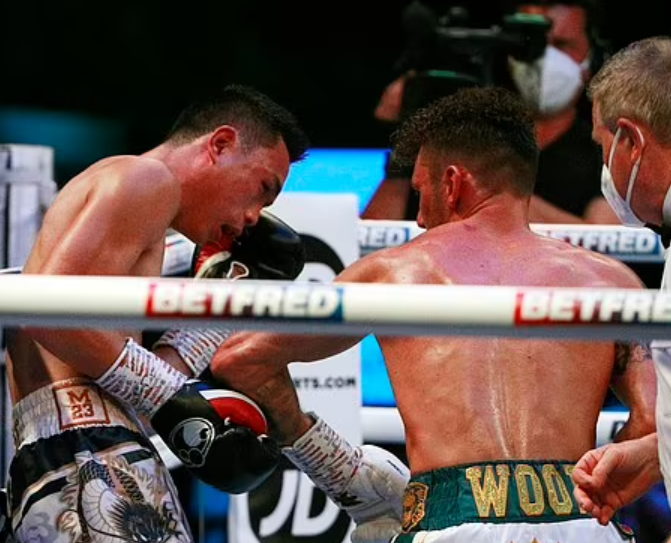 Last summer, hamstrung by the pandemic, Eddie Hearn hit upon the idea of holding boxing events outdoors in the expansive backyard of the family estate on the outskirts of London (now Matchroom Sport headquarters) where he grew up. Four shows were staged there.
The series has been revived. Today was "episode 1" of Season Two of Matchroom Fight Camp, otherwise known as Eddie Hearn's Garden Party. Two more shows are penciled in over the next two weekends.
The match-up getting the most buzz was the welterweight contest between fast-rising Conor Benn and battle-tested Adrian Granados. Unfortunately, Benn tested positive for Covid-19. But the main event, a WBA world featherweight title defense by Can Xu (aka Xu Can) against Nottingham's Leigh Wood stayed intact and produced a memorable upset.
Xu, who is co-promoted by Oscar De La Hoya, was installed a 4/1 favorite. Although he wasn't a big puncher with only three knockouts to his credit in 20 starts, he rode into Hearn's backyard riding a 15-fight winning streak for the third defense of his WBA "regular" title. But he started slow, perhaps the result of ring rust — it was his first fight of 2021 after missing all of 2020 – and he never did crank up the volume that had carried him to victory in his three title fights.
Wood, a stablemate of Josh Taylor who has made great gains since hooking up with Ben Davison and Lee Wylie, landed the heavier punches and was ahead on the cards when he took the fight out of the judges' hands in the final minute of the final round. He decked Xu with a hard right hand and then trapped him on the ropes, forcing the stoppage that came with only 17 seconds remaining.
The 32-year-old Wood improved to 25-2 (15). Xu falls to 18-3. The deposed champion has a rematch clause so we may have a sequel.
Other Bouts
Chris Billam-Smith, trained by Shane McGuigan, won a hard-fought 12-round split decision over Belfast's Tommy McCarthy in a cruiserweight scrap with three domestic titles at stake. The judges had it 116-112 and 115-114 for Billam-Smith, now 13-1, with the dissenter favoring McCarthy (18-3) by a 115-114 tally.
McCarthy wobbled Billam-Smith late in the first round with on overhand right, but could never land his Sunday punch on the Bournemouth fighter in a see-saw struggle with many close rounds. There were no knockdowns but McCarthy suffered a cut over his right eye near the end of round six from an apparent head butt.
McCarthy had Carl Frampton helping out in his corner which infused the contest with the aura of a grudge match. Frampton was the best man at Shane McGuigan's wedding, but their friendship dissolved in a bitter court fight. At the end of the grueling fight, Billam-Smith and McCarthy embraced in a show of mutual respect.
Liverpool super-welterweight Anthony Fowler whose lone setback came at the hands of Scott Fitzgerald (a split decision) won his sixth straight with an eighth-round stoppage of Germany's Rico Mueller whose cornerman was on the ring apron when the slow-acting referee waived it off at the 2:12 mark. Fowler, who is also trained by Shane McGuigan, improved to 15-1 (11). His next bout is expected to come against fellow Scouser Liam Smith in October. This was the second fight this month for the game but out-gunned 33-year-old Mueller (28-4-1) who was subbing for veteran Tex-Mex campaigner Roberto Garcia who pulled out with a back injury.
Also, Jack Cullen (20-2-1, 9 KOs) scored a 10-round unanimous decision over Avni Yildirim (21-4) in a 10-round super middleweight contest. Yildirim, from Turkey, was looking to atone for his hollow performance against Canelo Alvarez this past February. While he had his moments, he was out-worked by the lanky Lancashire man who won by scores of 100-90, 08-92, and 97-93.
Photo credit: Alan Walton / Matchroom Boxing
Check out more boxing news on video at the Boxing Channel
To comment on this story in the Fight Forum CLICK HERE
Avila Perspective, Chap 146: De La Hoya Returns Plus Other Boxing Notes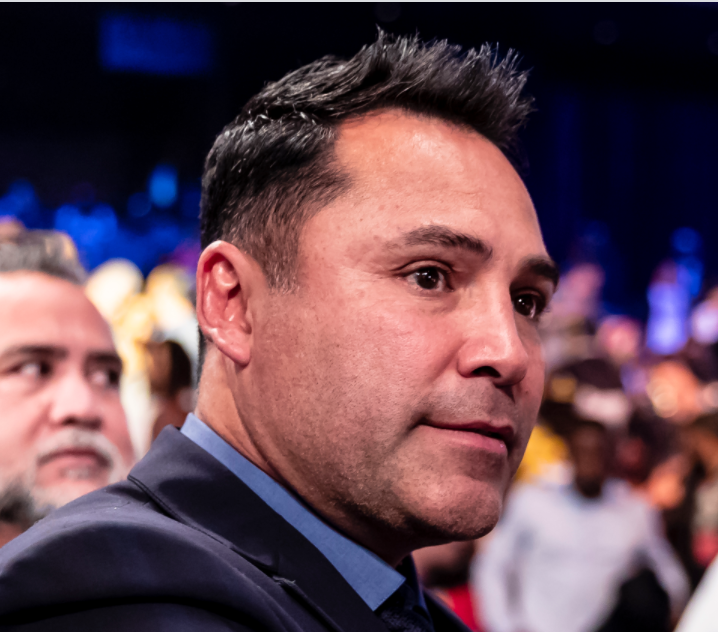 Sitting in front of several dozen reporters, the favorite son of Los Angeles area boxing, Oscar De La Hoya, and former MMA champion Vitor Belfort spoke about their mutual return to prizefighting.
"I can't lie. I miss getting hit," said De La Hoya.
It was a statement also shared by Belfort.
After years away from the prize ring, both return to exchange hits as boxing's De La Hoya (39-6, 30 KOs) meets MMA's Belfort (26-14, 18 KOs) on Sept. 11, at the Staples Center in Los Angeles. The Triller Fight Club card will be shown on pay-per-view via FITE.tv and other modes.
De La Hoya, 48, last absorbed hits from a fighter when Manny Pacquiao battered him almost 13 years ago back in December 2008. It was a shock to the senses to see the great East L.A. fighter take blow after blow while unable to hit back.
He was only 35.
Many attribute that loss to a ridiculous agreement to weigh under 145 pounds before facing Pacquiao. At the time De La Hoya was the real gate attraction and pay-per-view king. He held all the cards but agreed to the demands acutely devised by Freddie Roach. It proved to leave De La Hoya too weak to fight back and after eight rounds the one-sided beating was stopped.
De La Hoya retired after that fight. Ironically, he called for a press conference and it was held right where he recently announced this upcoming fight against Belfort. It's also near a statue built in his honor.
Sitting nearby, Belfort patiently waited his turn to speak. For the Brazilian MMA fighter, it's only been a mere three years since he exchanged blows in a prize fight. It was a knockout loss to Lyoto Machida at UFC 224 in Brazil.
When Belfort spoke to the media, he expressed a desire to get hit too.
"Its fun. I'm going to have joy when I get hit. You cannot get better than that," said Belfort.
It's a common sentiment held by former greats. I've heard the same comments from James "Lights Out" Toney who ridiculously was not voted into the International Boxing Hall of Fame this past year.
Getting hit becomes as common as breathing for most professional fighters, especially those that began boxing at a young age such as De La Hoya.
"The truth is I miss it. I miss it very much," said De La Hoya who began lacing up gloves as an amateur at five years old.
According to oddsmakers, Belfort is the favorite to win. Probably for a number of reasons including he fought a mere three years ago. Belfort is the heavier fighter and has fought foes in the 205 pound-division called light heavyweight in MMA. Plus, he is simply bigger than his foe.
"I hope I don't end up killing him, but everything is on the table," said Belfort. "If he doesn't have joy in what he does he could come back in a coffin."
Prizefighters are masochists. All truly good fighters have a streak of masochism inside. They know they'll be pummeled with blows that truly hurt and they look forward to it. But the bitter truth is taking hits in your 30s and taking hits near your 50s are two vastly different scenarios.
It's an extremely dangerous fight for both.
As someone who spent nearly a month in a hospital after experiencing a cerebral hemorrhage, otherwise known as a "brain bleed," I'm stunned by the fact that more boxers are not damaged from brutal blows. I pray nothing like this occurs to De La Hoya, Belfort, or any retired boxer who returns to the prize ring for a possible payday.
They are prizefighters and like any former high-performance athlete, they miss competition.
"When you love it, no matter what happens, I'm ok with it," said De La Hoya.
Fans will attend Staples Center by the thousands simply to see "the Golden Boy" once again and pay tribute to one of the greats. Many of those attending will be praying silently for the fighter's safety.
I know I will.
England Fights
WBA featherweight titlist Xu Can (18-2, 3 KOs) defends against Leigh Wood (24-2, 14 KOs) on Saturday July 31, at Brentwood, England. DAZN will stream the world title fight.
This is the third defense for Can who has not fought in almost two years. The last defense was at Fantasy Springs Casino in Indio, California when he soundly defeated Manny Robles III.
Can took the title from Puerto Rico's Jesus Rojas, a rough and tumble fighter who takes a pound of flesh from everyone he faces. Against Can he was unable to deal out the usual punishment.
Wood is a former super bantamweight contender who has never really faced international competition. He did face former world champion Gavin McDonnell but was stopped. Perhaps the move up in weight will help.
Fights to Watch
Fri. Estrella TV 7 p.m. Erick Leon (14-1) vs Juan Marcos Rodriguez (10-3).
Sat. DAZN 11 a.m. Xu Can (18-2) vs Leigh Wood (24-2).
Sat. FOX 5 p.m. Michael Coffie (12-0) vs. Jonnie Rice (13-6-1)
Check out more boxing news on video at the Boxing Channel
To comment on this story in the Fight Forum CLICK HERE