The Top Ten Middleweights of the Decade: 2010-2019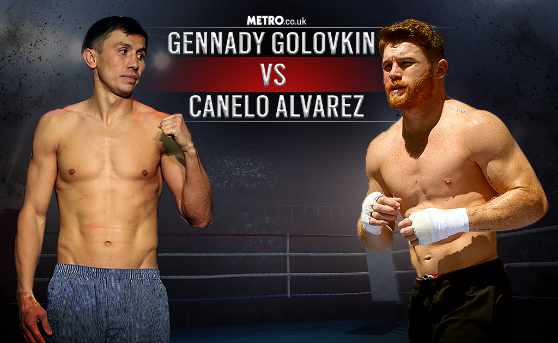 Looking over the 160lb division of the last decade was tough. A concrete top three was difficult to order for reasons that will become apparent and no natural number ten presented itself; between ten and three were a series of interchangeable middleweights, none of whom made an irrefutable case over the man above him, this, despite their having a reasonable record of matching one another.
An average decade then, for the sport's number two division, but no less fascinating for all that.
Rankings are by TBRB excluding 2010 to 2012 when Ring rankings are used.
10 – Dmitry Pirog
Peak Ranking: 5 Record for the Decade: 6-0 Ranked For: 41% of the Decade
Dmitry Pirog appears, at first glance to be an inclusion based upon potential and being frank that is a matter in his ranking. Pirog was slated to meet Gennadiy Golovkin in the summer of 2012 when he ruptured a disc in his back while striking a tire with a sledgehammer in the mountains of his native Russia. He never recovered. While Golovkin probably would have been too much for the man they called "The Grandmaster", even at just 20-0, he would likely have been one of the better fighters Golovkin would ever have bettered.
For confirmation of this, see Pirog's graduation night victory over Daniel Jacobs in July of 2010. Jacobs would get better but when the two men fought as elite prospects he was basically outclassed by the Russian. Pirog ran a savage pressure but it was his defense that set him apart. He was not impossible to hit, nor even difficult for the right punch, but he had superb reactive head and upper-body movement that saw him consistently ditch Daniel's best blows, and in fact the best punches of almost every fighter he ever fought.
Prospect watchers know well the nagging doubt created by a leaky defense; Pirog's was tighter than that of many more experienced men. It was his offense that marshalled Jacobs, however, who was driven to the ropes over and over again despite the demands of his corner and who, after being out-fought and out-thought for most of the preceding rounds, was terminated by a brutal right hand in the fifth. He remains the only man to have stopped Jacobs despite the kind attentions of Golovkin and Saul Alvarez.
Pirog never recovered from that ruptured disc and was almost certainly cheated of a much more significant legacy as a result. I'll stick my neck out here and say he'd have landed in the top four had he remained uninjured. As it is, he is as reasonable a pick for the #10 spot as I can muster.
09 – Peter Quillin
Peak Ranking: 2 Record for the Decade: 14-2-1 Ranked For: 46% of the Decade
Peter Quillin survived a rough upbringing to become one of the signature contenders of the decade. For all that he failed to deliver on what seemed legitimate potential before being chased out of the division by Daniel Jacobs in 2015, Quillin had some pretty moments. Chief among them was perhaps his tenth-round stoppage of contender Gabriel Rosado in 2013. Some of this was genuinely gorgeous, feinting with the jab before hooking around the corner, delightful small-increment pressure with sudden two-piece attacks tagged on to the thinking footwork.
Quillin's best though was his massacre of Hassan N'Dam N'Jikam. That fight had come a year earlier in something of a crossroads fight for both men, each sporting a ledger of 27-0. Quillin dropped N'Jikam over and again with a beautiful array of left hands. N'Jikam visited the canvas on six separate occasions.
Quillin didn't deliver in the end and given his rags-to-riches story and healthy interest in boxing's history, that seemed a shame to me; but he did enough and looked well enough to slip in to one of the two contested slots at the bottom of the ten.
08 – Felix Sturm
Peak Ranking: 1 Record for the Decade: 7-3-2-1 Ranked For: 49% of the Decade
At first glance, number eight might seem a tad harsh where Sturm is concerned but look closer.
First, he's hitting barely 50% for a win ratio for the decade – and his best win in the 10s is Matthew Macklin. Not that this is anything to be ashamed of, Macklin was a good operator and ranked #3 in the world at the time of their meeting, but it's a tough hook to hang a legacy on.
The problem, however, is that many observers felt that Sturm was not deserving of the decision against Macklin and it remains one of the most controversially scored fights on the fascinating Eye on the Ring website. What is clear is that Macklin out-landed Sturm, and herein lies the great strength, weakness and the most interesting wrinkle in Sturm's fighting style. One of the most patient fighters I have ever seen, Sturm covers up, invites pressure, and lets his opponent work. This was a red flag to Macklin's bullish instincts, and he spent the entire fight pushing forwards, working the body with veracity, bringing volume and aggression. Sturm responded not by running but by staying in the pocket and ceding round after round but looking to set up sneak counters, a double-left-jab, hard uppercuts. In almost every round he landed the quality work, appealing to a certain kind of eye.
It's easy to find an argument for Macklin but the fight was indisputably close, and Sturm indisputably won the eleventh and twelfth. His style is one of natural economy. Macklin started to look ragged by comparison as early as the eighth. I scored it 115-113 Macklin but have no problem with a close Sturm card.
Still, his number two scalp that decade was either Sam Soliman or Sebastian Zbik, depending upon who you prefer. Sturm belongs here but would have been shaded in a better decade.
07 – Billy Joe Saunders
Peak Ranking: 3 Record for the Decade: 24-0 Ranked For: 35% of the Decade
Billy Joe Saunders spent most of the decade duelling middleweights before departing for 168lbs, but it is for two performances he makes the ten, one desperate, one so smooth as to be comparable to some of the truly great stylists. Such are the vagaries of boxing style and Billy Joe's own maddening inconsistency.
The smooth was turned in against number four contender David Lemieux in late 2017. This was the fight where Saunders famously made the limited but brave Lemieux miss by such a margin that he was able to take the time to feign looking to the bleachers for a punch that flew wide. There was so much more to this performance than that distilled moment though. Saunders boxed with genuine brilliance, repeatedly making Lemieux miss him behind a southpaw jab by slipping and shifting to his own right, counterintuitive because it opened him up to Lemieux's square attack. Saunders was never troubled. No puncher, he was never going to stop his rugged opponent, but he won every round. It made him a legitimate opponent for both Daniel Jacobs and Gennadiy Golovkin; neither fight materialized.
Two years earlier, almost to the day, the other Saunders was manifest in Manchester against Irishman Andy Lee. The temptation here is to give Lee, a good fighter who was in contention for the #10 spot, more credit, but Saunders dominated the first three rounds, scoring two beautiful knockdowns. The first, a slip counter of the absolute highest order, was a thing of fistic wonder.
Then he dropped off dramatically, his workrate and his strategic plan both floundering. Saunders got his win by majority decision, those knockdowns the difference.
Now 168lbs has him, but his incomplete legacy at one-sixty enough to scrape him the number seven spot.
06 – Miguel Cotto
Peak Ranking: Ch Record for the Decade: 7-4 Ranked For: 23% of the Decade
Miguel Cotto's paper record for the decade and his brief sojourn at 160lbs make him the lowest ranked of the dead locks for this list. Cotto unquestionably belongs but can rise no higher.
His keynote victory over world middleweight champion Sergio Martinez has been dismissed by some given how Martinez's knees had begun to creak but it is worth remembering that Cotto himself had begun to fade having dropped decisions to Floyd Mayweather and Austin Trout in consecutive fights at 154lbs; so his first round performance against even a struggling Martinez was astonishing.
The champion looked unsteady on his feet, yes, but Cotto's left hand lead was rarely better, whether he was hooking to the body, jabbing upstairs, or feinting and throwing a stealing, cuffing left hook; it was clear from the first that whatever remained of Martinez was not going to be good enough for Cotto; so it proved, and the Puerto Rican legend was king.
Cotto only had one more win at the poundage, but it was over a second man to make this list in Daniel Geale. Geale is a name, less renowned than that of Martinez and with good reason, but in many ways, it was the more important win. Cotto dominated Geale, a legitimate middleweight, physically as well as technically, hurting him throughout with the left and up-ending him in four. It confirmed him a legitimate middleweight.
For all that, Cotto is exactly 2-1 at middleweight, and when he dropped his title to Saul Alvarez in his next contest, his transient visit to the division was over. Both Geale and Martinez were creaking when he got to them but two wins over men on this list, plus the lineal championship make him a lock.
05 – Daniel Geale
Peak Ranking: 1 Record for the Decade: 10-4 Ranked For: 51% of the Decade
This was an extremely close call.  Essentially the coin was in the air and it came down "Daniel Geale".
Geale was defeated by Miguel Cotto, albeit at the end of his career, and Cotto was the legitimate champion whereas Geale was a strapholder and ranked the #1 contender. But Geale was a career middleweight; while Cotto's relationship with 160lbs was fleeting, Geale fought two generations of middles and in his purple patch in 2011 and 2012 bears scrutiny.
He traveled to Germany in 2011 and in front of a partisan crowd outworked a game Sebastian Sylvester to a deserved decision victory over the world's #3 contender, and better yet, returned there for a showdown and unification bout with Felix Sturm. Here too he came away a winner in a fight so close as to come down to the eleventh and twelfth, both bagged by Geale. Had Sylvester been blessed with Sturm's jab, or Sturm with Sylvester's work-rate, Geale could have lost either fight, but as it was he found the gaps in both styles to take decisions on enemy territory. Probably Geale was less than elite in everything that mattered, he was quick but not fast, a stinging puncher but not a powerful one, organized but not dynamic; for grit and work, however, there is no better middle on this list.
Like all fighters who rely upon stamina to get there, once he lost a step he was a hugely diminished fighter and that he lost three of his last five fights is a reflection of that. Geale is not a top five decadal fighter in sense of class and is reflective of what was a middling decade at 160lbs, but despite his past-prime loss to Cotto it is hard to see him ranked below the transient Puerto Rican here.
04 – Daniel Jacobs
Peak Ranking: 2 Record for the Decade: 18-3 Ranked For: 48% of the Decade
Another coin flip: the difference between Danny Jacobs and Geale wound up being not his wins, but his losses, two brave showings against the two pre-eminent middleweights of his era, Gennady Golovkin and Saul Alvarez. He met Golovkin in March of 2017 in a fight that was close, controversial and absorbing, Jacobs keeping a seemingly tentative Golovkin honest with a combination of size and power that the great Kazakhstani had perhaps not seen before. Two years later he entertained Alvarez and once again dropped a close decision, though on this occasion there was less controversy; Jacobs then bid farewell to 160lbs for super-middleweight.
The key victories that make him a legitimate if uninspiring number four were also fascinating, none more so than his single round dispatch of the world's #2 contender, Peter Quillin. Jacobs, perfectly capable of engaging in and winning a technical fight, as he proved in 2018 in edging out Sergiy Derevyanchenko over twelve, chose against Quillin a shoot-out. Chasing Quillin back to the ropes with a sound jab he then forced the referee's hands (arguably a little prematurely) with a mix of looping and compact right-hands.
These two contrasting victories and these two losses describe for us Daniel's strengths and limitations. They make him difficult to rank below the likes of Geale and Cotto, and impossible to rank above any of the members of the undisputed middleweight top three of the 2010s.
03 – Sergio Martinez
Peak Ranking: Ch. Record for the Decade: 7-1 Ranked For: 50% of the Decade
Sergio Martinez moved up from 154lbs just in time for the beginning of the decade. Eight contests comprised the remainder of his career, but Martinez did some damage.
His definitive decadal performance was his title winning effort against Kelly Pavlik. Martinez won the first four rounds with his low-handed, circling style, prioritizing movement, hitting when the opportunity presented itself and forcing Pavlik to reset over and again. Pavlik dominated the middle rounds with faster pressure, accepting that he would be hit but allowing it in order to deliver his own offense. The final adaption was Sergio's, and it was impressive. Instead of running, he elongated his visits to the pocket, shoe-shining a bit but throwing four and five punches where he had previously thrown one or two. He thrashed Pavlik in the final third, reducing him to a mask of gore, a desperate two-step flinching misses. Re-watching that fight, I was impressed by Sergio's marked superiority over a reigning middleweight champion of the world. It was not insignificant.
Martinez did not rest on his laurels as a champion. He visited the top five on two further occasions, his terrifying knockout of Paul Williams perhaps the definitive stoppage win of the whole decade, middleweight or otherwise; his twelve-round domination of Julio Cesar Chavez Jnr. was almost as impressive in its own way but also signaled the beginning of the end. Martinez broke his left hand in the fourth and damaged his knee during a shocking visit to the canvas in the twelfth. Sergio had tipped over into the realms of the veteran.
He did a fine job on a duo of British contenders in Matthew Macklin and Martin Murray, but there was perhaps a feeling that he had come for a payday in his final fight against Miguel Cotto. Sure enough, his knees betrayed him, and he was pulled from the fight in the tenth round of a fight Cotto was dominating.
02 – Saul Alvarez
Peak Ranking: Ch. Record for the Decade: 24-1-1 Ranked For: 37% of the Decade
Squeaking in in front of Argentine Sergio Martinez is Mexican Saul Alvarez, who took the championship from the man who usurped Martinez, Miguel Cotto. Cotto was absolutely superb in defeat that night, boxing as he had against the menace of Shane Mosley some years earlier and actually pulling out the win on some cards, although the majority saw it for Alvarez. Personally, I was underwhelmed by Saul's performance and expected a series of shallow defenses followed by his ceding the title to either Gennadiy Golovkin or the emerging Daniel Jacobs.
Instead, Alvarez got the embarrassing defense out of the way early via a smearing of Amir Khan then defeated both Golovkin and Jacobs in 2018 and 2019 respectively. What this means is that Alvarez has the scalps of three men from this list dangling from his waist, which is the gold standard at middleweight.
The devil, of course, is in the detail.
Alvarez first met Golovkin in September 2017, in a fight that was rendered a draw, most, but not all ringsiders seeing the fight for Golovkin, Boxing Scene and the Associated Press both seeing it a draw.  Undeniably it was close, and because it was close, I honor it here. 115-113 Golovkin was my own card and that's certainly nothing like enough to cry robbery. The drawn fight stands.
A rematch was staged almost a year to the day after the first fight and if anything, it was even more controversial. The jab appeared to have just slipped Golovkin over the line, but, once again, most observers scored it a very close fight. The majority of cards fell into the range 115-113 to 113-115; those with wider cards tended to be outliers. I was something of an outlier myself here in having the fight a draw (though I was not alone – Sports Illustrated, Ring Magazine, Forbes and the BBC were among the numerous drawn cards). Once more, then, for the purposes of this list, the win stands.
His win over Daniel Jacobs certainly stands, though even this was a fight not without controversy and controversy too stalks the Mexican at 154lbs. What is Alvarez then? Is he a fighter of great talent who fights down to his opponent's level? Something less than that, somehow manages to squeeze wins out by the barest of margins against opponents with serious physical advantages?  Something darker, a favored son of an industry that favors the cash cow above all?
Whatever else, he is the number two middleweight for the decade gone by.
01 – Gennadiy Golovkin
Peak Ranking: 1 Record for the Decade: 23-1-1 Ranked For: 83% of the Decade
First thing's first: Alvarez's victory over Gennadiy Golovkin is acknowledged for the purposes of the list but Alvarez is ranked below Golovkin; how does that work?
Although Alvarez defeated Golovkin, the fight was close enough that it could have, and perhaps should have, been scored for the Kazakhstani. This is not the key though. Even if Alvarez had knocked Golovkin out, Golovkin would still have outranked him for the decade. There are two reasons for this. The lesser of these is time served: Golovkin spent the entire decade battling middleweight and Alvarez was but a blink in his eye, for all that he did great work in his brief visit.  More than that is the destruction that Golovkin wrought between January first 2010 and December thirty-first 2019. It is surprising to me how quickly the terrible damage done to the middleweight division has been forgotten in favor of arguments over what "really happened" in the Saul Alvarez fight.
It began, for me, with Gregorsz Prokosa, the #4 contender and a unique, riffing southpaw who on paper appeared to be an enormous challenge for a technician, even one who seemed as composed as Golovkin. It was a slaughter. The stoppage itself was glorious but Golovkin's pressure, jab, shepherding footwork and most of all, his calmness of demeanor, heralded the coming of royalty.
This was September of 2012. What followed over the next five years was nothing short of a reign of terror. Golovkin dispatched six middleweights from the top five; a total of nine contenders from the top ten. This is not normal. It is difficult to exaggerate how difficult it is for a fighter to pick off nine ranked contenders from one weight division in a given decade. If we see it twice more in the entirety of this series, I will be surprised, but it's certainly unequalled between heavyweights and middleweights.
For a marquee win, Golovkin is looking at Daniel Jacobs, which is a little unsatisfactory, deepening the frustration surrounding the Alvarez result; but it is worth reiterating that Golovkin just doesn't need it. He dominated the field for better than half of the decade and the decade is what we are interested in here.
Golovkin is number one.
For the other decadal number ones ranked so far, see the heavyweights, cruiserweights, light-heavyweights and super-middleweights accordingly.
Check out more boxing news on video at The Boxing Channel 
To comment on this story in The Fight Forum CLICK HERE
Weekend Boxing Recap: The Mikey Garcia Stunner and More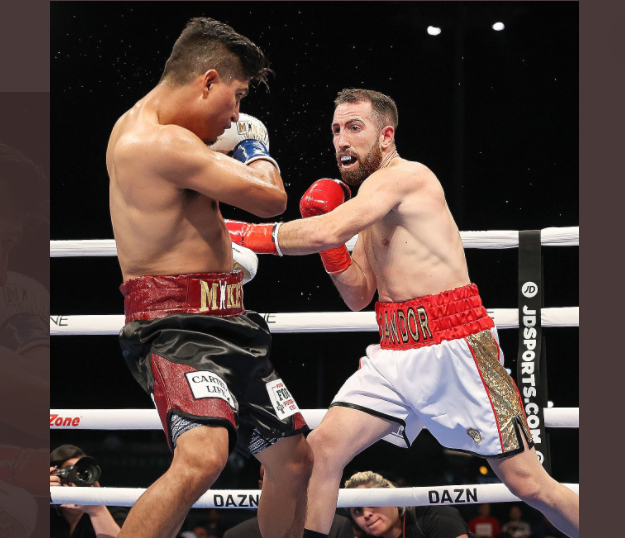 Weekend Boxing Recap: The Mikey Garcia Stunner and More
Boxing was all over the map on the third Saturday of October with many of the shows pulled together on short notice as promoters took advantage of relaxed COVID constraints to return to business as usual. When the smoke cleared, a monster upset in Fresno overshadowed the other events.
Mikey Garcia, a shoo-in to make the Hall of Fame, was on the wrong side of it. Spain's Sandor Martin, in his USA debut, won a well-deserved decision over Garcia at a Triple-A baseball park in Fresno.
Garcia, a former four-division belt-holder, was 40-1 coming in with his only loss coming at the hands of Errol Spence. Martin, a 28-year-old southpaw, brought a nice record with him from Europe (38-2) but with only 13 wins coming by way of stoppage it was plain that he wasn't a heavy hitter. His only chance was to out-box Garcia and that seemed far-fetched.
But Martin did exactly that, counter-punching effectively to win a 10-round majority decision. Two judges had it 97-93 with the third turning in a 95-95 tally.
Neither Garcia nor Martin were natural welterweights. The bout was fought at a catch-weight of 145 pounds. After the bout, the Spaniard indicated a preference for dropping back to 140 where enticing opportunities await.
There was another upset, albeit a much milder one, in the co-feature where Puerto Rico's Jonathan Gonzalez improved to 25-3-1 (14) while shearing the WBO world flyweight title from the shoulders of Mexicali's Elwin Soto (19-2).
Soto was making his fourth defense of the title and rode into the match with a 17-fight winning streak. Gonzalez, a southpaw, had formerly fought for the WBO world flyweight title, getting stopped in seven rounds by Kosei Tanaka in Nagoya, Japan.
One of the judges favored Soto 116-112, but he was properly out-voted by his colleagues who had it 116-112 the other way.
Riga, Latvia
The first major fight on Saturday took place in Riga, Latvia, where hometown hero Mairis Briedis successfully defended his IBF cruiserweight title with a third-round stoppage of Germany's Artur Mann who was on the deck three times before the match was halted at the 1:54 mark.
Briedis (28-1, 20 KOs) was making his first start since dismantling KO artist Yuniel Dorticos in the finals of season two of the World Boxing Super Series cruiserweight tournament. He scored the first of his three knockdowns in the waning seconds of round two when he deposited Mann (17-2) on the canvas with a straight right hand.
Although boosters of fast-rising WBO champ Lawrence Okolie would disagree, the Latvian is widely regarded as the best cruiserweight in the world. His only setback came when he lost a narrow decision to current WBA/IBF/WBO heavyweight champ Oleksandr Usyk in this ring in January of 2018. Now 36 years old, Briedis has yet to appear in a main event outside Europe. That's undoubtedly about to change and a rematch with Usyk is well within the realm of possibility.
Newcastle, England
Chris Eubank Jr, whose fight two weeks ago in London with late sub Anati Muratov was cancelled at the 11th hour when Muratov failed his medical exam, was added to this Matchroom card and his bout with Wanik Awdijan became the de facto main event. A 26-year-old German, born in Armenia, Awdijan was 28-1 and had won 21 straight (against very limited opposition), but he was no match for Eubank Jr who broke him down with body shots, likely breaking his ribs and forcing him to quit on his stool after five frames.
Eubank Jr, 32, improved to 31-2 (23) His only defeats came at the hands of former world title-holder George Groves and BJ Saunders. He dedicated this fight to his late brother Sebastian Eubank who died in July while swimming in the Persian Gulf.
In other bouts, Hughie Fury, the cousin of Tyson Fury, stayed relevant in the heavyweight division with a stoppage of well-traveled German Christian Hammer and Savannah Marshall successfully defended her WBO world middleweight title with a second-round TKO of Lolita Muzeya.
Akin to Eubank-Awdijan, the Fury-Hammer fight also ended with the loser bowing out after five frames. A biceps injury allegedly caused Hammer to say "no mas," but Fury, in what was arguably his career-best performance, was well ahead on the cards.
The Marshall-Muzeya fight was a battle of unbeatens, but Muzeya's 16-0 record was suspicious as the Zambian had never fought outside the continent of Africa. She came out blazing, but Marshall, who improved to 11-0 (9) had her number and retained her title.
Brooklyn
In the featured bout of a TrillerVerz show at Barclays Center, Long Island's Cletus Seldin, the Hebrew Hammer, knocked out William Silva in the seventh round. It was the fifth-straight win for the 35-year-old Seldin, a junior welterweight who was making his first start in 20 months.
Silva, a 34-year-old Brazilian who fights out of Florida, brought a 28-3 record. His previous losses had come at the hands of Felix Verdejo, Teofimo Lopez, and Arnold Barboza Jr. Seldin improved to 26-1 (22 KOs).
In other bouts, junior welterweight Petros Ananyan, a Brooklyn-based Armenian, improved to 16-2-2 (7) with a 10-round majority decision over local fighter Daniel Gonzalez (20-3-1) and Will Madera of Albany, NY, scored a mild upset when he stopped Jamshidbek Najmitdinov who was pulled out after five rounds with an apparent shoulder injury.
Najmitdinov, from Uzbekistan, was making his U.S. debut but he brought a 17-1 record blemished only by former world title-holder Viktor Postol. Madera improved to 17-1-3.
Photo credit: Ed Mulholand / Matchroom
Check out more boxing news on video at the Boxing Channel
To comment on this story in the Fight Forum CLICK HERE
Emanuel Navarrete Retains WBO Featherweight Title in a San Diego Firefight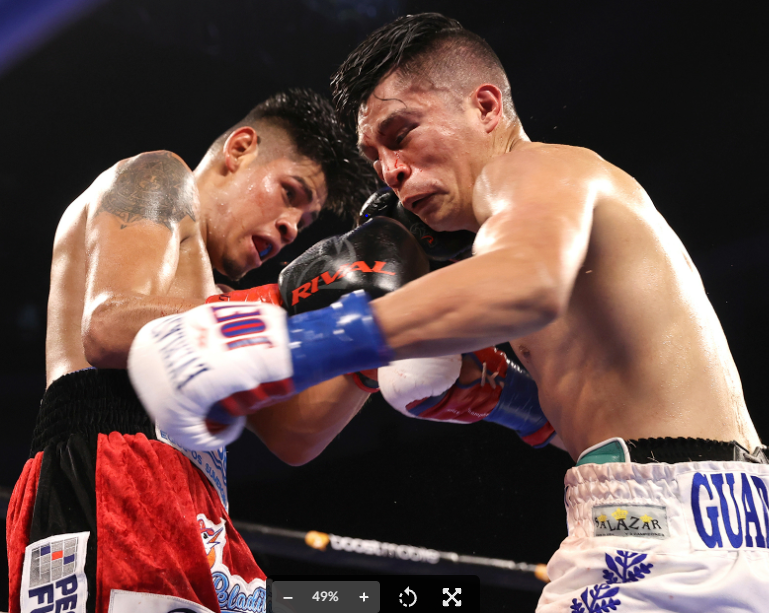 SAN DIEGO-WBO featherweight titlist Emanuel Navarrete won by unanimous decision over Joet Gonzalez in a slugfest that had fans cheering nonstop on Friday night. Fans were mesmerized by the savagery.
More than 2,000 fans saw Mexico City's Navarrete (35-1, 29 KOs) and Southern California's Gonzalez (24-2, 14 KOs) bounce brutal shots off each other for 12 successive rounds at Pechanga Sports Arena.
Both Navarrete and Gonzalez were about equal in height with the champion maybe a slight taller, but not by much. As soon as the first bell rang the two featherweights opened up in furious fashion.
Gonzalez was making his second attempt to grab a world title. His first attempt fell short a year ago. He was eager to atone for the defeat by clobbering Navarrete. Body shots were the weapon of choice.
The Mexican fighter Navarrete was accustomed to battling shorter fighters, this time the two were equal in size and in fury. Blows were flying in bunches and by the third round Gonzalez suffered a cut on his right cheek.
At several points Navarrete would connect with a solid blow and eagerly seek to finish the fight. Each time it happened Gonzalez would fight back even more furiously and beat back the champions attacks.
Gonzalez also connected with big shots and moved in for the kill only find Navarrete take a stand and fire back. Neither was able to truly gain a significant edge. After 12 rounds of nonstop action the decision was given to the judges. One scored it 118-110, two others saw it 116-112 all for Navarrete.
Fans were pleased by the decision and even more pleased by the breath-taking action they had witnessed.
Welterweights
Local fighter Giovani Santillan (28-0, 15 KOs) remained undefeated by unanimous decision after 10 rounds versus Tijuana's Angel Ruiz (17-2, 12 KOs). The two southpaws were evenly matched.
San Diego's Santillan was able to outwork Ruiz in almost every round. Though Ruiz has heavy hands he was not able to hurt Santillan even with uppercuts. It was clear very early in the fight that Santillan was the more technical and busier of the two. No knockdowns were scored.
After 10 rounds two judges scored it 100-90 for Santillan and a third saw it 99-91.
Other Results
Lindolfo Delgado (14-0, 12 KOs) battered and knocked down fellow Mexican Juan Garcia Mendez (21-5-2) in the last round of an 8-round super lightweight bout, but could not score the knockout win.
Delgado, a Mexican Olympian, was the quicker and stronger fighter yet discovered Garcia Mendez has a solid chin. All three judges scored it 80-71 for Delgado.
Puerto Rico's Henry Lebron (14-0, 9 KOs) defeated Manuel Rey Rojas (21-6) by decision after eight rounds in a lightweight match.
Javier Martinez (5-0, 2 KOs) soundly defeated Darryl Jones (4-3-1) by decision after six rounds in a middleweight clash. Jones was tough.
Las Vegas bantamweight Floyd Diaz (3-0) knocked down Tucson's Jose Ramirez (1-1) in the first round but was unable to end the fight early. Diaz won by decision.
Heavyweight Antonio Mireles (1-0) knocked out Demonte Randle (2-2) at 2:07 of the first round.
Photo credit: Mikey Williams / Top Rank for Getty Images
Check out more boxing news on video at the Boxing Channel
To comment on this story in the Fight Forum CLICK HERE
Russell Peltz's "Thirty Dollars and a Cut Eye": Book Review by Thomas Hauser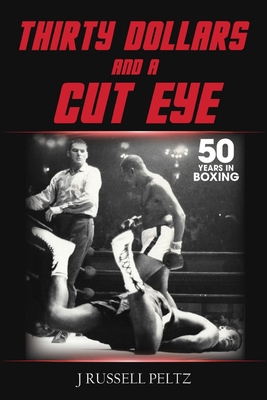 Russell Peltz's "Thirty Dollars and a Cut Eye": Book Review by Thomas Hauser
Russell Peltz has been promoting fights for fifty years and is as much a part of the fabric of Philadelphia boxing as Philly gym wars and Philly fighters. He was inducted into the International Boxing Hall of Fame in 2004 and deservedly so. Now Peltz has written a memoir entitled Thirty Dollars and a Cut Eye that chronicles his many years in the sweet science.
Peltz started in boxing before it was, in his words, "bastardized by the alphabet groups" and at a time when "world titles still meant something."
"I fell in love with boxing when I was twelve," he writes, "saw my first live fight at fourteen, decided to make it my life, and never looked back." He promoted his first fight card in 1969 at age 22.
Peltz came of age in boxing at a time when promoters – particularly small promoters – survived or died based on the live gate. Peltz Boxing Promotions had long runs at the Blue Horizon in Philadelphia and both Harrah's Marina and the Sands  in Atlantic City. His journey through the sweet science included a seven-year stint as director of boxing for The Spectrum in Philadelphia. At the turn of the century, he was a matchmaker for ESPN.
Along the way, Peltz's office in Philadelphia was fire-bombed. He was robbed at gunpoint while selling tickets in his office for a fight card at the Blue Horizon and threatened in creative ways more times than one might imagine. He once had a fight fall out when one of the fighters was arrested on the day of the weigh-in. No wonder he quotes promoter Marty Kramer, who declared, "The only thing I wish on my worst enemy is that he becomes a small-club boxing promoter."
Now Peltz has put pen to paper – or finger to keyboard. "The internet is often a misinformation highway," he writes. "I want to set the record straight as to what actually went on in boxing in the Philadelphia area since the late-1960s. I'm tired of reading tweets or Facebook posts or Instagram accounts from people who were not around and have no idea what went on but write like they do."
Thirty Dollars and a Cut Eye is filled with characters (inside and outside the ring) who give boxing its texture. As Peltz acknowledges, his own judgment was sometimes faulty. Russell once turned down the opportunity to promote Marvin Hagler on a long-term basis. There are countless anecdotes about shady referees, bad judging, and other injustices. Middleweight Bennie Briscoe figures prominently in the story, as do other Philadelphia fighters like Willie "The Worm" Monroe, Bobby "Boogaloo" Watts, Eugene "Cyclone" Hart, Stanley "Kitten" Hayward, and Matthew Franklin (later Matthew Saad Muhammad). Perhaps the best fight Peltz ever promoted  was the 1977 classic when Franklin knocked out Marvin Johnson in the twelfth round.
There's humor. After Larry Holmes pitched a shutout against Randall "Tex" Cobb in 1982, Cobb proclaimed, "Larry never beat me. He just won the first fifteen rounds."
And there are poignant notes. Writing about Tanzanian-born Rogers Mtagwa (who boxed out of Philadelphia), Peltz recalls, "He couldn't pass an eye exam because he didn't understand the alphabet."
Remembering the Blue Horizon, Peltz fondly recounts, ""The Blue Horizon was a fight fan's nirvana. The ring was 15-feet-9-inches squared inside the ropes. No fighter came to the Blue Horizon to pad his record. Fans wanted good fights, not slaughters of second-raters."
That ethos was personified by future bantamweight champion Jeff Chandler who, after knocking out an obviously inept opponent, told Peltz, "Don't ever embarrass me like that again in front of my fans."
Thereafter, whenever a manager asked Peltz to put his fighter in soft to "get me six wins in a row," Russell thought of Chandler. "I enjoyed promoting fights more than promoting fighters," he writes. "If I was interested in promoting fighters, I would have been a manager."
That brings us to Peltz the writer.
The first thing to be said here is that this is a book for boxing junkies, not the casual fan. Peltz is detail-oriented. But do readers really need to know what tickets prices were for the April 6, 1976, fight between Bennie Briscoe and Eugene Hart? The book tends to get bogged down in details. And after a while, the fights and fighters blur together in the telling.
It brings to mind the relationship between Gene Tunney and George Bernard Shaw. The noted playwright and heavyweight great developed a genuine friendship. But Shaw's fondness for Tunney stopped short of uncritical admiration. In 1932, the former champion authored his autobiography (A Man Must Fight) and proudly presented a copy to his intellectual mentor. Shaw read the book and responded with a letter that read in part, "Just as one prayer meeting is very like another, one fight is very like another. At a certain point, I wanted to skip to Dempsey."
Reading Thirty Dollars and a Cut Eye, at a certain point I wanted to skip to Hagler.
There's also one jarring note. Peltz recounts how, when Mike Jones fought Randall Bailey for the vacant IBF welterweight title in Las Vegas in 2012, Peltz bet five hundred dollars against Jones (his own fighter) at the MGM Sports Book and collected two thousand dollars when Bailey (trailing badly on the judges' scorecards) knocked Jones out in the eleventh round.
"It was a tradition from my days with Bennie Briscoe," Russell explains. "I'd bet against my fighter, hoping to lose the bet and win the fight."
I think Russell Peltz is honest. I mean that sincerely. And I think he was rooting for Mike Jones to beat Randall Bailey. But I don't think that promoters should bet on fights involving their own fighters. And it's worse if they bet against their own fighters. Regardless of the motivation, it looks bad. Or phrased differently: Suppose Don King had bet on Buster Douglas to beat Mike Tyson in Tokyo?
Philadelphia was once a great fight town. in 1926, the first fight between Jack Dempsey and Gene Tunney drew 120,000 fans to Sesquicentennial Stadium. Twenty-six years later, Rocky Marciano knocked out Jersey Joe Walcott at same site (renamed Municipal Stadium) to claim the heavyweight throne.
Peltz takes pride in saying, "I was part of Philadelphia's last golden age of boxing."
An important part.
Thomas Hauser's email address is thomashauserwriter@gmail.com. His most recent book – Broken Dreams: Another Year Inside Boxing – was published by the University of Arkansas Press this autumn. In 2004, the Boxing Writers Association of America honored Hauser with the Nat Fleischer Award for career excellence in boxing journalism. In 2019, he was selected for boxing's highest honor – induction into the International Boxing Hall of Fame.
Check out more boxing news on video at the Boxing Channel
To comment on this story in the Fight Forum CLICK HERE