The Top Ten Light-Middleweights of the Decade: 2010-2019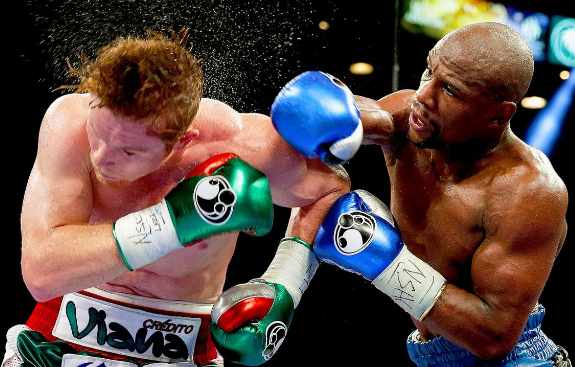 154lbs had a fascinating decade. The first generation that came through with Saul Alvarez and Miguel Cotto soon made way for a younger generation made up of exciting young fighters like Jarrett Hurd and Julian Williams, in some cases, in real and visceral ways, trading leather over inches of real-estate in blood-teared boxing-rings. There is much head-to-head resolution in this list, sure sign of a healthy division.
It wasn't all fun and games though. The light-middleweight decade was also marked with dreadful scoring and one or two straight-up robberies. Like every division I've looked at so far, it seems to run out of locked inclusions well before we hit the last berth, which is a cause for concern.
But we do get a fascinating gallery of characters and actors which includes two pound-for-pound contenders for the decade. 154lbs has surprised me during this review, and I hope it surprises you too.
Rankings are by Ring 2010-2012 and TBRB 2013-2019.
10 – Demetrius Andrade
Peak Ranking: 3 Record for the Decade: 20-0 Ranked For: 58% of the decade.
The saddest sight from this past 154lb decade was the steady descent of Demetrius Andrade down the light-middleweight rankings as he continued to win, win, win and win in the boxing ring. The reason? Alphabet politics, specifically the level of fighter Andrade has mixed with during his pitiful WBO title run. There was a time when even an alphabet belt could only enhance a fighter's legacy.  No longer.
Andrade, out of Rhode Island, picked that title up in 2013 in a superb performance against Vanes Martirosyan in a fight that reeked of ambition. Both Andrade and Martirosyan were unbeaten, both legitimately skilled prospects with deep amateur pedigrees. Andrade won a superb fight that began with a bang but became a little too one-sided down the stretch to be branded classic; Andrade was bizarrely awarded a split in a fight he clearly dominated.
And that is his fistic peak. Three years later he dominated and stopped Willie Nelson, the then number nine contender, and that is what qualifies as Demetrius Andrade second best win.
Also speaking for him is his unbeaten decade and a quick, clean southpaw fighting style, but our number ten is a sign of the times. I've almost (but not quite) talked myself into replacing him with Tony Harrison.
09 – Miguel Cotto
Peak Ranking: 1 Record for the Decade: 7-4 Ranked For: 52% of the decade
Is Miguel Cotto being under-represented here at number nine? Arguably, but the following needs to be considered: Firstly, Cotto fought just eleven fights in this decade. Secondly, some of these were contested at middleweight, not light-middleweight. Third, of the 154lb contests he engaged in, he lost three; finally, he beat just one ranked contender, Yuri Foreman, in a strange, badly refereed contest where Cotto brought good pressure but unquestionably benefited from a serious injury to his opponent's knee. This contrasts with his middleweight visit where he defeated some of the best fighters of the 160lb decade.
Cotto scrapes in at nine, then, based upon his defeat of Foreman and his exquisite performance in combat with a man unranked at 154lbs but who brought with him serious pedigree from the 147lb limit he stretched his 5'11 frame over, Antonio Margarito. Cotto's first fight with Margarito was a thing of great infamy, and no more virtual ink need be spent on it here. The rematch at light-middleweight is what interests us.
Cotto was precise and sharp throughout; Margarito, reaching. Cotto's sensational performance needs to be balanced against Margarito's condition, questionable after his brutal dismantling at the hands of Manny Pacquiao but it also needs to be noted that it was Cotto, not Pacquiao, who scored the stoppage.
Cotto was unquestionably a better light-middleweight than he was a middleweight, but it is also unquestionable that he achieved more in absolute terms against elite opposition at 160lbs in the decade at hand. Nine, then, is where Cotto finds himself for 2010-2019 at this weight class.
08 – Austin Trout
Peak Ranking: 2 Record for the Decade: 10-5-1 Ranked For: 50% of the decade
Austin Trout had a fascinating decade, but he left the numerical trunk of his career back in the 00s and an ugly close to the decade marred his paper record. Trout was defeated by both Charlo brothers and Jarrett Hurd 2016 through 2018; the new generation feasted on him.
In fact, 2012 aside, Trout did not perform as well as some may assume. That year though, was a fine one. He kicked it off with a patient, waiting performance against Delvin Rodriguez, who was at that time hanging onto his number ten ranking by his fingertips. Trout deployed his tiring, distracting southpaw jab to its usual discombobulating affect and coasted to a wide points victory. Exceptional defensively against middling handspeed (and good against fast hands), Trout was a brave choice of opponent for Miguel Cotto, coming off a thrashing at the hands of Floyd Mayweather but certainly still elite.
Trout was brilliant that night. It is perhaps the defining example of how to avoid being pinned to the ropes by a pressure fighter, not just in this weight class but in any weight class for this decade. Every time Trout felt the ropes close in behind him, he made an exit by way of feint or punch and fleet footwork. He made Cotto look ordinary and he was deserving of his majority decision victory, despite a huge swathe of tight, swing rounds.
Then he ran into Canelo Alvarez. This fight is important. Despite Trout's seeming surety that he had lost the fight clean, it was very close; what needs to be understood is that the WBC's insistence upon open scoring made much of the last third of the fight moot and after Alvarez won the eleventh clear, the twelfth round a redundancy. Trout could only win by a knockout he was never going to score.  That he won the fight by a single point on my card is neither here nor there.
And that leaves me with a problem. Trout, a fine fighter, who turned in one of the finest performances of the light-middleweight decade, can sit no higher than eighth. Having won two meaningful fights in 2012 he went on to lose to every ranked man he ever faced; it is natural that no fewer than four of them rank above him here.
07 – Jermell Charlo
Peak Ranking: 2 Record for the Decade: 23-1 Ranked For: 45% of the decade
Jermell Charlo, one of a pair of fighting brothers from Texas, also ran into Vanes Martirosyan, who served as an elite gatekeeper throughout the decade. A tension-drenched contest resulted with Charlo edging a fight that could have gone any one of three ways. Jermell hasn't been blessed with the power of his twin brother, the inconveniently named Jermall (see below) but the quickness of his jab and decent accuracy make him a difficult opponent.
Adding a deceptively stinging hook gave him the feel of a completeness in his style and Jermell capitalized on the punch against a much-faded Austin Trout, dropping him twice to squeak home on the cards. With the division at his fingertips, the capable, defensively sound Tony Harrison came calling. To be clear, Jermell deserved the nod here for me, but the surprise loss he suffered on the cards did underline some of the problems in his execution. I saw no fewer than four of the twelve rounds close and difficult to call. Jermell perhaps deserved the benefit of the doubt here (and I personally gave it to him) boxing on the front foot and landing all but one of the hard, eye-catching shots in the fight – but he also failed, perhaps, to close the show in rounds where he had an edge but an arguable edge. He allowed Harrison to wait for him and failed to capitalize on the pressure he brought to bear. Jermell's loss to Harrison was unfortunate but it was no robbery.
Jermell put the blot right in a rematch, surging in to attack where before he had waited, willing to get hit to land a superior, tighter offense. His pressure bore fruit; Harrison was stopped on his feet in the eleventh.
Charlo stands having learned a valuable lesson and ready to take a new decade on with precision aggression; he nevertheless did enough between 2010 and 2019 to stand here on merit.
06 – Jarrett Hurd
Peak Ranking: 1 Record for the Decade: 23-1- Ranked For: 25% of the decade
In a division festooned with classy boxers, Jarrett Hurd assumed the status of bogeyman. Huge at the weight, strong, iron-jawed, relentless with inconveniently deceptive footwork that re-introduces him to the space of even the most fleet-footed runner or stick-and-move artist, Hurd is death on a stick for a certain type of fighter.
That type: older, some tough rounds on him, a boxer. Step forwards Austin Trout. This fight is painful to watch as the ageing Trout, never stopped before, never stopped since, is pulled by his corner late in the fight. Hurd mauled and punched him into submission until he was little more than a crouch and some pit-a-pat offense in the sphere of influence belonging to a fighter who cannot be turned around by even serious punches.
Hurd stepped out of Trout's ring and into Erislandy Lara's, a different matter. Their fight was fascinating and brilliant, Hurd's ceaseless hunting and adeptness in cutting off the ring against Lara's guile and brilliant footwork. Then Lara quit on his stick-and-move strategy and stepped into Hurd's pocket. The Cuban proceeded to outfight his much younger, bigger, stronger opponents for long stretches.
Power is power though. A visit to the canvas in the twelfth cost Lara the fight and made Hurd the breaker-in-general of 154lb boxers.
Hurd was ranked the world's #1 light-middleweight post-Lara and it seemed, perhaps, a period of dominance might follow. Then Hurd ran into a fighter named Julian Williams.
05 – Julian Williams
Peak Ranking: 1 Record for the Decade: 27-1-1 Ranked For: 50% of the decade
Julian Williams suffered a disaster in his last fight, losing his strap and number one ranking to Jeison Rosario; but that loss occurred in January of 2020. Williams, whose career entered the Covid-19 lockdown in tatters, is unaffected here by that devastating loss.
He did suffer a loss between 2010 and 2019 at light-middleweight, to Jermall Charlo who also stopped him in five back in December of 2016; his rebuild was something rather special. He summited in the final year of the decade with a victory over number one contender, Jarret Hurd.  This was a superb thinking performance from a fighter who had learned his lessons well. He out-thought Hurd on the outside, making a seeming lie of Hurd's clear reach and height advantages to out-jab him, then out-fought him on the inside, throwing out tides of short, snappy punches that had Hurd in such serious trouble in the second that it seemed, after dropping the number one contender, he might stop him. Hurd survived to drop a clear unanimous decision.
Hurd came to that fight based primarily upon his victory over Nathaniel Gallimore, ranked six, another taller, longer fighter. This was Hurd-lite for Williams, a dress rehearsal for that excellent performance. I was saddened to see Williams stopped early in 2020, his resurgence one of the finest lo-fi stories of the decade. As to whether he deserves the number five spot for that decade, that is debatable – although certainly, battering the fighter ranked number six helps.
04 – Jermall Charlo
Peak Ranking: 2 Record for the Decade: 24-0 Ranked For: 20% of the decade
Trout beats Cotto, Hurd beats Trout, Williams beats Hurd and finally Jermall Charlo beats Williams.  It's helpful in interpreting the division, these matches, and there's been refreshing traffic between the top ten light-middleweights of the decade. Jermall departed undefeated for the middleweight division before the decade was out but despite the temporal shortage, Jermall made his mark and ranks as a "best of the rest" #4, clear water between he and the number three, but a stretch between he and #5, also.
Jermall landed in earnest as late as September 2015, obliterating storied veteran Cornelius Bundrage in four rounds. Bundrage won not a minute of a round and was yoyoed throughout. It was easy.  Bundrage was shocked by Jermall's offensive capabilities and you could see it, especially on the third knockdown. After stopping Wilky Campfort in similar short order, Jermall fought perhaps the most important fight of his career against Austin Trout. Trout had lost to both Alvarez and Lara in short order but had since rebuilt and was once more ranked the world's number two light-middleweight.  Jermall edged him out in a close, absorbing contest, emerging as a fighter of economy and no little power, his jab a hurtful weapon, the speed on his straight right turning it into a slashing, hurtful punch. Trout didn't go away and, in fact, made some very exciting adjustments to test Jermall to his fullest, but it was the younger man who emerged with the victory.
Jermall then scored what, in retrospect, would seem a sensational knockout over Julian Williams and stepped up to middleweight. This leave him not beyond reproach; he departed the division at the very moment it seemed ripe for his dominance and he began mixing with top contenders only a short time before; two keystones in his resume were men past their apex in the form of Trout and on the slide in the form of Bundrage. But it must be remembered, too, that Jermall got a lot done in a short time and that he looked, for the most part, superb in doing it. He spent most of the decade at the limit and left it without loss.
03 – Erislandy Lara
Peak Ranking: 1 Record for the Decade: 17-3-3 Ranked For: 83% of the decade
Erislandy Lara is still ranked among the ten best fighters in the light-middleweight division, sitting pretty at number six as of April 2020. Each of these divisions has kicked up a survivor, a fighter who hangs onto his ranking by hook or by jab and who becomes a key operator for that decade. Lara is that man at 154lbs.
To be honest though, I was a little disappointed putting him under the microscope. This is a man who rarely matched ranked contenders; in fact, Lara could be comfortably placed a little lower judged purely on quality scalps. Lara's third best win is over Yuri Foreman.
But his longevity counts for plenty here and is illustrated by the fact that the first and best big win of his career came back in 2013, a twelve round decision awarded to him over Austin Trout. Lara exposed Trout's limitations. If you can outland him in a given round, he will lose; if you are fast, he will struggle defensively; if you are patient, he will crack, which may have been the key to Lara's wide decision victory.
Later, in 2016, Lara matched old foe Vanes Martirosyan, a name familiar from earlier entries. Lara had been on the bad end of a technical draw against Martirosyan in 2012 in a match he dominated but he took the unanimous decision in the rematch; he rolled straight out of that contest into a fight with Yuri Foreman over whom he scored a weird knockout in four (track it down).
And that is all. Is that enough for number three? It is not.
Untold are the interesting wrinkles. In 2012 he took the enormous, the terrifying, the rather past-it Paul Williams and timed, bullied, battered and countered the bigger, stronger, longer, ever game Williams to pieces – the judges, all of whom would be suspended from the sport in the wake of their actions, scored the fight for Williams. Lara is credited for a win over Williams for the purposes of this list.
In 2014, Lara was in an excruciatingly close fight with Saul Alvarez; I had the Mexican a winner 115-113 but the average media scorecard was 114-114. This was a fight that basically failed to settle the issue between the two and Alvarez passed on a rematch.
This is enough to close the distance on and then overhaul Jermall; Lara is the third most accomplished light-middleweight of the decade. He was also the most interesting.
2 – Saul Alvarez
Peak Ranking: Ch.  Record for the Decade: 24-1-1 Ranked For: 47% of the decade
Saul Alvarez followed a much-trodden path in his approach to his divisional summit: he walked the bones of former contenders like Carlos Baldomir, Lovemore Ndou, Kermit Cintron and a faded Shane Mosley. This is good practice for a well-funded prospect, and Saul Alvarez was always that.
But while the big bucks associated with his burgeoning fame was drawing in name fighters past their best, Alvarez was also breaking contenders in more interesting fights. Ryan Rhodes was ranked number four for their 2011 encounter while Alvarez was ranked number nine. Seeing the young Mexican learn and apply what he had seen during this fight was thrilling. He picks punches with more and more confidence as the fight nears its conclusion and indeed, he would seem to improve with every fight he had at 154lbs, eventually emerging up at 160lbs as complete a version of himself as could be imagined.
Rhodes succumbed in twelve and close victories over Austin Trout and Erislandy Lara would have made him the era's outstanding light-middleweight.
Were it not for Floyd Mayweather.
Mayweather had made himself a force in the division before his retirement in the 00s and his re-emergence saw him inevitably clash with Alvarez in 2012. That Alvarez was so thoroughly beaten by Mayweather makes it extremely difficult to place him at number one here. This is especially hard on Alvarez because he was rendered number two up at middleweight, too – and for reasons directly opposite of those expressed here. The two differences are Mayweather's total dominance over Alvarez and the fact that Alvarez managed fewer than half the decadal contenders that Golovkin did at middleweight.
In other words, Alvarez did not do quite enough in either division to be rendered number one, but for very different reasons in each case, which is a tough break. Had he remained at 154lbs, he would have done more than enough to justify the number one slot. As it is, he's missed out by the narrowest of margins – the type of margin by which Floyd Mayweather might slip an oncoming jab.
1 – Floyd Mayweather
Peak Ranking: Ch.  Record for the Decade: 10-0 Ranked For: 34% of the decade
Floyd Mayweather rolled back into light-middleweight in May of 2012 and made Miguel Cotto, then rated divisional number one, look like a journeyman. Cotto was never anything less than brave and in round eight he looked his sensational self, but in the eleventh and twelfth, especially, it was clear that there was at least a full class between Mayweather and Cotto.
What most impressed about this was that Cotto was a fighter made in hell for an older fighter. Fast pressure, technically sure punching, a good engine and a withering body attack are the attributes you absolutely do not want to see named in the opposite corner when you are in your fourth decade. Mayweather, who had lost a step or two, found other ways to keep his more aggressive foe under control, first among them, peerless countering abilities. Cotto did as well as any Mayweather foe of recent memory but was, in the end, left well behind.
Arguably though, Saul Alvarez was the more dangerous challenge and for the purposes of naming the number one light-middleweight of the era is obviously the key combat. Younger and in his physical prime, Alvarez was also two weight-divisions bigger on fight night, coming to the ring a super-middleweight. Mayweather looked him over and proceeded to outbox him for ten of the following twelve rounds. It was a glorified spar; it was a fighter headed for the upper echelons of the pound-for-pound list reduced to the status of a training partner. Mayweather was landing trailing uppercuts and outlanded his opponent in all but one of the twelve rounds.
It was as vivid a demonstration of one fighter's complete superiority over another as can be imagined over twelve and leaves no doubt as to which of the two is the superior fighter. However, a counterargument to Floyd's holding the number one slot does present itself. As a rule, before agreeing a fighter's final slot with myself, I look at said fighter's third best victory under the conditions described (here, light-middleweight in a given decade). The answer to that question, for Mayweather is "Conor McGregor." That is, Floyd's third most impressive scalp here considered is an 0-1 MMA specialist. This is unimpressive.
Given that Shane Mosley hadn't won a fight for more than three years when Alvarez faced him, it could be reasonably argued that Alvarez's own #3 scalp is Ryan Rhodes and, more significantly, that what Ryan Rhodes was to Saul Alvarez, Saul Alvarez was to Floyd Mayweather. That was the gap that existed between the two in the ring.
So it's Mayweather at number one for me, not locked given that Alvarez got better and Mayweather underwhelmed with volume of victories, but as the only man to beat two number one ranked contenders in the decade and more than that, made it all look rather easy, I'm satisfied he is the right choice.
Other divisions presented even tougher choices: Heavyweight, Cruiserweight, Light-Heavyweight, Super-Middleweight and Middleweight.
Check out more boxing news on video at The Boxing Channel 
To comment on this story in The Fight Forum CLICK HERE
Regis Prograis KOs Jose Zepeda at Dignity Sports Health Park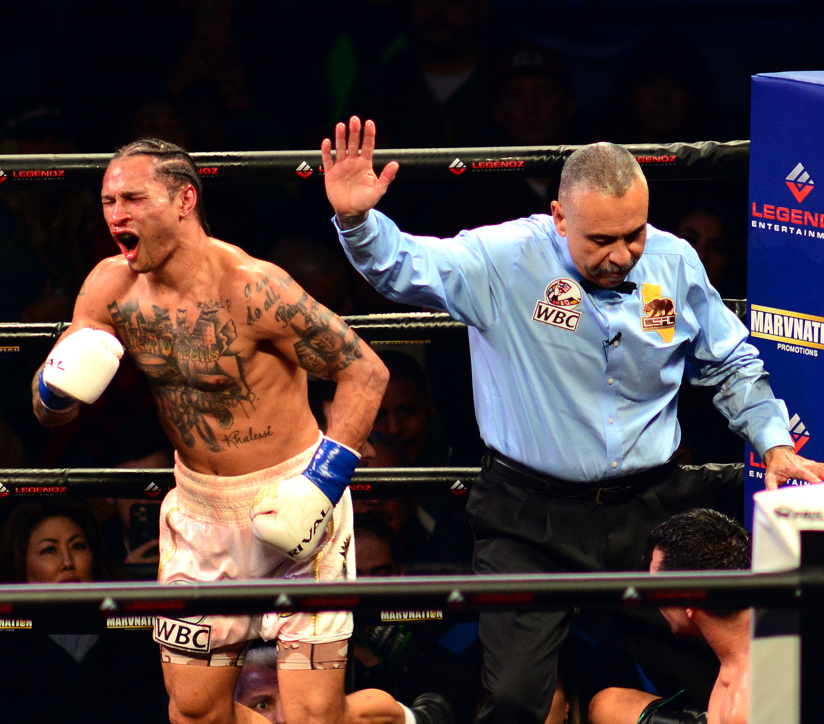 Not all big bangers are the same.
Regis Prograis slugged it out with fellow knockout artist Jose "Chon" Zepeda and after 11 rounds of tactical battle ended the WBC super lightweight battle with a flourishing knockout on Saturday.
Prograis (28-1, 24 KOs) becomes the first two-time super lightweight champion from New Orleans after his win over Zepeda (36-3, 27 KOs) at SoCal's Dignity Health Sports Park. It had been more than three years since he last held a world title.
"This was the hardest fight of my career," said Prograis after the strategic clash between the super lightweight division's biggest punchers.
The heavily favored Prograis and Zepeda were cautious under the cold outdoor weather arena. Many a previous world title match ended quickly under similar circumstances and both were wary.
Zepeda was slightly busier and able to connect early with his deceptively fast left cross. Though the first two rounds were not very action-packed, it seemed Zepeda landed more effective blows.
Then Prograis went to work.
"At first, I wanted to come out and box him. Maybe in the third round I caught my rhythm," said Prograis. "Then he caught on to that."
Behind his awkward head movements and more agile movements Prograis used jabs and counters to force Zepeda into a more defensive stance. Though neither fighter dominated a round it was the New Orleans native who dictated the pace and action.
Round after round was going into the books favoring Prograis, not until the eighth round did Zepeda make a move into a more aggressive mode and finally out-punched Prograis. But the former world champion adapted again.
Prograis and Zepeda slugged it out in the ninth round. Zepeda connected with a left uppercut but Prograis withstood the blow and continued moving forward. Once again Prograis out-punched Zepeda in a very close round.
Both seemed ready to make the 10th round their own and Zepeda connected with a left cross that landed flush. Prograis barely was moved and then increased his output and the two super lightweights exchanged furiously with the New Orleans fighter seeming to out-punch Zepeda again. It was a telling round.
Prograis had withstood Zepeda's biggest blows and was ready to unload some of his firepower. He had dominated most of the fight behind his jab and quick combinations. Now he was ready for the big shells.
Both super lightweights opened up in the 11th round with each connecting early. Suddenly an overhand left by Prograis sent Zepeda reeling backward and he did not let up. A furious 13-punch barrage was unloaded and down went Zepeda. Referee Ray Corona did not bother to count and ended the fight at 59 seconds of the 11th round.
"In the 11th round I felt like taking him to deep waters and drown him," said Prograis.
Once again Prograis holds a super lightweight world title.
"I heard the small talk. I heard the rumors. I want to congratulate Zepeda, that guy was tough, tough, tough. He gave me my hardest fight," said an ecstatic Prograis. "Listen, I got 29 fights, this was probably my hardest fight."
Yokasta Valle beats Evelin Bermudez
Seeking big challenges Yokasta Valle (27-2, 9 KOs) rallied after a slow start and out-boxed Argentina's Evelin Bermudez (17-1-1, 6 KOs) to win the WBO and IBF light flyweight world titles by majority decision after 10 rounds.
After absorbing big right hands from Bermudez during the first two rounds, Valle solved the problem and out-hustled the taller world champion behind quick combinations and making the champion shift her feet. It was a simple but effective plan and led to Valle storming down the stretch with more effective punching.
Bermudez had steamrolled most of her opponents behind a relentless attack that focused mainly on her big right cross. But against Valle that punch was mostly eliminated after the third round.
Valle slipped under Bermudez's attacks and countered with her combination punching. Occasionally the Costa Rican fighter connected with a big shot that caught the eye of the judges.
After 10 rounds, one judge scored it 95-95, while two others saw Valle the winner by majority decision 99-91, 97-93.
Valle, an IBF and WBO minimumweight world titlist, moved up a division to win her second weight division world title.
Conwell Wins
In a savage battle Ohio's Charles Conwell (18-0, 13 KOs) bludgeoned his way to victory over Juan Carlos Abreu (25-7-1, 23 KOs) by unanimous decision after 10 rounds in a super welterweight contest. It was a skillful display of 1950s-style fighting that saw Conwell showcase his strength and canny punch selection in out-fighting veteran slugger Abreu.
Heavyweights
Former Olympic super heavyweight gold medalist Bakhodir Jalolov (12-0, 12 KOs) knocked out Curtis Harper (14-9) in the fourth round with a barrage if blows. Twice he knocked down Harper who had been deducted a point for an intentional head butt.
Vargas Brothers
Both sons of boxing great Fernando Vargas emerged victorious in their bouts. Fernando Vargas Jr. (7-0, 7 KOs) knocked out Alejandro Martinez (3-3-1) in the second round of their super welterweight bout. Amado Vargas (5-0, 2 KOs) won by decision after four rounds versus Osmar Hernandez (1-2) in a featherweight match.
Photo credit: Al Applerose
To comment on this story in the Fight Forum CLICK HERE
John Ryder and Fabio Wardley Triumph on Dueling Shows in London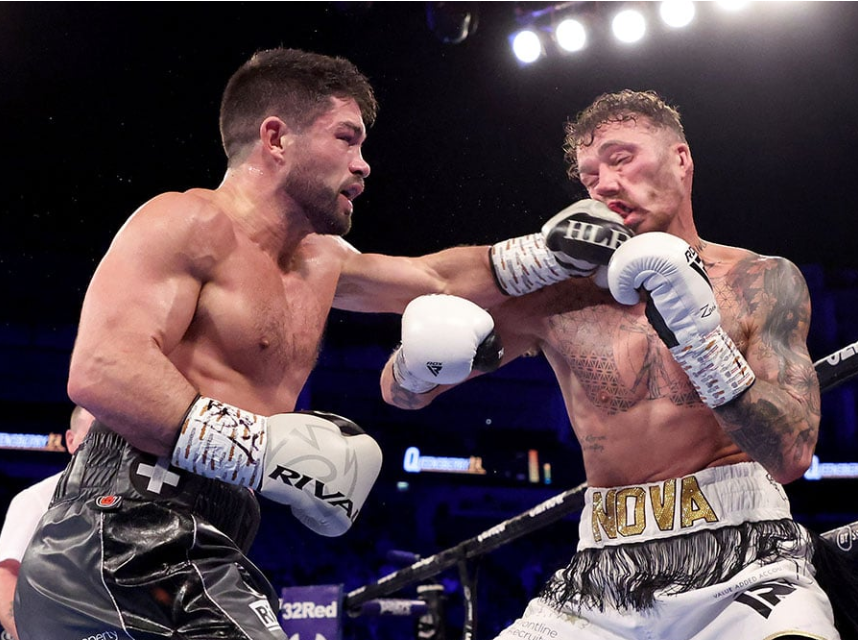 John Ryder and Fabio Wardley Triumph on Dueling Shows in London
If one were driving from Greenwich township in London to that city's Wembley sector, or vice versa, one would travel about 18 miles. No doubt many hardcore British fight fans would have gladly made the trip if the starting times of today's shows had been sufficiently staggered so that one could attend both events. But no, rival promoters Eddie Hearn (Matchroom) and Frank Warren (Queensberry) elected to go head-to-head.
Warren's Greenwich show at the O2 Arena, which aired in the U.S. on ESPN+, had the main event with the highest stakes and the deepest undercard. Hearn's show at Wembley, live-streamed on DAZN, had the allurement of heavyweights.
O2 Arena
The WBO interim 168-pound title was at stake plus pole position for a Cinco de Mayo showdown with Canelo Alvarez when Zach Parker squared off with countryman John Ryder. A second-generation boxer who came in undefeated (22-0, 16 KOs), Parker entered the ring an 11/5 favorite.
This was shaping up as a good fight, arguably tilting Ryder's way, when Parker pulled out after four rounds with a broken right hand. It was a bitter defeat for the Derbyshire man who was making his first start of 2022 after matches with defending WBO title-holder Demetrius Andrade kept falling out.
Although Canelo Alvarez has no fear of Englishmen having defeated Matthew Hatton, Amir Khan, Liam Smith, Rocky Fielding, Callum Smith, and Billy Joe Saunders in world title fights. John Ryder, a 34-year-old southpaw, nicknamed "Gorilla," may have the tools to make things interesting. Today's win, albeit somewhat tainted, was his fourth straight after losing a controversial decision to Callum Smith in Smith's hometown, elevating his record to 32-5 (18).
If Canelo chooses to spurn his mandatory and go in a different direction when he next laces on the gloves, the WBO will anoint John Ryder its full super middleweight champion.
Other O2 Bouts
Highly-touted middleweight Hamzah Sheeraz scored his 11th straight knockout and improved to 17-0 (13) with a fast beatdown of overmatched River Wilson-Bent (13-2-1) who was bruised and battered when the referee interceded in the waning seconds of round two. Sheeraz has been training in the U.S. at Joe Goossen's Ten Goose Gym in California.
Southpaw Dennis McCann, a 21-year-old Irish Traveler, continued his climb up the super bantamweight ranks with an eighth round stoppage of Scotland's Joe Ham. McCann (14-0, 8 KOs) was pummeling Ham (17-4) against the ropes when the bout was waived off. Ham hadn't previously been stopped.
Knockout artist Sam Noakes, a lightweight, employed a vicious body attack to score his 10th stoppage in as many opportunities, halting Calvin McCord (12-1, 2 KOs) in the fourth frame. Noakes showed no after-effects of the broken thumb that had kept him out of the ring since March.
Junior welterweight Pierce O'Leary scored two knockdowns but wasn't able to polish off Namibian import Emanuel Mungandjela who was still standing after 10 rounds. The judges had it 99-89, 99-90, and 96-92.
It was the first scheduled 10-rounder for O'Leary (11-0, 6 KOs), a Dubliner with a strong amateur pedigree. Mungandjela (16-4-1) was making his U.K. debut.
Wembley Arena
The main event pitted Dillian Whyte against Jermaine Franklin, but most of the pre-fight talk centered around the co-feature, a 12-round contest between Fabio Wardley and Nathan Gorman for the vacant British heavyweight title.
Wardley (14-0 heading in) had stopped his last 13 opponents while answering the bell for only 31 rounds, but the jury was still out on him. He had no amateur experience and was thought to be very much a work in progress. Nathan Gorman, Tyson Fury's cousin, had come up short in his first crossroads fight, getting stopped by former amateur rival Daniel Dubois, but was considered something more than a gatekeeper.
Wardley rose to the occasion with the biggest win of his career, stopping Gorman (19-2) in the third frame in a fan-friendly fight. Gorman clearly won the first round and busted Wardley's nose wide open in round two, but the Ipswich man, a protégé of Dillian Whyte, cranked up the juice at the sight of his own blood and scored two knockdowns before the second round was over. Another knockdown in the third prompted Gorman's corner to toss in the towel.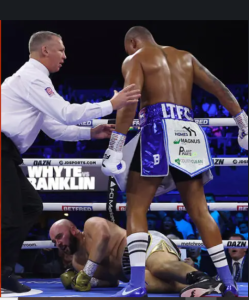 The main event was anticlimactic.
It was thought that Dillian Whyte, who has been matched tough throughout his career, would have little trouble with Saginaw, Michigan's Jermaine Franklin who had misleading 21-0 record, lacked fight-altering power, had fought only once in the last three years, and came in at a too-heavy 257 pounds. But the "Body Snatcher," in his first fight with trainer Buddy McGirt, delivered a lackluster performance while walking away with a majority decision (114-114, 116-112, 116-112).
Whyte, 35, improved his ledger to 29-3 (19) in what some are calling a hometown decision. To his credit, he came on strong in the final rounds after being rocked in the ninth. There is talk that he will be granted a rematch with Anthony Joshua who stopped him in the seventh round at this venue in December of 2015.
Other Wembley Bouts of Note
Welterweight Pat McCormack, a silver medalist at the Tokyo Olympics, was forced to go the distance for the first time in his young pro career, but swept all six rounds on the referee's card, improving to 3-0 against Argentina's clumsy, feather-fisted Christian Nicolas Andino (16-6-2). McCormack is trained by Ben Davison.
Derby super welterweight Sandy Ryan improved to 5-1 (2) with a wide decision over Argentine veteran Anahi Ester Sanchez (21-6). The scores were 98-92, 99-91, and 100-92. Ryan, who avenged her lone defeat at the pro level, spent 10 years in the amateurs racking up more than 50 wins.
Photo credits:
Ryder-Parker — Alex Morton / Getty
Wardley-Gorman — Mark Robinson / Matchroom
To comment on this story in the Fight Forum CLICK HERE
Avila Perspective, Chap 213: Regis Prograis vs Jose Zepeda Harks to Pryor-Aguello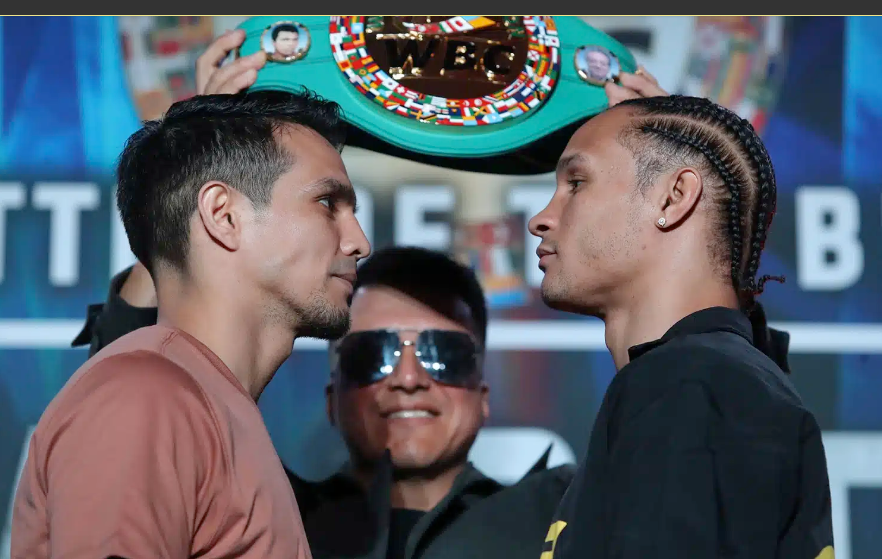 Two of the most avoided super lightweights in the last 40 years, Jose "Chon" Zepeda and Regis Prograis cross paths. One a strong, intense athlete reared in the competitive American amateur boxing world and the other a learn-in-the-ring slugger with heavy fists.
Both are 33-year-old southpaws steeped in dangerous power.
Prograis (27-1, 23 KOs) meets Zepeda (36-2, 27 KOs) on Saturday, Nov. 26, at Dignity Health Sports Park in Carson, Calif. for the vacant WBC super lightweight title. FITE.TV pay-per-view will show the loaded card staged by MarvNation Promotions and Legendz Entertainment.
Not since Aaron Pryor and Alexis Arguello roamed the super lightweights in the early 1980s have two more dynamic fighters with advanced boxing pedigrees met in the prize ring.
Fans still debate their two fights that saw Pryor win consecutive clashes loaded in controversy regarding a mysterious bottle containing an unknown substance imbibed during the final rounds of their first fight. Pryor would proceed to stop Arguello twice in battles that still create excitement when seen.
Can Prograis and Zepeda deliver with equal zeal?
When Hurricane Katrina flooded Progais' neighborhood in New Orleans his family was forced to move to Houston. In high school he was an outstanding athlete in football and engaged in the amateur boxing program. Errol Spence Jr. blocked his entry into the US Olympic team.
As a professional Prograis proved too strong for most foes and bludgeoned his way to a world title with dominant wins over Joel Diaz Jr., Terry Flanagan and Kiryl Relikh and won the WBA title. In October 2019, he met IBF titlist Josh Taylor of Scotland and lost the unification bout by majority decision to the Scotsman.
Since that loss few are willing to face Prograis who knocked out three foes in three years.
"When I was the world champion everybody called my name but once I didn't have the belt it all stopped and I know I'm a dangerous fighter and that's part of the reason," said Prograis.
Zepeda took a different path.
The American-born Mexican fighter began performing professionally at the late age of 20 in Mexico, in the border town of Mexicali. His heavy hands immediately ended all four of his first pro fights via knockout.
Slowly Zepeda was matched against different style of fighters in Southern California club shows like Ontario, Commerce, Montebello and Burbank. He was always a deliberate and careful pugilist and never the wild swinging type. But if an opponent got too frisky Zepeda could easily unload the left or right to end the fight quickly. That was never more evident than last year when the braggadocious Josue Vargas attempted to intimidate him with words and shoving in a press conference. The Puerto Rican was bludgeoned in the first round in front of his own fans at Madison Square Garden.
Never flashy but deliberate, Zepeda likes finishing the fight inside the distance.
"I have all the experience I need. Regis Prograis is going to be fighting the best version of Jose Zepeda. I really believe it's now or never," Zepeda said.
Prograis respects Zepeda and vice versa. But he remains confident.
"I have more experience and I've been at the top already. If you compare strength, power, chin, stamina, speed, defense, I feel like I win every time. Every category, it's me," said Prograis. "He's been hurt, he's been dropped a bunch of times. I've never been hurt and I destroy people."
Zepeda shrugs at the comments.
"Prograis is going to be very surprised by my power and speed. We're both going to fight the way we've been fighting. He hits hard, I hit hard and both of us are desperate to win which will make for a great fight," Zepeda says.
Expect one of the best super lightweight fights in the last 40 years when they finally exchange blows.
Women co-main
Argentina's Evelin Bermudez (17-0-1, 6 KOs) defends the WBO and IBF light flyweight world titles against Costa Rica's Yokasta Valle (26-2, 9 KOs) in a 10-round match. It's Bermudez's pressure versus Valle's speed and agility.
Bermudez, 26, is younger, taller and relentless in her attacks, especially with the right hand. She loves the right and has no left hook. But she does possess a strong left jab to set up the right cross. She has never fought in the USA.
Valle, 30, has plenty of speed and has been working on her power with American-based trainer Gloria Mosquera. This will be a tough test for the Costa Rican who recently signed promotion deals with MarvNation and Golden Boy Promotions. This is her second fight in the USA and toughest foe since losing to Naoko Fujioka in 2017.
It's a very tough match to predict the winner.
Others on the card include undefeated Ruben Torres, the tall lightweight promoted by Thompson Boxing Promotions. He was popular on social media for a recent knockout of a guy who tapped gloves with him and then was knocked out a single second later. Super welterweight Charles Conwell is another budding contender out of Cleveland. He's extraordinarily strong for the weight class and opened eyes with his knockout of Kazakhstan's Madiyar Ashkeyev who was undefeated when they met.
Also, two sons of the great Fernando Vargas are planned to fight too. Super welterweight prospect Fernando Vargas Jr. and featherweight Amado Vargas are scheduled to perform.
Doors open at 3 p.m. Tickets can be purchased at AXS.com.
Fights to Watch
Sat. DAZN 2:00 p.m. ET Dillian Whyte (28-3) vs Jermaine Franklin (21-0); Sandy Ryan (4-1) vs Anahi Sanchez (21-5).
Sat. ESPN+ 2:00 p.m. ET (main card) 5:00 p.m. ET (main event) Zach Parker (22-0) vs John Ryder (31-5).
Sat. FITE.TV ppv 9 p.m. ET (main card) 11:15 p.m. ET (main event) Regis Prograis (27-1) vs Jose Zepeda (36-2); Yokasta Valle (26-2) vs Evelin Bermudez (17-0-1); Ruben Torres (19-0) vs Eduardo Estela (13-1); Charles Conwell (17-0) vs Juan Carlos Abreu (25-6-1).
Photo credit: Tom Hogan / Hogan Photos
To comment on this story in the Fight Forum CLICK HERE