Nothing Lasts Forever, Not Even Manny Pacquiao's Exquisite Ring Career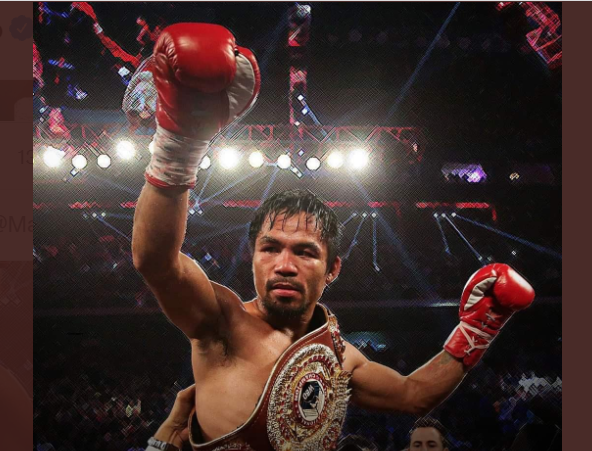 Nothing Lasts Forever, Not Even Manny Pacquiao's Exquisite Ring Career
If there is one thing I've learned as a temporary passer-through during the millions and millions of years of mankind's Earthly existence, it is that nothing really lasts forever. Something might stay relatively the same for years, maybe even decades, but if enough time goes by it either gets better, worse or vanishes altogether.
And while that is true for all of us, the span of athletic excellence would seem to be especially abbreviated. Oliver Wendell Holmes was mentally facile enough to have served as a Justice on the United States Supreme Court until his retirement, at 90, in 1932. Associate Justice Ruth Bader Ginsberg served until she was 87, when she finally was outpointed by the Grim Reaper. Physical prowess, however, almost always has a much-earlier expiration date. If that was not apparent before, it should have been after 58-year-old, four-time former heavyweight champion Evander Holyfield didn't make it through a single round of his recent sanctioned fight in Florida against former UFC star Vitor Belfort, 44, which never should have been allowed even as a grin-and-giggle exhibition.
The inevitable law of diminishing returns, at least as it pertains to boxing, was reaffirmed on Wednesday when Manny Pacquiao, increasingly a graybeard of boxing at 42 but relatively youthful as a politician, announced his retirement from the ring after 26 years, 72 professional bouts, world championships in a record eight separate weight classes and, for his global legion of fans and admirers, countless memories made. Perhaps Pacquiao was influenced by his most recent and likely final bout, a 12-round, unanimous-decision loss on Aug. 21 to Yordenis Ugas, who came away with "PacMan's" WBA welterweight title. Then again, perhaps not. A sitting member of the Philippine Senate since 2016 and prior to that a Representative of the Sarangani Province to the Philippine Congress from 2010 to 2016, it has long been his desire to someday ascend to his country's highest elected office. If he is truly done with boxing, he can now fully focus on his bid to succeed 76-year-old incumbent Rodrigo Duterte, whose six-year term expires in 2022.
In a Facebook post confirming what many had already expected, Pacquiao said, "It is difficult for me to accept that my time as a boxer is over. Today, I am announcing my retirement. I never thought that this day would come. As I hang up my boxing gloves, I would like to thank the whole world, especially the Filipino people, for supporting Manny Pacquiao."
Still, you have to wonder which way Pacquiao might have turned had he reached back into his glorious past to summon enough of what had made him a living legend and defeat the very capable Ugas, thus again demonstrating that he is somehow immune to the ravages of age that make even the best of the best seem merely mortal. Would his retirement announcement, previously hinted at, again be put on hold? Even given his vast popularity, could he have reasonably asked Filipino voters to go to the polls next year and cast their ballots for a part-time fighter, part-time President?
Pacquiao as the possible leader of a nation of 90 million, or even as a fighter who would go on to achieve some of all that he eventually did, seemed unlikely at best and ridiculous at worst when he made his United States debut on June 23, 2001, at Las Vegas' MGM Grand, as a challenger to IBF super bantamweight champ Lehlo Ledwaba of South Africa in early-undercard support of the main event that paired Oscar De La Hoya with WBC super welterweight titlist Javier Castillejo. The arena and press section were both less than half-full when Pacquiao, virtually anonymous in America despite the world flyweight and junior bantamweight belts he had won while fighting almost exclusively in his homeland (only two of his previous 34 pro bouts were outside the Phillippines), stepped inside the ropes to painfully introduce himself to Ledwaba and, in a sense, everyone else who cared to take notice.
At least one U.S. writer fortunate enough to have taken his ringside seat early – me – was mesmerized by what he had seen of the little southpaw whirling dervish, who stopped Ledwaba in six one-sided rounds. I made a mental note to keep tabs on a fighter I was convinced could become something special, and as time went by Pacquiao's emergence as a force of nature was not unlike that of a gigantic avalanche rolling down the side of a snowy mountain.
In comparing notes with longtime Associated Press boxing writer Ed Schuyler Jr., we discovered that his first glimpse of a young Panamanian destroyer named Roberto Duran, a one-round demolition of solid journeyman Benny Huertas in Madison Square Garden on Sept. 13, 1971, was as indelible as mine was of the scrawny, 22-year-old Pacquiao. Later, for a story for this site that was posted on Dec. 5, 2012, I compared my initial impression of Pacquiao to how Michael Corleone, hiding out in Sicily, felt upon seeing the lovely Apollonia in the 1972 Academy Award-winning film The Godfather, which one of Michael's bodyguards compared to "getting hit by the thunderbolt."
For boxing buffs, the thunderbolt strikes whenever they first-catch sight of someone they hadn't seen before, and maybe even hadn't heard about, but whose style, charisma or power have the effect that Apollonia had on Michael Corleone. We immediately reserve a part of our heart for that fighter, and the likelihood is that he resides there for the remainder of his ring career, and possibly forever. For diehard loyalists, the thunderbolt came in the form of a mobile, fast-handed and mouthy heavyweight named Cassius Clay, for others it was a snarling, compact wrecking machine, Mike Tyson.
Objectivity is the name of the game for professional chroniclers of the sport, and emotional and/or personal feelings shouldn't come into play when reporting on a particular fight or fighter. There are other practitioners of the pugilistic arts I have liked as much personally, or admired as much professionally, as I have Pacquiao. Other fighters stir less-positive feelings because, well, media members are as human as anyone else. But we are obliged to call 'em as we see 'em; it is a narrow path that does not allow for much if any deviation.
There have been occasions involving other sports when the thunderbolt has struck me. As a young sports columnist for the Jackson (Miss.) Daily News, I experienced a Pacquiao-like epiphany when a sophomore running back for Jackson State, Walter Payton, revealed himself as a generational talent. Same thing when Pete Maravich showed up at LSU as a gangly freshman wunderkind who could do things with a basketball nobody had ever seen before, or when then-rookies Albert Pujols and Ken Griffey Jr. swung their bats as if they were future tickets to enshrinement in Cooperstown branded into the wood. True greatness sometimes is delayed in its arrival, but when it arrives it is impossible to look away. So, we look, and look, and keep doing so until the Paytons, Maraviches and Pacquiaos no longer can or wish to try squeezing more magic out of their expiring primes.
Is Manny Pacquiao the greatest fighter ever? Maybe not, but the roll call of those who merit a higher place in history's pecking order is short and distinguished. The Fab Filipino didn't linger as long as Bernard Hopkins, who was still a world-rated light heavyweight as he entered his 50s, or Archie Moore or George Foreman, but he is the only man ever to hold world titles in eight separate weight classifications or in four decades (the 1990s, 2000s, 2010s and 2020s). His 62-8-2 career record, with 39 knockouts, includes victories over a Who's Who of boxing's elite: Erik Morales, Marco Antonio Barrera, Oscar De La Hoya, Ricky Hatton, Miguel Cotto, Antonio Margarito, Juan Manuel Marquez, Tim Bradley, Adrien Broner and Keith Thurman.
Additional testimonials to Pacquiao shouldn't be necessary now that he seemingly has fought his last fight, but consider these culled from insiders I have spoken to during the Age of Manny.
Prior to his Nov. 14, 2009, clash with another future Hall of Famer, Miguel Cotto (Pacquiao won on a 12th-round stoppage to claim the seventh of his eight titles in different weight classes), "PacMan's" longtime trainer Freddie Roach offered that "Manny is a throwback. He is like Henry Armstrong (the only fighter to simultaneously hold three world titles in different weight divisions). But the amazing thing is that he's carrying his power with him along with his speed. He is passing people like Sugar Ray Leonard and Tommy Hearns, who were six-division world champs."
And this, from the late and great Philadelphia trainer, Naazim Richardson: "The last fighter I saw who fought like Pacquiao was Aaron Pryor. Pryor was an all-action fighter. His energy level was just extraordinary. Pacquiao brings the same level of energy into the ring. He's so consistent. He's fought bigger guys, but his fights have gotten easier because the high-energy guys are usually in the lower weight classes. When he's fought bigger guys, he's actually had an easier time."
Enjoy your retirement from boxing, Manny, although you might find that possibly assuming the duties of your country's presidency might make duking it out with another king of the ring seem like child's play. Years ago you marveled at what you had accomplished inside the ropes, saying it was "more than my dreams. But then everything in my life has been so much more than my dreams."
How many fighters – anyone, really – can say that?
Editor's Note: Bernard Fernandez, named to the International Boxing Hall of Fame in the Observer category with the class of 2020, was the recipient of numerous awards for writing excellence during his 28-year career as a sportswriter for the Philadelphia Daily News. Fernandez's first book, "Championship Rounds," a compendium of previously published material, was released in May of last year. The sequel, "Championship Rounds, Vol. 2," with a foreword by Jim Lampley, arrives this fall. The book can be ordered through Amazon.com, in hard or soft cover, and other book-selling websites and outlets.
Check out more boxing news on video at the Boxing Channel
To comment on this story in the Fight Forum CLICK HERE
Thomas Hauser is the Pierce Egan of Our Generation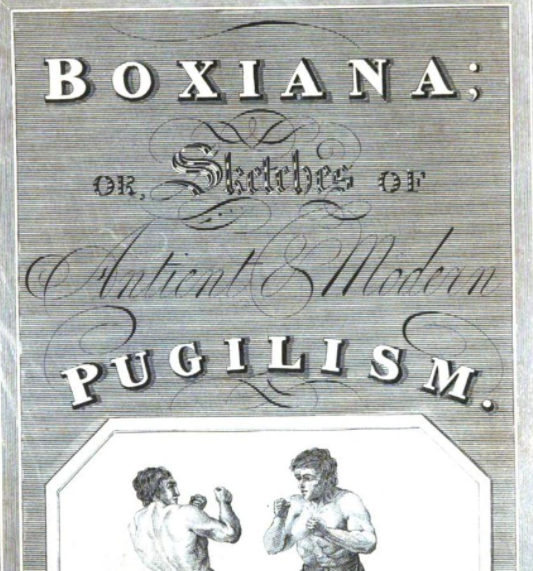 Thomas Hauser is the Pierce Egan of our generation. Two centuries ago, Egan chronicled the goings-on in the world of prizefighting in a series of articles. When he had completed a bunch of these, he knotted them together in a compendium under the title Boxiana; or Sketches of Ancient Pugilism. The first volume was issued in 1813. Four more volumes would follow.
Pierce Egan was drawn to the sport of prizefighting during the so-called Regency Era in England when prizefighting, although an outlaw sport, enjoyed a great burst of popularity. Aristocrats and commoners alike, bluebloods and lowlifes, caravanned to the big fights which of necessity were held outside areas of dense population. But, as indicated by the sub-title of "Boxiana," Egan was also interested in the history of prizefighting which pre-dated the Regency Era. He wasn't the first historian of the Sweet Science (a term that he coined), but he was certainly the most influential. Nearly 200 years after his death, a fellow interested in learning about the roots of modern prizefighting is encouraged to start by dredging up a reprint of "Boxiana." (Or, if one doesn't wish to be that immersive, checking out one of several collections by the great New Yorker essayist A.J. Liebling who rucked Egan out of obscurity.)
Which brings us to Thomas Hauser.
In common with Pierce Egan, Hauser gathers previously published articles about boxing into a book. A Hauser compendium has become an annual tradition at his publishing house, the University of Arkansas Press. Hauser's latest offering, the 15th in the series, is fresh off the press. It bears the title Broken Dreams: Another Year Inside Boxing. TSS readers will recognize some of the nuggets as they first appeared at this web site.
Two hundred years from today, if mankind still exists, folks interested in the goings-on in the world of boxing during the first decades of the 21st century, will be directed to the writings of Thomas Hauser. And I have no doubt that a complete set of his annual anthologies, although released in paperback, will be a prized collectable.
Pierce Egan did round-by-round reports of major fights, but he was more interested in things that happened outside the ring. He saw the big picture; prizefighting as an ecosystem. Hauser likewise views the sport through a wide lens. The power brokers command his attention, as do those on the periphery. Hauser once wrote a story about ring card girls that was a fun read and would have also fit neatly as an insert in a textbook on the sociology of work.
"The boxing scene," wrote Hauser, "is about so much more than the fights."
In his role as an investigative reporter, for which he has won several awards, Hauser has written extensively about PED abuse in boxing and about the failings of the New York State Athletic Commission.
There's less about PEDs in his newest book than in previous editions, inevitable perhaps considering that boxing activity in 2020 was stunted by the pandemic, but the NYSAC gets its usual comeuppance. The agency "has long been a favor bank for powerful economic interests and a source of employment at various levels for the politically well connected," says Hauser, who informs us that for several higher-up employees, and one woman in particular, the job there is basically a sinecure and a good paying one at that.
Another recurrent theme in Hauser's writings is boxing's waning popularity among America's youth and what can be done about it. In a story titled "Why Doesn't Boxing Attract More Young Fans?" Hauser lists 11 reasons why it doesn't, each of which can be reconfigured into a prong to be used in a campaign to stanch the erosion and reverse the trend.
None of Hauser's compendiums would be complete without book reviews. Several years ago, Hauser wrote that "the written history of Muhammad Ali is an ongoing construction" and, in 2020, new construction continued at a brisk pace; there was a spate of new Ali books.
Hauser, needless to say, is well-versed in the subject matter. He interviewed more than 150 people for his 1991 book, "Muhammad Ali: His Life and Times," long considered the definitive Ali biography, and he takes a fine-tooth comb to any book that traverses the same territory. Factual inaccuracies gall him and he doesn't hesitate to point them out in reviews of books concerning Ali by Todd Snyder, Stuart Cosgrove, and Rahaman Ali (Muhammad Ali's brother) and in a book for young readers ostensibly co-authored by book-seller extraordinaire James Patterson.
"Broken Dreams" is divided into four sections, the last of which is titled "Boxing and the Coronavirus." There are some stories in this section that I suspect wouldn't make the cut if Hauser were assembling the book today. He writes that "the restoration of normalcy (in boxing) will be a long, slow process." With the benefit of hindsight, the future wasn't quite so gloomy.
Among my favorite stories in Hauser's newest compilation, which clocks in at 308 pages, is a long piece about Gleason's Gym which, like Madison Square Garden, is currently in its fourth location. There are 44 components in all, modules of various length, and it's the sort of book that one can open to any page and find something interesting.
—
Notes
Thomas Hauser and Pierce Egan have other things in common aside from their association with prizefighting. Both wrote about other things. Egan, who died in 1849, achieved his greatest success with a work of fiction, Life in London, about the escapades of Corinthian Tom and his country cousin Jerry, excitement-seekers who flouted the norms of society as they caroused about the London metropolis. The book gave rise to a long-running play, to a popular 18th-century expression ("Tom and Jerrying" denoted a rowdy night on the town), to a once-popular Christmas cocktail, and to a cat and mouse team in a children's animated cartoon series.
In his review of Hauser's Ali biography, Dave Anderson of the New York Times noted that this was Hauser's 14th book and that seven of his previous books were novels. Among the non-fiction books that Hauser authored prior to "Ali" was "The Execution of Charles Horman" about the murder of an American journalist who disappeared in Chile during a right-wing military coup. It was adapted into the Oscar-winning screenplay for the movie "Missing" starring Jack Lemmon and Sissy Spacek.
Lastly, a caveat: Although A.J. Liebling thought Pierce Egan was a real hoot, the average reader will likely find Boxiana hard to digest. The book is freighted with slang terms, some of Egan's invention, that long ago disappeared from the lexicon.
Egan eventually turned away from boxing cold-turkey, purportedly disgusted by too many fixed fights. If Hauser follows his example, let's hope that it doesn't happen any time soon.
Check out more boxing news on video at the Boxing Channel
To comment on this story in the Fight Forum CLICK HERE
Shakur Stevenson's Star Turn Gets No Media Coverage in Atlanta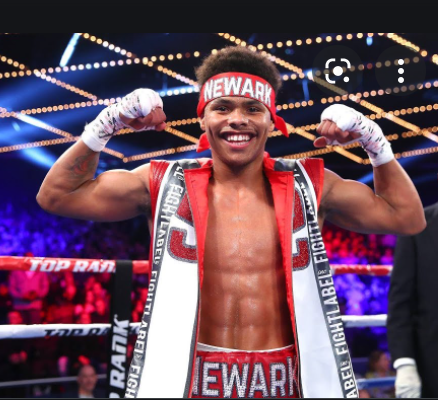 Shakur Stevenson's Star Turn Gets No Media Coverage in Atlanta
For that part of the sports world that takes notice of boxing, Shakur Stevenson announced himself as a superstar-in-the-making – well, maybe – in totally dominating and ultimately dethroning WBO junior lightweight champion Jamel Herring Saturday night in Atlanta's State Farm Arena. Shakur, the 24-year-old southpaw and 2016 Olympic silver medalist from Newark, N.J., seemingly hit Herring, 35, a combat-toughened but outgunned Marine Corps veteran, with everything but the proverbial kitchen sink en route to a 10th-round stoppage that wowed, among others, former junior welterweight and welterweight titlist and ESPN commentator Timothy Bradley Jr., who had chided Stevenson, a sometimes risk-adverse defensive wizard, as a "boring" fighter in his most recent bout on the Worldwide Leader, a 12-round scorecard shutout of Namibia's Jeremia Nakathila on June 12 in Las Vegas.
After referee Mark Nelson stepped in to save the bleeding and battered Herring 1 minute, 30 seconds into round 10, Stevenson surprised Bradley by thanking him for providing the motivation he needed to ramp up his offensive output.
"Shakur tonight showed a ton of maturity," Bradley said of the new-look, presumably more fan-friendly version of Stevenson that was on display. "The fact that he thanked me and said that I motivated him is a beautiful thing. That showed even more maturity, because that's all that I want from these young fighters. I want them to grow.
"This is what I wanted to see from Shakur Stevenson. But I knew he had it in him, and he showed it tonight."
Not that Bradley has completely bought into the notion of all that Stevenson could be, citing the lack of the only weapon – one-punch power – in his otherwise well-stuffed trick bag. Maybe that will come should Stevenson (17-0, 9 KOs) continue to enhance his man-strength, and maybe what you see now is all that fight fans can ever expect to get. In baseball terminology, Shakur Stevenson was more or less categorized by Bradley as a high-average singles hitter with enough gap power to accumulate a fair share of doubles that can get opponents out of there on accumulated damage. Who could complain if Stevenson, whose avowed goal is to become a superstar and fixture at or near the top of everyone's pound-for-pound lists, continues to show flashes of such stylistic predecessors as Pernell Whitaker and Floyd Mayweather Jr.?
On this night and in the fight's host city, however, Stevenson took a worse media-coverage battering from Eddie Rosario than he had administered to Herring (23-3, 11 KOs) with his fists. Rosario, a trade-deadline acquisition of the Atlanta Braves, slugged a three-run homer to lift his new team to a 4-2 victory over the Los Angeles Dodgers in Game 6 of the National League Championship Series at nearby Truist Park, sending the Braves into their first World Series since 1999. For now, Rosario, who went 14-for-25 with three homers in winning the NLCS Most Valuable Player Award, is the toast of the town and the focus of reams of space in The Atlanta Journal-Constitution sports section. But it wasn't only Rosario who siphoned attention in the local paper away from Stevenson; the fight might have gotten a few lines in the print editions, but online it was completely ignored by the AJC, Rosario's hot bat followed in the pecking order by stories about the NBA's Hawks losing at Cleveland, the Georgia Tech Yellow Jackets dropping a high-scoring contest at Virginia and a five-star high school defensive end prospect named Mykel Williams verbally committing to the No. 1-ranked Georgia Bulldogs.
While it had to be frustrating to Stevenson and Atlanta's fight fans for the event to be ignored by AJC, there were other deserving participants on the card who were similarly overlooked by the press in Georgia's largest city. Not that anyone in the Internet age still pastes newspaper clippings into scrapbooks, but 19-year-old middleweight prospect Xander Zayas might be at a similar embryonic stage of development once occupied by Stevenson a couple of years ago. He deserved at least some recognition in the paper for his fourth-round stoppage of Dan Karpency, as did two other undercard fighters with celebrity familial ties: middleweight Nico Ali Walsh, grandson of the great Muhammad Ali, who scored a third-round TKO of James Westley II, and junior middleweight Evan Holyfield, son of four-time heavyweight champion and Atlanta-area resident Evander Holyfield – can it be nearly 30 years since "The Real Deal" shook off an early knockdown to stop Bert Cooper in seven rounds on Nov. 23, 1991, in Atlanta's since-demolished Omni Coliseum? — who bombed out Charles Stanfield in two rounds.
But Atlanta is not the only metropolis that devotes fewer newspaper column inches, if any, to the sport that once made Evander Holyfield as important a local sports figure as any Falcon, Brave or Hawk. It will be up to Stevenson to break through, if he can, to a level where his every ring appearance becomes a must-see because boxing's viability is and has always been largely tied to the popularity of its larger-than-life figures.
"I wanted a fun fight – show my skills, my boxing, my power," Stevenson said of the modifications he and trainer/grandfather Wali Moses made from the relative dreariness of the wide points nod over Nakathila to the pulse-quickening pummeling of Herring, who apologized to the Marine Corps in general for his defeat, not that any such admission was necessary. Herring seemed to be contemplating retirement, but there has never been any occasion when he failed to conduct himself honorably inside the ropes.
The question now is, will Stevenson continue to hew to demonstrate the aggressiveness he exhibited against Herring? His comments following the Nakathila bout suggest that it might not always be so. His style is evolving, but what works better on one night might not be advisable on another.
"To be honest, I didn't really like my performance," Stevenson said after his paint-by-numbers dismissal of Nakathila. "I felt I could've performed a lot better. I was being real careful because he has power. He was real scary. I got the best defense in boxing. But I'll be better in my next fight."
Former super middleweight and light heavyweight champion Andre Ward, a 2021 inductee into the International Boxing Hall of Fame who also did commentary for Herring-Stevenson, said Shakur shouldn't feel pressured to become something he is not in order to meet anyone else's expectations.
"I think we got to kill some of these misnomers that have been around the sport for far too long, that fighters that go about their craft a certain kind of way, hit and don't get hit, (means) there's something not tough about them," Ward said. "I heard that my whole career. Floyd Mayweather heard that his whole career. Just because a skillful fighter who can think and plays chess when everybody else is playing checkers doesn't mean he can't get down and dirty. It only means we're going to get down and dirty when we have to.
"Fighters who have (high) IQs and skill, keep doing what you're doing. Some people are going to like it and others won't. It's a marathon, not a sprint. If a good fighter has a bad night, he can still win every round. If a guy who takes two to (land) one had a bad night, it's a pretty ugly night. He's probably going to get knocked out or take a lot of punishment.
"I wasn't who they wanted me to be. I just beat all those guys, all the guys they said were going to get me. I just kept winning. And winning covers a lot of problems and issues."
A lot, for sure, not all. In addition to Whitaker, Mayweather and maybe Ward, there are elements of Stevenson's makeup that call to mind the technical proficiency of two-time Cuban gold medalist Guillermo Rigondeaux, a former Top Rank fighter. Stevenson has been groomed by Top Rank for a prolonged and successful run at the elite level, but what so far has been a mutually beneficial working relationship could hinge in part to the fighter's willingness to more regularly perform as he did against Herring than he did against Nakathila and a few other opponents that led to the perception that he was supremely talented, yes, but also a touch boring.
Prior to Rigondeaux's release by Top Rank, company founder Bob Arum complained that his style leaned more to Masterpiece Theater than Rocky, which made Rigo a poor box-office and television attraction. Arum even said that when he brought the Cuban's name up to HBO executives, "they throw up."
There are many ways to win a prizefight, and now Shakur Stevenson has shown that he can win with chamber music or semi-heavy metal playing in the background. How far he advances in his march toward the truly elite status he is convinced is his destiny may be determined by the method he chooses to employ should a much-discussed showdown with Mexican blaster Oscar Valdez (30-0, 23 KOs) take place in 2022. The hard truth is that a lot of fight fans not only like, but require splashes of blood-and-guts mixed in with their favorite sport's artistic side.
Editor's Note: Bernard Fernandez, named to the International Boxing Hall of Fame in the Observer category with the class of 2020, was the recipient of numerous awards for writing excellence during his 28-year career as a sportswriter for the Philadelphia Daily News. Fernandez's first book, "Championship Rounds," a compendium of previously published material, was released in May of last year. The sequel, "Championship Rounds, Vol. 2," with a foreword by Jim Lampley, arrives this fall. The book can be ordered through Amazon.com, in hard or soft cover, and other book-selling websites and outlets.
Check out more boxing news on video at the Boxing Channel
To comment on this story in the Fight Forum CLICK HERE
Fast Results from Atlanta Where Shakur Stevenson Turned in a Masterful Performance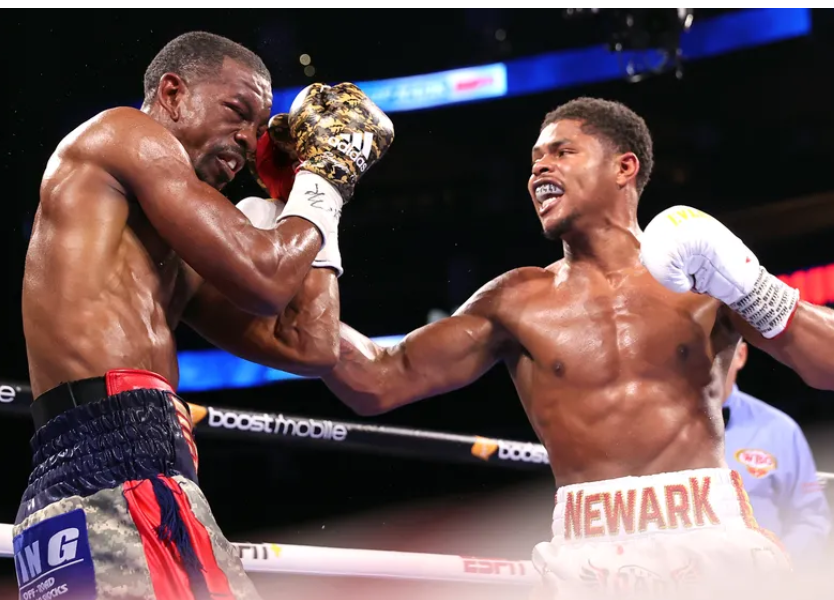 Former world featherweight title-holder Shakur Stevenson turned in his career-best performance tonight at the State Farm Arena in Atlanta while wresting the WBO 130-pound world title from the shoulders of Jamel Herring via a 10th-round TKO. At age 24, Stevenson was the younger man by 11 years and it was a case of youth being served.
As a pro, Stevenson (17-0, 9 KOs) has lost precious few rounds. The rap against him was that he is content to outclass an opponent, providing few fireworks. In this vein, the assumption was that tonight's bout would be a tactical (i.e., tame) affair. But while there were no knockdowns and Shakur fought a measured fight, there was more snap in his punches than had been the norm and he finished the bout on a high note.
Early into the fight, Herring's left eye began to swell. In round nine, Stevenson opened a nasty cut over Herring's other eye. In round ten, with the cut bleeding profusely, Stevenson revved up his attack, forcing referee Mark Nelson to waive it off. The official time was 1:30.
After the fight, Stevenson called out his WBC counterpart Oscar Valdez. Herring, an ex-Marine and former U.S. Olympic team captain, falls to 23-3.
Other Bouts
Fast-rising 19-year-old middleweight Xander Zayas shellacked intrepid Dan Karpency whose father and chief cornerman pulled him out after four rounds. A future star, born in Puerto Rico, Zayas is now 11-0 (8). One of the three fighting brothers, Karpency (9-4-1) will return to his day job as a registered nurse at a maximum-security prison in Western Pennsylvania. He hadn't previously been stopped
In the first bout airing on ESPN's flagship station, middleweight Nico Ali Walsh, the 21-year-old grandson of Muhammad Ali, scored a third-round stoppage of scrappy but out-gunned James Westley II, a 36-year-old from Toledo, Ohio. Walsh (2-0, 2 KOs) knocked Westley down with a straight right hand in the waning seconds of round two and knocked him to his knees with another short right hand early in the next stanza. Westley wasn't badly hurt, but his corner saw fit to throw in the towel.
Junior middleweight Evan Holyfield, one of 11 children fathered by the great Evander Holyfield, knocked Charles Stanford flat on his back with a harsh left-right combination in round two, advancing his record to 8-0 (6). The official time was 0:30. Stanford, a 35-year-old Cincinnati man with an MMA background, was 6-3 heading in.
Middleweight Troy Isley, a 23-year-old U.S. Olympian from Alexandria, VA, improved to 3-0 (2) with a first-round stoppage of 37-year-old Nicholi Navarro (2-2), a former Army Ranger from Denver. Isley rocked his overmatched opponent several times before putting him on the canvas with a combination, forcing the ref to intervene. The official time was 2:48.
In an upset, Erik Palmer saddled Atlanta's Roddricus Livsey with his first defeat, winning a split decision. Palmer, from the Karpency family stable, was 12-14-5 heading in, versus 8-0-1 for Livsey. The scores were 58-56 twice and a curious 59-55 for the hometown fighter.
Haven Brady Jr, a 19-year-old featherweight from Albany, Georgia, improved to 4-0 (3) with a 4-round unanimous decision over Corpus Christi's Roberto Negrete (3-1).  The scores favoring Brady were 40-36 across the board, but Negrete was no slouch.
Chicago welterweight Antoine Cobb made an impressive pro debut with a brutal one-punch knockout of Jerrion Campbell (2-2). It was all over in 58 seconds. Cobb, 25, is a protégé of former light heavyweight champion Montell Griffin.
In the opening bout on the card, 21-year-old Brooklyn lightweight Harley Maderos, a 2021 USA national champion, improved to 2-0 (1) with a 4-round unanimous decision over Deljerro Revello (0-2). Maderos scored a knockdown in the opening frame and won all four rounds on all four cards but wasn't particularly impressive.
Photo credit: Mikey Williams / Top Rank via Getty images.
Check out more boxing news on video at the Boxing Channel
To comment on this story in the Fight Forum CLICK HERE