A Conversation With Acclaimed Journalist and Boxing Analyst Mark Kriegel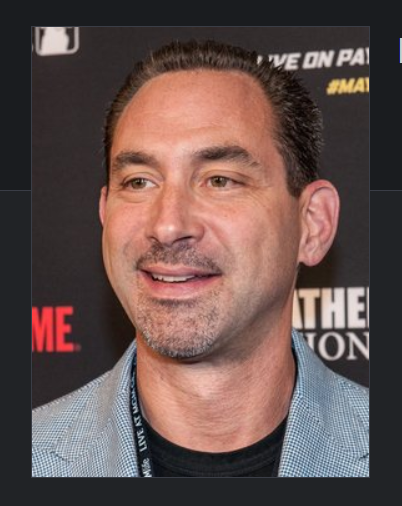 If you're a storyteller, and Mark Kriegel is certainly that, then boxing is the perfect passport.
A multi-skilled journalist who works for ESPN on several platforms, Kriegel's video essays for Top Rank promotions, which are fewer than 200 words, are popular, and sets the New York City native apart from the crowd.
"I do think when those essays work, I'm able to boil down the theme of the fight into something that's really small," he said. "I've learned more about writing in the last two years because of those essays than I had in the previous decade."
Kriegel added: "It's because of those essays and because they really force you to make choices and they force you to cut out whatever is extraneous," he said. "If it doesn't matter in the story line, it goes. I've never been able to be that ruthless with my own words until I started writing these essays. Learning how to write for television has given me more discipline than I've ever had before in terms of the word and selecting the right word."
Because boxers are willing to speak with the media, their stories are often worth telling.
"Boxing is the most organic form of storytelling, even more than the theater. Boxers are more honest than most other athletes, even when they're lying. Boxers generally remain accessible," said Kriegel, who earned a bachelor's degree from Swarthmore College and a master's degree from Columbia University. "Fighters need the storytellers because there is no league. The fighter's story is more important than his or her record or even his or her belts. The story is really what we're tuning in for."
The sweet science can be a sideshow, but it's still usually compelling.
"There's a lot not to like about boxing, but that's also why it makes for great storytelling," said Kriegel, a two-time New York Times bestselling author. "Some days I think it's a sport. Some days I'm convinced it's not a sport. Boxing is better for the storytellers than it is for the fighters. That's a guilty confession."
By the nature of boxing, there are two combatants in the ring and because of this, there is conflict.
While fans watch and journalists cover the sport, everyone wants to see who prevails, but it's often the back story that seems to bring out the fans' rapture.
Who doesn't want to see a young man or woman battle his or her way out of a hardscrabble life and reach heights reserved for a chosen few?
"What makes for a good story is conflict. Boxing is formalized, ritualized conflict. It's a staged, managed conflict. It's elemental. It's two guys basically naked in the ring going at each other," said Kriegel, who began his career as a general assignment reporter for the Miami Herald and the New York Daily News where he was a finalist for the Pulitzer Prize in the Feature Writing category. "Because of the way it's physically constructed, you're going to see the nature of each character exposed. If you're a storyteller, boxing does all the work for you."
There is something pure and fundamental about boxing. "The other sports are metaphors for what boxing actually is and that's combat. The difference between MMA and boxing, apart from the modes of combat, is that unlike MMA, boxing has a past," Kriegel said. "It has a history. It's a corrupt history, but it's a very romantic one."
It's likely Kriegel came to be a writer because of his father, Leonard Kriegel, who is 88 and still lives in the same apartment on Eighth Avenue, two blocks from Madison Square Garden.
The elder Kriegel's story is a remarkable one. Born in 1933, he was a polio victim at a young age, but this didn't stop him from becoming an accomplished writer and teacher.
"My father is from the Bronx. He lost the use of his legs when he was 11 because of polio," Kriegel said. "He's a professor at City College. Most of his work and his teaching is American Literature. Which meant American male Literature. He was a very charismatic, crippled man writing about the nature of masculinity and it informed almost everything I've ever written."
Kriegel is the author of four books including a novel, "Bless Me, Father," which was based on a front-page column he wrote for the New York Post.
Esteemed writer Nick Tosches, who penned numerous books, had a hand in Kriegel's development as an author.
"He wrote these fantastically stylized biographies," Kriegel said of Tosches, who wrote about Jerry Lee Lewis, Dean Martin and Sonny Liston, to name but a few of his subjects.
Kriegel's initial biography was published in 2004 and titled, "Namath: A Biography," followed three years later by "Pistol: The Life Of Pete Maravich," and five years later by "The Good Son: The Life Of Ray 'Boom Boom' Mancini."
"I'd done a newspaper piece on Mancini in the [New York] Daily News. I owed the publisher a book on Michael Jordan, which I wasn't too excited about doing, and this idea of Mancini kept coming back to me," Kriegel said. "It wouldn't leave me alone and I wouldn't leave Ray alone."
The book's genesis took shape at an Italian restaurant in Santa Monica, California, with Kriegel, Mancini and the actor Ed O'Neill, eating and drinking until the small hours.
"Ray's relationship with his father was more straightforward. He was out to redeem his father and that was beautiful," Kriegel said. "There aren't that many happy stories in boxing."
Mancini promised his father, Lenny, a lightweight contender who was injured in World War II that he would win the championship he never did.
After scooping up the World Boxing Association lightweight belt in May 1982 from Arturo Frias, Mancini gave the belt to his father.
In a nationally televised title fight six months later at the outdoor ring at Caesars Palace, Mancini stopped Duk Koo Kim in the 14th round. The 27-year-old South Korean suffered a severe head injury and died five days later.
There are ups and downs in every person's life, but it was extremely difficult for Mancini to accept what happened to Kim.
Though he retained his title and was pleased with that, Mancini said there was nothing good about that fight.
Three months after the November bout, Kim's mother committed suicide because of what happened to her son and because family members were bickering over the money he earned.
Since time heals all wounds, Kim's son, Kim Chi-Wan, eventually forgave Mancini, but it took nearly three decades.
It's been said the 1980s was a Golden Era for boxing, and it was, but where does the current crop stand for Kriegel?
"There aren't enough good fights. You can make an argument and it's perfectly reasonable that the 1980s was [the Golden Era] because you had the Four Kings [Ray Leonard, Thomas Hearns, Roberto Duran and Marvin Hagler] and they fought each other," he said. "[Muhammad] Ali and [Joe] Frazier fought their trilogy in far less time than it took [Manny] Pacquiao and [Floyd] Mayweather Jr. to get together for one. By the time they did, neither was in their prime."
While there are outstanding boxers plying their trade right now, there are also problems.
"I really admire Mayweather a lot. One of the unfortunate byproducts of his era is the emphasis on the perfect record," Kriegel noted. "To me a fighter's career doesn't become a truly dramatic proposition until he or she loses. The great plague on boxing right now is all these undefeated champions. I see a bunch of perfect records, but I don't see many perfect fighters. The loss is what makes it dramatic."
Kriegel said in an earlier time, Terence Crawford and Errol Spence Jr., both undefeated, would have fought each other multiple times and taken on all comers the way Oscar De La Hoya and the recently retired Shawn Porter did.
Pete Hamill, a national treasure, was Kriegel's dear friend and mentor.
What does Kriegel take away from his time with Hamill, who passed away in August 2020?
"He made the idea of New York so romantic," said Kriegel of Hamill, who was a journalist, writer, novelist and editor. "He made the idea of boxing romantic. He was a great and generous teacher. A really wonderful teacher. He was the kind of writer I wanted to become."
Kriegel became a sportswriter by circumstance. "The [New York] Post turned me into a sports columnist out of desperation," he said. "I never really took to becoming a sportswriter. I always felt ambivalent except when it was covering boxing. Boxing was the only sport I really loved covering and still do."
It's the elements in and around boxing that spark Kriegel's imagination.
"The same stuff I loved about covering cops and criminals and courts, I found in boxing," he pointed out. "I mean that you could actually find great moments of humanity. Boxing had all the stuff that I had been looking for. Thematically and in terms of content: fame and masculinity, good and evil. They're all great dramas."
Luckily, Kriegel found boxing and boxing found Kriegel. It's a perfect match.
Check out more boxing news on video at the Boxing Channel
To comment on this story in the Fight Forum CLICK HERE
R.I.P. Les Bonano (1943-2022), Linchpin of Boxing in New Orleans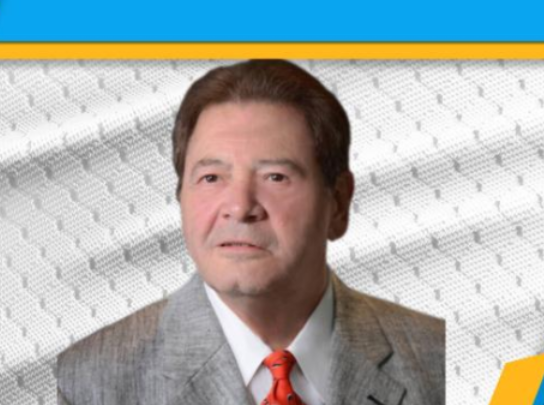 Les Bonano, a fixture on the New Orleans area boxing scene for 50 years, passed away on Saturday night, May 21, at his home in Slidell, Louisiana, surrounded by his wife of 60 years, Mary, his four children and his eight grandchildren. Bonano, who had been in and out of the hospital in recent months with kidney problems, was 79 years old.
Bonano joined the New Orleans Police Department in 1965 and patrolled the French Quarter, one of America's most harrowing beats. In 1974, while working for the New Orleans Parish Sheriff's Department, he was charged with starting an intramural sports program to relieve tensions at the parish prison. He began with basketball and then added boxing. Somewhat later, he opened a gym and took to training, managing, and promoting fighters. He retired from law enforcement in 1981 to give boxing his full attention.
Bonano was poised to seize the moment when neighboring Mississippi legalized gambling in 1990. He carved out arrangements with Gulf Coast casino resorts in Biloxi and Bay St. Louis to keep his fighters' busy. Many of the shows that he facilitated were mid-week shows that aired on the old USA cable network.
Bonano never had the satisfaction of managing a world champion, but he came awful close with Melvin Paul who lost a controversial decision to Charlie "Cho Choo" Brown in the inaugural IBF lightweight title fight. Others in Bonano's stable who went on to compete for world titles include Jerry Celestine, Anthony Stephens, and John Duplessis. Celestine, a light heavyweight who fought Michael Spinks, was an alumnus of Bonano's prison program.
More recently, Bonano promoted Jonathan Guidry, the Dulac, LA heavyweight who made a surprisingly strong showing against WBA (secondary) title-holder Trevor Bryan on a Don King promotion in Warren, Ohio.
In July of last year, Les Bonano was formally inducted into the Greater New Orleans Sports Hall of Fame with the class of 2021. "He is perhaps the final ruler of what remains of a fraying and depleted boxing kingdom in the formerly great fight city of New Orleans," wrote Hall of Fame boxing writer Bernard Fernandez, a New Orleans native, in a tribute that ran on these pages.
We here at The Sweet Science send our condolences to the Bonano family. May he rest in peace.
To comment on this story in the Fight Forum CLICK HERE
What's Next for David Benavidez?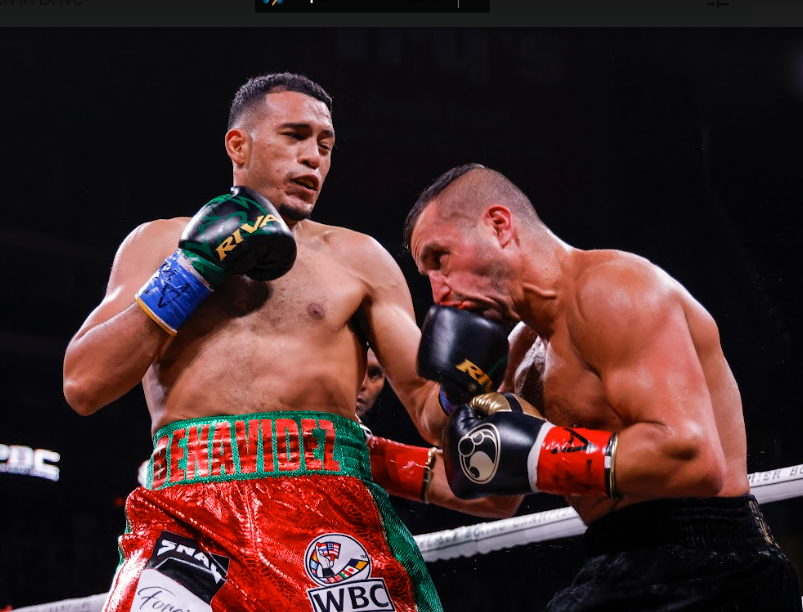 What's Next for David Benavidez?
POST-FIGHT REPORT BY TSS SPECIAL CORRESPONDENT NORM FRAUENHEIM —
GLENDALE, AZ – Forget Canelo Alvarez.
That, at least, was the message from David Benavidez and his promoter late Saturday after he demolished David Lemieux in front of a roaring crowd at Gila River Arena in a Showtime-televised rout.
Benavidez (26-0, 23 KOs) has been talking about a super-middleweight showdown with Canelo for the last couple of years. His victory, a third-round stoppage of Lemieux, put him first in line for a shot at the World Boxing Council's version of the 168-pound title, still held by Canelo
But that talk stopped. Canelo who?
It sounded as if Benavidez, the WBC's interim champion, was ready to shut that door and move on, possibly to Caleb Plant or Jermall Charlo or David Morrell. He never mentioned Canelo during a post-fight news conference a couple of hours after bulldozing Lemieux, a former middleweight champion who was overmatched in every way.
"Plant, Charlo, Morrell, maybe we can put together a fight against one of those guys later in the year,'' said Benavidez, who drew an estimated crowd of nearly 10,000 for the second straight time in an Arizona arena near his old neighborhood in Phoenix.
The question is whether Plant, or Charlo, or Morrell would be willing to face Benavidez. Lemieux was smaller and older. Still, it was scary to witness the beatdown delivered by Benavidez, who grew up about seven miles from Gila River, a National Hockey League Arena.
Benavidez, 25 and still a couple years from his prime, seemingly did it all. He started with body punches. At the end of the first round, he landed a lethal upper-cut, the first in what would prove to be an overwhelming storm. In the second, he knocked Lemieux through the ropes, leaving the Canadian bloodied, dazed and defenseless. At 1:31 of the third it was over. Lemieux (43-5. 36 KOs) did not attend the post-fight news conference. He was taken to a nearby hospital in Glendale.
"He's a good fighter, a courageous fighter,'' Benavidez said. "He did what those others wouldn't do. He fought me.''
Unlike Benavidez, his promoter, Sampson Lewkowicz mentioned Canelo, who is coming off a stunning loss to light-heavyweight Dimitry Bivol.
"Please, you guys need to quit asking about Canelo,'' Lewkowicz told a room full of reporters. "We're looking at three guys. We think we can put together a fight with Charlo, or Plant, or Morrell. But Canelo won't fight David.
"He'll never fight the world's best super-middleweight.''
Photo credit: Esther Lin / SHOWTIME
To comment on this story in the Fight Forum CLICK HERE
The Middleweight Division has a New Star in Janibek Alimkhanuly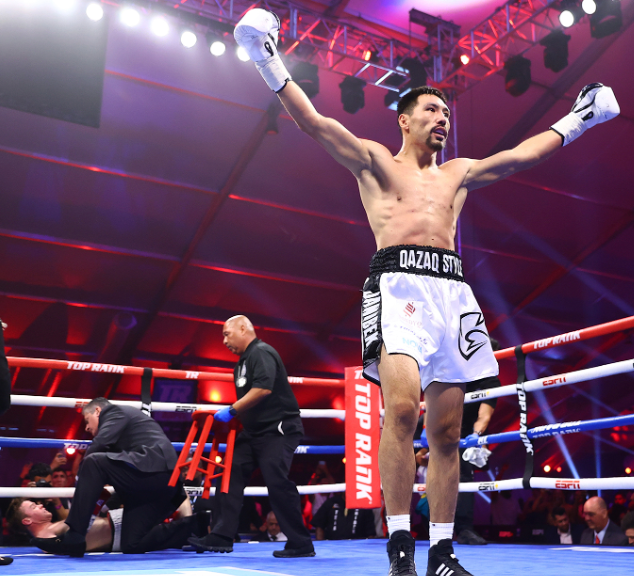 Step aside, GGG. Kazakhstan has a new fistic hero and his name is Janibek Alimkhanuly. Tonight, at Resorts World in Las Vegas, Janibek (he usually goes by his first name) destroyed Britain's intrepid Danny Dignum inside two rounds, scoring two knockdowns, the second of which, a five-punch combination climaxed by a short uppercut, left Dignum unconscious. Referee Tony Weeks waived the fight off immediately. The official time was 2:11 of round two.
With the victory, Janibek (12-0, 8 KOs) becomes the interim WBO middleweight champion. The belt is currently held by Demetrius Andrade who is expected to move to 168, opening the door for the 29-year-old Kazakh southpaw to become "full-fledged."
Although he held the WBO European middleweight title and was undefeated (14-0-1) coming in, Dignum wasn't expected to provide much opposition. Janibek was stepping down in class after stopping former title-holders Rob Brant and Hassan D'Dam D'Jikam in his previous two fights.
Janibek's trainer Buddy McGirt doesn't believe that there is a middleweight on the planet who can hold his own with Janibek (no, not even undefeated Jermall Charlo!) and based on tonight's performance, it would be hard to argue.
Co-Feature
In the co-feature, youth was served as Jamaine Ortiz, the younger man by 10 years, won a unanimous 10-round decision over former WBO super featherweight champion Jamel Herring. The judges had it 96-94 and 97-93 twice.
Ortiz, from Worcester, Massachusetts, did his best work late in the fight as Herring's workload declined. The bout was marred by several accidental clashes of heads with Herring getting the worst of it on each occasion.
"I could have done a lot better," said Ortiz (16-0-1, 8 KOs) after winning the most high-profile fight of his career. Herring, who was making his first start with trainer Manny Robles, fell to 23-4 and hinted that he may retire.
Other Bouts of Note
The opener on ESPN's main platform showcased Cleveland welterweight Delante "Tiger" Johnson, a 2020 Olympian, who advanced to 4-0 (3) with a third-round stoppage of Argentina's Agustin Kucharski (8-5-1).
Johnson had Kucharski on the canvas twice in the first minute of the third round, both the result of counter right hands. Kucharski, who was making his U.S. debut and hadn't previously been stopped, twisted around as he fell the second time and the white towel flew out from his corner. The official time was 0:54.
Glendale, CA featherweight Adam Lopez (16-3, 6 KOs) overcame a pair of knockdowns to win a unanimous 8-round decision over William Encarnacion. The judges had it 76-74 and 77-74 twice.
Lopez, 26, is one of two fighting sons of the late Hector "Torero" Lopez, a former two-time world title challenger who developed a big following in LA in the 1990s. Encarnacion who represented the Dominican Republic in the 2012 Olympics, lost for the third time in 22 starts.
Former WBO super bantamweight champion Jessie Magdaleno returned to the ring after an absence of almost two full years and whitewashed Mexico's Edy Valencia in an 8-round featherweight contest, winning by 80-72 across the board. Las Vegas' Magdaleno improved to 29-1 (4-0 since losing his belt to Isaac Dogboe). Valencia declined to 19-7-6.
Cincinnati featherweight Duke Ragan, a silver medalist in Tokyo improved to 6-0 with his fifth straight win by decision, a four-round whitewash of South Carolina's Victorino Gonzalez (5-3).
In the ESPN+ opener, undefeated Chicago lightweight Giovanni Cabrera (20-0, KOs) won a unanimous 8-round decision over 34-year-old Argentine import Elias Araujo (21-5). The judges saw it 79-72, 77-74, and 75-73. There were no knockdowns, but Araujo lost a point for holding.
Cabrera lacks a hard punch which diminishes his upside, but he's a stylish southpaw who has elevated his game since hooking up with Freddie Roach.
Photo Credit: Mikey Williams / Top Rank via Getty Images
To comment on this story in the Fight Forum CLICK HERE