Percy Pugh, Gone at 81, Deserved More Acclaim in His New Orleans Hometown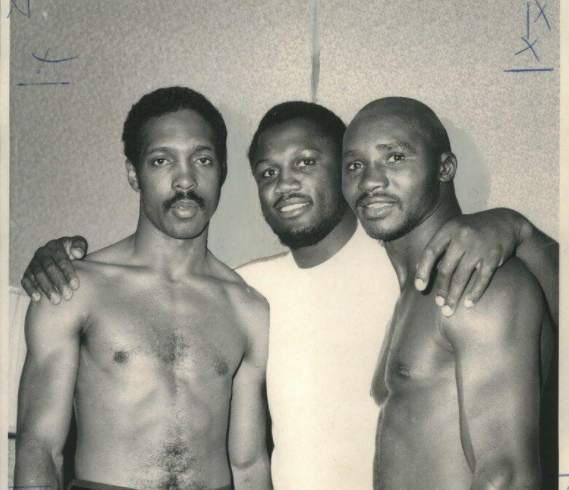 Maybe former welterweight contender Percy Pugh would have gotten his chance to deliver the acceptance speech he had rehearsed who knows how many times in his mind had he had a better campaign manager than me making his case for induction into the Greater New Orleans Sports Hall of Fame.
Maybe Pugh (pictured on the right with Joe Frazier and opponent Adrian Davis) would have gotten the call to his hometown's hall had he been a much-harder-hitting puncher instead of a pugilistic Fred Astaire, winning only five of his 47 professional victories by knockout.
Maybe he would have become more of an enduring local hero had he fought for and won the world championship he was denied for years because the powers-that-be who could have made it happen treated him as if he was the spreader of a communicable disease.
And maybe he'd now have a plaque hanging in the Caesars Superdome had more members of the GNOSHOF selection committee actually seen him fight during his 1960s prime, or did enough research to realize that his not terribly impressive 47-30 career record and low KO percentage did not come close to telling the entire story of someone whose bouts regularly sold-out Municipal Auditorium and whose skill set, even without a power component, dazzled audiences around the country.
That's a slew of maybes, and even if at some future point the electorate that has rejected his candidacy on an annual basis does an about-face and inducts him posthumously, it will be a hollow victory for his diminishing number of contemporaries who still cling to the hope that he eventually will get his due. Percy's friends and relatives are aging fast or already gone, and the reality of any Hall of Fame is that all potential inductees would much prefer to enjoy the moment while they're still breathing and on this side of the grass.
In a story authored by John Reid that appeared in the July 13, 2000, issues of The Times-Picayune, the headline read that Percy Pugh, who once was boxing's No. 1-ranked welterweight, was "…one of the best boxers the world never saw."
There is so much going on in today's world, what with the pandemic that is now in its third year, skyrocketing inflation, political turmoil and international intrigue, that the death of an 81-year-old fighter whose ring career as an active participant ended on May 18, 1974, with the last of 10 consecutive defeats, does not rate much, if any, attention. But maybe it shouldn't be totally overlooked, either.
As a native New Orleanian who saw Percy Pugh fight live and in person on several occasions, making for some indelible memories, I felt compelled to make his case for induction into the GNOSHOF, as I had successfully done for three other athletes who I thought merited such recognition (a basketball player, tennis player and football player). It wasn't as if I thought Percy deserved inclusion in the International Boxing Hall of Fame; I acknowledge his career had little to no chance of clearing the extremely high bar for admission to that exclusive club in Canastota, N.Y. But in New Orleans, which once had been a hotbed of boxing, his prime years as a popular and accomplished main-event attraction seemed to me worthy of serious consideration.
The boxing contingent in the GNOSHOF includes former world champions Pete Herman (inducted in 1971), Willie Pastrano (1973), Joe Brown (1977), Ralph Dupas (1978) and Tony Canzoneri (1984), as well as non-champions Bernard Docusen (1976), Marty Burke (1978) and Jimmy Perrin (1979). Dr. Eddie Flynn (1981) was never a pro, but he was honored for being an NCAA boxing champion as well as a member of the 1932 U.S. Olympic boxing team. Other inductees affiliated with boxing include trainer Whitey Esneault (2006), referee Elmo Adolph (2000) and promoter/manager Les Bonano (2021).
Where Philadelphia is renowned for its assembly line of left-hooking knockout artists, New Orleans was better known as the birthing place of slick boxers with fancy footwork, active jabs and negligible pop. That subset includes Herman, Dupas, Pastrano (some of whose moves were copied by the young Cassius Clay) and, for a heady time in the '60s, Pugh.
Les Bonano, whose half-century in boxing was rewarded with his 2021 induction into the GNOSHOF, recalled happy times when he was involved with Pugh in various capacities. "Percy and I traveled the world together," Bonano told writer Ted Lewis for the obituary of Pugh that appeared in the The New Orleans Advocate/Times-Picayune. "And everywhere we went, we ran into people who knew Percy. He loved to make people laugh when he was in the ring, and he loved to tell boxing stories. How could you not love a guy like that?"
But time passes and memories fade, and by and by those who appreciated Pugh as a stick-and-move escape artist who could make opponents look foolish either took their own eternal 10-count or moved on to other objects of fascination.
Two-time former heavyweight champion Chris Byrd once explained why his mobile, quick-hitting style, which might be described as a larger, left-handed version of Pugh's, so infuriated opponents. "Nobody likes getting clowned," he said, "clowning" being the ability to frustrate even good opponents who'd prefer that the other guy stay put and linger in the hitting zone.
"Tat-tat-tat, that's how fast I was," Pugh said in the 2000 story written by Reid. "I could bounce, move and stick my punches. A lot of people didn't see them coming."
Possibly one of the people who didn't want to get hit with something he didn't see, or miss with something he was trying to hit himself, was welterweight champion Curtis Cokes. Although Cokes dropped more than a few hints that he would eventually get around to sharing a ring with Pugh, the fight never happened. Nor would it, once Pugh suffered a couple of close losses that dropped him from his No. 1 ranking.
"I know I should have gotten my shot," Pugh, still displeased decades after being passed over, recalled in 2000. "Everybody knows it."
Minus the title bout he never got to appear in, the career high points for Pugh were his two showdowns with Jerry Pellegrini, a fellow main-eventer in New Orleans who was everything Pugh wasn't: white, a big puncher and not nearly as fleet-footed and fast-handed. Pugh won both bouts by unanimous decision, the first a 10-rounder and the second a 15-rounder in which he annexed Pellegrini's Southern 147-pound title. Each fight drew a sellout crowd of 5,000-plus in Municipal Auditorium, with segregated seating.
"The first fight should have been called a draw, but the second one he outscored me over 15 rounds," Pellegrini recalled. "Percy was a good fighter. He was No. 1 in the world.
"But you know, Percy had white supporters and I had black supporters. I think people rooted for me because I got a lot of knockouts and they rooted for Percy because of the way he could move. But we both filled up the auditorium."
One of my most lasting memories of Percy Pugh came on Feb. 24, 1989. I was in Las Vegas to cover Mike Tyson's first of two fights with England's Frank Bruno which would take place the following night at the Las Vegas Hilton. A large tent with a big-screen TV had been set up in the hotel's parking lot so media members could watch the fight in snowy Atlantic City in which Roberto Duran again defied Father Time to dethrone WBC middleweight champion Iran Barkley by split decision.
I was talking outside the tent with Les Bonano, whom I had known for many years, when Percy Pugh, who was training one of Bonano's fighters who would appear on the Tyson-Bruno undercard, dropped by. "Percy, I want to introduce you to Bernard Fernandez, the boxing writer for the Philadelphia Daily News," Les said. I stuck out my hand to shake Percy's, which he did with a limp grip and no enthusiasm for having just made my acquaintance.
"But you don't understand," Les told him. "Bernard is from New Orleans. He saw you fight several times."
"Including both times you beat Jerry Pellegrini in Municipal Auditorium," I told Percy, who perked up immediately. We spent the next 15 minutes discussing those fights (full disclosure: Jerry Pellegrini is a friend of mine) at some length, and I could sense that his being remembered, maybe particularly for those two fights, had the effect of making him feel that his past had not completely faded away, that there were still people who appreciated who and what he had been when he was at his best.
I can only speculate as to how fulfilling it would have been for Percy Pugh to have been accorded the recognition from the Greater New Orleans Sports Hall of Fame that Les Bonano and I believed then, and still do, he deserved.
Image: 1970 NOLA file photo
To comment on this story in the Fight Forum CLICK HERE
Mercito Gesta Victorious Over Jojo Diaz at the Long Beach Pyramid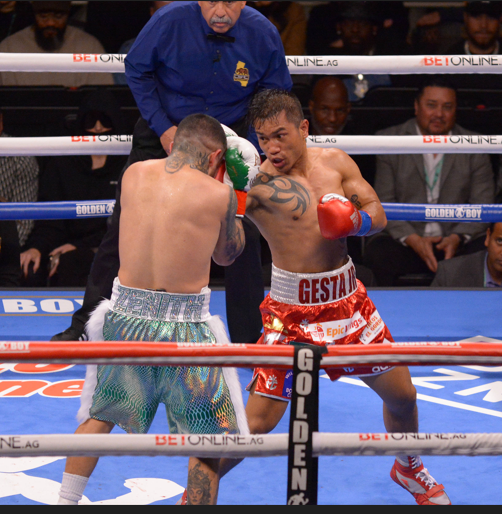 LONG BEACH, CA.-Those in the know knew Mercito Gesta and Jojo Diaz would be a fight to watch and they delivered.
Gesta emerged the winner in a super lightweight clash between southpaws that saw the judges favor his busier style over Diaz's body attack and bigger shots and win by split decision on Saturday.
Despite losing the main event because the star was overweight, Gesta (34-3-3, 17 KOs) used an outside method of tactic to edge past former world champion Diaz (32-4-1, 15 KOs) in front of more than 5,000 fans at the Pyramid.
The speedy Gesta opened up the fight with combination punching up and down against the peek-a-boo style of Diaz. For the first two rounds the San Diego fighter overwhelmed Diaz though none of the blows were impactful.
In the third round Diaz finally began unloading his own combinations and displaying the fast hands that helped him win world titles in two divisions. Gesta seemed stunned by the blows, but his chin held up. The counter right hook was Diaz's best weapon and snapped Gesta's head back several times.
Gesta regained control in the fifth round after absorbing big blows from Diaz. He seemed to get angry that he was hurt and opened up with even more blows to send Diaz backpedaling.
Diaz targeted his attack to Gesta's body and that seemed to slow down Gesta. But only for a round.
From the seventh until the 10th each fighter tried to impose their style with Gesta opening up with fast flurries and Diaz using right hooks to connect with solid shots. They continued their method of attack until the final bell. All that mattered was what the judges preferred.
After 10 rounds one judge saw Diaz the winner 97-93 but two others saw Gesta the winner 99-91, 98-92. It was a close and interesting fight.
"I was expecting nothing. I was the victor in this fight and we gave a good fight," said Gesta. "It's not an easy fight and Jojo gave his best."
Diaz was surprised by the outcome but accepted the verdict.
Everything was going good. I thought I was landing good body shots," said Diaz. "I was pretty comfortable."
Other Bouts
Mexico's Oscar Duarte (25-1-1, 20 KOs) knocked out Chicago's Alex Martin (18-5, 6 KOs) with a counter right hand after dropping him earlier in the fourth round. The super lightweight fight was stopped at 1:14 of the round.
A battle between undefeated super welterweights saw Florida's Eric Tudor (8-0, 6 KOs) emerge the winner by unanimous decision after eight rounds versus Oakland's Damoni Cato-Cain.
The taller Tudor showed polished skill and was not bothered by a large cut on his forehead caused by an accidental clash of heads. He used his jab and lead rights to defuse the attacks of the quick-fisted southpaw Cato-Cain. The judges scored the fight 80-72 and 78-74 twice for Tudor.
San Diego's Jorge Chavez (5-0, 4 KOs) needed less than one round to figure out Nicaragua's Bryan Perez (12-17-1, 11 KOs) and send him into dreamland with a three-punch combination. No need to count as referee Ray Corona waved the fight over. Perez shot a vicious right followed by another right and then a see-you-later left hook at 3.00 of the first round of the super featherweight match.
Photo credit: Al Applerose
Jojo Diaz's Slump Continues; Mercito Gesta Prevails on a Split Decision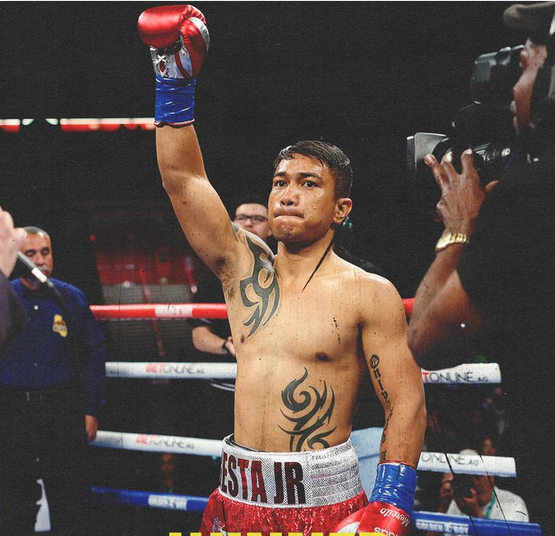 At age 30, Jojo Diaz's career is on the skids. The 2012 U.S. Olympian, a former world title holder at 126 and 130 pounds and an interim title holder at 135, Diaz suffered his third straight loss tonight, upset by Mercito Gesta who won a split decision at the Walter Pyramid in Long Beach, CA.. The scoring was strange with Gesta winning nine of the 10 rounds on one of the cards and only three rounds on another. The tie-breaker, as it were, was a 98-92 tally for Gesta and even that didn't capture the flavor of what was a closely-contested fight.
Originally listed as a 12-rounder, the match was reduced to 10 and that, it turned out, did Diaz no favors. However, it's hard to feel sorry for the former Olympian as he came in overweight once again, having lost his 130-pound title on the scales in February of 2021.
Diaz also has issues outside the ropes. Best elucidated by prominent boxing writer Jake Donovan, they include a cluster of legal problems stemming from an arrest for drunk driving on Feb. 27 in the LA suburb of Claremont.
With the defeat, Diaz's ledger declined to 32-4-1. His prior losses came at the hands of Gary Russell Jr, Devin Haney, and William Zepeda, boxers who are collectively 83-2. Mercito Gesta, a 35-year-old San Diego-based Filipino, improved to 34-3-3.
Co-Feature
Chihuahua, Mexico super lightweight Oscar Duarte has now won nine straight inside the distance after stopping 33-year-old Chicago southpaw Alex Martin in the eighth frame. Duarte, the busier fighter, had Martin on the deck twice in round eight before the fight was waived off.
Duarte improved to 25-1-1 (20). Martin, who reportedly won six national titles as an amateur and was once looked upon as a promising prospect, declined to 18-5.
Other Bouts of Note
New Golden Boy signee Eric Tudor, a 21-year-old super welterweight from Fort Lauderdale, overcame a bad laceration over his right eye, the result of an accidental clash of heads in round four, to stay unbeaten, advancing to 8-0 (6) with a hard-fought unanimous 8-round decision over Oakland's Damoni Cato-Cain. The judges had it 80-72 and 78-74 twice. It was the first pro loss for Cato-Cain (7-1-1) who had his first five fights in Tijuana.
In the DAZN opener, lanky Hawaian lightweight Dalis Kaleiopu went the distance for the first time in his young career, improving to 4-0 (3) with a unanimous decision over 36-year-old Colombian trial horse Jonathan Perez (40-35). The scores were 60-52 across the board. There were no knockdowns, but Perez, who gave up almost six inches in height, had a point deducted for a rabbit punch and another point for deducted for holding.
To comment on this story in the Fight Forum CLICK HERE
'Big Baby' Wins the Battle of Behemoths; TKOs 'Big Daddy' in 6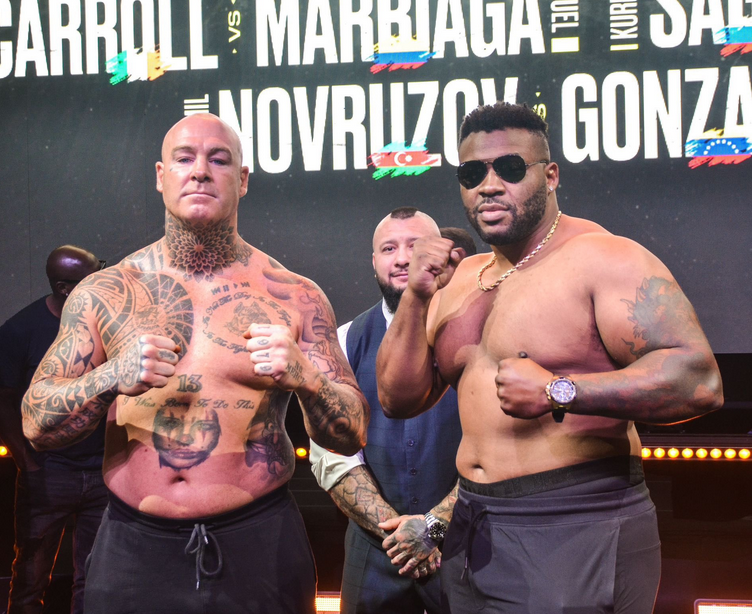 Lucas "Big Daddy" Browne weighed in at a career-high 277 pounds for today's battle in Dubai with Jarrell "Big Baby" Miller, but he was the lighter man by 56 pounds. It figured that one or both would gas out if the bout lasted more than a few stanzas.
It was a war of attrition with both men looking exhausted at times, and when the end came it was Miller, at age 34 the younger man by nine years, who had his hand raised.
Browne was the busier man, but Miller, whose physique invites comparison with a rhinoceros, hardly blinked as he was tattooed with an assortment of punches. He hurt 'Bid Daddy' in round four, but the Aussie held his own in the next frame, perhaps even forging ahead on the cards, but only postponing the inevitable.
In round six, a succession of right hands knocked Browne on the seat of his pants. He beat the count, but another barrage from Miller impelled the referee to intervene. The official time was 2:33. It was the 21st straight win for Miller (26-0-1, 22 KOs). Browne declined to 31-4 and, for his own sake, ought not fight again. All four of his losses have come inside the distance, some brutally.
The consensus of those that caught the livestream was that Floyd Mayweather Jr's commentary was an annoying distraction that marred what was otherwise an entertaining show.
As for what's next for "Big Baby" Miller, that's hard to decipher as he has burned his bridges with the sport's most powerful promoters. One possibility is Mahmoud Charr who, like Miller, has a big gap in his boxing timeline. Now 38 years old, Charr – who has a tenuous claim on a WBA world title (don't we all?) —  has reportedly taken up residence in Dubai.
Other Bouts of Note
In a 10-round cruiserweight affair, Suslan Asbarov, a 30-year-old Russian, advanced to 4-0 (1) with a hard-fought majority decision over Brandon Glanton. The judges had it 98-92, 97-93, and a more reasonable 95-95.
Asbarov was 12-9 in documented amateur fights and 1-0 in a sanctioned bare-knuckle fight, all in Moscow, entering this match. He bears watching, however, as Glanton (18-2) would be a tough out for almost anyone in his weight class. In his previous fight, at Plant City, Florida, Glanton lost a controversial decision to David Light, an undefeated Australian who challenges WBO world title-holder Lawrence Okolie at Manchester, England next week.
A 10-round super featherweight match between former world title challengers Jono Carroll and Miguel Marriaga preceded the semi-windup. Carroll, a 30-year-old Dublin southpaw, overcame a cut over his left eye suffered in the second round to win a wide unanimous decision in a fairly entertaining fight.
It was the sixth straight win for Carroll (24-2-1, 7 KOs) who elevated his game after serving as a sparring partner for Devin Haney. Marriaga, a 36-year-old Colombian, lost for the fourth time in his last five outings, declining to 30-7.
To comment on this story in the Fight Forum CLICK HERE