GGG turned 40 in Japan Which Wasn't His Land of the Setting Sun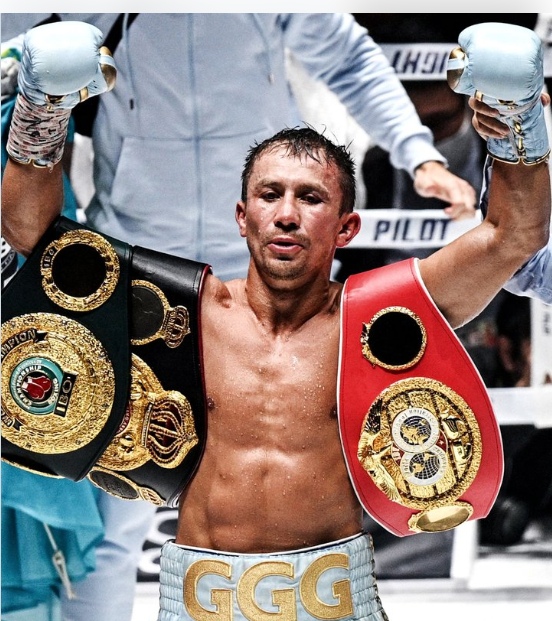 GGG turned 40 in Japan Which Wasn't His Land of the Setting Sun
It is axiomatic in boxing that the last positive attribute an aging fighter loses is power, if indeed he is fortunate enough to ever have had much of it in the first place. George Foreman, who ascended to the heavyweight championship of the world a second time — at the unlikely age of 45 — with his 10th-round knockout of Michael Moorer on Nov. 5, 1994, is perhaps the foremost example of that hoary truism. Big George was and is adamant in his belief that big hitters such as he steadfastly hang onto that gift when other parts of their repertoire have grudgingly surrendered to the relentless march of time.
"I think it's just something you're born with, I really do," Foreman once said of himself and fellow knockout artists who are dangerous even in the late stages of fights they are clearly losing on points, as he was against Moorer. "If you have it, a trainer can develop it and exploit it. The worst thing in the world is to have it and not have a trainer to explain to you what you have."
One of Foreman's more memorable utterances when he began his comeback after a 10-year absence from the ring wars was that "40 isn't necessarily a death sentence" for a fighter, and especially so if he packs enough pop in his punch. And it must be true, if birthday boy Gennadiy "GGG" Golovkin, who turned the big Four-0 on Friday, the day before he was to swap punches with Ryota Murata in their middleweight unification showdown in Saitama, Japan, is still a prime example of what can happen when someone with superior firepower begins finding his target with percussive regularity.
Golovkin looked, if not exactly well past his prime, to be at least somewhat vulnerable through the first four or five rounds against Japan's hugely popular Murata in the fight that was seen in the United States through the streaming service DAZN. Murata, a 5-1 underdog who came in as the WBA 160-pound titlist, got the better of his share of exchanges as Golovkin, the IBF champ from Kazakhstan, struggled to establish some sort of familiar rhythm. Perhaps visions of boxing's most stunning upset, when Buster Douglas knocked out the seemingly invincible Mike Tyson on Feb. 11, 1990, in Tokyo, had even begun to float about the Saitama Super Arena, a possibility GGG had alluded to in the lead-up to the bout.
"Japan is the land of surprises, at least when it comes to boxing," he noted. "I remember what happened in the Tyson-Douglas fight. It has been in the back of my mind throughout training camp. I already had a lot of respect for Ryota Murata, but Tyson-Douglas is a reminder to never give less than 110% every day in training camp."
But on this Friday night – well, actually it was early Saturday morning in the U.S., due to the 11-hour time difference between EDT and Saitama – Murata (16-3, 13 KOs) was not able to continue to channel his inner Buster, nor was Golovkin (42-1-1, 37 KOs) anywhere near-ready to be taken down in the manner that Tyson had been starched in his second visit to the Land of the Rising Sun. The starkly apparent turning point came in the sixth round, when Golovkin connected with a looping right hand to the jaw, which had the effect of sending Murata's mouthpiece sailing through the air as if it had been cleared for takeoff.
What followed thereafter, interspersed with Murata's increasingly futile bids to re-gather momentum, were glimpses of the Golovkin who not so very long ago strung together 23 consecutive victories inside the distance, 18 of which came in world title bouts. Most of those fights ended with his opponents twitching on the canvas as if they had just been slammed into by a speeding tractor-trailer.
For those who like to dabble in numbers, CompuBox punch statistics revealed that Golovkin had connected on 257 of 629 overall, 40.9%, to 144 of 592 (24.3%) for Murata. More tellingly, as is usually the case for GGG bouts, the master blaster nailed his opponent with 150 of 321 power shots, an impressive 46.7%, to 122 of 359 (34.0%) for the well-battered Murata, whose corner threw in the towel after their guy went down and in clear distress in round nine.
Former WBO junior welterweight champion Chris Algieri, commenting for DAZN, said the Golovkin seen after Murata's mouthpiece had gone airborne "looked like the Golovkin of old, not an old Golovkin." And if that description isn't entirely accurate, it was close enough against a very good fighter if not one up to the exalted standards of Canelo Alvarez, widely recognized as the planet's top pound-for-pound practitioner of the pugilistic arts. Alvarez, against whom GGG is 0-1-1 (more than a few knowledgeable observers believed GGG deserved the nod in their first fight, which ended in a draw), is tentatively set to face him for a third time later this year, provided the Mexican superstar (57-1-2, 39 KOs) successfully gets past his May 7 date with WBA light heavyweight ruler Dmitry Bivol (19-0, 11 KOs).
It says much about Golovkin's fearsome reputation as a lights-out puncher that Jim Lampley, the veteran blow-by-blow commentator for HBO when that premium-cable outlet was doing boxing, cites GGG as the most impressively indelible power source that he witnessed while calling fights, even more so than Foreman, Tyson, Wladimir Klitschko, Tommy Hearns, Julian Jackson or anyone else.
"Gennadiy Golovkin was the most consistently hard puncher, and it's almost a cliché that you're going to choose somebody from the heavyweight division, but I think it's more interesting when somebody has consistent punching power over the course of a long career in a weight class the way Gennadiy did," Lampley told writer Joseph Santoliquito for a story in which he lists the top performers he has covered from ringside. (Lampley says the fighter atop his overall list is Sugar Ray Leonard, with Pernell Whitaker having the best defense and Bernard Hopkins the most underrated.) "The fact he weighed in hundreds of times as an amateur and a professional at the same weight, 160 pounds, makes the retention of his punching power exciting, not to mention some of the cartoon-style knockouts he produced."
Is Golovkin, at 40, a lesser version of himself than the middleweight wrecking machine of our memories? Maybe, at least a little. Father Time remains the one opponent no fighter can duck and dodge forever, and the calendar surely must win some rounds against those who are obliged to stay on the shelf for longer periods than they might prefer. COVID-19 is a thief that has stolen bits and pieces of fighters young and old since 2020, and the pandemic was responsible for two postponements of Golovkin-Murata until fight night finally arrived. It is reasonable to assume that GGG, who has had only two bouts since his closer-than-expected points nod over Sergiy Derevyanchenko on Oct. 5, 2019, stepped inside the ropes with a thin coating of ring rust, and Murata figured to be even more off his peak form, not having fought at all in 2020 or 2021 while waiting for the global health crisis to abate.
Unless another of those pesky variants of the virus that lingers like an unwelcome house guest suddenly appears, Alvarez-Golovkin III is likely to happen before the end of 2022, the year that boxing has gloriously stepped back into the spotlight. Even if GGG's total skill set needs a bit more polishing in the months ahead, fight fans are secure in the knowledge that he still has enough of that great equalizer, dynamite fists, to continue to be the kind of attraction that should not be missed.
Bernard Fernandez, named to the International Boxing Hall of Fame in the Observer category with the Class of 2020, was the recipient of numerous awards for writing excellence during his 28-year career as a sports writer for the Philadelphia Daily News. Fernandez's first book, "Championship Rounds," a compendium of previously published material, was released in May of last year. The sequel, "Championship Rounds, Round 2," with a foreword by Jim Lampley, is currently out. The anthology can be ordered through Amazon.com and other book-selling websites and outlets.
To comment on this story in the Fight Forum CLICK HERE
R.I.P. Les Bonano (1943-2022), Linchpin of Boxing in New Orleans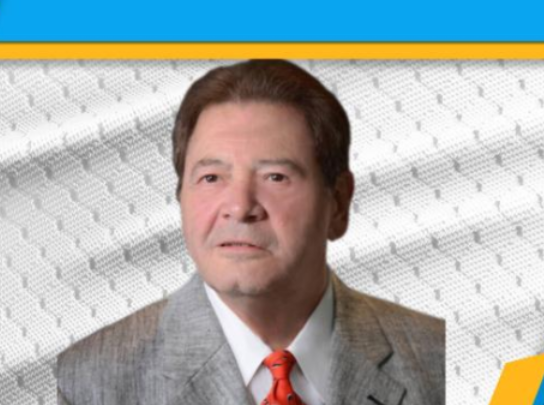 Les Bonano, a fixture on the New Orleans area boxing scene for 50 years, passed away on Saturday night, May 21, at his home in Slidell, Louisiana, surrounded by his wife of 60 years, Mary, his four children and his eight grandchildren. Bonano, who had been in and out of the hospital in recent months with kidney problems, was 79 years old.
Bonano joined the New Orleans Police Department in 1965 and patrolled the French Quarter, one of America's most harrowing beats. In 1974, while working for the New Orleans Parish Sheriff's Department, he was charged with starting an intramural sports program to relieve tensions at the parish prison. He began with basketball and then added boxing. Somewhat later, he opened a gym and took to training, managing, and promoting fighters. He retired from law enforcement in 1981 to give boxing his full attention.
Bonano was poised to seize the moment when neighboring Mississippi legalized gambling in 1990. He carved out arrangements with Gulf Coast casino resorts in Biloxi and Bay St. Louis to keep his fighters' busy. Many of the shows that he facilitated were mid-week shows that aired on the old USA cable network.
Bonano never had the satisfaction of managing a world champion, but he came awful close with Melvin Paul who lost a controversial decision to Charlie "Cho Choo" Brown in the inaugural IBF lightweight title fight. Others in Bonano's stable who went on to compete for world titles include Jerry Celestine, Anthony Stephens, and John Duplessis. Celestine, a light heavyweight who fought Michael Spinks, was an alumnus of Bonano's prison program.
More recently, Bonano promoted Jonathan Guidry, the Dulac, LA heavyweight who made a surprisingly strong showing against WBA (secondary) title-holder Trevor Bryan on a Don King promotion in Warren, Ohio.
In July of last year, Les Bonano was formally inducted into the Greater New Orleans Sports Hall of Fame with the class of 2021. "He is perhaps the final ruler of what remains of a fraying and depleted boxing kingdom in the formerly great fight city of New Orleans," wrote Hall of Fame boxing writer Bernard Fernandez, a New Orleans native, in a tribute that ran on these pages.
We here at The Sweet Science send our condolences to the Bonano family. May he rest in peace.
To comment on this story in the Fight Forum CLICK HERE
What's Next for David Benavidez?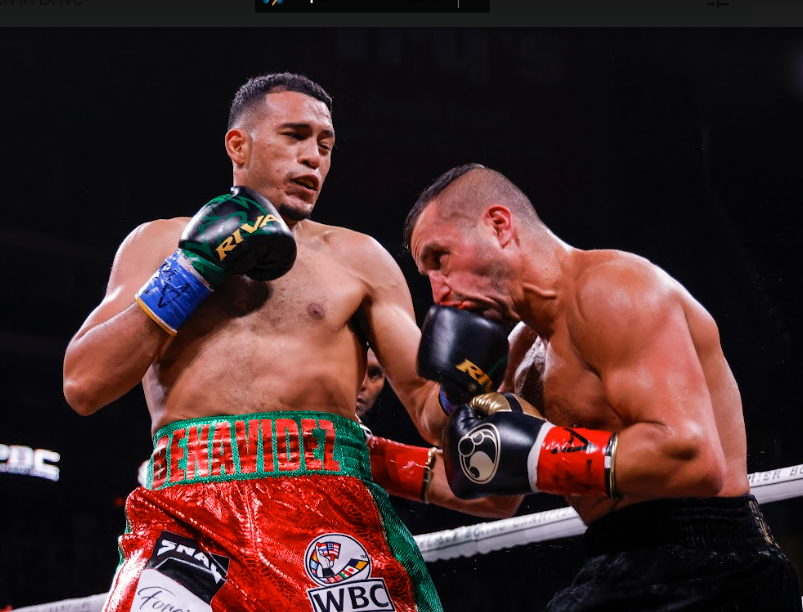 What's Next for David Benavidez?
POST-FIGHT REPORT BY TSS SPECIAL CORRESPONDENT NORM FRAUENHEIM —
GLENDALE, AZ – Forget Canelo Alvarez.
That, at least, was the message from David Benavidez and his promoter late Saturday after he demolished David Lemieux in front of a roaring crowd at Gila River Arena in a Showtime-televised rout.
Benavidez (26-0, 23 KOs) has been talking about a super-middleweight showdown with Canelo for the last couple of years. His victory, a third-round stoppage of Lemieux, put him first in line for a shot at the World Boxing Council's version of the 168-pound title, still held by Canelo
But that talk stopped. Canelo who?
It sounded as if Benavidez, the WBC's interim champion, was ready to shut that door and move on, possibly to Caleb Plant or Jermall Charlo or David Morrell. He never mentioned Canelo during a post-fight news conference a couple of hours after bulldozing Lemieux, a former middleweight champion who was overmatched in every way.
"Plant, Charlo, Morrell, maybe we can put together a fight against one of those guys later in the year,'' said Benavidez, who drew an estimated crowd of nearly 10,000 for the second straight time in an Arizona arena near his old neighborhood in Phoenix.
The question is whether Plant, or Charlo, or Morrell would be willing to face Benavidez. Lemieux was smaller and older. Still, it was scary to witness the beatdown delivered by Benavidez, who grew up about seven miles from Gila River, a National Hockey League Arena.
Benavidez, 25 and still a couple years from his prime, seemingly did it all. He started with body punches. At the end of the first round, he landed a lethal upper-cut, the first in what would prove to be an overwhelming storm. In the second, he knocked Lemieux through the ropes, leaving the Canadian bloodied, dazed and defenseless. At 1:31 of the third it was over. Lemieux (43-5. 36 KOs) did not attend the post-fight news conference. He was taken to a nearby hospital in Glendale.
"He's a good fighter, a courageous fighter,'' Benavidez said. "He did what those others wouldn't do. He fought me.''
Unlike Benavidez, his promoter, Sampson Lewkowicz mentioned Canelo, who is coming off a stunning loss to light-heavyweight Dimitry Bivol.
"Please, you guys need to quit asking about Canelo,'' Lewkowicz told a room full of reporters. "We're looking at three guys. We think we can put together a fight with Charlo, or Plant, or Morrell. But Canelo won't fight David.
"He'll never fight the world's best super-middleweight.''
Photo credit: Esther Lin / SHOWTIME
To comment on this story in the Fight Forum CLICK HERE
The Middleweight Division has a New Star in Janibek Alimkhanuly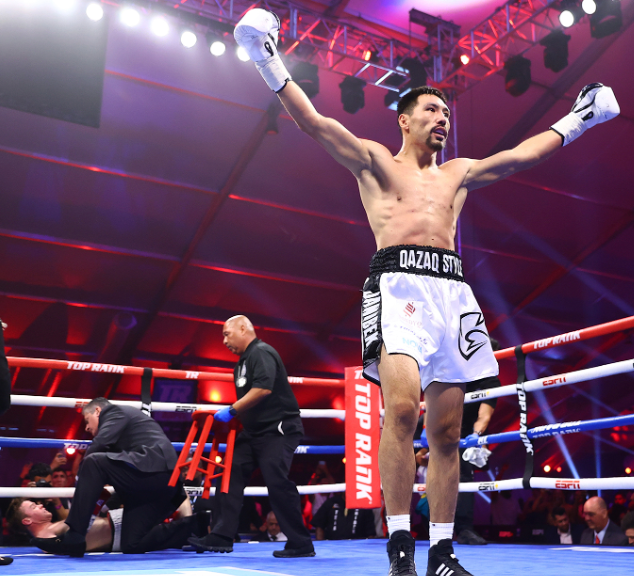 Step aside, GGG. Kazakhstan has a new fistic hero and his name is Janibek Alimkhanuly. Tonight, at Resorts World in Las Vegas, Janibek (he usually goes by his first name) destroyed Britain's intrepid Danny Dignum inside two rounds, scoring two knockdowns, the second of which, a five-punch combination climaxed by a short uppercut, left Dignum unconscious. Referee Tony Weeks waived the fight off immediately. The official time was 2:11 of round two.
With the victory, Janibek (12-0, 8 KOs) becomes the interim WBO middleweight champion. The belt is currently held by Demetrius Andrade who is expected to move to 168, opening the door for the 29-year-old Kazakh southpaw to become "full-fledged."
Although he held the WBO European middleweight title and was undefeated (14-0-1) coming in, Dignum wasn't expected to provide much opposition. Janibek was stepping down in class after stopping former title-holders Rob Brant and Hassan D'Dam D'Jikam in his previous two fights.
Janibek's trainer Buddy McGirt doesn't believe that there is a middleweight on the planet who can hold his own with Janibek (no, not even undefeated Jermall Charlo!) and based on tonight's performance, it would be hard to argue.
Co-Feature
In the co-feature, youth was served as Jamaine Ortiz, the younger man by 10 years, won a unanimous 10-round decision over former WBO super featherweight champion Jamel Herring. The judges had it 96-94 and 97-93 twice.
Ortiz, from Worcester, Massachusetts, did his best work late in the fight as Herring's workload declined. The bout was marred by several accidental clashes of heads with Herring getting the worst of it on each occasion.
"I could have done a lot better," said Ortiz (16-0-1, 8 KOs) after winning the most high-profile fight of his career. Herring, who was making his first start with trainer Manny Robles, fell to 23-4 and hinted that he may retire.
Other Bouts of Note
The opener on ESPN's main platform showcased Cleveland welterweight Delante "Tiger" Johnson, a 2020 Olympian, who advanced to 4-0 (3) with a third-round stoppage of Argentina's Agustin Kucharski (8-5-1).
Johnson had Kucharski on the canvas twice in the first minute of the third round, both the result of counter right hands. Kucharski, who was making his U.S. debut and hadn't previously been stopped, twisted around as he fell the second time and the white towel flew out from his corner. The official time was 0:54.
Glendale, CA featherweight Adam Lopez (16-3, 6 KOs) overcame a pair of knockdowns to win a unanimous 8-round decision over William Encarnacion. The judges had it 76-74 and 77-74 twice.
Lopez, 26, is one of two fighting sons of the late Hector "Torero" Lopez, a former two-time world title challenger who developed a big following in LA in the 1990s. Encarnacion who represented the Dominican Republic in the 2012 Olympics, lost for the third time in 22 starts.
Former WBO super bantamweight champion Jessie Magdaleno returned to the ring after an absence of almost two full years and whitewashed Mexico's Edy Valencia in an 8-round featherweight contest, winning by 80-72 across the board. Las Vegas' Magdaleno improved to 29-1 (4-0 since losing his belt to Isaac Dogboe). Valencia declined to 19-7-6.
Cincinnati featherweight Duke Ragan, a silver medalist in Tokyo improved to 6-0 with his fifth straight win by decision, a four-round whitewash of South Carolina's Victorino Gonzalez (5-3).
In the ESPN+ opener, undefeated Chicago lightweight Giovanni Cabrera (20-0, KOs) won a unanimous 8-round decision over 34-year-old Argentine import Elias Araujo (21-5). The judges saw it 79-72, 77-74, and 75-73. There were no knockdowns, but Araujo lost a point for holding.
Cabrera lacks a hard punch which diminishes his upside, but he's a stylish southpaw who has elevated his game since hooking up with Freddie Roach.
Photo Credit: Mikey Williams / Top Rank via Getty Images
To comment on this story in the Fight Forum CLICK HERE