Earnie Shavers, Gone at 78, Was The Bambino of Boxing's Biggest Boppers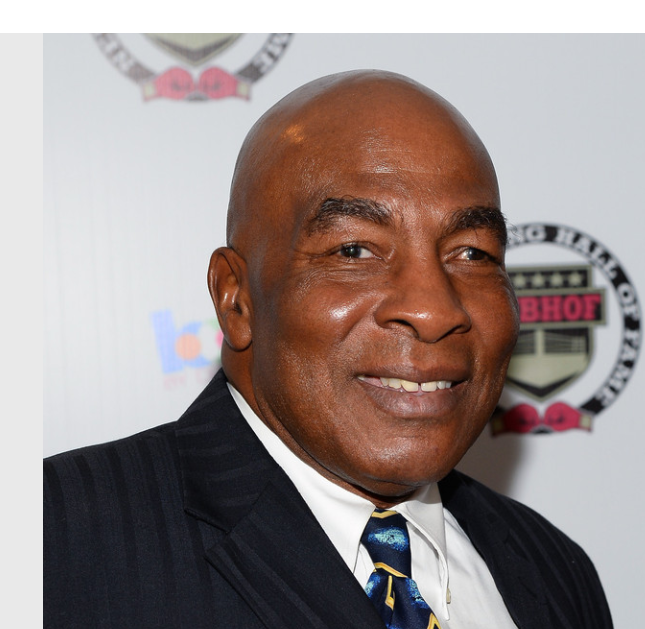 Earnie Shavers, Gone at 78, Was The Bambino of Boxing's Biggest Boppers
The technology of sports today, most of them anyway, has become so advanced that what once was the stuff of legend – tales of incredible individual feats that tended to grow taller with the passage of time – now seem like mathematical equations more appropriate for a NASA space launch. Take baseball, for example. The exact distance of every home run hit now in the big leagues almost instantly can be determined by a computer, which also supplies such minutiae as the ball's exit velocity and the launch angle of the batter's swing.
All of which means that no matter how many home runs New York Yankees slugger Aaron Judge crushes this season, or how precisely calculated the distances of some of his longer blasts are, he can never fire a modern fan's imagination to the extent that a pre-computerized Babe Ruth did. One of the most oft-recited examples of Ruthian prowess is the ball he hit for his 714th and final homer, and third of the day, when the 40-year-old Babe, then playing for the Boston Braves, completely cleared the 86-foot stands of Pittsburgh's spacious Forbes Field. The ball landed on the roof of a rowhouse across the street, some eyewitnesses swearing that it even flew over the roof by 50 feet. The generally accepted distance for Ruth's career parting shot is an epic 600 feet, which fans are free to believe or not.
Boxing's analytics have not yet caught up to baseball's, although CompuBox's punch-counting statistics at least give the sweet science a veneer of what might yet be. Don't dismiss the possibility that someday in the not-too-distant future computer chips will be embedded in fighter's gloves that will provide detailed information as to how many pounds per square inch were delivered by a knockout blow. When and if that day comes, much of the wonderment attached to fans' fascination with power punchers will be reduced to cold, hard and mostly dissatisfying statistics.
It would be overstating matters to describe heavyweight slugger Earnie Shavers, who passed away Thursday, the day after his 78th birthday, as "The Bambino" of boxing. Unlike Ruth, still arguably the greatest baseball player of all time and whose 714th home-run ball is still a cherished memento in the National Baseball Hall of Fame and Museum in Cooperstown, N.Y., Shavers is not an inductee into the International Boxing Hall of Fame, and likely never will be. He has certain losses to at least partially offset his raft of awe-inspiring knockout victories, and historians can argue, correctly, that "The Acorn" – the nickname conferred upon him by Muhammad Ali – had stamina issues that limited his maximum effectiveness to five or six rounds, as well as a relative inability to shake off the kind of big punches that he so routinely delivered.
The power quotient of the 6'1", 210-pound Shavers, however, has continued to be discussed in the manner of those who somehow have been at ground zero during a tornado or a tsunami. Even those who survived the potential natural disaster of having shared the ring with him speak of the experience with hushed reverence.
"Man, I been in there with the best," said James "Quick" Tillis, who scored a 10-round unanimous decision over Shavers on June 10, 1982. "I fought a bald-headed guy named Earnie Shavers, who was the baddest dude in the world. He hit so hard, he could turn goat milk into gasoline."
And this, from Randall "Tex" Cobb, who stopped Shavers in eight rounds on Aug. 2, 1980: "Nobody hits like Shavers. If anybody hit harder than Shavers, I'd shoot him."
Also this, from Ron Lyle, after he scored a six-round TKO over Shavers on Sept. 13, 1975: "Hey, man, that's the hardest I've ever been hit in my life. George Foreman could punch, but none of them could like hit Earnie Shavers did. When he hit you, the lights went out. I can laugh about it now, but at the time it wasn't funny."
A 35-year-old Ali was pushed to the limit in defending his WBA, WBC and The Ring heavyweight titles on a 15-round unanimous decision on Sept. 29, 1977, after which he remarked that "Earnie hit me so hard, it shook my kinfolk in Africa." He further noted that Shavers was "stronger than Joe Frazier and George Foreman. I don't know why I picked on him so late in my career."
The Ali bout was the first of Shavers' two bids for his sport's grandest prize, but it wasn't his most notable career near-achievement. That would be his rematch with WBC champion Larry Holmes on Sept. 28, 1979, at Las Vegas' Caesars Palace. They previously had fought on March 25, 1978, with Holmes, who had yet to win the title, winning a 12-round unanimous decision.
Holmes had plunged to the canvas in the seventh round as if poleaxed by the kind of percussive shot that almost without fail resulted into Shavers winning right then and there. But this was the "Easton Assassin," whose recuperative powers on this night would prove a match for the challenger's vaunted firepower.
"If I had one fight, one moment, I could do over, it'd be in the second fight with Larry Holmes," a reflective Shavers recalled years later. "The punch I had been trying to land all night finally found its mark. An overhand right caught Holmes flush on the button, and down as if he had been deboned. As I headed to the neutral corner, Holmes didn't stir. I was the heavyweight champion of the world. All my troubles were finally over. It was the greatest feeling I'd ever had. And it lasted for five whole seconds."
Holmes, who surprised maybe even himself by pulling himself back onto his feet before the count reached 10, somehow made it to the bell ending the round and thereafter seized control again en route to winning by 11th-round TKO. But he never forgot what it was like to be drilled like he'd never been nailed before or later. He would later say that Shavers had hit him harder than Mike Tyson did.
"Man, I still got knots in my head where he hit me," the "Easton Assassin" recalled. "Earnie could punch very hard, incredibly hard. I hear people say, `Aw, man, he couldn't possibly have hit as hard as everyone says.' They think the stories about Earnie's power are exaggerated. It's no exaggeration. That power was real."
Perhaps, had he not risen to prominence in the midst of one of the most gilded golden ages of heavyweight boxing in the 1970s and into the early '80s, Shavers might have claimed an alphabet title during a less talent-rich era. But being very good, and exceptionally on those occasions when he got there first with a massive shot, wasn't good enough considering that Shavers' contemporaries included Ali, Holmes, Foreman, Frazier, Lyle, Gerry Cooney, Ken Norton, Michael Spinks, Jerry Quarry, Jimmy Ellis, George Chuvalo, Jimmy Ellis and Oscar Bonavena. And while Shavers registered quick knockouts of Norton, Ellis and Young, he also lost inside the distance in matchups with Lyle, Cobb, Quarry and Bernardo Mercado. Including two ill-advised comebacks in 1987 and '95, he finished 74-14-1, with 68 KOs.
I interviewed Shavers for a fight card on Sept. 26, 2013, at the Sands Bethlehem Events Center in Bethlehem, Pa. He was there along with fellow golden oldies Holmes, Cooney and Thomas Hearns for a meet-and-greet with fans that had paid an additional fee to get autographs and to pose for pictures.
Asked whom he considered to be the hardest-hitting heavyweight, Shavers, then 68, not surprisingly, described himself as "Number One. No one can outpunch me, except God."
Any list, be it pound-for-pound, hardest puncher, best boxer or whatever, is subjective. Opinions will always vary. In 2003, Shavers was listed as the 10th-greatest puncher of all time, regardless of weight class, by The Ring, following heavyweights Joe Louis (1), Jack Dempsey (7) and Foreman (9), but ahead of Rocky Marciano (14), Sonny Liston (15) and Tyson (16). Another list of the "Hardest hitters in heavyweight history," was posted by ESPN.com's Graham Houston on Dec. 27, 2007, and it had Tyson at No. 1, Louis third, Foreman fourth, Marciano fifth and Shavers sixth.
A more recent such list, The Ring's 100 greatest punchers of the last 100 years, appeared in a special June 2022 collector's special. Louis again got the top spot, with Dempsey (4), Foreman (5) and Shavers (6) also in the top 10. The second 10 included heavyweights Marciano (11), Liston (12), Tyson (13), Deontay Wilder (16) and Max Baer (20).
Lists spark debates, and arguing the merits of fighters from different eras has always been a component of what makes boxing enthralling. Was Shavers the biggest hitter ever? Maybe, or maybe not.  But he deserves to be in any such discussion, and that should be good enough. God forbid that the barroom arguments that have always sufficed until now move into the realm of digital printouts.
Somewhere, the late, great Babe Ruth probably is glad that he played his game the way it was then.
Bernard Fernandez, named to the International Boxing Hall of Fame in the Observer category with the Class of 2020, was the recipient of numerous awards for writing excellence during his 28-year career as a sports writer for the Philadelphia Daily News. Fernandez's first book, "Championship Rounds," a compendium of previously published material, was released in May of last year. The sequel, "Championship Rounds, Round 2," with a foreword by Jim Lampley, is currently out. The anthology can be ordered through Amazon.com and other book-selling websites and outlets.
To comment on this story in the Fight Forum CLICK HERE
Mercito Gesta Victorious Over Jojo Diaz at the Long Beach Pyramid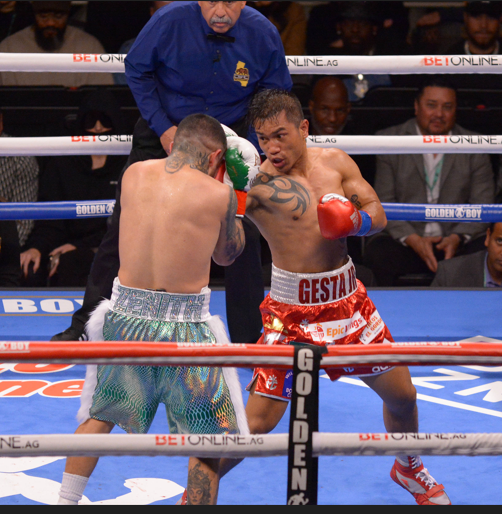 LONG BEACH, CA.-Those in the know knew Mercito Gesta and Jojo Diaz would be a fight to watch and they delivered.
Gesta emerged the winner in a super lightweight clash between southpaws that saw the judges favor his busier style over Diaz's body attack and bigger shots and win by split decision on Saturday.
Despite losing the main event because the star was overweight, Gesta (34-3-3, 17 KOs) used an outside method of tactic to edge past former world champion Diaz (32-4-1, 15 KOs) in front of more than 5,000 fans at the Pyramid.
The speedy Gesta opened up the fight with combination punching up and down against the peek-a-boo style of Diaz. For the first two rounds the San Diego fighter overwhelmed Diaz though none of the blows were impactful.
In the third round Diaz finally began unloading his own combinations and displaying the fast hands that helped him win world titles in two divisions. Gesta seemed stunned by the blows, but his chin held up. The counter right hook was Diaz's best weapon and snapped Gesta's head back several times.
Gesta regained control in the fifth round after absorbing big blows from Diaz. He seemed to get angry that he was hurt and opened up with even more blows to send Diaz backpedaling.
Diaz targeted his attack to Gesta's body and that seemed to slow down Gesta. But only for a round.
From the seventh until the 10th each fighter tried to impose their style with Gesta opening up with fast flurries and Diaz using right hooks to connect with solid shots. They continued their method of attack until the final bell. All that mattered was what the judges preferred.
After 10 rounds one judge saw Diaz the winner 97-93 but two others saw Gesta the winner 99-91, 98-92. It was a close and interesting fight.
"I was expecting nothing. I was the victor in this fight and we gave a good fight," said Gesta. "It's not an easy fight and Jojo gave his best."
Diaz was surprised by the outcome but accepted the verdict.
Everything was going good. I thought I was landing good body shots," said Diaz. "I was pretty comfortable."
Other Bouts
Mexico's Oscar Duarte (25-1-1, 20 KOs) knocked out Chicago's Alex Martin (18-5, 6 KOs) with a counter right hand after dropping him earlier in the fourth round. The super lightweight fight was stopped at 1:14 of the round.
A battle between undefeated super welterweights saw Florida's Eric Tudor (8-0, 6 KOs) emerge the winner by unanimous decision after eight rounds versus Oakland's Damoni Cato-Cain.
The taller Tudor showed polished skill and was not bothered by a large cut on his forehead caused by an accidental clash of heads. He used his jab and lead rights to defuse the attacks of the quick-fisted southpaw Cato-Cain. The judges scored the fight 80-72 and 78-74 twice for Tudor.
San Diego's Jorge Chavez (5-0, 4 KOs) needed less than one round to figure out Nicaragua's Bryan Perez (12-17-1, 11 KOs) and send him into dreamland with a three-punch combination. No need to count as referee Ray Corona waved the fight over. Perez shot a vicious right followed by another right and then a see-you-later left hook at 3.00 of the first round of the super featherweight match.
Photo credit: Al Applerose
Jojo Diaz's Slump Continues; Mercito Gesta Prevails on a Split Decision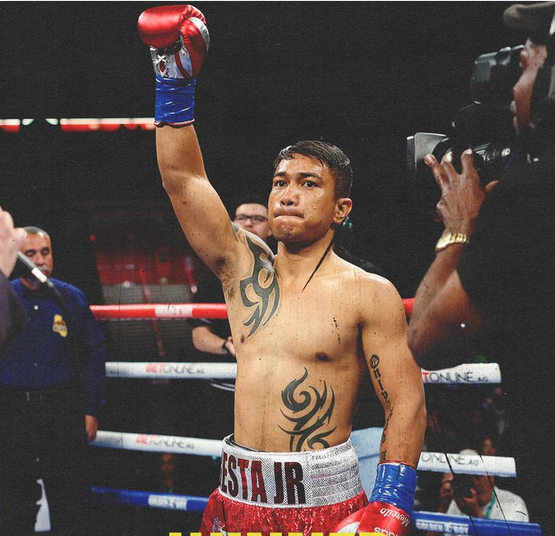 At age 30, Jojo Diaz's career is on the skids. The 2012 U.S. Olympian, a former world title holder at 126 and 130 pounds and an interim title holder at 135, Diaz suffered his third straight loss tonight, upset by Mercito Gesta who won a split decision at the Walter Pyramid in Long Beach, CA.. The scoring was strange with Gesta winning nine of the 10 rounds on one of the cards and only three rounds on another. The tie-breaker, as it were, was a 98-92 tally for Gesta and even that didn't capture the flavor of what was a closely-contested fight.
Originally listed as a 12-rounder, the match was reduced to 10 and that, it turned out, did Diaz no favors. However, it's hard to feel sorry for the former Olympian as he came in overweight once again, having lost his 130-pound title on the scales in February of 2021.
Diaz also has issues outside the ropes. Best elucidated by prominent boxing writer Jake Donovan, they include a cluster of legal problems stemming from an arrest for drunk driving on Feb. 27 in the LA suburb of Claremont.
With the defeat, Diaz's ledger declined to 32-4-1. His prior losses came at the hands of Gary Russell Jr, Devin Haney, and William Zepeda, boxers who are collectively 83-2. Mercito Gesta, a 35-year-old San Diego-based Filipino, improved to 34-3-3.
Co-Feature
Chihuahua, Mexico super lightweight Oscar Duarte has now won nine straight inside the distance after stopping 33-year-old Chicago southpaw Alex Martin in the eighth frame. Duarte, the busier fighter, had Martin on the deck twice in round eight before the fight was waived off.
Duarte improved to 25-1-1 (20). Martin, who reportedly won six national titles as an amateur and was once looked upon as a promising prospect, declined to 18-5.
Other Bouts of Note
New Golden Boy signee Eric Tudor, a 21-year-old super welterweight from Fort Lauderdale, overcame a bad laceration over his right eye, the result of an accidental clash of heads in round four, to stay unbeaten, advancing to 8-0 (6) with a hard-fought unanimous 8-round decision over Oakland's Damoni Cato-Cain. The judges had it 80-72 and 78-74 twice. It was the first pro loss for Cato-Cain (7-1-1) who had his first five fights in Tijuana.
In the DAZN opener, lanky Hawaian lightweight Dalis Kaleiopu went the distance for the first time in his young career, improving to 4-0 (3) with a unanimous decision over 36-year-old Colombian trial horse Jonathan Perez (40-35). The scores were 60-52 across the board. There were no knockdowns, but Perez, who gave up almost six inches in height, had a point deducted for a rabbit punch and another point for deducted for holding.
To comment on this story in the Fight Forum CLICK HERE
'Big Baby' Wins the Battle of Behemoths; TKOs 'Big Daddy' in 6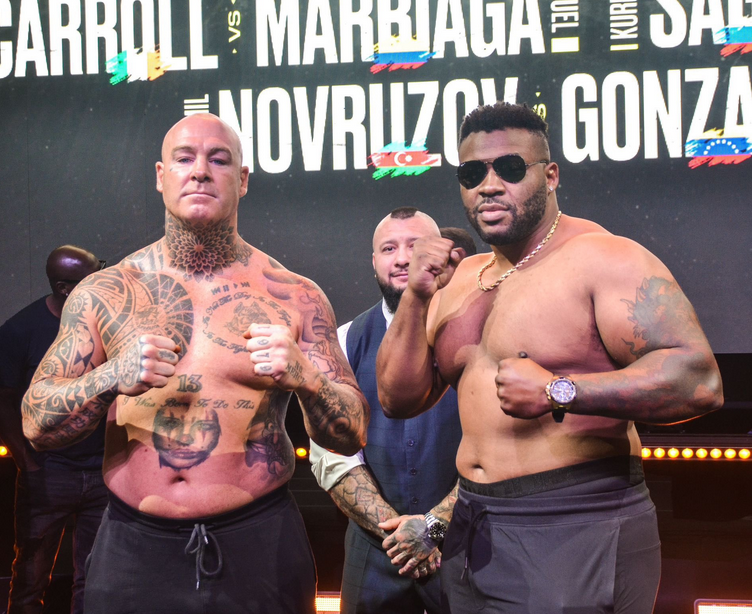 Lucas "Big Daddy" Browne weighed in at a career-high 277 pounds for today's battle in Dubai with Jarrell "Big Baby" Miller, but he was the lighter man by 56 pounds. It figured that one or both would gas out if the bout lasted more than a few stanzas.
It was a war of attrition with both men looking exhausted at times, and when the end came it was Miller, at age 34 the younger man by nine years, who had his hand raised.
Browne was the busier man, but Miller, whose physique invites comparison with a rhinoceros, hardly blinked as he was tattooed with an assortment of punches. He hurt 'Bid Daddy' in round four, but the Aussie held his own in the next frame, perhaps even forging ahead on the cards, but only postponing the inevitable.
In round six, a succession of right hands knocked Browne on the seat of his pants. He beat the count, but another barrage from Miller impelled the referee to intervene. The official time was 2:33. It was the 21st straight win for Miller (26-0-1, 22 KOs). Browne declined to 31-4 and, for his own sake, ought not fight again. All four of his losses have come inside the distance, some brutally.
The consensus of those that caught the livestream was that Floyd Mayweather Jr's commentary was an annoying distraction that marred what was otherwise an entertaining show.
As for what's next for "Big Baby" Miller, that's hard to decipher as he has burned his bridges with the sport's most powerful promoters. One possibility is Mahmoud Charr who, like Miller, has a big gap in his boxing timeline. Now 38 years old, Charr – who has a tenuous claim on a WBA world title (don't we all?) —  has reportedly taken up residence in Dubai.
Other Bouts of Note
In a 10-round cruiserweight affair, Suslan Asbarov, a 30-year-old Russian, advanced to 4-0 (1) with a hard-fought majority decision over Brandon Glanton. The judges had it 98-92, 97-93, and a more reasonable 95-95.
Asbarov was 12-9 in documented amateur fights and 1-0 in a sanctioned bare-knuckle fight, all in Moscow, entering this match. He bears watching, however, as Glanton (18-2) would be a tough out for almost anyone in his weight class. In his previous fight, at Plant City, Florida, Glanton lost a controversial decision to David Light, an undefeated Australian who challenges WBO world title-holder Lawrence Okolie at Manchester, England next week.
A 10-round super featherweight match between former world title challengers Jono Carroll and Miguel Marriaga preceded the semi-windup. Carroll, a 30-year-old Dublin southpaw, overcame a cut over his left eye suffered in the second round to win a wide unanimous decision in a fairly entertaining fight.
It was the sixth straight win for Carroll (24-2-1, 7 KOs) who elevated his game after serving as a sparring partner for Devin Haney. Marriaga, a 36-year-old Colombian, lost for the fourth time in his last five outings, declining to 30-7.
To comment on this story in the Fight Forum CLICK HERE