Gridiron Stars Bell and Peterson to Give, Take Some Really Off-Tackle Hits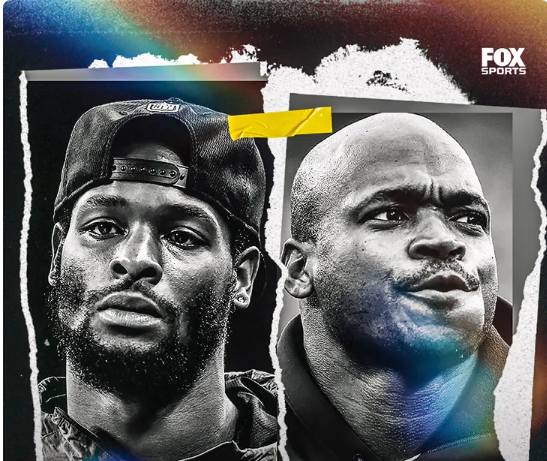 NFL running backs Adrian Peterson and Le'Veon Bell face off Saturday night in the co-main event of Social Gloves 2
You see it at virtually every much-anticipated, big-ticket boxing event. The premium seats at or close to ringside are often occupied by standout athletes in other sports, there to witness the action, of course, but also to indulge in the sort of what-if daydreams that can fire the imagination of even the most sedentary of couch potatoes.
Each daydream, individually tailored though it might be, goes something like this: If I took time to train and get myself into decent shape, I bet I could do that. By "that," the dreamer imagines being inside the ropes, winging loaded-up shots and knocking his (or, increasingly so, her) opponent colder than a gutted mackerel stashed since the preceding month or two in the freezer compartment of their kitchen refrigerator.
Two outstanding NFL running backs of reasonably recent vintage, Adrian Peterson and Le'Veon Bell, get to possibly live their shared dream Saturday night as the co-main event of a highly dubious pay-per-view card to be televised via FITE.tv from Banc of California Stadium, home of MLS' LA Galaxy. How dubious is most of the 10-bout lineup, collectively titled Social Gloves 2?  Well, Peterson and Bell, who collectively have made millions of dollars from football and have six first-team All-Pro selections between them, are getting secondary billing to a matchup of somebody named Austin McBroom (0-0) against another somebody named Ali Eson Gib, who is 0-1 with his only previous bout a technical-knockout loss to Jake Paul, the YouTube guy who has a gazillion social media followers and now is the undisputed champion of all those pugilistic daydreamers who once got the better of a classmate in a sixth-grade schoolyard fight.
Also on the card is a bout between former Los Angeles Lakers guard Nick Young, who now prefers to go by his nickname, Swaggy P, and whomever is the last-minute replacement for rapper Blueface, whose birth certificate lists him as the much less intriguing Johnathan Jamall Porter.
Make no mistake, Jake "The Problem Child" Paul now would seem to be an erstwhile combination of Joe Louis and Muhammad Ali in comparison to McBroom and Gib, who are said to have substantial presences on such platforms as TikTok. When Paul (5-0, 4 KOs, but with none of his wins coming against an actual professional boxer) swaps punches in the ring with UFC legend Anderson "The Spider" Silva on Oct. 29 in Glendale, Ariz., it will be the most legitimate step yet taken by the incrementally more-proficient fighter and extraordinarily adroit self-promoter. Silva might be 47, but he has some boxing experience (going 3-1) and was a lights-out striker in the Octagon, where he was 34-11, but lost seven of his last nine fights, including one no-decision. If Paul gets past Silva, you can bet he'll grab a bullhorn and call out, say, Canelo Alvarez. Wait a second … he's already done that.
Peterson's glory seasons were with the Vikings, for whom he played through the 2016 season, whereupon he became something of a vagabond ball-carrier for hire, logging cameo stints with the New Orleans Saints, Arizona Cardinals, then-Washington Redskins, Detroit Lions, Tennessee Titans and Seattle Seahawks. Playing in just four games in 2021 with the Titans and Seahawks, he rushed for a total of just 98 yards, seemingly finishing a career that should earn him first-ballot induction into the Pro Football Hall of Fame with 14,918 yards, fifth on the all-time list. Bell, 30, had a more abbreviated prime, mostly for the Pittsburgh Steelers with stopovers with the New York Jets, Kansas City Chiefs, Baltimore Ravens and Tampa Bay Buccaneers.  He was a capable receiver too,  apparently finishing his nine-year NFL career with 6,554 rushing yards and 3,289 more through the air.
Given their production while wearing helmets and shoulder pads, Peterson and Bell both express confidence that their transition will be successful, if not necessarily seamless.
"At the end of the day, I'm leaving with a `W,'" Peterson said when asked by an interviewer for his expected outcome.
Countered the slightly favored Bell, mostly based on his being seven years younger and presumably having less wear-and-tear on his body, "I think it's a great opportunity to showcase my skills and show what I'm working hard on," he said when asked the same question. "I'm obviously confident in myself." Another potential factor that might prove to Bell's advantage is the running style he exhibited to great effect with the Steelers, that being an ability to patiently wait for holes to open, then stomping on the accelerator and bursting through them.
"Picking and choosing your shots," Bell said of the one trait of his on the field he hopes translates well to the ring. "When to turn it up and when not to.  It's a little different in football. In football, you get a play, you run the play. In boxing there ain't no play. You get a read on the guy as you go."
The history of football players who daydream of becoming heavyweight champion of the world – or in whatever weight class they might find themselves – is spotty at best and depressing at worst. Maybe the best of the lot is former San Francisco 49ers and Oakland Raiders wide receiver Charlie Powell, who at one point in the late 1950s rose as high as a No. 2 ranking. At least Powell's resume, which saw him go 25-11-3 with 17 wins inside the distance and eight losses in similar fashion, was mostly compiled against legitimate competition. He was 5-8-1 in his final 14 appearances, the last of which was a third-round stoppage at the hands of Muhammad Ali, still known then as Cassius Clay, on Jan. 24, 1963.
Many of the football guys following Powell, some of whom were quite accomplished on the field, were able to milk their fame in that sport en route to building artificially inflated records that crumbled like sand castles once they stepped up in class. Cowboys defensive end Ed "Too Tall" Jones tried his hand at boxing for a year and all six of his bouts were nationally televised by CBS. He was 6-0 against a parade of pretenders especially picked for the likelihood they would fall down quickly if hit, but even though he had shown some ability fighting as a young kid, enough to convince one notable observer, Angelo Dundee, with whom Jones was not associated, that he might have had something going had he stuck with it, the fight game is not something you can walk away from for two decades and pick up just like that.
Jets defensive end Mark Gastineau, former NFL single-season record holder for sacks, went 15-2 with 15 KOs in his five years as a pro, but all his wins came against carefully selected designated victims. He retired after being stopped in two one-sided rounds by another former NFL star, running back Alonzo Highsmith, who was 27-1-2 with 23 KOs. Highsmith rightly took umbrage in being compared to the mostly inept Gastineau, but he never took the kind of step-up bouts that might have stamped him as something more viable than a curiosity item.
More recently, there was Golden Boy-backed former Michigan State linebacker Seth Mitchell, whom some saw as a superstar-in-the-making during a quick ascent into semi-prominence. But Mitchell (26-2-1, 19) lost two of his last three fights, both on stoppages, one against Johnathon Banks and a bit later against Chris Arreola, which convinced him that the best way to enjoy the rest of his life was to walk away and stay away from that squared circle.
Still, Peterson and Bell are clinging to the remote possibility that whatever best part of themselves they didn't leave between those chalked sidelines might be resurrected if they don't embarrass themselves Saturday night. And you can hardly blame either for daring to think that way. They were, after all, once great at their former jobs. Peterson remarked that he even kayoed an unidentified sparring partner in preparation for squaring off against Bell.
"It was in the last minute of the fifth round," he recalled. "He threw a good combination. I was able to block (most of the punches). Then I came back with a left and was able to swing through his guard with the right and it landed.
"It didn't really feel like I hit him with a lot of power, but I was talking to some of the fighters (in his Houston gym) and they said that's kind of how it goes."
Sometimes it does go like that for a fighter, even a football player on a busman's holiday. Then again, a lot of times it does not.
I'll be interested in reading about how this particular bout goes. And no, I won't be springing for the PPV.
To comment on this story in the Fight Forum CLICK HERE
Bernard Fernandez, named to the International Boxing Hall of Fame in the Observer category with the Class of 2020, was the recipient of numerous awards for writing excellence during his 28-year career as a sports writer for the Philadelphia Daily News. Fernandez's first book, "Championship Rounds," a compendium of previously published material, was released in May of last year. The sequel, "Championship Rounds, Round 2," with a foreword by Jim Lampley, is currently out. The anthology can be ordered through Amazon.com and other book-selling websites and outlets.
Mercito Gesta Victorious Over Jojo Diaz at the Long Beach Pyramid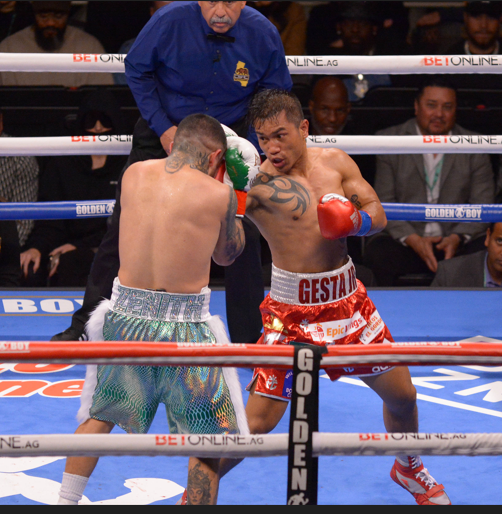 LONG BEACH, CA.-Those in the know knew Mercito Gesta and Jojo Diaz would be a fight to watch and they delivered.
Gesta emerged the winner in a super lightweight clash between southpaws that saw the judges favor his busier style over Diaz's body attack and bigger shots and win by split decision on Saturday.
Despite losing the main event because the star was overweight, Gesta (34-3-3, 17 KOs) used an outside method of tactic to edge past former world champion Diaz (32-4-1, 15 KOs) in front of more than 5,000 fans at the Pyramid.
The speedy Gesta opened up the fight with combination punching up and down against the peek-a-boo style of Diaz. For the first two rounds the San Diego fighter overwhelmed Diaz though none of the blows were impactful.
In the third round Diaz finally began unloading his own combinations and displaying the fast hands that helped him win world titles in two divisions. Gesta seemed stunned by the blows, but his chin held up. The counter right hook was Diaz's best weapon and snapped Gesta's head back several times.
Gesta regained control in the fifth round after absorbing big blows from Diaz. He seemed to get angry that he was hurt and opened up with even more blows to send Diaz backpedaling.
Diaz targeted his attack to Gesta's body and that seemed to slow down Gesta. But only for a round.
From the seventh until the 10th each fighter tried to impose their style with Gesta opening up with fast flurries and Diaz using right hooks to connect with solid shots. They continued their method of attack until the final bell. All that mattered was what the judges preferred.
After 10 rounds one judge saw Diaz the winner 97-93 but two others saw Gesta the winner 99-91, 98-92. It was a close and interesting fight.
"I was expecting nothing. I was the victor in this fight and we gave a good fight," said Gesta. "It's not an easy fight and Jojo gave his best."
Diaz was surprised by the outcome but accepted the verdict.
Everything was going good. I thought I was landing good body shots," said Diaz. "I was pretty comfortable."
Other Bouts
Mexico's Oscar Duarte (25-1-1, 20 KOs) knocked out Chicago's Alex Martin (18-5, 6 KOs) with a counter right hand after dropping him earlier in the fourth round. The super lightweight fight was stopped at 1:14 of the round.
A battle between undefeated super welterweights saw Florida's Eric Tudor (8-0, 6 KOs) emerge the winner by unanimous decision after eight rounds versus Oakland's Damoni Cato-Cain.
The taller Tudor showed polished skill and was not bothered by a large cut on his forehead caused by an accidental clash of heads. He used his jab and lead rights to defuse the attacks of the quick-fisted southpaw Cato-Cain. The judges scored the fight 80-72 and 78-74 twice for Tudor.
San Diego's Jorge Chavez (5-0, 4 KOs) needed less than one round to figure out Nicaragua's Bryan Perez (12-17-1, 11 KOs) and send him into dreamland with a three-punch combination. No need to count as referee Ray Corona waved the fight over. Perez shot a vicious right followed by another right and then a see-you-later left hook at 3.00 of the first round of the super featherweight match.
Photo credit: Al Applerose
Jojo Diaz's Slump Continues; Mercito Gesta Prevails on a Split Decision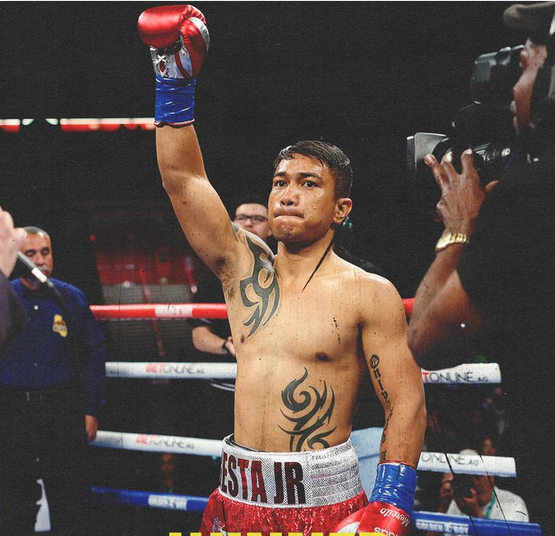 At age 30, Jojo Diaz's career is on the skids. The 2012 U.S. Olympian, a former world title holder at 126 and 130 pounds and an interim title holder at 135, Diaz suffered his third straight loss tonight, upset by Mercito Gesta who won a split decision at the Walter Pyramid in Long Beach, CA.. The scoring was strange with Gesta winning nine of the 10 rounds on one of the cards and only three rounds on another. The tie-breaker, as it were, was a 98-92 tally for Gesta and even that didn't capture the flavor of what was a closely-contested fight.
Originally listed as a 12-rounder, the match was reduced to 10 and that, it turned out, did Diaz no favors. However, it's hard to feel sorry for the former Olympian as he came in overweight once again, having lost his 130-pound title on the scales in February of 2021.
Diaz also has issues outside the ropes. Best elucidated by prominent boxing writer Jake Donovan, they include a cluster of legal problems stemming from an arrest for drunk driving on Feb. 27 in the LA suburb of Claremont.
With the defeat, Diaz's ledger declined to 32-4-1. His prior losses came at the hands of Gary Russell Jr, Devin Haney, and William Zepeda, boxers who are collectively 83-2. Mercito Gesta, a 35-year-old San Diego-based Filipino, improved to 34-3-3.
Co-Feature
Chihuahua, Mexico super lightweight Oscar Duarte has now won nine straight inside the distance after stopping 33-year-old Chicago southpaw Alex Martin in the eighth frame. Duarte, the busier fighter, had Martin on the deck twice in round eight before the fight was waived off.
Duarte improved to 25-1-1 (20). Martin, who reportedly won six national titles as an amateur and was once looked upon as a promising prospect, declined to 18-5.
Other Bouts of Note
New Golden Boy signee Eric Tudor, a 21-year-old super welterweight from Fort Lauderdale, overcame a bad laceration over his right eye, the result of an accidental clash of heads in round four, to stay unbeaten, advancing to 8-0 (6) with a hard-fought unanimous 8-round decision over Oakland's Damoni Cato-Cain. The judges had it 80-72 and 78-74 twice. It was the first pro loss for Cato-Cain (7-1-1) who had his first five fights in Tijuana.
In the DAZN opener, lanky Hawaian lightweight Dalis Kaleiopu went the distance for the first time in his young career, improving to 4-0 (3) with a unanimous decision over 36-year-old Colombian trial horse Jonathan Perez (40-35). The scores were 60-52 across the board. There were no knockdowns, but Perez, who gave up almost six inches in height, had a point deducted for a rabbit punch and another point for deducted for holding.
To comment on this story in the Fight Forum CLICK HERE
'Big Baby' Wins the Battle of Behemoths; TKOs 'Big Daddy' in 6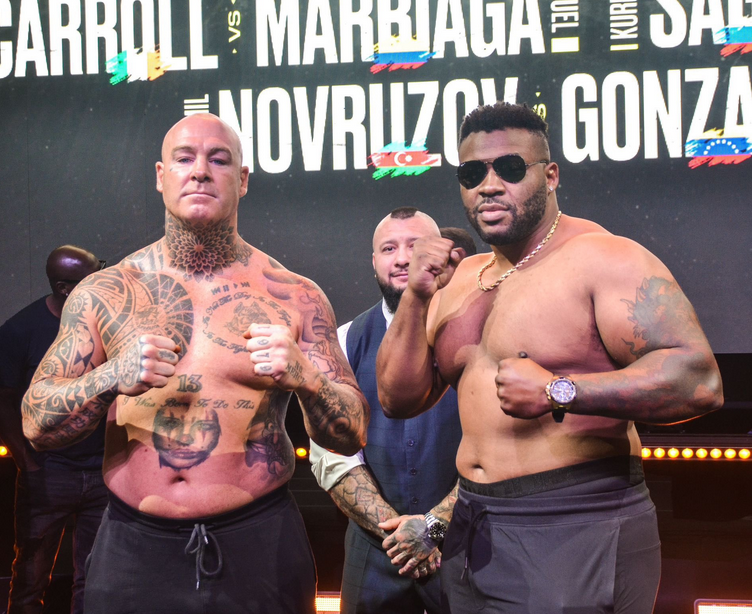 Lucas "Big Daddy" Browne weighed in at a career-high 277 pounds for today's battle in Dubai with Jarrell "Big Baby" Miller, but he was the lighter man by 56 pounds. It figured that one or both would gas out if the bout lasted more than a few stanzas.
It was a war of attrition with both men looking exhausted at times, and when the end came it was Miller, at age 34 the younger man by nine years, who had his hand raised.
Browne was the busier man, but Miller, whose physique invites comparison with a rhinoceros, hardly blinked as he was tattooed with an assortment of punches. He hurt 'Bid Daddy' in round four, but the Aussie held his own in the next frame, perhaps even forging ahead on the cards, but only postponing the inevitable.
In round six, a succession of right hands knocked Browne on the seat of his pants. He beat the count, but another barrage from Miller impelled the referee to intervene. The official time was 2:33. It was the 21st straight win for Miller (26-0-1, 22 KOs). Browne declined to 31-4 and, for his own sake, ought not fight again. All four of his losses have come inside the distance, some brutally.
The consensus of those that caught the livestream was that Floyd Mayweather Jr's commentary was an annoying distraction that marred what was otherwise an entertaining show.
As for what's next for "Big Baby" Miller, that's hard to decipher as he has burned his bridges with the sport's most powerful promoters. One possibility is Mahmoud Charr who, like Miller, has a big gap in his boxing timeline. Now 38 years old, Charr – who has a tenuous claim on a WBA world title (don't we all?) —  has reportedly taken up residence in Dubai.
Other Bouts of Note
In a 10-round cruiserweight affair, Suslan Asbarov, a 30-year-old Russian, advanced to 4-0 (1) with a hard-fought majority decision over Brandon Glanton. The judges had it 98-92, 97-93, and a more reasonable 95-95.
Asbarov was 12-9 in documented amateur fights and 1-0 in a sanctioned bare-knuckle fight, all in Moscow, entering this match. He bears watching, however, as Glanton (18-2) would be a tough out for almost anyone in his weight class. In his previous fight, at Plant City, Florida, Glanton lost a controversial decision to David Light, an undefeated Australian who challenges WBO world title-holder Lawrence Okolie at Manchester, England next week.
A 10-round super featherweight match between former world title challengers Jono Carroll and Miguel Marriaga preceded the semi-windup. Carroll, a 30-year-old Dublin southpaw, overcame a cut over his left eye suffered in the second round to win a wide unanimous decision in a fairly entertaining fight.
It was the sixth straight win for Carroll (24-2-1, 7 KOs) who elevated his game after serving as a sparring partner for Devin Haney. Marriaga, a 36-year-old Colombian, lost for the fourth time in his last five outings, declining to 30-7.
To comment on this story in the Fight Forum CLICK HERE