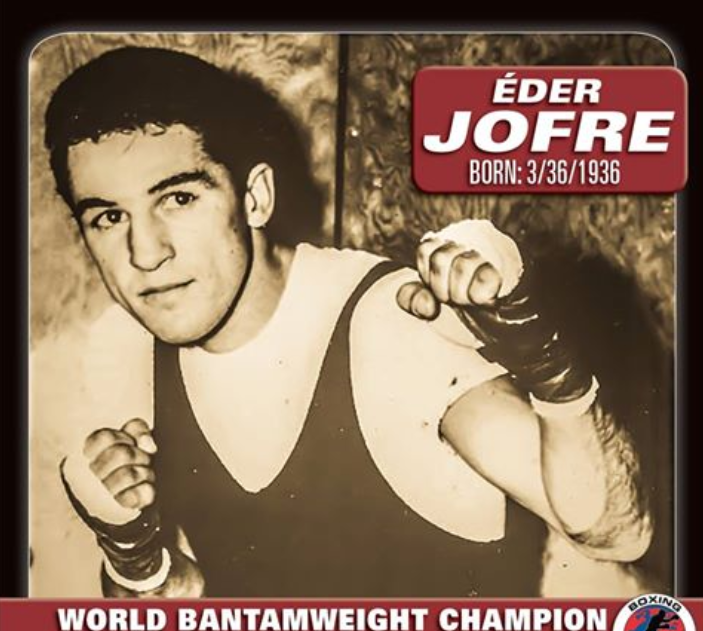 "I just thrill at that boy's performance. He is a marvel of boxing perfection. There is nothing he cannot do." – Barney Ross.
Between 1957 when he turned professional and 1965 when Fighting Harada caught up with him, Eder Jofre was 46-0-3. He reached heights that so few fighters have reached that you could probably name them without straining. He passed away this morning in Sau Paulo, Brazil, from pneumonia aged eighty-six. He had been hospitalised since March.
To say that his was a life well lived is an understatement.
Jofre was born in Sau Paulo in 1936, a decade that reflected this one in that it was a time of great political upheaval in his beloved Brazil, the thirties seeing the end of the Brazilian Republic, a communist uprising, a fascist uprising, and iterations of new constitutions peeled off like playing cards. It seemed to be sport, not politics that drove Jofre's people though and his father had tried a fair hand at amateur boxing, later joining his brother to become a coach. The stars aligned and a fistic immortal rose from Brazil's political ruins.
"At a young age," wrote Chris Smith, author of the definitive Jofre biography Brazil's First Boxing Champion, "[his father] put the gloves on Eder and started teaching him techniques and punching patterns…it wasn't long before little Eder was jumping rope with the professionals."
By the time he was seven years old, he was training like an amateur boxer and soberly asking his father's permission to thrash school bullies. By the age of sixteen he was fighting as an amateur and in 1956 he was a part of the Brazilian Olympic team that travelled to Melbourne, Australia where he was eliminated before the medals by Chilean Claudio Barrientos – who would be stopped in eight rounds by Jofre when they met up again in the professional ranks.
Those professional ranks beckoned him a few months after his Olympic failure, the same time at which he decided to become a vegetarian, something he remained committed to until his death.  Early results were good. While Jofre was troubled by a tiny handful of South American draws, a local phenomenon that called for a wider separation of the fighters that was generally called for in the rest of the world, "O Galo De Ouro" as he would soon come to be known had set upon the road that would culminate in one of the finest runs in bantamweight and boxing history.
Another foible of the South American boxing landscape of the 1950s and 1960s was that in the unlikely event that you were able to free yourself from the massed banditry of the local toughs, you would often have to meet with ranked opposition before you were even allowed to contest for regional titles. Imagine the horror this notion would inflict upon the rather spoiled fighters of today, fighters who often achieve world championships without having to meet with the best.
For his part, Jofre ran up against the Filipino Leo Espinosa in June of 1959. Espinosa, a former flyweight, had extended the immortal Pascual Perez the full fifteen in 1956, even picking up a few rounds, before conquering a man who would soon be a fine champion in his own right, Pone Kingpetch, in 1957. He had a pedigree in excess of Jofre who had boxed just twenty-five contests.  Jofre admitted to his father before this fight that he was afraid, and his father suggested they cancel.
"No.  That's the way it is.  Afraid or not, I am fighting."
Such was his life.
It was not just Jofre's career which was in its infancy but also the boxing in Brazil – Espinosa seems to have been only the second world-class fighter to visit the country and so as Eder went, so did boxing in Brazil. Jofre did not let his countrymen down. In the fifth he dropped the visiting Filipino with a gorgeous left hook – there is a famous photograph of Jofre bouncing, looking away from his fallen foe, his feet not touching the ground, frozen with both feet an inch above the canvas, floating. Espinosa got his disorganised legs under him and although he remained cool as Jofre's battle-fever and inexperience showed, there was little likelihood of his winning after suffering such a blow. Jofre had graduated in a ten-round decision.
This set him loose on the trail of the South American Bantamweight title, a far more worthy, storied championship than it is today and held by the world-ranked Argentine Ernesto Miranda. For those who are not aware, Argentina-Brazil is as great a sporting rivalry as exists and his series with Miranda was the key rivalry of the first half of Jofre's career. The two had met twice in 1957, registering a pair of draws before their respective careers diverged, and now they were to settle matters for the title. Their third fight, in February of 1960, was a strange affair in which Eder fought aggressively but was made to miss by Miranda, who never looked like winning but who boxed carefully enough to undermine Jofre's offence.
This lack of aggression makes Miranda's behaviour prior to their fourth encounter a few months later even stranger. Miranda behaved like a man fueled by hate, even stooping so low as to send insulting letters to Jofre's wife and family. One must be wary of projecting on to great historical figures in unpicking their motives but here it seems to me is a key moment for Jofre. His bad intentions seem to me to have been unlocked by Miranda, not just in the fourth and final fight of their rivalry but for all time. Not even world-class opposition would be safe after this night.
It was not that Jofre was more aggressive than in their third fight, but rather he seems to have been more controlled. He missed less, countered more and made a backfoot fight impossible for Miranda.  They waged war with not a moment's doubt as to the outcome. It was Jofre in three. After destroying his rival in the ring, Jofre the man found it within himself to forgive Miranda for some obscene pre-fight behaviour and even take him into his confidences.
It was inevitable now that Jofre would receive a shot at the title although for the privilege, Jofre had to travel to Los Angeles where he dominated and stopped the overmatched Eloy Sanchez in November of 1960. A brief and disturbing brush with the Italian Mafia aside, the championship fight went off without a hitch. Jofre cheerly named the bantamweight title a wedding gift for his wife-to-be.
In 1961 Jofre was matched with the world-class Italian Piero Rollo. Rollo had been beaten before, but never stopped by punches – so brutally did Jofre handle him that he was unable to answer the bell for the tenth. It was a sensational display of total dominance.
"I am never in a hurry," Jofre explained, that control again.
"He is the best bantam in the world," offered a barely recognisable Rollo.
I submit that Jofre was by this point already technically complete. When he met Johnny Caldwell the following year – Caldwell, too, made the awful mistake of making his contest with Jofre personal – he was as beautifully balanced as it is possible for a fighter to be, almost never out of punching position, delivering on boxing's manual on shot after shot while also riffing on the classics. His uppercut, especially, was a thing of genuine beauty; Jofre could make space for that punch almost anywhere and throw it from unusual ranges and angles, making of it then a feint that certainly tied Caldwell in knots. An unbeaten Northern Irishman, it is hard to exaggerate just how tough this man was, but Jofre beat him so badly as to see him rescued by his distressed manager in the tenth.
The title picture, which had become confused by the retirement of Jose Becerra, was now clear – it was Jofre. Indisputably the world's number one bantamweight, he would remain so for the first half of the 1960s, dismissing Herman Marquez, Kat Aoki, and, against the man most likely to rule if Jofre had never been born, he repeated his 1960 knockout of Jose Medel, this time in just six rounds. In 1964 he turned in his last great winning performance against Bernardo Caraballo, one of the most underrated bantamweights of all and the most underrated bantamweight of the era. Caraballo, out of Colombia, passed away himself earlier this year, and just as Jofre led the charge for boxing in Brazil, so did Caraballo in his country.
In the 1960s, in their primes, they duke it out ring-centre for control, both stylists, both big for the weight, both hungry for personal and national glory. This, I suspect, is not a fight any 118lb man could win against Jofre and soon enough Caraballo is moving away square, disorganised, harassed.  He succumbed in seven.
Jofre spans the eras. When he won his titles he was boxing for the old incarnations, the NYSAC, the NBA, by the time he lost them, he was defending the WBC and WBA championships, certainty ebbed even as his greatness flowed. The wonderful Fighting Harada was the man who came for him, by then tight at the weight and giving up a clear style advantage to his Japanese foe, Jofre was still able to make the rematch razor-thin after dropping a clear decision in the first fight. More glory awaited at featherweight in something of a second career, but Jofre's best was behind him. He finally hung them up in 1976 during Muhammad Ali's second reign; when he turned professional, Rocky Marciano had just retired.
This is a very short version of a very great ring-career. What is not posited here is his personal life. Eder's was rich. He was happily married to Cidinha for more than fifty years; he had a close relationship with his children, who travelled with him, not least in his twilight years when Jofre revisited the site of his title-winning fight with Eloy Sanchez. He lived a life any one of us could be proud of after boxing, working in politics and Brazilian civil service, continuing to make friends right up until the very end.
I spoke to author Chris Smith about his enduring memory of Jofre, with whom he worked closely on their recently published book.
"A year ago, I had the pleasure of hosting him and his two kids and I asked him a few times "how are you feeling champ?" And he'd always respond "very, very happy."  He told me he was the happiest person in the world."
Beat that.
To comment on this story in the Fight Forum CLICK HERE
Tyson Fury Returns on Saturday with a Familiar Foe in the Opposite Corner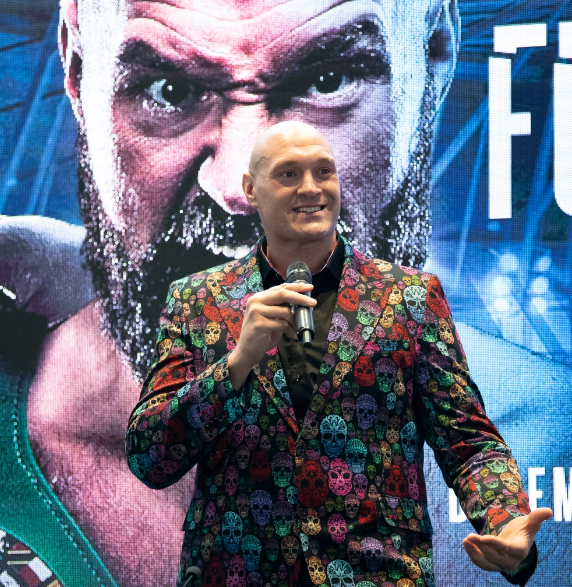 "Tyson Fury made a name for himself last night, one that already has a ready-made ring about it and will be destined to become familiar in boxing." Alan Hubbard, a ringside correspondent for The (London) Examiner wrote those words after Fury wrested the British and Commonwealth heavyweight titles from Derek Chisora with a comprehensive 12-round decision on July 23, 2011.
Those words were prescient. Tyson Fury did go on to become a familiar name in the sport. Indeed, one could argue that at this moment in history no active boxer is more famous.
More than 11 full years have elapsed since Fury toppled Chisora. In the ensuing years, the Gypsy King outpointed Wladimir Klitschko in Germany to win the world heavyweight title, battled personal demons that sidelined him for two-and-half years, returned to the ring with a flourish, ultimately regaining the world heavyweight title, or at least a version of it, in the second chapter of his memorable trilogy with Deontay Wilder, and rising so high in the opinion of boxing enthusiasts that he would be favored over any other boxer on the planet.
Oh, and lest we forget, since defeating Chisora in 2011, Fury whipped Chisora again, stopping him after 10 one-sided frames in 2014. Fury's eight-inch height advantage enabled him to control the distance vs. "Dell Boy" who was never knocked down but who absorbed a great deal of punishment before his chief second said, "no mas."
A third meeting between Fury (32-0-1, 23 KOs) and the soon-to-be-39-year-old Chisora (33-12) would seem to be superfluous. Del Boy, coming off a narrow win over Kubrat Pulev, has lost three of his last four. But on Saturday, Dec. 3, they will go at it again. The venue is London's Tottenham Hotspur Stadium, capacity 62,850, and by all indications, despite a chill in the air (the temperature is expected to hover around 40 degrees), there won't be too many empty seats.
For promoter Frank Warren, Fury vs Chisora is Plan B – he was hoping to match Fury against Anthony Joshua – but he believes that Fury has become so popular that he can make a tidy profit no matter who is in the opposite corner. The Gypsy King, once referenced as the enfant terrible of British boxing, has toned down his rhetoric (one might say that he proactively distanced himself from Kanye West) and become almost cuddly, a source of inspiration for many Brits, the first member of the black sheep Traveler community about whom this could ever be said.
Fury, needless to say, is a heavy favorite. The odds are in the 25/1 range. The co-feature is likewise looked upon as a mismatch. Daniel Dubois, who shares the diluted WBA heavyweight title with Oleksandr Usyk, is a consensus 16/1 favorite over Kevin Lerena (28-1, 19 KOs) who rides in on a 17-fight winning streak. The six-foot-one Lerena carried a career-high 234 pounds for his last assignment against ancient Mariusz Wach, but the South African southpaw has fought most of his career as a cruiserweight.
The undercard includes featherweight Isaac Lowe, Tyson Fury's bosom buddy, and Hosea Burton, Fury's cousin, both of whom appear to be matched soft in scheduled six-rounders, plus 18-year-old phenom Royston Barney Smith in a 4-rounder against a transplanted Nicaraguan.
This is a pay-per-view event in the UK, but U.S. fight fans who subscribe to ESPN+ can see it for free. The ring walks for the main event are expected to go about 4 pm ET.
To comment on this story in the Fight Forum CLICK HERE
What Path will Yokasta Valle Choose Next?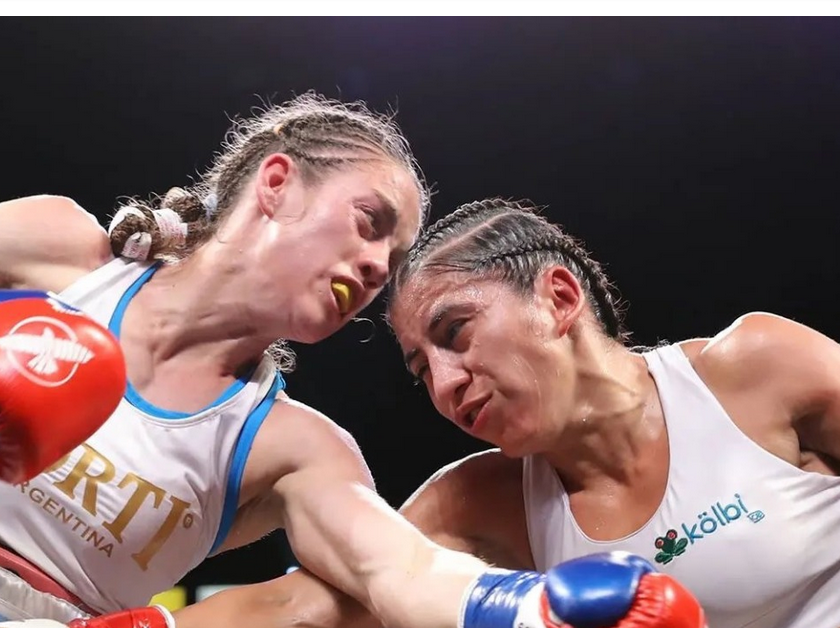 After the recent controversial ruling that made her a world champion in three different divisions, the fans of the Costa Rican Yokasta Valle are wondering: What path will the successful boxer choose next?
On Saturday, November 26th, in a fight of continuous exchanges with the then undefeated Argentine Evelyn Bermúdez (17-1-1, 6 KOs), "Yoka" Valle (27-2, 9 KOs) came out with her arm raised at the Dignity Health Sports Park in Carson, California, where she won the IBF and WBO belts, which Bermúdez was defending for the seventh and second time, respectively.
Although the Costa Rican fighter (pictured on the right) went on the attack for practically the entire 10 rounds, the exchanges were even, give and take, with good moments for both fighters, which made it difficult to evaluate each round. Hence the discomfort of many fans, especially in the Bermúdez camp, with the card of judge Adalaide Byrd (99-91), which apparently had Bermúdez prevailing in only one round. Neither did Judge Daniel Sandoval's card (97-93) represent what transpired in the ring, while Zachary Young's score of 95-95 was more accurate, distributing five rounds for each combatant.
In the case of Byrd, she also received innumerable criticism in the first fight between Saúl "Canelo" Álvarez and Gennady "GGG" Golovkin, which was held in September 2017 at the T-Mobile Arena in Las Vegas and which ended with a favorable scorecard for each boxer and another of 114-114.
At that time, Byrd had judged more than 400 fights over a 20-year span, and her discordant scorecard of 118-110 reflected Canelo winning 10 rounds and GGG only two (the fourth and the seventh). Dave Moretti leaned towards Golovkin (115-113), while Don Trella (114-114) saw it even.
CHAMPION IN THREE CATEGORIES
Born in Matagalpa, Nicaragua on August 28, 1992 and living in Costa Rica since her childhood, Valle made her boxing debut at the age of 22 in the light flyweight category. In that first experience at the pro level, she defeated Mexican María Guadalupe Gómez by unanimous decision in four rounds, on July 26, 2014, in Alajuela, Costa Rica.
Two years later, in her twelfth fight, she conquered the IBF title at 102 pounds by split decision against Ana Victoria Polo in San José, Costa Rica. In December 2017, Valle suffered her first professional failure against the local Naoko Fujioka, who won by unanimous decision at Korakuén Hall in Tokyo where they fought for the vacant WBO light flyweight belt.
Six months later, on June 16, 2018, Valle lost again by unanimous decision against German Christina Rupprecht (11-0-1, 3 KOs) in Munich, a duel that was for the WBO strawweight interim belt. Rupprecht maintains that belt and is again in Valle's sights.
Following those two setbacks, "Yoka" Valle compiled 14 victories, including the one she obtained in Marbella against Spaniard Joana Pastrana in August 2019, which she won by split decision securing the IBF 105-pound belt.
More recently, on September 8th in Costa Rica, Valle became a two-division champion at 105 pounds, by unanimously prevailing (the three judges scored the fight 100-90) over Vietnamese Thi Thu Nhi Nguyen, who ceded the WBO title. And then with her success against Bermúdez last weekend, Valle made history in Costa Rican boxing by adding her third crown in three different divisions (102, 105 and 108 pounds).
WHERE WILL YOKASTA VALLE GO NEXT?
Valle, who now owns two light flyweight titles (IBF and WBO) could next go in search of unification with Mexican Jéssica Nery (WBA super champion) or with Canadian Kim Clavel, who holds the WBC title. (Clavel and Nery collide on Thursday in Laval, Quebec.)
However, a more viable option would be to return to 105 pounds and seek a fight with American Seniesa Estrada (23-0, 9 KOs), who maintains the WBA belt, or with Rupprecht, who remains unbeaten. That seemed to be Valle's immediate objective, as she affirmed it in the ring after defeating Nguyen. In an indirect reference to Seniesa Estrada and Tina Rupprecht, Valle said "I want the belts. I've been saying it from the beginning, I want the WBC and WBA next, whoever has 'em."
At Friday's weigh-in for her fight with Bermúdez, Valle stated "I want to fight the best. I want to be undisputed. When Tina (Rupprecht) and Seniesa (Estrada) were not available, my team and I made the decision to move up in weight and challenge Evelyn for her world title belts. I have to fight. [MarvNation CEO] Marvin Rodriguez presented this fight to me. This is the type of fight I want. It is champion versus champion. I want to give the fans these types of fights."
EDITOR'S NOTE: Kim Clavel caught the flu and pulled out on Wednesday just prior to the weigh-in. Her match with Jessica Nery was rescheduled for Jan. 13.
Photo credit: Tom Hogan / Hogan Photos
Article submitted by Jorge Juan Alvarez in Spanish
Please note any adjustments made for clarification purposes and any errors in translation were unintentional.
To comment on this story in the Fight Forum CLICK HERE
Regis Prograis Knocks Out José Zepeda and Clears the Way for José Ramírez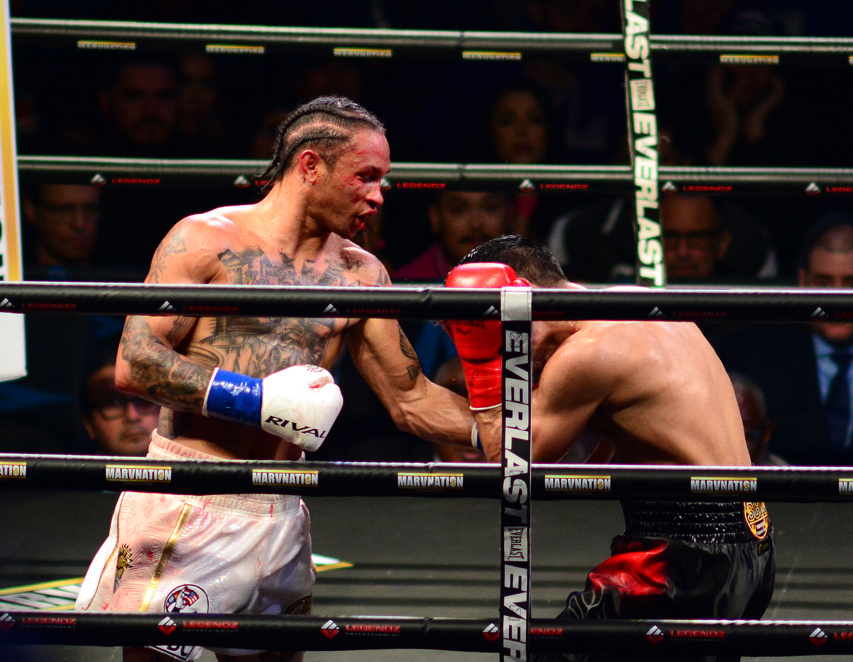 American Regis Prograis had to wait three years and a month for the opportunity to hold a world crown once again. On Saturday, November 26, at the Dignity Health Sports Park, in Carson, California, Prograis faced José Zepeda for the vacant WBC junior welterweight belt. Prograis was victorious by applying chloroform to Zepeda in the eleventh round.
Previously, on October 26, 2019, Prograis (28-1, 24 KOs) had lost the WBA junior welterweight belt by majority decision to Scotsman Josh Taylor at the 02 Arena in England.
Since then, the thirty-three-year-old Prograis who is based in Houston, Texas has obtained four wins (including vs Zepeda), all before the limit, as proof of the devilish power of his powerful fists, especially the left one.
Prior to the duel with Zepeda (35-2, 27 KOs), most experts favored Prograis, who after winning the intense battle, recognized that it was the most demanding fight of his career. "That dude is tough, tough, tough. He came to fight, he probably gave me one of my hardest fights, I'm not even gonna lie," said Prograis. "This dude is tough, bro. I've got so much respect for you. You prepared me to get this belt and hold this belt. I congratulate you. All the best to you, bro. Don't stop, I feel like you can still be a world champion."
Almost from the very beginning of the fight, Prograis showed greater speed with his hands and legs, and a general sense of technical superiority over Zepeda, who in the second round opened up a wound above his left eye with a legal blow.
From then on, Prograis's strong impacts gradually undermined Zepeda's resistance. Zepeda arrived totally exhausted in the eleventh round, where he received a straight left to the face, putting him in poor condition. A run with both fists from Prograis knocked him down and referee Ray Corona called the match with 59 seconds remaining in the round. This is the first setback that Zepeda has suffered by knockout in professional boxing.
On several occasions, Prograis has stated that he wants revenge against the undefeated Taylor (19-0, 13 KOs), but now, by order of the WBC, he must face American José Carlos Ramírez (27-1, 17 KOs).
Ramírez, 30 years old, is currently ranked second by the WBC. In February of 2019, in his second defense of his 140-pound belt, he defeated Zepeda by majority decision.
Twenty-five months later, Ramírez succumbed by unanimous decision to Taylor at the Virgin Hotels in Las Vegas, enabling the Scotsman to become the undisputed king of the category by winning the four most prestigious belts (WBA, WBC, WBO, IBF).
Recently, Ramírez expressed an interest in dueling with the main 140-pound contenders, including a second fight with Zepeda; although he did not rule out clashing with Prograis or Taylor. "Every fighter has the same amount of risk," said Ramirez. "We're a little under-promoted compared to other weight classes but I think that the best fights are at 140. You see guys fighting twice or three times, doing a trilogy. Honestly, I would love to face Regis, because I've never faced him. I would love to make the rematch with Zepeda, because he's such a good fighter. Obviously I want Josh Taylor, man. I want Josh Taylor bad."
Photo credit: Al Applerose
Article submitted by Jorge Juan Alvarez in Spanish.
Please note any adjustments made were for clarification purposes and any errors in translation were unintentional.
To comment on this story in the Fight Forum CLICK HERE