A Long Time Coming, Nigel Collins' Second Anthology Was Worth the Wait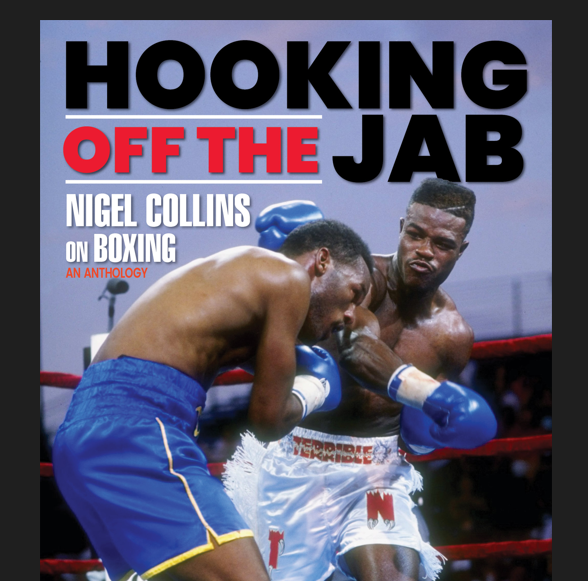 It is human nature, one supposes, to categorize people as members of easily identifiable groups. As far as pet preferences go, there are dog people and there are cat people. It's usually a bit more complicated than that, but for purposes of my review of Nigel Collins' too-long-delayed and highly readable second boxing anthology, Hooking Off the Jab, my preferred frame of reference is the difference between mathematicians and, oh, boxing writers.
In mathematics, there is always one correct answer to any equation and math geeks like it when they can say with absolute certainty they're right and everyone else is wrong. But if you're a boxing writer at a major world championship bout, there could be hundreds of credentialed media members who see the same things, but produce reports that are slightly to vastly different, sometimes as individually distinguishable as fingerprints. All print or online journalists compete, in their own way, as fiercely as do gloved fighters, and all want their copy to stand out above that of their colleagues on press row. That, too, is human nature.
Nigel Collins and I have co-existed, at least in a manner of speaking, in the same geographical and professional spheres for 35-plus years, and it is our shared good fortune that we arrived in the great fight city of Philadelphia from different points of origin – he from England, I from New Orleans via several other stops along the way – to cover a sport which has become such an integral part of our lives. But while we are on reasonably friendly terms, we do not interact socially and sometimes we have been made aware of the fact that we don't necessarily see eye-to-eye on every issue of the day.  And that's OK, because it does not and could never detract from the fact that I am a huge proponent of his depth of knowledge about boxing, and his undeniable gift for expressing his passion for it through the power and majesty of the written word.
Nigel has authored stories about boxing for many media outlets, including two stints as editor of The Ring during which he assigned me a number of stories for the magazine. I, along with many other fans of his work, have waited 32 years for a follow-up to his first anthology of the sweet science, Boxing Babylon, which was published in 1990. With Hooking Off the Jab, a 322-page collection of his most personal remembrances of fights and fighters, he demonstrates that, in the parlance of baseball, he has not lost any hop off his literary fastball.
All of which raises a question, one that I think I can answer from my own experience. Once upon a time, at a newspaper for which I toiled before arriving at the Philadelphia Daily News in the spring of 1984, I was offered the opportunity to be promoted to sports editor, at a higher salary. To do so I would have to make story assignments and vacation schedules, attend daily editorial board conferences, all the while somehow ensuring that the reporters answering to me were kept as content as possible in a business where someone's perception of his or her place in the pecking order is always open to personal perspective and attitude adjustment. A lot of potential problems, sure, but the real downside was that being the departmental boss would severely cut down on my available time to write, which was a tradeoff I could never accept. Regardless of occupation, each one of us has to recognize our strengths and cater to them for our own peace of mind and probable career advancement. Nigel took on those administrative duties and their attendant headaches a couple of times, but my suspicion is that, in retrospect, he might have preferred to write more and edit at least a bit less.
Readers of mystery/crime novels all have their favorite authors, but mine has always been James Lee Burke, and not just because he is a native Louisianian. On nearly every page of Burke's many books, there is a turn of phrase that is stunning, a flash of brilliance that paints a word picture that elevates the genre in which he labors to high art instead of simple narrative.  In reading Hooking Off the Jab, several of Nigel's descriptions rise to that level, and, no, not all of his entries are celebratory paeans to the sweet science. He sees the warts and blemishes, too, and has no qualms in pointing them out. Loving boxing does not mean one is forever obligated to like every facet of it. In detailing the factors that possibly contributed to the post-fight riot in Madison Square Garden after Riddick Bowe's disqualification victory over low-blow artist Andrew Golota in the first of their two foulfests, Nigel puts it this way:
"There's the contagion theory," said Jason Lanter, a psychology professor at Kutztown University. "We know people do things in crowds they would not do alone. They think they're anonymous. People make poor decisions in crowds. Another factor is tribalism, a strong loyalty to one's own tribe, party or group, which was essential to the early survival of the human species.
Disqualifications are a comparatively small percentage of overall results. Usually, it's the audience that goes bonkers. Despite all efforts to suppress those darker parts of our nature, boxing fans are still boxing fans, a cult that worships at the altar of violence."
A similar repudiation of the mob mentality that can affect a boxing arena, soccer pitch or anywhere else where tensions can run high is expressed in Nigel's recollections of the ugly scene that occurred in London's Wembley Arena on Sept. 27, 1980, when many fans of dethroned middleweight champion Alan Minter, more than a few of whom were inebriated, reacted to the third-round TKO victory by American challenger Marvin Hagler by hurling objects at Hagler and his cornermen. It is a benchmark of Hagler's greatness, he continues, that he took all that negative energy, stored it internally, and used it as motivational fuel for the rest of his legendary career.
Bitterness and anger can eat you alive, but it can also be the generator that drives your ambition. The differences between the two is discipline and balls enough to go for what you want, and Hagler had plenty of both. He brandished the chip on his shoulder like a cudgel, bashing down his opponents and the doors of the boxing establishment.
There are, of course, references to the late, great Muhammad Ali, whose metamorphosis from divisive firebrand during a contentious period of American history to beloved and sympathetic figure later in life is examined by Nigel, who attended Ali's funeral procession in Louisville, Ky.
How strange that a boxer, a man who rose to fame by hurting other men, has been transformed into a symbol of peace. Had he been a preacher, his silver tongue and pretty face may have made him rich, but a boxer is something different … A boxer is the other side of the coin, the darkness without which there would be no light. Somehow, Ali managed to become both.
It comes as absolutely no surprise to me that Nigel, as is the case with all boxing aficionados, includes an entry on a fighter particularly near and dear to his heart, former middleweight contender Bennie Briscoe, who in the 1970s was as much of a Philly sports icon as Mike Schmidt, Bobby Clarke and Ron Jaworski. Dig just below the skin of every boxing writer, even those who most closely adhere to the doctrine of professional impartiality, and a vein of hero admiration can be found. That was mined in Nigel's description of the first fight he covered for The Ring, the Oct. 11, 1972, pairing of Briscoe and Luis Vinales at the Arena, which ended with Bad Bennie winning by seventh-round stoppage.
I can still see him in my mind's eye, his trademark shaven skull shining in the lights as he jogged down the aisle to the ring, the crowd cheering every step. The anticipation was palatable. You knew that if Bennie Briscoe was on the card, you were going to see a real fight. Somebody was going to be hurt … Bennie was my favorite fighter. Not the best I've seen, but my favorite, nonetheless. For me, he was the strongest symbol of the wonderful decade of the 1970s when Philadelphia boxing was basking in the rays of its last golden era.
It should also come as no surprise to those who appreciate artistic accomplishment in all its varied forms that Nigel, before turning his full attention to the sweet science, was temporarily a student at the Pennsylvania Academy of Fine Arts, in part because of a submission for enrollment that was a relatively crude reproduction of a Boxing Illustrated cover of a fight between Gene Fullmer and Dick Tiger. To the eternal betterment of boxing, the would-be artist proved far more adept with a note-taking pen in his grasp than a paint brush.
Artists living eccentric and often selfish lives are pretty much the norm. The truth is that in the long run, it's the art that really matters, not the person who created it. Like boxers, artists sacrifice body and soul in pursuit of their aspirations. They couldn't stop if they wanted to.
And this, Nigel's very cultured impression of the three-act passion play that was the Arturo Gatti-Micky Ward archrivalry: Taken as a whole, the melodrama that was the Gatti-Ward trilogy could very well provide fodder for Euripides, Sophocles and their brethren, the guys who left the toga parties long enough to write Greek tragedies. Surely Shakespeare could do it justice.
For what it is worth, my third boxing anthology, Championship Rounds, Round 3, will be coming out very soon. Some of the stories contained therein are my versions of ones that appear in Hooking Off the Jab. But Nigel and I are not mathematicians, and I suspect he welcomes, as do I, the chance to emerge victorious in any war of the words. But I have read what he wrote in beating me to the book-release punch, and I'm thinking I could live with a draw.
Bernard Fernandez, named to the International Boxing Hall of Fame in the Observer category with the Class of 2020, was the recipient of numerous awards for writing excellence during his 28-year career as a sports writer for the Philadelphia Daily News. Fernandez's first book, "Championship Rounds," a compendium of previously published material, was released in May of last year. The sequel, "Championship Rounds, Round 2," with a foreword by Jim Lampley, is currently out. The anthology can be ordered through Amazon.com and other book-selling websites and outlets.
To comment on this story in the Fight Forum CLICK HERE
Alexis Rocha KOs Brave but Overmatched George Ashie on DAZN.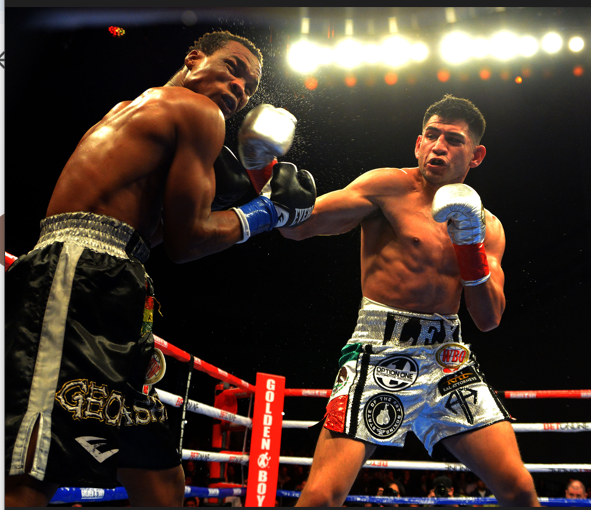 Golden Boy Promotions' potted their first offering of 2023 at the recently opened YouTube Theater, a 6,000-seat venue situated inside the stadium built to house LA's two NFL franchises. The main event was a scheduled 12-round welterweight match between Alexis Rocha, a southpaw from nearby Santa Ana and George Ashie, a 38-year-old Ghanaian making his U.S. debut. Ashie was a late substitute for Anthony Young who reportedly suffered a nose injury in training. The match and supporting bouts were live-streamed on DAZN.
Ashie, who was fighting above his normal weight class and carried a career-high 146 pounds, was brave but out-gunned. Rocha knocked him down in the third frame with a right hook and hurt him several more times as the fight progressed although Ashie never stopped trying. In round six, an accidental clash of heads left Rocha with a nasty cut on his left eyebrow. He fought with more urgency after this incident and knocked Ashie out cold in the next round. The official time was 2:08 of round seven.
It was the fifth straight win for Rocha who improved his ledger to 22-1 (14 KOs). After the bout, he expressed an interest in fighting Terence Crawford. Ashie fell to 33-6-1 (25).
Other Bouts of Note
Floyd "Austin Kid" Schofield, a precocious 20-year-old lightweight, had Albert Mercado on the canvas in the second round but was unable to put him away despite hurting him multiple times and went 10 rounds for the first time in his young career.
Schofield, the 2022 TSS Prospect of the Year, improved to 13-0 (11), winning 100-89 on all three cards. Mercado, a 35-year-old Connecticut-born Puerto Rican, declined to 17-5-1 but retained his distinction of having never stopped.
Super middleweight Bektemir Melikuziev, a 2016 Olympic silver medalist for Uzbekistan who lives and trains in Indio, California, overpowered San Diego's Ulises Sierra who was on the deck twice from body punches before the fight was waived off at the 2:59 mark of round three. It was the fourth straight victory for Melikuziev (11-1, 9 KOs) after suffering a stunning one-punch knockout at the hands of seemingly shopworn Gabriel Rosado with whom he is pursuing a rematch. Sierra was 17-2-2 heading in with eight of his wins coming in Mexico.
In a match framed as a WBO minimumweight title eliminator, Oscar Collazo (6-0, 4 KOs) scored an impressive fifth-round stoppage of Yudel Reyes. Collazo knocked Reyes down twice in the fifth round, the second with a vicious right hand that put Reyes down so hard that the referee didn't bother to count. The official time was 2:59 of round five.
In theory, Collazo's next fight will come against the Filipino Melvin Jerusalem who won the title earlier this month with a second-round stoppage of Masataka Taniguchi in Osaka. Reyes, a 26-year-old Mexican making his U.S. debut, declined to 15-2.
Photo credit: Al Applerose
Artur Beterbiev TKOs Anthony Yarde in a London Firefight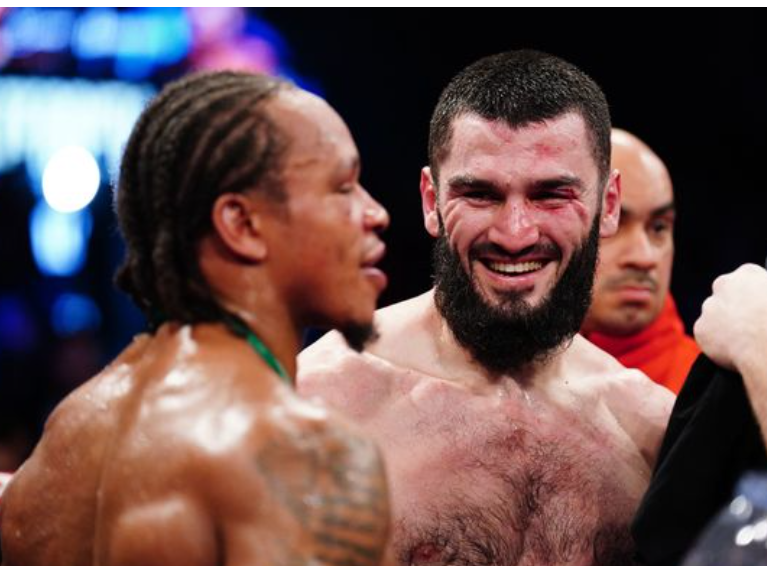 The presumption, echoed by ESPN boxing commentator Bernardo Osuna, was that tonight's bout at Wembley Arena in London between Artur Beterbiev and Anthony Yarde would be explosive and entertaining for as long as it lasted. That proved to be true and when the smoke cleared, Beterbiev, the rugged Montreal-based Russian had retained his three light heavyweight title belts and had added another knockout to his ledger, his nineteenth as a pro in as many opportunities.
Both men landed hard shots during the fight and both were marked up at the finish. Yarde had a cut under his right eye and Beterbiev had a cut on his left eyelid.
A chopping right hand from Beterbiev late in the first minute of the eighth round marked the beginning of the end for Yarde, the muscular 31-year-old Londoner who entered the contest sporting a record of 23-2 with 22 knockouts. The punch sent him reeling backward toward his corner where he landed on his knees. He beat the count, but turned toward his corner rather than referee Steve Gray.
Gray let the bout continue, but Beterbiev pressed his advantage and after a few more unanswered punches Yarde's trainer Tunde Ajayi stepped up on the ring apron and summoned Gray to stop it. The official time was 2:01 of round eight.
Beterbiev hasn't lost since losing a decision to amateur nemesis Oleksandr Usyk in the quarter finals of the 2012 London Olympics. At age 38, he shows no signs of slowing down.
In his post-fight interview, the self-effacing Russian said, "I hope some day I will be a good boxer," and acknowledged that he would welcome a unification fight with fellow Russian Dmitry Bivol, the WBA title-holder.
WBA Title Fight
In a bout that was in theory the co-feature but went off during the earlier portion of the ESPN+ livestream, Artem Dalakian (21-0, 15 KOs) retained his WBA world flyweight title with a unanimous and somewhat controversial 12-round unanimous decision over Costa Rica's David Jimenez (12-1). The judges had it 116-112 and 115-113 twice.
An Azerbaijan-born Ukrainian, Dalakian was making the sixth defense of the title he won in 2018 with a 12-round decision over Brian Viloria in Los Angeles in his lone previous appearance at a venue in the English-speaking world. His five title defenses were in Kiev. Jimenez was coming off a 12-round majority decision over Ricardo Sandoval in what ranked as one of the bigger upsets of 2021.
A Split for the Itauma Brothers
Promoter Frank Warren's newest signee, 18-year-old heavyweight Moses Itauma, made a big splash in his pro debut, blasting out Czechoslovakia's Marcel Bode (2-2) in 23 seconds. Moses and his older brother Karol Itauma are sons of a British citizen of Nigerian ancestry and a Slovakian mother.
In a shocking upset, Ezequiel Osvaldo Maderna, a 36-year-old Argentine who had lost six of his previous eight fights, forged a fifth-round stoppage of well-touted Karol Itauma who was 9-0 (7 KOs) as a pro coming in. Itauma ate numerous straight right hands before a straight right hand knocked him down for the count. The official time was 1:04 of round five. Maderna improved to 29-10 (11).
Also
The Frankham cousins, super welterweight Joshua and super featherweight Charles, improved their ledgers to 7-0 with 6-round shutouts over their respective opponents. The cousins are grandsons of John "Gypsy Johnny" Frankham, a former British light heavyweight champion.
Jake Paul vs Tommy Fury on Feb. 26 in a Potential Pay-Per-View Blockbuster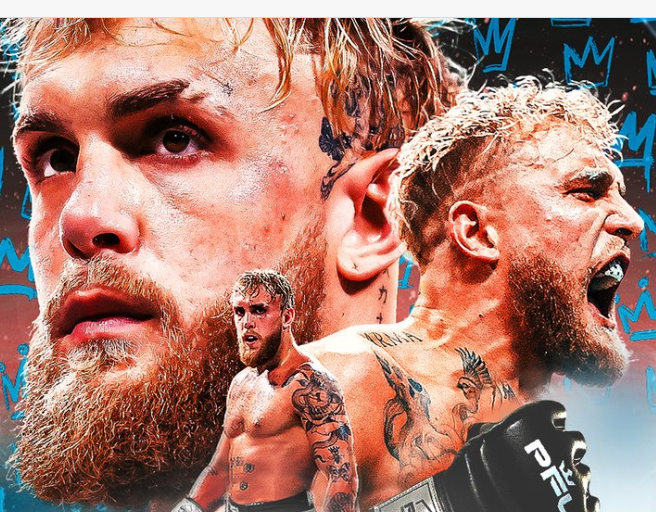 It's now official. The twice-postponed "grudge match" between Jake Paul and Tommy Fury will come to fruition on Sunday, Feb. 26, at Riyadh in the Kingdom of Saudi Arabia. An 8-rounder contested at a catch-weight of 185 pounds, the match and several supporting bouts will air in the U.S. on ESPN+ PPV at a cost of $49.99.
The hook for this promotion – a come-hither that will be hammered home incessantly in the coming weeks – is that Jake Paul will finally touch gloves with a legitimate professional boxer. Paul's previous opponents were a fellow YouTube influencer (AnEsonGib), a retired NBA player (Nate Robinson), and three former MMA champions: Ben Askren, Tyron Woodley, and Anderson Silva. He fought Woodley twice.
Tommy Fury, the half-brother of reigning WBC world heavyweight champion Tyson Fury, made his pro debut in December of 2018 in a four-round bout in his hometown of Manchester. He was two fights into his pro career when he became a contestant on the TV reality show "Love Island." An enormously popular show in Great Britain, especially among the coveted 18-34 demographic, "Love Island" was in its fifth season.
Fury was paired with supermodel Molly-Mae Hague with whom he finished second. They developed a great chemistry, on and off the set, became engaged, and purportedly welcomed a baby girl this week.
What about Tommy Fury the boxer? How legitimate is he?
Fury's record currently stands at 8-0 (4 KOs). His first opponent was a professional loser from Latvia whose current ledger reads 10-113-3. His next six opponents were a combined 4-73-2. Finally, in his last fight, which occurred in April of last year, he met an opponent with a good record, Poland's Daniel Bocianski, who was 10-1. But look closer and one discovers that all but one of Bocianski's 10 triumphs came against opponents with losing records. The exception was a 6-round decision over a fellow Pole whose record currently stands at 18-16-1 and who has been stopped 13 times.
Fury bloodied Bocianski and won a wide 6-round decision, but his performance was underwhelming. "Fury had the Hollywood teeth, tan, and diamante-colored shorts," wrote Chasinga Malata of the London Sun, "leaving only his performance without sheen and sparkle."
There is nothing in Tommy Fury's background, aside from his biological pedigree, to suggest that he has the tools to become a world-class boxer. If he were a member of the Three Stooges, he would be Shemp.
Jake Paul, by contrast, may actually be legit. Those in the know that have watched him train have come away impressed. It says here that Paul isn't moving up in class on Feb. 26; it's the other way around.
In the co-feature, Ilunga Makabu (29-2, 25 KOs) will make the third defense of his WBC world cruiserweight title against Badou Jack (27-3-3, 16 KOs). A Congolese-South African, Makabu is the older brother of heavyweight contender Martin Bakole. Jack, four years older than Makabu at age 39, formerly held world titles at 168 and 175 pounds.
Although Badou Jack was born in Sweden and keeps a home in Las Vegas where he has long been affiliated with the Mayweather Boxing Club, he will have the home field advantage in Saudi Arabia where he has cultivated a loyal following. A devout Muslim, Jack will be making his fourth straight start in the Persian Gulf Region. In his last outing, he outpointed Richard "Popeye" Rivera at Jeddah, winning a 10-round split decision.
To comment on this story in the Fight Forum CLICK HERE