Terry McGovern: The Year of the Butcher – Part Two, The Dixon of Old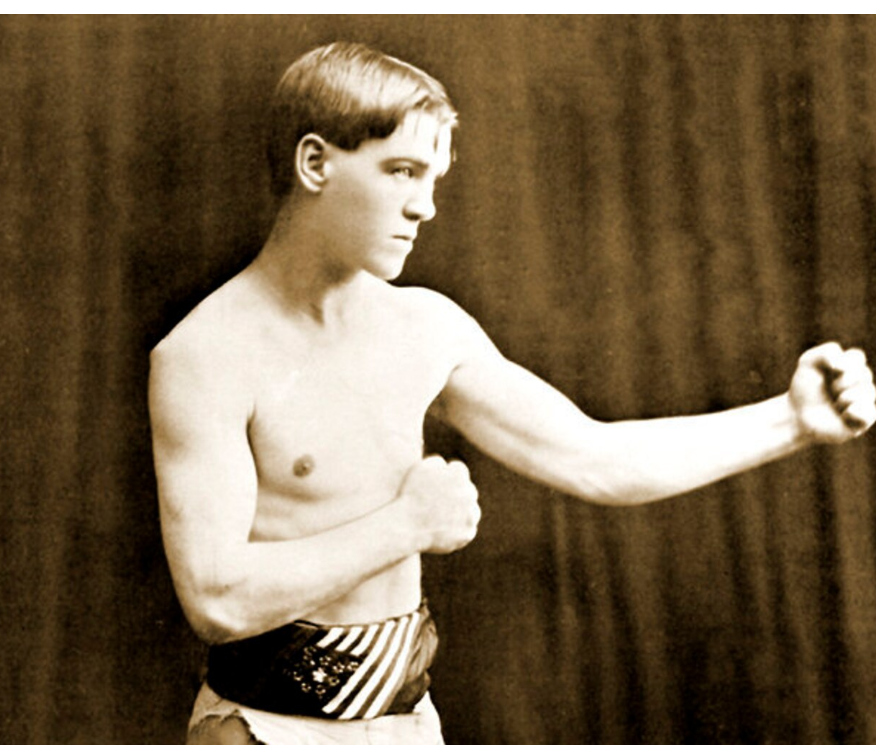 Terry McGovern: The Year of the Butcher – Part Two, The Dixon of Old
"They used to say," wrote The Washington Times, some years after McGovern's retirement, "that Terry started to beat his man before the first gong rang. As he sat in his corner he would glare across the ring at an adversary, his face drawn and scowling."
This will sound familiar to boxing fans raised on stories of the intimidating qualities of Mike Tyson and before him, Sonny Liston. The ability of the biggest men to unnerve is well known but the ability of the smaller men to menace is rarely as celebrated. The main difference between McGovern and a fighter like Liston or Tyson was not that he was smaller but that he was able to dominate the men that did not fear him. Tyson was found out by deluxe journeymen James "Buster" Douglas, immunised to Tyson's intimidation by the recent death of his mother; Liston was outmaneuvered by an ego on wheels by the name of Muhammad Ali. But when McGovern first brushed up against a fighter far too good to feel even a sliver of fear, he crushed him utterly, defeating Pedlar Palmer, the bantamweight champion of the world in a little over two minutes in September of 1899. The century ended amidst carnage and savagery as nine overmatched and terrified opponents were dispatched in a total of fifteen rounds.  Even the world class Harry Forbes, who would go on to win and defend the bantamweight title, could not extend McGovern beyond two.
But his first opponent for 1900 was not a man who could be intimidated by a look, nor even a thirteen-fight knockout streak. His first opponent for 1900 took heed of the brutality McGovern inflicted upon Palmer and the money he made for doing it and calmly issued a challenge, which McGovern calmly accepted. His first opponent for 1900 was George Dixon, the featherweight champion of the world, arguably the greatest fighter in history up until that point. Dixon feared no man.
He had been competing in title fights across two weights for ten years, and had lost only two of those fights, dropping a narrow decision to the great Frank Erne in 1896, avenged the following year in style against an opponent who by then was weighing in as a lightweight. When he dropped another close decision to former KO victim Solly Smith in 1897 there were respectful murmurs that perhaps the genius had stepped past his best – but little surprise when he rallied to reclaim his title and make a further nine defences.
Those titles, those defences were a part of the Dixon story too. He was the first black man to win a world championship; he was the first Canadian to win a world championship – he was a stylistic trailblazer stiffening overmatched opponents with mobility and technique years before the supposed grandfather of modern boxing, James J Corbett, turned professional. It is reasonable to suggest that Terry McGovern was not qualified to fight him.
And yet, when money began to exchange hands, Terry McGovern was the favourite.
Partly, this was caused by sentiment. Terry McGovern was fighting Irish, the embodiment of the most beloved fighter in history at that point, former heavyweight champion John L Sullivan.  Whenever McGovern's cheerful dialogue with his beloved mother was printed in a newspaper, which in the early days were often, newspapers were sure to stress her first generation immigrant brogue in descriptive print. He was white; Dixon, though enormously respected by the white press and subject to very little of the bizarre speculations about heart or punch resistance in the body that were routinely levelled at other top black fighters, was still a black man, one who had turned professional only twenty years after the end of the American civil war. But there was more than emotion and the casual racism of the day at work – a sense was building that Dixon's time had passed and that McGovern's was now.
McGovern trained for a long fight, and once again he did not leave New York, where the fight was to be held, but ensconced himself in Fleetwood, a township just north of the Bronx. His dedication to re-developing his stamina was impressive given his power-punching decimation of the division at large. McGovern knew what he was faced with. It made his eerie confidence more persuasive. Some talked of an over-developed hardness to his body and possible problems making the weight limit, but such rumours had evaporated by the seventh of January, two days before the fight.
Dixon's camp, situated in Lakewood, New Jersey, seemed equally excellent. "If appearances count for anything," wrote the Washington Evening Star, "Dixon is the Dixon of old…he thinks well of McGovern but believes he will beat him."
By the sixth, the odds were lengthening, but for those in attendance it was a mystery as to why.  "When McGovern faces Dixon," reported the St.Louis Republic, "he will meet the greatest fighter ever at the weight. As a ring general Dixon has no equal…[he] is a perfect fighting machine. He never misses a chance to inflict punishment."
This is an oft-forgotten fact where Dixon is concerned. Because he was deemed by his peers the definitive "scientist" for his era, he is treated by many modern sources as a box-mover who used a famous left to keep his opponents at bay, and his famous footwork to keep himself from the furnace: for those labouring under this impression, please take note – nothing could be further from the truth. He did have that educated stiff left; he did use clever footwork to manipulate befuddled opponents; but Dixon was an aggressive, surging, war-machine, not some pit-a-pat rainy-day spoiler.  Yes, at times he employed skill to close opponents down and sew decisions up, but when strategy called for it, he attacked two-handed and showed great prowess in doing so.
McGovern quit serious training two days before the fight, restricting himself mainly to running in order that he might easily make weight. "I don't know that I ever felt better," he cheerily informed visitors. "I expect to win a hard fight."
Dixon hit weight six days before the fight. A reporter asked him how long he felt he could last in the ring with such a prestigious foe. "A full day," was the answer.
The two men were first able to run the rule over one-another at the weigh in, just after two pm on the ninth of January, the day of the combat. In attendance was Barbados Joe Walcott, and roughhousing between he and Dixon's manager Tom O'Rourke nearly ended in disaster when a kick aimed at the legendary welterweight instead connected with McGovern's knee as much to the alarm of Dixon as O'Rourke; McGovern delightedly waved away any sense of impropriety accepting O'Rourke's assurances of an accident as if the manager had his own best interests at heart rather than Dixon's. The two fighters walked to the scale almost arm-in-arm; when they measured for height and when McGovern came away half an inch taller he announced "I got you whipped now!" and Dixon leaned back, hands laced, grinning. McGovern stripped naked and stepped up, Dixon after him, more modestly dressed, but both came in under the agreed 118lb limit – no official weights were taken, though Dixon reported that he weighed 116lbs that morning and expected to be 120lbs in the ring that evening; McGovern had measured a half pound heaver at first light.
"Dixon seemed to be in the better condition," was the report that went out on the wire. "He was full of life and energy and looked as if the making of the weight had not troubled him," whereas "McGovern seemed to be too finely drawn."
They separated cordially and just under seven hours later they were in the ring. Staged in the arena of Manhattan's Broadway Athletic Club, it  was the most significant meeting between featherweights to that date, and astonishingly, it almost inarguably remains so today. Both list among the twenty greatest fighters in all of history by my estimation; on only a handful of occasions in all of boxing have two such behemoths clashed.
An American, McGovern entered the ring draped in the Irish flag, at his waist an emerald-green silk belt; the Canadian, Dixon, wore an American flag. McGovern crossed the ring and the two shook hands warmly.
Then, at around nine thirty-five in the evening, the bell for the opening round sounded and the warmth departed McGovern's soul. He crushed Dixon like a bug.
This great champion, this man who liked to boast, if a legend so great can be said to boast, that he had visited the canvas only once in four-hundred fights, would visit it eight times in the next thirty minutes and when he left the ring he would leave the better part of his brilliance at the feet of a fighter now boxing with the apocalyptic savagery of a butcher turned trained killer.
But it was Dixon who opened more aggressively. He "waded in" according to The Brooklyn Eagle, "and was the first to lead, McGovern letting a vicious lead go over his shoulder." Twice in the opening seconds Dixon tried his left and twice McGovern ditched them and landed body-punches over the kidneys, under the heart, and before the first minute was up, Dixon had given ground and had his back to the ropes. "McGovern crowded in," reported The New York Tribune, "pounding his right to the ribs." Dixon's problem was cradled within a nutshell sealed in those precious moments; his punches, even when they landed, were not enough to deter McGovern's furious assault upon the body.
"In years gone by," explained the Eagle, "Dixon never hit any man but once as he hit blows in the spots that he rained upon Terry…last night it was different…his heaviest blows were to no avail against the rugged McGovern."
Dixon was faced with the disastrous prospect of having to box and move for twenty-five rounds against a 5'4 juggernaut with darkening plans for his internal organs or grit his teeth and try to break him. He chose to try to break him.
Such was Dixon's brilliance that the beam began to tip; a savage and fast second round was likely in McGovern's favour, but in the third, as McGovern rattled his ribs and liver, Dixon ripped across a hook to the ear and McGovern peeled away, hurt. Two left jabs and a right hand to the jaw then "staggered Mac" according to the wire report before one-two "almost dropped Mac to the floor."
At the bell to end the third, the betting at ringside was even for the first time since the fight's announcement, but this was the nearest Dixon would come to a triumph; by the end of the seventh, no bets on McGovern were being taken.
It was in the fourth that he turned the tide against his prestigious foe, brutalising his body with multiple shots every time Dixon punched. In the fifth McGovern was less destructive but was now boring his way inexorably towards domination, and if Dixon took a share, it was a share of his own ashes.
He began to give way to McGovern in the seventh. His nose was erroneously reported as being broken in several newspapers, but it does appear to have exploded in a geyser of blood at the tip of a McGovern left hand, the canvas and the ropes drenched. Twice in the eighth Dixon slipped in the mess of his own blood and McGovern helped him to his feet, attacking the body, now the blood-sodden face, the body, now the head. The Evening Star describes a fighter beaten in the normal way, "his nose broken and his body covered with bruises…groping blindly in a vain but game effort to once more face his antagonists" but other reports indicate something even more fundamental was happening. Like a dog that has been drinking from a poisoned well, there is a sense of a fighter winding down towards an end. The Brooklyn Daily Eagle described "a worn out fighting machine" that was "working smoothly but not strongly" against some new generation of machine too advanced to be reckoned with.
The lights in Dixon went out with the eighth as he was lashed repeatedly to the canvas by McGovern, who was completely unharmed. After the fourth or fifth knockdown, Dixon flinched, reluctant to stand with McGovern so near. "Don't worry George," McGovern assured him with what seemed an entirely genuine smile. "I won't cop any sneak on you." True to his word, McGovern permitted Dixon to stand unmolested. Then he beat the art out of the greatest fistic artist of his era. They threw in the sponge at the very end of the eighth round; Dixon never recovered.
Terry McGovern was now the bantamweight and the featherweight champion of the world. He was twenty years old.
The following month, an article appeared in the St. Paul Globe criticising McGovern's management.
"Terry McGovern may be matched to box …Championship Lightweight Frank Erne in Chicago in the near future. McGovern may make a mistake going out of his class…A defeat at the hands Erne would do the clever little boxer a vast deal of harm. McGovern would do better to stick to his knitting."
Franke Erne likely considered the ten-thousand dollars McGovern shared with Dixon and hoped he would suffer a rush of blood and make the match. Erne was, after all, the best fighter in the world at the 135lb limit and surely beyond even the heavy-duty machinations of McGovern, who was weighing in at flyweight just three short years before.
Well McGovern would have that rush of blood. And Erne wouldn't last three rounds.
To comment on this story in the Fight Forum CLICK HERE
Weekend Boxing Recap: Okolie in Manchester, Ramirez in Fresno and More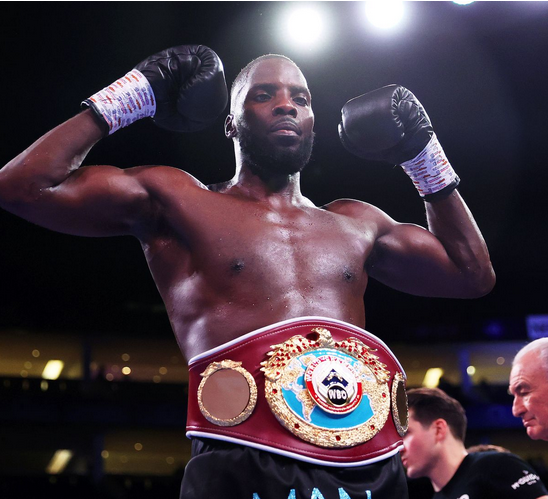 The media room at the MGM Grand in Las Vegas was as underpopulated as North Dakota this weekend. Only a handful of America's A-list boxing writers attended the Benavidez-Plant card. Prominent wordsmiths like Kevin Iole, Mike Coppinger, and Dan Rafael were nowhere to be found.
Inside the boxing arena, however, the joint was full. One guesses that the Grand Garden was configured to hold 13,865 as that was the announced attendance and there didn't appear to be an empty seat in the house. And the attendees arrived earlier than was the norm for a major Las Vegas fight card. The high rollers that arrive fashionably late (if there were any) were vastly out-numbered by true boxing fans, primarily Mexican-American on this particular occasion, who left the show in good spirits after Arizona-born David Benavidez, the self-styled Mexican Monster, manhandled brave but out-gunned Caleb Plant.
There were notable fights elsewhere on Saturday. Across the pond in Manchester, England, Lawrence Okolie, widely regarded as the sport's best cruiserweight, won a lopsided decision over Australia's David Light, advancing his record to 19-0 while successfully defending his WBO world title belt.
Okolie (pictured) was making his first start in 13 months. In the interim, he ditched his promoter Eddie Hearn in favor of Ben Shalom and ditched his trainer Shane McGuigan in favor of SugarHill Steward.
He and McGuigan appeared to be a great fit. With McGuigan in his corner, he was 7-0 with six wins inside the distance. His initial foray under Steward was a dull fight reminiscent of some of Okolie's early efforts. He had a point deducted for excessive clinching but it was a moot point as Okolie breezed, winning by scores of 119-108, 117-110, and 116-112. Light was 20-0 heading in, but was sorely outclassed.
By all accounts, the Okolie-McGuigan divorce was an amicable split. Okolie trained for this bout in Miami and McGuigan had too much on his plate to accompany Okolie to the Sunshine State.
Okolie appears headed toward a domestic showdown with fellow Londoner Richard Riakporhe who is also unbeaten (16-0, 12 KOs). Physically, these two late-bloomers, both of whom stand six-foot-five, are virtual clones. A bigger fight for him would be a match with IBF belt-holder Jai Opetaia, the lineal cruiserweight champion, who is still recovering from the two broken jaws he suffered while de-throning long-reigning 200-pound champion Maris Briedis in a fight that will live long in Australian boxing lore.
The Okolie-Light undercard was cheesy including a BBBofC super featherweight title fight between Michael Gomez Jr and Levi Giles, two fighters who built their records on the backs of professional losers. Gomez won a split decision. Also, 31-year-old heavyweight Frazer Clarke, a bronze medalist in the Tokyo Olympics, improved to 6-0 (5) at the expense of Romania's Bogdan Dinu, a late sub who performed about as expected, retiring on his stool after two rounds.
Fresno
The Benavidez-Plant card went head-to-head with a Top Rank show in Fresno featuring local fan favorite Jose Carlos Ramirez. It was the second fight back for Ramirez after losing a close decision to Josh Taylor with all four 140-pound belts on the line and his first fight in 13 months. In the opposite corner was former world lightweight titlist Richard Commey, a 36-year-old Ghanaian.
Ramirez came out like gangbusters and hurt Commey in the opening minute. But Commey survived the onslaught and came back to win some of the middle rounds. In round 11, Ramirez closed the show. After decking Commey with a right hand that didn't appear to be particularly hurtful, he delivered a vicious left hook to the liver and Commey was counted out while taking a knee.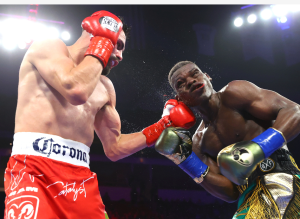 Ramirez improved to 28-1 with his 18th knockout. His promoter Bob Arum is expected to rekindle negotiations with Regis Prograis who won the vacant WBC 140-pound diadem in November with an 11th round stoppage of Jose Zepeda. Commey (30-5-1) has lost three of his last five.
In the co-feature, East LA's Seniesa Estrada picked up a second world title belt at 105 pounds with a lopsided decision over Germany's previously undefeated Tina Rupprecht.  Estrada (24-0, 9 KOs) won all 10 rounds on all three cards which was misleading as many of the rounds were close.
(The victory opens the door to a true unification fight with Costa Rica's Yokasta Valle who has won 15 straight since losing a decision to Rupprecht in Munich in 2018. Valle was also in action on Saturday night. At a beach resort hotel in Guanacaste, Valle successfully defended her titles with a wide decision over Mexican invader Jessica Basulto.)
In another bout of note on the Fresno card, SoCal lightweight Raymond Muratalla (17-0, 14 KOs) overcame adversity to score a ninth-round stoppage over Tijuana's Humberto Galindo (14-3-1).
Galindo caught Muratalla against the ropes in the opening round and put him down with a left-right combination. Muratalla returned the favor three rounds later and ended the contest in round nine with a series of punches which deposited Galindo on the deck where he stayed for the 10-count.
According to Jake Donovan, Top Rank plans to pit Muratalla against Namibia's Jeremiah Nakathila on the Lomachenko-Haney card tentatively scheduled for May 20 in Las Vegas. Nakathila upset Miguel Berchelt in his last outing, dominating the former super featherweight title-holder en route to a sixth-round stoppage.
Also
Two 10-round preliminaries preceded Saturday's SHOWTIME pay-per-view at the MGM Grand. Both contests played out in a similar fashion.
In a super bantamweight contest, Culiacan, Mexico's Kevin Gonzalez stayed unbeaten with a clear-cut unanimous decision over Colombia's Jose Sanmartin. The judges had it 99-91, 98-92, and 97-93.
Gonzalez, who advanced to 26-0-1, fought mostly in flurries but worked the body well and landed the cleaner punches. It was the U.S. debut for Sanmartin (34-7-1) who had been in with the likes of Emanuel Navarrete and Mauricio Lara.
In the lid-lifter, Orestes Valasquez, a 29-year-old Cuban defector who has been training in Las Vegas under Ismael Salas, stepped up in class and won a 10-round unanimous decision over Argentina's Marcelino Lopez. The judges had it 97-93 and 99-91 twice.
A 16-year pro, Lopez brought a 37-2-1 record. His signature win was a second-round blowout of former world title-holder Pablo Cesar Cano. Valasquez was extended the distance for the first time after opening his pro career with six wins by stoppage.
Ramirez-Commey photo credit: Mikey Williams / Top Rank via Getty Images
To comment on this story in the Fight Forum CLICK HERE
David Benavidez Starts Slow but Finishes Strong, Overcomes Caleb Plant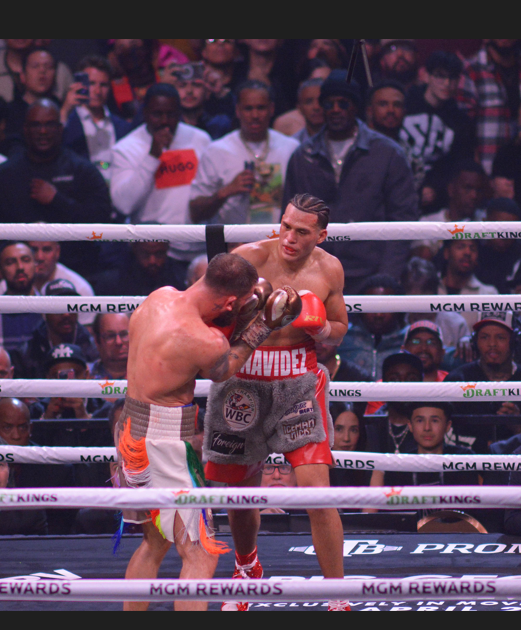 LAS VEGAS-David "The Mexican Monster" Benavidez proved too strong and simply overpowered Caleb Plant after a tight early half of the fight to win going away by unanimous decision in the super middleweight elimination fight on Saturday.
Plant would not quit.
"Caleb Plant is a tough fighter. He gave me everything in the first few rounds," said Benavidez who had predicted he would not go the distance.
Arizona's feared Benavidez (27-0, 23 KOs) was unable to stop Plant (22-2, 13 KOs) but battered his way to victory before a sold-out crowd at the MGM Garden Arena. Despite no knockdowns it was clear who was stronger.
Plant used his speed and footwork to maneuver in and out of danger in the match and gained control for the first four rounds. His hand speed and ability to clinch in tight quarters with the aid of referee Kenny Bayless gave the Las Vegas-based fighter an early advantage.
Things turned around when Plant clinched then smacked Benavidez who thought it would be a clean break. That seemed to spark Benavidez into berserker mode.
From the seventh round on Benavidez punched through clinches and would not allow Plant to take advantage. In the eighth round Benavidez powered through and Plant seemed staggered and hurt by the Arizona fighter's power. But he kept upright.
Benavidez took advantage of Plant's inability to maneuver as he did before and hammered the former champion who lost to Canelo Alvarez with triple left hooks and overhand rights. Plant would not go down and held on and absorbed the punishment.
The 10th round saw Benavidez dominate every second of the round. Plant tried fighting back but his punches lacked any power and Benavidez battered him from post to post, It was a round that could have been stopped or scored 10-8.
"I think I was catching him with a lot of power shots and that's why I'm called the Mexican Monster because I keep coming like a monster," said Benavidez.
Plant proved unwilling to quit despite cuts on his face and withstanding some hellish blows. The slender super middleweight refused to go down and somehow withstood the punishment.
It was remarkable bravery on his part.
When the final bell rang Plant tried valiantly to fight it out with Benavidez but just did not have the power to hurt the most feared man in the super middleweight division. Despite all the heated words during the promotion of the fight, the two warriors hugged and shook hands warmly. The animosity was gone.
"I know there was a lot said between us but in the end we settled this like men. He's a helluva fighter. I'm happy we gave the fans the best rivalry of the year or the last five years. I'm just very happy," said Benavidez.
Plant was equally benevolent.
"David's a hell of a fighter. We settled it like men in the ring," said Plant. "You roll the dice someone is going to get their hand raised. No excuse, David was the better man, he is a hell of a fighter."
Benavidez now is the number one ranked WBC super middleweight and a mandatory for Saul "Canelo" Alvarez who is undisputed world champion.
Other Bouts
Arizona's Jesus Ramos (20-0, 16 KOs) proved too strong for Michigan's strongman Joey Spencer (16-1, 10 KOs) and ended the fight by stoppage at the end of the seventh round in the super welterweight contest.
Ramos scored early with a left-hand knockdown in the first round and powered his way past Spencer in almost every round. Spencer was valiant throughout the match but just couldn't match Ramos speed or strength. Most of the fight took place in close.
"After the first round knockdown I kinda knew my power was too much," said Ramos.
Despite an early first round knockdown Chris Colbert (17-1, 6 KOs) won by unanimous decision in a lightweight fight over the more aggressive and busier Jose Valenzuela (12-2, 8 KOs) in a decision that left the fans very displeased.
"He lost for a reason," said Colbert as fans booed lustily.
A counter left cross floored Colbert in the first round and Valenzuela took control early with more punching to the body and head as Colbert covered up. It was a tactic he used often and was rewarded by the judges.
Valenzuela was not pleased at all.'
"I dominated," said Valenzuela.
All three judges scored it 95-94 for Colbert.
Welterweights
Canada's Cody Crowley (22-0, 9 KOs) imposed his will early against Arizona's Abel Ramos (27-6-2, 21 KOs) and held on for the victory by majority decision down the stretch in a brutal war for the right to fight for the WBC welterweight title.
A knockdown scored in the 11th round by Ramos by a counter right cross was reversed by the Nevada Commission after a replay of the blow revealed his glove did not touch the ground. That proved beneficial to Crowley in the scoring.
Crowley pressured Ramos throughout the first eight rounds then the fight changed and was fought at a distance as Ramos used pot shots to score heavily from that moment on.
Ramos rallied by staying in the middle of the ring and using the space to crack the always pressuring Crowley with long range shots. From the ninth round on the scoring got tighter with Crowley scoring rapid combinations and Ramos scoring with heavy shots.
After 12 rounds one judge saw it even 114-114, two others saw Crowley the winner 115-113, 116-112. Crowley now gets the shot at the WBC title held by Errol Spence Jr.
"This fight was something else," said a tearful Crowley whose father recently died. "If not for my dad I wouldn't be here today."
Photo credit: Al Applerose
To comment on this story in the Fight Forum CLICK HERE
Avila Perspective, Chap. 229: Benavidez, Plant and NCAA Hoops in Vegas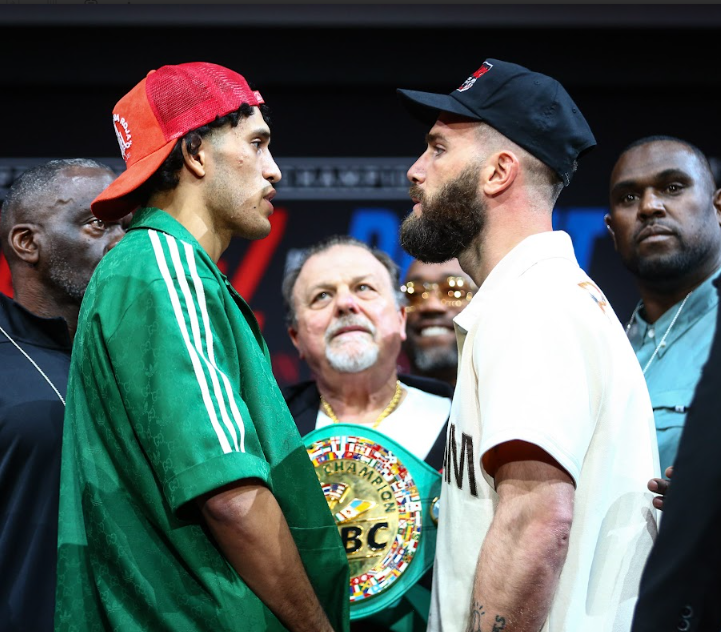 Avila Perspective, Chap. 229: Benavidez, Plant and NCAA Hoops in Vegas
If you know the history of Las Vegas, it's endured a number of phases since its first major growth spurt when the Hoover Dam project brought thousands to the desert region in the 1930s.
Then came the New York phase when the Flamingo Hotel was built in the 1940s and was followed by numerous other major casino hotels like the Sands, the Dunes and the Aladdin. Of course, boxing was always a way to entice people to the desert.
This Saturday, four star boxing returns to Las Vegas. But it be competing against the western regional finals of the NCAA Men's Basketball Tournament. Prepare for crowds.
Las Vegas is packed.
Undefeated David Benavidez (26-0, 23 KOs) meets once-beaten Caleb Plant (22-1, 13 KOs) at the MGM Grand Hotel and Casino in Las Vegas on Saturday, March 25. The TGB Promotions card will be televised on Showtime pay-per-view.
The winner gets a shot at undisputed super middleweight champion Saul "Canelo" Alvarez. And that means big money.
It's all happening in Las Vegas and so will the NCAA tournament. Expect an extremely crowded Strip as fans of boxing and basketball convene on the strip by the thousands. Its also a gambler's paradise for betting so make sure you allow yourself time because the lines will be long at the sportsbooks.
When I first visited Las Vegas in the early 1970s sports betting was done outside of the casinos. The state law back then prohibited sportsbooks inside hotel-casinos. My favorite sportsbook, for sentimental reasons, is the Westgate Hotel, formerly the Hilton International. It's has a huge sports betting area.
I'm not a betting type of guy but sports betting to me is the center of everything and adds luster to the atmosphere of Las Vegas. You won't find a sports book in California.
Boxing has always been a sport made for betting, probably since the stone age.
When Benavidez steps into the prize ring he will be the big favorite but if you truly know boxing, Plant does have a chance. Anything can happen in boxing. Anything.
A man can parachute from the sky and land in the middle of the fight as happened back in 1993 when Evander Holyfield and Riddick Bowe were combatting for the heavyweight title at Caesars Palace. Of course, this won't happen on Saturday because the fight is indoors at the MGM Hotel.
One major lesson about pro boxing is that nothing is a sure thing.
Though Benavidez has power and has never been defeated, he could tear an Achilles tendon right during the fight. Or he could break a wrist delivering a punch. I've also seen a great fighter like Pernell Whitaker get his clavicle broken from a single punch and be unable to continue.
Don't bet your house on the outcome.
What you will see on Saturday is two very talented super middleweights with completely different fighting styles engage. They do not seem to care for each other but that doesn't matter. It's a fight, not a marble contest.
Words have been exchanged all through the promotion. But words don't mean a thing once the first bell rings.
Plant has speed, agility and solid defensive skills. His only loss came to Canelo Alvarez. That's more a medal of honor than an embarrassment.
"I feel I'm the better boxer, I have the better IQ and I have more experience," said Plant. "I have the better pedigree and its going to show on Saturday night."
Benavidez has power, speed and a very solid chin. He seems to intimidate foes with a come forward style that reminds me of a young George Foreman.
"We're going to see what that chin is like on Saturday," said Benavidez.
Supporting fights
Cody Crowley meets Abel Ramos in an welterweight elimination fight for the WBC title held by Errol Spence Jr.
Both of these guys are rough and tough. It's the ram versus the bull.
The other Ramos, Abel's brother Jesus, is fighting Joey Spencer in a super welterweight clash.
Six other fights are planned at the MGM Grand.
Top Rank
Fresno's Jose Carlos Ramirez (27-1, 17 KOs) gets a hometown crowd when he meets Richard Commey (30-4-1, 27 KOs) on Saturday March 25. The former super lightweight titlist needs a win to get back in the hunt. ESPN will televise the Top Rank card.
"All of a sudden after one loss people started walking away," said Ramirez. "We're focused on Richard Commey."
Commey wants what Ramirez wants too, a title.
"I really want to become a two-time world champion, so I'm coming strong," said Commey.
Also on the same Fresno card will be WBA titlist Seniesa Estrada (23-0, 9 KOs) seeking to unify the minimumweight titles against Germany's WBC titlist Tina Rupprecht (12-0-1, 3 KOs).
"This is the moment that Ive dreamed of since I was seven years old," said Estrada. "Its crazy to think how far I've come in this sport."
Rupprecht is also excited.
It's a big honor to fight for both titles," Rupprecht said. "This is always what I wanted."
Fights to Watch
Sat. Showtime ppv 6 p.m David Benavidez (26-0)  vs Caleb Plant (22-1); Cody Crowley (21-0) vs Abel Ramos (27-5-2).
Sat. ESPN 7 p.m. Jose Carlos Ramirez (27-1) vs Richard Commey (30-4-1); Seniesa Estrada (23-0) vs Tina Rupprecht (12-0-1).
Photo credit: Stephanie Trapp / TGB Promotions
To comment on this story in the Fight Forum CLICK HERE