Each year during the holiday season, I publish a "top forty" list of what I consider to be the best books on boxing. That list, updated to accommodate recently published titles, follows. Taken together, they offer a compelling look at the sweet science from bare-knuckle days to the present. Some of these books are now out of print. But with the proliferation of online services like Abebooks.com and Amazon.com, all of them can be found.
Beyond Glory by David Margolick (Alfred A. Knopf) — This book focuses on the two fights between Joe Louis and Max Schmeling. In the process, it recreates the racial climate of the 1930s, puts the fighters in historical perspective, and conveys the incredible importance of their ring encounters. Margolick shows in dramatic fashion how Louis stirred passions and revived interest in boxing long before he beat James Braddock to become heavyweight champion. He captures the demeaning racial stereotyping of The Brown Bomber by the establishment press (including those who were seeking to be kind). And he documents in painstaking fashion, contrary to future revisionism, the degree to which Schmeling took part in various Nazi propaganda activities and supported Hitler after defeating Louis in 1936.
John L. Sullivan and His America by Michael Isenberg (University of Illinois Press) Isenberg mined the mother lode of Sullivan material and crafted a work that's superb in explaining the fighter as a social phenomenon and placing him in the context of his times. More recently, Christopher Klein has put together a meticulously researched and engaging read in Strong Boy: The Life and Times of John L. Sullivan (Lyons Press).
Sound and Fury by Dave Kindred (Free Press): The lives of Muhammad Ali and Howard Cosell intertwined. Kindred explores the ugly underside of Ali's early adherence to Nation of Islam doctrine and provides an intimate look at The Greatest in his declining years. He also paints a revealing portrait of Howard Cosell, turning the broadcast commentator from caricature and bluster into flesh and blood.
America on the Ropes by Wayne Rozen (Casey Press) — This might be the best coffee-table photo book ever devoted to a single fight. Jack Johnson is still a vibrant figure in American history, but James Jeffries has been largely forgotten except as an appendage to Papa Jack. This book gives both men their due and, in so doing, restores Jeffries' life and lustre. The photographs are extraordinary and arranged perfectly with the text.
Heroes Without A Country by Donald McRae (Ecco Press) — This is a beautifully written book about Joe Louis and Jesse Owens; two icons who changed America. McRae makes old stories seem fresh and new, and his exhaustive research brings new material to light. He is also the author of Dark Trade, a look at the modern boxing scene.
The Sweet Science by A. J. Liebling (Penguin) — Eighteen articles from the 1950s and early '60s by the legendary dean of boxing writers. Liebling set the standard to which others aspire. A collection of his later articles has been published under the title A Neutral Corner.
The Hardest Game by Hugh McIlvanney (Contemporary Books) — McIlvanney is the British equivalent of Liebling. He's not just a boxing writer. He's a writer who writes very well, among other things, about boxing.
Rocky Marciano by Russell Sullivan (University of Illinois Press) — An honest penetrating look at Marciano in the context of his times, as a person and as a fighter. What's particularly interesting is how often the unbeaten Marciano verged on defeat and his questionable ring tactics.
Cinderella Man by Jeremy Schaap (Houghton Mifflin Company) — Schaap does a fine job chronicling the rise of James Braddock to the heavyweight championship at the height of The Great Depression. He also succeeds particularly well in painting a wonderful portrait of Max Baer and explaining just how important the heavyweight title was seventy years ago.
Sweet William by Andrew O'Toole (University of Illinois Press) — A solid biography of light-heavyweight great Billy Conn. The two Louis-Conn fights are the highlight of O'Toole's work, but he also does a nice job of recounting the endless dysfunctional family struggles that plagued Conn throughout his life and the boxer's sad decline into pugilistic dementia.
In the Ring with Bob Fitzsimmons by Adam Pollack (Win by KO Publications) – Pollack has also authored biographies of John L. Sullivan, James Corbett, James Jeffries, Marvin Hart, Tommy Burns, and Jack Johnson. The books are heavily researched and rely almost exclusively on primary sources. Serious students of boxing will enjoy them.
The Last Great Fight by Joe Layden (St. Martin's Press) – This book is primarily about James "Buster" Douglas's historic upset of Mike Tyson. The saga of Iron Mike has gotten old, but Layden brings new material and fresh insights into the relationships among Douglas, his father (Billy Douglas), manager John Johnson, and co-trainers J. D. McCauley and John Russell. He also gives a particularly good account of the fight itself and how Douglas overcame the fear that paralyzed many of Tyson's opponents.
The Killings of Stanley Ketchel by James Carlos Blake (William Morrow & Company) — The life of Stanley Ketchel written as pulp fiction. Blake plays fast and loose with the truth and mixes fact with fantasy in this historical novel. But he writes well and weaves a good tale about boxing and the underside of America at the dawn of the twentieth century.
Ringside: A Treasury of Boxing Reportage and Sparring With Hemingway by Budd Schulberg (Ivan R. Dee, Inc.) — If Schulberg had never written another sentence, he'd have a place in boxing history for the words, "I could of been a contender." These collections of his articles cover seventy years of boxing lore. You might also take a look at Schulberg's novel The Harder They Fall.
The Fireside Book of Boxing, edited by W. C. Heinz (Simon & Schuster) — One of the best collections of boxing writing between the covers of a single book. This has been reissued in an updated form by Sport Classic Books. But the original 1961 hardcover has a special feel with unique artwork. Heinz also wrote a very good novel entitled The Professional.
One Punch from the Promised Land by John Florio and Ouisie Shapiro (Lyons Press) – The authors do a good job of recounting the saga of Leon and Michael Spinks. The world of abject poverty that they came from is recreated in detail and with feeling. The writing flows nicely, Leon's erratic personality is explored, and the big fights are well-told.
Unforgivable Blackness: The Rise and Fall of Jack Johnson by Geoffrey C. Ward (Alfred A. Knopf) — This is the companion volume to the PBS documentary by Ken Burns. It's well-written, meticulously researched, and the standard against which future Johnson biographies will be judged. Jack Johnson: Rebel Sojourner by Theresa Runstedtler (University of California Press), which focuses on the international reaction to Johnson, is a nice supplement.
Jack Dempsey by Randy Roberts (Grove Press) – Three decades after it was first published, this work remains the most reliable source of information about the Manassa Mauler. Roberts is also the author of Papa Jack: Jack Johnson and the Era of White Hopes (Free Press), another fine biography of the most controversial champion in boxing history, and Joe Louis: Hard Times Man (Yale University Press), a valuable addition to the literature on Louis.
Champion: Joe Louis, Black Hero In White America by Chris Mead (Charles Scribner's Sons) — At the time it was written, this was the most thorough of the Joe Louis biographies. Mead's work serves as a reminder of why the Brown Bomber was so important.
Black Is Best: The Riddle of Cassius Clay by Jack Olsen (G. P. Putnam's Sons) — This is an old one; vintage 1967. But it's a great look at the young Muhammad Ali.
Muhammad Ali: The Making of An Icon by Michael Ezra (Temple University Press) – Ezra explores the changing perception of Ali as a moral force with primary emphasis on the commercial interests that have swirled around him over the past fifty years. The end result is a work of scholarship that breaks new ground. In a similar vein, Redemption Song: Muhammad Ali and the Spirit of the Sixties by Mike Marqusee (Verso Books) looks at Ali through a decidedly left-wing political lens.
At The Fights: American Writers on Boxing compiled by George Kimball and John Schulian (Library of America) – This collection has fifty pieces representing what its overseers call "the very best writing about the fights." More selections from the first half of the twentieth century would have been welcome. Be that as it may; At The Fights belongs in the honors class of boxing anthologies. Schulian is also the author of Writers' Fighters, an anthology of his own best work.
In This Corner by Peter Heller (Da Capo Press) — One of boxing's first oral histories, chronicling the lives of forty-two world champions.
The Big Fight by Sugar Ray Leonard with Michael Arkush (Viking) — There's a growing belief among those who seriously study boxing that Sugar Ray Leonard is the best fighter of the past fifty years. Two themes run throughout The Big Fight. The first centers on Leonard's illustrious ring exploits. The second details a life spiraling out of control in a haze of fame, alcohol, and drugs. The book is an interesting passageway into the mind of a great fighter.
Only In America: The Life and Crimes of Don King by Jack Newfield (William Morrow & Company) — Give the devil his due. Don King is one of the smartest, most charismatic, hardest-working men on the planet. Jack Newfield recorded the good and the bad, mostly the bad, in exhaustive detail.
Fear & Fire: The Inside Story of Mike Tyson by Jose Torres (Warner Books) — In 1989, when Tyson was at his peak and beginning to publicly unravel, there was a spate of books about the young champion. This was the best of them. More recently, Tyson has had his say in Undisputed Truth (Blue Rider Press), a compelling memoir written with Larry Sloman.
Rope Burns by F. X. Toole (Ecco Press) — Six short stories, the first five of which are very good. The author is at his best when he describes the behind-the-scenes maneuvering that infests boxing. The book was re-released under the title Million Dollar Baby to take advantage of tie-in movie publicity.
Ghosts of Manila by Mark Kram (Harper Collins) — Whether or not you agree with Kram's thesis, which seeks to elevate Joe Frazier and diminish Muhammad Ali, this work is an interesting read. Bouts of Mania by Richard Hoffer (Da Capo Press) adds George Foreman to the mix and places the remarkable fights between these three men in historical context, recreating scenes that define the fights and the fighters themselves.
The Prizefighter and the Playwright by Jay Tunney (Firefly Books) is a son's tribute to his father. Jay Tunney writes nicely and understands boxing. This book details the former heavyweight champion's ring career, marriage, and relationship with Nobel-prize-winning playwright George Bernard Shaw.
The Greatest Boxing Stories Ever Told edited by Jeff Silverman (Lyons Press) — This is a pretty good mix of fact and fiction from Jack London and Sir Arthur Conan Doyle to Jimmy Cannon and Frank Deford. Classic Boxing Stories edited by Paul D. Staudohar (Skyhorse Publishing) is an expanded version of a similar book published previously by Chicago Review Press and is also a good read.
Ray Arcel by Donald Dewey (McFarland and Company) – The image of Ray Arcel that exists today is that of a sage old trainer who knew the science of boxing and was a gentleman. Dewey explores Arcel's life in detail and has an appreciation of boxing and boxing history. The writing is a bit ponderous at times, but the book is intelligent and insightful.
Four Kings by George Kimball (McBooks Press) – Kimball recounts the epic nine battles contested among Sugar Ray Leonard, Marvin Hagler, Thomas Hearns, and Roberto Duran between 1980 and 1989. It was a special time for boxing fans and more special for those who, like Kimball, experienced the drama firsthand from the inside.
The Lion and the Eagle by Iain Manson (SportsBooks Ltd) — A dramatic recreation of the historic 1860 fight between the English champion, Tom Sayers, and his American challenger, John C. Heenan. Manson sets the scene on both sides of the Atlantic. In reconstructing the life of each fighter, he gives readers a full sense of time and place. For more on the same encounter, The Great Prize Fight by Alan Lloyd (Coward, McCann & Geoghegan) is an excellent read.
Sweet Thunder: The Life and Times of Sugar Ray Robinson by Wil Haygood (Alfred A. Knopf) – This is the first biography to fully explain Robinson's legacy in the ring and his importance out of it. Haygood researches thoroughly and writes well, placing Sugar Ray in the context of Harlem and America in the 1940s and '50s. The six wars between Robinson and Jake LaMotta are particularly well told.
Shelby's Folly by Jason Kelly (University of Nebraska Press) – Jack Dempsey vs. Tommy Gibbons is the only championship bout that's remembered more for the site than the fight itself. Shelby, Montana, was one of the most improbable and ill-considered venues ever to host a major championship fight. Kelly explains who, what, how, when, and why.
At The Fights: Inside the World of Professional Boxing by Howard Schatz (Sports Illustrated Books) – Monet captured the essence of water lilies better than a photograph. The same can be said of Schatz's computer-styled images of boxers. Light and shadow are distorted to show movement. The images convey strength and power, motion and emotion. It's a monumental book in more ways than one, printed on heavy glossy 14-by-11-inch stock with faithful photographic reproductions and splendid production values.
Liston and Ali by Bob Mee (Mainstream Publishing) – There are hundreds of books about Muhammad Ali, but very little good writing about Sonny Liston. This is very good writing about Liston, who is portrayed as a full flesh-and-blood figure rather than a cardboard cutout from the past.
James J. Corbett by Armond Fields (McFarland and Company) – Corbett was onstage for thirty-nine of his sixty-six years and worked hard to develop his craft as a performer. This book is as much about Corbett the actor as it is about Corbett the fighter. Fields also offers readers an engaging look at the San Francisco that Corbett grew up in as well as Corbett's personal life.
The Longest Fight by William Gildae (Farrar Straus and Giroux) – Joe Gans receded long ago into a seldom-visited corner of boxing history. This book is keyed to the historic first fight between Gans and Battling Nelson, which took place in Goldfield, Nevada, in 1906. Gildae brings Gans to life, crafting a sense of time and place that will enhance any reader's appreciation his subject.
The Good Son: The Life of Ray "Boom Boom" Mancini by Mark Kriegel (Free Press) – Kriegel is a good researcher and a good writer. The Good Son treats Ray Mancini with respect but acknowledges his flaws. It also conveys an admirable understanding of the sport and business of boxing. This isn't just a book about Mancini. It's a look into a fighter's soul.
Editor's Note: Thomas Hauser has authored twenty-five books about boxing that are excellent reading during the holiday season and every other time of year: Muhammad Ali: His Life and Times, Waiting for Carver Boyd, Mark Twain Remembers, The Black Lights, Boxing Is, An Unforgiving Sport, The Boxing Scene, The Greatest Sport of All, The Lost Legacy of Muhammad Ali, Knockout, I Don't Believe It But I Know It's True, Chaos, Corruption, Courage, Glory, Muhammad Ali: Memories, Muhammad Ali: In Perspective, A Beautiful Sickness, A Year At The Fights, The View From Ringside, Brutal Artistry, Muhammad Ali & Company, The Legend of Muhammad Ali, BOX: The Face of Boxing, Winks and Daggers,And the New, Straight Writes and Jabs, and Thomas Hauser on Boxing.
Thomas Hauser can be reached by email at thauser@rcn.com. His most recent book (The Final Recollections of Charles Dickens) was published Counterpoint.
International Brotherhood of Prizefighters Rankings: Week of September 24, 2023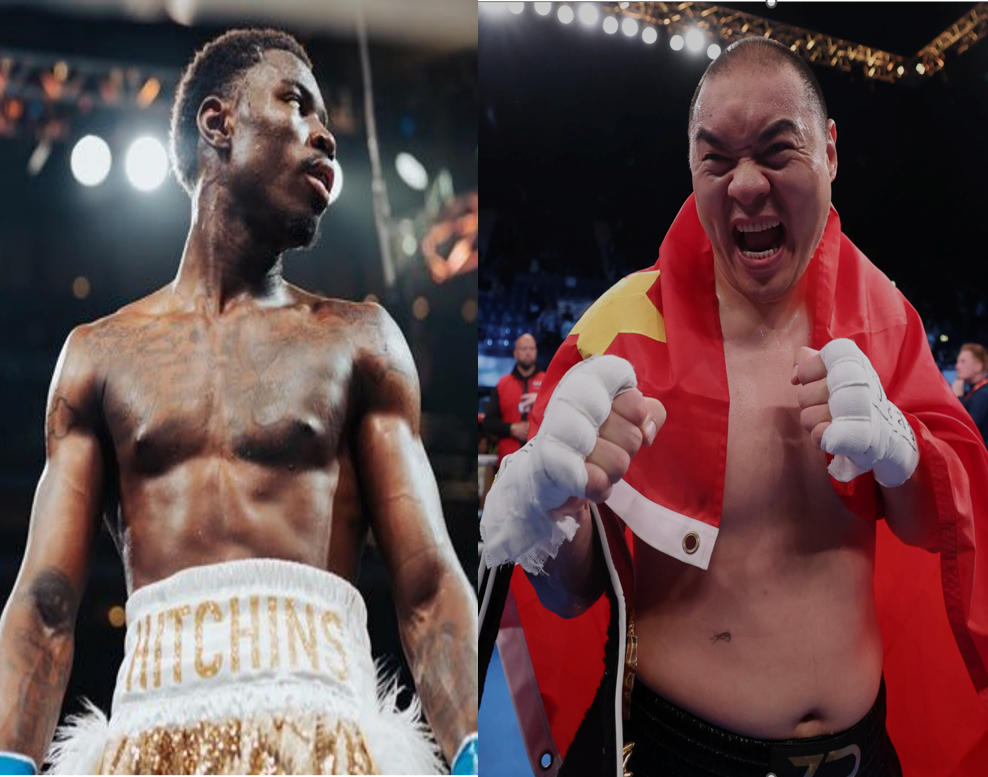 International Brotherhood of Prizefighters Rankings: Week of September 24, 2023

What's in a nickname, you ask?  Zhilei "Big Bang" Zhang exhibited shades of the legendary Brown Bomber, Joe Louis; the exception being he conducts business from the port side.  Zhang's 3rd round stoppage of Joe Joyce sees Joyce exiting the top 10 in the heavyweight division.  Also exiting due to inactivity is Andy Ruiz and Luis Ortiz, who last fought each other on September 4, 2022.  Gaining entries are Daniel Dubois, Dillian White and Derek Chisora, at 8, 9 and 10 respectively.
At 140, Richardson Hitchins earned his asterisk with a one sided decision over Jose Zepeda.  Hitchins enters the top 10 in the 7th slot, while Zepeda falls to 8th.  Zhankosh Turarov drops to 9th in the world and immediately underneath him, rounding out the top 10, is Elvis Rodriguez. Scotland's Josh Taylor gets bumped from the 10th slot.
At 108, World Champion Kenshiro Teraji defended his title with a stoppage of 4th ranked Hekkie Budler in round 9 of a scheduled 12.  Budler drops to 7th, see list for reshuffle.
*Please note that when the fighter's name appears with an asterisk it represents a movement in ranking from the previous week.
105lbs
♛ Vacant
1            Thammanoon Niyomtrong (Knockout CP Freshmart) (Thailand)
2            Panya Pradabsri (Petchmanee CP Freshmart) (Thailand)
3            Oscar Collazo (USA)
4            Ginjiro Shigeoka (Japan)
5            Daniel Valladares (Mexico)
6            Yudai Shigeoka (Japan)
7            Melvin Jerusalem (Philippines)
8            Masataka Taniguchi (Japan)
9            Rene Mark Cuarto (Philippines)
10          Yudai Shigeoka (Philippines)
108lbs
♛ Kenshiro Teraji (Japan)
1            Jonathan Gonzalez (Puerto Rico)
2            Masamichi Yabuki (Japan)
3            Sivenathi Nontshinga (South Africa)
4            Elwin Soto (Mexico)*
5            Regie Suganob (Philippines)*
6            Shokichi Iwata (Japan)*
7            Hekkie Budler (South Africa)*
8            Carlos Canizales (Venezuela)
9            Daniel Matellon (Panama)
10          Miel Fajardo (Philippines)
112lbs
♛ Vacant
1            Sunny Edwards (England)
2            Artem Dalakian (Ukraine)
3            Julio Cesar Martinez (Mexico)
4            Angel Ayala Lardizabal (Mexico)
5            David Jimenez (Costa Rica)
6            Jesse Rodriguez (USA)
7            Ricardo Sandoval (USA)
8            Felix Alvarado (Nicaragua)
9            Seigo Yuri Akui (Japan)
10          Taku Kuwahara (Japan)
115lbs
♛ Juan Francisco Estrada (Mexico)
1            Roman Gonzalez (Nicaragua)
2            Kazuto Ioka (Japan)
3            Fernando Martinez (Argentina)
4            Junto Nakatani (Japan)
5            Srisaket Sor Rungvisai (Thailand)
6            Kosei Tanaka (Japan)
7            Andrew Moloney (Australia)
8            Francisco Rodriguez Jr. (Mexico)
9            Pedro Guevara (Mexico)
10         Donnie Nietes (Philippines)
118lbs
♛ Vacant
1            Emmanuel Rodriguez (Puerto Rico)
2            Alexandro Santiago (Mexico)
3            Jason Moloney (Australia)
4            Vincent Astrolabio (Philippines)
5            Gary Antonio Russell (USA)
6            Takuma Inoue (Japan)
7            Nonito Donaire (Philippines)
8            Ryosuke Nishida (Japan)
9            Keita Kurihara (Japan)
10          Paul Butler (England)
122lbs
♛ Vacant
1            Naoya Inoue (Japan)
2            Marlon Tapales (Philippines)
3            Stephen Fulton (USA)
4            Luis Nery (Mexico)
5            Murodjon Akhmadaliev (Uzbekistan)
6            Sam Goodman (Australia)
7            Azat Hovhannisyan (Armenia)
8            Kevin Gonzalez (Mexico)
9            Ra'eese Aleem (USA)
10          Liam Davies (England)
126lbs
♛ Vacant
1            Luis Alberto Lopez (Mexico)
2            Leigh Wood (England)
3            Brandon Figueroa (USA)
4            Rey Vargas (Mexico)
5            Mauricio Lara (Mexico)
6            Robeisy Ramirez (Cuba)
7            Mark Magsayo (Philippines)
8            Josh Warrington (England)
9            Reiya Abe (Japan)
10          Otabek Kholmatov (Uzbekistan)
130lbs
♛ Vacant
1            Emanuel Navarrete (Mexico)
2            Joe Cordina (Wales)
3            Hector Garcia (Dominican Republic)
4            O'Shaquie Foster (USA)
5            Oscar Valdez (Mexico)
6            Shavkatdzhon Rakhimov (Tajikistan)
7            Otar Eranosyan (Georgia)
8            Lamont Roach (USA)
9            Eduardo Ramirez (Mexico)
10          Kenichi Ogawa (Japan)
135lbs
♛ Devin Haney (USA)
1            Gervonta Davis (USA)
2            Vasily Lomachenko (Ukraine)
3            Isaac Cruz (Mexico)
4            William Zepeda Segura (Mexico)
5            Frank Martin (USA)
6            Shakur Stevenson (USA)
7            Maxi Hughes (England)
8            George Kambosos Jr (Australia)
9            Keyshawn Davis (USA)
10          Raymond Muratalla (USA)
140lbs
♛ Teofimo Lopez (USA)
1            Regis Prograis (USA)
2            Jose Ramirez (USA)
3            Jack Catterall (England)*
4            Subriel Matias (Puerto Rico)*
5            Arnold Barboza Jr. (USA)*
6            Gary Antuanne Russell (USA)*
7            Richardson Hitchins (USA)*
8            Jose Zepeda (USA)*
9            Zhankosh Turarov (Kazakhstan*)
10          Elvis Rodriguez (Dominican Republic)*
147lbs
♛ Terence Crawford (USA)
1            Errol Spence (USA)
2            Jaron Ennis (USA)
3            David Avanesyan (Russia)
4            Cody Crowley (Canada)
5            Alexis Rocha (USA)
6            Rashidi Ellis (USA)
7            Souleymane Cissokho (Senegal)
8            Roiman Villa (Venezuela)
9            Egidijus Kavaliauskas (Lithuania)
10          Shakhram Giyasov (Uzbekistan)
154lbs
♛ Jermell Charlo (USA)
1            Tim Tszyu (Australia)
2            Brian Mendoza (USA)
3            Jesus Alejandro Ramos (USA)
4            Sebastian Fundora (USA)
5            Erickson Lubin (USA)
6            Michel Soro (Ivory Coast)
7            Magomed Kurbanov (Russia)
8            Tony Harrison (USA)
9            Israil Madrimov (Uzbekistan)
10          Bakhram Murtazaliev (Russia)
160lbs
♛ Vacant
1            Gennady Golovkin (Kazakhstan)
2            Carlos Adames (Dominican Republic)
3            Zhanibek Alimkhanuly (Kazakhstan)
4            Chris Eubank Jr. (England)
5            Liam Smith (England)
6            Sergiy Derevyanchenko (Ukraine)*
7            Vincenzo Gualtieri (Germany)
8            Felix Cash (England)
9            Michael Zerafa (Australia)
10          Esquiva Falcao (Brazil)
168lbs
♛ Canelo Alvarez (Mexico)
1            David Benavidez (USA)
2            Caleb Plant (USA)
3            Christian Mbilli (France)
4            David Morrell (Cuba)
5            John Ryder (England)
6            Pavel Silyagin (Russia)
7            Vladimir Shishkin (Russia)
8            Carlos Gongora (Ecuador)
9            Jaime Munguia (Mexico)
10          Demetrius Andrade (USA)
175lbs
♛ Artur Beterbiev (Canada)
1          Dmitry Bivol (Russia)
2          Joshua Buatsi (England)
3          Callum Smith (England)
4          Joe Smith Jr. (USA)
5          Gilberto Ramirez (Mexico)
6          Anthony Yarde (England)
7          Dan Azeez (England)
8          Ali Izmailov (Russia)
9          Michael Eifert (Germany)
10        Igor Mikhalkin (Germany)
200lbs
♛ Jai Opetaia (Australia)
1            Mairis Breidis (Latvia)
2            Chris Billam-Smith (England)
3            Richard Riakporhe (England)
4            Aleksei Papin (Russia)
5            Badou Jack (Sweden)
6            Arsen Goulamirian (France)
7            Lawrence Okolie (England)
8            Yuniel Dorticos (Cuba)
9            Mateusz Masternak (Poland)
10          Ilunga Makabu (So. Africa)
Unlimited
♛ Oleksandr Usyk (Ukraine)
1            Tyson Fury (England)
2            Zhilei Zhang (China)
3            Deontay Wilder (USA)
4            Anthony Joshua (England)
5            Filip Hrgovic (Croatia)
6            Arslanbek Makhmudov (Russia)*
7            Frank Sanchez (Cuba)*
8            Daniel Dubois (England)*
9            Dillian White (England)*
10          Derek Chisora (Zimbabwe)*
To comment on this story in the Fight Forum, CLICK HERE.
Canelo-Charlo Gets All the Ink, but Don't Overlook the Compelling Match-up of Gassiev-Wallin in Turkey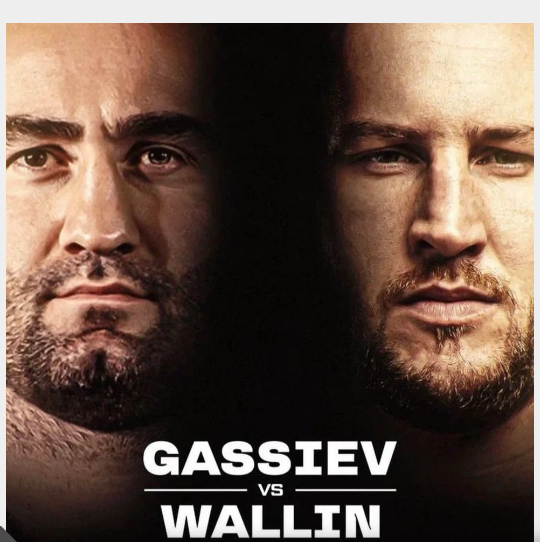 Canelo-Charlo Gets All the Ink, but Don't Overlook the Compelling Match-up of Gassiev-Wallin in Turkey
The eyes of the boxing world will be on Las Vegas this Saturday where Mexican superstar Saul "Canelo" Alvarez risks his four super middleweight title belts against unified 154-pound champion Jermell Charlo. Earlier that day at a luxury resort hotel in the city of Antalya on the Mediterranean coast of Turkey, there's a heavyweight match sitting under the radar that may prove to be the better fight. It's an intriguing match-up between former world cruiserweight title-holder Murat Gassiev and Swedish southpaw Otto Wallin, a bout with significant ramifications for boxing's glamour division.
Gassiev (30-1, 23 KOs) and Wallin (25-1, 14 KOs) have only one loss, but those setbacks came against the top dogs in the division. Gassiev was out-boxed by Oleksandr Usyk back in the days when both were cruiserweights. Wallin gave Tyson Fury a world of trouble before losing a unanimous decision.
Since those fights, both have been treading water.
Gassiev
Gassiev was inactive for 27 months after his match with Usyk while dealing with legal issues and an injury to his left shoulder. He is 4-0 (4 KOs) since returning to the ring while answering the bell for only eight rounds. The only recognizable name among those four victims is German gatekeeper Michael Wallisch. After stopping Wallisch, Gassiev was out of action for another 13 months while reportedly dealing with an arm injury.
A first-round knockout of Carlouse Welch, an obscure 40-something boxer from the U.S. state of Georgia on Aug. 26, 2022, in Belgrade, Serbia, was promoted as a title fight. The sanctioning body was the Eurasian Boxing Parliament (insert your own punchline here). Gassiev followed that up with a second-round knockout of former NFL linebacker Mike Balogun who came in undefeated and was seemingly a legitimate threat to him.
Although he has yet to fight a ranked opponent since leaving the cruiserweight division, Gassiev — a former stablemate of Gennady Golovkin who has been living in Big Bear, California, training under Abel Sanchez – is one of the most respected fighters in the division because he has one-punch knockout power as Balogun and others can well attest. The rub against the Russian-Armenian bruiser is that he is somewhat robotic.
Wallin
Otto Wallin, a 32-year-old southpaw from Sweden who trains in New York under former world lightweight champion Joey Gamache, fought Tyson Fury on Sept. 14, 2019 at the MGM Grand in Las Vegas. There was a general feeling that the Swede would be a stroll in the park for Fury, but to the contrary, he gave the Gypsy King a hard tussle while losing a unanimous decision.
Wallin is 5-0 since that night beginning with victories over Travis Kauffman (KO 5) and Dominic Breazeale (UD 12), but his last three opponents were softer than soft and all three lasted the distance. In order, Wallin won an 8-round decision over Kamil Sokolowski, who was 11-24-2 heading in, won a 10-round decision over ancient Rydell Booker, and won an 8-round decision over Helaman Olguin. His bout with Utah trial horse Olguin was at a banquet hall in Windham, New Hampshire.
It isn't that Wallin has been avoiding the top names in the division; it's the other way around. His promoter Dmitriy Salita reportedly came close to getting Wallin a match with Anthony Joshua whose team had second thoughts about sending Joshua in against another southpaw after back-to-back setbacks to Oleksandr Usyk.
Gassiev vs Wallin is a true crossroads fight. Both are in dire need of a win over a credible opponent. At last look, Gassiev, who figures to have the crowd in his corner, was a 3/1 favorite.
To comment on this story in the Fight Forum CLICK HERE
Skavynskyi and Bustillos Win on a MarvNation Card in Long Beach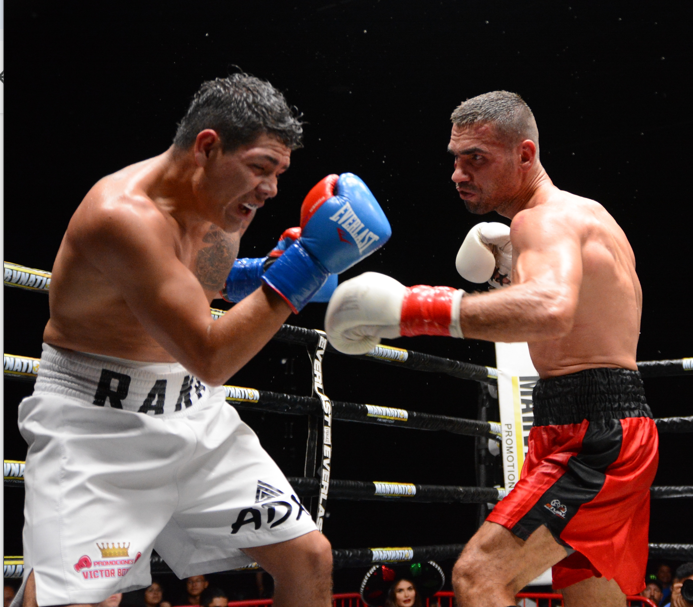 Skavynskyi and Bustillos Win on a MarvNation Card in Long Beach
LONG BEACH, Ca.-A cool autumn night saw welterweights and minimumweights share main events for a MarvNation fight card on Saturday.
Ukraine's Eduard Skavynskyi (15-0, 7 KOs) experienced a tangled mess against the awkward Alejandro Frias (14-10-2) but won by decision after eight rounds in a welterweight contest at the indoor furnace called the Thunder Studios.
It was hot in there for the more than 600 people inside.
Skavynskyi probably never fought someone like Mexico's Frias whose style was the opposite of the Ukrainian's fundamentally sound one-two style. But round after round the rough edges became more familiar.
Neither fighter was ever damaged but all three judges saw Skavynskyi the winner by unanimous decision 79-73 on all three cards. The Ukrainian fighter trains in Ventura.
Bustillo Wins Rematch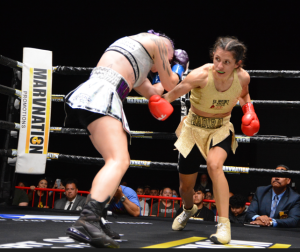 In the female main event Las Vegas' Yadira Bustillos (8-1) stepped into a rematch with Karen Lindenmuth (5-2) and immediately proved the lessons learned from their first encounter.
Bustillos connected solidly with an overhand right and staggered Lindenmuth but never came close to putting the pressure fighter down. Still, Bustillos kept turning the hard rushing Lindenmuth and snapping her head with overhand rights and check left hooks.
Lindenmuth usually overwhelms most opponents with a smothering attack that causes panic. But not against Bustillos who seemed quite comfortable all eight rounds in slipping blows and countering back.
After eight rounds all three judges scored the contest for Bustillos 78-74 and 80-72 twice. Body shots were especially effective for the Las Vegas fighter in the fifth round. Bustillos competes in the same division as IBF/WBO title-holder Yokasta Valle.
Other Bouts
In a middleweight clash, undefeated Victorville's Andrew Buchanan (3-0-1) used effective combination punching to defeat Mexico's Fredy Vargas (2-1-1) after six rounds. Two judges scored it 59-55 and a third 60-54 for Buchanan. No knockdowns were scored.
A super lightweight match saw Sergio Aldana win his pro debut by decision after four rounds versus Gerardo Fuentes (2-9-1).
Photos credit: Al Applerose
To comment on this story in the Fight Forum CLICK HERE