Each year during the holiday season, I publish a "top forty" list of what I consider to be the best books on boxing. That list, updated to accommodate recently published titles, follows. Taken together, they offer a compelling look at the sweet science from bare-knuckle days to the present. Some of these books are now out of print. But with the proliferation of online services like Abebooks.com and Amazon.com, all of them can be found.
Beyond Glory by David Margolick (Alfred A. Knopf) — This book focuses on the two fights between Joe Louis and Max Schmeling. In the process, it recreates the racial climate of the 1930s, puts the fighters in historical perspective, and conveys the incredible importance of their ring encounters. Margolick shows in dramatic fashion how Louis stirred passions and revived interest in boxing long before he beat James Braddock to become heavyweight champion. He captures the demeaning racial stereotyping of The Brown Bomber by the establishment press (including those who were seeking to be kind). And he documents in painstaking fashion, contrary to future revisionism, the degree to which Schmeling took part in various Nazi propaganda activities and supported Hitler after defeating Louis in 1936.
John L. Sullivan and His America by Michael Isenberg (University of Illinois Press) Isenberg mined the mother lode of Sullivan material and crafted a work that's superb in explaining the fighter as a social phenomenon and placing him in the context of his times. More recently, Christopher Klein has put together a meticulously researched and engaging read in Strong Boy: The Life and Times of John L. Sullivan (Lyons Press).
Sound and Fury by Dave Kindred (Free Press): The lives of Muhammad Ali and Howard Cosell intertwined. Kindred explores the ugly underside of Ali's early adherence to Nation of Islam doctrine and provides an intimate look at The Greatest in his declining years. He also paints a revealing portrait of Howard Cosell, turning the broadcast commentator from caricature and bluster into flesh and blood.
America on the Ropes by Wayne Rozen (Casey Press) — This might be the best coffee-table photo book ever devoted to a single fight. Jack Johnson is still a vibrant figure in American history, but James Jeffries has been largely forgotten except as an appendage to Papa Jack. This book gives both men their due and, in so doing, restores Jeffries' life and lustre. The photographs are extraordinary and arranged perfectly with the text.
Heroes Without A Country by Donald McRae (Ecco Press) — This is a beautifully written book about Joe Louis and Jesse Owens; two icons who changed America. McRae makes old stories seem fresh and new, and his exhaustive research brings new material to light. He is also the author of Dark Trade, a look at the modern boxing scene.
The Sweet Science by A. J. Liebling (Penguin) — Eighteen articles from the 1950s and early '60s by the legendary dean of boxing writers. Liebling set the standard to which others aspire. A collection of his later articles has been published under the title A Neutral Corner.
The Hardest Game by Hugh McIlvanney (Contemporary Books) — McIlvanney is the British equivalent of Liebling. He's not just a boxing writer. He's a writer who writes very well, among other things, about boxing.
Rocky Marciano by Russell Sullivan (University of Illinois Press) — An honest penetrating look at Marciano in the context of his times, as a person and as a fighter. What's particularly interesting is how often the unbeaten Marciano verged on defeat and his questionable ring tactics.
Cinderella Man by Jeremy Schaap (Houghton Mifflin Company) — Schaap does a fine job chronicling the rise of James Braddock to the heavyweight championship at the height of The Great Depression. He also succeeds particularly well in painting a wonderful portrait of Max Baer and explaining just how important the heavyweight title was seventy years ago.
Sweet William by Andrew O'Toole (University of Illinois Press) — A solid biography of light-heavyweight great Billy Conn. The two Louis-Conn fights are the highlight of O'Toole's work, but he also does a nice job of recounting the endless dysfunctional family struggles that plagued Conn throughout his life and the boxer's sad decline into pugilistic dementia.
In the Ring with Bob Fitzsimmons by Adam Pollack (Win by KO Publications) – Pollack has also authored biographies of John L. Sullivan, James Corbett, James Jeffries, Marvin Hart, Tommy Burns, and Jack Johnson. The books are heavily researched and rely almost exclusively on primary sources. Serious students of boxing will enjoy them.
The Last Great Fight by Joe Layden (St. Martin's Press) – This book is primarily about James "Buster" Douglas's historic upset of Mike Tyson. The saga of Iron Mike has gotten old, but Layden brings new material and fresh insights into the relationships among Douglas, his father (Billy Douglas), manager John Johnson, and co-trainers J. D. McCauley and John Russell. He also gives a particularly good account of the fight itself and how Douglas overcame the fear that paralyzed many of Tyson's opponents.
The Killings of Stanley Ketchel by James Carlos Blake (William Morrow & Company) — The life of Stanley Ketchel written as pulp fiction. Blake plays fast and loose with the truth and mixes fact with fantasy in this historical novel. But he writes well and weaves a good tale about boxing and the underside of America at the dawn of the twentieth century.
Ringside: A Treasury of Boxing Reportage and Sparring With Hemingway by Budd Schulberg (Ivan R. Dee, Inc.) — If Schulberg had never written another sentence, he'd have a place in boxing history for the words, "I could of been a contender." These collections of his articles cover seventy years of boxing lore. You might also take a look at Schulberg's novel The Harder They Fall.
The Fireside Book of Boxing, edited by W. C. Heinz (Simon & Schuster) — One of the best collections of boxing writing between the covers of a single book. This has been reissued in an updated form by Sport Classic Books. But the original 1961 hardcover has a special feel with unique artwork. Heinz also wrote a very good novel entitled The Professional.
One Punch from the Promised Land by John Florio and Ouisie Shapiro (Lyons Press) – The authors do a good job of recounting the saga of Leon and Michael Spinks. The world of abject poverty that they came from is recreated in detail and with feeling. The writing flows nicely, Leon's erratic personality is explored, and the big fights are well-told.
Unforgivable Blackness: The Rise and Fall of Jack Johnson by Geoffrey C. Ward (Alfred A. Knopf) — This is the companion volume to the PBS documentary by Ken Burns. It's well-written, meticulously researched, and the standard against which future Johnson biographies will be judged. Jack Johnson: Rebel Sojourner by Theresa Runstedtler (University of California Press), which focuses on the international reaction to Johnson, is a nice supplement.
Jack Dempsey by Randy Roberts (Grove Press) – Three decades after it was first published, this work remains the most reliable source of information about the Manassa Mauler. Roberts is also the author of Papa Jack: Jack Johnson and the Era of White Hopes (Free Press), another fine biography of the most controversial champion in boxing history, and Joe Louis: Hard Times Man (Yale University Press), a valuable addition to the literature on Louis.
Champion: Joe Louis, Black Hero In White America by Chris Mead (Charles Scribner's Sons) — At the time it was written, this was the most thorough of the Joe Louis biographies. Mead's work serves as a reminder of why the Brown Bomber was so important.
Black Is Best: The Riddle of Cassius Clay by Jack Olsen (G. P. Putnam's Sons) — This is an old one; vintage 1967. But it's a great look at the young Muhammad Ali.
Muhammad Ali: The Making of An Icon by Michael Ezra (Temple University Press) – Ezra explores the changing perception of Ali as a moral force with primary emphasis on the commercial interests that have swirled around him over the past fifty years. The end result is a work of scholarship that breaks new ground. In a similar vein, Redemption Song: Muhammad Ali and the Spirit of the Sixties by Mike Marqusee (Verso Books) looks at Ali through a decidedly left-wing political lens.
At The Fights: American Writers on Boxing compiled by George Kimball and John Schulian (Library of America) – This collection has fifty pieces representing what its overseers call "the very best writing about the fights." More selections from the first half of the twentieth century would have been welcome. Be that as it may; At The Fights belongs in the honors class of boxing anthologies. Schulian is also the author of Writers' Fighters, an anthology of his own best work.
In This Corner by Peter Heller (Da Capo Press) — One of boxing's first oral histories, chronicling the lives of forty-two world champions.
The Big Fight by Sugar Ray Leonard with Michael Arkush (Viking) — There's a growing belief among those who seriously study boxing that Sugar Ray Leonard is the best fighter of the past fifty years. Two themes run throughout The Big Fight. The first centers on Leonard's illustrious ring exploits. The second details a life spiraling out of control in a haze of fame, alcohol, and drugs. The book is an interesting passageway into the mind of a great fighter.
Only In America: The Life and Crimes of Don King by Jack Newfield (William Morrow & Company) — Give the devil his due. Don King is one of the smartest, most charismatic, hardest-working men on the planet. Jack Newfield recorded the good and the bad, mostly the bad, in exhaustive detail.
Fear & Fire: The Inside Story of Mike Tyson by Jose Torres (Warner Books) — In 1989, when Tyson was at his peak and beginning to publicly unravel, there was a spate of books about the young champion. This was the best of them. More recently, Tyson has had his say in Undisputed Truth (Blue Rider Press), a compelling memoir written with Larry Sloman.
Rope Burns by F. X. Toole (Ecco Press) — Six short stories, the first five of which are very good. The author is at his best when he describes the behind-the-scenes maneuvering that infests boxing. The book was re-released under the title Million Dollar Baby to take advantage of tie-in movie publicity.
Ghosts of Manila by Mark Kram (Harper Collins) — Whether or not you agree with Kram's thesis, which seeks to elevate Joe Frazier and diminish Muhammad Ali, this work is an interesting read. Bouts of Mania by Richard Hoffer (Da Capo Press) adds George Foreman to the mix and places the remarkable fights between these three men in historical context, recreating scenes that define the fights and the fighters themselves.
The Prizefighter and the Playwright by Jay Tunney (Firefly Books) is a son's tribute to his father. Jay Tunney writes nicely and understands boxing. This book details the former heavyweight champion's ring career, marriage, and relationship with Nobel-prize-winning playwright George Bernard Shaw.
The Greatest Boxing Stories Ever Told edited by Jeff Silverman (Lyons Press) — This is a pretty good mix of fact and fiction from Jack London and Sir Arthur Conan Doyle to Jimmy Cannon and Frank Deford. Classic Boxing Stories edited by Paul D. Staudohar (Skyhorse Publishing) is an expanded version of a similar book published previously by Chicago Review Press and is also a good read.
Ray Arcel by Donald Dewey (McFarland and Company) – The image of Ray Arcel that exists today is that of a sage old trainer who knew the science of boxing and was a gentleman. Dewey explores Arcel's life in detail and has an appreciation of boxing and boxing history. The writing is a bit ponderous at times, but the book is intelligent and insightful.
Four Kings by George Kimball (McBooks Press) – Kimball recounts the epic nine battles contested among Sugar Ray Leonard, Marvin Hagler, Thomas Hearns, and Roberto Duran between 1980 and 1989. It was a special time for boxing fans and more special for those who, like Kimball, experienced the drama firsthand from the inside.
The Lion and the Eagle by Iain Manson (SportsBooks Ltd) — A dramatic recreation of the historic 1860 fight between the English champion, Tom Sayers, and his American challenger, John C. Heenan. Manson sets the scene on both sides of the Atlantic. In reconstructing the life of each fighter, he gives readers a full sense of time and place. For more on the same encounter, The Great Prize Fight by Alan Lloyd (Coward, McCann & Geoghegan) is an excellent read.
Sweet Thunder: The Life and Times of Sugar Ray Robinson by Wil Haygood (Alfred A. Knopf) – This is the first biography to fully explain Robinson's legacy in the ring and his importance out of it. Haygood researches thoroughly and writes well, placing Sugar Ray in the context of Harlem and America in the 1940s and '50s. The six wars between Robinson and Jake LaMotta are particularly well told.
Shelby's Folly by Jason Kelly (University of Nebraska Press) – Jack Dempsey vs. Tommy Gibbons is the only championship bout that's remembered more for the site than the fight itself. Shelby, Montana, was one of the most improbable and ill-considered venues ever to host a major championship fight. Kelly explains who, what, how, when, and why.
At The Fights: Inside the World of Professional Boxing by Howard Schatz (Sports Illustrated Books) – Monet captured the essence of water lilies better than a photograph. The same can be said of Schatz's computer-styled images of boxers. Light and shadow are distorted to show movement. The images convey strength and power, motion and emotion. It's a monumental book in more ways than one, printed on heavy glossy 14-by-11-inch stock with faithful photographic reproductions and splendid production values.
Liston and Ali by Bob Mee (Mainstream Publishing) – There are hundreds of books about Muhammad Ali, but very little good writing about Sonny Liston. This is very good writing about Liston, who is portrayed as a full flesh-and-blood figure rather than a cardboard cutout from the past.
James J. Corbett by Armond Fields (McFarland and Company) – Corbett was onstage for thirty-nine of his sixty-six years and worked hard to develop his craft as a performer. This book is as much about Corbett the actor as it is about Corbett the fighter. Fields also offers readers an engaging look at the San Francisco that Corbett grew up in as well as Corbett's personal life.
The Longest Fight by William Gildae (Farrar Straus and Giroux) – Joe Gans receded long ago into a seldom-visited corner of boxing history. This book is keyed to the historic first fight between Gans and Battling Nelson, which took place in Goldfield, Nevada, in 1906. Gildae brings Gans to life, crafting a sense of time and place that will enhance any reader's appreciation his subject.
The Good Son: The Life of Ray "Boom Boom" Mancini by Mark Kriegel (Free Press) – Kriegel is a good researcher and a good writer. The Good Son treats Ray Mancini with respect but acknowledges his flaws. It also conveys an admirable understanding of the sport and business of boxing. This isn't just a book about Mancini. It's a look into a fighter's soul.
Editor's Note: Thomas Hauser has authored twenty-five books about boxing that are excellent reading during the holiday season and every other time of year: Muhammad Ali: His Life and Times, Waiting for Carver Boyd, Mark Twain Remembers, The Black Lights, Boxing Is, An Unforgiving Sport, The Boxing Scene, The Greatest Sport of All, The Lost Legacy of Muhammad Ali, Knockout, I Don't Believe It But I Know It's True, Chaos, Corruption, Courage, Glory, Muhammad Ali: Memories, Muhammad Ali: In Perspective, A Beautiful Sickness, A Year At The Fights, The View From Ringside, Brutal Artistry, Muhammad Ali & Company, The Legend of Muhammad Ali, BOX: The Face of Boxing, Winks and Daggers,And the New, Straight Writes and Jabs, and Thomas Hauser on Boxing.
Thomas Hauser can be reached by email at thauser@rcn.com. His most recent book (The Final Recollections of Charles Dickens) was published Counterpoint.
Weekend Boxing Recap: The Mikey Garcia Stunner and More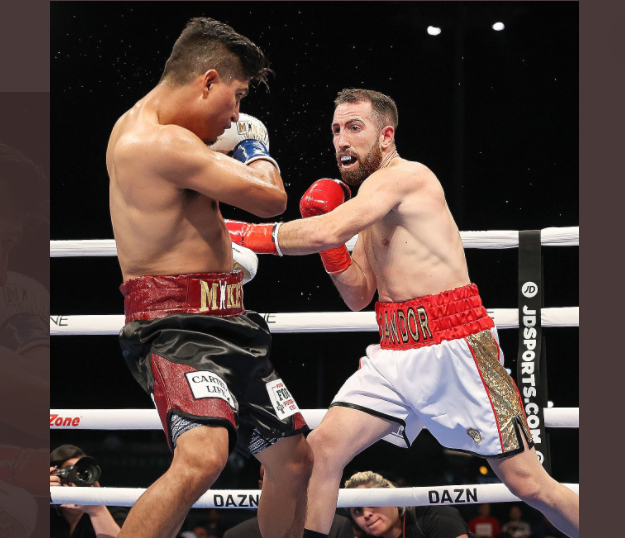 Weekend Boxing Recap: The Mikey Garcia Stunner and More
Boxing was all over the map on the third Saturday of October with many of the shows pulled together on short notice as promoters took advantage of relaxed COVID constraints to return to business as usual. When the smoke cleared, a monster upset in Fresno overshadowed the other events.
Mikey Garcia, a shoo-in to make the Hall of Fame, was on the wrong side of it. Spain's Sandor Martin, in his USA debut, won a well-deserved decision over Garcia at a Triple-A baseball park in Fresno.
Garcia, a former four-division belt-holder, was 40-1 coming in with his only loss coming at the hands of Errol Spence. Martin, a 28-year-old southpaw, brought a nice record with him from Europe (38-2) but with only 13 wins coming by way of stoppage it was plain that he wasn't a heavy hitter. His only chance was to out-box Garcia and that seemed far-fetched.
But Martin did exactly that, counter-punching effectively to win a 10-round majority decision. Two judges had it 97-93 with the third turning in a 95-95 tally.
Neither Garcia nor Martin were natural welterweights. The bout was fought at a catch-weight of 145 pounds. After the bout, the Spaniard indicated a preference for dropping back to 140 where enticing opportunities await.
There was another upset, albeit a much milder one, in the co-feature where Puerto Rico's Jonathan Gonzalez improved to 25-3-1 (14) while shearing the WBO world flyweight title from the shoulders of Mexicali's Elwin Soto (19-2).
Soto was making his fourth defense of the title and rode into the match with a 17-fight winning streak. Gonzalez, a southpaw, had formerly fought for the WBO world flyweight title, getting stopped in seven rounds by Kosei Tanaka in Nagoya, Japan.
One of the judges favored Soto 116-112, but he was properly out-voted by his colleagues who had it 116-112 the other way.
Riga, Latvia
The first major fight on Saturday took place in Riga, Latvia, where hometown hero Mairis Briedis successfully defended his IBF cruiserweight title with a third-round stoppage of Germany's Artur Mann who was on the deck three times before the match was halted at the 1:54 mark.
Briedis (28-1, 20 KOs) was making his first start since dismantling KO artist Yuniel Dorticos in the finals of season two of the World Boxing Super Series cruiserweight tournament. He scored the first of his three knockdowns in the waning seconds of round two when he deposited Mann (17-2) on the canvas with a straight right hand.
Although boosters of fast-rising WBO champ Lawrence Okolie would disagree, the Latvian is widely regarded as the best cruiserweight in the world. His only setback came when he lost a narrow decision to current WBA/IBF/WBO heavyweight champ Oleksandr Usyk in this ring in January of 2018. Now 36 years old, Briedis has yet to appear in a main event outside Europe. That's undoubtedly about to change and a rematch with Usyk is well within the realm of possibility.
Newcastle, England
Chris Eubank Jr, whose fight two weeks ago in London with late sub Anati Muratov was cancelled at the 11th hour when Muratov failed his medical exam, was added to this Matchroom card and his bout with Wanik Awdijan became the de facto main event. A 26-year-old German, born in Armenia, Awdijan was 28-1 and had won 21 straight (against very limited opposition), but he was no match for Eubank Jr who broke him down with body shots, likely breaking his ribs and forcing him to quit on his stool after five frames.
Eubank Jr, 32, improved to 31-2 (23) His only defeats came at the hands of former world title-holder George Groves and BJ Saunders. He dedicated this fight to his late brother Sebastian Eubank who died in July while swimming in the Persian Gulf.
In other bouts, Hughie Fury, the cousin of Tyson Fury, stayed relevant in the heavyweight division with a stoppage of well-traveled German Christian Hammer and Savannah Marshall successfully defended her WBO world middleweight title with a second-round TKO of Lolita Muzeya.
Akin to Eubank-Awdijan, the Fury-Hammer fight also ended with the loser bowing out after five frames. A biceps injury allegedly caused Hammer to say "no mas," but Fury, in what was arguably his career-best performance, was well ahead on the cards.
The Marshall-Muzeya fight was a battle of unbeatens, but Muzeya's 16-0 record was suspicious as the Zambian had never fought outside the continent of Africa. She came out blazing, but Marshall, who improved to 11-0 (9) had her number and retained her title.
Brooklyn
In the featured bout of a TrillerVerz show at Barclays Center, Long Island's Cletus Seldin, the Hebrew Hammer, knocked out William Silva in the seventh round. It was the fifth-straight win for the 35-year-old Seldin, a junior welterweight who was making his first start in 20 months.
Silva, a 34-year-old Brazilian who fights out of Florida, brought a 28-3 record. His previous losses had come at the hands of Felix Verdejo, Teofimo Lopez, and Arnold Barboza Jr. Seldin improved to 26-1 (22 KOs).
In other bouts, junior welterweight Petros Ananyan, a Brooklyn-based Armenian, improved to 16-2-2 (7) with a 10-round majority decision over local fighter Daniel Gonzalez (20-3-1) and Will Madera of Albany, NY, scored a mild upset when he stopped Jamshidbek Najmitdinov who was pulled out after five rounds with an apparent shoulder injury.
Najmitdinov, from Uzbekistan, was making his U.S. debut but he brought a 17-1 record blemished only by former world title-holder Viktor Postol. Madera improved to 17-1-3.
Photo credit: Ed Mulholand / Matchroom
Check out more boxing news on video at the Boxing Channel
To comment on this story in the Fight Forum CLICK HERE
Emanuel Navarrete Retains WBO Featherweight Title in a San Diego Firefight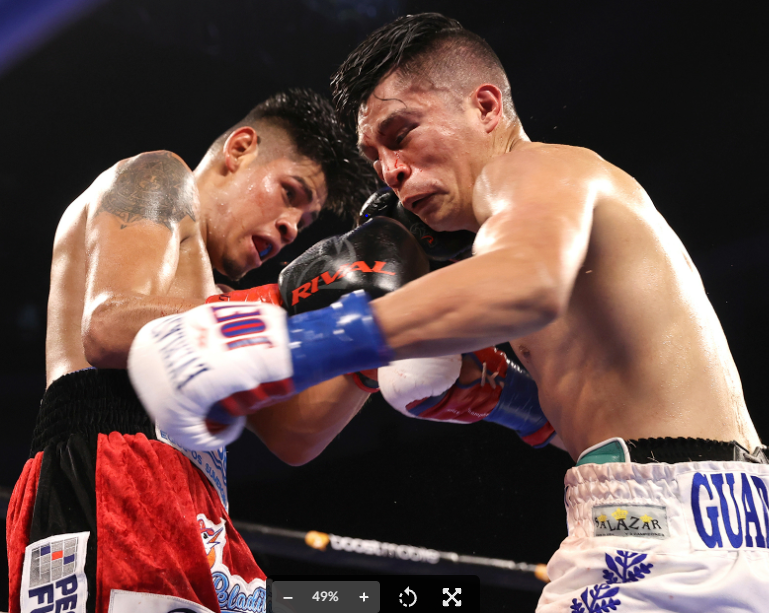 SAN DIEGO-WBO featherweight titlist Emanuel Navarrete won by unanimous decision over Joet Gonzalez in a slugfest that had fans cheering nonstop on Friday night. Fans were mesmerized by the savagery.
More than 2,000 fans saw Mexico City's Navarrete (35-1, 29 KOs) and Southern California's Gonzalez (24-2, 14 KOs) bounce brutal shots off each other for 12 successive rounds at Pechanga Sports Arena.
Both Navarrete and Gonzalez were about equal in height with the champion maybe a slight taller, but not by much. As soon as the first bell rang the two featherweights opened up in furious fashion.
Gonzalez was making his second attempt to grab a world title. His first attempt fell short a year ago. He was eager to atone for the defeat by clobbering Navarrete. Body shots were the weapon of choice.
The Mexican fighter Navarrete was accustomed to battling shorter fighters, this time the two were equal in size and in fury. Blows were flying in bunches and by the third round Gonzalez suffered a cut on his right cheek.
At several points Navarrete would connect with a solid blow and eagerly seek to finish the fight. Each time it happened Gonzalez would fight back even more furiously and beat back the champions attacks.
Gonzalez also connected with big shots and moved in for the kill only find Navarrete take a stand and fire back. Neither was able to truly gain a significant edge. After 12 rounds of nonstop action the decision was given to the judges. One scored it 118-110, two others saw it 116-112 all for Navarrete.
Fans were pleased by the decision and even more pleased by the breath-taking action they had witnessed.
Welterweights
Local fighter Giovani Santillan (28-0, 15 KOs) remained undefeated by unanimous decision after 10 rounds versus Tijuana's Angel Ruiz (17-2, 12 KOs). The two southpaws were evenly matched.
San Diego's Santillan was able to outwork Ruiz in almost every round. Though Ruiz has heavy hands he was not able to hurt Santillan even with uppercuts. It was clear very early in the fight that Santillan was the more technical and busier of the two. No knockdowns were scored.
After 10 rounds two judges scored it 100-90 for Santillan and a third saw it 99-91.
Other Results
Lindolfo Delgado (14-0, 12 KOs) battered and knocked down fellow Mexican Juan Garcia Mendez (21-5-2) in the last round of an 8-round super lightweight bout, but could not score the knockout win.
Delgado, a Mexican Olympian, was the quicker and stronger fighter yet discovered Garcia Mendez has a solid chin. All three judges scored it 80-71 for Delgado.
Puerto Rico's Henry Lebron (14-0, 9 KOs) defeated Manuel Rey Rojas (21-6) by decision after eight rounds in a lightweight match.
Javier Martinez (5-0, 2 KOs) soundly defeated Darryl Jones (4-3-1) by decision after six rounds in a middleweight clash. Jones was tough.
Las Vegas bantamweight Floyd Diaz (3-0) knocked down Tucson's Jose Ramirez (1-1) in the first round but was unable to end the fight early. Diaz won by decision.
Heavyweight Antonio Mireles (1-0) knocked out Demonte Randle (2-2) at 2:07 of the first round.
Photo credit: Mikey Williams / Top Rank for Getty Images
Check out more boxing news on video at the Boxing Channel
To comment on this story in the Fight Forum CLICK HERE
Russell Peltz's "Thirty Dollars and a Cut Eye": Book Review by Thomas Hauser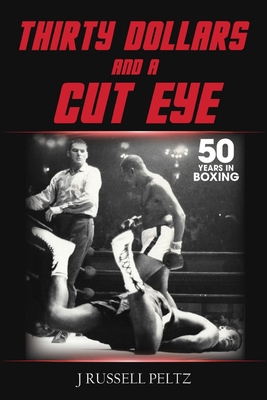 Russell Peltz's "Thirty Dollars and a Cut Eye": Book Review by Thomas Hauser
Russell Peltz has been promoting fights for fifty years and is as much a part of the fabric of Philadelphia boxing as Philly gym wars and Philly fighters. He was inducted into the International Boxing Hall of Fame in 2004 and deservedly so. Now Peltz has written a memoir entitled Thirty Dollars and a Cut Eye that chronicles his many years in the sweet science.
Peltz started in boxing before it was, in his words, "bastardized by the alphabet groups" and at a time when "world titles still meant something."
"I fell in love with boxing when I was twelve," he writes, "saw my first live fight at fourteen, decided to make it my life, and never looked back." He promoted his first fight card in 1969 at age 22.
Peltz came of age in boxing at a time when promoters – particularly small promoters – survived or died based on the live gate. Peltz Boxing Promotions had long runs at the Blue Horizon in Philadelphia and both Harrah's Marina and the Sands  in Atlantic City. His journey through the sweet science included a seven-year stint as director of boxing for The Spectrum in Philadelphia. At the turn of the century, he was a matchmaker for ESPN.
Along the way, Peltz's office in Philadelphia was fire-bombed. He was robbed at gunpoint while selling tickets in his office for a fight card at the Blue Horizon and threatened in creative ways more times than one might imagine. He once had a fight fall out when one of the fighters was arrested on the day of the weigh-in. No wonder he quotes promoter Marty Kramer, who declared, "The only thing I wish on my worst enemy is that he becomes a small-club boxing promoter."
Now Peltz has put pen to paper – or finger to keyboard. "The internet is often a misinformation highway," he writes. "I want to set the record straight as to what actually went on in boxing in the Philadelphia area since the late-1960s. I'm tired of reading tweets or Facebook posts or Instagram accounts from people who were not around and have no idea what went on but write like they do."
Thirty Dollars and a Cut Eye is filled with characters (inside and outside the ring) who give boxing its texture. As Peltz acknowledges, his own judgment was sometimes faulty. Russell once turned down the opportunity to promote Marvin Hagler on a long-term basis. There are countless anecdotes about shady referees, bad judging, and other injustices. Middleweight Bennie Briscoe figures prominently in the story, as do other Philadelphia fighters like Willie "The Worm" Monroe, Bobby "Boogaloo" Watts, Eugene "Cyclone" Hart, Stanley "Kitten" Hayward, and Matthew Franklin (later Matthew Saad Muhammad). Perhaps the best fight Peltz ever promoted  was the 1977 classic when Franklin knocked out Marvin Johnson in the twelfth round.
There's humor. After Larry Holmes pitched a shutout against Randall "Tex" Cobb in 1982, Cobb proclaimed, "Larry never beat me. He just won the first fifteen rounds."
And there are poignant notes. Writing about Tanzanian-born Rogers Mtagwa (who boxed out of Philadelphia), Peltz recalls, "He couldn't pass an eye exam because he didn't understand the alphabet."
Remembering the Blue Horizon, Peltz fondly recounts, ""The Blue Horizon was a fight fan's nirvana. The ring was 15-feet-9-inches squared inside the ropes. No fighter came to the Blue Horizon to pad his record. Fans wanted good fights, not slaughters of second-raters."
That ethos was personified by future bantamweight champion Jeff Chandler who, after knocking out an obviously inept opponent, told Peltz, "Don't ever embarrass me like that again in front of my fans."
Thereafter, whenever a manager asked Peltz to put his fighter in soft to "get me six wins in a row," Russell thought of Chandler. "I enjoyed promoting fights more than promoting fighters," he writes. "If I was interested in promoting fighters, I would have been a manager."
That brings us to Peltz the writer.
The first thing to be said here is that this is a book for boxing junkies, not the casual fan. Peltz is detail-oriented. But do readers really need to know what tickets prices were for the April 6, 1976, fight between Bennie Briscoe and Eugene Hart? The book tends to get bogged down in details. And after a while, the fights and fighters blur together in the telling.
It brings to mind the relationship between Gene Tunney and George Bernard Shaw. The noted playwright and heavyweight great developed a genuine friendship. But Shaw's fondness for Tunney stopped short of uncritical admiration. In 1932, the former champion authored his autobiography (A Man Must Fight) and proudly presented a copy to his intellectual mentor. Shaw read the book and responded with a letter that read in part, "Just as one prayer meeting is very like another, one fight is very like another. At a certain point, I wanted to skip to Dempsey."
Reading Thirty Dollars and a Cut Eye, at a certain point I wanted to skip to Hagler.
There's also one jarring note. Peltz recounts how, when Mike Jones fought Randall Bailey for the vacant IBF welterweight title in Las Vegas in 2012, Peltz bet five hundred dollars against Jones (his own fighter) at the MGM Sports Book and collected two thousand dollars when Bailey (trailing badly on the judges' scorecards) knocked Jones out in the eleventh round.
"It was a tradition from my days with Bennie Briscoe," Russell explains. "I'd bet against my fighter, hoping to lose the bet and win the fight."
I think Russell Peltz is honest. I mean that sincerely. And I think he was rooting for Mike Jones to beat Randall Bailey. But I don't think that promoters should bet on fights involving their own fighters. And it's worse if they bet against their own fighters. Regardless of the motivation, it looks bad. Or phrased differently: Suppose Don King had bet on Buster Douglas to beat Mike Tyson in Tokyo?
Philadelphia was once a great fight town. in 1926, the first fight between Jack Dempsey and Gene Tunney drew 120,000 fans to Sesquicentennial Stadium. Twenty-six years later, Rocky Marciano knocked out Jersey Joe Walcott at same site (renamed Municipal Stadium) to claim the heavyweight throne.
Peltz takes pride in saying, "I was part of Philadelphia's last golden age of boxing."
An important part.
Thomas Hauser's email address is thomashauserwriter@gmail.com. His most recent book – Broken Dreams: Another Year Inside Boxing – was published by the University of Arkansas Press this autumn. In 2004, the Boxing Writers Association of America honored Hauser with the Nat Fleischer Award for career excellence in boxing journalism. In 2019, he was selected for boxing's highest honor – induction into the International Boxing Hall of Fame.
Check out more boxing news on video at the Boxing Channel
To comment on this story in the Fight Forum CLICK HERE