The Fifty Greatest Middleweights of All Time Part Five: 10-1
For the middleweights, world-conquering monsters arrived early. In Part Two we met fighters so extraordinary that it is easy to imagine them besting even the men who are ranked here in the Top Ten. In fact, there is no need to imagine it – some of them did. Roy Jones, Marcel Cerdan and Randy Turpin all took the scalp of one of the greatest ten middleweights of all time at one time or another. Lloyd Marshall took two. That is to say nothing of men like Billy Conn and Michael Nunn and James Toney who, on their day, might have stretched any of the men listed below to their absolute limit.
Of the three divisions I've studied so far, middleweight is by far the most dangerous territory. The top ten this division has whittled down through 130 years of competition is a thing of real beauty.
All styles and types are represented from furnace-bought killing pressure to the slick stylings of the defensive genius. Between them, these men scored over 1,000 wins and more than 500 knockouts. Between them, they were stopped on just nine occasions, incredible given some of the blind alleys even these giants groped their way into at the dark end of their careers.
My Ten will not be met with universal agreement. Accord is impossible. What I can tell you is that the Fifty has been thoroughly researched and the Ten that sits within it has been agonised over. In the end, I am happy with my top nine and for all that I consider 10, 11 and 12 to be interchangeable, which is something I had hoped to avoid, that top twelve is also, I hope, solid.
So listen.
This, is how I have them:
#10 – HOLMAN WILLIAMS (145-30-11)
Holman Williams washed up in Akron, Ohio, working as a janitor in the Wonder Club, a private establishment which in his final weeks was in the news due to a shooting on the premises. Whether connected or unconnected to the shooting, in the summer of 1967 someone crept into the Wonder Club and set it ablaze. Williams, who slept upstairs, woke to an inferno and "was overcome trying to escape." He was fifty-two years old.
In his prime, he would have escaped that fire. He escaped, from as early as 1939, when he moved up from welterweight, an astonishing range of middleweight talent, duelling the leading lights of the black Murderer's Row and others in a grotesquely under-celebrated run that lasted from 1939 until 1946 when the inevitable drop-off occurred. It was only in this late year that Jake LaMotta, certainly not reticent in his determination to meet the best, and the shyer Marcel Cerdan both crossed the street to meet the era's best defensive specialist; even still, against a veteran of 170 fights, LaMotta struggled and his decision victory was booed by sections of the crowd. If LaMotta was in a nip-and-tuck affair that could have gone either way, Cerdan was outright lucky to bag a win as the bedraggled but still dangerous Williams injured his right in the fourth, boxing one-handed, and his leg in the eighth, unable to utilise his economic and confounding mobility for the ninth and tenth; still, the Associated Press card had the fight a draw.
It seems likely that had he matched these two legends even one year earlier, he would have emerged with two prized victories.
As it is we must judge him upon what he did in his frightening prime. This includes two victories over Lloyd Marshall, victories over Aaron Wade, Steve Belloise and Eddie Booker (who did manage to beat Williams but only at a poundage that rates it a light-heavyweight win), an astonishing four victories over Jack Chase and an epic series against Charley Burley which ended 3-3 with one no contest.
A middling puncher in his youth, Williams, who reportedly had a very relaxed attitude to training, had desperately fragile hands, a heinous disadvantage for a black 1940s middleweight who needed to box fifteen times and more in a year in order to make the ends meet. Williams adapted his style in order that he might survive the maelstrom of brilliance that surrounded him and the regularity with which he entered it, pulling his punches and playing for points. He became a poisonous shadow, hard to hit, lethal in his counters.
A brilliant boxer, he was capable, when necessary, of closing the distance and making war; that said, nothing he did successfully neutralised Cocoa Kid, a fellow Murderer's Row contender who he met thirteen times and with whom he always struggled. That struggle was played out, for the most part, at welterweight; up at middle it was a closer affair and although the Kid still won their series at the weight, his margin of victory was narrower and it doesn't form the limiting factor at 160lbs that it will at 147lbs.
Kid Tunero, Bert Lytell, Antonio Fernandez and Joe Carter were the other men to achieve rankings that were out-thought or out-fought by Williams. Some inconsistency dogged him and arguably a slot below Steele and LaMotta is a more reasonable one; that he three times bested Charley Burley was enough for me to nose him over the line and into the ten.
Other Top Fifty Middleweights Beaten: Cocoa Kid (#49), Jack Chase (#47), Lloyd Marshall (#31), Berty Lytell (#27), Charley Burley (Top Ten).
#09 – TOMMY RYAN (84-2-11; Newspaper Decisions 5-1-1)
Count them: three losses in more than a hundred fights. It is a true rarity to see so few losses in any centurion but Tommy Ryan was likely as brilliant and dominant a fighter as has ever lived.
The first of those losses came against the great Kid McCoy in 1896. Ryan was in his prime, but he was in his welterweight prime, and he weighed just 148lbs. Although he was crushed by McCoy it needs to be remembered that the Kid would go on to become a significant force at both light-heavyweight and heavyweight and that he carried a significant size advantage into their fight.
The second was suffered via a disqualification against George Green, the foul blow reported alternatively as "a light blow struck on Green's shoulder" when he was down and a knee delivered to the face as Green crumpled before Ryan's assault. Finally, he was beaten by heavyweight Denver Ed Martin in his final fight. He dropped a six round newspaper-decision to the big man having come out of retirement after a four year hiatus. He was forty-one years old.
Other than that, it's just glory and greatness and the only factor that determines how highly he rates in the divisions he graced is identifying when he should be credited as a welterweight and when he should be credited as a middleweight.
For me, Ryan's middleweight prime stretches from 1897 through to 1904 and his draw with Philadelphia Jack O'Brien; most primes are barracked by losses but Ryan was all but invincible at middleweight, and seemed literally so during his middleweight prime.
Perhaps his era's definitive technical genius, he is said to have schooled both Jim Jeffries and, more surprisingly, the supposed "Grandfather of Boxing" James J Corbett on the finer points of boxing technique, but he was also one of the toughest middleweights in history. An orphan, the story goes that he wound up in Michigan scrapping his fellow newsboys for territory in semi-professional contests that morphed into a boxing career. Skin gloves and cobbles wrought a fighter carved of stone as he proved in defeating Tommy West in perhaps the bloodiest fight in boxing history. As well as innate toughness, he proved himself a wilting puncher scoring knockouts, some of them early, in the majority of his title defences. A shot Jack Dempsey, the legendarily filthy "Mysterious" Billy Smith, West and Kid Carter were among the best to fall to him during the eight years during which he was almost universally recognised as the middleweight champion.
His was not an era of great strength but his consistent and extended dominance over it brings him in here just ahead of the mercurial Williams.
Other Top Fifty Middleweights Beaten: Jack Dempsey (#15)
#08 – CHARLEY BURLEY (83-12-2)
For boxing fans of a certain kind, the high regard in which the great Archie Moore holds the legendary Charley Burley is well known. Moore, who Burley thrashed, called Burley "inhuman" and "a human riveting gun," striving, even with his dazzling lexicon, to make himself understood on the subject of the man he named "the best fighter I ever met" and a fighter who would have "beaten Ray Robinson".
Less well known is the admiration of Burley by Moore's on and off trainer, a man named Hiawatha Gray. Gray reportedly saw not only the greats of the 1940s and intimately knew both Moore and his incredible list of top drawer opposition, but also the greats of boxing's infancy, men like Sam Langford, Jack Johnson, Joe Gans and Stanley Ketchel. Gray, like Moore, named Burley the best fighter he had ever seen according to Burley biographer Allen Rosenfeld. Ray Arcel, too, ranked Burley among the very greatest he saw. Eddie Futch named him one of the very best and introduced him to Larry Holmes as "the greatest fighter Pittsburgh has ever produced" without apologies to either Harry Greb or Billy Conn. Angelo Dundee was firm about refusing to name the greatest fighter of all time, claiming that opinions were "all about the time you come from" but when pressed, he named a handful of contenders that included Charley Burley.
For boxing geeks the opinion in which both peers and greats held Burley has become something of a cliché, but make no bones about it: those that saw him were enchanted beyond the norm.
I, too, am enchanted by Burley. The grainy highlights of him outclassing a light-heavyweight named Billy Smith is perhaps my favourite fight film. Smith, who was as prestigious a right-hand puncher as ever fought at light-heavyweight, comes charging across the ring and tries to nail Burley straight up with the same punch he used to obliterate Harold Johnson; he would have been as well trying to pick off a humming bird with a canon. Burley sidesteps neatly and then begins ten solid rounds of literally toying with the best puncher of the weight division fifteen pounds above his own, spinning him, feinting him into knots, countering him into a shambles. Most of all he muscles him in the clinches, matching the larger, more powerful man with ease.
Part cobra, part mongoose, Burley's style was one of enormous complexity. He was a puncher, a defensive specialist, enormously strong physically and was equipped with a long reach and every punch in the book. Archie Moore describes a war machine and heavyweight slugger Elmer Ray, who ran afoul of the diminutive Burley in sparring, claimed that no man he ever faced from Ezzard Charles and Jersey Joe Walcott to the murderous Turkey Thompson hit as hard as he. But he will not be remembered as a puncher or a pirouetting dervish; he will be remembered first and foremost as a defensive genius and slickster.
He was all of those things. He was more.
Other Top Fifty Middleweights Beaten: Cocoa Kid (#49), Jack Chase (#47), Berty Lytell (#27), Holman Williams (Top Ten).
#07 – BERNARD HOPKINS (55-7-2)
The Executioner has very little company for contenders matched and dispatched. Lineal champion for only six defences between his 2001 deconstruction of Felix Trinidad through to his questionable, though not unreasonable, decision loss on points to a motivated and primed Jermain Taylor in 2005, Hopkins was clearly the best middleweight in the world from as early as 1996, resulting in a near decade at the top of a division, a total of nine years. A moment's pause for each of those years might reveal to the considered soul the level of commitment and the strength of character necessary to remaining the best fighter at a given weight for that length of time, regardless of the level of the competition.
He has named himself "biologically different than anyone else who walks the planet earth" but it is more likely that the difference is mental. Hopkins has eschewed chocolate for decades; the use of alcohol as a relaxant or stimulant is an alien concept. He visits the gym on Christmas day.
He is "different" alright.
But yes, that level of competition. Hopkins bested numerous contenders but he never beat a fighter in contention for this list. Trinidad is the closest he came to taking such a scalp and Trinidad was found to be something of a mirage at 160lbs, for all that he went into his fight with Hopkins as a favourite.
So Hopkins appears here as the ultimate realisation of middleweight discipline. His style, too, was underpinned with determination, in fact I have never seen a fighter who boxed without slugging or swarming so married to domination as a concept. Initially aggressive and pressing (though always intelligent), Hopkins evolved into a fighter who dominated by surgery. He always knew the angle. If his opponent had a great jab he circled a half step outside the range and knew when to offer that step up to draw the punch. People say Hopkins "takes away his opponent's best punch" but that's not true, or it's only half true. He turns his opponent's best punch into a weakness.
This was very much the case against Trinidad. He kept his right hand high, his chin down, moved exclusively in quarter-steps or rushes and remained busy at that range which made a serious advantage of his reach, which forced Trinidad to consider straight punches first and foremost. In the end, Hopkins so entirely neutralised the lethal Tito hook that he was able to block and counter it for the knockout. That he had the presence of mind and physical cohesion to perform both actions with his right hand after twelve rounds is a testimony to both his technical ability and the gym-rat work-ethic that kept his mind free from cobwebs in the final round of a busy fight.
He was a cerebral alpha dog, the thinking man's prison tough.
Hopkins probably fought defences against more top five contenders than any other middleweight champion and nobody, until his razor-thin combats with Jermain Taylor, really troubled him. He was as dominant a champion as appears on this list. One can say what one likes about his competition, but in the departments of dominance, consistency and longevity, Hopkins is off the scale. The #7 spot is his due.
Other Top Fifty Middleweights Beaten: None
#06 – MIKE GIBBONS (65-3-4; Newspaper Decisions 48-8-4)
Mike Gibbons is a total anomaly, a white fighter who was clearly the best in the world in his weight division for a concerted spell who never became the champion. He laid claim to the title, like so many others in the wake of Stanley Ketchel's death, but his claim was never recognised as full.
Mike was able to tempt three of the men who held the lineal title during his career into the ring at one stage or another. George Chip was the legitimate world champion in 1913 and 1914; Mike met and outclassed him on three separate occasions between 1917 and 1919. Al McCoy was the man who took the title from Chip. Three months before he did so, McCoy faced Mike. According to The Pittsburgh Press, McCoy landed "three or four punches" in ten uneventful but one-sided rounds which were hissed and booed by those in attendance. This may have been a part of Mike's problem: he was a defensive specialist, the "St. Paul Phantom," a fighter almost impossible to hit and given to taking protracted breaks even against world-class opposition, especially in no contests where no official decision was being rendered.
McCoy reigned for three years and despite his clear superiority over the new champion, Mike was never rewarded with a title fight. "I will meet McCoy any time," was the line he parroted throughout that reign but it would be Mike O'Dowd who ended the McCoy title-run. Against O'Dowd, Mike enjoyed less dominance, dropping a twelve round decision in the twilight of the career and swapping newspapers decisions with the brutal champion prior to that. Against fellow uncrowned champion Harry Greb he managed a laudable 1-1, although it should be noted that Greb, while far from green, improved considerably after the first meeting between the two, a six-rounder fought in February of 1917.
Two newspaper decisions rendered over Jack Dillon and three over Jeff Smith in what appear to have been fascinating if sometimes slow encounters nail him down as great but his resume has enormous depth to go with these quality wins. Willie Brennan, Gus Christie, Bob Moha, Jimmy Clabby, Eddie McGoorty and Leo Houck, among others, fell to his stylings at some time or other.
A veteran of more than 130 fights, he was never stopped, a granite jaw barracking that legendary defence. Had he been champion he would have cracked the top five.
Other Top Fifty Middleweights Beaten: Jeff Smith (#41), Mike O'Dowd (#25), Jack Dillon (#19), Harry Greb (Top Ten).
#05 – STANLEY KETCHEL (53-5-5)
The definitive monster draws a veil across the top five.
By astonishing coincidence Stanley Ketchel shared an era with perhaps the only middleweight that could have rivalled him for the position of Chief Monster, Billy Papke. They fought wars, savage even for their savage era.
Papke exalted in suffering to an even greater extent than Ketchel, and was delivered to exaltation by his nemesis in June of 1908. Ketchel boxed Papke carefully, "he was not in a hurry" but rather "the coolest man in the house." He used footwork and a shifting, "sideways" style that reads as almost spiderlike, to keep the brutal Papke off balance and under control; the result was a beating one-sided and impressive, so impressive it led the great Abe Attell to name Ketchel "the greatest fighter that ever lived."
The rematch, too, provoked admiration. Jim Jeffries, the legendary heavyweight champion, labelled him "the gamest fighter I have ever seen" as Ketchel absorbed perhaps the most hellish beating of an era accustomed to such; so devastating was the punishment that Papke inflicted that by the eighth the crowd, accustomed to the brutalities of boxing in this era, called for the fight to be stopped. Jeffries, a fighter who made his bones soaking up violence, allowed the blood bath to continue into the twelfth. Ketchel's face "was battered out of shape, as if Papke had knocked him about with a baseball bat as opposed to two fists". Distracted by talk of a match with world heavyweight champion Tommy Burns, comforted by his one-sided drubbing of Papke on points, Ketchel, perhaps, had not applied himself in the usual way. "His face crooked, his mouth a mere gash," he vanished into the desert, even his manager apparently unaware of his whereabouts.
When he re-emerged it was with a silent confidence that impressed even the newspapermen who had deemed him damaged goods. At the bell for their rubber, he told Papke, in a steady voice, that he would knock him out one round earlier than Papke had inflicted that ignominy upon him and then proceeded to do so. When he defeated Papke for a third time over twenty rounds some months later he was made Papke's master for all time.
Ketchel had been an underdog to the much bigger Joe Thomas when he stumbled out of the brush all those years earlier but he crushed Thomas. Hugo Kelly had boxed fifty rounds with Jack Sullivan, thirty rounds with Burns and twenty rounds with Papke without incident; Ketchel dusted him in three. Sullivan, a defensive specialist more accustomed to boxing heavyweights than middleweights, dropped down in poundage to face Ketchel and was destroyed. In fact, while he was beaten by a light-heavyweight Sam Langford and a heavyweight Jack Johnson – no shame in either case – Ketchel was beaten just once at middleweight, by Papke, a defeat he three times avenged.
A lethal pressure fighter with off-scale power, an iron jaw, huge work-rate and limitless stamina, Ketchel dominated a superb era of middleweights during a career that saw him reign twice as the champion of the world.
Other Top Fifty Middleweights Beaten: Hugo Kelly (#50), Billy Papke (#23).
#04 – SUGAR RAY ROBINSON (173-19-6)
Sugar Ray Robinson should always herald something special when it comes to boxing history, and such is the case here; Robinson is the first man on this list to have been considered at some point for the #1 slot.
What caused him to tumble to #4 is his inconsistency at the weight. His incredible longevity in winning the middleweight title an astonishing five times is an achievement that makes it almost impossible to leave him out of the top six, but it must be quantified. Randy Turpin, Gene Fullmer and Carmen Basilio, all champions from whom he ripped the title, were only champions because he lost to them – in other words, it was his ability to win and lose with these men that enhances his standing whereas the likelihood is that Marvin Hagler and Carlos Monzon would have dominated all three twice. Additionally, if list-making is an art that is perfected with practice, I have learned to become wary of fighters who let many other fighters into the argument. Robinson was a champion when he lost to Turpin, Fullmer and Basilio and for all that only Turpin got to him in anything like his prime, those defeats chip away at the gold of his glory. If Robinson were ranked #1, say, then the chips of gold bagged by these wonderful middleweights become even more valuable and this leads to an artificial inflation of their standing. Here, then, is the signal I have heeded in ranking Robinson the least of the faces of middleweight's Mount Rushmore.
Not that a higher berth would flatter him. Ray Robinson's famous destruction of Jake LaMotta on Valentine's Day 1951 is the single greatest performance by any fighter on film in my opinion.
That's probably worth reiterating: I have never seen boxing done better than Robinson at his middleweight best, not by any fighter in any division. His great weakness at middle, his lack of physicality, he made a strength, crouching and landing booming right hands to the body around the corner of LaMotta's fearsome tunnel vision, making space and digging with those famous short blows, a tactic he perfected against the granite-chinned Fullmer for the knock-out of the century in their 1957 rematch.
His domination of another champion, Bobo Olson, is also impressive, almost as impressive as his defeat in 1961 of Denny Moyer, not in and of itself a great achievement but a win by which he came to own victories over middleweight contenders from three different decades, something neither Monzon nor Hagler could achieve.
These observations are drier than those I might have made on the incredible gift the man had for moving and punching, of the most fluid yet devastating combinations ever to be performed in a boxing ring, but they are the pertinent ones when it comes to understanding his place in middleweight history.
Other Top Fifty Middleweights Beaten: Bobo Olson (45), Georgie Abrams (39) Randy Turpin (37), Gene Fullmer (24), Jake LaMotta (12).
#03 – MARVIN HAGLER (62-3-2)
Marvellous Marvin Hagler may be the most mis-understood great fighter in history.
Most famous of all his fights was the amazing 1985 showdown with Tommy Hearns in which he swarmed forwards and inside the deadly Hearns jab for an aggressive and brutal face-first assault, the result a third round knockout. Notorious, too, is his final fight, his controversial 1987 loss to Ray Leonard a fight in which, again, he adopted the role of aggressor as Leonard slipped and jived his way to a decision win. But that is not Hagler's natural style. A stalker, yes, he was that, but more a pressure-stalker than an aggressive, pushy one as he appeared in those two contests. To put it simply, Hagler was a much better boxer than he was a brawler, and he was one of the better brawler's in the division's history.
That said, his careful methodology probably cost him the decision against Leonard and let the genius Duran come perilously close to taking a decision from him in 1982; but for the most part, Hagler's legacy is perhaps the definitive alter to the savagery of the deliberate. The best examples of his true style are likely his two dominations of the direct Mustafa Hamsho. Hamsho, who convinced both media and public that he, of all the ranked contenders, was the best equipped to test Hagler, was in fact the perfect foil for this pragmatic puncher's style, and in the first fight Hagler slipped, blocked and rode Hamsho's attack all the while counter-punching him to pieces, remaining always just beyond his opponent's most tender attentions. The ending was brutal.
But it was less brutal than the rematch, conjured by Hamsho in the wake of some moderate difficulties Hagler had had against the not dissimilar Juan Domingo Roldan. These difficulties were not recreated by Hamsho who once again was dismantled, this time in just three. This fight, in conjunction with the Hearns war, demonstrates the absurd difficulty borne in matching Hagler. He had an iron jaw, a world class defence, really good punching power (of his twelve successful title defences he won eleven by stoppage), was a good mover and a wonderful counter-puncher; but when Hamsho and Hearns plant their feet they get destroyed, are out-thundered by a fighter armed to the teeth and in possession of the accuracy to find all but the most elusive targets with sickening regularity. The surgical precision of the massive variety of right hands he used to butcher Hamsho in the third also special; the uppercuts he used in part to soften him some of the best you will see. This is not a head-to-head list as I have been at pains to stress, but I will say this: any fight in which Hagler be allowed to find those uppercuts is a fight he would win.
They played a part in victories over ranked men such as Mike Colbert, Bennie Briscoe, Alan Minter (the ruthlessly deposed champion), Fulgencio Obelmejias, Vito Antuofermo, Don Lee, Tony Sibson, John Mugabi and others; he was a king who brooked no authority.
Having said that, Hagler had as difficult apprenticeship as any fighter in the Top Ten and although there is no room to explore it here I think it is fair to say that it bore a fighter with a chip on his shoulder and one, too, in need of tactical direction – he could be confused, perhaps, by a vacuum. So few are his weakness though that we are reduced to groping for such quasi-psychological chinks in some of boxing history's greatest armaments. A colossus of a fighter, Hagler would have made a worthy number one.
Other Top Fifty Middleweights Beaten: None
#02 – CARLOS MONZON (87-3-9)
Inscrutable, impermeable and perhaps unstoppable, Carlos Monzon went an astounding, record-breaking 15-0 in world title fights and went unbeaten despite excellent competition for an astounding twelve years. He was a horror to face and may have been the single best middleweight ever to pull on the gloves.
Why? That's the question that tortured me; what made him the best, if that is what he was?
I have given up recounting the training regimes and commitment of the great ones – they are all similar in that they call for either Spartan commitment to training, or enormous activity that precluded the need for such training; Monzon trained hard, but he also smoked heavily, reportedly sucking down up to 100 a day, although I can hardly believe this. Smoking, supposedly, even while completing training runs, here was a fighter that was more impressive in the late rounds of championship fights than almost any other. Sparring with an increasing number of statuesque models and South American movie stars as his fame increased, Monzon seems to have actually been what rumour-mongers tried to make Harry Greb: a playboy who trained on pleasure while simultaneously becoming perhaps the greatest fighter of his era. Latterly, his philandering bought him a bullet in the arm which he happily took to the ring lodged in his flesh. It made no difference to his thumping dominance.
If not, then, extraordinary commitment to training, could it be speed and power, the cornerstone of many great title reigns? Frankly, no. Monzon was a consistently hurtful puncher, especially before arthritis began to affect his hands, and he had good functional speed, but he was not fast in the sense that Robinson or Burley were.
I think what made him so difficult to beat was that supernatural engine, perhaps the definitive one for the modern middleweight division despite the abuses he heaped upon it, a machismo unparalleled and, most of all, a strategic deployment that came as close to solving boxing as anything I have ever seen.
In a nutshell, Monzon insisted upon one of two things in the ring: either that you put yourself somewhere where you would be available to be hit for three minutes of every round, (with pressure, say, or aggression), or he would put you there himself. From there, he would rely on work-rate and a consistent and resounding accuracy exemplified by one of the most dangerous jab double-right-hand combinations in history (check out his rematch with Jean Claude Bouttier for a particularly withering example).
If this sounds too simple to work, consider Monzon's record. He didn't pick up as many ranked scalps as Hagler, but this may be more to do with cultural bias than anything else. Perhaps the likes of Andres Selpa and Jorge Hernandez did not deserve Ring rankings but their records stood at 119-42-27 and 109-6-1 respectively when Monzon beat them during a savage apprenticeship fought in the figurative bandit-country of South America's wild-west. And when he hit the heights of Ring's top ten with his domination of Nino Benvenuti, foes fell to the wayside regardless of what number was propping them up at bell. He probably made Columbian puncher Nino Valdes wait too long but when they met not once but twice, Monzon dropped him and bettered him. His title reign is as close to unimpeachable as it was long.
As close as his crushing excellence brought him to the #1 spot.
Other Top Fifty Middleweights Beaten: Emile Griffith (29), Nino Benvenuti (22).
#01 – HARRY GREB (107-8-3; Newspaper Decisions 155-9-15)
At first I thought Robinson would be #1. Then, when a detailed look started to make me feel that perhaps Robinson's latter inconsistencies might hamper him, I began to favour Monzon – the greatest of the middleweight champions, after all.
The reason I never figured Harry Greb for #1 is the same reason Mickey Walker didn't make the top ten. Like Walker, Greb did so much of his fighting against heavier men, victories for which he cannot be credited here. If that sounds harsh, consider that I have already credited him for them; he ranked #3 all time at light-heavyweight; he ranked #47 all-time at heavyweight; and ranked #2 all-time pound-for-pound, a ranking that may require urgent review.
So Greb, having received heaped praise for his contribution at these other weights, would, I presumed, come up short, spread too thin.
But here he is.
A key aspect in researching this series of articles has been to try to establish which fighters were ranked at the relevant poundage at or around the time they were dispatched by the subject. This is not possible for Greb as rankings as we know them were not available for most of his career. Fortunately when we research Greb, rather than measuring ranked men, we can measure all-time greats and we can measure champions. He dominated many including, incredibly, almost every man to reign as middleweight champion of the world between 1914 and 1931, from the short reign of George Chip to the abdication of Mickey Walker, excluding only himself and Mike O'Dowd with whom he boxed a draw.
His own stint started late after a round up of underwhelming title-holder Johnny Wilson in 1923 followed by a successful defence against the underrated Brian Downey. Downey is the type of fighter who is key to unlocking the Greb legacy specific to middleweight. Hardly a household name, even in his own era, he nevertheless dropped and defeated the great Mike O'Dowd, boxed a draw with the then champion Wilson after being cheated out of a win against him in their first match, received a newspaper decision over George Chip and dropped and defeated the legendary Jack Britton. Greb utterly thrashed him over ten.
Despite the distraction of wars with the likes of Gene Tunney and Kid Norfolk up at 175lbs, he nevertheless found time to defend against the deposed Wilson, another of the era's underrated contenders Ted Moore, the monstrous Mickey Walker who he handled with absurd ease, before being unseated by Tiger Flowers in a sloppy, confused fight that reads as both close and difficult to score.
Prior to coming to the title he bested Jeff Smith in a difficult series, twice bested the great Jack Dillon, twice bested champion Al McCoy, twice bested future light-heavyweight champion Mike McTigue, and beat fellow top-ten lock Mike Gibbons.
Tempering his astonishing achievement at middleweight are the defeats he suffered to Flowers at the end of his career and a certain overlapping of series with men like Tommy Gibbons where he avenged defeat at middleweight up at light-heavyweight. Secondly, it is true that Greb, probably due to a lack of knockout punching-power and an "odd" style (think of the initial reaction to the emergence of Muhammad Ali for another example), seemed to impress the era's boxing men less completely than the likes of Stanley Ketchel and Bob Fitzsimmons.
Those that shared the ring with him, however, are fulsome in their praise. Jack Dillon went to the astonishing lengths of questioning if there were any point in even trying against Greb while naming him so fast that "he didn't even give me time to spit the blood out of my mouth." Clay Turner named him "the next best man to Jack Dempsey in the world" – keep in mind that Greb was primarily weighing in at around 160lbs at this time. Gene Tunney named him the best middleweight ever to have lived and Jack O'Brien, who met both Ketchel and Fitzsimmons, named him "the greatest specimen of physical manhood in modern history."
Nat Fleischer and Charley Rose both ranked Ketchel above Greb; but the 2005 IBRO list went for Greb as their #1. We need to be careful – as the men who saw him fade from view we need to keep an open mind as to who and what Greb was in the ring because the heart-breaking absence of footage makes interpretation a more pointed and questionable tool applied to paper history than it is when applied to film. But I welcome Greb's new status among history buffs in this new century; welcome and embrace it as my own judgement.
Other Top Fifty Middleweights Beaten: Jeff Smith (41), Jack Dillon (19), Mickey Walker (18), Mike Gibbons (6).
For those of you who have taken the time to read this series first to last, I thank you.
Making Boxing Safer, A Call to Action: Part One, Weigh-in Reform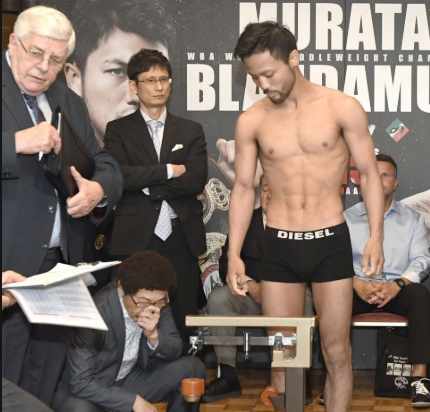 Promoters Lou DiBella and Eddie Hearn set the stage for this article with heartfelt and moving comments about the recent and tragic passing of Patrick Day.
It becomes very difficult to explain away or justify the dangers of boxing at a time like this…This is not a time where edicts or pronouncements are appropriate, or the answers are readily available. It is, however, a time for a call to action. While we don't have the answers, we certainly know many of the questions, have the means to answer them, and have the opportunity to respond responsibly and accordingly and make boxing safer for all who participate. — Lou DiBella
You can say 'it's boxing' but it's so hard to justify. We have to make sure as a sport we do better in this situation…We need to respect these fighters, we need to make sure that we make it as safe as possible for them and as fans of the business we've got to keep evolving. There's so much more we can do. — Eddie Hearn
In the spirit of the above, I reached out to a mix of trainers, ex-boxers, and writers for their suggestions, asking them what a call to action might include. The response was impressive. While the answers varied, there were several recurrent themes. Weigh-in reform was a common thread.
Weight Control Reforms
Las Vegas neurologist Dr. Margaret Goodman, the Founder, President, and Board Chairman of VADA (Voluntary Anti-Doping Association), offered up many suggestions but underlined weigh-in reform for added emphasis. "Move the weigh-in back to day of the fight or 24 hrs. before with the second weigh-in day of with percentage maximum weight gain," she wrote.
Max Kellerman of "Outside the Lions" concurs. "Weigh-ins should be the day of the fight," he says.
Hall of Famer Buddy McGirt, the noted trainer and former two-division world champion hit on this point in a recent conversation with Michael Rosenthal that ran in USA Today: "They should have the weigh-ins the day of the fight…listen, guys don't fight at their normal weight because they know they have 24 hours to put weight on. Make the weigh-ins the day of the fight. Then you would know that you can't really dry out and then have an IV and fight five, six hours later…I think you'd have less injuries. Say you're trying to make 140 when you should realistically be at 147. You weigh, say, 143 and think, 'I can get down to 140.' But you have to dehydrate yourself, and that's not good for your body or your brain. I'm not a doctor, but I'm not an idiot either."
Former world middleweight champion Dana Rosenblatt is in perfect accord: "Due to the fact that 100% of brain injuries in boxing being the result of dehydration from making weight, the most important thing that can be done to safeguard fighters is to make sure that our brothers in the ring never fight when they are not properly hydrated.
"Some of us can take punches better than others, this is obvious. None of us can take punches for too long when we are materially dehydrated without suffering in potentially life-threatening ways. If real care for the health of boxers is to be demonstrated, it will come in boxing commissions worldwide never allowing a fighter to enter the ring before being properly rehydrated after making weight. I am sure a hydration test can eventually be created and administered that would allow all boxers to compete in a healthy way."
Writer Paul Magno dealt with this issue brilliantly in a story that appeared in the Boxing Tribune back in 2013: "Fighters who routinely compete below their natural body weight are playing an ugly game with their insides, putting themselves at risk of serious injury by dehydrating themselves and then, in the day or so between weigh-in and the fight, quickly re-hydrating to a much higher weight. The primary danger to the fighter is in the increased vulnerability of the brain, slow to rebuild its jelly-like protective layer due to dehydration."
More recently, Magno made this observation: "Fighters fighting at artificially low weights may have short term advantages in strength and power, but weight manipulation drains life from fighters over the long haul. As a fighter ages, the less he has to battle at the scale, the fresher he'll enter the ring."
The Gatti Episode
We are reminded that Arturo Gatti nearly killed Joey Gamache in a 2000 junior welterweight bout when he entered the ring as a middleweight. He had gained 19 pounds between the weigh-in Friday afternoon and the fight on Saturday. Something was dangerously amiss and it resulted in altering Joey's life…
The Jacobs Episode
Similarly, but with a far better outcome, Gennady Golovkin weighed 159.6 lb. while his opponent, Danny Jacobs weighed 159.8 at the official weigh-in a day before their March 2017 fight. However, by skipping a fight-day weight check and thereby declining to compete for the IBF title, Danny seemed to have gained significantly coming into the ring and looked to be around 180 pounds. Max Kellerman suggested he was utilizing a "strategic plan." Others (myself included) thought he was also manipulating the system, thus causing the playing field to become uneven.
Historian and writer Harry Otty made an interesting point: "With boxers also trying to shoe-horn themselves into the 'closest' weight division it may be time to re-consider the 'Jnr' and/or 'super' weight divisions. While this may sound counter-intuitive as far as weight-making goes, it could make the difference between 1% or 5% dehydration."
"Travelin' Man" Lee Groves, author, writer and CompuBox punch counter, offered up a more nuanced point of view: "As far as returning to same-day weigh-ins, there are pros and cons. On the positive side, one can better control the dramatic rehydrations that now take place but on the negative side it would cause some fighters to drain themselves and be given less time to recover from the strain — the very reason today's protocols were adopted a generation ago. While reintroducing same-day weigh-ins could persuade some fighters to think twice about campaigning in a weight class too light for their bodies, others will choose to roll the dice and reap the benefits of scaling a certain weight for 30 seconds, then fighting at a much higher weight on fight night. In short, if a system can be gamed, it will be gamed."
And finally, let me throw out this point to ponder: Over the years, relatively fewer ring fatalities have occurred among the heavyweights. Whether that's because weight-cutting is, by definition, not as much an issue is something that warrants further study.
Ted Sares can be reached at tedsares@roadrunner.com
Check out more boxing news on video at The Boxing Channel 
To comment on this story in The Fight Forum CLICK HERE
Three Punch Combo: Two Under The Radar Fights on Saturday and More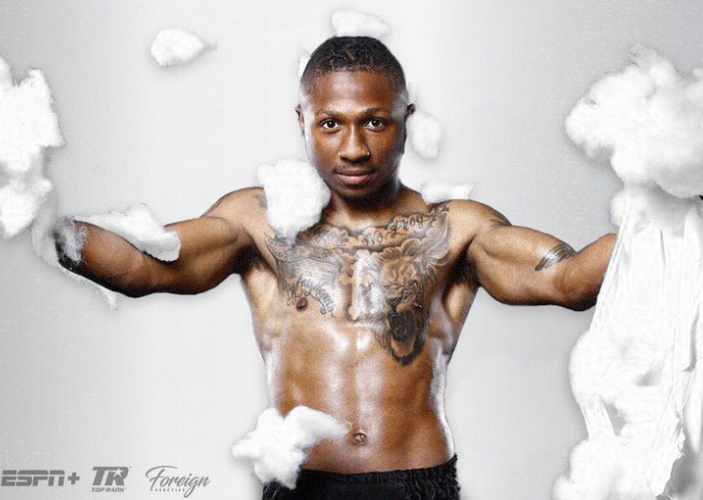 THREE PUNCH COMBO — We have another busy week in store with several events on the docket that will be available on various platforms. With so many fights on the schedule, some very intriguing contests inevitably fall under the radar.
On Saturday, ESPN+ will broadcast a card from Reno, NV that will be headlined by a contest between Shakur Stevenson (12-0, 7 KO's) and Joet Gonzalez (23-0, 14 KO's) for the vacant WBO featherweight title. While this main event is drawing almost all the press coverage, there is a very pivotal bantamweight bout on this card between Joshua Greer Jr. (21-1-1, 12 KO's) and Antonio Nieves (19-2-2, 11 KO's) that could very well steal the show.
Greer (pictured) exploded on the scene in March of 2017 with an electric knockout over James Smith in a bout televised on the popular ShoBox series. This was the beginning of a stretch of impressive outings for Greer in which he easily disposed of some very credible opponents. During this stretch, Greer landed a coveted promotional deal with Top Rank and seemed on the fast track toward big things in the bantamweight division.
However, in his last fight this past July, Greer's stock took a hit when he was fortunate to squeak out a close 12-round majority decision over Nikolai Potapov. In that fight, Greer appeared to be out-worked by Potapov in the majority of the rounds. Now to get his career back on track, Greer not only needs to win but bring back some of that explosiveness we saw in the past.
Similar to Greer, Nieves also finds himself at a career crossroads. In 2017, Nieves faced off against the aforementioned Potapov. In that fight, which was also shown on ShoBox, Nieves raised his game and got the better of Potapov, or so it appeared. But the judges saw things differently and Potapov won a controversial split decision.
Although he lost, Nieves parlayed that performance into a big fight with Naoya Inoue later that year. And though he fell short against Inoue, Nieves gave a good account of himself in defeat. Now after two knockout wins against lower level opponents, Nieves has a big chance to move up the rankings with a win over Greer.
These are just the type of crossroads fight I absolutely love in this sport. These two are evenly matched and stylistically should mesh well inside the ring.
Greer is a boxer-puncher with fast hands and possesses legitimate one-punch power in both fists. But he also has a tendency to fight in spots and not be very active with his hands.
Nieves is also a boxer-puncher. He lacks Greer's speed and power, but is a more active fighter and is technically proficient. He is a sharp accurate puncher and uses angles well to get in position to land clean shots.
We are going to see crisp back-and-forth action fight between these two on Saturday. This is a fight that should not be missed.
Under The Radar Fight, Part Two
Also on Saturday, Showtime will broadcast a tripleheader from the Santander Arena in Reading, PA. This card will be headlined by a fight between 154-pound contenders Erickson Lubin (21-1, 16 KO's) and Nathaniel Gallimore (21-3-1, 17 KO's). While I do like this main event and consider Gallimore a live underdog, the fight on this card that really piques my interest is the 140-pound co-feature between former lightweight champion Robert Easter Jr. (21-1-1, 14 KO's) and Adrian Granados (20-7-2, 14 KO's).
Easter, once a highly touted prospect, won his title in a rousing effort against current IBF lightweight champion Richard Commey in 2016. After three successful defenses, Easter found himself in a big unification fight against Mikey Garcia in 2018. While some thought Easter could rise to the occasion, he was underwhelming, dropping a wide 12-round decision.
In his bounce-back fight this past April, Easter fought former two-division champion Rances Barthelemy to a 12-round split draw. Anyone who unfortunately watched this fight knows that neither Easter nor Barthelemy put forth his best effort.
Granados was never a highly touted prospect. Instead, he was often the opponent. But he always gave an honest effort and occasionally would spring a surprise. And in 2015, he sprung a major surprise when he knocked out the then undefeated Amir Imam.
Following that win, Granados has had a mixed bag of results. He has tough competitive decision losses to Adrien Broner and Shawn Porter mixed in with some stay-busy knockout wins against overmatched foes.
And this past April, Granados was utterly out-classed by Danny Garcia and stopped for the first time in his career.
With both Easter and Granados coming off underwhelming performances, I understand why many are overlooking this fight. But the way I see it, both have a lot to prove and know they must make a statement in order to stay relevant in the sport. And in these instances, we sometimes get some really fun fights.
Easter is a classic boxer-puncher who likes to work combinations behind the left jab. He has quick hands and can be a sharp accurate puncher when unloading those combinations. Granados, for his part, is an aggressive pressure fighter. He will come forward and look to get inside the taller Easter. Granados, at his best, is a high volume puncher who is more than willing to eat some leather when pressing forward to create opportunities to do his own work.
Unlike Easter's last fight, this is not one to sleep on. Styles make fights and I am confident we see an entertaining and competitive fight.
Emanuel "Pinky" Colon
Most of the attention of the boxing community this past Friday was on the big light heavyweight title unification fight between Artur Beterbiev and Oleksandr Gvozdyk. But that wasn't the only televised show that night. Telemundo continued with its fall swing of events with a card from the Seneca Niagara Resort and Casino in Niagara Falls, NY. The card was headlined by a local fighter, Emanuel "Pinky" Colon (17-1-1, 16 KO's). And Colon, who fights at 140, did not disappoint in his national television debut as he dispatched his opponent, Richard Zamora (19-4, 12 KO's), in the very first round.
I recorded this show and watched it first thing Saturday morning. I hated not attending a live show in my backyard of upstate NY but could not miss Beterbiev-Gvozdyk. But I was very interested in seeing Colon as there wasn't much video available on him and he was getting a lot of local buzz (and from the look of the crowd, he sold quite a few tickets).
It is tough to handicap a fighter from about two and a half minutes of action. However, I really liked what I saw from Colon and think he can be a good local draw. Against Zamora, Colon came in clearly looking to put on a show and make a statement. And he certainly did just that.
Zamora had been stopped on three previous occasions, so the jury is still out on Colon's punching power, but he appears to put his punches together well and he appears to have heavy hands.
Can Colon become a top contender at 140? Maybe, but at the very least I think he has a chance with his offensive-minded style and his ability to sell tickets to revive the boxing scene somewhat up here in upstate New York.
Check out more boxing news on video at The Boxing Channel 
To comment on this story in The Fight Forum CLICK HERE
Jeff Fenech's Speedy Recovery from Heart Surgery Has His Doctors Baffled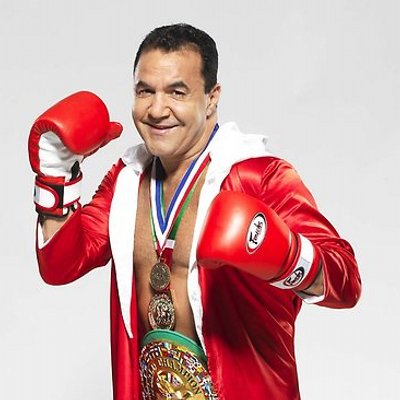 Jeff Fenech was training a team of young Australian fighters in Bangkok when he began spitting up blood and feeling chest pains. He was hospitalized on Oct. 4 and four days later underwent a delicate five-hour operation to replace a defective heart valve.
The timing meant that Fenech would be unable to walk his daughter Jessica down the aisle this past Saturday (Friday in the U.S.) at her wedding at Sydney's landmark St. Mary's Cathedral. His Thai doctors, it was reported, prohibited him from traveling; the risk of infection was too high (it's about a nine-hour plane ride from Bangkok to Sydney). Some reports said that Fenech might have to spend an entire month in the hospital before he was deemed fit to go home.
But Fenech, age 55, is one tough Aussie. He made it to the church on time. There he was walking Jessica down the aisle, wearing a black tuxedo and an incongruous black baseball hat. He looked haggard, but he was there.
Jessica has now been married twice, but to the same fellow in nuptials spaced roughly 10 days apart.
An Australian tabloid TV show, "A Current Affair," arranged for a secret wedding between Jessica and her beau at Fenech's bedside in Bangkok as he was recovering from the surgery.
In the modern era, no Australian fighter had a more avid following than Jeff Fenech who won the IBF world bantamweight title in his seventh pro fight and went on to capture world titles in two other weight classes. Fenech's second fight with Azumah Nelson in 1992 was a huge event in the Land Down Under, attracting more than 30,000 to a stadium dedicated to Australian rules football.
Here we are 27 years later and Jeff Fenech's fame in Australia is undiminished. Here he is with his glamorous wife Suzee during a day at the races in Hong Kong. They have been married for 23 years.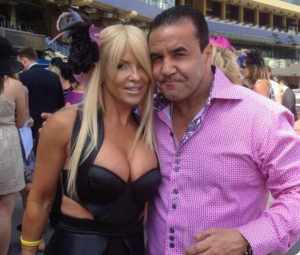 One of the fighters that Fenech was training in Bangkok was junior middleweight Jack Brubaker who has a high-profile fight coming up in December in Sydney against undefeated countryman Tim Tszyu. It isn't known if Fenech will be okay to work Brubaker's corner, but don't bet against it.
Errol Spence Jr
It's old news now, but WBC/IBF welterweight champion Errol Spence Jr was extremely fortunate to survive his recent car accident and it was a miracle that he emerged from it with no broken bones. His condition hasn't been recently updated, but various reports say that Spence suffered only facial lacerations and a few broken teeth.
In case you missed it, Spence was driving his Ferrari at a high rate of speed near downtown Dallas when he crossed the center divider and the vehicle flipped over several times. Spence, who wasn't wearing a seat belt, was ejected. The accident happened shortly before 3 am on the morning of Oct. 10.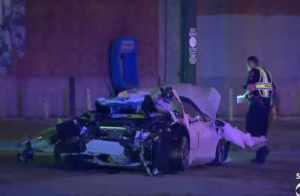 It came as no surprise when Dallas police charged Spence with driving while intoxicated. They filed the charge on Wednesday, Oct. 16, by which time Spence was out of the hospital.
Spence was widely considered one of the good guys in boxing, but that opinion has been tempered. Folks tend to have a very low opinion of people who drive drunk.
Spence's management was reportedly eyeing a fight with Danny Garcia for Jan. 23. We would be surprised if Spence was able to get back in the ring again so soon.
Check out more boxing news on video at The Boxing Channel 
To comment on this story in The Fight Forum CLICK HERE