Congrats to AJ, But Fat Andy Obliged His Redemption by Forgetting History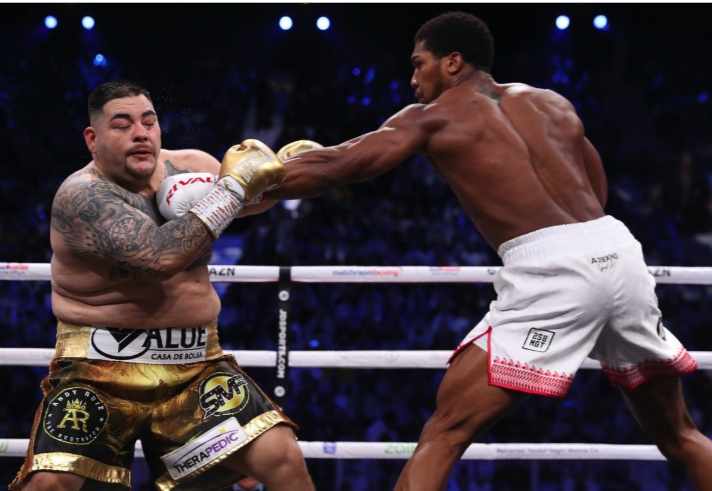 A wise man, Spanish writer/philosopher George Santayana, once observed that those who do not learn history are doomed to repeat it.
All right, so the original quote attributed to Santayana, who was known for aphorisms, was worded slightly differently. But the rationale expressed in either version has remained the same almost forever, and in the specific case of now-dethroned heavyweight champion Andy Ruiz Jr., the closest parallel to the harsh life lesson he learned Saturday evening in Riyadh, Saudi Arabia, took place on Feb. 11, 1990, in Tokyo.  Ruiz can be excused for not seeing the HBO telecast of Buster Douglas' shocking, 10th-round knockout of heavyweight king Mike Tyson on that date because, well, the now-30-year-old Ruiz was still an infant, having been born only 155 days earlier. But you have to figure that by now he'd heard plenty about the most famous upset in boxing history, and how Douglas, the newly crowned champion and momentary toast of the pugilistic world, squandered his opportunity to be something more than a one-hit wonder by getting knocked out in the third round of his first and only title defense, by Evander Holyfield on Oct. 25, 1990, at The Mirage in Las Vegas.
There are, of course, several differences between the cruel price Ruiz must now pay for becoming too self-satisfied with his instant wealth and celebrity, as was the case with Douglas, who never again came within whiffing distance of the form he displayed, boxing-wise or belly-wise, that magical night (well, it was actually Sunday afternoon Tokyo time) in the Land of the Rising Sun.
Douglas went down on his back vs Holyfield and was counted out by referee Mills Lane; the disturbingly chubby Ruiz (33-2, 22 KOs) remained upright for the 12-round distance, but was handily out-boxed from the get-go in losing a wide unanimous decision in his rematch with Great Britain's Anthony Joshua (23-1, 21 KOs), the man from whom he had lifted the IBF, WBA and WBO belts on a seventh-round stoppage in  their first meeting on June 1 of this year in New York's Madison Square Garden. And while Douglas never did share the ring a second time with Tyson, relinquishing his WBC, WBA and IBF straps to a new opponent, Holyfield, whom he also did not face again, Ruiz's precipitous fall from grace came in a do-over with Joshua, which may or may not be a precursor to a rubber match that suddenly seems neither assured nor in that much public demand.
"I  think I was chasing him too much instead of cutting off the ring," said the ostensibly 6-foot-2 Ruiz, who officially weighed in at a preposterous 283.7 pounds, or 15.7 more than he did for his successful first go at Joshua, which was widely hailed as boxing's biggest shocker since Douglas beat up the seemingly invincible Tyson. "I just felt like I couldn't throw my combinations. But who wants to see a third fight?"
It would have been interesting to see if CompuBox, the punch-counting outfit, could have quickly scanned the sellout crowd of 15,000 in the outdoor stadium on the outskirts of Riyadh to tabulate how many hands went up in support of the possible rubber match that logic almost dictates will never happen. Where Ruiz, a United States citizen and the first heavyweight titlist of Mexican descent, was the taco-tasting flavor of the moment as soon as he had his hand raised against Joshua six months earlier, he now is teetering on the border of irrelevance, just as Douglas was when he demonstrated he did not have the will and discipline to ever again be the same fighter he was in cashing his lottery ticket against Tyson.  Ruiz, his considerable girth aside, still has fast hands and decent power for a man his size, but his waddling pursuit of AJ in the Saudi desert now stamps him as little more than a more mobile hippo in a river teeming with faster-moving crocodiles. With Ruiz's seeming expulsion from the club, what had been a Big Four of heavyweight boxing again has been constricted to a Big Three, with Joshua reclaiming a favored place at the head table along with WBC champion Deontay Wilder (42-0-1, 41 KOs) and humongous  Brit Tyson Fury (29-0-1, 20 KOs), who technically remains the lineal champ.
Wilder and Fury are set to square off a second time on Feb. 22 at an undetermined site in a reprise of their classic first matchup, which ended in a controversial split draw on Dec. 1, 2018 at Los Angeles' Staples Center. Some observers felt that the sharp-boxing Fury had banked enough rounds to get the nod, while dissenters sided with Wilder, who registered two knockdowns, including a 12th-round flooring from which Fury barely beat the count. Whomever survives that showdown automatically becomes the people's choice to go for the undisputed title against Joshua, unless, of course, there is some sort of undisclosed contractual obligation for Wilder and Fury to swap punches a third time.
Nor is Joshua, who has expressed his desire to fully complete his collection of bejeweled championship belts, likely to voluntarily surrender any to accommodate Ruiz's entreaties to get it on a third time. The WBO announced immediately after the fight that Joshua must make his mandatory defense against Oleksandr Usyk (17-0, 13 KOs) within 180 days, while the IBF wants AJ to defend against its mandatory challenger, Kubrat Pulev (28-1, 14 KOs). A pairing of Joshua and Usyk, the former undisputed cruiserweight champion who 17-0 with 13 KOs, is of much more global interest than Joshua-Ruiz 3 would be, and the likelihood is that AJ would accede to the IBF's wishes rather than allow one of his titles to be vacated.
Where does that leave Ruiz? Likely back in the outer waiting room of title contention, where he either can buckle down and prove that he is not Buster Douglas Not-So-Lite by paying some dues to his craft instead of hefty restaurant bills. As Douglas – who ballooned to almost 400 pounds after his retirement from boxing — proved, it is one thing to enjoy living large, but it quite another to allow your appetites to go unchecked.
"It was his night," Ruiz said of Joshua. "I don't think I prepared as good as I should have. I gained too much weight, but I don't want to give no excuses. He won, he boxed me around, but if we did the third (fight), best believe I will come in the best shape of my life.
"(The weight gain, from the 268 he came in for the first meeting with Joshua) kind of affected me a lot. I thought I would come in stronger and better. But you know what? Next time I am going to prepare better with my team. This time I tried to train myself at times, but no excuses. Anthony Joshua did a hell of a job."
Perhaps a third Joshua-Ruiz bout, if it ever happens, should seek sponsorships from Jenny Craig and Nutrisystem. The subject of weight, both gained and lost, almost superseded more traditional boxing considerations from the time the rematch was announced right through the bell ending the 12th round.
For his part, Ruiz either was in denial or simply lying about the level of his conditioning, which is tied so closely to the number that is displayed on a scale. Even after arriving in Riyadh, he insisted that he expected to come in "around eight pounds" lighter than he had for the first fight with Joshua, an estimation that either was a blatant prevarication or one of the worst miscalculations ever. Despite already having an Adonis-type physique, Joshua had determined that he needed to slim down to increase his mobility and endurance, a goal which appeared to be achieved when he whittled himself from 247.75 pounds for the first fight to 237.8. His reconstructed body more closely resembled that of an Olympic gold medalist swimmer than an Olympic gold medalist fighter. This AJ looked less Lennox Lewis than Michael Phelps, and the boost in his stamina was evident as he pranced around the huge 22-foot ring like a frisky colt for all 12 rounds, peppering Ruiz's reddened face with stiff jabs, occasional overhand rights and change-of-pace left hooks downstairs.
It will be interesting to see if AJ will retain his sleek, more mobile look when the time comes to get it on with so feared a slugger as Wilder, or as monstrously large a man as Fury. That is another story for another day, and that day is surely coming.
Not so certain is how the saga of Andy Ruiz Jr. transitions to another, perhaps final chapter. With fleshy love handles spilling over the waistband of his trunks like crème filling from a squeezed doughnut, he has never looked the part of an elite heavyweight, but his lumpy appearance belied real skills that might have been even more evident were he to eat to live instead of living to eat. Which brings us back to his predecessor of squandered opportunities, Buster Douglas.
When Douglas beat Tyson – not only beat him, but beat him up – he was inspired to perform at a higher level than ever before by the untimely death of his beloved mother, Lula Pearl Douglas. That motivation, coupled with Tyson's arrogant belief that he need only to show up and another frightened foe would collapse before him, produced an unexpected outcome that has become the stuff of legend.
Fit as he had ever been at 231 pounds for the Tyson fight, rumors abounded that Douglas was having pizza regularly delivered him in the hotel sauna as he prepped for Holyfield. When the man from Columbus, Ohio, weighed in at a jiggly 246 for a title defense for which he was being paid $24.075 million, hundreds of spectators at the open-to-the-public event literally sprinted from their seats to the casino sports book to get bets down on Holyfield.
That scene, of course, could not be repeated in Riyadh because there is no legalized gambling in Saudi Arabia, although it might have been a kick to see men in flowing white robes and keffiyehs on their heads sprinting toward the nearest sports book, had one existed. And while there is no gambling tolerated in Saudi Arabia, the sale and consumption of alcoholic beverages also is against the law, as is male fraternization with women (most of whom are wrapped up like mummies anyway) who aren't their wives. In other words, the place is never to become as much a travel destination for fun-seeking Westerners as, say, Vegas, which is why it says here that Riyadh can never become as much of a fight town as the free-spending sheiks and promoter Eddie Hearn might want, despite the fact that Saudi backers ponied up a massive site fee somewhere between $40 million and $100 million to host Ruiz-Joshua 2. Oh, and there's also that little matter of Saudi Arabia's authoritarian governmental policies, which might explain why superstar golfer Tiger Woods has steadfastly declined to journey there the past couple of years to play in the Saudi Invitational tournament, despite offers of a $3 million appearance fee regardless of how he fared on the links.
So, we shall see whether Ruiz, a father of five who celebrated his stunner over Joshua by splurging on a mansion and Rolls-Royce, among other shiny new toys, finally reins himself in or continues to drift into the hazy limbo to which Buster Douglas is forever relegated. After Buster was knocked down by Holyfield, and seemed in no particular hurry to get up, the gentlemanly trainer Eddie Futch – who was there as an interested spectator, without any connection to either fighter – lambasted the now-former champion as he almost never did when speaking publicly about anyone.
"Buster Douglas fought a disgraceful fight," said Mr. Eddie, now deceased. "He allowed himself to get in such poor condition that he had nothing – no snap, not one good punch in three rounds. For the heavyweight champion to come in such condition is just outlandish."
And this, from Mike Trainer, Sugar Ray Leonard's longtime attorney and adviser, who was serving as The Mirage's boxing consultant at that time.
"We break our necks to give the public a great evening and to keep the promise, which is why we have a beautiful stadium. Wynton Marsalis, Sugar Ray Leonard and fireworks. We compliment Evander Holyfield for coming into the ring well-prepared to keep that promise. However, our attitude is that fight purses should be more along the lines of winner-take-all so that the only incentive is victory."
That isn't going to happen either, but it does give pause for thought when one of the two participants in a big-ticket fight shows up seemingly not prepared to give his best effort.
Photo credit: Mark Robinson / Matchroom
Check out more boxing news on video at The Boxing Channel 
To comment on this story in The Fight Forum CLICK HERE
Fast Results from Brooklyn: No Surprises as Garcia and Hurd Win Lopsidedly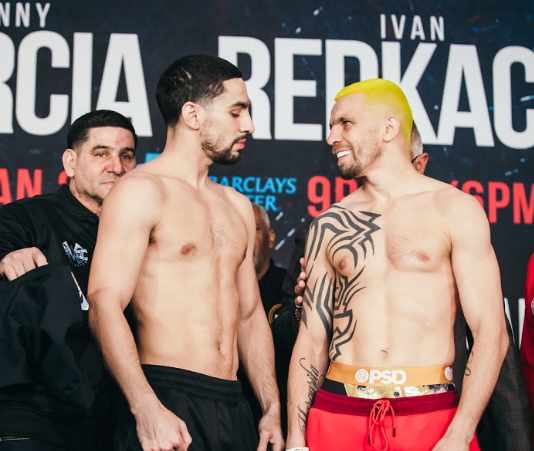 Tonight, Philadelphia's Danny Garcia made his eighth appearance at Barclays Center. Garcia's 2017 fight with Keith Thurman drew 16,533, the attendance high for a boxing show at the arena. A far smaller crowd was in attendance tonight to see Garcia take on Ivan Redkach in a non-title fight slated for 12 rounds.
Redkach, a 33-year-old LA-based Ukrainian, is a southpaw. That's no coincidence. Garcia hopes to land big-money fights with Errol Spence and/or Manny Pacquiao, both southpaws.
Redkach (23-4-1 coming in) turned his career around in his last fight with a career-best performance, a sixth-round stoppage of former two-division title-holder Devon Alexander, a 15-year pro who hadn't previously been stopped. But there was a class difference between he and Danny Garcia, a former WBA and WBC 140-pound world title-holder and former WBC 147-pound champion.
Garcia (35-2, 21 KOs) was simply sharper. His workrate slowed late in the fight, allowing the game Redkach to steal a few rounds, but at the final gun he was relatively unmarked whereas Redkach was conspicuously bruised. The scores were 118-110 and 117-111 twice. The crowd booed at intervals, understandable as they were subject to a drab 7-fight card that was even less interesting than it was on paper.
Co-Feature
In the 10-round co-feature, Jarrett Hurd, making his first start since losing his WBA/IBF super welterweight title to Julian Williams last May, went on cruise control from the opening bell and jabbed his way to a lopsided 10-round decision over Francisco Santana. Hurd, who improved to 24-1, finally let loose late in the 10th frame, putting Santana (25-8-1) on the canvas with a succession of left hooks, but by then many in the crowd had probably nodded off.
This was Hurd's first fight with new trainer Kay Koroma who has drawn raves for his work with America's elite amateurs. The scores were 97-92 and 99-90 twice. SoCal's Santana has now lost five of his last eight.
The opening bout on the main TV portion of the card was a 12-round super bantamweight contest between Philadelphia's Stephen Fulton and fellow unbeaten Arnold Khegai who currently trains in Philadelphia.
Fulton (18-0, 8 KOs) simply had too much class for Khegai (16-1-1), a Ukrainian of Korean heritage. Although Khegai frequently backed Fulton into the ropes, the Philadelphian had an air-tight defense and connected with many more punches. The fight went the full 12 with Fulton prevailing by scores of 116-112 and 117-111 twice.
If the WBO has its way, Fulton will proceed to a fight with Emanuel Navarrete, but don't hold your breath as Navarrete is promoted by Bob Arum who undoubtedly wants to extract more mileage from him before letting him risk his belt against a crafty fighter like Stephen Fulton.
Photo credit: Amanda Westcott / SHOWTIME
Check out more boxing news on video at The Boxing Channel 
To comment on this story in The Fight Forum CLICK HERE
Sacramento Honors Diego 'Chico' Corrales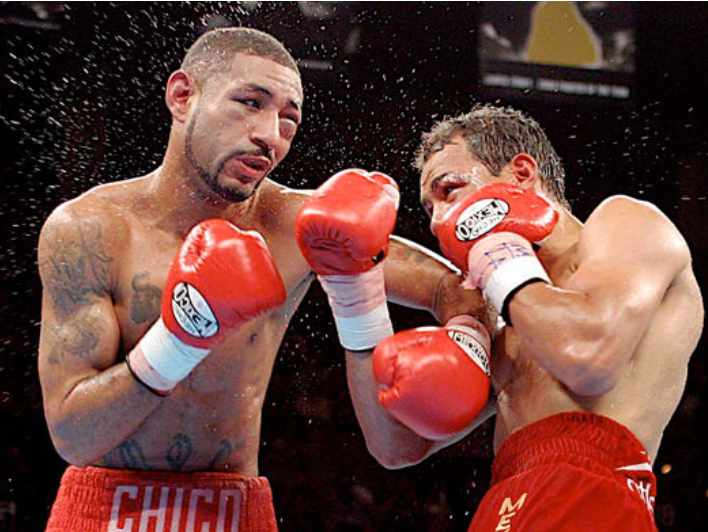 Tonight (Saturday, Jan. 25) former two-division world boxing champion Diego "Chico" Corrales will be posthumously inducted into the Sacramento Sports Hall of Fame at the organization's eighth annual induction ceremony at the Thunder Valley Casino Resort.
Corrales, who grew up in Sacramento, the son of a Columbian father and a Mexican mother, turned pro at age 18 and went on to compile a record of 40-5 (33 KOs). He won his first title in 1999 with a seventh-round stoppage of previously undefeated Robert Garcia. Now recognized as one of boxing's top trainers, Garcia was making the fourth defense of his IBF 130-pound title.
Five years later, Corrales won the WBO world lightweight title with a 10th-round stoppage of Brazil's previously undefeated Acelino Freitas. That set up a unification fight with the WBC belt-holder Jose Luis Castillo.
Corrales and Castillo met on May 7, 2005, at Mandalay Bay in Las Vegas. To say they put on a great fight would be an understatement. The boxing writers in attendance will tell you that this was the greatest fight of all time. It was named Fight of the Decade by The Ring magazine.
The final round, the 10th, was unbelievable. Heading into the round, Corrales was ahead on two of the three scorecards, but his left eye was swollen nearly shut and during the round he was knocked down twice. No one would have faulted referee Tony Weeks for stopping the fight after the second knockdown. But, somehow, Corrales was able to rally, pulling the fight out of the fire with a barrage of punches that had Castillo out on his feet when Weeks waived it off.
Two years to the very day of this iconic fight, Diego "Chico" Corrales died in a motorcycle accident in his adopted hometown of Las Vegas when he rear-ended a car while traveling at a high rate of speed. He was 29 years old.
Corrales was a thrill-seeker. In a 2006 profile, Las Vegas Review-Journal boxing writer Kevin Iole enumerated these among Castillo's hobbies: jumping out of planes from 14,000 feet, bungee jumping from 400 feet, snowboarding in treacherous terrain and scuba diving amid a school of sharks. "He lived his life the same way he fought," said his promoter Gary Shaw, "with reckless abandon."
It might seem odd that it took so long for Corrales to be recognized by the Sacramento Sports Hall of Fame, but there was a period when Corrales's name was mud in his hometown and perhaps the organization's founder, Las Vegas sports radio personality T.C. Martin, a Sacramento native, thought it appropriate to let old wounds heal.
In 2001, shortly after suffering his first pro loss at the hands of Floyd Mayweather, Corrales pled guilty to felony domestic violence in the beating of his first wife and would serve 14 months in prison. "The whole family has worn a black eye for it," Diego's brother Esteban Corrales told Sacramento Bee reporter Marcos Bretan.
For all his recklessness, the incident didn't jibe with his persona. In the company of Las Vegas sportswriters, the soft-spoken and well-spoken Corrales came across as polite and humble.
Corrales, one of five inductees in the 2020 class, joins three other boxers already installed in the Sacramento Hall: Pete Ranzany, Loreto Garza, and Tony "Tiger" Lopez.
Ranzany, a welterweight, fought four former or future world champions and was a fixture in Sacramento rings in the late 1970's. Garza wrested the WBA super lightweight title from Argentina's Juan Martin Coggi in France and successfully defended the belt here in Sacramento with a one-sided conquest of Vinny Pazienza. Lopez, Sacramento's most popular fighter ever, made the turnstiles hum at the city's largest arena where he fought eight of his 14 world title fights beginning with his 1988 humdinger with defending IBF 130-pound champion Rocky Lockridge.
Among the speakers at tonight's confab will be Kenny Adams. Perhaps best known as the head trainer for the 1988 U.S. Olympic team that won eight medals in Seoul, Adams currently trains Nonito Donaire. He was with Diego Corrales for 24 fights, during which Corrales was 23-1, avenging the lone defeat by Joel Casamayor. Festivities start at 7 pm.
Check out more boxing news on video at The Boxing Channel 
To comment on this story in The Fight Forum CLICK HERE
Boxing Odds and Ends: Ramirez-Postol, Taylor-Serrano and More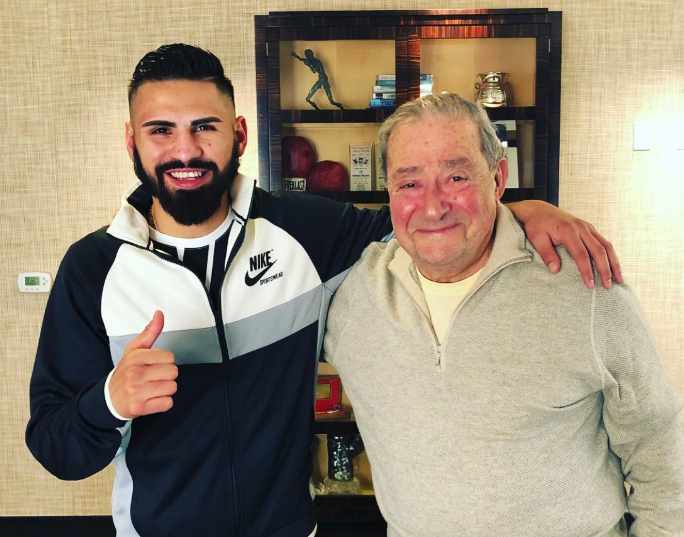 It takes a strong constitution to be a boxing promoter because things always go wrong. The only law that governs boxing is Murphy's Law.
Carl Frampton's first fight under the Top Rank banner was slated for Aug. 10 of last year in Philadelphia. With the fight five days away, Frampton suffered a freak injury while sitting in a hotel lobby. A boy playing behind a curtain knocked over a seven-foot pillar which fell on Frampton's left hand, fracturing it.
This was the second time that a Frampton fight was knocked out by a freak injury. Two years earlier, a homecoming fight in Belfast had to be scrapped when Frampton's opponent, Andres Gutierrez, slipped in the shower in his hotel on the eve of the battle and suffered severe facial injuries.
The latest bout to fall out because of an odd development is Jose Ramirez's Feb. 2 WBC/WBO lightweight title defense against Viktor Postol at a Chinese golf resort south of Hong Kong. The event fell victim to the coronavirus, more exactly the fear it has instilled.
The virus, which produces flu-like symptoms that are resistant to conventional antibiotics, apparently originated at an outdoor food market in the city of Wuhan where live animals are sold. The numbers vary with each new story, but according to one account there have been 444 confirmed cases in Hubei province, of which Wuhan is the capital city, and 653 cases worldwide including two in the United States, a man in his 30's living near Seattle and a Chicago woman in her 60's.
The fear of a pandemic (an epidemic becomes a pandemic when it spreads across multiple geographic regions of the world) has led to some drastic measures. The Chinese government has reportedly put 12 cities on lockdown, blocking traffic in and out. At many airports, visitors arriving from China are being screened. There are now thermal cameras than can record a person's body temperature remotely.
Jose Ramirez (pictured with his promoter Bob Arum) was scheduled to leave for China yesterday (Jan. 23) but was intercepted. Viktor Postol is already there and apparently stranded until an outgoing flight can be arranged.
The Ramirez-Postol fight was to air on ESPN. No make-up date has been set.
– – –
British promoter Eddie Hearn says he's close to finalizing a fight between Katie Taylor and Amanda Serrano. Hearn says the fight will take place in the U.S. in April. It figures that Madison Square Garden is the frontrunner.
If the fight comes off on schedule, this will be the biggest women's fight in history!
That's because the odds attached to the fight figure to be in the "pick-'em" range and that guarantees that boxing writers and others in the boxing community will be surveyed to get their picks – about which there figures to be considerable disagreement – and that will greatly enhance the pre-fight buzz.
Taylor, 33, last fought in November in Manchester, England, advancing her record to 15-0 (6 KOs) with a unanimous decision over Christina Linardatou, a fighter from Greece via the Dominican Republic. It was Taylor's first fight at 140 after previously unifying the lightweight title with a hard-fought decision over Belgium's Delfine Persoon.
Amanda Serrano, a 31-year-old southpaw, born in Puerto Rico and raised in Brooklyn, has won titles in five weight divisions. She last fought as a featherweight, turning away gritty Heather Hardy, but has competed as high as 140. Boasting a 37-1-1 record, she's won 23 straight, 18 by stoppage, 10 in the opening round
What sets women boxers apart from their male counterparts is that the women have a significantly lower knockout ratio. Amanda Serrano is the glaring exception.
Despite a less eye-catching record, Taylor has arguably fought the stiffer competition considering her extensive amateur background. As a pro, her victims include Cindy Serrano, Amanda's older sister by six years. Taylor whitewashed her in a match at Boston Garden, prompting the elder Serrano sister to call it a career.
– – –
The most bizarre (non)story to appear in a boxing web site this week involved former unified heavyweight champion Riddick Bowe. A man representing Bowe, identified as Eli Karabell, was frustrated because Eddie Hearn wasn't returning his calls. Karabell had offered Hearn the right of first refusal on Bowe's next fight.
Bowe, now 51 years old, last fought in a boxing ring in 2008 when he returned to the sport after a three-and-half year absence for an 8-round bout in Germany. In 2013, he appeared in a kickboxing fight in Thailand where he was stopped in the second round after being knocked down five times by leg kicks.
"Will there be another chapter to write for Bowe?" concluded the author of this piece.
Egads, let's hope not.
Check out more boxing news on video at The Boxing Channel 
To comment on this story in The Fight Forum CLICK HERE