Thomas Hauser's Literary Notes: Reading Old Books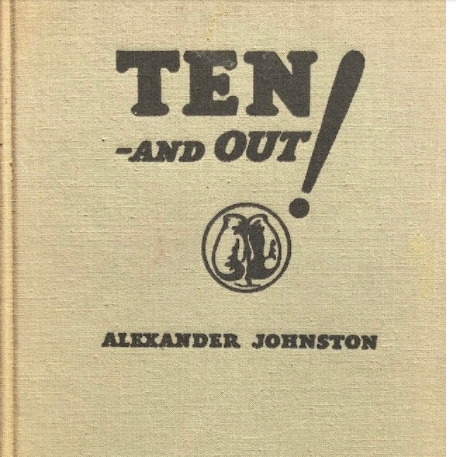 Old books can be enlightening and a pleasure to read. I'm not talking now about classics. Just good old books that have been largely forgotten.
A well-written old book offers a window onto the distant past. The facts and scenes might be replicated in works written today. But there's a different feel to the way that authors of old books presented and interpreted their subject matter within the context of their time.
This article is about non-fiction books written about boxing in the 1920s and earlier. Some notable writers authored novels about the sweet science during that time. Jack London wrote The Game in 1905 and The Abysmal Brute in 1913. George Bernard Shaw penned Cashel Byron's Profession in 1882. Historian Randy Roberts reminds us that "a novel can sometimes get at deeper truths in a way that a legitimate historian can't."
Be that as it may; this inquiry is limited to non-fiction. In that regard, Roberts cautions, "These old books are historical sources. And you have to weigh them like any other historical source in terms of accuracy. What can you confirm? What biases did the writer have? How much attention did the writer pay to detail? If the writer saw a fight himself, it might add credibility to his narrative. But I rarely use these books as the gospel truth."
Adam Pollack has written a series of exhaustively researched biographies about boxing's early gloved champions.
"I like accuracy, detail, and truth," Pollack says. "And the books you're talking about have very little verification of facts and almost no citation of sources. The authors might have done the best job they could, given the limited resources they had to tap into. But these old books are filled with errors. Writing today, I have the advantage of modern research tools and can access primary sources like old newspaper accounts online."
And what about the autobiographies by John L. Sullivan, James J. Corbett, Jack Johnson, and their brethren?
"For the fighters' own personal feelings and certain insights into how they thought about things, those books are okay," Pollack answers. "But if you're looking for accuracy, forget it.  Most of the old autobiographies are self-serving and wildly inaccurate. And most of the time, these guys were talking years later off the top of their head. And they were hit in the head a lot."
Historian Clay Moyle echoes Pollack's thoughts, saying, "People who were writing a hundred years ago couldn't go to BoxRec.com to check on the details of a fight. Writing today, I can go into newspaper archives online, read twenty different articles written about the same fight, and piece the jigsaw puzzle together. Today's research tools are simply better than what writers had to work with a century ago."
With these caveats in mind, I decided to read an old boxing book. I chose Ten and Out: The Complete Story of the Prize Ring in America by Alexander Johnston.
"Complete" is a relative term. The book was published in 1927 shortly after Gene Tunney defeated Jack Dempsey in their "long count" rematch to solidify his claim to the heavyweight championship of the world. Joe Louis had yet to reign. Rocky Marciano was four years old. Muhammad Ali and Mike Tyson were unimaginable.
Johnston did his best to be an accurate historian. Indeed, he referenced some of the same issues that Roberts, Pollack, and Moyle flagged a century later, acknowledging, "In digging back into the pugilistic records of this country, the chronicler is confronted by many difficulties. In the early days, records were carelessly kept or altogether neglected. For many of the records, we have to depend on the shifting minds of managers or even the fighters themselves, obviously not the most unbiased testimony that could be obtained. We must rely on the stories of eye-witnesses. And spectators at prize fights are not the most reliable recorders."
Ten and Out begins with a look at prize fighting in England and then, as its title suggests, moves to America. Johnston called boxing "the most exciting form of sport in which man has ever engaged," and added, "Fighting with the fists is not a gentle sport. Blood will be shed, eyes will be blackened, and there may be accidents of a more serious nature." He chronicled what he called boxing's "thuggish past" and its evolution to "a more respectable present," writing, "The bare knuckle days of the prize ring in America were distinctly a bad time. Anyone who talks of 'the good old days of real fighting' is absolutely wrong. They were the bad old days, and the great sport of boxing lived through them because it had inherent rough virtues of its own."
Johnston's work focused in large measure on heavyweights. In his hands, major championship fights were well told, particularly those that involved the violent transfer of power from one champion to another.
Writing about James Corbett's 1892 conquest of John L. Sullivan at the Olympic Club in New Orleans, Johnston recounted, "Sullivan's strength, speed, hitting power, fighting instinct, and ring ferocity would have made him a great fighter in any generation. [But] in Corbett, he met the first exponent of a new boxing generation which was to carry ring skill far beyond anything that Sullivan's era had known. The old boxing could not meet the new skill on even terms. Sullivan relied on paralyzing punching but you can't paralyze a man who refuses to be hit. Corbett was the first real student of boxing. He was always trying new blows and perfecting his delivery of the old ones. He studied defense. Even in the ring, he was perpetually studying the man opposite him."
Then, in 1897, Corbett fell prey to Bob Fitzsimmons.
"They had broken from a clinch near the center of the ring," Johnston wrote. "Jim feinted as if to start one of his left hooks for Bob's jaw when suddenly Fitz straightened up a bit, shot out a long left to the champion's chin, and then, shifting his feet, drove home his right with all the force of his gigantic shoulders behind it to a place just to the right of the heart where the diaphragm begins. Corbett started to fall forward, and Fitz cracked the jaw again with his left but the last blow was unnecessary. The 'solar plexus' blow had done the trick. Gentleman Jim lay and listened to the fateful count. He says that he was conscious when the fatal 'ten' was being counted but that he was absolutely paralyzed. So the first champion of the new dispensation in the boxing game had gone and a new king reigned in his stead, even as he had replaced the mighty Sullivan on the throne."
Fitzsimmons was followed by James Jeffries, who was regaled as a "giant" of a man (which he was for his time). The "giant" stood a shade over 6-feet-1-inch tall and weighed 220 pounds. Johnston believed that, at his peak, "Jeffries could have hammered into submission any pugilist that ever took the ring."
Then Jeffries retired and, after Marvin Hart and Tommy Burns, Jack Johnson ascended to the throne.
Johnston called the search for a great white hope to beat Johnson "one of the saddest chapters in the history of the heavyweight prize ring in America," adding, "Whatever may have been Jack Johnson's failings in personal behavior, he was a fighter. Some competent critics consider him the greatest fighter that ever lived. He was a master boxer with an almost perfect defense and also a smashing wallop. Johnson had learned in his hundreds of ring battles the art of using only as much energy as was needed to carry out any given maneuver of offense or defense. He never allowed himself to be hurried. He conserved his resources of strength and stamina. And when the time came, he was ready for the finisher."
Johnson was succeeded by Jess Willard. Then, in 1919, Jack Dempsey became king.
"Dempsey," Johnston wrote, "believed thoroughly that the best defense is a good offense. From the moment the first gong rang, he was at his man. He seemed to burn in the ring with a cold white fighting rage that made it impossible to call on finesse. His one idea was to get at his man and knock him horizontal. He plunged in almost wide open, leaving innumerable chances for a skilled opponent to hurt him. He had, though, excellent recuperative powers and he was a vicious hitter. His most outstanding quality as a fighter was his fighting spirit. He carried more than his share of the 'killer instinct.' Given his terrific lust for battle with a killing punch in either hand and a physique able to stand up under punishment, we have a very formidable fistic gladiator."
Recreating the moment in Willard's corner after the third round of the carnage inflicted on him by Dempsey's fists, Johnston wrote, "The champion's seconds worked over him. Walter Monahan, who had charge of his corner, said, 'Jess, do you think you can go on?'"
"'I guess I'm beaten,' Willard answered. "I can't go on any longer.'"
"Monahan at once threw a towel into the center of the ring."
"Willard did not quit," Johnston wrote. "He was smashed to a bruised and broken object of pity. As they took him from the ring, his jaw drooped foolishly like a gate that had lost one hinge. If he had gone up for another round, there might have been a fatality."
Johnston had a way with words.
Regarding Jack Johnson's demolition of James Jeffries when the latter attempted an ill-advised comeback at age 35 (six years after he'd retired from the ring), Johnston turned the race issue upside down, writing of Johnson, "In the middle of the third round, it seems to have dawned on him that he was this man's master."
Later, setting the scene for the 1921 bout between Dempsey and George Carpentier (boxing's first million-dollar gate), Johnston observed, "Following his usual custom, Dempsey went into the ring with several day's growth of beard on his face. As he sat glowering across at the clean-shaven Carpentier, he looked like a ferocious tramp about to assault a Greek god."
There's also an occasional nod to humor.
Prior to challenging Corbett for the heavyweight crown, Fitzsimmons and an acquaintance named Robert H. Davis listened as Mrs. Fitzsimmons prayed to God for her husband's victory and safety. Davis suggested to the fighter that he do the same, and Fitzsimmons shook his head, saying, "If He won't do it for her, He won't do it for me."
There were parts of Ten and Out that I skimmed when reading through it. I didn't feel an obligation to Johnston to read his description of every fight and the events surrounding it. But there's something satisfying in good writing about boxing's early heavyweight champions as written in their time. It draws a reader closer to these remarkable men and the era in which they lived.
A book that was good when it was written will always have something to offer despite the passage of time.
*         *         *
Allow me, if you will, this non-boxing literary note. . .
Recently, I was going through a cabinet and came across a letter that was written to me in 1958 when I was twelve years old. The correspondent was Howard Pease.
For the uninitiated (which includes almost everyone reading this column), Pease was born in Stockton, California in 1894 and lived in San Francisco for most of his life. He served in the United States Army during World War I and shipped out on several occasions afterward as a crew member on freighters to gather material for books that he was writing.
Pease crafted adventure stories aimed primarily at boys age twelve and older. Many of his books were set on tramp steamers. His first published novel – The Tattooed Man (1926) – introduced the character of Tod Moran, a young merchant mariner who, during the course of thirteen books, works his way up from boiler-room wiper to first mate. Pease also wrote seven non-Tod-Moran novels and two children's stories. To make ends meet, he taught high school English and, later, was an elementary school principal. He died in 1974.
Pease wanted to show his young readers what the real world was like. His books touched on themes like racism, drug addiction, and struggles between labor and management. In 1939, speaking at a gathering of four hundred librarians, he decried the children's literature then being published and declared, "We attempt to draw over their heads a beautiful curtain of silk. Let's catch up with our children, catch up with this world around us. Let's be leaders, not followers, and let's be leaders with courage."
Writers as diverse as E.L. Doctorow and Philip Roth cited Pease's books as influencing their childhood. Robert Lipsyte (a much-honored sports journalist who has written several award-winning novels for young adults) said recently, "I loved Howard Pease. His books took you somewhere. You could travel with his characters. They were long books, but I tore through them. Reading them was a formative experience for me. When you write for young adults, you're also functioning as a teacher. And Pease did that. I wish we had more books like that now."
By age twelve, I'd read all of Pease's books with the exception of Mystery on Telegraph Hill (which wasn't published until 1961) and The Gypsy Caravan (which had been written in the early-1920s, published in 1930, and wasn't available in any of the local libraries where I foraged for books). This was before the Internet and sites like AbeBooks.com. So, I wrote to Pease in care of his publisher, asking where I could get a copy of The Gypsy Caravan. Several weeks later, an envelope addressed to me arrived in the mail with a return address that read, "Howard Pease, 1860 Ora Avenue, Livermore, California."
Inside, a neatly-typed letter dated October 12, 1958, began, "Dear Tom Hauser, It was a pleasure indeed to get your letter. The Gypsy Caravan was my first book and is now out of print. I'm afraid you will not be able to find a copy anywhere. I've looked for some without any success. However, that book was aimed at younger readers than you."
Pease then recounted that Thunderbolt House was his favorite of the books he'd written, followed by The Dark Adventure, Heart of Danger, and The Tattooed Man. "My most successful book in sales," he added, "has been The Jinx Ship, a book I do not care for much." He closed with "Cordially yours" followed by "P.S. In 1946, I spent the summer not too far from your home on Bell Island near Rowayton, Connecticut. Enjoyed it a lot, too."
In today's world, I can go to AbeBooks.com and, with a few clicks, order a copy of The Gypsy Caravan.
Pease's books are more expensive now than most young adult literature from his era. He still has a following among older readers who fondly remember his tales from when they were young.
I have two books by Pease in my home library – The Jinx Ship (published in 1927) and Shipwrecked (1957). Last week, I decided to spend a night reading The Jinx Ship. My copy has "Discard Mt. Pleasant Library" stamped on the front and back end pages. My best guess is that I picked it up at a book sale decades ago.
Stylistically, Pease wrote in a way that was fit for grown-ups but also accessible to young adults. The Jinx Ship is 313 pages long and gives readers a feel for what it was like to be a crewman on a tramp streamer almost a century ago. The plot holds together reasonably well with twists that include gun-running, murder, and a voodoo ceremony on a Caribbean island. On the downside, there are demeaning racial stereotypes typical of the 1920s and the culture that Pease was writing about. The "N-word" appears frequently in dialogue.
After I finished reading The Jinx Ship, I reread Pease's letter. The paper has aged; the letter was written 63 years ago. But it's still in good condition.
"My most successful book in sales," Pease wrote, "has been The Jinx Ship, a book I do not care for much."
Why didn't he care for his most commercially-successful novel? The romantic in me would like to think that, as an author who confronted racism in his later work, Pease came to have misgivings about that component of his earlier writing. I'll never know. I do know that getting his letter meant a lot to me when I was twelve years old. It still does.
Thomas Hauser's email address is thomashauserwriter@gmail.com. His most recent book – Broken Dreams: Another Year Inside Boxing – was published by the University of Arkansas Press this autumn. In 2004, the Boxing Writers Association of America honored Hauser with the Nat Fleischer Award for career excellence in boxing journalism. In 2019, Hauser was selected for boxing's highest honor – induction into the International Boxing Hall of Fame.
To comment on this story in the Fight Forum CLICK HERE
Alycia Baumgardner vs Elhem Mekhaled: Female Splendor at MSG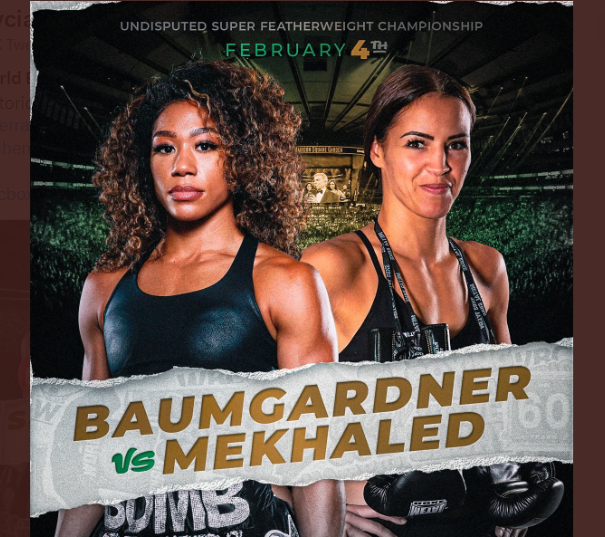 Alycia Baumgardner vs Elhem Mekhaled: Female Splendor at MSG
Two bouts between women, which will turn the winners into undisputed champions in the featherweight and super featherweight divisions, will create an electrifying atmosphere this Saturday, February 4th at Madison Square Garden.
In the duel between the two southpaws, Puerto Rican Amanda Serrano (43-2-1, 30 KOs), based in Brooklyn), will defend her 126-pound WBC, IBF and WBO titles, while Mexican Erika Cruz (15-1, 3 KOs) will defend her WBA title.
Also, of great interest will be the fight between American Baumgardner (13-1, 7 KOs), 130-pound WBC, IBF and WBO champion and her opponent, French challenger Elhem Mekhaled (15-1, 3 KOs), who will try to snatch Baumgardner's titles and get the vacant WBA title, which belonged to the undefeated Korean Choi Hyun-Mi (20-1, 5 KOs).
Choi, who was born in Pyongyang, North Korea but left the country with her family at the age of 14 and settled in Seoul, South Korea, was declared "Champion in Recess", as she suffers from a medical condition that prevents her from fighting. Once she fully recovers, she will have the possibility of facing, as a mandatory challenger, the winner between Baumgardner and Mekhaled.
For Baumgardner, who was born 28 years ago in Ohio, but now lives and trains in Michigan, the fight in New York will once again allow her to showcase her skills in the United States after three consecutive fights in the United Kingdom.
In her most recent bout, Baumgardner defeated her compatriot Mikaela Mayer (17-1, 5 KOs) in a difficult brawl, from whom she snatched the IBF and WBO belts, while retaining the WBC belt. The bout was October 15th of last year at the O2 Arena in London. Two of the officials, Steve Gray and John Latham, scored the fight 96-95 in favor of Baumgardner, but Terry O'Connor saw it 97-93 for Mayer.
Four days later, Choi unanimously defeated Canada's Vanessa Bradford (6-4-2, 0 KOs) in Seoul, earning the Asian her ninth successful defense of the WBA super featherweight crown, which she has held since May 2014, when she anesthetized the now retired Thai, Siriwan Thongmanit.
The following month, in November, the WBA ordered Choi to defend her belt in a mandatory duel against Baumgardner, making the winner the undisputed queen of 130 pounds.
ELHEM MEKHALED FILLS THE VACANCY OF SOUTH KOREAN CHOI
To fill the vacancy of the South Korean Choi, the IBF Committee awarded the position to Mekhaled who ranks third in the women's 130-pound rankings.
Former interim WBC titleholder, Mekhaled, 31 years old and born in Paris, has recently lost by unanimous decision to Belgian Delfine Persoon (47-3, 19 KOs) at the Etihad Arena in Abu Dhabi where they disputed the vacant WBC silver belt.
The duel against Baumgardner not only allows Mekhaled to debut in the United States, but also provides her the opportunity to become the undisputed champion at 130 pounds.
Mekhaled emphasized that the February 4th event has great significance for women fighters and that this is a sign that the discipline is growing, with more and more fight cards in which women exhibit the leading role.
The French boxer said that after winning the interim title in 2015, she waited a long time for the opportunity to fight for the regular belt, but unfortunately it never materialized.
Mekhaled explained that after a long period of focusing on her personal life and not really training, she accepted the duel with Delfine Persoon with only two weeks of preparation, which led to the setback against the Belgian boxer.
"Since my WBC interim 2019 title, I've been waiting for this moment," said Mekhaled. "Maybe fate has played well; instead of one belt, they're all on the line. I am super excited to fight on February 4th at the legendary MSG in New York. God knows how determined I am! It's my time to shine. Thank you to my advisor Sarah Fina."
Article submitted by Jorge Juan Álvarez in Spanish.
Please note any adjustments made were for clarification purposes and any errors in translation were unintentional.
To comment on this story in the Fight Forum CLICK HERE
How good is Jake Paul? Shane Mosley's Answer May Surprise You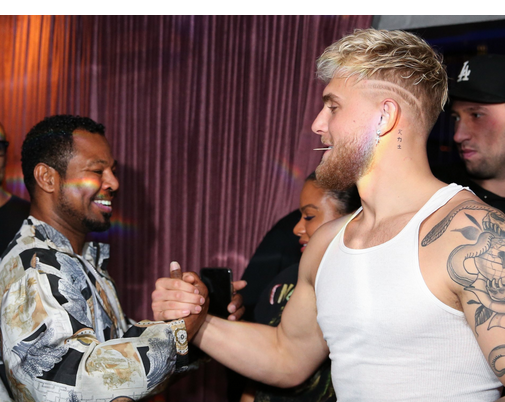 Few celebrities in the world today are as polarizing as Jake Paul. The 26-year-old Cleveland native who fights Tommy Fury in an 8-round match on Feb. 26 in Riyadh, Saudi Arabia, has fervent fans and equally fervent detractors. To long-time aficionados of boxing, especially those born before the arrival of the internet, Jake Paul and his ilk are widely looked upon as a scourge.
Paul first entered the squared circle on Aug. 25, 2018, at the Manchester Arena in England. He fought fellow YouTube star Deji Olatunji in the co-feature to a match between their respective older brothers, Logan Paul and the "influencer" known as KSI. The combatants promoted the event on their social media platforms
These were exhibitions fought with headgear. Jake Paul stopped Olatunji whose corner pulled him out after five rounds. However, the results wouldn't appear on boxrec, the sport's official record-keeper.
No serious boxing fan paid this curious event any heed, but the folks that profit from the sport without taking any punches stood up and took notice. The on-site gate reportedly exceeded $3 million. The event reportedly generated 1.3 million pay-per-view buys worldwide (youtube charged $10 a pop) with nearly as many beholders catching a free ride on a pirate stream. A new era was born, or at least a new sub-set of a heretofore calcified sport.
Jake Paul had his first professional fight on Jan. 30, 2020, in Miami. In the opposite corner was a British social media personality of Saudi Arabian lineage who took the name AnEsonGib. Paul stopped him in the opening round.
Paul fought once more that year, knocking out former NBA star Nate Robinson, and three times in 2021, opposing Ben Askren and then Tyron Woodley twice. Askren and Woodley were former MMA champions who had fabled careers as U.S. collegiate wrestlers, but both were newcomers to boxing.
According to Forbes, Jake Paul made $31 million from boxing in 2021. And therein lies the rub. While thousands of would-be future champions, many with deep amateur backgrounds, toiled away in boxing gyms honing their craft while hoping to attract the eye of an important promoter, a guy like Jake Paul came along and jumped the queue. It just ain't fair.
In preparation for his pro debut against AnEson Gib, Paul spent time in Big Bear, California, training at the compound of Shane Mosley. A first ballot Hall of Famer (class of 2020), Mr. Mosley needs no introduction to readers of this web site. And when he says that Jake Paul is legit, one is inclined to give him the benefit of the doubt.
"I taught him the fundamentals," says Mosley, "but Jake was a good listener and a hard worker. He's a good athlete and he has a boxer's mentality. We took him down the street to Abel Sanchez's gym and had him spar with real professional fighters. He would spar with anybody and when he got caught with a hard punch he wouldn't back down. He loves the sport and he relished the competition."
Mosley stops short of saying that Jake Paul could hold his own with Canelo Alvarez – Paul preposterously called out Canelo after out-pointing 47-year-old MMA legend Anderson Silva in his most recent fight – but with so many titles up for grabs in this balkanized sport, it wouldn't   surprise Mosely if the self-styled "Problem Child" latched hold of one before this phase of his life was over.
A three-time national amateur champion and a world champion at 135, 147, and 154 pounds as a pro, Shane Mosley put Pomona, California on the boxing map. He represented that city in LA county throughout his illustrious career. His son of the same name was born there.
Mosley fought twice in his hometown as he was coming up the ladder and will be back there again on Feb. 18 when Shane Mosley Jr appears on the undercard of a Golden Boy Promotions card at Pomona's historic Fox Theater. It's not official yet so we won't divulge the name of Shane's opponent, but the main event will pit Luis Nery against Azat Hovhannisyan in a WBC Super Bantamweight Eliminator, a match that shapes up as an entertaining skirmish as both have fan-friendly styles.
Shane Mosley Jr, who turned 31 in December, will never replicate his father's fistic accomplishments; his dad set the bar too high. But the younger Mosley is a solid pro who is on a pretty nice roll, having won five of his last six since losing a 10-round decision to Brandon Adams in the finals of season 5 of The Contender series. In his last outing, he out-slicked rugged Gabriel Rosado to win a regional super middleweight title.
The elder Mosely has been working with his son at Bones Adams gym in Las Vegas and will be in junior's corner on Feb. 18. It will be a double-homecoming for Pomona's favorite sons.
To comment on this story in the Fight Forum CLICK HERE
Arne K. Lang's third boxing book, titled "George Dixon, Terry McGovern and the Culture of Boxing in America, 1890-1910," has rolled off the press. Published by McFarland, the book can be ordered directly from the publisher or via Amazon.
Amanda Serrano Seeks Undisputed Status at 126 with Katie Taylor on the Horizon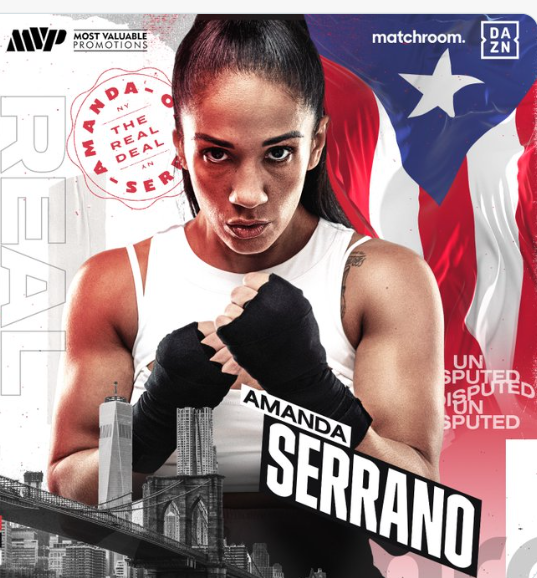 After becoming the boxing icon of Puerto Rico last year, Amanda Serrano will try to make history again when she faces the Mexican southpaw Erika Cruz on February 4th at the Hulu theater in Madison Square Garden.
Promoter Eddie Hearn stated, "Puerto Rico vs Mexico fights always deliver fireworks, and we can expect nothing less when Amanda and Erika meet. Their clash of styles will make for a brilliant spectacle as Amanda and her army of fans return to the scene of her history-making fight of the year with Katie, and we can expect a similar atmosphere to one of the greatest nights the sport has ever seen."
Champion in several sanctioning bodies, Serrano (43-2-1, 30 KOs) will put her WBC, IBF and WBO featherweight belts on the line, while Cruz (15-1, 3 KOs) will be defending the WBA belt. If she succeeds, the thirty-four-year-old Serrano, a native of Puerto Rico who has lived in Brooklyn, New York since childhood, will become the first boxer from Puerto Rico to hold the four most recognized belts in boxing.
"This is a pivotal moment, not just for me and my own career but for my home island of Puerto Rico," said Serrano. "Earning the opportunity to be an undisputed lineal champion is something most fighters only dream about but becoming the first boxer from Puerto Rico to be an undisputed champion would make it even more special. I look forward to entering the ring in my hometown of NYC back at Madison Square Garden, taking on a Mexican champion in Erika Cruz and making Puerto Rican history. I encourage all my fans to turn up and tune in!"
The Puerto Rican boxer, who has won 30 of her 46 fights within the distance, said that if Cruz has a tactical plan in place that consists of exchanging punches, the bout will not go the 10 scheduled rounds.
Last September, Serrano unanimously defeated then-undefeated Dane Sarah Mahfoud (11-1, 3 KOs, in Manchester, England. Previously, in April, Serrano lost a split decision to Ireland's Katie Taylor (22-0, 6 KOs) who successfully defended her four lightweight belts. Two judges scored the fight (97-93) for Taylor and the other (96-94) in favor of Serrano.
Taylor and Serrano became the first female boxers to headline a boxing match at Madison Square Garden. The two ladies also made history by each receiving a check for more than a million dollars which had an increase from pay-per-view earnings.
Referring to a possible rematch against Taylor, Serrano commented that if she beats Cruz, as expected, and if/when she meets Taylor for the second time (possibly in May in Ireland), it would be an epic duel between two undisputed champions: Serrano at 126 pounds and Taylor at 135.
Even though Serrano longs for a rematch with Taylor, she realizes that her immediate challenge is Cruz and has assured us that she is in excellent shape physically, technically, and mentally. She has increased the amount of sparring in camp, focusing on aggressiveness and explosiveness. She's also added a sports massage therapist to her team which has helped with recovery.
In regard to a second confrontation between Serrano and Taylor, promoter Eddie Hearn stated, "For Serrano to become undisputed at 126 and then fight Katie again for the undisputed at 135 at Croke Park in Dublin, it would make that rematch even bigger if you can imagine that."
Cruz, 32 years old and born in Mexico City, has put together a win streak of 14 following her loss to compatriot Alondra González on June 25, 2016, in Puebla, Mexico. Cruz conquered the WBA world belt on April 22, 2022, when she defeated Canadian Jelena Mrdjenovich who was unable to continue in the seventh round due to a cut caused by an accidental headbutt.
Five months later, on September 3, Cruz faced Mrdjenovich for a second time and again came out with her arm raised, this time winning by unanimous decision in Hermosillo, Mexico, where she retained the WBA title for the second time.
Cruz is looking forward to the matchup with Serrano. "I am grateful that this opportunity was finally given to me after many years of work," said Cruz. "I have always gone against everything, but God is on my side, and he has given me the strength to achieve my goals. It's time to make history and give Mexico its first unified champion at 126 lbs."
Article submitted by Jorge Juan Álvarez in Spanish.
Please note any adjustments made were for clarification purposes and any errors in translation were unintentional.
To comment on this story in the Fight Forum CLICK HERE