The Hauser Report: A Promoter's Pro Debut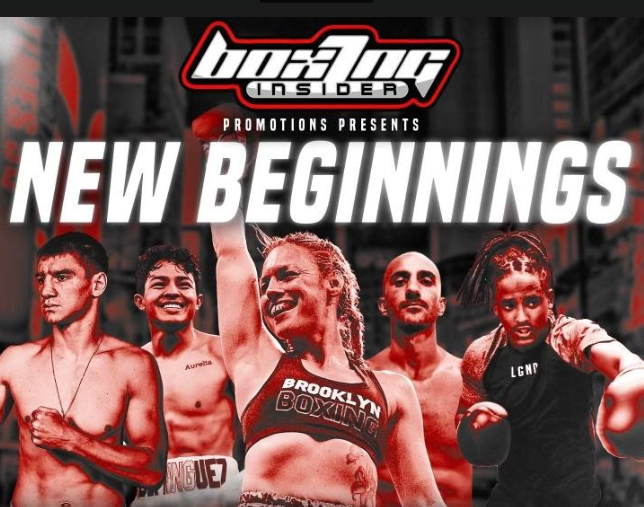 The phrase "pro debut" is often heard in conjunction with fighters. But promoters make pro debuts too. On October 13 at Sony Hall in the heart of Times Square in New York, Larry Goldberg made his pro debut.
Goldberg, age 45, grew up in and around Atlantic City where he fell in love with boxing. He has an internet-marketing background and, in 1997, founded BoxingInsider.com. In the past, he'd promoted amateur fight cards. Now he was going pro.
If Goldberg's pro debut had been in Montana or Kansas, it might have been similar to his amateur experiences. But it was in New York. Promoting a professional fight card under the best of circumstances is like herding twenty cats across a football field while a game is in progress. When promoting in New York, think fifty cats.
The New York State Athletic Commission has more rigorous protocols for promoters than any other state. For example, the fighter medical insurance required in New York costs $1,645 per bout. That's $9,870 for a six-bout card. Line item costs such as hotel rooms for fighters and their teams are also higher in New York than in other jurisdictions.
Virtually everyone wants something for free when dealing with a promoter. Promoting a fight card can be analogous to planning a six-figure wedding on a five-figure budget.
"It's my first show," Goldberg acknowledged during fight week. "There's so much to do. I'm learning and I'm making some mistakes. I'll lose some money; I hope not too much. But it's a start."
Sony Hall is a difficult venue for a boxing promotion. Finding space for changing rooms, medical examinations, and other requisite areas is a task unto itself. Because of the building's configuration, it costs three times more than the norm to bring the ring in and out.
Goldberg was promoting the October 13 event in association with DiBella Entertainment.
"Larry knows that he can't make money in Sony Hall," Lou DiBella (who was in Australia for Devin Haney vs. George Kambosos) noted. "But he's learning the ropes. It's like a graduate course in promoting. And it costs money to get an education."
One might be forgiven for likening Goldberg's "education" to a diploma from Trump University. The tuition is high, often without much hope of a meaningful return. Ultimately, boxing maven Eric Bottjer was brought in to help the promotion with compliance issues and other matters.
"Eric was a life-saver," Larry said afterward. "I don't want to think about what might have happened without him."
Goldberg hired his own production team and arranged for the fights to be streamed live on BXNG TV with Randy Gordon and Gerry Cooney handling the commentary. He hired a roundcard girl on the morning of the fights. Matt Competello (who Larry has worked with in the amateurs) was brought in as the ring announcer.
The New York State Athletic Commission had limited the number of fights that would be allowed on the card to six because of the cramped quarters in the back of the house. Ticket prices ranged from $102 to $325.
One fight fell out when a fighter who, Goldberg says, agreed to a $3,000 purse refused to get on a plane and come to New York unless his purse was increased to $5,000. That left Larry with only five fights. And he had to pay the $1,645 insurance fee for the cancelled fight because it had already been bonded.
Heather Hardy was Goldberg's headline attraction and had gone beyond the role of being a fighter to help enormously in putting together the pieces of the promotion. Several opponents for Heather fell out. And for good measure, it rained on fight night which threatened to put a damper on last-minute ticket sales.
Dave McWater (the 2020 BWAA "manager of the year") manages Ivan Golub who was in the second bout of the evening. Sitting in Sony Hall before the fights began, McWater reminisced about his own experience as a promoter.
"Years ago," McWater recalled, "I backed Don Elbaum on a show in Connecticut. Don assured me that we'd sell 5,000 tickets. About an hour before the first fight, I went to the box office and we'd sold 259. After that, I decided I'd be better off managing than promoting."
Then the gods smiled on Goldberg. Surprisingly, walk-up sales were good. Sony Hall nearly sold out. The venue was jammed. The seating was chaotic with close quarters everywhere from ringside to the standing room area by the bar. But all of the sightlines were good.
The ring canvas was gray, not powder blue, and the ring ropes were black. The overhead lights were dimmer than the norm. All of that when combined with the unusually close quarters, gave the evening an old-time fight-club vibe.
The fights moved smoothly from one to the next without the long delays occasioned by the demands of bigtime television.
Fight #1 saw Petros Ananyan (16-3-2, 7 KOs) face off against Paulo Cesar Galdino (12-6, 8 KOs) in a super-lightweight contest. Neither man had much defense and both men got hit a lot. But Ananyan hit harder and Cesar got hit more often leading to a sixth-round stoppage. The fight was notable because Freddie Roach was in Ananyan's corner and the venue was set up in a way that waiters with plates full of chicken tenders and fried calamari kept walking in front of Roach while rounds were going on. "I did wonder what the f*** was going on," Freddie said afterward.
Ivan Golub (20-1, 15 KOs) vs. Wesley Tucker (15-3, 9 KOs, 1 KO by) was the second bout. Golub was arguably the most accomplished fighter on the card. But the big ticket sellers were Heather Hardy, Nadim Salloum and Andy Dominguez Velasquez, so the last three slots were reserved for them.
Tucker is a club fighter. During the preceding five-and-a-half years. he'd lost three times to other club fighters and won once. In round two, he scored a knockdown when he tagged Golub and Ivan's gloves touched the canvas. But then Wesley tired and morphed into a human punching bag. His corner stopped the carnage after four rounds.
In fight #3, Andy Dominguez Velasquez (7-0-0, 6 KOs), a good flyweight prospect, knocked down Ricardo Caraballo (7-1, 2 KOs) two minutes into the first stanza. Ricardo rose on wobbly legs, and virtually everyone in the arena except Sparkle Lee could see that he was in no condition to continue. Unfortunately, Lee was refereeing the fight. So, Caraballo took more unnecessary concussive blows to the head before he was knocked down again and the fight ended.
Fight #4 featured Nadim Salloum (8-1, 3 KOs) vs. Jorge Leandro Capozucco (4-0, 3 KOs). Salloum, age 28, was born in Lebanon and now lives in Brooklyn. He's a ticket-seller, having developed a significant following in the Lebanese-American community. His ring skills aren't as good as his marketing. That said, Leandro only had one punch – an arcing overhand right that landed more often than it should have because Salloum has a porous defense. But Salloum also had a more varied arsenal and more power than Leandro. Referee Steve Willis stopped the fight in round six.
Then it was time for the main event – Heather Hardy (22-2, 4 KOs) vs Calista Silgado (20-15-3, 15 KOs, 3 KOs by). Hardy (who moved from 126 to 135 pounds last year) had lost her last two outings by decision against Amanda Serrano and Jessica Camara and hadn't won a boxing match since 2018. Silgado was competing at 118 pounds as recently as May of this year and had lost four of her most recent five fights. Her one victory during that stretch came against a woman who has had two fights in her entire ring career and been knocked out in both of them.
Silgado had flown to New York from Miami and arrived at 11:30 on Tuesday night. She weighed in on Wednesday, fought on Thursday, and flew back to Miami on a 5:00 AM Friday flight. Such is the life of a B-side fighter.
Hardy-Silgado was scheduled for six two-minute rounds. Once the fight began, it was clear that Heather's reflexes have slowed noticeably since her prime years. Calista looked old and tired and had powder-puff fists. It wasn't a hard fight to score. Two judges appropriately ruled 58-56 in Hardy's favor. One judge gave Heather all six rounds and shouldn't be assigned to judge again absent extensive retraining.
Hardy is forty years old. Her defense has always been suspect. She's tough and has a fighting spirit. But that alone doesn't cut it in boxing, particularly at age forty. The punches add up for women fighters as inexorably as they do for men. Now would be a good time for Heather to stop fighting.
At evening's end, Goldberg's father (who was at the show) told him, "Congratulations! This was your second bar mitzvah."
So . . . Where does Larry go from here?
He came out of the promotion with his honor and reputation intact. He lost some money but not as much as he feared he might.
"I'll be able to sleep well tonight for the first time in two months," Goldberg said when the show was over. "I can't believe this worked out as well as it did because it could have gone really bad. I was petrified that things out of my control would go wrong. I've got a lot to digest. But now that I know how the sausage is made, it should be easier for me next time. Next time, I'll know how to save money on hotel rooms and airfare and all the other things that add up. I'd like to promote at Sony Hall again. I think I can make the numbers work and turn a profit there. I'd like to promote a fight card in Atlantic City. That's one of my goals. Maybe I'll turn Boxing Insider into a streaming platform. There's so much to think about."
Meanwhile, give Goldberg credit for loving boxing and putting his money where his heart is.
Thomas Hauser's email address is thomashauserwriter@gmail.com. His most recent book – In the Inner Sanctum: Behind the Scenes at Big Fights – was just published by the University of Arkansas Press. In 2004, the Boxing Writers Association of America honored Hauser with the Nat Fleischer Award for career excellence in boxing journalism. In 2019, Hauser was selected for boxing's highest honor – induction into the International Boxing Hall of Fame.
To comment on this story in the Fight Forum CLICK HERE
Mercito Gesta Victorious Over Jojo Diaz at the Long Beach Pyramid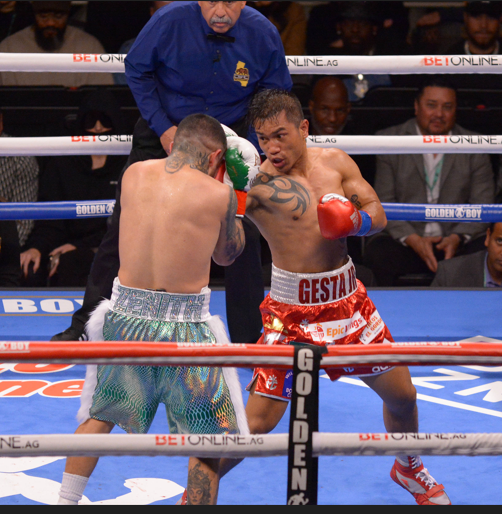 LONG BEACH, CA.-Those in the know knew Mercito Gesta and Jojo Diaz would be a fight to watch and they delivered.
Gesta emerged the winner in a super lightweight clash between southpaws that saw the judges favor his busier style over Diaz's body attack and bigger shots and win by split decision on Saturday.
Despite losing the main event because the star was overweight, Gesta (34-3-3, 17 KOs) used an outside method of tactic to edge past former world champion Diaz (32-4-1, 15 KOs) in front of more than 5,000 fans at the Pyramid.
The speedy Gesta opened up the fight with combination punching up and down against the peek-a-boo style of Diaz. For the first two rounds the San Diego fighter overwhelmed Diaz though none of the blows were impactful.
In the third round Diaz finally began unloading his own combinations and displaying the fast hands that helped him win world titles in two divisions. Gesta seemed stunned by the blows, but his chin held up. The counter right hook was Diaz's best weapon and snapped Gesta's head back several times.
Gesta regained control in the fifth round after absorbing big blows from Diaz. He seemed to get angry that he was hurt and opened up with even more blows to send Diaz backpedaling.
Diaz targeted his attack to Gesta's body and that seemed to slow down Gesta. But only for a round.
From the seventh until the 10th each fighter tried to impose their style with Gesta opening up with fast flurries and Diaz using right hooks to connect with solid shots. They continued their method of attack until the final bell. All that mattered was what the judges preferred.
After 10 rounds one judge saw Diaz the winner 97-93 but two others saw Gesta the winner 99-91, 98-92. It was a close and interesting fight.
"I was expecting nothing. I was the victor in this fight and we gave a good fight," said Gesta. "It's not an easy fight and Jojo gave his best."
Diaz was surprised by the outcome but accepted the verdict.
Everything was going good. I thought I was landing good body shots," said Diaz. "I was pretty comfortable."
Other Bouts
Mexico's Oscar Duarte (25-1-1, 20 KOs) knocked out Chicago's Alex Martin (18-5, 6 KOs) with a counter right hand after dropping him earlier in the fourth round. The super lightweight fight was stopped at 1:14 of the round.
A battle between undefeated super welterweights saw Florida's Eric Tudor (8-0, 6 KOs) emerge the winner by unanimous decision after eight rounds versus Oakland's Damoni Cato-Cain.
The taller Tudor showed polished skill and was not bothered by a large cut on his forehead caused by an accidental clash of heads. He used his jab and lead rights to defuse the attacks of the quick-fisted southpaw Cato-Cain. The judges scored the fight 80-72 and 78-74 twice for Tudor.
San Diego's Jorge Chavez (5-0, 4 KOs) needed less than one round to figure out Nicaragua's Bryan Perez (12-17-1, 11 KOs) and send him into dreamland with a three-punch combination. No need to count as referee Ray Corona waved the fight over. Perez shot a vicious right followed by another right and then a see-you-later left hook at 3.00 of the first round of the super featherweight match.
Photo credit: Al Applerose
Jojo Diaz's Slump Continues; Mercito Gesta Prevails on a Split Decision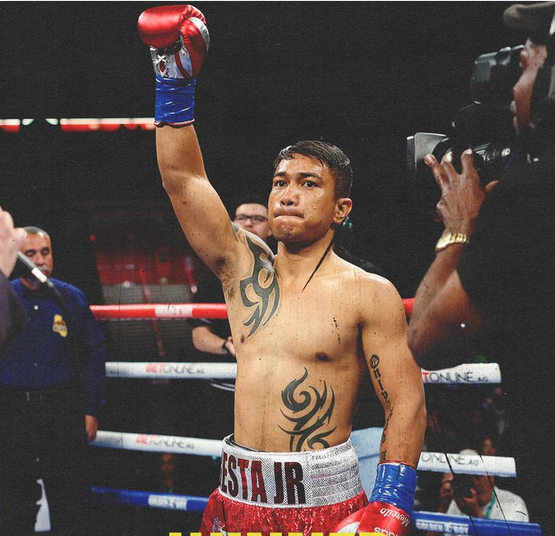 At age 30, Jojo Diaz's career is on the skids. The 2012 U.S. Olympian, a former world title holder at 126 and 130 pounds and an interim title holder at 135, Diaz suffered his third straight loss tonight, upset by Mercito Gesta who won a split decision at the Walter Pyramid in Long Beach, CA.. The scoring was strange with Gesta winning nine of the 10 rounds on one of the cards and only three rounds on another. The tie-breaker, as it were, was a 98-92 tally for Gesta and even that didn't capture the flavor of what was a closely-contested fight.
Originally listed as a 12-rounder, the match was reduced to 10 and that, it turned out, did Diaz no favors. However, it's hard to feel sorry for the former Olympian as he came in overweight once again, having lost his 130-pound title on the scales in February of 2021.
Diaz also has issues outside the ropes. Best elucidated by prominent boxing writer Jake Donovan, they include a cluster of legal problems stemming from an arrest for drunk driving on Feb. 27 in the LA suburb of Claremont.
With the defeat, Diaz's ledger declined to 32-4-1. His prior losses came at the hands of Gary Russell Jr, Devin Haney, and William Zepeda, boxers who are collectively 83-2. Mercito Gesta, a 35-year-old San Diego-based Filipino, improved to 34-3-3.
Co-Feature
Chihuahua, Mexico super lightweight Oscar Duarte has now won nine straight inside the distance after stopping 33-year-old Chicago southpaw Alex Martin in the eighth frame. Duarte, the busier fighter, had Martin on the deck twice in round eight before the fight was waived off.
Duarte improved to 25-1-1 (20). Martin, who reportedly won six national titles as an amateur and was once looked upon as a promising prospect, declined to 18-5.
Other Bouts of Note
New Golden Boy signee Eric Tudor, a 21-year-old super welterweight from Fort Lauderdale, overcame a bad laceration over his right eye, the result of an accidental clash of heads in round four, to stay unbeaten, advancing to 8-0 (6) with a hard-fought unanimous 8-round decision over Oakland's Damoni Cato-Cain. The judges had it 80-72 and 78-74 twice. It was the first pro loss for Cato-Cain (7-1-1) who had his first five fights in Tijuana.
In the DAZN opener, lanky Hawaian lightweight Dalis Kaleiopu went the distance for the first time in his young career, improving to 4-0 (3) with a unanimous decision over 36-year-old Colombian trial horse Jonathan Perez (40-35). The scores were 60-52 across the board. There were no knockdowns, but Perez, who gave up almost six inches in height, had a point deducted for a rabbit punch and another point for deducted for holding.
To comment on this story in the Fight Forum CLICK HERE
'Big Baby' Wins the Battle of Behemoths; TKOs 'Big Daddy' in 6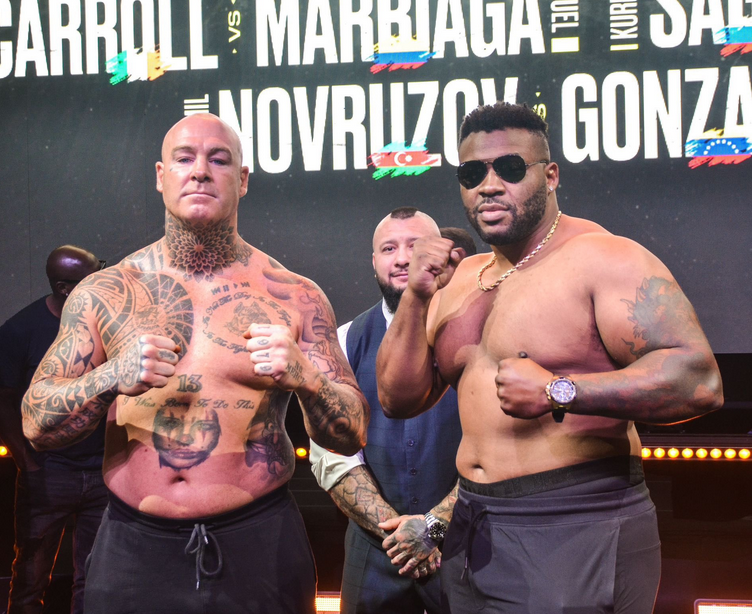 Lucas "Big Daddy" Browne weighed in at a career-high 277 pounds for today's battle in Dubai with Jarrell "Big Baby" Miller, but he was the lighter man by 56 pounds. It figured that one or both would gas out if the bout lasted more than a few stanzas.
It was a war of attrition with both men looking exhausted at times, and when the end came it was Miller, at age 34 the younger man by nine years, who had his hand raised.
Browne was the busier man, but Miller, whose physique invites comparison with a rhinoceros, hardly blinked as he was tattooed with an assortment of punches. He hurt 'Bid Daddy' in round four, but the Aussie held his own in the next frame, perhaps even forging ahead on the cards, but only postponing the inevitable.
In round six, a succession of right hands knocked Browne on the seat of his pants. He beat the count, but another barrage from Miller impelled the referee to intervene. The official time was 2:33. It was the 21st straight win for Miller (26-0-1, 22 KOs). Browne declined to 31-4 and, for his own sake, ought not fight again. All four of his losses have come inside the distance, some brutally.
The consensus of those that caught the livestream was that Floyd Mayweather Jr's commentary was an annoying distraction that marred what was otherwise an entertaining show.
As for what's next for "Big Baby" Miller, that's hard to decipher as he has burned his bridges with the sport's most powerful promoters. One possibility is Mahmoud Charr who, like Miller, has a big gap in his boxing timeline. Now 38 years old, Charr – who has a tenuous claim on a WBA world title (don't we all?) —  has reportedly taken up residence in Dubai.
Other Bouts of Note
In a 10-round cruiserweight affair, Suslan Asbarov, a 30-year-old Russian, advanced to 4-0 (1) with a hard-fought majority decision over Brandon Glanton. The judges had it 98-92, 97-93, and a more reasonable 95-95.
Asbarov was 12-9 in documented amateur fights and 1-0 in a sanctioned bare-knuckle fight, all in Moscow, entering this match. He bears watching, however, as Glanton (18-2) would be a tough out for almost anyone in his weight class. In his previous fight, at Plant City, Florida, Glanton lost a controversial decision to David Light, an undefeated Australian who challenges WBO world title-holder Lawrence Okolie at Manchester, England next week.
A 10-round super featherweight match between former world title challengers Jono Carroll and Miguel Marriaga preceded the semi-windup. Carroll, a 30-year-old Dublin southpaw, overcame a cut over his left eye suffered in the second round to win a wide unanimous decision in a fairly entertaining fight.
It was the sixth straight win for Carroll (24-2-1, 7 KOs) who elevated his game after serving as a sparring partner for Devin Haney. Marriaga, a 36-year-old Colombian, lost for the fourth time in his last five outings, declining to 30-7.
To comment on this story in the Fight Forum CLICK HERE