For Whom the Bell Tolled: 2022 Boxing Obituaries PART TWO (July-Dec.)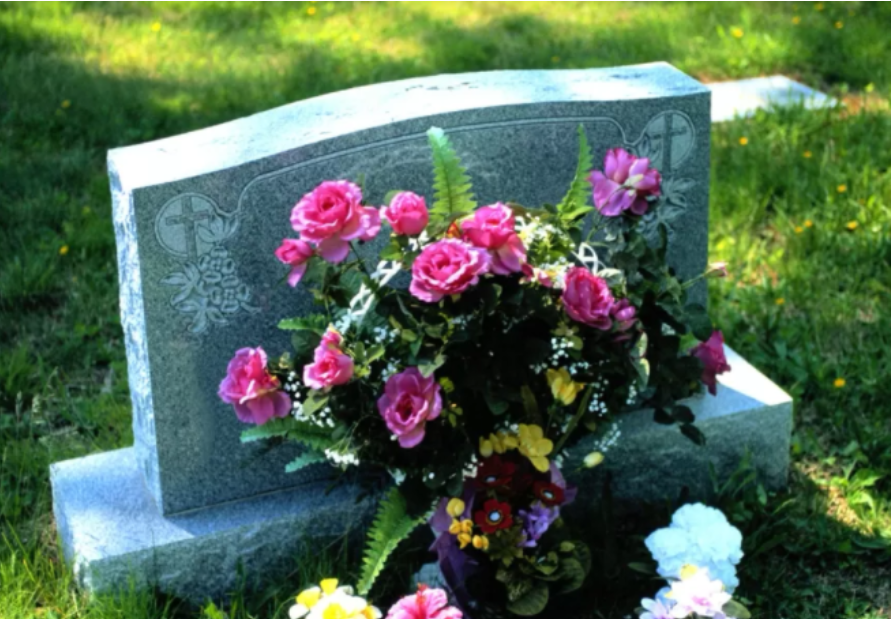 This is the concluding segment of our story in which we pay homage to boxing notables who left us in the past year.
July
July 12 – JERRY PELLEGRINI. A welterweight who was a barber by trade, hence his nickname, "The Fighting Barber," his rather pedestrian record (28-12-1) obscured the fact that during his prime in the 1960s he acquired a big following in his native New Orleans. At age 78 at his home in Chalmette, Louisiana, from complications of pulmonary fibrosis.
July 27 – MAURENZO SMITH. A journeyman heavyweight who was still active at the time of his death, Smith, a widower, was shot dead by the estranged husband of the woman he was dating at a Houston-area restaurant. He won his last eight fights by stoppage, seven in Colombia, advancing his record to 29-13-4 before he drew his last breath at age 44.
August
Aug. 4 – JOHNNY FAMECHON. The Aussie version of Willie Pep, the silky-smooth Famechon was one of Australia's most admired sportsmen. He won the WBC world featherweight title in 1969 with a 15-round decision over Jose Legra in London and won two of his three title defenses before quitting the sport at age 24 with a record of 55-5-6. In Melbourne at age 77 after a long illness.
Aug. 9 – LARRY BUCK. Born on a ranch in Washington's Yakima Valley, Buck, a light heavyweight based in Seattle, turned pro in 1966 at age 29 after serving in the Army and compiled a 25-5-4 record. He was stopped only once, that coming on cuts. At age 86 in Shelton, Washington.
Aug. 15 – RODOLFO MARTINEZ. One of many outstanding boxers spawned in the Mexico City barrio of Tepito, he won the WBC world bantamweight title in 1974 with a fourth-round stoppage of three-time rival Rafael Herrera and made four successful defenses before losing the belt to the great Carlos Zarate. He finished 44-7-1 (35). At age 75 in Irapuato, Guanajuato, Mexico where he was suffering from Alzheimer's.
Aug. 20 – GODFREY STEVENS. One of the few Chileans to fight for a world title, Stevens was recognized as the South American featherweight champion when he challenged WBA belt-holder Shozo Saijo in Tokyo in 1970, losing a 15-round decision. He finished 68-10-3 while answering the bell for 717 rounds. In a nursing home in Canberra, Australia, at age 84.
Aug. 22 – JIMMY FARRELL. Fighting exclusively in New England, the Bay State featherweight compiled a 17-4-3 record in a five-year career that began in 1975. When his fighting days were over, he ran a series of boxing gyms in and around Quincy, Massachusetts that produced 40 regional amateur champions and dozens of pros. At age 69 after a long battle with cancer.
Aug. 27 – MOGENS PALLE. Elected to the IBHOF in 2008, Palle was the face of boxing in Denmark for more than 60 years. The second-generation promoter manufactured a slew of European champions, beginning with Tom Bogs, and several world title-holders, notably super middleweight Mikkel Kessler. At age 88 in Copenhagen where he was battling cancer,
Aug. 28 – EVERETT "BIG FOOT" MARTIN. The quintessential gatekeeper, Martin fought 15 former or future heavyweight title-holders. He went the distance with George Foreman, Michael Moorer, Tony Tucker, Larry Holmes and Wladimir Klitschko in their first encounter and outpointed Tim Witherspoon, finishing 20-39-1 in a 17-year career that began in 1984. At age 58 in his hometown of Tyler, Texas. Details are sketchy.
Aug. 29 – RIGOBERTO RIASCO. After failing to take the world featherweight title from Alexis Arguello (L TKO 2), he dropped down in weight and became the first modern super bantamweight champion. He retired in 1976 after losing the belt to Royal Kobayashi, returned for an encore in 1981, and finished 26-9-4. At age 69 in his native Panama City from an undisclosed illness.
Aug. 31 – TED SARES. A prized member of the TSS family where he was our most active contributor to the Forum, Sares fell in love with boxing as a boy in Chicago, authored dozens of stories for online boxing magazines, and was always ready to lend a helping hand to an ex-boxer in need. A world-class professional powerlifter into his 80's, the New Hampshire resident was 85 when he passed away within days of learning he had pancreatic cancer.
September
Sept. 1 – EARNIE SHAVERS. Recognized as one of the hardest punchers in the history of boxing, Shavers KOed 69 of his 90 opponents, finishing 75-14-1, but came up short in two stabs at the world heavyweight title, losing to Muhammad Ali (L 15) and Larry Holmes (L TKO 11). In retirement he became a Christian minister and motivational speaker and turned up frequently at autograph shows. At age 78 after a lingering illness at the home of a daughter in Roanoke, Virginia.
Sept. 7 – BORGE KROGH. A two-time Olympian, Krogh was 43-8-5 (9 KOs) as a pro during an 8-year career that began in 1964. Although prone to cuts and lacking a big punch, he rose to #2 in the WBA ratings and was briefly the European lightweight champion. In retirement he became a respected trainer and then a high school math teacher. At age 80 in his native Aalborg, Denmark.
Sept. 13 – HORACIO ACCAVALLO. The most underrated flyweight of all time in the estimation of the noted boxing historian Matt McGrain, the Argentine southpaw was in his second reign as a world champion when he left the sport in 1968. He was 49-1-1 over his last 51 fights, finishing 75-2-6. In retirement, he built a successful chain of sporting goods stores. At age 87 in a Buenos Aires nursing home after a decade-long battle with Alzheimer's.
Sept. 19 – ISIAH JONES. A 2016 national amateur welterweight champion (he defeated future Olympian Troy Isley in the finals), Jones pro career never took flight; he finished 9-7. A 28-year-old father of three, he was shot dead by his brother during a family dispute at a home in his native Detroit.
Sept. 29 – LUIS QUINONES. A junior welterweight from Barrancabermejo, Colombia, Quinones was 10-0 heading into his 10-round match with his friend Jose Munoz at Barranquila. Knocked down in the eighth round, he fell into a coma and died five days later without regaining consciousness. He was 25 years old.
October
Oct. 2 – EDER JOFRE. Widely considered the greatest bantamweight of all time, Jofre held the world bantamweight title from 1960 to 1964 and went on to win the WBC featherweight title after returning to the sport after a three-year retirement. Victorious in his last 24 fights, he finished 72-2-4. At age 86 in his native Sao Paulo, Brazil, after a lengthy hospital stay for pneumonia.
November
Nov. 2 – JOE LOUIS MURPHY. A 1950s-era welterweight whose parents named him for Joe Louis, Murphy was no great shakes as a pro boxer, going 13-11-2 in documented fights, but for decades he was the glue of boxing in Albuquerque, serving the sport in every capacity. At age 86 in Albuquerque from complications of COVID-19.
Nov. 4 – J.J. JOHNSTON. An actor who performed opposite Al Pacino in the 1983 Broadway revival of David Mamet's "American Buffalo," Johnston was best known within the fistic fraternity as a historian and memorabilia collector. He co-authored a book about Jimmy McLarnin and two richly illustrated monographs on the history of boxing in Chicago. At age 89 in his beloved Chicago.
Nov. 19 – MARK POTTER. A burly heavyweight who customarily carried about 235 pounds on his 6'1" frame, Potter was 14-2 when he challenged Danny Williams for the British title in 2000, losing on a TKO 7. He finished 21-5. At age 47 in London from stomach cancer.
Nov. 20 – BUSTER DRAYTON. A former Marine sergeant, he was 32 years old when he won the IBF 154-pound world title in 1986, wresting the belt from Carlos Santos on a 15-round decision. He made two successful defenses in France before losing the belt to Matthew Hilton in Montreal. He was 40-15-1 when he left the sport for a career in law enforcement. At age 70 in his native Philadelphia of unspecified causes.
Nov. 24 – MOISES FUENTES. The lanky Fuentes won the WBO 105-pound title in 2011 and made four successful defenses including a stoppage of legendary, albeit faded, Ivan Calderon. He retired with a 25-6-1 mark but returned to the ring after a three-year absence in October of last year at Cancun and was stopped in six frames by Mexican countryman David Cuellar. He left the ring on a stretcher with a brain bleed from which he never fully recovered, dying at age 37.
December
Dec. 1 – LUCKETT DAVIS. A longtime biology professor at Winthrop University, Davis spent countless hours scrolling through old newspapers in search of missing and misidentified fights and came to be recognized as one of the sport's foremost boxing historians. A charter member of the International Boxing Research Organization (IBRO) he was 90 when he passed away at his home in Rock Hill, South Carolina.
Dec. 6 – MILLS LANE. The former Marine was an NCAA boxing champion and 10-1 as a pro before entering the legal profession where he advanced to the post of a district court judge. He went on to become a TV and MTV personality, building on his fame as the third man in the ring for some of boxing's most bizarre fights, including the infamous "Bite Fight." He was elected to the IBHOF in 2013, eleven years after suffering a debilitating stroke. At age 86 in Reno.
Dec. 11 – BOBBY CASSIDY. Active from 1963 to 1980, the Long Island southpaw fought mostly as a middleweight. He headlined several shows at Madison Square Garden while finishing 59-16-3, a record that would have been better if he wasn't prone to cuts. His son of the same name became a boxing writer for Newsday. At age 78 in Levittown, Long Island, where he was suffering from dementia.
Dec. 19 – STEVE SMOGER. The Hall of Fame referee was the third man in the ring for more than a thousand fights during a 34-year career that lasted until 2018. A law school graduate and 30-year member of the U.S. Air Force Reserve, he also served as a municipal court judge in Atlantic City. At age 79 in Ventnor, NJ, after a long illness.
Dec. 23 – JERRY ROTH. A Las Vegas commercial real estate broker, the Scranton, PA native worked 235 world title fights during a 34-year career as a boxing judge. In 2017, two years after he judged his final fight, he was elected to the IBHOF. At age 81 in Las Vegas of an undisclosed illness.
For Part One CLICK HERE
To comment on this story in the Fight Forum CLICK HERE
Garcia Promotions' Event in San Bernardino was a Showcase for Saul Rodriguez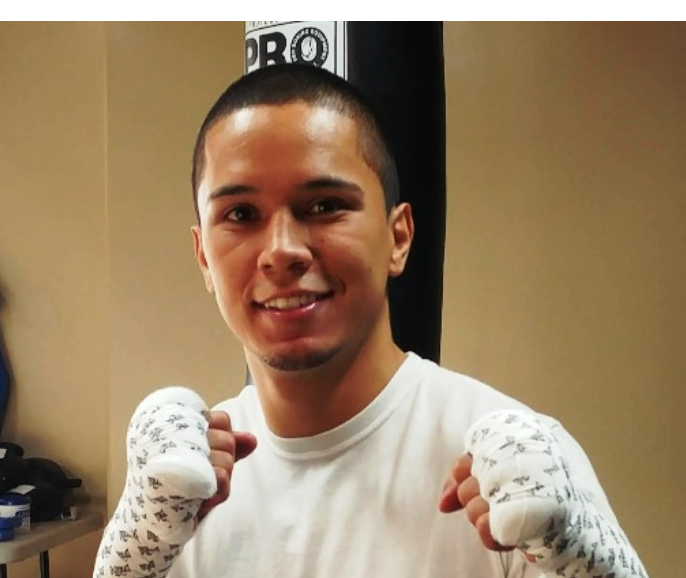 SAN BERNARDINO-Saul "Neno" Rodriguez, out of action for nearly three years, returned to the prize ring on Saturday in San Bernardino at the Club Event Center in a Garcia Promotions event. San Bernardino is in the Inland Empire which is two counties just east of Los Angeles.
Riverside's Rodriguez (24-1-1) weighed much more than the designated weight and his match with Mexico's Juan Meza Angulo was demoted to an exhibition because of the weight disparity. Despite wearing head gear, the popular Riverside fighter was able to stop Angulo (6-1) in his first fight since February 28, 2020.
Though Rodriguez looked slightly over-weight as a super lightweight, it didn't dampen his sharp punching skills. He immediately caught Meza with a well-timed overhand right. Luckily, Rodriguez didn't put muscle on it. The fight proceeded.
Because of inactivity, Rodriguez seemed to relish getting back to work. He moved around and tried different combinations. Everything seemed to be working in his favor. But Meza countered a left by Rodriguez with a strong right. It proved the popular Riverside fighter needs work on bringing back his left quickly.
After Meza connected things got serious.
Rodriguez immediately opened the third round at a quicker tempo and seemed intent on changing from a wait-and-see attitude to one of bad intentions. Meza didn't notice the change and looked to catch Rodriguez with a combo and instead was caught with a monster counter-right. Down went Meza with a thud. The fight was stopped.
Fans, many of them wearing Team Neno t-shirts, were deliriously happy to see Rodriguez back in action.
In the co-main event, San Bernardino's Leo Ruiz clashed with granite-chinned Cameron Krael.
Ruiz (11-0, 7 KOs) unloaded horrific bombs on Krael (19-25-3) who calmly kept his gloves covering his head and although some managed to connect flush, nothing fazed the Las Vegas fighter.
Round after round Ruiz unloaded on Krael only to quickly realize that attempting a knockout was futile. The reputation of Krael's chin was correct and no need to break a knuckle trying to score a knockout. Instead, Ruiz went six rounds and won every one to take a win by unanimous decision by scores of 60-54 on all three cards.
Other Bouts
Gabe Muratalla (9-0) knocked out Michael Nielsen (6-3) with a four-punch combination in the third round of a bantamweight fight. Body shots dropped Nielsen in the second round.
Ventura's Jose Delgado (10-1-4), a southpaw, overcome a sluggish start with body shots to defeat San Bernardino's Jesus Beltran (6-3-1) by majority decision after four rounds in a lightweight fight.
Riverside's Victor Pelayo (2-0) defeated Milwaukee's D'Angelo Hopgood (2-1) by decision after four rounds in a very close super bantamweight match. Both fighters showed solid fundamentals in a fight that could have easily been scored a draw. Pelayo won by decision 39-37 on all cards.
Riverside's Jose Rodriguez (2-0) stopped Henry Mendez (0-9-2) in the fourth round of a super welterweight bout. Mendez was deducted a point in the second round for incessant holding after numerous warnings.
Alexis Rocha KOs Brave but Overmatched George Ashie on DAZN.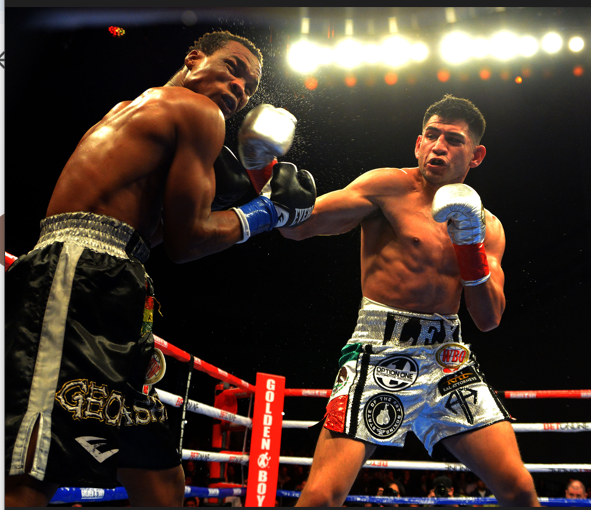 Golden Boy Promotions' potted their first offering of 2023 at the recently opened YouTube Theater, a 6,000-seat venue situated inside the stadium built to house LA's two NFL franchises. The main event was a scheduled 12-round welterweight match between Alexis Rocha, a southpaw from nearby Santa Ana and George Ashie, a 38-year-old Ghanaian making his U.S. debut. Ashie was a late substitute for Anthony Young who reportedly suffered a nose injury in training. The match and supporting bouts were live-streamed on DAZN.
Ashie, who was fighting above his normal weight class and carried a career-high 146 pounds, was brave but out-gunned. Rocha knocked him down in the third frame with a right hook and hurt him several more times as the fight progressed although Ashie never stopped trying. In round six, an accidental clash of heads left Rocha with a nasty cut on his left eyebrow. He fought with more urgency after this incident and knocked Ashie out cold in the next round. The official time was 2:08 of round seven.
It was the fifth straight win for Rocha who improved his ledger to 22-1 (14 KOs). After the bout, he expressed an interest in fighting Terence Crawford. Ashie fell to 33-6-1 (25).
Other Bouts of Note
Floyd "Austin Kid" Schofield, a precocious 20-year-old lightweight, had Albert Mercado on the canvas in the second round but was unable to put him away despite hurting him multiple times and went 10 rounds for the first time in his young career.
Schofield, the 2022 TSS Prospect of the Year, improved to 13-0 (11), winning 100-89 on all three cards. Mercado, a 35-year-old Connecticut-born Puerto Rican, declined to 17-5-1 but retained his distinction of having never been stopped.
Super middleweight Bektemir Melikuziev, a 2016 Olympic silver medalist for Uzbekistan who lives and trains in Indio, California, overpowered San Diego's Ulises Sierra who was on the deck twice from body punches before the fight was waived off at the 2:59 mark of round three. It was the fourth straight victory for Melikuziev (11-1, 9 KOs) after suffering a stunning one-punch knockout at the hands of seemingly shopworn Gabriel Rosado with whom he is pursuing a rematch. Sierra was 17-2-2 heading in with eight of his wins coming in Mexico.
In a match framed as a WBO minimumweight title eliminator, Oscar Collazo (6-0, 4 KOs) scored an impressive fifth-round stoppage of Yudel Reyes. Collazo knocked Reyes down twice in the fifth round, the second with a vicious right hand that put Reyes down so hard that the referee didn't bother to count. The official time was 2:59 of round five.
In theory, Collazo's next fight will come against the Filipino Melvin Jerusalem who won the title earlier this month with a second-round stoppage of Masataka Taniguchi in Osaka. Reyes, a 26-year-old Mexican making his U.S. debut, declined to 15-2.
Photo credit: Al Applerose
Artur Beterbiev TKOs Anthony Yarde in a London Firefight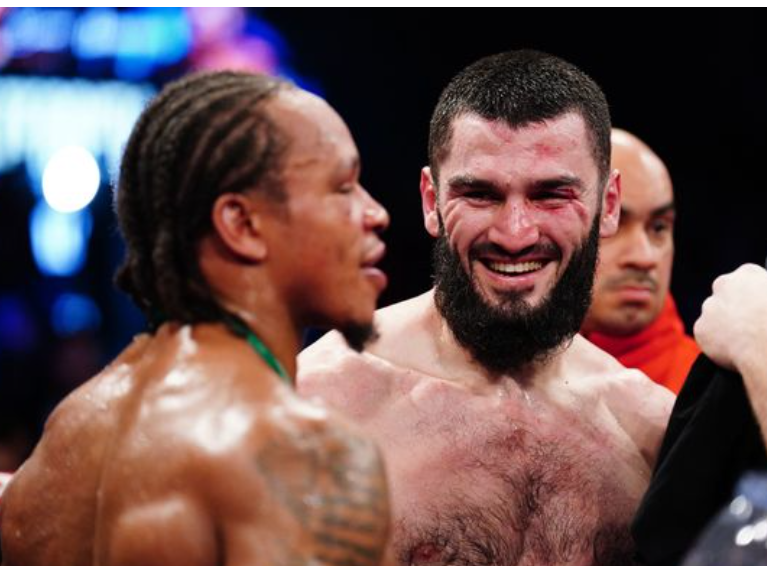 The presumption, echoed by ESPN boxing commentator Bernardo Osuna, was that tonight's bout at Wembley Arena in London between Artur Beterbiev and Anthony Yarde would be explosive and entertaining for as long as it lasted. That proved to be true and when the smoke cleared, Beterbiev, the rugged Montreal-based Russian had retained his three light heavyweight title belts and had added another knockout to his ledger, his nineteenth as a pro in as many opportunities.
Both men landed hard shots during the fight and both were marked up at the finish. Yarde had a cut under his right eye and Beterbiev had a cut on his left eyelid.
A chopping right hand from Beterbiev late in the first minute of the eighth round marked the beginning of the end for Yarde, the muscular 31-year-old Londoner who entered the contest sporting a record of 23-2 with 22 knockouts. The punch sent him reeling backward toward his corner where he landed on his knees. He beat the count, but turned toward his corner rather than referee Steve Gray.
Gray let the bout continue, but Beterbiev pressed his advantage and after a few more unanswered punches Yarde's trainer Tunde Ajayi stepped up on the ring apron and summoned Gray to stop it. The official time was 2:01 of round eight.
Beterbiev hasn't lost since losing a decision to amateur nemesis Oleksandr Usyk in the quarter finals of the 2012 London Olympics. At age 38, he shows no signs of slowing down.
In his post-fight interview, the self-effacing Russian said, "I hope some day I will be a good boxer," and acknowledged that he would welcome a unification fight with fellow Russian Dmitry Bivol, the WBA title-holder.
WBA Title Fight
In a bout that was in theory the co-feature but went off during the earlier portion of the ESPN+ livestream, Artem Dalakian (21-0, 15 KOs) retained his WBA world flyweight title with a unanimous and somewhat controversial 12-round unanimous decision over Costa Rica's David Jimenez (12-1). The judges had it 116-112 and 115-113 twice.
An Azerbaijan-born Ukrainian, Dalakian was making the sixth defense of the title he won in 2018 with a 12-round decision over Brian Viloria in Los Angeles in his lone previous appearance at a venue in the English-speaking world. His five title defenses were in Kiev. Jimenez was coming off a 12-round majority decision over Ricardo Sandoval in what ranked as one of the bigger upsets of 2021.
A Split for the Itauma Brothers
Promoter Frank Warren's newest signee, 18-year-old heavyweight Moses Itauma, made a big splash in his pro debut, blasting out Czechoslovakia's Marcel Bode (2-2) in 23 seconds. Moses and his older brother Karol Itauma are sons of a British citizen of Nigerian ancestry and a Slovakian mother.
In a shocking upset, Ezequiel Osvaldo Maderna, a 36-year-old Argentine who had lost six of his previous eight fights, forged a fifth-round stoppage of well-touted Karol Itauma who was 9-0 (7 KOs) as a pro coming in. Itauma ate numerous straight right hands before a straight right hand knocked him down for the count. The official time was 1:04 of round five. Maderna improved to 29-10 (11).
Also
The Frankham cousins, super welterweight Joshua and super featherweight Charles, improved their ledgers to 7-0 with 6-round shutouts over their respective opponents. The cousins are grandsons of John "Gypsy Johnny" Frankham, a former British light heavyweight champion.