The Fifty Greatest Light-Heavyweights of All Time Part Three – 30-21
The Fifty Greatest Light-Heavyweights of All Time Part Three – 30-21
Those of you who have followed this series from Part One may notice a slight tonal shift in this third entry describing the fifty greatest 175lb fighters of all time. This is due to our arrival, finally, among the ranks of the inarguable. You cannot devise a top fifty at this weight absent any of the names listed from #30 on down – each and every one of these men has an airtight case for inclusion on this list.
It is no coincidence that as we reach this point we also begin to explore in earnest the 1970s but there are representatives here too of another great decade for the light-heavyweight, the 1920s. Two modern inclusions sparkle also, with the twin jewels of longevity and the long ledger of ranked opponents defeated, as opposed to a handful of legendary opponents defeated, that often define modern greatness.
Finally there's an early visitation from a true legend of the sport, a man who, for me, is the single greatest fighter in history but whose body of work at 175lbs doesn't demand as high a ranking upon this list as might be imagined. It surprised me – but the work and the criteria that support it tell this division's story.
#30 – VIRGIL HILL (51-7)
As legendary baseball player Lefty Gomez put it, it's better to be lucky than good. Virgil Hill benefited from more than a little of both in a career that saw him meet as many fighters ranked at some point in the Ring Magazine top ten as just about anybody on this list. Perhaps the fact that luck kept him safe at times during such a difficult career is more forgivable for that fact.
He stepped up for the first time against the excellent Leslie Stewart, a fight that could have been an extremely dangerous assignment, one that Hill was brave to take on. In truth, Stewart was neatly perched on the edge of old age and two exquisitely timed Hill left hooks tipped him over in four rounds late in 1987. In 1988 and 1989, Stewart went 2-3.
Still, Hill had to do the job and it was feared he might not have the style for it. To put it bluntly, Hill looked every bit the Olympic medallist – the amateur – he was, his weight perched upon his bent leading leg over which he would jab-jab-jab his way to victory. Over time he added a decent right hand, especially to the body but as a converted southpaw, it was always the left that would be his key to victory.
A whole nine years after Stewart, in what may be his defining fight, in Germany, against the world's then #1 light-heavyweight Henry Maske, Hill was breathless in his amateur stylings despite the addition of that right. He out-peppered Maske in the early rounds, faded in the midsection and by the eleventh was running and clinching enough that it had become embarrassing. Still, he edged that fight on my card 115-113 and astonishingly (there's that luck again) he was given the decision in a broiling pro-Maske atmosphere. Even more astonishing, this was the second time Hill was awarded an extremely narrow decision over a homeboy having defeated the quality Fabrice Tiozzo, a national hero in France, in his home country in 1993. Tiozzo came close to "finding out" Hill and his amateur style and come the fifth he was just walking in on the American and blasting him. To his credit Hill was so fast and had such a keen sense of when to stand and fight in key rounds that he was able to edge out Tiozzo by a single point for me and by a split decision on the official cards.
He had his fortune at home, too. I thought he was a little lucky to get the nod against speedster Lou De Valle in North Dakota in 1996. Decked by a rather ridiculous counter-left early on, he took on the unfamiliar role of aggressor and at no time looked comfortable, although he was crafty enough to get home for the decision.
Still, there is an awful lot that is impressive in Hill. He recognised his limitations, boxed within them and overstepped them so rarely that it was noticeable when he did so. He won eleven consecutively after smashing a strap out of Stewart, and when it was unceremoniously and rather surprisingly taken from him by Tommy Hearns in 1991 he picked himself up, dusted himself off, and went on another wonderful run terminated only in 1997 by the twin towers of Dariusz Michalczewski and Roy Jones. During those two purple patches Hill out-boxed numerous fighters who held a ranking, and although whenever he stepped into the top five he was usually set for a struggle, the lesser lights and fading stars of the division were generally out-classed, or something like it.
Longevity, a semblance of dominance illustrated right at the end of his time at the top makes Hill was one of the most important light-heavyweights to box between Michael Spinks and Roy Jones.
#29 – JOHN CONTEH (34-4-1)
John Conteh was ranked among the four best light-heavyweights on the planet by Ring Magazine for an astonishing seven years. Such longevity at the very top of the division is almost unheard of, but Conteh established this feat in what was the deepest and strongest light-heavyweight division since World War II.
He was very nearly claimed by the heavyweight division however, and not after he'd done the damage at 175lbs like so many of his peers but before – Conteh cut his teeth on heavyweights and moved down among the smaller men only after his first loss, supposedly upon the advice of Muhammad Ali. He arrived with a splash, crushing incumbent European champion and number five contender, Rudiger Schmidtke in twelve rounds in March of 1973. As always, Conteh collected that title in great style, employing feints (while he himself was almost impossible to feint), jabs (while he himself was almost impossible to outjab) and a spiteful right hand to stop the German in twelve.
These are passing comments on one of the division's true stylists that hardly capture his essence, however. Conteh's left-hand should have belonged to a more committed fighter; he was as famous in the UK for shunning his training and his love of the nightlife as he was for his wonderful talents. Both jab and hook were of the absolute highest class and his right, when he dropped it, was a hurtful punch. The right was a Conteh weakness though. He threw it rarely in his later career most especially after breaking it in a car crash, although injuries to both hands plagued him throughout his career. Inactivity married to certain impracticalities in his character also cost him both money and prestige, his refusal to go through with a contest with Miguel Cuello, announced just three days before the fight, hurting him less perhaps than his failure to meet legitimate champion Bob Foster.
Still, Conteh built an excellent resume with his smooth box-punching, besting former beltholder Vicente Rondon in nine, the superb Chris Finnegan who had pushed Bob Foster as hard as he would be during his title run, the hugely experienced Tom Bogs, Jorge Victor Ahumada in his superb strap-winning effort and a defence of that strap in a wonderful fight with Yaqi Lopez.
Unbeaten until the twilight of his career when he was narrowly outfought by both Mate Parlov and Matthew Saad Muhammad, Conteh may not have been so lucky had he hooked up with either Victor Galindez or Foster, but by the time he was stopped for the first time in his career in the rematch with Muhammad, he had already guaranteed himself a place among the greatest and the best light-heavyweights in history.
#28 – BATTLING LEVINSKY (70-20-14; Newspaper Decisions 126-35-23)
The best middleweight just took turns beating up Battling Levinsky in 1911 but when he added pounds and stepped up to the fledgling light-heavyweight division his results improved, a close bout often reported a draw with nemesis Jack Dillon his first reward. Dillon dominated a ten fight series between them, Levinsky managing no better than 2-2-6 by some counts, certainly losing their twin battles for Dillon's generally recognised light-heavyweight title claim in 1914, but Levinsky crept closer as Dillon began to suffer ring wear, finally dominating and taking from him the title in late 1916. It is the series which trails Levinsky's growing maturity just as it trails Dillon's decline.
Levinsky's problem against Dillon was that he lacked pop, scoring, as he did, only thirty knockouts in nearly three hundred bouts. Dillon over and again would out-punch Levinsky who, while brilliant defensively and expert at avoiding sustained punishment, could not remain ahead of Dillon's offence entirely.
In the No Decision era, where unofficial rulings were made by attendant newspapermen, this may have been especially hurtful to Levinsky because some accounts of his record did not recognise Newspaper Decisions, listing only the wins he achieved by rare knockout or by official decision in states where they were permitted. This, Levinsky countermanded by a schedule so busy as to be comparable to that of the great Harry Greb, boxing nine times in the first month of 1914 for example.
As well as his eventual victories over Dillon, Levinsky defeated Charley Weinhart, Leo Houck, Bartley Madden, Clay Turner, Gunboat Smith (who also defeated him) and Mike McTigue, but it is a fact that, at light-heavyweight, Levinsky was normally beaten whenever he stepped up in class. Dillon got the best of him, he was repeatedly thrashed by Greb, lost a fight with Young Stribling which was so bad it was suggested that Stribling may have carried him, was beaten in twelve by Gene Tunney who savaged him to the body, and was stopped in four by Georges Carpantier, relinquishing the title to him. Although he mastered Billy Miske up at heavyweight, he was outfought in their single meeting at or around light-heavyweight (also losing a second contest in that range if we stretch our definitions by a pound). In short, the best light-heavyweights tended to beat Levinsky – and I think that this is a fact that is historically ignored by the likes of Nat Fleischer (who ranked him at an astonishing #6 on his ATG list for the weight). I take some comfort in the fact that the IBRO ranked him all the way down at #20, and that Charley Rose left him off his own ATG list, written in the 1960s. It is also true that early in his own career, Levinsky was identified by former heavyweight champion James J Corbett as a fighter who would prosper for the most part only against what he called "second and third raters". While this is a little stronger than the language I would use, I believe it was born out to a degree.
Still there is no denying that this is my first serious disagreement with boxing history as it is generally held, and I wish to temper troubled waters by stating that Levinsky clearly belongs on this list. His longevity was astounding, having been favoured over Eddie McGoorty in 1912 and relevant to the light heavyweight division as late as 1921 when he defeated the heavily outweighed Mike McTigue. In between, he fought often and well enough that he ranks here over men who have perhaps taken better scalps but cannot match him for complete body of work.
#27 – MARVIN JOHNSON (43-6)
Marvin Johnson was light-heavyweight's greatest pure thug. By the end of his career, which somehow chugged into the late eighties, making him one of the great survivors of the stacked 1970s division, he was an ancient and rusted battleship that took too long to turn to maintain effectiveness. At his best he brought some of the most direct, wicked pressure in the division's history, not crafty enough to ever defeat one of the true monsters with whom he shared a ring but devastating enough that anyone else was filleted.
Unfortunately for Johnson he came crashing into the most stacked light-heavyweight division in history. Leslie Stewart, Eddie Davis, Charles Williams, Michael Spinks, Eddie Mustafa Muhammad, Victor Galindez and Mate Parlov all lay in wait, but the first monster he ran up against was Matthew Saad Muhammad. Both men were still prospects (Muhammad a controversial 15-3-2, Johnson 15-0) but they turned in perhaps the greatest fight ever fought at 175lbs. Johnson was beaten by a knockout in the twelfth, the walking dead long before hit the canvas having launched the kind of devastating and absurd attack in the first that always leaves a fighter vulnerable past round seven. Still, it was one of those rare losses that actually enhances a fighters standing such was the degree of heart, punch resistance and persistence that Johnson demonstrated. Their rematch, fought for the strap then in Johnson's possession almost exactly one year later, was almost as dramatic, Muhammad again the winner, again by stoppage.
Between these two losses, Johnson lifted that strap against the difficult and excellent giant Mate Parlov in Italy. Parlov, who had knocked out Miguel Angelo Cuello for the title before repelling John Conteh in his first defence, was nothing more than target practice for Johnson. The great Victor Galindez lasted barely longer and although faded, watching Galindez, perhaps the division's greatest matador, duel with Johnson, perhaps the division's greatest bull is one of the great thrills in boxing. Of course Johnson was never in a bad fight although this was not always for the best of reasons. His jab was perennially under-fuelled and sometimes an outright liability and he was far too easy to hit. Eddie Mustafa Muhammad took advantage of these weaknesses to see him off in eleven, and Michael Spinks threw one of the best punches of his career to see him off in four, but often Johnson rolled over ranked, made men like Eddie Davis as though they weren't there.
This was the pattern he bowed to in his career, generally losing to the best he fought but dominating or finding out everyone else. Unexpected, winging combination punching, an enormous heart, fearlessness and perhaps the best trailing uppercut at the weight make him one of the most formidable beasts ever to make a career at 175lbs. Many other eras would have made him a great champion.
#26 – DARIUSZ MICHALCZEWSKI (48-2)
Dariusz Michalczewski took the lineal light-heavyweight championship from Virgil Hill in 1997 and did not lose it until 2003 when time and Julio Cesar Gonzalez caught up with him. It does not matter that Ring Magazine gifted Roy Jones their title in appreciation of his brilliance – Michalczewski was the real champion, and you have to go all the way back to the great Archie Moore to find one who ruled for more years.
Of course there the comparisons end. Michalczewski packed in an astonishing fourteen successful defences while on top of the hill. His opposition was sometimes less than inspiring and he certainly didn't do the damage to the division that Roy Jones managed (as we shall see) but he won his fair share of big fights. Against Virgil Hill he did what Henry Maske couldn't and solved Hill as early as the second round, unveiling his lack of power and taking risks to cut off the ring on his fleet-footed foe. When Hill tried for volume, Michalczewski just picked punches, unerringly finding the right blow before going right back to his stalk and destroy style. The fight was not close.
He showed more superb adaptions versus ranked stylist Lee Barber, a road-warrior who found himself picked and re-picked by an inexperienced fighter who again and again found a perfect mid-range to outpunch the bigger man in neat, controlled bursts. He needed a granite chin to win a 1999 shootout with Montell Griffin but became only the second man ever to stop the American when referee Joe Cortez interceded as Michalczewski brutalised him against the ropes. Graciano Rocchigiani, who caused Henry Maske all those problems, was battered to the only stoppage loss of his career. Lesser ranked men like Derrick Harmon, Richard Hall and Drake Thadzi tended to be stopped. Michalczewski was dominant like Wladimir Klitschko is dominant and although, like Wladimir, he arguably never had that legacy fight so needed to silence doubters, the many years he spent at the top of the division must be recognised and rewarded.
#25 – TIGER JACK FOX (139-23-12)
Tiger Jack Fox went 0-1-1 against Maxie Rosenbloom up at heavyweight, perhaps unlucky to receive the draw, but their single meeting at 175lbs went the way of one of the greatest fighters never to win the light-heavyweight title. In the fourth round of that meeting, Fox forced Rosenbloom to his knees for a flash knockdown, inevitably landing the harder punches throughout to take a decision characterised by The Spokesman Review as "fairly well received by the crowd." This was the best result of Fox's career. He came up short against John Henry Lewis, blasted into unconsciousness by him in just three, which was unfortunate as Lewis held the title to which Fox became the #1 contender.
He came up short, too, against Melio Bettina when he finally got a crack at a strap (if not the legitimate title) in 1939, by which time Fox had been a professional for eleven years. Worse, in the run up to the fight he had received a serious stab wound to the chest. Carl Beckwith of the Washington Afro-American noted a week before the fight that "Fox doesn't look at all ready" and even had difficulty climbing in and out of the ring. It is typical of the hard-luck stories surrounding top black contenders of this era that when Fox's shot comes he carries an unusual and debilitating injury into the ring with him. Such was the life of an Afro-American fighter of this era.
Not that Fox was perfect. He was given to stalling and according to the Spokane Daily Chronicle "for all his clowning…he is potentially a great fighter – but this is fair warning…[that fans] would rather see him find a steady pace and stick to it." Still, he built a superb resume despite the prejudices of the era and his own limitations avenging a loss to Al Gainer over fifteen, destroying former divisional champion Bob Olin in just two, smashing out top contender Leo Kelly in six and generally crushing any of the minor light-heavyweights who dared to step into the ring with him.
Much of his very best work was achieved at heavyweight, and this must be remembered by those hardcore history-buffs that would like to see him higher.
#24 – SAM LANGFORD (179-30-39; Newspaper Decisions 31-14-16)
Sorry, Sam.
In his excellent series for Boxing Scene Cliff Rold ranked Sam Langford at #2 for this weight. Herb Goldman agrees with him exactly. The IBRO rank him one space lower at #3. And here I am telling you Sam Langford is the twenty-fourth greatest light-heavyweight of all time. How can this be justified?
In Part One I wrote:
"[F]ights fought by fighters usually held to be light-heavyweights contested above the light-heavyweight limit, will be considered to have engaged in a heavyweight contest and will not be credited here. As a rough guide, fighters matched at below 164lbs are generally held to have fought a middleweight contest and fighters matched at 180lbs and above are fighting at heavyweight. Also the weight class in question is always defined by the heavier fighter. If a 173lb man is fighting a 203lb man, he is engaging in a heavyweight contest. This list is interested almost exclusively in fights that took place within the light-heavyweight class."
And I stand by that.
Whatever the criteria used by the IBRO, Boxing Scene or Herb Goldman, matches actually fought in the weight class light-heavyweight are not among them – or at least, fights that were verifiably between light-heavyweights are not among them. Between the vast collection of newspaper articles made available by The Library of Congress, details of Langford's fight on Boxrec and the superb work put in by Clay Moyle for Sam Langford: Boxing's Greatest Uncrowned Champion, I have been able to verify just a handful of contests actually fought by Sam Langford at the weight in question. Langford graced the light-heavyweight division for some years in terms of his own weight, but most of the significant fights he fought, even with some allowances made for the fact that the middleweight title was often contested at a lower weight in his era, were against opponents who were in another division, usually heavyweight.
In 1906 he famously weighed in at 156lbs for his meeting with all-time great heavyweight Jack Johnson; he was a middleweight. He made it into the light-heavyweight division in 1908 and met 190lb heavyweight Jim Barry, heavyweight Black Fitzsimmons, two-hundred pounder Joe Jeannette, middleweight journeyman Larry Temple, heavyweight contender Sandy Ferguson…you get the point.
Nevertheless, Langford did enough work that he cannot be ignored all together. He has battered his way into the top twenty-five here based upon his obliteration of Fireman Jim Flynn (KO1), his mauling of the wonderful Jeff Clarke (KO2), a battering of Jack O'Brien from 1911 that barely meets our criteria and a handful of other victories that fall into the correct weight range. Additionally there is the spooky sense that Langford imbues that he might have beaten the majority of the fighters who will make up the top twenty.
For those who feel I am underestimating Langford: I consider him the single greatest fighter of all time pound-for-pound. I think he is greater than Ray Robinson – better than Henry Armstrong, even more extraordinary than Harry Greb; but he achieved only a smidgen of what Harry Greb did in the light-heavyweight division. This is the true reflection of Sam's wonderful career, and it shouldn't be coloured by the rainbow of his incredibly performances below and above this division.
It looks horrible and I acknowledge that, but the truth often does.
#23 – YOUNG STRIBLING (223-13-14; Newspaper Decisions 33-3-3)
Young Stribling's career is an absurdity in so many ways there is likely not enough room here for me to list them all. First among them is that he engaged in around 300 recorded contests (likely many more) and that he was only stopped once, in the fifteenth round, against the borderline great heavyweight Max Schmeling. He was never stopped at the 175lb limit.
More absurd: his one and only crack at the world's light-heavyweight championship. The title was in the possession of Mike McTigue, an uninspiring figure as a champion and one who retained his title against Stribling in bizarre circumstances. The promoter claimed that ringsiders saw the fight almost universally for Stribling but that the referee refused to render a decision at the end of the ten rounds. Stories circulated that the official was under threat of death, although who was meant to carry out his assassination and for what reason was not made clear – finally the referee buckled and rendered a decision for Stribling. Three hours later he withdrew that decision and called the fight a draw, meaning McTigue would retain his title. The champion claimed to have been sent to the ring "at gunpoint" with a broken hand – with two working hands and nobody pointing a weapon at him, he was firmly out-pointed by Stribling once more the following year in a non-title fight.
Stribling also handed the young Tommy Loughran two "artistic beatings", split the best end of a pair of no-decisions with Jimmy Delaney, lost a six-rounder to the king of that distance, Jimmy Slattery, but took an uncharacteristically violent revenge upon him some years later, roughing him up on the way to a ten round decision win. He dropped Maxie Rosenbloom on the way to another great victory in 1927, having out-worked an ageing Battling Levinsky the year before. He beat so many greats and champions that fighters like Lou Scozza, key wins for men further down the list, become window-dressing on Stribling's fabulous record. He kept piling up wins out of the top drawer (and, it must be acknowledged, a huge amount of dross) up until 1933 when he was killed in a motoring accident. He was 28 years old.
In terms of weaknesses, he lacked a certain savagery and certainly in newspaper reports of the time and the scant footage that survives he doesn't look what the old-time sportswriters would have referred to as "a killer". But this weakness hardly manifested itself in losses. Judges and newspapers both tended to find for rather than against him, and no light-heavyweight got close to laying him low with punches.
Clever, quick, a stiff puncher with a wonderful fighting-brain, it is one of boxing's greatest shames that he was never the champion, most especially with his having beaten an incumbent title-holder twice.
#22 – PAUL BERLENBACH (40-8-3; Newspaper Decisions 1-0-0)
Paul Berlenbach was one of light-heavyweight's finest punchers, thirty-four of the forty-one victories he is credited with coming by way of knockout. He was a ring savage, easy to hit but almost impossible to dissuade, boasting a great chin and one of the most damaging body attacks of the era. A wonderful balance of strength and weakness raised him up onto the cross of great fights. These, Berlenbach delivered, and soon, beginning his terrible rivalry with Jack Delaney (already world class) in just his fifth month as a professional, losing in four rounds. "They practically ruined each other," boxing correspondent Robert Edgreen would write in 1927, as Berlenbach's career began to wind down. Practically, Berlenbach coming off the worse as Delaney's stylistic approach proved the more sustainable, bringing him a clean victory in their desperate series. Berlenbach did have his moment though, successfully defending the world title he had ripped from Mike McTigue in May of 1925 against his nemesis in December of that same year. In the fourth, Delaney landed a "mule-kicking" right to Berlenbach's jaw the effects of which rippled in the latter's nervous system as late as the seventh when he seemed in immediate danger of losing his title, and would have in a more civilized era. Spared by the 1920s referee, Berlenbach battled back to drop Delaney in the twelfth and take the narrowest of decisions over the man who had already stopped him and who would stop him again; it was the most important win of his career.
Despite Delaney's overall domination of him, Berlenbach didn't suffer as badly with other world-class boxers. Young Stribling, like Delaney, could punch as well as box but he got little out of Berlenbach when they met in the summer of 1926. Berlenbach thrashed him, dishing out what was "the only real beating Stribling had ever taken in his life" according to his lifelong friend Milton Wallace. Frank Getty of United News described Stribling as "a punching bag" and rated him good for only two of the fifteen rounds. Berlenbach, so late to the theatre of pugilism, outhustled and outfought a man groomed for the ring since birth.
Berlenbach also "slaughtered" Battling Siki according to the New York Times, battered out Jimmy Slattery in eleven and out-pointed contender Tony Marullo and if his drop off was sharp, if he went from fistic catastrophe to past-it contender a little too swiftly to be ranked here with the true elite, it is beyond doubt that he deserves to be included in the prestigious company he finds himself in now.
#21 – DWIGHT MUHAMMAD QAWI (41-11-1)
Dwight Muhammad Qawi went just 19-2-1 at light-heavyweight; then he vanished not to heavyweight but to cruiserweight, where he gave Evander Holyfield one of the toughest fights of his career, a war that also happens to be one of the best fighters in history.
Qawi was the light-heavyweight Joe Frazier, a terrifying prospect, comically small at just 5'7 but an educated pressure monster who brought war in the form of punches.
He was too much for Matthew Saad Muhammad. Muhammad is one of the greatest light-heavyweights in history and he lurks somewhere above among the true giants of the division but Qawi kicked hell out of him not once but twice, for the first time in 1981 and then again in 1982. It has been said that Muhammad was past his prime at the time of his first meeting with Qawi, and I have a certain degree of sympathy with that point of view – however, it is worth pointing out that Muhammad came into the Qawi contest on the back of seven straight stoppage victories at title level, including the destructions of John Conteh, Yaqui Lopez and Lottie Mwale. Nevertheless, he did struggle to make weight, and against a fighter whose nickname is Buzzsaw, draining is never going to make for a particularly pleasant night. Qawi's plan was to move across Muhammad, bringing the pressure that made him so dangerous but doing it with angles, attempting to stay ahead of the beltholder while opening up his body. It worked. From the first Qawi is landing jabs to the body and making room for his right hand, from the start Muhammad strained to find him. He may have won the first; Qawi took every other round before stopping him with truly chilling show of precision and calm. Their rematch, fought nine months later, was even more one-sided.
Between his matches with Muhammad, Qawi crushed the excellent Eddie Davis, having already twice avenged a controversial, perhaps even nonsensical defeat to his namesake, Johnny Davis. Mike Rossman, who had once defeated the great Victor Galindez, managed just seven rounds before he succumbed. James Scott, who had famously defeated Eddie Mustafa Muhamad behind the walls of Rahway State Prison did less well when Qawi signed the visitors book. It was speculated that Eddie Mustafa had been intimidated by his surroundings and perhaps even by Scott; it was Scott who uncharacteristically went on the run in the first however, Qawi following with a sick grin. A unanimous decision soon followed.
The other man to have bested Scott was Jerry Martin. Qawi tracked him down and stopped him in six. Qawi wasn't at light-heavy long, but while he was, contenders tip-toed past, holding their breath.
Jermell Charlo Unifies Super Welterweights Via Solar Plexus Punch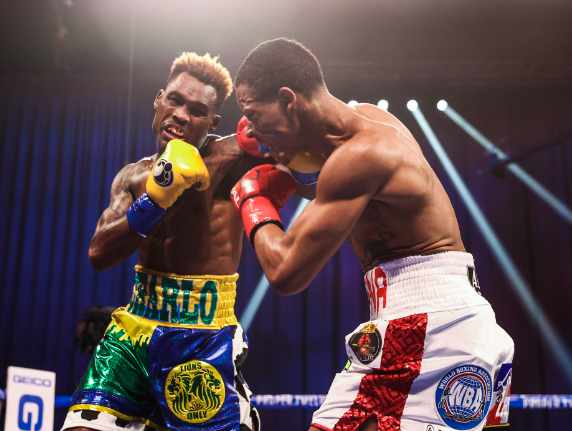 WBC super welterweight titlist Jermell Charlo knocked out IBF and WBA titlist Jeison Rosario with a knockout punch delivered to the solar plexus on Saturday to add two more belts to his collection.
"I'm definitely bringing home the straps," said Charlo.
Shades of Bob Fitzsimmons.
Back in 1897, Fitzsimmons used the same solar plexus punch to dethrone Gentleman James Corbett for the heavyweight title in Carson City, Nevada.
In another casino city Charlo (34-1, 18 KOs) floored Dominican Republic's Rosario (20-2-1, 14 KOs) three times at the Mohegan Sun Casino in Uncasville, Conn. He and his brother co-headlined a heavy duty pay-per-view card with no fans in attendance on the Premier Boxing Champions card.
Charlo jumped on Rosario quickly in the first round when he charged and clipped him with a left hook to the temple. Down went the two-belt champion for the count. But he got up seemingly unfazed.
For the next several rounds Rosario was the aggressor and put the pressure on Charlo who was content to allow the Dominican to fire away. Occasionally the Houston fighter jabbed but allowed Rosario to pound up and down with both fists.
After allowing Rosario to get comfortable with his attack, suddenly Charlo stopped moving and connected with a short crisp counter left hook and right cross in the sixth round. Down went Rosario again and he got up before the count of 10.
Charlo said it was part of the game plan.
"I'm growing and I realize that the knockout will just come," he said.
Charlo was in control with a patient style and allowed Rosario to come forward. But the Dominican was more cautious in the seventh.
In the eighth round Charlo jabbed to the head and then jabbed hard to Rosario's stomach. The Dominican fighter dropped down on his seat as if felled by a gun shot. He could not get up and convulsed while on the floor. The referee Harvey Dock counted him out at 21 seconds of round eight.
"That jab that got to him must have landed in a vital point," said Charlo after the fight. "I hope he recovers and bounces back."
Charlo now has three of the four major super welterweight world titles.
WBC Super Bantamweight Title
Luis Nery (31-0, 24 KOs) captured the WBC super bantamweight title by unanimous decision over fellow Mexican Aaron Alameda (25-1, 13 KOs) in a battle between southpaws. The war between border town fighters was intense.
Nery, a former bantamweight world titlist, moved up a weight division and found Alameda to be a slick southpaw with an outstanding jab. At first the Tijuana fighter was a little puzzled how to attack but found his groove in the fourth round.
But Alameda, who fights out of Nogales, Mexico, began using combinations and finding success.  A crafty counter left uppercut caught Nery charging in a few times, but he managed to walk through them.
In the final two rounds Nery picked up the action and increased the pressure against the slick fighting Alameda, He forced the Nogales fighter to fight defensively and that proved enough to give the last two rounds for Nery and the victory by unanimous decision. The scores were 115-113, 116-112 and 118-110 for Nery who now holds the WBC super bantamweight world title. He formerly held the WBC bantamweight title.
Roman Wins
Danny "Baby-Faced Assassin" Roman (28-3-1, 10 KOs) managed to rally from behind and defeat Juan Carlos Payano (21-4, 9 KOs) in a battle between former world champions in a nontitle super bantamweight clash. It wasn't easy.
Once again Roman fought a talented southpaw and in this fight Payano, a former bantamweight titlist, moved up in weight and kept Roman off balance for the first half of the fight. The jab and movement by the Dominican fighter seemed to keep Roman out of sync.
Roman, who fights out of Los Angeles, used a constant body attack to wear down the 35-year-old Payano and it paid off in the second half. Then the former unified world champion Roman began to pinpoint more blows to the body and head. With seconds left in the 12th and final round, a left hook delivered Payano down and through the ropes. Sadly, the referee missed the knockdown. It didn't matter as all three judges scored it identical at 116-112 for Roman after 12 rounds.
"I made some adjustments and picked up the pace and got the win," said Roman who formerly held the WBA and IBF super bantamweight world titles.
Photo credit: Amanda Westcott / SHOWTIME
Check out more boxing news on video at the Boxing Channel 
To comment on this story in the Fight Forum CLICK HERE
Jermall Charlo UD 12 Derevyanchenko; Figueroa and Casimero Also Triumphant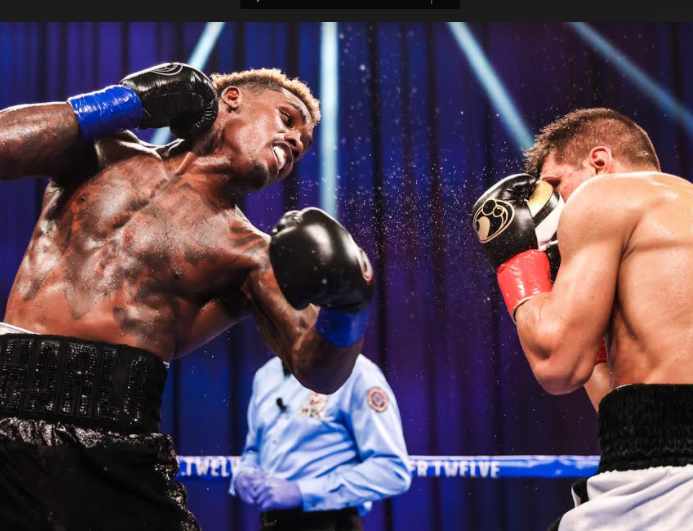 Jermall Charlo UD 12 Derevyanchenko; Figueroa and Casimero Also Triumphant
The Mohegan Sun Casino in Uncasville, Connecticut, was the site of the first pay-per-view boxing event in the United States since the Fury-Wilder rematch on Feb. 22. There were six fights in all, five of which were title fights and the other a title-eliminator. They were divided into two tiers but bundled into a package that cost approximately a dollar a round with a facile intermission tossed in at no extra charge.
The headline attraction of the first "three-pack" – and the most anticipated fight of the evening – found WBC world middleweight champion Jermall Charlo defending his title against Sergiy Derevyanchenko. The Ukrainian gave Gennady Golovkin a hard tussle when they fought in November of last year at Madison Square Garden – GGG won a unanimous decision but the scores were tight and many thought Derevyanchenko deserved the decision – and the expectation was that tonight's match would also be very competitive.  But it really wasn't although the rugged Derevyanchenko rarely took a backward step.
The fight went the distance and there were no knockdowns, but Charlo buckled his knees at the end of round three and Derevyanchenko ended the fight with cuts above both eyes. The judges had it 118-110, 117-111, and 116-112.
With Canelo Alvarez apparently headed to 168 and GGG showing his age at 38, one can make a strong case that the undefeated 30-year-old Jermall Charlo (31-0, 22 KOs) is now the top middleweight in the world. Derevyanchenko, who was 23-1 in the semi-pro World Series of Boxing before turning pro, saw his pro record decline to 13-3 with all three losses in middleweight title fights.
—
The middle fight of the first tier was a lusty encounter between Mexican-American super bantamweights Brandon Figueroa and Damien Vazquez. Figueroa, one of two fighting brothers from the Mexican border town of Weslaco, Texas, was a huge favorite over Vazquez, a Colorado native who moved to Las Vegas as a freshman in high school and had fought extensively in Mexico where he made his pro debut at age 16. But Vazquez, the nephew of former three-time world super bantamweight title-holder Israel Vazquez, came to fight and gave a good effort until the fight turned lopsidedly against him.
In the middle rounds, Figueroa's high-pressure attack began to wear Vazquez down. Vazquez had a few good moments in rounds six and eight, but when his right eye began swelling from the cut above it, he was fighting an uphill battle. He took a lot of punishment before referee Gary Rosato halted it at the 1:18 mark of round 10.
Figueroa, 23, successfully defended his WBA 122-pound title while improving his record to 21-0-1 with his 16th KO. Vazquez declined to 15-2-1.
—
The lid-lifter was a WBO bantamweight title defense by John Riel Casimero with Duke Micah in the opposite corner. Micah, from Accra, Ghana, came in undefeated at 24-0, but Casimero had faced a far stronger schedule and was a substantial favorite.
A Filipino who was been training in Las Vegas under Bones Adams, Casimero took Micah out in the third round. The Brooklyn-based Micah was somewhat busier in the opening frame, but the tide turned quickly in favor of the Filipino. Casimero hurt Micah with a left hook in round two and went for the kill. He wasn't able to finish him, but Micah was on a short leash and referee Steve Willis was quick to step in when Casimero resumed his attack after the break. The official time was 0:54.
Casimero (30-4, 21 KOs) was defending the title he won last November with a third-round knockout of favored Zolani Tete in Birmingham, England. He was slated to fight this past April in Las Vegas against Naoya Inoue, but that fight evaporated as a result of the coronavirus. After the bout, Casimero called out Inoue (and others): "I'm the real monster," he said. "Naoya Inoue is scared of me. You're next. I would have knocked out anyone today. If Inoue doesn't fight me, then I'll fight Guillermo Rigondeaux, Luis Nery, or any of the top fighters."
Check back shortly for David Avila's summaries of the remaining fights.
Photo credit: Amanda Westcott / SHOWTIME
Check out more boxing news on video at the Boxing Channel 
To comment on this story in the Fight Forum CLICK HERE
Mairis Briedis and Josh Taylor Impress on a Busy Fight Day in Europe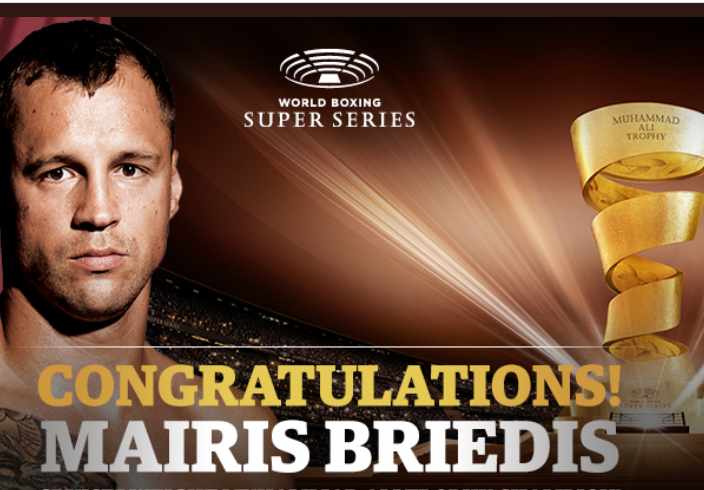 In the busiest weekend of boxing thus far in 2020, there were fights of note all over the map in Europe. The most compelling was held at the Plazamedia Broadcasting Center in Munich where the long-delayed WBSS cruiserweight final pit IBF world cruiserweight title-holder Yuniel Dorticos against Mairis Briedis. Both had only one loss on their ledger, that coming in a semifinal of Season One of the WBSS tourney.
Heading in, Briedis was recognized as the more well-rounder boxer. Dorticos had a style somewhat similar to Deontay Wilder, meaning that he was over-dependent on his big right hand. It figured that Briedis would fight with extreme caution, using his faster hands and superior footwork to keep out of harm's way, but to the contrary he wasn't afraid to trade with Dorticos and actually landed the harder punches. At the end, he captured the IBF belt and the more coveted Muhammad Ali Trophy with a majority decision. The judges had it 117-111, 117-111, and a confounding 114-114.
The first fighter from Latvia to win a world title, Briedis (27-1, 19 KOs) is now a two-time world cruiserweight champion. He previously held the WBO cruiserweight belt, but vacated it rather than adhere to the organization's mandate that he give Krzysztof Glowacki a rematch. (Their first fight, a TKO 3 for Briedis, was very messy and he was fortunate that he wasn't disqualified.) Dorticos, the Cuban defector, returns to his adopted home in Miami with a 24-2 record.
Briedis, 35, may own only one piece of the world cruiserweight title, but at the moment he is clearly the topmost fighter in the division.
York Hall, London
Apinun Khongsong's first engagement outside the Orient didn't go well for him. The 24-year-old Thai boxer with an Muay Thai background was out of his element against WBA/IBF champion Josh Taylor who dismissed him in a hurry with a "solar plexus punch" that would have made Bob Fitzsimmons proud. The punch from the left-handed Scotsman sent Khongsong to the canvas writhing in pain and he was down for several minutes before he was able to stand upright. The official time was 2:41 of the opening round.
Taylor, the Tartan Tornado, was making his first start since October of last year when he won a 12-round majority decision over Regis Prograis in a Fight of the Year candidate. His next fight may be a full unification of the 140-pound belt with Jose Carlos Ramirez in the opposite corner. Both he and Khangsong entered today's fight with 16-0 records, but Taylor, who scored his 13th knockout, was in a different league.
Undercard Bouts of Note
In a 10-round bantamweight contest, Charlie Edwards (16-1, 1 NC, 6 KOs) out-classed British countryman Kyle Williams (11-3). The referee awarded Edwards nine of the 10 rounds. Edwards, 27, previously held the WBC 112-pound title but was forced to relinquish it because he had trouble making the weight.
York Hall has been a jinx for David Oliver Joyce, the 33-year-old super bantamweight from Mullinger, Ireland, who is 0-2 in this building and 12-0 elsewhere. Joyce failed to last three rounds today in his match with Ionut Baluta. A Romanian who fights out of Bilbao, Spain, Baluta knocked Joyce down with a big left hook and then swarmed all over him when he arose, forcing the referee to intervene. The official time was 1:49 of round three.
It was the sixth straight win for Baluta (14-2, 3 KOs) and his third straight over a once-beaten opponent.
Riga, Latvia
Riga native Richard Bilotniks successfully defended his version of the European 175-pound title and advanced to the finals of the Golden Contract Light Heavyweight Tournament with a one-sided 10-round decision over Hosea Burton. A late bloomer who won only four of his first eight pro fights, Bilotnicks 30, won every round on one of the scorecards and eight rounds on the others to advance record to 17-5-1. Burton, who lost for the second time in 27 starts, let down his cousin Tyson Fury who flew to Latvia to cheer him on.
Struer, Denmark
At an arena in the city of Struer, hometown lass Dina Thorslund had a harder time than expected with Nina Radovanovic, but the Serb got no respect from the judges who didn't see fit to award her a single round. Thorslund (15-0, 6 KOs) successfully defended her WBO world 122-pound title.
In the chief undercard bout, heavyweight Filip Hrgovic (11-0, 9 KOs) moved a step closer to a world title opportunity with a second-round blast-out of late sub Alexandre Kartozia. There was no need to count when Hrgovic leveled Kartozia with a big right hand.
Check out more boxing news on video at the Boxing Channel 
To comment on this story in the Fight Forum CLICK HERE